Hello beautiful and much loved blog readers – welcome to the Bank Holiday weekend (in the UK at least). I hope that whatever you've got planned, its going to be all kinds of wonderful. I'm so thrilled to be starting the weekend with something very special. Next month, you'll be seeing the first features from two fabulous new contributors that I'm so pleased and delighted to be welcoming to Love My Dress. Emma Hla from Coco Wedding Venues and expert wedding planner Katrina Otter.
Photography by Rebecca Goddard Photography
Emma and Katrina will be sharing all kinds of wedding goodness with you and, as a little taster of the brilliance you can expect, I am so excited to be featuring this stunning editorial shoot at Devon Wedding venue, 'River Cottage' (as in Hugh Fearnly Whittingsall) that was styled and planned by Emma and Katrina just recently, and that you might have discovered if you enjoy visiting our friend Kate Holland's blog all the way over in New Zealand.  
This is such a cool shoot that embraces a truly boho-luxe vibe – plus I have a personal weakness for brides in jumpers, so nearly fainted when I saw these photographs (remember this?!).
Immerse yourself in a Saturday morning full of images to inspire you for a wildly beautiful wedding – and if you fancy planning one of your own, River Cottage has just acquired their wedding license, which means everything on this page (rolling Devon hills,- breathtaking views across the valley and outstanding food) could be yours.
Watch out for some gorgeous feathery stationery goo – it was designed exclusively for our shoot and now, Cutture have created a full range so you too can wow your guests with this boho statement suite too.
"An Earthly Love was our homage to all things boho with a slightly luxe edge. Think wild countryside, raw love, dramatic gowns, luscious leaves and windswept kisses overlooking the wonderfully English backdrop of River Cottage. Our palette focused on cool creams, herbaceous greens and soft lilacs.
Rebecca Goddard, our Photographer, captured our vision perfectly in an array of honest yet dreamy images…"
Wedding & Event planner Katrina Otter specialises in designing, coordinating and delivering beautifully bespoke weddings, events and private parties throughout East Anglia, the Midlands and London.  As an independent wedding planner, Katrina is able to offer a more personalised approach to wedding and event planning – one that is totally focused on what her individual clients want, and is free to adapt her role and service to suit each client's requirements.  Katrina is also a member of the UK Alliance of Wedding Planners (UKAWP), an organisation that was founded with one purpose – to promote professionalism in wedding planning.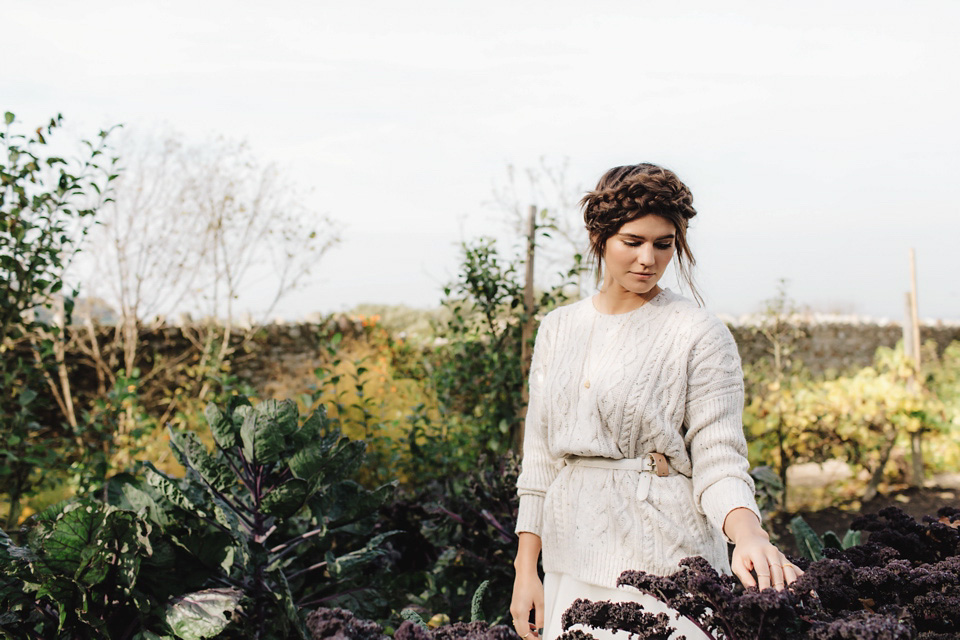 Coco Wedding Venues , a beautiful style focused wedding venue directory, was founded in 2013 by Emma Hla. Emma's personal mission is to provide couples with pretty and unique wedding venues via a stylish and simple-to-use directory that will inspire.  Coco Wedding Venues offers a stylish and bespoke way of getting a venue across to a new audience. Emma takes great pride in lovingly preparing each listing herself and creating a beautiful homage to each and every Coco venue.
"River Cottage is an idyllic location for a wedding celebration with some of the best food you will ever eat! On the day itself, we had free run of the entire site which included Hugh's kitchen! Set amongst the rolling Devon hills this is a truly breathtaking venue and takes 'Rustic Bohemia' to a whole new level."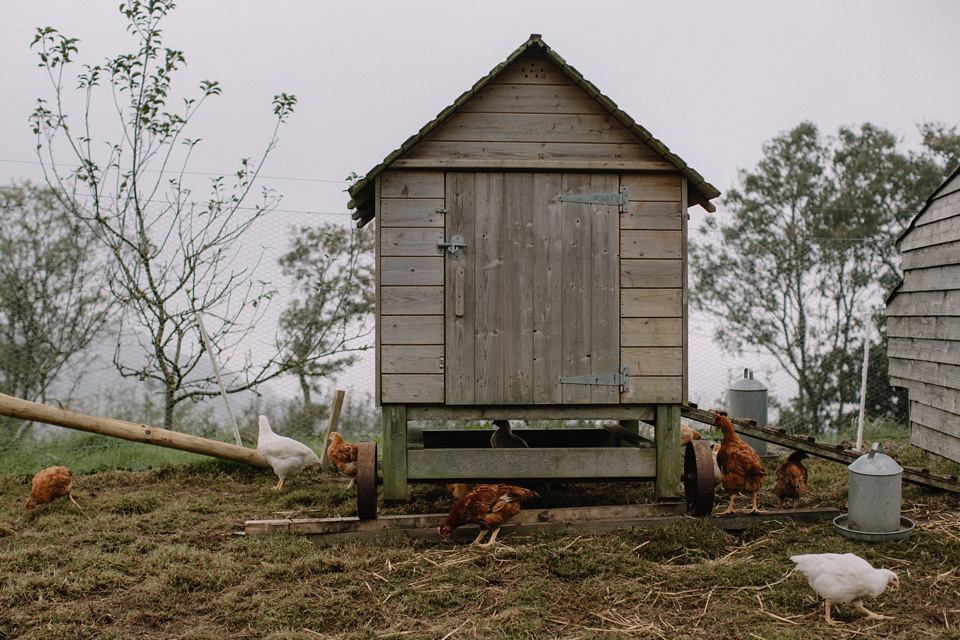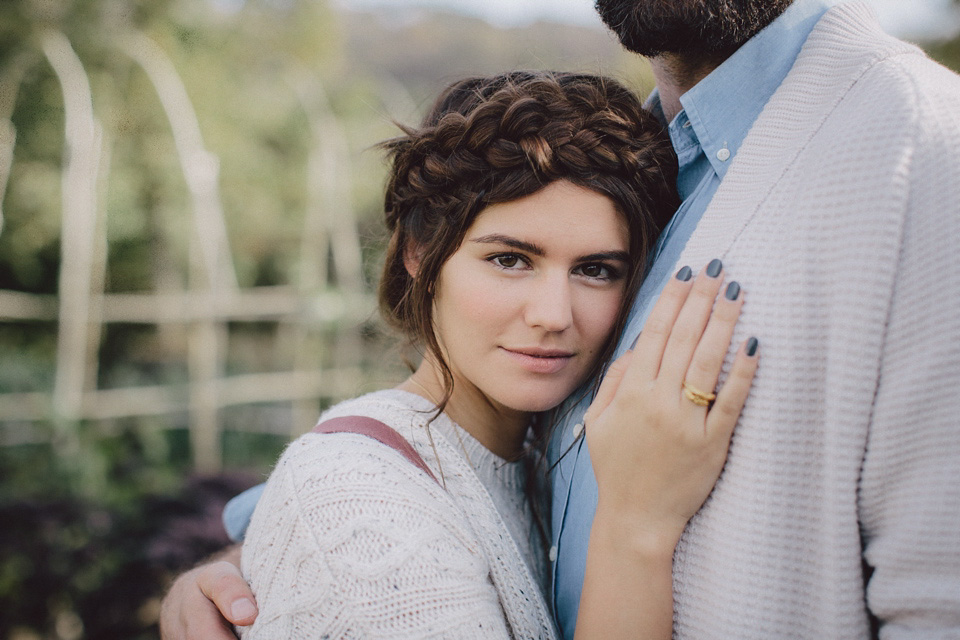 "Our florist, Amber Persia, wanted to use herbs; masses and masses of wonderfully tasty, deliciously fragrant and exquisitely beautiful herbs.  Foraged hedgerow pickings add to the relaxed, natural abundance whilst the restrained use of actual 'flowers', gorgeous lilac Clematis, the first of the Spring Hellebores and a glimpse of white Hydrangeas and Ammi was all that was required.
As to the actual arrangements, what could be more welcoming to guests than a lush, over-sized wreath to greet them at River Cottage's rustic front door?"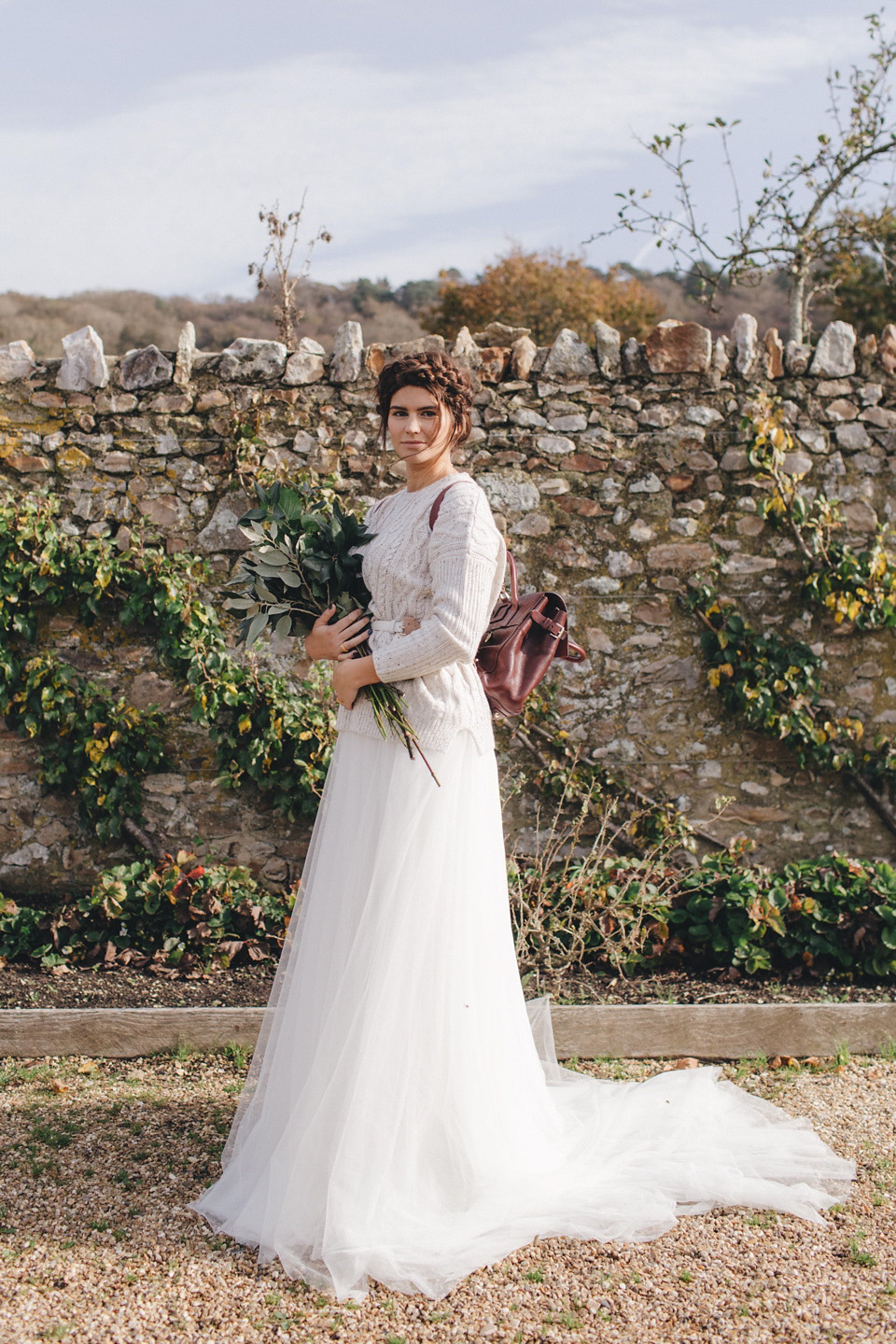 "Then the serious matter of dining – the florals simply needed to create a botanical backdrop. Low arrangements, once again featuring aromatic herbs together with Fern leaves and trailing Jasmine, soften the look of the table whilst individual herb posies, each one different, add the finishing detail to each guest's place setting."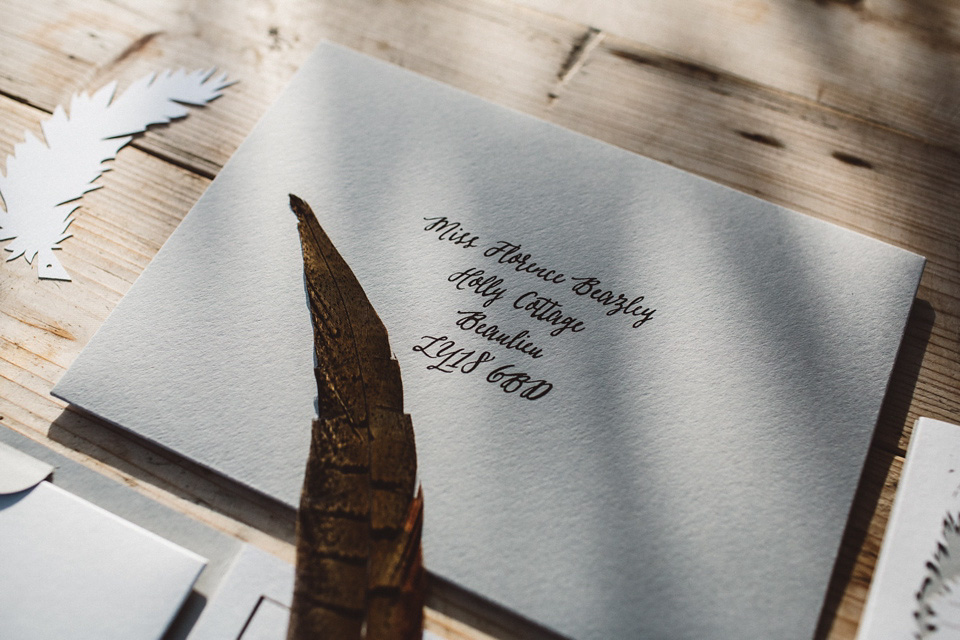 "Our boho-luxe shoot wouldn't have been complete without our dreamy real-life couple.  Our first Bridal look was soft and natural mixing both high street and designer for a high-fashion-country vibe. A braided Mulberry belt cinched in our cream cable knit jumper. Whilst Jesus Peiro supplied lashings of drama with this beautiful tulle skirt. Our country girl's look was completed with Mulberry wellington boots and the rather desirable Cara bag.
Her hair was worn in braided plaits with soft loose tendrils, with slightly flushed cheeks and pretty natural lips to create the perfect minimalistic vibe. With the addition of a dainty floral rose bud crown, the chicest of grey suede heels and a sequined two-piece top, our Bride was ready to walk down the vegetable garden aisle."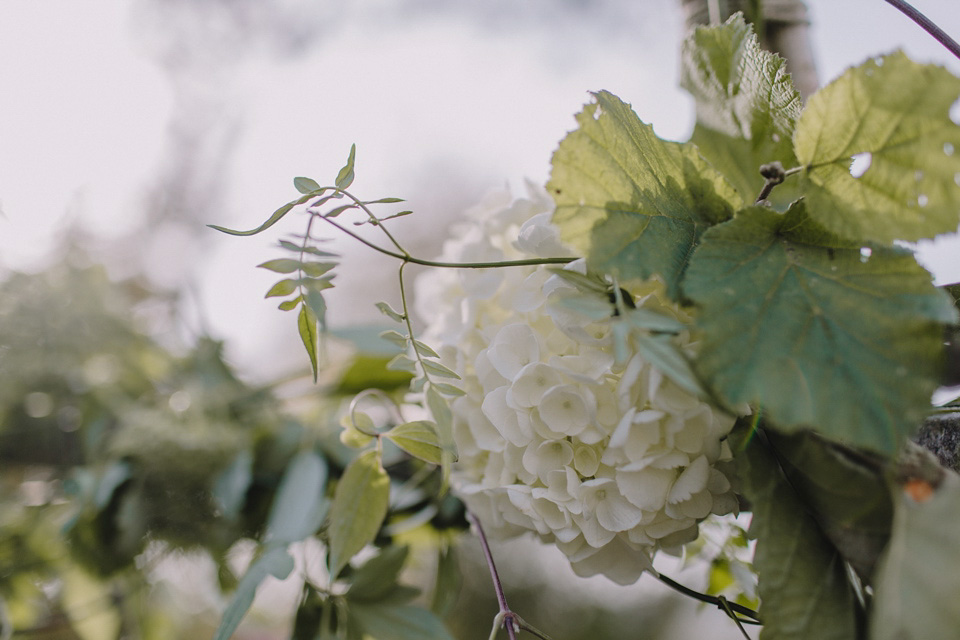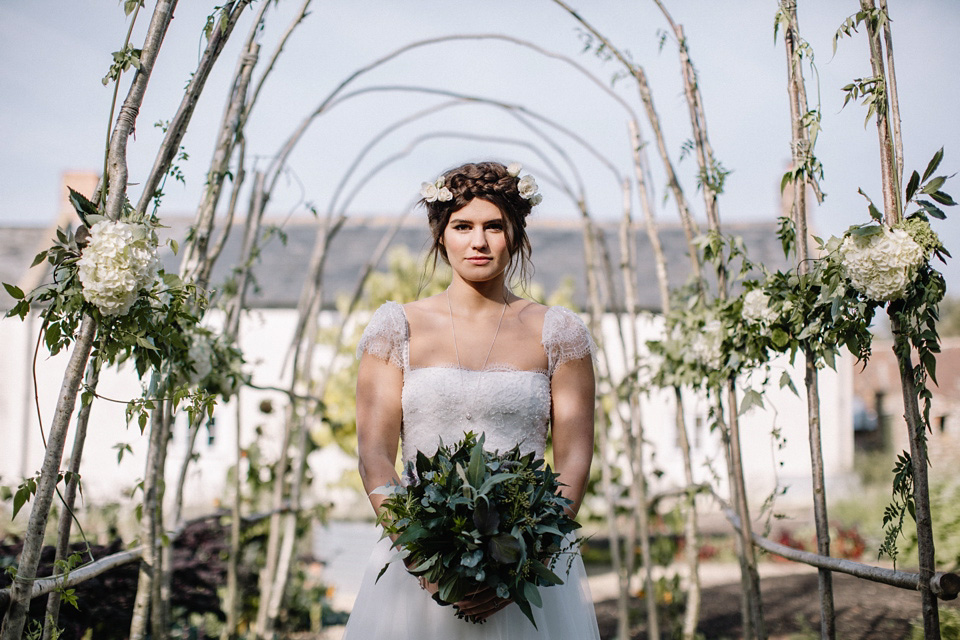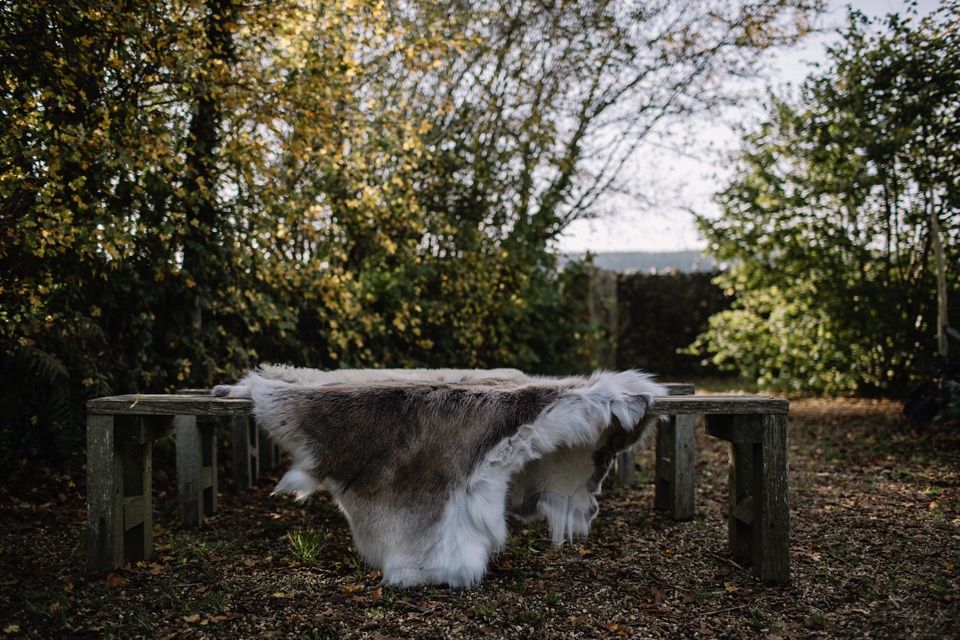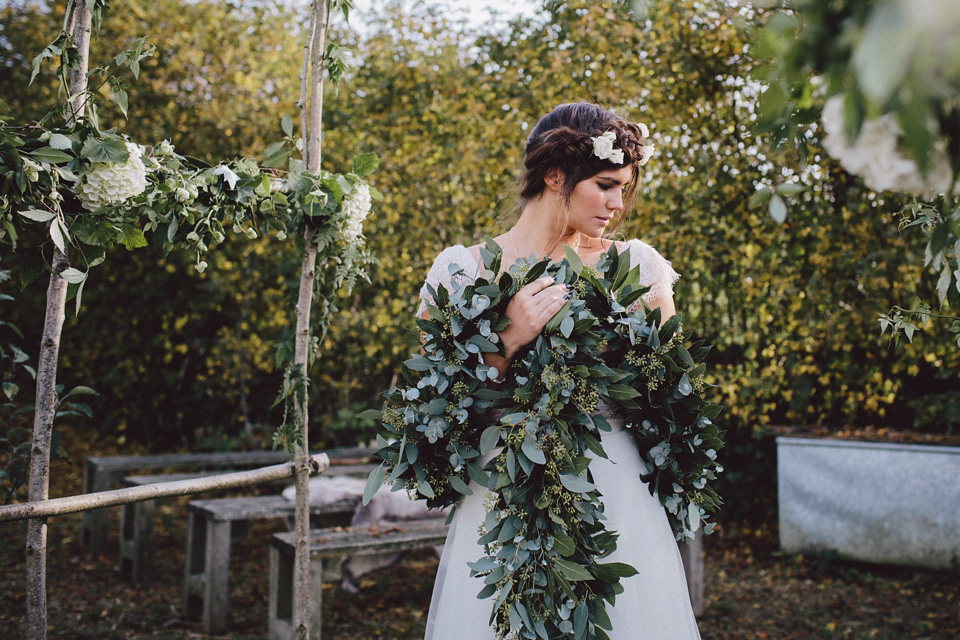 "Our groom was waiting, standing tall in denim and a tailored jacket. Brogues, a crisp white shirt and a wreath buttonhole finished his look."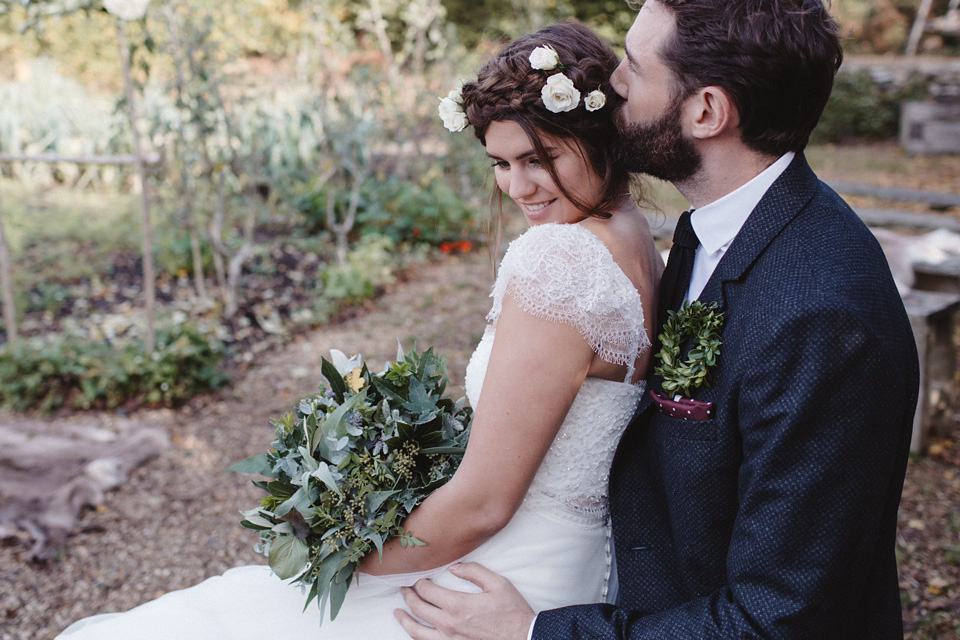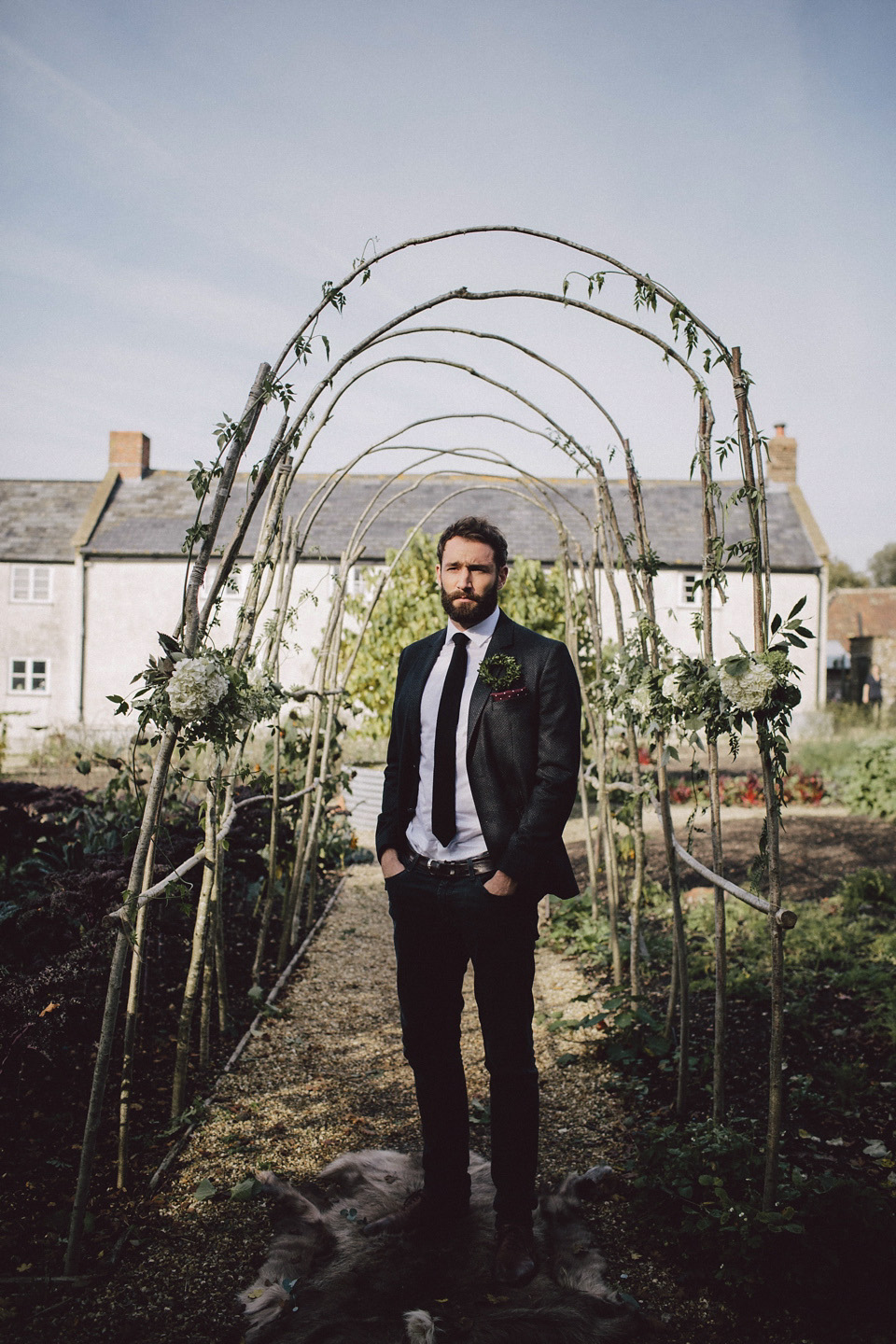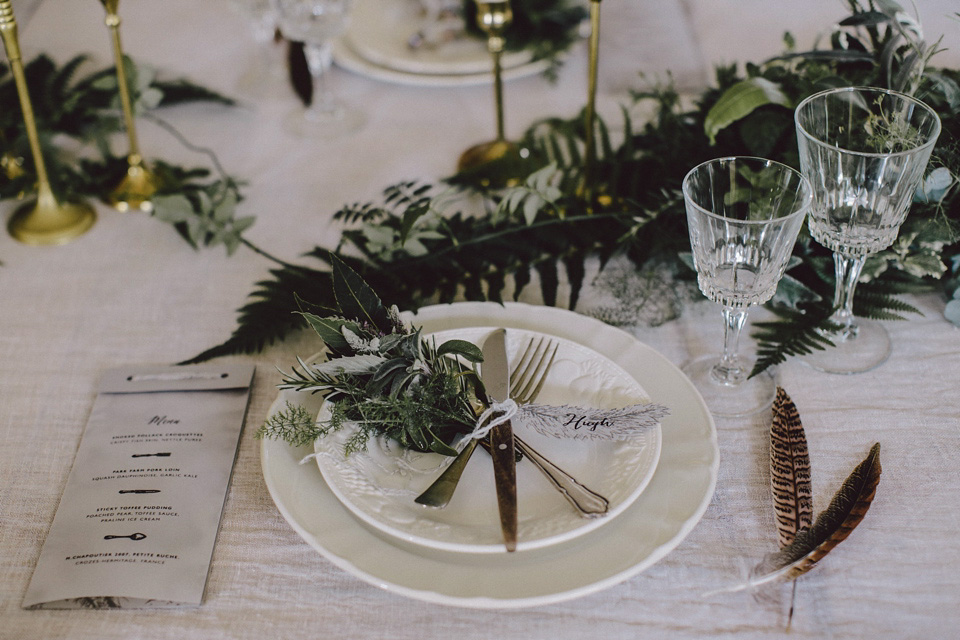 "Hand-dyed linens, wooden cutlery, fresh herbs and foliage, dripping golden candles and beautiful laser cut feather place names created our Wedding Breakfast scene back at the cottage."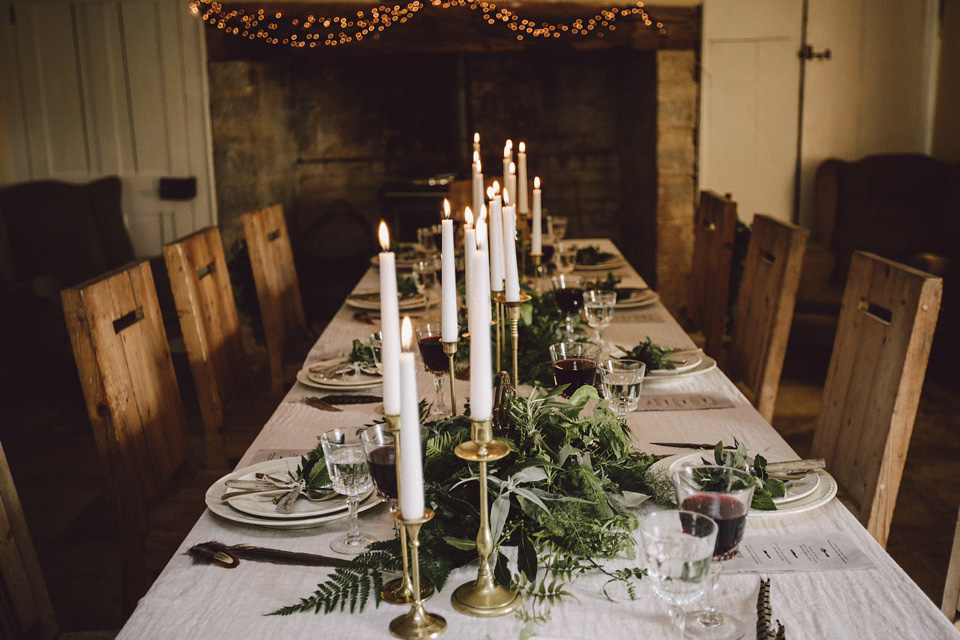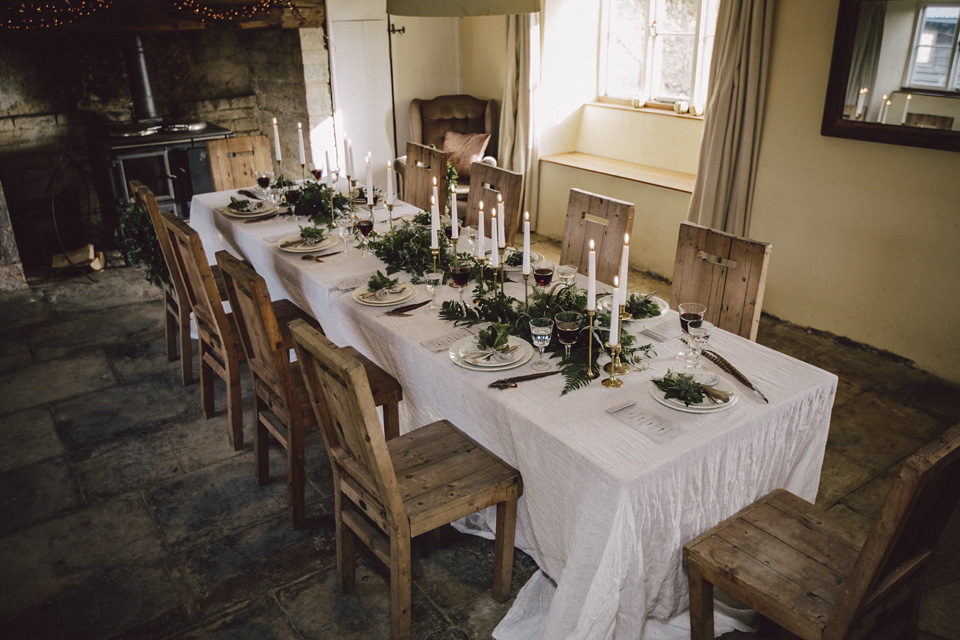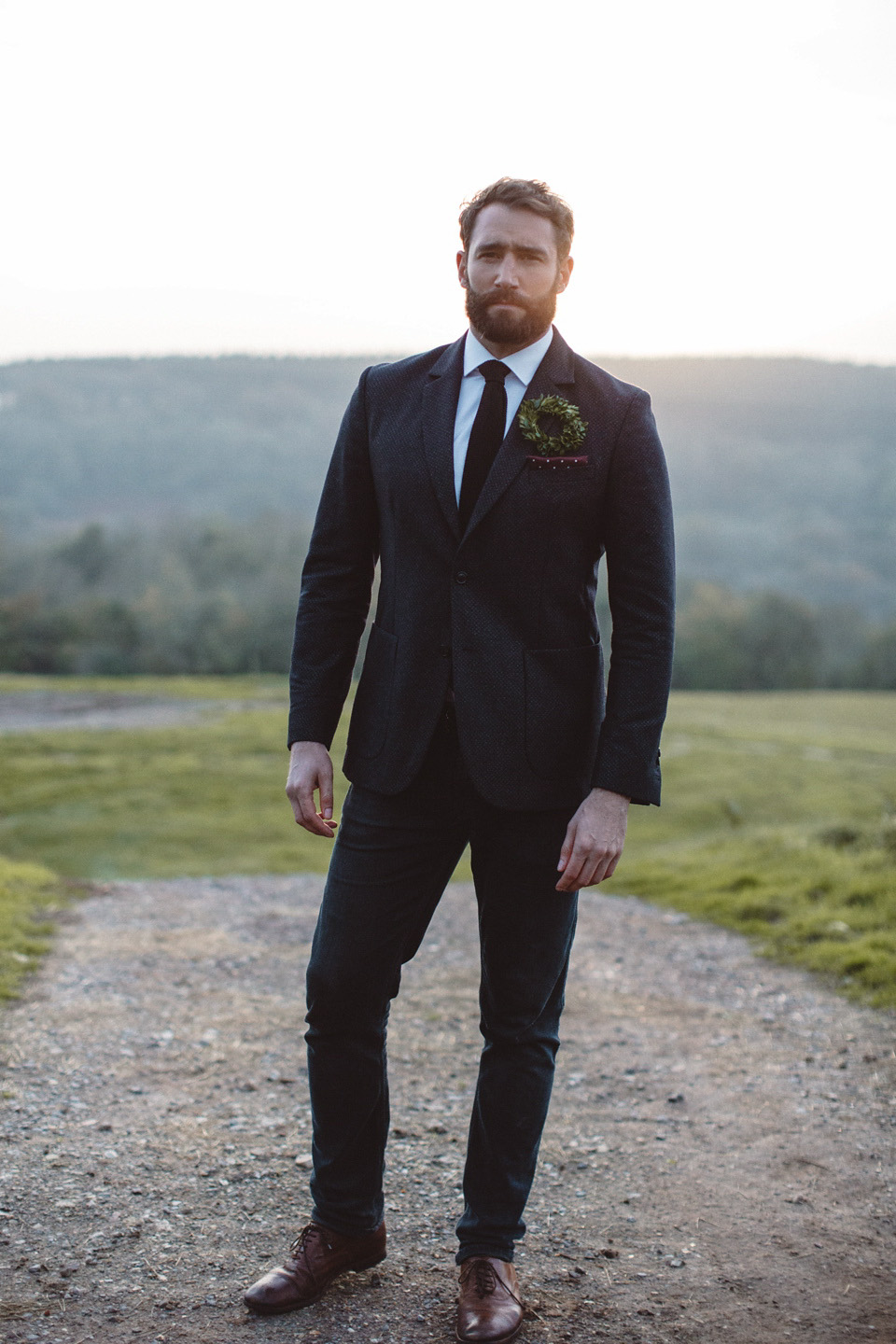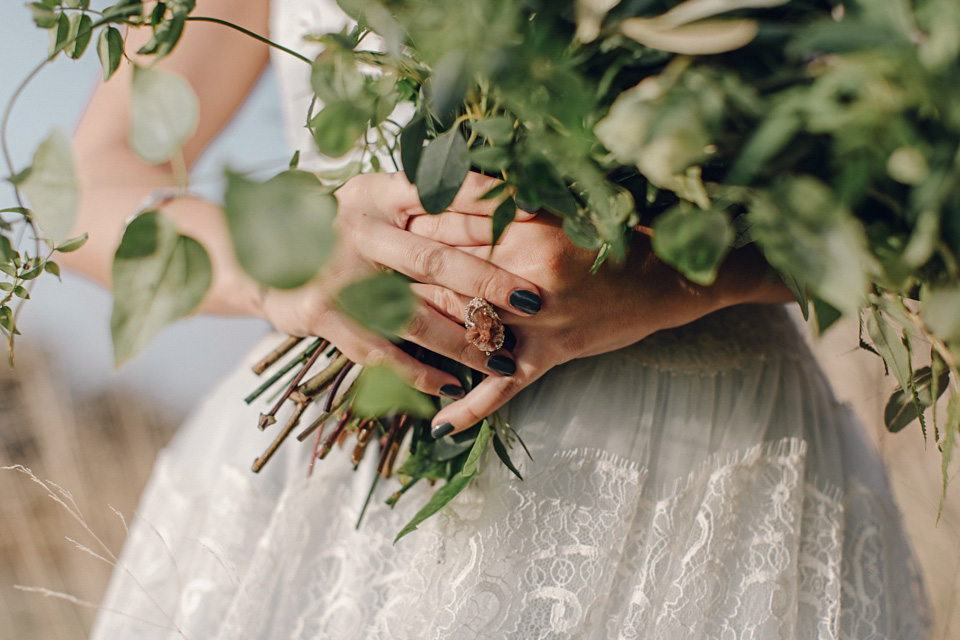 "The second bridal look was altogether wilder, with loose locks, bronzed cheeks and a berry lip. This icy blue Rembo gown was wistful and romantic, with a sheer detailed lace back and a tulle skirt. A feather stole kept our Bride warm, as well as the arms of her beau!"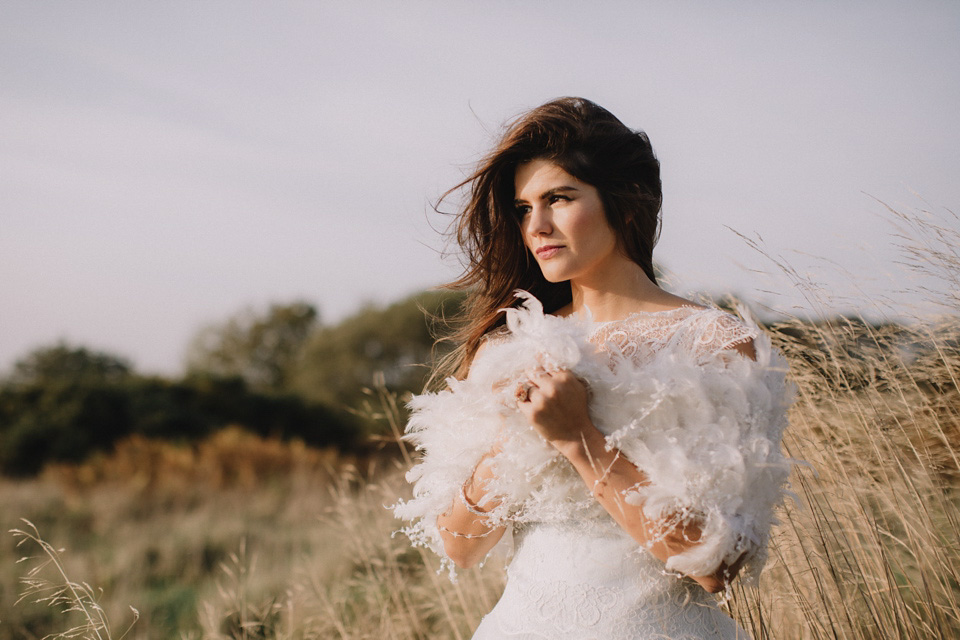 "As the sun started to bow to the misty night sky, our newly-weds retired to their yurt, decked in rich leafy garlands, flickering candles and a roaring fire. Sweet treats came in the form of a golden cake decorated with dainty petals and warming brandy tickled their lips.
Our Bride wore a bespoke Helen Pollington dress via our supplier Miss Bush  – it featured an icy blue bodice and tumbling tulle skirt. A handmade waterfall cardigan with beautiful lace sleeves completed the look. Our bride wouldn't be a boho princess without a statement headpiece. Curious Fair designed this feathery bespoke creation and it was perfection."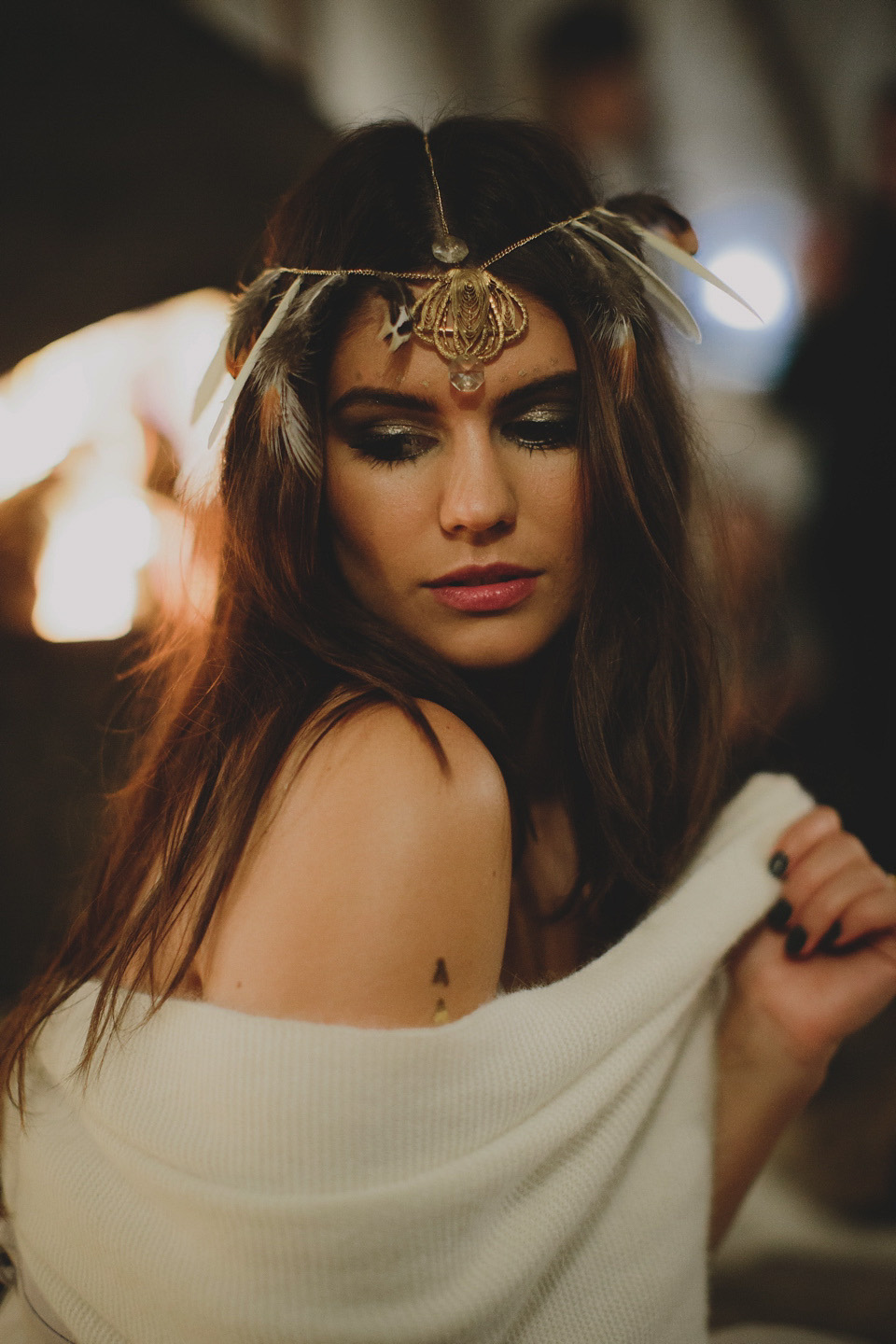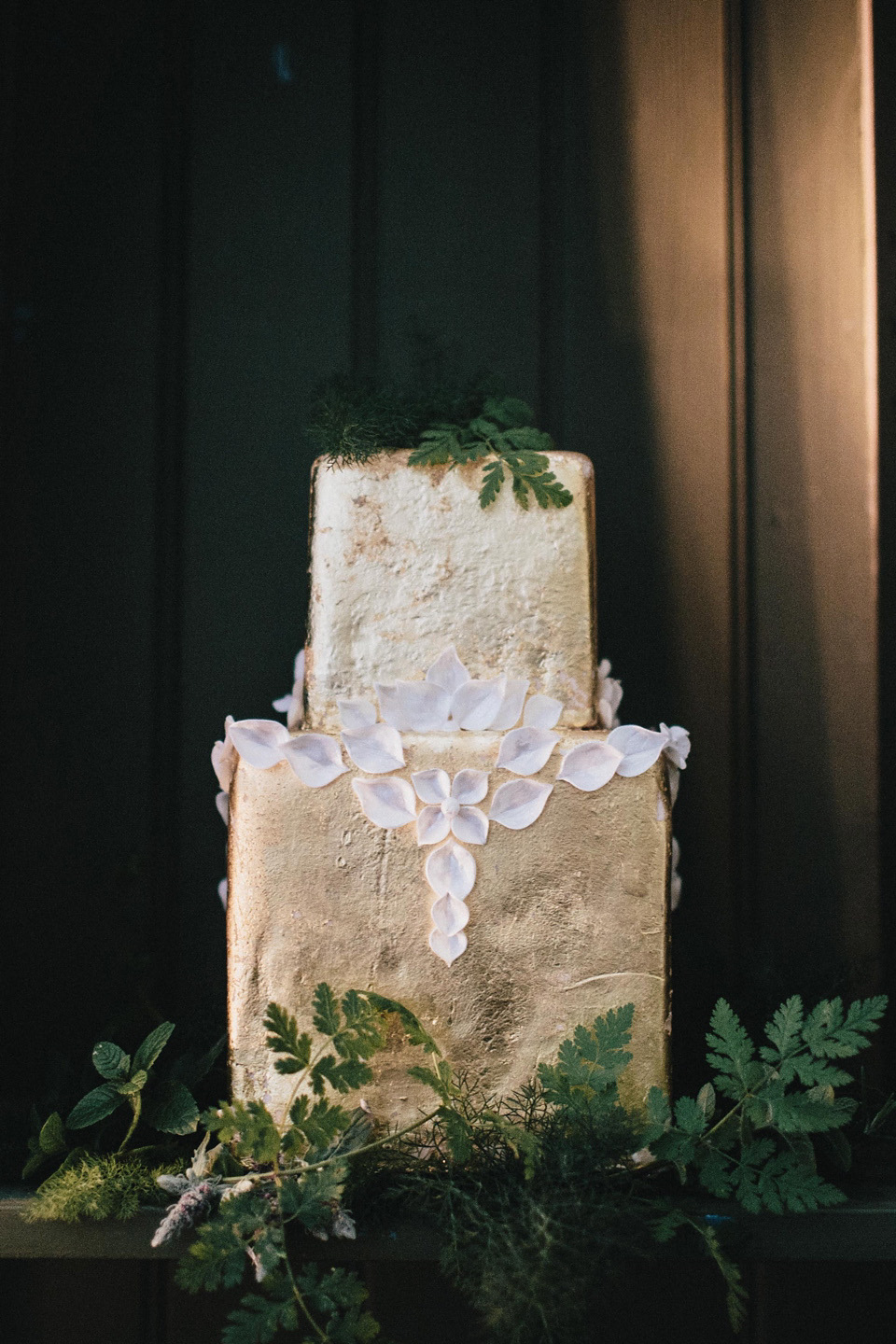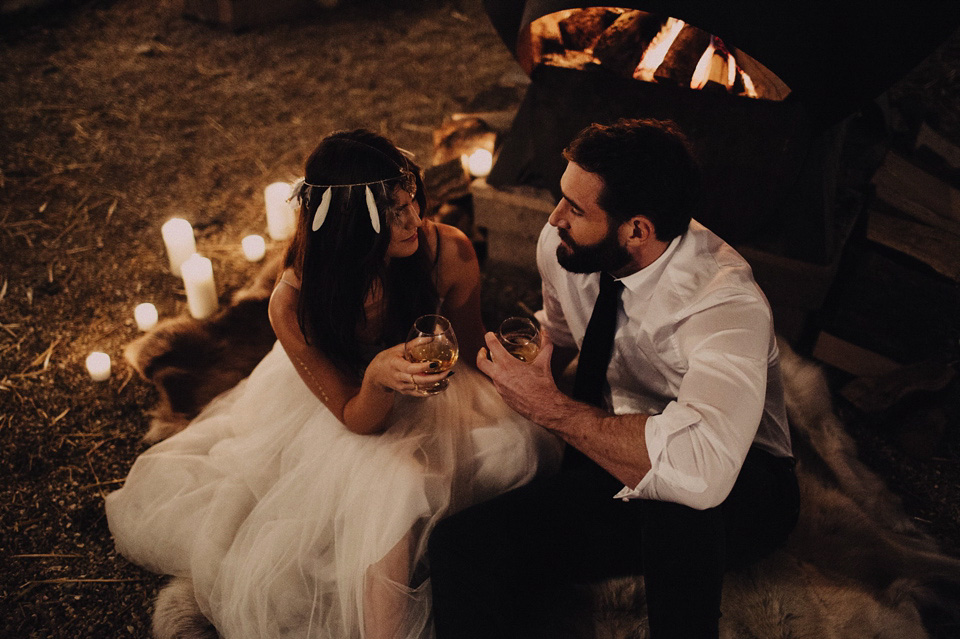 What an exquisite shoot, bursting full of beautiful boho-luxe wedding ideas. I hope you love it as much as I do.
Enormous gratitude to Emma and Katrina for allowing us to share this beautiful set of images.  Pin away my loves! Share on Instagram too.
Have a very lovely Saturday,
Love Annabel x