Good Morning and Happy Friday to you all. I have a lovely wedding for you today that will wrap up the working week perfectly. Get ready for some gorgeous blooms, a stunning two piece Charlie Brear gown and a fantastic bake off dessert table, all at a very unique London venue.
Photography by Angela Ward Brown Photography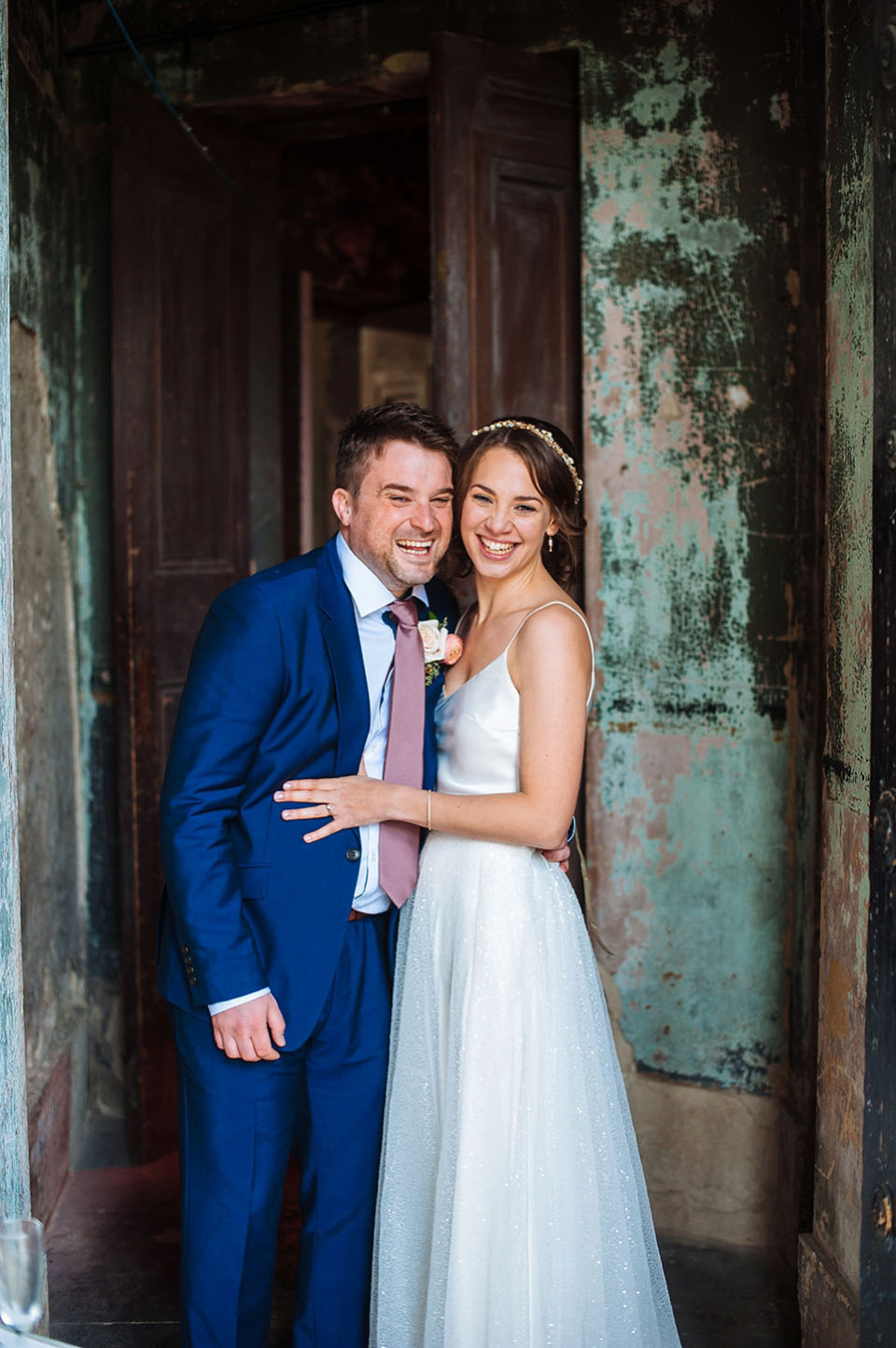 On April 18th 2014, Project Manager Emma and Business Development Manager Chris tied the knot at Caroline Garden's Chapel in Peckham, London. Beautifully captured by Angela of Angela Ward Brown Photography, this is the perfect way to start the weekend!
"We were mainly guided by the desire to make it informal, relaxed and for everyone to have fun."
"Chris and I met as bright young things during our very first term at the University of Nottingham. We lived quite happily together in unmarried bliss for over 12 years. Clocking up lots of flats, new jobs and our lovely cat Stevie. We loved going to friends weddings – but could never quite imagine ourselves doing it. Then in 2012 our daughter Esme was born and we felt like a proper family and suddenly the idea of celebrating our family and making the whole thing official suddenly didn't seem like such an abstract idea."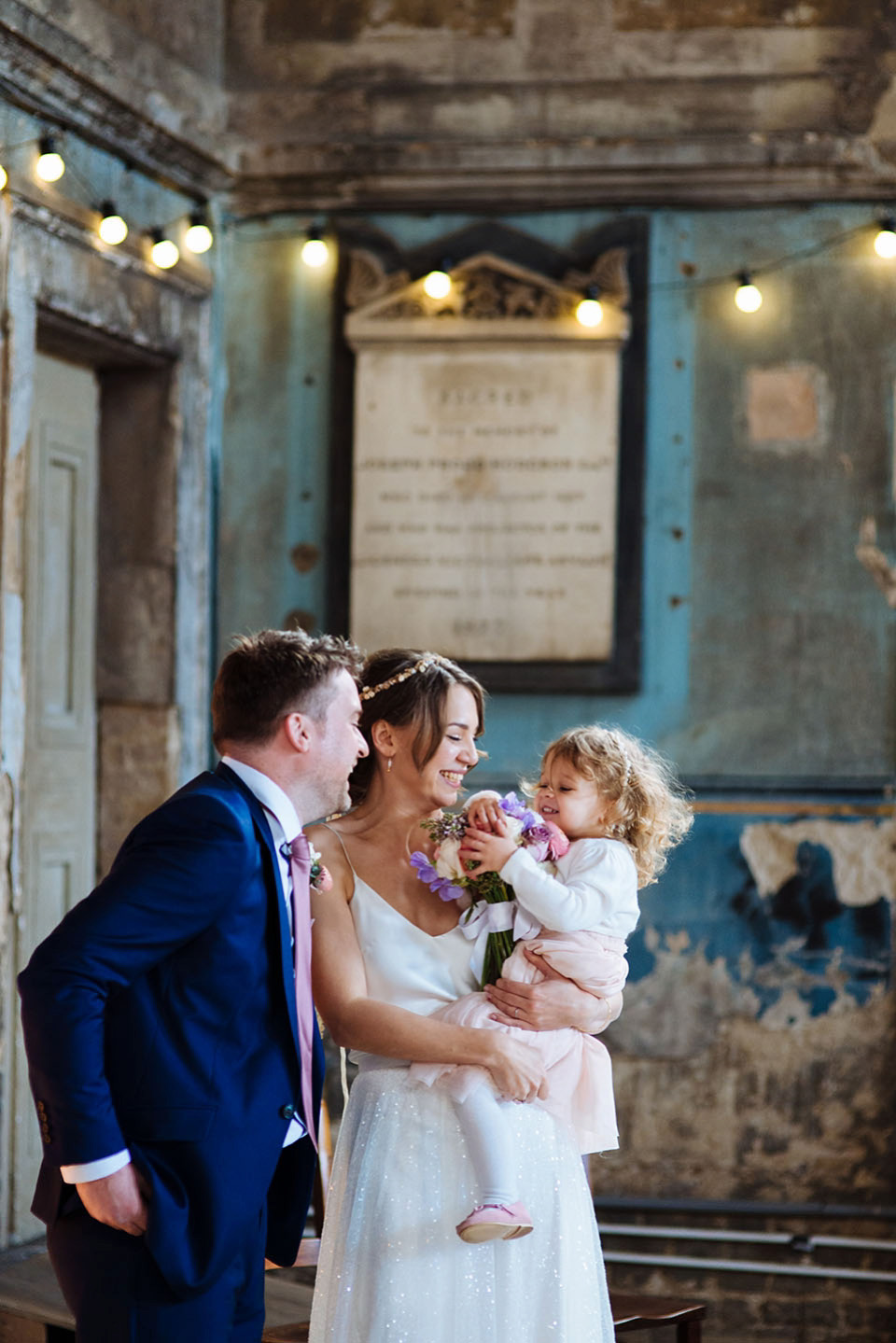 Emma's 2 piece Charlie Brear gown is completely charming – and a fantastic find at a Charlie Brear sample sale! Emma finished off her look with a gorgeous pair of T-bar vintage style Rachel Simpson shoes – Matilda.
"As we'd only planned a short engagement, and were working to a small budget – I'd ruled out the bigger bridal options and was mainly looking at high street alternatives. But then I spotted a sample sale at Charlie Brear, and loved their dresses so thought I'd give it a shot. I arrived late to the sale and felt like the total rookie, turned up late, wearing black underwear and aimlessly flicking through the rails. It seemed like it was indeed proof that the "proper" bridal option, although gorgeous – were just not for me.
But luckily I brought along my lovely bridesmaid and sister-in-law Bec – who with a keen eye spotted a gorgeous tulle and sequin skirt, and suggested trying it with a silk slip. When I did, despite my scruffy hair, and stupid bra – I actually had the clichéd moment where it just felt right and amazing. It managed to be both the prettiest more luxurious thing I'd ever tried on, but the fact that it was separates and was unstructured – meant it also felt totally comfortable and sort of casually put together. All it needed were a few simple alterations to shorten the skirt – so I bought it there and then and headed home, feeling chuffed on the tube with my beautiful Charlie Brear bag over my shoulder."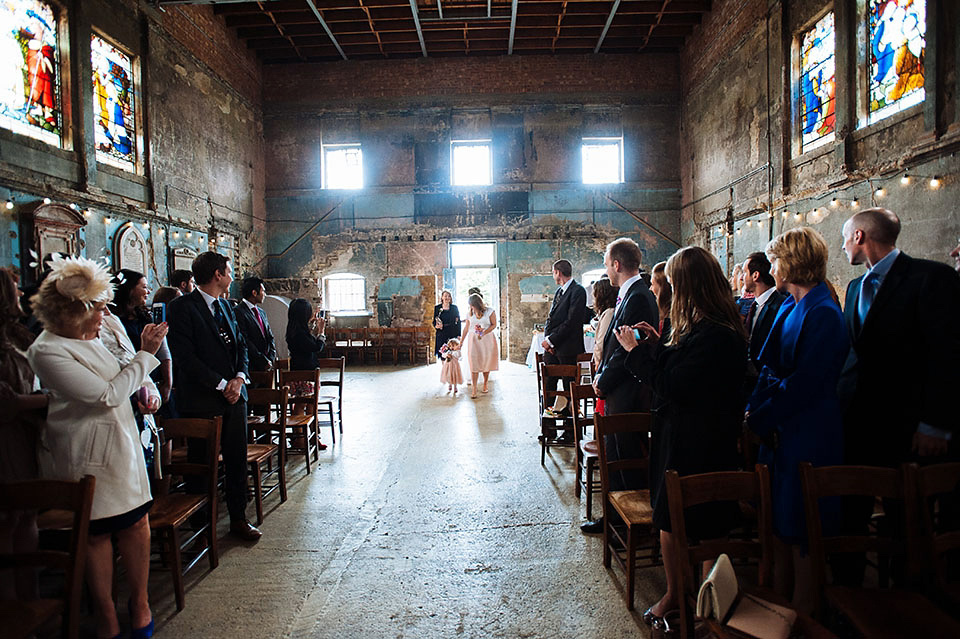 Emma and Chris chose a unique venue in the heart of Peckham – an early 19th century chapel, which is now hired out for weddings and events. The dramatic surroundings made for little need to decorate and don't you agree those stained glass windows are fabulous and so beautifully restored?
"I'd heard about it from a friend a work.  They had mentioned a really pretty old faded chapel in Peckham, that was really beautiful and cheap and where they kind of let you do your own thing. It sprung into mind as soon as we got engaged and I showed it to Chris and he loved it too. Neither of us is religious, but this offered us the opportunity to have a really special and beautiful venue – but also for us to be able to create a day that was really special and informal."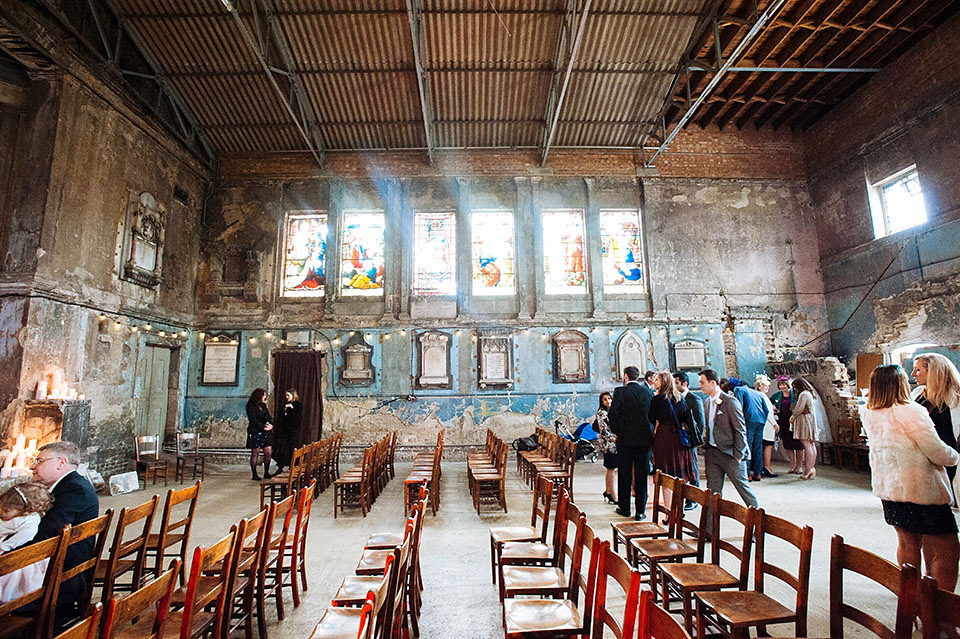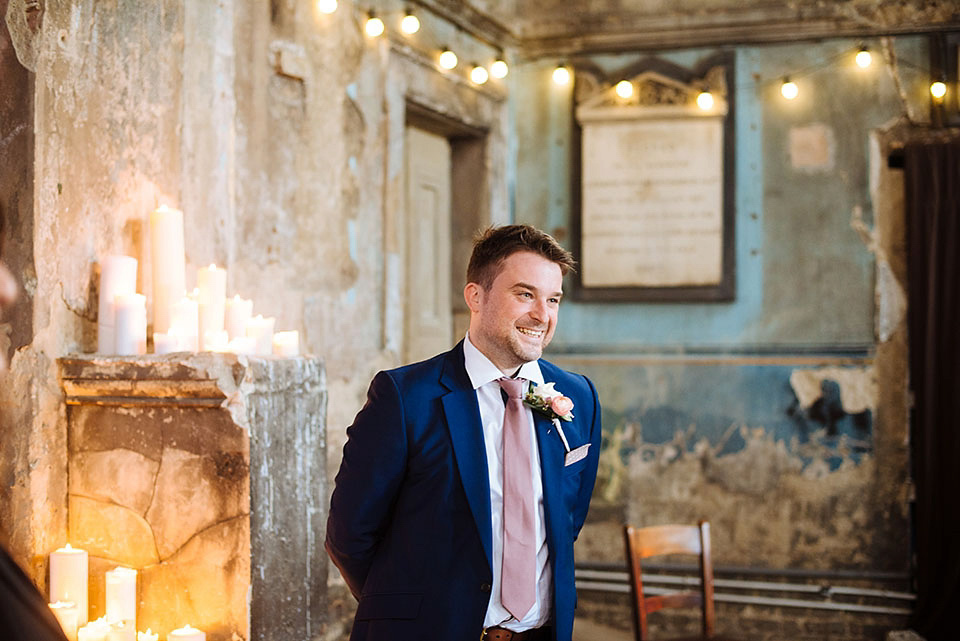 Sofia at lila-lila.com handmade a beautiful circlet for Emma's hair and also created a very sweet matching bracelet for Emma's daughter. Annabel highly recommends Lila and in 2014 wrote an entire feature about the gorgeous designer and her stunning collections. You can read all about Lila here
"I really wanted something special in my hair and Sofia hand makes the prettiest pieces. It's one of my favourite things and I love that I have them to keep."
Emma actually discovered her lovely photographer Angela of Angela Ward Brown Photography via Love My Dress when reading about another wedding that had also been held at the Asylum. Angela is a creative modern wedding photographer in Winchester, UK.
"Although we were on a budget, I knew photography was not the place I wanted to scrimp. The venue was so wonderful – that I wanted someone who could do it justice. It was actually the wonderful Love My Dress that led me to Angela. Looking at the post of another wedding at the Asylum I spotted Angela had made a comment that she would love to shoot a wedding at the Asylum. One look through her pictures and I knew her style would be perfect – so thought I'd give it a go, wrote her a cheeky email, turns out she is lovely, funny and super generous and free on the date – so photographer hired.
I really feel we lucked out with Angela. We gave her a very loose brief of a reportage style and a few key shots and told her that we were both innately awkward in front of the camera but would do our best. She took this hopeless brief and somehow created the most beautiful pictures that captured the day perfectly. We love the pictures and I cannot recommend Angela highly enough. I didn't even notice her snapping throughout the day, but she seemed to capture everything so well."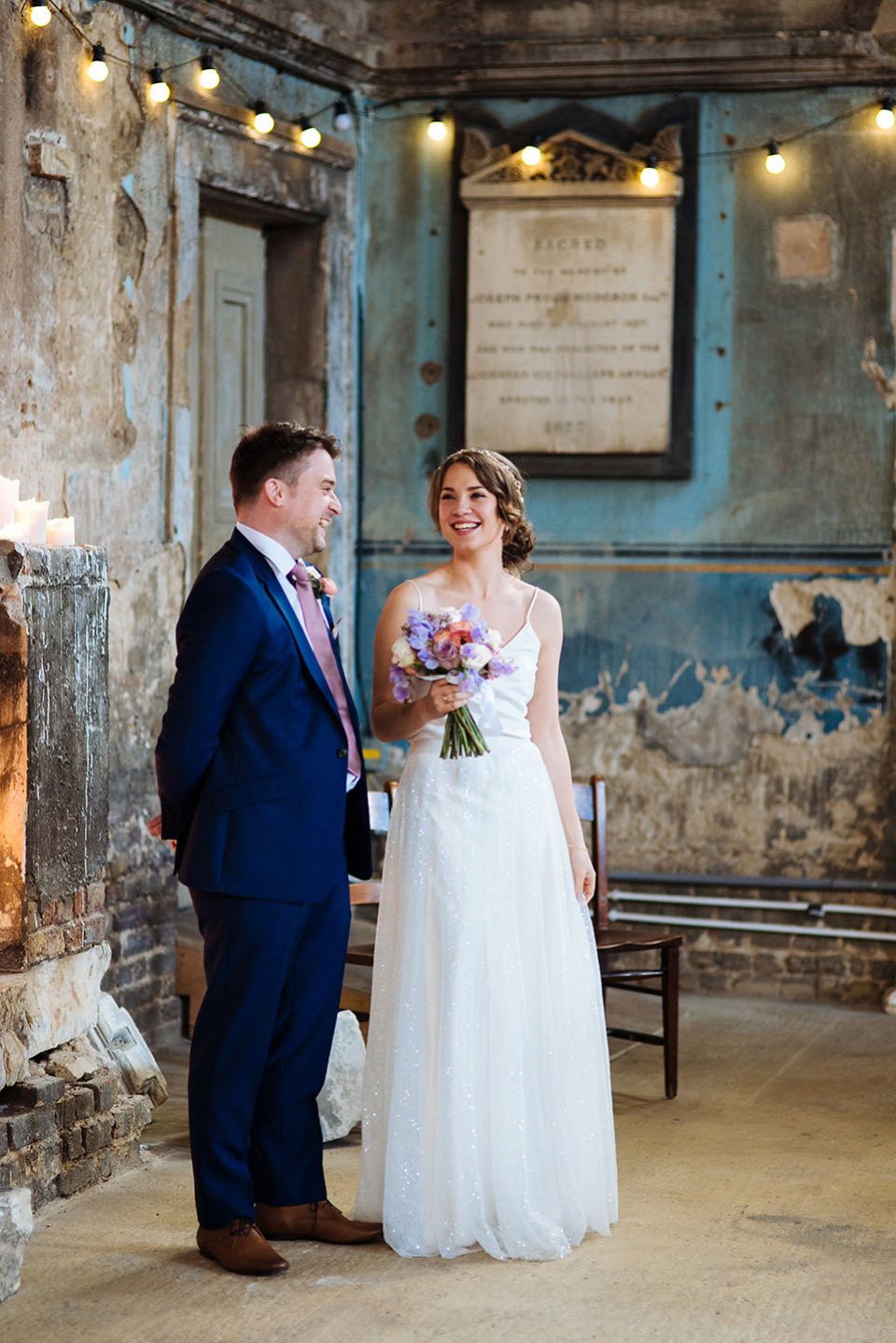 "The ceremony was my favourite part of the day (although totally did not realise that I would be such a crier). Every part of it, seeing Chris' beaming face as I walked in, Roxy's gorgeous personal ceremony, my brother's wonderful song and Esme crashing proceedings and helping us put on our rings. It really felt perfect.
Our friend Anna did a really lovely reading of 'You're my Best Friend' by Don Williams
'You placed gold on my finger
You brought love like I've never known
You'll give life to our children
And to me a reason to go on.
You're my bread when I'm hungry
You're my shelter from troubled winds
You're my anchor in life's ocean
But most of all you're my best friend.
When I need hope and inspiration
You're always strong when I'm tired and weak
I could search This whole world over
You'll still be everything that I need.
You're my bread when I'm hungry
You're my shelter from troubled winds
You're my anchor in life's ocean
But most of all you're my best friend.'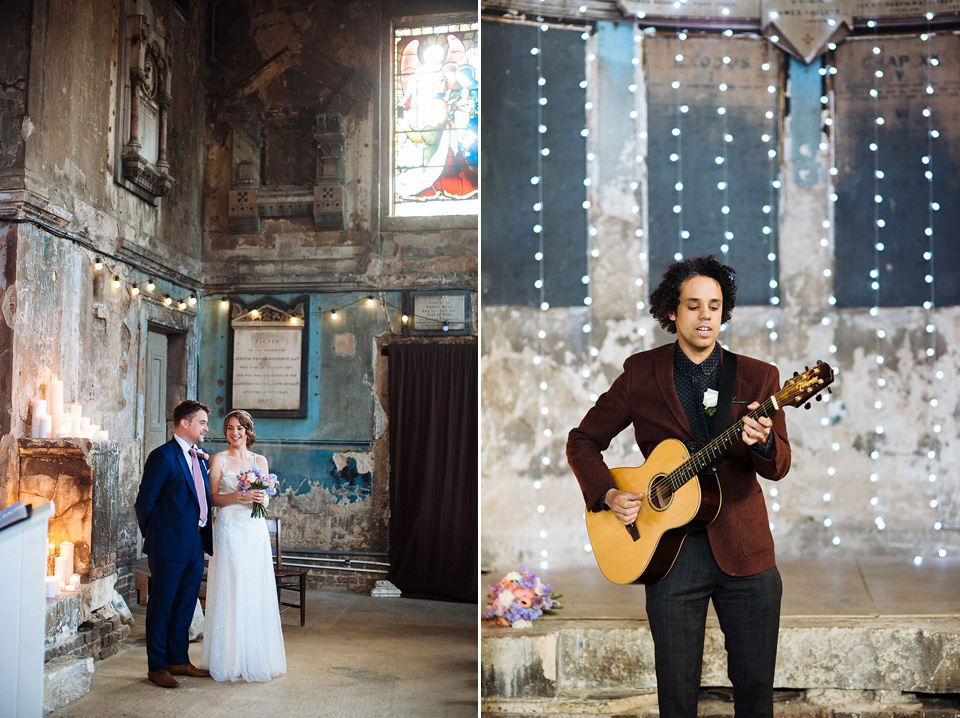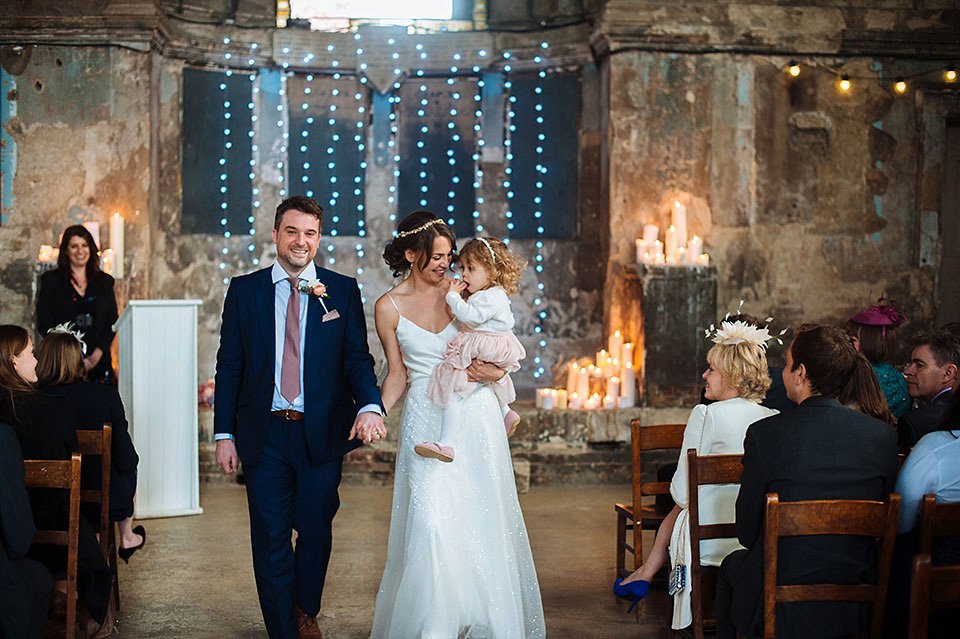 Such pretty blooms of Sweet Peas, Ranunculus and Peonies made for beautiful bouquets and I just adore the little jam jar centre pieces created by Mimi Fleur.
"I love flowers, but felt a little clueless about where to go for them. I just decided to pop into my local florist, The Flower Shoppe in Lee. Again, another hopeless brief (an unfocused Pinterest board) – but we managed to refine it down to dusky pinks and some Peonies and Ranunculus', and they did the rest. The end result – three gorgeous bouquets and gorgeous flowers for the tables."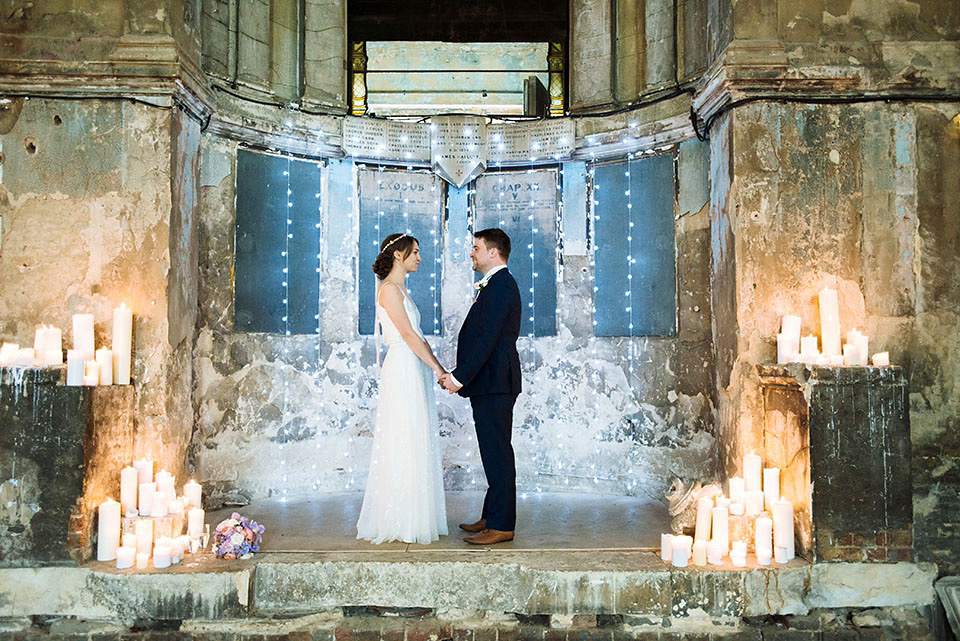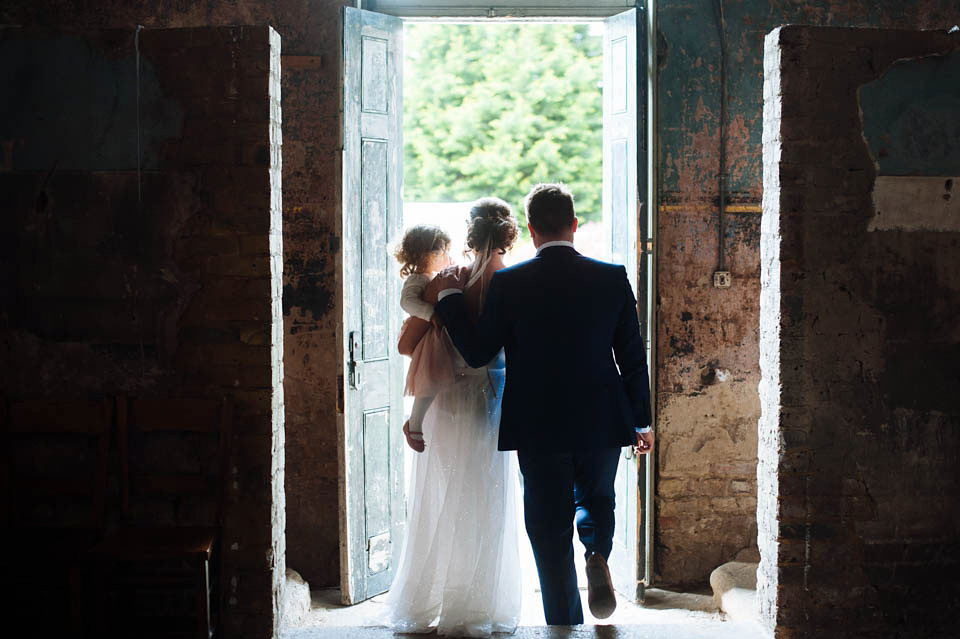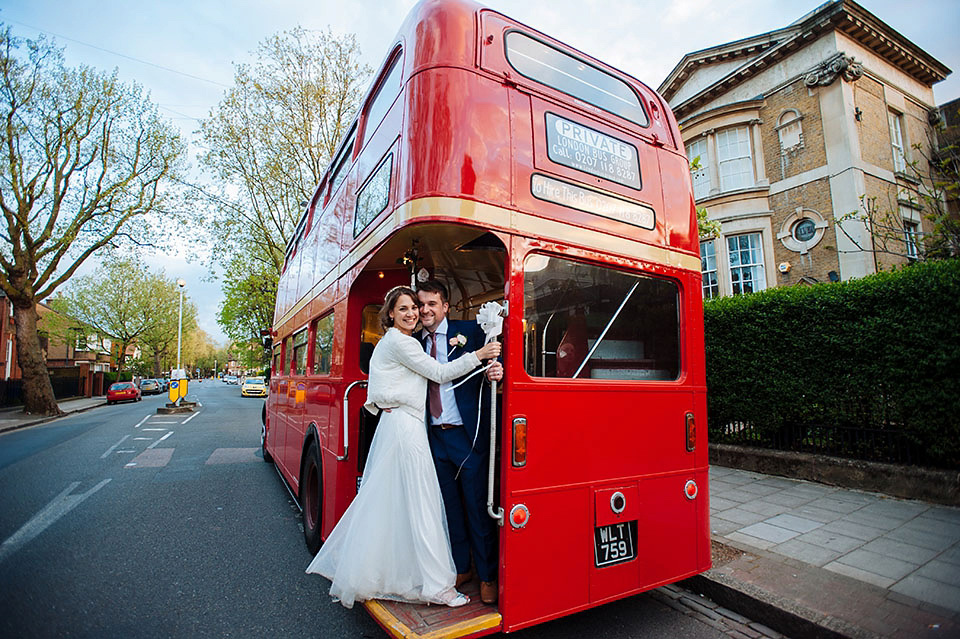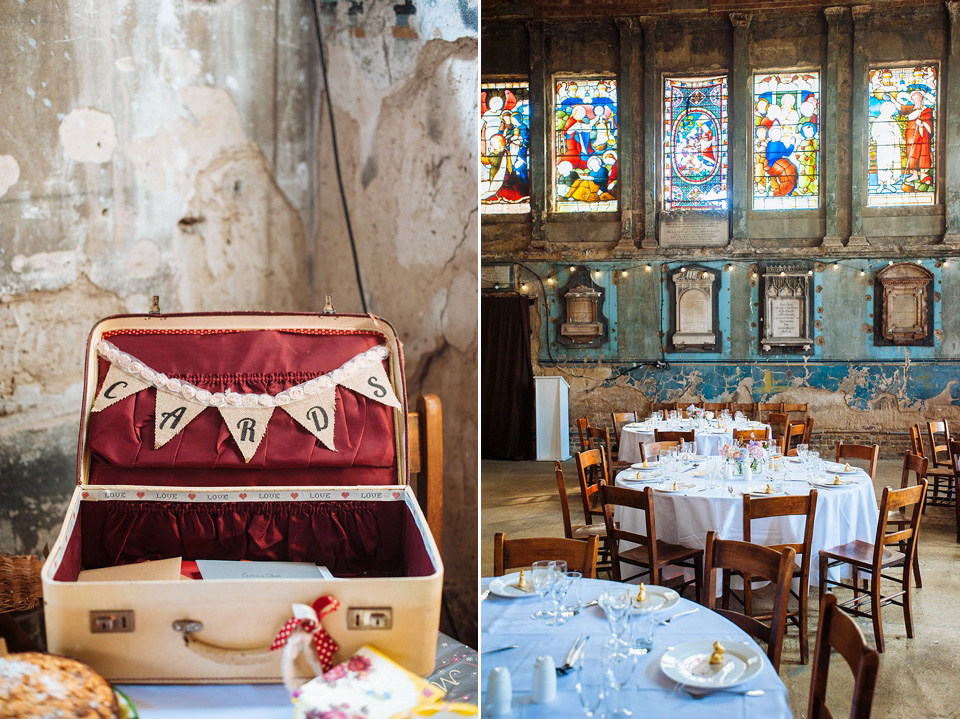 To add to the relaxed feel of their day Emma and Chris opted for a hog roast dinner, served to the table.
"The Swine Waiter is run by a lovely guy called Ed, who along with his staff were so wonderful in helping transform the Chapel into a gorgeous seated venue in record time and serving up the most delicious food."
I'm a huge fan of 'The Great British Bake Off', who isn't! I thought Emma and Chris' idea for a dessert table was fantastic. Everyone joined in and made such brilliant cakes, which looked utterly delicious. The gorgeous two-tier wedding cake of lemon and chocolate was made by Chris' mum Sue.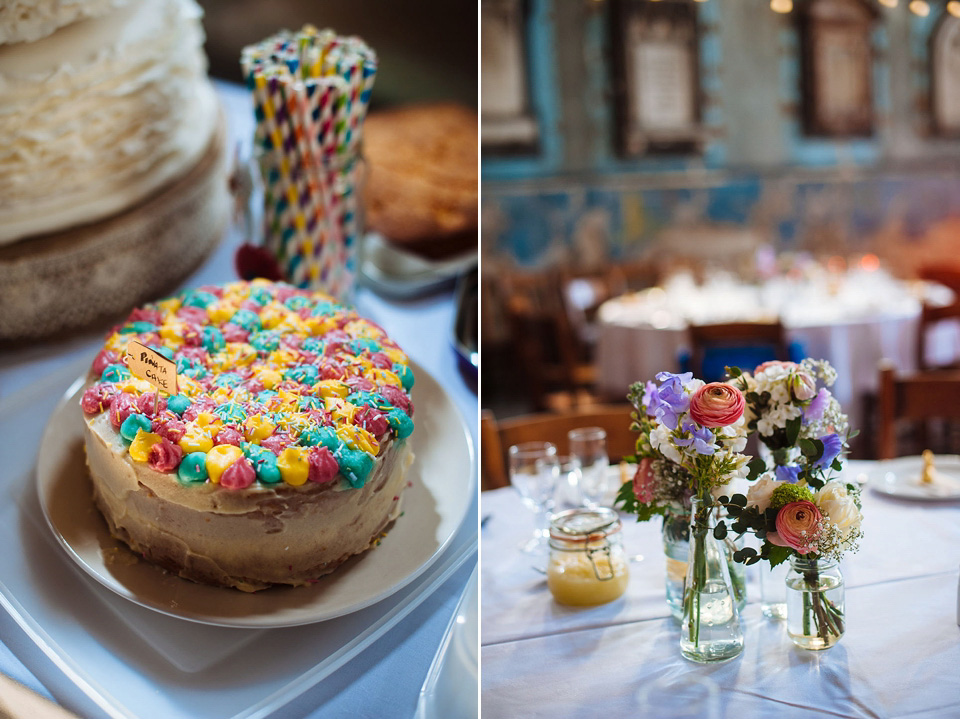 "As we had a hog roast – instead of a dessert option, we decided to have a bake-off.  We both have a bit of a sweet tooth and so no dessert wasn't an option. Our guest's response to the bake-off request was so much more than we could have hoped for.  Everyone went to so much trouble and the cake table was a majestic sight to behold. Beautiful cakes, biscuits and sweet treats – it was a dream and it was also a brilliant ice-breaker for everyone and really helped create the informal friendly atmosphere that we were really hoping for.
There was a slight controversy when the initial winner of the bake off was revealed to be store-bought, but the eventual winner was a quite spectacular piñata cake."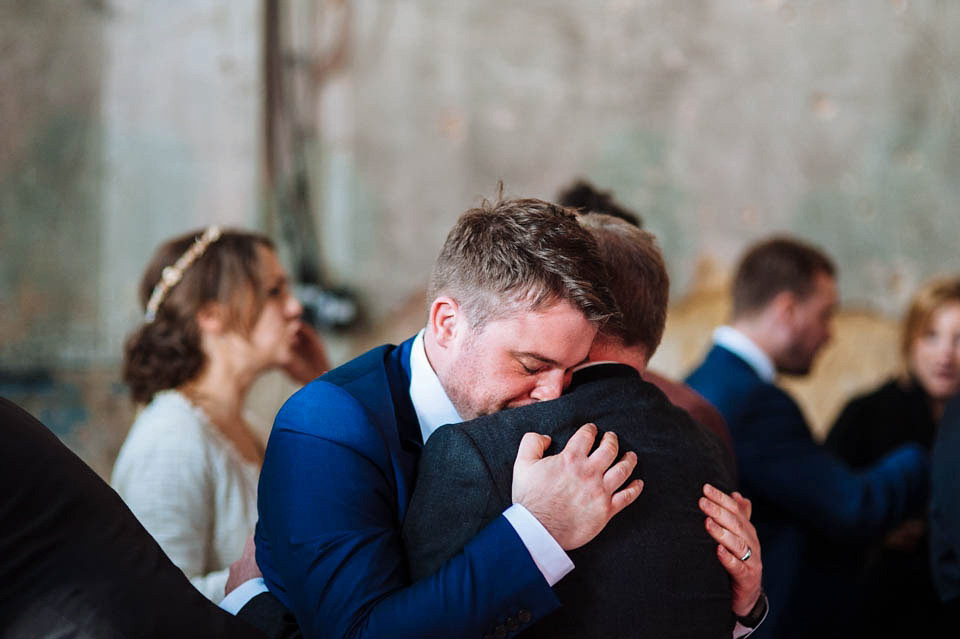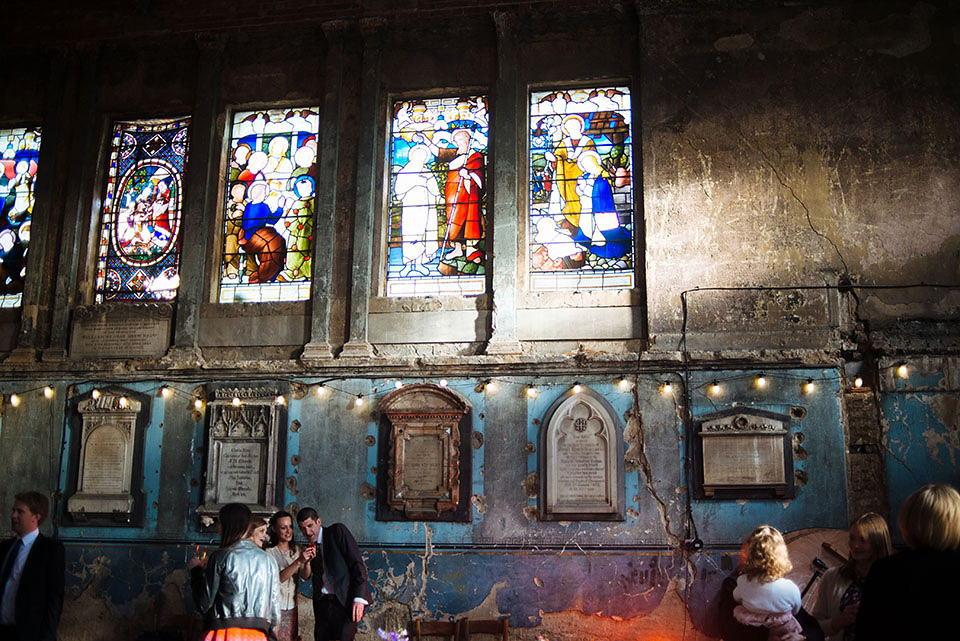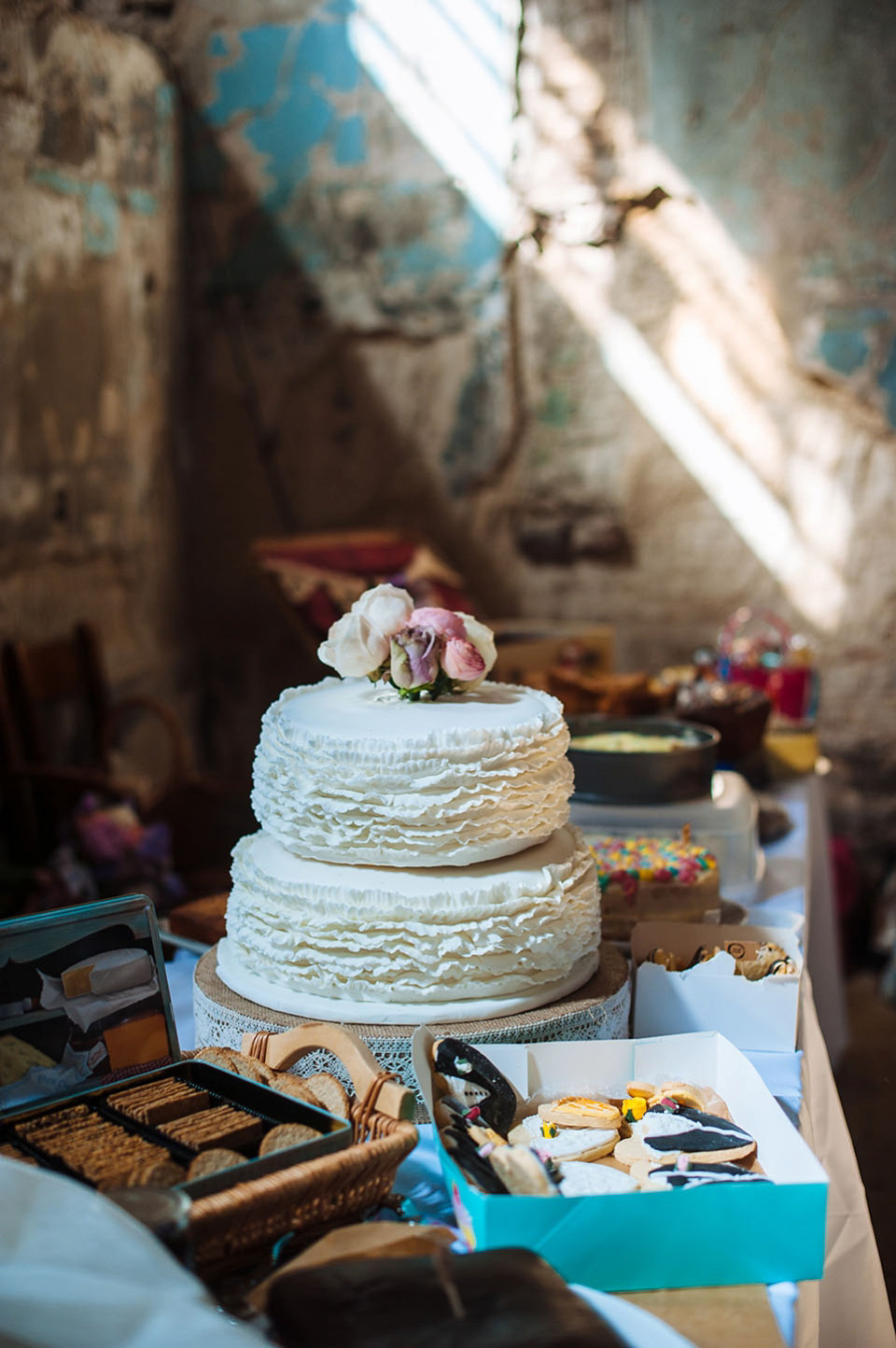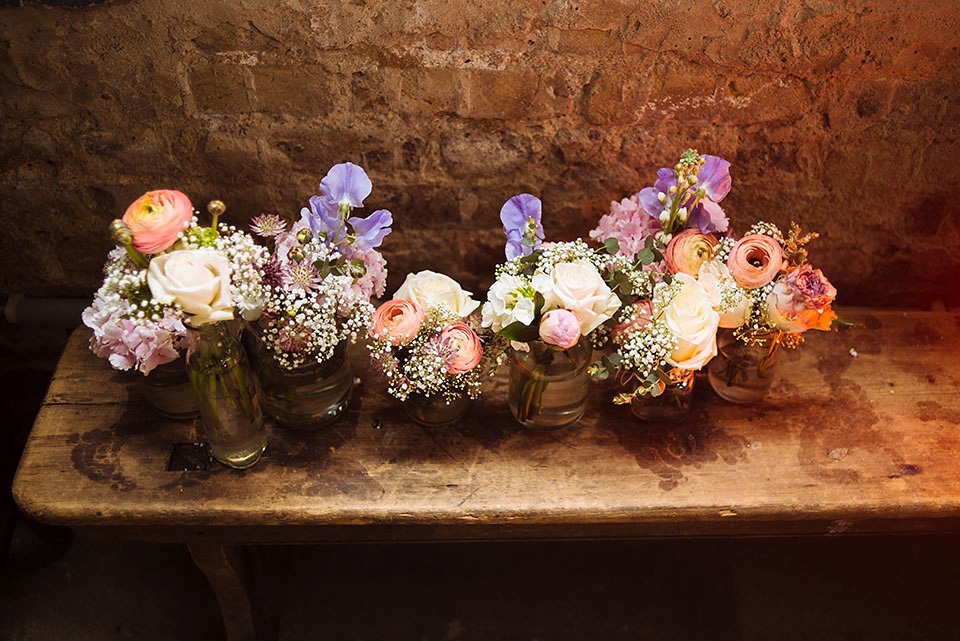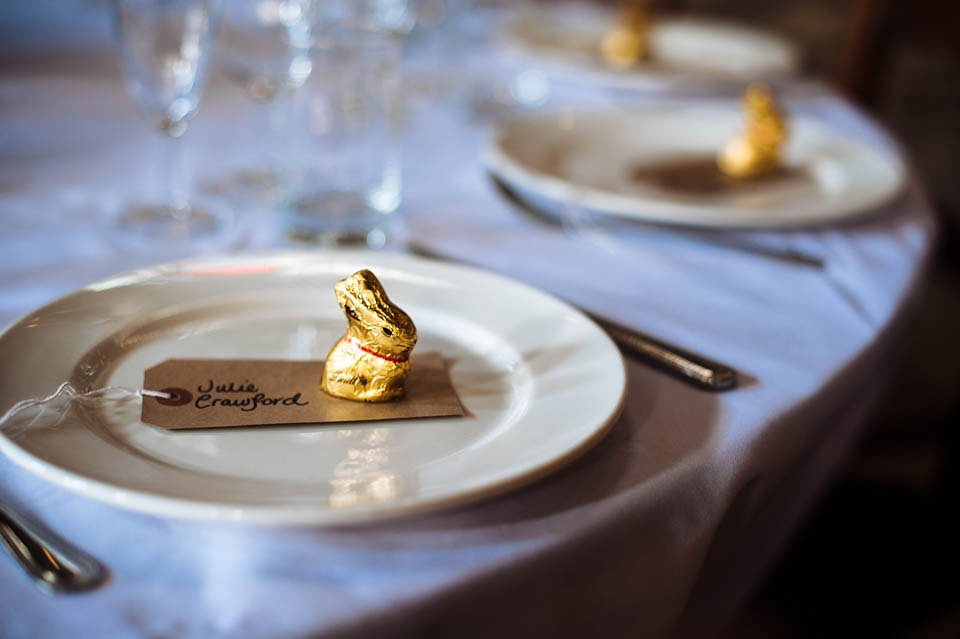 Emma tells us how music is such a big part of their lives and that choosing the right band was high up on their list of priorities.
"After we'd booked the venue, Chris set to work in securing the next most important option – the band. Music is a huge part of our lives, and our relationship together and we both love a dance.  We came across Los Amigos and after a trip to see Javier's solo set in a local pub, we were sold. They played our wedding as a three-piece and some of my favourite memories of the day was to see all our guests up on their feet laughing and dancing away. They made the day into a real party and I would recommend them for any big event."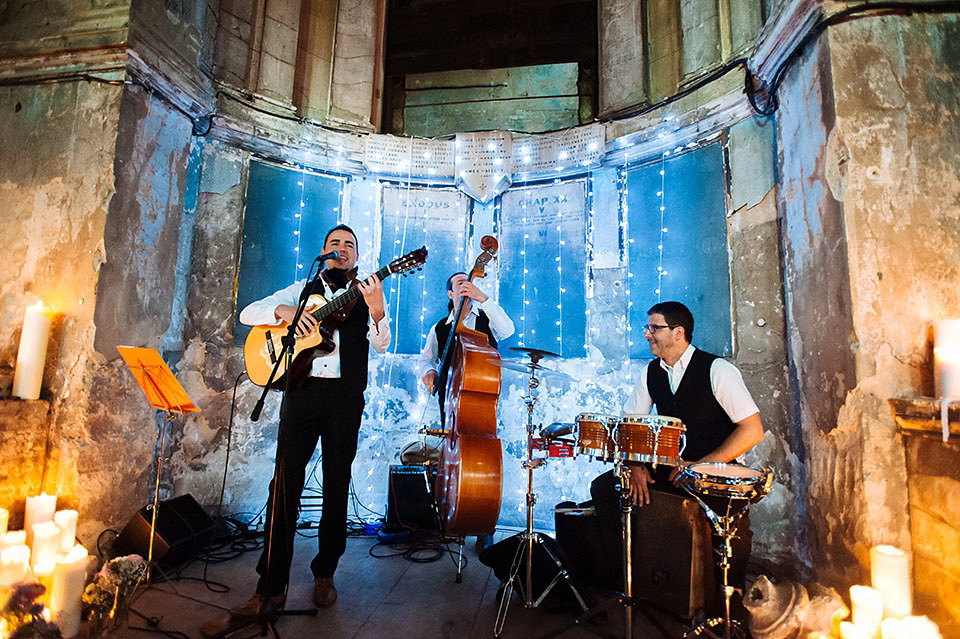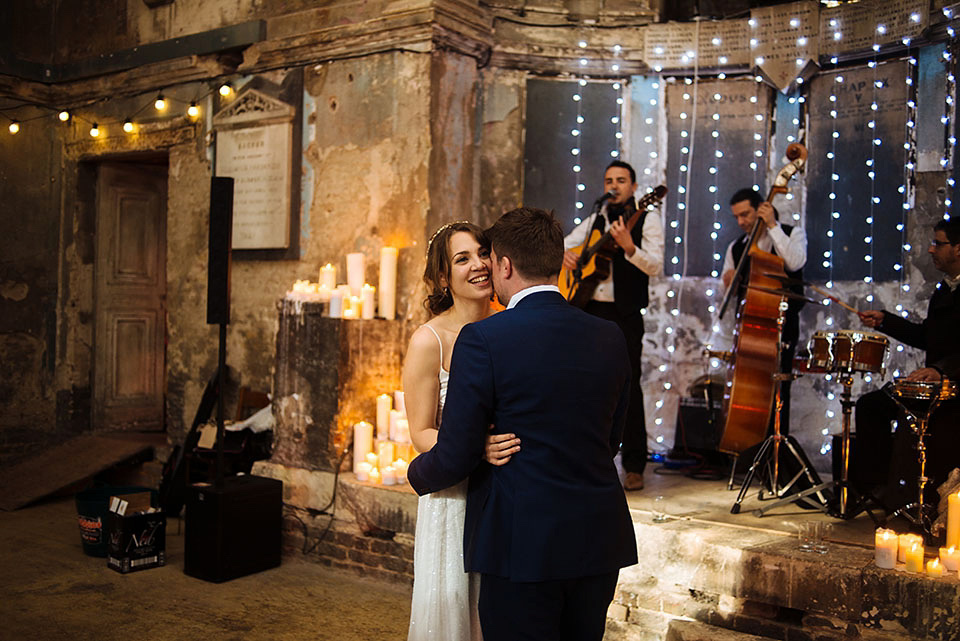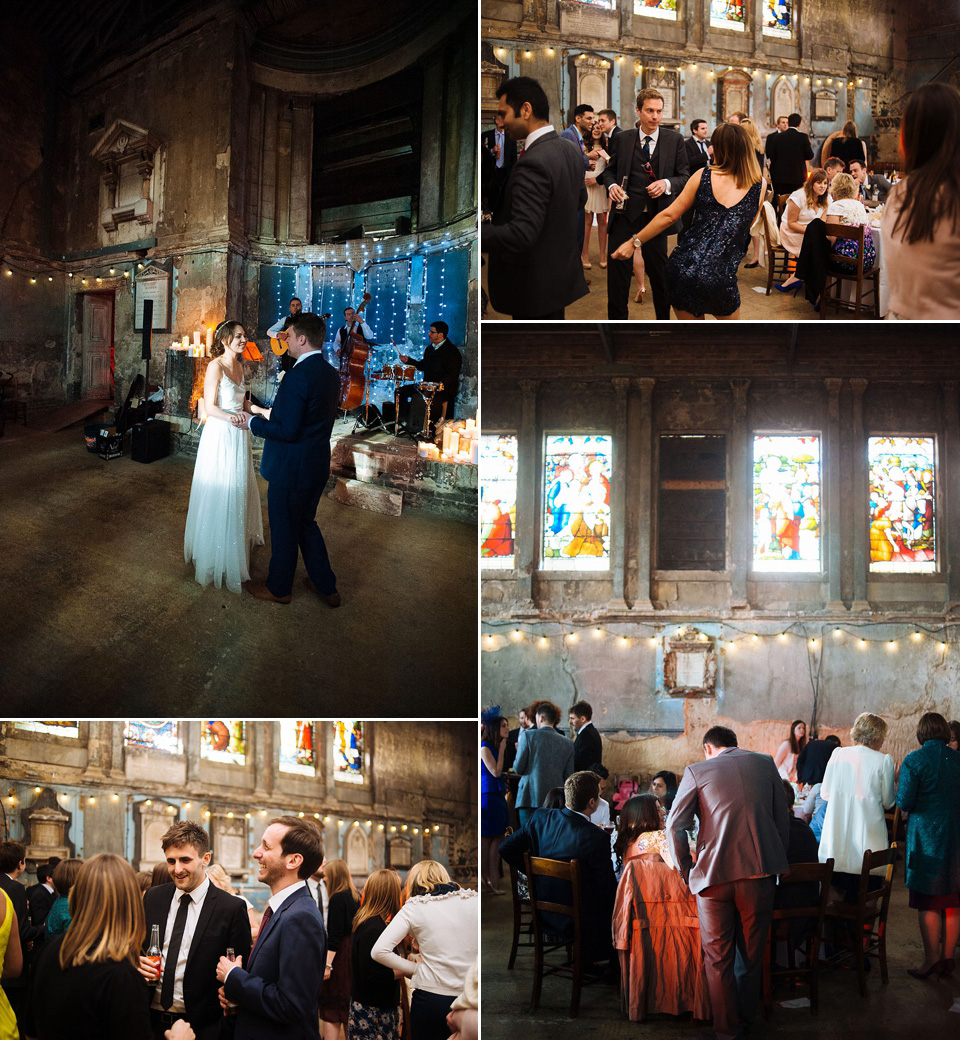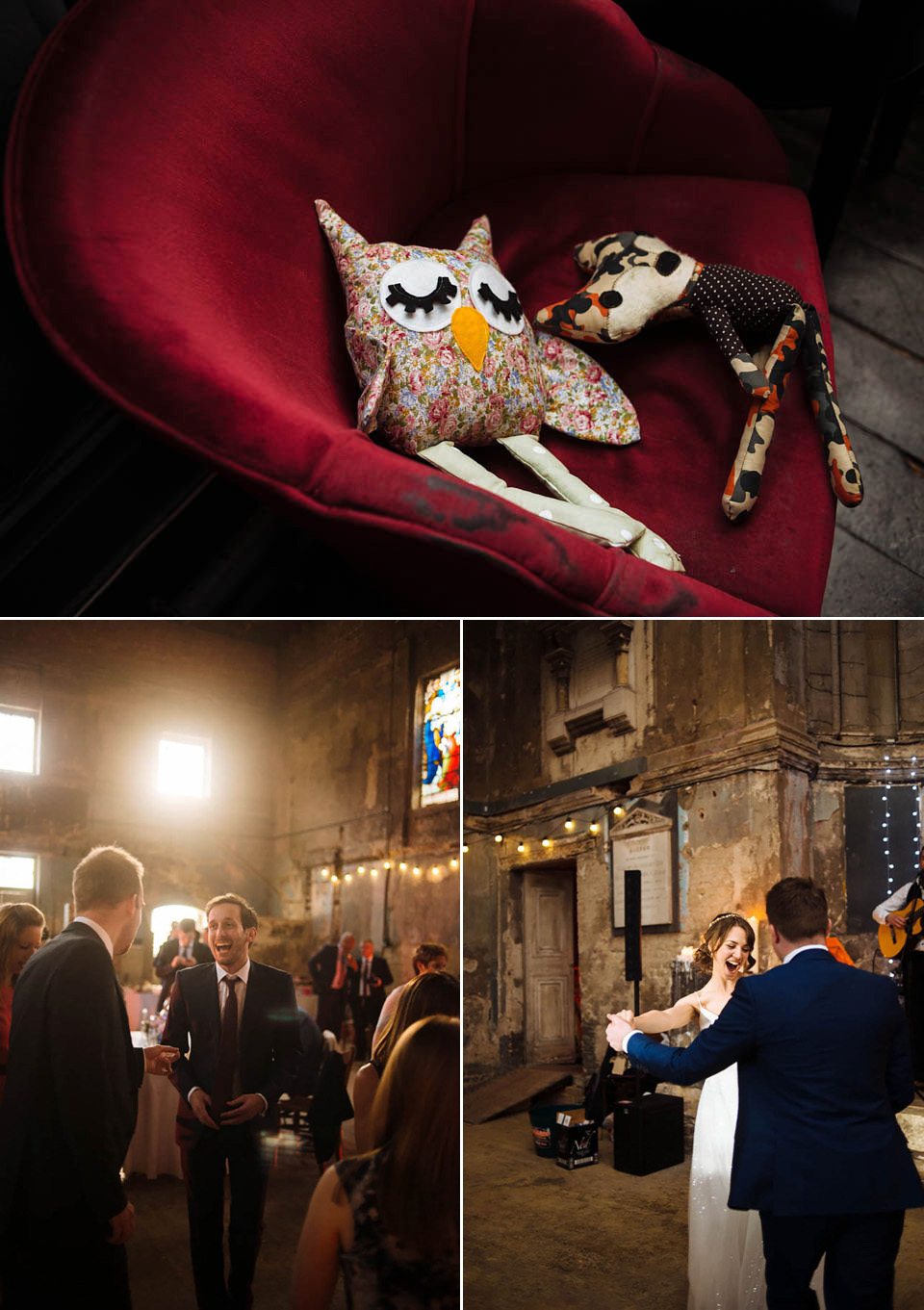 Words of Wedded Wisdom
"If you don't want a long-engagement – it doesn't mean having to make compromises. Having just 5 months to plan the day made us so focused that we made quick decisions and didn't sweat the small stuff. It also meant that when things seemed like they weren't going to plan (like not being able to get a registrar for our planned date) that the alternative option of a celebrant and a legal wedding a few days before was perfect for us.
Also don't be afraid to make the celebration what you want it to be. Marriage means different things to different people, as we'd been together for so long and with our little girl – we already felt like we'd done the commitment part. But actually for us the day was just a brilliant opportunity to celebrate us and our family and to finally make it all official."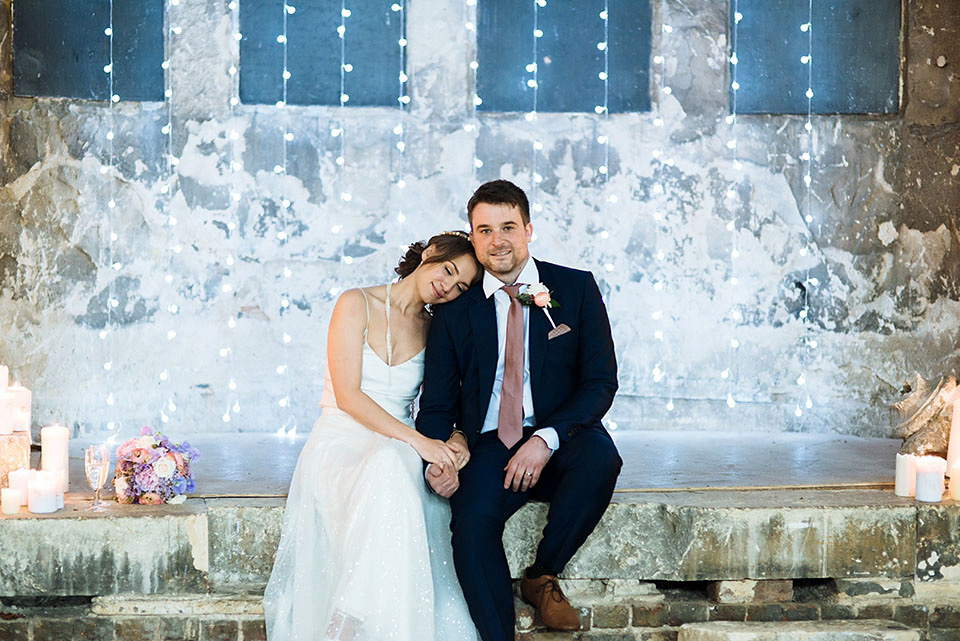 What a fantastic wedding, congratulations Chris and Emma. A huge thank you to Angela for sharing your gorgeous photography with us, what a venue to photograph at too!
To see more gorgeous weddings at The Asylum Chapel in Peckham, London click here.
Have a great weekend!
With Love, Christina x
Photographer – Angela Ward Brown Photography
Venue  – Asylum's Chapel, London
Wedding Dress – Charlie Brear
Headpiece – Lila
Shoes – Rachel Simpson
Groom Suit – Reiss
Bridesmaids – Midi Skirt From Topshop & Sequin Jacket from River Island
Bridesmaids Shoes – River Island
Flower girl Dress – Next
Florist – Mimi Fleur
Cake – Mother in Law and Bake Off
Transport – London Bus Group
Entertainment – Los Amigos
Catering – The Swine Waiter
Stationery – Friend and Bride
Hair Stylist & Makeup Artist – Hollie Noelle
After Party Venue – East Dulwich Tavern
Celebrant – Roxy Hotten Celebrant