It's mid-May, wedding season is definitely underway and it's fab to see photos of so many wonderful celebrations filling up my social media feeds. I hope that those of you fast approaching your big days are full of excitement and not too nervy (I'm one of the nervy ones!).
Today's bride Hannah is a magazine stylist, and her impeccably stylish day was inspired by Vogue fashion photographer Tim Walker. Hannah wed her beau Dom, a paediatrician, at Syon Park, London, on 12th July 2014. This beautiful day was filled with natural glamour – a stunning tulle gown by Jesus Peiro, beautiful rambling blooms, and a grand historic venue.
Photography by Emma Sekhon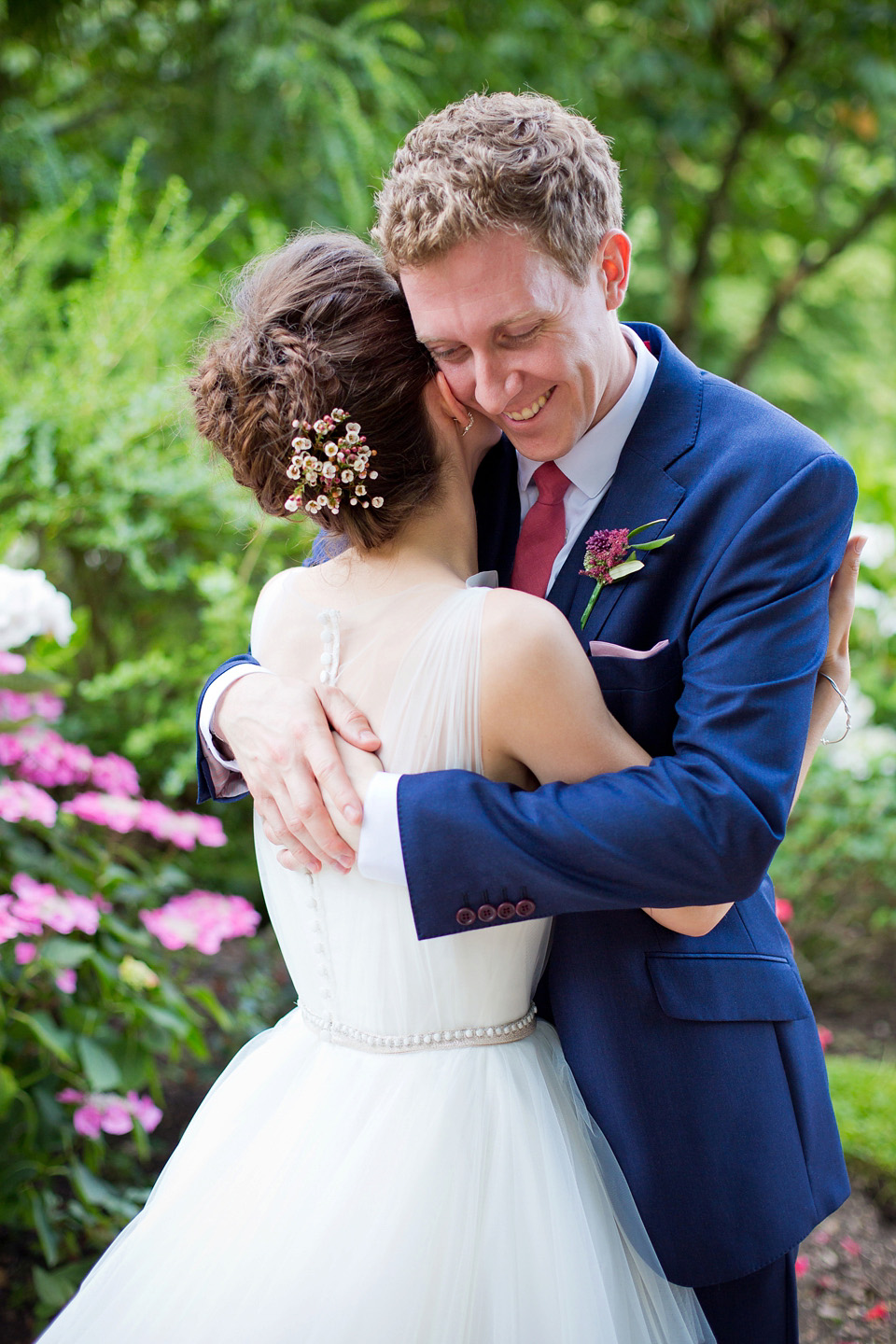 "I love the photographer Tim Walker, and have always been drawn to the wild, unstructured, unfussy, slightly shabby and fantastical kind of beauty that you find in nature firstly, and in his photography too.  The conservatory and flowers were a starting point at least! We wanted to keep things simple and not make too much of a fuss really.
If I was organising it as a photoshoot rather than our wedding, the Tim Walker route is the one I would have taken!"
Hannah's stunning tulle gown is by Jesus Peiro via the inimitable Miss Bush Bridal. I'm a big Jesus Peiro fan – my own wedding dress is by this amazing Spanish designer. Did you catch her piece on Jesus Peiro's new collection?
"I loved the simplicity and delicacy of the plain tulle fabric. And with Syon Park being quite a grand venue, I felt it would be good to choose a dress with a strong silhouette so as not to disappear in the lofty spaces!"
For any couples considering a historic London wedding venue, I think this one is hard to beat.
"We fell for The Conservatory at Syon Park, for its stone floors, glass walls and stripped back beauty. Most of our guests were from London so we wanted somewhere that was easy for them to get to, especially as kids weren't invited. We were also keen to have the civil ceremony and reception in one location to minimise on logistics"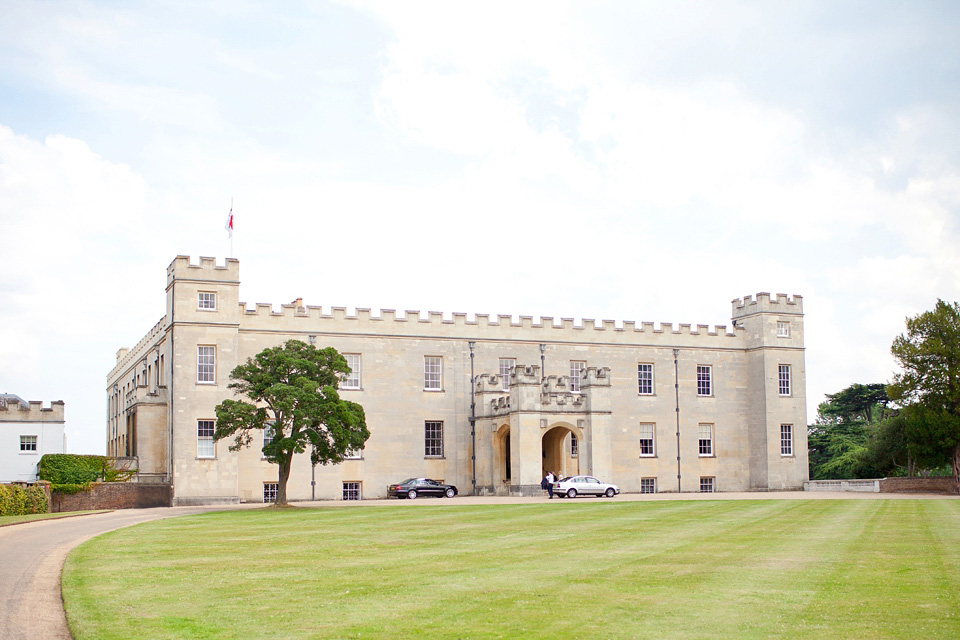 The elegantly designed and printed stationery was supplied by Maple Tea, Etsy.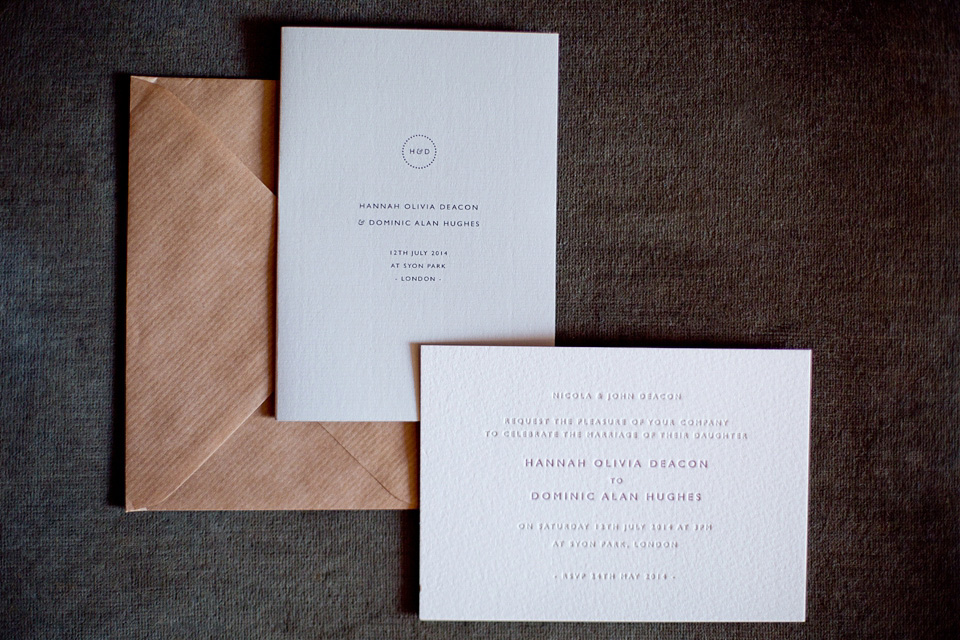 Grace & Thorn arranged the 'wild, natural, unstructured' flowers. They're so pretty!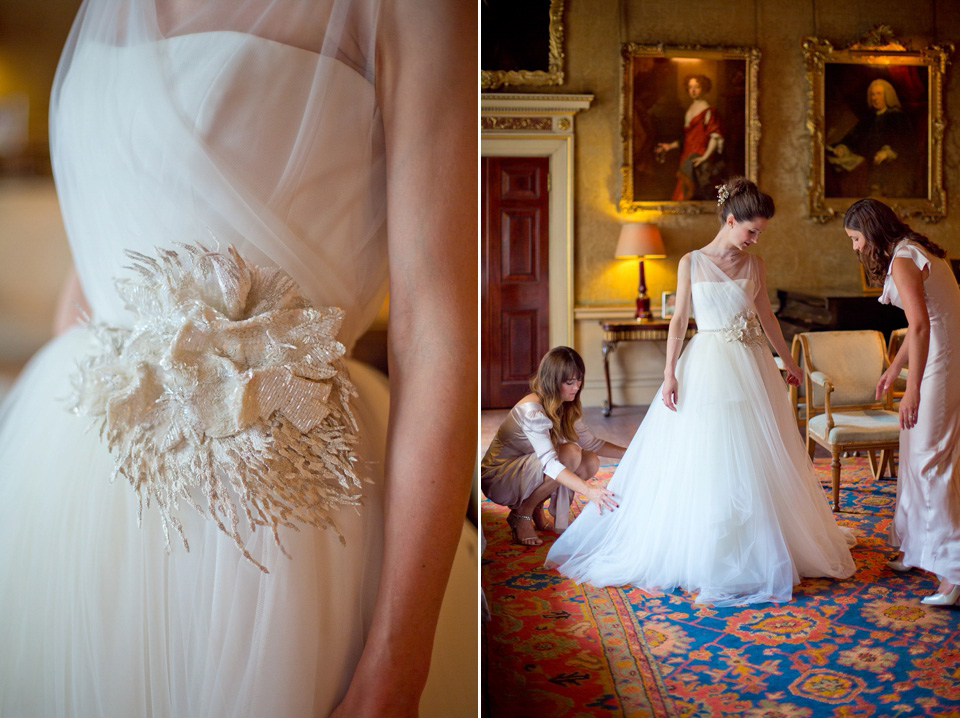 I just love these silk bridesmaid dresses, from Ghost, paired with necklaces from one of my favourite shops, Anthropologie.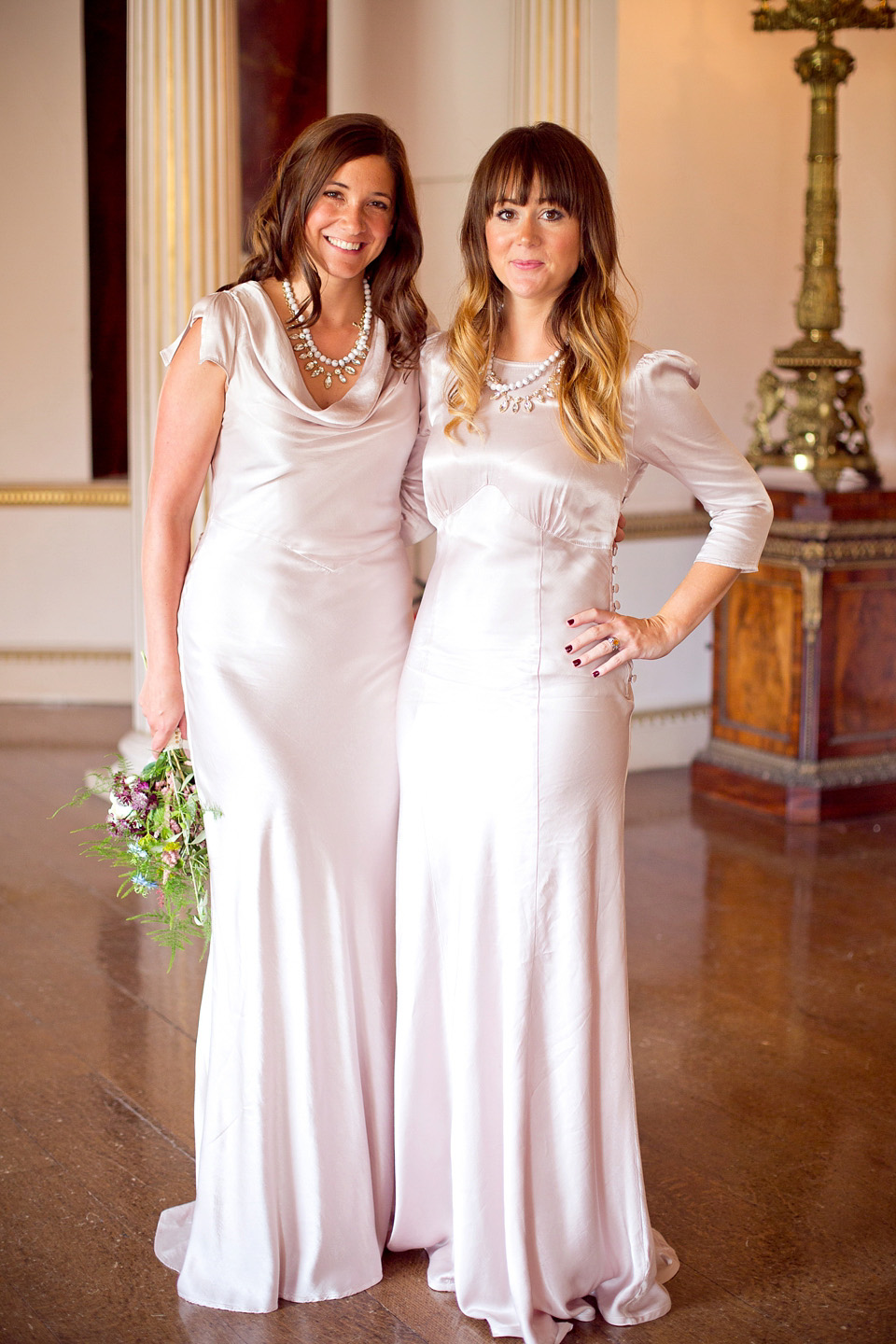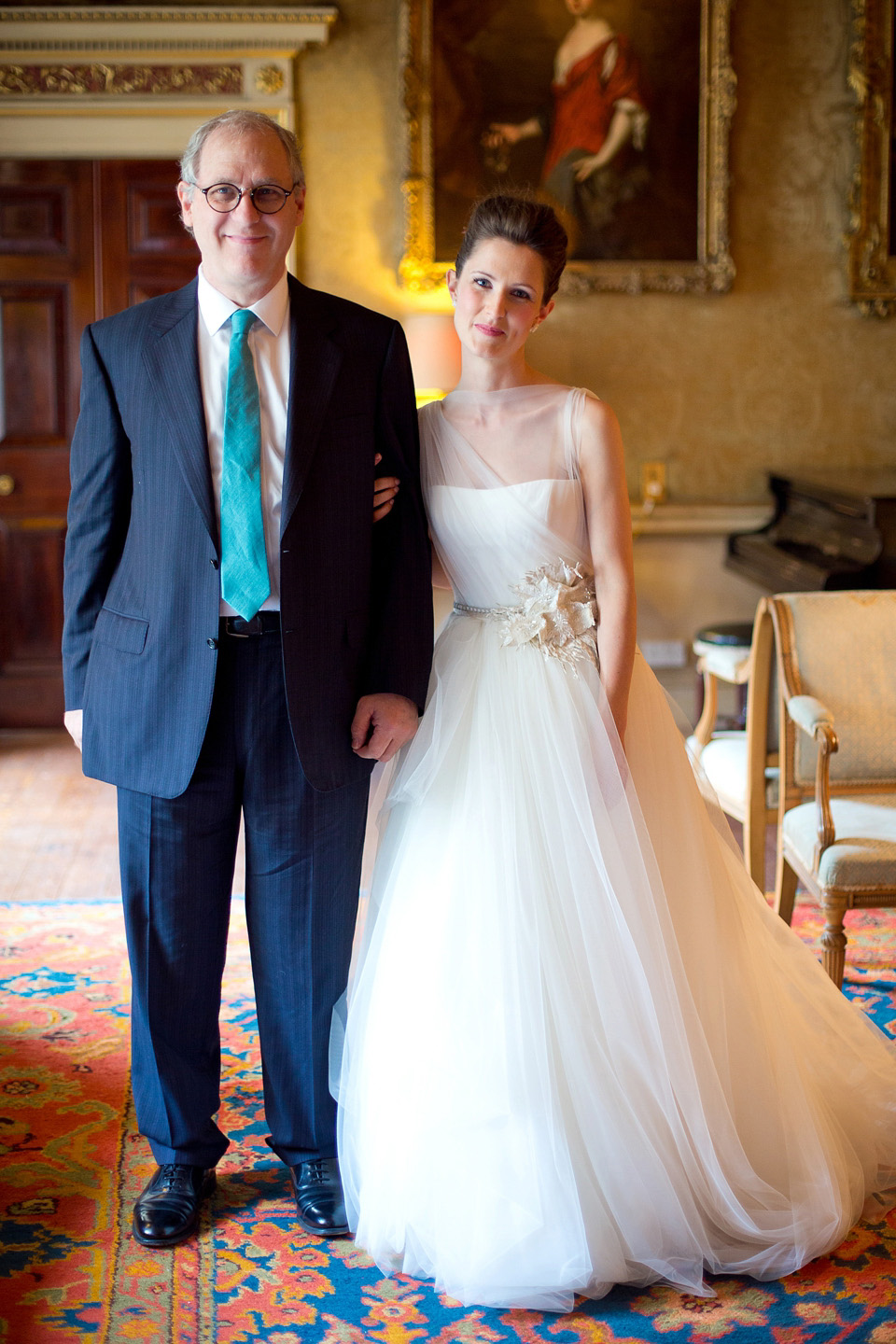 The groom wore a navy Marc Wallace suit, with a tie from Burberry and socks and tie from Paul Smith. The groomsmen wore their own navy suits, also with ties by Burberry.
"We were at uni together and had mutual friends but didn't know each other. We met 8 years later at one of our mutual friend's wedding where as guests, we were given the challenge to make a plasticine model of the bride and groom – the best model was to be used as their wedding cake topper- And we won!"
This ceremony room is absolutely breathtaking. Hannah walked down the aisle with her father.
"Our readings were 'Love, Listen' by Ann Gray, a translated extract from the Italian 'I Libri della Famiglia' by the Italian Humanist, Leon Battista Alberti, on the benevolence and honesty of Love, and 'I will be here' by Steven Curtis Chapman'."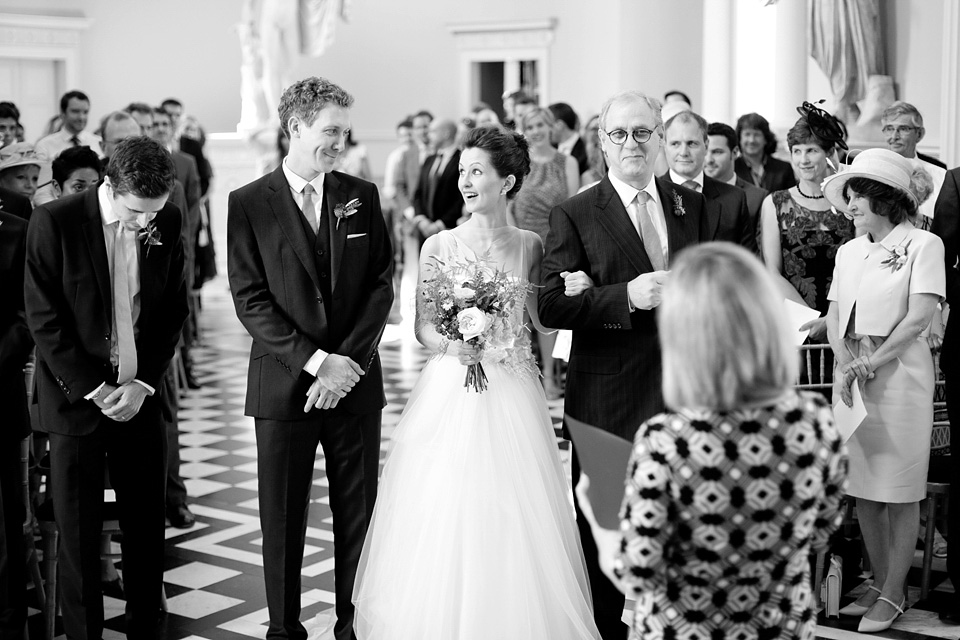 Hannah and Dom chose another fabulous photographer, Emma Sekhon, to capture their celebrations.
"My favourite part of the day was wandering around the beautiful venue ahead of our  guests with just my new husband and our lovely photographer Emma Sekhon. We had a real laugh together and we couldn't have asked for a lovelier person to have around at a special time! Emma being there added so much to our day and we're so grateful to her for all the wonderful pictures that she so effortlessly took without us hardly noticing! We'll have them forever."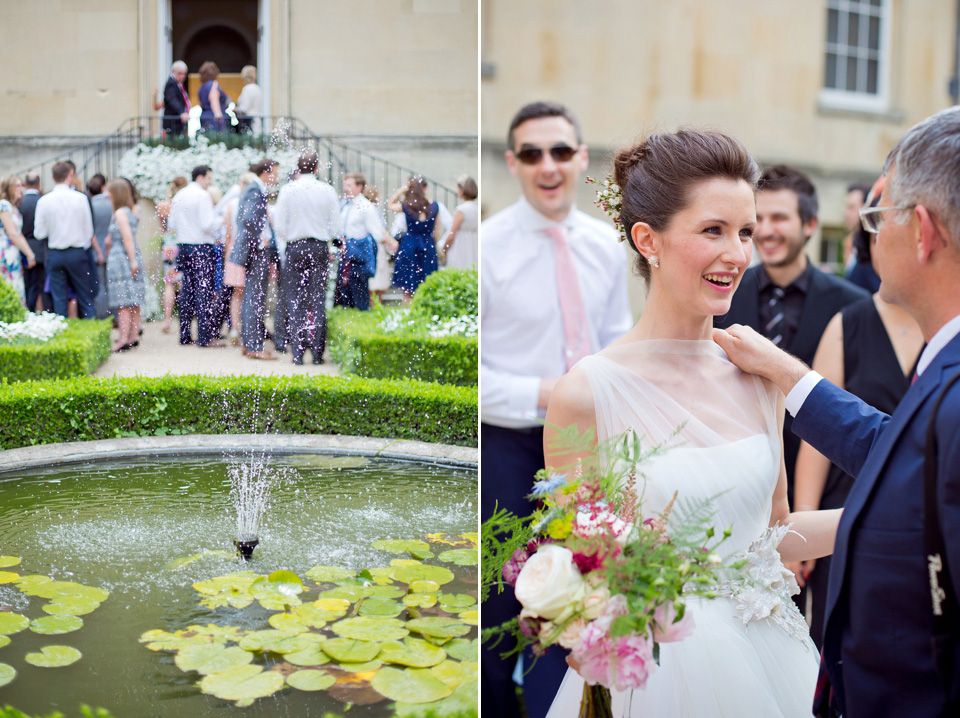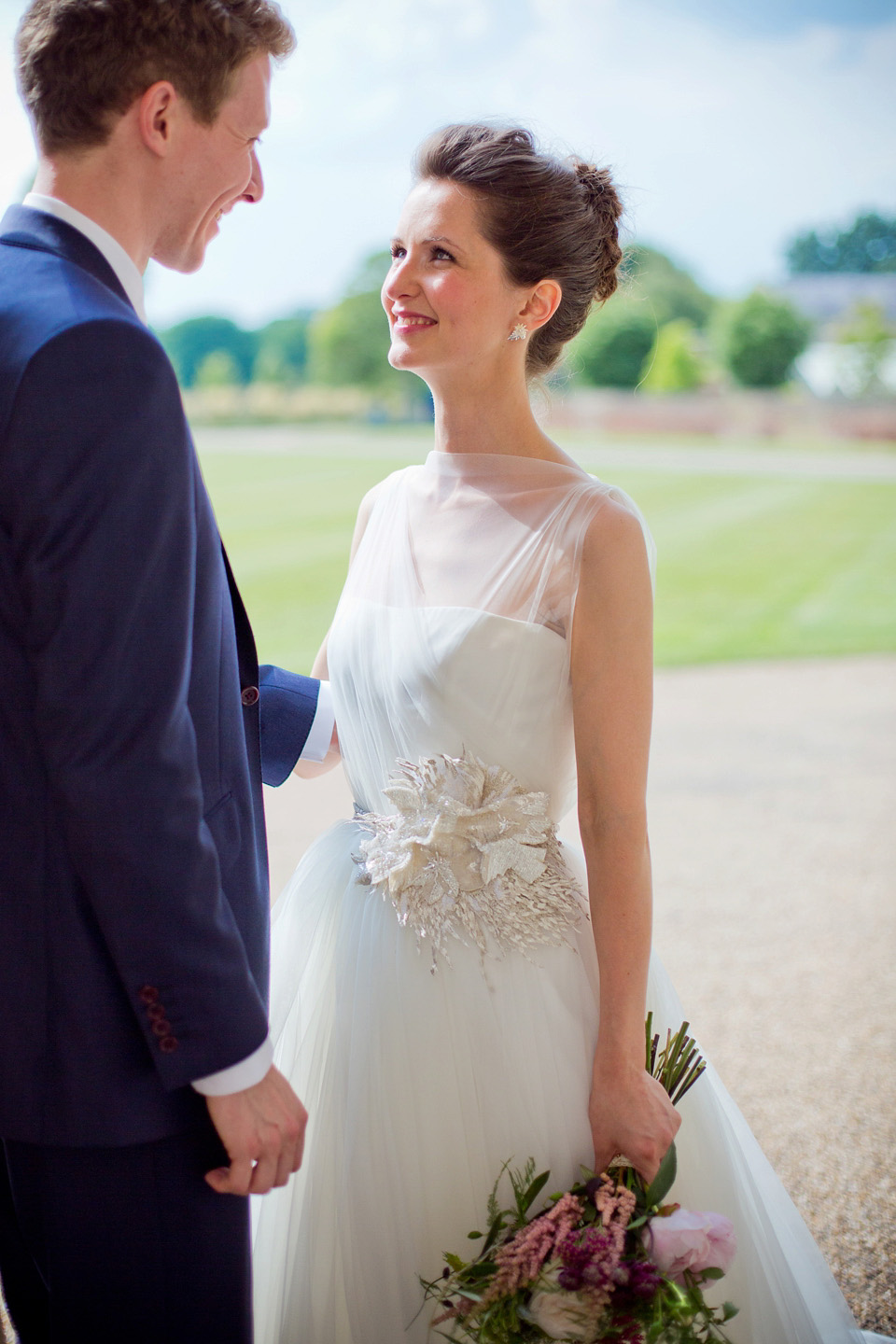 Hannah accessorised with shoes from LK Bennett, a necklace and earrings from Alex Monroe, and a few sprigs of wax flower in her hair. She also wore her late Granny's vintage diamond ring.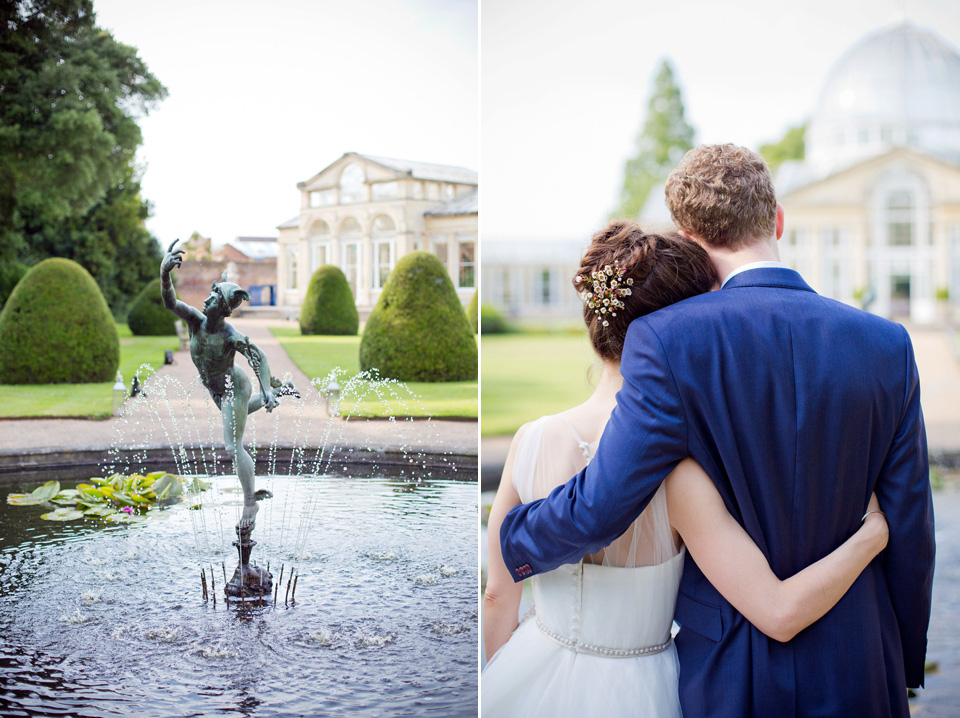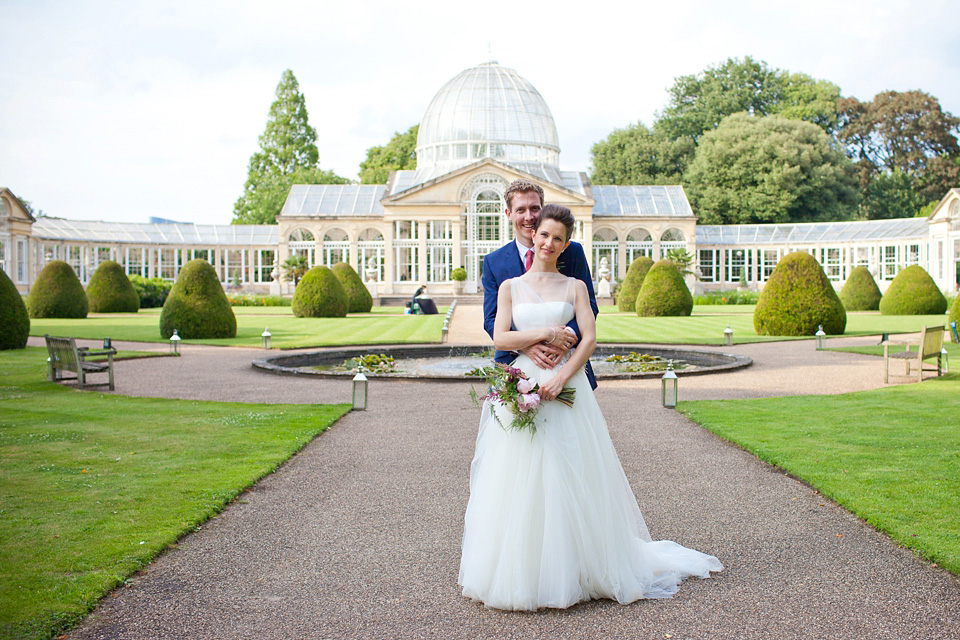 The couple's 'brilliant' catering company were Tapenade. They opted for a cheese wedding cake from Marks & Spencer.
I think this beautiful table plan, made by the bride and groom, will become a Pinterest favourite. Gorgeous.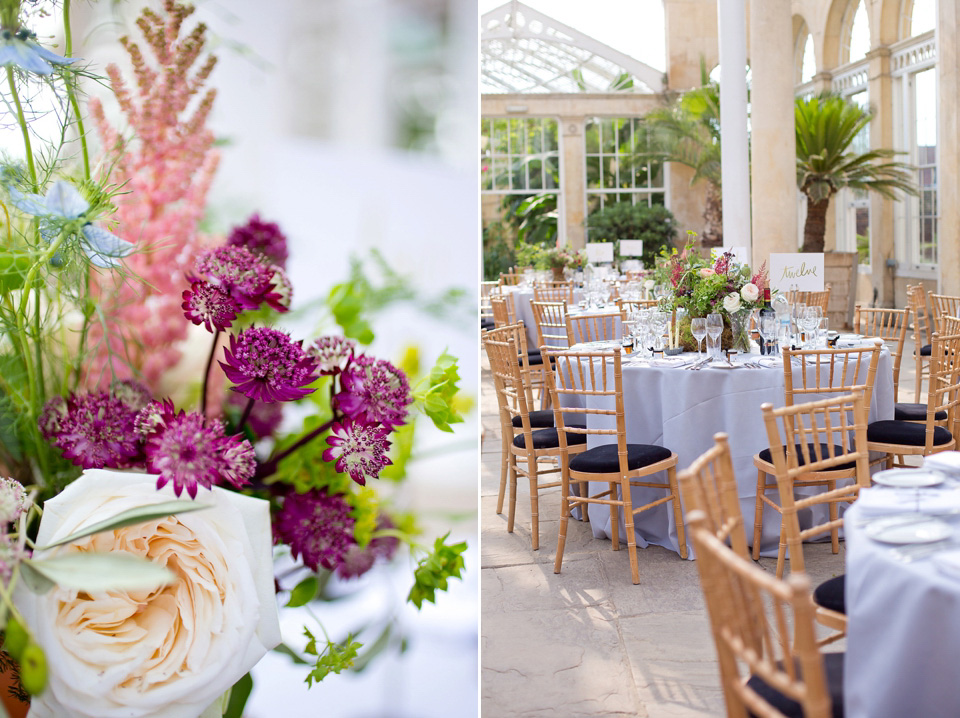 "My dad keeps bees on Wimbledon Common so as a wedding favour we gave everyone a little jar of his honey. And also a miniature unlabelled bottle of Frangelico with dessert. The 'drink me' label was inspired by the start of Alice in Wonderland when she shrinks and enters the magical world!"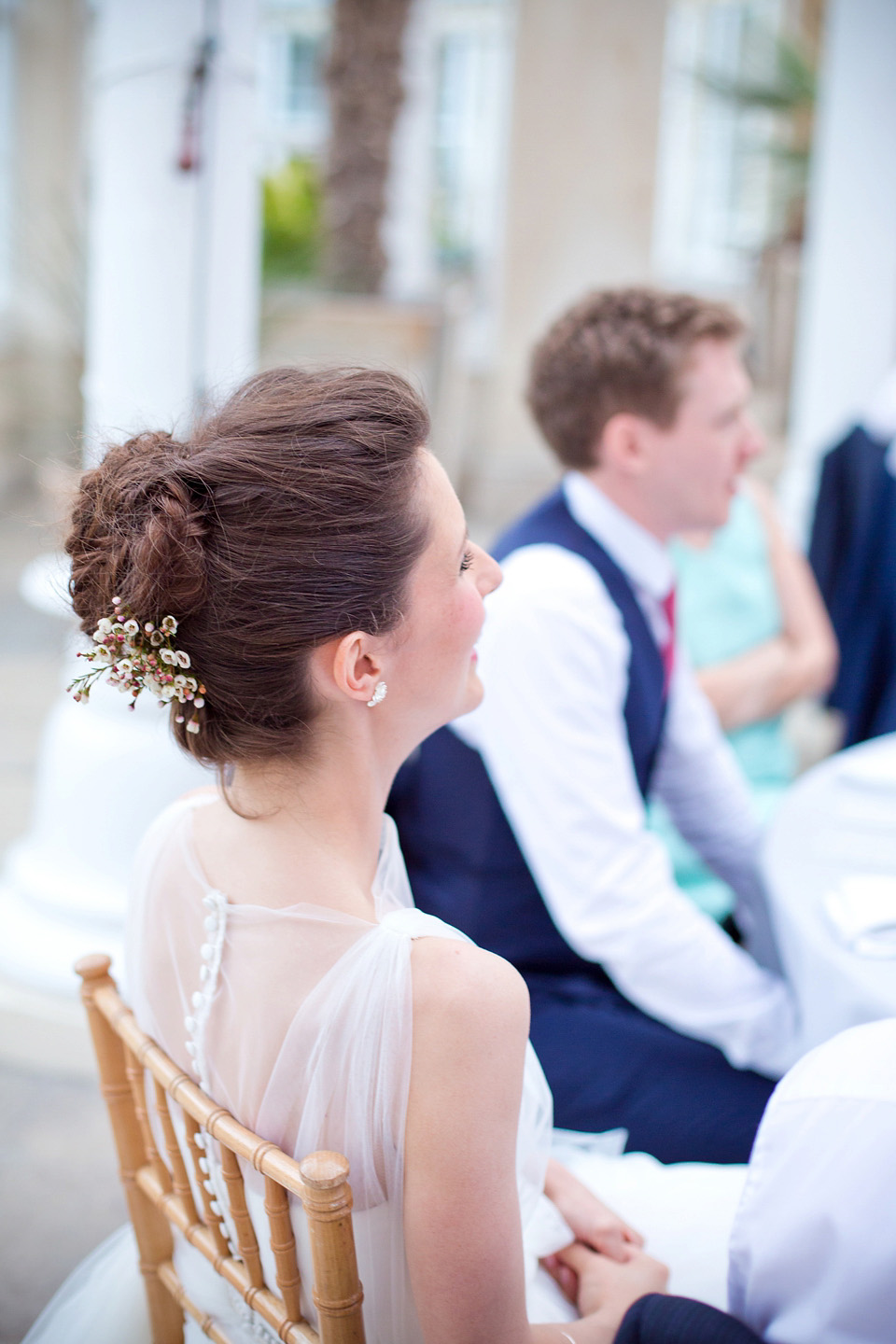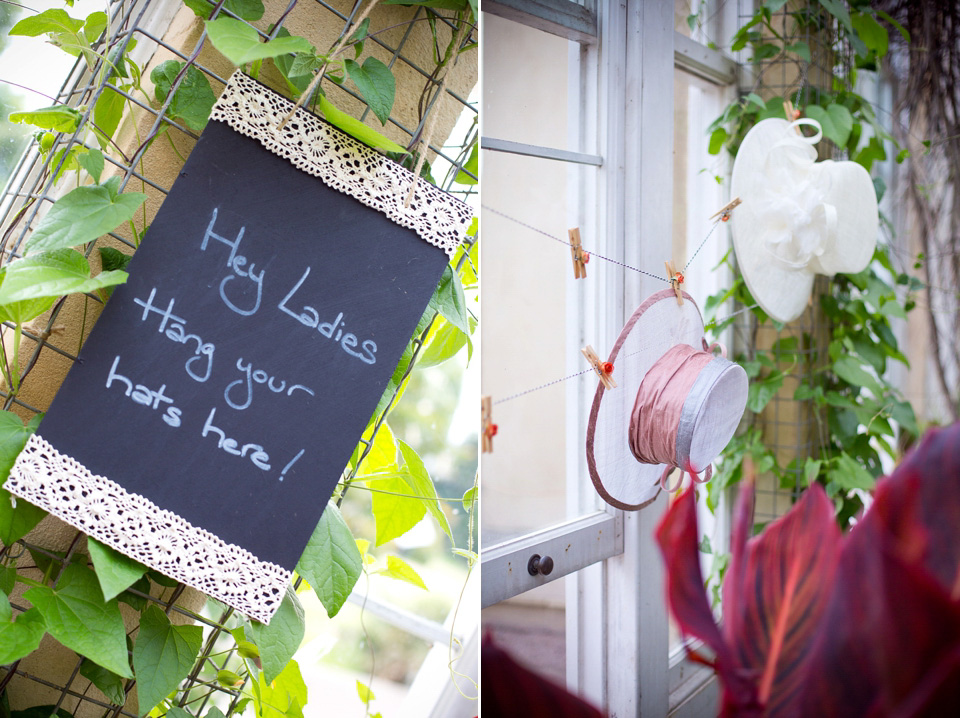 The evening entertainment was a live band, The Twentysomethings.
"We loved the build up to the day and all the thought and planning involving friends and family and eachother. Wondering around a beautiful venue as newly weds, ahead of the crowd was special- we just felt very lucky! Most importantly, it was amazing being whisked straight off on honeymoon the day after- we were exhausted and just thrilled to jump on that plane!"
Words of Wedded Wisdom
"Keep it simple and just enjoy! It's all about family and your new husband at the end of the day."
I couldn't agree more, and for today's pictures we've got to thank the super-talented Emma Sekhon. Thank you Emma!  A truly gorgeous day, thank you Hannah and Dom for letting us catch a glimpse of your exquisite nuptials, and especially to Hannah for her kind words about Love My Dress – "For me, it was all about looking at the beautiful pictures which you do so nicely!"
Have a great day all,
Louisa xx
Photographer – Emma Sekhon
Venue – Syon Park, London
Wedding dress – Jesus Peiro via Miss Bush Bridal
Bride's accessories – shoes by LK Bennett, jewellery by Alex Monroe
Bridesmaid dresses – Ghost
Bridesmaid accessories – necklaces by Anthropologie
Florist – Grace & Thorn
Groom's suit – Marc Wallace
Groom's accessories – tie by Burberry, and socks and tie from Paul Smith
Catering company – Tapenade
Entertainment – The Twentysomethings
Hair and make-up artist – Linda Johansson, One Represents
Cake – Marks & Spencer
Rings – A & S Jewellers
Invitations – Maple Tea, Etsy