In our second Lovettes feature for today, I take huge pleasure in introducing you to real bride to be, Hayley Jayne.  I absolutely loved Hayley's application to write for Love My Dress – it was honest, heartfelt and refreshing.  As a mother of one, due to marry a father with two children of his own, Hayley brings her own unique perspective to the role of bride to be.  I love that we are able to cater to all kinds of bride here at Love My Dress, and the idea of reading how this one couple intend on bringing together their two already established families in marriage, appealed to me very much. Please join me in welcoming lovely Hayley to our Lovettes team – thank you so much, Annabel x
___________________________
Matt and I had crossed each others paths numerous times, but had never actually noticed each other before.  Both of our daughters went to the same nursery and were infact in the same class. We'd walked past each other numerous times, we'd socialised in the same places and we shared a group of mutual friends.  But we'd never stopped to engage with one another. After being a single mum for four years, I'd built up an incredible wall, and probably subconsciously made myself quite unapproachable…oops!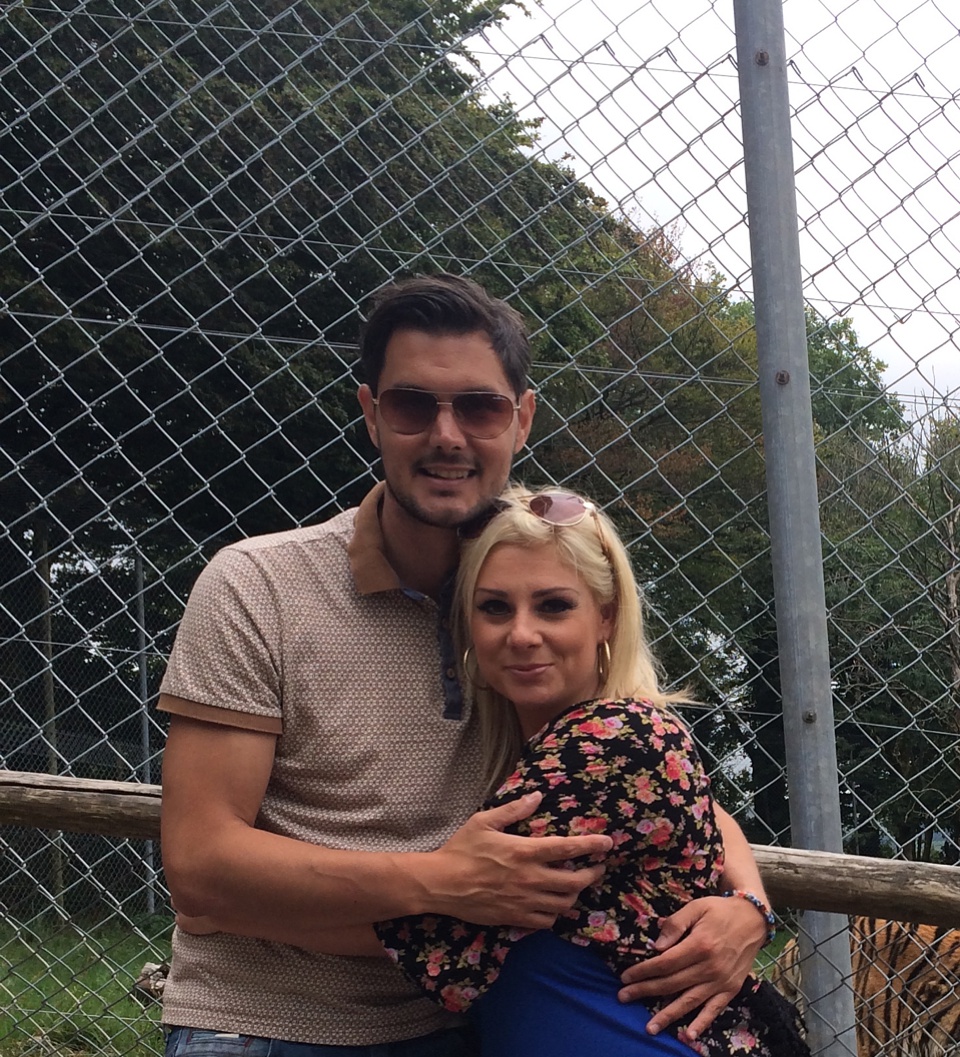 One day, I was in a restaurant with my daughter and I noticed a dad (Matt) with his two children, completely engrossed with what they were saying to him. Laughing with them and colouring in with his little girl.
I found it incredibly refreshing and so lovely to watch someone engaging so much with his children. Maybe it's just me but I think it's a bit of a rarity to observe something so genuine and lovely these days. I had never craned my neck so much to get a good look at this man.  I'd never admit that to Matt though 🙂
Once he had left and I reverted to being invisible, I thought about this man a lot…
About two weeks later my friend said "it's time you cracked on with Internet dating".  I had tried this before and the outcome of that had been particularly disastrous. But try I did, and who was to pop up immediately? I remember doing a little squeal of excitement seeing the face of that man with his children in the cafe – and knew I had to meet him.
After our first date, I realised Matt was the opposite to any other man I had ever been interested in.  And that, was perfect. He was sensitive, kind, genuinely interested when I spoke (often) of my daughter, and he was a gentleman. He had slipped a disk in his back when I first met him – even dating a hunchback who had to ask me to go to the bar each time (to save him the embarrassment of hobbling along!) didn't put me off 🙂
After about four weeks, we both knew we didn't like being apart, and within four months, as circumstances turned out, we moved in together.
Matt and I are best friends, a cliche phrase that I used to hear and used to make me want to vomit.  I still pinch myself now that I'm that person saying it myself. We have three incredible children who can't wait to be brother and sisters. My daughter Maisie is my rock and I still look at her with a sense of amazement that I made something so incredibly perfect. When the three children first met, I was so nervous.  Maisie can be shy and very picky about who she likes, but as it turns out, I needn't have worried about a thing. I couldn't have wanted for more gorgeous, well mannered, thoughtful children to enter our lives.
Matt proposed just in the way he knew I would love. No great public display of affection, simply with our children there.  And all of my family 🙂 My parents knew on Christmas Day, and as Matt disappeared during Christmas dinner and I started to moan at my dad for saying he couldn't eat anymore (due to his nerves) I turned around to see Matt on one knee holding the most incredible diamond ring and our three children on the stairs behind him.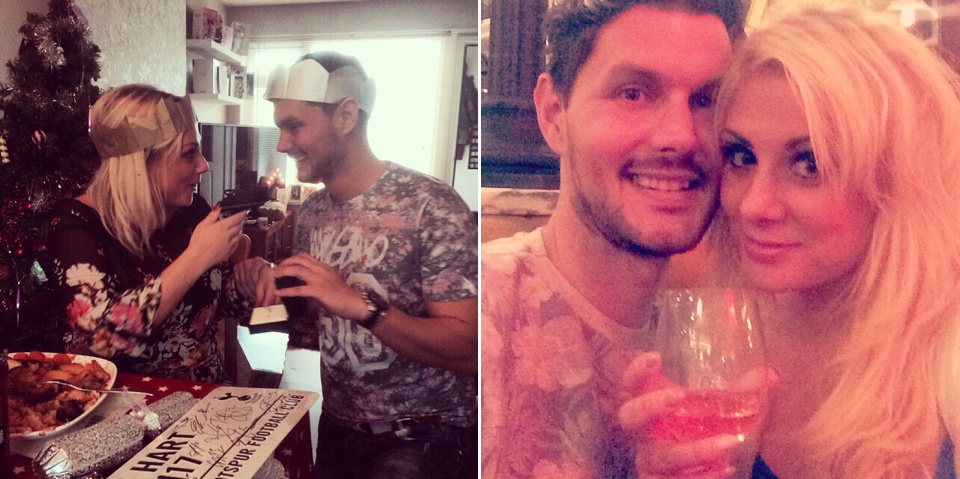 Working in a bridal boutique I promised myself I wouldn't turn into bridezilla, but as I pin a different coloured tablecloth to Pinterest for the 64th time today, I fear I may end up going back on my word….oh dear!
I'm so very excited to be a Lovette, and I hope everybody enjoys our story. I can't describe how excited I am about becoming a wife on 9th July 2016.
Hayley x
A little background on Hayley 
As this is Hayley's first post for Love My Dress,  we thought it would be nice to share some of her original Lovettes application with you all – to help you get to know her a little better.  We'll be doing the same for all our new Lovettes when it comes to sharing their first posts.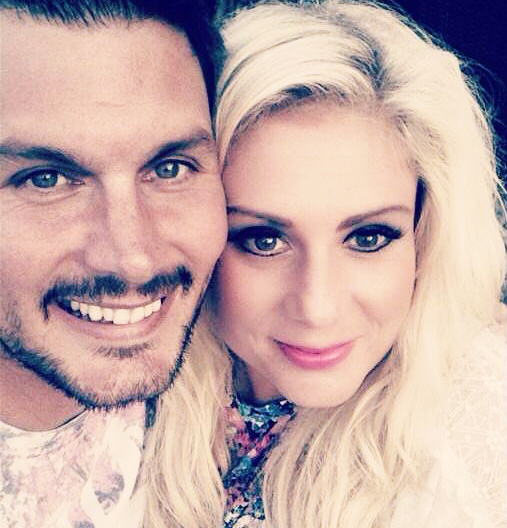 Hayley Jayne Towle is due to marry Matthew Rider on 9th July 2016
You can find Hayley via Twitter and Instagram
Younger Photography of Devon will be taking their wedding photographs
How They Met:
Matt and I crossed paths numerous times. Our daughters were at nursery together, I used to walk passed him and always admire how he was with his daughter. 2 years later and after being single for four years, I see him and his children in a restaurant whilst I sit with my five year old. Completely engrossed in his children – I was invisible! I found this endearing and watch him leave, yapping to his children. I remember watching them leave, all holding hands.
Then one day I give in, I embark on Internet dating, and who was to message me – the attractive dad who I always think about! I tried to play it cool, but I wasn't going to let this one get away. From our first date he became my best friend, my confidint, could it be that I've met the one??
Six months to the day of our first date, Christmas day 2014 (how cliche), Matt asked me to marry him, with our children all stood watching! I squealed "is that real?" at the amazing halo diamond ring in front of me, and try not to choke on my Yorkshire pudding I was in the middle of eating. I hear Harriet (Matt's daughter) say to Maisie (my daughter) "we're going to be sisters".
About their wedding:
Picking a venue was always going to be tricky – I manage a Bridal boutique in Plymouth and so tend to hear about the same venues pretty much every day – so I really wanted us to have somewhere different. With this in mind, we picked Residence one, Royal William yard, Plymouth. Only one wedding has taken place here so far – it's just perfect.
Weather permitting, we will marry overlooking the Plymouth sound which is just beautiful, then celebrate in the secret garden in the marquee.  We will have seventy guests to the day, a short civil ceremony, and then we'll head into our high tea wedding breakfast.  We chose summer, hoping that the British weather won't let us down. We have both grown up in Plymouth and there is no prettier place in the sunshine. We want our children, aged 5, 6 and 7 to be able to run and play about freely, without feeling cooped up.
What does marriage mean?
At 31, I still can't believe that this is happening to me.  Marriage to me means having my equal in life – forever. I'm Independent, confident and career driven, but the thought of getting married makes me feel so complete – and that's a feeling I never thought I could feel.
Favourite Hollywood Icon?
Angelina Jolie! She's relaxed, cool, funky, quirky and all about family.
Favourite Love My Dress wedding:
I love the wedding of Geri and Pat in Somerset. The idea of hanging photographs of the guests, I absolutely love. Fantastic ice breaker!  The marquee looks incredible, very rustic. Most importantly this wedding really felt like it was a joint effort, a very personal wedding.