Good morning everyone.  I thought April showers were past, but we're firmly into May now and the rain hasn't stopped here in Yorkshire!  While I am dreaming of the warm summer evenings to come, I have a very lovely Autumn wedding for you here today, which has reminded me how much I love the turning of the year, with all its golden shades, falling leaves and the most gorgeous light for photographs, captured so beautifully in these images by the talented Heather Shuker of Eclection Photography.
Amy, a financial journalist, and Andrew, who works in software development, married in a traditional Catholic ceremony on the 29th of November 2014 at their local church, St. Vincent De Paul, a short walk from where they live in Battersea.  They held their reception at the gorgeous Hampton Court House, a venue which is an independent school on weekdays, but also available for private hire and located just round the corner from the famous Hampton Court Palace.
"A big part of the wedding for us was inviting our nearest and dearest to a place that was special to us.  In the summer of 2014 we took a trip with my parents to Connemara in the west of Ireland as this is where my grandfather was from and where I had fond memories of family holidays.  However…It took us three days, thirteen venues and 500 miles to decide that actually home was where the heart is!  Exhausted, driving down our street on the way back from the airport, we realised our wedding would be held on our doorstep in Battersea, rather than at the back end of beyond! "
Photography by Eclection Photography, assisted by Katie Palmer Photography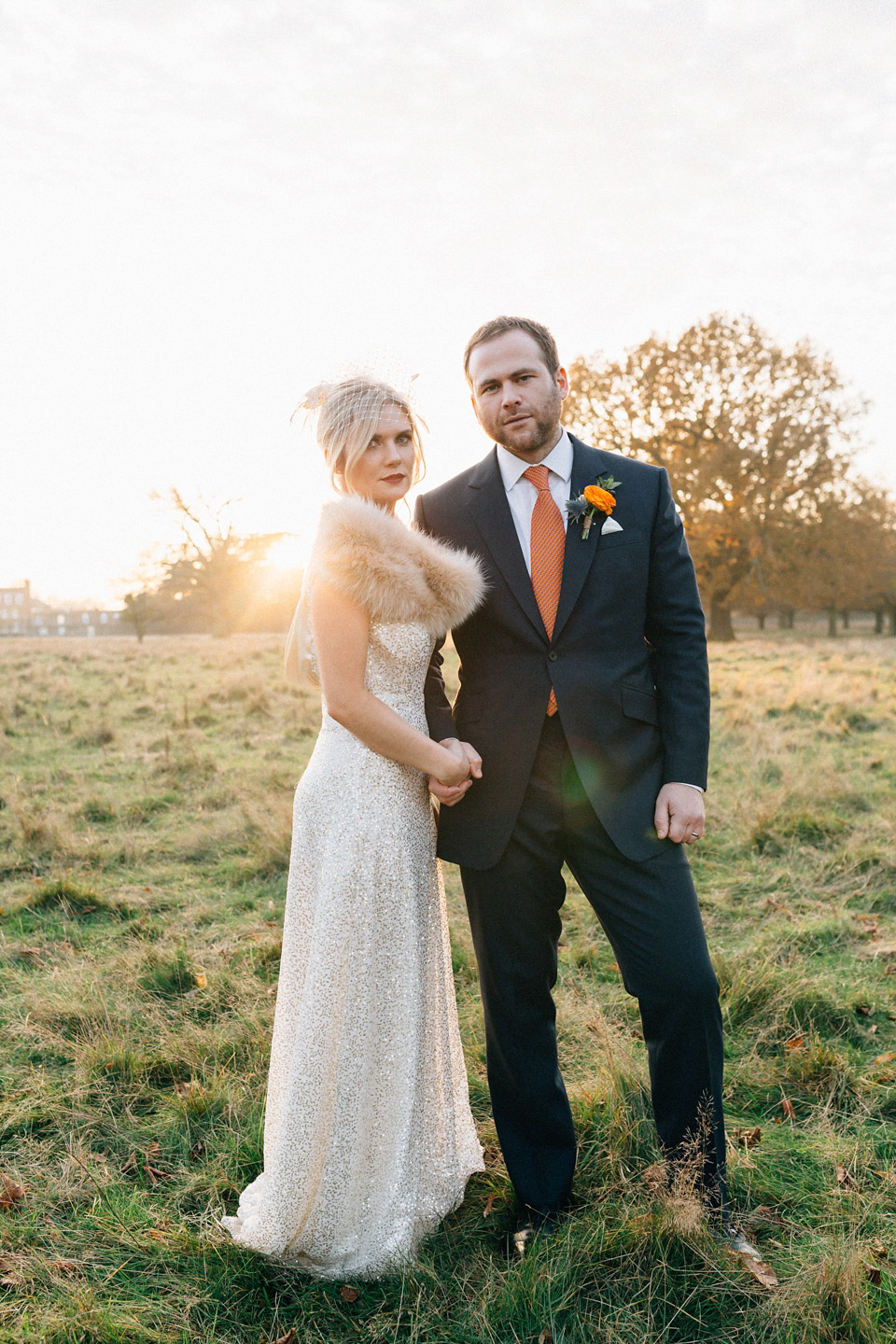 "The wonderful Joanne Truby was introduced to me by my brother's girlfriend.  Joanne had so much enthusiasm for the brief and was a dream to work with.  I knew that I really wanted the flowers to pop against all the neutral dresses but still be seasonal.  Thanks to the stationary, orange came to be the go-to colour while thistles were chosen as a nod to Andrew's Scottish heritage, plus it was St. Andrew's day the day after the wedding.
Joanne pulled all these elements together sublimely with a beautiful array of foliage, sprayed pine cones, scattered leaves, wood slices and copper lanterns.  The suspended willow branch above the wedding breakfast entrance was above and beyond the call of duty!"
Amy's fabulous glittering frock is the creation of US designer, Sarah Seven, and very suitably named 'Golden Day'.  I just love sparkle… Unlike the venue, Amy had no problem at all choosing her dress….
"I am 5"2 so I knew the meringue would be out.  I imagined myself in a column-shaped dress, which I thought might go some way to elongating my short limbs!  I tried a few of these styles on before my sister and my sister-in law spotted a glittery show-stopper that had just been put back on the rack.  It was in the sample sale, matched my Pinterest board, was so light and easy to dance in, had no fiddly straps, corsets or buttons – I simply had to put it over my head and I was done!  So that was it, day one of dress shopping and I walked out with the dress.
Next stop was to find someone to customise it. The dress was a little big and I wanted to take out the back and replace it with a silk drape. I visited my local sewing shop and asked if they knew anyone who could assist.  Enter master tailor Josie Cowen!"
Josie transformed Amy into a 1920's style starlet, complete with a fur shrug and birdcage veil, both created by Josie herself.  Amy kept her jewellery simple and wore the most gorgeous pair of dark blue velvet heels….
"I got obsessed with a blue velvet jacket I had seen worn on Downton Abbey and I wanted a bit of velvet in my life so scoured the internet for some appropriate shoes. I eventually found a perfect pair of Yves Saint Laurent strappy heels on Polyvore.com. They were my something blue."
The very talented Heather Shuker of Eclection Photography was the couple's photographer for the day.
"I chased Heather Shuker of Eclection Photography down after seeing some stunning shots she had taken of an old school friend of mine's wedding in London.  Once I got in touch that was all the chasing I had to do! From the moment she had our brief she completely ran with it.  Heather is an absolute pro, all the advice she gave me not just in the lead up to the wedding but also on the day was spot on- she's also a photo ninja who will stop at nothing to ensure the shots of one of the most important days of your life rise above the ordinary.  She was ably assisted on the day by the lovely Katie Palmer."
"Andrew and I met at Bournemouth University. We had been together for eight years when he proposed during a trip to the Loire Valley which he had arranged for my birthday in April 2013."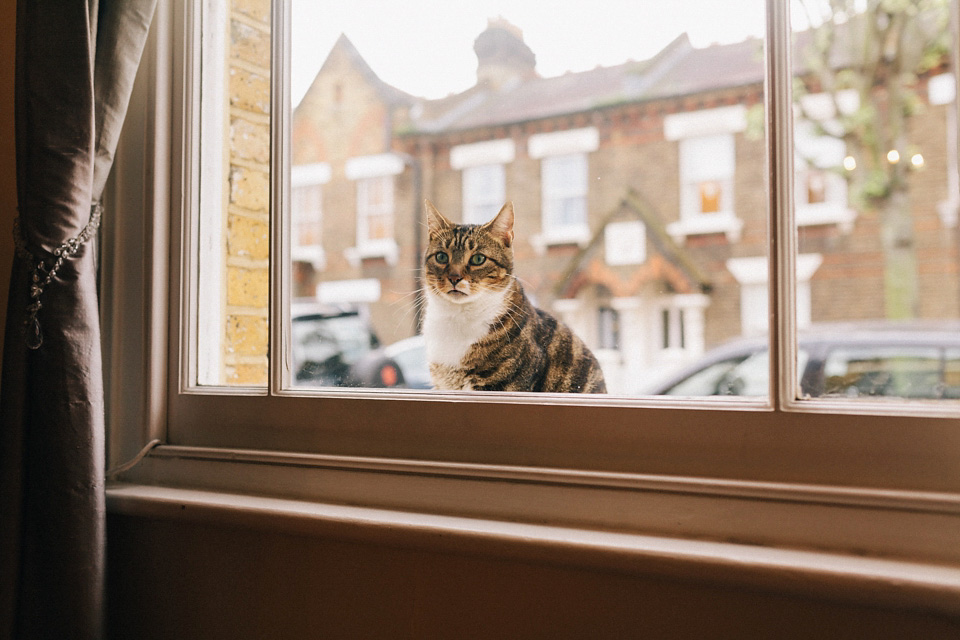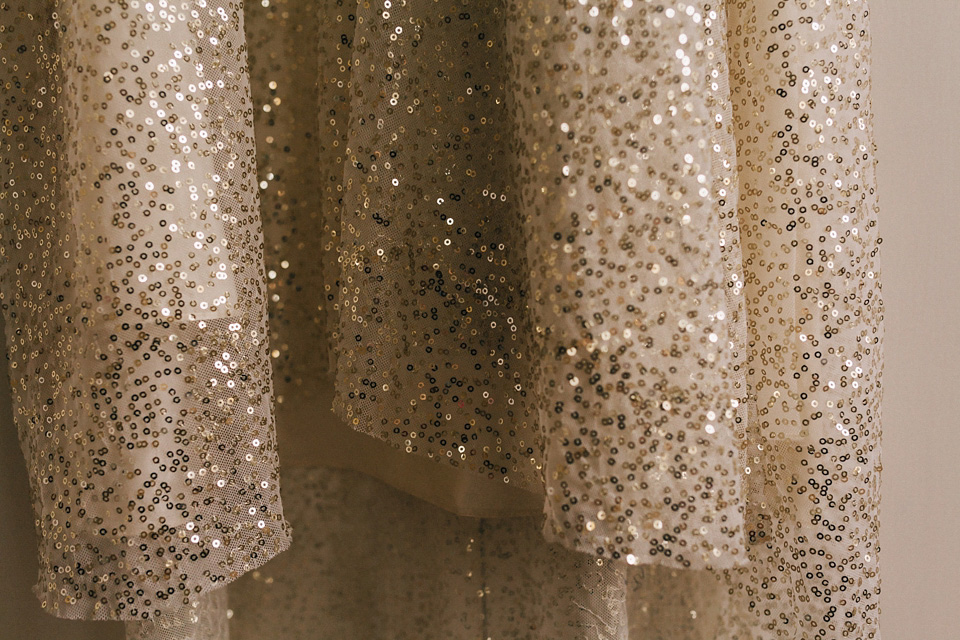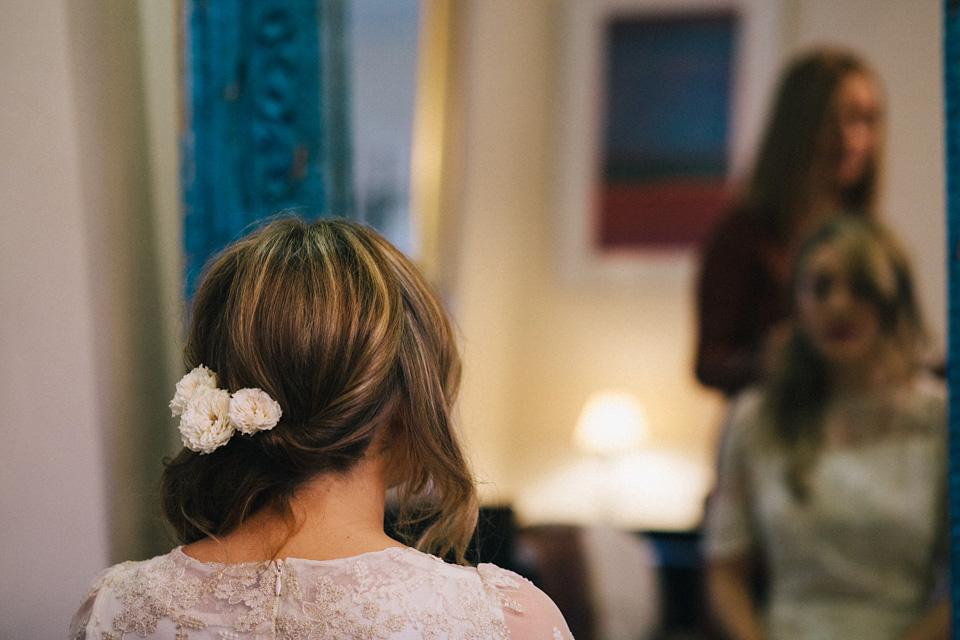 "A school friend had recently retrained as a make-up artist and she kindly agreed to take on all the ladies' make-up on the day and did a fantastic job. My sister couldn't stop raving about her '3D eyebrows' – thank you Claudia Savage!  Hair was by hairdresser Jessica Shaw- a massive thanks to Jess for turning up at my house for the ungodly hour of 6.30am and for making sure a hair wasn't out of place until we hit the dancefloor.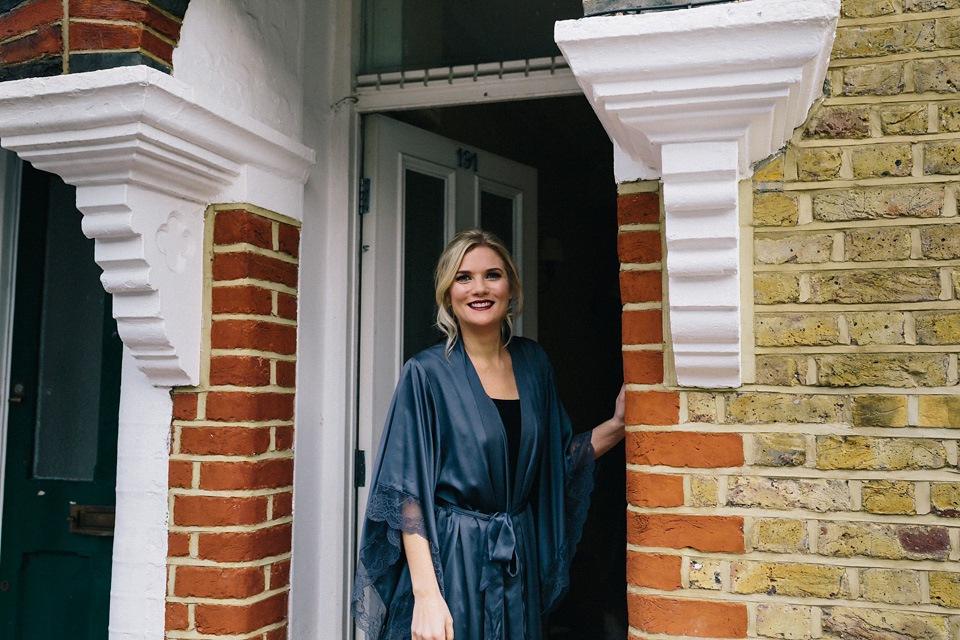 "I opted for some simple pearl earrings that again were a gift from Andrew's mum, and served as my something new."
Amy finished her preparations with a squirt of Coco Mademoiselle-
"Fitting for my last day as Miss Williams, and a gift from Andrew's mum."
Amy's right hand ladies wore beautiful creamy/ gold frocks, from Darcy on Portobello Road, which were a great match for Amy's own dress, teamed these with Topshop 'Ripple' sandal in rose gold with some ballerina flats for the dancefloor. In their hair each wore a cream rose- I do love fresh flowers worn in this way.  For the November chill the ladies each had a cream, pearl lined pashmina, and each also carried a velvet handbag from Anthropologie – the very first wedding purchases Amy made!
The little flowergirls glittered in Estella Sparkle dresses in gold with matching gold cardigans (both from Monsoon) teamed with cream fur coats from Next and gorgeous flower crowns, made from spray roses, thistles, orange ranunculus, wax flower and mimosa.
"The girls loved the full skirts, and our photographer Heather got some very cute pictures as they demonstrated their twirlability."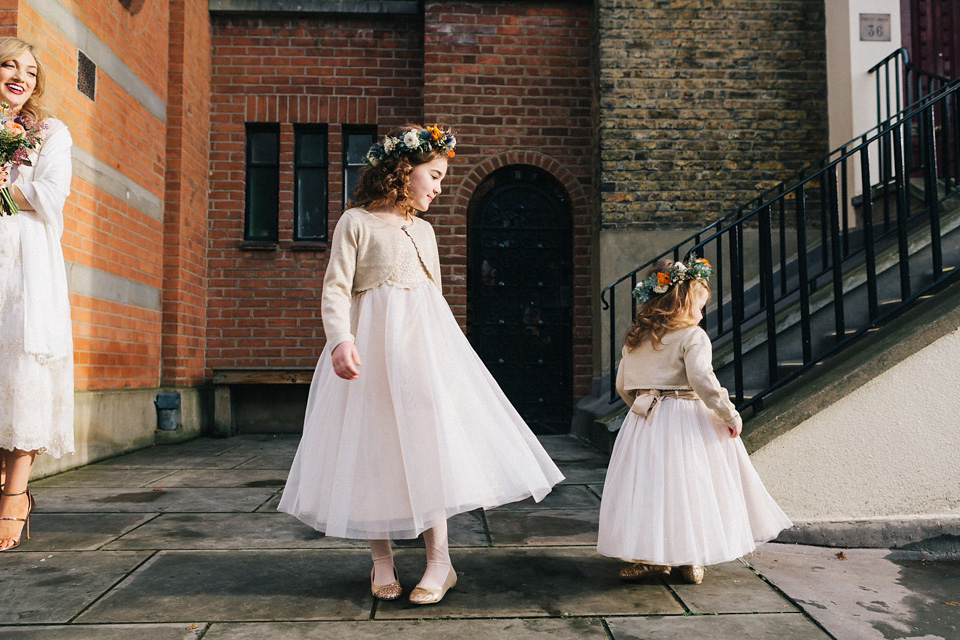 The very handsome page boy donned beige linen trousers and a waistcoat purchased from  JoJo Maman Bebe, worn with his own alien bow-tie – his party must-have attire – teamed with blue suede boots that his mummy bought him.  I adore the bow tie!  Every chap should have one…
Keen not to be outshone by the smartness of the small ones, Andrew looked very dapper in a bespoke suit by Saville Row designer Richard James with shoes by Edward Green and a seasonal orange tie, to compliment the colours in Amy's bouquet.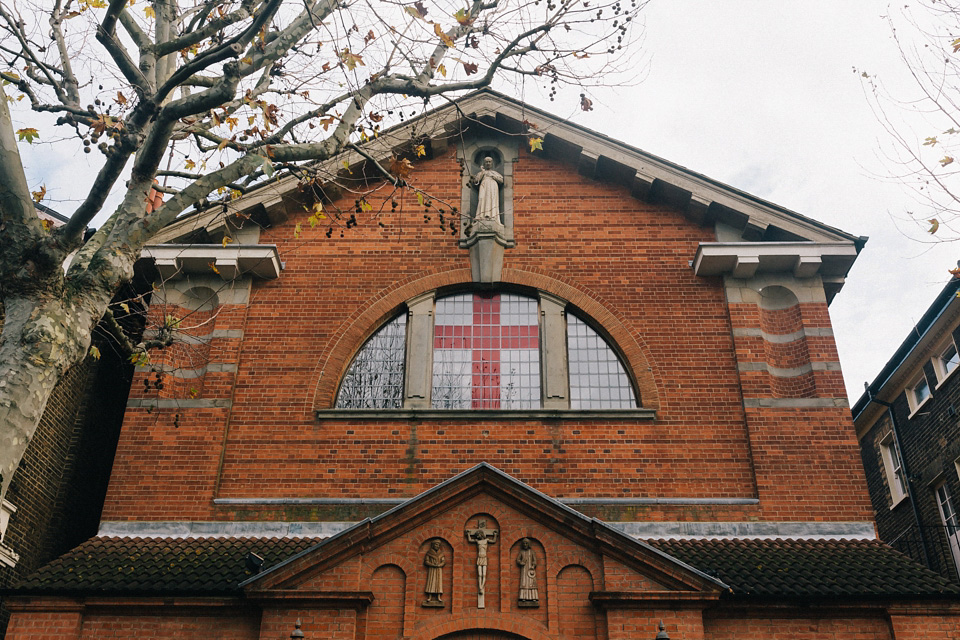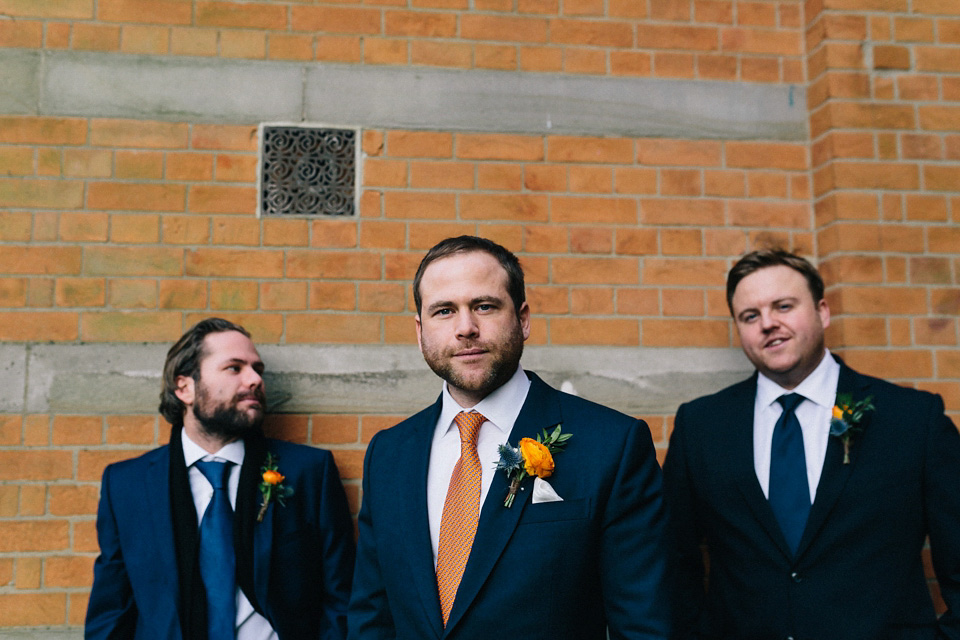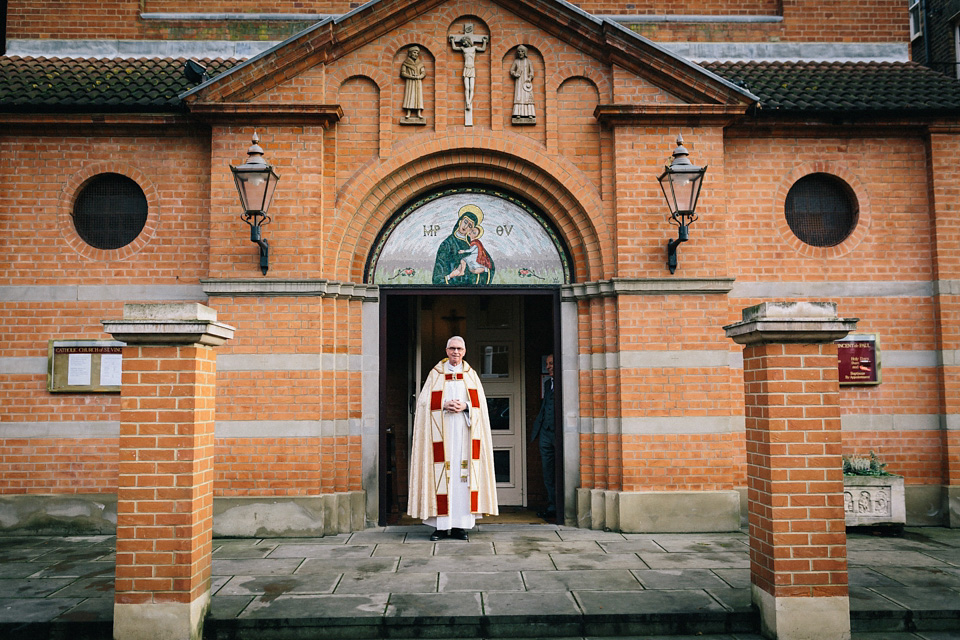 "No London wedding would be complete without a ride in the back of a black cab. Our neighbour Jack did us the honour of being our driver and did quite a few stops that day. After three trips to the church he then drove us for a photo op in front of Battersea Power Station – well done Heather and Katie, we will treasure that epic shot. Its quite historic too as one of the chimneys had been taken down for renovation.
For our guests we put on two coaches supplied by Clarkes of London. A routemaster perhaps would have been more in keeping but I was slightly freaking out about it breaking down in the cold weather!
"The stationery started life as quite a subtle affair, a minimalist line drawing in the style of Peter Saville's Unknown Pleasures cover art of each landmark with a wiggly line for the Thames between them.  We stole a bit of art deco from Power Station architecture, added some bold colours, a logo (!)…and suddenly we were in whole new territory.
The A-team of my dad and my brother Nick took on the wedding stationary project and I still marvel at the results! Together this printer and designer duo created an utterly unique set of wedding stationary- invitations, order of service, the seating plan – they tackled it all, while my brother Simon took on the London landmarks we used as table names. A massive thanks to them all. Williams' of Orange I should refer to them now!"
Amy was walked down the aisle by her proud Dad to the uplifting notes of the 'Trumpet Voluntary' by Jeremiah Clarke, played on the organ.  Their vows were the traditional words, and reflected their beliefs.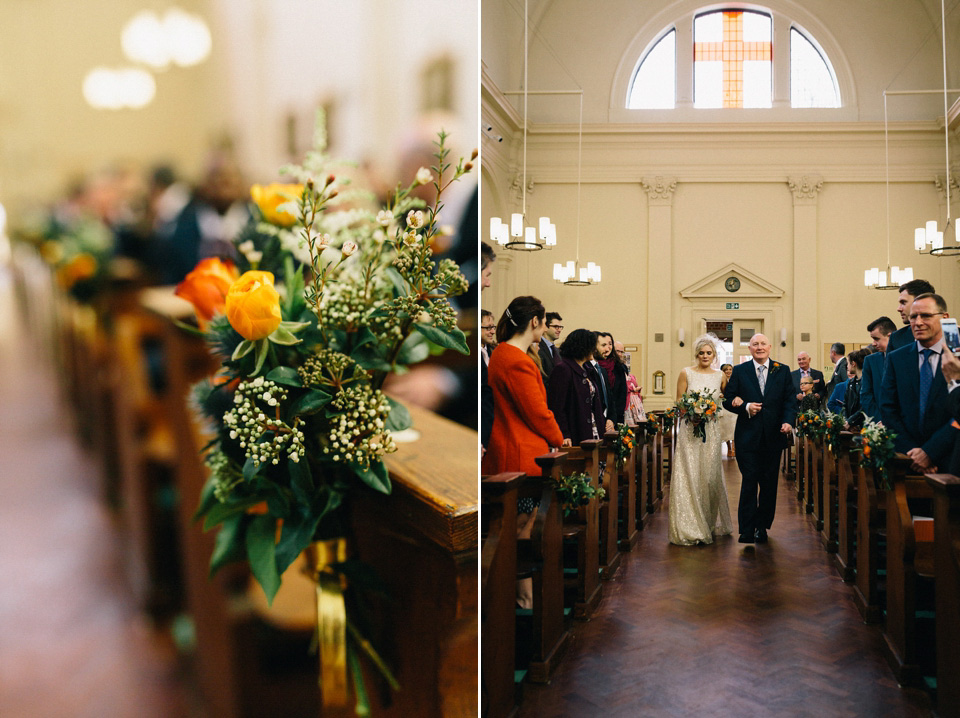 The couple chose several readings and songs- a passage from the Book of Tobit (8:4-8) Bring us to old age together, Psalm 145 – Sung) There can be no greater love, a reading from the Gospel according to Matthew (5:13-16) You are the light of the world and three bidding prayers read by members of their families.
"We chose the first reading especially for the sentiment expressed in the closing line: 'Be kind enough to have pity on her and on me and bring us to old age together.'"
Very lovely, and very meaningful for them both.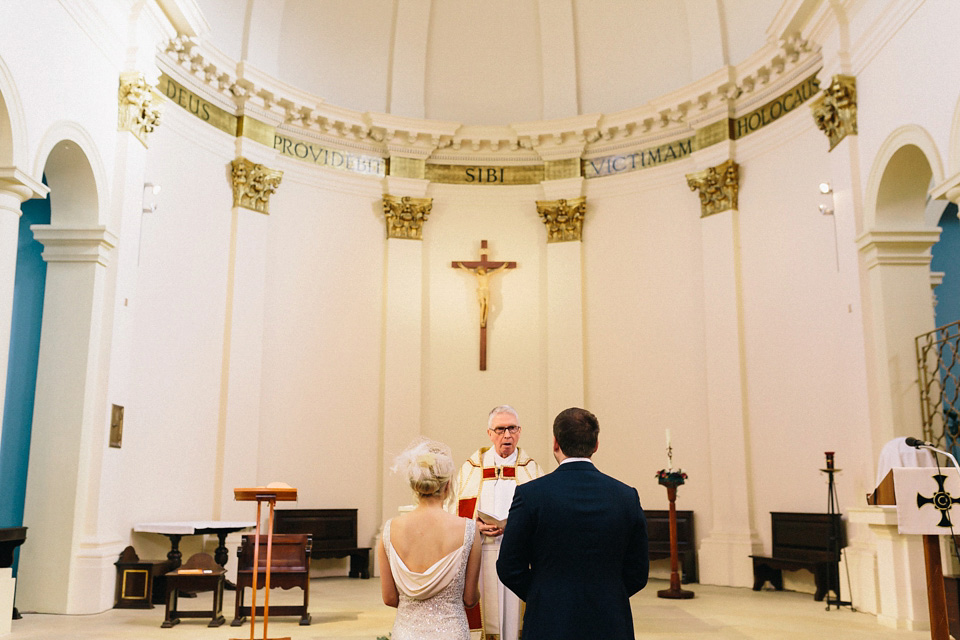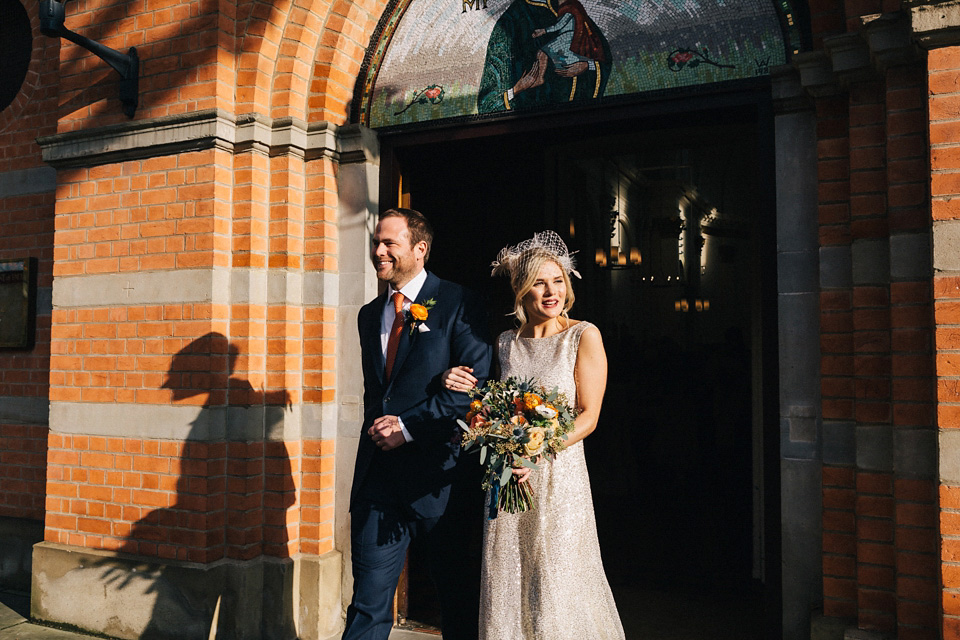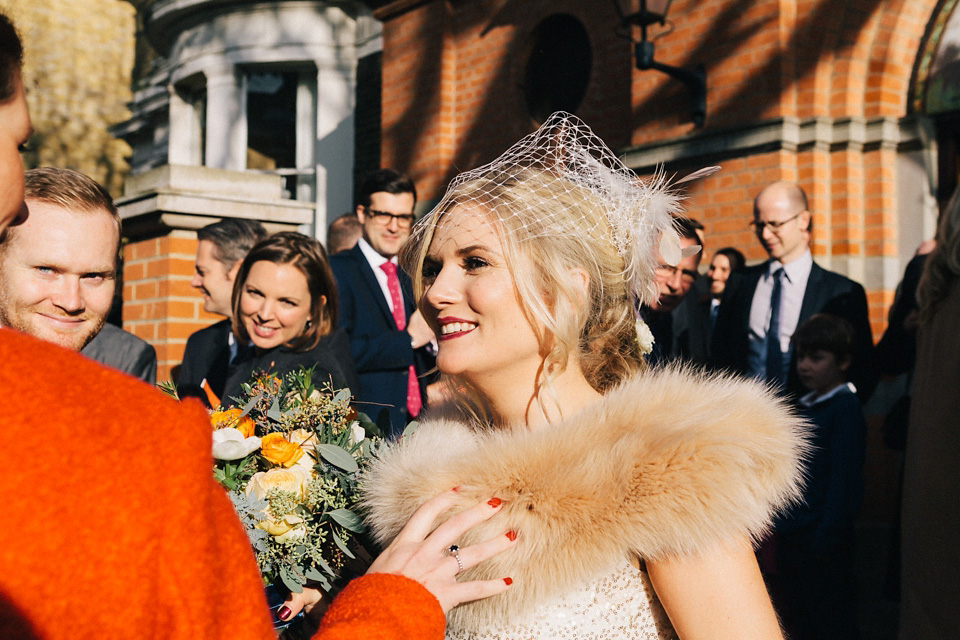 "A big question was where to host the reception.  Battersea Arts Centre was an obvious choice but unfortunately it was due for renovation works at the time of year we planning to hold the wedding.  We looked at several central London venues as alternatives but felt that as many of our guests were London-based, the evening would end abruptly and it would be nigh on impossible to get people back to the pub for hair of the dog the following day!  This led us to widen our search to the area around Hampton Court. We liked the fact it was just 40 minutes out of central London, easy to reach to by car and rail and had a relaxed, more country vibe for the second part of the day.
It also meant those who did want to stay overnight could enjoy the respite from the city a little longer, without too much travel."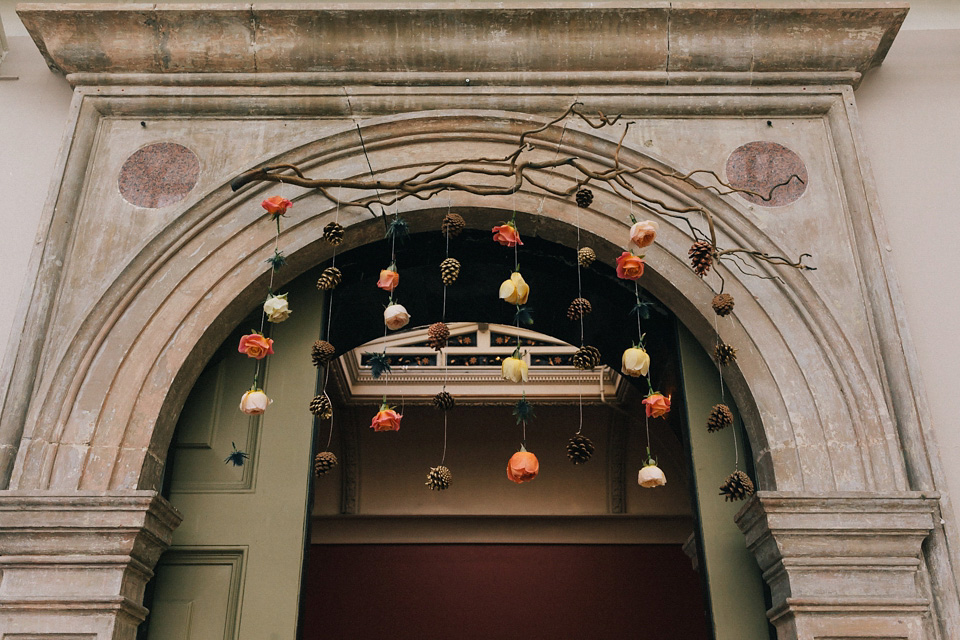 Hampton Court House ticked all the boxes; exclusive use, no corkage, great transport links and a fantastic interior (a vital winter wedding precaution!) On top of all this, it also backs onto Bushy Park, which is full of roaming deer.  We visited just before Christmas in 2014, saw the wintery hues of the park through the full length windows and were sold!"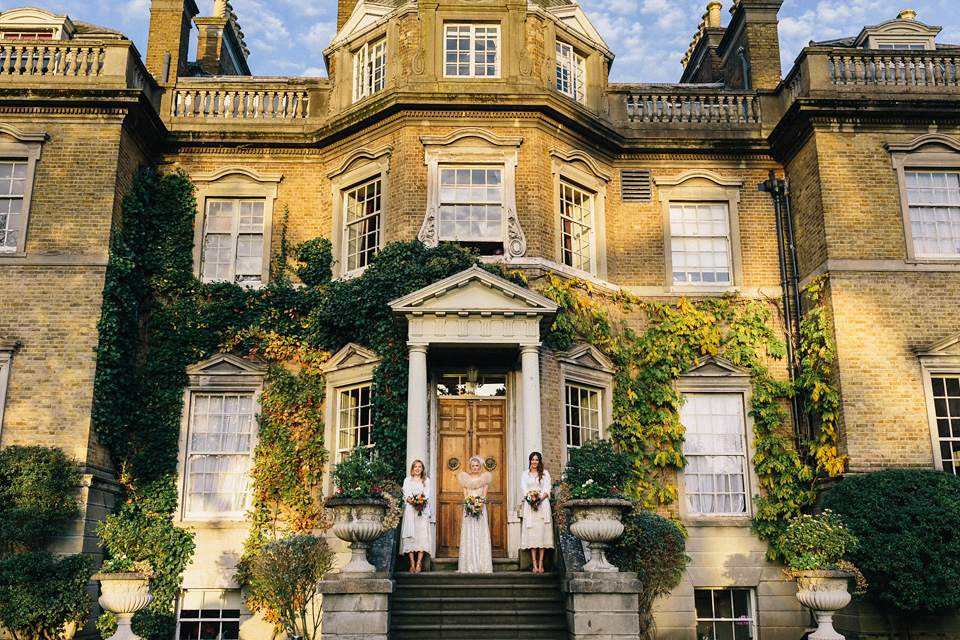 The couple's big day was defined by the fabulous 'wedding logo' they used on all their stationary, which incorporated both of their (very different!) venues perfectly.
"Once we finally had the venue booked, we knew logistics would play a big role in the day, so we wanted to be as upfront about this as possible. That's when we came up with the landmark theme as we suddenly realised our venues were right beside two of London's finest; Battersea Power Station and Hampton Court Palace.  We designed the stationary and worded the invitations in such a way that travelling between the two was a fun part of the day where guests could mingle en-route. They say marriage is all about the journey….."
"The venue had a list of approved caterers and we opted for Parties To Go run by Carole Corey.  Looking back I think we were quite taken with her sales technique – she came around to our house and cooked sample meals in our own kitchen, such an enjoyable service and completely fuss free – just make sure you don't eat too much beforehand as it's quite a feast!  Carole isn't just a caterer though, she runs the whole wedding for you! As she's put on lots of parties at the venue she knew exactly what to do and we were more than happy to be left in her capable hands.  Our guests are still raving about the late night BBQ, those pigs in blankets did wonders for soaking up the alcohol!"
"As we were on the cusp of December we opted to give Christmas decorations as our favours. I tied ribbon embroidered with our names and wedding date (from Woven labels UK) to the glittery decorations and threaded through name tags, so they served as both keep sakes and place holders"
The couple continued the cosy-winter feel in their choice of décor.
"With red walls and a chequered floor, roaring fires and fairly lights already suspended above the dance floor, very little extra decoration was needed. Our florist Joanne took care of the finishing touches."
"We have never been a great lover of wedding cake which is why we opted for a 'naked' cake.  I would have loved to say this was made by a friend or family member but logistics meant it had to be delivered to the venue on the morning of the wedding. Kent based Let Them Eat Cakes came to the rescue at very short notice – (less than two weeks – argh!!) Great service and thoroughly recommended.  Joanne our florist then dressed it for us. The cake table was covered in yet more sequins, with a tablecloth hired from Pudding Bridge."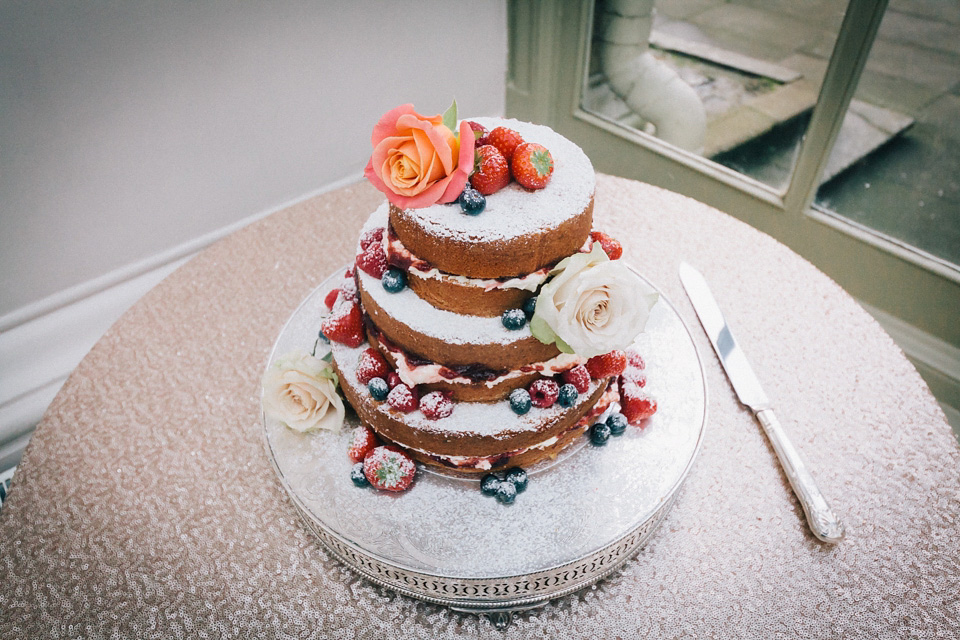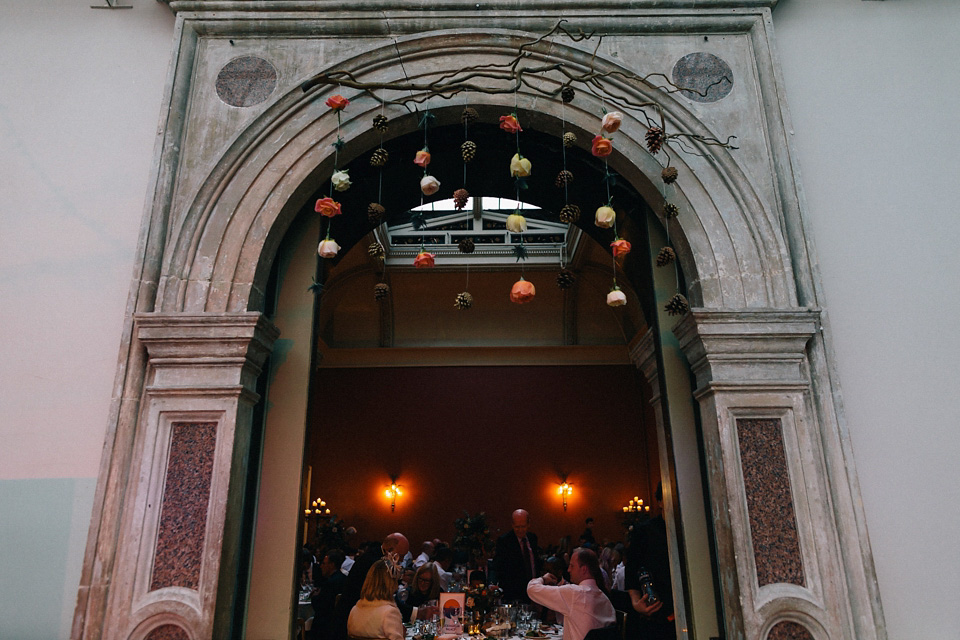 "Entertainment was a big thing for us.  Andrew has pretty eclectic taste in music so a non-wedding DJ was a must.  We put the feelers out there and our photographer Heather recommended Paul Courtney who kept the tunes pumping all night and was sensible enough to avoid some of Andrew's more esoteric dancefloor killers.
We also asked local choir The Tiffinians to do a set at the drinks reception; their rendition of Bob Dylan's 'Make you feel my love' still makes my hair stand on end.  Darlin' by the Beach Boys was another hit.  You can find videos of their performances on Facebook.
After dinner 'SuperSpokes' took to the floor and belted out classics from the likes of The Fugees, Bob Marley, Tina Turner, Basement Jaxx and Outcast. What voices they have!"
"Our first dance was to David Bowie's 'Be My Wife'.  We are both Bowie fans, and over the years have spent many evenings listening to the album 'Low'.  Two weeks before the wedding I was in Berlin and had the opportunity to work with Tony Visconti who produced many of Bowie's albums – we shot this video which I will forever look back fondly on.  Later Andrew joined me in the city, which was commemorating the 25th anniversary of the fall of the Berlin Wall for our last weekend away as singletons."
Words of Wedded Wisdom
"Make sure your suppliers are on the same wavelength- choose them carefully but then delegate! Leave them to do their thing- a little trust will save you a lot of stress.
Your wedding day is like a juggernaut, once it gets going nothing can get in its way. Embrace that and just roll with it. You have just 24 hrs.
[If doing it all over again] we'd have had a wedding Instagram  hashtag, in order to see all the 'behind the scenes' pics!  They're so much harder to collate after the event."
Thank you so much Amy and Andrew, and all my congratulations- what a gorgeous gorgeous winter wedding- so elegant and classic, but so personal too.  Thank you to Heather Shuker for the images, and to Amy for her words.
Lovely summer is upon us (almost) but I do still love a crisp winter wedding (or a wet one, like mine was!) hopefully this beautiful wedding has given you Autumn/ Winter brides some inspiration and plenty to add to your Pinterest boards…
Love as always,
Shona x
Photographer – Eclection Photography (assisted by Katie Palmer Photography)
Reception venue – Hampton Court House
Dress –  'Golden Day' by Sarah Seven via Blackburn Bridal, Blackheath
Veil –  Created by Josie Cowen
Shoes –  Yves Saint Laurent bought on Polyvore.com
Accessories –  Pearl earrings + fur shrug Josie Cowen
Bride's Scent/perfume – Coco Mademoiselle
Groom – Richard James bespoke suit + shoes via Edward Green
Bridesmaids – Dresses from Portobello Road + Topshop shoes + Anthropologie handbags
Groomsmen – own choice navy suits + Jaeger (Father of the Bride)
Flowergirls – Monsoon (dresses + cardigans) + Next (fur coats)
Pageboy – Trousers and waistcoat from JoJo Maman Bebe, bowtie and shoes his own
Florist – Joanne Truby
Cake – Let them Eat Cakes
Transport – Black cab + Clarkes of London
Entertainment – Band 'SuperSpokes', local choir 'The Tiffinians' + DJ Paul Courtney.
Rings –  Asquiths of Battersea
Stationery – Amy's father and brothers
Hair Stylist –  Jessica Shaw
Makeup Artist – Claudia Savage
Catering – Parties to Go
Tablecloth hire – Pudding Bridge
Personalised ribbon – Woven labels UK