Good morning lovely readers and I hope you are having a very groovy week! Prepare to be transported and reminded of overseas travels as you soak up a ton of loveliness from today's wedding. It's filled with very pretty decor and flowers, gorgeous light-filled images by our wonderful regular contributor Naomi Kenton… and here's a warning, you will need tissues shortly.
Lauren, a Euronet Analyst at Unilever and Duncan, EMEA Director at Glaxo Smith Kline, married on a late winter's day on 21st February this year at Northbrook Park in Farnham, Surrey. They payed homage to their South African roots and travels with their theme.
Photography by Naomi Kenton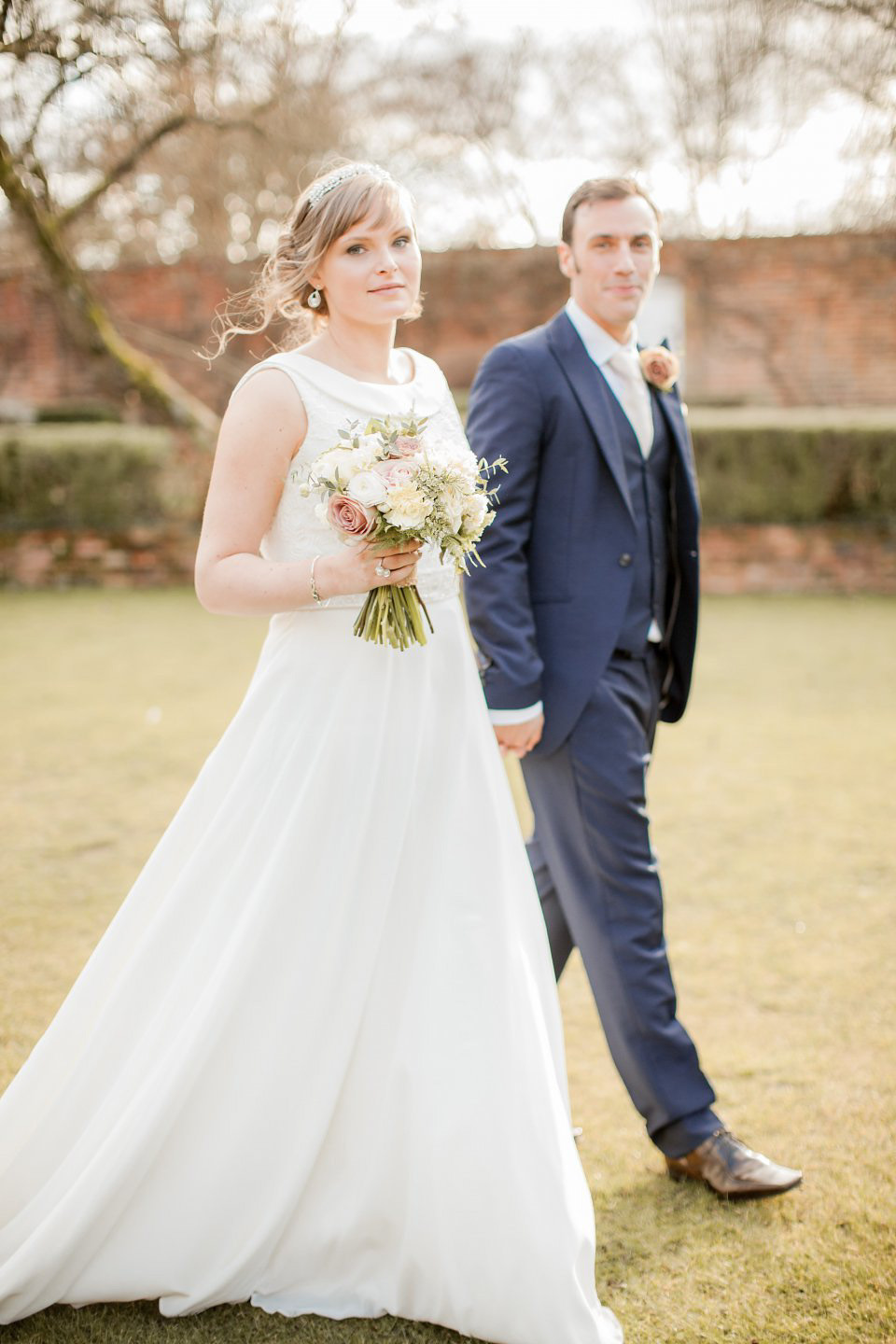 "I wanted everything to flow and not have particular things jumping out! A real piece which pulled it all together was a beautiful travel trunk which had vintage labels from across the globe."
"The overall style of the day was really inspired by not wanting anything too 'perfect'. I also wanted to show our South African heritage – but again in a very simple and not overt way, so a loose antique travel theme tied everything together and I chose colours which complimented this – blush, rose gold, bronze and cream."
"I think one of the most glamorous, dreamy and stunning things I hired for the day were the array of sequin table linen. I found Pudding Bridge online after lots of searching and Helen was most helpful! The range of colours and sizes are impressive! I was able to choose an ethereal champagne colour for the table in the ceremony room, which complimented the décor beautifully, without being overpowering."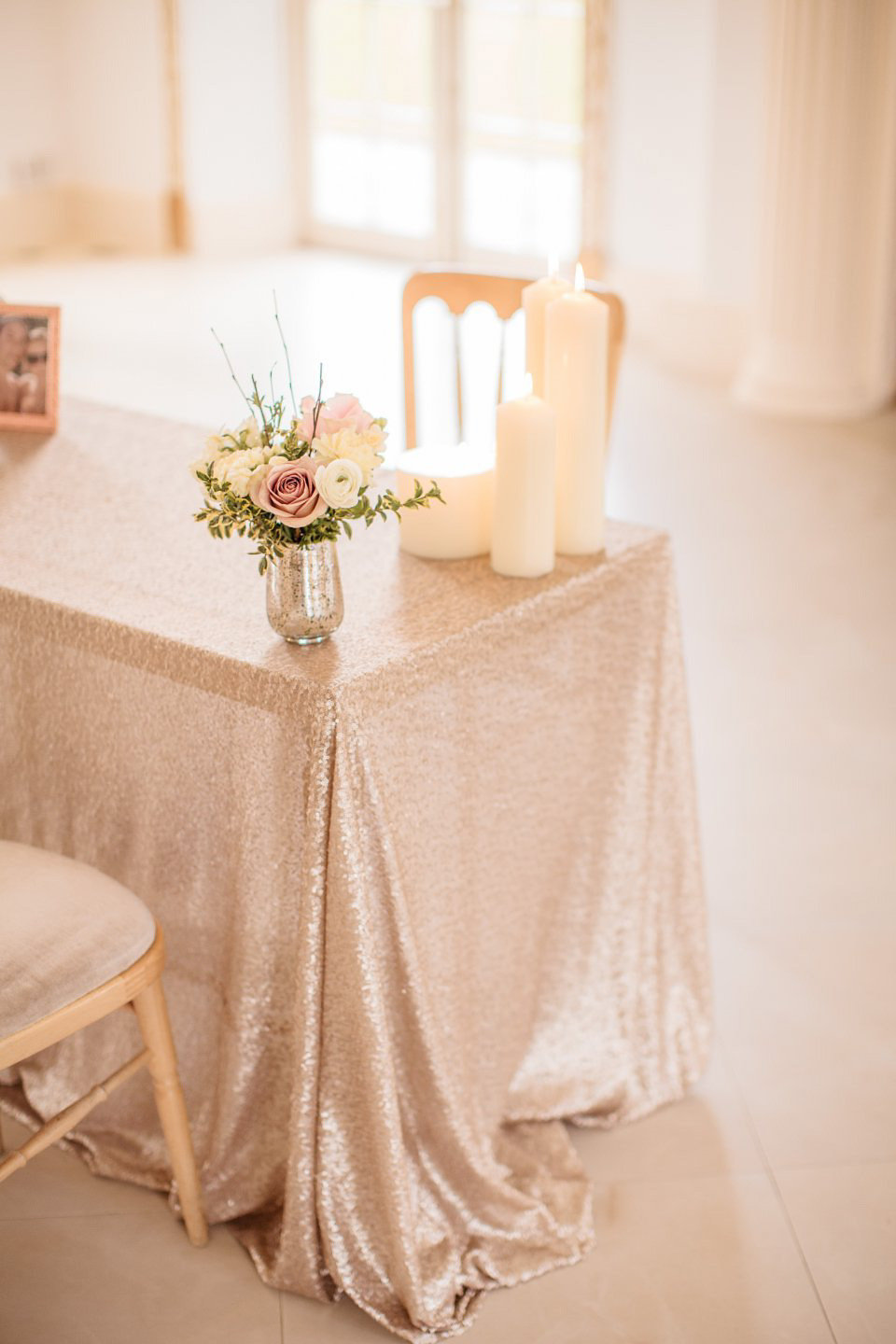 "I am a photo fanatic so I was very particular when selecting our photographer. I actually stumbled across another wedding at Northbrook Park, which had been featured on Love My Dress, which Naomi Kenton Photography had photographed and immediately fell in love with her dreamy use of light and non 'cliché' shots.
I loved how the photos were soft, ethereal and romantic and really captured the beauty of the day. We were fortunate enough in February to have some lovely sunshine and I think Naomi did an amazing job to really capture the natural light in the pictures. I really couldn't be happier with the photos & she was a pleasure to work with on the day!"
A lovely little floral boutique in Farnham provided the couple's delightful flowers to bring to life Lauren's dream colour scheme, as well as adding her mum's favourite flower – such a very sweet touch.
"I had a vision of soft creams, blush pinks and gold colours for the flowers to create ethereal touches to the wedding styling. Rachael from Lavender Hill Company was excellent into translating this in the overall vision. The Amnesia Rose formed the main 'stand out' flower of the day and featured in most bouquets including mine, the fireplace and the table flowers. Also, my mother's favourite flowers were carnations so Rachael was great in incorporating the most luscious cream carnations into most displays and my bouquet.
The guys had beautiful amnesia roses as their button holes, which added just the right splash of colour and added to the antique colour scheme. I loved the bouquets for the bridesmaids with the long green stems of the narcissus contrasting beautifully against their cream dresses. A favourite though of mine was hanging baby's breath onto delicate wiring, which floated on the walkway to the Orangery, it really created a whimsical, ethereal look."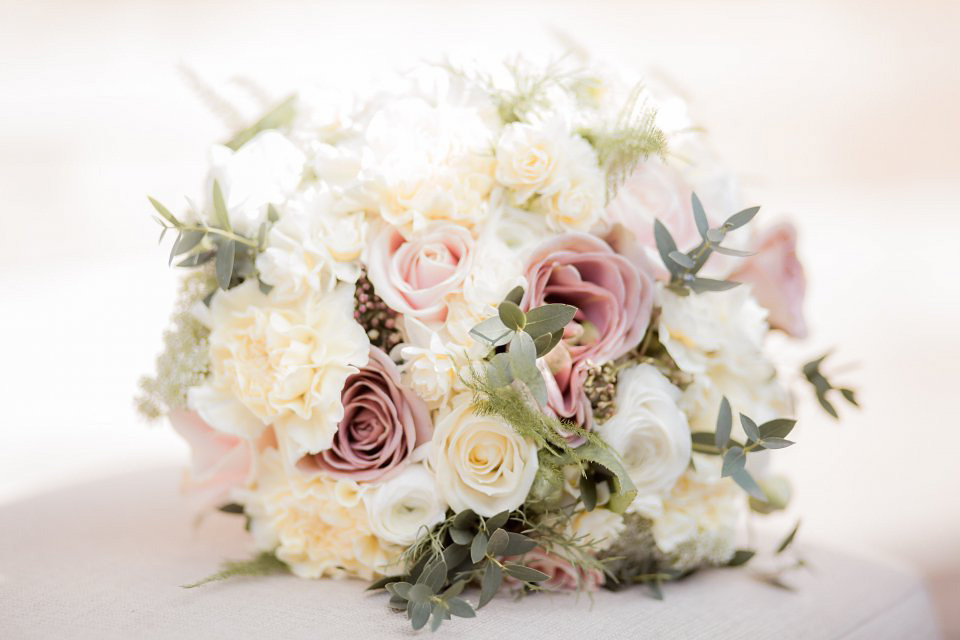 Lauren's short veil and pearl and crystal tiara were also fromThe Bridal Room – and she wore a range of jewellery and accessories that held very special meaning to her.
"My earrings were beautiful drop Swarovski crystals – a Christmas gift from my then husband to be. I also wore a statement Swarovski pearl and crystal ring – another gift from my husband to be many years ago. It complimented the dress perfectly, which itself had a touch of bead-work on the belt but nothing else, so I thought I could up the ante on the accessories a little bit!
I am fortunate enough to have a bridesmaid (Judite) who runs her own business Juream Box making beautiful products. As a surprise she made a lovely fur muff with delicate beaded flowers and a handy inside zip pocket for all my little bits!
Finally, on my wrist I wore the bracelet I always wear – a delicate silver and topaz bracelet, the last present my mother gave to me and something which I wear every day and never take off."
I am in absolute awe of Lauren's sparkly rose gold Kate Spade heels. Just wow!
"Don't get me wrong, I like shoes but I am by no means a shoe fanatic. I did however, know that I wanted shoes with sparkle! After trawling the internet I stumbled across Kate Spade and her gorgeous sparkly rose gold shoes, needless to say I soon snapped them up and they complimented the overall colours of the day perfectly!
On the day I wore Chanel No5. The scent has always conjured the most amazing nostalgia, as I remember my mother wearing it whenever she got 'dressed up' and so it not only takes me back to these memories, but it makes me feel more connected to her. So it made perfect sense to have it as my perfume for my wedding day."
When I saw this next image of Lauren and her lovely dad and brother, I completely melted. It's raw, beautiful and so very emotional … and you are going to need a tissue for what Lauren's about to say.
"My father and brother walked me down the aisle – something which right up until the day we weren't sure would be possible, as the year before the wedding my father became very ill and it has been a long road of recovery. So this made it even more special on the day and it not only brought a tear to my eyes, but most of our guests!"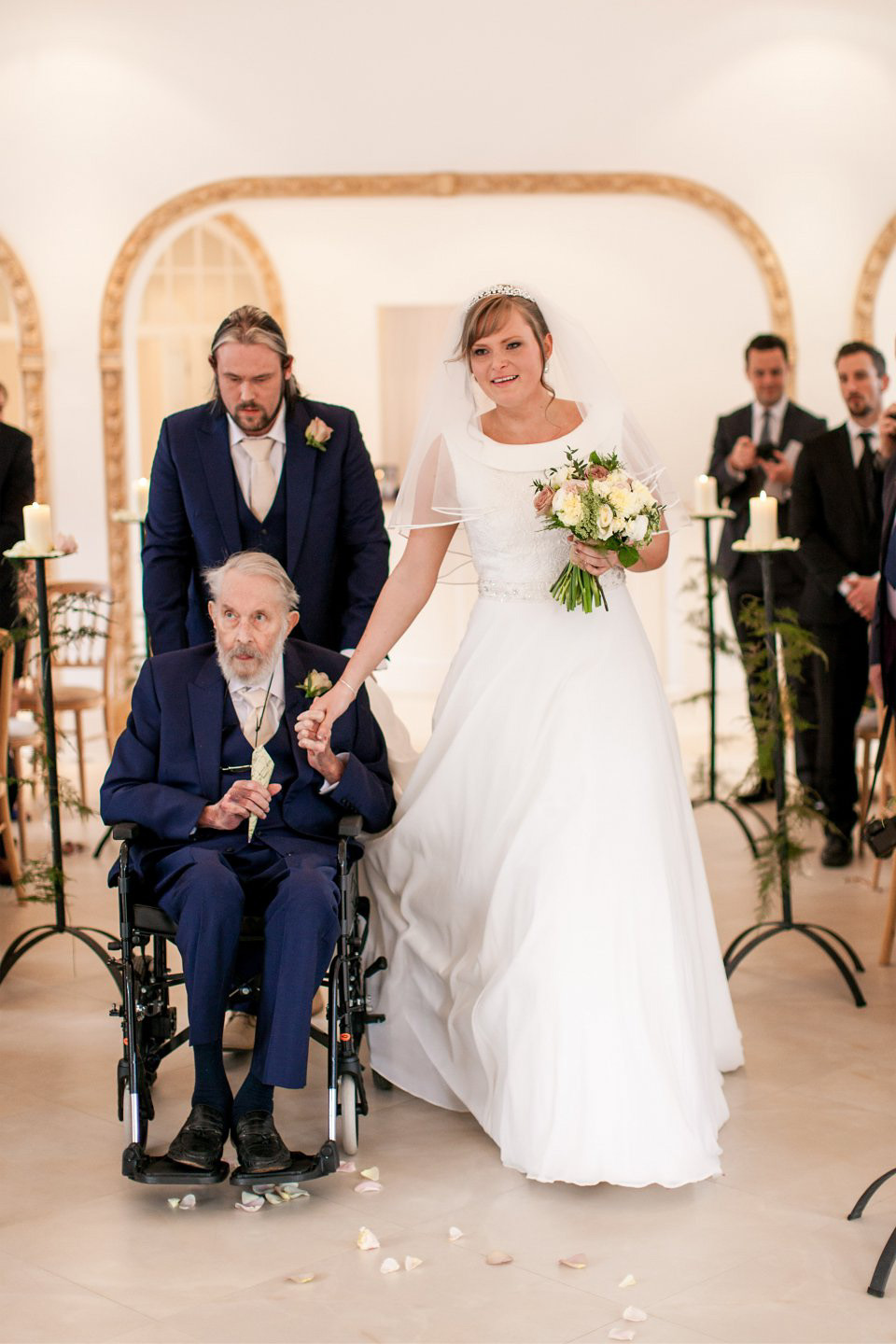 Harpist Hayley Wild played the beautiful 'Canon in D' melody as they walked down the aisle together. The couple went with a simple ceremony, then two heartfelt surprise readings which were written by the two readers; 'Love is Just a Name' by Lauren's brother Lance and 'Love at 4 Years Old' by Kaitlin Duffy, one of Lauren's childhood friends.
"I designed both my engagement ring and my wedding band. We used a diamond from Duncan's grandmother's old ring and I designed an art deco square style around the centre diamond. I wanted my wedding band to add even more sparkle and so worked with Ian from Ian Quartermaine Jewellers to design a platinum band with diamonds running half way round it – which complimented my engagement ring beautifully. Duncan opted for a simple, rather heavy, platinum band."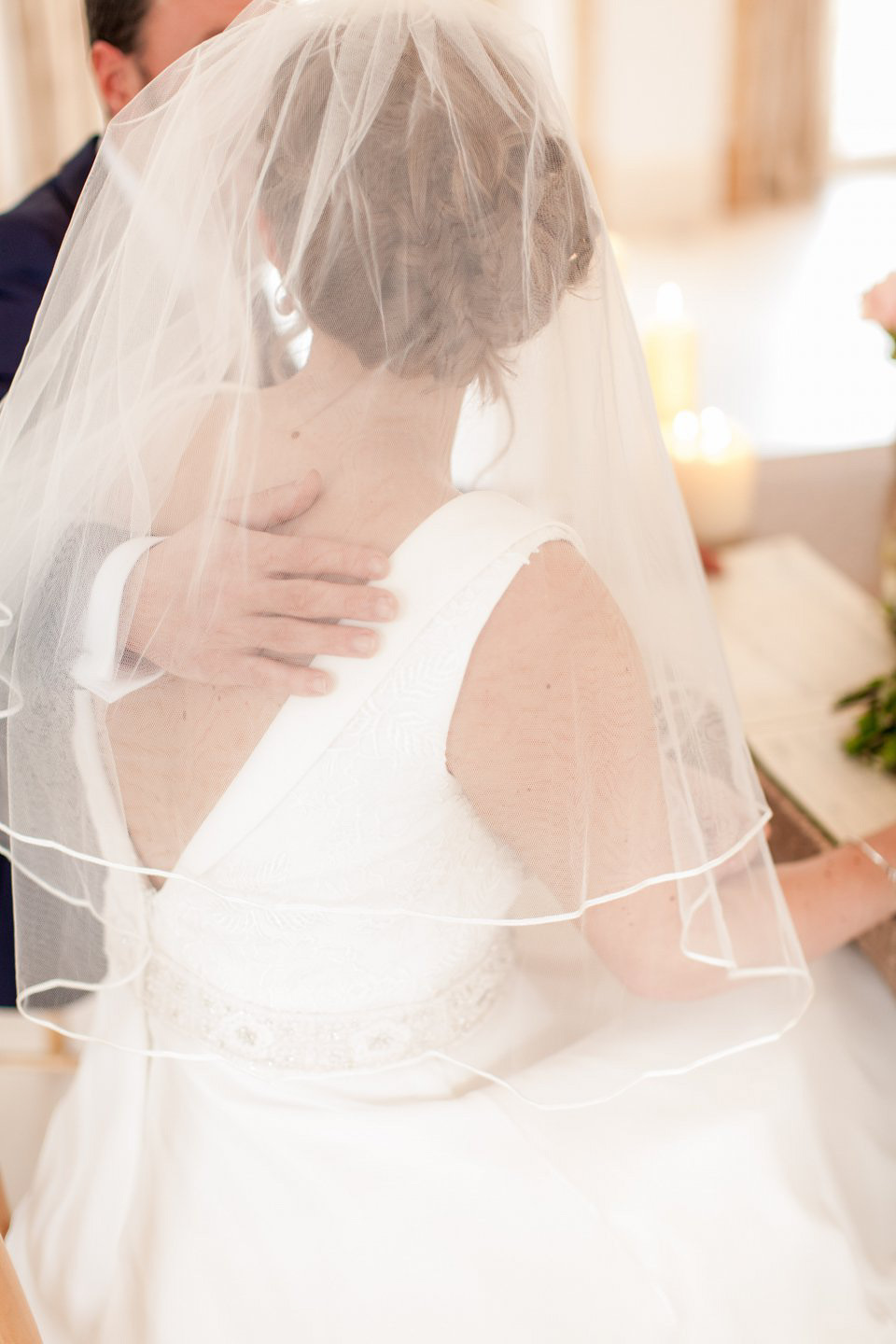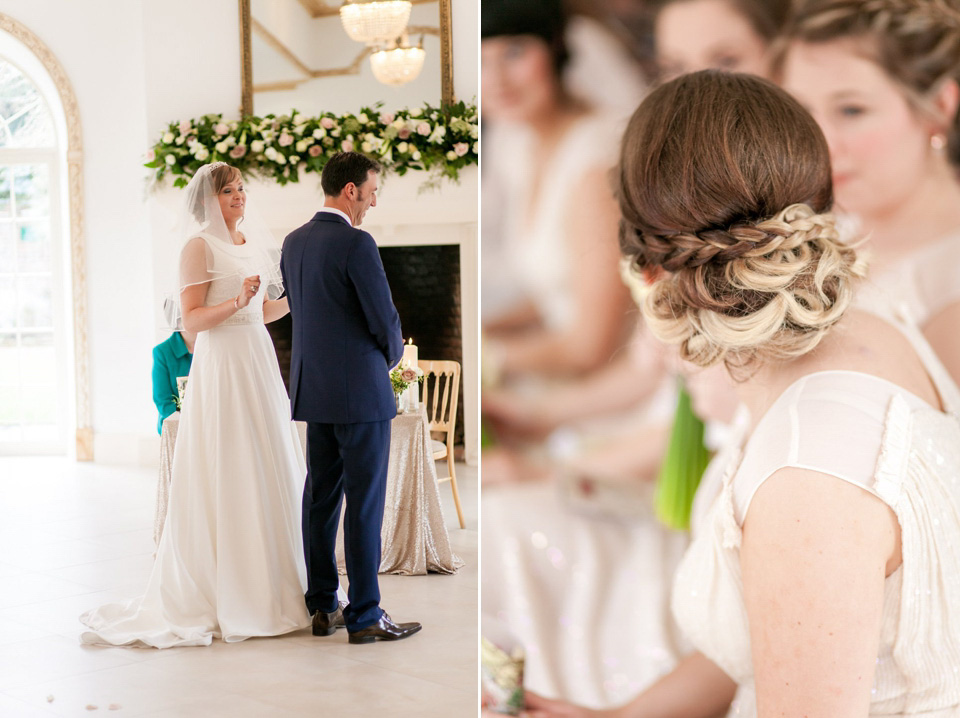 Lauren found her stunning dress from the 'Alba Rosa Couture' range via The Bridal Room in Worcester.
"I wanted finding my dress to not be a big deal and be as relaxed as possible. My mother passed away when I was younger and so it is always something I have felt had the potential of being quite emotional. However, I went to The Bridal Room with my husband's mother Carole, where I tried on a few dresses – all of which were pretty in their own ways, but as soon as I put on my dress, I looked at Carole and we both knew that I had found the dress for me, needless to say the search ended there.
I think I loved the dress for the fact that although not revolutionary, it was something a bit different – with the delicate almost 'peter pan'-like collar. The beaded belt added that touch of glitz that I love and the overall shape was just simply flattering. I always promised myself that my priority was to be comfortable and this dress delivered that and more."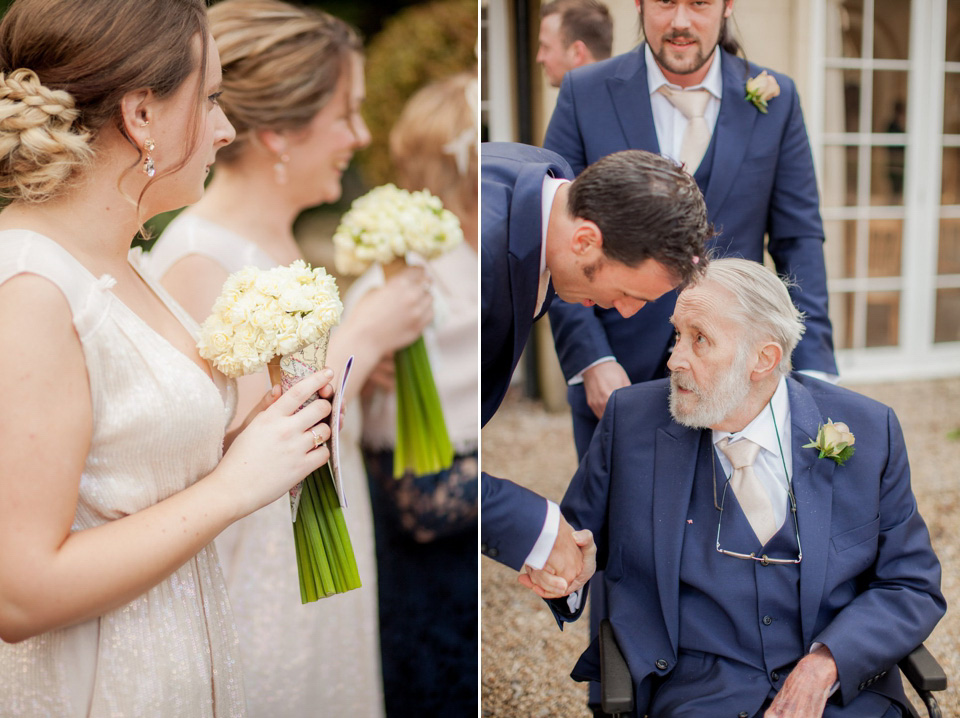 "Duncan and I met on a very stormy night in Brighton! I was out with friends & literally demanded that we go into the nearest night club – which happened to be funky Buddha .. a few hours later we were dancing on the dance floor & finding out some spooky connections such as both having South African heritage and me having lived in a tiny town in Yorkshire that nobody has ever heard of – where one of Duncan's best friends lives! Spooky!"
"We took a trip to South Africa in 2013 to go to a friend's wedding… I had an idea that Duncan may propose because he suggested organising part of the trip – something which he never volunteers for! Unfortunately, on the day we were traveling to Aquila Games Reserve from Franschoek Duncan was extremely sick.
Upon arrival we were greeted with champagne and I was told we had been upgraded (cue my suspicious mind). Luckily, Duncan was able to sleep for a few hours before a late afternoon game drive and we even saw a lovely lion couple snuggling together."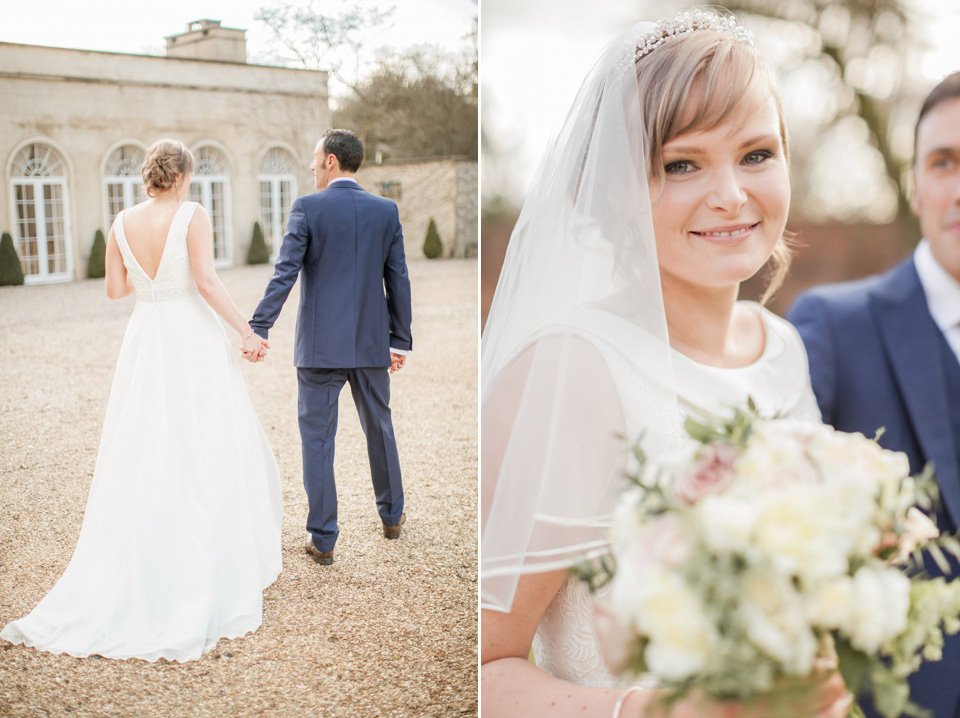 "We got back to our beautiful cottage and I was busy getting ready when I heard Duncan on the veranda asking me to come outside… this required lots of persuasion, but eventually I stopped what I was doing and walked out to see the most idyllic sunset and Duncan with a rather suspicious looking box and look on his face.
I sat down next to him and he started to say some sweet words, to which I responded by running back inside! I did this, I think not because I was scared, but because I realised that this was it – a real life moment. After a few nervous calls from Duncan, I came back outside and he proposed!"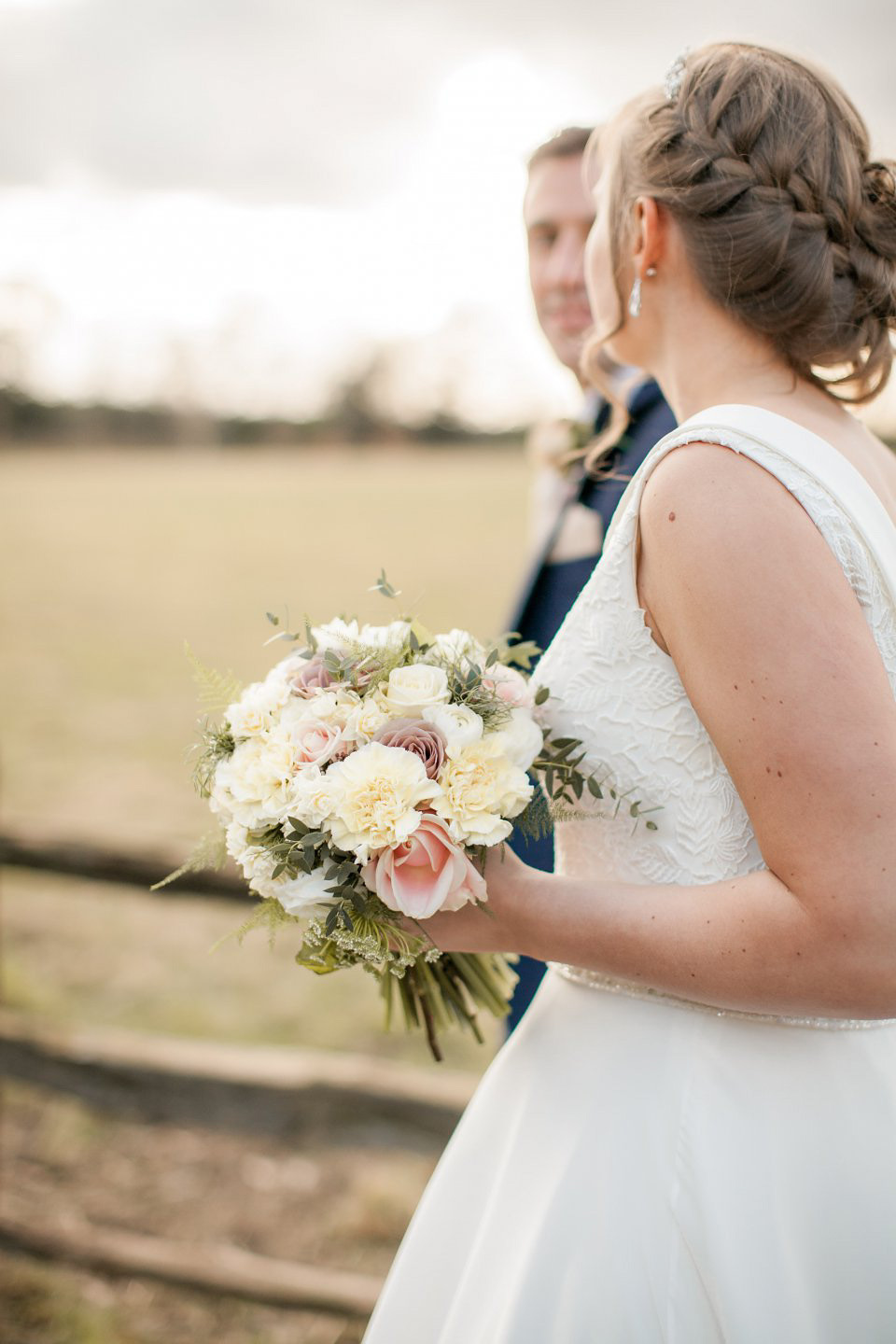 The handsome groom and groomsmen sported navy suits with champagne blush ties rented from Hugh Harris and feather cuff links from Highland Angel. And the groomsmen wore cool paper aeroplane cufflinks, tying in with the travel theme. The young male helpers looked so sweet in their navy Ted Baker suits from Debenhams, which complimented the men's attire.
The bridesmaids donned stunning sequined dresses and blush pink heels from French Connection, individual earrings which were presents from Lauren, and gorgeous accessories created by her bridesmaid from Juream Box. The fur cover-ups are a brilliant idea to keep off the winter chill!
"The bridesmaid's shoes were beautiful platform heels in the most delicate blush pink suede material. Being quite tall and my bridesmaids all being relatively short (something I only realised after asking them) it gave them a bit of extra height, whilst still being quite comfortable!"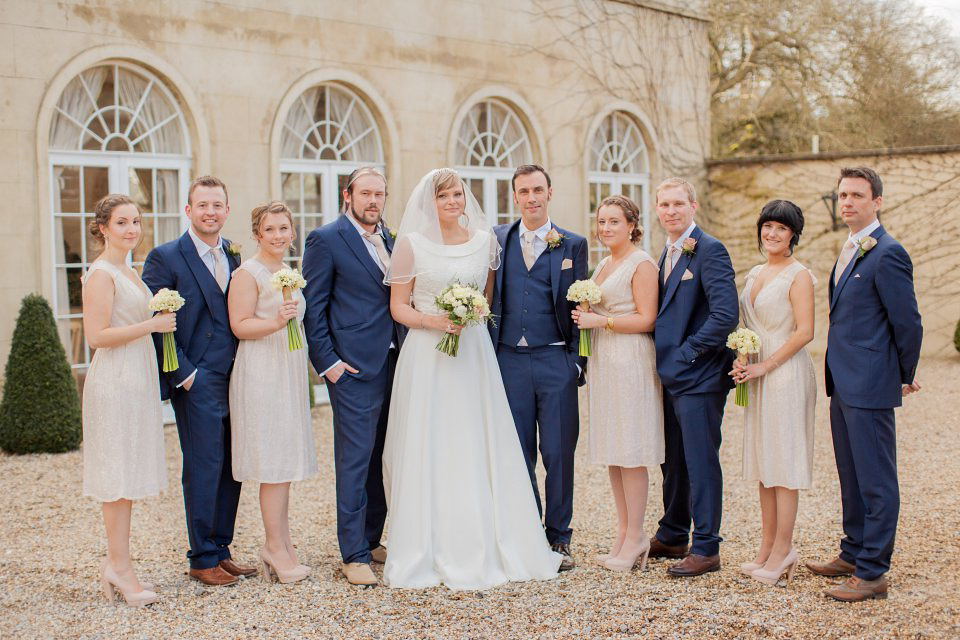 "One of the best decisions I made were the bridesmaid's dresses. They were dreamy sequined neutral knee length dresses – in the evening they caught the lights in an absolutely stunning way and added to the ethereal look of the day.
From the beginning I knew I wanted to utilise my friend's talents and so months before the wedding we sat down together and designed beautiful cream silk and gold glitter clutch bags – each with the initial of the bridesmaid delicately etched into it and the most amazing fur cover-ups with gorgeous delicate beaded flowers on the lapel."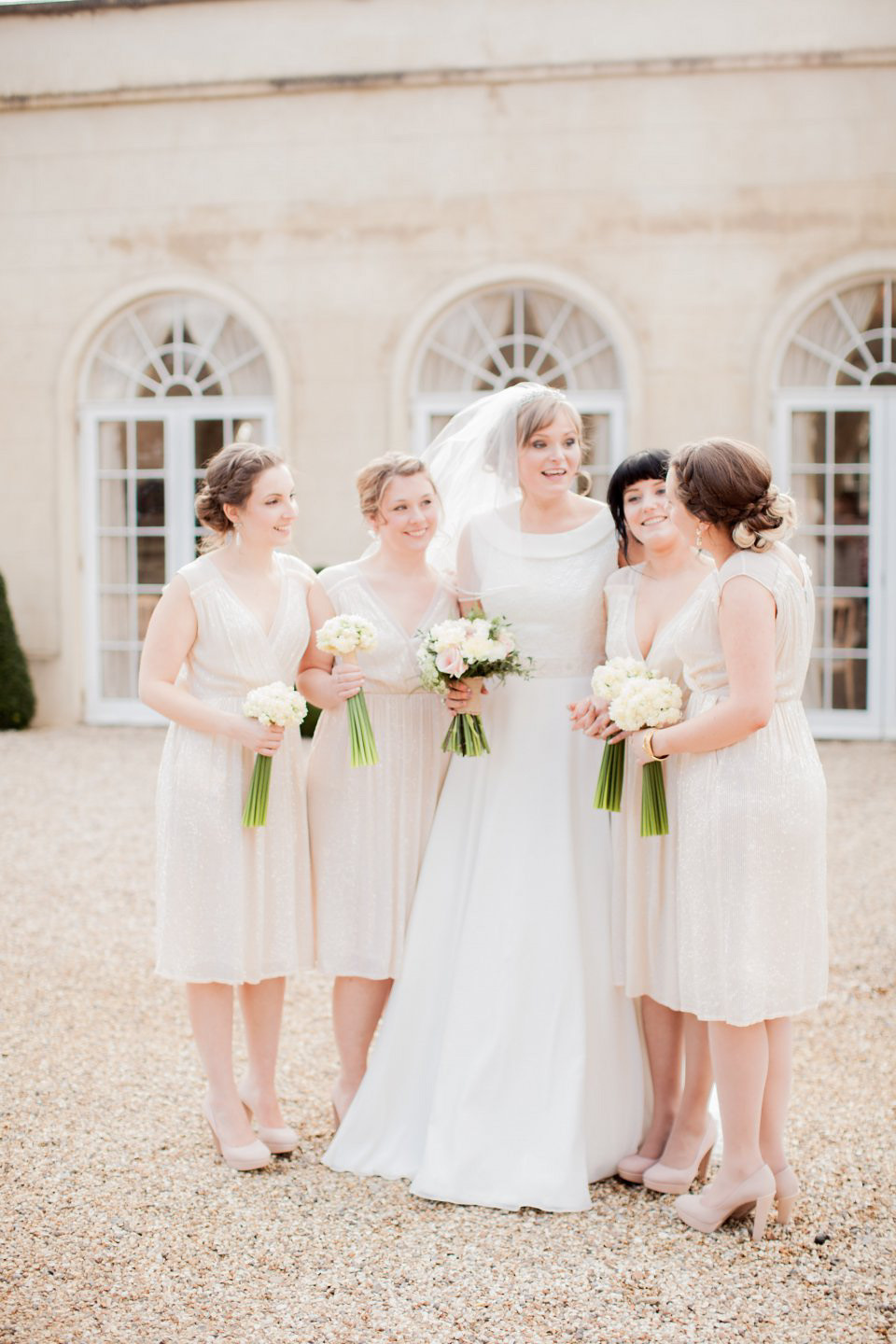 "One of my bridesmaid's Becky works for a design company in Brighton called Colourfast. Here, I was able to brainstorm ideas, to which Becky came back with proposals and even enhanced my ideas to that next level! Our invitations were authentic looking boarding passes and personalised passports with pages containing all of the details of the day.
Our order of the days used a vintage South Africa map we found on the internet as the background and again we made a little booklet setting out everything. The menu's utilised the same map, but instead were on A4 paper, which we rolled up like a scroll and tied with burgundy ribbon – they looked absolutely stunning on the tables and really added that antique travel theme feel!
For the table plan I found a company online which sold framed prints of vintage maps, I then stuck luggage tags on front for each table. We named our tables after places we had been together in South Africa and each table had a gorgeous Nkuku brass frame with the name and pictures of us there."
"For name places, myself, my beautiful maid of honour Gemma, my now mother in law Carole and Duncan's Aunt Leila spent the Thursday night before the wedding making unique "globe" cake pops as favours. On these I then put some pretty card name-tags from Etsy which fit onto the stick and had different cities from around the world for each person! It made it totally unique and in keeping with the travel theme!"
In the Orangery we had rose gold table runners on each table, which added a touch of sparkle and with the mass of candles looked absolutely stunning!"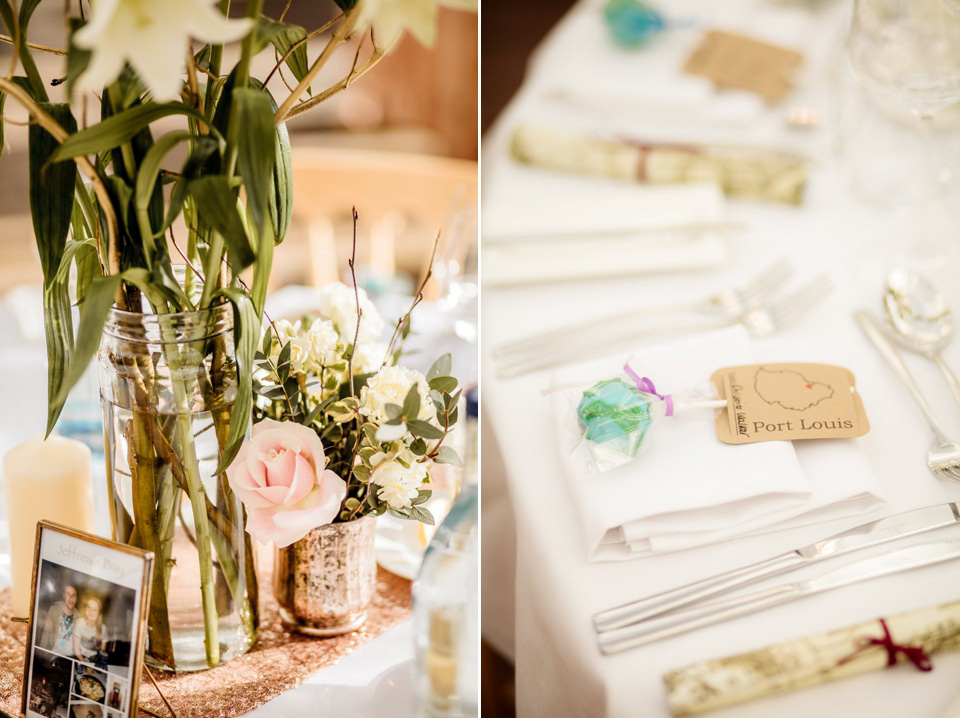 "Each end of the travel trunk was personalised to mark our wedding date and honeymoon destinations, then this was used to make a display on our Fuji Instax table and we had vintage postcards from Lake Como (a family favourite) for people to write on as our guest book."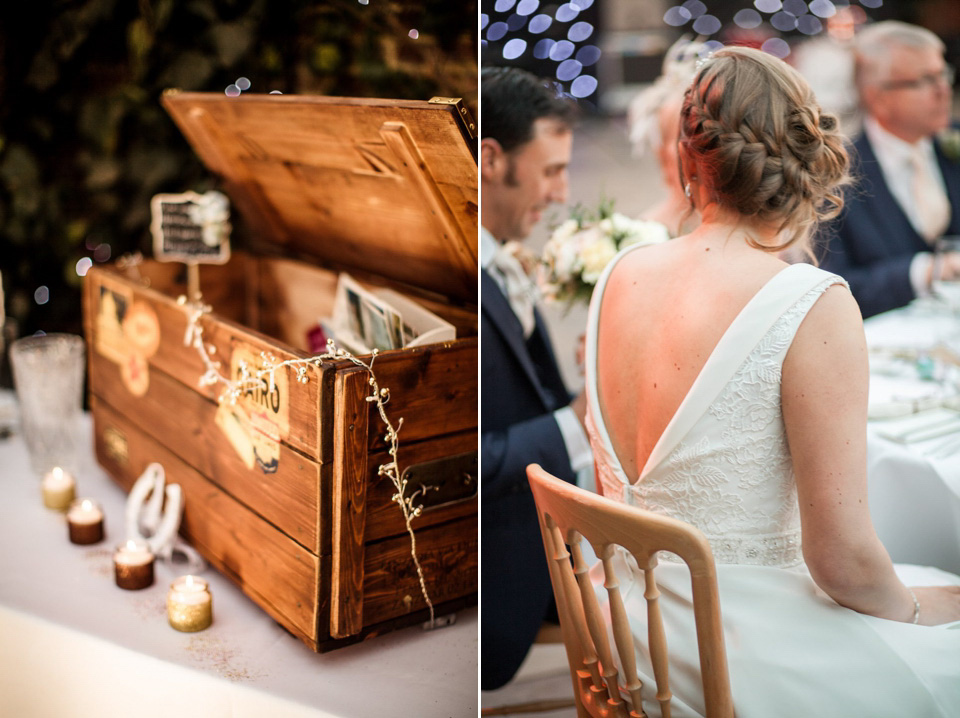 Fusion Catering Solutions created the delicious, mouthwatering cuisine and ran a bar service with yummy cocktails.
"We asked them if we could have 'Mr' and 'Mrs' signature cocktails – which on the day went down very well! We also supplied a shot of tequila, wedge of lemon and pinch of salt for everyone to toast to those no longer with us & those who made a long journey (we had guests from South Africa and even Australia!)"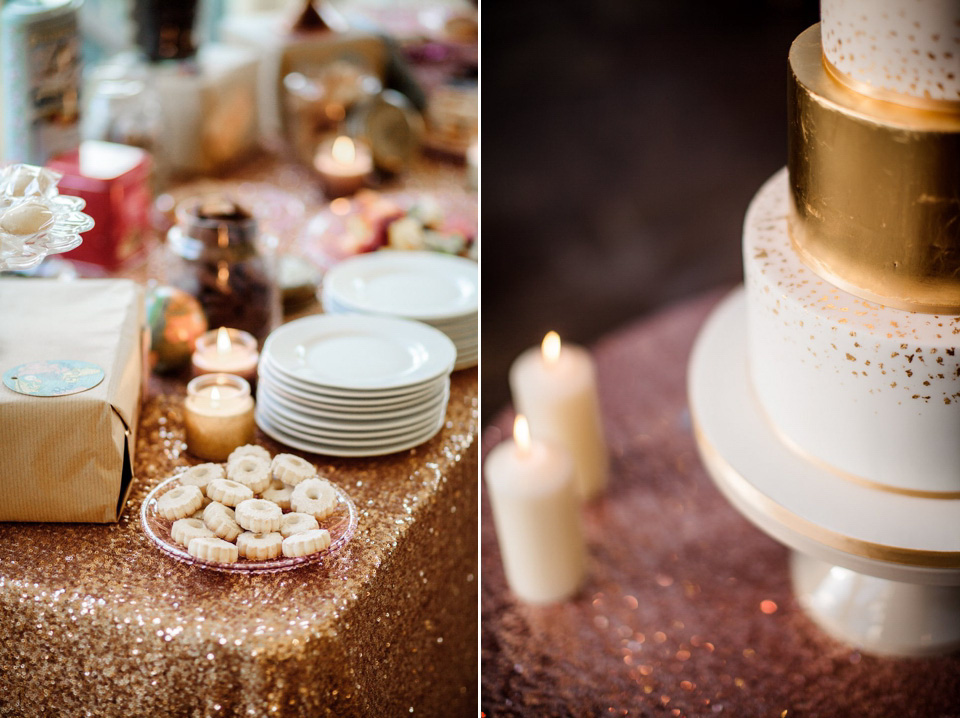 "Helen from Bellissimo Cakes was a pleasure to work with and was able to realise our dream for the cake within 10 minutes! I wanted a gold layer to tie in with the rest of the colours and her idea to have speckles of gold on the other tiers really tied in beautifully with the sequins on the bridesmaid's dresses.
The extremely delicate edible flowers on the top added a soft feminine feel to the cake and we then personalised it with two Lego figures given to us as a present when we first got engaged. Needless to say, the cake itself was absolutely delicious and we chose 1 layer fruit, 1 layer red velvet and 2 layer mocha."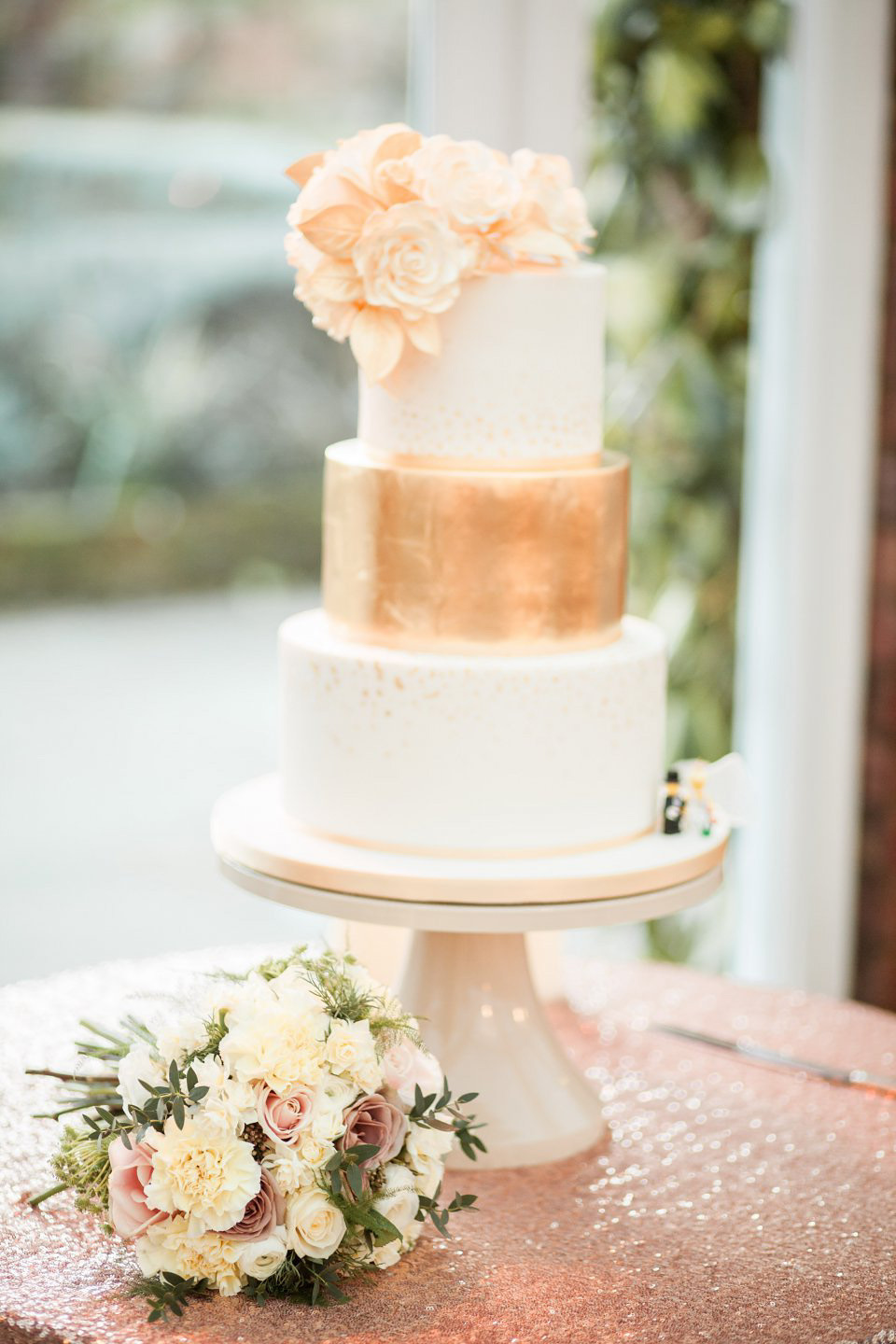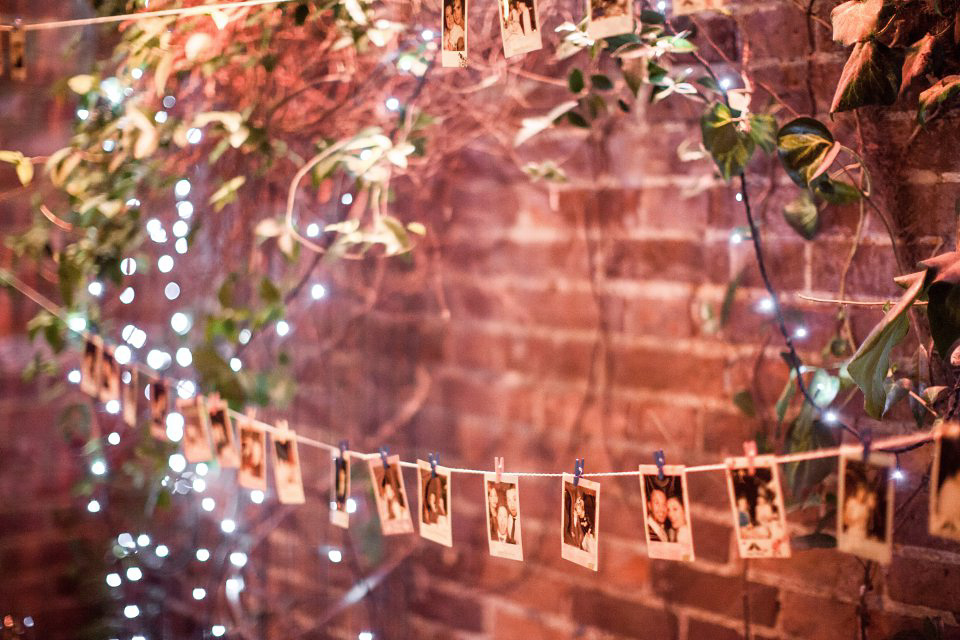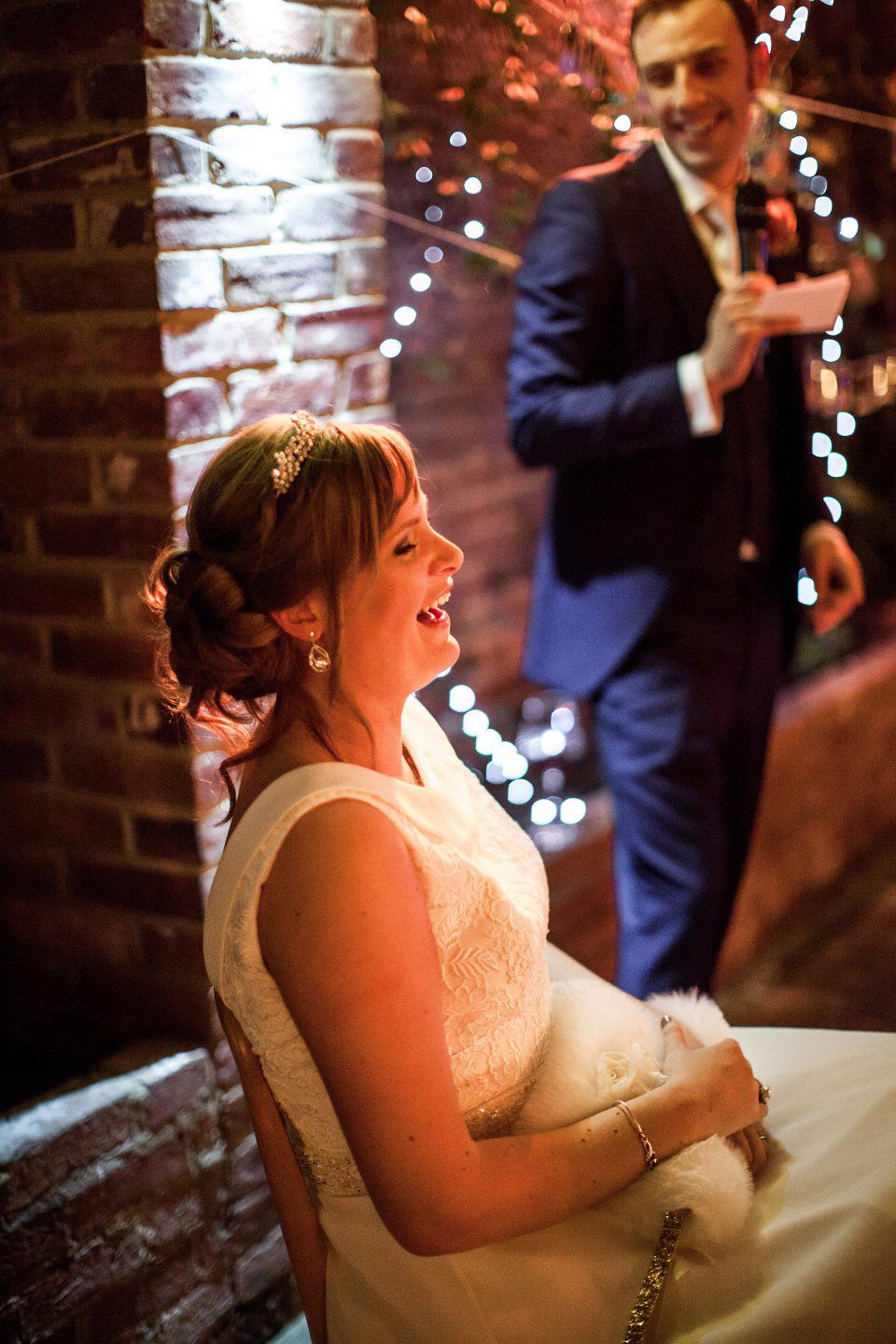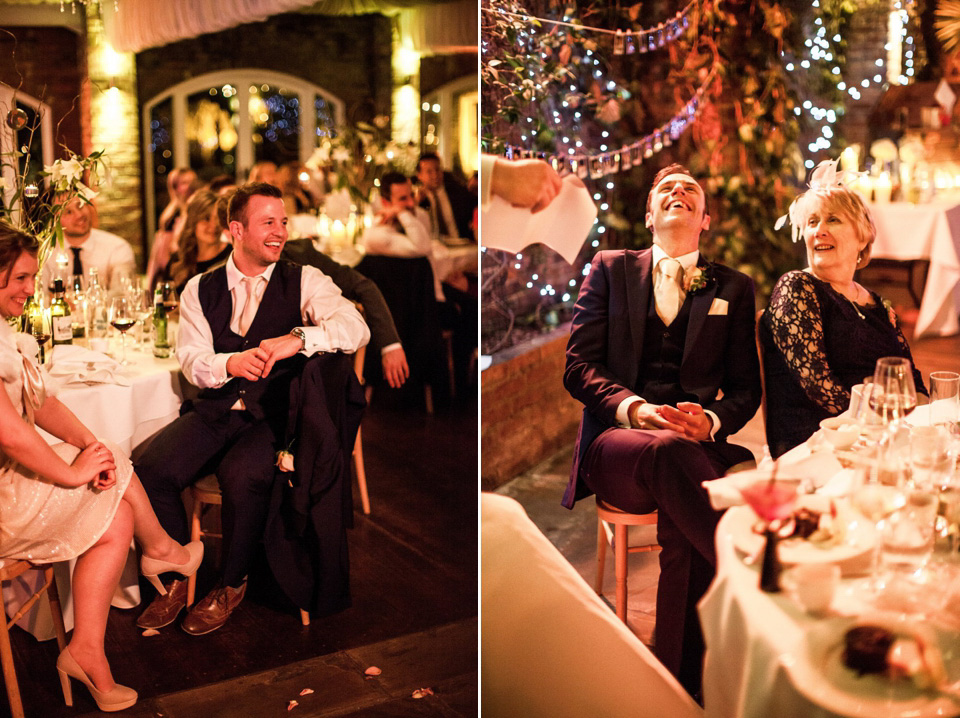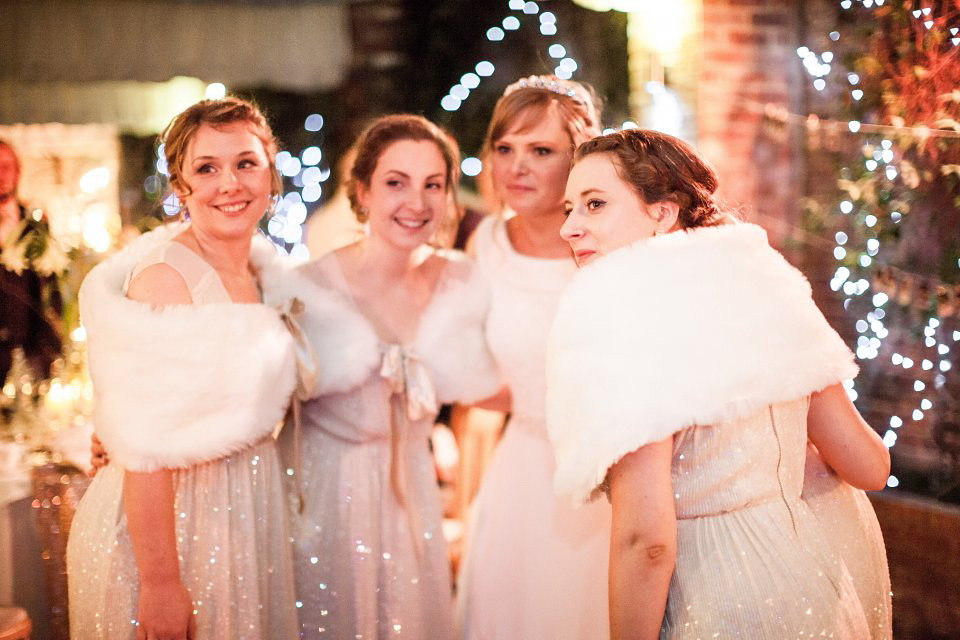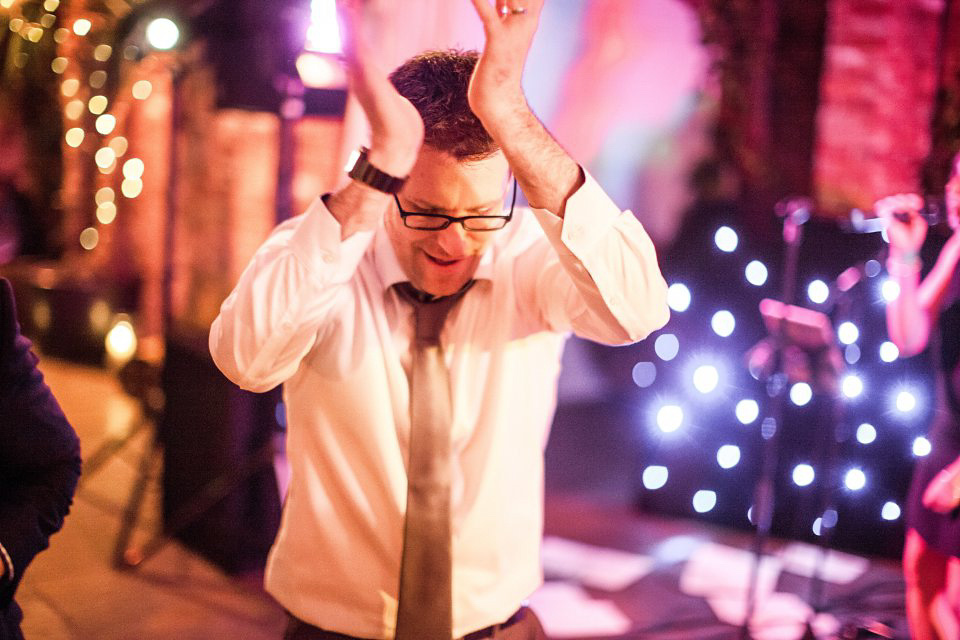 "From the beginning both Duncan and I knew that we needed to get the entertainment right to really make our day stand out. Through my research of local bands, I happened to stumble upon Groove Instinct – their videos online were amazing and they didn't seem like your "typical" wedding band. We then went to seem them at Dover Street Jazz bar and we were utterly blown away, which I have to say is how we felt after our wedding too!"
"We requested that the band play Norah Jones 'Come Away With Me'. It's a song that we have both always loved, but it also seemed to tie in dreamily with the travel theme."
"It is really difficult to pick an absolute favourite part of the day – as truly the whole day even exceeded my high expectations, so I will pick out a few top moments.
Waking up really early because I couldn't sleep any longer and having a calm moment with my maid of honour before all the chaos. The moment my brother phoned me to tell me that both he and my Dad were on their way – needless to say I burst into tears at the sheer happiness that my dad would be there. And the doors opening, the music of the harp hitting me whilst holding my dad's hand and seeing Duncan waiting at the end."
Words of Wedded Wisdom
"There will be things other advise you against and sometimes you have to accept that they are right! But if you really believe something will work stick with it! I had a battle against my mother in law about the candle sticks which dotted the aisle and whether rose petals and a rose head would look nice around the candle – needless to say, it was one of my favourite decorations of the day!
The day goes quickly yes, but I wouldn't say horrifically so – make sure you spend that extra time with those you need too, it is the only thing I wish I had made more time for on the day!"
Thank you to Lauren and Duncan for sharing your incredibly special wedding with us and I wish you both a brilliant future together that's filled with good health, love and happiness.
To view more beautiful light-filled pictures and features by Naomi that we've previously featured on Love My Dress, be sure to click here. And for a final bit of loveliness, here's a wonderful video created by photographer and video producer Aaron Wood, boyfriend of one of the bridesmaids. Enjoy!
Love Jo -xxx-
Photographer – Naomi Kenton Photography
Venue – Northbrook Park, Surrey
Dress – Alba Rosa Couture via The Bridal Room, Worcester
Veil + Tiara – The Bridal Room, Worcester
Shoes – Kate Spade
Bride's Scent – Chanel No. 5
Bridesmaid's Dresses and Shoes – French Connection
Accessories – Juream Box
Groom and Groomsmen – Suits hired from Hugh Harris and cuff links from Highland Angel
Young male assistants – Navy Ted Baker suits from Debenhams
Florist – Lavender Hill Company
Catering – Fusion Catering Solutions
Cake – Bellissimo Cakes
Stationery – Colourfast
Decor – Pudding Bridge andNkuku
Favours – Handmade cake pops with nametags from Etsy
Rings – Ian Quartermaine Jewellers
Hair & Makeup Artist – Tori Harris Makeup
Harpist – Hayley Wild
Entertainment – Groove Instinct