Wedding Insurance. Have you got this sorted yet? I know, I know, what could go wrong? You're already spending a lot of money on everything else – this is just one more thing you could do without, right?  So picture this:  your venue catches fire causing catastrophic damage just before you were due to marry there. Sends a shiver down your spine, doesn't it. Whilst rare, awful things like this really do, occasionally happen. In real life. Sadly, today's wedding is a stark reminder of this.
This is the beautiful wedding of Hannah and Tom – one of the last couple's who were lucky enough to tie the knot at the elegant Clandon House Park, before it fell victim to fire in April this year.
Can you even begin to imagine? My heart goes out to all those couple's who had planned to hold their wedding at this beautiful Surrey National Trust venue.  But today's couple were one of the lucky ones, and whilst I wanted to use this wedding as a strong reminder to get that wedding insurance cover booked, today – I now want to shift focus to these truly uplifting images, taken by Marshal Gray, that represented one fine day in September last year when Clandon House was full of love and joy and stood resplendent in all it's fine, architectural glory. Let us first however, start with this beautiful film crafted by the wonderful Mintyslippers.
https://vimeo.com/127975197
Hannah, who works as International Business Development Manager for a haircare product, married Tom, the Partner of an Executive Headhunting Firm on 6th September last year at Clandon House Park, near Guildford in Surrey.
Photographs by Marshal Gray Photography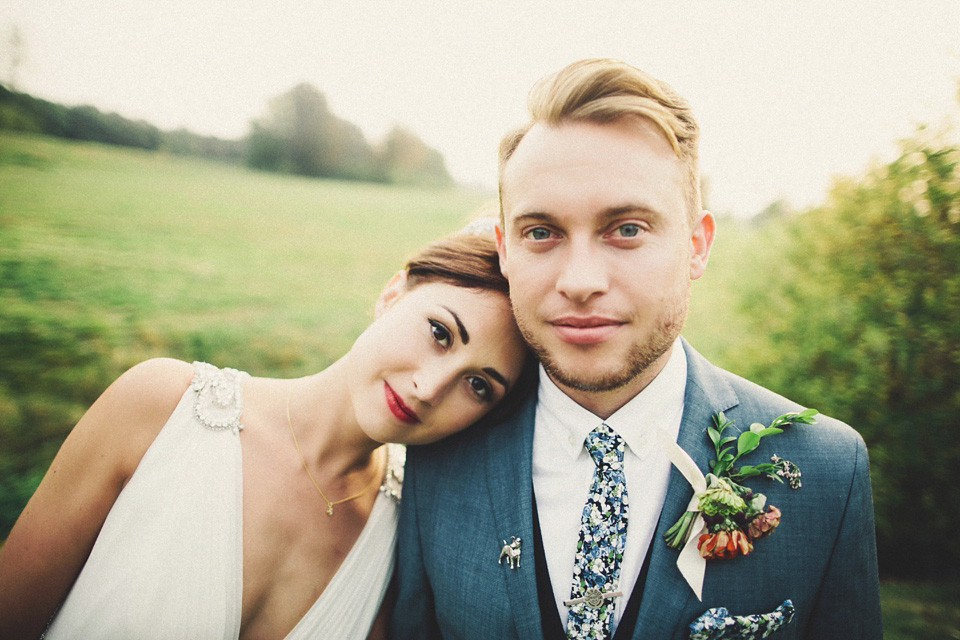 "Who could not fall in love with this building on a sunny day? We first visited Clandon on a crisp, late Spring morning in 2013 at a time when I had temporarily lost hope of finding a venue that ticked all the boxes for us."
"We quickly made the decision that we would use a marquee in the gardens of Clandon rather than having the wedding breakfast in the venue restaurant area. This decision was driven by two factors – the beauty of looking up at Clandon Park from the outside, and I loved the blank canvas a marquee presented and couldn't wait to think up how I could stamp 'us' all over this part of our day. The team at Clandon could not have made life easier and were a complete pleasure to work with."
"I completely fell in love with the opportunity Clandon Park presented to us.  I loved that we were able to plan a journey for our wedding guests rather than being restricted to only one room."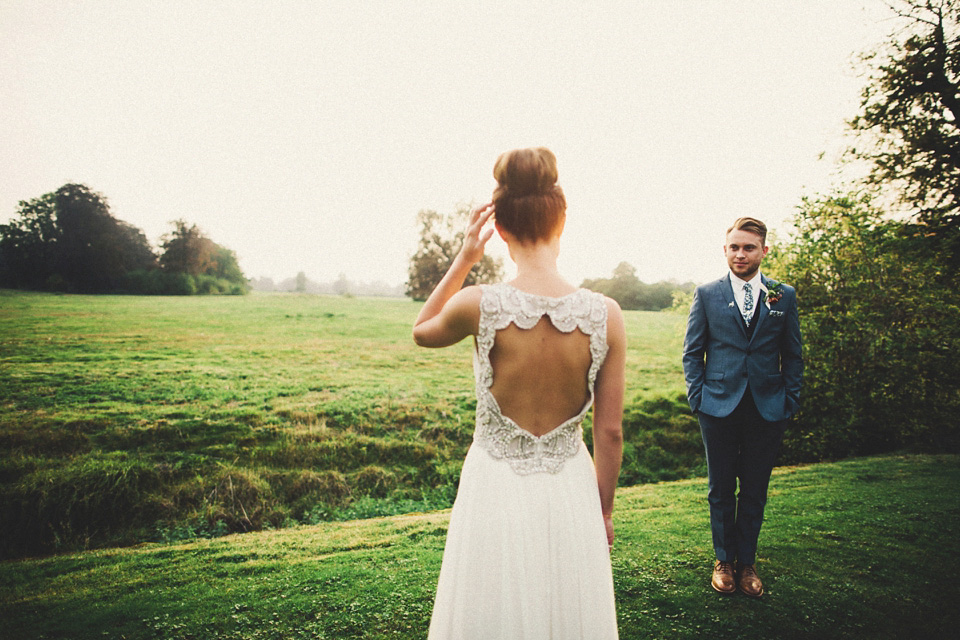 "I visited Love My Dress regularly (at least twice a day) for constant inspiration and ideas, but to be honest I just wanted the day to perfectly reflect us, our relationship, and how much we love our awesome family and friends.
We referenced the places we've lived, holidayed in, loved – Tom's beloved Chelsea Football Team (which luckily my family are just as passionate about). My slightly unusual interest in the Queen and Royal Family. My love for colour and our love for music."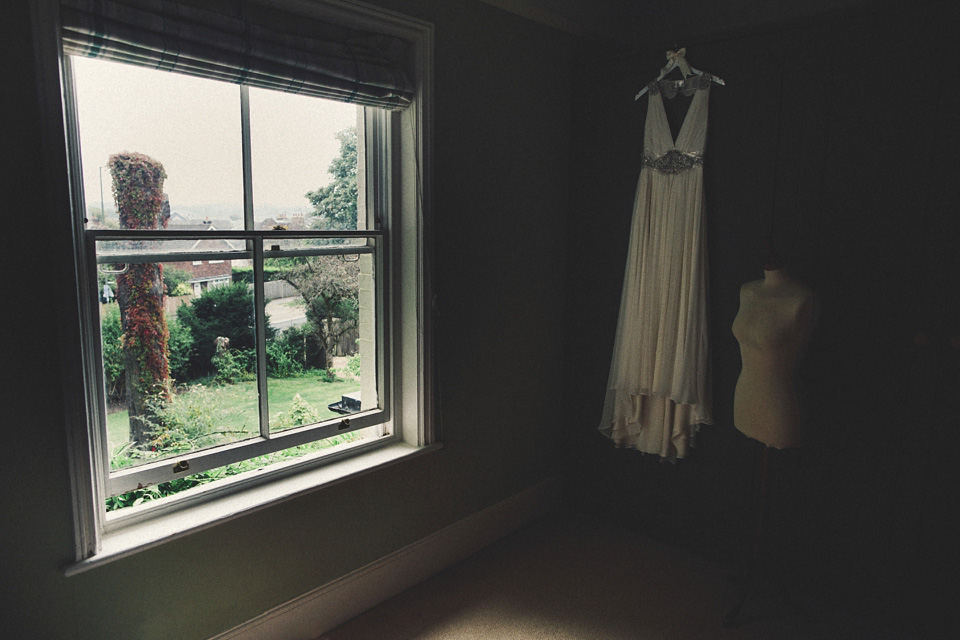 "I first came across our photographer Marshal Gray thanks to the marvel of Google. On the day we returned home from our first visit to Clandon I was desperate to investigate how the venue had been used by other brides and captured by photographers, as I really felt the images on Clandon's website did absolutely no justice to the beauty of the venue at all – and were certainly not in the style I was looking for.  So onto Google I went and I simply typed 'Weddings at Clandon Park' and two pages in, and a few photographers in I found a wedding shot by Marshal Gray."
"Not only did I know immediately then that I had found my photographer but he also made me fall further in love with the venue and we confirmed our date later that day! Needless to say, our photographer was high on our list of priorities for the wedding and I knew I wanted something 'different', someone different and I found that someone in Marshal Gray (AKA Gary Lashmar). From the moment I first spoke to Gary, I knew he was right up my street – a cockney wide-boy with an eye for light and composition that makes me green with envy and desperate to pick up a camera.
Gary was an absolute dream to work with on the day, feeling more like a guest (and a friend) than a photographer and I could not love the end result any more. I only wish I could have multiplied Gary clone-stylee and had 10 of him shoot the day so that not a single moment was missed! The man is a genius and for the brides looking for a collection of creative, beautifully styled and individual image I would give them a gentle, yet firm nudge into the arms of Marshal Gray.  He will look after you and you will love him!"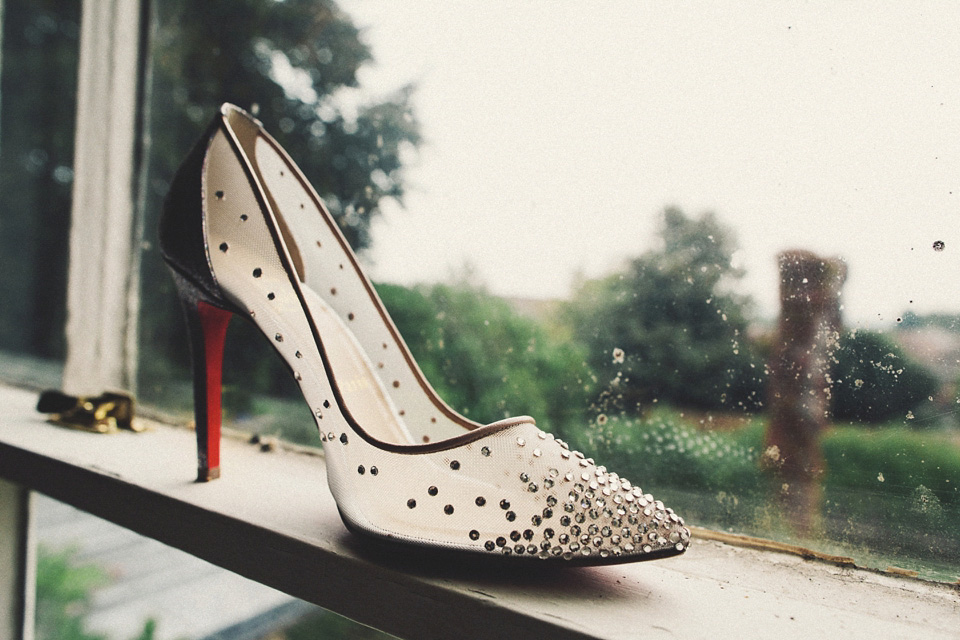 "My first ever job as a teenager was at a local Florist as a Saturday girl, and although I have never been a girl day-dreaming of a big, white wedding dress. I have, since my teens always been a girl dreaming of her wedding flowers and bright, vibrant bouquets and banks of beautiful blooms! Something about the textures, smells, colours and moods flowers can deliver has always got me somehow so finding the right florist was imperative for me.  And finding Juliet of Juliet Glaves was somewhat of a surprise!
Alongside my Mum and two of my engaged bridesmaids, I had a day at Brides The Show – not really actively looking for anything in particular (just embracing the opportunity to drink Prosecco abd talk weddings for an entire day!). However we stumbled across a small stand of floristry perfection belonging to Juliet Glaves. An absolute flower feast for the eyes, I was instantly in love with her beautiful work and to learn that she not only creates but grows all the flowers she uses was just amazing. Learning then that Juliet was based in Shropshire instantly dampened my spirits as I assumed we would be too far away for it to be both practical and affordable!"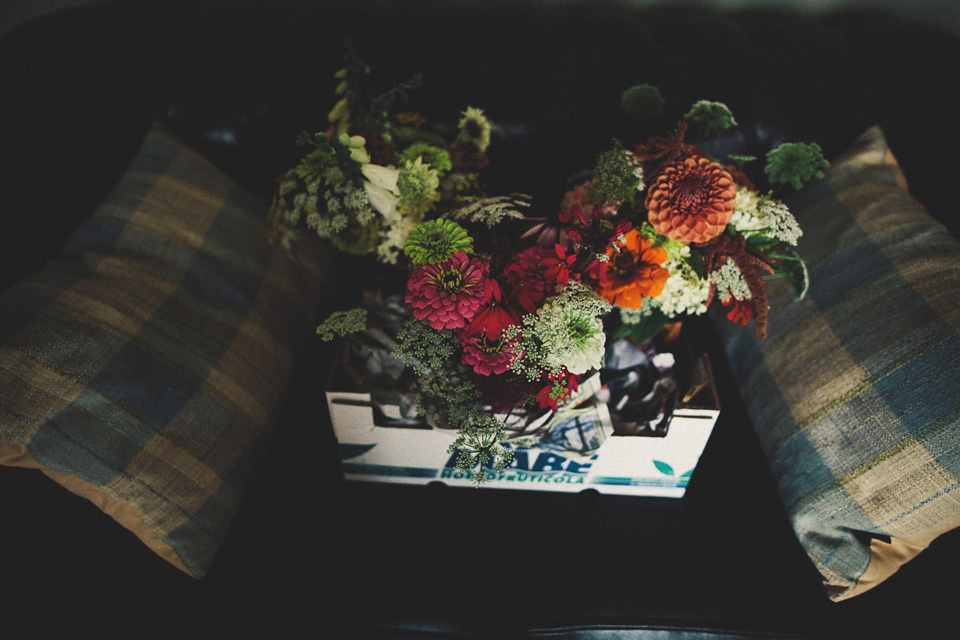 After exploring more local options, I simply could not find anyone that came close to what I had seen at Brides The Show, so I contacted Juliet, clinging on to some hope.  I was not disappointed! Juliet was more than happy to travel down to Clandon, and even met with us a couple of months before the day to see the venue herself, with minimal delivery charges. Despite being presented with my unusual combination centre pieces of Coronation & Queen Elizabeth memorabilia, Chelsea shirts and Landmarks, Juliet did not run a mile and instead interpreted my ideas in a more perfect way than I would ever have imagined!
The day was filled with colour, and just the most beautiful flowers I have ever seen… and Juliet herself was there on the day moving flowers from room to room seamlessly to maximise each arrangement for each different section of the day.
I cannot imagine the day now without her."
Hannah's necklace and earrings belonged to her Mum.
"My bracelet was a gold-plated sixpence necklace from my beautiful bridesmaids which they gave to me the night before the wedding."
Hannah looked utterly divine in her 'Daphne' dress by Jenny Packham – a purchase via Surrey's award winning and most fabulous bridal boutique, Miss Bush.
"Where do I begin with the best shopping experience of all? I know there are some brides out there who do not have the experience I did, but my gosh I LOVED wedding dress shopping! Each trip turned into such a special and memorable occasion even when the visit ended 'unsuccessfully' in the search for 'the one'. "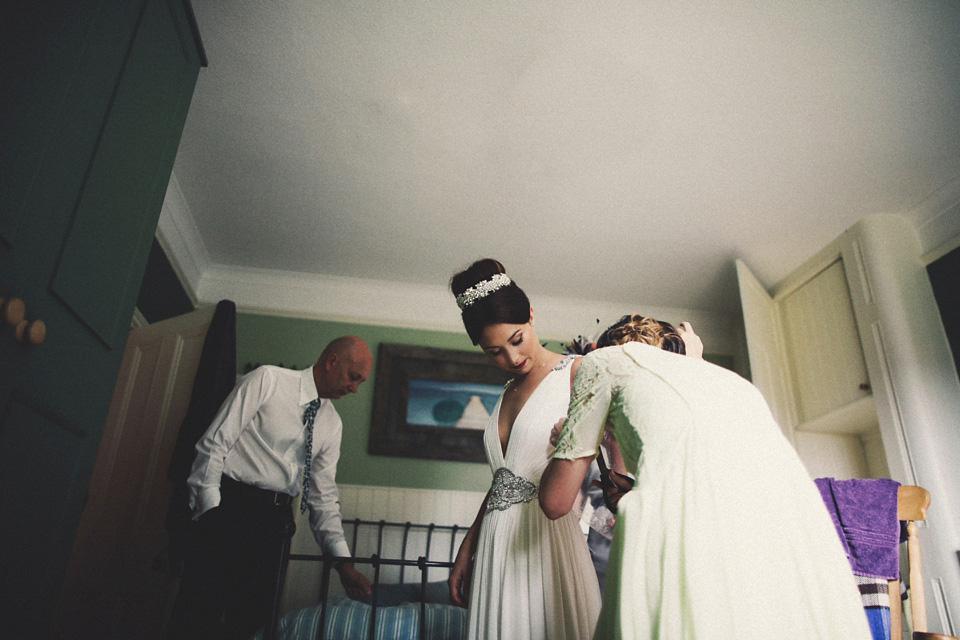 As soon as that beautiful ring slipped on my engagement finger, my Pinterest board was instantly filled with Jenny Packham and something always told me she would be the designer for me. Miss Bush are the most local stockist for me and after a glowing recommendation from a friend, I booked an appointment. I couldn't wait to go and my expectations were exceeded at every level from the moment I stepped through the Miss Bush entrance to the day I collected my very own Daphne."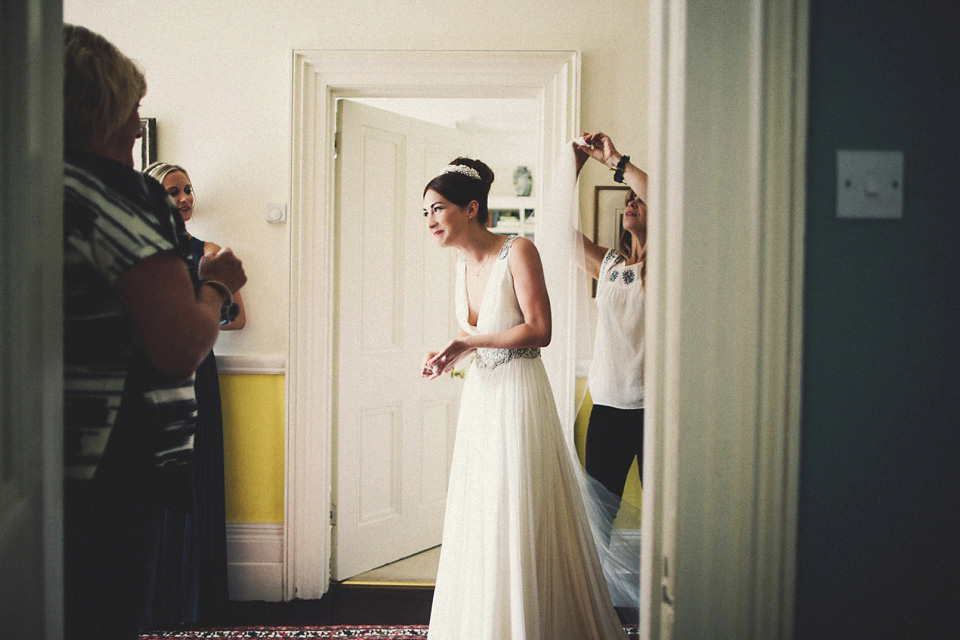 "The legendary Emma Meek (Managing Director of Miss Bush Bridal) was my Miss Bush angel, advisor and dream shopping partner. From the moment I met Emma, I knew she would be the one to find the dress for me. She carefully selected some Jenny Packham gems and the first I tried was Daphne herself. Fresh from her cellophane wrapping, and straight out of the delivery truck I was the first Miss Bush bride to ever try on Daphne and that was that.  I had the butterfly moment and I knew instantly she was the one! I would never have chosen her from the rail (too low-cut, too bling, too glam were my first impressions) and I would actively encourage all brides reading this to go out of their comfort zone and just go for it.
Try them all on, especially if you're in Miss Bush as they can be trusted, they know their sh*t and they know what will make you look as beautiful as you want to on your day! I cannot recommend Miss Bush highly enough, travel from far and wide because it will be worth it, and Ripley is the village of dreams in my opinion. We actually even booked our wedding night at a beautiful B&B two doors down from Miss Bush called Broadway Barn, on Emma's recommendation and have been there several times now."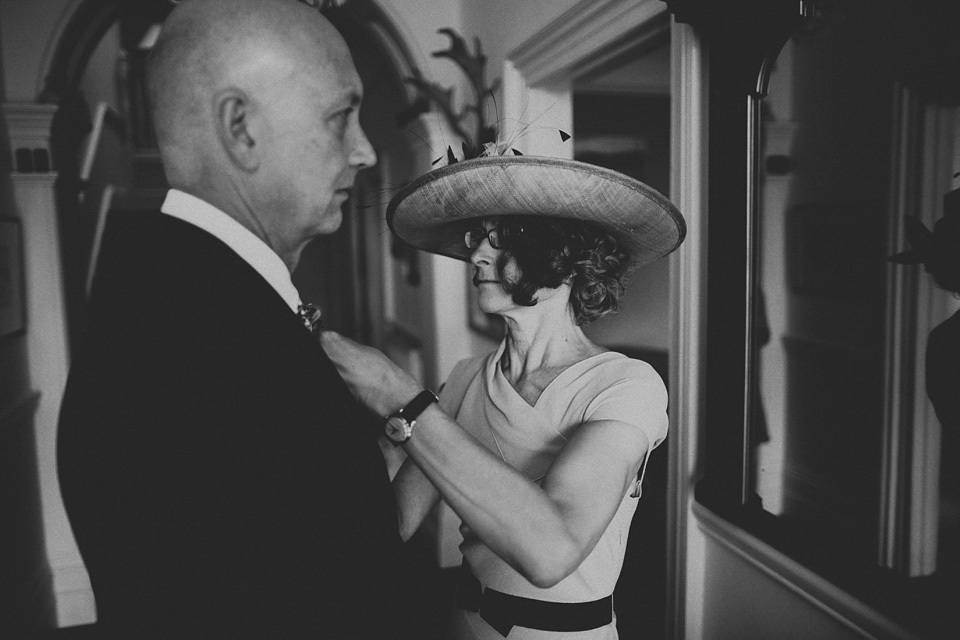 "It was super important to me that my bridesmaids felt completely gorgeous on the day and I had always known I would buy their dresses on the high street. I did look at purpose-built Bridesmaid dresses initially but I quickly realised I wasn't going to find what I wanted! I still feel quite strongly that there is a huge opportunity in the wedding market to develop a 'bridesmaid brand' that is more heavily influenced by the current trends and high street fashion while maintaining a high street price tag – if only I could design.  Hmm!"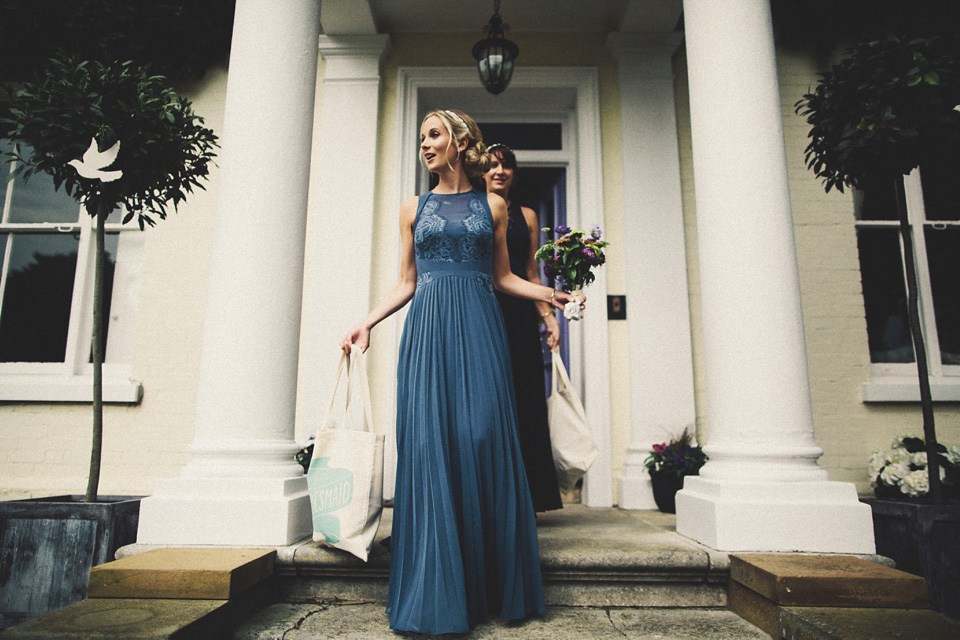 "Being a little obsessed with Whistles and their beautiful lace dresses, I quickly started my collection of bridesmaid dresses. Buying one at a time, always in the sale (which involved daily checks on Whistles online waiting for the sales to start, testing my patience to the max!) meant I saved an absolute fortune on the original price tags! The dresses were all under £100 and the girls will all be wearing them again, which was something else that was crucial in the decision making process! I love the contrasting colours, and I still think they were all the best-dressed guests (other than my mum who had the most smoking Roland Mouret dress and couldn't have been a more beautiful Mother of the Bride!)"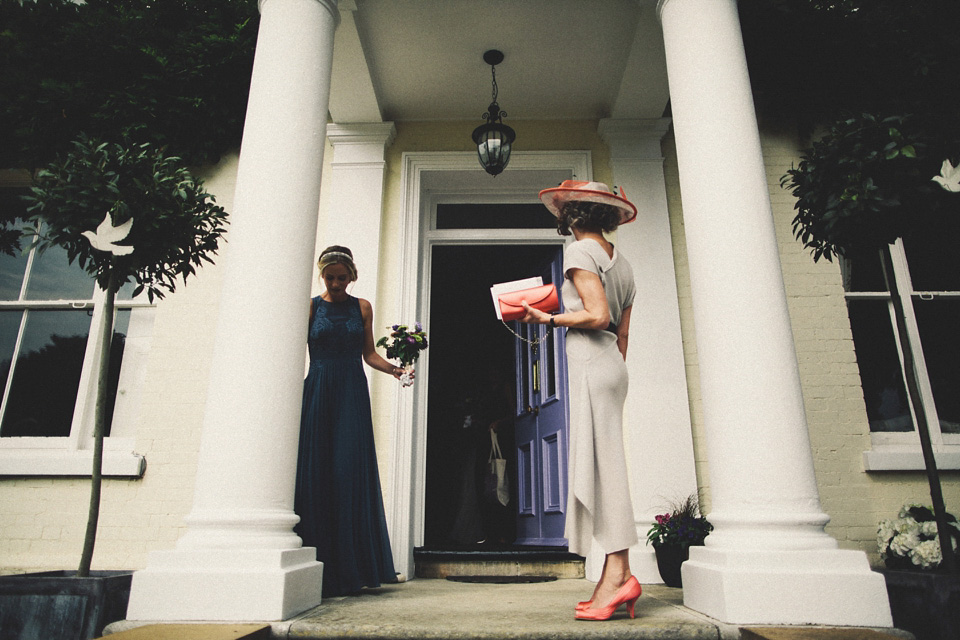 "Like so many modern romances, Tom and I met at work! We sat on opposite desks, and eventually Tom's natural charm, wit and outrageous sense of humour wore me down! That, and his ability to woo me with youtube clips of my favourite bands singing romantic covers! We got together officially in 2010, moving in together six months later.
Tom proposed on holiday in New York in February 2012, in the Ladies Pavilion in Central Park. For me, the most romantic spot in the world. I could not have been happier! I am definitely a crier and seeing Tom on one knee was singularly the most overwhelmingly amazing feeling. I burst into tears and just about managed to utter the word yes through the blubbing!"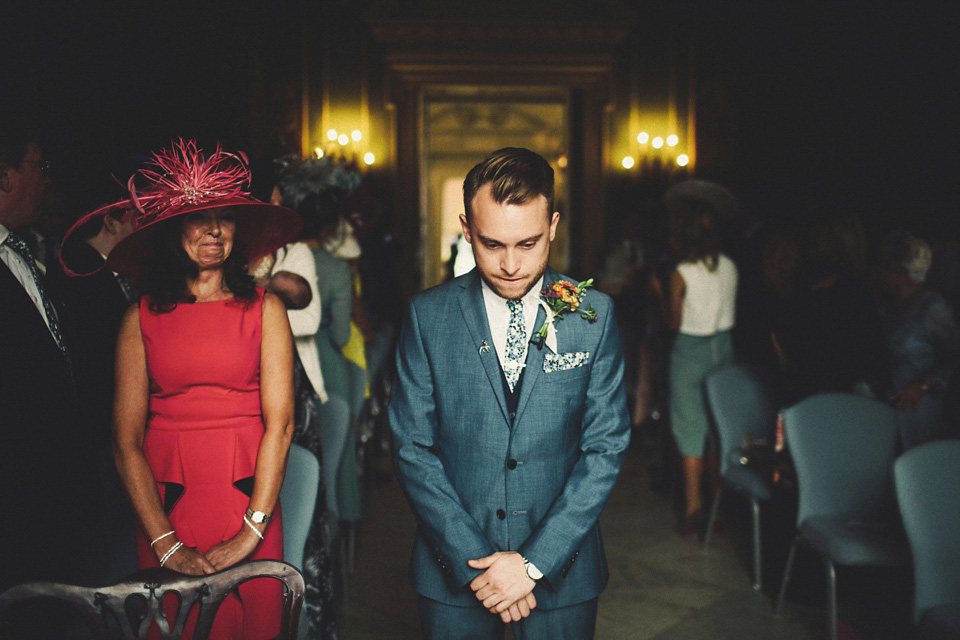 "When I could eventually clear the tears, I was presented with the most beautiful vintage gold and diamond ring… unlike anything I had ever seen before. I couldn't believe his choice, and couldn't have picked anything that felt more suited to me and my style.  The story behind my ring however, makes it even more perfect!
When Tom asked my Dad for my hand (slightly old-fashioned today I know, but a tradition that is so important to uphold I think – especially to someone who idolises their Dad as much as I do!) he also asked if my Dad approved of his idea to use a ring that had once belonged to my late Grandmother, who sadly passed away just over two years before. Needless to say my Dad was quick to help and the two of them worked together to choose and restore my beautiful ring! You can imagine the tears when Tom told me this. Poor boy!"
"My Dad, Nigel, walked me down the aisle to the sound of The Cinematic Orchestra's 'To Build a Home'.  Undoubtedly the moment I entered Clandon, saw Tom waiting for me and held my Dad's hand as we walked the aisle was the most unforgettable and magical moment of our wedding day.
The knowledge that the man you love the most in the world is waiting there to commit himself to you, filled me with joy that I find hard to describe in words. In that moment, any stress or worries in the build-up to that day fell away entirely and I have honestly never felt happiness like it."
"For our ceremony, two of our readings were written by our friends making the ceremony super personal. Our wonderful friend Katie wrote a reading especially for us titled 'You Complete Me' and Anna read a piece titled 'This Man' which she had written for her own wedding. We chose the third which was read by Tom's brother."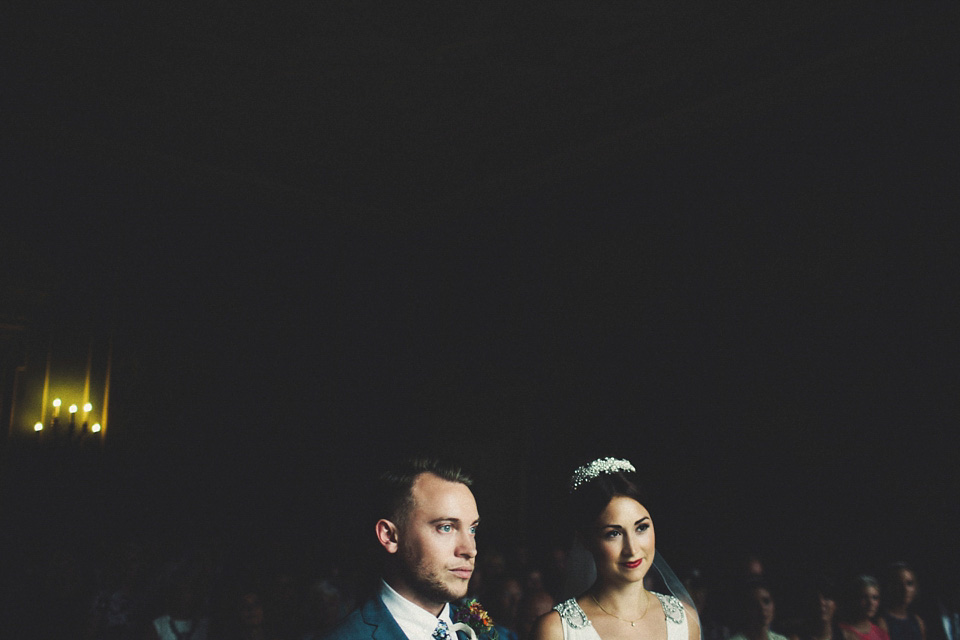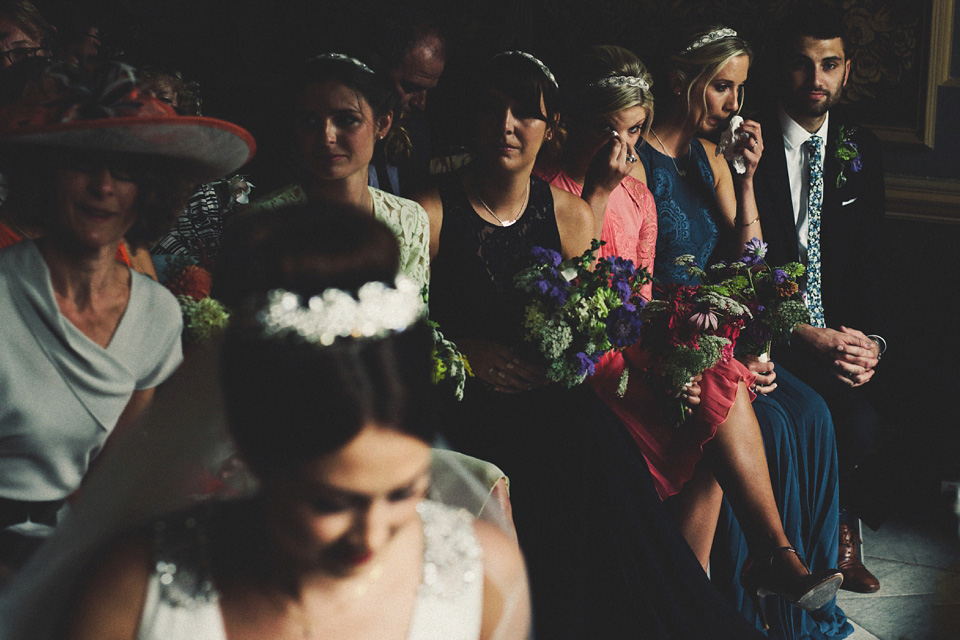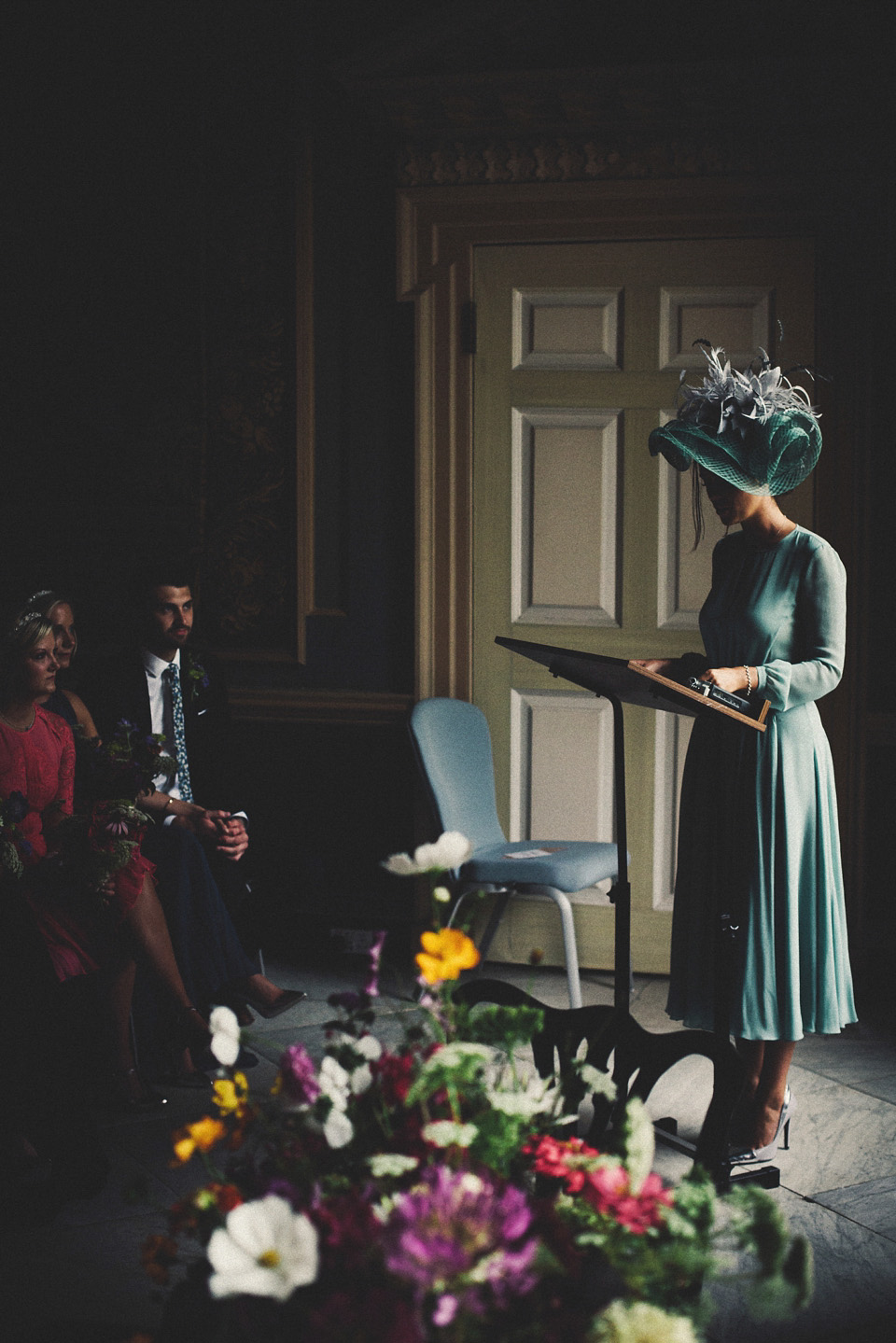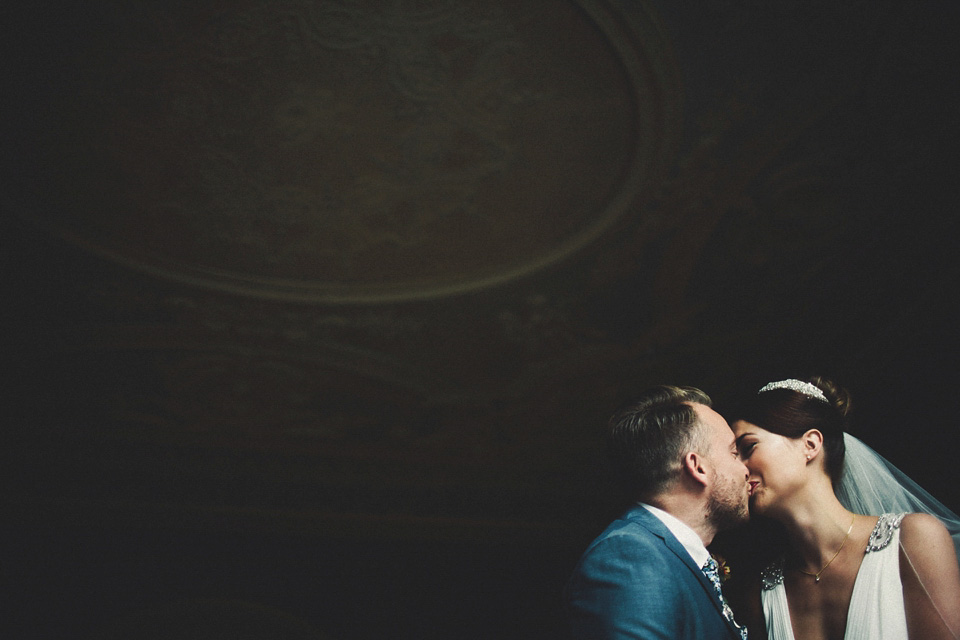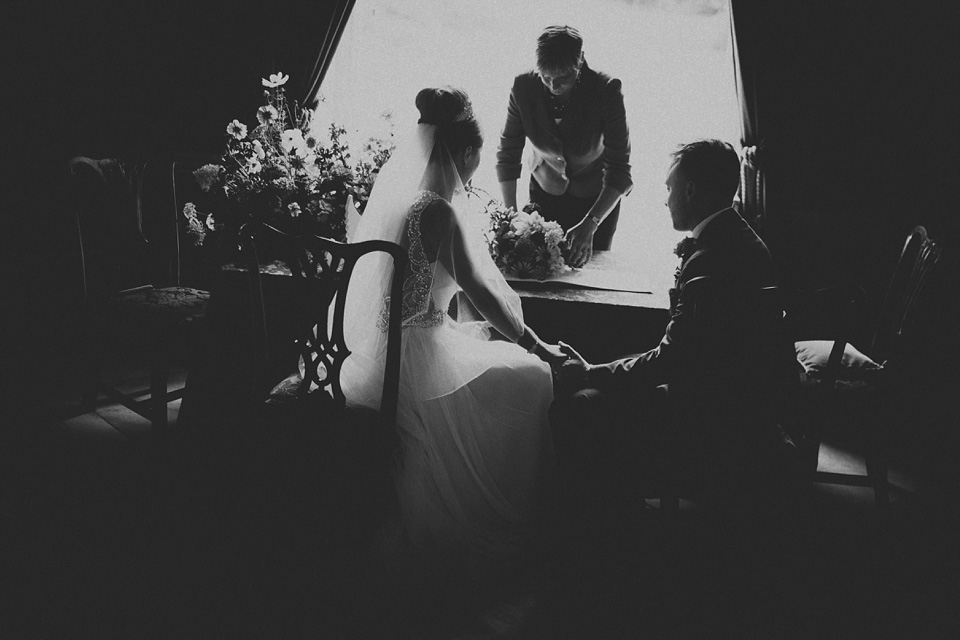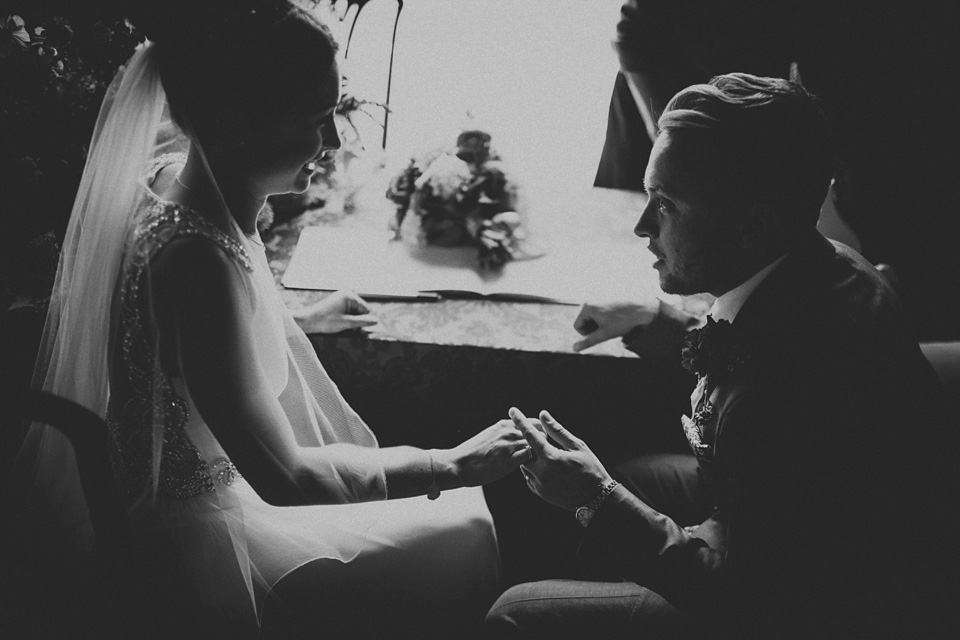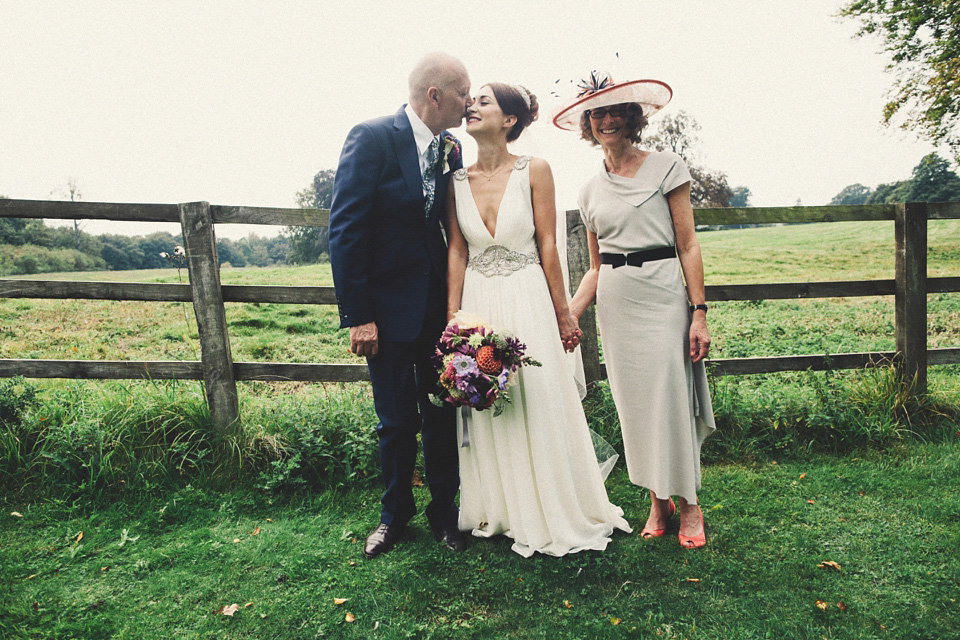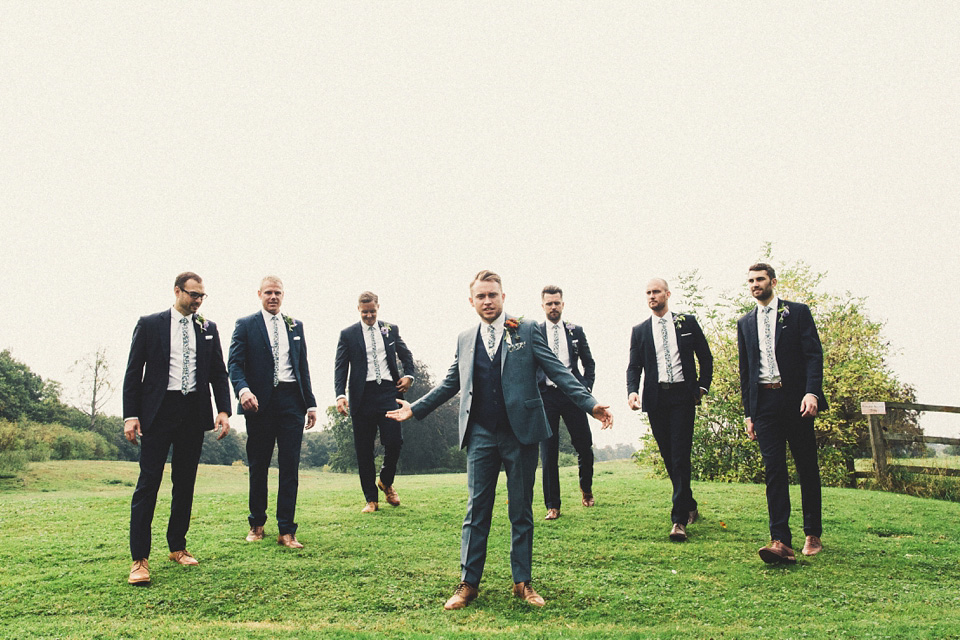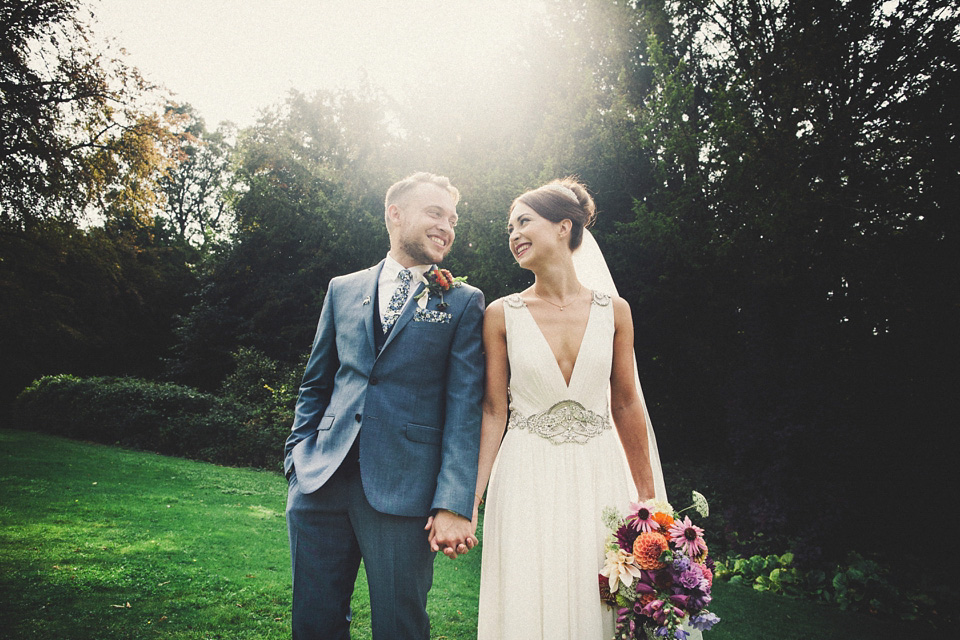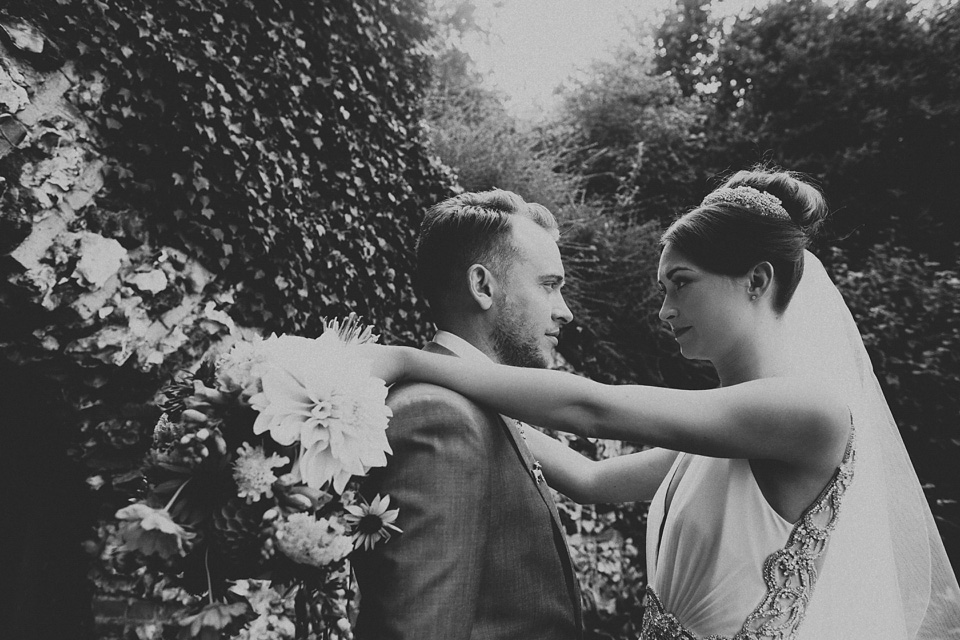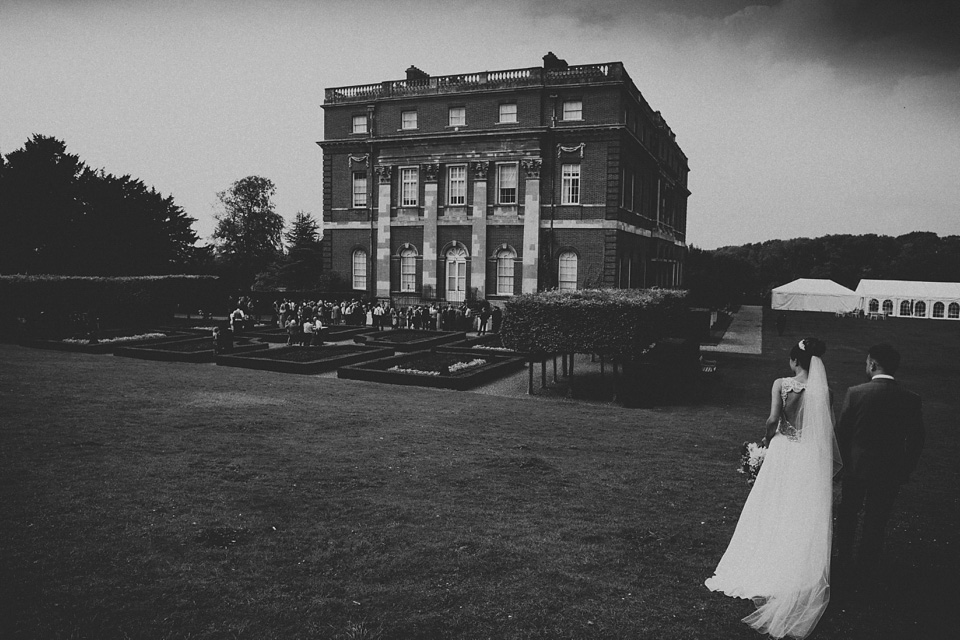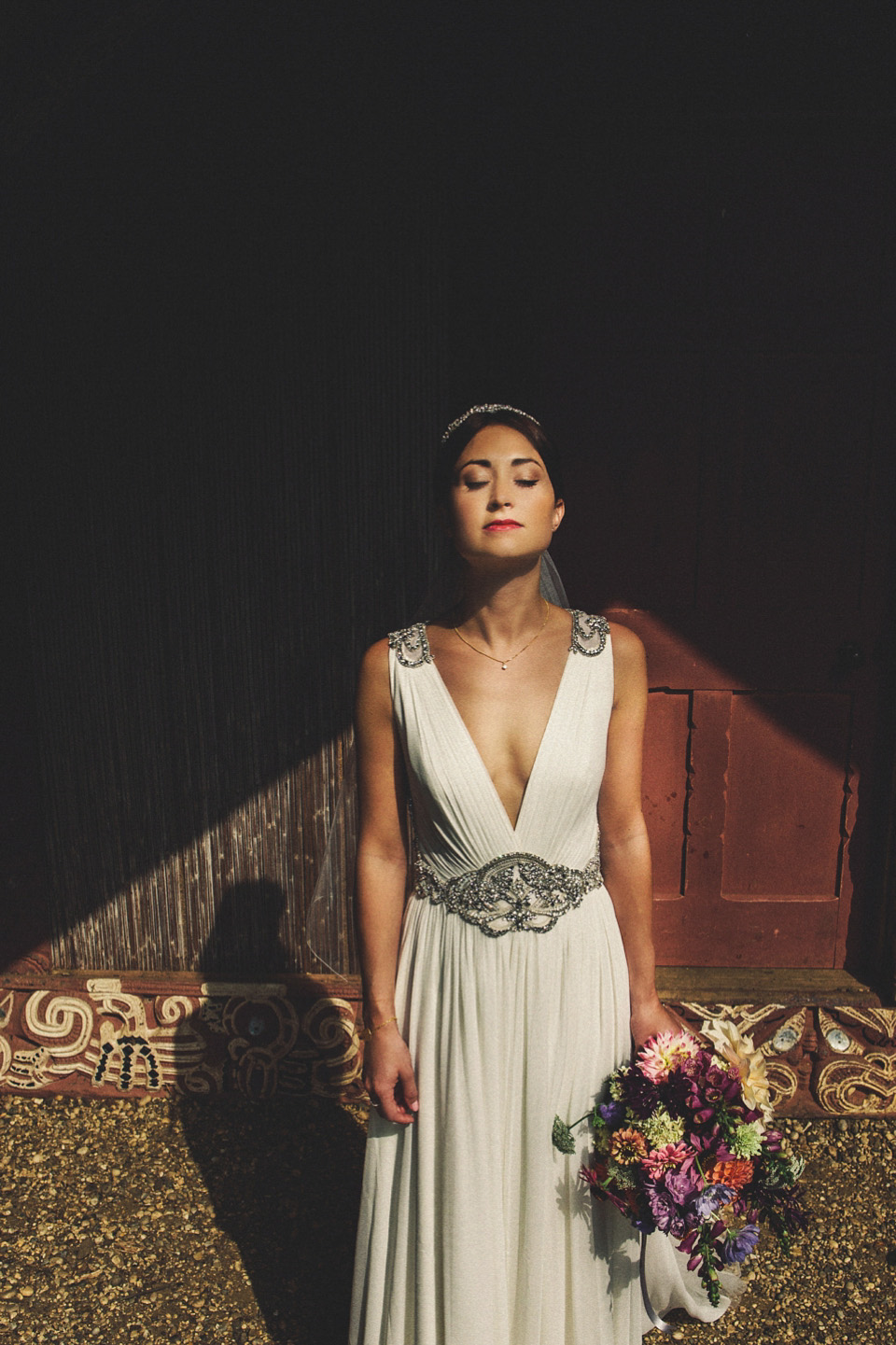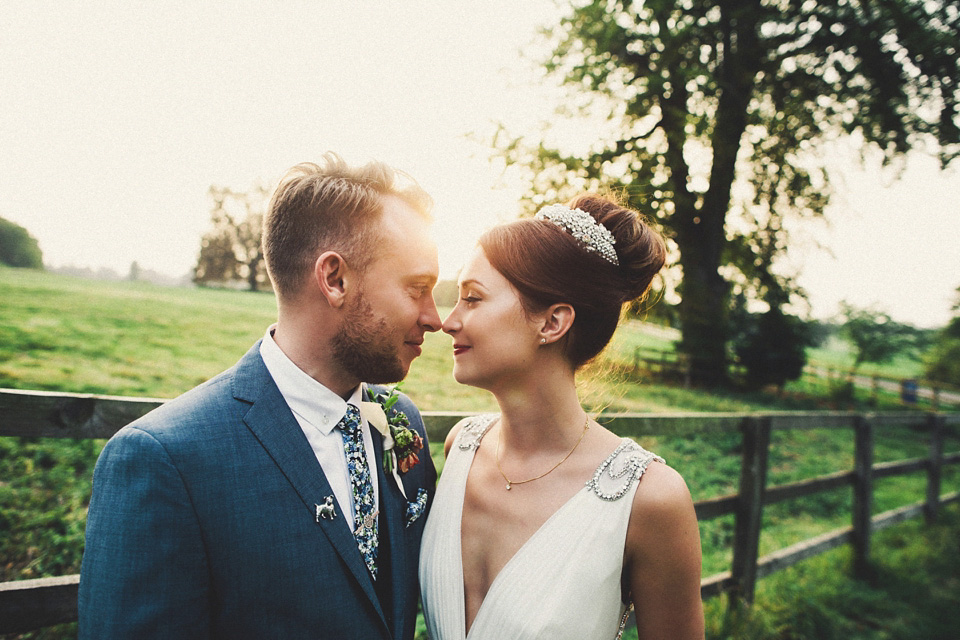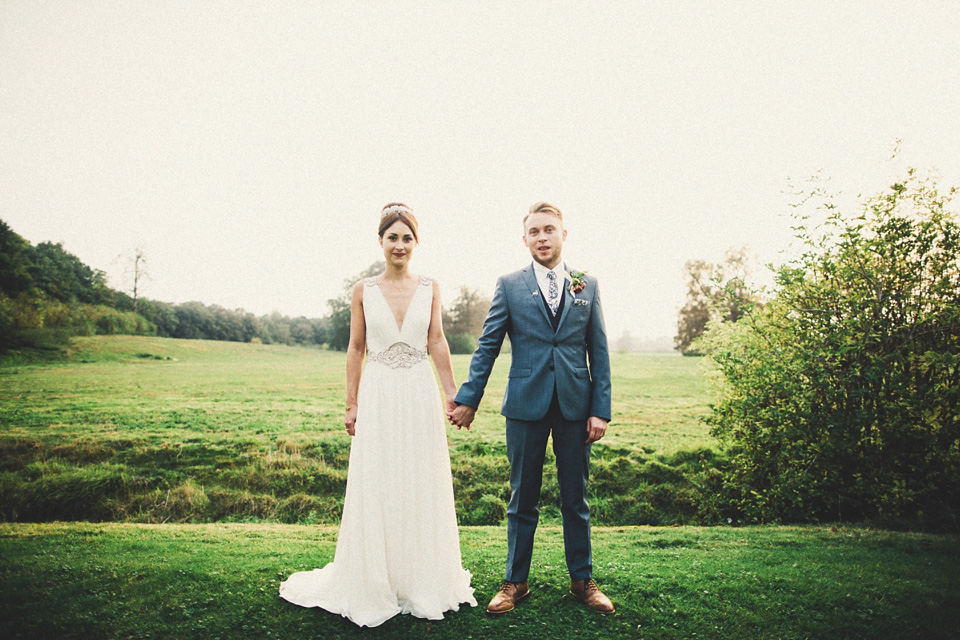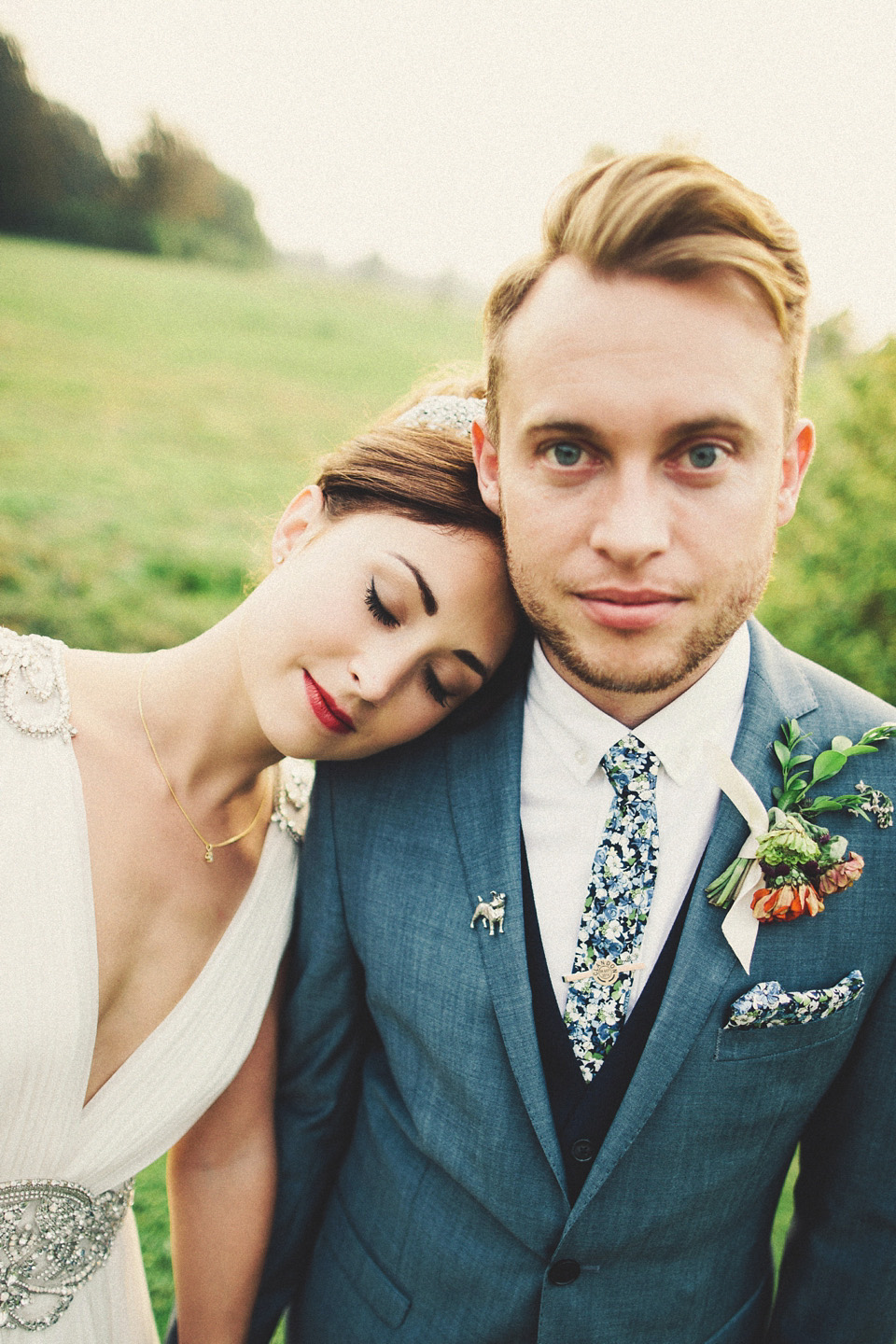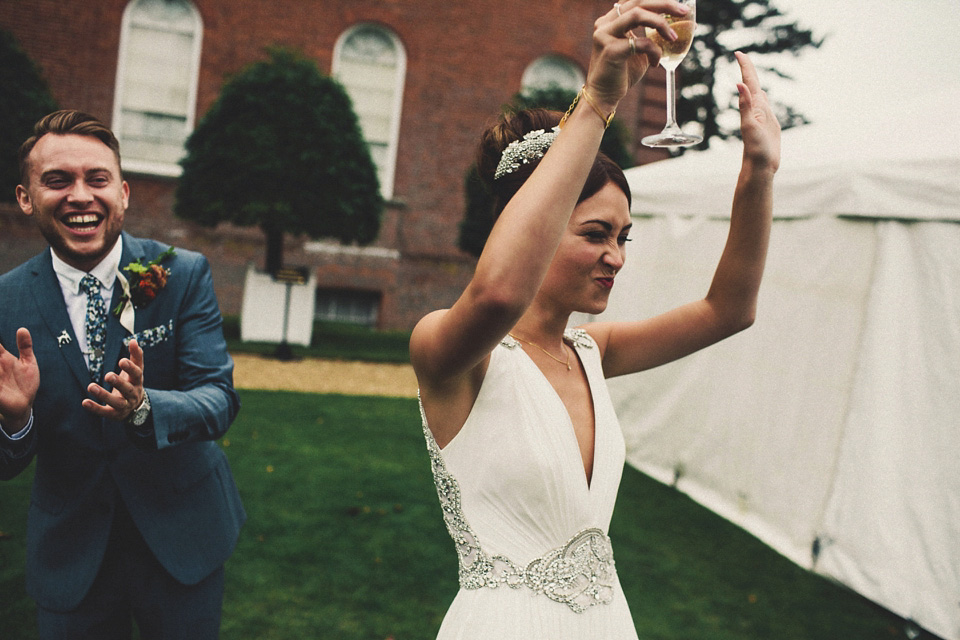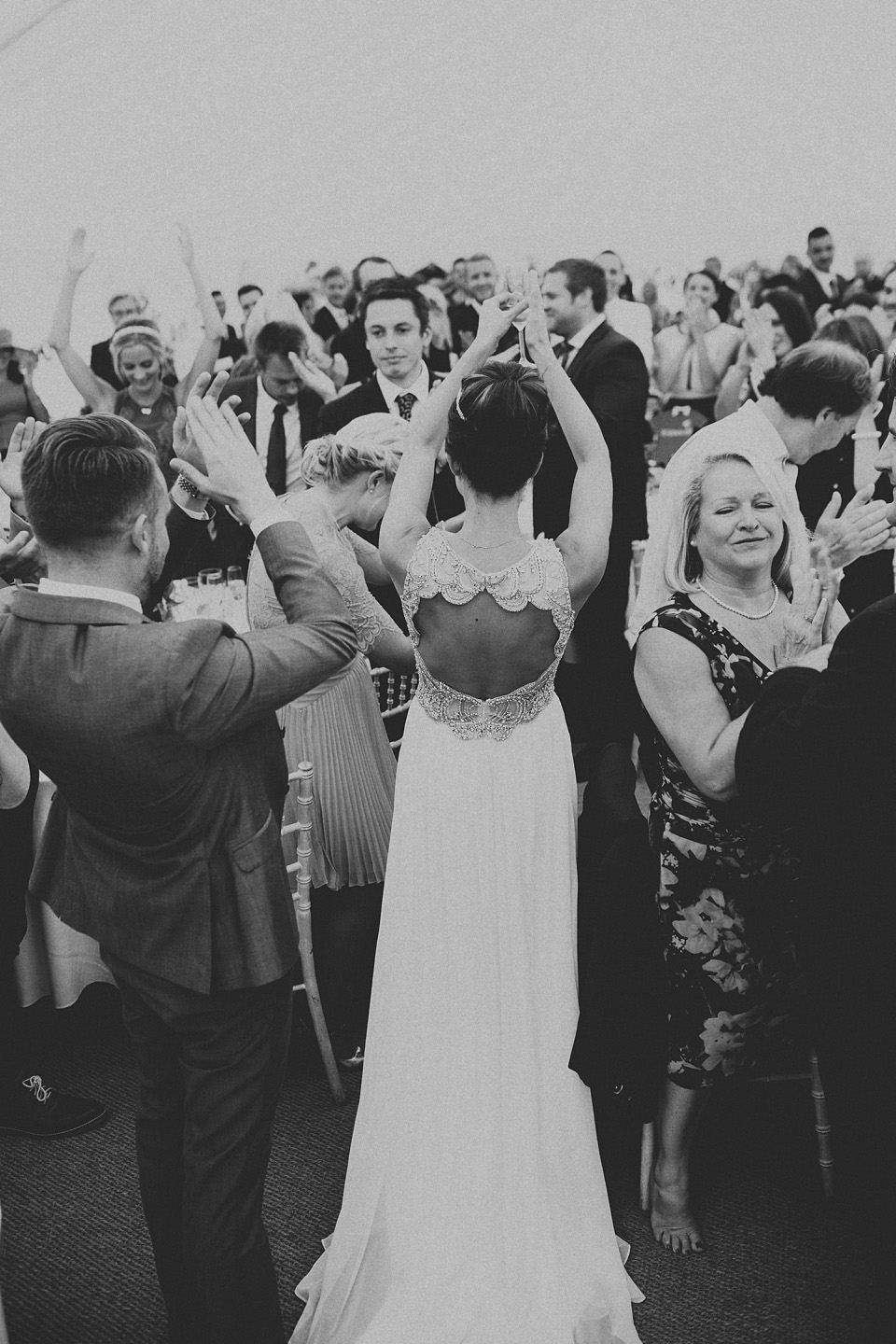 "Trawling car boots on a weekly basis with mum (come rain or sunshine – and more often the former!), religiously scouring ebay for bargains and visiting as many charity shops as we could we soon built quite the collection. And each tin, mug and glorious piece of memorabilia has a memory of where we bought it and I love them all , all the more for it!"
"The table centre pieces were made up of vintage Queen Elizabeth tins, mugs and memorabilia that my mum and I collected over the 18 months leading up to the wedding. The obsession with the royals came from celebrating the Royal wedding and Jubilee with Tom while we were living in London and I began collecting vintage memorabilia then."
"Our cake was made by a family friend and it's decoration was inspired by our wedding invites and stationery designed by Joe Dove."
"The word banners that hung in the marquee I made myself, which was idea inspired by a wedding I'd previously seen on Love My Dress. The phrases and words were sentimental things that Tom and I always say to each other, and funny family sayings that always make us smile."
"Will Jackson sang beautifully in the gorgeous grounds of Clandon during our reception drinks, learning a few of our favourite songs especially for the day – a ridiculous talent and the perfect accompaniment to a sunny afternoon and lass of champagne!"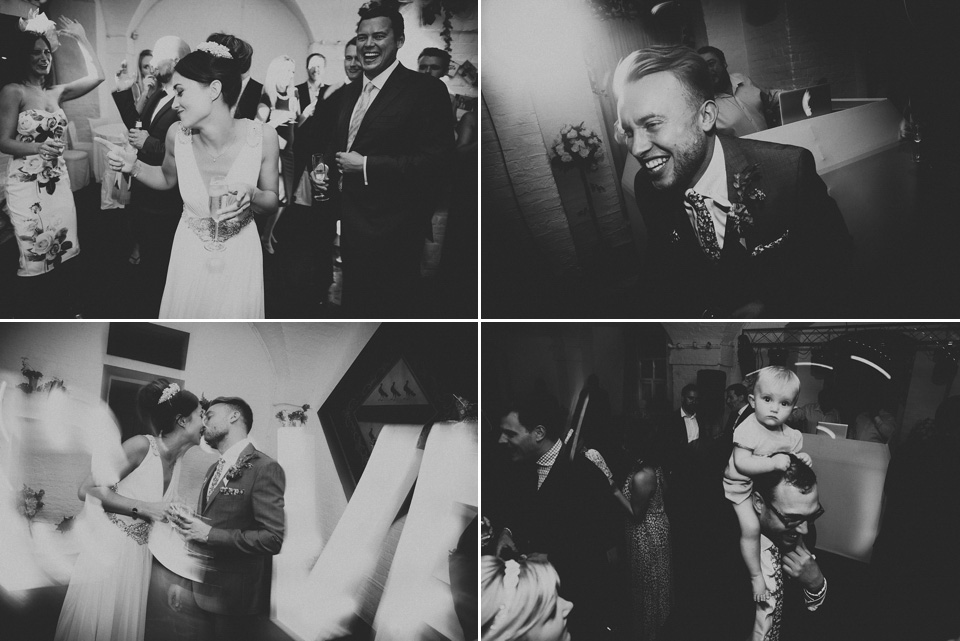 Words of Wedded Wisdom
"For me, from the moment Tom proposed to me I threw myself into the world of weddings and I cannot tell you how glad I am that I did.  I genuinely believe I discovered a passion for the industry and my professional ambitions have changed along with it. I just need to find a way in!"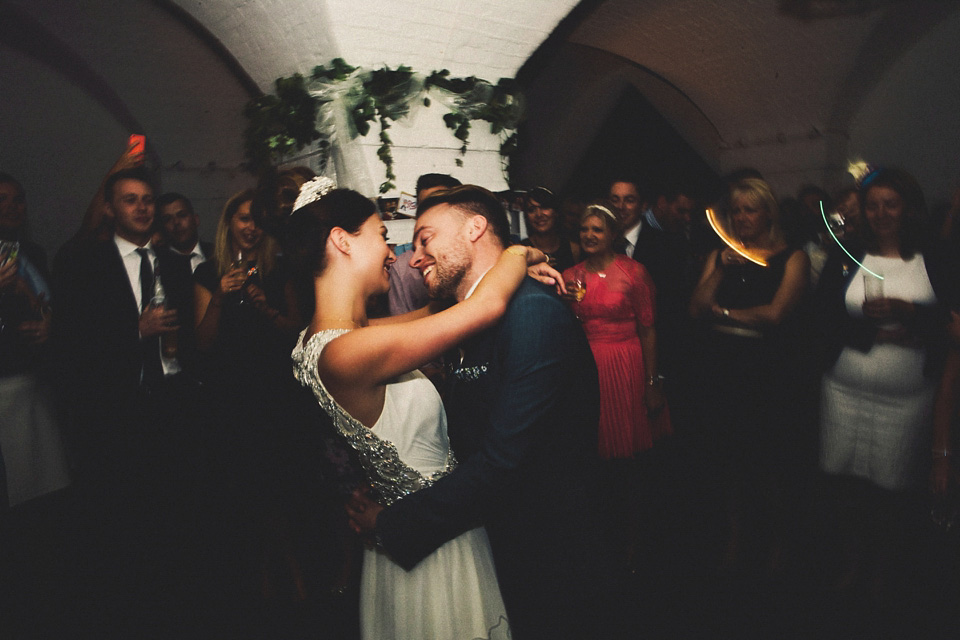 "I would also say to all brides-to-be to enjoy every step, every shopping trip, every chore (which they do feel like sometimes) as an occasion to celebrate what your wedding is all about – you as a couple. My best memories are those of the trips I had out with my mum, evenings at home with Tom debating seating plans and music choices, and bridesmaids trips for shoes, dresses etc etc. Make everything an experience you enjoy. I promise you it is possible!
On the day, spend time together and steal moments alone wherever you can. Some of my absolute favourite photos are those which I didn't even realise were being taken, of a sneaky kiss or quick chat away from everyone.
And make sure you take a step back and feel proud of what you have pulled together. I honestly would not change a single thing about the day. Any indiscretions or mishaps, for me, made it all the more perfect."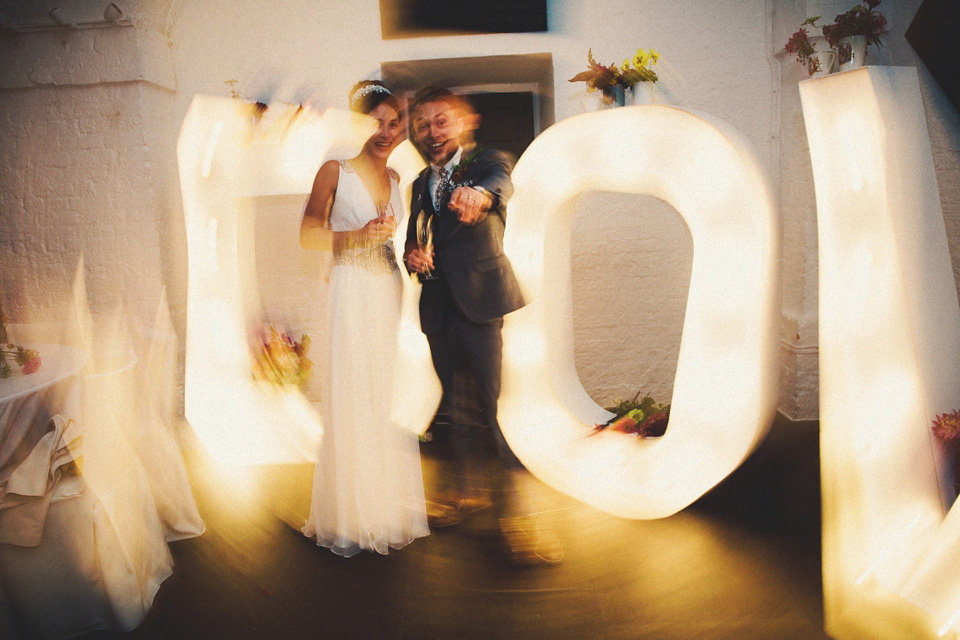 What an insanely gorgeous day – so beautifully photographed. And Hannah, you look KNOCK-OUT!
I'm so sorry for what happened to your wedding venue after our beautiful day and am wishing hard that beautiful Clandon Park House can be restored to it's once former glory, for future generations of brides and grooms to have their own special day.
Readers, I'd love to know your experiences/recommendations of planning wedding insurance.
Love Annabel xx
Photographer – Marshal Gray Photography
Film – Mintyslippers
Venue + Catering – Clandon House Park
Wedding Dress – The Daphne Dress by Jenny Packham via Miss Bush
Bride's Veil – Miss Bush
Bride's Shoes – Christian Louboutin Body Strass
Bride's Hair Accessories – Jenny Packham Kalmia III purchased at Miss Bush
Perfume – Coco Chanel Madamesoille
Grooms Suit – suit jacket/trousers Ben Sherman + tailor made waistcoat/shirt Room Ten + shoes Oliver Sweeney
Bridesmaids – Whistles + hair accessories by Anthropologie + necklaces via mynamenecklace.com + shoes by Next, Dorothy Perkins + Dune
Flower girl Dresses I Love Gorgeous
Florist – Juliet Glaves
Cake – Family friend
Entertainment – Will Jackson + Gary Warner (DJ) + The Gents
Rings – made by a family friend (bride) + Preston & Duckworth
Stationery Designer – Joe Dove
Bridal & Bridesmaids Hair – Hanna Wildman
Bridal Make-Up – Sally Tooth
Bridesmaids Make-Up – Helen Andrew