When we speak to couples planning their wedding, one of the key elements they struggle with is knowing how to take all the inspiration they have gathered and turn it into reality. They have amassed pin after pin of gorgeousness only to find themselves tied up in knots about where to start to bring it all to life. Or worse they are worried that their real wedding will never live up to their Pinterest one!
This is where we say, take a deep breath and step the heck away from Pinterest, sure a heavily styled vignette can look awesome and provide you with snippets of ideas and flashes of inspiration, but it's not the real world. Just like those flawless homes in LivingEtc are beyond the realities of anyone's day-to-day living and the couture fashion in Vogue is highly unlikely to make it into your capsule wardrobe.
So today we wanted to demonstrate a more realistic take on styling a wedding space by showing you how we went from inspiration to reality with this concept.
Image credits: Tablescape / Gown / Painterly / Menu  / Cake / Linen / Flowers / Table / Ribbons
THE INSPIRATION
Our inspiration stemmed from the venue where our styling took place: Farnham Castle, offering a real sense of grace and grandeur with its vast ceilings, stained-glass windows and distinct architecture. This is a setting that is steeped in history and has been sympathetically restored to offer a really lovely blank canvas, perfect for those couples wanting an elegant and refined wedding day. Given the grandeur of the space we wanted to add personality with rich colours, taking inspiration from Pantone's colour of the year Marsala and pairing it with a soft sage green, dusty pink and peach. We added in antique gold to mirror the details found in the venue itself.
So that's the inspiration, looking all pretty and lovely. But how do you then go about making it your own? We say that it's the small and simple touches that bring an occasion to life, if all the little details have a cohesiveness and flow then that will help to set the tone for your wedding day and elevate it from ordinary to extraordinary.
The I Do's
This element of the day is the most memorable and emotion filled so any styling is about ensuring the main focal point is the two of you saying "I do". A ceremony space warrants a calm, serene and momentous mood and this venue offers a range of settings:
Here we have played around with layouts of the ceremony room to show how different seating configurations can change the vibe of a space – you want to choose the best spot to stand and exchange your vows. This is your big moment so choose a spot that looks great, has a nice backdrop and is free of obstructions so your guests can see you, think about having guests seated in U-shapes or circular configurations for something new

Oversized flower displays on tall pedestals framed the ceremony table and added a modern feel. Within the stunning arched windowsills we added overflowing urns and a lantern with cascading florals all created by the fabulous 

Jay Archer Floral Design

. In another layout of the space a living runner was added to the ceremony table for a more dramatic feel.
In the old chapel we framed the 'altar' space with a huge faux-floral garland from 

Friend of Faux

, two lovely bay trees and rows of candle lanterns. When a space is already as atmospheric as this it just needs a little embellishment to make it feel 'yours'.
A carpeted aisle runner can heighten the drama of your entrance into the ceremony but isn't always necessary, we prefer to simply line an aisle with flower petals or candles. For a really modern-twist we placed handmade paper flowers by 

Things by Laura

 along the aisle for an unexpected touch.

For any florals that feature in your ceremony space you want to ensure there is a thread of familiarity to the blooms used elsewhere in your day. They don't all have to be exactly the same but some continuity such as colours and style will give a sense of uniformity.
Sip and Celebrate
The cocktail reception is the fun and lively part of your day where the congratulations and hugs flow and this naturally warrants more upbeat, fun and lively styling:
Create a welcoming ambience by ensuring the cocktail space is ready to receive guests with music playing, lights dimmed (if inside) and drinks at the ready

You don't have to go for a typical fizz option, why not serve up mouth-watering custom cocktails designed by the two of you. From a tipple that has some significance to you, to ones that simply match your colour scheme, get creative about how you serve up those enticing elixirs

Also offer guests a selection of canapes to whet their appetite for the feast that's coming up. Small bites are best served by roaming waiters, or set-up styled food stations for a unique twist

When it comes to decorating the cocktail area think fun and fresh details, we hung bespoke paper garlands by 

Things by Laura

 in tonal colours that matched the space for a modern twist and added a sparkly linen to the cocktail table to make it look special

Bespoke signage adds detail and interest and is your chance to let guests know what's happening and when. Keep them in the know with a printed welcome sign that outlines the running order of the day and add some floral decoration to the table too.

It's also a great idea to have the table plan on show at this point as guests will be eagerly anticipating who they are seated with. So like we did here, position it so people can view during the drinks reception that way you won't get a long queue of people standing in line when the time comes to dine.
Gorgeous Gardens
It may be that your venue has fabulous gardens and grounds to explore, providing a beautiful backdrop for the days festivities:
You may not need to do much to embellish the outdoor spaces at all, but a few well-chosen decor pieces can elevate the space even further and really make it personal to you

Look for those hidden little corners such as elegant entryways and beautiful old doors then add your own twist, like we have here with lasercut butterflies and paper flowers adding a pop of colour – a great little spot for portaits of the two of you or guests to instagram away

Signage can be functional as well as pretty, here we've painted wooden signage in Marsala and used the same font from the stationery to keep it cohesive

A well-chosen prop, like our shimmer signs, can look fab when placed against something natural and organic like a centuries old tree. It's these small touches in unexpected places that give each occasion a story.
The Wedding Feast
They call it the wedding breakfast as it is your first meal together as a married couple, so give it that real sense of occasion with fabulous details:
Starting with any key features within the space, think about how you can embellish them to really make them pop. Farnham Castle has a grand old fireplace, as well as a lovely wooden balcony, both were just crying out to be draped in delicious floral garlands. Here we used faux floral garlands by 

Friend of Faux

 which worked beautifully alongside the fresh flowers.

When it comes to your tables you want to think of them in layers. The base layer being your linens. Classic and crisp white linens offer an elegant look and are the perfect blank slate, there are also many textured, patterned and colourful varieties available too if you want something a little different. Just make sure the colour or pattern is not too overpowering, if you want a hint of detail then consider adding just a fabric runner over the top of white linens.

The florals will typically be the focal point of the tables and the type of centrepiece you could go for really depends on the space within which they are being used. A grand room with tall ceilings like the Great Hall at Farnham Castle needs something tall and decadent like these overflowing stem vases that have been mixed with lower-level arrangements for a pleasing aesthetic.

The florals, created by 

Jay Archer Floral Design

 feature a mixture of roses, antique carnations and trailing amaranthus for a perfect marsala colour match, with added waxflower, snapdragons, stocks, astrantia and grasses to blend in blush, nude and ivory tones. Jay said "Creating loose, natural arrangements lends itself well to a venue with bags of character like this one, especially with all the paintings and ornate, carved wood. Mixing them with beautiful glassware and vases makes a real statement which suits both contemporary and more traditional tastes. Using lots of foliage helps with the budget too."

A great way to add pattern and colour to your tables is through the table stationery. We created a printed menu and matching place card at each setting to be beautiful as well as functional.

Candlelight from mercuried gold votives cast a warm and romantic glow across the space – you would never know these are battery powered candles would you? Many venue's, like this one, do not allow naked flames, so you may have to use LED candles instead.
Cake by Freya's Fancy Cakes
Cutting the Cake
Your wedding cake is a great showpiece to have on display throughout the wedding breakfast so think about how to add a little panache to the grand finale.
Work with your cake designer to design something entirely unique to you, they can pick out details from your wedding dress, colour palette and stationery designs for a co-ordinated aesthetic

Freya's Fancy Cakes

 designed this beautiful cake to complement our scheme picking out the floral details we had used on the stationery and hand-painting them onto the cake. She said "there's plenty of choice when it comes to icing, leave it bare for a rustic naked-cake look, thick fondant icing will provide an elegant and smooth finish and allows for creative technique to be applied such as handpainting or applique. Or keep it simple with a buttercream frosting cleverly toned to match your palette."
We added a sequinned linen to the cake table from 

Table to Dine For

, for an injection of fun. You could also have raw silk table runners specially dyed to match your scheme by 

Kate Cullen Styling

.

Decorate with real flowers, this offers an understated and chic alternative to sugar flowers, just make sure they are non-toxic if being added to your cake

One simple and clever way to add floral decoration to this table is to have a range of vases ready and waiting for you and your bridesmaids to pop your bouquets into as you sit down to dine.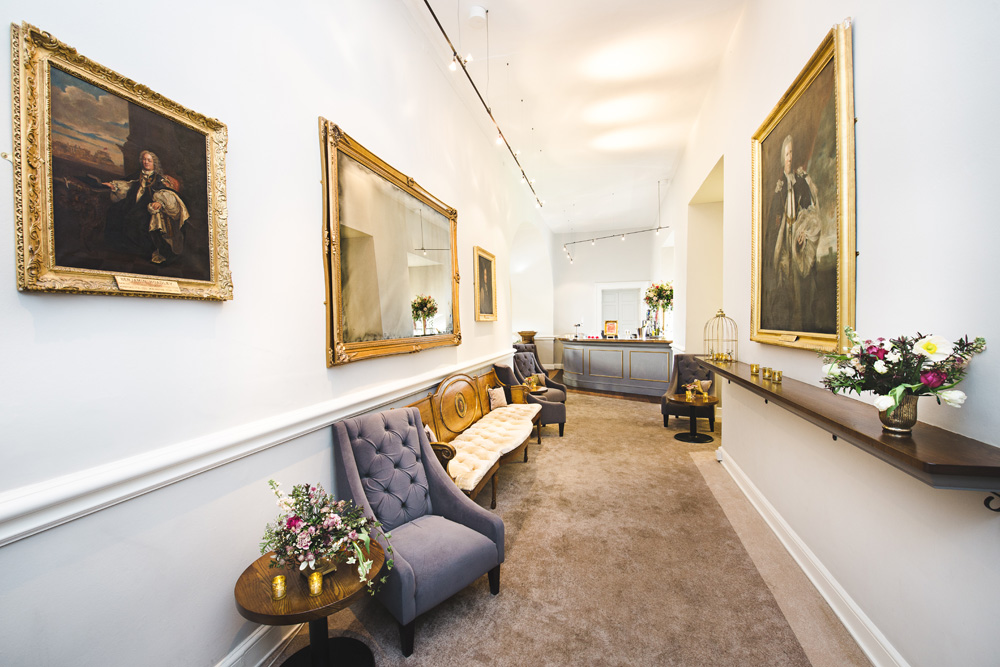 Party Time
It's time to relax, dance and have fun but don't forget the bar needs a little attention too. Create an intimate space where your guests can mix and mingle all night long, maybe add a few sparkly cushions to existing lounge furniture and more soft candlelight to set the tone.

Ask your venue to dress the bar area with a few floral elements from earlier in the day, this will keep the space looking cohesive.

Consider adding fun decor details here like glitter topped drinks stirrers and straws

As a final little touch, place a helpful sign near the exit with a list of local taxi numbers to make your guests departure an easy and safe one.
Love Michelle x
All images in this article were expertly captured by wedding photography duo: Weddings by Nicola and Glen, Design, Planning & Styling by Pocketful of Dreams, Flowers by Jay Archer, Paper Decorations by Things by Laura, Linens by Table to Dine for, Cake: Freya's Fancy Cakes, Silk Ribbons: Kate Cullen Styling, Faux Floral Garlands: Friends of Faux .