One of the things we love doing most on Love My Dress is sharing a bride's 'Words of Wedded Wisdom' at the end of each real wedding feature. These detailed passages contain the most incredible nuggets of information, straight from the raw, fresh, and contemplative state of mind of a newlywed bride.
We also occasionally like to go a step further and ask our brides to consider the notion of 'Words of Wedded Wisdom' in a little more detail – see here and here for example.  Today, I am over the moon that we're get to share the thoughts of newlywed bride Lindsey.
Some of you will recognise Lindsey by her photographs. She was one of our original Lovettes, who blogged about her wedding planning adventures here. We also very recently featured Lindsey and Jonathan's exquisite natural world inspired wedding. Today, Lindsey shares all in a reflective piece on her wedding. Grab a cuppa ladies, pull up a chair over your lunch break or bookmark this one until you have some quite time to savour this one later. Most of all, please enjoy and learn from Lindsey's words of wedded wisdom.
Photography by Kitchener Photography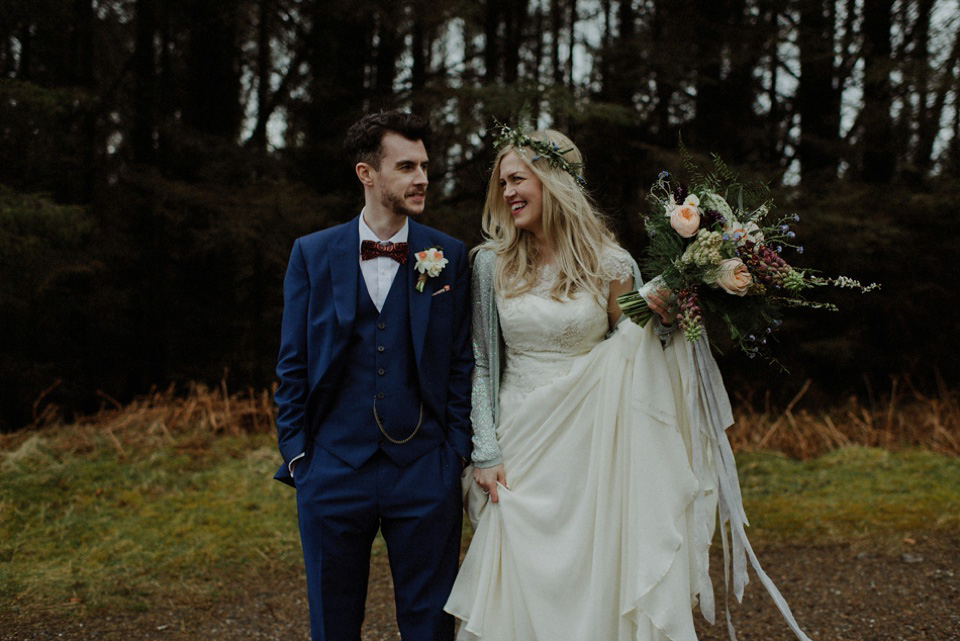 THE WEDDING
Our wedding was held on 28th March 2015 at the beautiful and remote Crear on the west coast of Scotland. Crear is a blank canvas which allows you to create the day that's perfect for you, and we felt right at home there from our first visit. It was so important to us that our ceremony itself was personal to us, and our wonderful Humanist celebrant, Annie Loughlin, worked with us to create a moving, inclusive and intimate ceremony that reflected our values and hopes.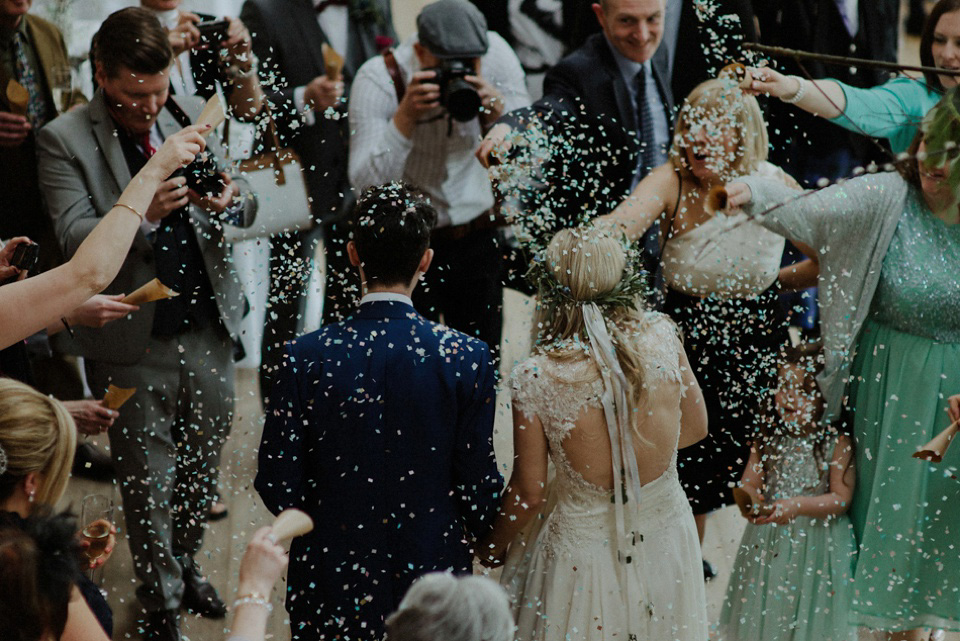 We have always had a strong connection with nature, and although we didn't have a particular theme in mind we wanted our wedding to reflect the wild, untamed beauty of the natural world. We have a particular love for the Isle of Lewis, and the coming together of the soft blue-greens of the sea with the textures and colours of the moor was a thread running through everything we did. We also wanted the day to be as relaxed as possible and Crear was perfect for that; it felt like a second home by the time the weekend was over, and we never wanted to leave!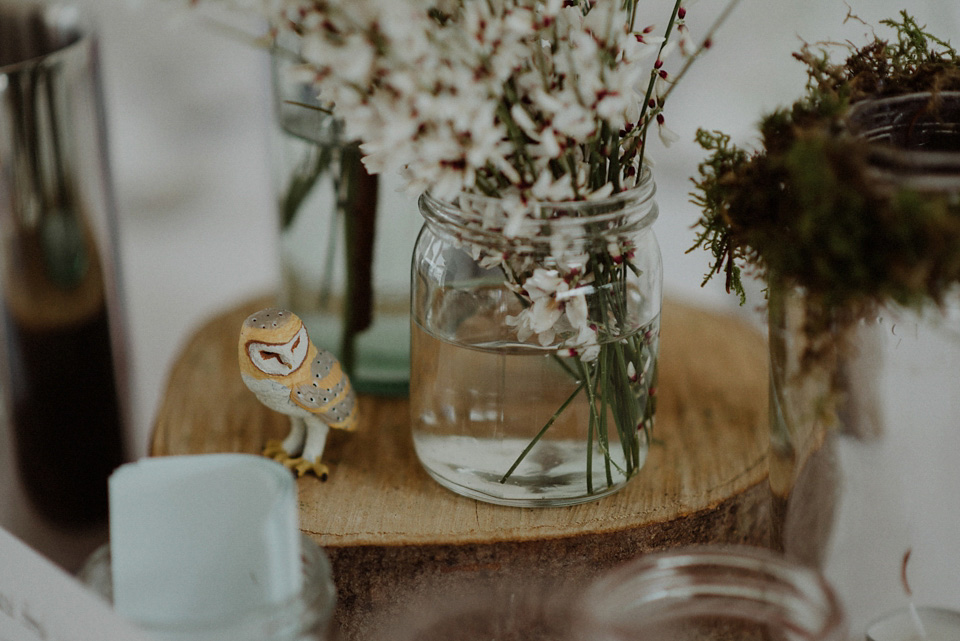 Although we had ideas and intuitions about aspects of the day, we were never overly attached to specific things, and we much preferred to just let the planning process unfold naturally and see where it took us. We couldn't have done that without having absolute trust and confidence in our suppliers. We chose suppliers whose aesthetic and artistry clearly chimed with our own ideas, and we were so lucky to have some incredibly talented people collaborate on our day.
THE VENUE
Crear is the most magical place in the most beautiful setting. When we got engaged we had initially intended to go travelling for 4 months that next year and leave wedding planning until afterwards; but that all changed when we discovered Crear. We visited three weeks after the proposal, and booked it the next week; immediately rearranging our plans.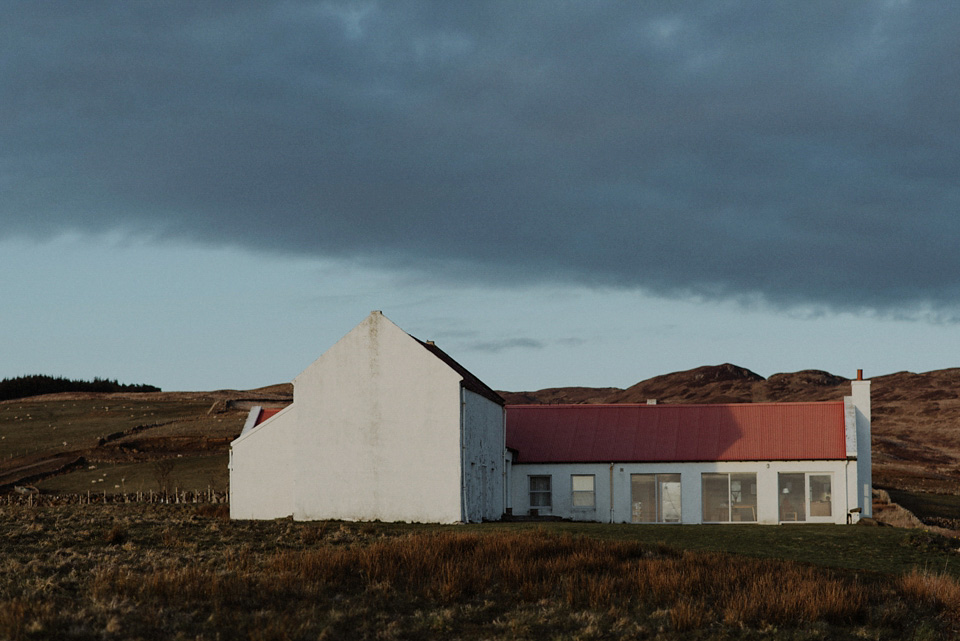 From the moment we saw it (and the nudges the universe seemed intent on giving us) I think we knew we were on a path to something really special. We loved that we could have our nearest and dearest all staying with us, that we would have the run of the place for three days, and how homely it was; but the real deal-clincher was the main hall with its ceiling to floor windows and sweeping views across the sea to Jura.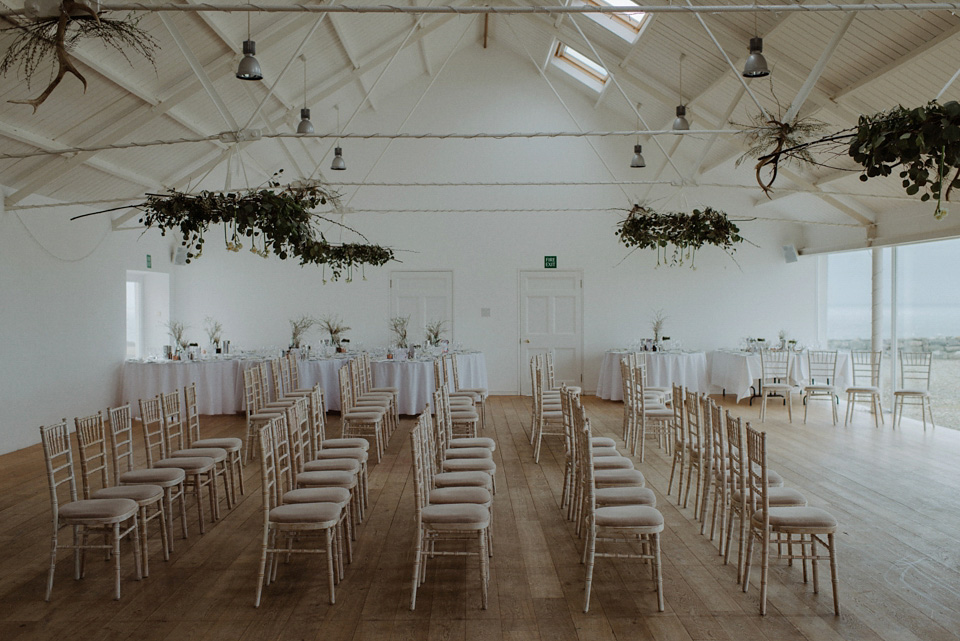 It just completely captured out imaginations, and its location and vibe were the perfect jumping off point from which the whole planning process naturally unfolded. Also, I can't mention Crear without mentioning the food. It was just delicious; total culinary heaven. From the exquisite canapes to the extraordinary cranachan, we were treated to the most wonderful selection of locally sourced and expertly created dishes, and just about everyone there mentioned how fantastic the food was as we said our goodbyes at the end of the night. Well-fed guests are happy guests!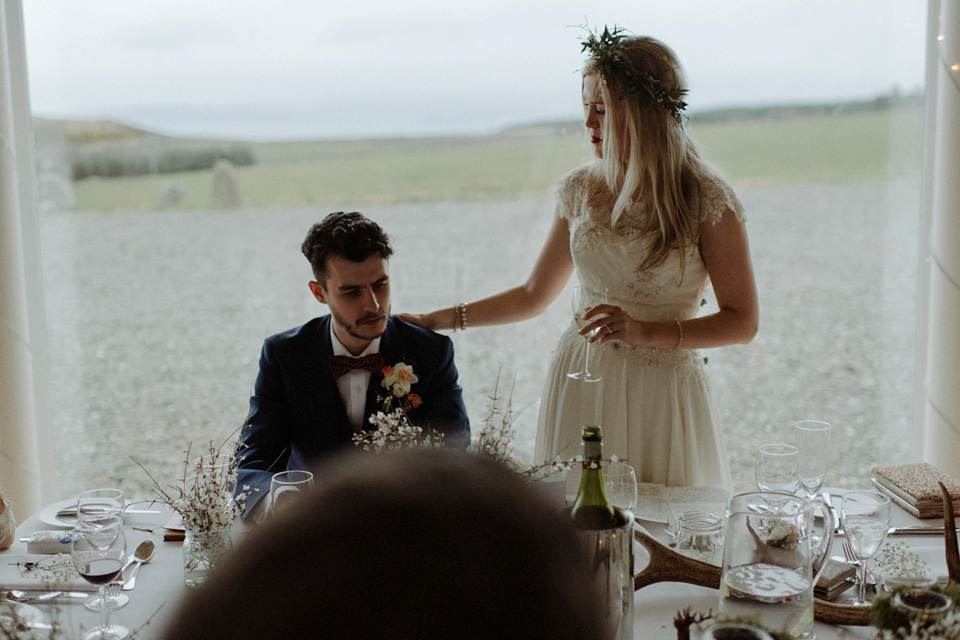 THE BUDGET
We spent more than we initially thought we would, but less than what a major wedding magazine says the 'average' wedding costs. That's all I'm saying ☺
We had absolutely no idea what weddings cost before we started the planning process. In terms of what we thought would be a feasible amount to spend on a wedding, we ended up way over budget, by about a third; however our original estimate was based on a 'How much do you think? This much? Ok?' approach, rather than any research into venue and supplier costs. Once we had an idea of that we reset our budget – and STILL went over! Just a little though.
Our flower budget ended up doubling, but for a good reason, as we met the wonderful Di of Myrtle and Bracken and just fell in love with all her ideas. We also weren't originally planning to have a video, but after reading so many posts on Love My Dress listing that as a 'biggest regret' we decided to go for it (see ours at the end of this feature!).
We had absolutely no regrets at all; everything was exactly what we wanted, and we wouldn't have foregone anything just to save some cash. It was worth every penny and we'd do it all again tomorrow.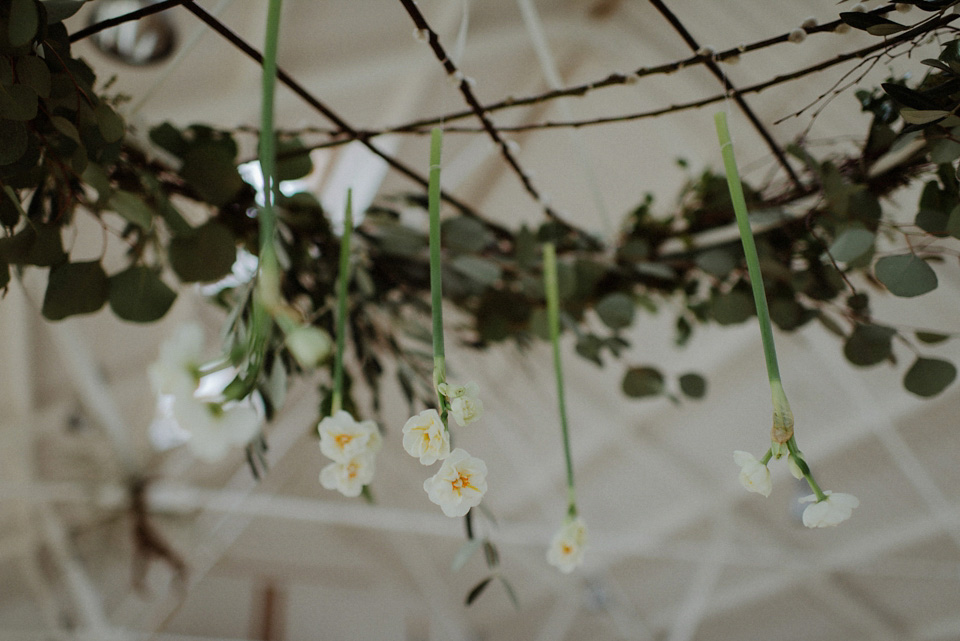 GETTING READY AND BEFORE THE WEDDING –
What went well: Being one company and all mucking in
Having everyone staying together in 'the big house' (apart from our brothers who were in 'the wee cottage' five minutes' walk away) was the best thing, not just for the night before and getting ready, but for the whole weekend. We felt like one big family, and it was so wonderful seeing everyone bonding and laughing together.
The evening before we all sat round the big table at the top of the house and had dinner together, and afterwards we all just sat round the fireplace drinking wine and chattering excitedly with the anticipation of the day to come. Jonathan and I had decided we didn't want to spend the night before the wedding apart; I wouldn't change this for sure – having everyone together that evening was so special, and waking up to the words 'We're getting married today!' and stealing that quiet, brim-full moment alone in bed listening to the birds outside our window was just perfect.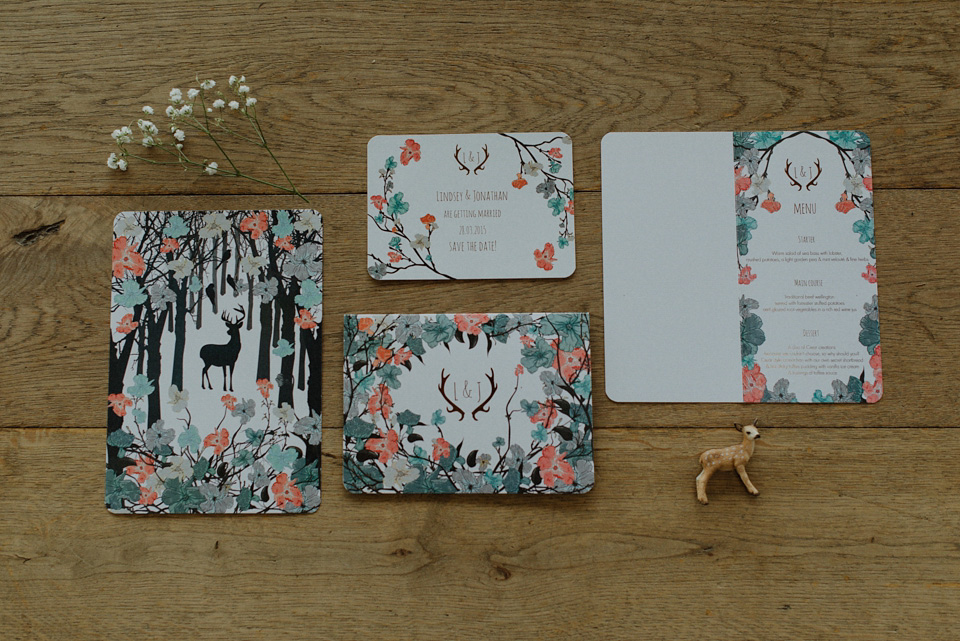 Having everyone together in the morning was the best too. It was lovely sitting having breakfast as we were joined one by one by our parents, my Gran, our brothers and best friends as they woke up and wandered through. Barry, Dylan and Joanna were able to capture some really special moments that morning which might have gone unremembered or unnoticed: these are some of our favourite images from the weekend. It was all hands on deck after breakfast: there were so many little things to do, and we couldn't have done it without the help of our best pals and folks.
Everyone just mucked in and took care of things – even the things we didn't even realise needed taking care of! Having that load lightened meant we were able to snatch little moments to just stop and take it all in: reading the hilarious and tear-jerking poem my brother wrote in his card, sitting with m'gurls getting ready listening to Jonathan and his Mum playing Under the Sea on the piano next door, the moment when my Dad came in to my room when I was all ready to go, but pausing briefly as I wasn't quite ready to let that precious moment go.
What didn't go so well: Sleeping and staying present
My mind was a-whirr all night, and I'm not a good sleeper at the best of times, so I wasn't as rested as I could have been on the day. I'm not really sure what I could have done to change this – meditation? medication? – so I just had to get on with it, drink some strong coffee and hope for the best.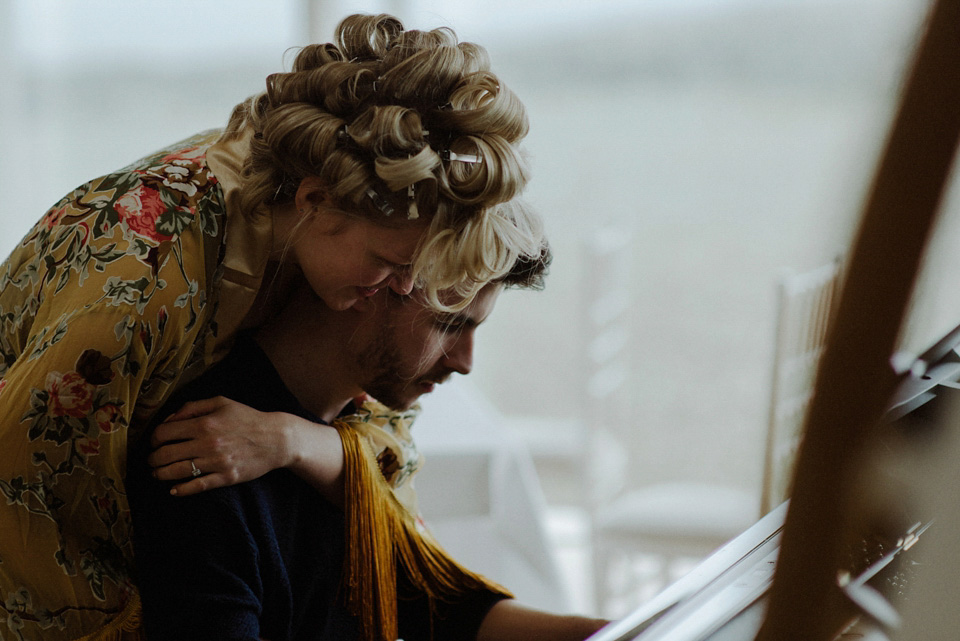 The day passes by in such a blur I wish I could have stopped to take more of it in, especially in the morning. I was pre-occupied with what needed checking and doing, even though much of the checking and doing itself was taken care of by Marie, Connie and the folks, and with hindsight I think my mind was elsewhere at times, and I could have been more present at this stage. Champagne helped!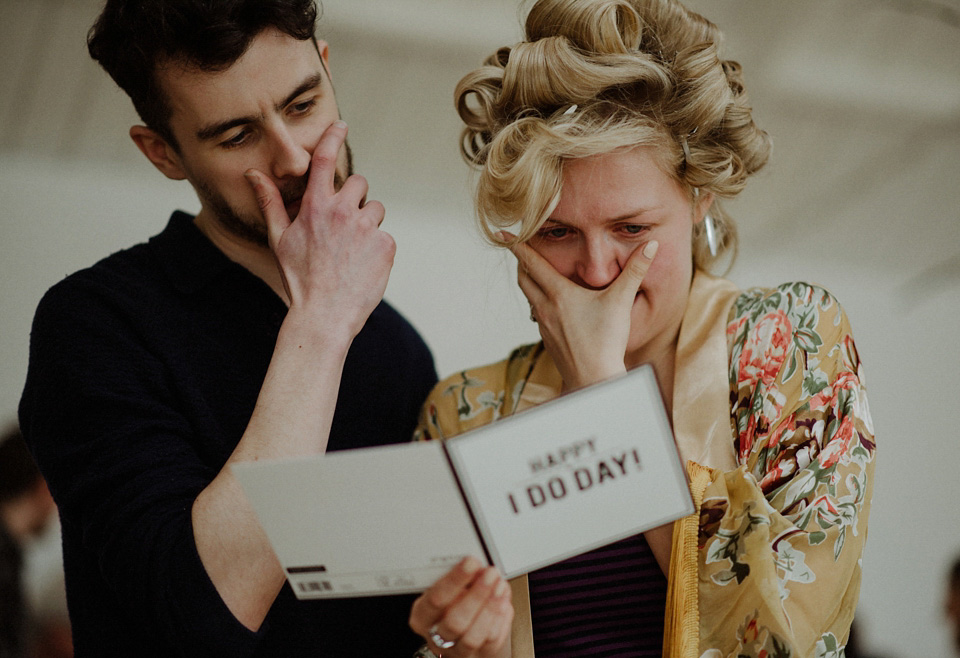 THE WEDDING CEREMONY
What went well: Staying Present, and hugs!
When the moment came to actually walk down the aisle it took me completely by surprise – I had totally lost track of time (I think I emitted an 'eep!'), but as I walked through the doors and saw everyone's faces I just filled up with wonder and happiness. Seeing Jonathan was like seeing him for the first time, and I felt a sudden calmness entering me. The ceremony was such an intense experience: we were completely and utterly focused on each other.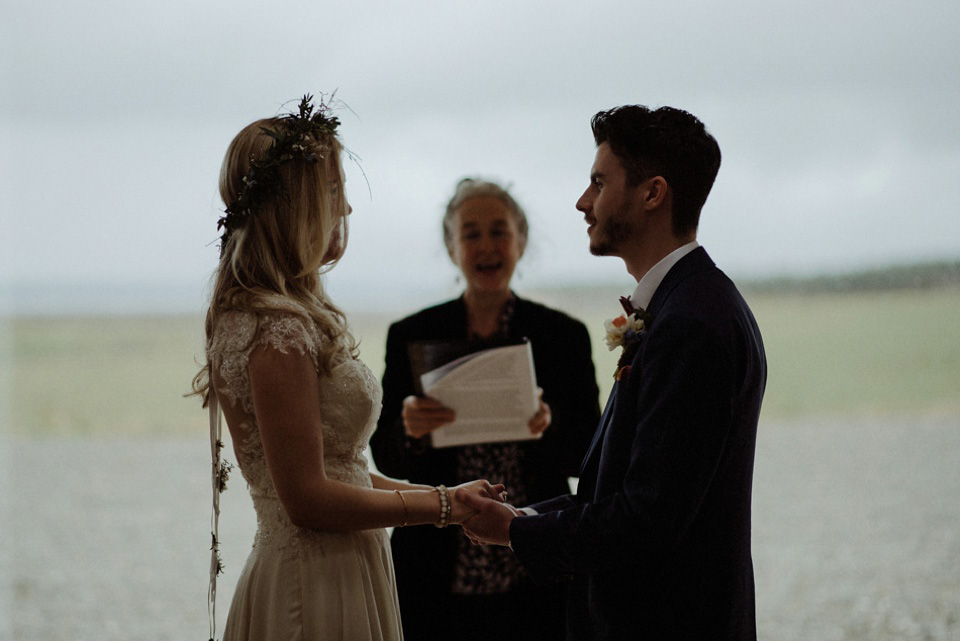 At times it felt like we were the only two people there, held up in the love that we felt all around us. Being truly present like that, in that moment, was a gift. It was the best part of the day, and the experience so keen that I can recall it so clearly.
I'm so glad we took the time to share the joy of just being married with our parents and my Gran with a round of hearty hugs after we had signed the register. It was spontaneous and brought them all right into that moment with us. My Gran nearly knocked me over she squeezed me so tightly!
What didn't go so well: Gut Feelings and the lolz! 🙂
Unfortunately one of our friends who we had asked to do a reading (one of our favourite poems, Hour by Carol Ann Duffy) let us down at the last minute. We'd had an inkling something was amiss in the run up to the wedding, and I had wondered whether we should ask my brother if he would do the reading instead, but in the end we ended up having a reading missed. I wish we had gone with our gut on that one. I think we've both learned to expect the unexpected (and sometimes the expected), and that when you step into new phases in your life you can't always take everyone else with you.
There were also a few minor things that happened throughout the ceremony – not mishaps as such, but little moments that raised an eyebrow or a laugh (in most cases a laugh). When repeating the first line of our vows, Jonathan for some reason used his 'theatre' voice, which resulted in a double-take from me and much mirth from our guests. I almost did 'a Madonna' after getting up from signing the register, when Jonathan stood on my train!
And I almost hid behind my bouquet without even realising it when I walked down the aisle as I was so excited. Silly moments, seemingly inconsequential, but which became in-jokes among us as we re-lived the day afterwards.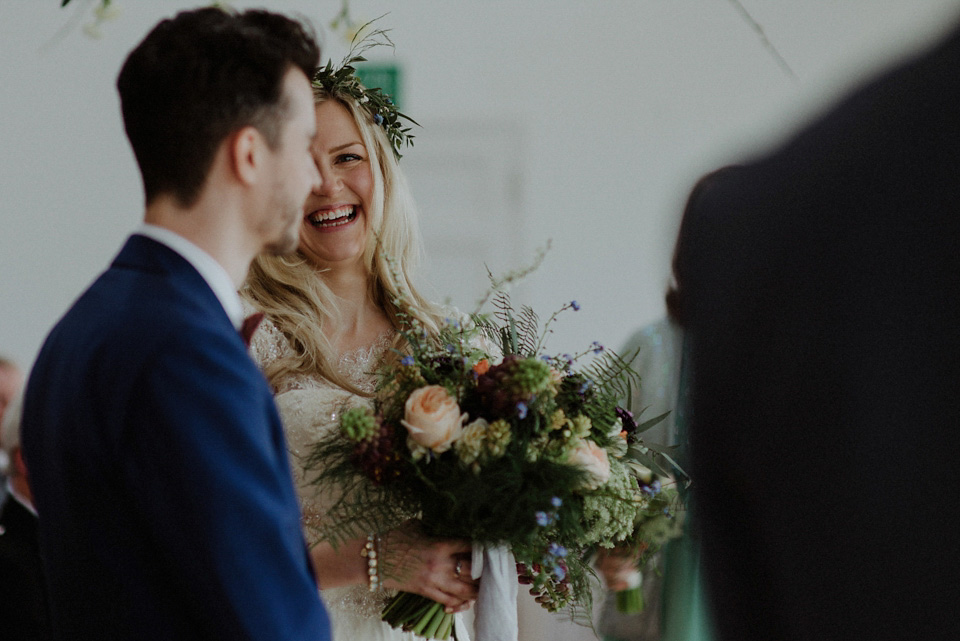 THE EVENING CELEBRATIONS
What went well: Brothers, Stolen moments and PJs and whisky!
Asking my brother Lewis to be MC for the speeches was one of the best decisions we made. He was so much more than just an announcer, and had put so much effort into preparing some really hilarious and heartfelt introductions for each speaker. It was the perfect addition to that part of the proceedings, and it gave him a special role to reflect how much we love him. Jonathan's brother Fraser also pulled off a blinder of a best man's speech – we were all absolutely decking it the whole way through! He pushed the envelope just far enough.
Sneaking off during the meal to have some extra photographs taken in the fading light is one of the clearest memories I have of the day. It had started to rain, and the wind was whipping up as more storm clouds rolled in, but we dashed off up the forest track anyway. It was the briefest of moments, but it was just the two of us there under the wild and darkening sky, and it was perfect.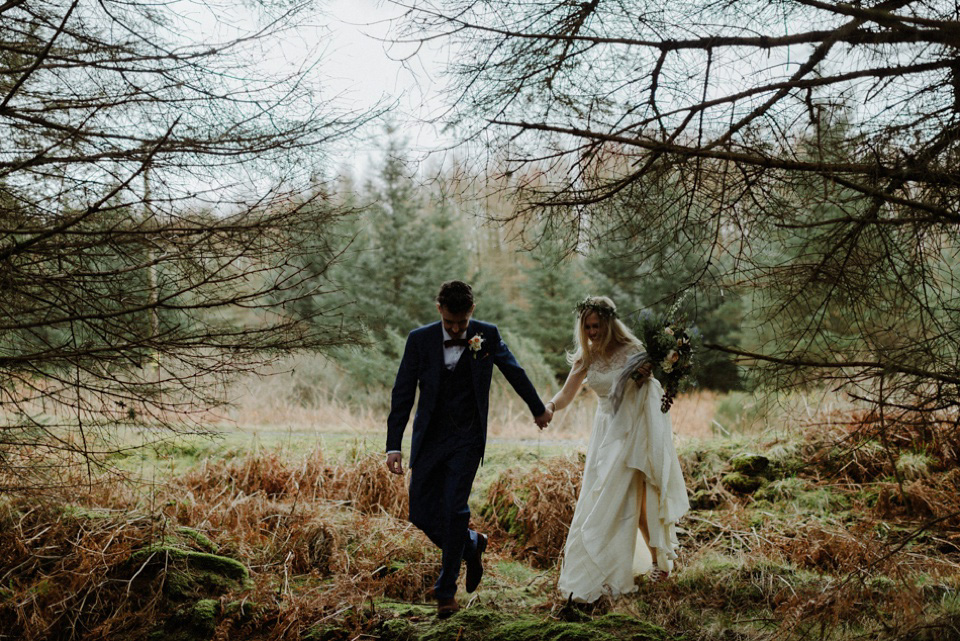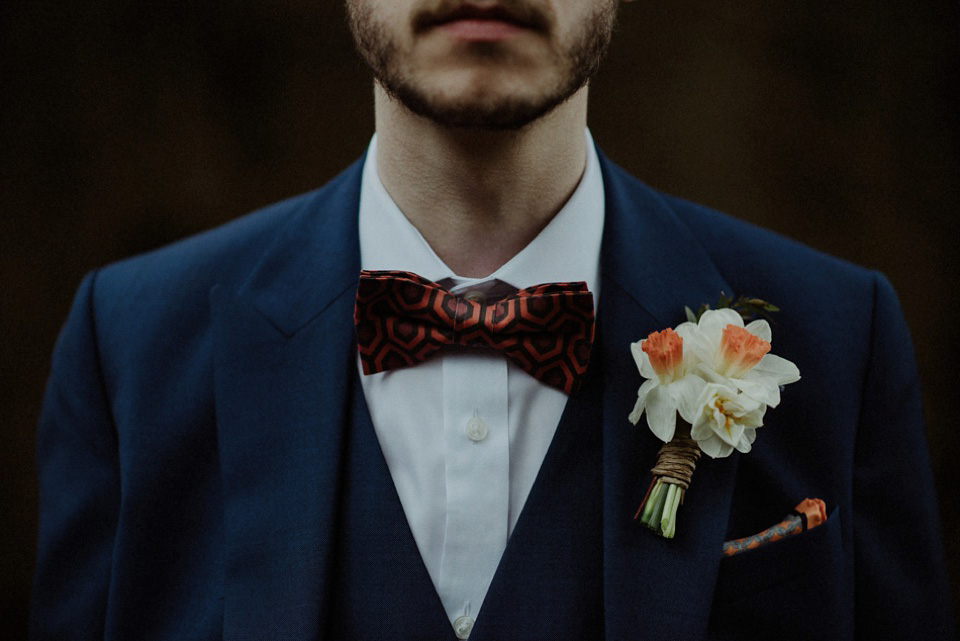 After everyone else had left, we all got into our pjs and flopped on the sofas round the fireplace. This seemed to give us all a much-needed second wind, and we ended up staying up til 3am chatting and sharing the special bottle of whisky we had brought with us to mark the occasion. It was surreal realising the day was over, and we were married, but to be surrounded by our nearest and dearest and so much love was the perfect way to end the night.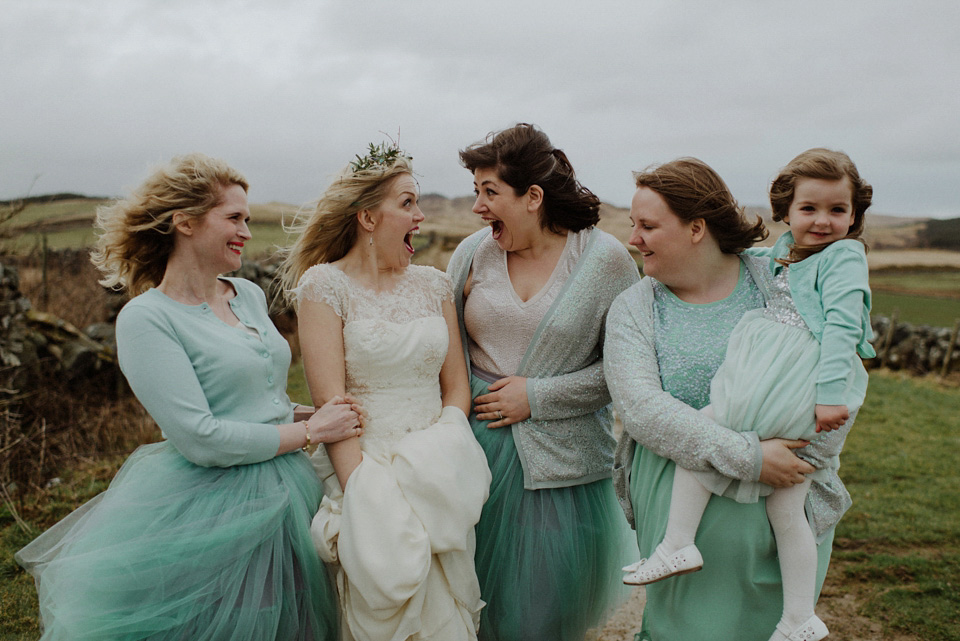 What didn't go so well: The Sound System and pure exhaustion!
Failing to check the sound system before the dance! We had painstakingly prepared a playlist full of our favourite songs, but when the moment came to plug the iphone in and step onto the floor for our first dance, we were somewhat disappointed to find the music was pretty muffled. We tried tweaking a few settings to no avail, so we just pressed on and laughed it off. When the ceilidh band arrived later on they came to the rescue with their own speakers, and the second half of the playlist was as clear as a bell. Lesson learned: check, check and check again!
Also, exhaustion! We were both absolutely knackered by about 9.30pm, which led to my minor breakdown over not being able to dance properly in my dress. Although I snapped out of it pretty quickly, I definitely think if I'd managed to get more sleep in the run up to, and particularly the night before the wedding I wouldn't have been so stressed by it. Employ ear-plugs, eye-masks, meditation – whatever works – just get some sleep people!
ANY REGRETS?
The one thing I really regret doing was not checking that the length of my dress was ok to dance in. Because my skirt was so full and flowing the train didn't really gather up properly, and there were a couple of bits that I kept tripping over, or other people would step on, which meant I had to choose my ceilidh dances extremely carefully.
I had a minor meltdown over this, as I was really upset to miss out on a lot of the dancing, but I think that was largely down to how tired I was, as I just didn't feel able to put it into perspective. Thankfully I was surrounded by people who helped shake me out of my grump (although some of the suggestions were not so helpful, 'just tuck the train into your knickers' – yep, right on. And I dusted myself down and just got on with it. It turns out you can ceilidh with only one free hand!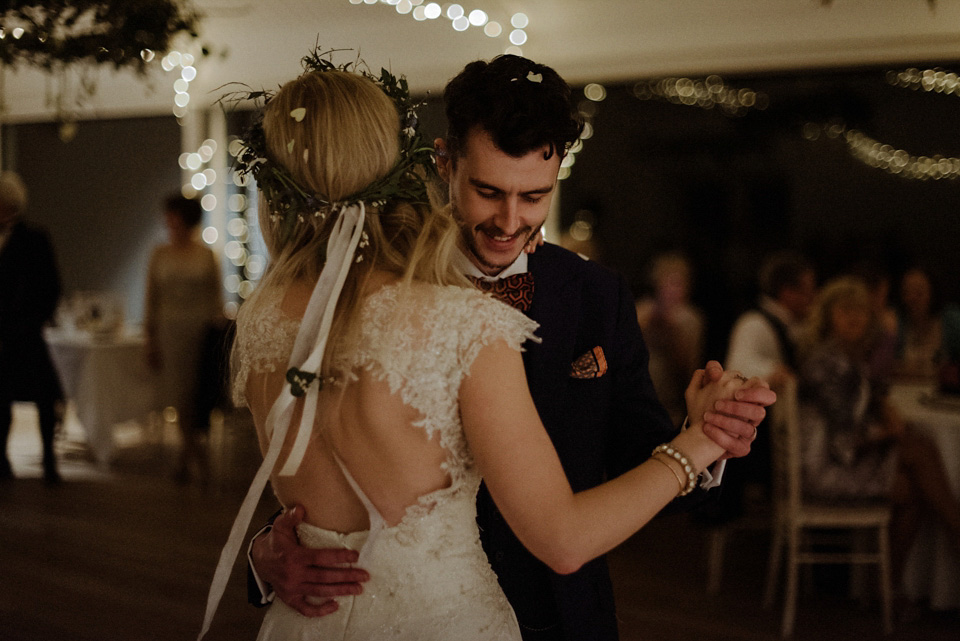 ULTIMATE WORDS OF WEDDED WISDOM
I think the hardest, and the best thing to do on the day is just to surrender yourself to it all. Try try try to stay present and alive to what's happening around and within you, let go of the worries and niggles that you've been hanging on to (if anything goes wrong it's more likely to be a source of laughter than regret when you look back on it, and most things no-one will notice but you, so really don't sweat it). And just remember that as long as you are really and truly with one another in that beautiful moment of your vows, THAT is what really matters, and what will define your memory of the day.
BEST PIECE OF MARRIAGE ADVICE?
In the time we have been together, which is going on for eight years now, we have both changed so much, but these past few years we've been living together have been truly transformative. Jonathan has given me the unconditional support and space I've needed to grow and to become me, really me, and I'm happy to know he has felt the same.
These last three months since our wedding have seen an amplification of that growth, that space, and that support. We've had some big challenges present in this short space of time which have called us both to step into ourselves, and to really step up for each other. My best piece of advice to anyone approaching marriage would be to listen: listen to your gut, listen to each other, and listen to yourself. Also, remember that love is a feeling, and an action, and the small, everyday acts of love are the most important.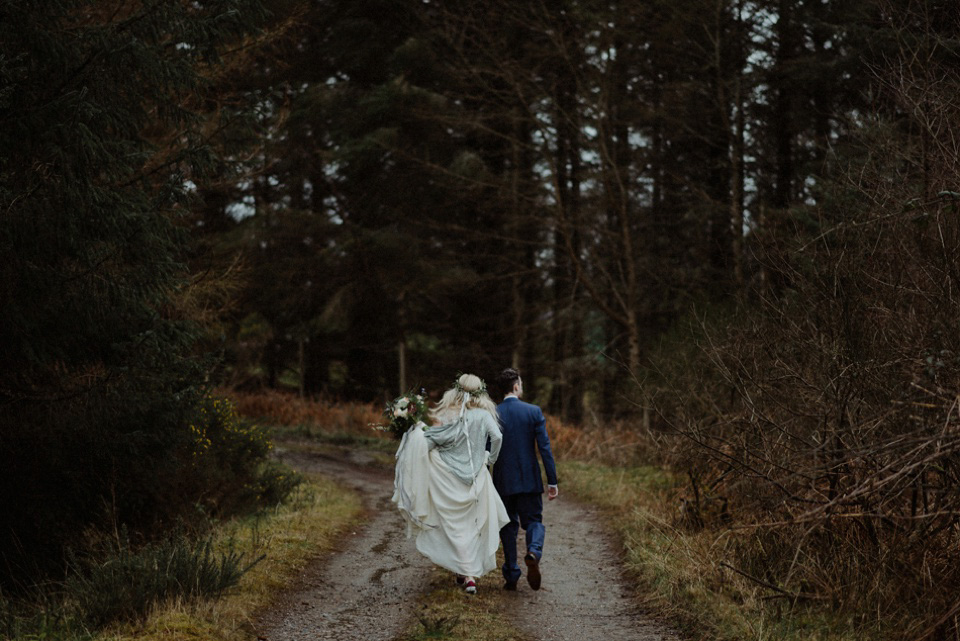 What an amazing insight and incredible resource of honest, from the heart advice. I cannot thank you enough Lindsey – I shall so miss your contributions to Love My Dress – the Lovettes posts are part of what helps keep this blog real and grounded for me and I enjoy reading through and learning from them immensely.
Sending you all the love in the world Lindsey and Jonathan – thank you both so, so much.
To end, I thought you guys might like a second little viewing of this most beautiful wedding film by Worldly Nomads. No intro required – all I wish to say is, ENJOY!
Film created by Worldly Nomads
Remember too that you can see Lindsey and Jonathan's full natural world inspired wedding here.
May you all have the loveliest of Friday afternoons!
Love Annabel x
SUPPLIERS
Photographer – Kitchener Photography
Film – Worldly Nomads
Venue + Catering – Crear, West Coast of Scotland
Wedding Dress – Rowanjoy
Fringed kimono – Girl on a Vine
Floral Circlet – Myrtle and Bracken
Shoes – Rachel Simpson
Accessories – bracelets via Rene Walrus + rose gold cuff via LotusStone on Etsy
Perfume – Portrait of a Lady from Frederic Malle
Grooms Suit – Reiss + bowtie via The Vintage Beau on Etsy
Bridesmaids – Nougat London (cardian), Fanfaronada (skirt), Reiss (top), ASOS (dress)
Flowergirls – Monsoon
Florist – Myrtle and Bracken
Cake – Big Bear Bakery in Glasgow + topper by WeddingPros on Etsy
Transport – West Coast Motors
Entertainment – The Dotted Crotchets + the Kinloch Ceilidh Band
Rings – James Porter & Son in Glasgow's Argyll Arcade
Stationery – Skinny Malink
Hair Stylist – Marc McCune via Eutopia (Glasgow)