I have shared hundreds of weddings on Love My Dress – every single one of them selected personally, by me, because of the connection the images make with me (and therefore, I hope, with you). There are a few of these weddings that take it to the next level for me, that have me holding back a lump in my throat as I prepare the images in the order I want our readers to see them, interspersing them with the text I want them to read. This, is one of those weddings.
Those of you regular readers will be familiar with our team of blogging brides, who we affectionately call 'The Lovettes'. We took on our first team of blogging brides in 2014 and the bride you see in the photographs here today was one of them. I have loved reading about Lindsey's wedding planning experiences – she has offered an intelligent, articulate and proudly feminist view of planning a wedding. But more than anything, I love how she has embraced this opportunity to consider love and commitment and the role they will play in her life after marriage. It goes without saying therefore, that I'm a touch emotional and quite proud of this particular wedding feature today.
Lindsey, who says she is 'fortunate enough to work for a project that works on women's participation in the labour market in Scotland' tackling gender pay gap issues with employees and policy makers, married Jonathan, an investment product manager on 28th March this year at the beautiful West Coast of Scotland venue, Crear. I wanted to begin this feature with one of the most exquisitely produced and moving wedding films I have ever seen.
Film created by Worldly Nomads
"We were so so lucky with our videographer. I had seen his work on another wedding on Love My Dress, in a film he made for his friends' wedding. He and his wife run the travel blog Worldly Nomads, but they had done the wedding film as a favour so weren't 'in the business'. I had pored over their travel films for months and decided, why not?, I'm just going to message him and ask if he'd do a film for our wedding. As luck would have it, he had recently decided to start doing wedding work, and so we booked him up straight away! Barry was just awesome.
He's such a lovely guy, and he got on so well with everyone, which made having him around an added bonus on the wedding day. Like our photographers, The Kitcheners, he just worked away in the background, blending in and catching sneaky shots while we weren't paying attention. The end result is the most beautiful set of footage – everyone I've shown our film clip to has cried. Well done Barry!"
Photography by Kitchener Photography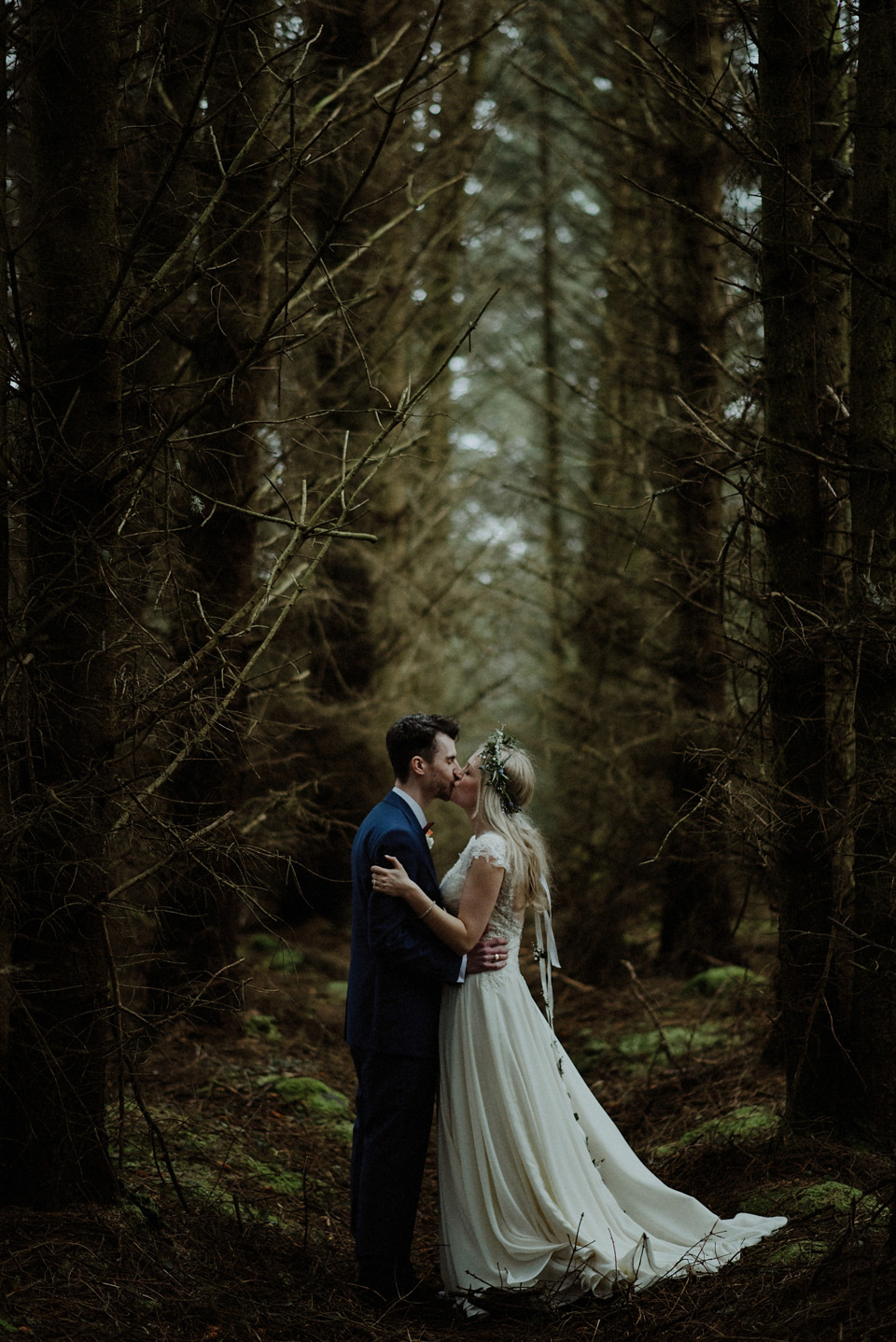 "When it came to styling the day it was a very much evolving process. We were very much inspired by the huge variety of weddings shared on Love My Dress and the possibilities this opened up, so this really helped to kick the process off. I've always been a fan of 1940s/50s styling, and early on I thought I would have the full skirted 50s wedding dress, and kitsch bunting everywhere, but the more I pinned to my Pinterest board the more I realised that wasn't actually right for us at all."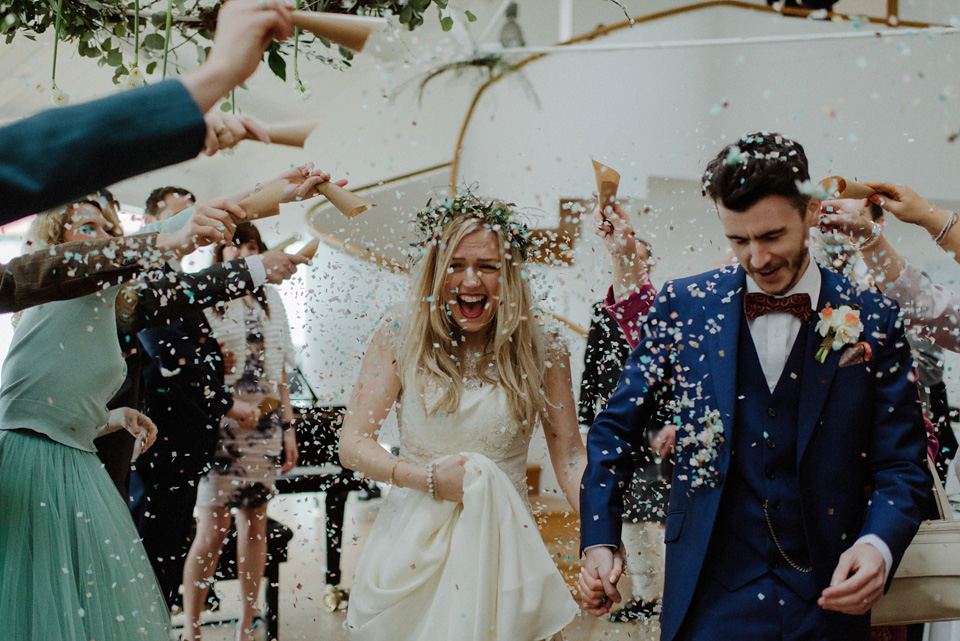 "We were drawn to the texture and colours of the natural world; cracked tree bark, thickets of branches and ferns, the wildflowers of the Lewis machair, the delicate green-blue of sea glass washed up on the shore; and the contrast of beautiful burnished rusts and golds. We love stags, and were able to source a collection of naturally shed, foraged antlers to use as décor on the day. We were also extremely fortunate to come across a group of truly remarkable artists and suppliers through the Glasgow Wedding Collective, whose creativity and talent combined with our own inspiration really helped to inform the feel of the day.
Love My Dress was also without a doubt the guiding light in our wedding planning journey. From the first wedding I clicked on (which inspired the direction of our whole day, and yielded many of our suppliers) I was hooked, and barely a day went by without a visit. The huge variety of styles and options you are exposed to through reading so many different couples' stories just opens up a world of possibility which you just cannot find in the pages of a wedding magazine. Being selected as one of the first Lovettes has enriched the whole process of planning our day so much. It has made me consider aspects of it I might not otherwise have given much thought to, and it also means I have a diary of the journey to look back on in years to come. Thank you Annabel, and all the team at Love My Dress!"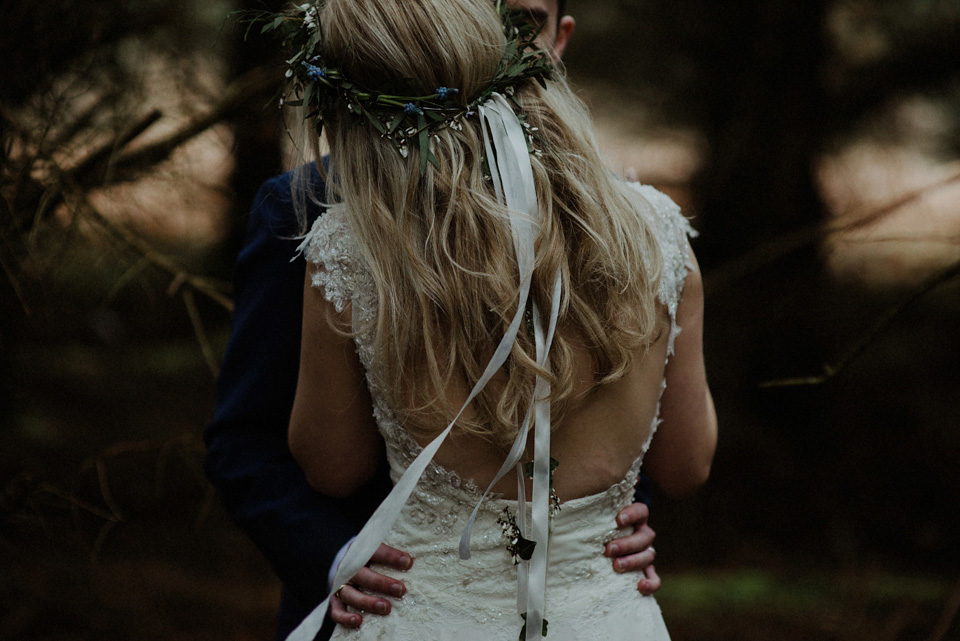 "We got married at the beautiful, red-roofed Crear, on the West Coast of Scotland. We had for the longest time thought we'd get married on the Isle of Lewis, where my family is from, as we love the wild windswept landscapes and have spent some very happy times there together. When it came down to planning we quickly realised it would be a logistical nightmare for us to have the wedding we wanted there, and to get all our guests there, and felt quite disheartened about it all. That was until we discovered Crear on a beautiful wedding that Love My Dress shared on 3rd January 2014."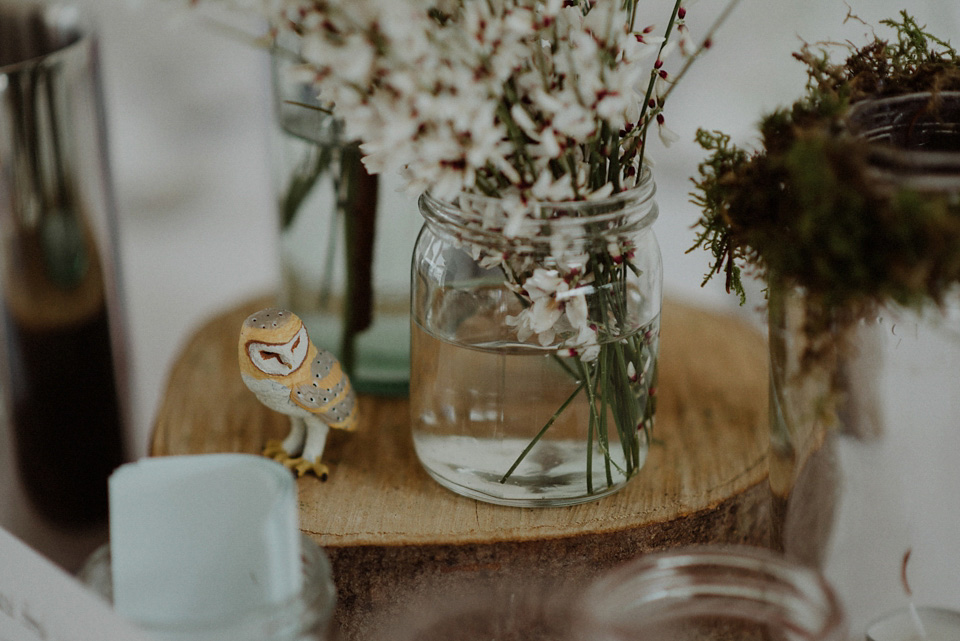 We drove up a week or so later and instantly fell in love with it. You get the run of the whole place for three nights, and it sleeps 12 and has a cottage that sleeps another six, so it meant we could have all of our wedding party stay with us, which as it turned out was a really beautiful and enriching experience for us all. The feeling of love and support around us was just the most wonderful thing and we'll treasure those memories forever.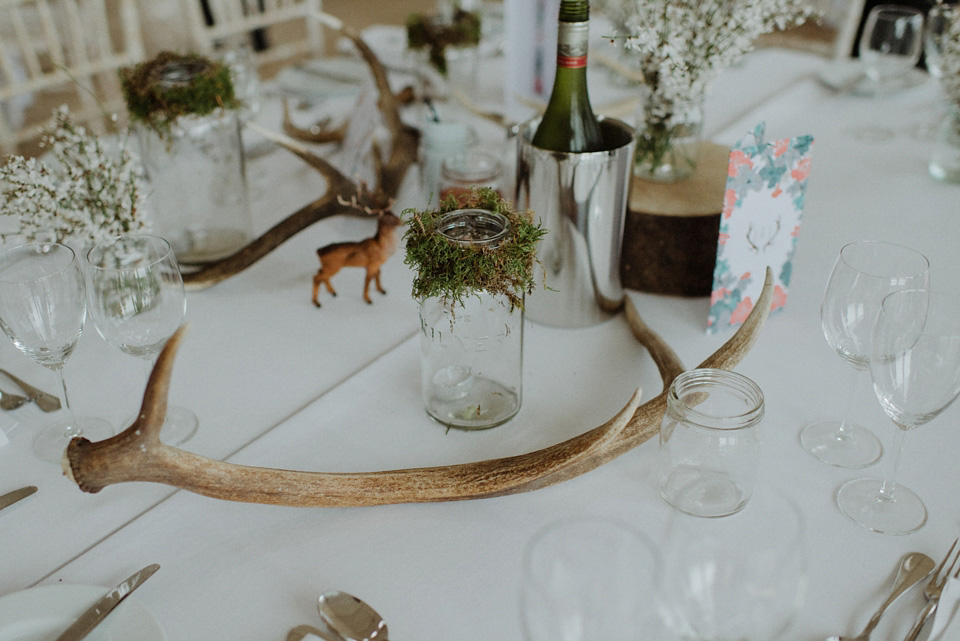 "Aside from the wonderful florals, I spent several evenings glittering the inside of jars to use as candle holders, which turned out really well so I was delighted! We also put a little woodland animal figure on every table, in keeping with our flora and fauna theme. We also had a 'sub-theme' in honour of our favourite TV show Father Ted. We named our tables after priests from a scene in our favourite episode, and we created a selection of Ted-themed photo props which brought much hilarity later in the evening when the guests started posing with them!"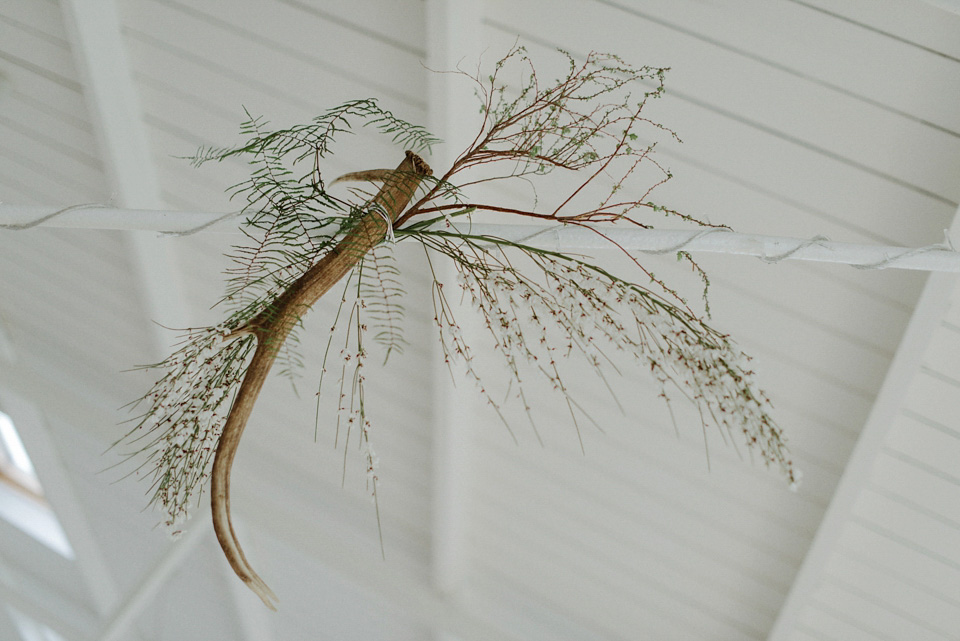 "My bridesmaids wore different outfits on the day. We had initially wanted to go with tulle skirts and cardis in soft seafoam/mint tones, so we built the outfits around that idea. My lovely pal Marie was five months pregnant, so we found her a beautiful beaded dress from ASOS , and my wonderful friend Connie wore an amazing tulle skirt by Fanfaronada with a metallic top from Reiss. They both wore a sequinned cardi to pull things together and keep the chill off from Nougat London. Hannah elected to wear a different cardigan , as she decided she didn't like the shape of the sequinned one.
I just left shoes up to the bridesmaids themselves, as I thought it would be nice for them to wear different styles that suited them best."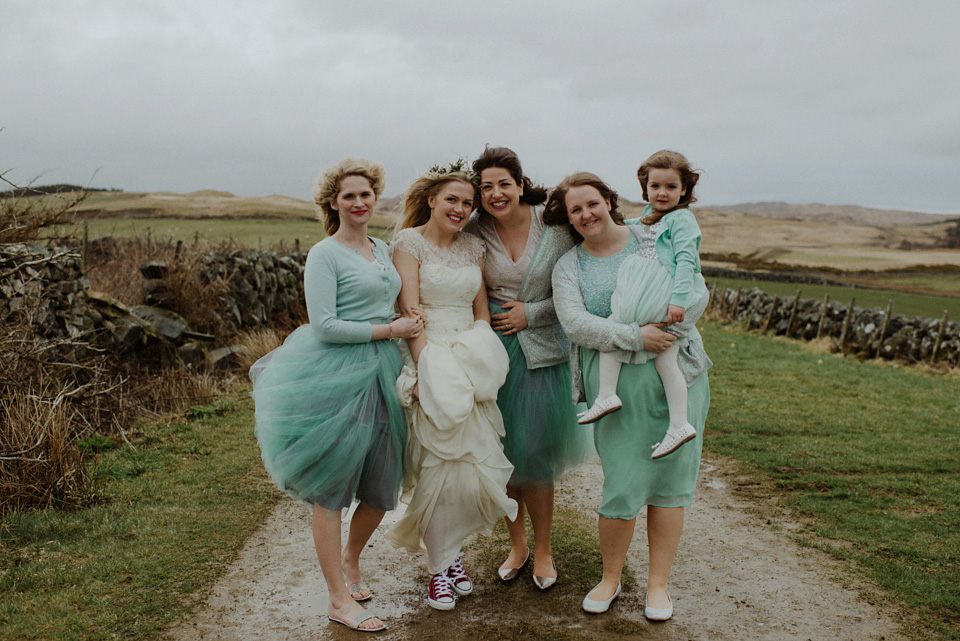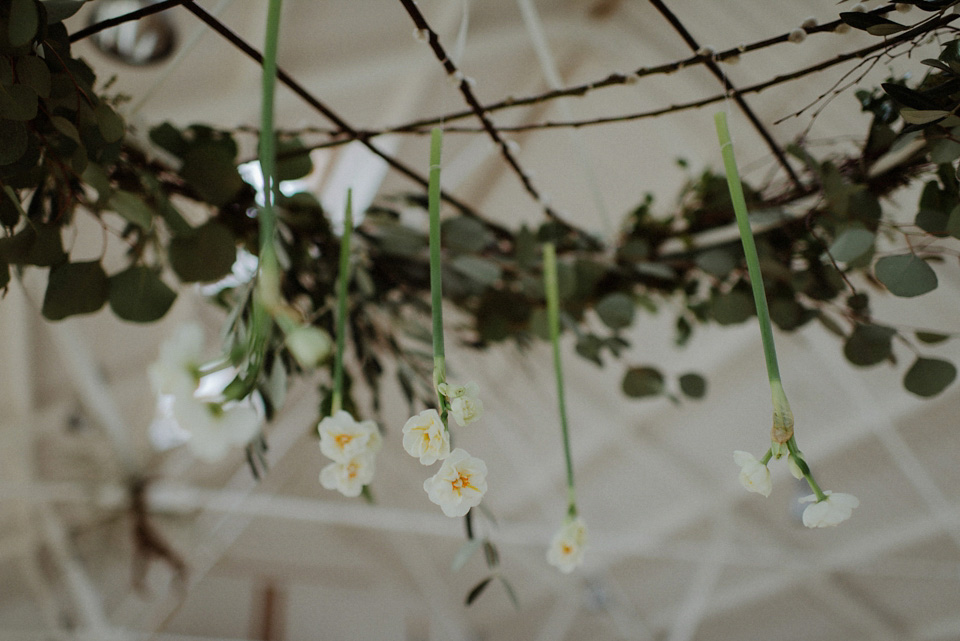 "My dress was designed by the wonderful Rowan McIntosh who has her own clothing and bridal label, Rowanjoy. Rowan's Ava dress was the first dress that caught my eye online, but it was the last dress I actually tried on in my dress hunt. I worked my way through different shops and styles, full-skirted 50s affairs, beautiful modern couture-inspired gowns, and even a gorgeous Vera Wang, before I found my way to Rowan's studio."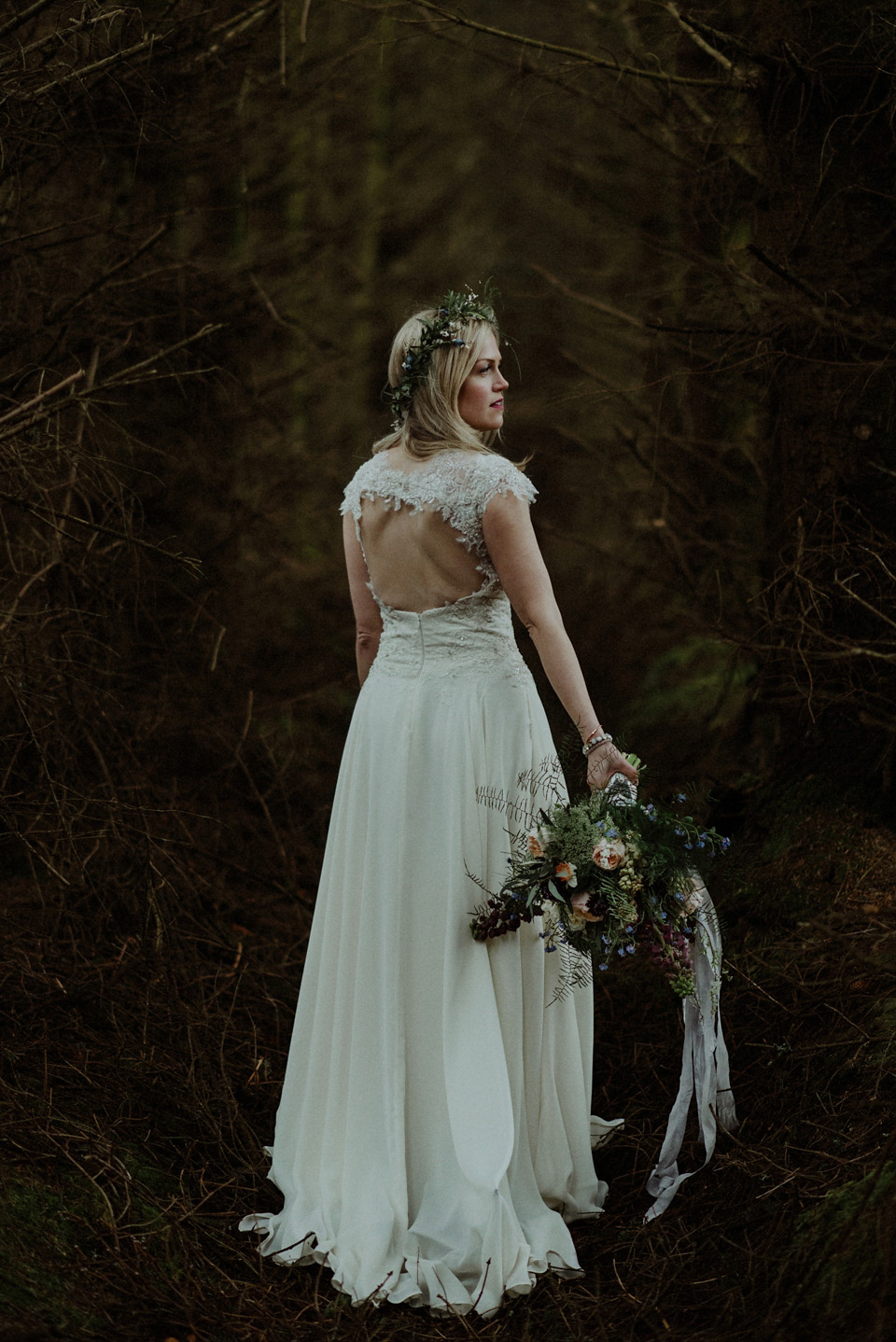 "We weren't really digging wedding flowers for the largest part of the wedding planning process. That was until we met Di of Myrtle & Bracken, who is a florist wizard! We met her at the Glasgow Wedding Collective Bridal Market, and I was gushing about how beautiful her own wedding was (it was shared on Love My Dress), and how we were so excited to get married at Crear too – and then I mentioned our antler theme.
The enthusiasm and ideas just poured from her and we knew then we had to have her do our flowers. She created the most amazing chandeliers from twigs, ferns and pussy willow, and these hung from the roof beams alongside clusters of antlers entwined in beautiful white broom. She also suspended scented spring bulbs from the chandeliers, and the fragrance from these, combined with jars of white broom scattered through the hall, made for a heavenly scent. Broom will now forever be the scent of my wedding day!"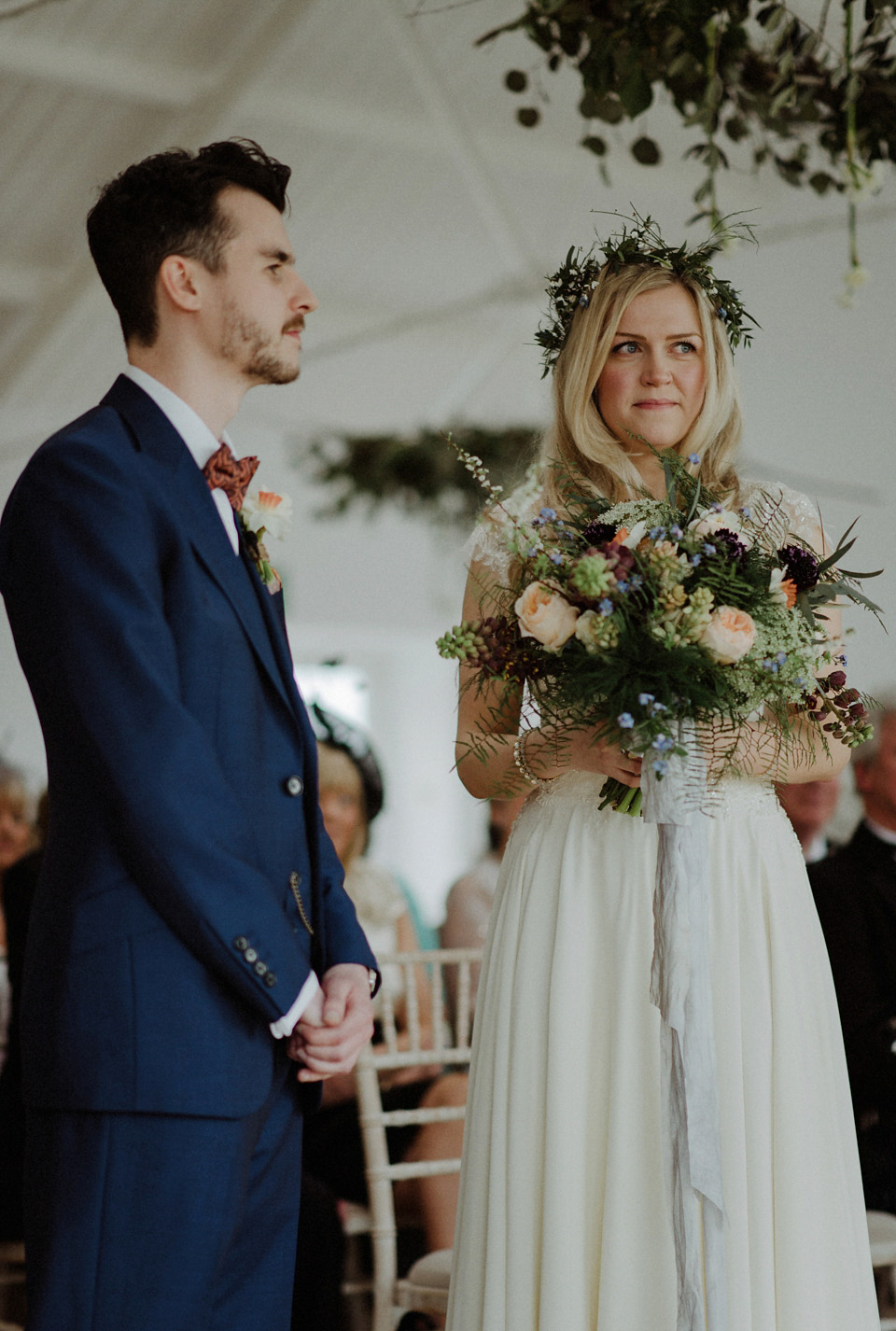 "Our photographers were the wonderful Joanna and Dylan of Kitchener Photography. Their photography was the first we saw when we started looking, and we didn't need to look at any others. They are so incredibly talented and there is real artistry and emotion in their work; I just can't imagine us having anyone else do it. It also helps that they are genuinely lovely folks! On the day itself they were amazing, they just blended in seamlessly and often you wouldn't even realise they were there snapping away.
They had also scoped out a beautiful forest location for our wedding shoot, and when we arrived there we were absolutely blown away. It was the perfect place for our photos to be taken, and exactly what we wanted without even knowing it ourselves. It was even fun popping out in the rain after our dinner to get some shots as the light was fading! We cannot recommend the Kitcheners highly enough. I almost wish we could get married again so we can get more pictures taken by them!"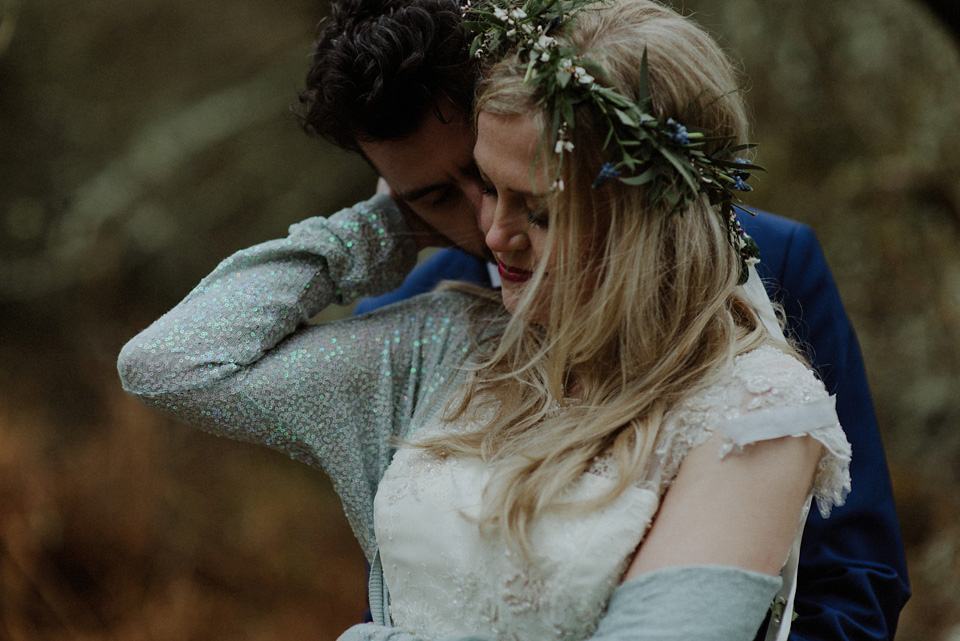 "When you hire Crear you get the services of the wonderful Julie, who was just fantastic through the whole process. She made it all very easy for us, nothing was too much trouble, and was just so solidly reliable that it took a lot of the frets and worries away.
We had suggested a number of places to stay to our guests which were all in Lochgilphead and Ardrishaig. It is about a 40 minute drive to Crear so we arranged a coach to ferry everyone to and from. We used West Coast Motors. Everyone arrived on time and got home safe so job well done!"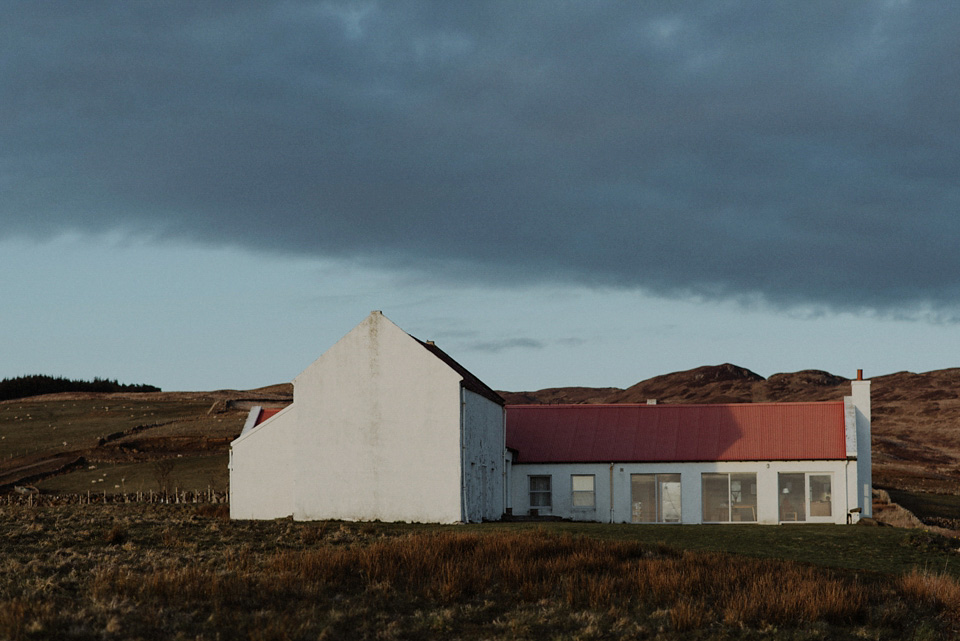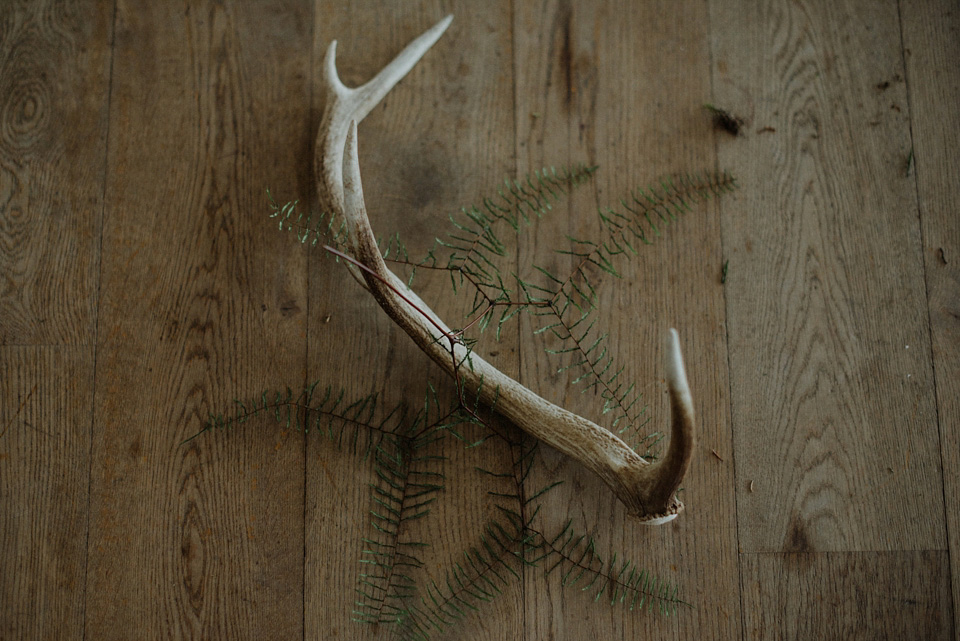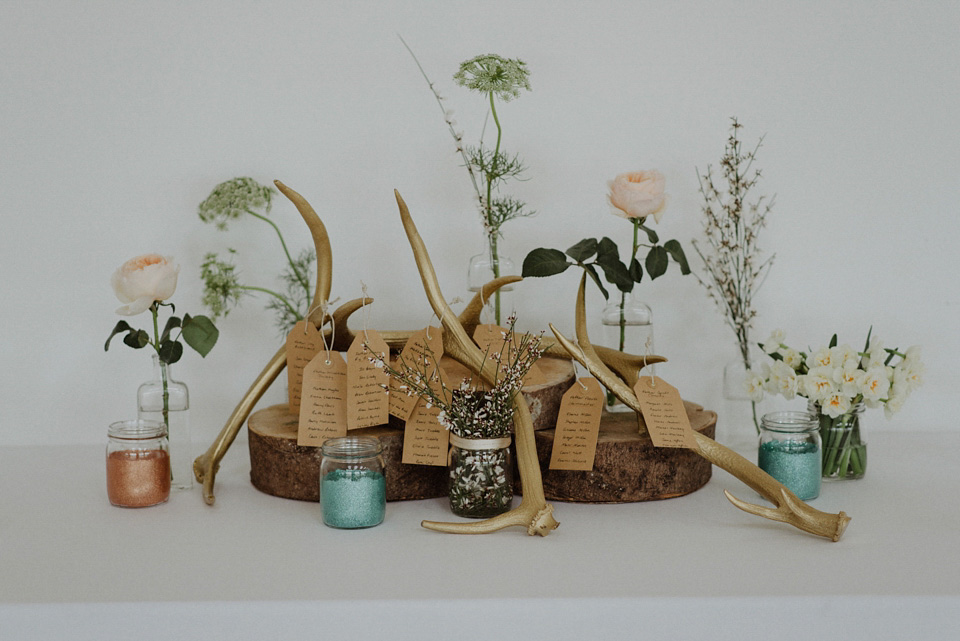 "Our stationery was designed by Skinny Malink. We really enjoyed the design process, as we saw our idea come to life through Lynsey's design skills. We had a few hiccups towards the end as we had gone for a risky combination of foil and print, but Lynsey persevered and produced a really lovely suite of stationery that we are going to have mounted and framed as a keepsake."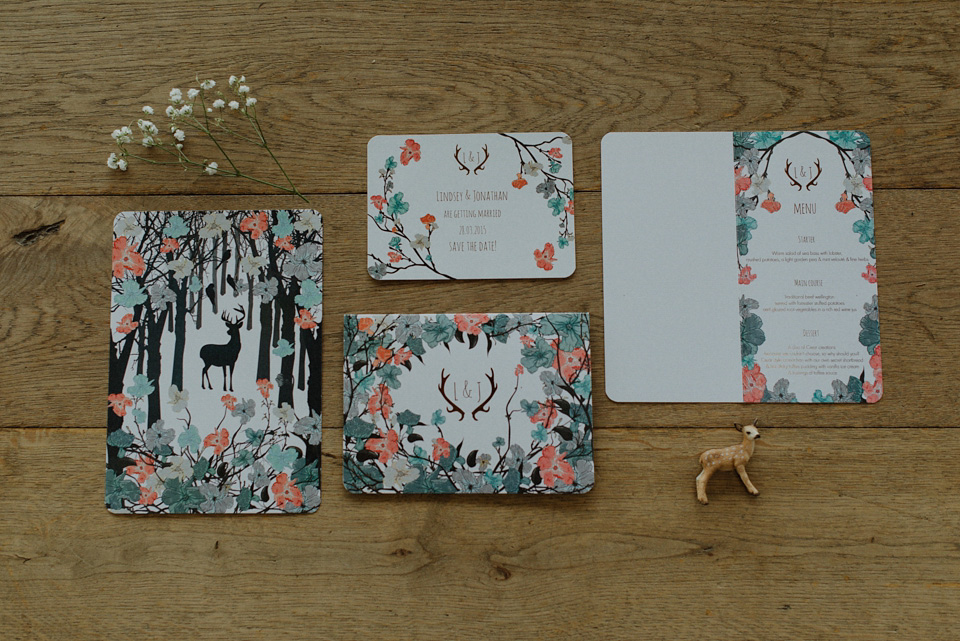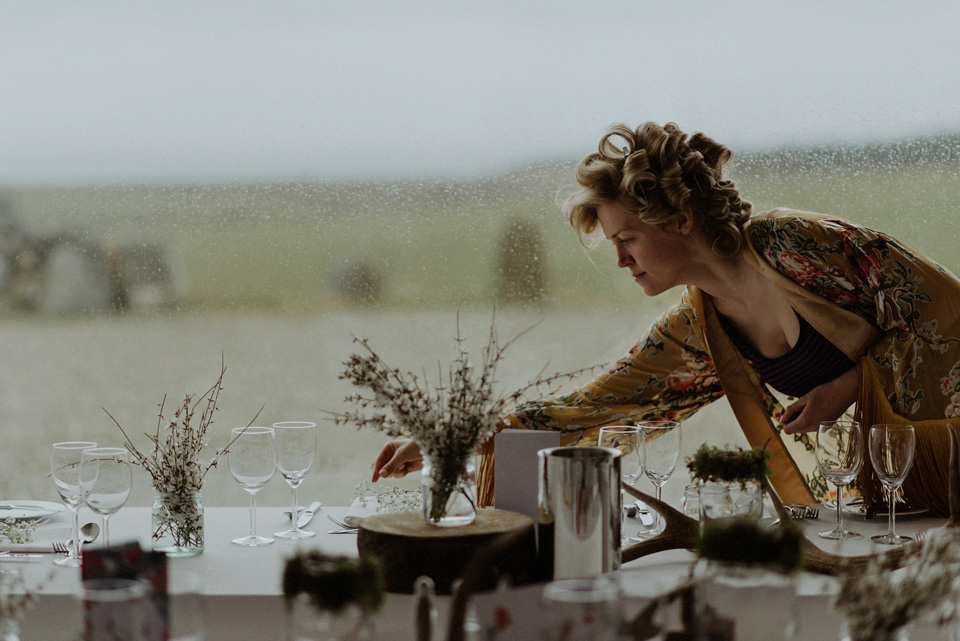 "The moment I tried on Rowanjoy's dress on, I knew it was the right choice. It felt totally different from the other dresses, which, even though all gorgeous, didn't feel like me. I felt like myself in the Ava, and I loved that Rowan was happy to make changes to the dress based on my own ideas. The fitting process with Rowan was a dream. I loved coming through to her studio with my Mum and my best woman (BW) Connie, trying different sleeves and poring over different laces. We also started a tradition of obligatory cocktails after any fitting session. Ava has a beautiful flowing georgette skirt a lace bodice with delicate applique details and a dramatic low back.
I loved the skirt and the shape, but I wanted to bring the low back up a touch, have it close across the shoulders, and to add a sleeve. The half sleeve I initially planned evolved into a delicate cap sleeve that Rowan created from the same appliques used in the bodice. Seeing it come together before my eyes was so exciting. Even when I had a slight panic over finding underwear to fit under the low back Rowan was there to help calm me down, and fit in an extra appointment to make sure everything was just right. Rowan is incredibly talented, and I am so glad I got to have my very own Rowanjoy creation."
"My shoes were from the Rachel Simpson and Freed of London collaboration. I'd had my eye on her beautiful Mimosa shoes, but when the Freed range came out I was absolutely smitten with a pair called Gabriella, which were a beautiful rose gold with amazing glittery details.
As luck would have it, I think I might have the only pair in circulation as the day after I received them I got an email from Rachel Simpson saying the range was recalled due to a fault. I called Rachel as I didn't want to part with them and she was lovely, explaining the fault was only with some of the shoes, and if mine were fine I could keep them. Hurrah!"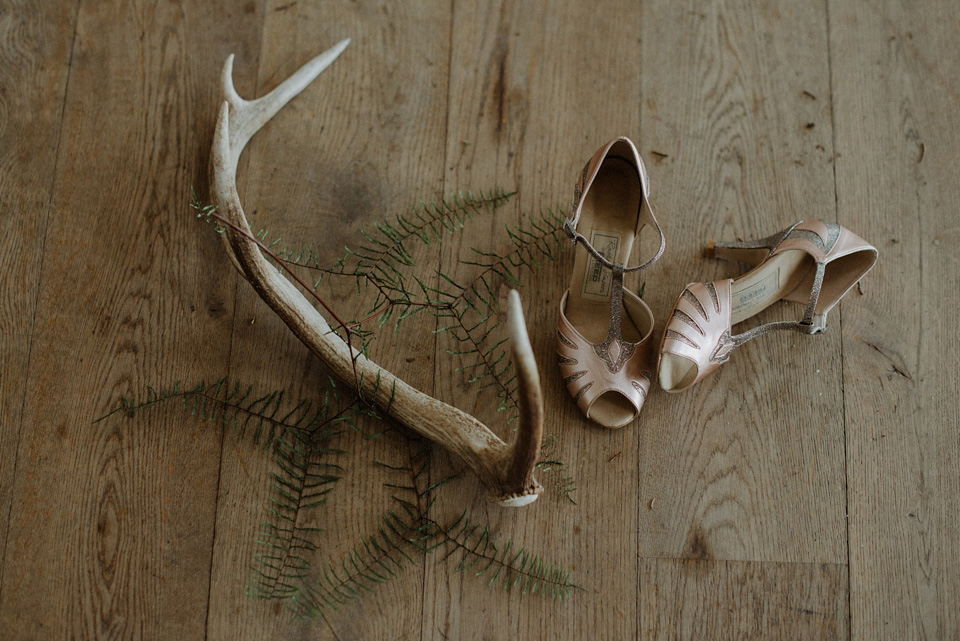 "Jonathan and I met outside King Tuts in Glasgow in June 2007. My friend was managing a band that were playing that night and Jonathan was the lithe limbed bassist. I was standing outside when I saw him – rocking skinny jeans, Cuban heels, and the most amazing hair.
I made the first move to talk to him, and despite Jonathan's shyness I resolved to see him again. Slowly we got closer, I tagged along on the band's 'tour' (in reality two gigs in Aberdeen and Edinburgh) and we bonded over the dire sleeping arrangements and being mugged by a particularly aggressive seagull, and as I headed off on my summer hols to Lewis all I could think about was seeing Jonathan again."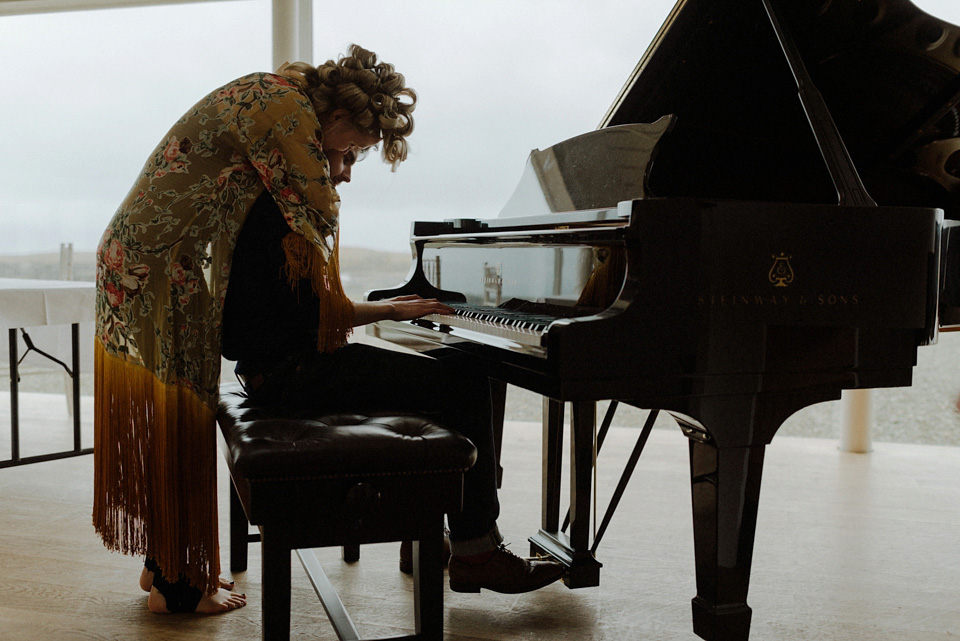 "We met up the night I returned and have been inseparable ever since. The next few years were filled with adventures big and small, from the moors of Lewis to the backstreets of Bangkok, and in early 2012 we moved in together, which has been the biggest and best adventure of all. Jonathan proposed on 19 December 2013. We had discussed it three months earlier, and looked at rings.
I fell in love with the first one I tried on, and unbeknownst to me Jonathan sneaked back and bought it straight away. Our engagement story will always make me smile. We were sat on our bed, and I was just finished grouching over something silly, when he pulled out the ring and said 'Lindsey, will you do me the honour of being my wife?'"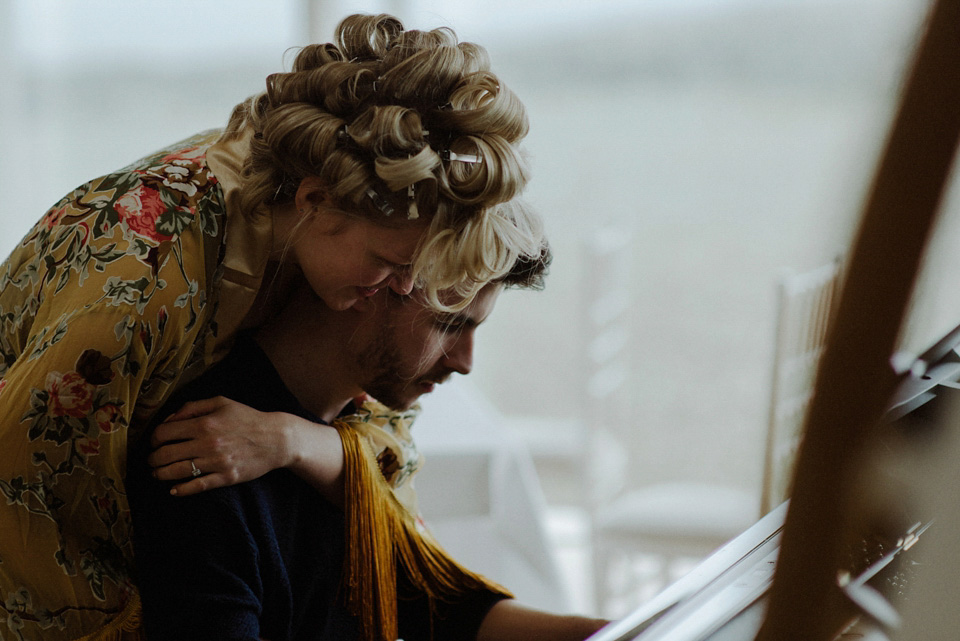 "Needless to say, I stopped moaning immediately and said YES! It was just so perfectly us, no drama, just the two of us, in our home. I wouldn't change a thing about it. We booked our wedding venue less than a month later, and we had been engaged for a year and three months by the time the day itself finally came around."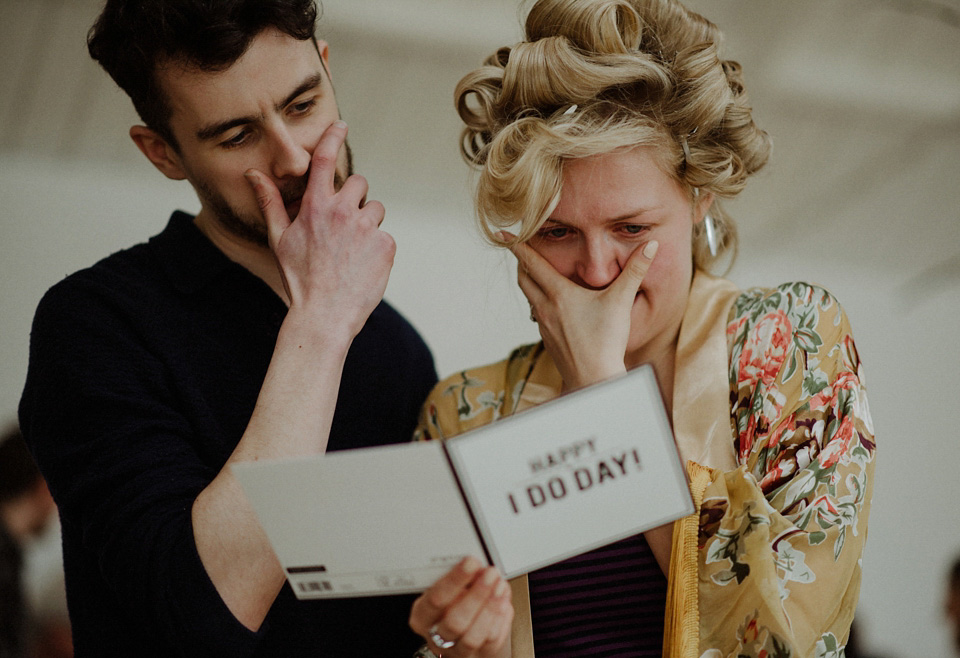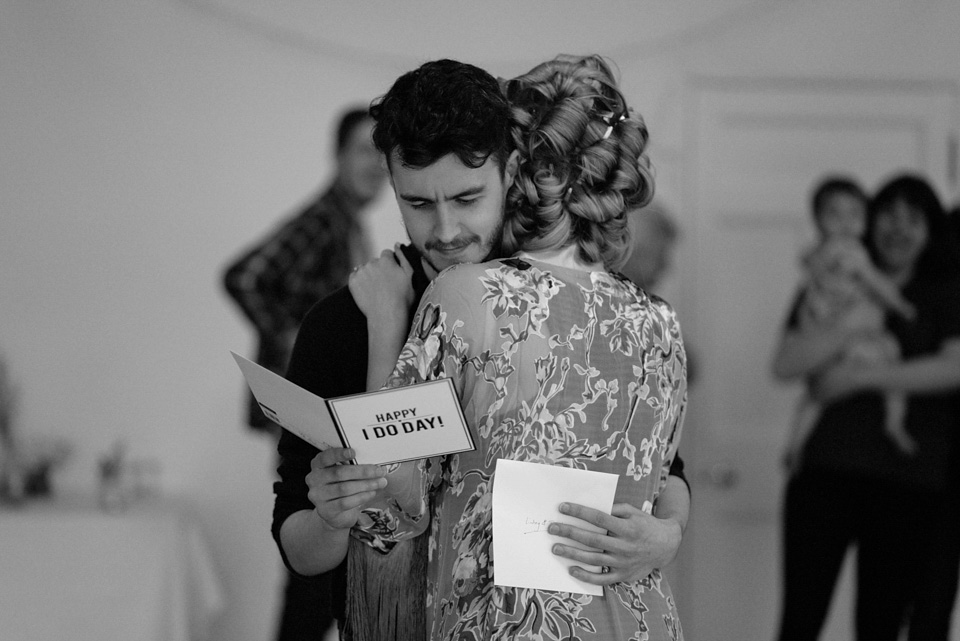 "I wore earrings and two little crystal bracelets from Rene Walrus, who shares a studio with Rowan. At every fitting I was bewitched by the array of sparkly things she had on display, so I just had to have something. I also wore a small rose gold cuff from LotusStone on Etsy. I actually gave the same cuff to my BWs and flower girl as gifts on the day.
I also wore Portrait of a Lady from Frederic Malle, which is a heady mix of rose, patchouli, sandalwood and frankincense. I had thought I'd wear my favourite scent, Tom Ford's Neroli Portofino, but I read a post on Love My Dress in which the bride described selecting a special new scent for her wedding day so it would thereafter always remind her of the day. I was taken with this idea, and what better excuse to treat yourself to a new scent? I visited Liberty especially and the counter staff were so helpful, giving me lots of samples to take away to help me decide. In the end I wandered off for a couple of hours and kept being drawn back to the scent of Portrait, so I marched back to Liberty and bought it."
Readers, you can read more about perfume and scent and it's role on your wedding day here.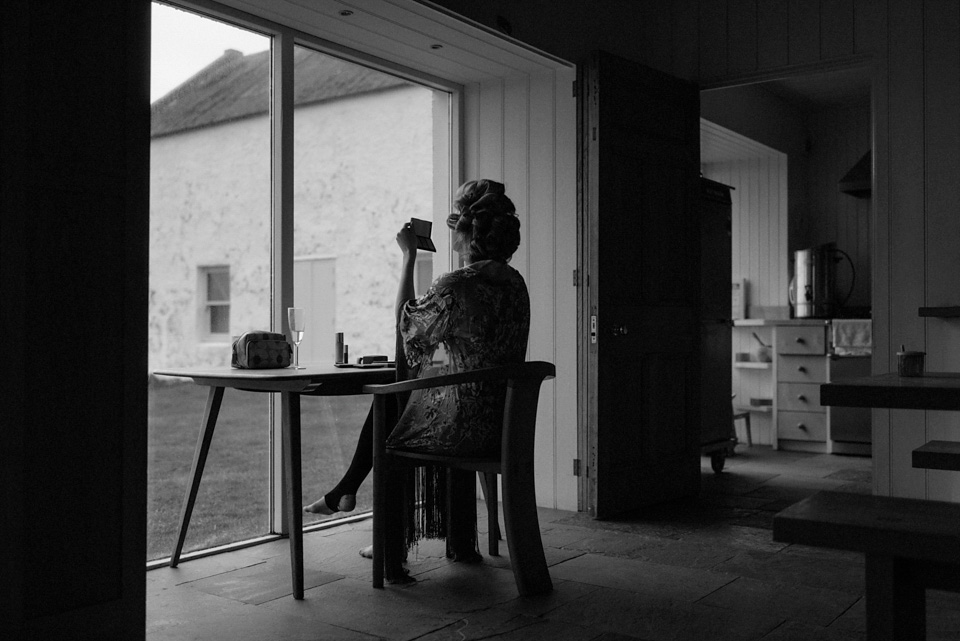 "I did my own make-up. I know what I like, and I have always enjoyed playing around with make-up so have become fairly good at it over the years. I know my own face so I know what works best, and I used the wedding as an excuse to treat myself to some new bits and pieces to use on the day."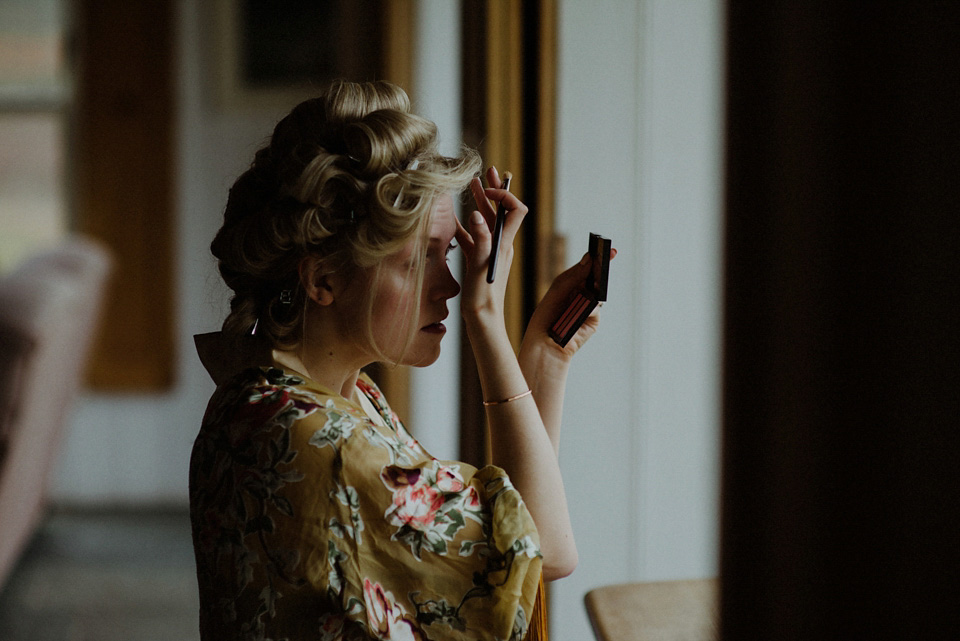 "My hair was done by my friend Marc McCune, who has been doing my hair for about 13 years. He has a salon in Glasgow called Eutopia, and another in Helensburgh too, and I was so chuffed when he agreed to do my hair as he is not only a great hairdresser but awesome craic as well! I knew he would actually listen to me and give me what I wanted, which was decidedly NOT wedding hair. Everyone was delighted with their hair on the day."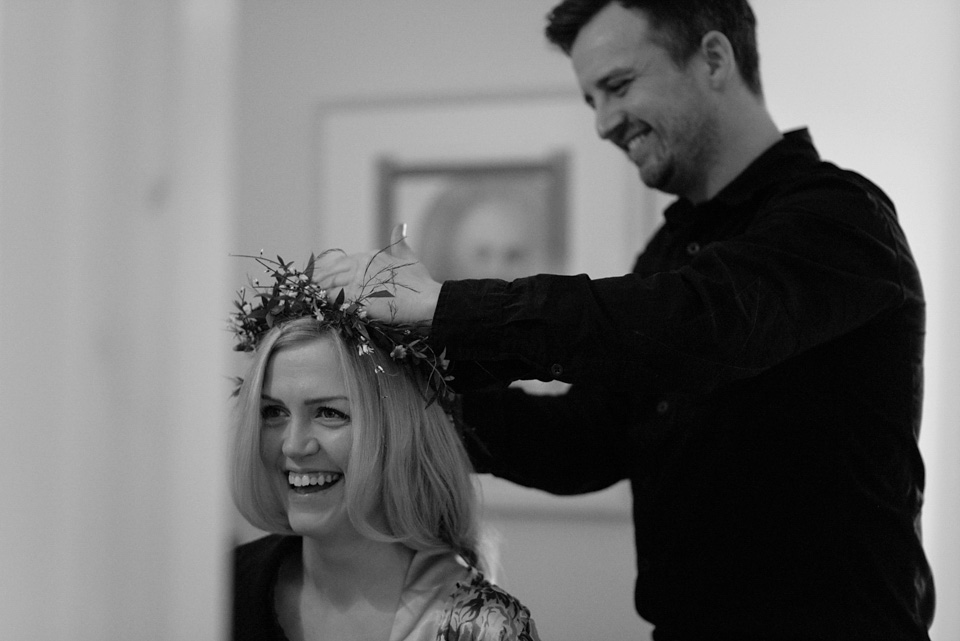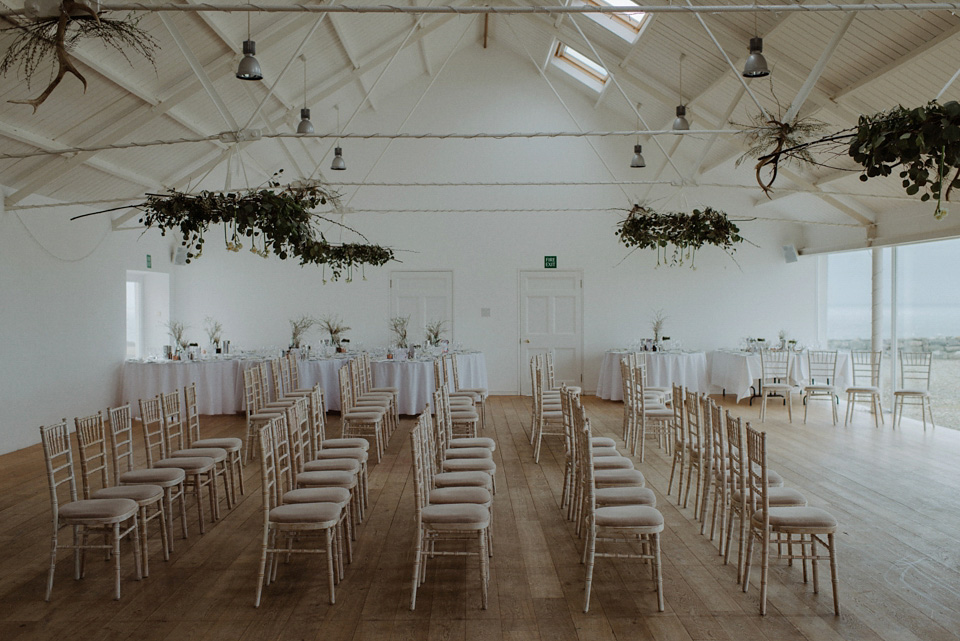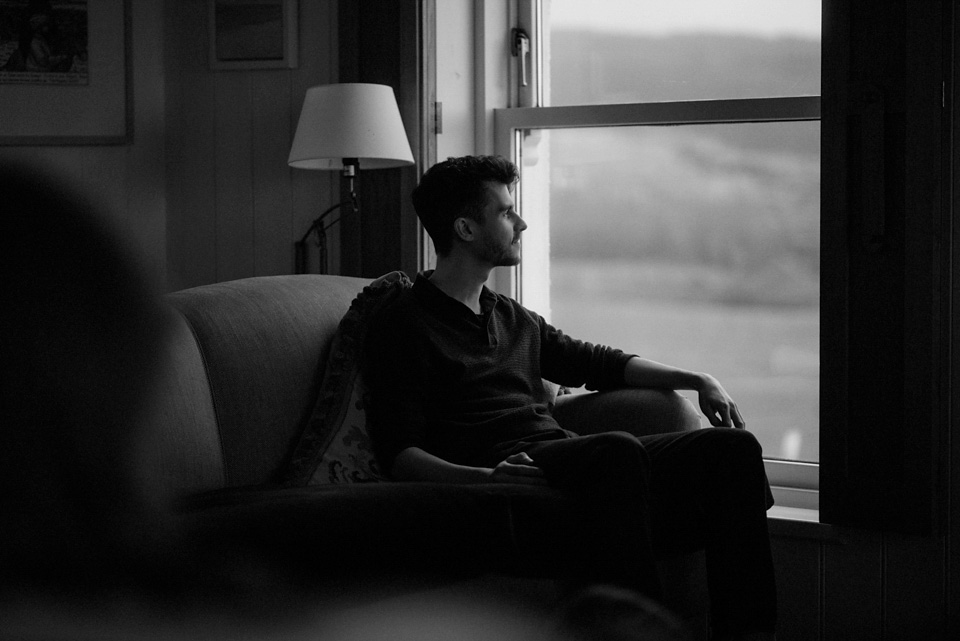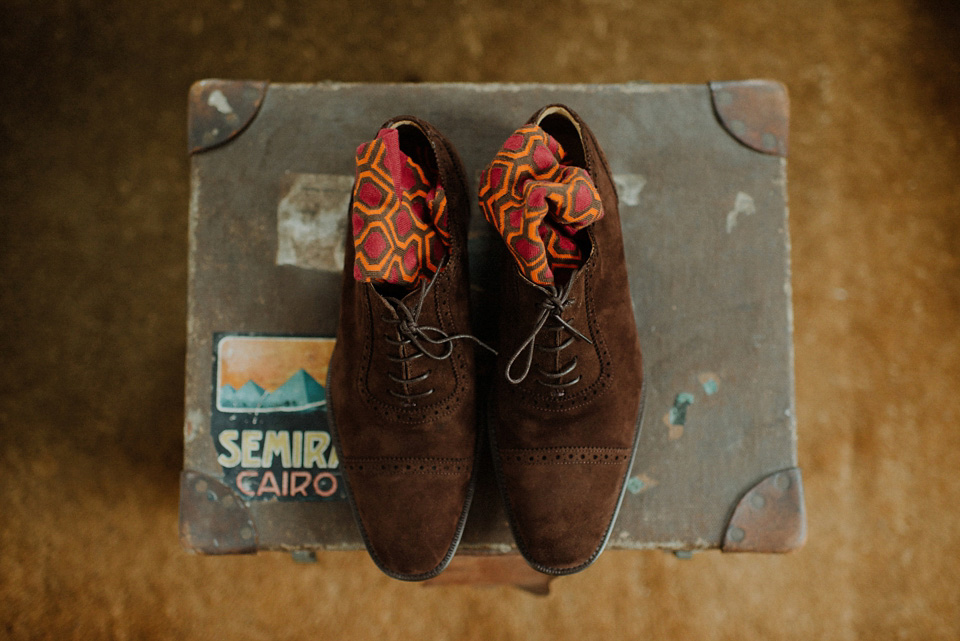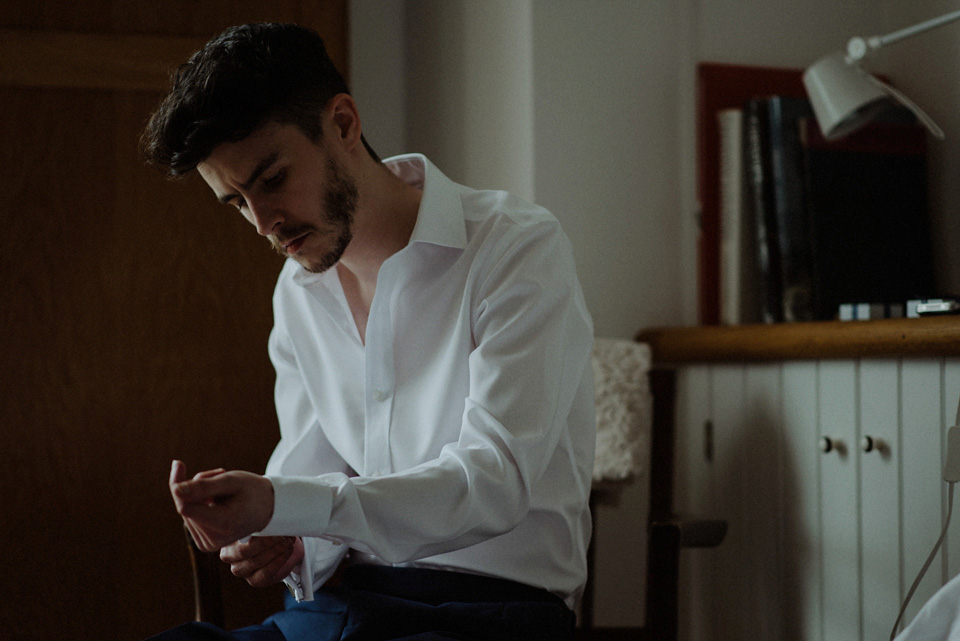 "Jonathan's three piece suit was from Reiss, and was a beautiful royal blue with peaked lapels. He looked so dashing; the colour was so vibrant and contrasted perfectly with his bow tie, pocket square and socks. Jonathan's shoes were gorgeous brown suede brogues from Reiss. He also sourced awesome matching bow tie and socks, which featured the pattern from the flooring of The Overlook Hotel, from the film The Shining. The socks were from Sockaholic and the bow tie was from The Vintage Beau on Etsy."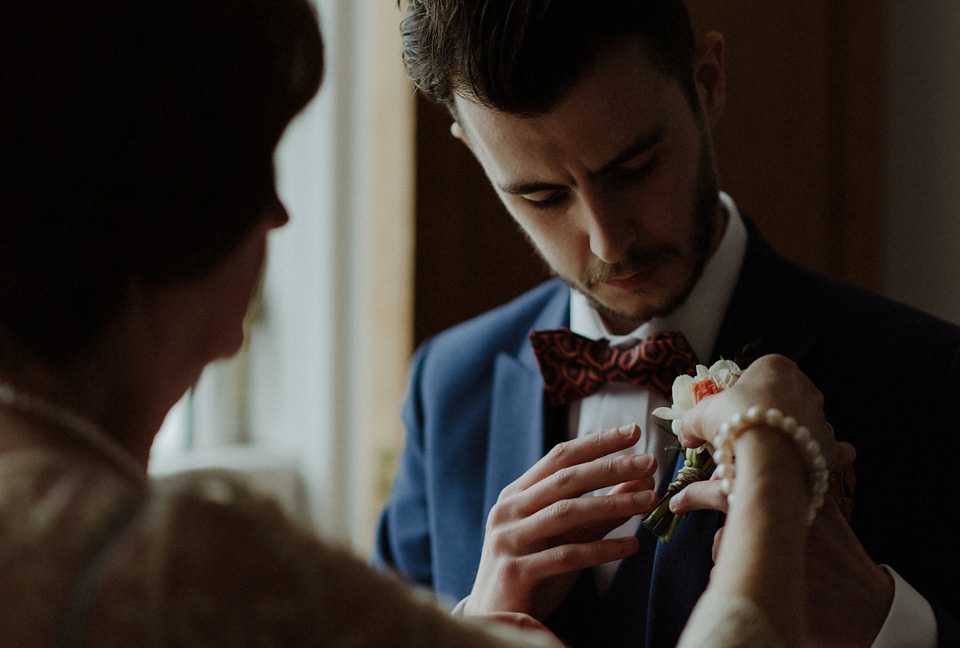 "My bridesmaid Marie's daughter Elloise was the most awesome flowergirl, and the last one standing on the dancefloor at the end of the night. Every time someone tried to get her to go to bed she would declare, 'But there's more dancing to be done!' She wore an adorable sequinned dress from Monsoon, which she chose herself, and toned in beautifully with the BWs. Connie's daughter Enid was a major star of the wedding too; she even gave us an adorable round of applause as we were announced as married.
The bridesmaids and flowergirl wore matching delicate rose gold and silver cuffs from LotusStone on Etsy."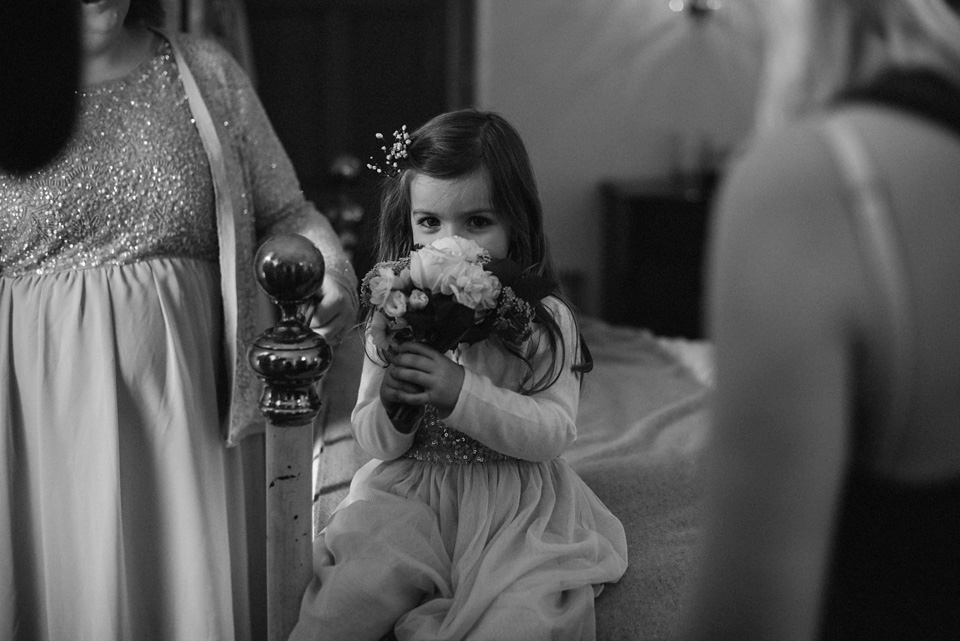 "I didn't wear a veil, as I just felt them too formal for the soft, ethereal style of my dress. Also, I wasn't comfortable with the traditional purpose of the veil and the imagery associated with it. Instead, my florist, Myrtle and Bracken made me the most amazing wild circlet of foliage and florals, with flowing ribbons hanging down over my hair at the back. I'd sent her a picture of something I liked, and she created a wild circlet of foliage, ferns, broom and forget-me-nots, with divine hand-dyed silk ribbons which flowed down my back. I was agog when I first saw it – it was just perfect."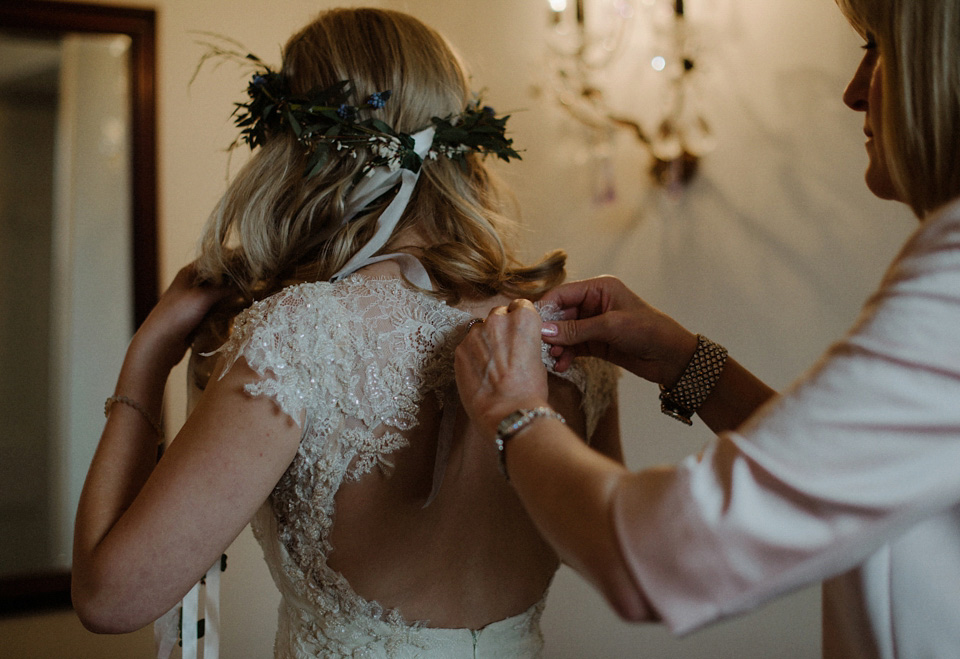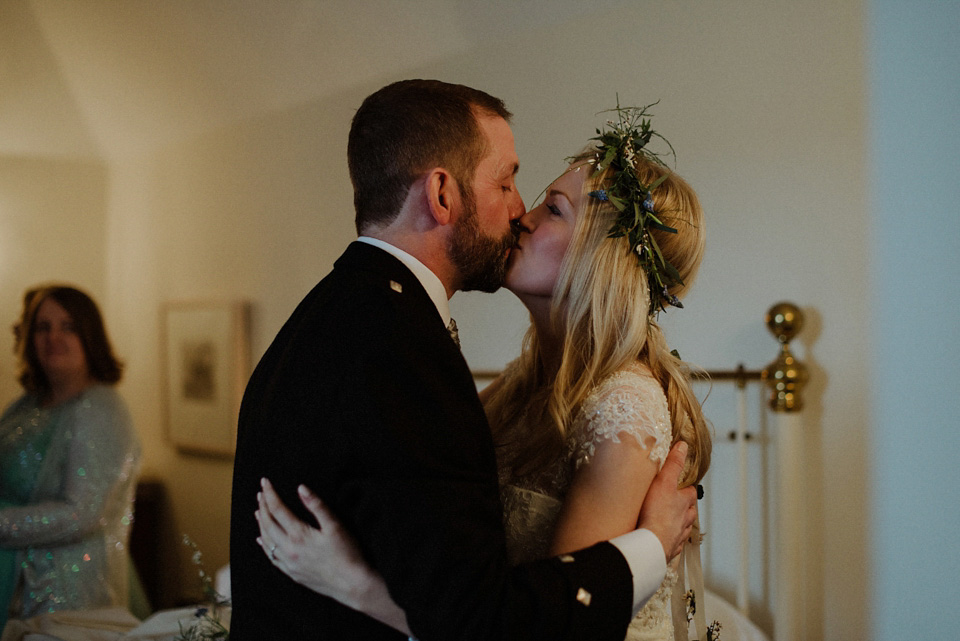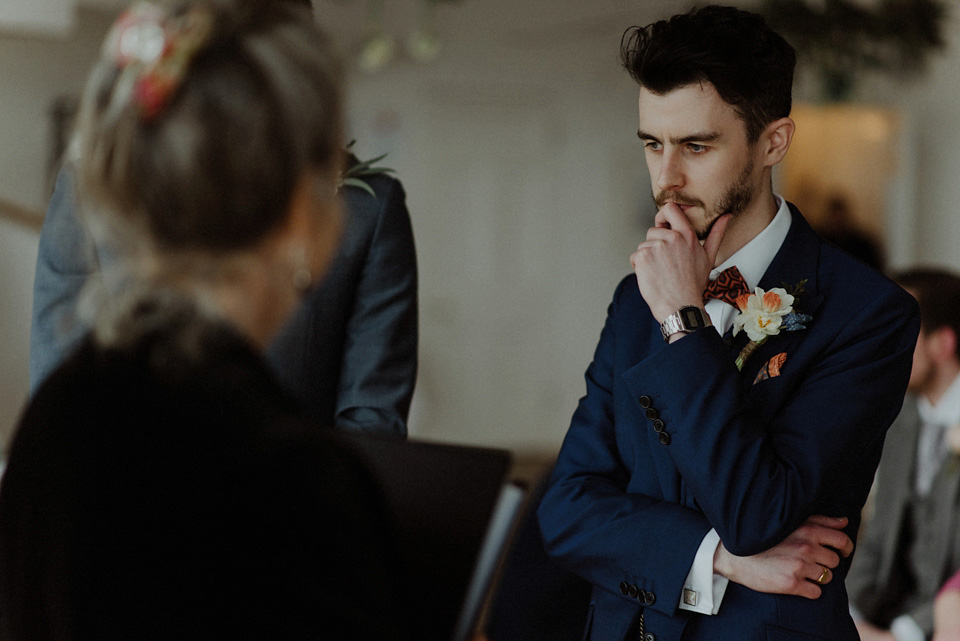 "During the ceremony and reception we had the string quartet The Dotted Crotchets. They were excellent, and the guests really enjoyed them. For the first half of the wedding dance we had an iPhone playlist of our favourite songs, and then we had the Kinloch Ceilidh Band who were awesome."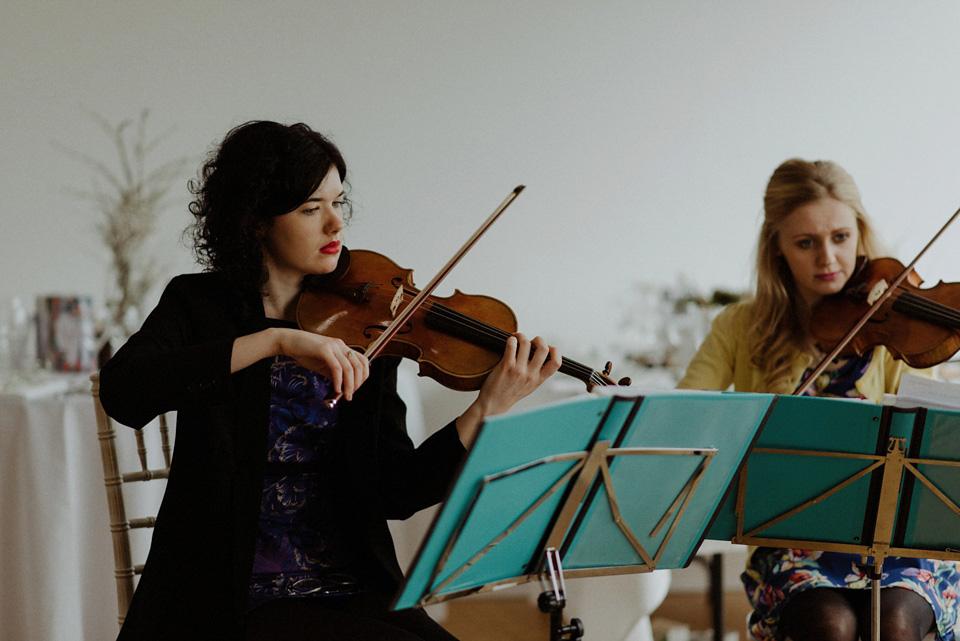 I adore that look of pure joy and happiness on Lindsey's face below….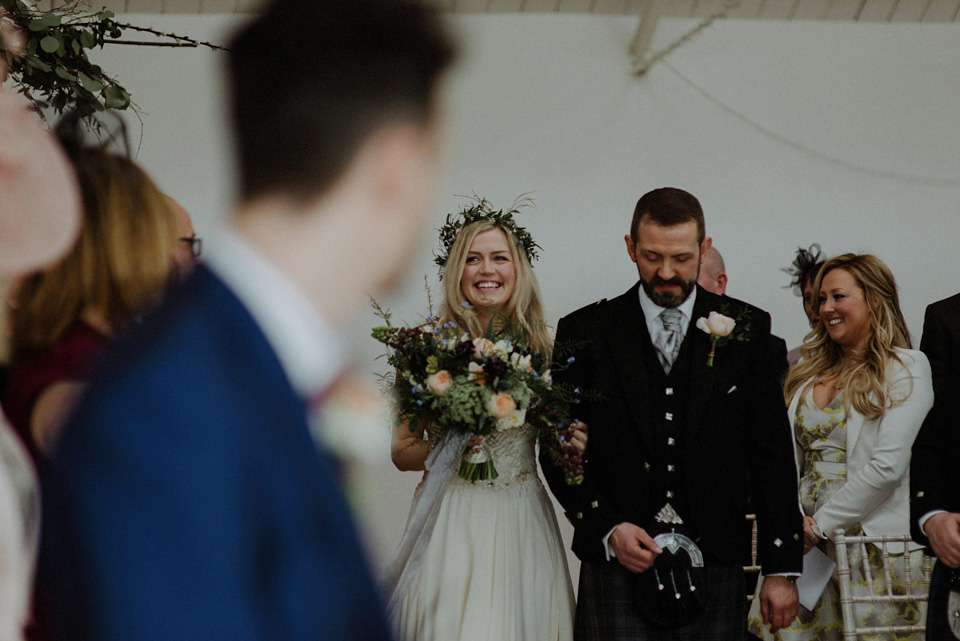 "My wonderful Dad Colin walked me down the aisle. The moment he came into my bedroom and saw me for the first time in my dress was so special, and one of the real tearful moments of the day. Seeing it in our film clip brought it all flooding back! It was such an emotional experience, and one I'll never forget. I walked down the aisle to Kissing You by Desree, played by The Dotted Crotchets."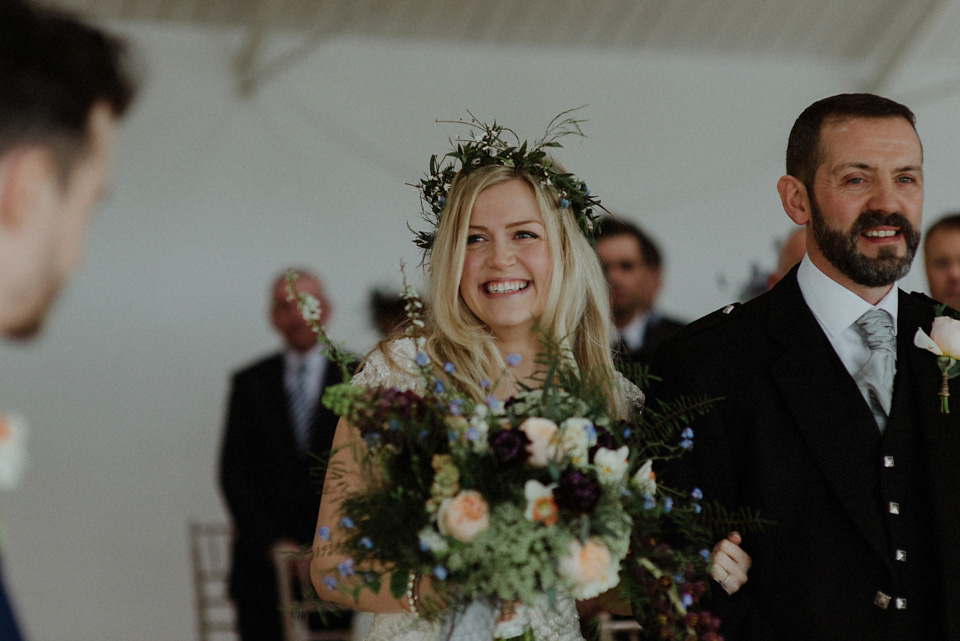 "Writing our own vows was so important to us, and having a Humanist ceremony meant we had absolute free rein to express ourselves. For us the whole process of getting married is much much more than just the day itself. The sum of all the acts of love and care that you pour into each stage of planning the logistics still only add up to a small part of the picture: you are undertaking to stand by this one person, no matter what, and the enormity of that can feel quite overwhelming.
We both, together and individually, thought long and hard about this, and what these vows would truly mean to us, so that when it came to actually writing them down they just poured out, seemingly quite easily. We read them back, and we were happy with them, but nothing could have prepared us for the experience of actually saying them, out loud, in the presence of so much love. It was a deeply moving, powerful experience."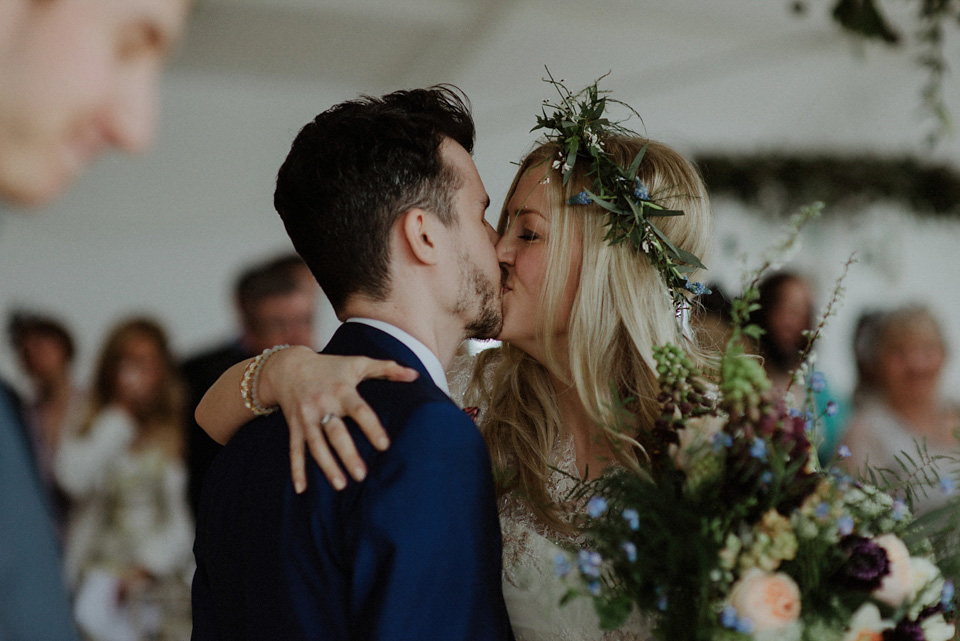 Our vows were 'I promise to laugh with you when times are joyful, to hold fast for you when challenges present, and to always look for the beauty in the everyday. I promise to remember that love is both a feeling and an action, that love is practice and failure, and that love is present in everything we do. I am tethered to you, and anchored by your love. You are my best friend. I have loved you to this day, and I will love you from this day forward.'
"Neither of us are religious, so it was important to us that our ceremony reflected that. We chose the most wonderful Humanist celebrant, Annie, who helped to create a ceremony that was beautifully personal and meaningful.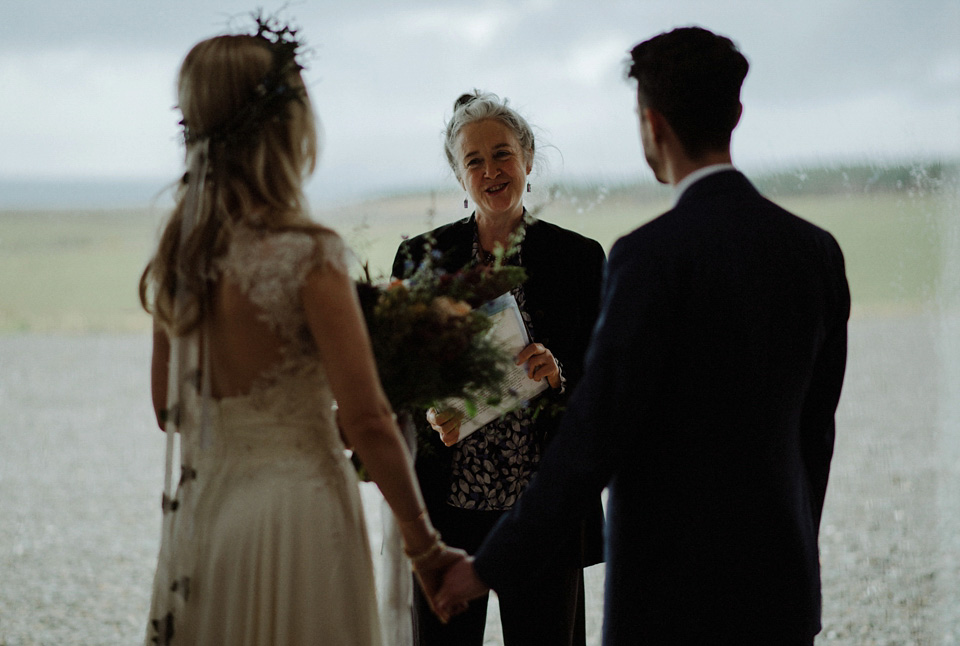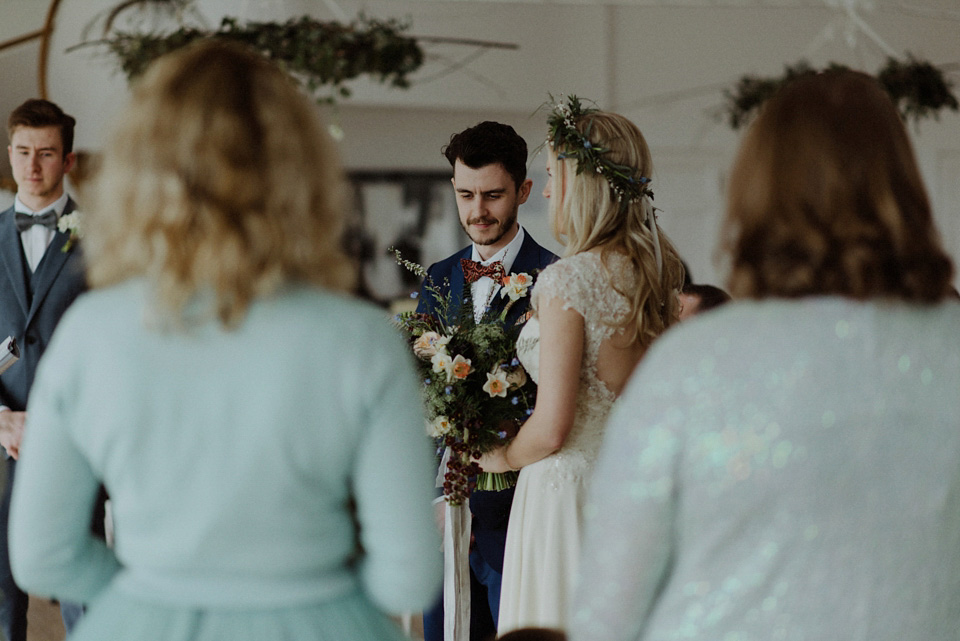 "Our lovely pal Nicole read Love by Roy Croft. We came across this by chance, and we both just felt it perfectly summed up everything we felt."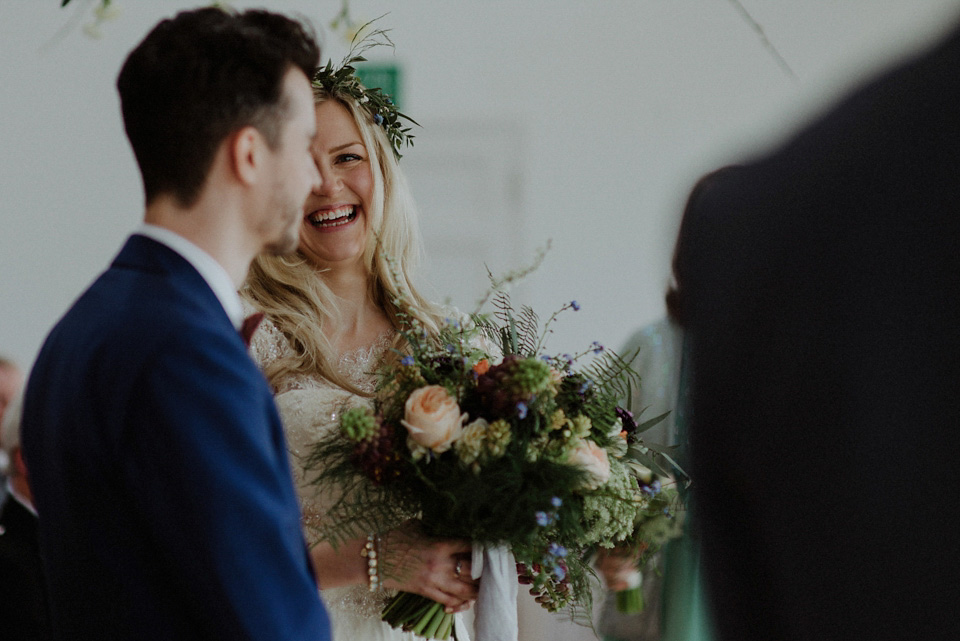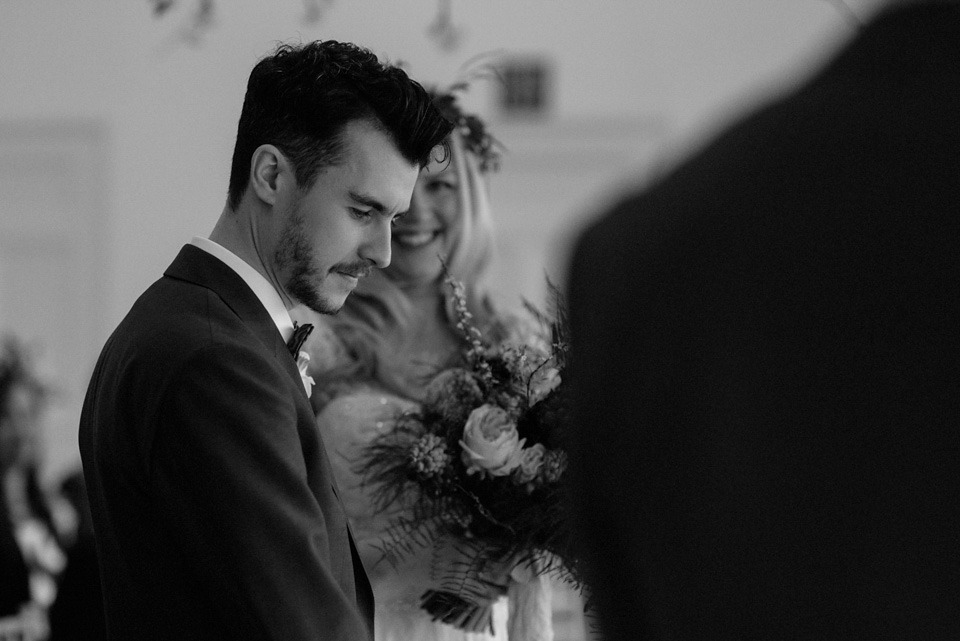 "We chose our plain white gold wedding bands from the same jeweller where Jonathan bought my engagement ring, James Porter & Son in Glasgow's Argyll Arcade. It's a rarity – a genuinely family owned and run business, and the staff are just so lovely and really care about making your experience special."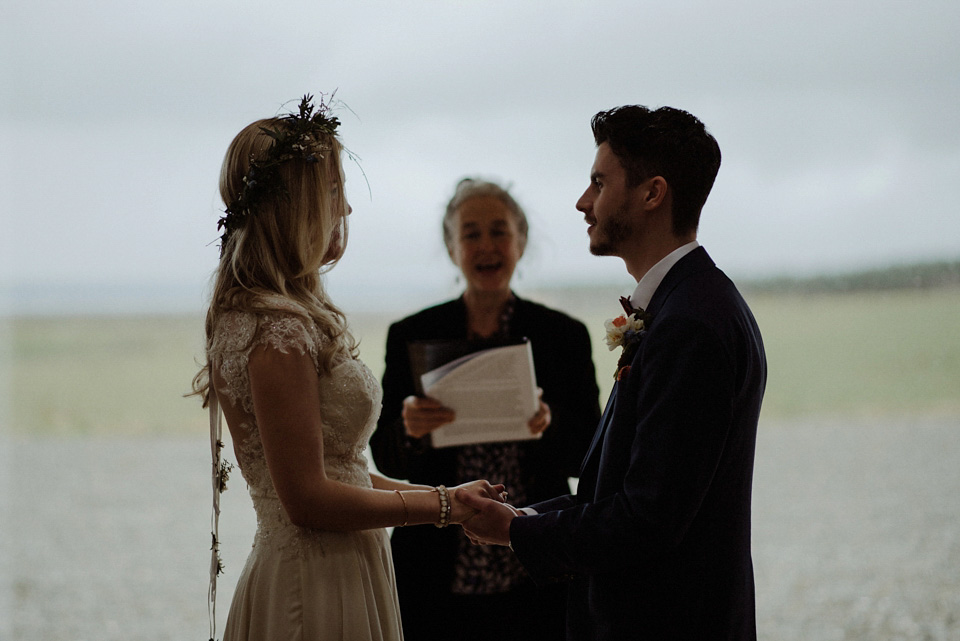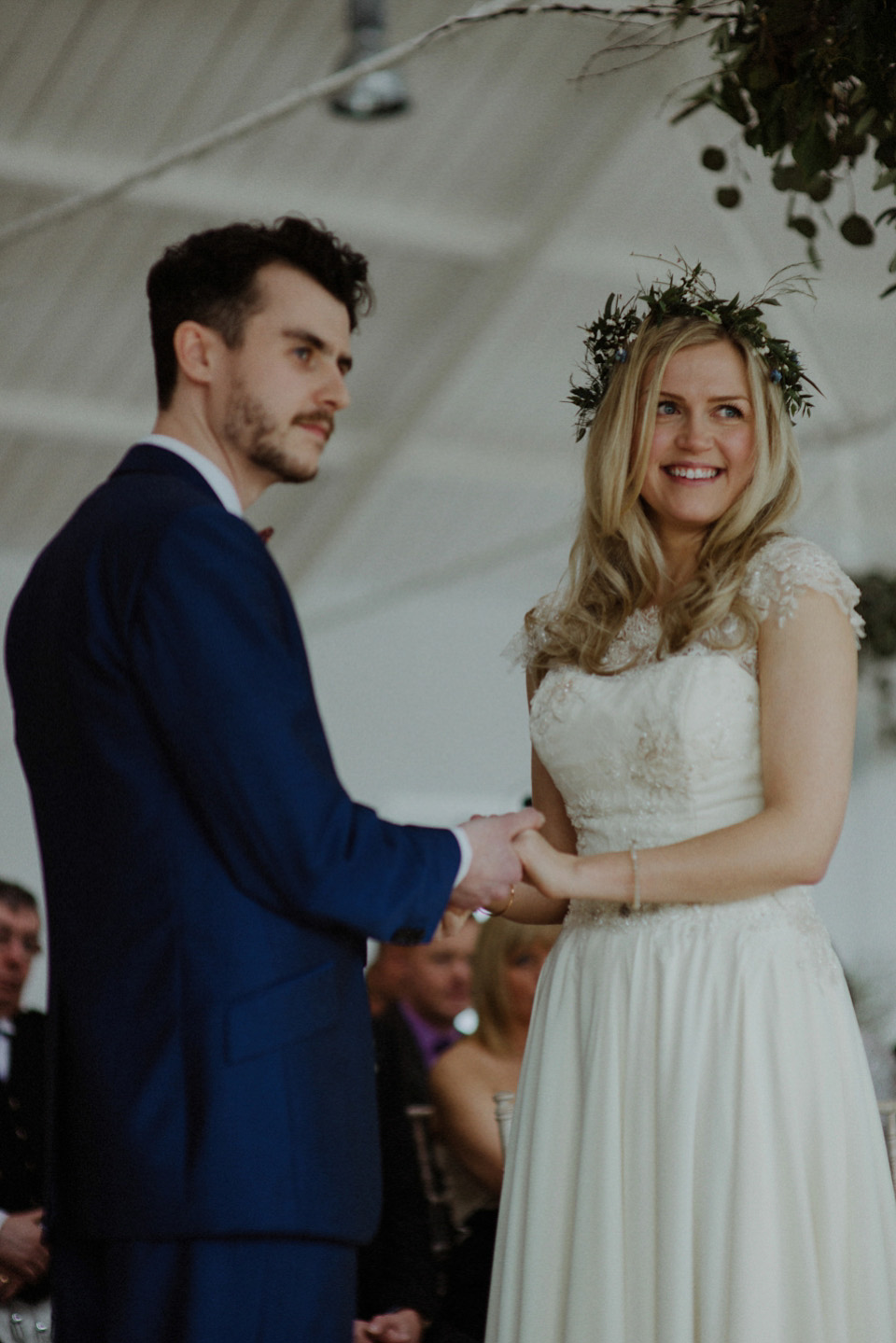 "Without a doubt, our favourite part of the whole day was the ceremony. It was lovely having our family and friends all around us helping out over the whole weekend, eating dinner together, and pulling things together in the morning, but the moment I stood beside Jonathan in front of all of our people in that room everything else just stopped. It was such an intense experience, and I just focused on taking it all in. The looks on everyone's faces, the wild landscape sweeping down to the sea outside, and my Jonathan's hand in mine (being crushed, he later informed me). As we turned to each other to say our vows, a beautiful Merlin swooped down from the sky and hovered above the grass outside.
I like to think he was bringing us blessings from the birds, what more could you want? Our vows felt so much more powerful as we said them than they had when we wrote them together, and at the end of the ceremony our celebrant Annie led everyone in saying a traditional Celtic blessing. It was spine-tingling hearing all of our guests' voices in unison saying:
'The peace of the running water to you,
The peace of the flowing air to you,
The peace of the quiet earth to you,
The peace of the shining stars to you,
And the love and the care of us all to you.'"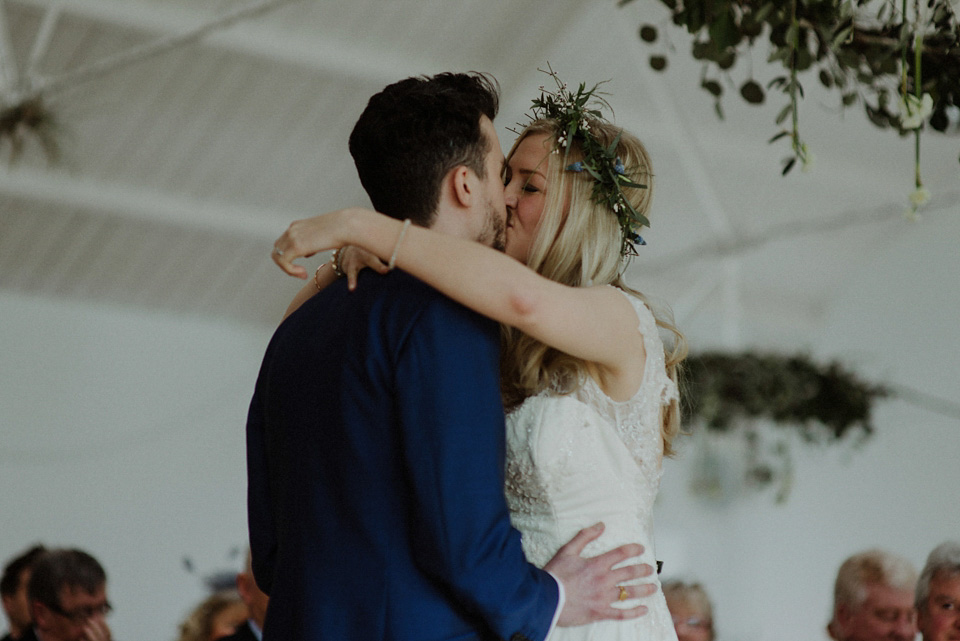 "I haven't even mentioned the bouquets yet! Di of Myrtle and Bracken put together a wild trailing bouquet full of purple lupins, hemlock, ferns, forget-me-nots, spirea and stunning peach David Austin roses. It was more beautiful than I could have imagined, and the bridemaids' posies sat perfectly alongside – Elloise was so chuffed to have her own mini version! Jonathan and I are just so grateful to have had the opportunity to have so many talented people collaborating on our wedding."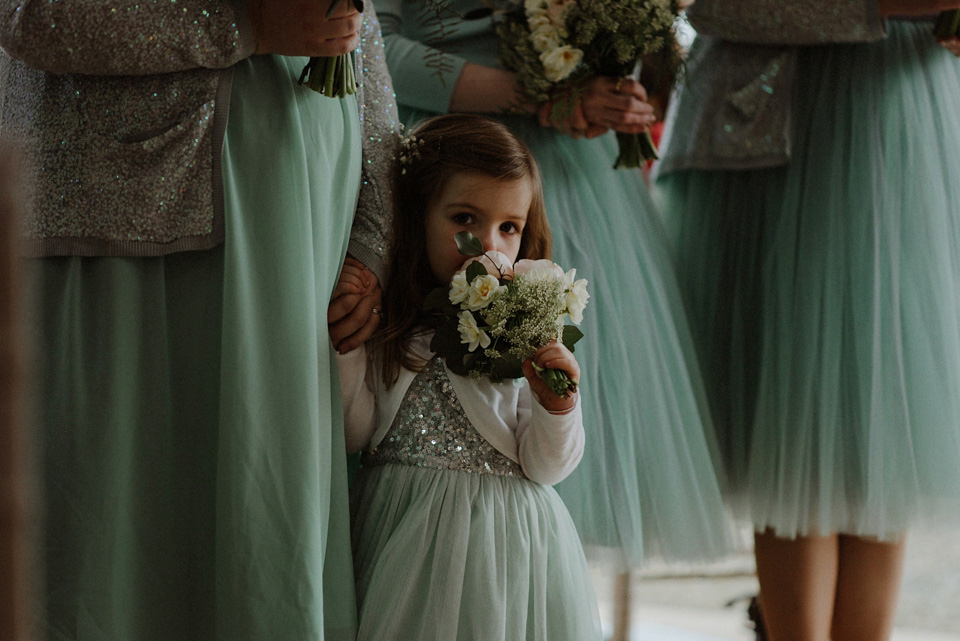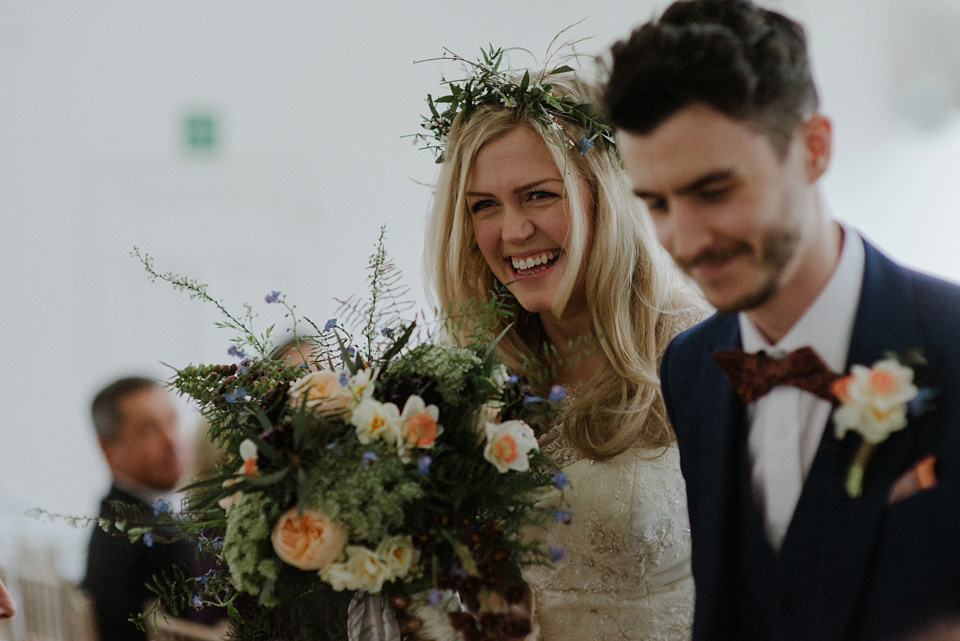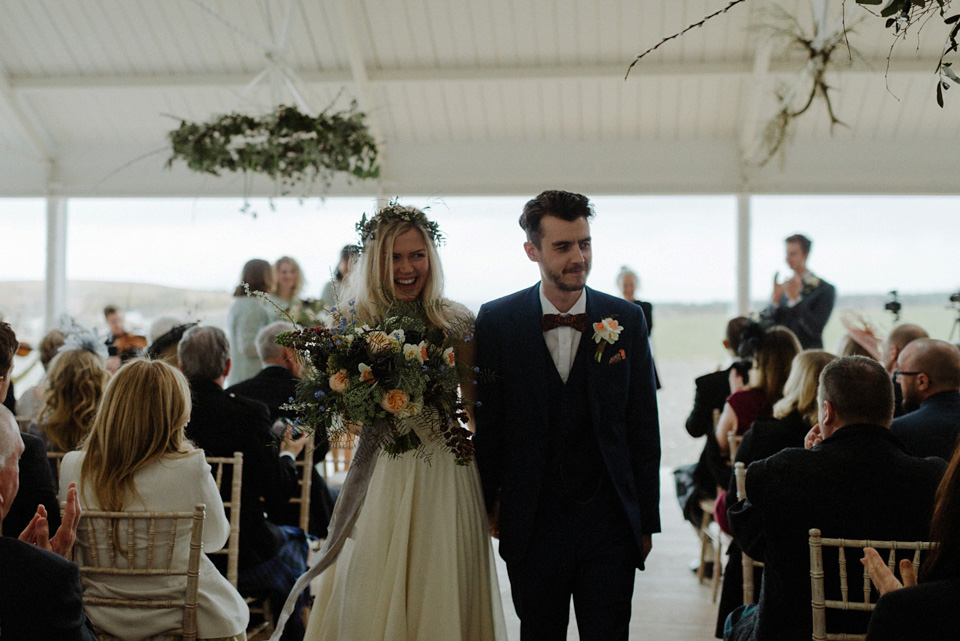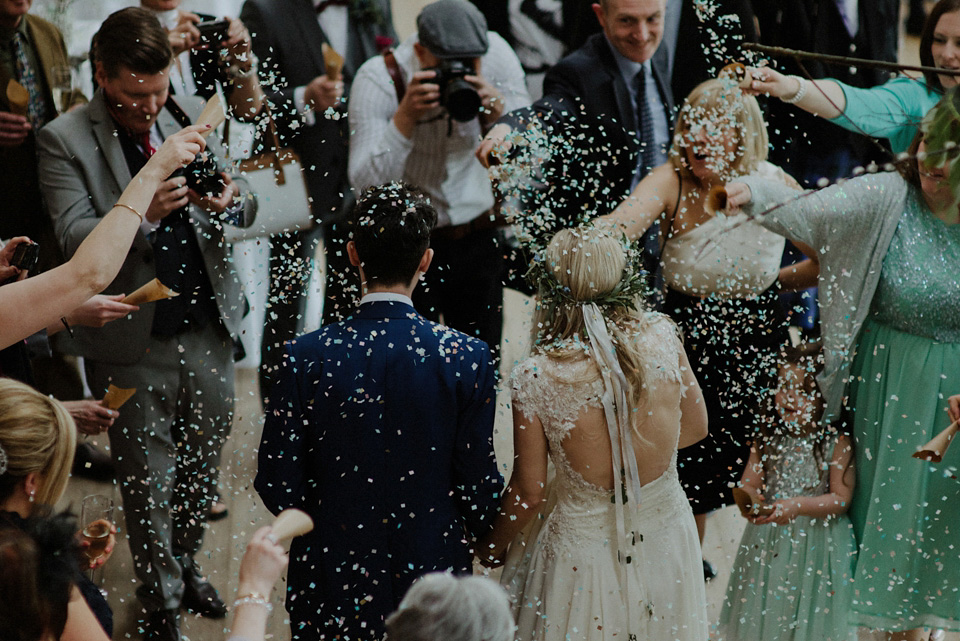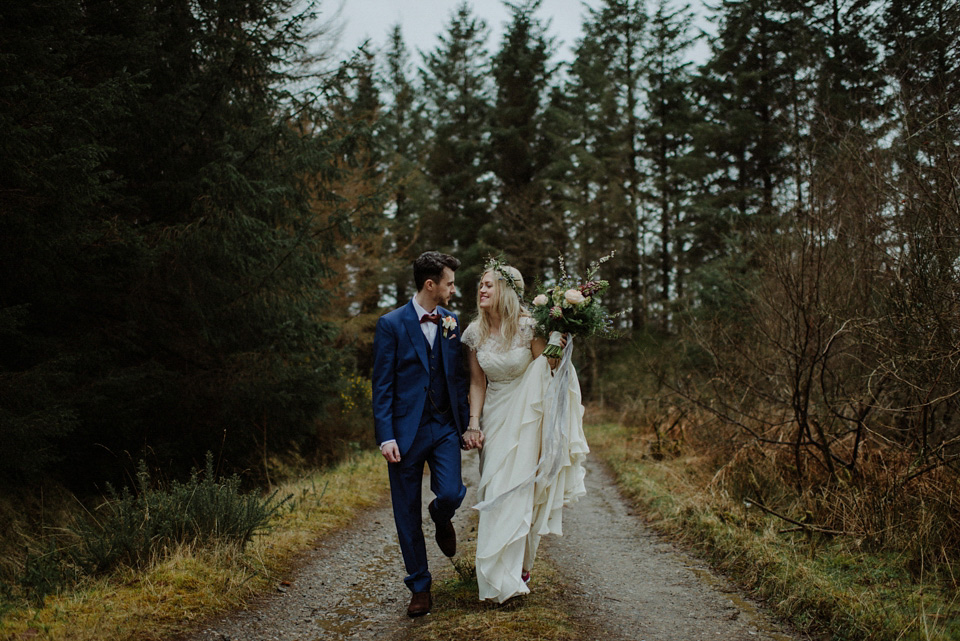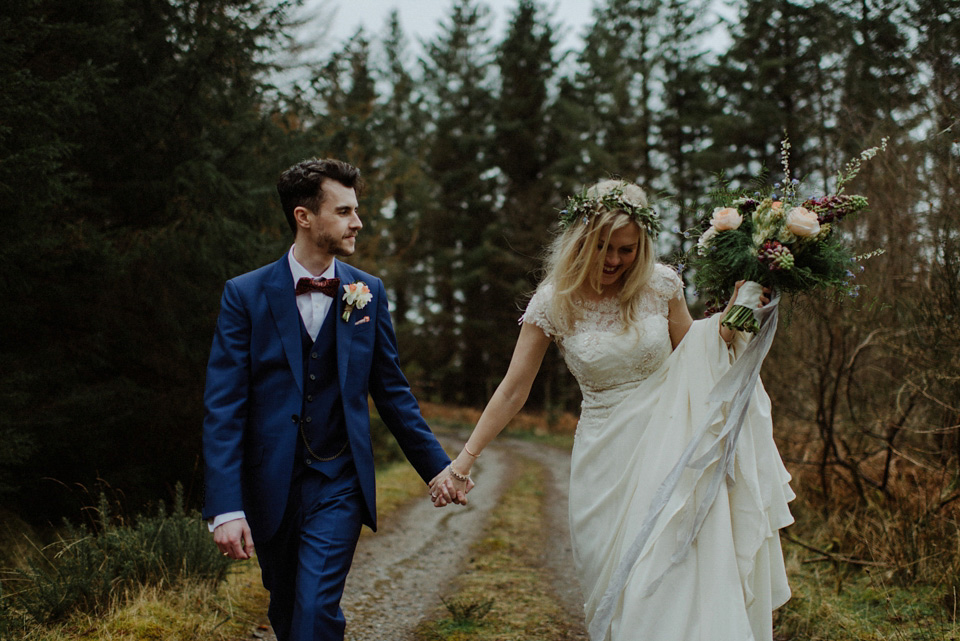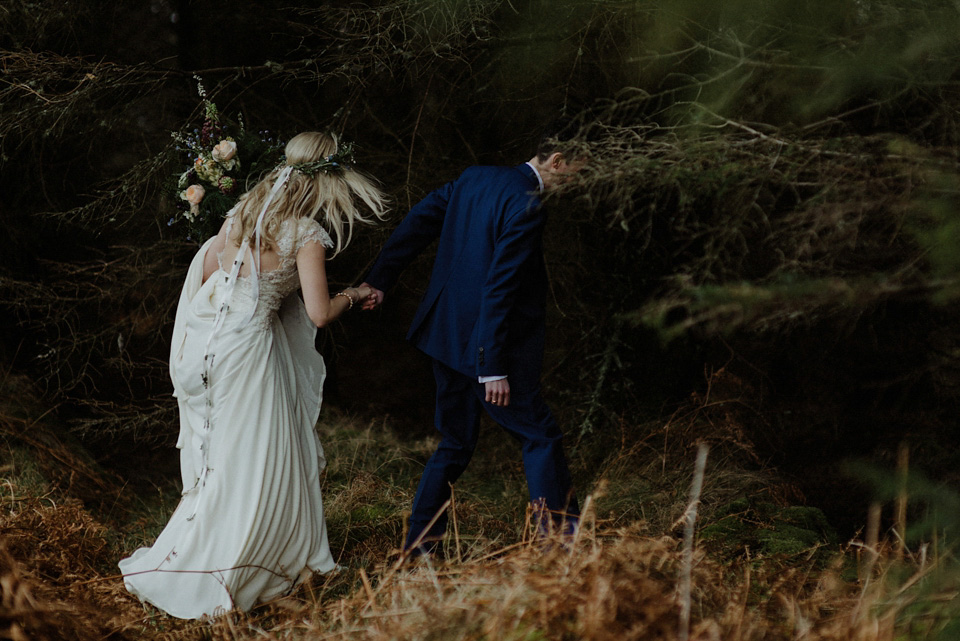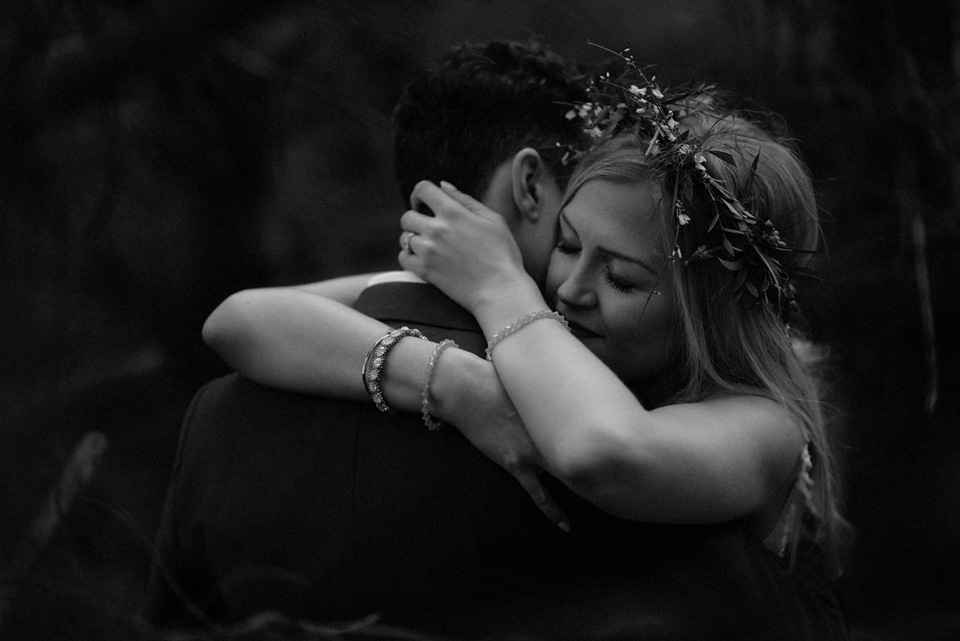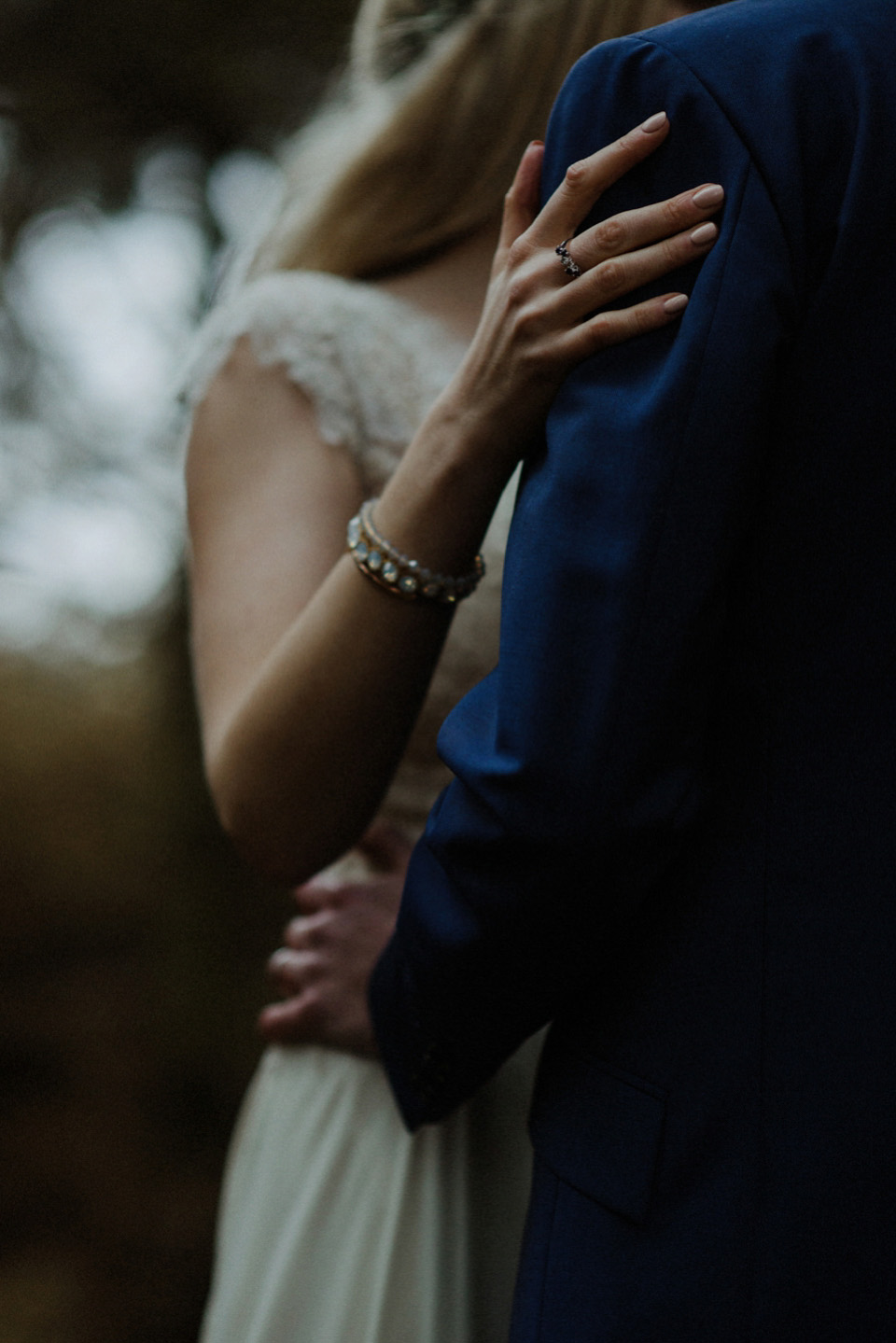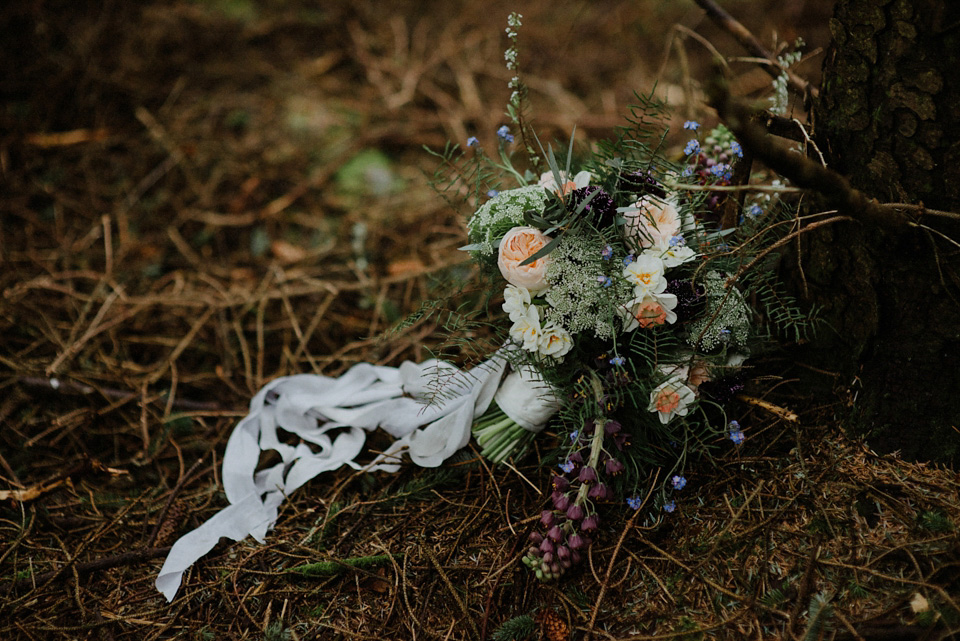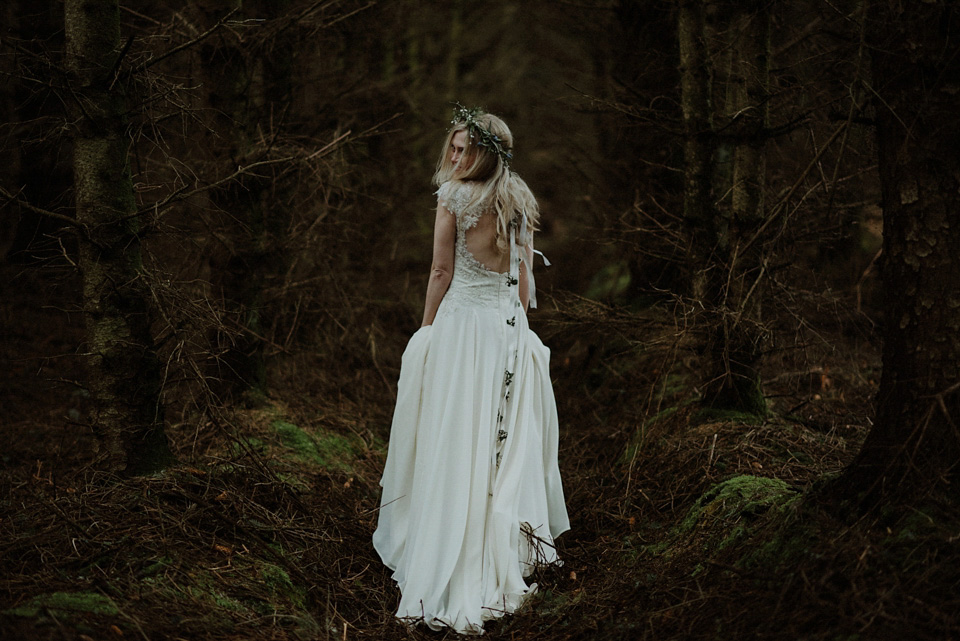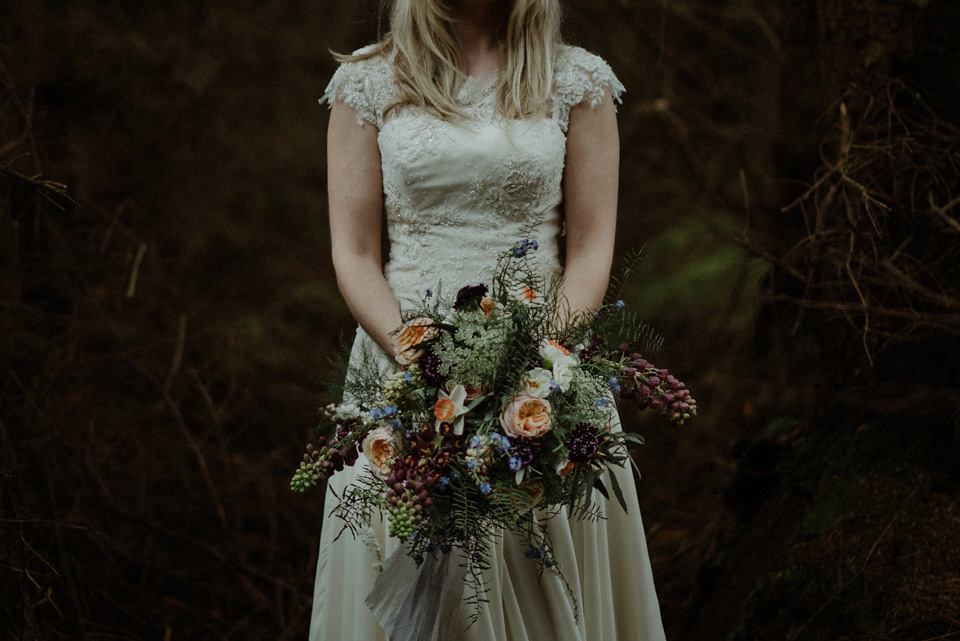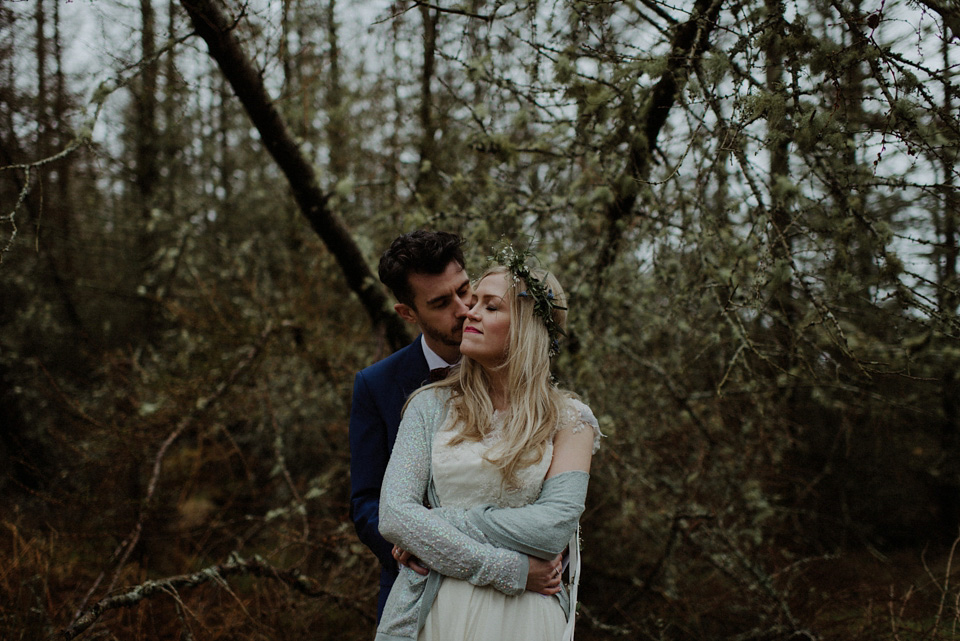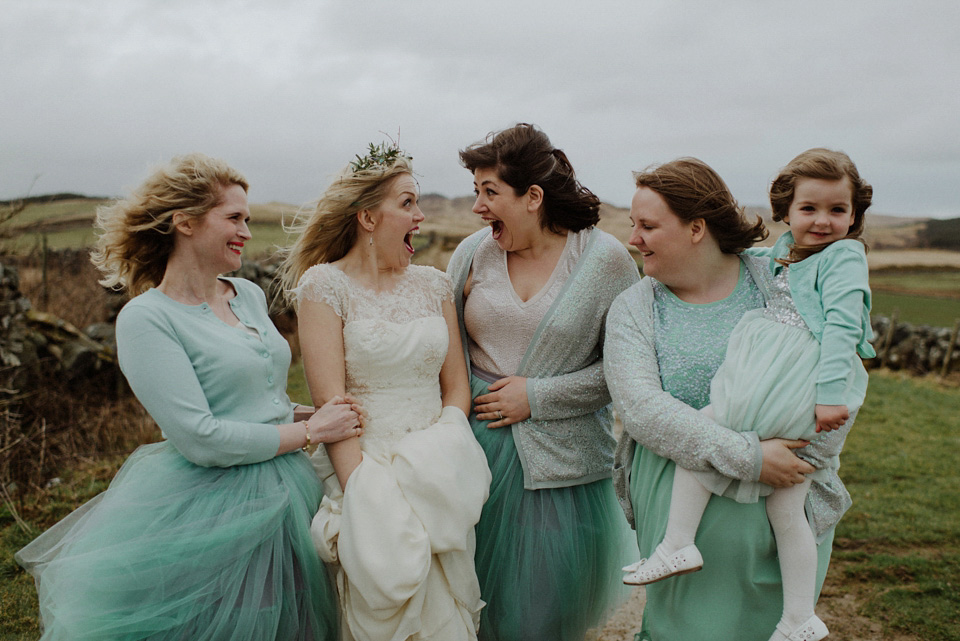 "We let Jonathan's brother Fraser choose his own suit from Reiss, as we were keen that they both wore something different which reflected their personal style. His was another three piece in a really smart airforce blue. It's a keeper! Although, he had more compliments on his truly magnificent best man's speech. My brother, Lewis, who did a sterling job as MC, wore a tweed blazer and kilt from MacGregor and MacDuff."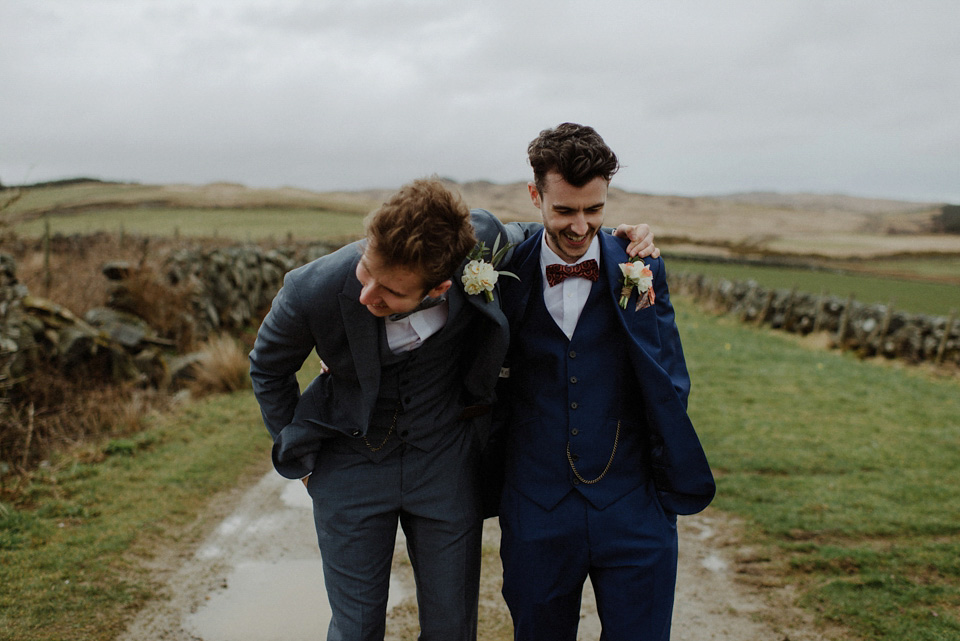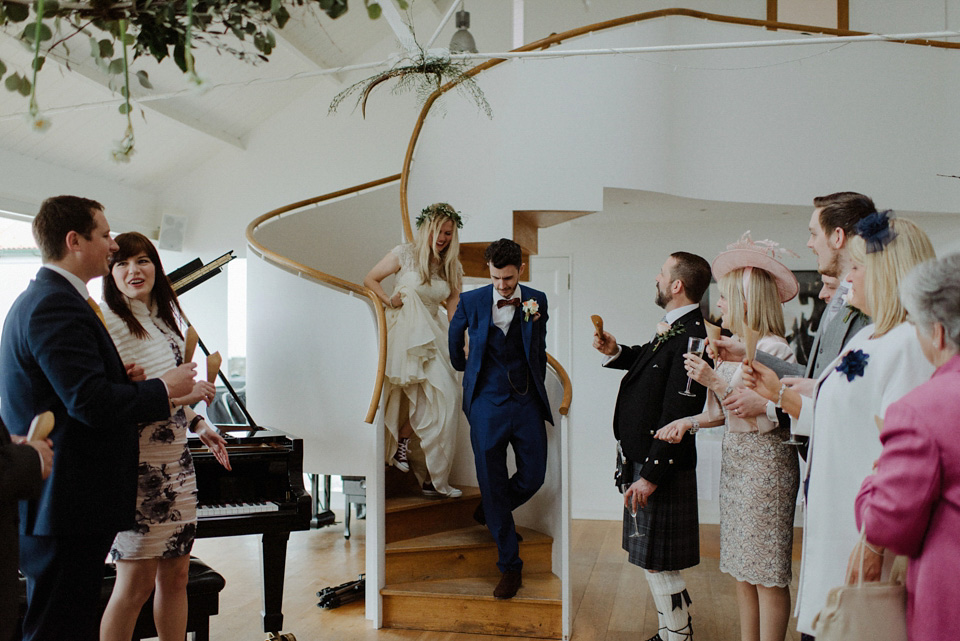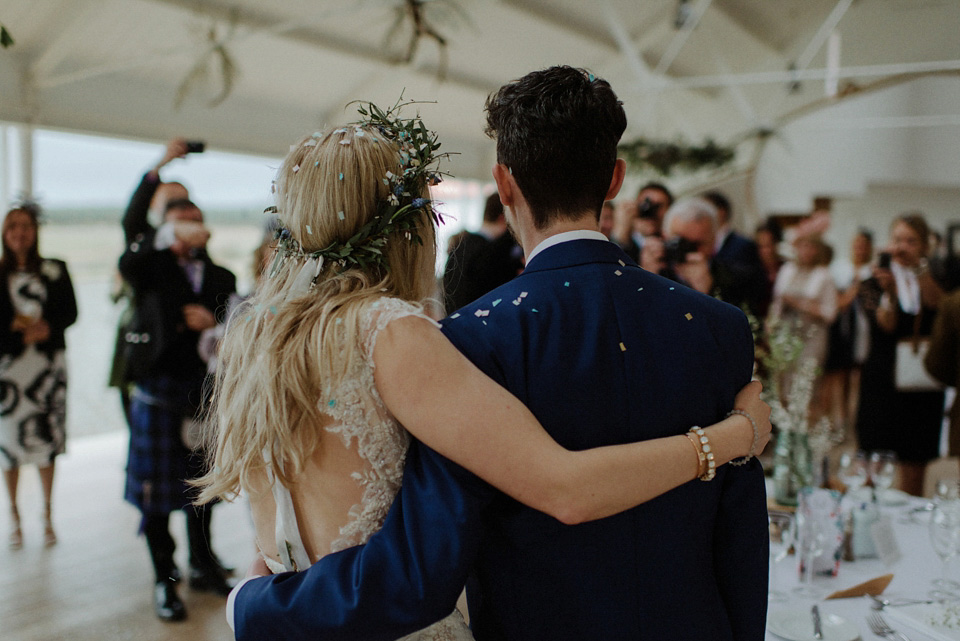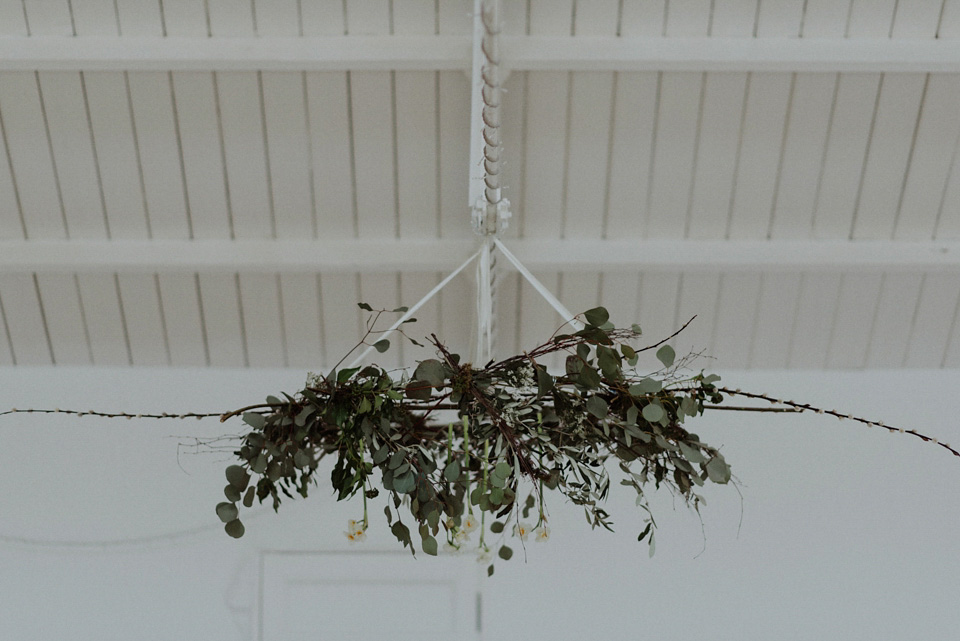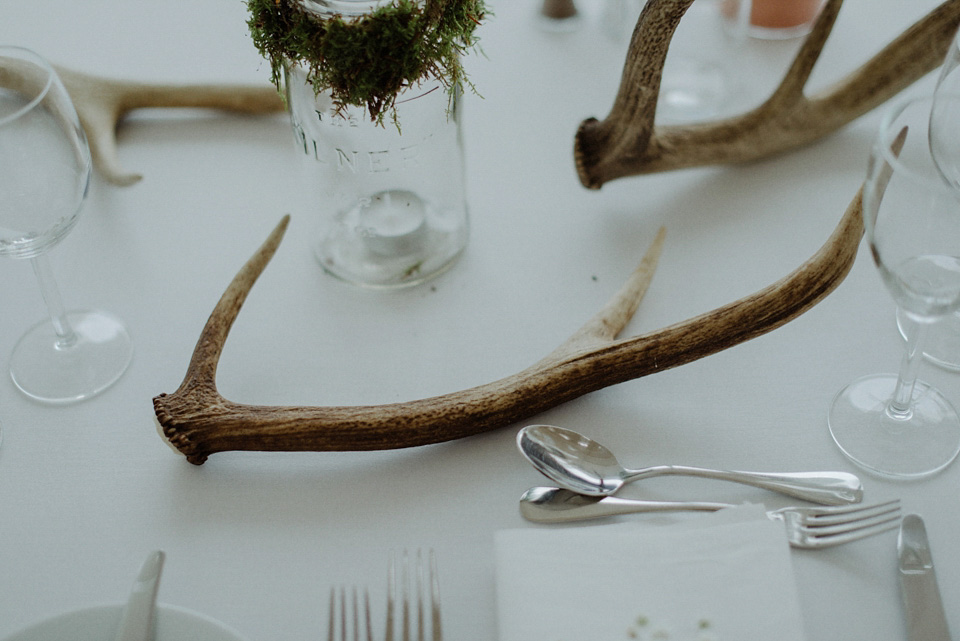 "The catering was provided by the in-house team at Crear, led by the amazing Alan Boslem. During our reception staff circulated the tastiest canapes we've ever had, including my personal favourite of quail's egg with red onion marmalade and bacon bits on a mini bruschetta – YUM!
I managed to scarf down a few of those before we had to sneak off to our forest photo shoot. For dinner we had a warm salad of sea bass with lobster, crushed potatoes, a light garden pea & mint velouté & fine herbs, followed by traditional beef wellington served with forrestier stuffed potatoes and glazed root vegetables in a rich red wine jus. For dessert we couldn't choose between our final two options so we went for a duo of Crear style cranachan with shortbread, and hot sticky toffee pudding with vanilla ice cream & lashings of toffee sauce.
Later in the evening we offered guests stovies and wedding cake to keep them going while the ceilidh band played. We had so many compliments about the food, so we were delighted everyone was well fed!"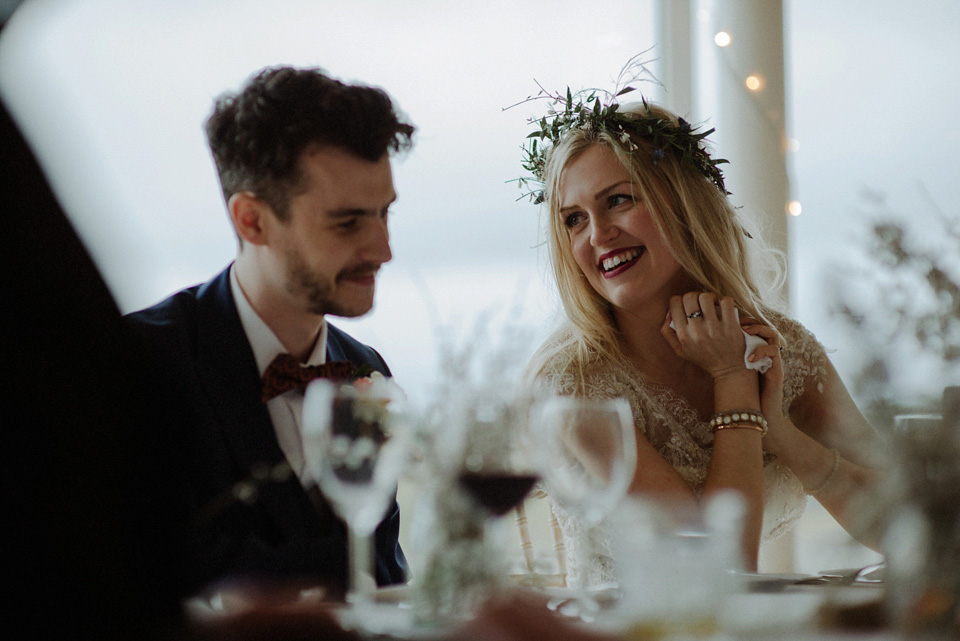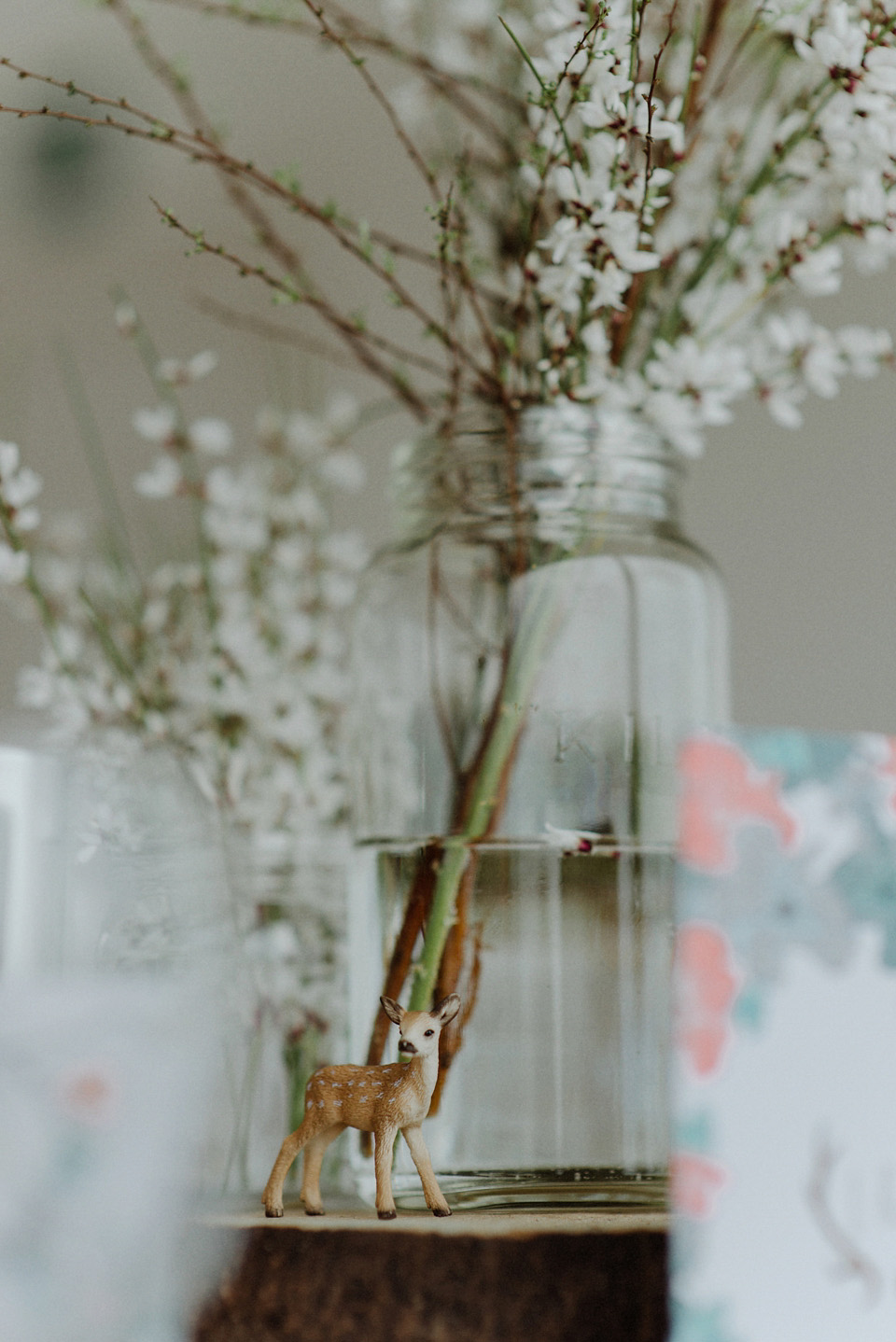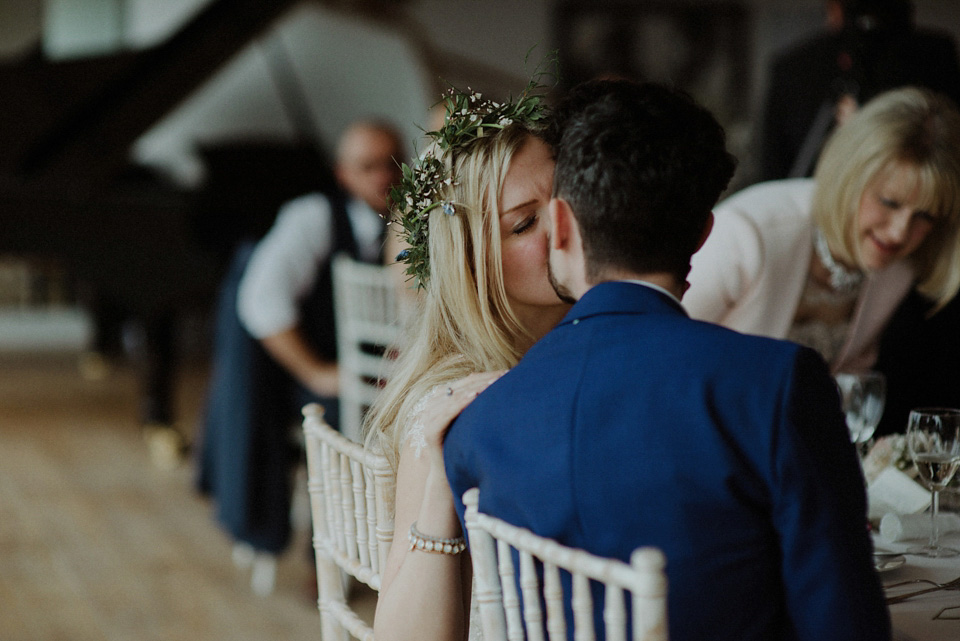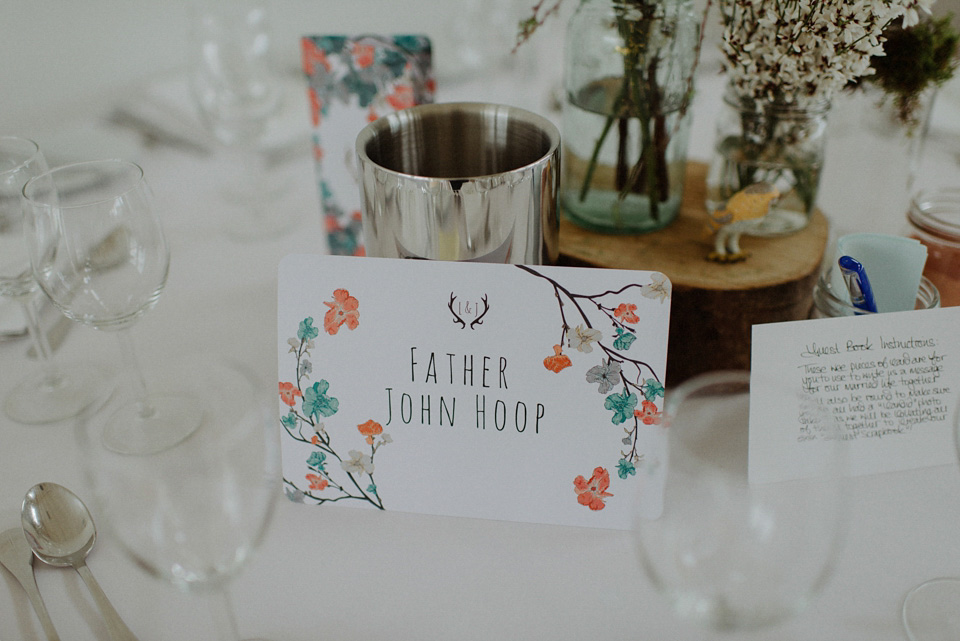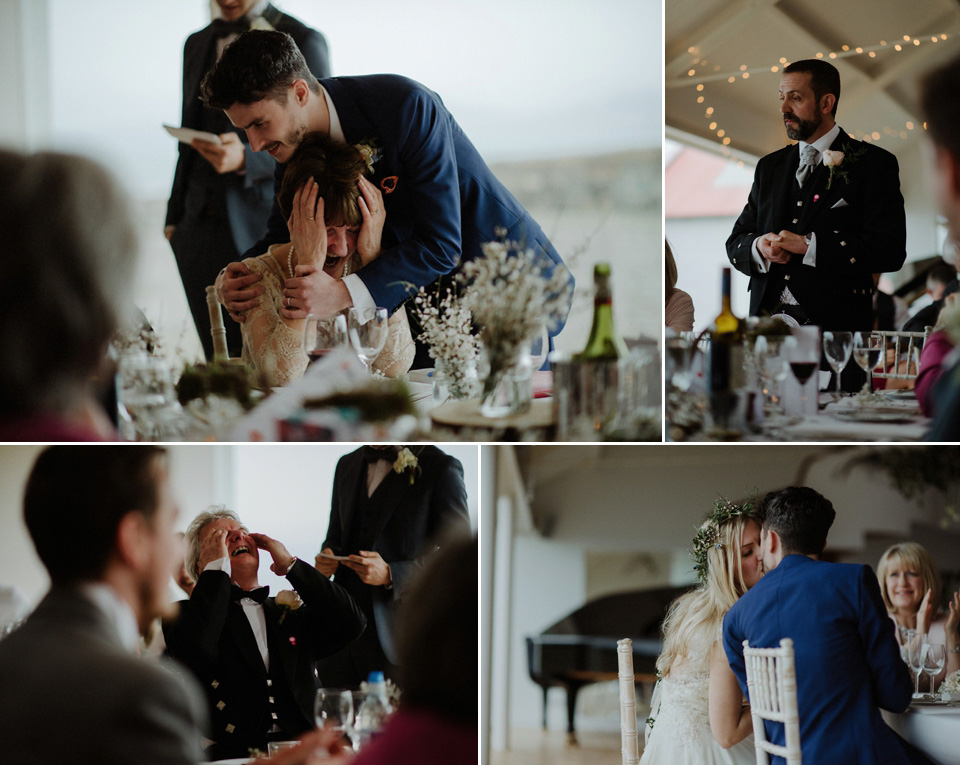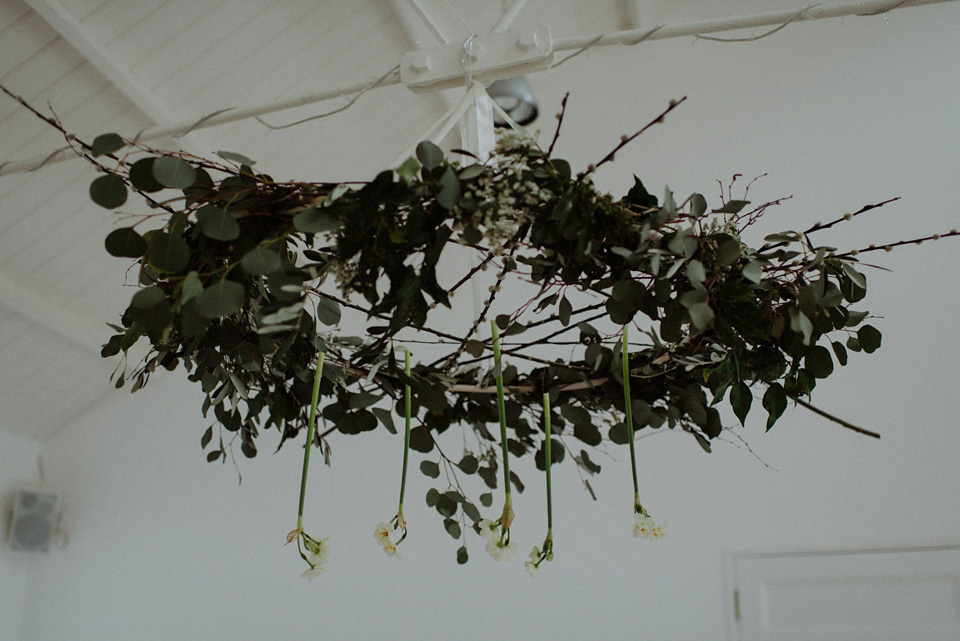 "Our cake was from Big Bear Bakery in Glasgow. We had a simple two-tier sponge with buttercream icing. The top tier was parsnip, ginger and lime (delish), and the bottom was coconut and raspberry (so divine I'm off to buy us a wee one). It went down a storm with everyone and lasted really well! We had the cutest stag and doe cake topper which we found from a shop called WeddingPros on Etsy – it's just the best!"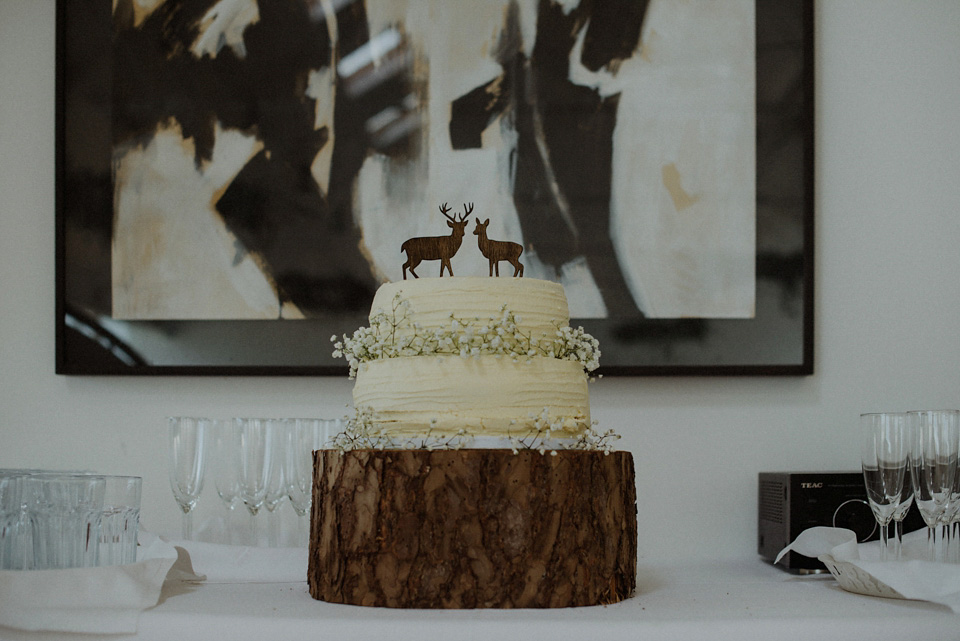 "We decided against favours. It's hard to find anything that isn't really gendered. Whisky for the boys and lipgloss for the girls just seemed really lame, and we also were gobsmacked by the cost of some favour options. We thought the money could be put to better use by a charity, so we donated to Glasgow Women's Aid, who do sterling and essential work supporting vulnerable women, and put their little feminist pin badges on everyone's place setting."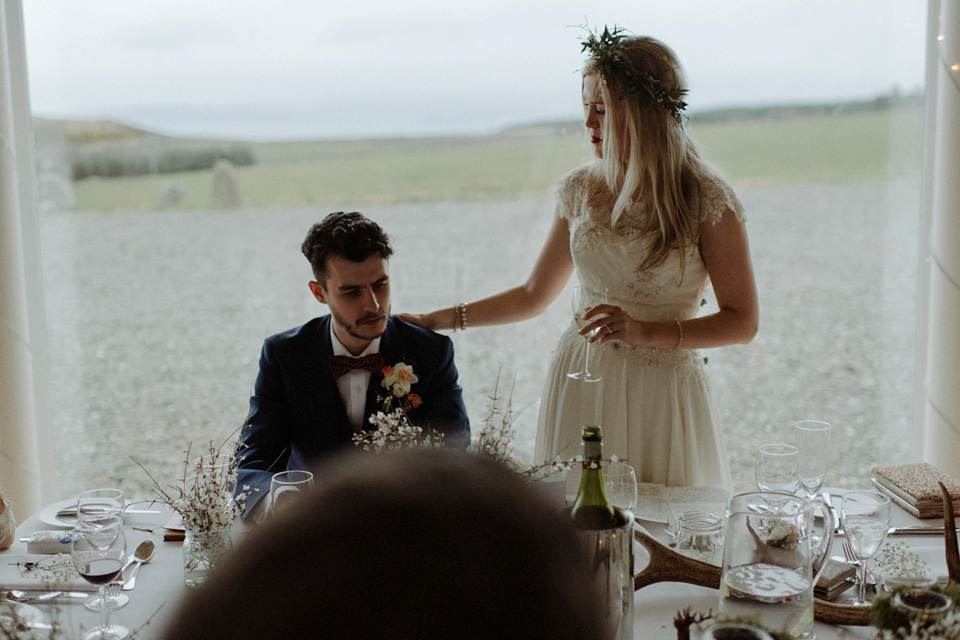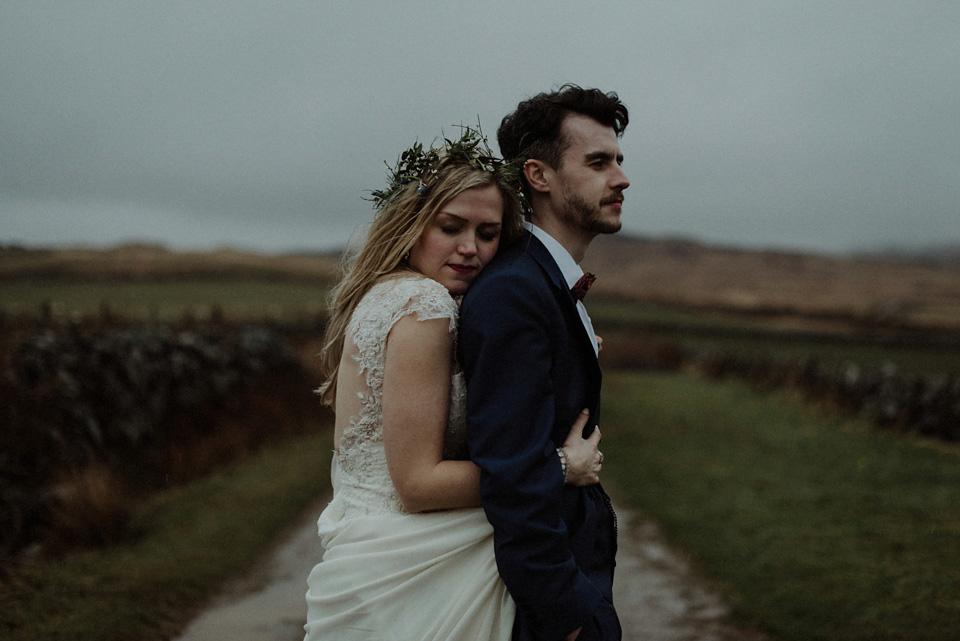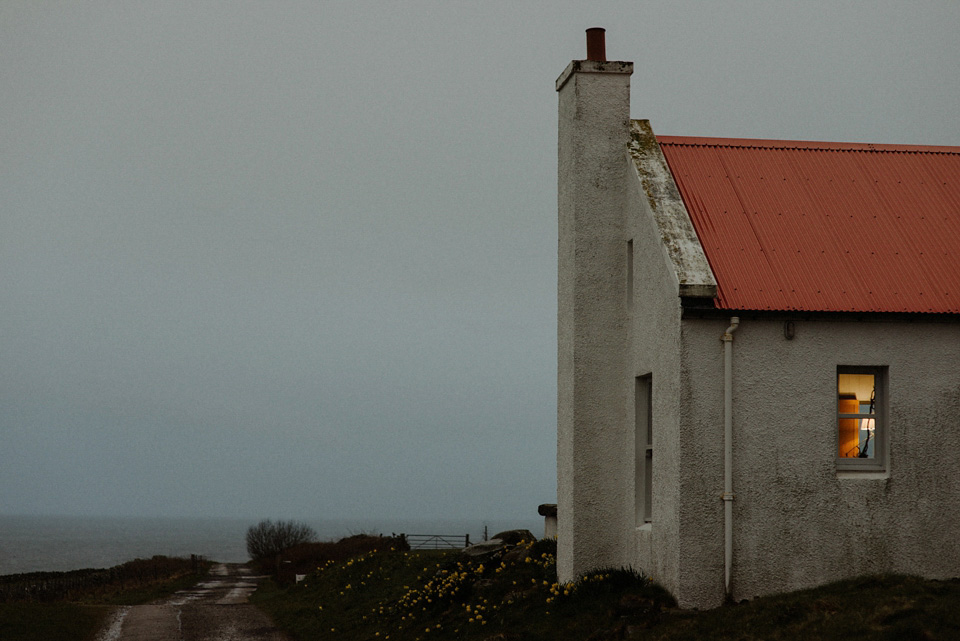 "Our first dance was to Chateau Lobby #4 (In C for two Virgins) by Father John Misty, He is a recent discovery for us both, and we heard this track on the radio just a few weeks before the wedding. We loved how funny the lyrics are, and it's just a really beautiful track, perfect for a first dance!"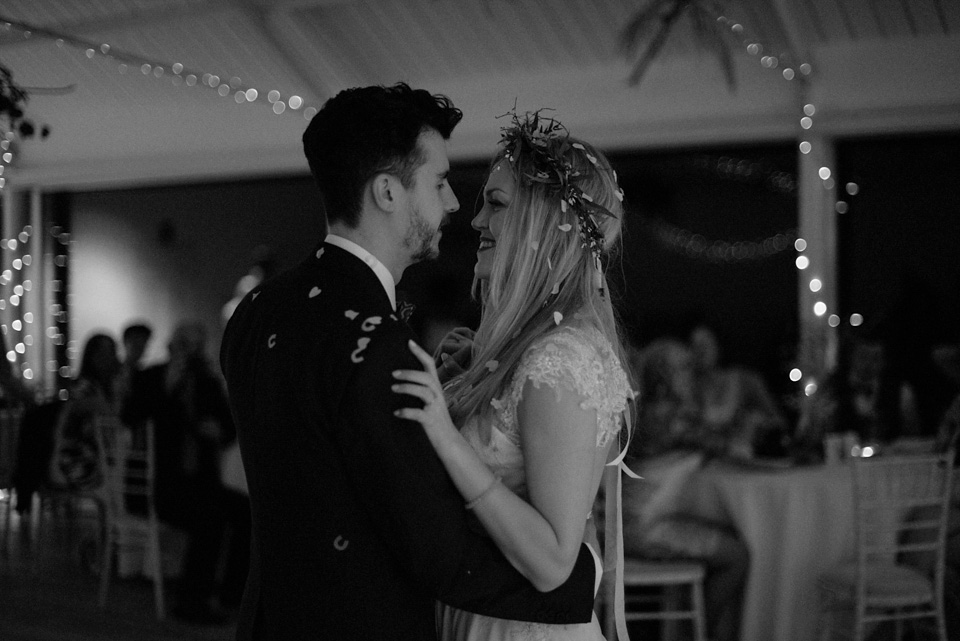 "I didn't look at many blogs other than Love My Dress. Many of the others are based in the US, and while the styling might be nice there's not really much you can steal from a ranch wedding, or suppliers who don't ship to the UK. One place we did get loads from in the Glasgow Wedding Collective. Not a blog, but the most fabulously talented collective of artists and suppliers of all things wedding. All other wedding fairs pale in comparison to theirs, and if you're anywhere near Glasgow (or even if you're not, it's so worth the trip) you need to visit them!"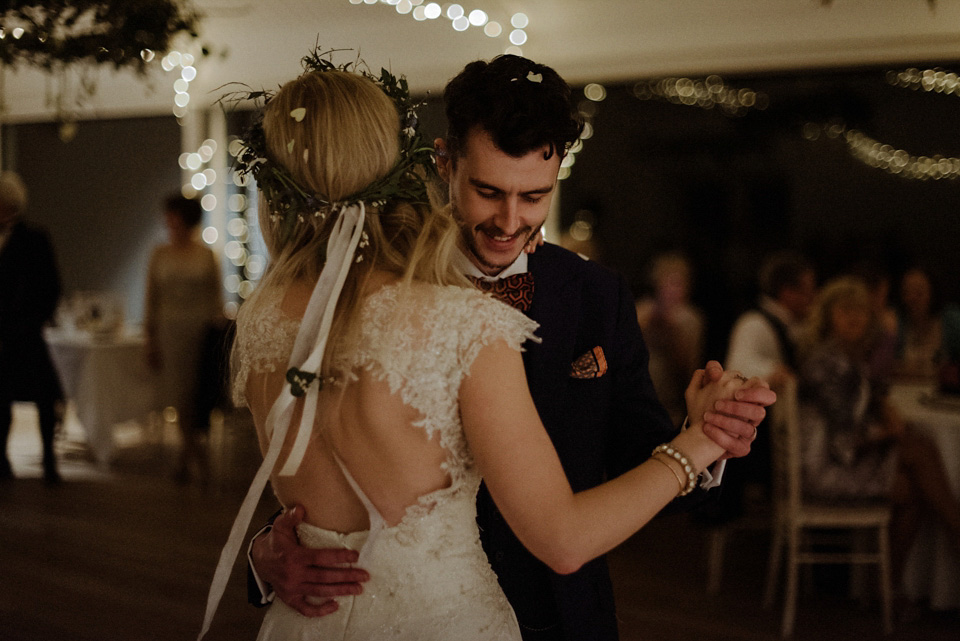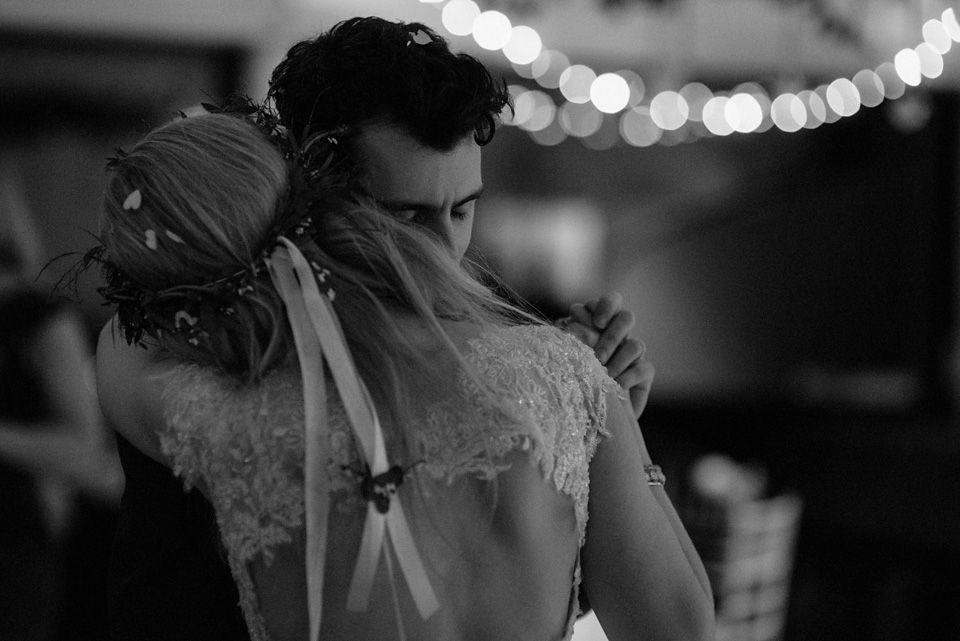 Words of Wedded Wisdom…
"I think it's important to be true to what you want for your day, and to trust your gut on any decisions that you feel unsure of. Know when to hold firm, and when to compromise, because in the long run you'll be thankful you did. Try, try, try to let go on the day and just take it all in. The things you find yourself stressing over will not be the defining memory of your day. Finally, I think one of the most important aspects of your wedding day is the people you surround yourself with. A dear friend told me that the task of the community around marrying people is to care for them, and to leave their love unfettered so that they are protected in a beautiful bubble and can just be in the process together. If you are surrounded by people who truly care for you, all that will matter to them is that you feel loved and supported on that day, and that will be your experience.
Thinking of things we could have done differently, there's not many. I'd probably have checked the venue's PA system, as our playlist did sound a bit muffled, although it certainly didn't spoil our enjoyment. I'd have allowed a bit more time for crafting, as these things always take longer than you expect. Finally, we both had significant challenges present to us around the wedding, in relation to people we had given significant roles to reflect our past friendships."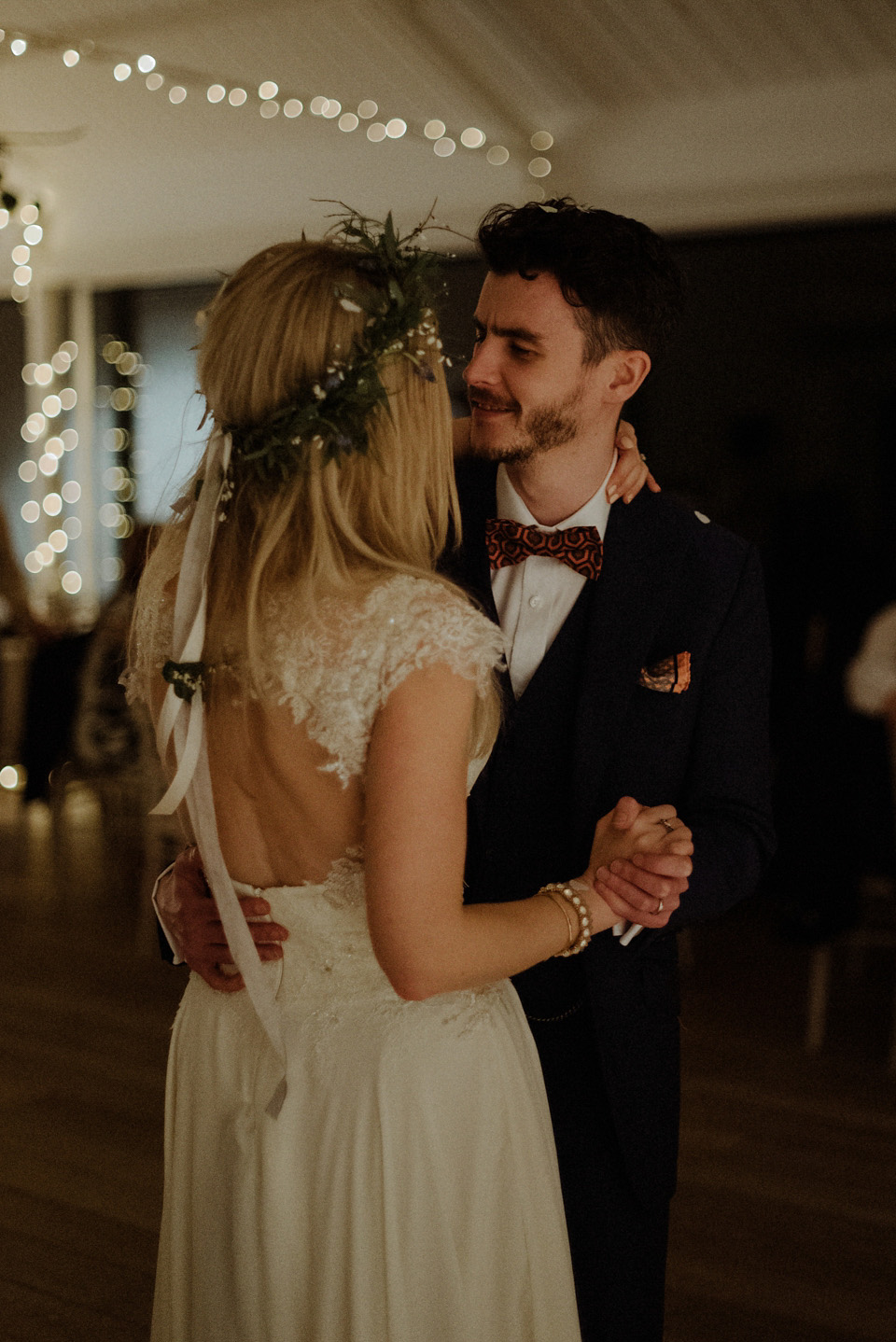 "I think if we'd known before the wedding how each situation would play out we might have made different decisions. Having said that, I feel like the challenges themselves have actually presented us with a real opportunity for clarity, and the things in life that are the trickiest to navigate are those that have the most to teach us.
Love and thanks to our awesome parents, who were so supportive throughout. Seeing how happy they were on the day was just so wonderful; it shines from every picture and that means the world to us. Also to my darling Granny, who had heart surgery just ten days after the wedding and is blowing everyone away with her speedy recovery. She's a tough cookie!
Also, while getting ready I wore an amazing fringed kimono from Girl on a Vine. I felt like Stevie Nicks swirling around in it! "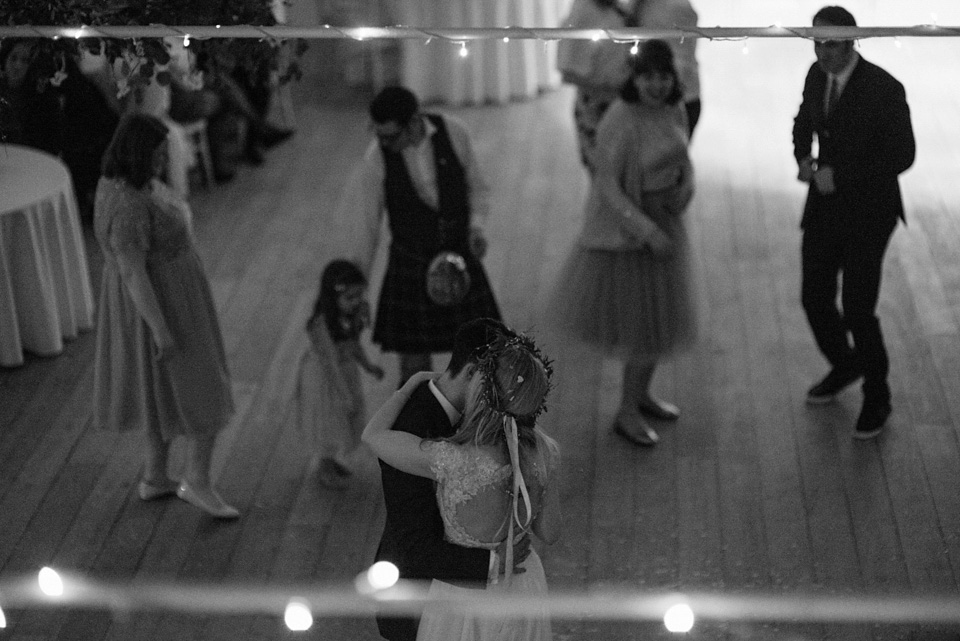 It feels like there are no words adequate enough to end this feature to be honest. I want to thank Lindsey with all my heart for volunteering her time to write for Love My Dress as a member of our Lovetes team, and for her kind and encouraging words about the blog (means the absolute WORLD Lindsey, I can't even tell you). But more than anything, I really want you to be able to truly appreciate this beautiful day, the sentiment and heart that went into it, and remind yourself what really matters when planning a wedding.
My immense thanks as always to Dylan and Joanna of Kitchener Photography – two of my absolute faves.
Just a little reminder that you can read all of Lindsey's Lovettes features for Love My Dress here.
Be inspired all,
Love Annabel xx
Photographer – Kitchener Photography
Film – Worldly Nomads
Venue + Catering – Crear, West Coast of Scotland
Wedding Dress – Rowanjoy
Floral Circlet – Myrtle and Bracken
Shoes – Rachel Simpson
Accessories – bracelets via Rene Walrus + rose gold cuff via LotusStone on Etsy
Perfume – Portrait of a Lady from Frederic Malle
Grooms Suit – Reiss + bowtie via The Vintage Beau on Etsy
Bridesmaids – Nougat London (cardian), Fanfaronada (skirt), Reiss (top), ASOS (dress)
Flowergirls – Monsoon
Florist – Myrtle and Bracken
Cake – Big Bear Bakery in Glasgow + topper by WeddingPros on Etsy
Transport – West Coast Motors
Entertainment – The Dotted Crotchets + the Kinloch Ceilidh Band
Rings – James Porter & Son in Glasgow's Argyll Arcade
Stationery – Skinny Malink
Hair Stylist – Marc McCune via Eutopia (Glasgow)