Good morning all! Sometimes a wedding arrives in my inbox that turns me green with envy and this is most definitely one of them.  The venue, the dress, that Hollywood inspired glamour and the photography – everything is just incredibly gorgeous and so very classy.
Photography by Lisa Devine, assisted by Lucy Little Photography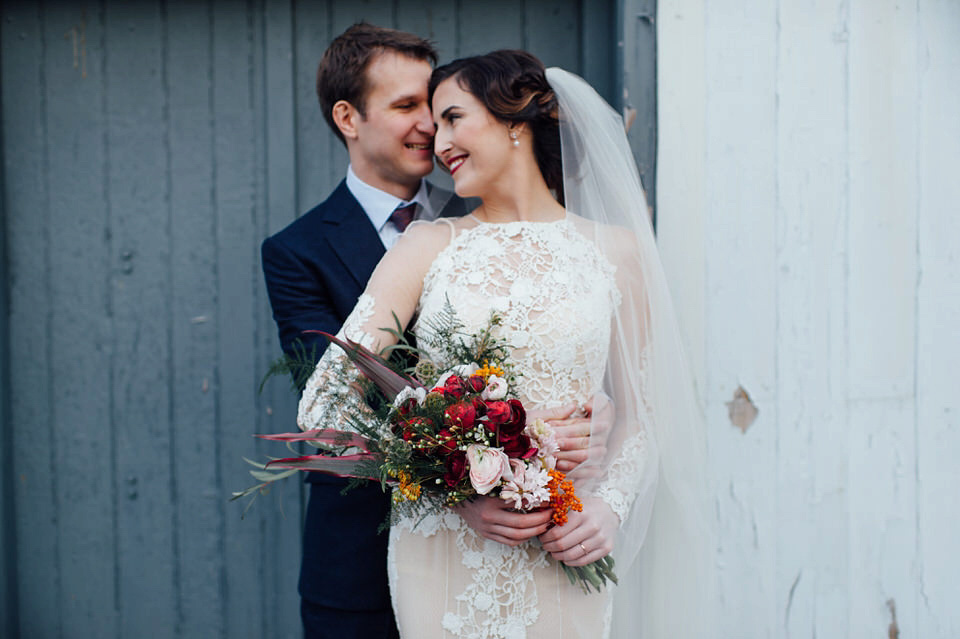 Real estate financier Kerry, and her partner Graham, a banker, married in the most gloriously sumptuous winter wedding at Mount Stuart on the Isle of Bute, Scotland in February this year, captured in some utterly gorgeous images.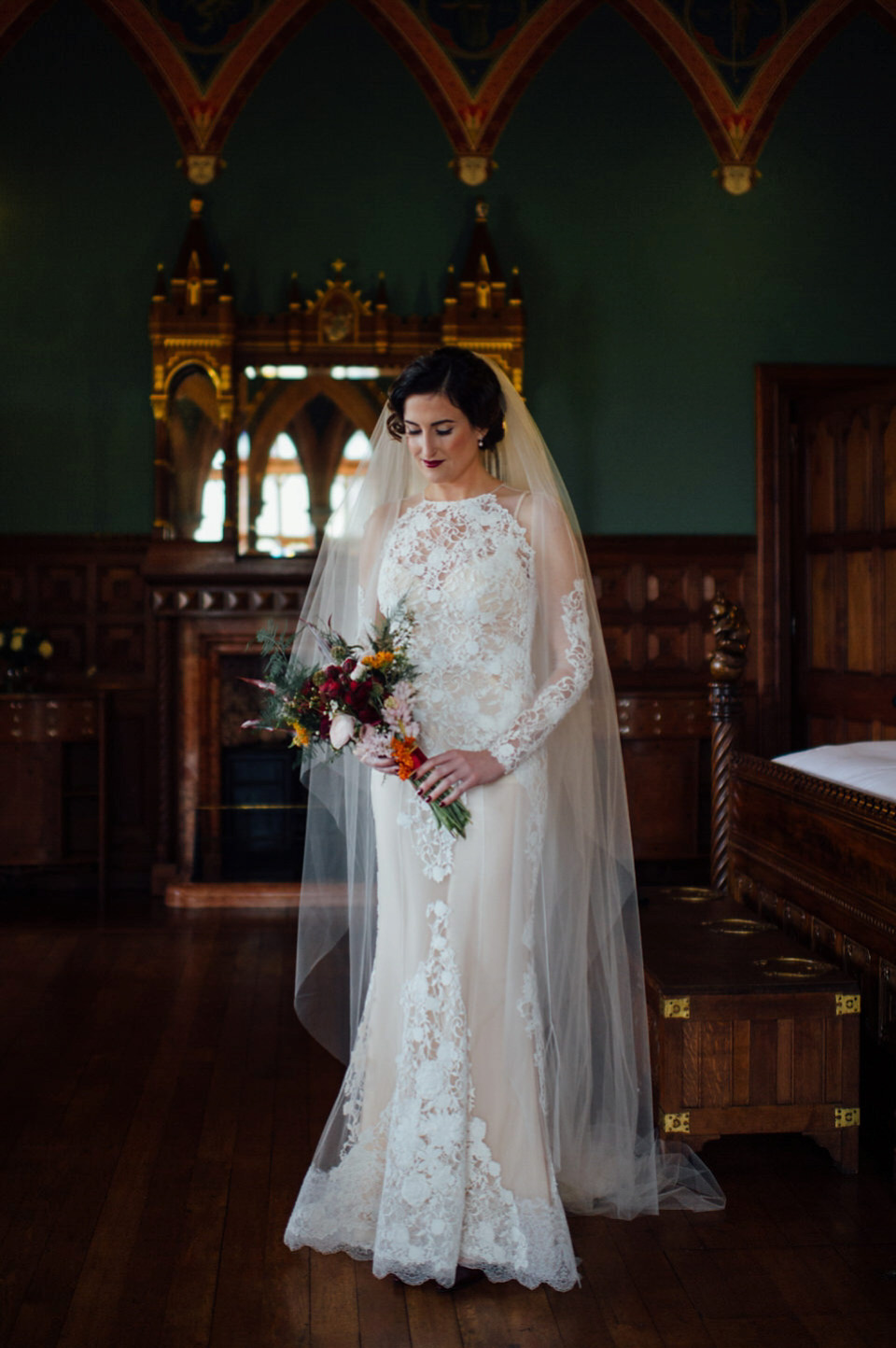 "We choose burgundy as a colour we both love that would look beautiful against the marble and decor of the venue and we kept decorations simple, focusing on flowers, candles and tables centre pieces."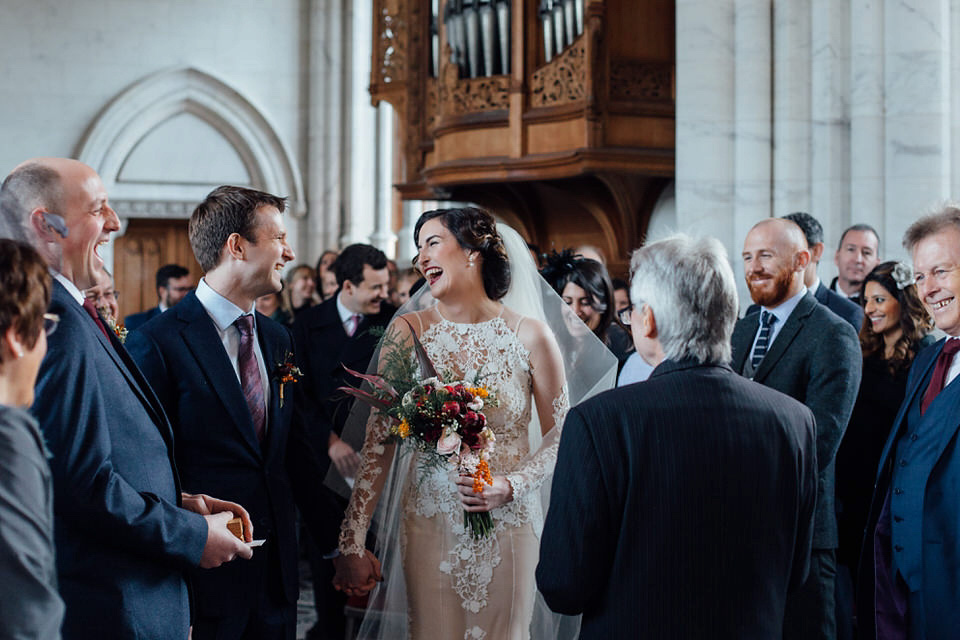 "The venue is so beautiful we wanted to make sure that our styling complimented the wonderful surroundings rather than covered them up."
Mount Stuart, Kerry and Graham's venue of choice, really is one of the most stunning places I have ever seen- I would so much love to visit. The gothic archways, the huge windows, the private chapel and open fires…. Just incredible.
"Graham's family are from Scotland and we have loved spending time up there over the years.  We both love the outdoors and the landscape in Scotland is so beautiful we both knew we wanted to get married up there.  We knew we'd have around 120 guests and set out to find a venue that could seat this many for dinner indoors (we weren't brave enough for a marquee in Scotland in February!).  When we first did the trip over to Bute, arriving by ferry and coast road, we fell in love with the adventure of it, but it was the venue itself that really sealed the deal."
"When we saw the venue for the first time it took our breath away.  The setting, the building, the décor were all beyond anything we could have imagined.  Mount Stuart is a magical place.  The venue lit all the open fires and, with the burgundy colour scheme, we were able to create a really warm and cosy environment (to offset the freezing temperature!)."
"Graham and I met through a mutual friend.  We both worked for the same company at the time, although in completely different teams.  We were friends for a number of years before we officially became a couple- I don't really know what took us so long!  We had always talked very openly about marriage but the proposal took me completely by surprise.
Graham proposed in Japan where we were visiting friends in Tokyo.  We took a few days out to go skiing, just the two of us, and Graham proposed on our last day just as we got back from the slopes."
These beautiful images are the work of the wonderful Lisa Devine, and her second shooter, Lucy of Lucy Little Photography, both of whom have previous Love my Dress exposure- Lisa here and Lucy here.  I just love the crispness of the shots and the intense colour throughout.
"We found Lisa through the Glasgow Wedding Collective and fell in love with Lisa's relaxed, stylish and beautiful photography.  She was so supportive in the build up to the wedding. We visited Lisa at her home, where she took the time to get to know and understand Graham and I and our plans for the day. As Lisa hadn't photographed the venue before, she also took the time to come over to the Island a day early to visit the venue and scope some potential spots for outdoor photographs, and found some fantastic spots that we hadn't even noticed before!
By the time the day arrived we'd already built up a great relationship with her and it was a genuine pleasure to have her with us throughout the day. The photos perfectly capture the spirit of the wedding and are absolutely beautiful."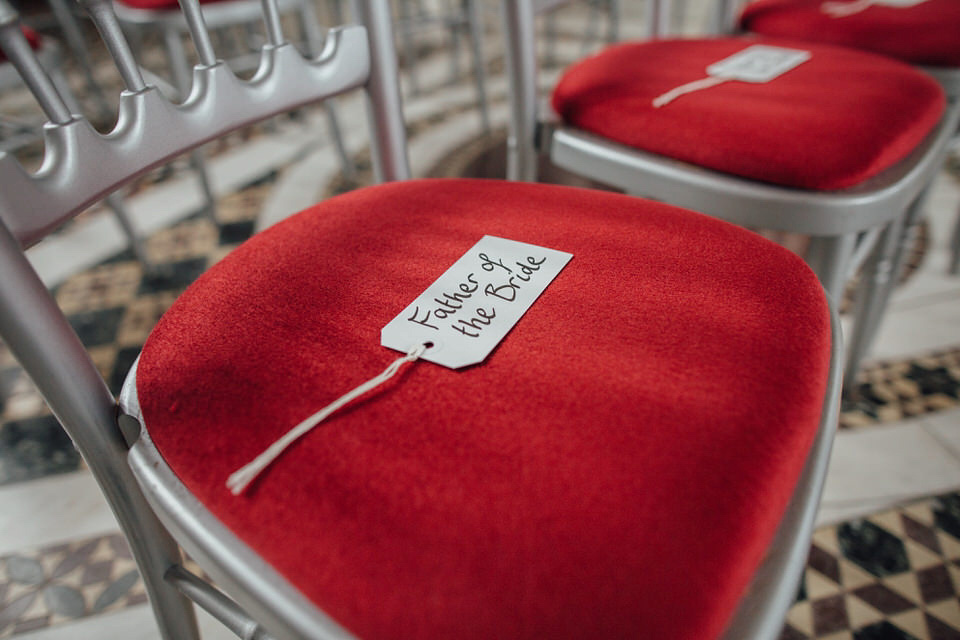 On her feet, Kerry sported a gorgeous pair of Kate Spade shoes, and to accessorize, a pair of earrings which were a gift from Graham on the morning of the wedding.  She kept her accessorising to a minimum, as the dress itself is so stunningly detailed, but chose a memorable scent to finish the dressing process- Oud Royal by Giorgio Armani.
"I wanted a strong but beautiful scent that was different to anything I would wear day to day- something unique that both Graham and I would associate with our wedding day going forwards.  I fell in love with this fragrance straight away and when I use it now, for special occasions, it brings back wonderful memories of the day."
The bridesmaids complimented the venue colours, the season and even Kerry's lipstick, in their full length, long sleeved burgundy dresses, purchased from MyGown, via Etsy, teamed with shoes from Kurt Geiger.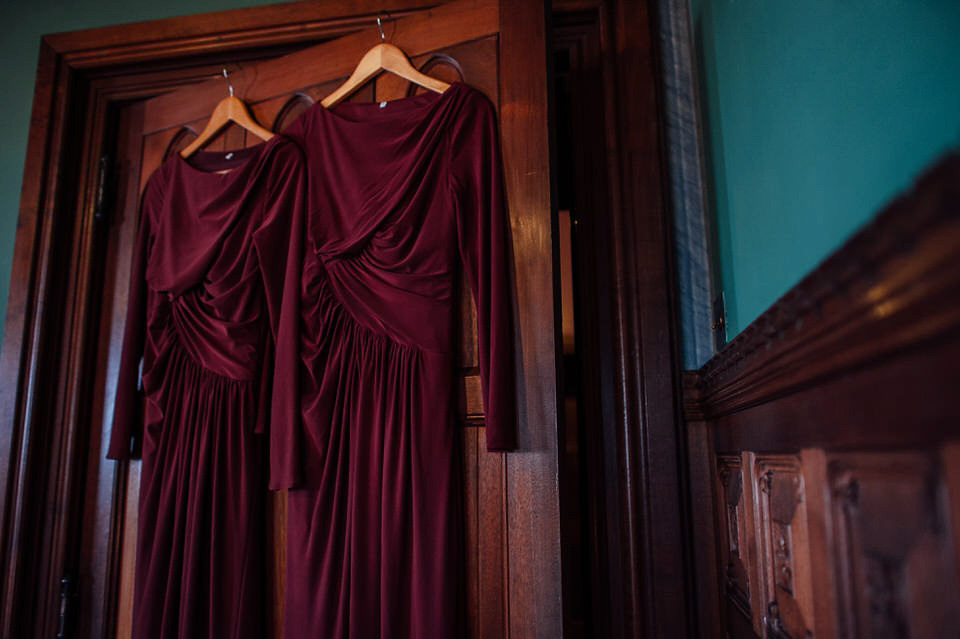 Kerry's hair and makeup was done by the talented Laura Gray, and she looked every inch the Hollywood siren.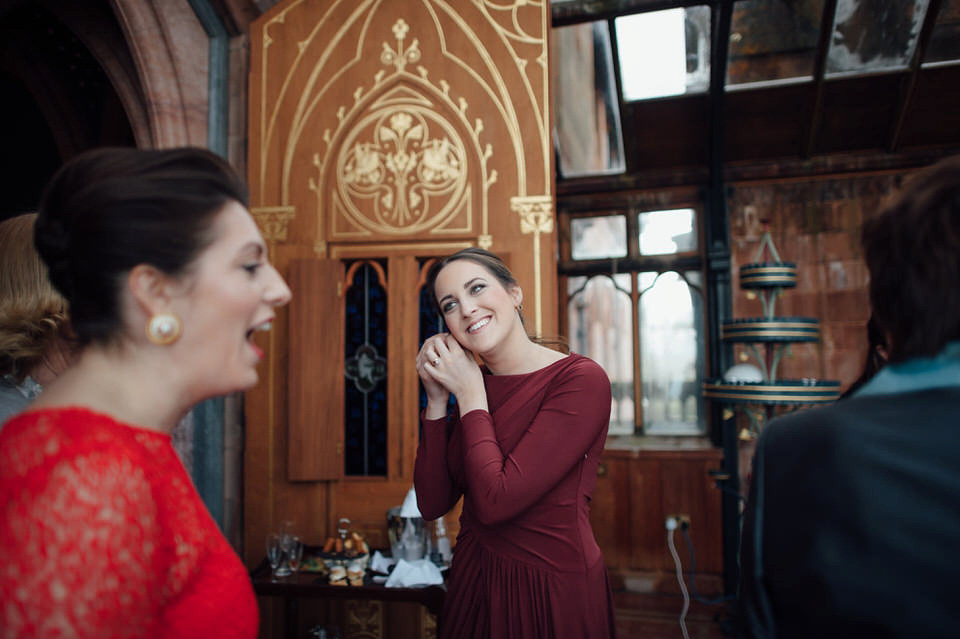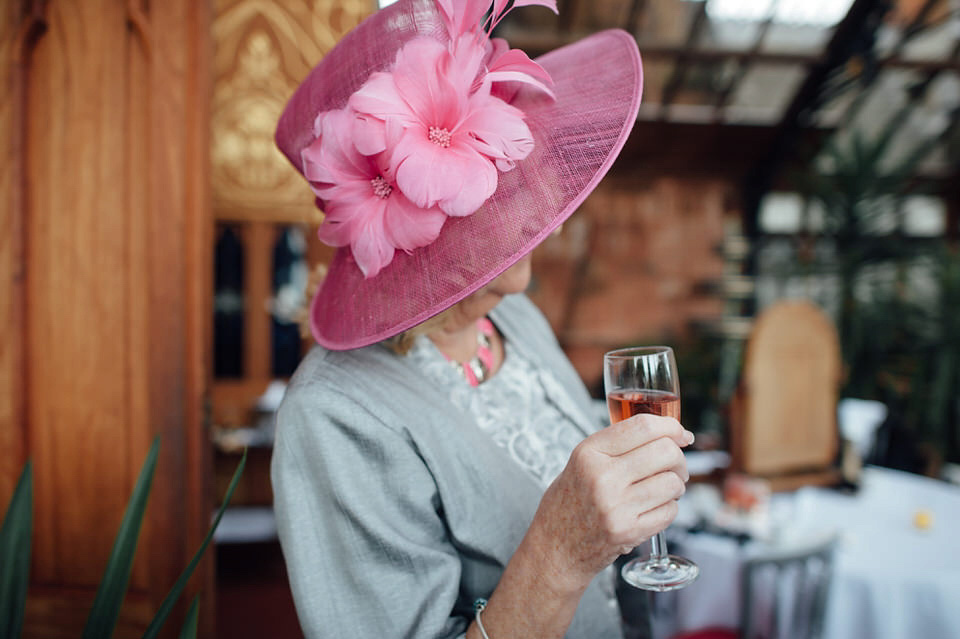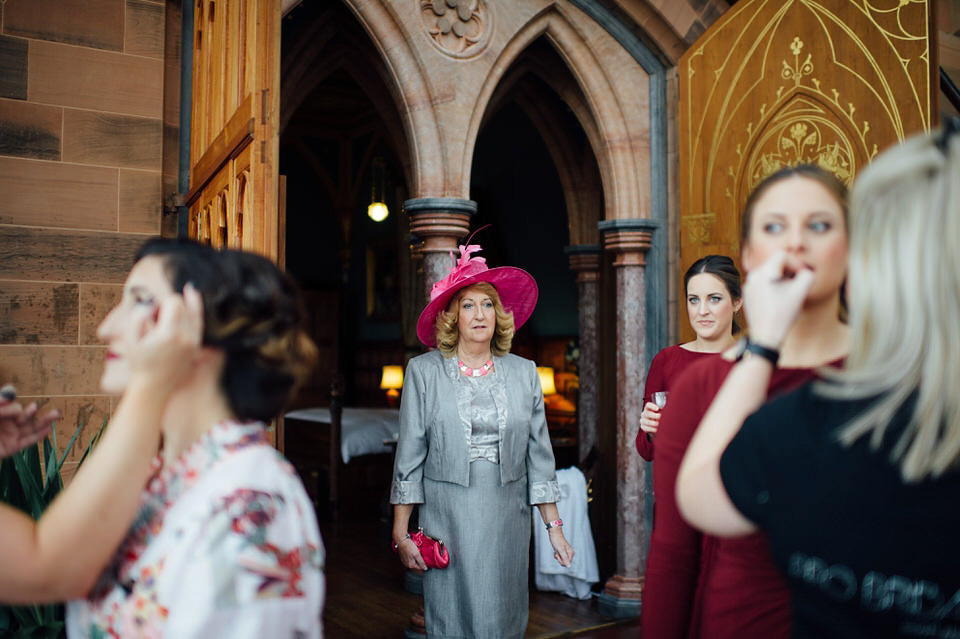 Kerry wore an incredibly elegant and glamorous gown from Barcelona based designers YolanCris, purchased from London Bride Couture.  The shape is just divine and the lace overlay detailing so delicately beautiful.
(Annabel profiled the YolanCris 2016 Collection while in Barcelona as a guest of Jesus Peiro and its well worth a look)
"I had absolutely no idea what I was looking for until I stumbled upon this dress!  I had been to a few bridal shops and had tried on a huge range of styles and fabrics, but nothing really grabbed me.  I had a vague idea that I would like long sleeves (weather appropriate for a winter wedding in February!) and I knew I wanted something that felt a little different, but I really had no fixed idea of style or shape.  When I first saw the dress I almost passed it straight by- it was only upon the shop managers prompting that I gave it a try and I fell in love with it straight away."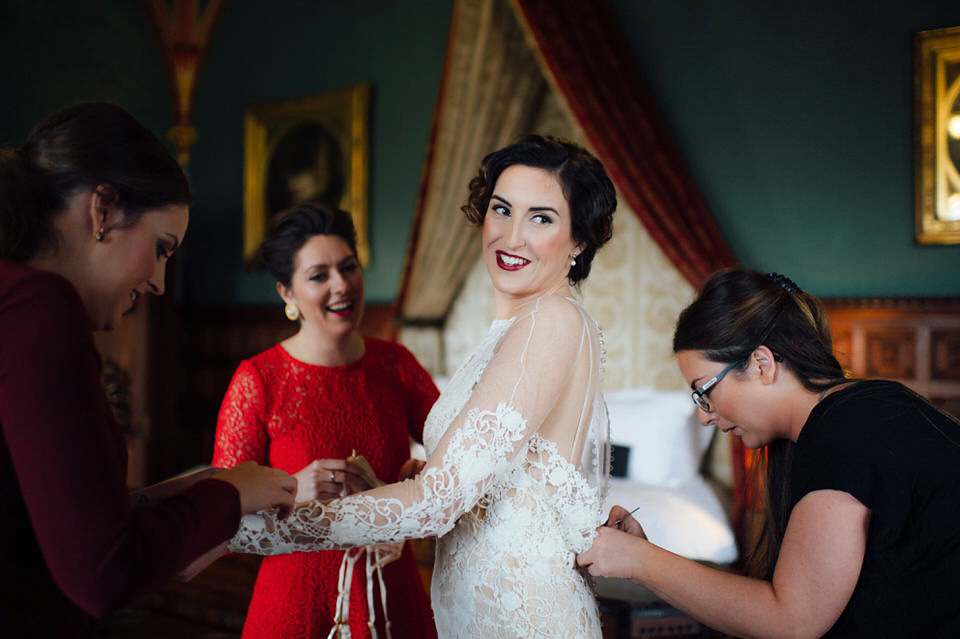 "The dress felt glamorous without being revealing and I loved the fact that I'd never seen anything like it. It made me feel like a superstar!"
The flowers speak for themselves really- just beautiful, and all the work of Kerry's multi talented sister, Lucinda Noonan.
"We went to Covent Garden Flower Market in London a week before the wedding to choose the flowers and Lucinda and her boyfriend then them all the way from London to the Isle of Bute, which is really going above and beyond the call of duty!"
The colours and textures are just wonderful don't you think?  They must have smelt incredible.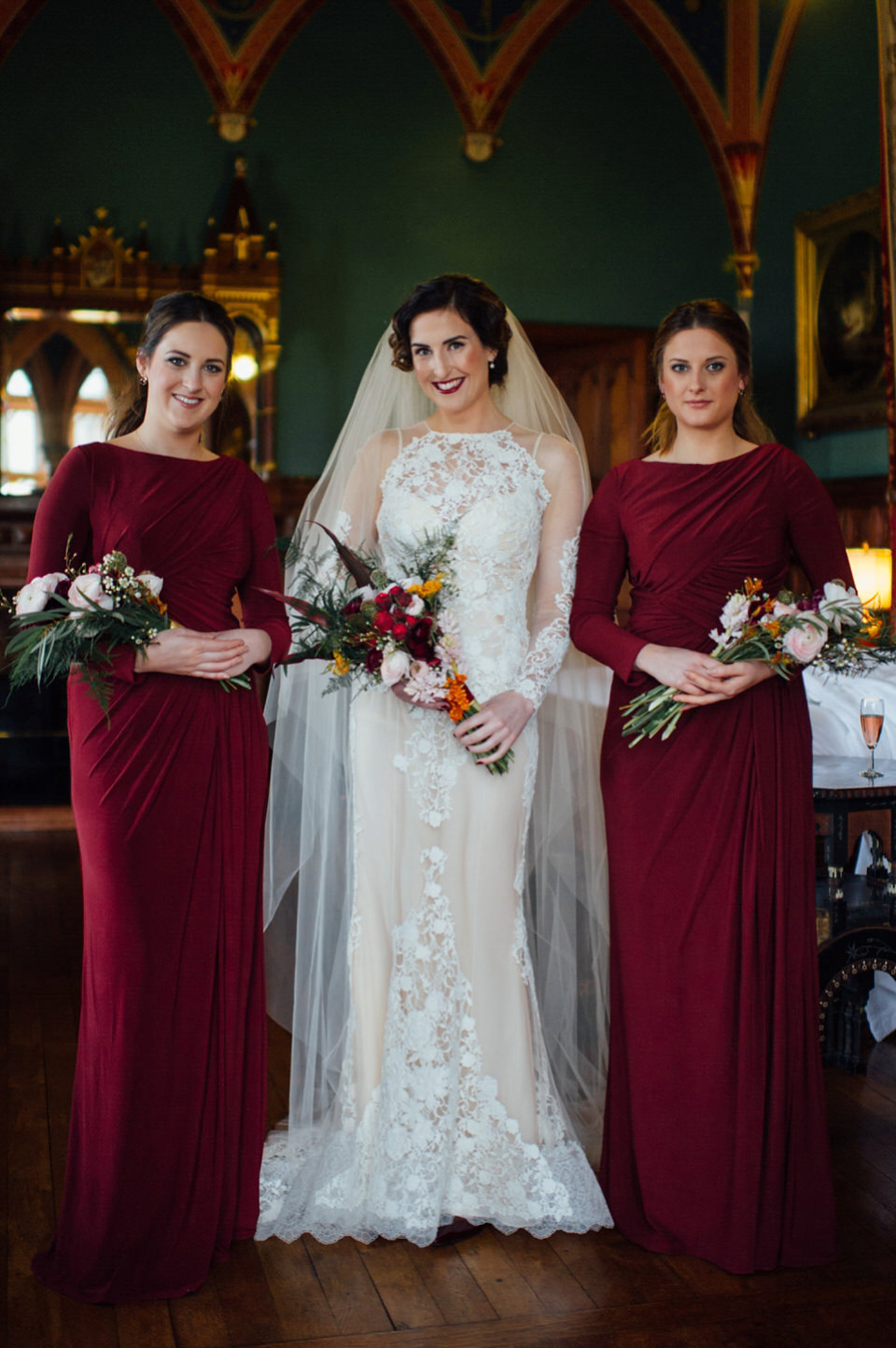 Keen not to be over shone, Graham looked extremely smart in a bespoke suit from Thom Sweeny Bespoke, worn with a Lanvin tie.
Kerry was walked down the aisle by her proud father, to 'She Moved Through the Fair' by Caitlin Grey.
"Walking in to the Marble Chapel for the ceremony was such a special moment. Seeing Graham at the end of the aisle, surrounded by all our family and friends, was very emotional."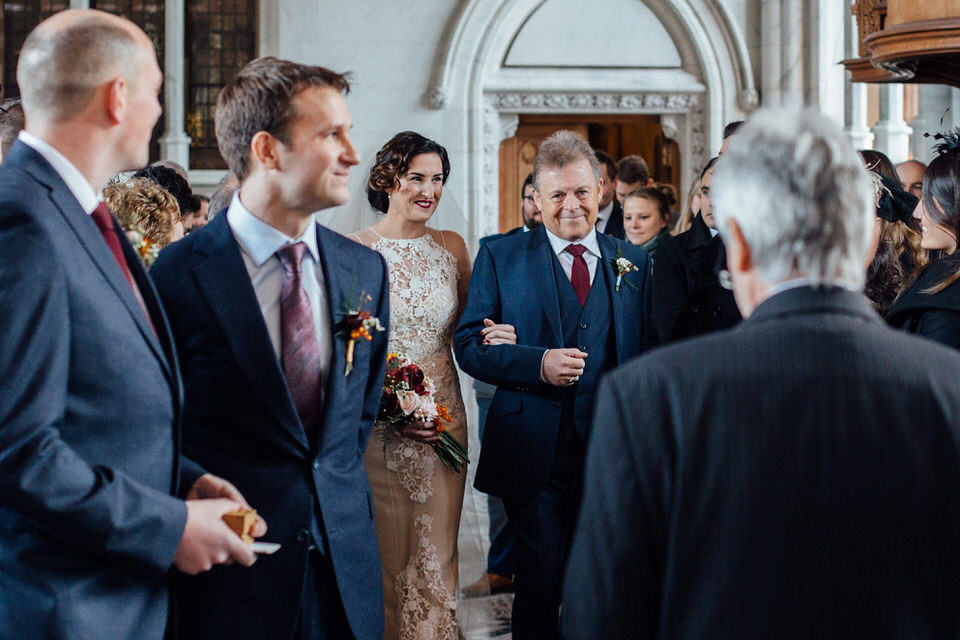 "We had a humanist wedding ceremony so were afforded a lot of freedom to construct the ceremony and vows in a way that was truly personal to us.  A section of the vows are below:
Today I marry my friend
The one I have laughed and cried with
The one I have learned from and shared with
The one I have chosen to support, encourage and give myself to, through all the days given to us to share
Today I marry the one I love"
I absolutely love the choice of readings, which in turn, influenced the processional music.
"We had extract from a Farewell to Arms by Ernest Hemingway and the lyrics to Randy Newmans' 'You've Got a Friend in Me' (from Toy Story). Two great friends did the reading together and it worked so well – warm and funny. We used this reading towards the end of the ceremony and our pianist/vocalist then performed the track as our recessional as we left."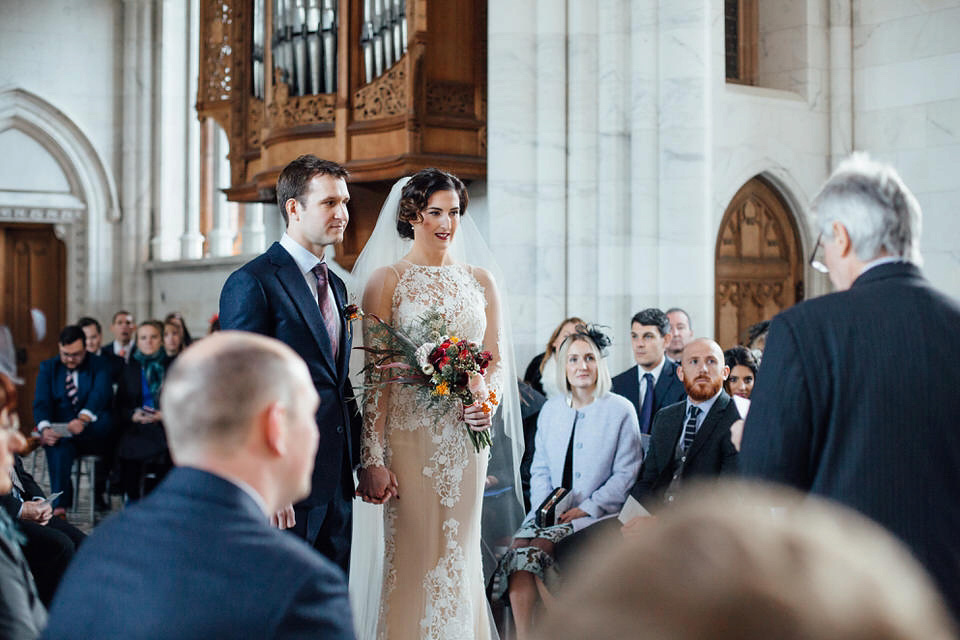 The all important rings were the work of Harriet Kelsall bespoke jewellery and were designed by Rebecca Howarth, an old school friend of Kerry's.
"We had a meeting with Rebecca who showed us samples of all the different metals, finishes and styles. Graham has never worn any jewellery so it was nice to have someone on hand to help navigate through the huge range of choices.  Both Graham and I choose rose gold for our bands, but using different finishes (mine is polished and Graham's a satin finish) Rebecca was able to produced two completely individual rings that work beautifully together as a pair."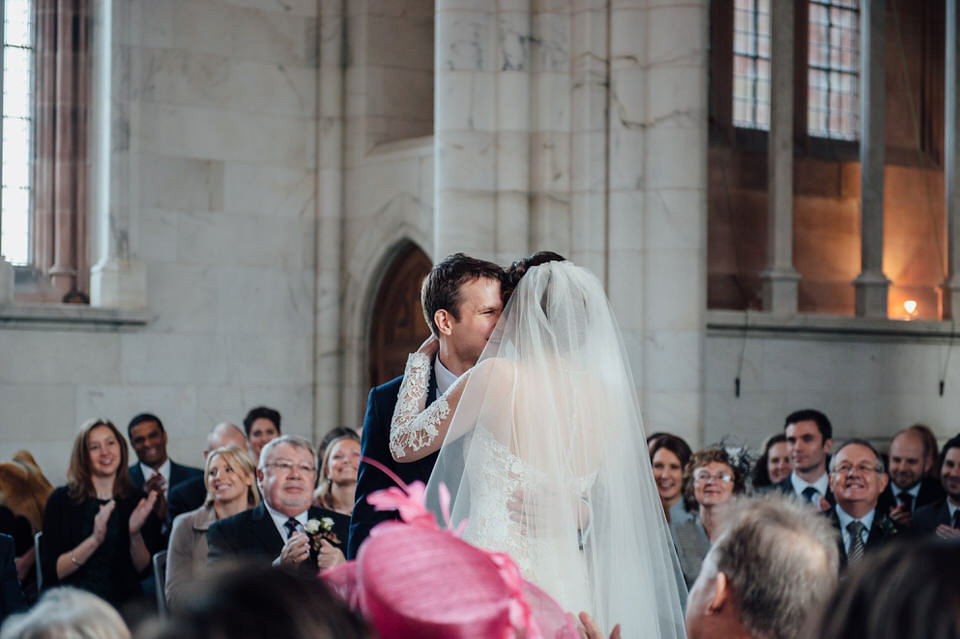 The happy couple chose a miscellany of performers and musicians to entertain their guests during the ceremony, drinks reception, dinner and late into the night, with piano and vocals from Louise Cairns, during the ceremony and meal, music from BARD during the champagne reception, and tunes from DJs Pin Up Nights for everyone to strut their stuff on the dancefloor.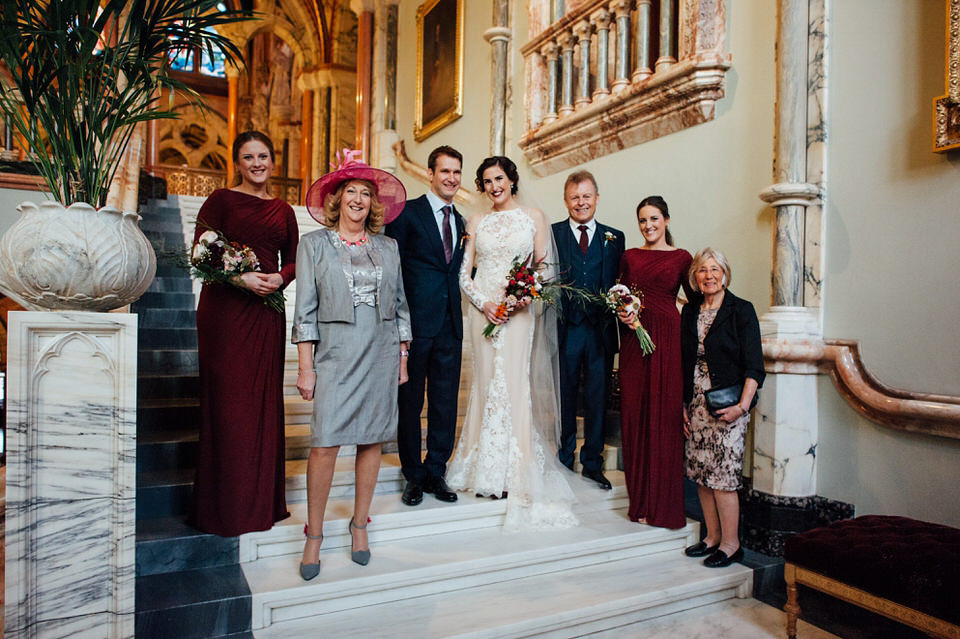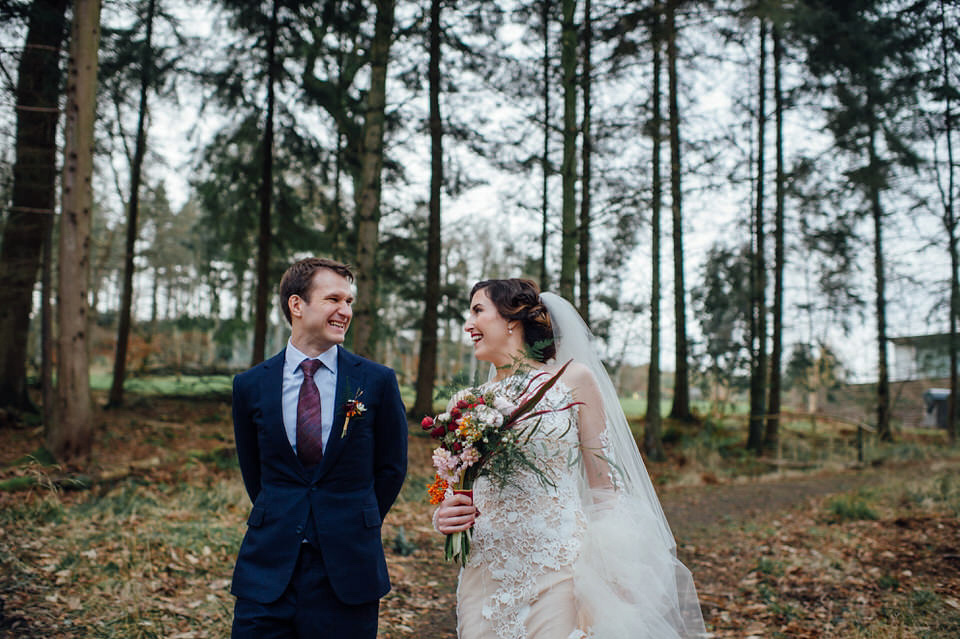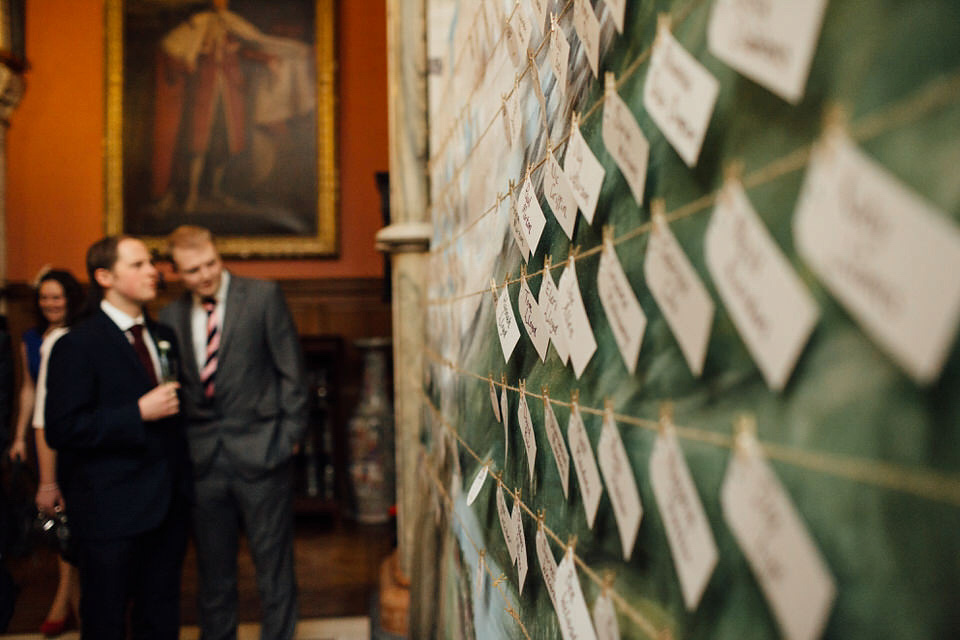 "For our reception, we stuck with the burgundy colour scheme, lifting the colours with pops of pale pink and orange and kept all the centre pieces, bouquets and button holes as natural and wild as possible by using plenty of foliage and a wide range of textures.
Lucinda, Leanne (my other sister) and I then spent the day before the wedding and the early morning of the wedding transforming all the wonderful flowers into table centres, bouquets and buttonholes.  It was really special to have been able to make these ourselves."
As favours, guests were each given their own Lego mini-figure!
"It was great fun matching the figures to the various guests and they went down a storm!"
"The venue is so beautiful it really didn't need much styling, other than table centre pieces.  For the tables, Lucinda made wooden boxes for a large central flower display which we stained mahogany and stencilled with a small K&G monogram.  We then purchased as many cut glass stemmed bowls, tumblers and glasses as possible from Ebay and various second hand markets and used these for smaller flower displays and candles around the main box.
We used a couple of cut glass decanters and some cut glass tumblers in the chapel during the ceremony and running down the marble staircase, where we made our entrance to dinner."
The catering was the work of GH Event Catering, who work closely with Mount Stuart on their wedding events.  The photos of the meal are some of my favourites- that beautiful sumptuous room with all the red tones, the gorgeous centrepieces and the delicious looking food, as well as the happy faces everywhere.
The couple's completely fabulous cake was created by a close family friend, Christine Riordan, and the unusual cake topper from BetterOffWed, via Etsy.
"Graham and I both love fruit cake so Chris made a wonderful staked Christmas style cake, which was simply decorated with a few fruits and flowers.  We wanted something that tasted delicious and didn't look too manicured."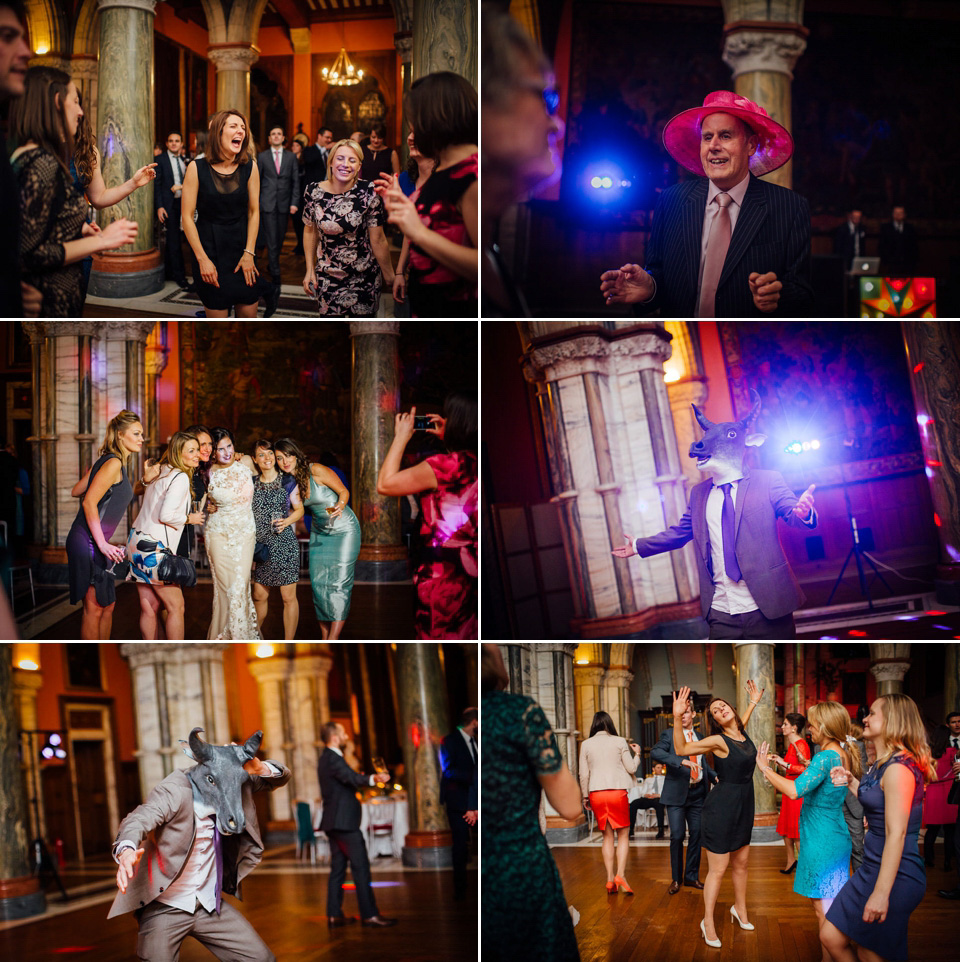 Words of Wedded Wisdom
"I used Pinterest religiously throughout the planning process! It was so helpful to be able to collect all our ideas in one place and show visuals to all the suppliers / people involved in the day."
hank you so much to Kerry and Graham for sharing their wonderfully wintery wedding day with us- I wish you both all happiness.  Thank you also to Lisa Devine and Lucy Little for sharing their beautiful imagery.
Are any of our readers wearing a YolanCris dress for their big day?  Is anyone else taking their guests to an island? Share with us- we love to hear from you.
Much love,
Shona x
Photographer – Lisa Devine, assisted by Lucy Little Photography
Wedding Coordinator – Donna Chisholm and Ricky Harrison from Mount Stuart
Venue – Mount Stuart, Isle of Bute, Scotland
Wedding dress – YolanCris, purchased from London Bride Couture
Shoes – Kate Spade
Accessories – Earrings which were a gift from Graham on the day
Perfume – Oud Royal, Armani Prive
Bridesmaid dresses – MyGown, via Etsy
Bridesmaid shoes – Kurt Geiger, Miss KG
Bridesmaid accessories – Earrings by Dyrberg/Kern Louise
Makeup artist – Laura Gray
Groom – Suit- Thom Sweeny Bespoke, Tie- Lanvin
Groomsmen – Groomsmen wore their own suits in navy
Florist – Lucinda Noonan
Cake – Made by a family friend
Cake topper – BetterOffWed, via Etsy
Catering – GH Event Catering
Rings – Harriet Kelsall bespoke jewellery, designed by Rebecca Howarth
Stationery – Lucinda Noonan
Transport – West Coast Motors
Entertainment – Louise Cairns, pianist / vocalist, BARD + DJ Pin Up Nights
Photobooth backdrop – William Bianchi