Good morning all, and thank you so much for popping by Love My Dress today. What you up to this weekend? Any nice plans? Are you setting time aside to focus on your wedding planning perhaps? It's been a looooong week  here at Love My Dress H.Q. We've been working non-stop on some behind the scenes action that we'll be telling you all about very soon. It's a huge project for us and one that I'm very, very excited about launching but boy, it's one heck of a lot of hard work. Who ever said blogging for a living was easy?! 🙂
These lovely images here today were captured by Kristen of Struve Photography – who was commissioned to shoot Claire and Graeme's Loch Lomond wedding day in September last year.  The couple wanted to brave the early Autumn Scottish weather and tie the knot outdoors, and with a backdrop like The Cruin, who could blame them?
Photography by Struve Photography + Juliebee second-shooting
"We got married at The Cruin at Loch Lomond. We've always loved living so close to Loch Lomond and over the years we would take wee day trips or evening drives there."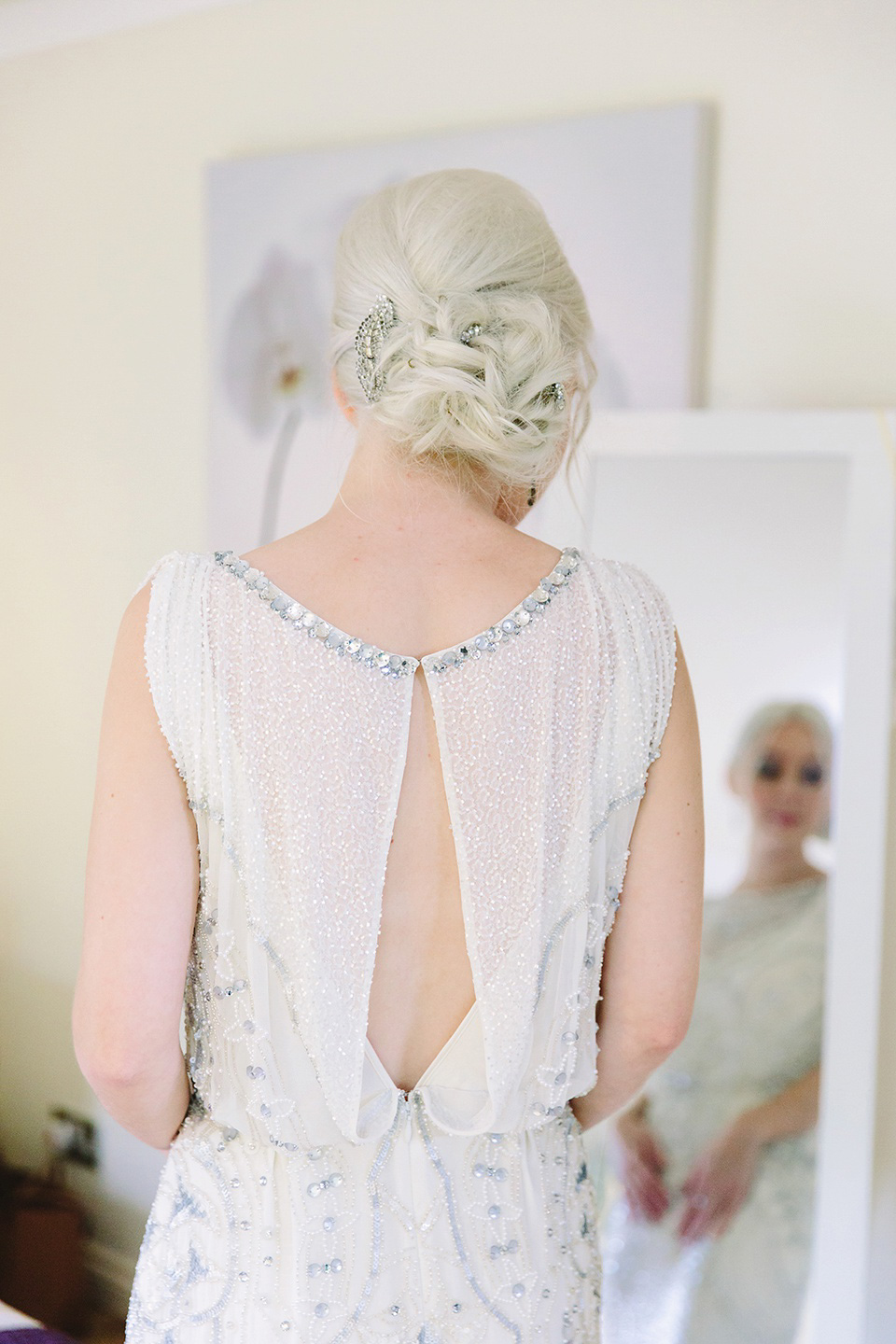 Esme, by Jenny Packham
"I discovered Emmy Shoes through Love My Dress, so decided to coincide a trip to London with my Mamma B to visit their gorgeous studio!"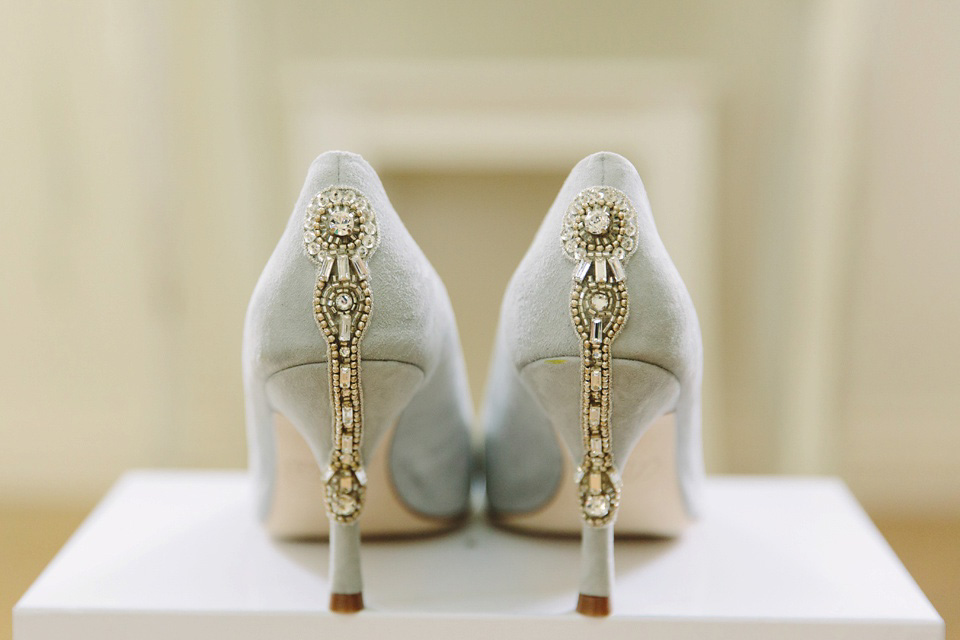 Beautiful grey heels by Emmy Shoes
"I dealt with the lovely Sammy (whose wedding was actually featured last year!) and showed her photographs of my dress, and some of the things I'd been crafting and decided to go for a soft dove grey suede peep-toe, with detailing on the heel. Perfect!"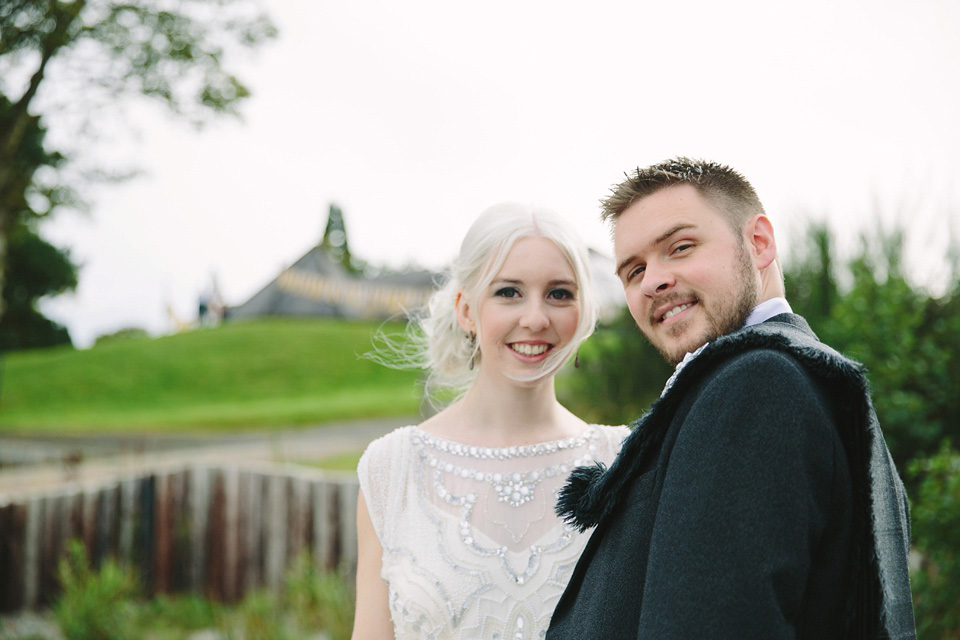 The couple commissioned Kristen Struve of Struve Photography to document their wedding in images.  Kristen was supported by Juliebee.
"We were SO lucky with these two amazing ladies. I've known both of them for years – I studied photography with Kristen, and I've worked with Julie before, so Graeme and I knew we were in brilliant hands with them. They just knew exactly what we were wanting from the very start! As a photographer myself, it really was the most important decision for the day as I knew that we would treasure these photographs for the rest of our lives and to work with two ladies like them but just fantastic. I'll never ever be able to thank them for providing us with the most amazing photographs of our day and I tell them that on a regular basis."
"I was still in school and Graeme was the older boy who was at college and could drive! We had mutual friends and became close over the next couple of months, and finally shared our first kiss at a drunken Hogmanay party in 2005. We moved in together in 2011 to a gorgeous wee flat in Beith.
We went on holiday with my family to Greece at the end of May 2012, and unbeknownst to me he had the ring in his hand luggage the entire time. So no wonder he was panicking when his bag got searched on the way out! However he wanted to find a place that was special to us and he didn't quite seem to be able to decide on where, so he brought the ring all the way home with him without me knowing a thing."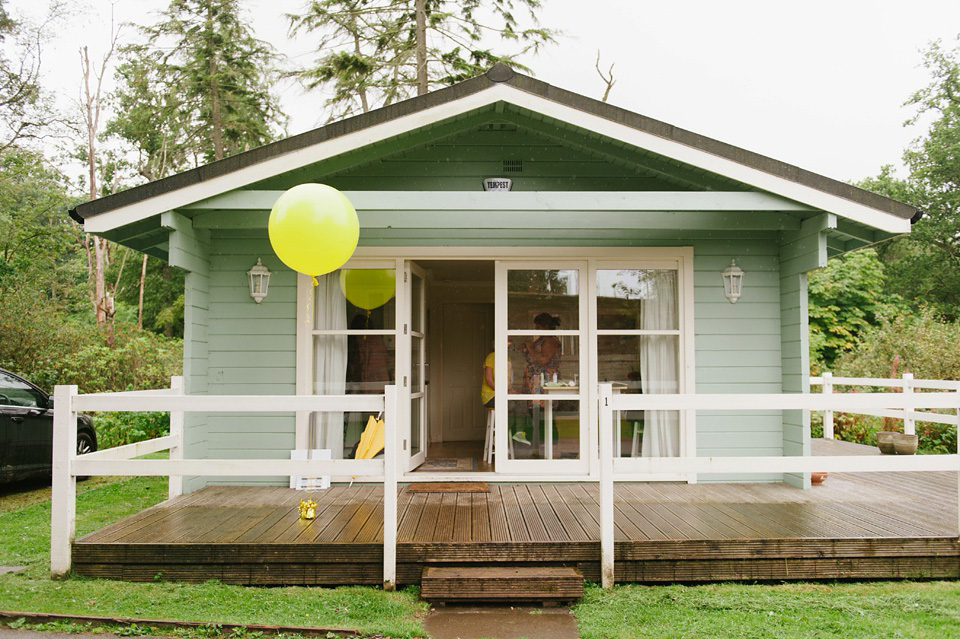 "The day after we got back home he suggested we go for dinner, just the two of us, to our favourite Indian restaurant in the West End of Glasgow – Balbirs. We have been going there since we've been a couple, celebrating birthdays, family anniversaries, new jobs etc and we both absolutely love indian food. I did think he was acting a little strange but never thought anything of it, until he said 'I have something to ask you and I don't want you to get upset..' before producing the most beautiful ring ever. Needless to say I burst into happy tears!"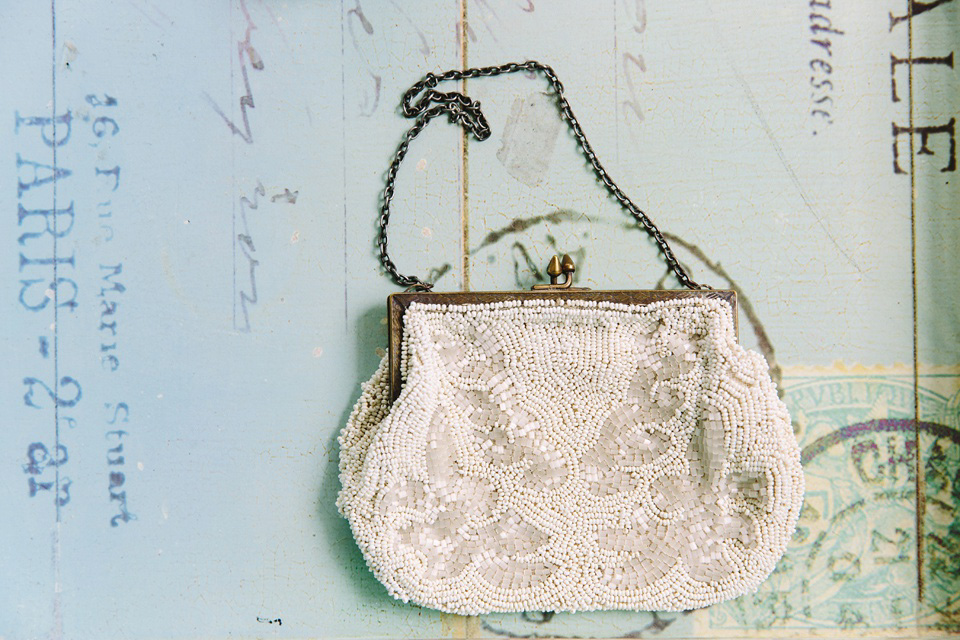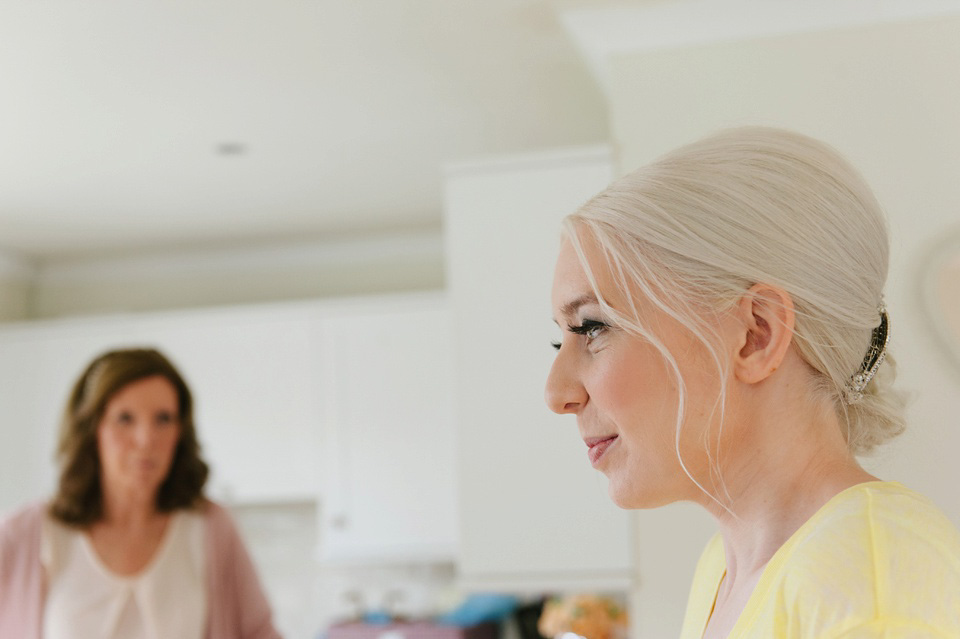 Claire chose to wear the uber glamorous Esme gown by Jenny Packham, which she purchased from Anne Priscilla Bridal.
"I knew I didn't want an off the shoulder sweetheart neckline dress, I knew I wanted something different! I'd went into Anne Priscilla with lace on my mind, but I'm a bit of a magpie so as soon as I saw all the sparkles of Jenny Packham I was swayed. I'd tried on quite a few and was almost certain I was going to go for the Eden dress. A week later they were having a Jenny Packham trunk show so I thought I would think about it and come back.
When I went back a week later I was all set to buy the Eden but one of the girls in the shop showed me the Esme and that was it, I just loved how glamorous it was and adored the back, the beads, the sequins and pearls. It then set the detailing for the rest of the day!"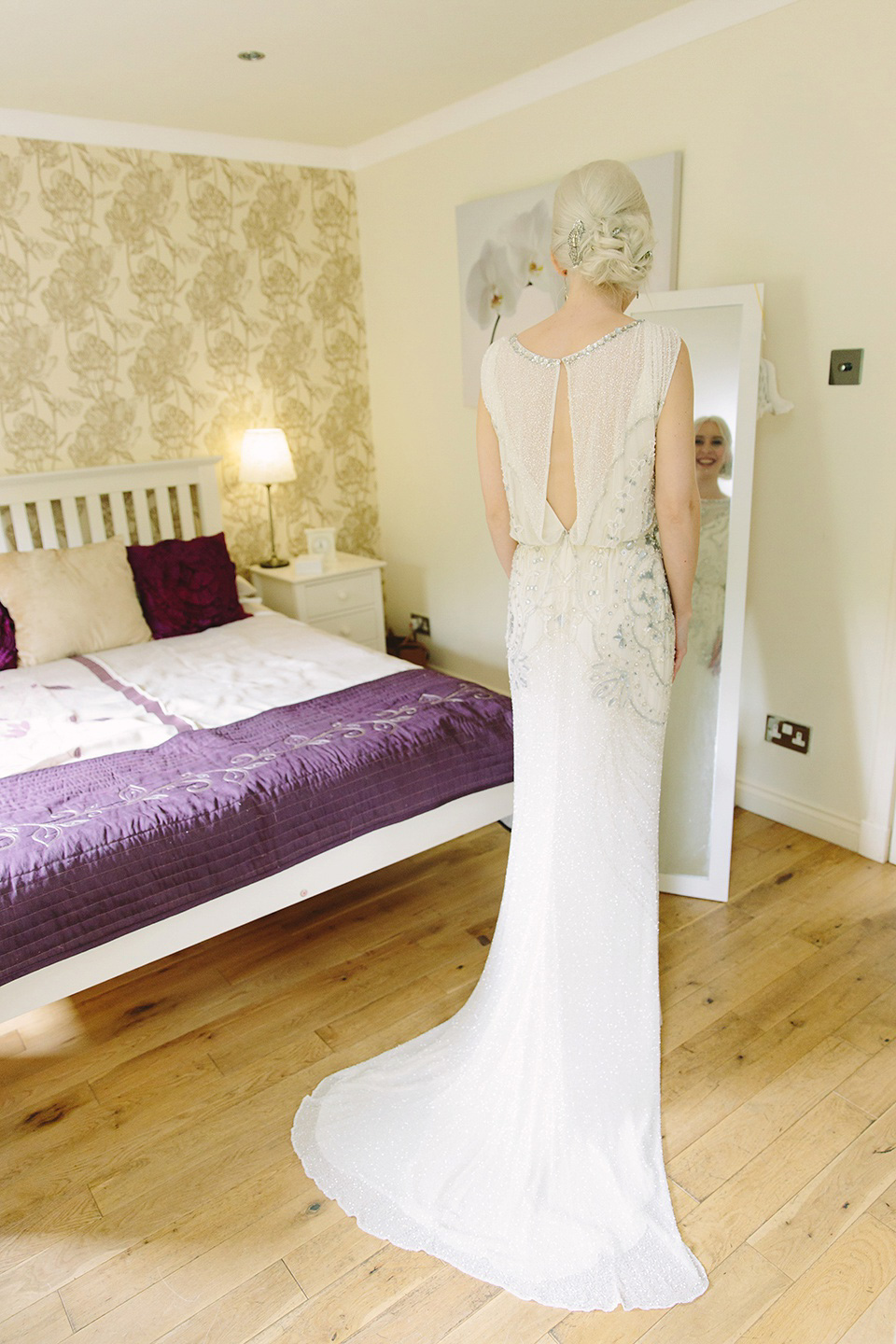 Graeme (right) wore a kilt from MacGregor & MacDuff.
"I used to work next door to MacGregor & MacDuff and the staff know exactly what they are doing – they are brilliant. Graeme chose the Silver Mist tartan with Charcoal Tweed waistcoat and jacket."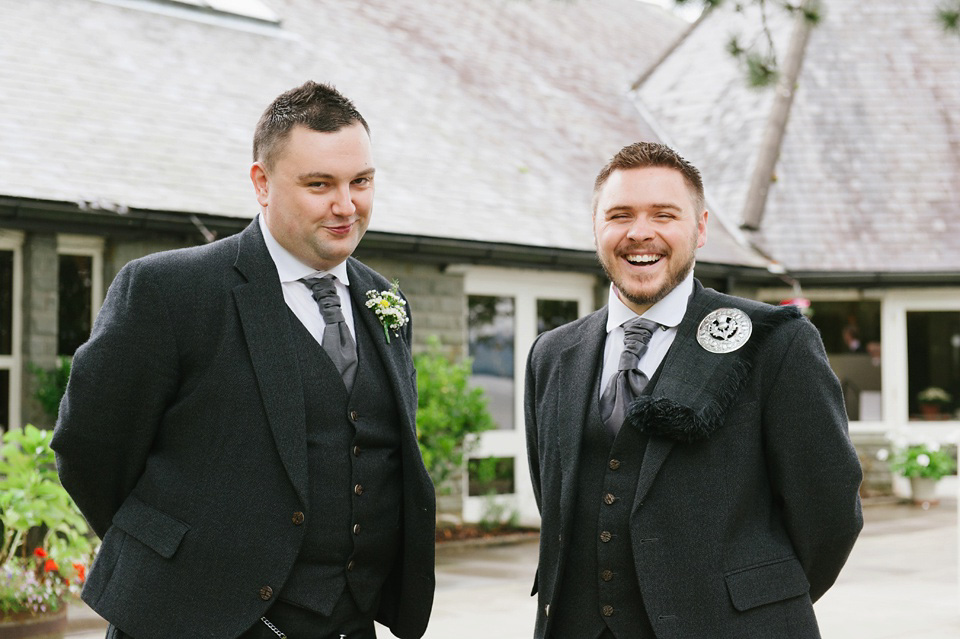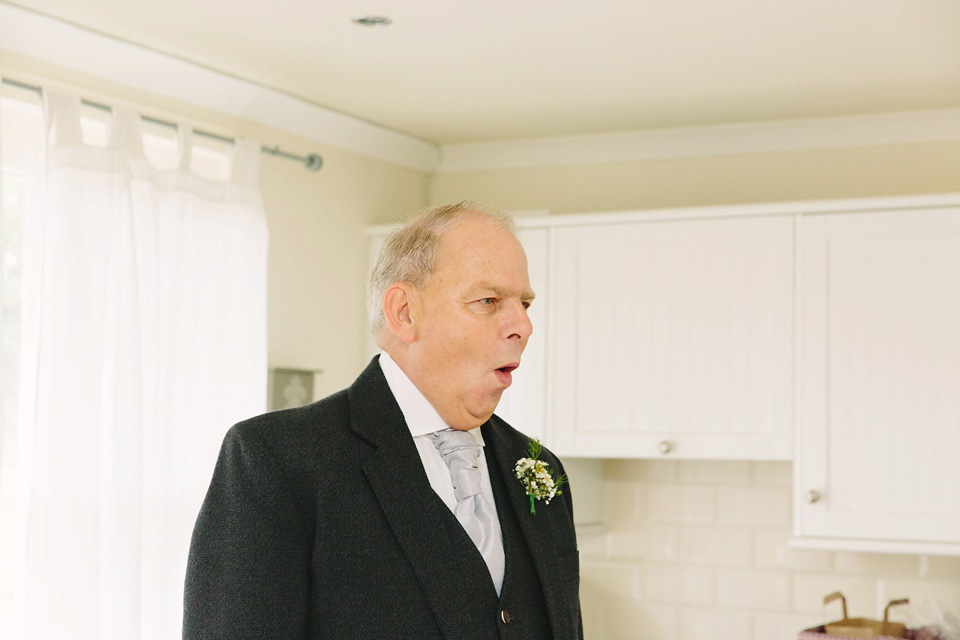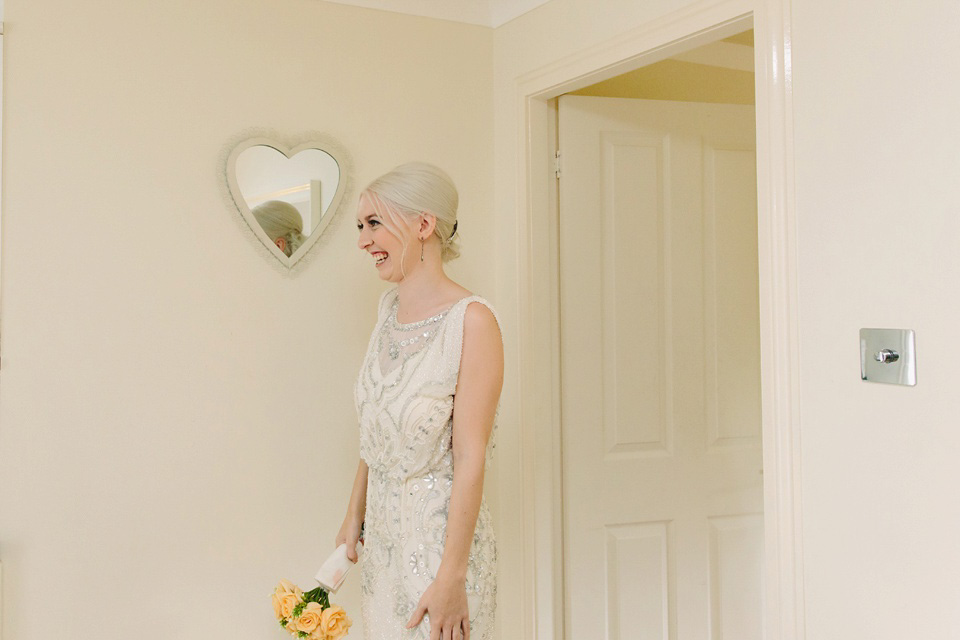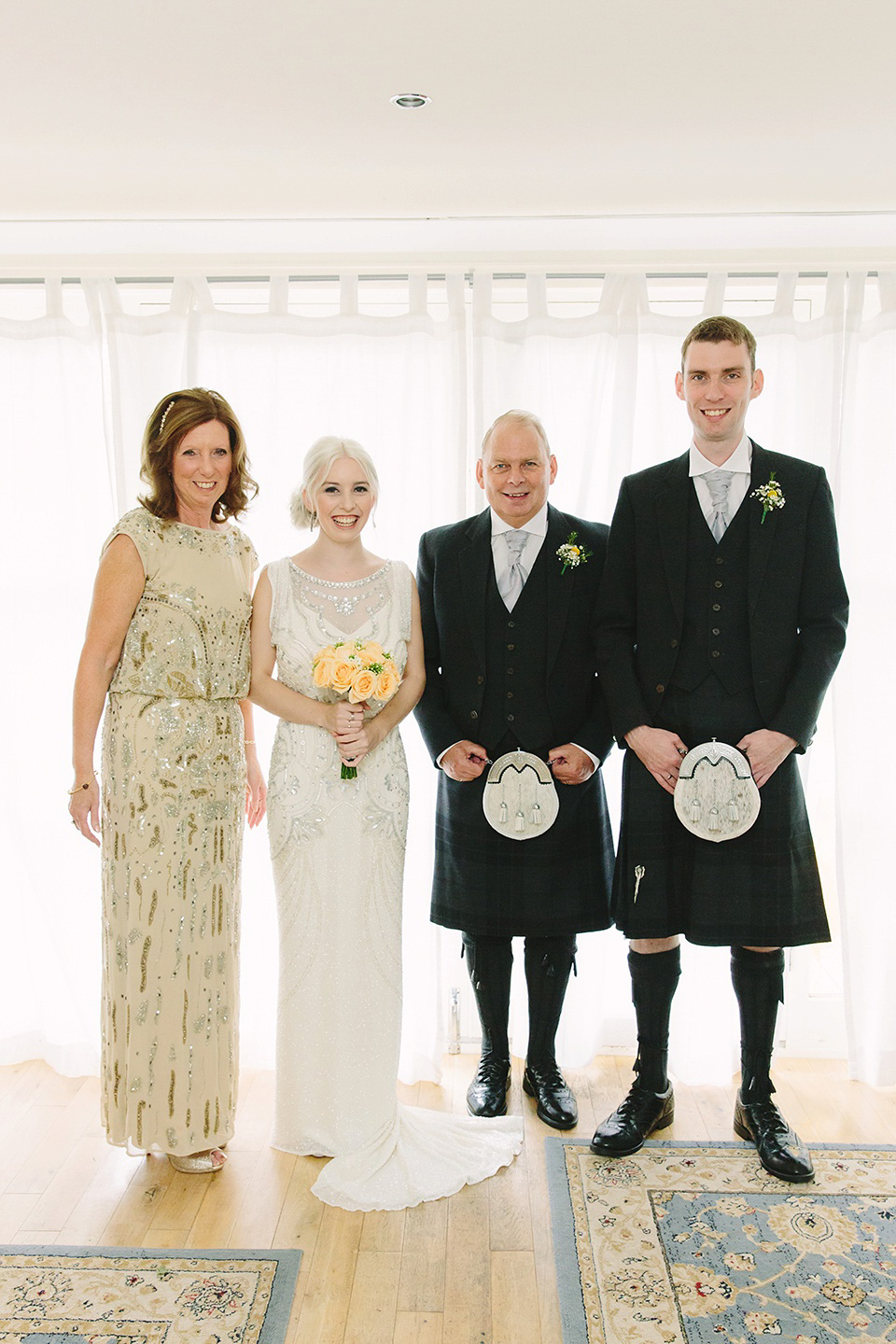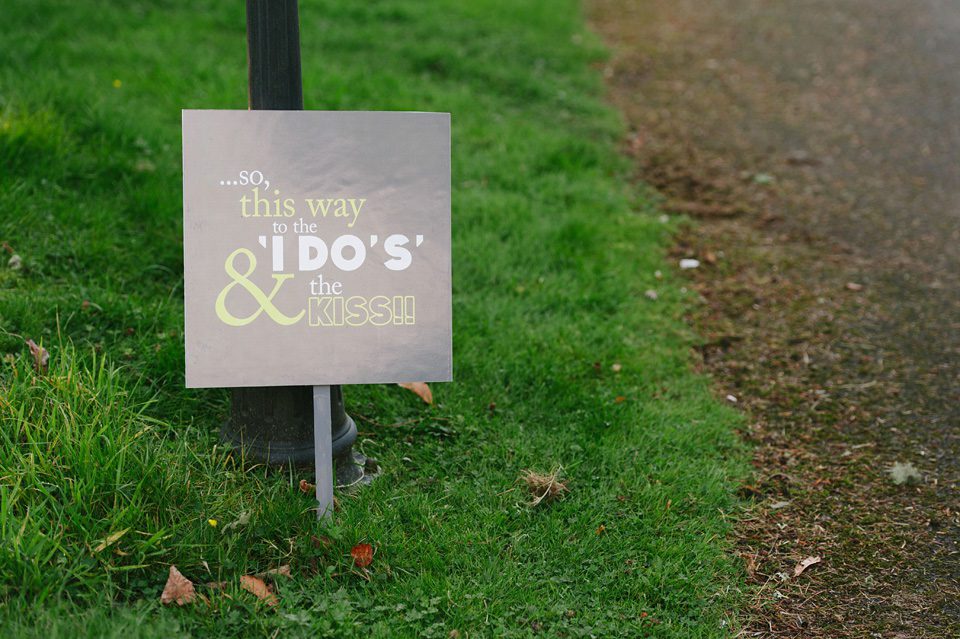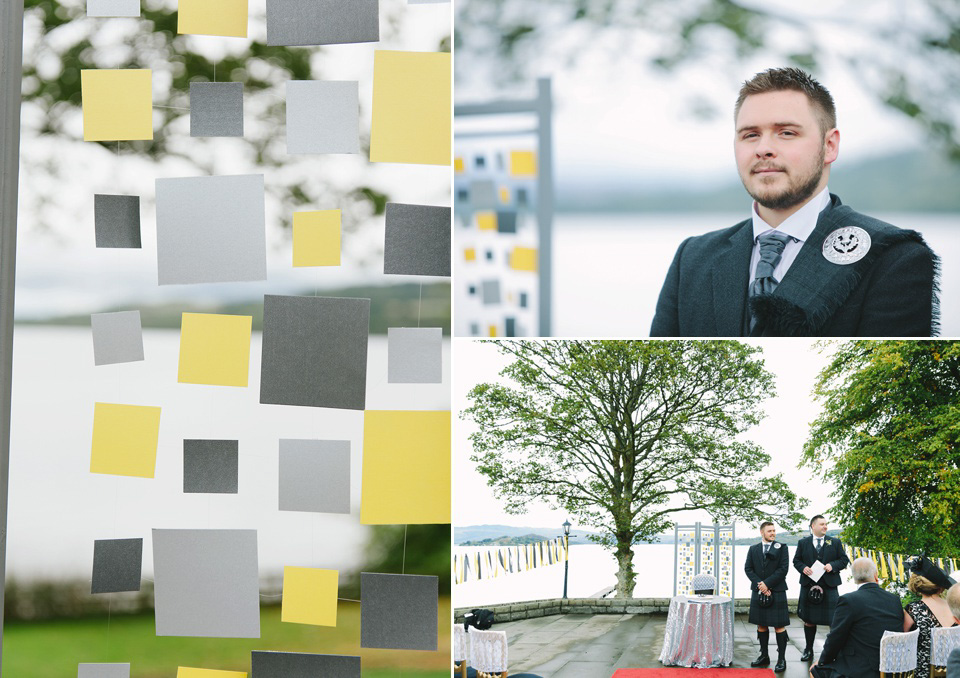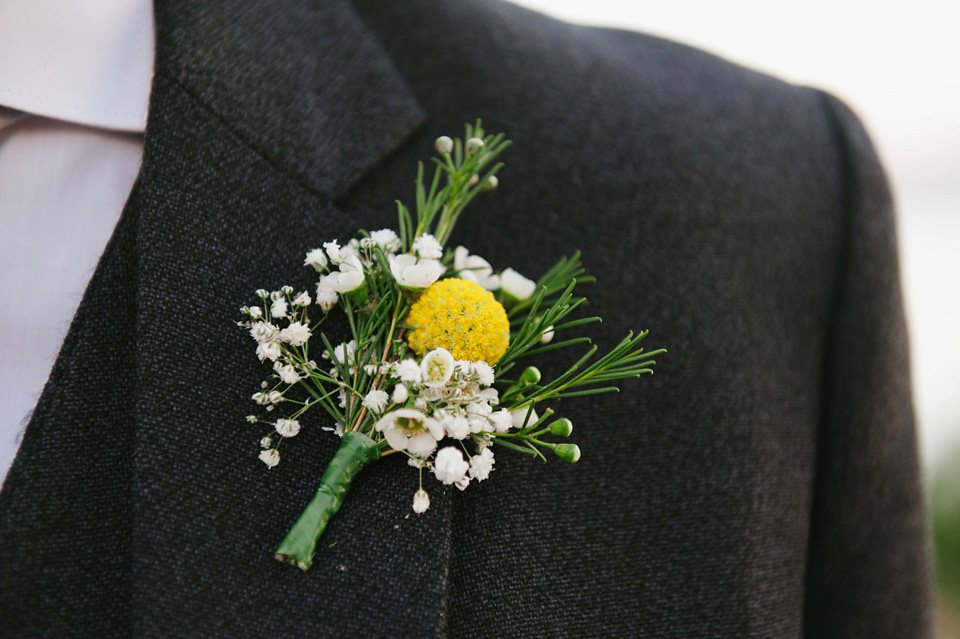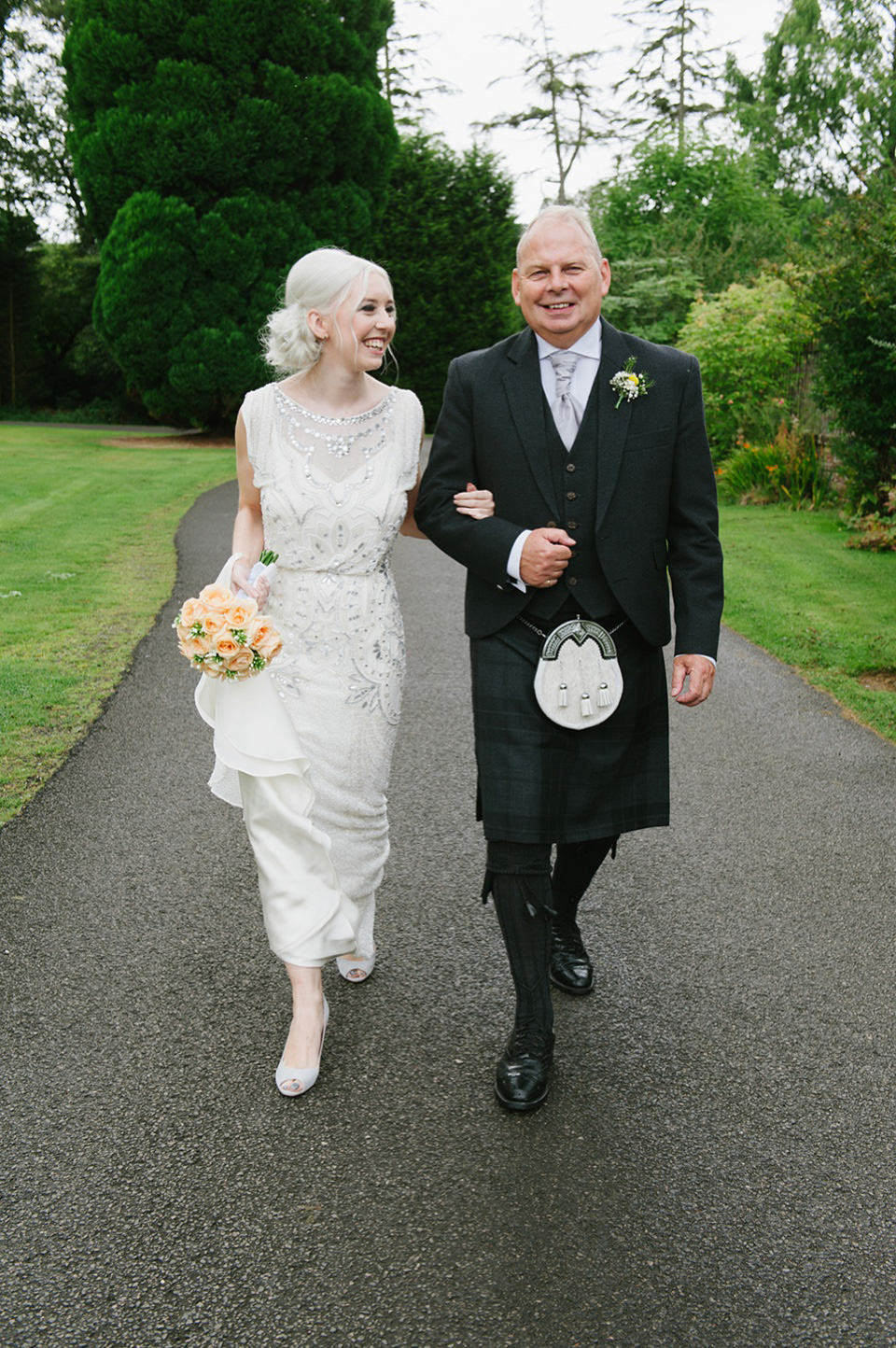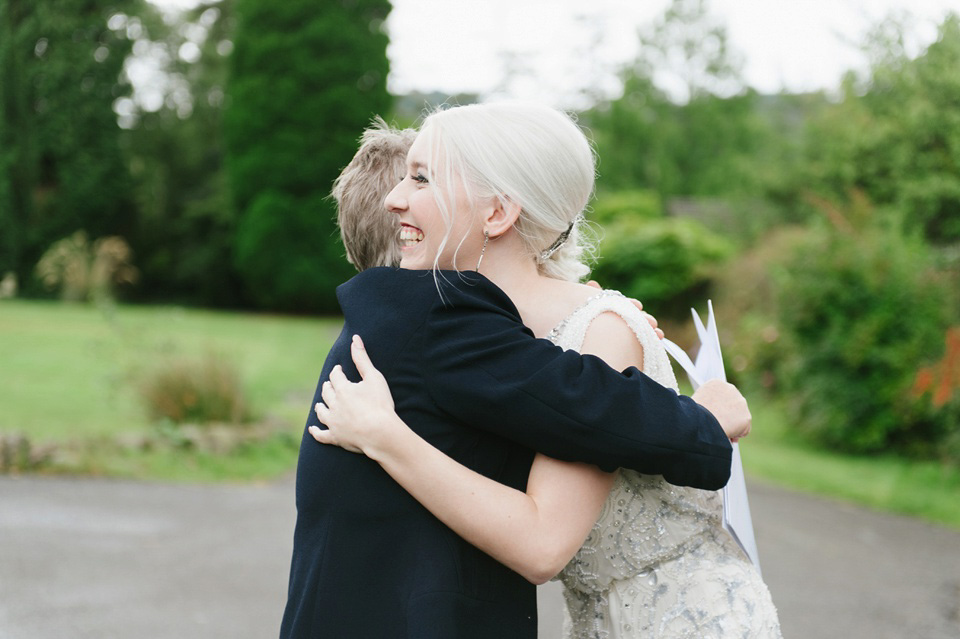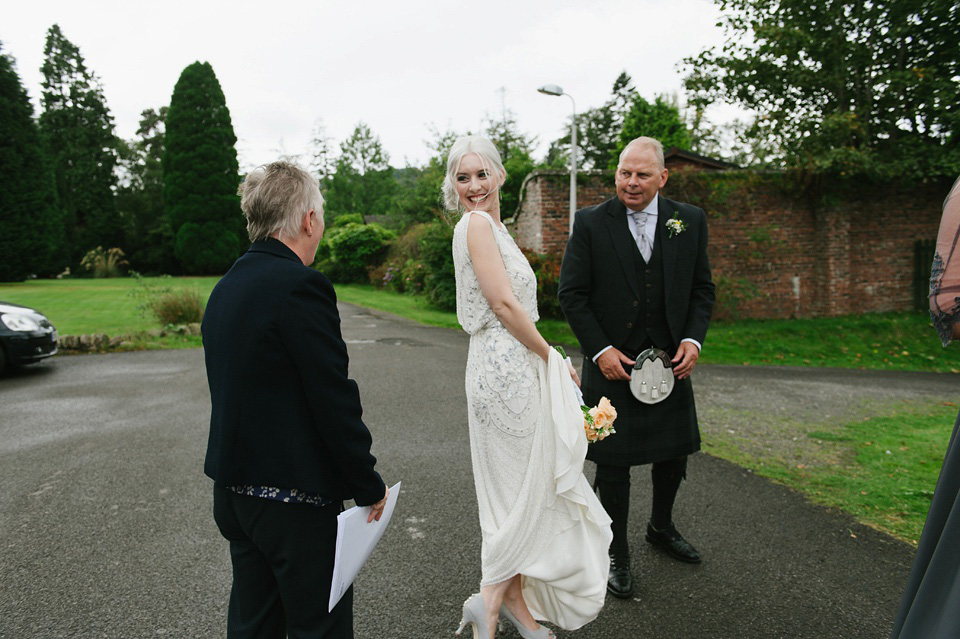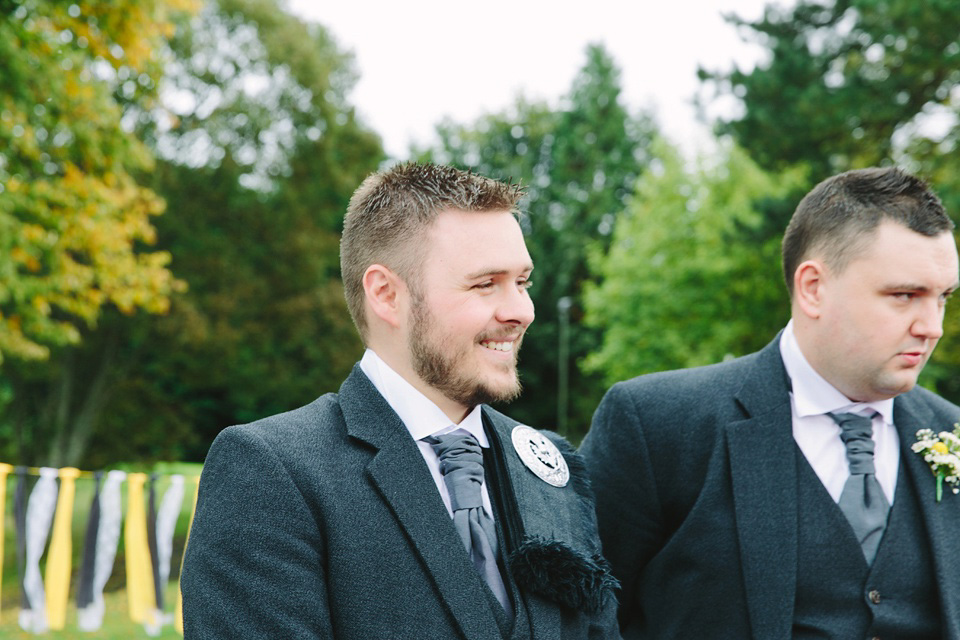 "I wanted my bridesmaid Dannii to have a dress she loved so gave her free reign. We ended up going to Flossy & Dossy and Wendy was just wonderful. We struggled to find a grey fabric we liked so that took a bit of time, but in the end the dress is absolutely gorgeous and Dannii looked beautiful, Wendy got it spot on from Dannii's ideas.
We were also very lucky because Wendy now only makes brides dresses, she no longer has the time to do bridesmaid dresses because she's super-duper busy!"  
"My amazing Dad aka Pere B aka P Bizzle gave me away.  Also, he hadn't seen my dress before the day and I really wanted to have Kristen and Julie capture his first reaction – it was such an exciting moment!
We walked down the aisle to the sound of bagpipes – can you have it any other way in Scotland next to a loch?"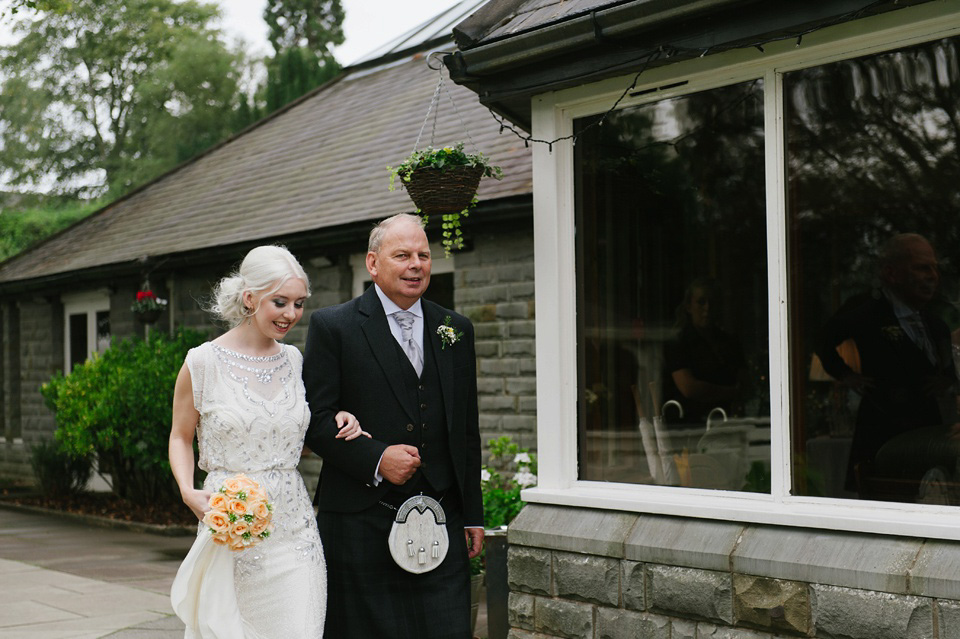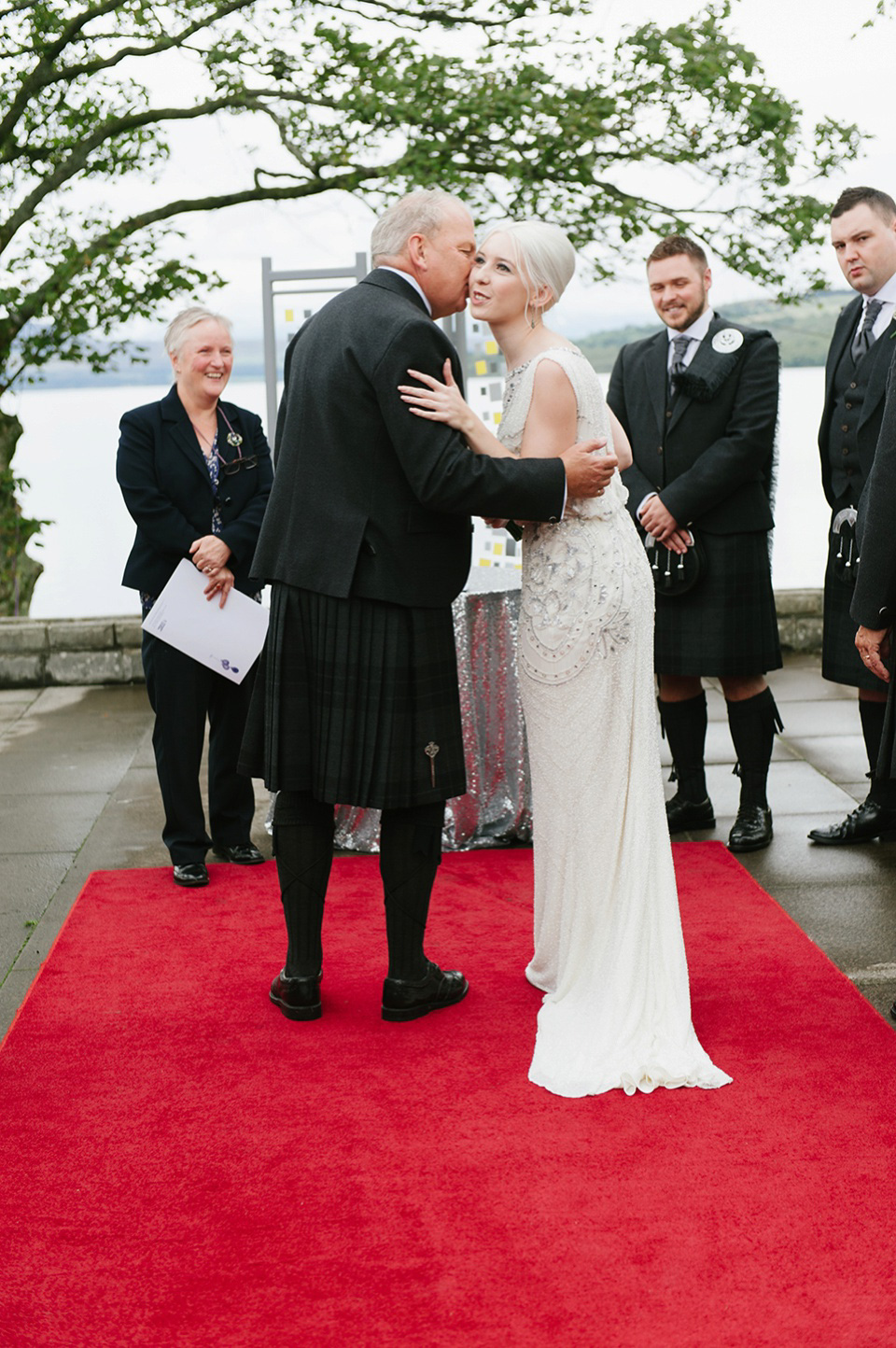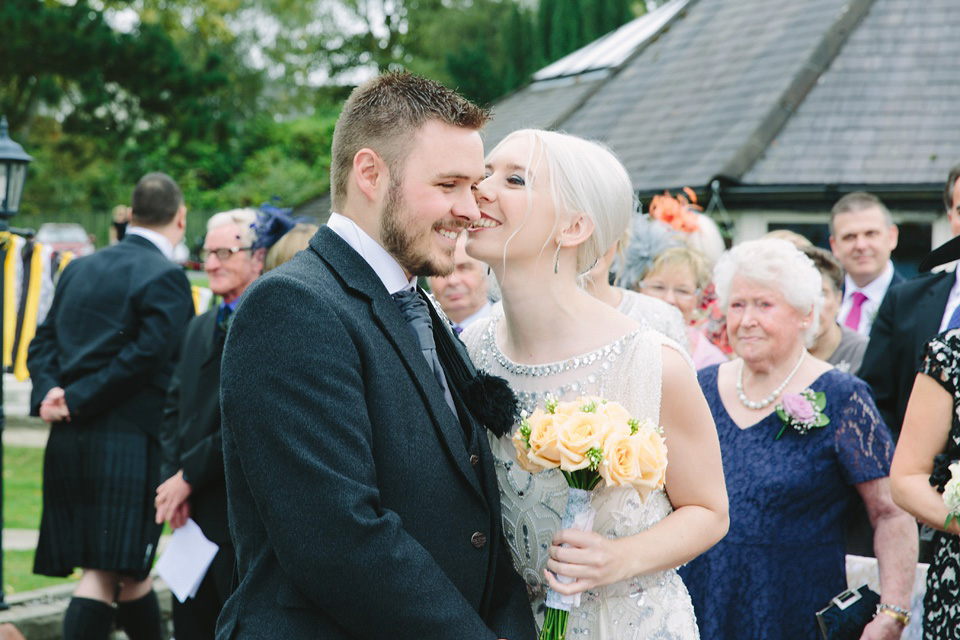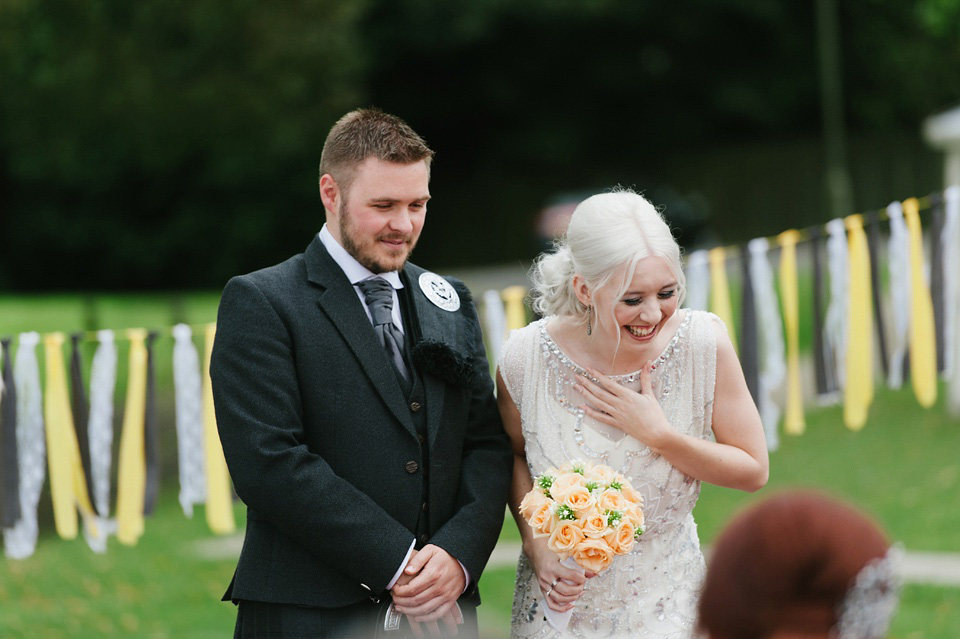 "We both wrote our own vows with the help of our amazing celebrant Gerrie of the Humanist Fellowship of Scotland.  We both started with the line 'This is my promise to you, not only on our wedding day, but on each day that follows', and then went from there. It was such an emotional moment during our ceremony and one that I'll treasure forever.
I loved hearing Graeme's promises to me and I loved sharing my promises with him. After almost nine years together it was such an amazing feeling."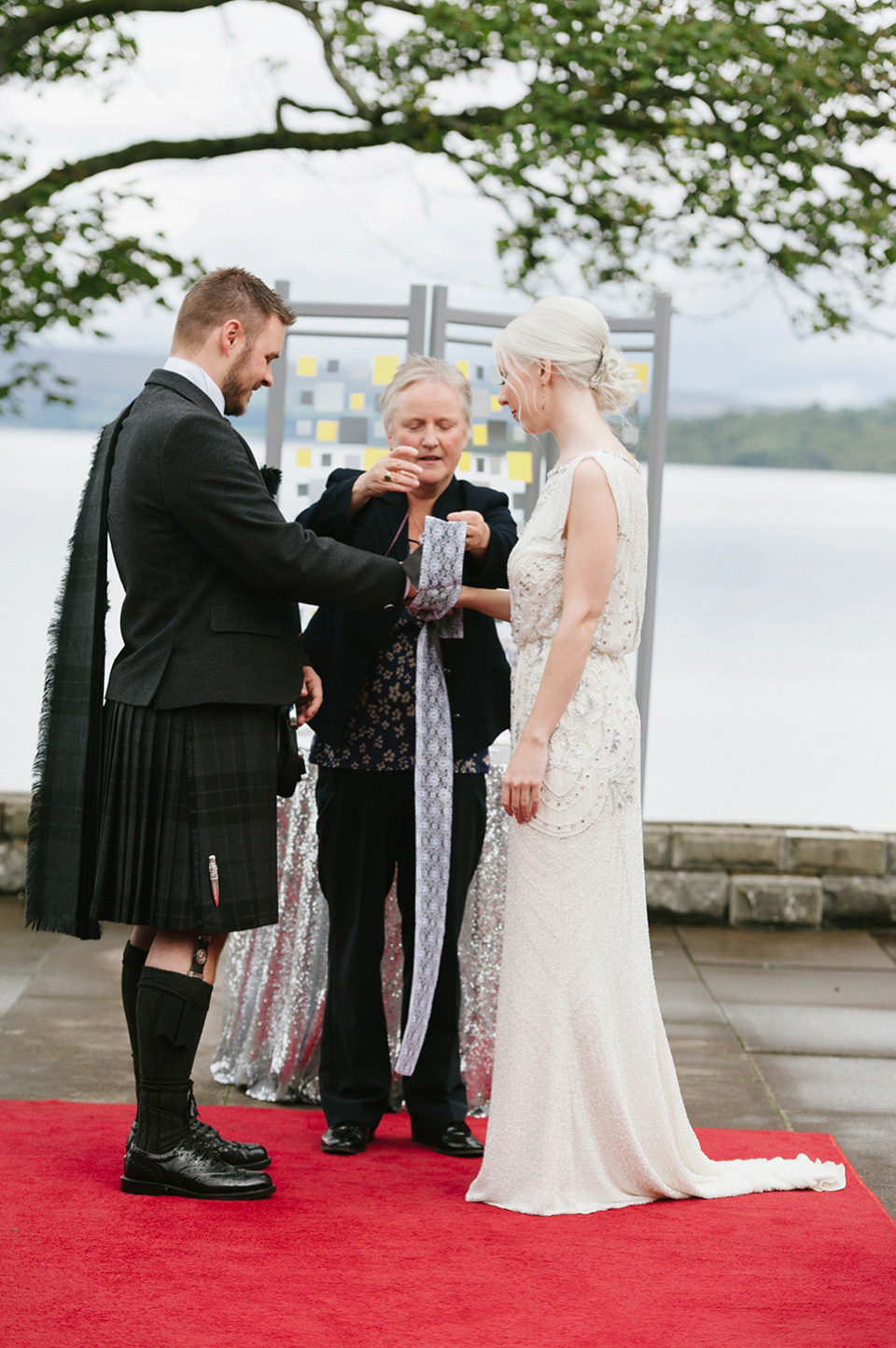 "We had two readings during our ceremony – my brother John read one during our handfasting and I got really emotional – it was very special, and called 'The Blessing of the Hands'.  We also had Graeme's uncle who lives in Canada read one called 'The Promise'. We wanted our readings to reflect how we feel about each other, how we felt about our commitment to each other and how we imagine our future to be like. Both of these captured all of this."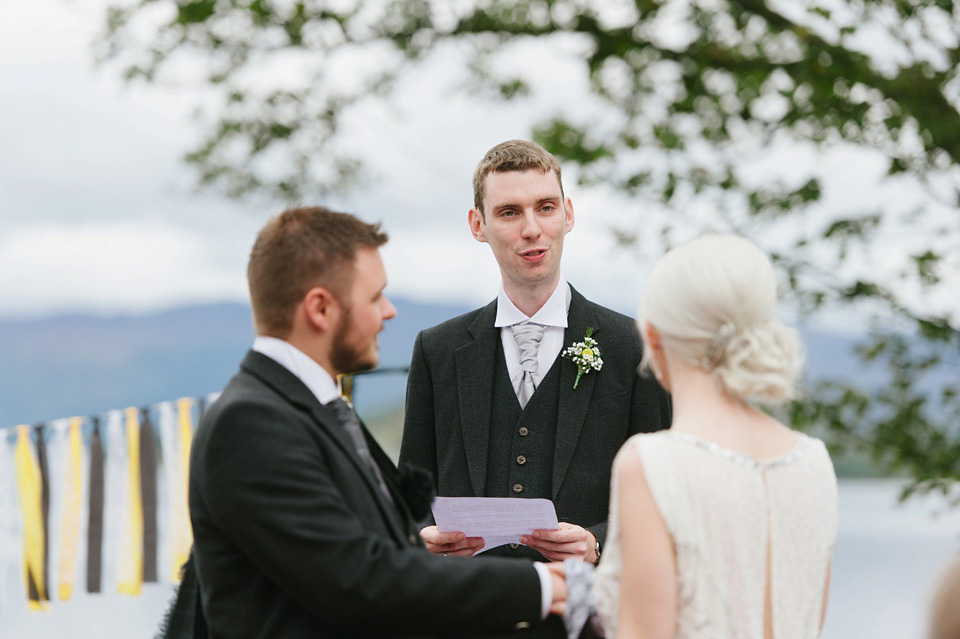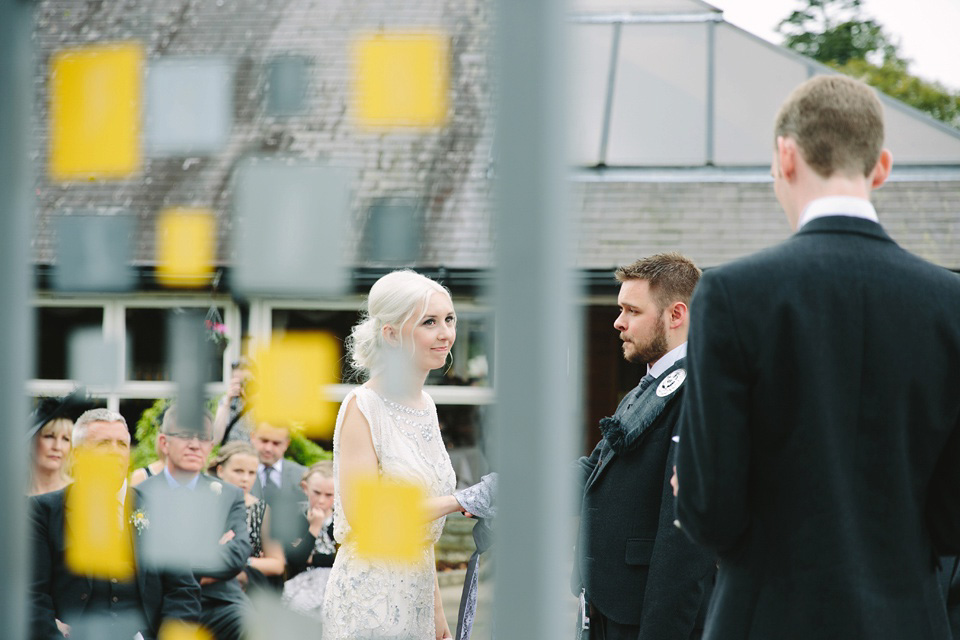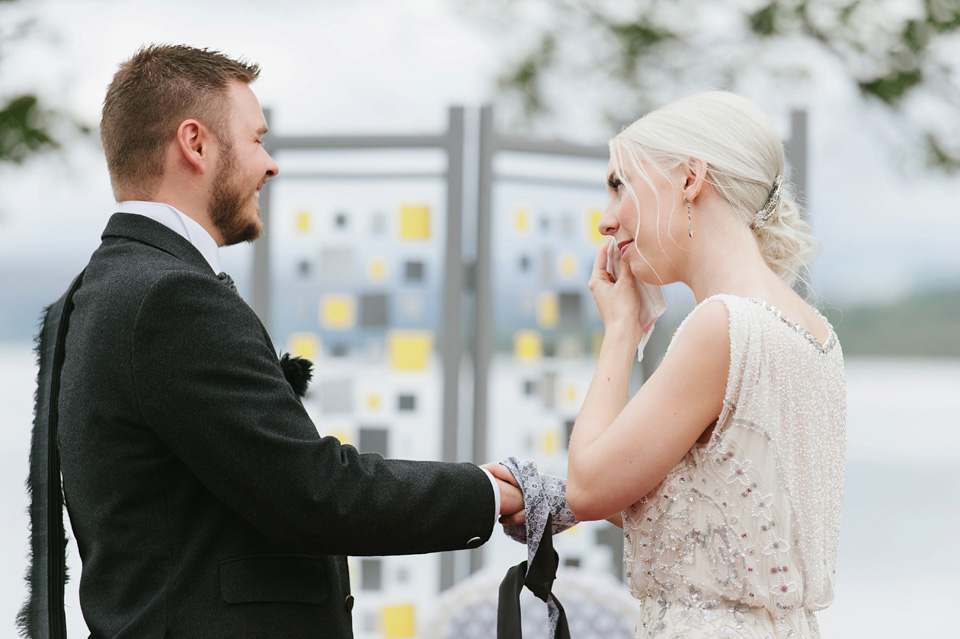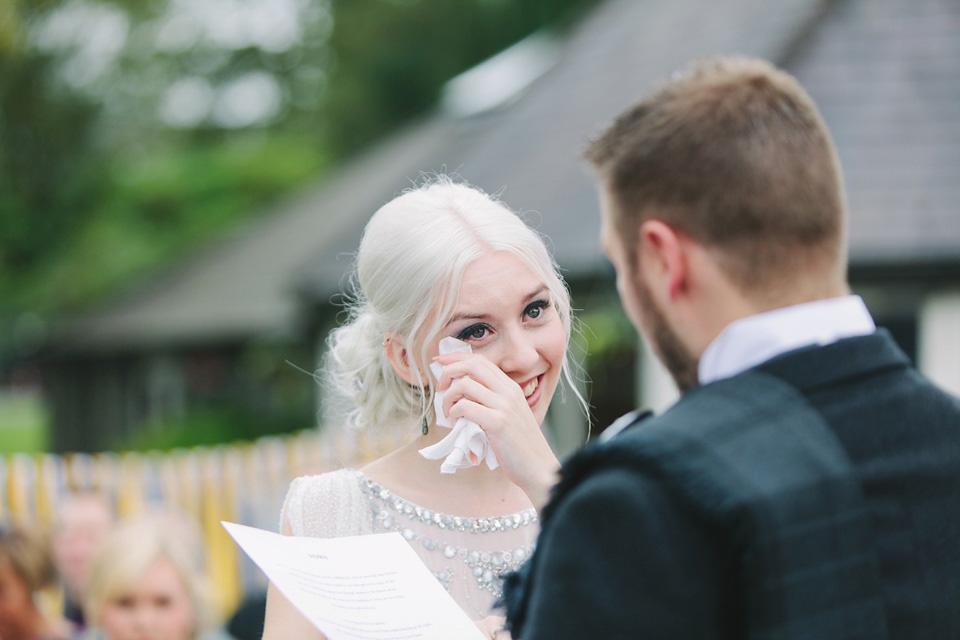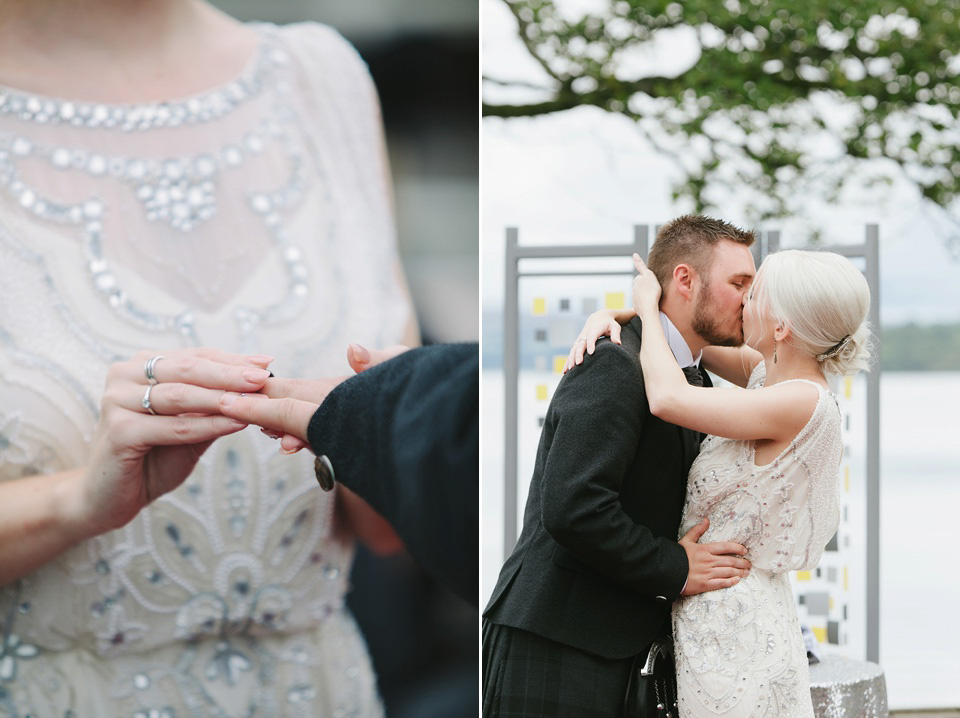 "During Uncle Ande's reading, a yellow sea plane flew past! Everyone burst out laughing, it was such a coincidence seeing as our colours were grey and yellow!"
"Our rings were from Timothy Sharp.  I told him that I wanted a dainty, delicate ring with sapphires as they are my favourite and baguette diamonds, almost Art Deco style and he designed exactly what I was looking for. Having a ring designed is such a fun experience and one of my favourite parts of the wedding planning process!
My wedding ring is my joint favourite piece of jewellery ever, along with my engagement ring. Graeme chose a brushed tungsten ring."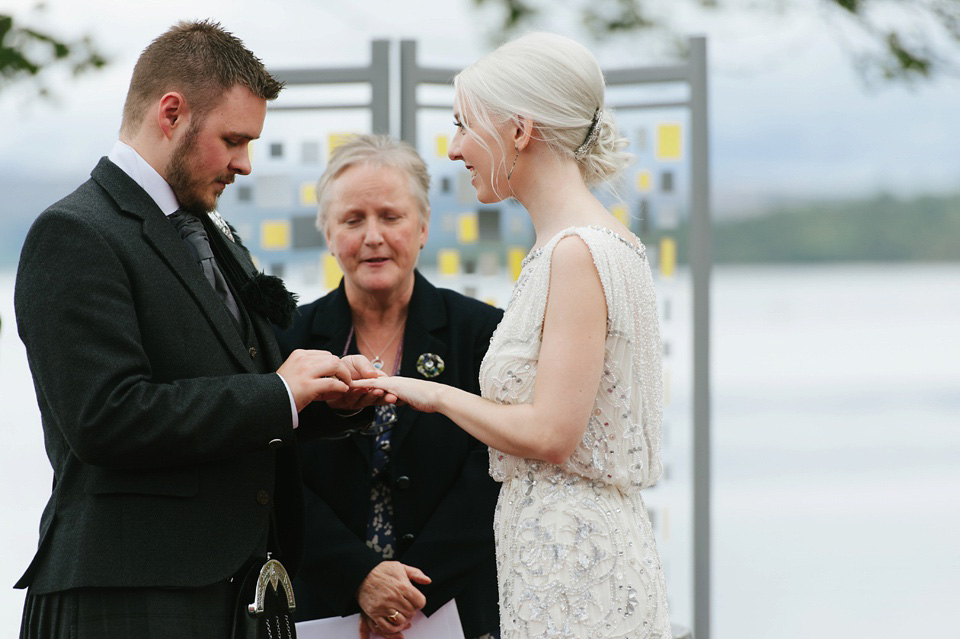 "My favourite part of the whole day was the ceremony – absolutely!  It was everything I'd always imagined it to be and the part of the day that I dreamt about constantly. Gerrie was the perfect person to marry us, we had the two readings, we had our parents involved in the ceremony too and had our mums sign the register. It was just perfect for us and I love reliving it through our photographs."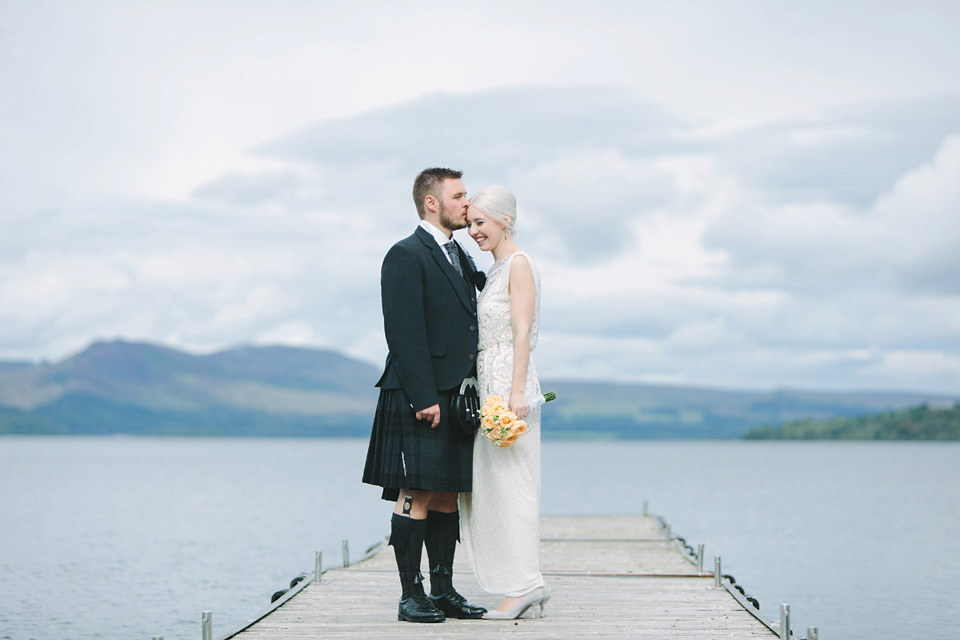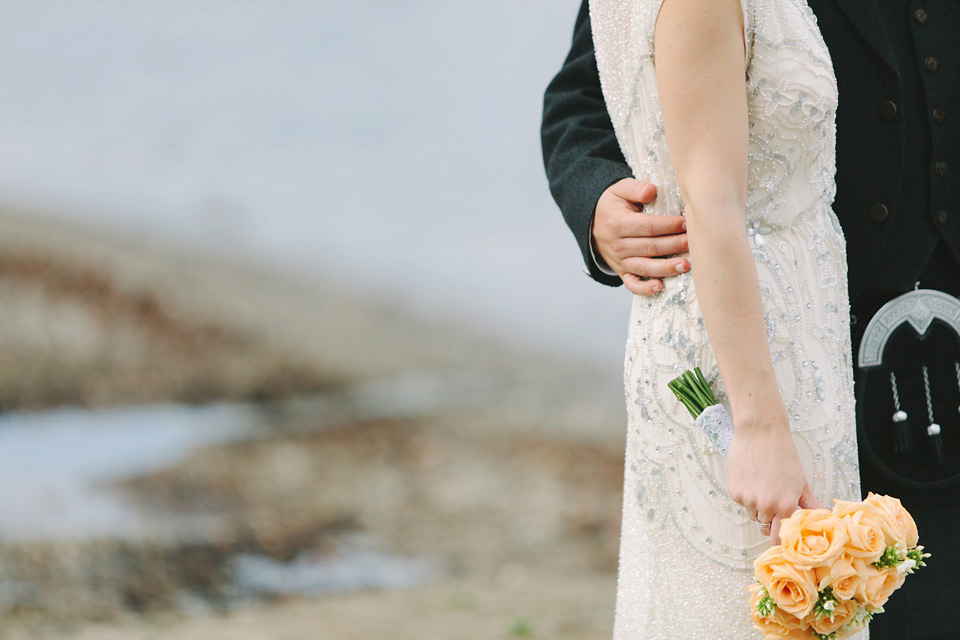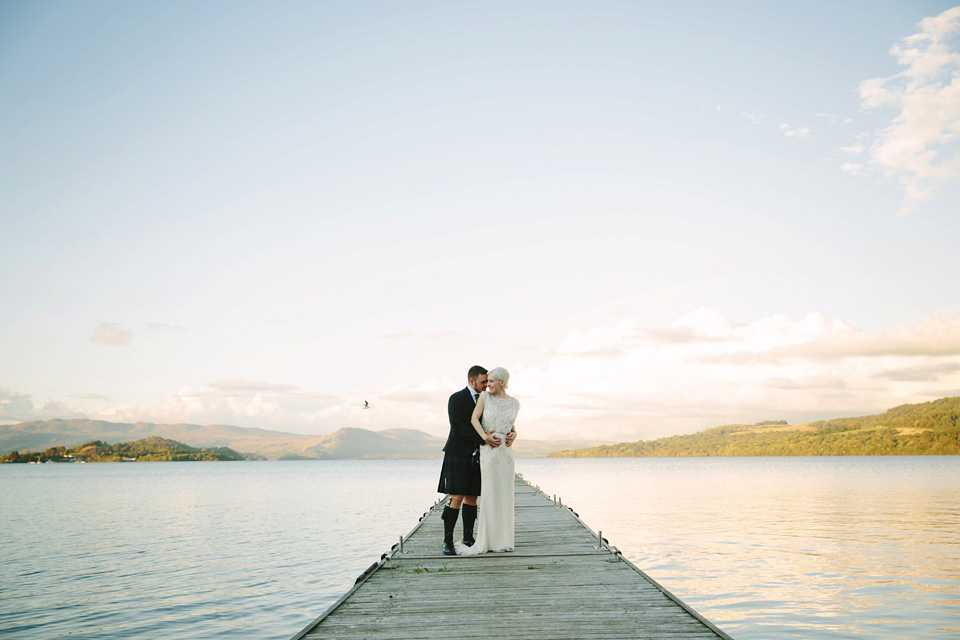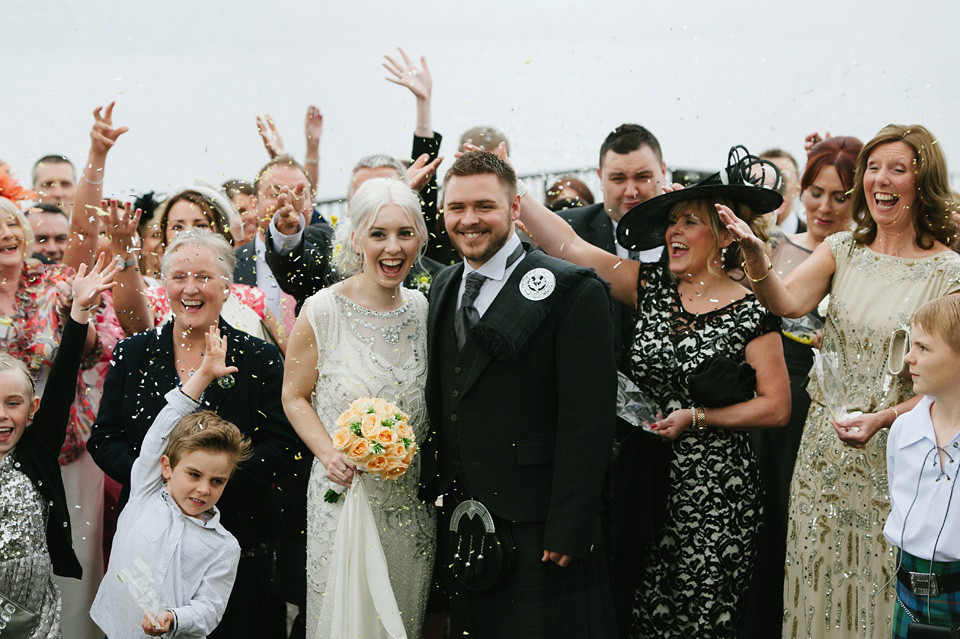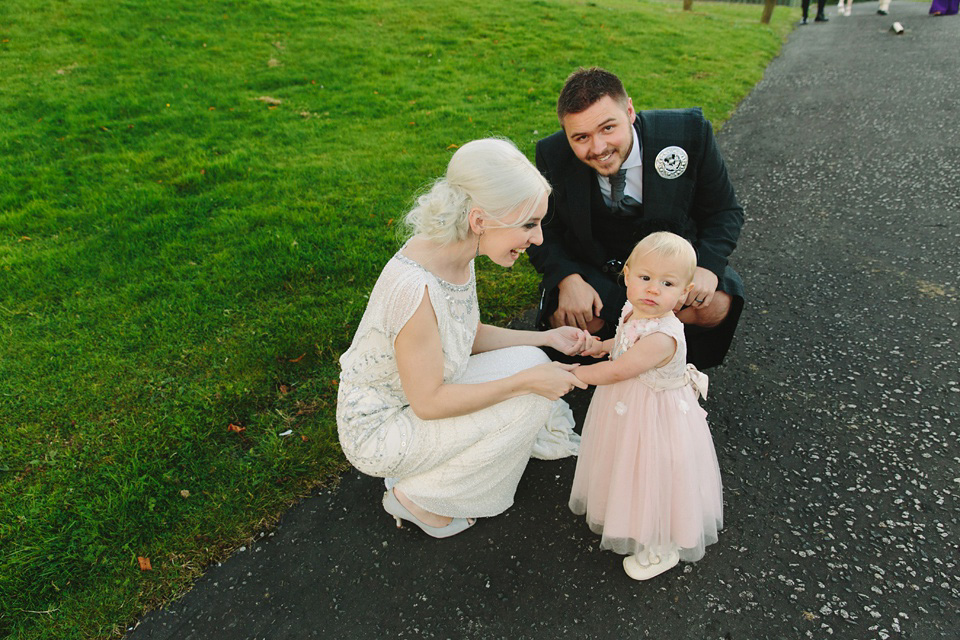 "All the lovely ladies at The Cruin helped manage our day – Elaine, Lyndsey, Wilma, Sandra were all extremely helpful throughout the planning process and are absolute pros at what they do.
It's an absolutely beautiful setting and when we came across the Cruin we knew we had struck gold! The staff were unbelievable, the food (an important part of the day for us) was incredible and we couldn't imagine having our day anywhere else."
"Our amazing metallic wedding cake was a gift from my wonderful bridesmaid Dannii – she used to have her own cake business and is an unbelievable baker. Graeme loves fruit cake so the top tier was for him, and again I just wanted Dannii to have free reign. She took inspiration from my dress, from our colour scheme and from the glitter and sparkle!  We also had a square element running throughout our stationery so this was incorporated into the cake too! It was absolutely perfect."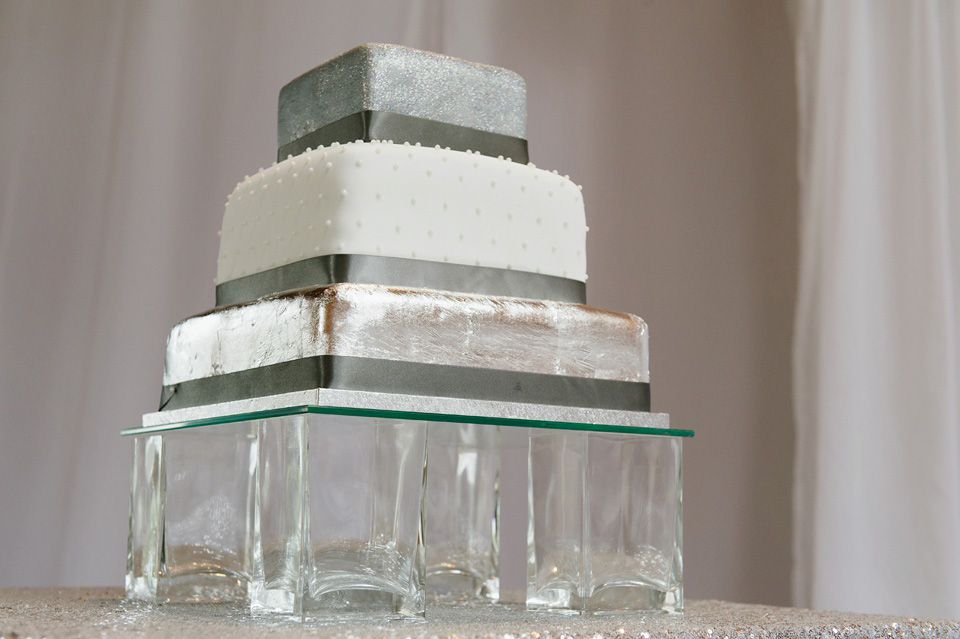 "I knew that I would want to make a lot of things for our wedding so there was a huge crafting element to our day. Graeme and I both love the colour combination of grey and yellow and it kind of just seemed an obvious choice for us, I can't remember ever really having a discussion about having any other colours. I then took inspiration from my dress for other details throughout the day, like using grey and pewter pearls on my chair hoods, grey sequins and clear beads for the wine charms, just little things like that.
I made up yellow party bags with bubbles, balloons, slinkies and finger puppets for the children to keep them occupied. For the wee tiny tots I got yellow dribble bibs embroidered with our wedding details."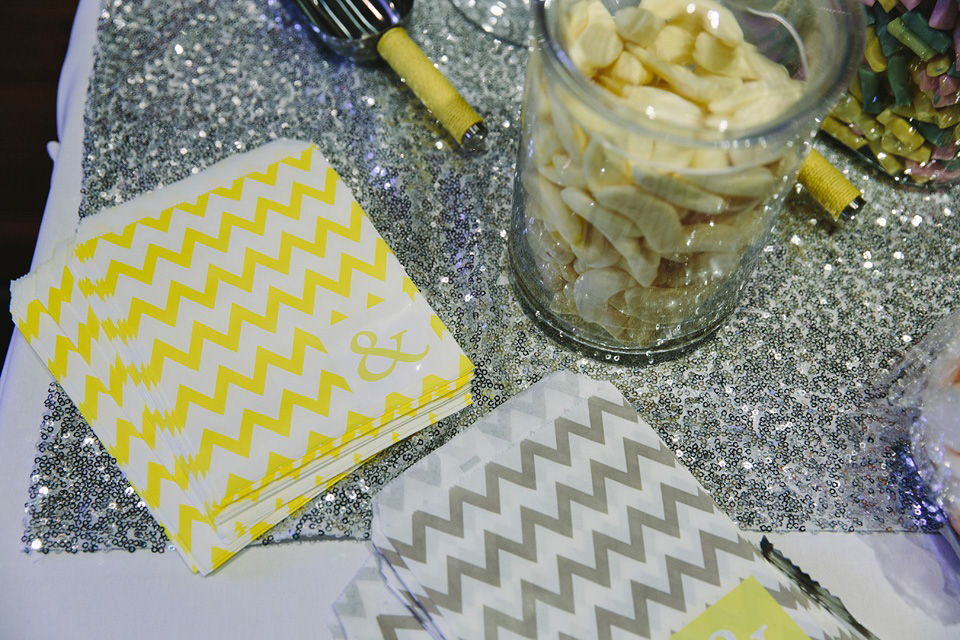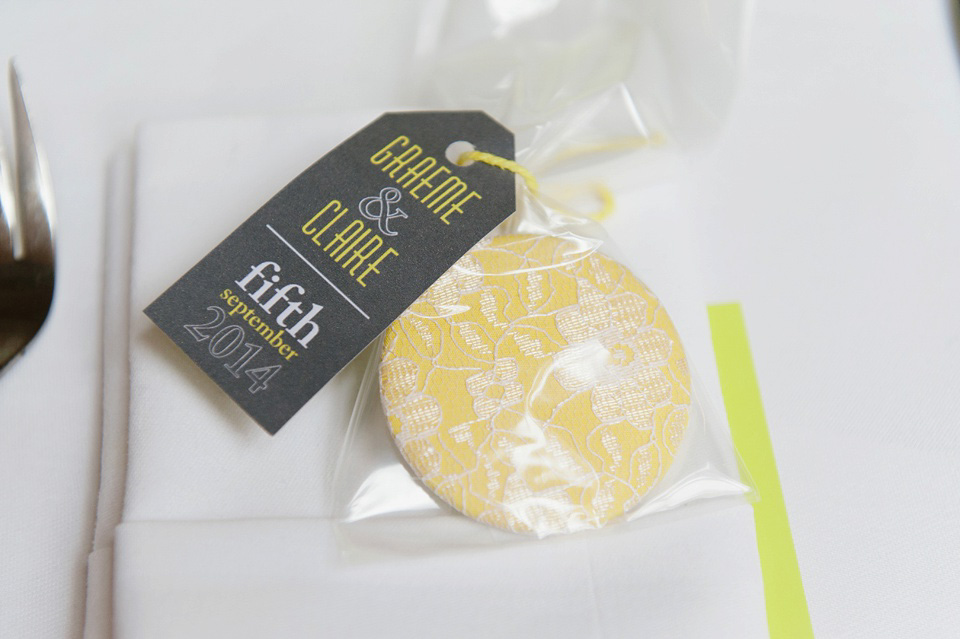 "The Cruin made all our amazing food. Graeme and I love going out for dinner and so food was also going to be an important part of the day. Before we booked our wedding we went for a meal at the Cruin and loved it!
When it came to deciding on our menu we made a whole weekend of it – we stayed overnight at Loch Lomond and sampled lots of amazing food and lovely wines!"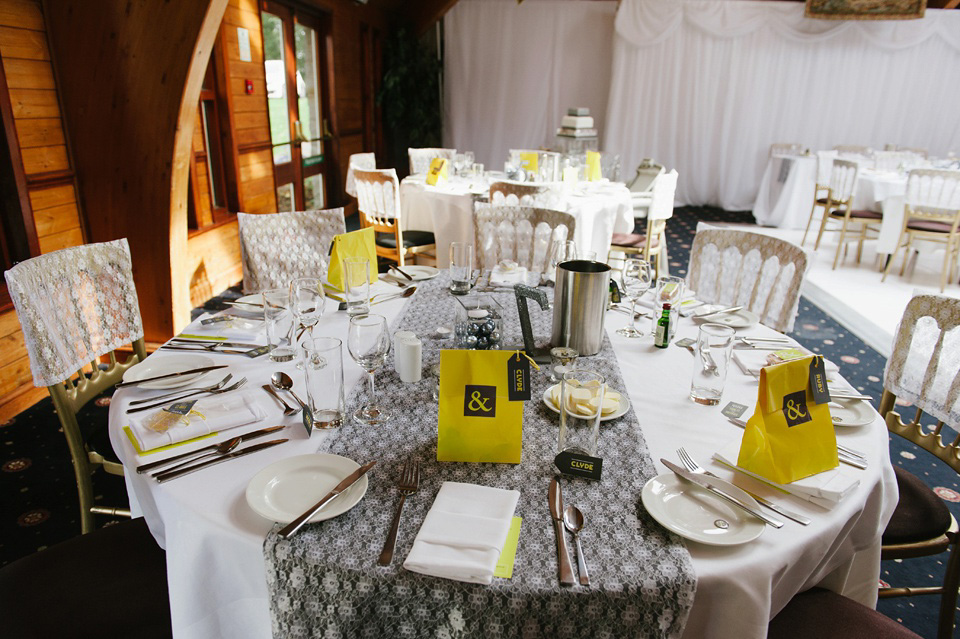 "Our wonderful Stationery Designer was our friend Rab – fiance of Dannii our bridesmaid.  He was an absolute star and designed everything you see that is printed from our invites, table plan, photo list, place settings, labels, stickers, thank you cards, everything.
We ran with the yellow and grey colours, used lots of squares throughout and also ampersands! He done so much for us and we will always be grateful for all his help in making our day look so amazing."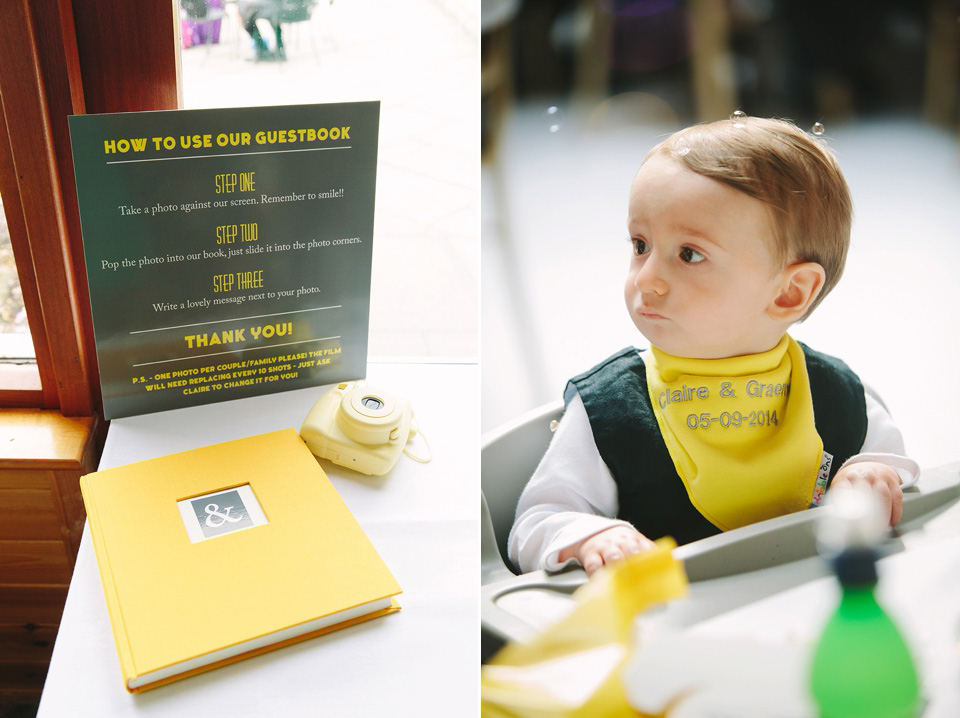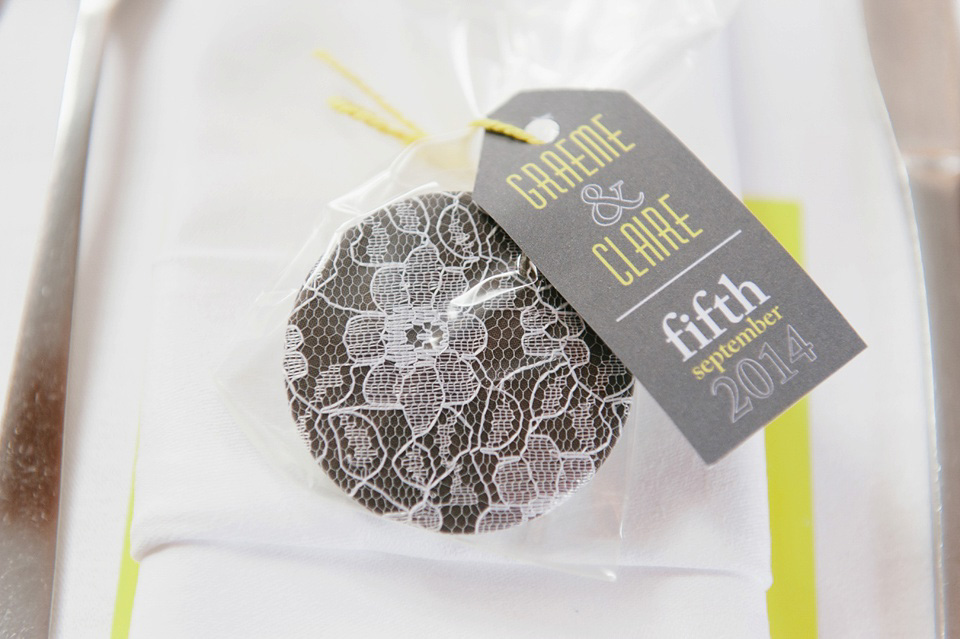 "When it came to our first dance, we don't really have anything we consider 'our song', but when I heard the John Legend song 'All Of Me', I knew I could imagine us both dancing to it on our wedding day. That, and the fact that Graeme didn't hate it (he wasn't too struck on my first choice of Katrina and the Waves' 'Walking on Sunshine'!) led to it becoming our first dance song."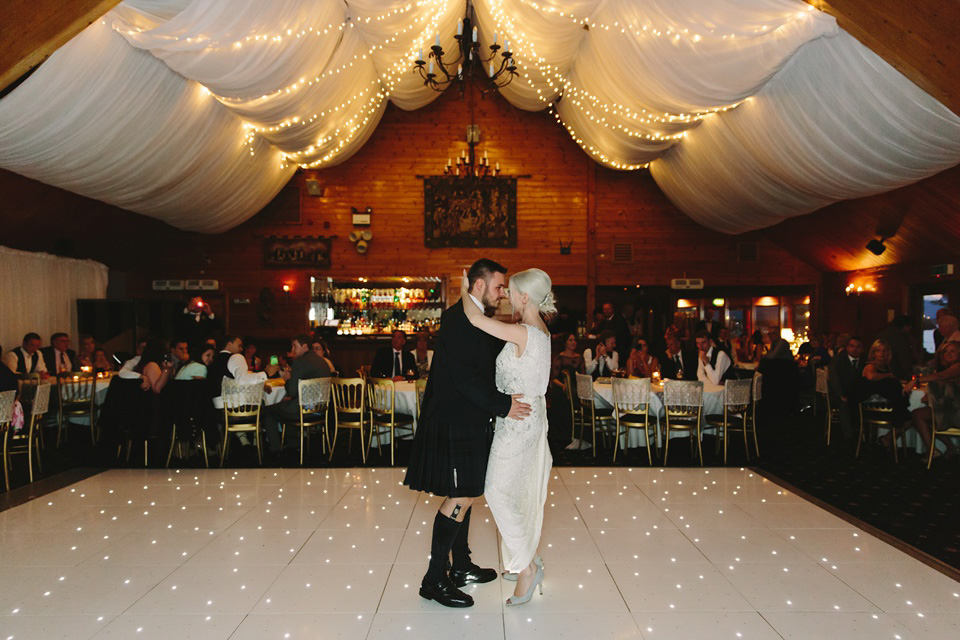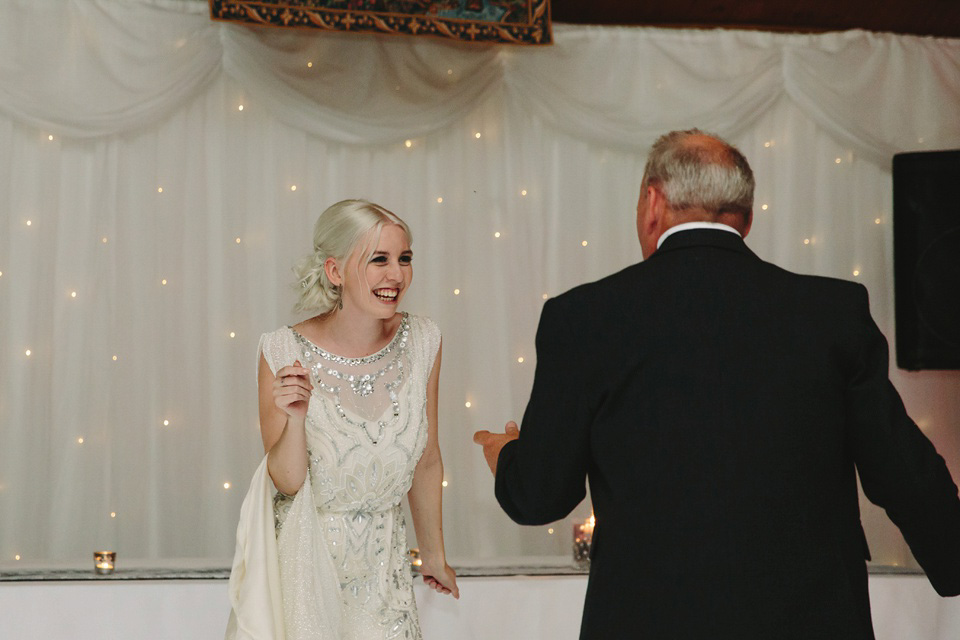 "Our band was The Sly Dogs – I used to work with Gerard and they were absolutely brilliant. They learnt John Legend – All of Me especially for us and it was such a gorgeous version."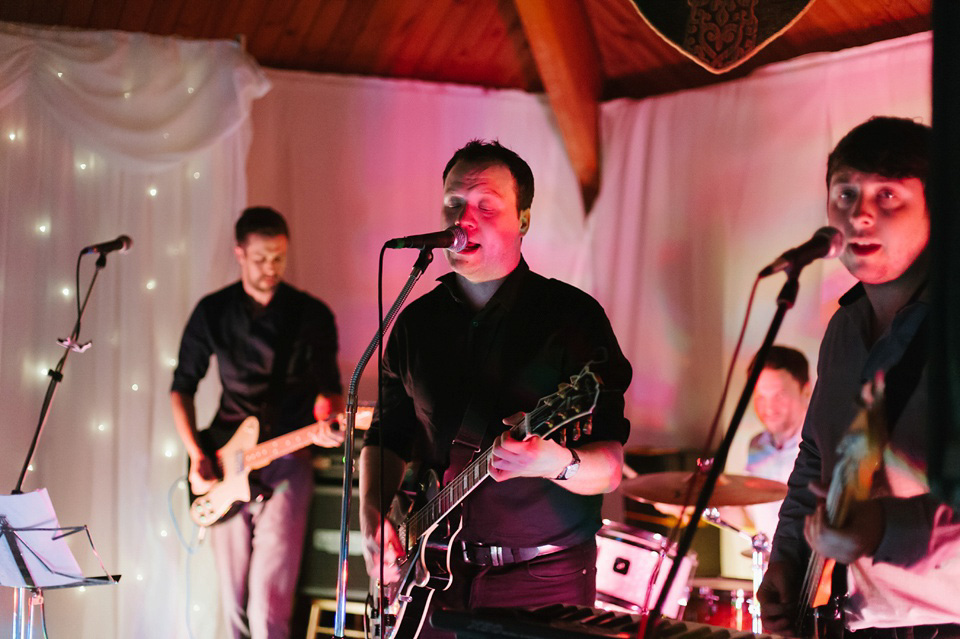 Words of Wedded Wisdom
"Two things – firstly get a professional photographer. If you do your research and spend as much as your budget allows then it truly will not be a regret. If you do this then you will never look back on your wedding photographs and think it was a waste of money.
And secondly, do what you want to do. It is you and your partners day. Those who have been married before you have had their day, those who get married after you will have theirs. But this is your wedding day. So be happy that every decision made has been yours."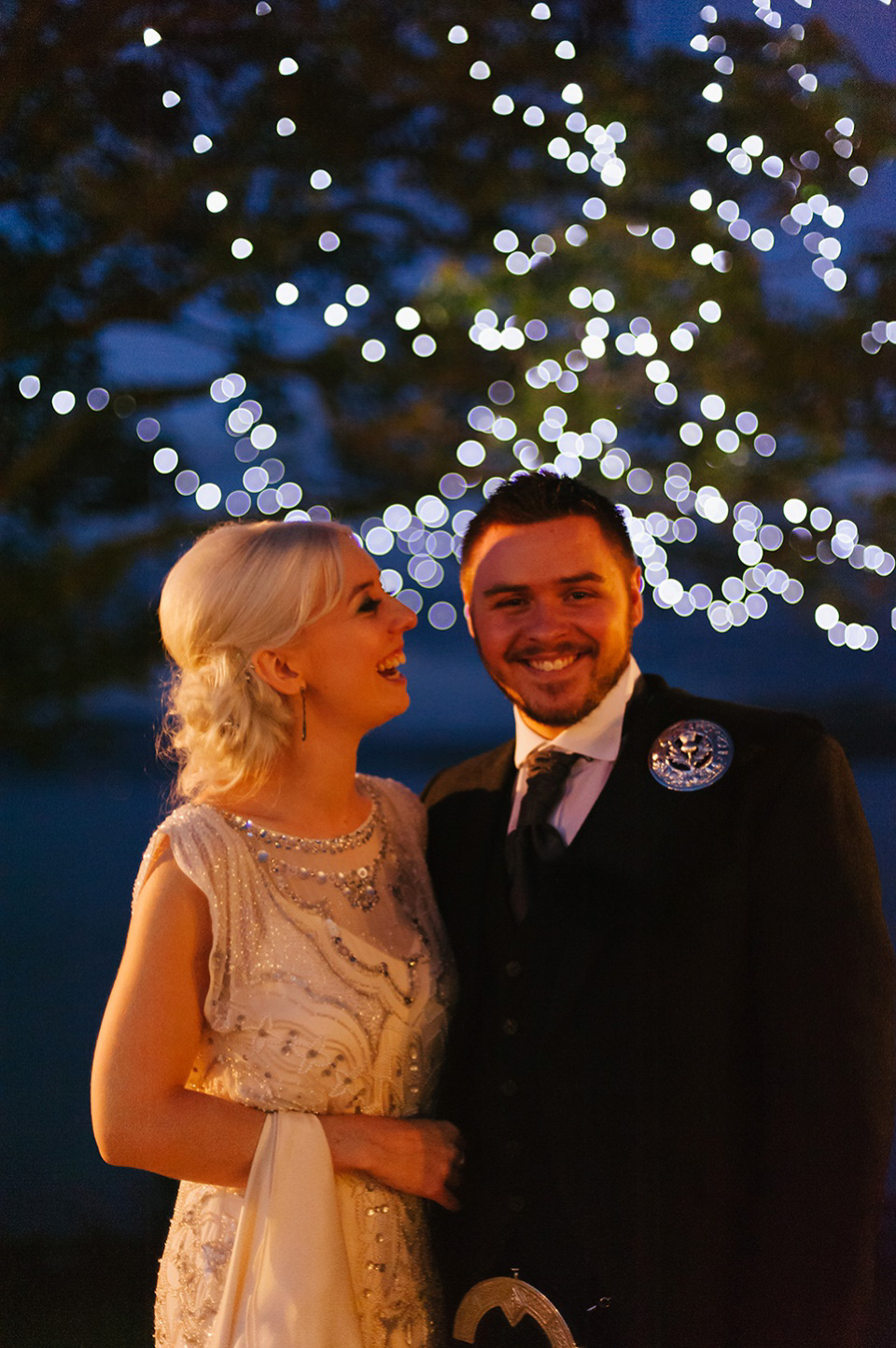 What a sweet and lovely day.  I'm thrilled that you discovered the brilliant Emmy Shoes via Love My Dress Claire – aren't they just absolutely wonderful?! Your shoes were the perfect choice for your lovely wedding day and chosen outfit. You look knock-out!
Huge thanks to Struve Photography for allowing us to share their lovely images with you all today.  Scottish brides, we have quite a community of you here on Love My Dress! If you'd like to view more weddings in Scotland, click here.  You can also explore more Humanist and outdoor weddings too.
Have a lovely Saturday morning all,
Love Annabel xx
Photographer – Struve Photography + Juliebee second-shooting
Venue + catering – The Cruin at Loch Lomond
Wedding Dress –  Jenny Packham, purchased from Anne Priscilla Bridal
Hair Accessories for Bride, Mother of the Bride & Bridesmaid  – Mairi Brunning
Earrings – Camden Market
Bride's Shoes – Emmy Shoes
Perfume – Chanel Chance
Grooms Kilt – MacGregor & MacDuff
Bridesmaids – Bridesmaid's Dresses – Flossy & Dossy
Cake – by a friend
Entertainment – The Sly Dogs (band)
Rings – Timothy Sharp
Stationery – a friend
Hairdressers – Sarah at Gosh
Make-up – by a very talented friend called Katie Lowson