Good morning lovely ones – thank you so very much for taking time to visit Love My Dress this morning. Did you catch our weekend posts? We shared an update from our Lovettes member Ria who gets married in just 10 weeks time, and yesterday, we featured a posts that asks some tough but honest questions to help you conclude if wedding dress sample sale shopping is for you – brilliantly written as usual by Emma Meek of Miss Bush Bridal. And oh for the sun! When it did finally come out, it was absolutely glorious wasn't it? I hope to be sharing more beautiful sunny images on our Instagram feed over these next few days.
This morning, as is usual first thing on a Monday, I'm sharing something a little special.  It's not often we get to feature a bride who has chosen a short dress. I'm not talking 50's full circle style short, but something altogether different. Copyrighter Sarah tied the knot with Creative Studio Manager Ian on 18th April this year at Chaffeymoor Grange in Dorset .
Photography by Natalie J Weddings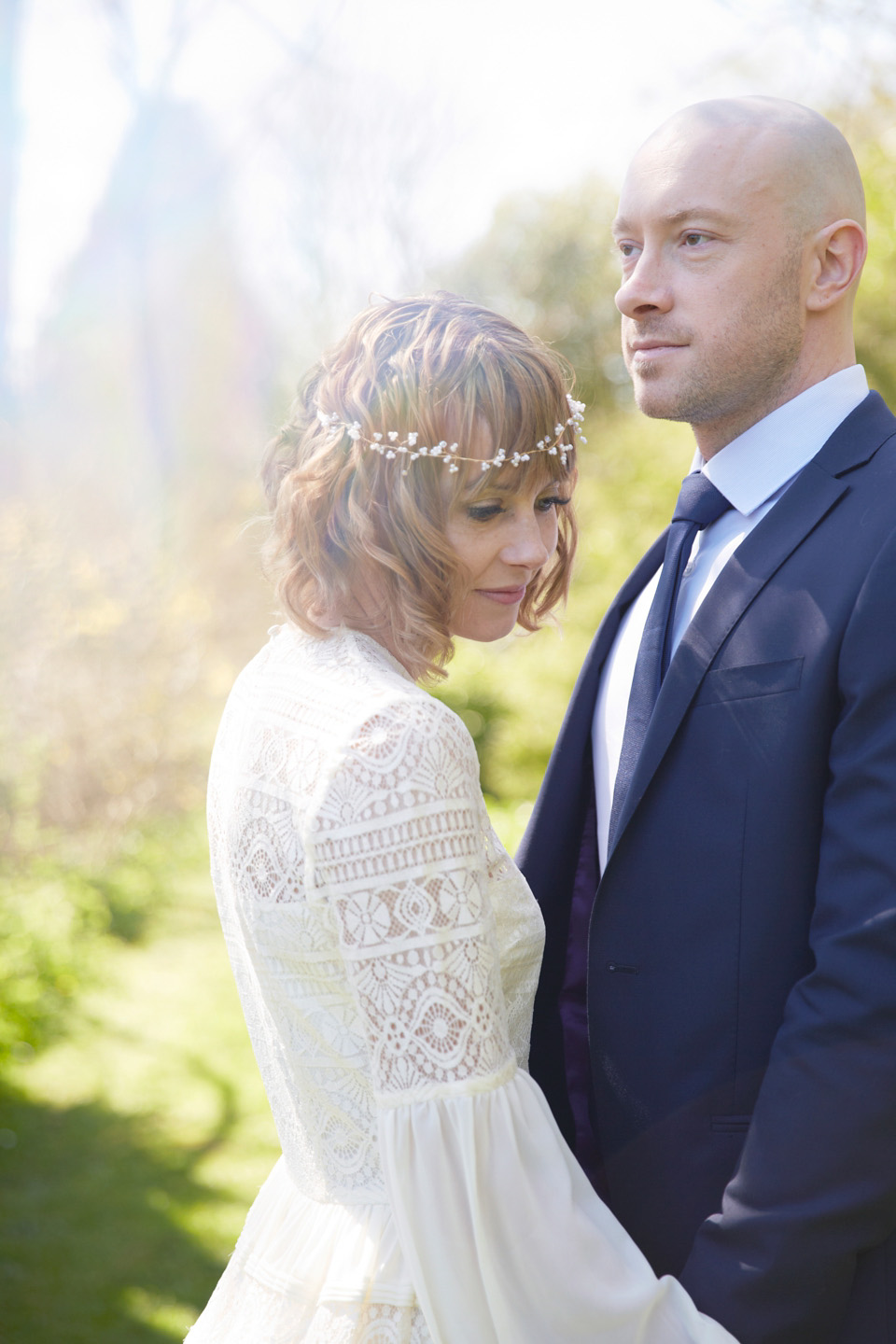 "We wanted somewhere small, intimate and beautiful – but also relaxed and informal.  Chaffeymoor Grange in Dorset was perfect – it offered somewhere everyone could stay for the whole weekend and relax."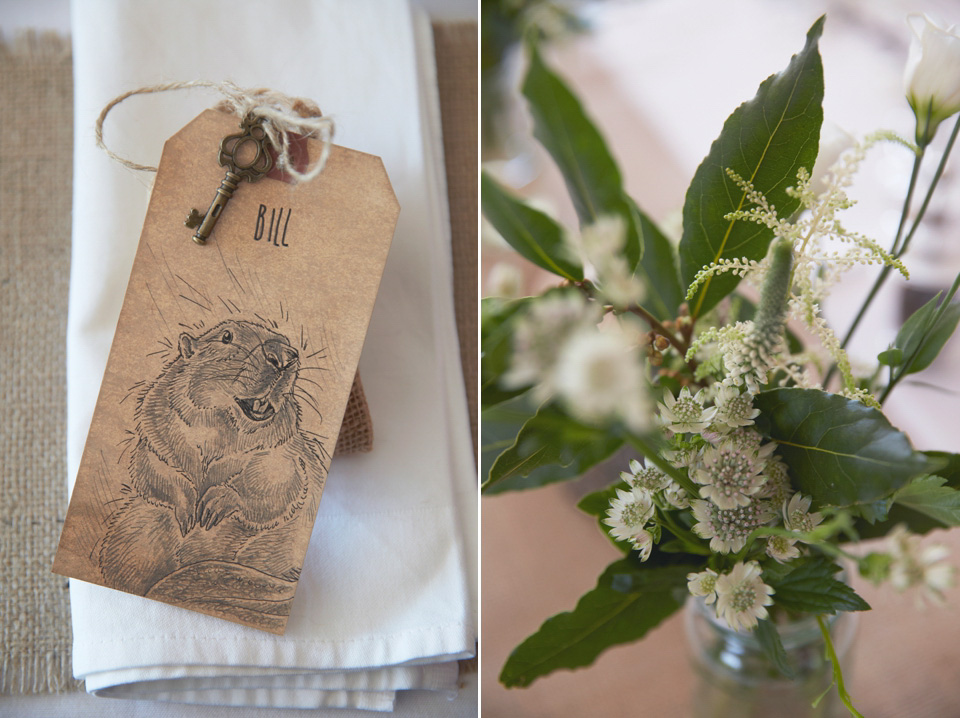 "The lounge with its large comfy sofas and grand fireplace was ideal for the ceremony. We also loved the gardens with its wild flowers, trees and shrubs and were lucky enough with the weather to enjoy them with a glass of bubbly after the ceremony."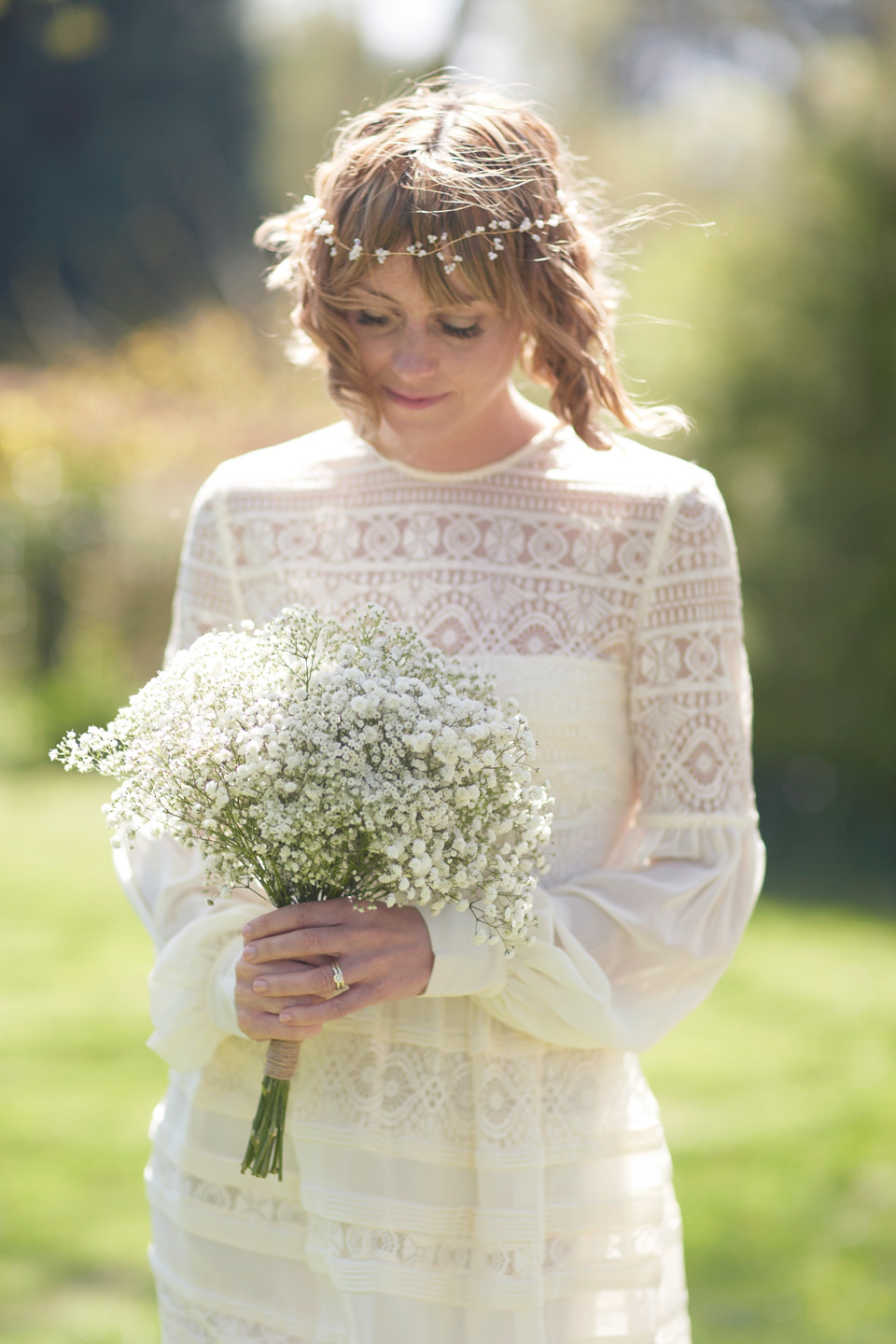 "I bought my Temperley London dress online from Harrods. It was a total gamble – I loved the look of it online but had no idea if it would work until I tried it on and loved it. I loved the length, the lace, the floaty/flared sleeves and silhouette it gave me."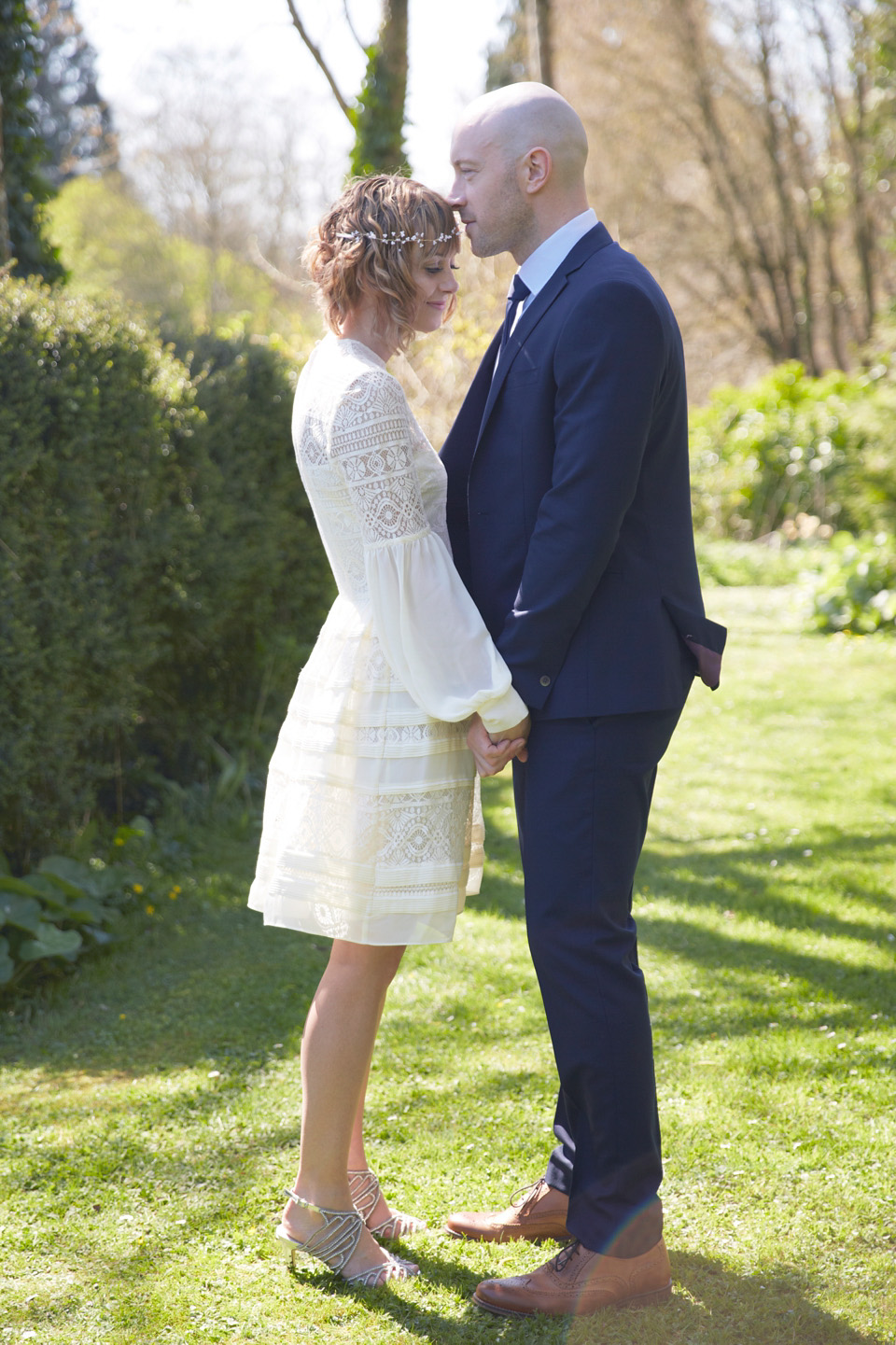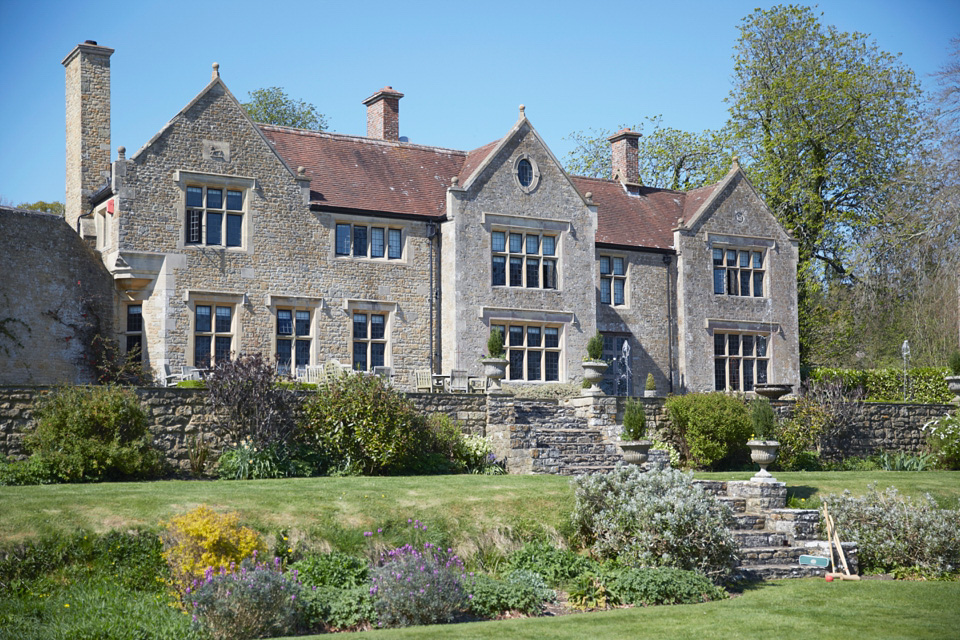 "We met at work and became a couple in 2007. We got engaged 7 years later in August 2014. It was a little unconventional in that it wasn't the big 'will you marry me?' traditional kind of surprise. Instead we talked about it and found an engagement ring. It was going to take 5 weeks to make so off we went into Nottingham to hunt for a dummy ring. And found one – in Primark for £1. It was a snake ring. When we got home, Ian proposed 🙂 Within two weeks we'd set the date, booked the venue, hired the caterers and picked a wedding dress."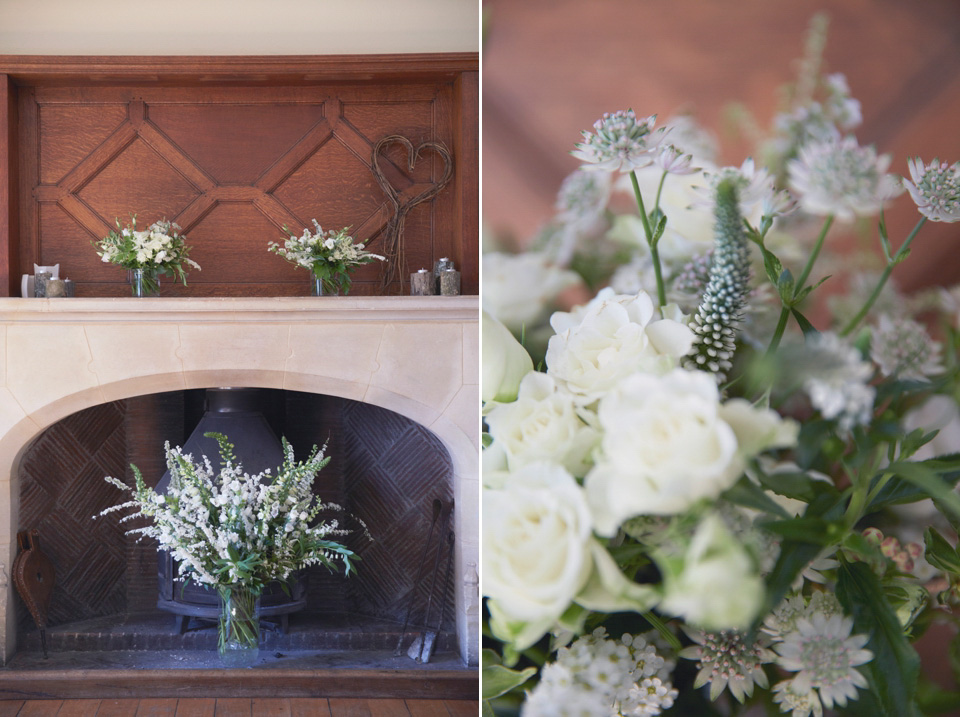 "Our style/colour scheme just sort of happened. People kept asking 'what's your colour scheme and theme?' at the beginning, and I had no idea! It wasn't something I'd ever thought about. But then as we started getting bits and bobs for decorations etc a natural, indoor woodland theme started to come out.
We ordered real tree trunks for candle holders, lots of burlap/hessian material for the table decorations, and wild flowers rather than more formal displays. We also picked animal spirit guides for all our guests, and got a friend to hand draw the illustrations onto stained luggage tags. The main thing was keeping everything relaxed and informal. Same with the dress – I didn't want a traditional white wedding dress and the one I chose ended up suiting the rest of the boho styling pretty well."
"Our florists were Wiltshire based 'Sprout & Flower'. They were a local florist recommended by Lyndsay the lady who owns Chaffeymoor Grange. We looked at a few but they stood out immediately due to their style – laid back and rustic with lots of natural / wild flowers."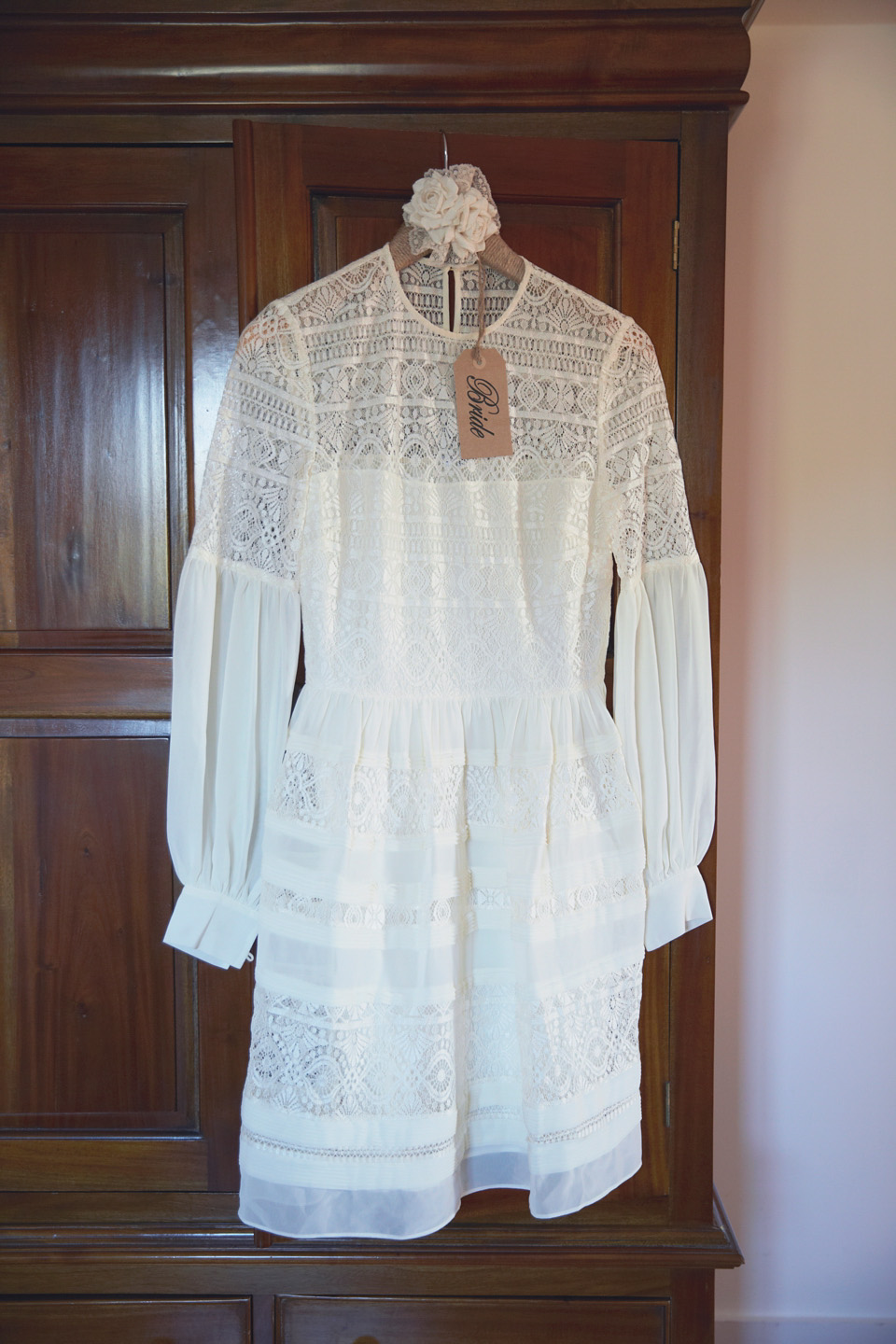 "I didn't wear any fancy shoes – they were from Dune. However, this was the hardest part of the whole wedding planning. I had planned to wear 'grown up' shoes. Aka ivory court shoes. After looking at every shoe on the internet matching this description and buying and returning several pairs I realised I can't actually wear high heeled, or medium heeled court shoes for that matter, unless I'm strapped in. My sparkly shoes were a 5 minutes to 'this store is now closing' quick-fire decision – which turned out to work."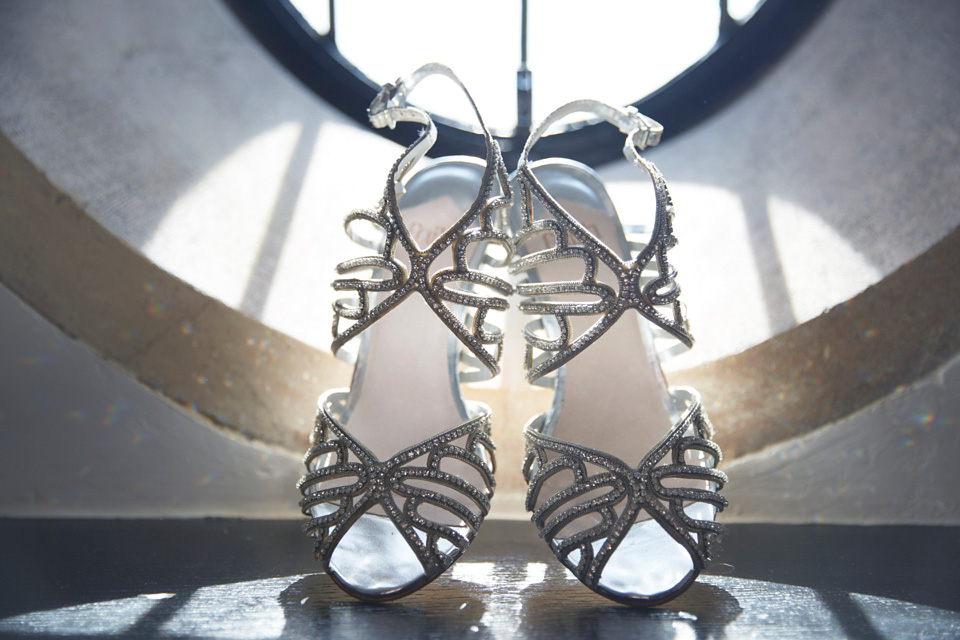 "As I was doing my own hair (and not doing anything particular different to it except taking extra care with the curls), I was on the hunt for some kind of hair accessory. After trying on a few tiaras I saw a handmade gypsophila hair vine which I loved as soon as I saw it. I would have bought it anyway, but especially since I wanted gypsophila for my bouquet.
I don't really wear earrings and since the dress was a high neck and long sleeves I didn't bother with anything else."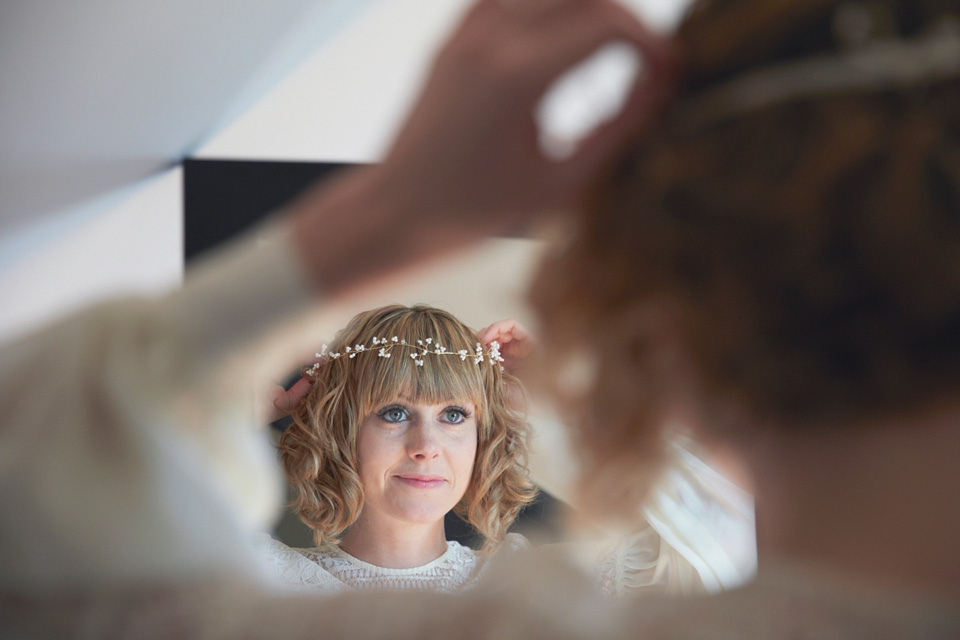 "I was happy to do my hair and makeup myself. I know how to handle my curly hair! I did treat myself to some new make up though. And I got some semi permanent lashes from Vanity Lash bar in Nottingham which meant I didn't need to bother with mascara on the day and looked great in the photos."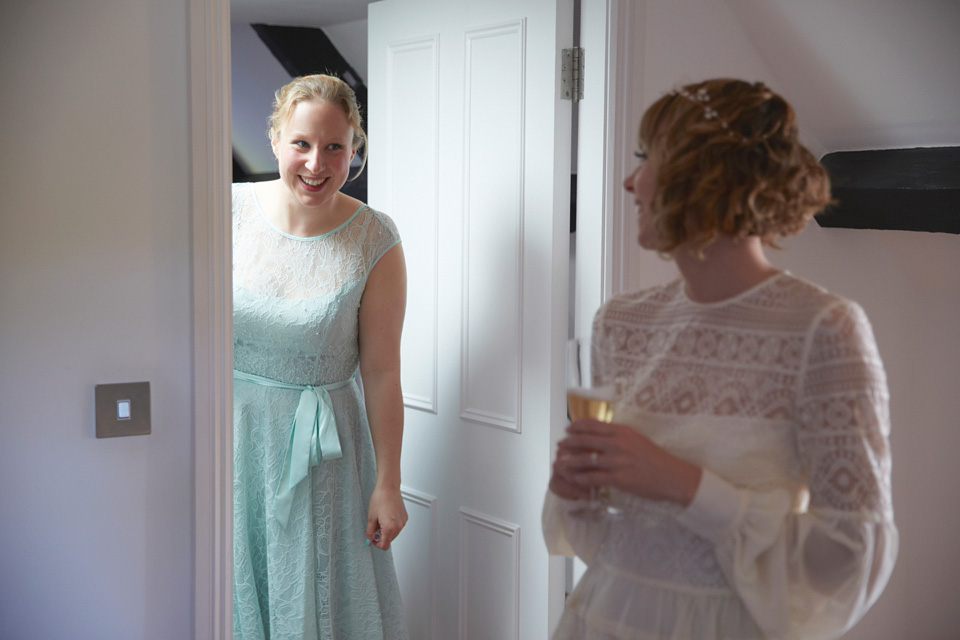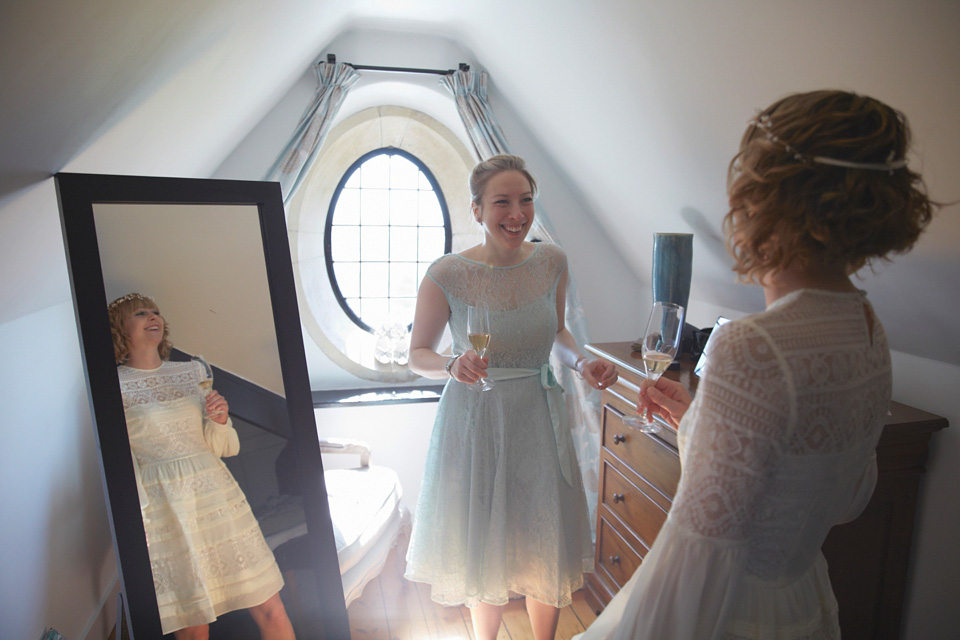 "My dad Richard accompanied me down the aisle.  We chose the soundtrack to The Wickerman for all our ceremony music to go with the bringing the woodland inside theme. I walked down the aisle to Willow's song, which we thought was playful, sensual and (in the husband's words) a little subversive too!
We wanted to keep things simple so we used the vows suggested by the registrar just tweaked slightly so it was less formal in places."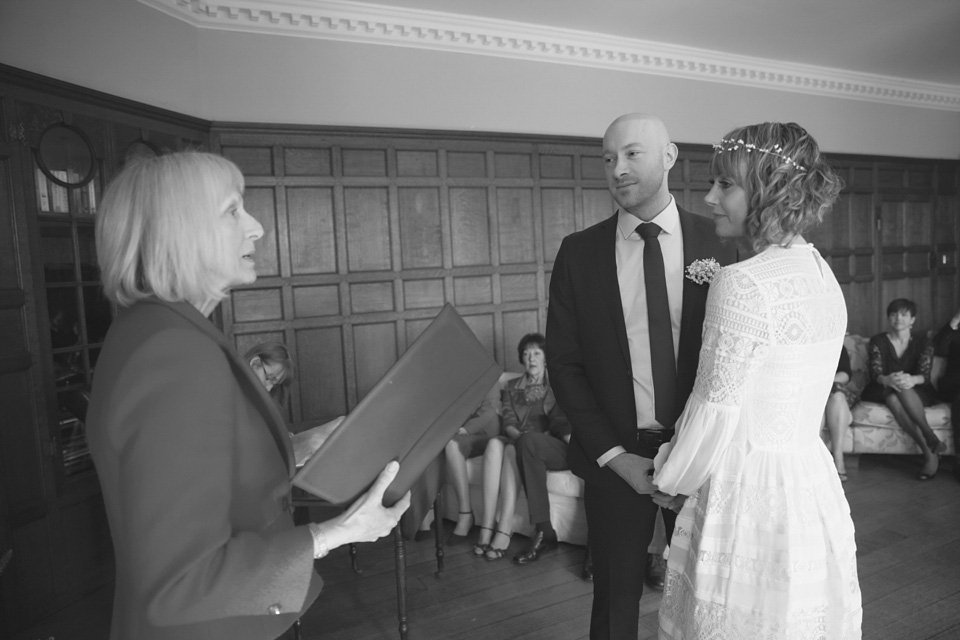 "My engagement ring is diamond white gold ring and the wedding ring is also white gold and a plain band. We got them at the same time from the same place, Silver & Stone.  They are in Dorset, just like our venue.
I actually found them online a few years ago when I was looked for a new ring after becoming allergic to nickel. I couldn't help straying into the engagement ring section (who wouldn't!) and loved the style of them. The gold is lightly hammered to give the rings a matt finish rather than a high shine finish which isn't really me. I wanted something beautiful, elegant and understated – not bling."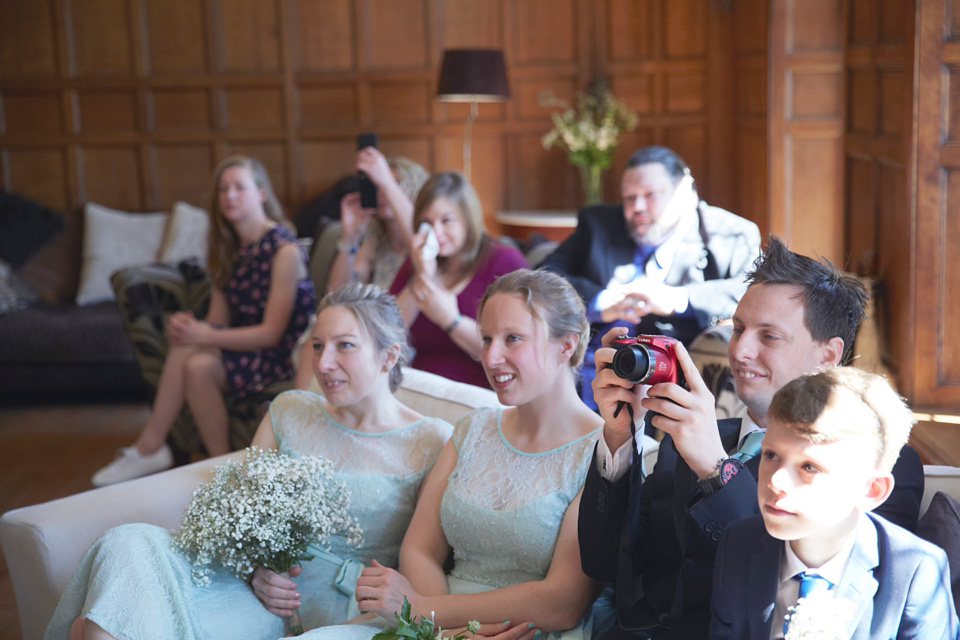 'We had two readings – initially to pad the ceremony out more than anything but I'm so glad we did. My best friend and bridesmaid Stephanie delivered the first reading and Ian's father the second one. Both were beautiful and set off a few tears in the house.  We didn't choose the readings ourselves – it meant so much more coming from the heart of the person reading them. It also meant we had a lovely surprise on the day."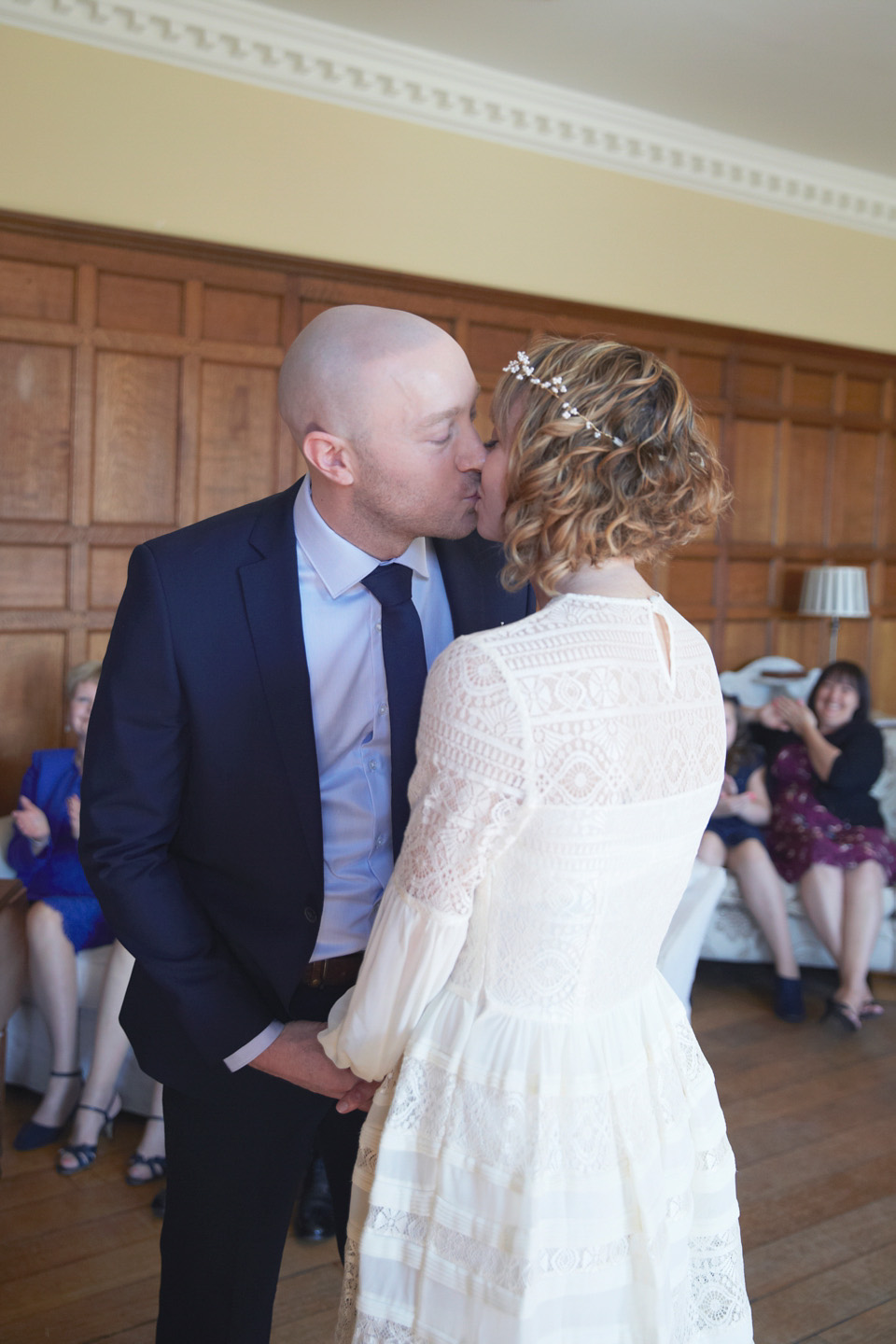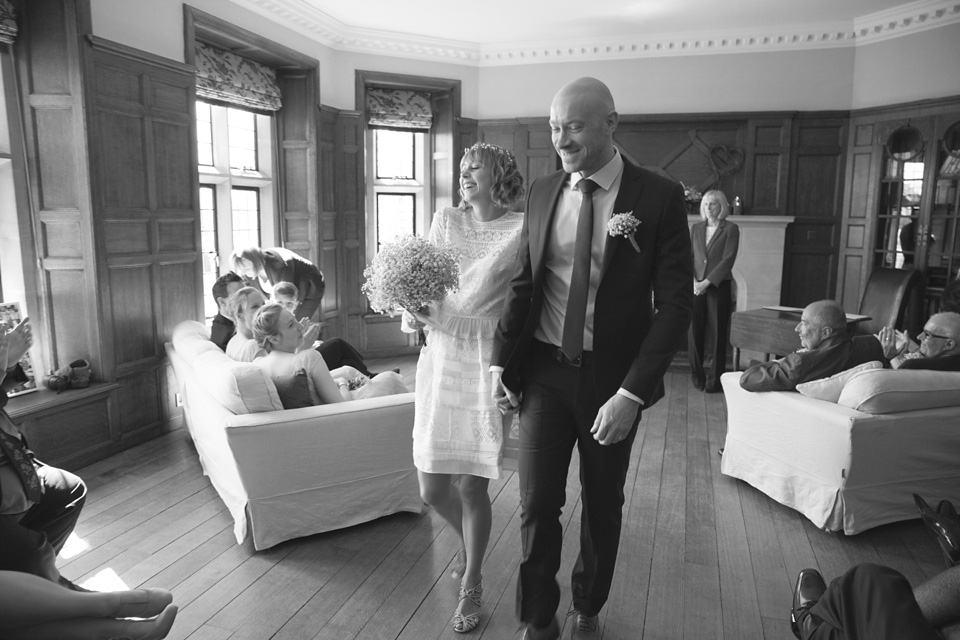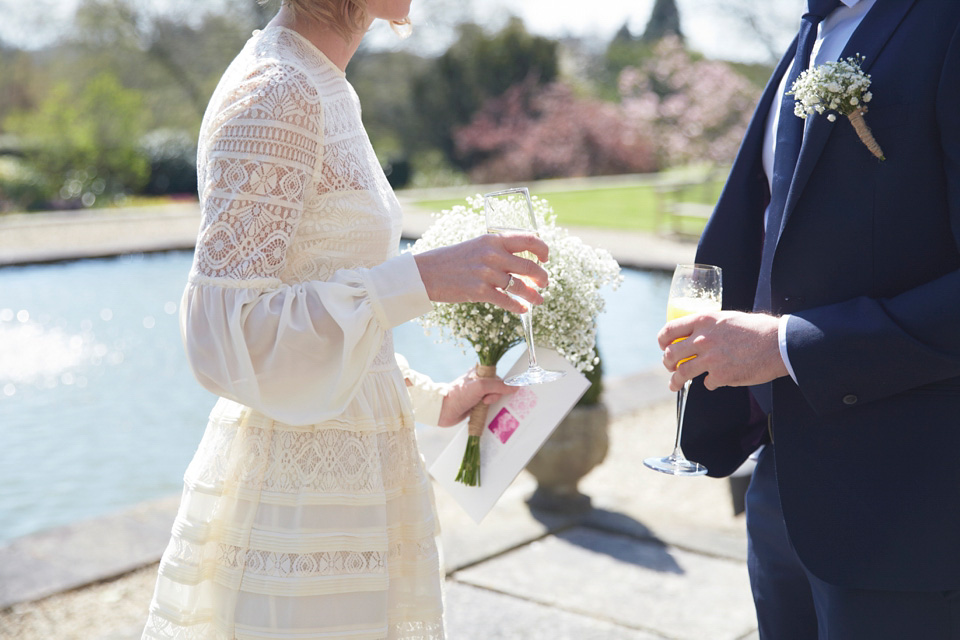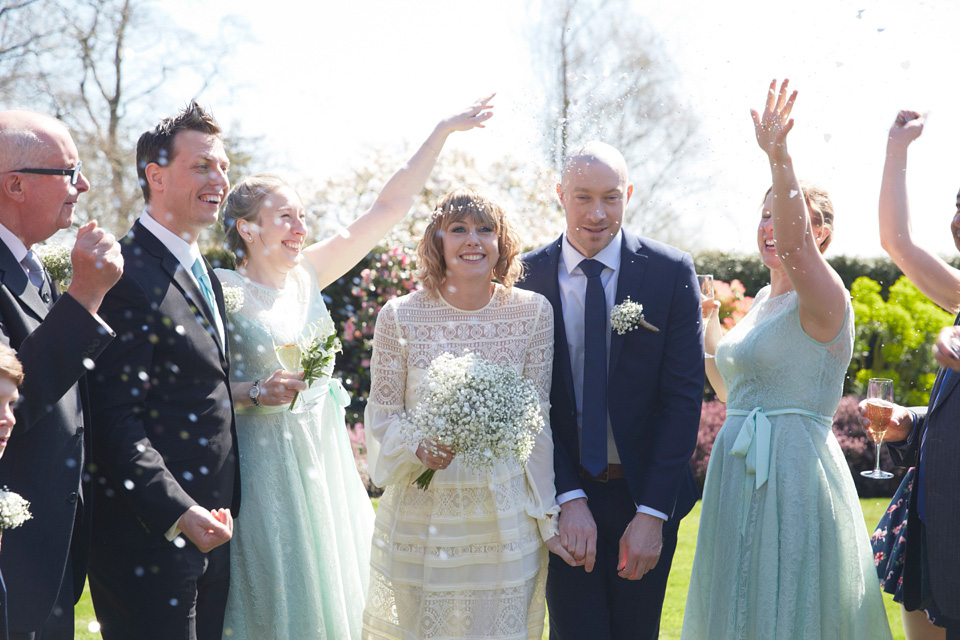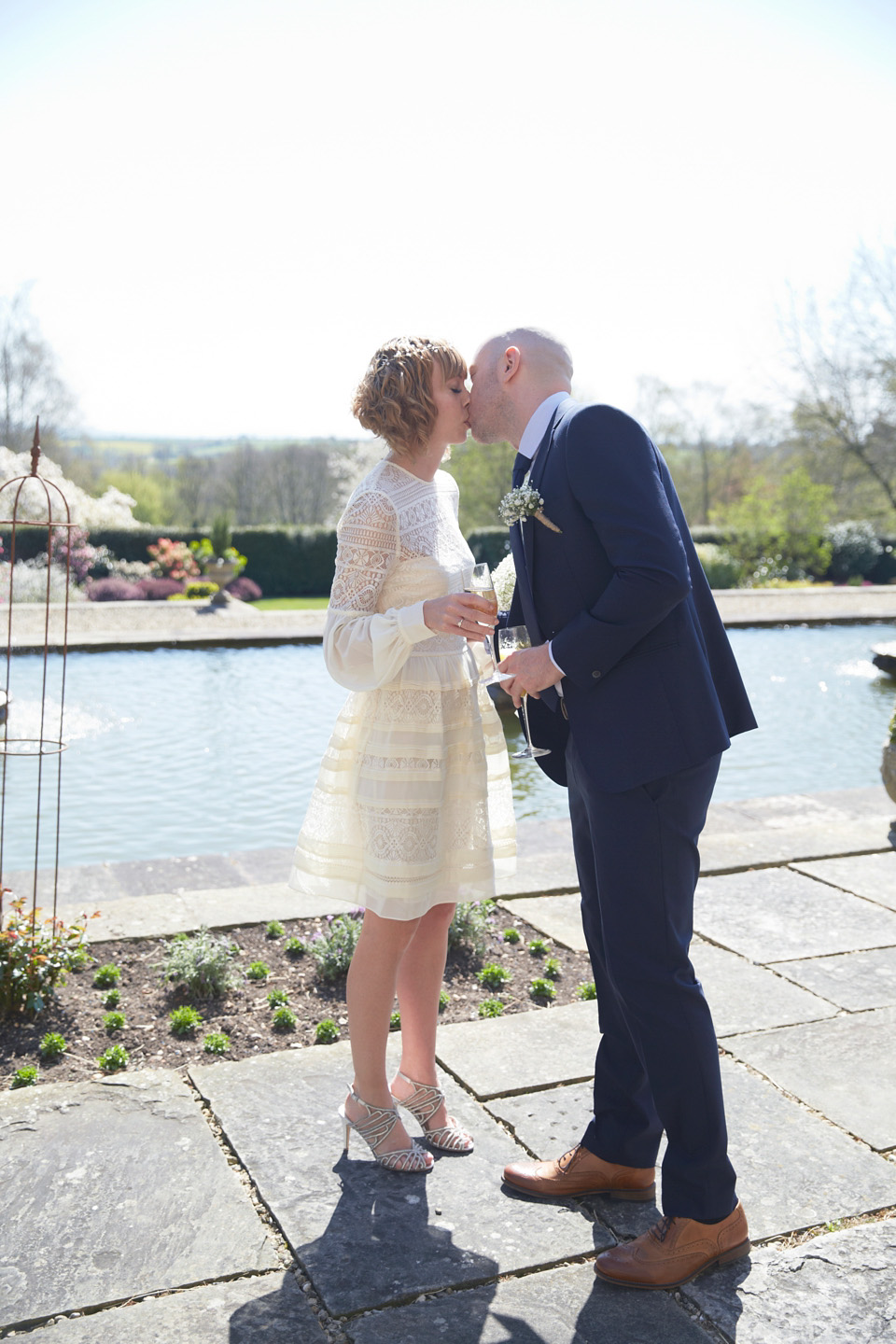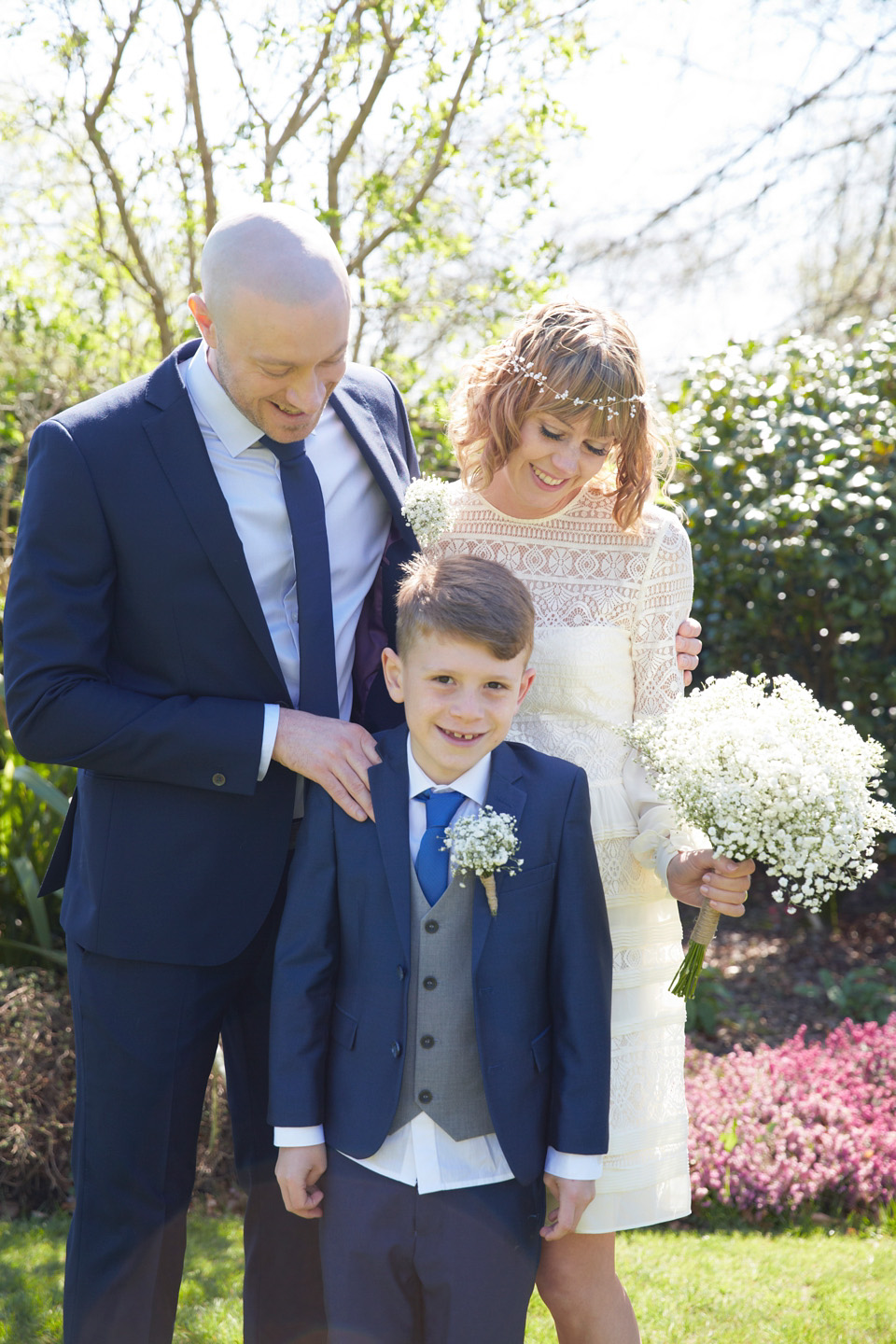 "The bridesmaid's wore pale mint green dresses from John Lewis and they picked this themselves.  We did actually go shopping in London together shortly after the engagement, but we ended up in the pub all afternoon! So the girls did their research, showed me their favourites to make sure I was happy and then got one. The only brief I gave them was soft, pale colours and mid length to match mine."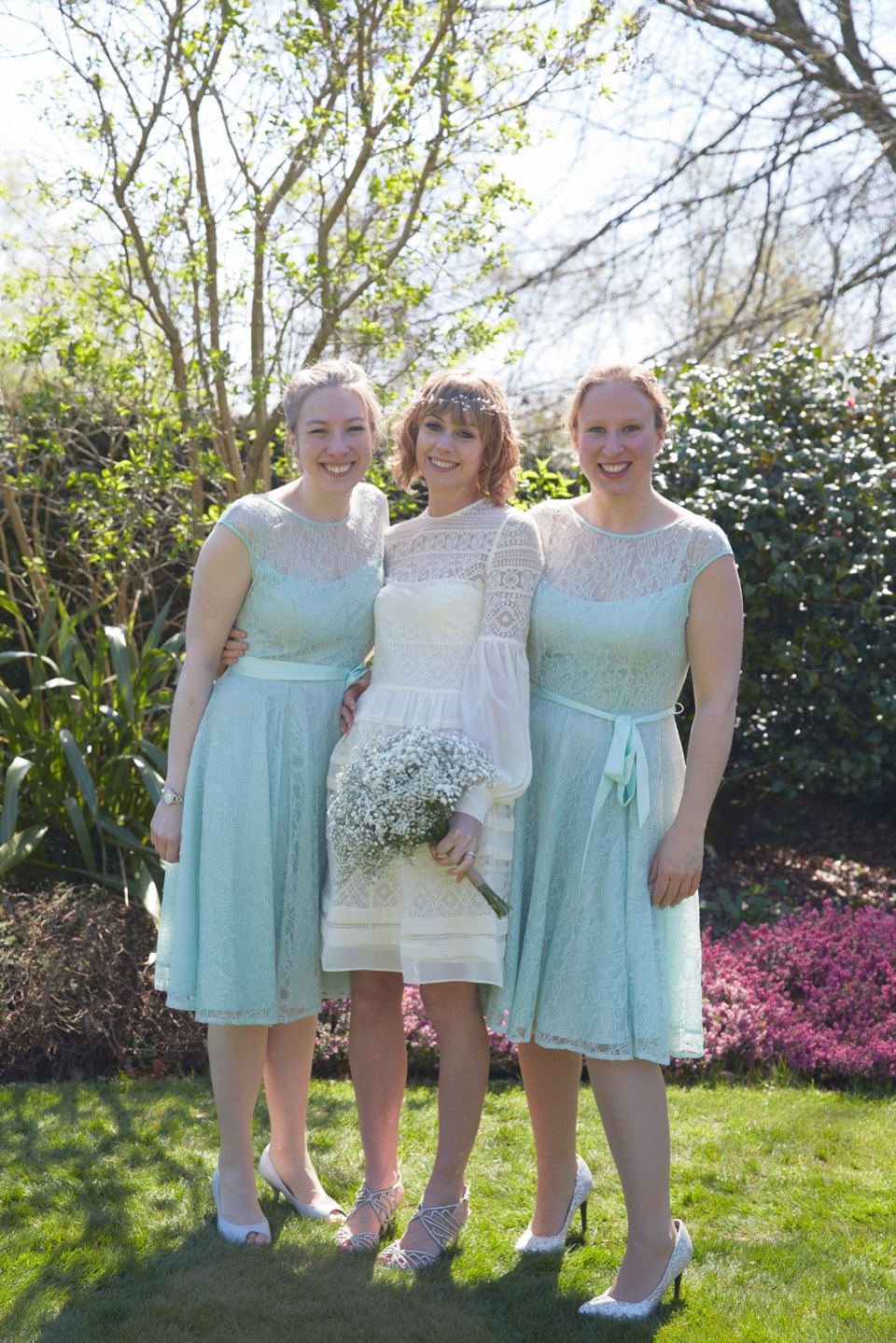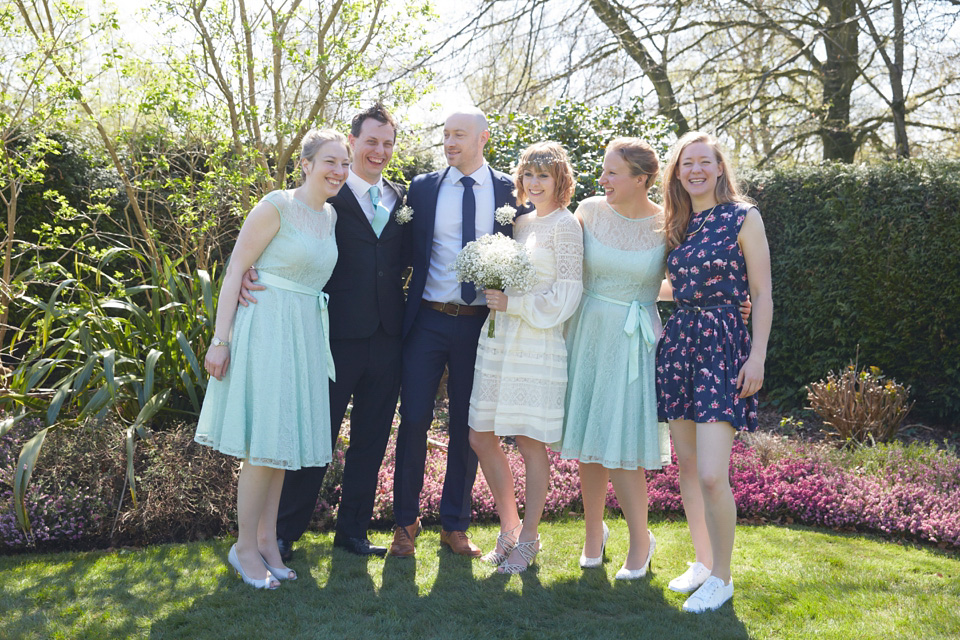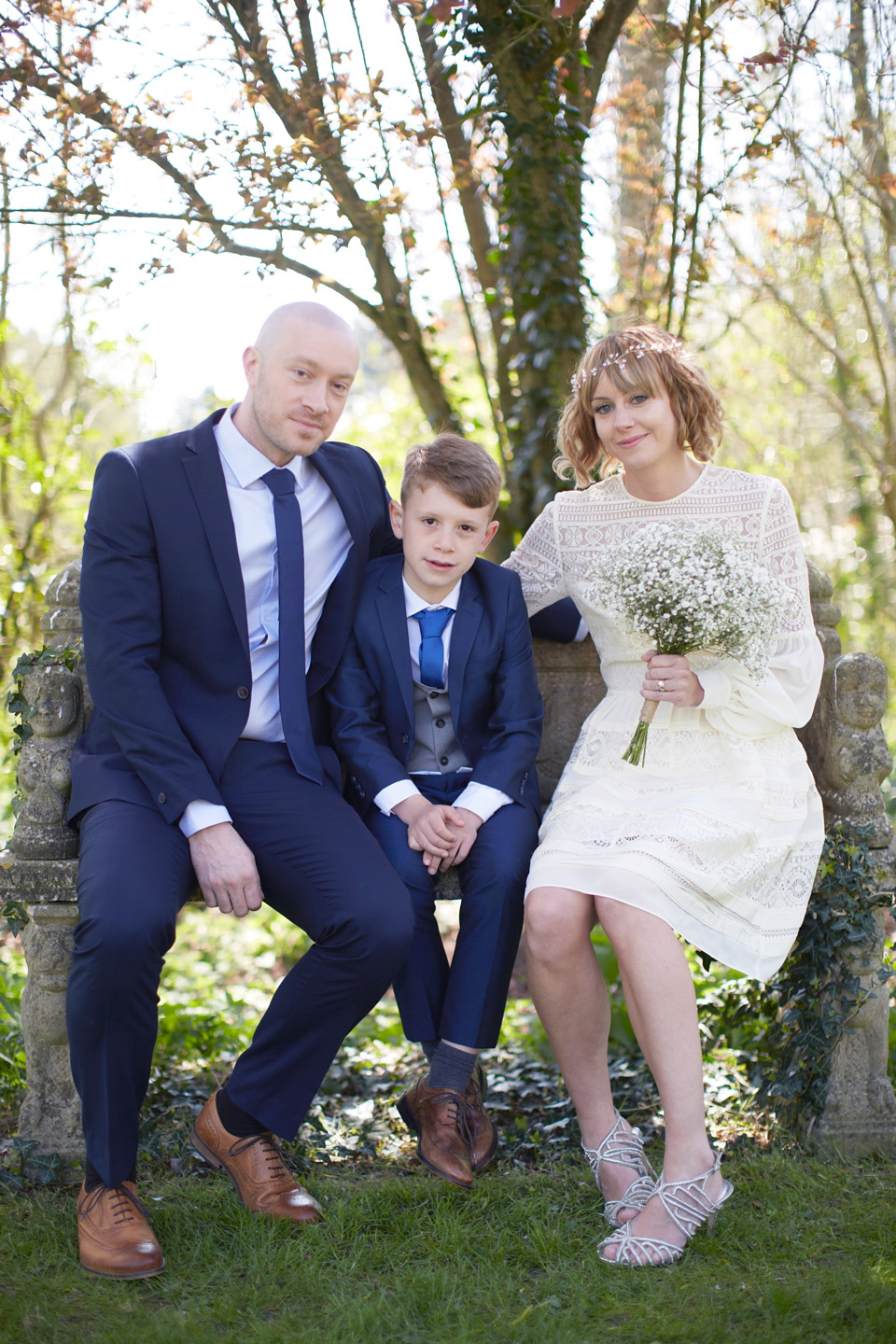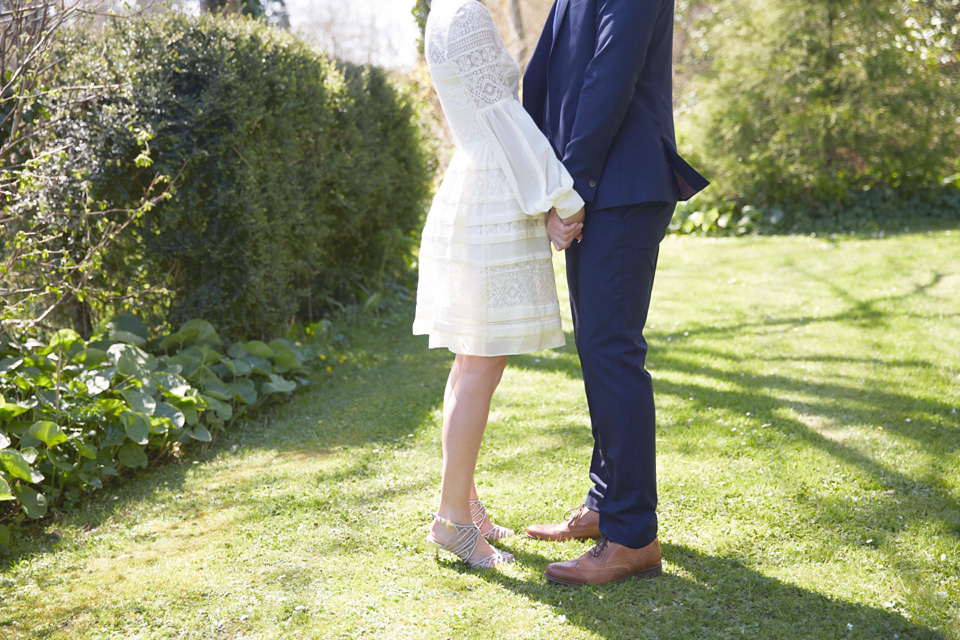 "Our photographer Natalie was fantastic. Not just in the quality of the photographs – she captured exactly what we wanted in terms of the styling – but in how easy she made it on the day. I wasn't sure what it would be like to have a photographer around at such a small intimate wedding but as soon as I started chatting to Natalie by email I wasn't worried at all. And on the day she was brilliant, especially with the art direction for me and Ian. I would definitely recommend her to anyone looking for photographer."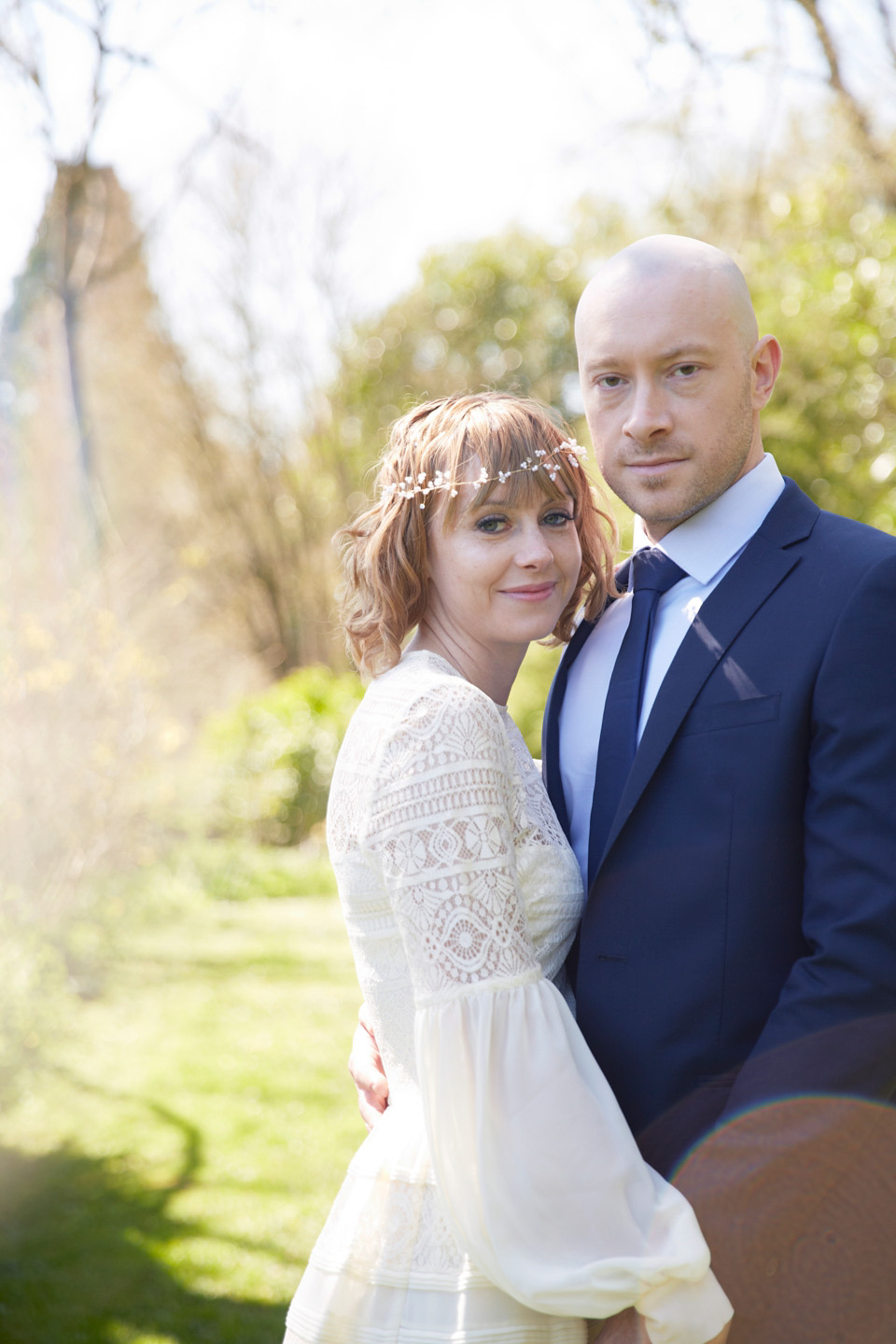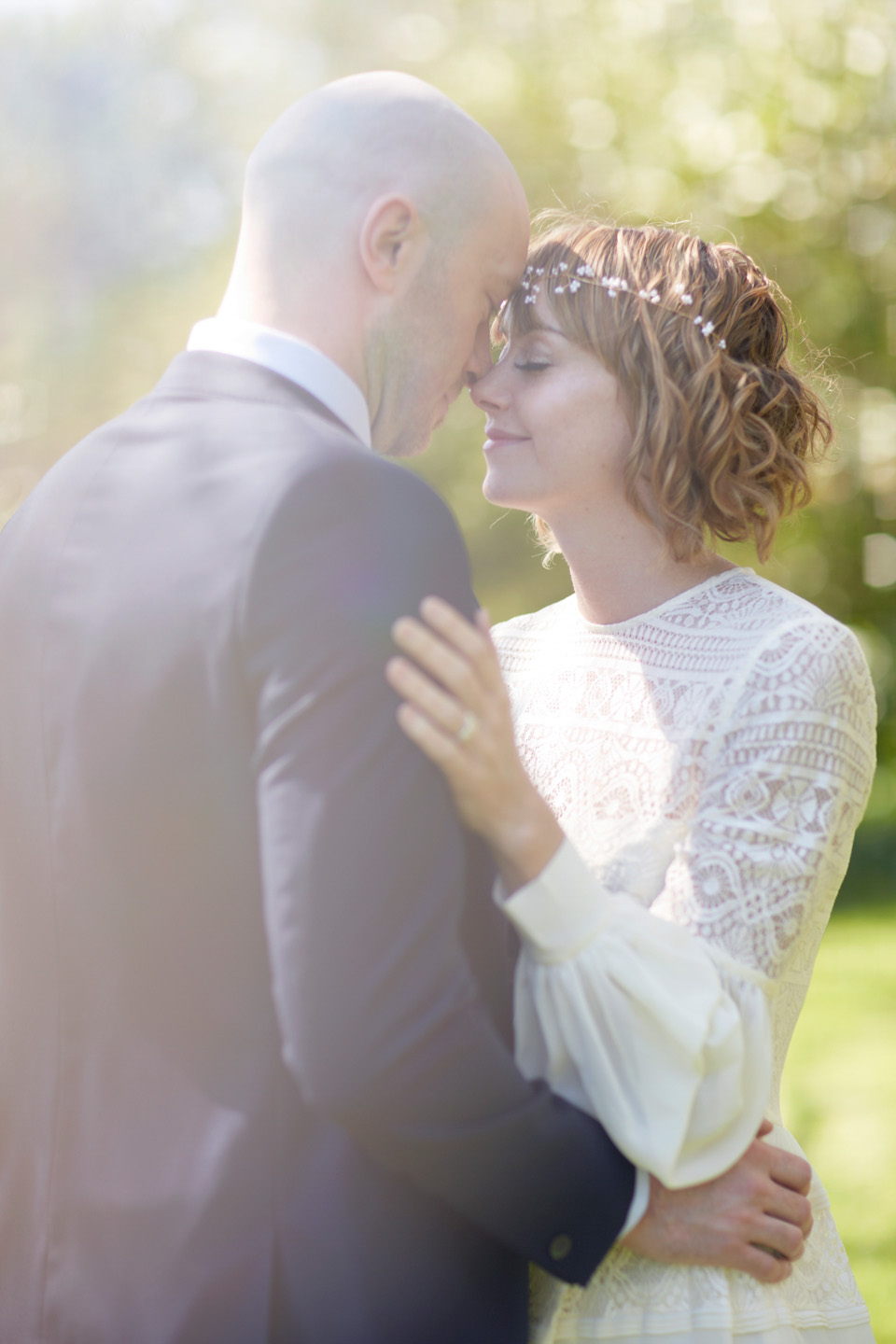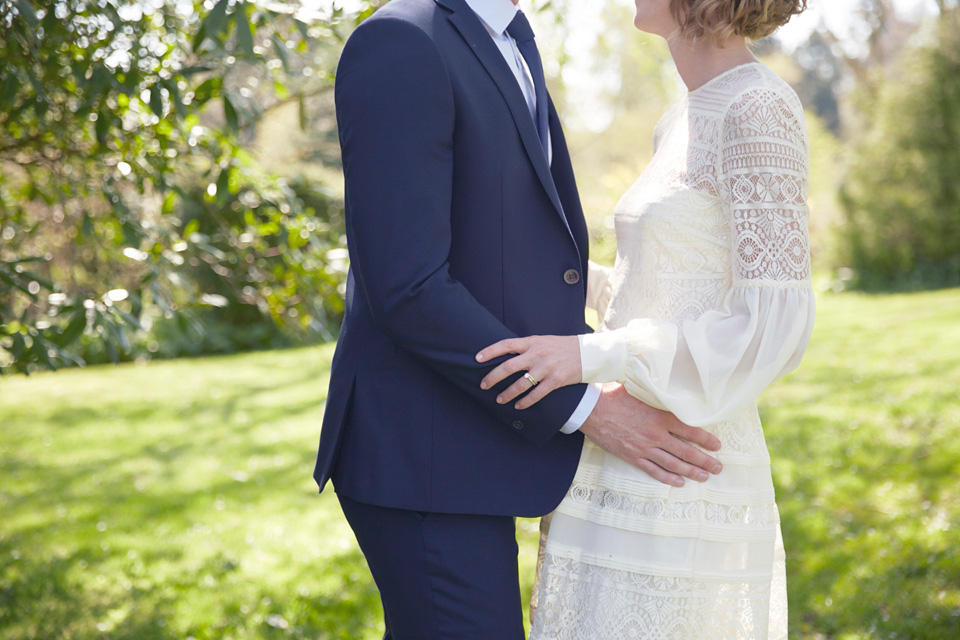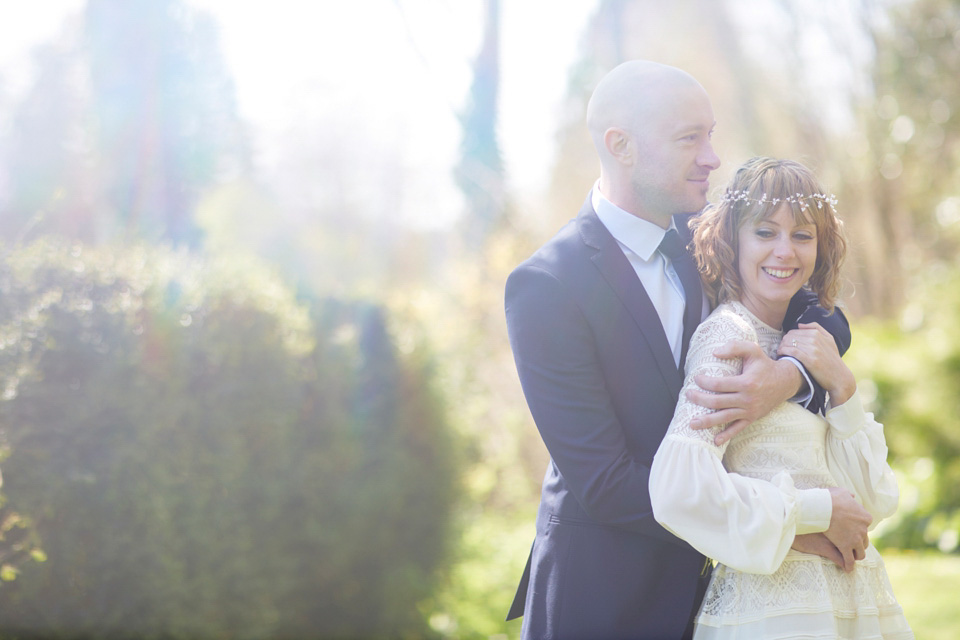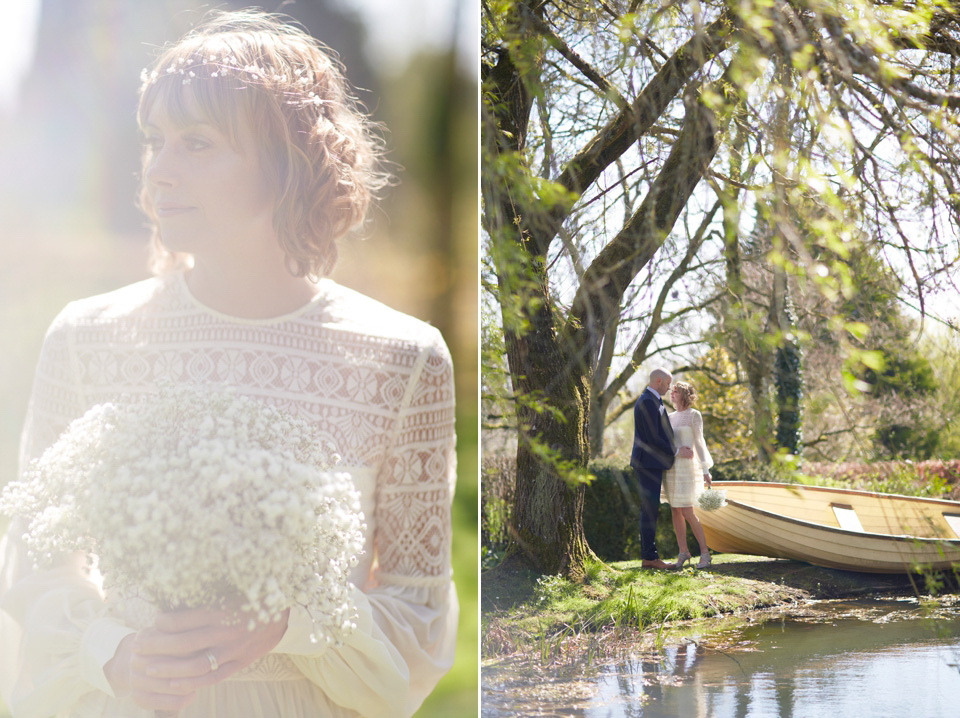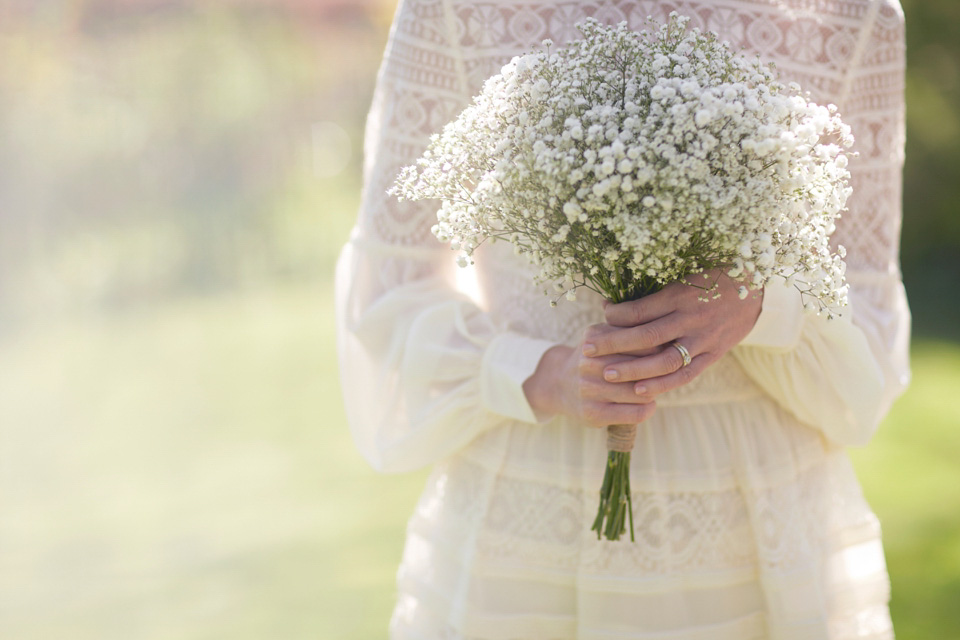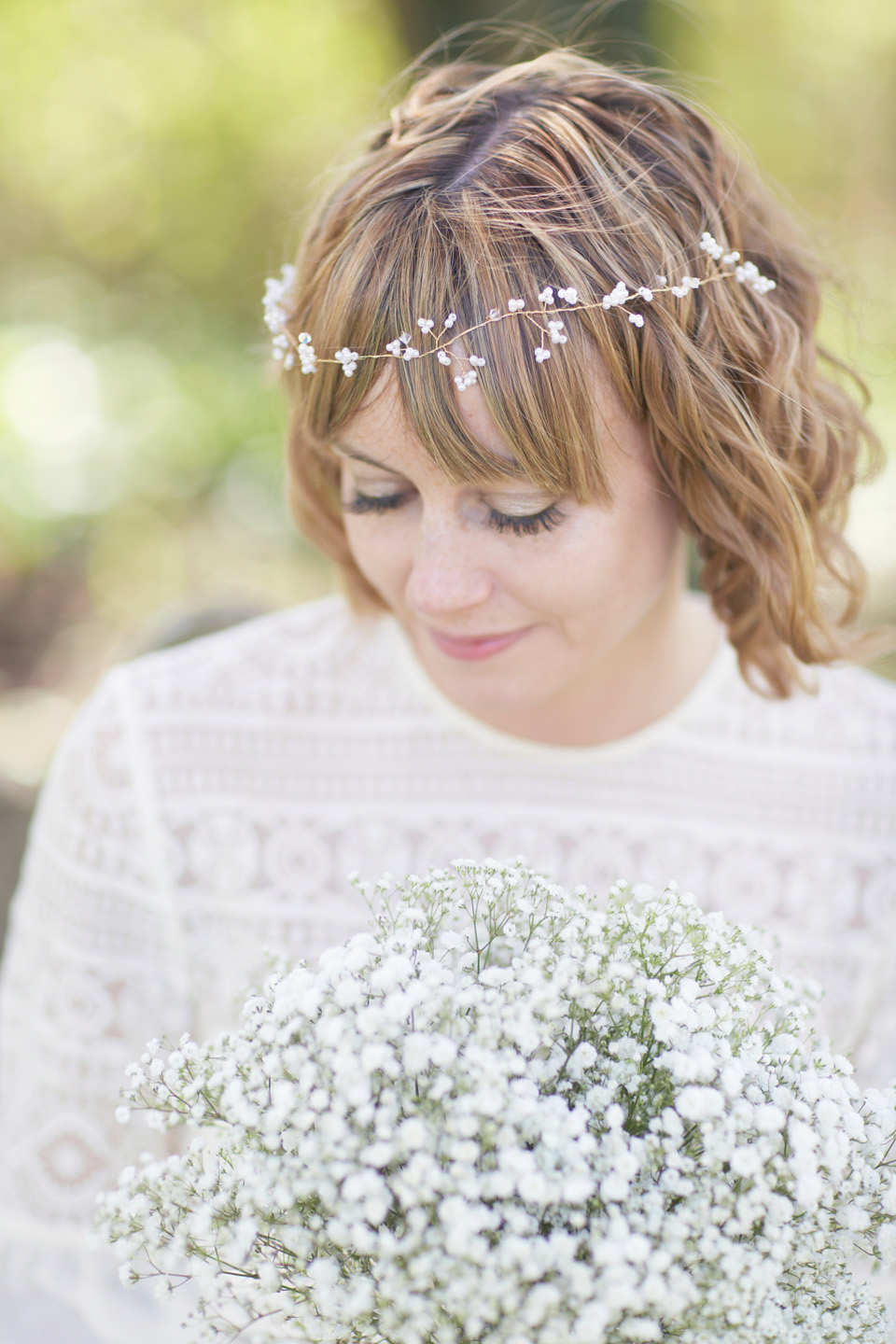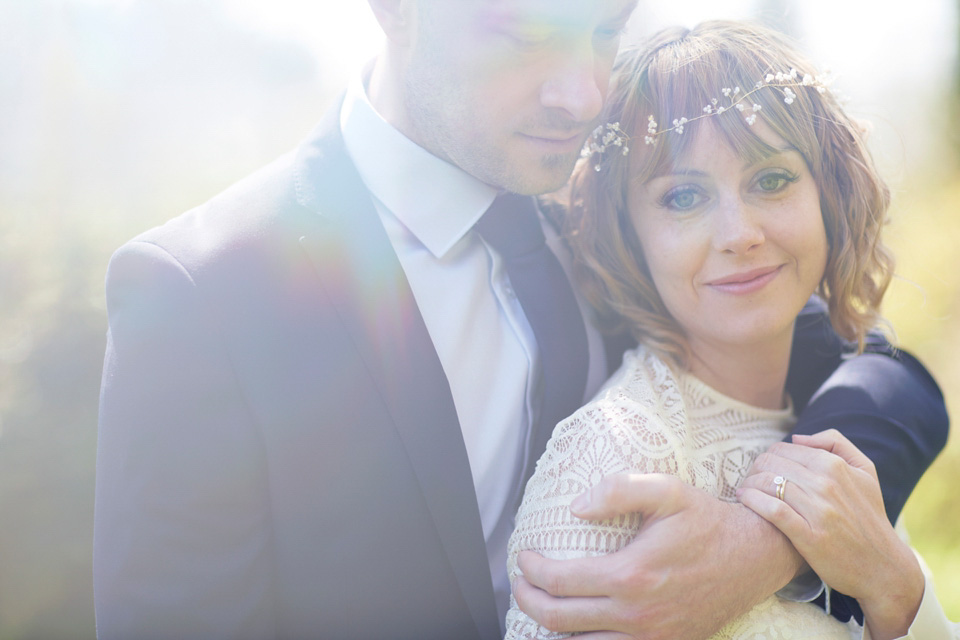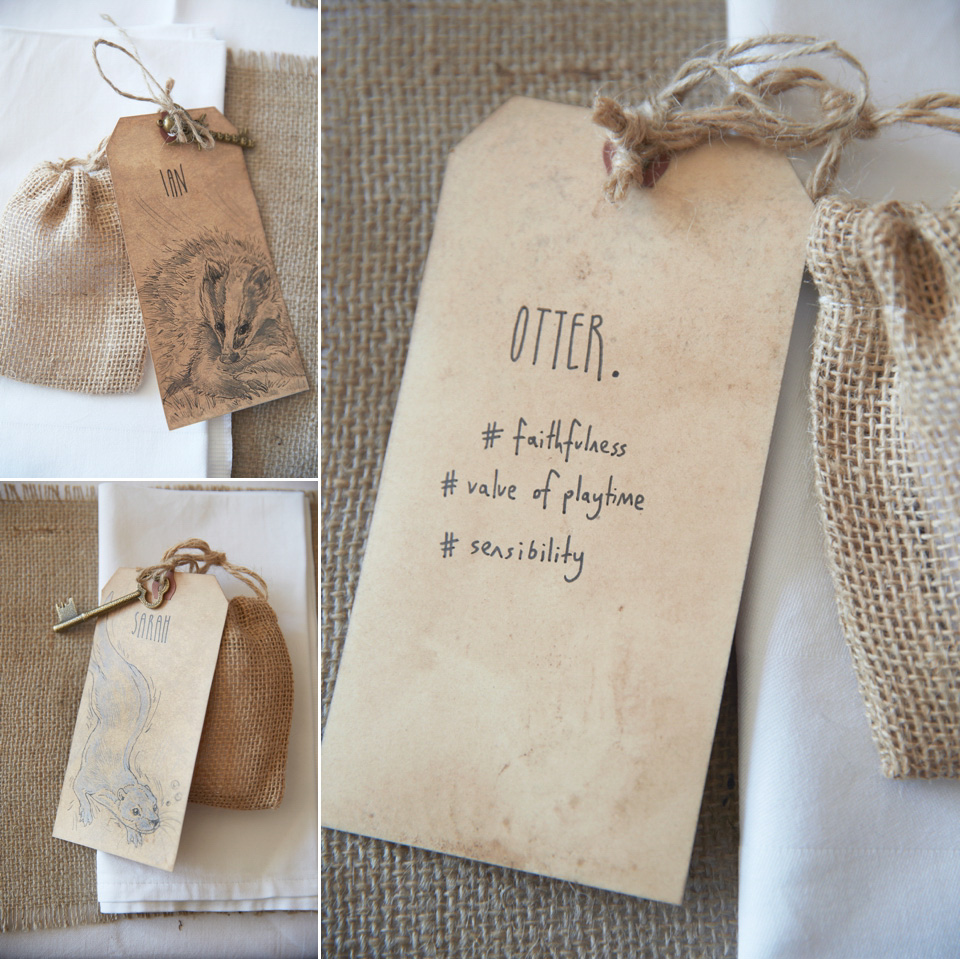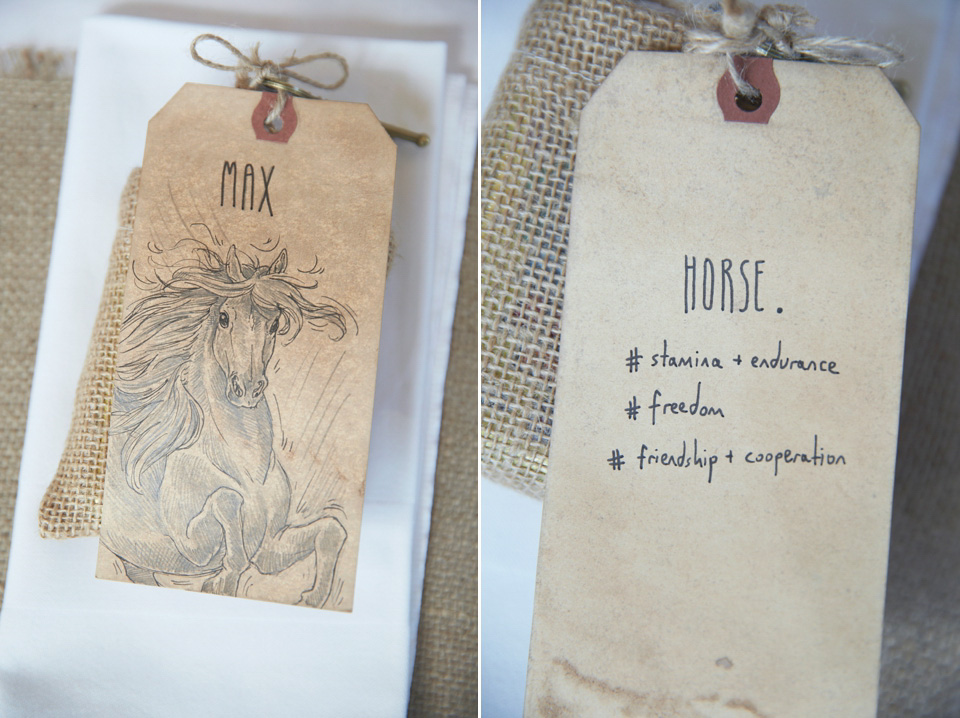 "As the wedding was so small we wanted to make a bit of an effort with favours, so we bought hessian/burlap gift bags and filled them with an individually chosen present. We also found some steampunk keys and attached them with the tags to the bags."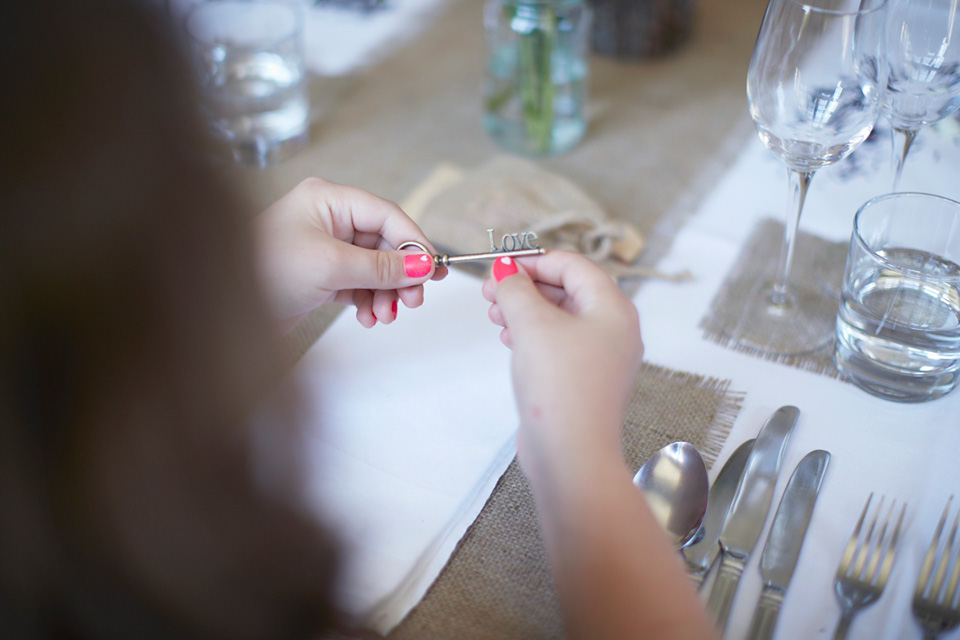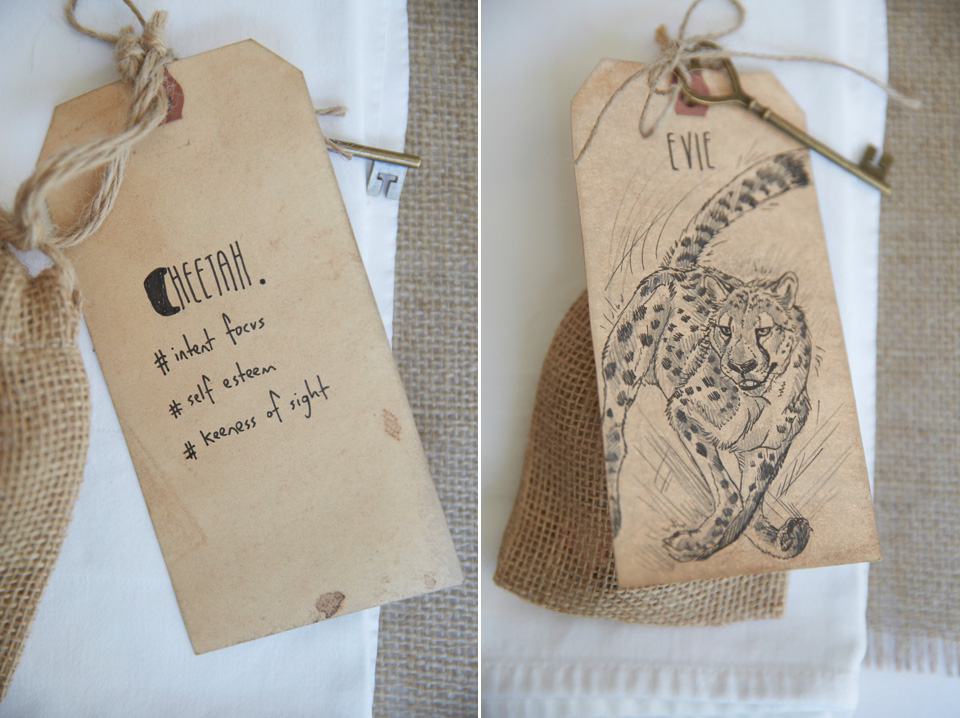 "Ian's sister Donna and niece Jaime made the cake for us. The sent us loads of photos by text message to get our feedback. The cake was a fresh blueberry topped vanilla sponge, with buttercream. Again we didn't want the traditional royal icing. We wanted something homemade, beautiful and delicious. The girls nailed it."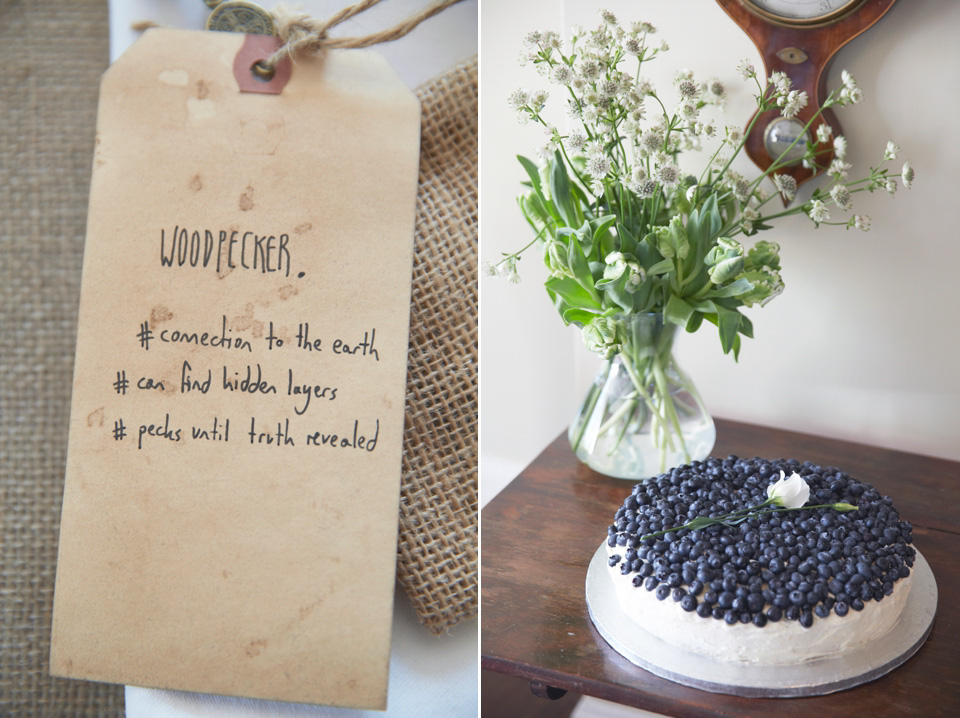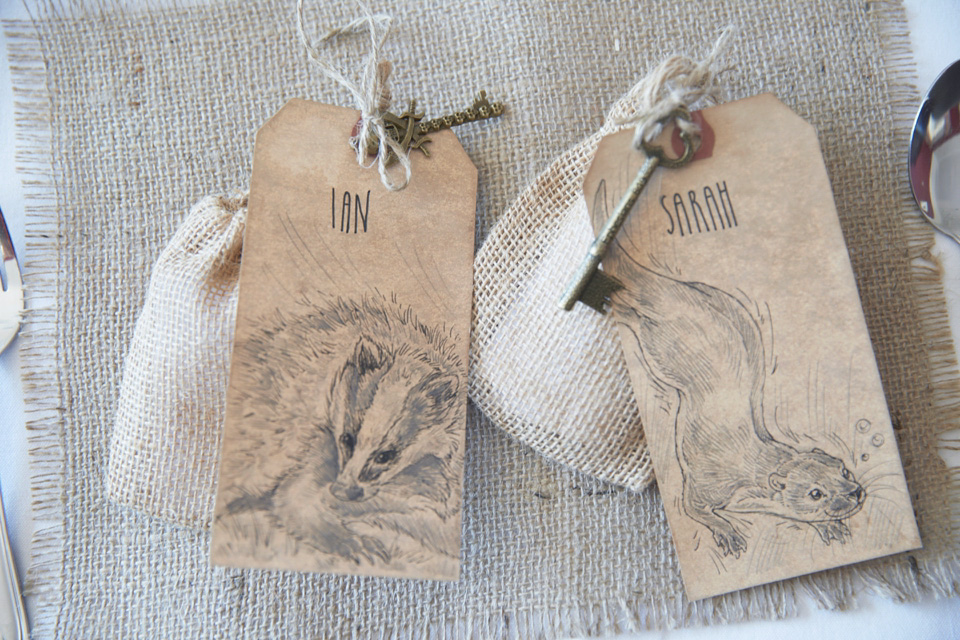 "It's so hard to choose a favourite moment, but I'd probably say the ceremony. Standing outside I was so nervous but not like 'I'm about to give a presentation at work' nervous. It was totally new and different. Nervous but happy, and overwhelmed with love – mine and everyone elses. Sounds horribly cheesy but literally everyone there is wishing you well.
I don't think I'll experience anything like it again. While walking down the aisle with my dad both of us were so emotional and fighting back tears – and of course seeing ian at the end of aisle waiting. I thought I'd be really embarrassed of aware of everyone watching. And although my knees were shaking throughout (not ideal in an exposed knee length dress) the whole thing was magical.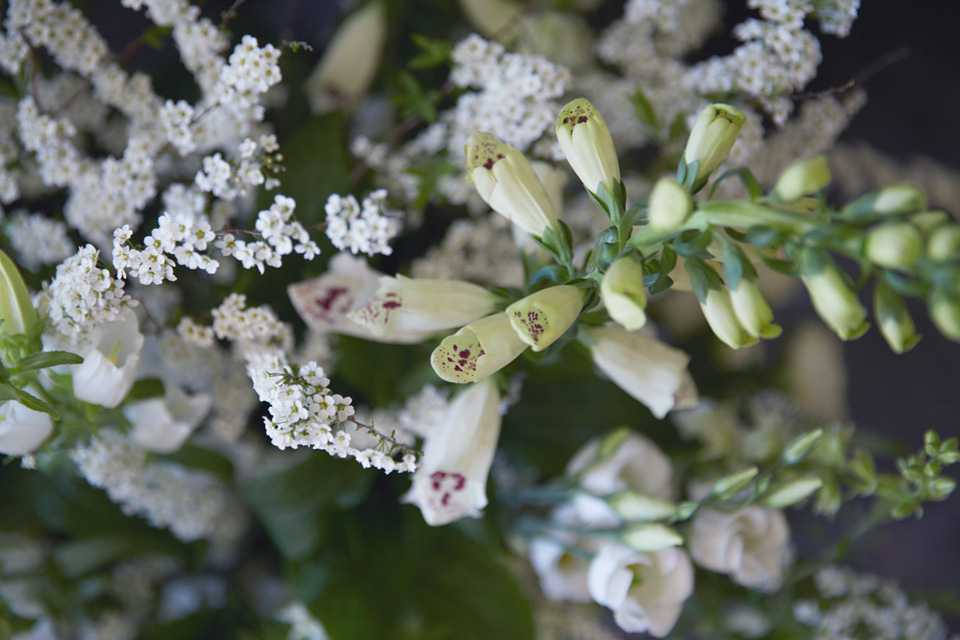 "There was no best man and there were no official speeches in the run up to the wedding (although the two Dads couldn't help themselves in the end!) so we kept things simple.
Ian's favourite part of the day was right after during the champagne reception when the pressure was off and you could see how happy everyone happy. This was also a close second for me!"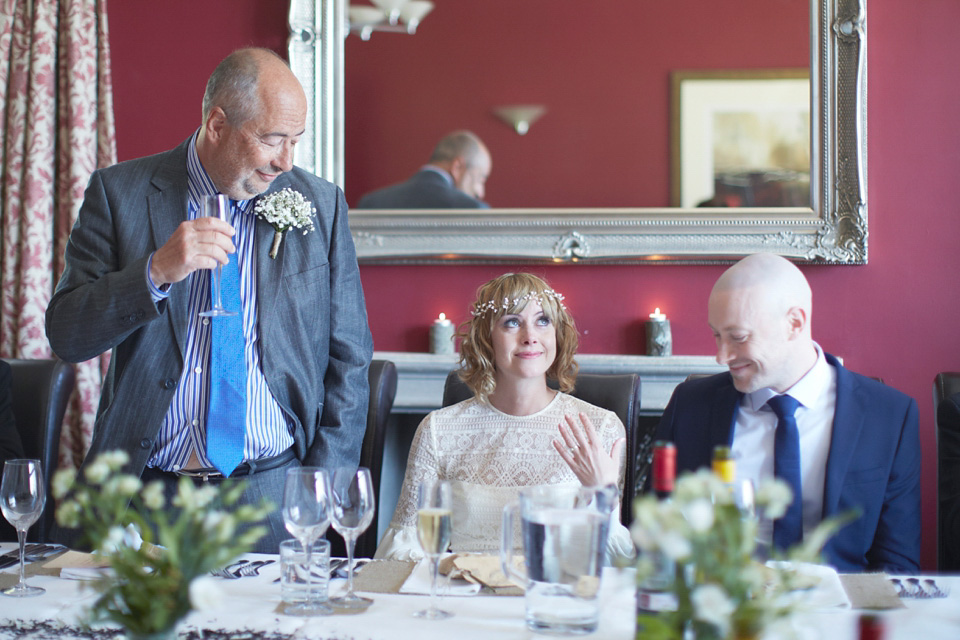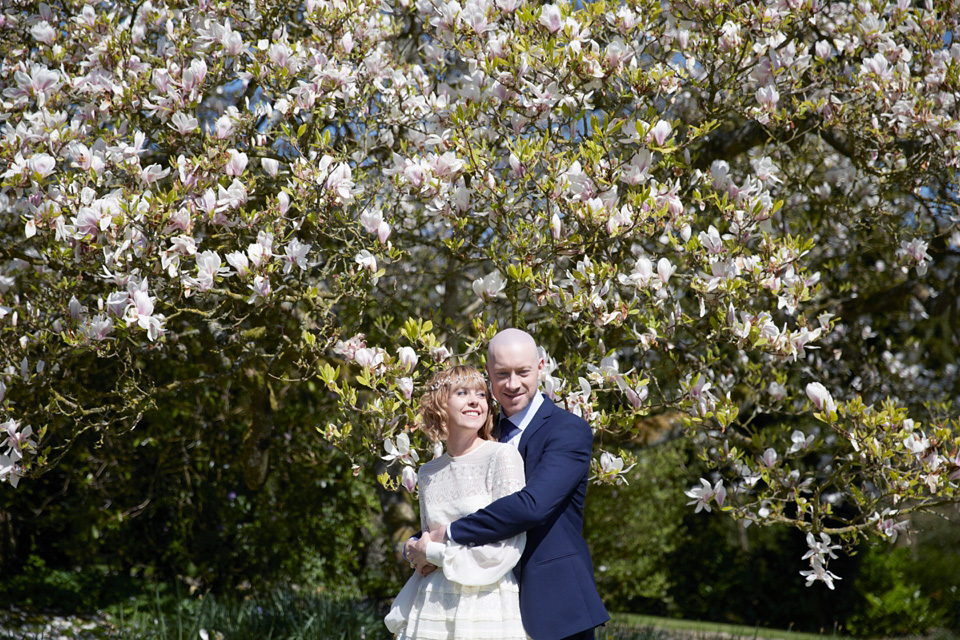 What a lovely way to start a Monday – you can see more from photography Natalie here on Love My Dress. You might also want to take a look through our short wedding dresses category or our Spring Weddings pages too.
Have a lovely morning all.
Love Annabel xx
Photographer – Natalie J Weddings
Venue – Chaffeymoor Grange in Dorset
Wedding Dress – Temperley London via Harrods
Headpiece – gypsophila crown
Shoes – Dune
Grooms Suit –  Navy blue Austin Reed super slim fit suit
Bridesmaids – John Lewis
Florist –  Sprout & Flower
Cake – Family
Rings –  Silver & Stone
Catering Company – Victoria Blashford-Snell
Entertainment – Ian and his decks!
Stationery – DIY