As we try to make the most of the midweek summer sunshine (when it makes an appearance!), we thought that we would share a gorgeous winter wedding with you all. Solicitors Emma and David were married on 14 November 2014, nearly a year to the day after their romantic Cornwall engagement. The couple's reception took place at Ramster Hall, a stunning Country House in Chiddingford, Surrey, which perfectly lends itself to the vintage look they envisioned, including a luxury popcorn bar and an after dinner sing song around the piano.
Film by Mrs Mashup
Emma enjoyed wedding planning and seeing her vision come to life so much that she is hoping to venture into helping others to plan their own weddings. With beautiful photography by Michelle Lindsell and a gorgeous Wedding film by Mrs Mashup, there is plenty of wedding pretty to inspire you in this feature – enjoy!
Photography by Michelle Lindsell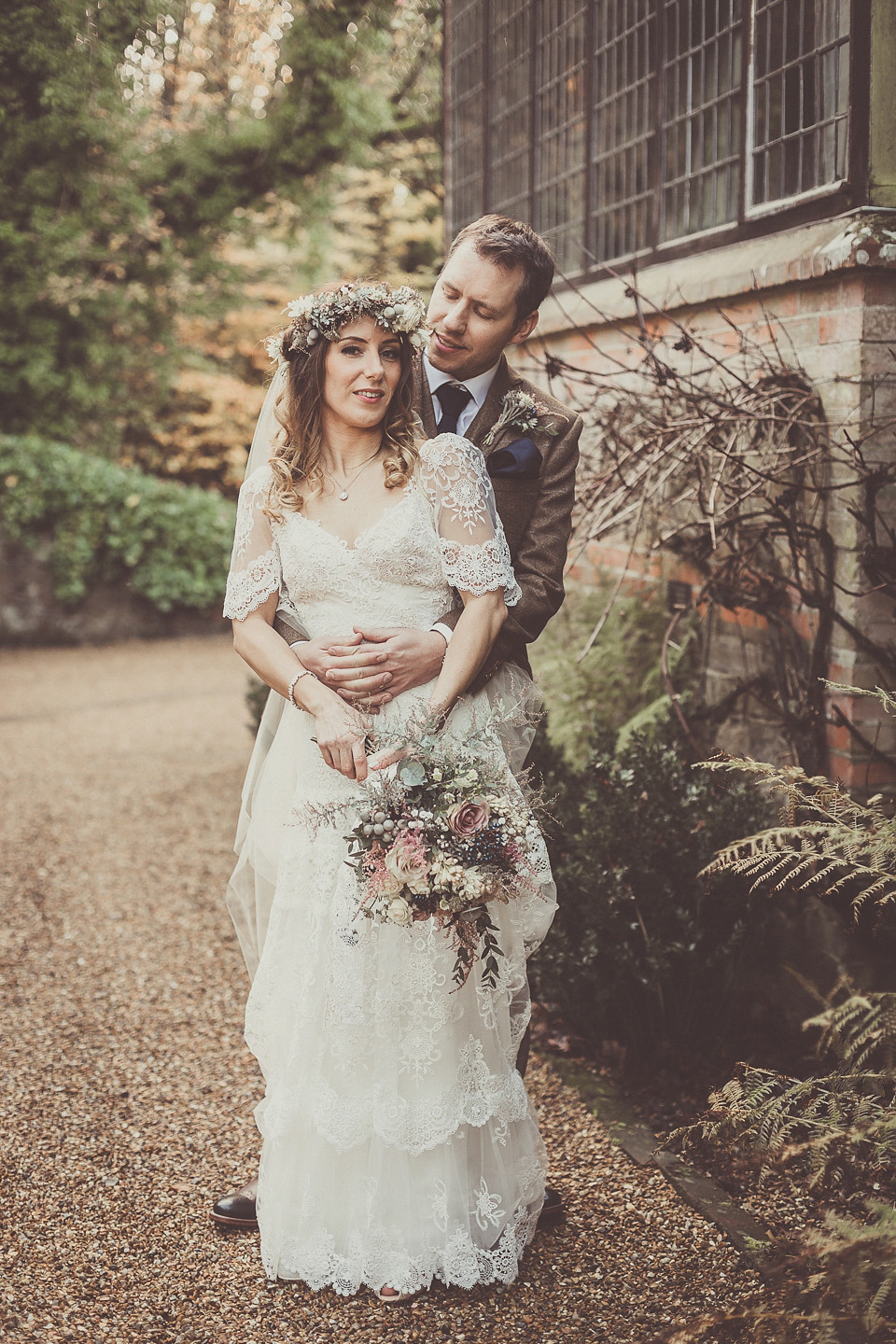 Dress by YolanCris, via London Bride Couture 
"I have always been a lover of vintage and anything 'quirky'. My friends always take the mickey out of me! We are both quite laid back and really just wanted our day to reflect our personalities rather than being another cardboard cut out wedding." 
Flowers by The Little Violet
"Most of all, we wanted all our friends and family to feel comfortable, able to let their hair down and have a great day."
Emma knew exactly the style of dress she wanted from the start. Her beautiful YolanCris dress from London Bride Couture was altered to fit her specifications so that it was just right.
"We used to work together but were both in relationships. Dave moved to a different firm but we met again at a friend's birthday when we were both single, the rest is history. We went away for a few days in November 2014 to the most beautiful cottage in Cornwall. We had a really romantic night in with the fire on, eating yummy food when all of a sudden Dave started to act slightly strange."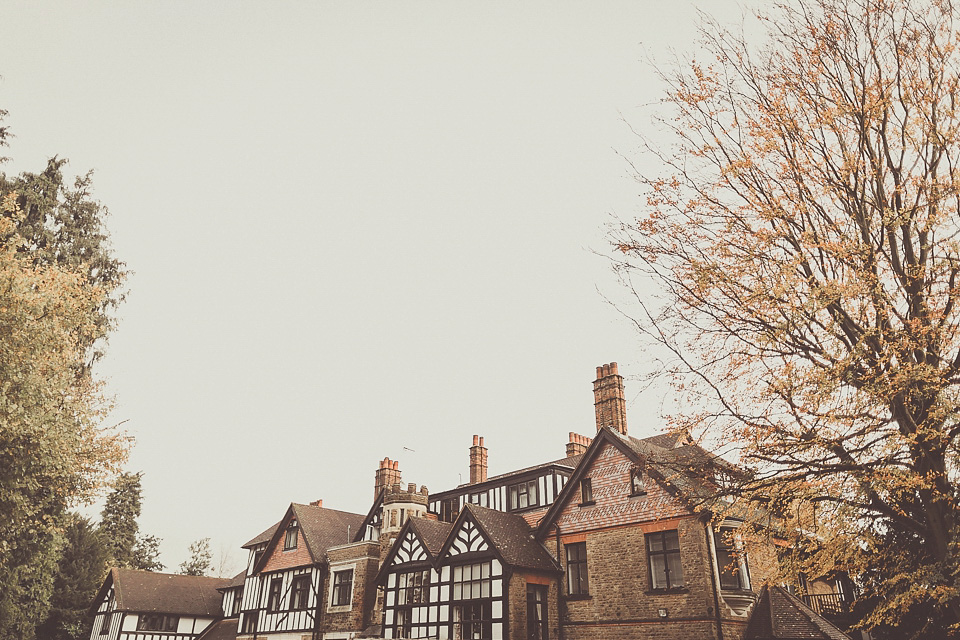 "He then got on his knee on the floor, I presumed to pick something up, and the next thing I knew he was looking at me with tears in his eyes and asking me to marry me!! It was such a shock, I had no idea but it could not have been a nicer way to do it, just the two of us in our own little cottage. We celebrated with champagne and lots of excited calls to equally teary friends and family."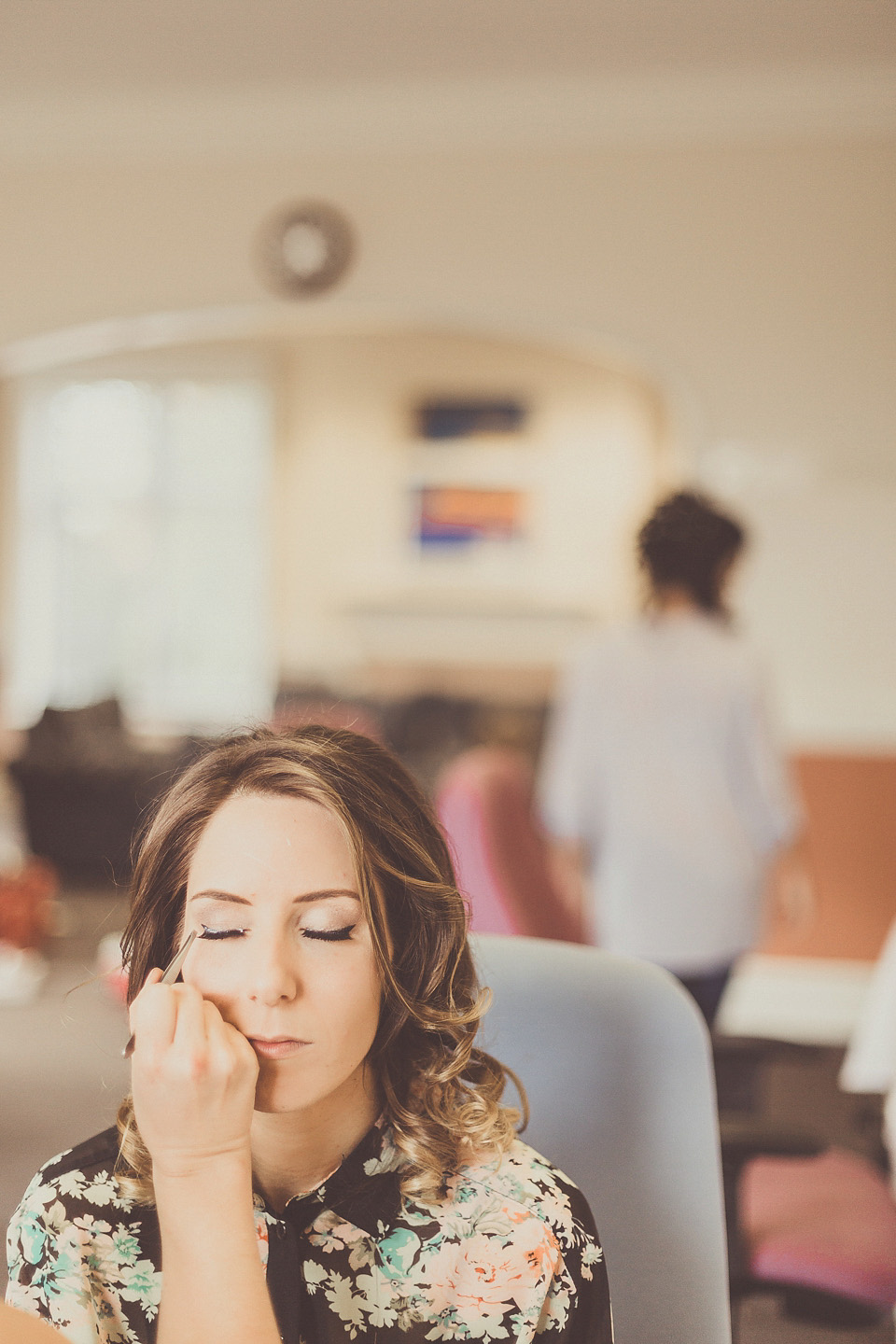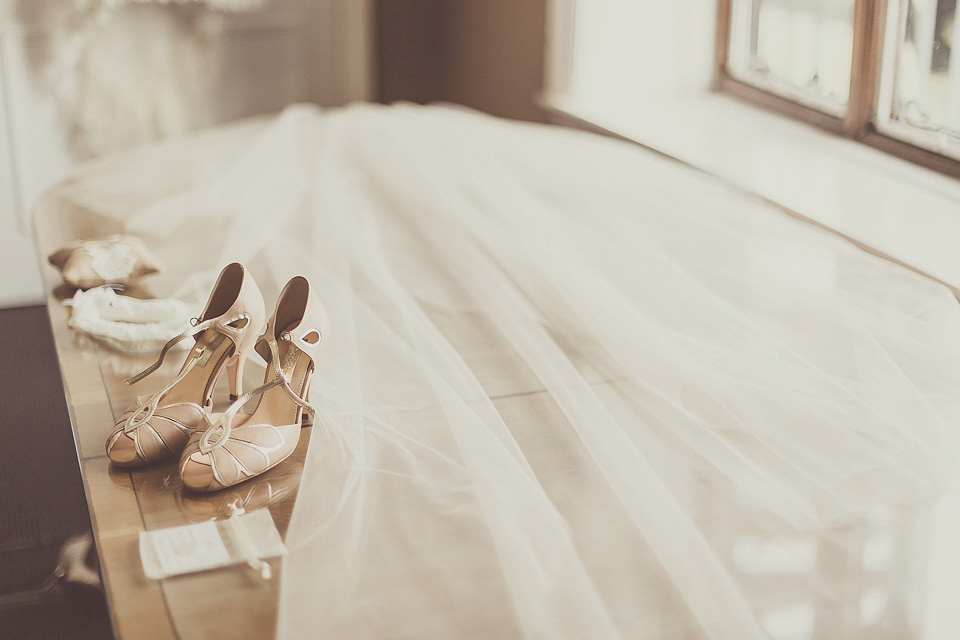 "My dress was by YolanCris dress from London Bride Couture.  I looked through all the magazines and picked out the designers that I liked and then found bridal shops that stocked them."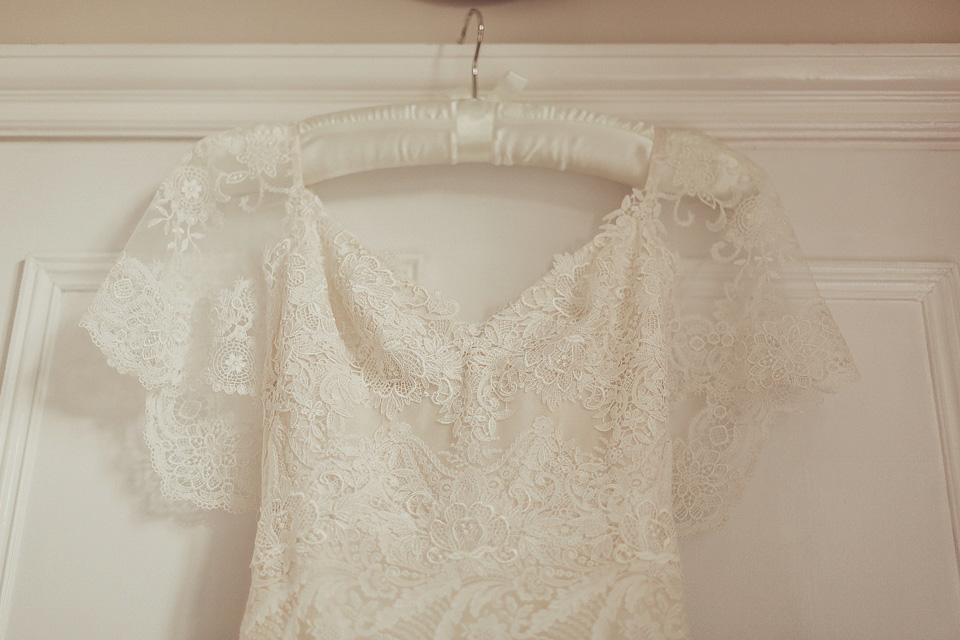 "I fell in love with the vintage style, colour and intricacy of the lace on the 'Martinique' dress from the chest down but wasn't so keen on the halter neck, so I asked the seamstress to order extra lace to make the sleeves that I really wished the dress came with. She did the most amazing job and turned it into my perfect dress."d
Emma was lucky enough to have a very talented florist among her bridal party. Working with Jodie who runs The Little Violet, they created an array of stunning bouquets as well as Emma's beautiful flower circlet.
"It was a wonderful experience to work together and Jodie took all of my ideas and requests and made them a reality. We have had so many compliments on the flowers. How she managed to do the amazing job she did and still be there the entire morning getting ready with us is testament to how great she is at her job."
Emma's seven beautiful bridesmaids wore a mix of pastel shade dresses from Coast and No.1 Jenny Packham with accessories from Accessorize.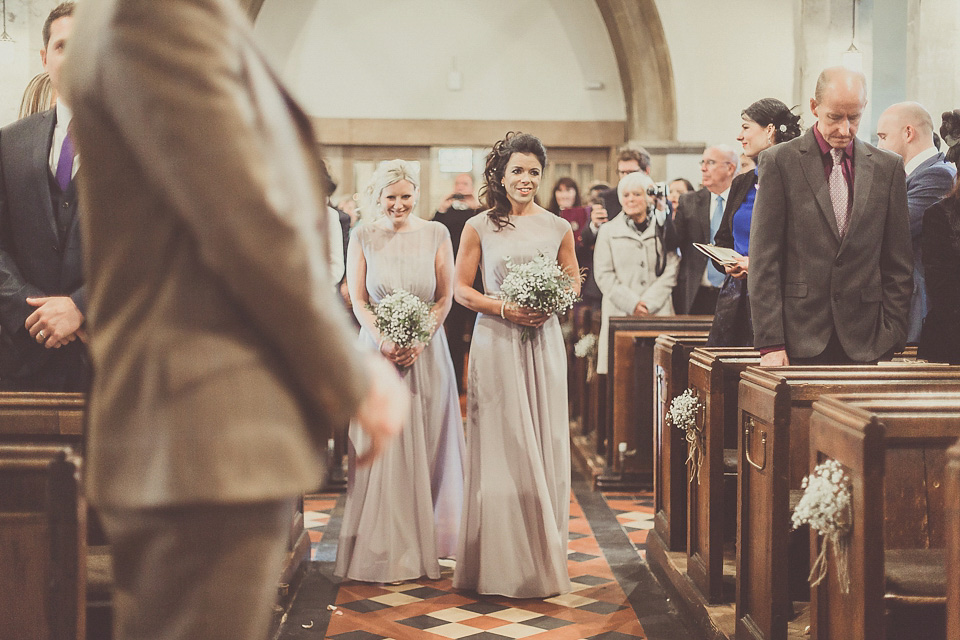 "My favourite moment was walking down the aisle with my dad to Ben Howard's 'Only Love' and seeing Dave's face. Saying our vows was the most wonderful experience, it is magical to marry the man you want to spend the rest of your life with in front of all your friends and family. We also had a sing a long after the meal around a piano. We sang old and new tunes and everyone got involved (as we had all had a few glasses by then). It was such much fun and really got people into the party mood."
"David's suit was from Tweed Addict. Randomly I had pinned a picture of the exact suit he ended up choosing, it was clearly 'the one'! His pocket watch was a graduation gift from his parents."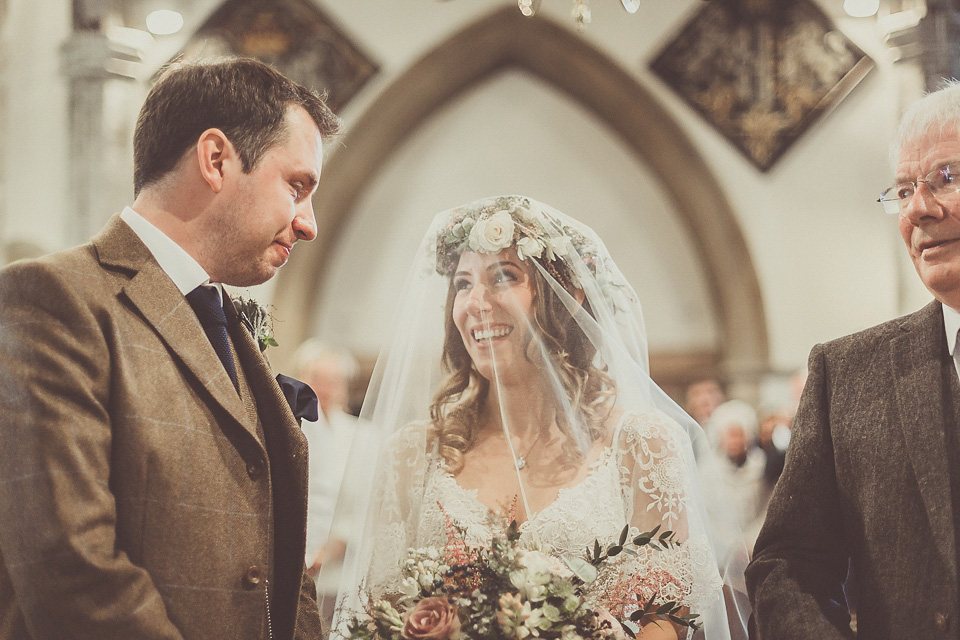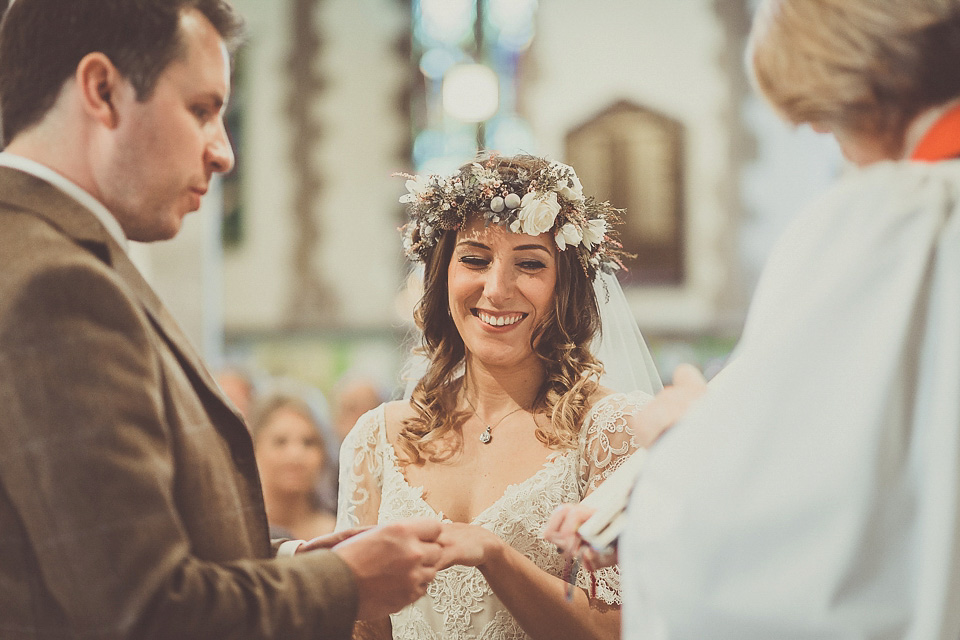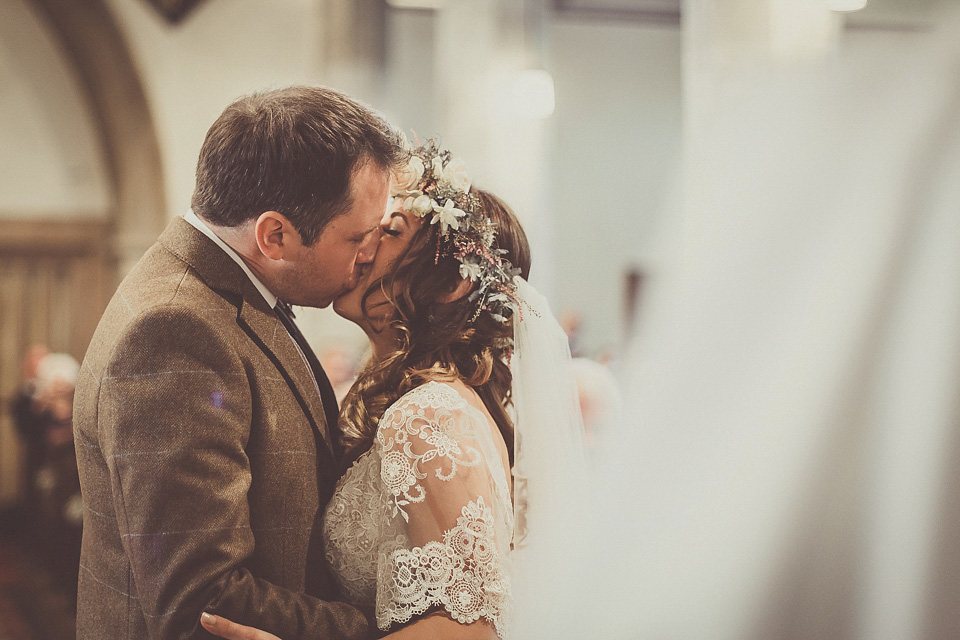 "Our photographer Michelle Lindsell was fantastic. She is such a lovely person to work with and really did make us feel at ease. She understood the type of photographs that we wanted and did the most incredible job. We will have these amazing pictures to look at and cherish when we are old and wrinkly. We are lucky to have bagged her!"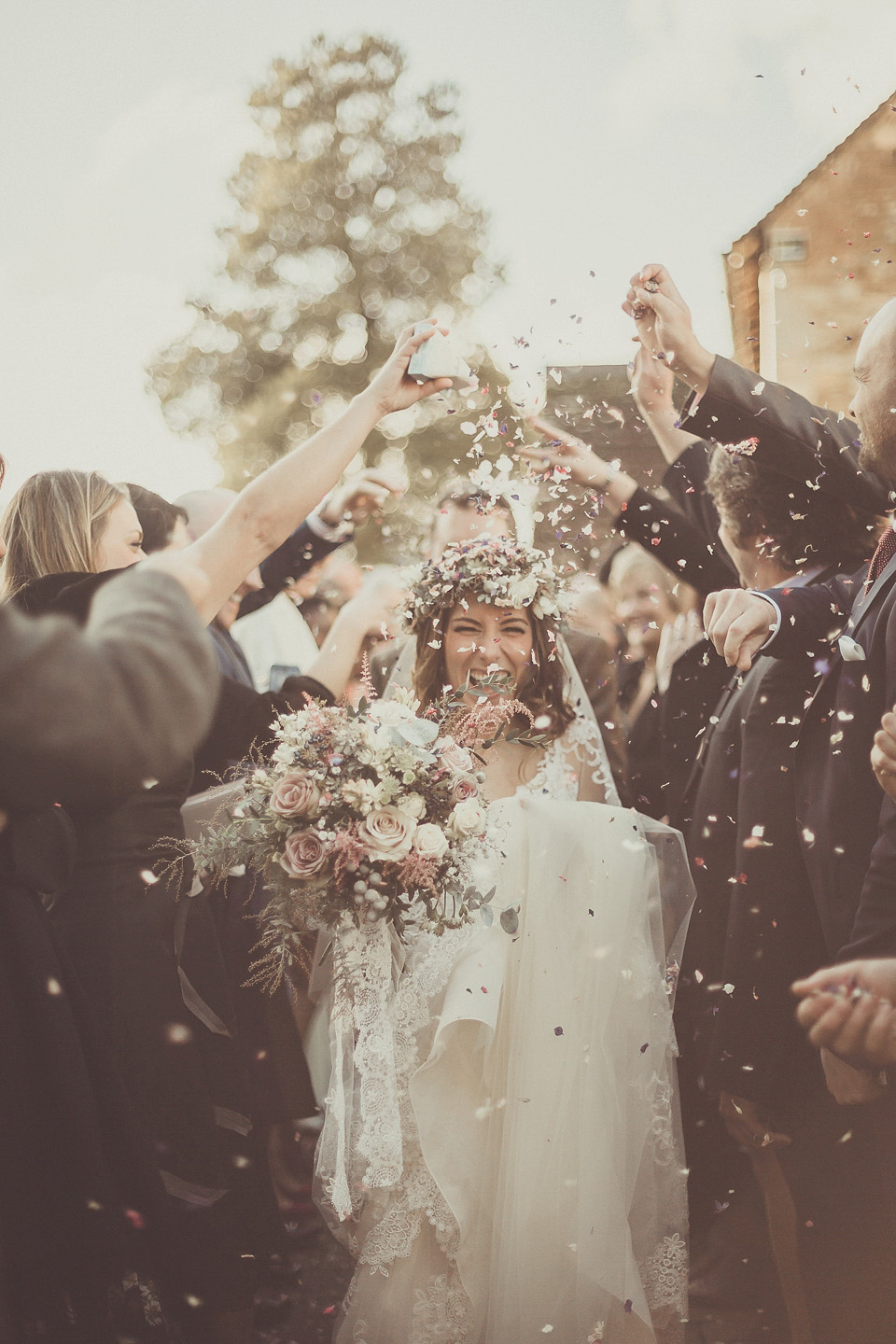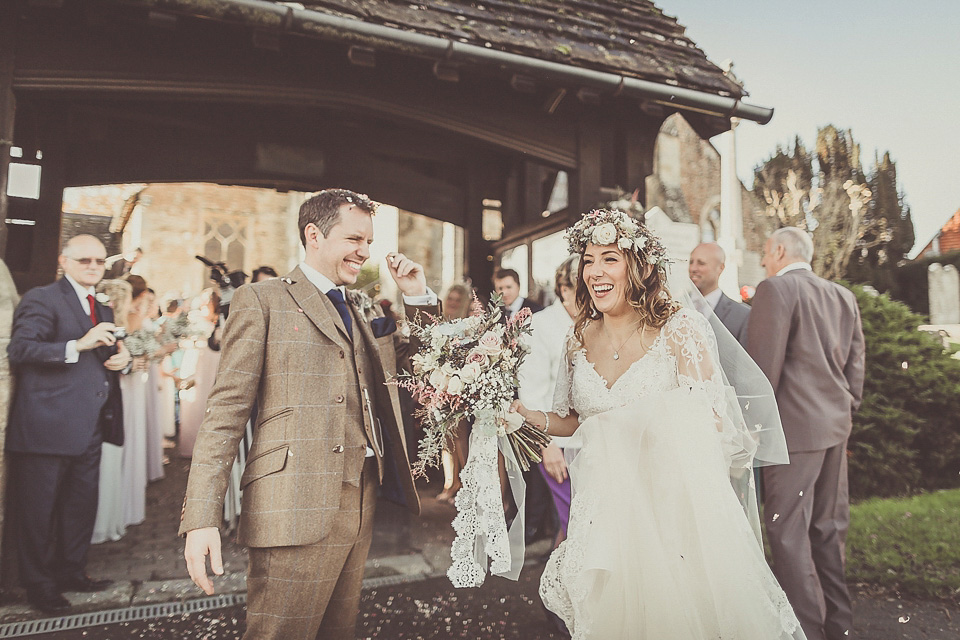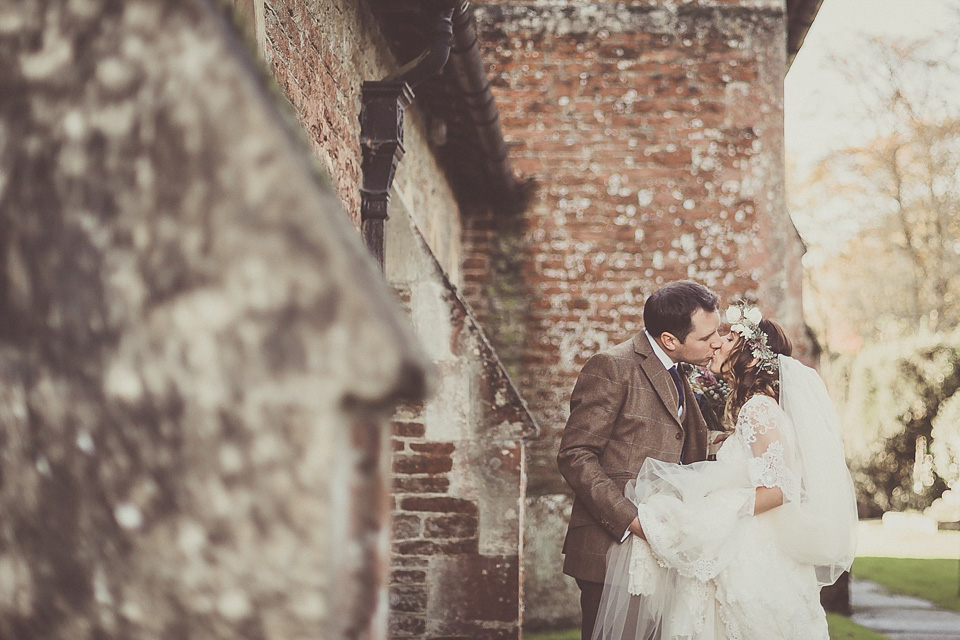 "I am a shoe size 2, so thought this would be the hardest part of my outfit but I saw some Rachel Simpson shoes in my size at a wedding fair and fell in love. Easy!"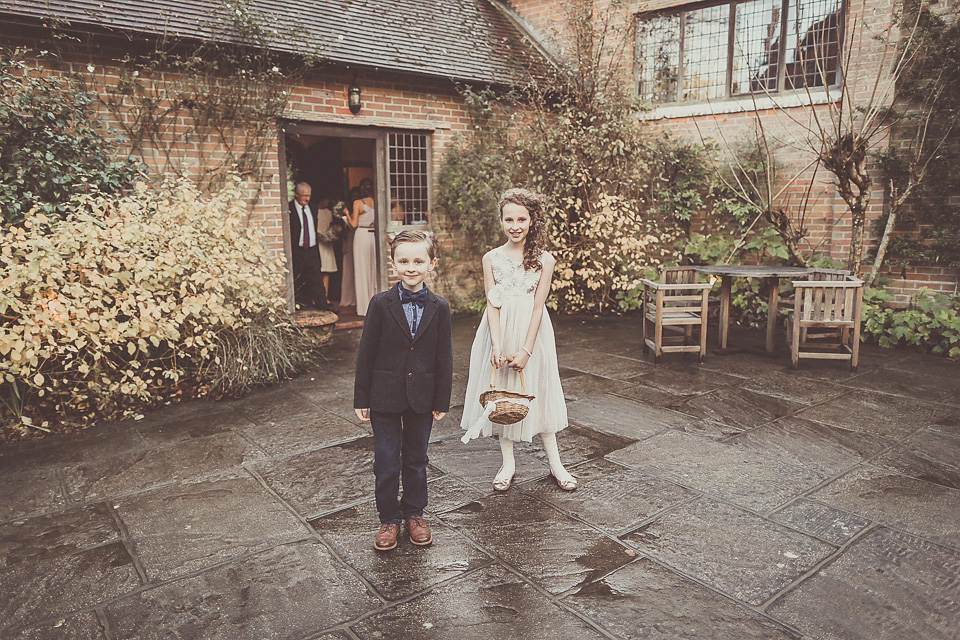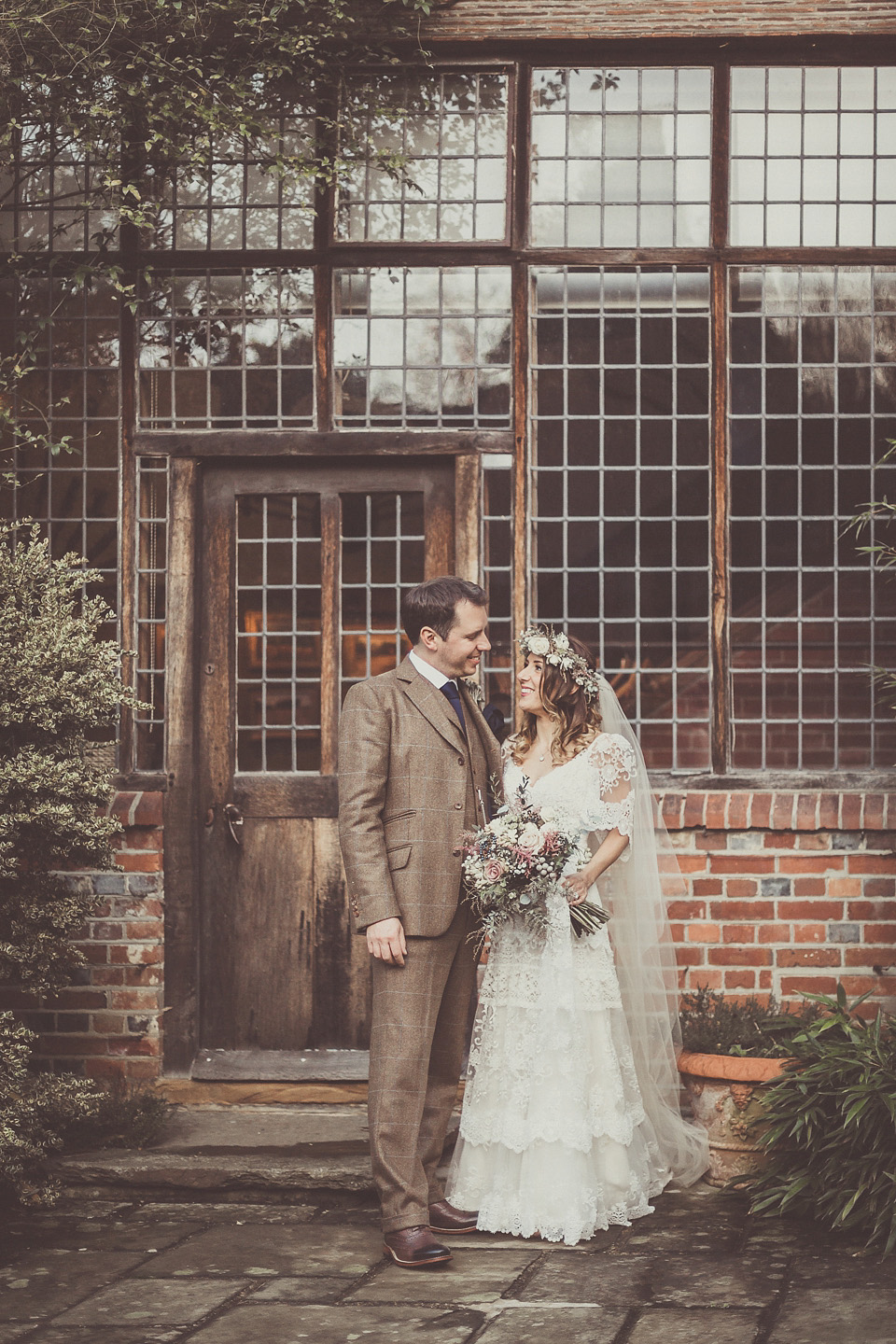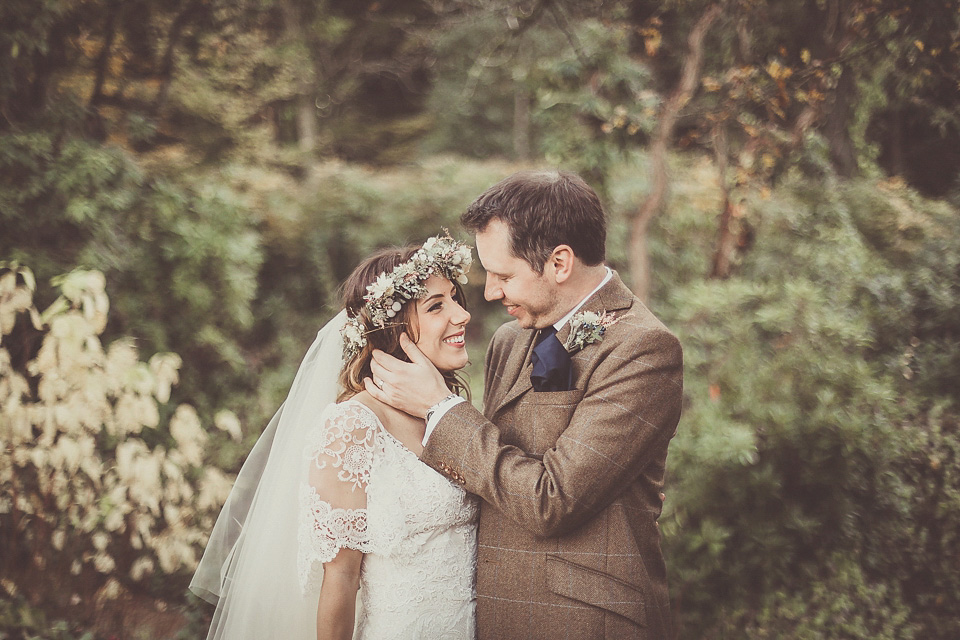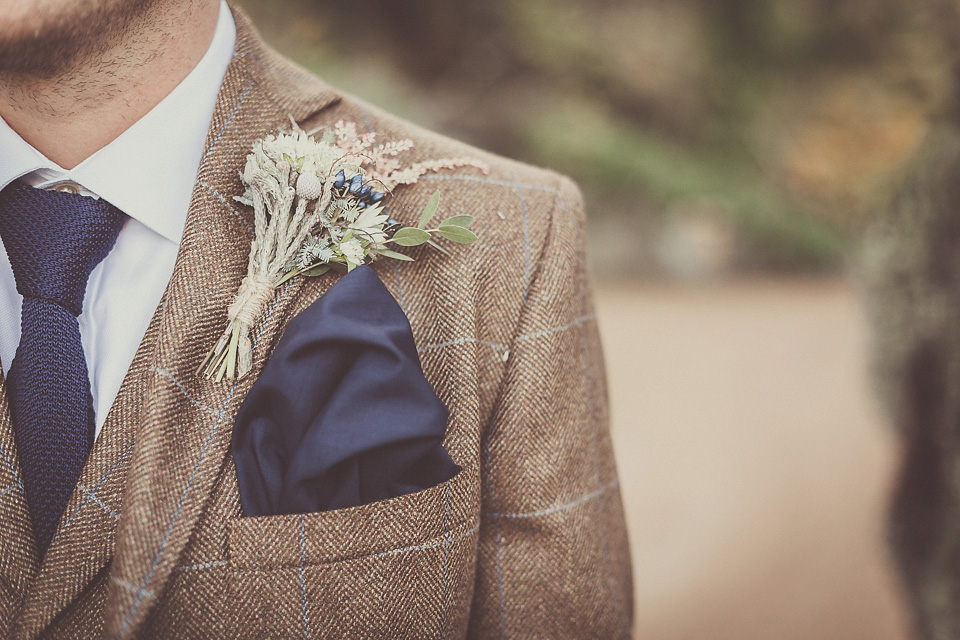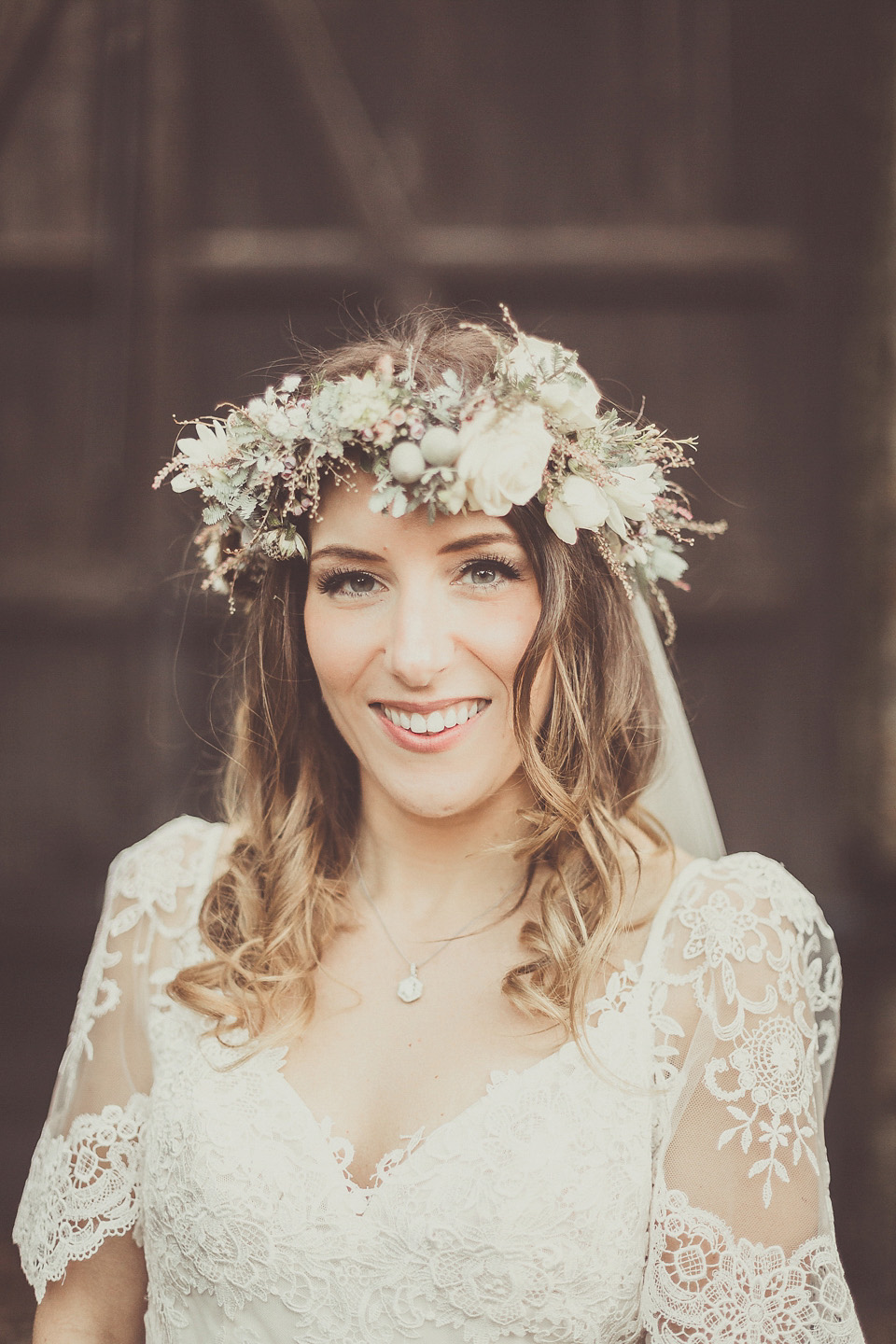 "We wanted the guys to be as relaxed as possible so they all wore their own jeans and shirts and we managed to find the waistcoats in Next and the ties in Marks and Spencer. There were many calls back and forth though from the boys wanting to make sure they got the 'correct dark blue colour' for the jeans!"
"My mum works in a charity shop so she and all the ladies at work were constantly on the lookout for strings of pearls, teapots, candle holders etc. Mum would come over with bags of trinkets that they had kindly grabbed for me as soon as they came into the shop. Their help was priceless."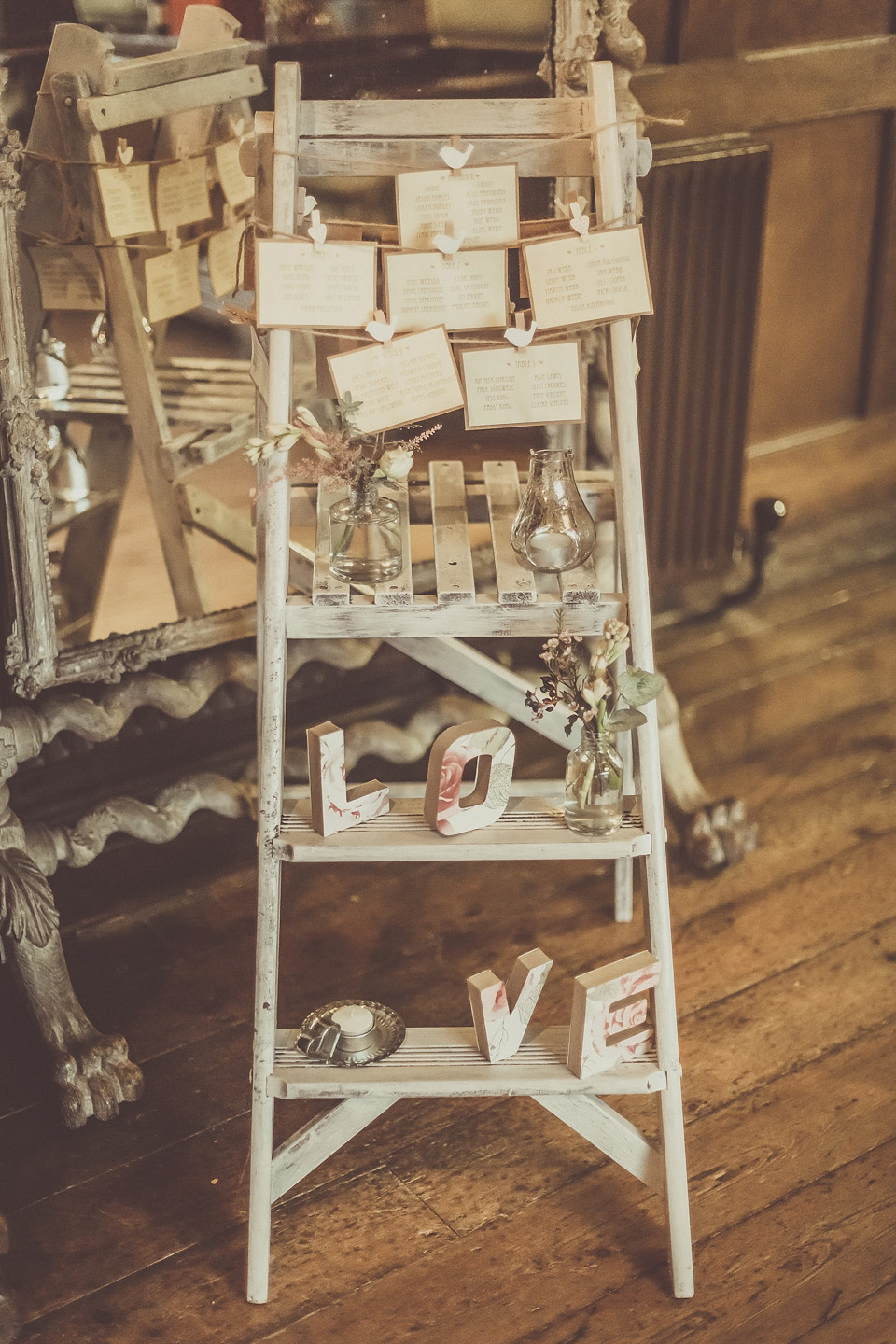 "Another one of my talented bridesmaids did the stationery (I promise I didn't choose them for their skills!) along with all the wooden signs we had at the wedding."
"I made hanging salt dough place names in the shape of a teapot for each guest. They were a time consuming nightmare to make but looked fab on the day."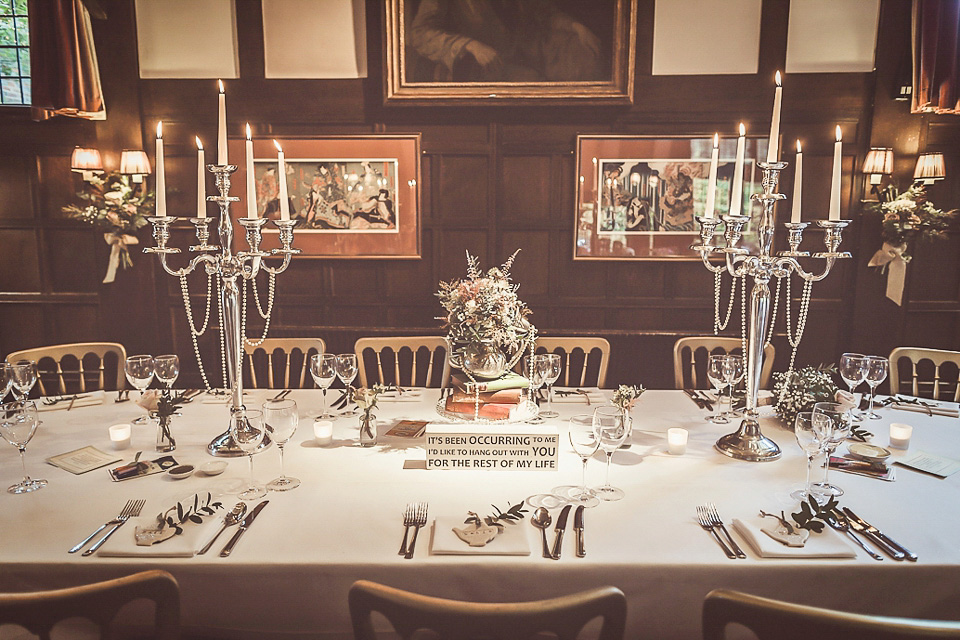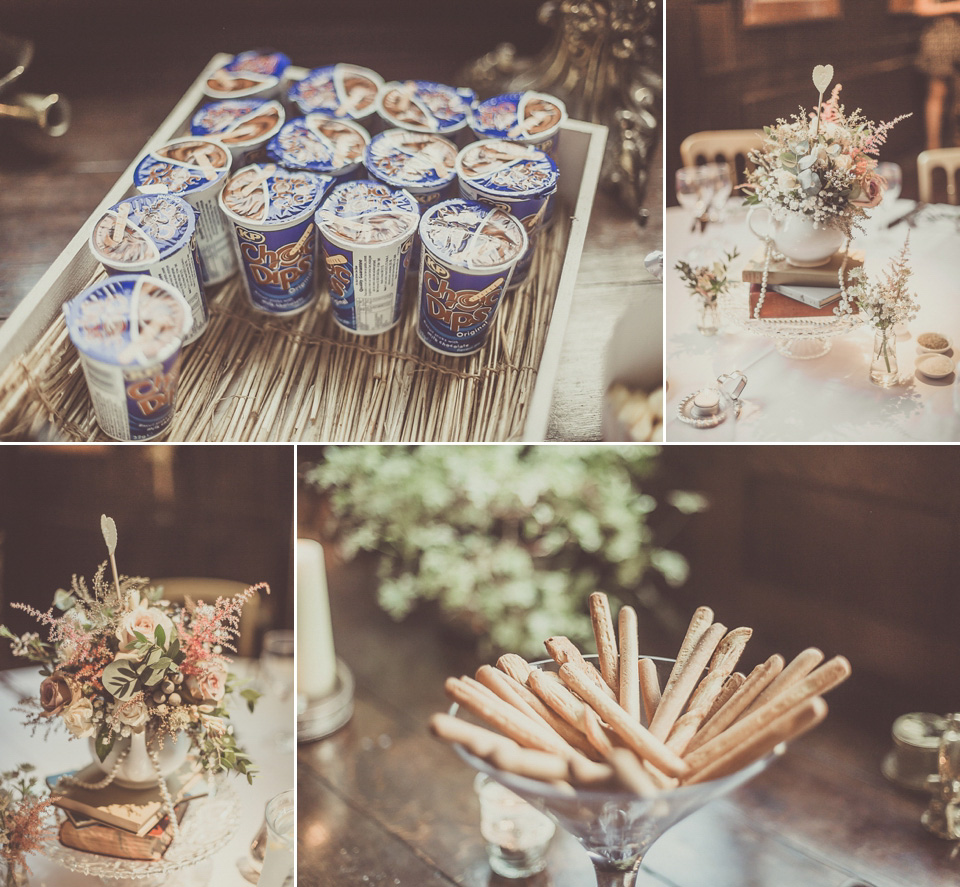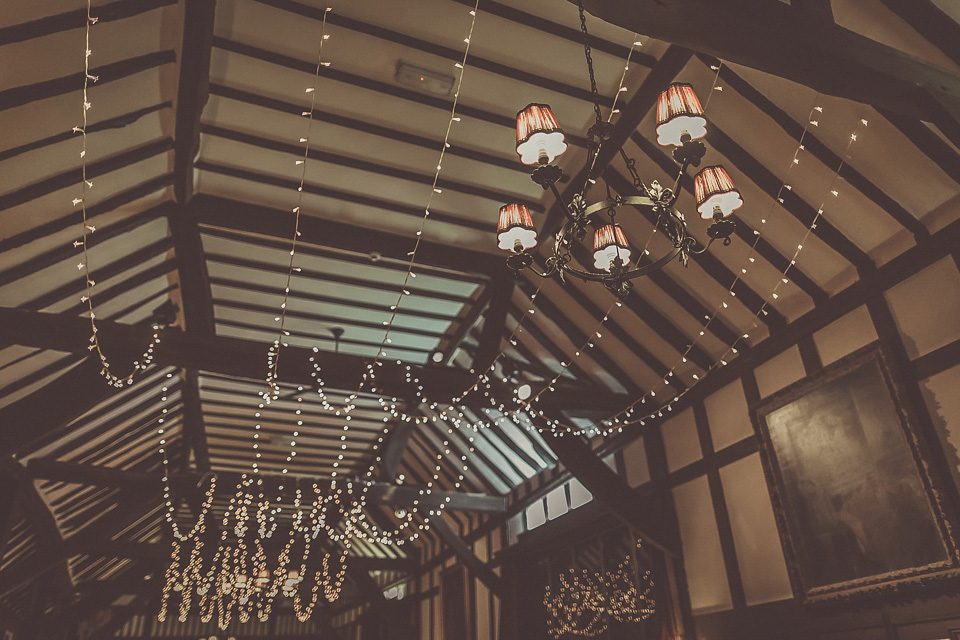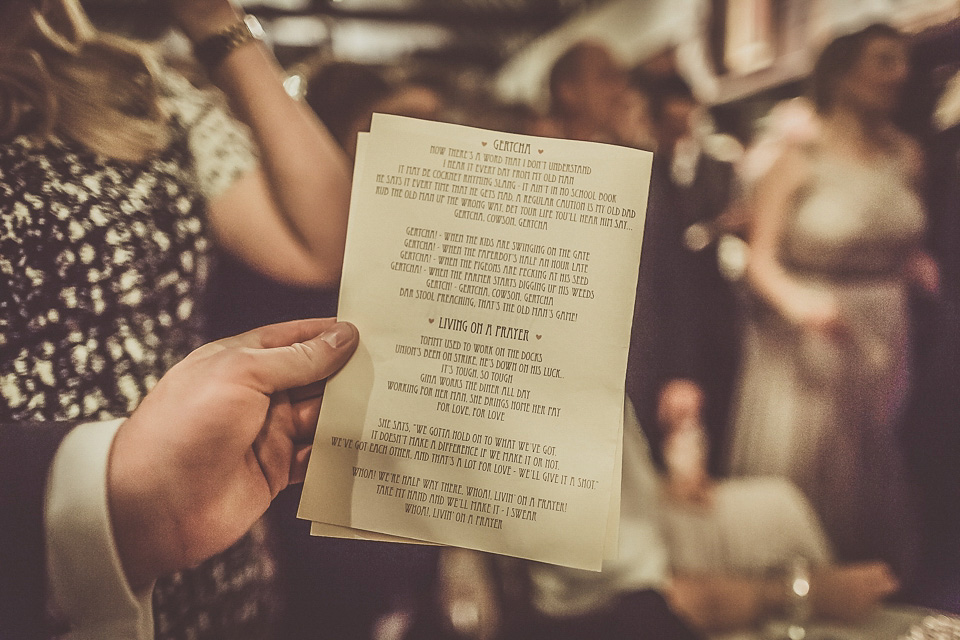 "We had a wedding film made by Mrs Mashup (see above!). They were really unobtrusive and we totally forgot they were there most of the time (which maybe isn't a good thing!). They captured all the special moments of the day and provided us with a long film and our highlights which we both watch at least once a week to make us smile."
Words of Wedded Wisdom
"Don't let anyone put you off having the wedding that you both want. Before setting plans in stone do some research and get all the inspiration that you can. Look for bargains and try and make things to help with the budget and make your wedding personal to you.
It can get a bit dull for guests when they are waiting around so try to arrange some entertainment. Take time out to soak up the day together, just stand and watch all your loved friends and family having a fun time. They are memories you will never forget and it is true what people say, the day does go by so quickly.
Don't panic! Things have a habit of working themselves out. Our page boy forgot his white shirt, luckily he had a really cute polo shirt which looked fab with his bow tie and actually he looked even better than he would have done with the shirt.
Ask people to help, friends would love to get involved and be part of your day. Whatever the day brings, you will never do again so enjoy it, smile and don't let anything ruin the most amazing, special day of your life."
Many thanks to the lovely Emma and David for sharing your beautiful wedding with our readers today, also huge thanks to photographer Michelle Lindsell for the wonderful images. Are any of you planning a late Autumn wedding celebration? Do let us know what your plans are below!
Love Caoimhe xx
Photographer – Michelle Lindsell
Film – Mrs Mashup
Venue – St Mary's Church + Ramster Hall, Chiddingfold
Wedding Dress – Martinique by YolanCris from London Bride Couture
Veil – London Bride Couture
Shoes – Rachel Simpson
Accessories – Marks and Spencer
Groom – Tweed Addict Suit + Thomas Pink Shirt +Ted Baker Shoes
Bridesmaids – Coast + No.1 Jenny Packham + Accessorize
Florist – The Little Violet by Jodie Sutch
Cake – Made by a friend
Catering – Jacaranda Catering