If you're looking for a big dose of Sunday indulgence then look no further. Today, we're absolutely delighted to bring you Willa Rose, the dreamily beautiful new collection from the super talented Charlotte Balbier as well as an interview with Charlotte herself who'll be telling us all about her new designs and sharing a few behind-the scenes secrets too. So, sit back, relax and enjoy our journey into Charlotte Balbier's amazingly pretty world…
In just a couple of sentences, describe the new Willa Rose collection for us?
Willa Rose is feminine, ethereal and romantic. It combines boho, free spirited styles with classic Balbier designs and our signature attention to detail that makes them instantly recognisable as a Charlotte Balbier gown.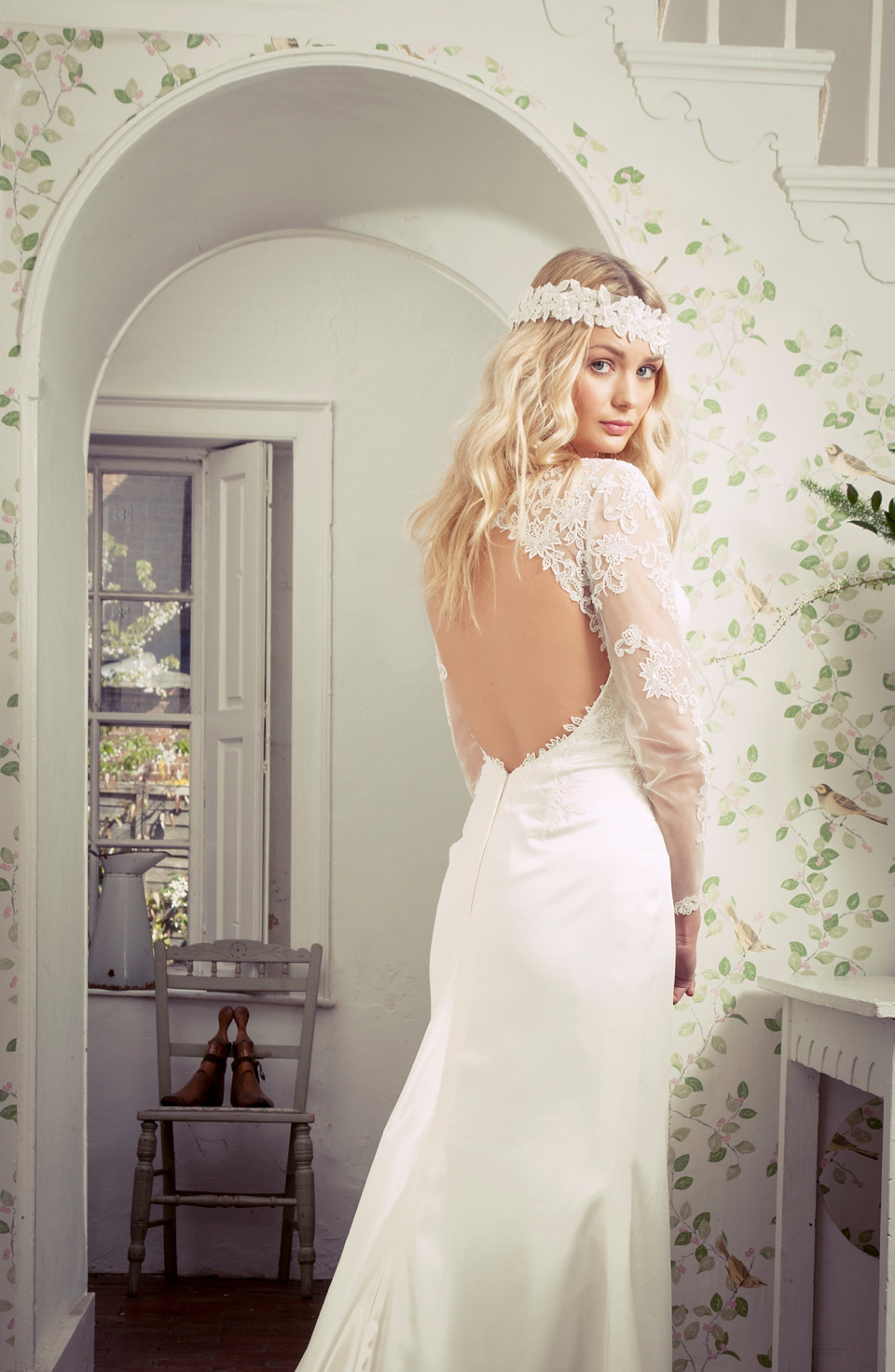 Where did you draw inspiration from when creating this new collection?
Inspiration is around me daily and I draw on so many sources. Boho inspired and free spirited floaty chiffon styles have been popular from my last two collections so I developed these styles for 2016, creating more beautiful paired down, simple gowns.
Equally though the big skirt is very much back and brides love the layers of tulle ball gown style skirts, as do I. I also adore Mikado as a fabric to work with and love to create show-stopping designs in this glorious fabric like the new Tarron gown.
How long does a collection take you to create?
I am constantly buzzing with ideas and always have my notebook on hand to note down ideas and inspiration. I'm always on the lookout for the finest new fabrics, Chantilly laces and embellishments for each gown. It takes around 8-12 months to come up with a whole new collection from the concept to seeing a new dress complete. The new collection has many intricate, detailed gowns, more than ever before. The Lilac gown has over 200 hand-cut flowers hand sewn onto the gown. The Estelle gown features over 2000 individual beads on the bodice that can take 3-4 days for our most experienced beading lady to sew on!
Do you have a favourite piece within the collection?
It's so hard as I honestly love every gown as they all represent a part of me. I do though have a favourite gown and it's the Lilac dress. This dress is the ultimate for feminine English rose brides who want to celebrate their femininity and girly side – this sums me and my style up in a dress! I have a total 'if I had my time over again' moment about this dress and wish maybe I had worn it for my wedding day.
How would you describe the Charlotte Balbier Bride?
The Willa Rose Collection captures exactly what a Charlotte Balbier bride is all about.  My brides certainly have a sense of their own individuality.  A Charlotte Balbier bride is confident and daring in her wedding dress style, wedding day and every day fashion choices. They always remain true to their feminine side and express that through their Balbier gown and wedding day itself as well as celebrating their individuality and style.
Charlotte Balbier is one of the UK wedding industry's success stories. What makes your brand so special?
The Charlotte Balbier brand is about more than just giving brides beautiful gowns, it's an experience. When a bride chooses a Balbier gown she joins the Balbier Bride family and a whole wedding journey and experience. We engage with many of our brides individually through social media and email. Our brand is a bubble of pinkness and we like to think we sparkle Charlotte Balbier magic dust over each and every wedding. I also have close personal relationships with all my partners who stock our gowns and have built up wonderful relationships over the years.
When you're not working on creating beautiful dresses, what do you like to do? 
I live and breathe my brand 24/7 and I love sharing snippets of my life of on my personal Instagram account. You can follow my love of fashion, especially shoes and shopping for bridal inspiration! I share all the joys of being a girl-boss and the many trips I take across the country to meet Balbier brides personally. To fully relax I love Clarins facials and enjoy one once a month religiously! You'll see plenty of my beloved dog, Buster, and my dear husband Teddy on Instagram too!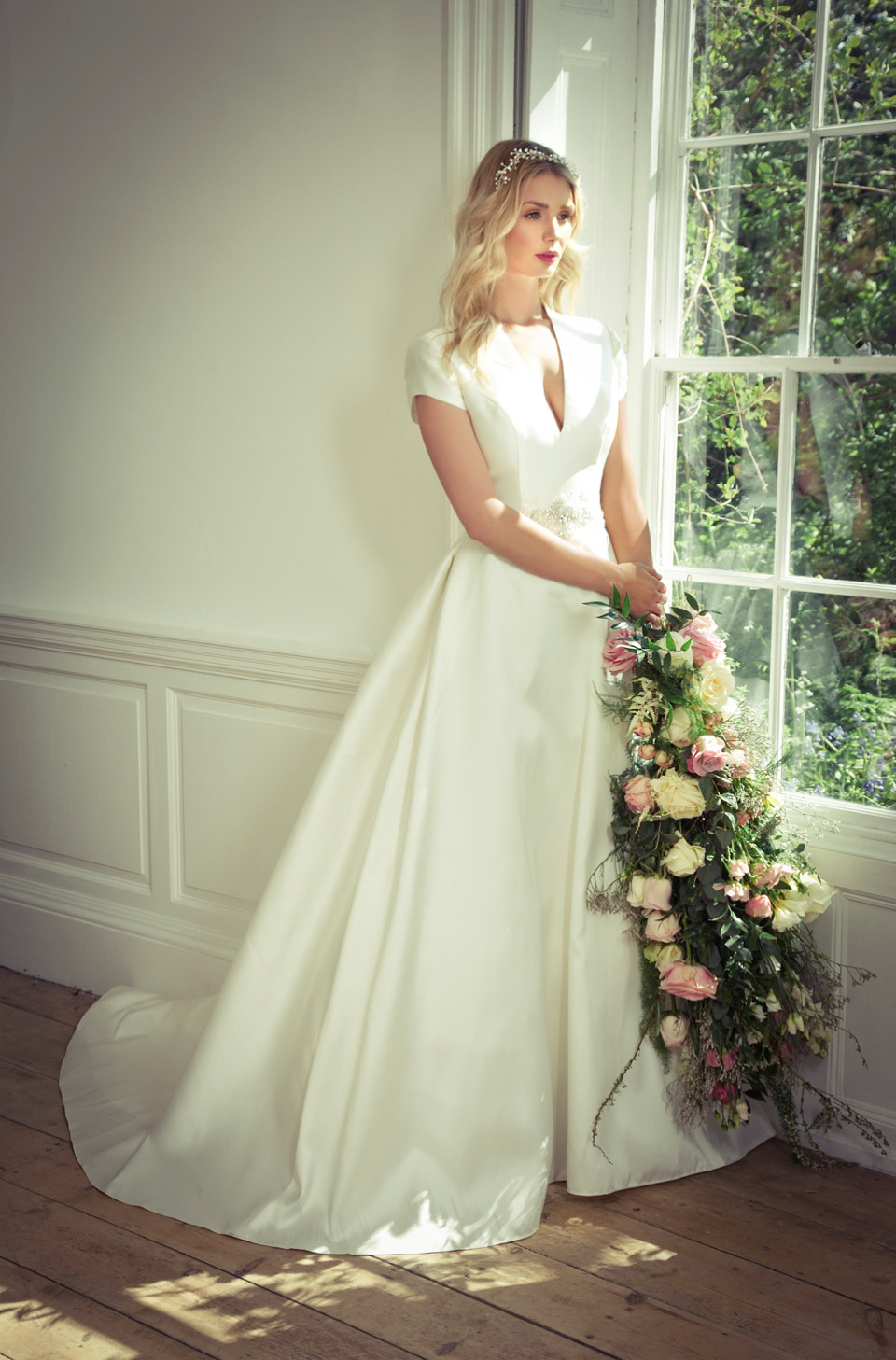 Are you seeing any trends that you particularly love within weddings right now?
A big trend in bridal at the moment is giving attention to the back of a gown. It's a pretty crucial trend for brides to look good from all angles, especially the back when walking down the aisle.  The new Tarron dress has an amazing keyhole cut-away back for a bride wanting to make a statement. The fabric is a rich Mikado, one of my favourite fabrics to work with each season. It's finished with a full skit with box pleats and a beautiful pearl and crystal belt detail. The Lola gown brings sexy back literally, the Lola's daring and flirty low back detail is for the bride who wants to make a real statement and show her curves.
What might you like to see more of in bridal fashion and in weddings in general?
Gone are the days when everything in a wedding has to match perfectly.  At my wedding I wanted to give each of the 8 adult bridesmaids a sense of individuality.  The colours of the bridesmaid's gowns were all midnight blue but each dress was shaped differently to each bridesmaid's body shape. I also accessorised each of their dresses with a different pair of shoes and clutch bag. I'd love to see brides being more adventurous with different handbags, accessories and bridesmaid dresses to celebrate each bridesmaids own style and personality.
Tell us about your own wedding day…
I married Teddy on December 7th 2013, with 100 guests in attendance at the amazing and magical Iscoyd Park. I wanted to create a classic English wedding that was also glamorous and decadent and it was certainly that and then some! I drew inspiration from combining the English charm of Iscoyd Park with my love for old Hollywood glamour. I adore pink, gold, sparkles, flowers and candles and Red Floral Architecture created my dream wedding day décor to perfection.
What advice would you like to share with our readers planning a wedding?
Don't forget the details and this is something I'm passionate about. I was a perfectionist over the wedding stationery and this added a magical touch to the wedding. Rose & Ruby Paper Co. designed all of our wedding collateral from invitations to orders of service. Rose is extremely talented and designed some unique traditional kissing bells for our guests to shake during the ceremony to salute our marriage.
Do have a wedding film! Teddy and I have watched our wedding day film so many times and it's our favourite and most treasured thing we took from the wedding.
Keep a few surprises – we kept our wedding marquee filled with flowers a complete secret from our guests and the look on their faces when they wandered in the room was priceless! It completely made the day for Teddy and I.
I'd advise couples to get a wedding planner, someone with a good reputation and experience in the industry. Charley from London Bride was my wedding planner and helped plan the day to perfection.
You definitely need an amazing photographer. Use a true professional like Polly Alexandre to make sure your wedding day is captured beautifully. Do you research, look at portfolios and work with suppliers who suit your taste and whose work you love. At the end of it all, your wedding vows are the most important part of the day. The words that you and your partner have to say on the day are the only thing that really matters.
Thank you Charlotte for taking the time to speak to Love My Dress – we all adored your beautiful wedding day and we're still thrilled that it's here on Love My Dress for everyone to see. The new Willa Rose Collection from Charlotte Balbier is available from selected stockists and gowns retail for between £1500 and £3000. There are 27 designs to choose from and we'd love to hear which is your favourite.
As we've heard, Charlotte loves to connect with brides on social media and you'll find her on Facebook, Twitter, Instagram and Pinterest.
Have a beautiful weekend,
Tamryn x