You didn't think we were going to let Friday slip away without another real wedding feature on this beautiful wedding blog did you? Nooooo, no no. Let me introduce you to bride Heather, a graphic designer, who married her beau Jack on 5th April this year, which also happened to be Easter Sunday in the UK. Their wedding is full of the prettiest floral touches and special share the honest love moments.
The couple tied the knot at the Hotel du Vin in Brighton, UK, the place they both grew up. They also had a 'first look' – and met each other before their ceremony to embrace and hug in advance of exchanging vows. It's a tradition that originated from America but one that is fast gaining popularity here in the UK (see more first looks here).
Photography by Tino & Pip
"Once we had decided on a springtime woodland style we knew that flowers would be a big part of our day. We spent a lot of time researching and came across Emma from Tigers to Lilies based in Cuckfield. As soon as I stepped into her Artisan, rustic studio I knew that she was perfect for the job!"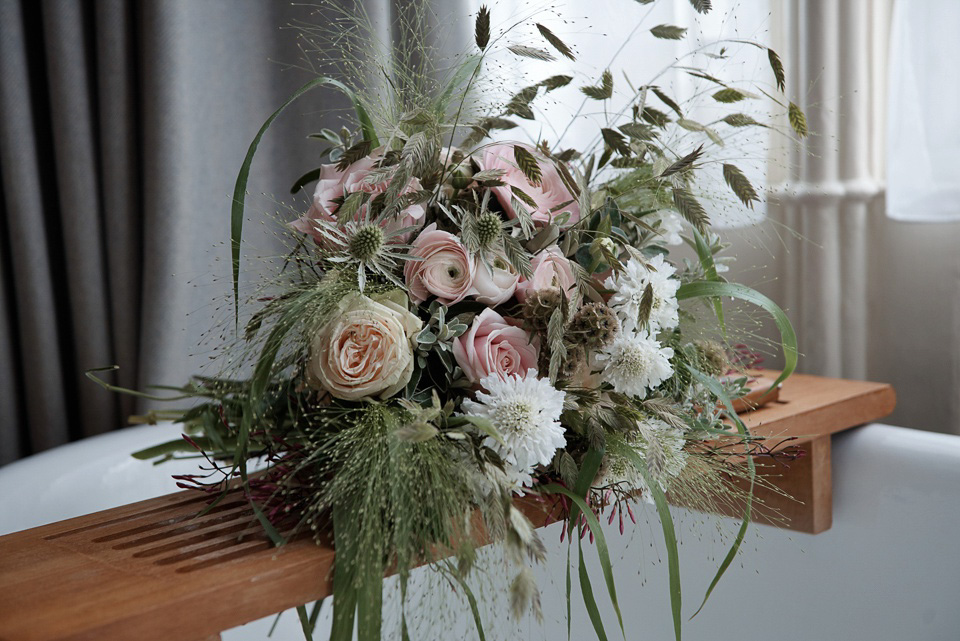 "Emma was so passionate about her ideas and excited for our wedding, it felt like planning with a friend rather than a supplier! Her rustic, boho style is beautiful and we hardly had to give any direction to get the perfect arrangements. Emma also sourced and created the vintage door back drop used in our ceremony which everyone loved on the day!"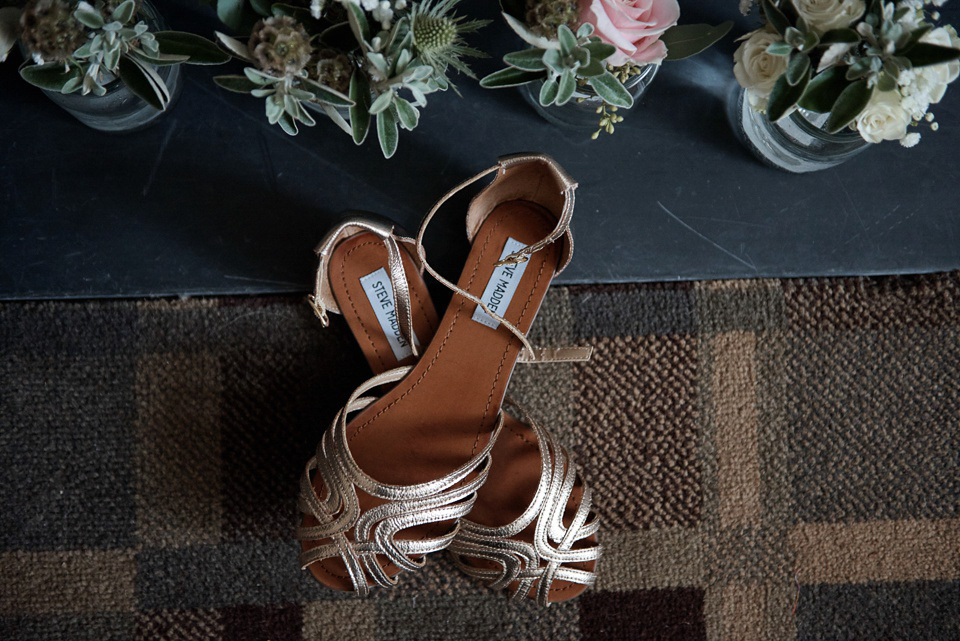 "We spent such a long time researching photographers. It was so important to us that we liked their style so that we could be confident they would capture our day in a way that we would love. When I came across Tino & Pip's website I instantly got excited. Looking through their photos of previous weddings made me feel like I was actually there, caught up in the emotions of the day."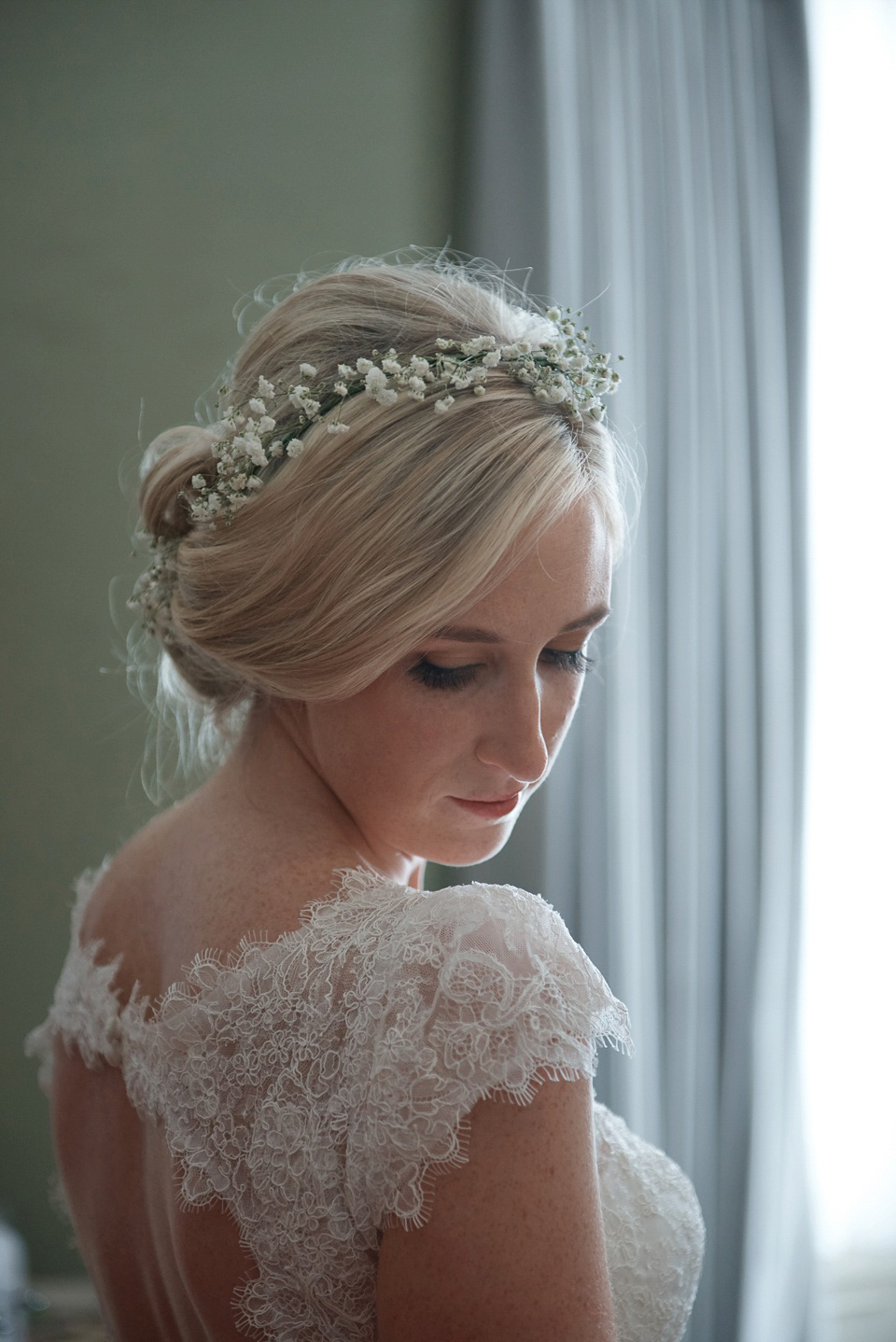 "We met them at the venue a few weeks before the wedding and they were really lovely and had lots of creative ideas about shots we could get on the day. On the day itself they made us feel so relaxed and mingled in with the guests so well we almost forgot they were there! They captured the love, emotion and detail of our wedding so well and looking at the photos takes us straight back to the moment they were taken."
"Our hair was done by Laura, who has been doing my hair for over ten years…I wouldn't have had anyone else! Our make-up was done by Rachel from Powder Beauty Boutique in Brighton. They both did an amazing job on the day!
I knew quite early on that I wanted to have fresh flowers in my hair, and my florist made a beautifully simple gypsophila crown. She also made small bits of gypsophila to put in my bridesmaids' hair, which looked lovely!"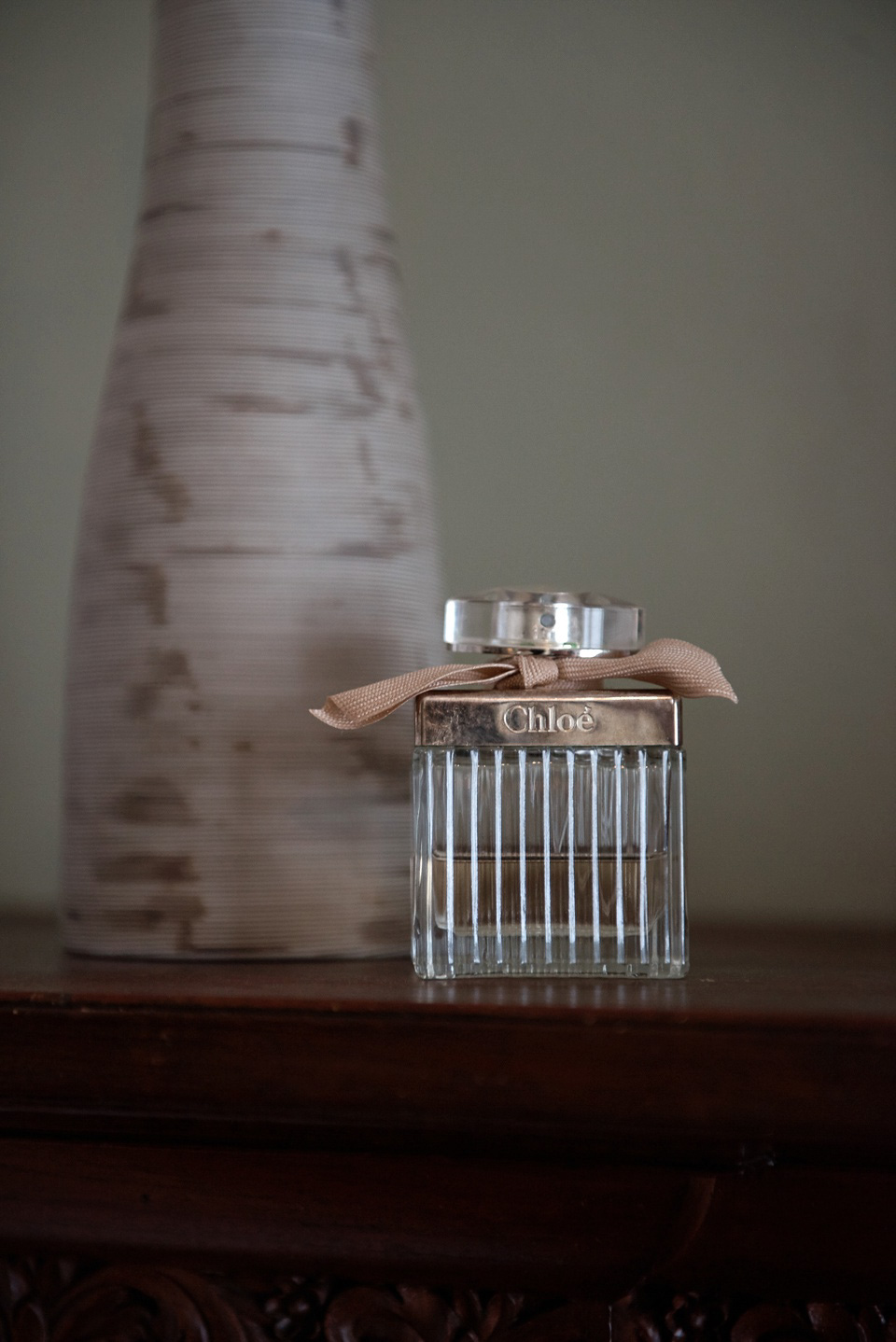 Heather wore a beautiful gown called 'Austin' by designer Stella York, which she purchased fromFross Wedding Collections in Uckfield…
I visited a few boutiques about a year before the wedding and tried on several dresses. There were lots of dresses I liked but I never got the 'it's the one feeling'. I stopped looking for a while, feeling a little disheartened, and Fross posted a picture of Austin on their Facebook page. I knew I had to try it on! It felt so lightweight and unstructured and complimented the relaxed approach we wanted to have to our wedding. I loved the heart-shaped keyhole back and the delicacy of the pretty eyelash lace around the edges. My mum cried as soon as she saw me in it so I knew it was the one!"
"I'm quite tall and have never really been a lover of heels. I wanted something that would be comfortable and not run the risk of me tripping down the aisle! I found my flat gold sandals in Dune and they were the last pair in my size. They were perfect and meant I could dance all night pain free!"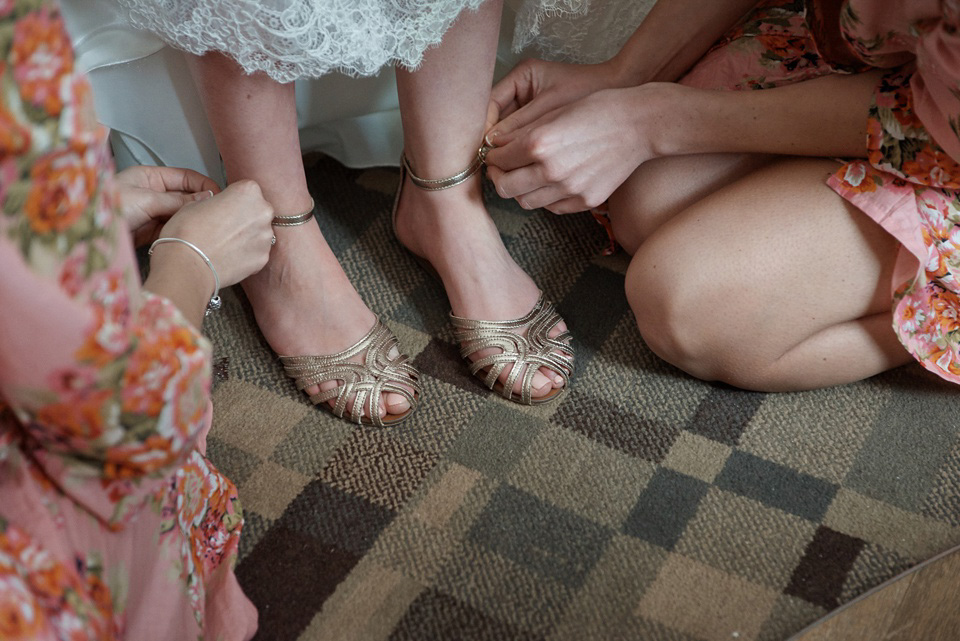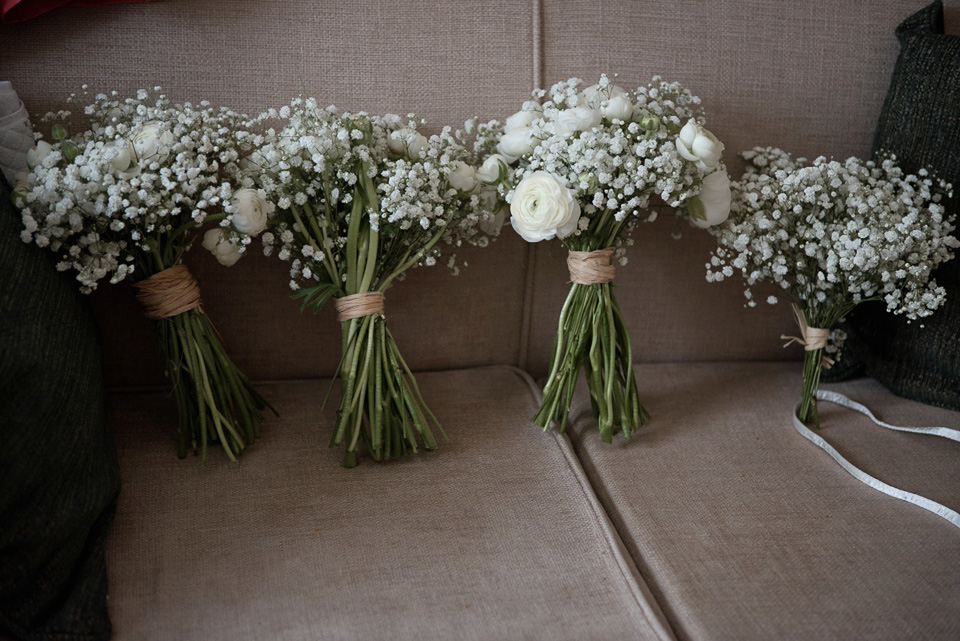 "Choosing Bridesmaid dresses was maybe one of the hardest parts about wedding planning. We went through so many options but it was really difficult to get one dress that four girls with different styles felt comfortable in. It was really important to me that they felt beautiful on the day too. We thought about mismatched dresses but they were keen to wear matching. Eventually, only two months before the wedding we found the perfect dress on ASOS that they all loved. They got so many compliments on the day and looked gorgeous!
I let the girls accessorise the dresses however they wanted to and they chose a simple delicate gold coloured necklace and each wore the bracelet that I bought them as a thank you for being my bridesmaids."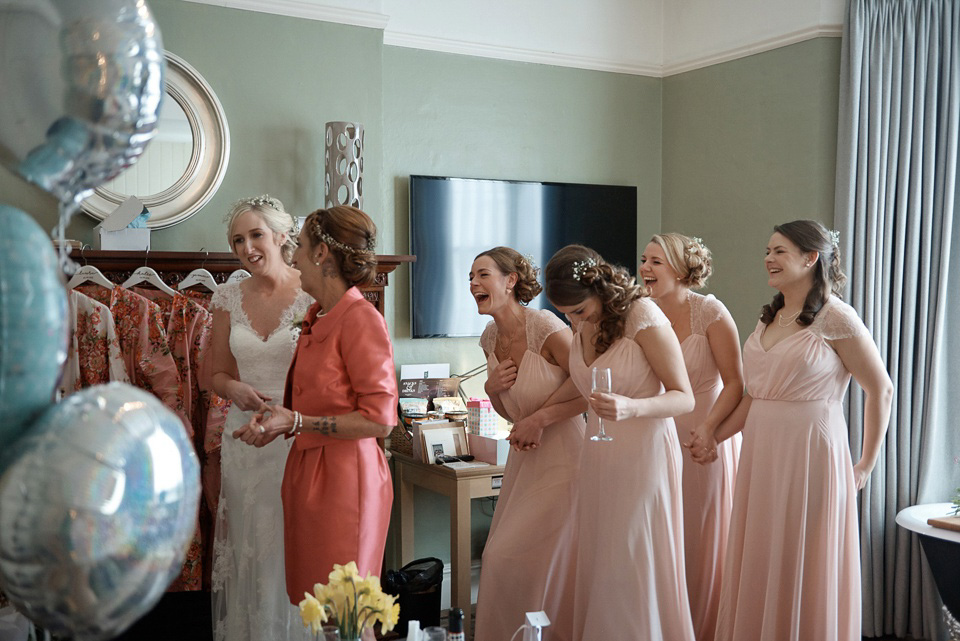 "We both grew up in Brighton and despite many travels and living in various places around the country for University and work, something has always drawn us back. AlthoughHotel du Vin is in the heart of the city it feels so intimate and unique to any of the other venues in the area. The décor has a vintage, neutral feel to it, and the beautiful ballroom was the perfect place to hold our wedding. We loved being able to cross the road and have photographs on the iconic seafront too!"
"We met seven years ago through mutual friends and spent the first few years in a long distance relationship while I went to university in Bristol and Jack was in the Army and based in several places around the UK. In 2012 I was living back in Brighton after graduating and Jack was on his seven month tour of Afghanistan. Half way through the tour he had a two-week R and R break and took me to Rome where he proposed! It completely took me by surprise, and it was such a beautiful and romantic city to get engaged in! Jack designed the ring and had it specially made by a jeweller in Birmingham…its perfect!"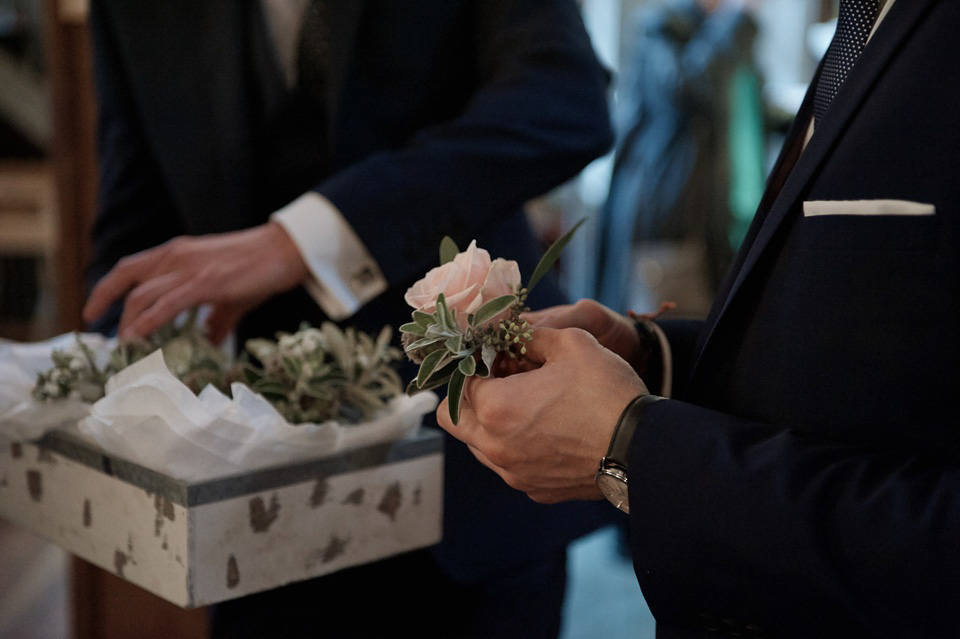 "We were engaged for two and a half years before the wedding day, but only really started planning about a year in advance.
We never really had a set style in our heads from the outset, but we knew we wanted to reference Easter in some way without being over the top. We started booking, buying and making things just because we liked them, and a rustic, woodland springtime feel started to emerge. When we met our florist and saw her amazing stags head prop we decided on a floral antler theme. I then created a monogram logo that set the style for the stationary and other DIY bits we created for the day. Along the way our love for travel crept into the theme too, we named our tables after our favourite places we visited and had a vintage map suitcase for our cards and gifts. The two style actually complimented each other really well."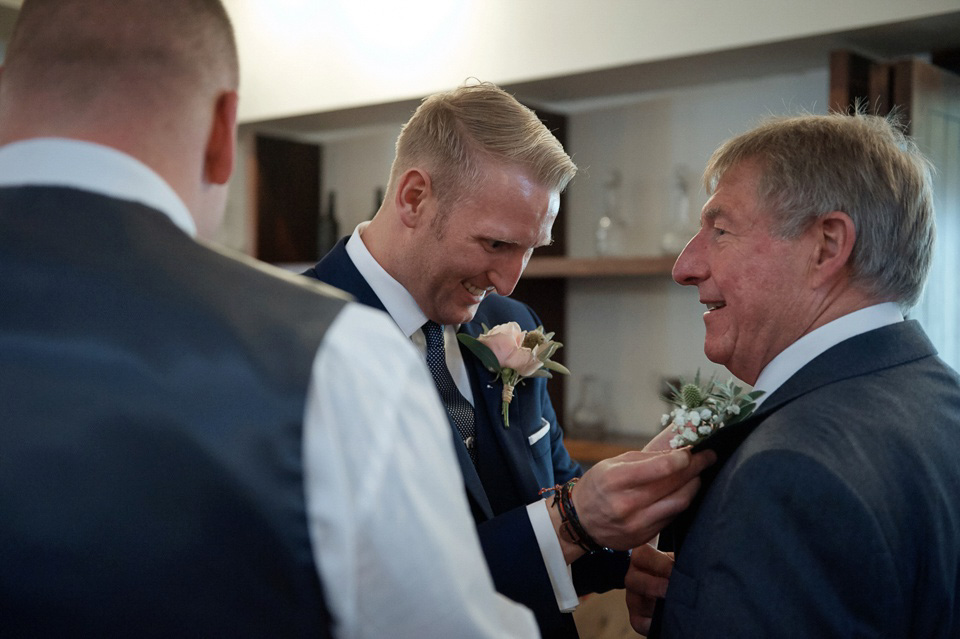 "We wanted a more relaxed look than tails and top hats, and Jack chose a gorgeous blue 3-piece Ted Baker suit he bought from Moss Bros in Hove. He also chose matching polka dot French connection ties for himself and the groomsmen."
"We opted for a 'first look' before our ceremony, which we would really recommend for other couples that are not too hung up on tradition. Our photographers took us down to the seafront separately and I walked up behind Jack and tapped him on the shoulder. Lots of passers by on the pier started cheering when Jack turned around! It was so nice to share that special moment with just the two of us and it meant we were more relaxed when it came to the ceremony itself.
We were also able to have our couple shots done then too so we could spend more time with our guests at the drinks reception.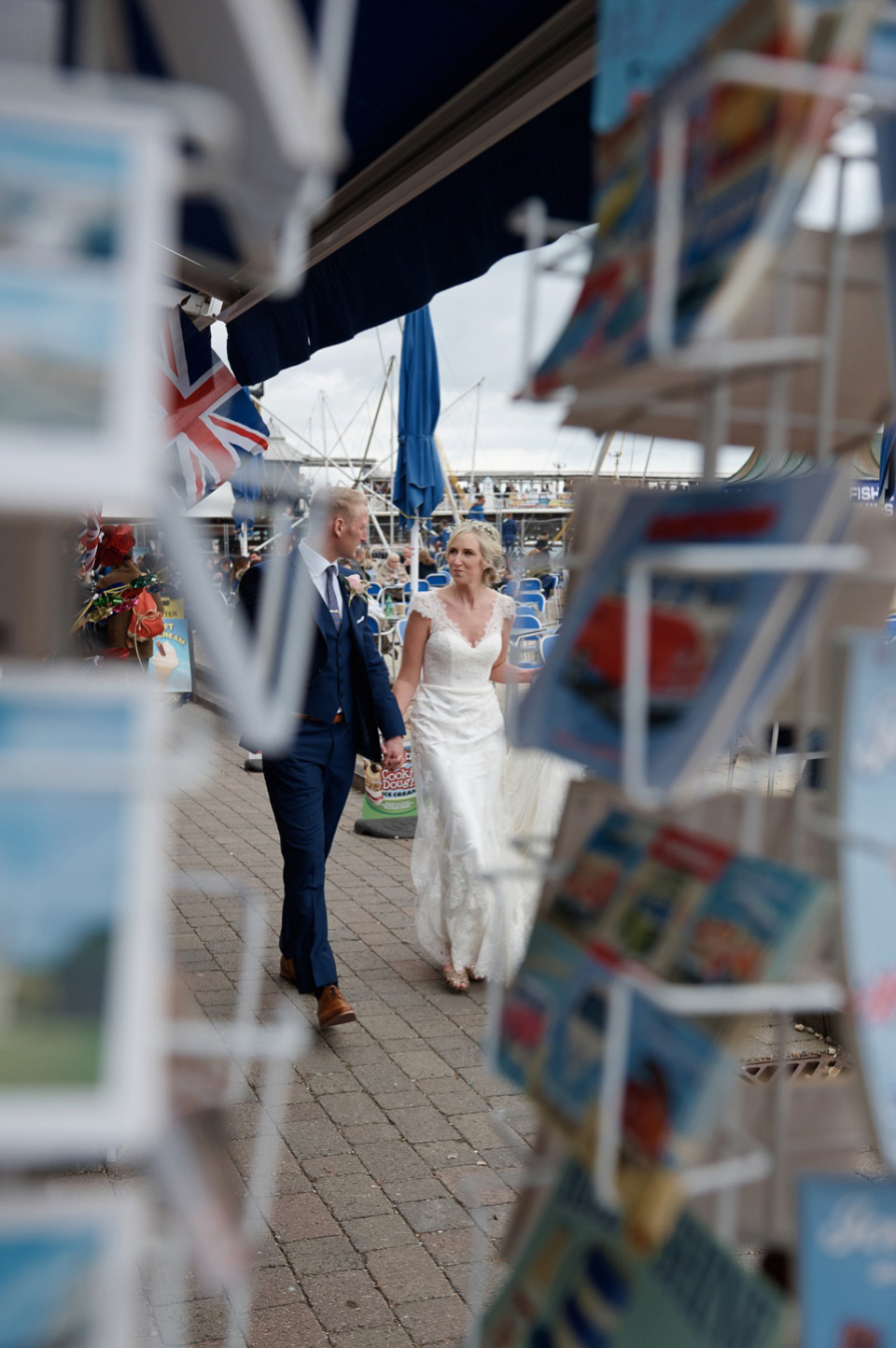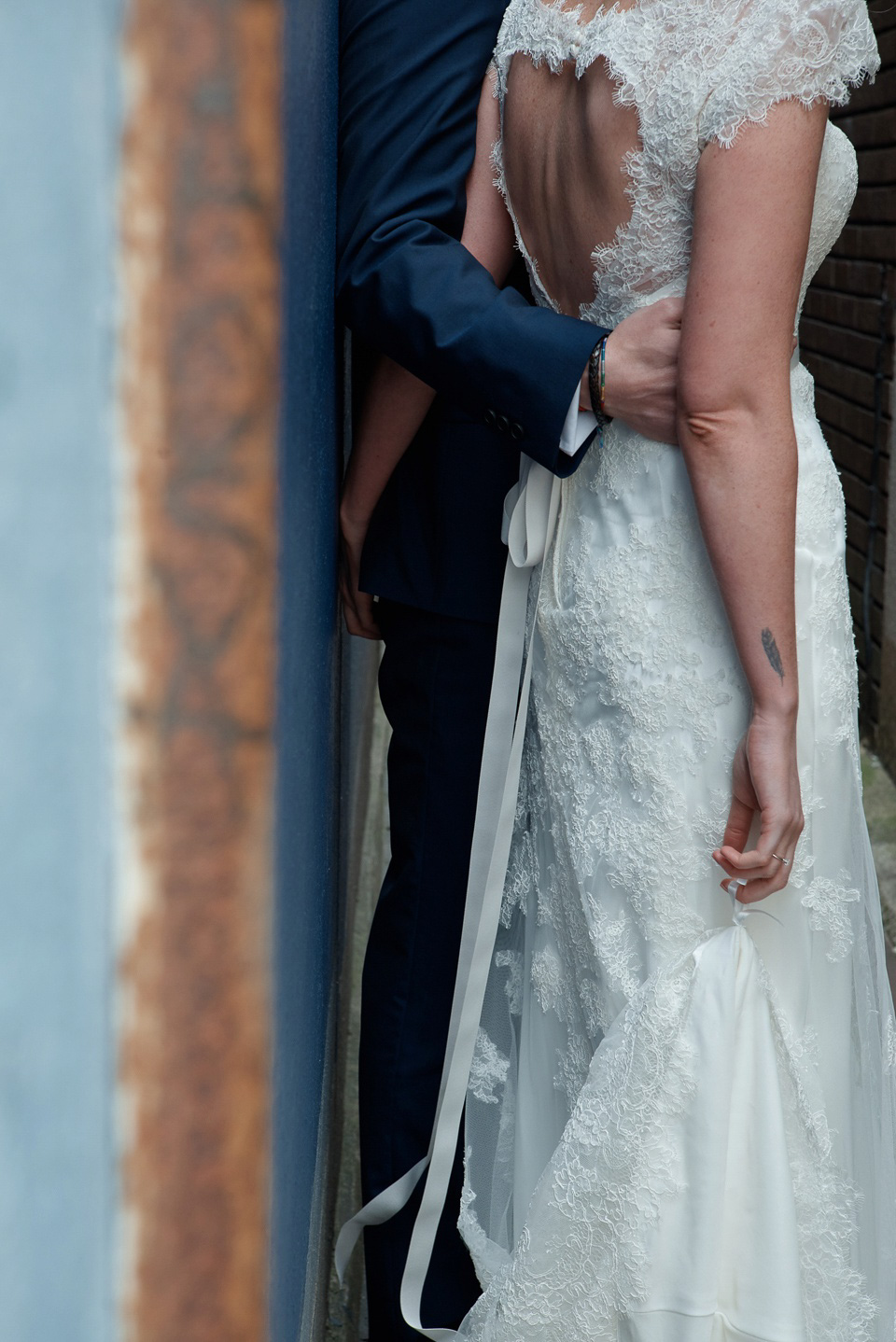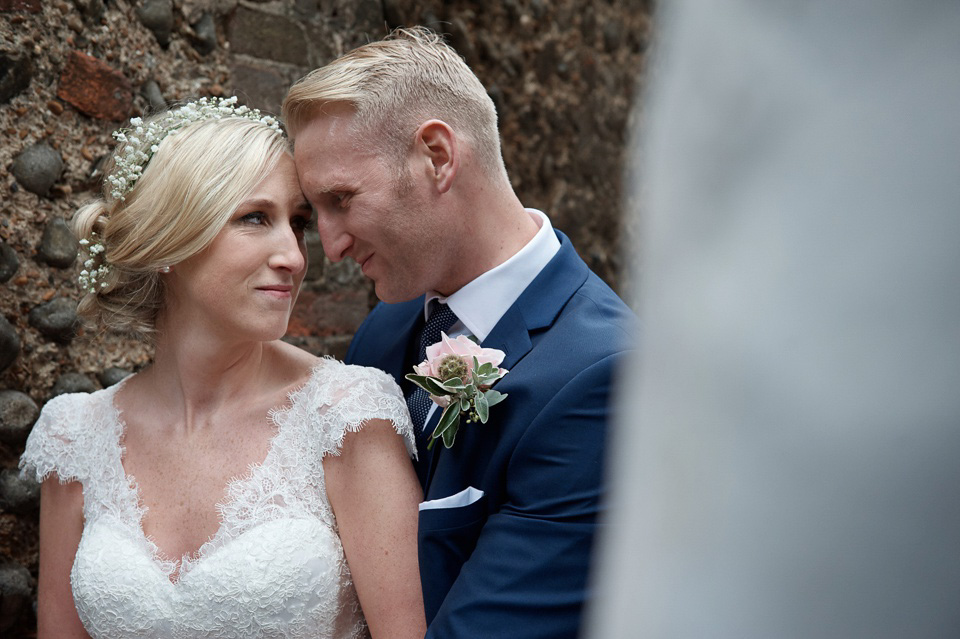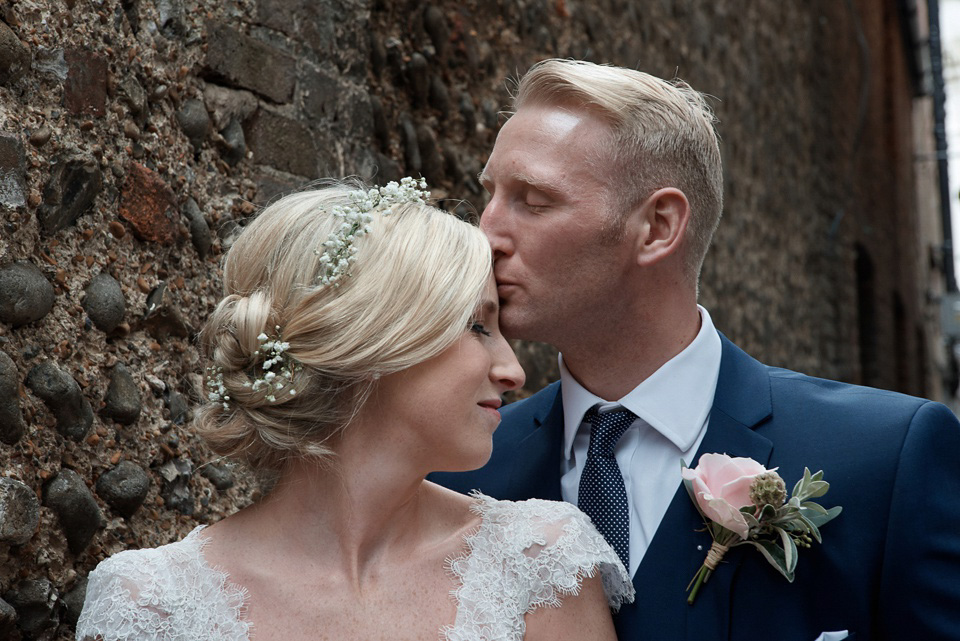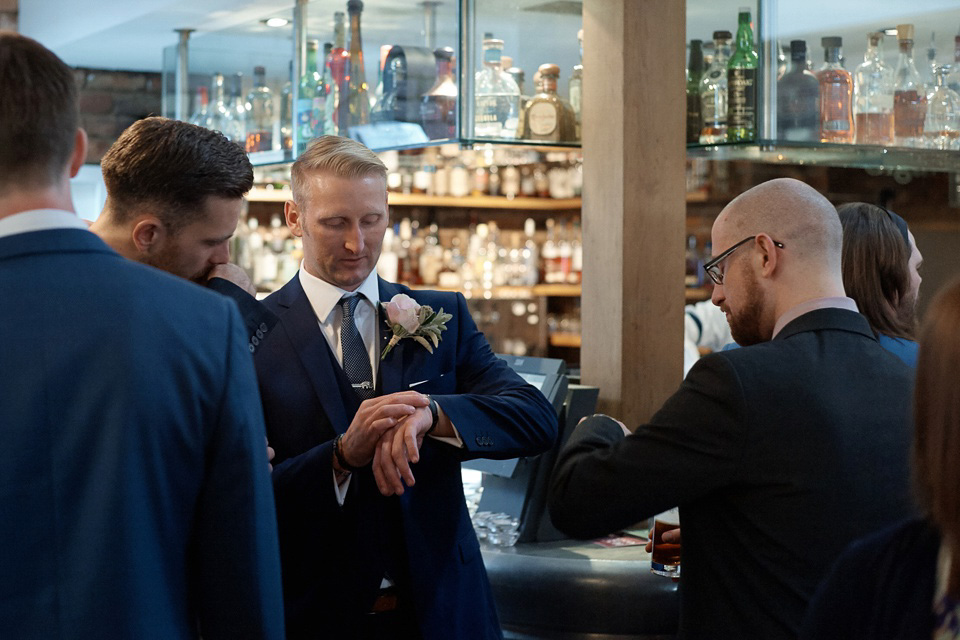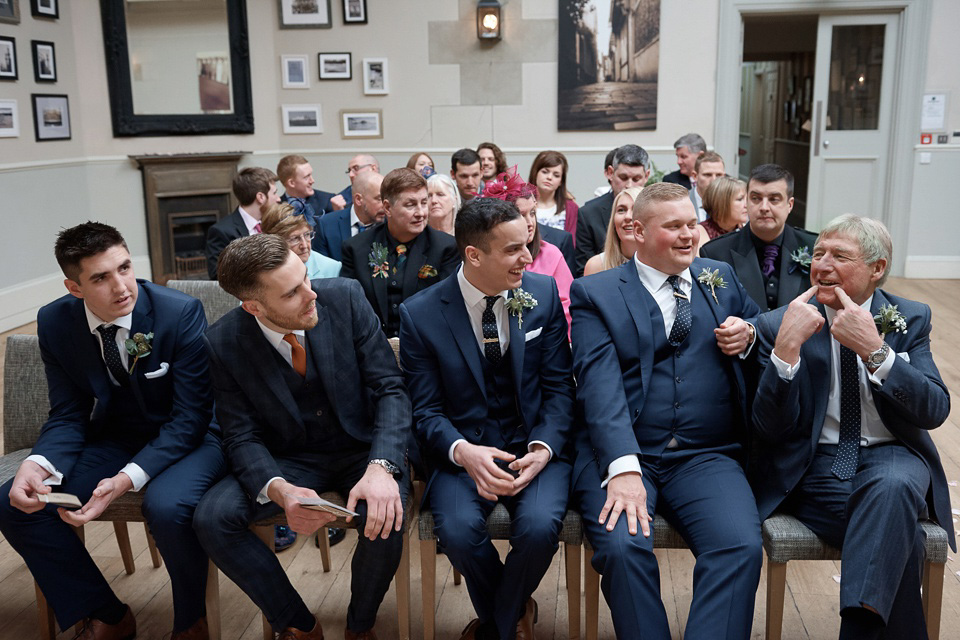 "My step-dad walked me down the aisle and did a splendid job of slowing me down when I was nervously trying to run towards Jack! He calmed me down and helped me relax as we were going into the ceremony room. He's brought me up for as long as I can remember and really has been like a dad to me, it was so lovely to have him by my side!"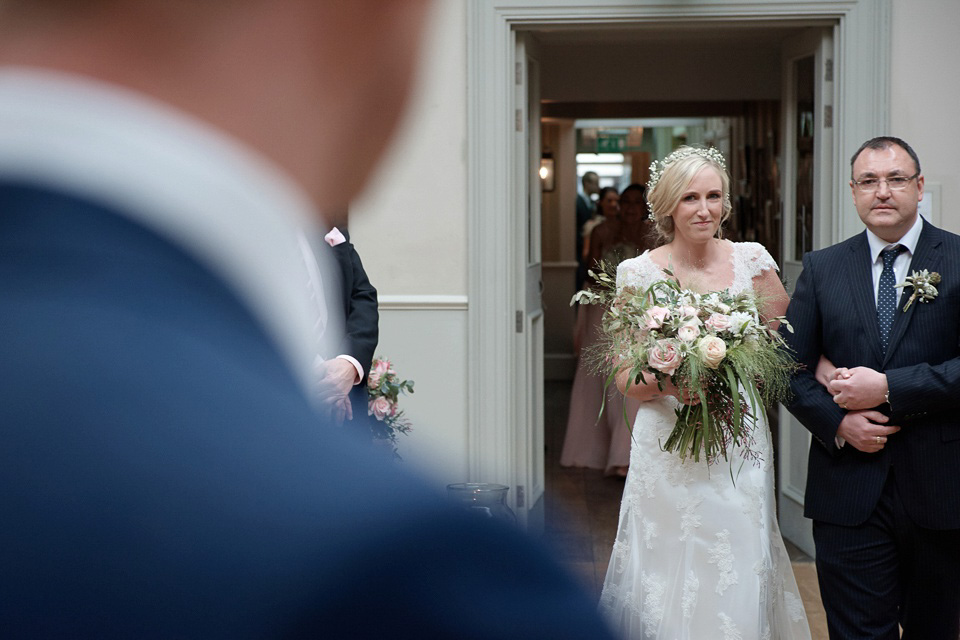 "I walked down the aisle to an acoustic version of Ben E. King's 'Stand by Me'. And we walked back out to an acoustic version of Florence and The Machine's 'You've Got the Love'. We also really wanted to do something that we knew Jack's Mum would like on the day. She was a fan of George Harrison, and while we were signing the register Laura sang a cover of his song 'Something'."
"We asked our friend Matt to choose a reading for our wedding. We asked him not to tell us what it was before hand, so the first time we heard it was during the ceremony. He chose to read 'On your wedding day' (author unknown). The words were lovely and really summed up the emotion of the day! Today is a day you will always remember."
Today is a day you will always remember
The greatest in anyone's life
You'll start off the day just two people in love
And end it as Husband and Wife
It's a brand new beginning the start of a journey
With moments to cherish and treasure
And although there'll be times when you both disagree
These will surely be outweighed by pleasure
You'll have heard many words of advice in the past
When the secrets of marriage were spoken
But you know that the answers lie hidden inside
Where the bond of true love lies unbroken
So live happy forever as lovers and friends
It's the dawn of a new life for you
As you stand there together with love in your eyes
From the moment you whisper 'I do'
And with luck, all your hopes, and your dreams can be real
May success find it's way to your hearts
Tomorrow can bring you the greatest of joys
But today is the day it all starts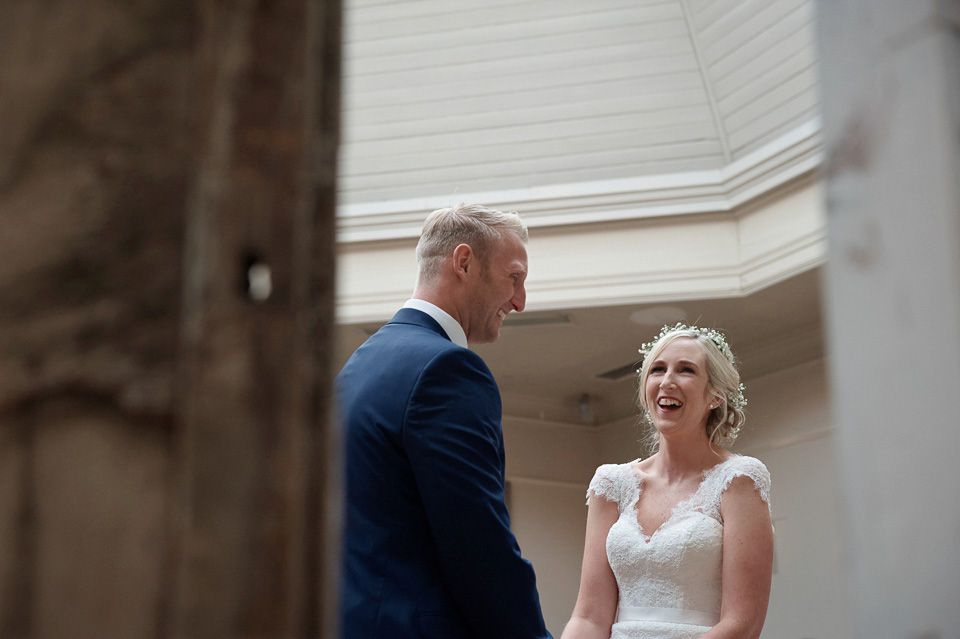 "My ring was from a company called 'Smooch Wedding Rings'. I wanted something that would compliment my engagement ring so I chose one with small diamonds around the band. Jack wanted something a bit different, and ordered his handmade wooden and titanium ring from an American supplier through Etsy."
"When the registrar announced us to our guests as Mr & Mrs Burns after the ceremony, Jack lifted my arm triumphantly and everyone started to cheer. It was such a special and happy moment."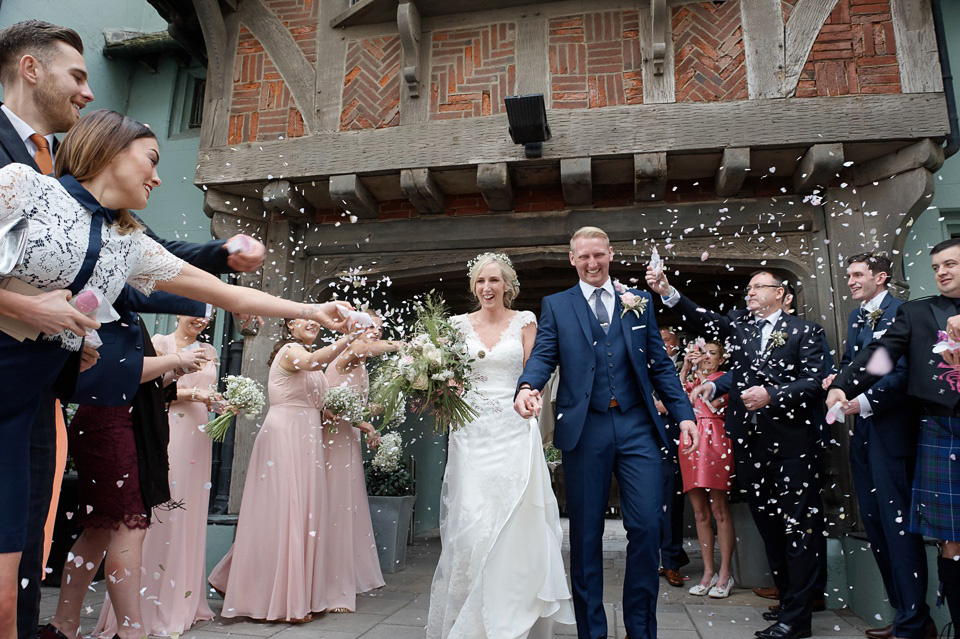 "The Dome ballroom where we held our ceremony and the dinner and reception is such a beautiful room it didn't require much styling. Our main décor was definitely our flowers, and our florist did a great job with the vintage door backdrop and the floral stags head really setting off the look."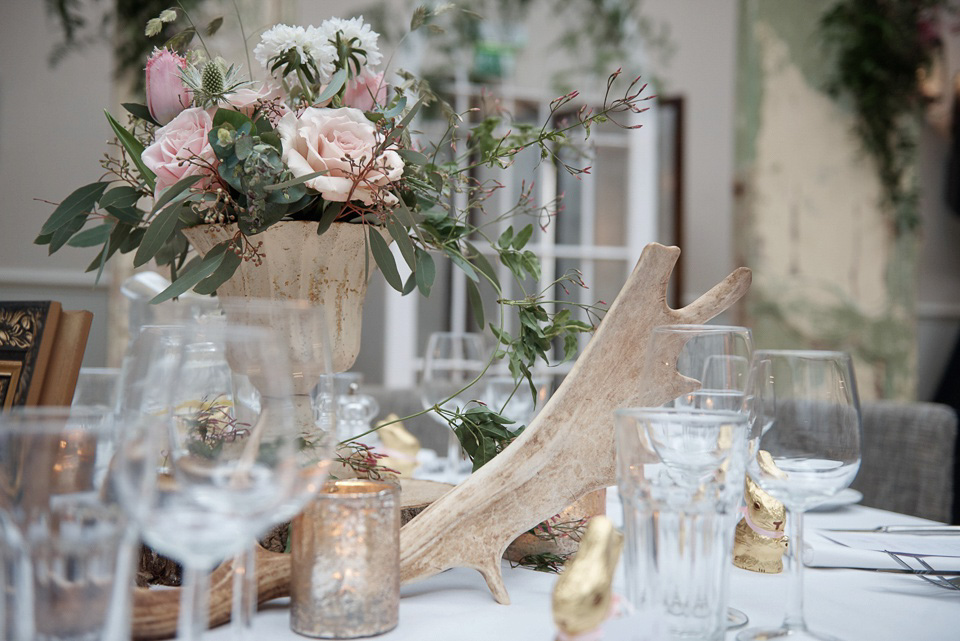 "Because it was Easter Sunday we gave each of our guests a Lindt bunny with their name tag round the neck so they doubled as place names…it worked really well."
'I designed all of the stationery myself, the save the dates, the invitations, the order of service come confetti pouches, the table plan and place names and menus. I also created all of the hand drawn chalkboard signs we had around the venue. It was a lot of extra work alongside wedding planning but I really enjoyed it, and I loved seeing it all come together on the day!"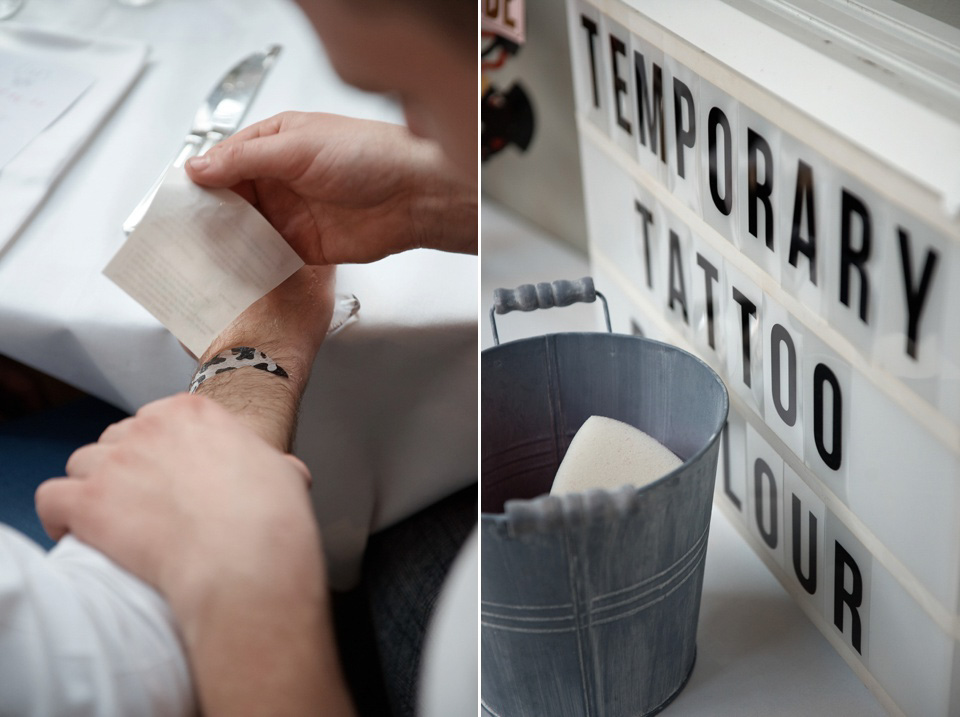 "We met 'Mr Bake' at a quirky vintage wedding fayre in Brighton and I knew he was the supplier for us when I couldn't tear Jack away from his table of cake samples! We went for three different flavour tiers, Victoria sponge, Banoffee cake and Carrott cake (a few of our favourites!) all finished with butter icing and decorated with flowers by our florist! Mr Bake also made mini cronuts to go with our cake…a mix between a croissant and a donut! We had four flavours, peanut butter and chocolate, Creme egg, Nutella and blueberry cheesecake…they tasted amazing and our guests loved trying them!"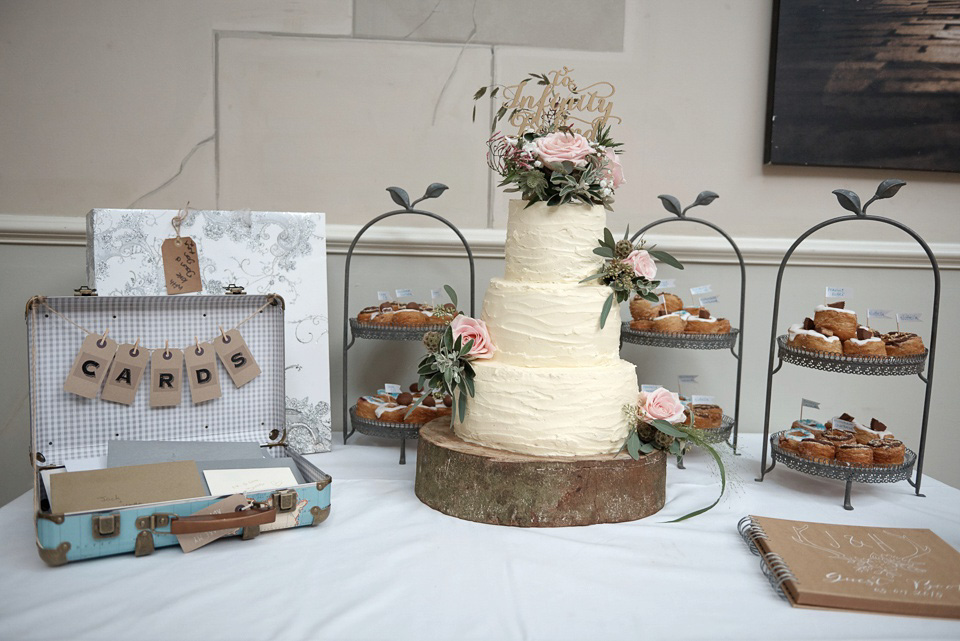 "I found Laura Oakes on an agency website and fell in love with her beautiful voice and style of acoustic covers. We booked her to sing during the ceremony and to perform our first dance. We also hired a close up magician, Tom Silburn, but kept it a secret from our guests. They were so surprised when he started performing tricks and he kept everyone entertained during the reception drinks and in between courses of the meal.
We set up a polaroid guest book with props that worked really well. One of my bridesmaids, Aisha, took charge of the camera and made sure everyone got involved. The pictures were lovely (and hilarious) to look back on the next day! We also created a DIY temporary tattoo parlour, which included tattoos we had made of our wedding logo. Needless to say lots of people were covered in random tattoos by the end of the night."
"For our first dance Laura created a mash up of Train's 'Marry Me' and Ed Sheeran's 'Thinking Out Loud'. It worked really well and we invited all our guests to join us for the end of the song. It was so lovely being surrounded by everyone we love while Laura sang beautifully!"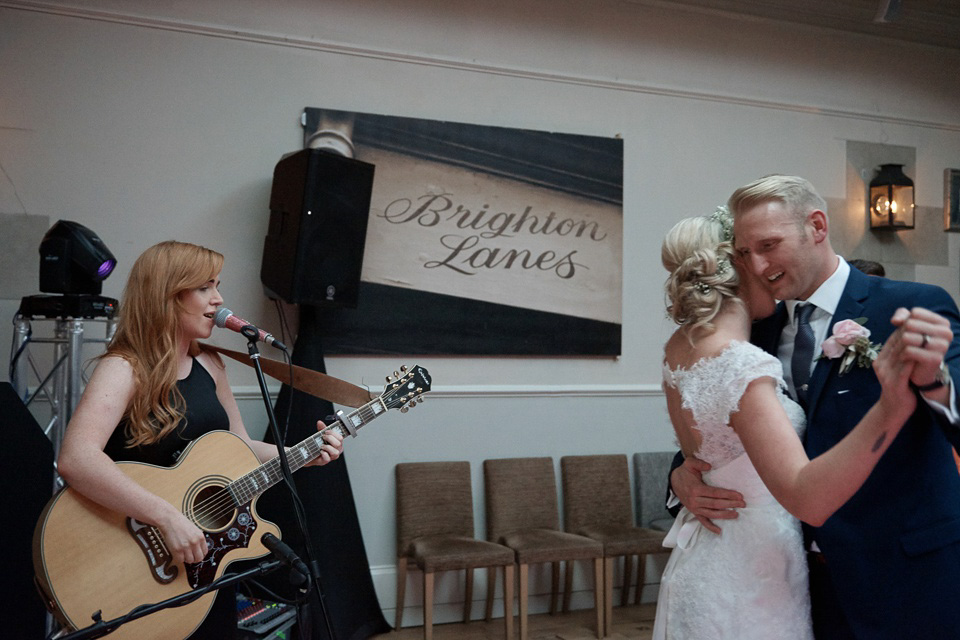 Words of Wedded Wisdom…
Make the most of the whole process! Leave more time than you anticipate for DIY projects so that you have plenty of time to relax and enjoy the final run-up to the wedding. Also, the day goes by so quickly its really important to make sure you spend as much time as you can as a couple so you remember enjoying it together.
"We wouldn't change anything about the day! If I knew how amazing it was going to be I wouldn't have stressed so much in the lead up. I didn't believe anyone when they told me it all falls into place and nobody notices the little mistakes apart from yourselves, but it really is true. As soon as I walked into the ceremony room and saw all the smiling faces of our family and friends and my best friend waiting at the end of the aisle all my stress disappeared! It sounds so cliché but its true."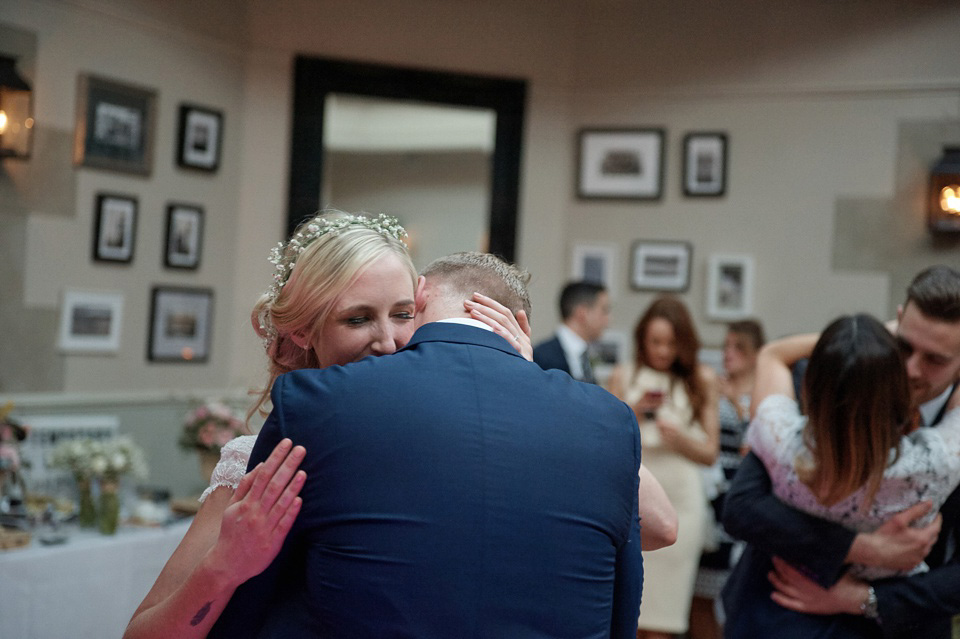 What a sweet and lovely day, a very lovely way indeed to finish off the working week. Huge congratulations to you both Heather and Jack – our heartfelt thanks for allowing us to share your beautiful wedding day.
Happy Friday all,
Love Annabel xx
Photographer – Tino & Pip
Venue + Catering – Hotel du Vin in Brighton
Wedding Dress – Austin by Stella York via Fross Wedding Collections, Uckfield
Brides shoes – Dune
Perfume – Chloe
Groom – Ted Baker via Moss Bros
Bridesmaids –  ASOS
Florist – Tigers to Lilies
Cake – Mr Bake
Entertainment – Laura Oakes + Tom Silburn
Rings – Etsy
Stationery – DIY, the bride
Makeup Artist – Powder Beauty Boutique in Brighton