A big hello and warm welcome to you Saturday morning wedding blog readers.  I've just seen off the fabulous Vintage 78 DJ's who are staying with us this weekend, to perform at a top secret party, in a top secret location, for a top secret individual (ssshhh, celebrity! …even they don't know who it is, how exciting!)
Now if there's one image that will always record way more likes than anything else on Instagram, it's a floral one. Everybody loves flowers. Everybody. Weddings provide a perfect excuse to get creative with flowers, as these beautiful images show today.
Photography by Alexa Loy Photography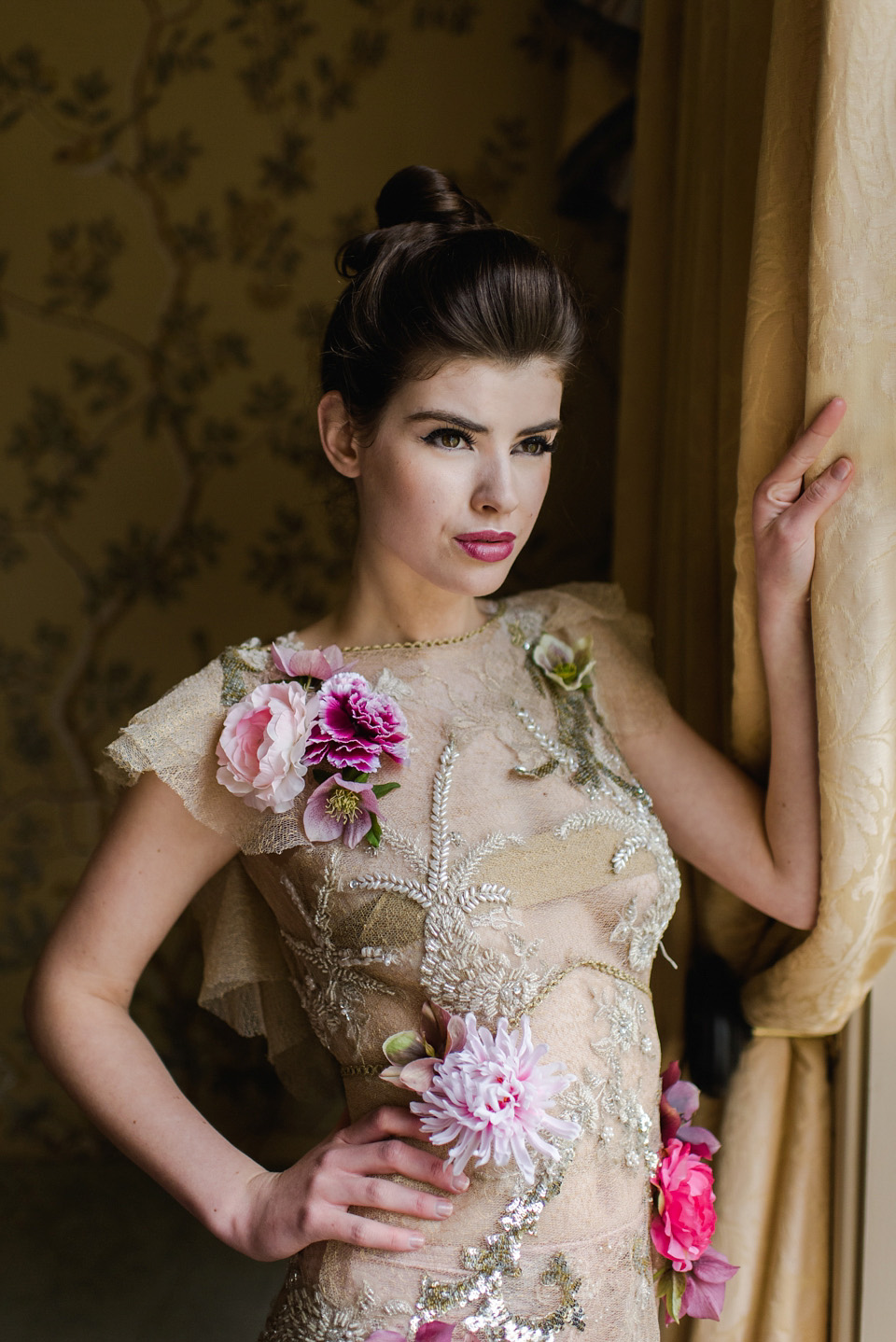 Gold floral dress by Wilden Bride
These photographs were submitted by the very lovely Erica, founder and lady behind Mr & Mrs Unique, a wedding directory that showcases unique, eclectic and creative wedding suppliers – something a little bit different and non-traditional, but nevertheless beautiful.
Flowers by Wild Bunch & table styling by Kate Cullen
"Throughout the year we get together with a selection of our amazing suppliers to create inspirational styled shoots, experiment with new things and spread our creative wings. We aim to push their boundaries… as long as its not traditional, anything goes!"
Cake by Nevie-Pie Cakes
Gowns used in the shoot were supplied by three up and coming British bridal fashion designers – Ears & Whiskers, Wilden Bride and Loriex – whose beautiful new debut collection we showcased on Love My Dress last month.  Each of these designers , each known for their creative dresses and attention to detail. Each outfit embraced the floral theme with flower embellishments or with print.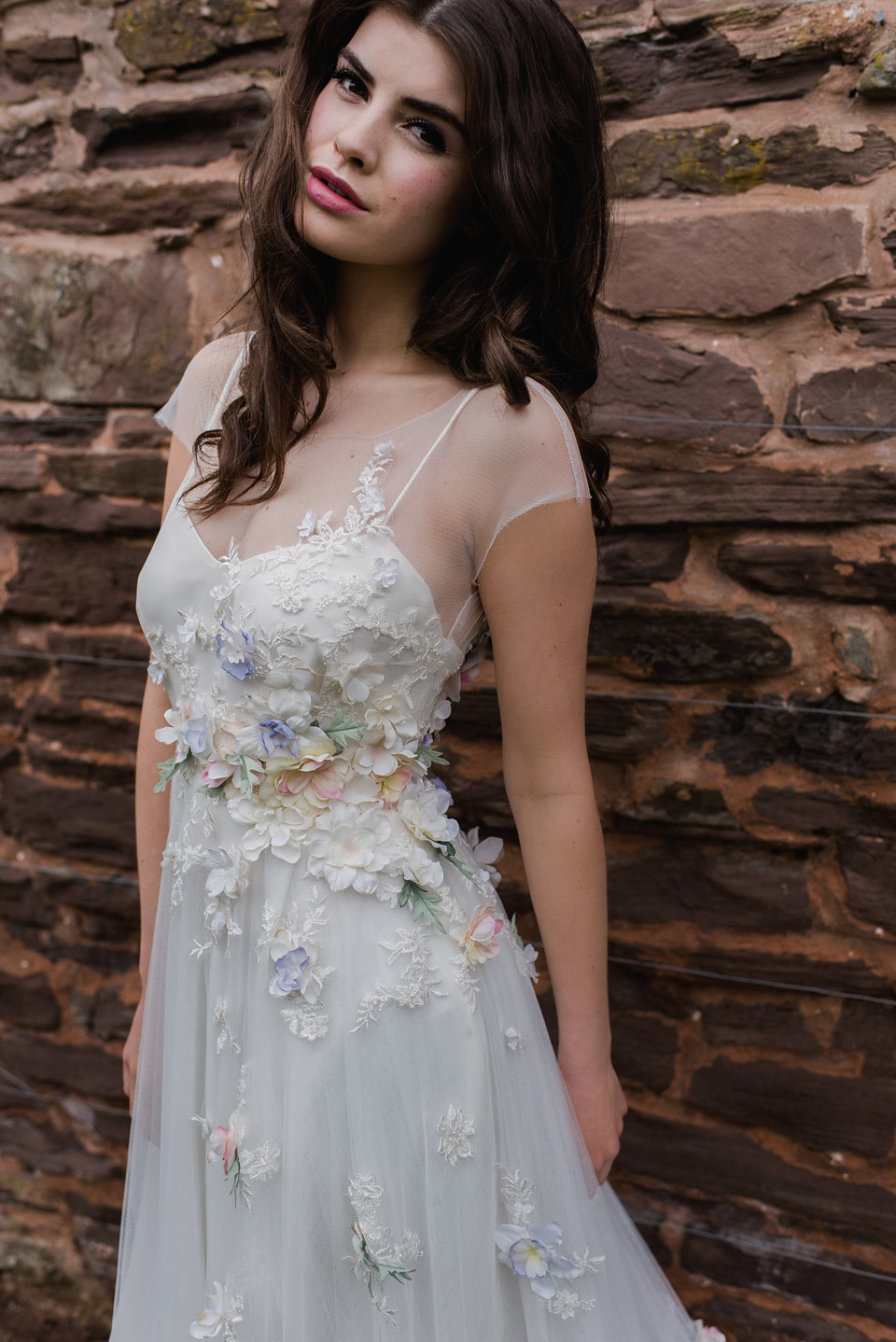 Floral dress by Ears & Whiskers
Erica from Mr and Mrs Unique wanted to create a shoot that was based around Flora and Fauna; beautiful table decor and details, floral dresses by upcoming bridal designers, and an abundance of stunning seasonal flowers.
The shoot took place at the very elegent country house wedding venue, Dewsall Court – an idyllic, exclusive use venue based in the stunning countryside of Herefordshire.
"Spring is my favorite time of the year and I was really keen to work on a project that was seasonal flower based. Dewsall Court was an obvious choice for the venue; with its impressive house and beautiful gardens that look over the Herefordshire Countryside – it was the perfect backdrop."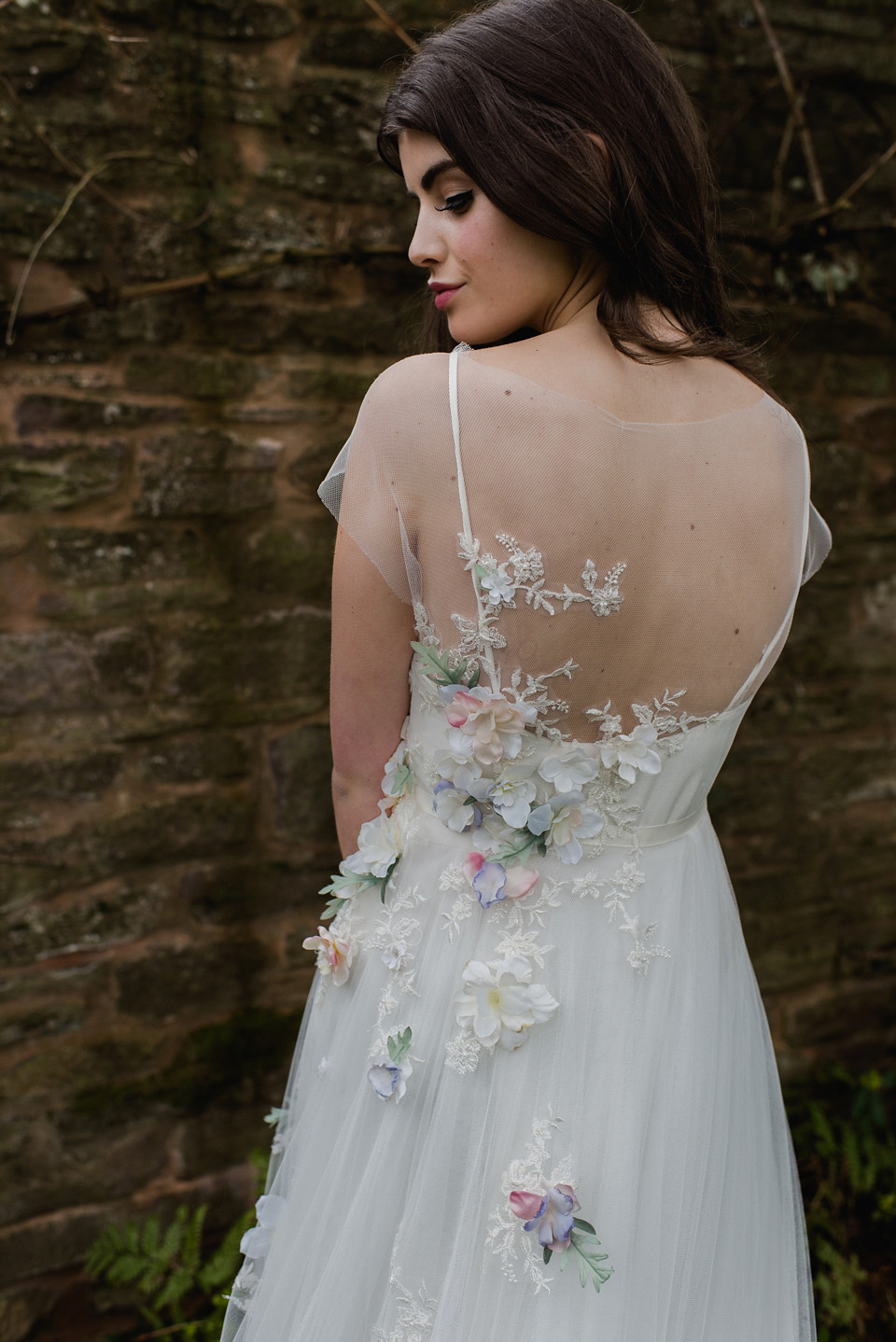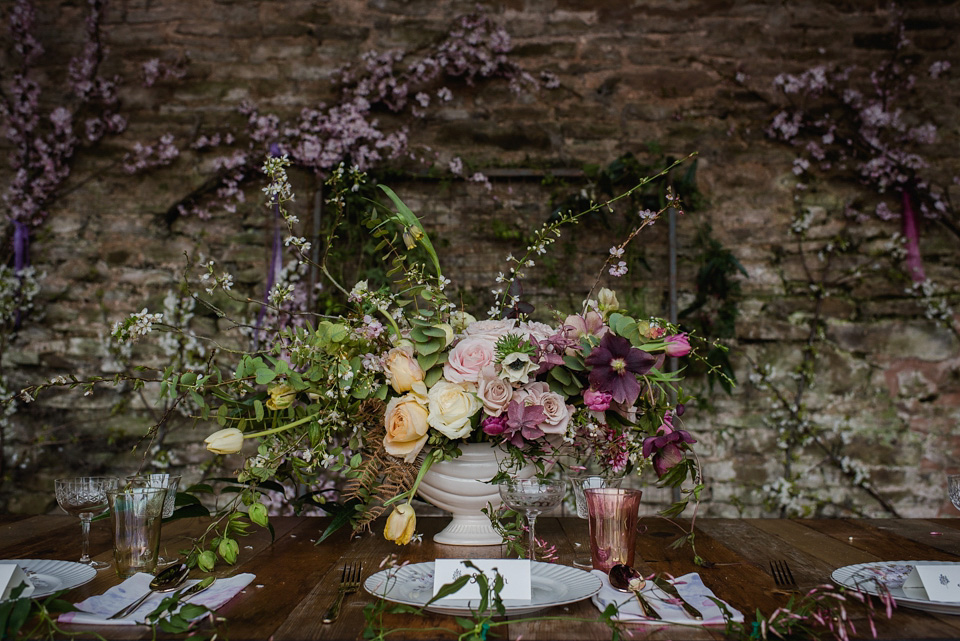 "With the table styling we really wanted to play around with food and flowers and making them work together. With Kate Cullen's styling Dewsall Court's dessert cakes, The London Marshmallow Company favours and Wild Bunch's amazing flowers we were able to create a look that was visually impressive but really quite easy to put together.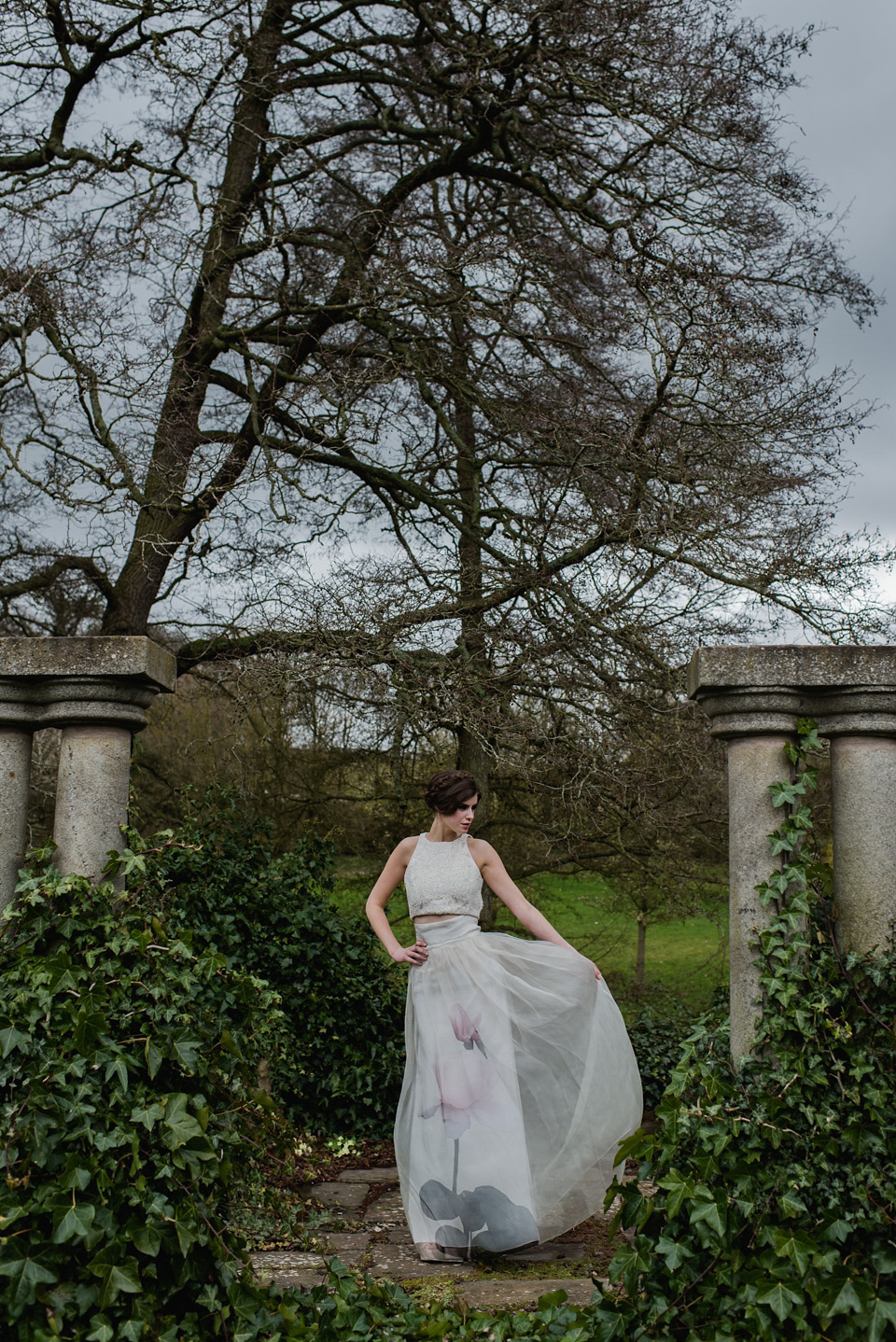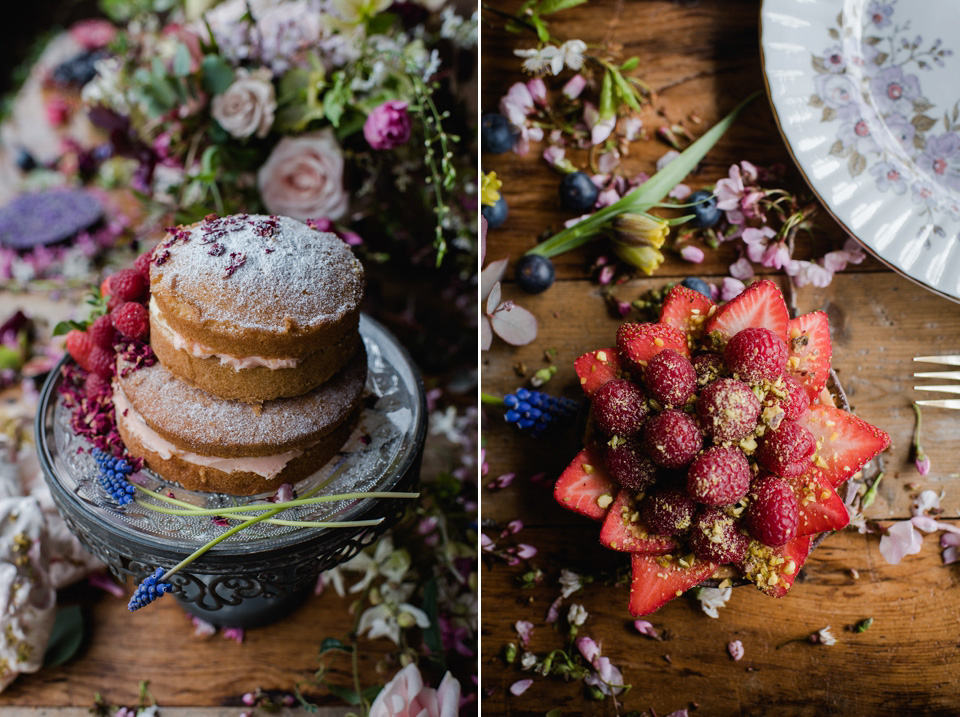 "The mood for the shoot was overtly feminine although I want to add a young, fashion edge and did this through the accessories, including a gold crown and giant bow headpieces from Lizzie McQuade, and also through the hand-illustrated temporary tattoos created by The Aviary."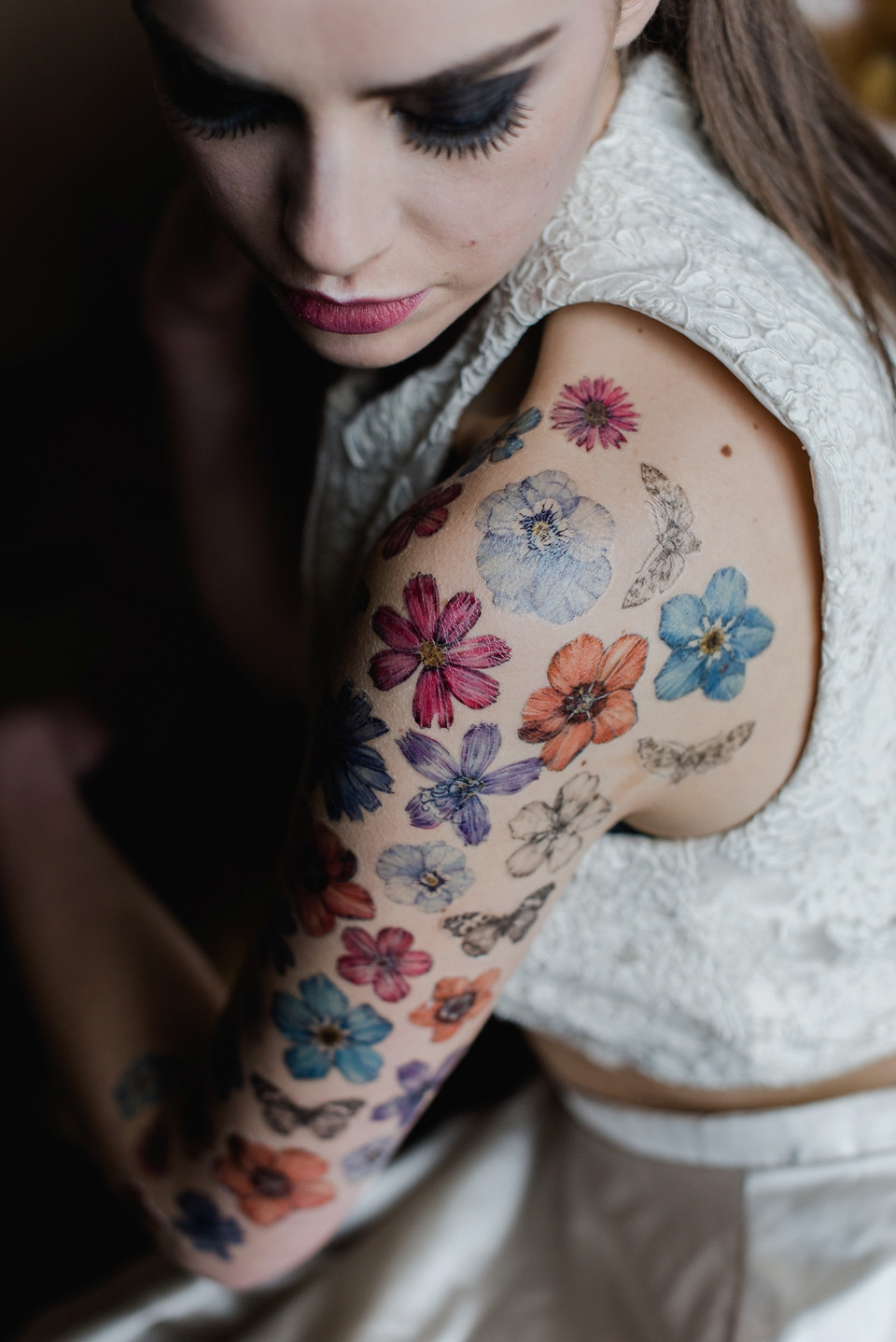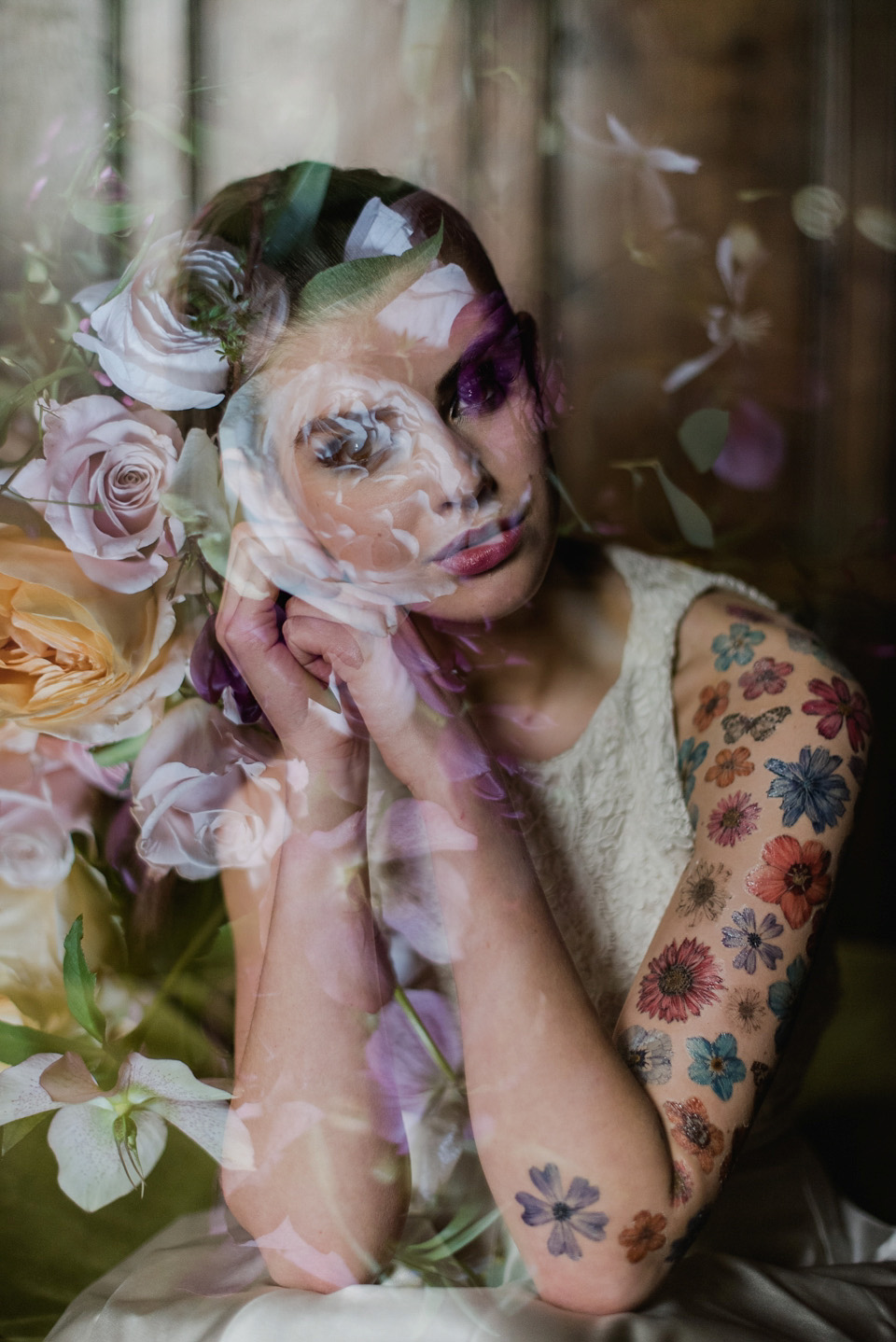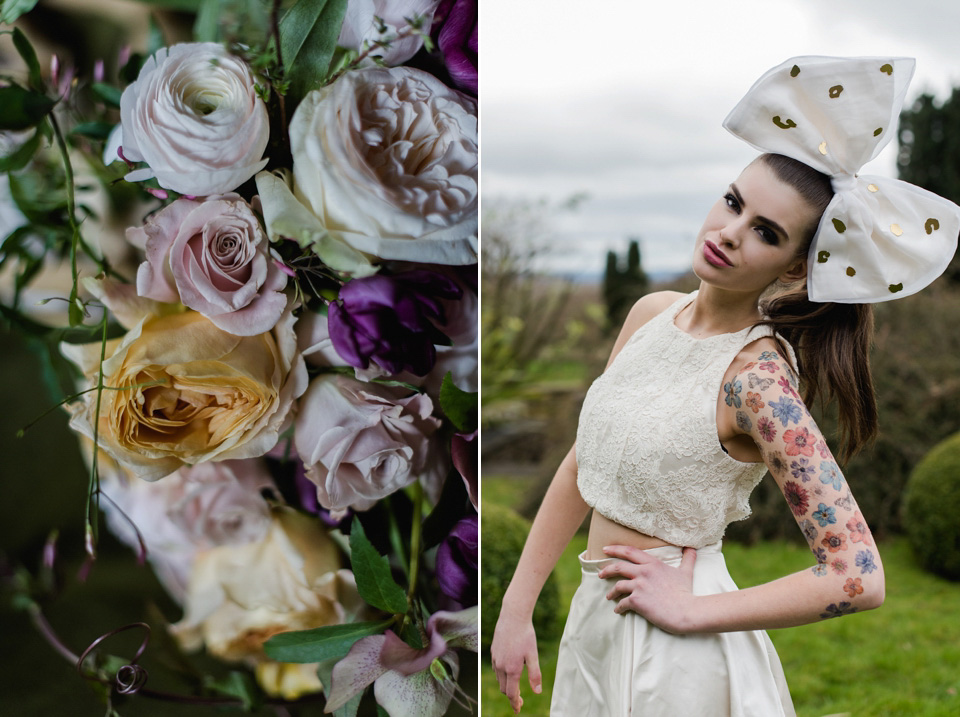 "We rounded off the shoot with a few photos with Kushi Cars and was able to add another dimension to the shoot; Kushi's stunning Indian embellished interior worked perfectly with Wilden Brides gold dress."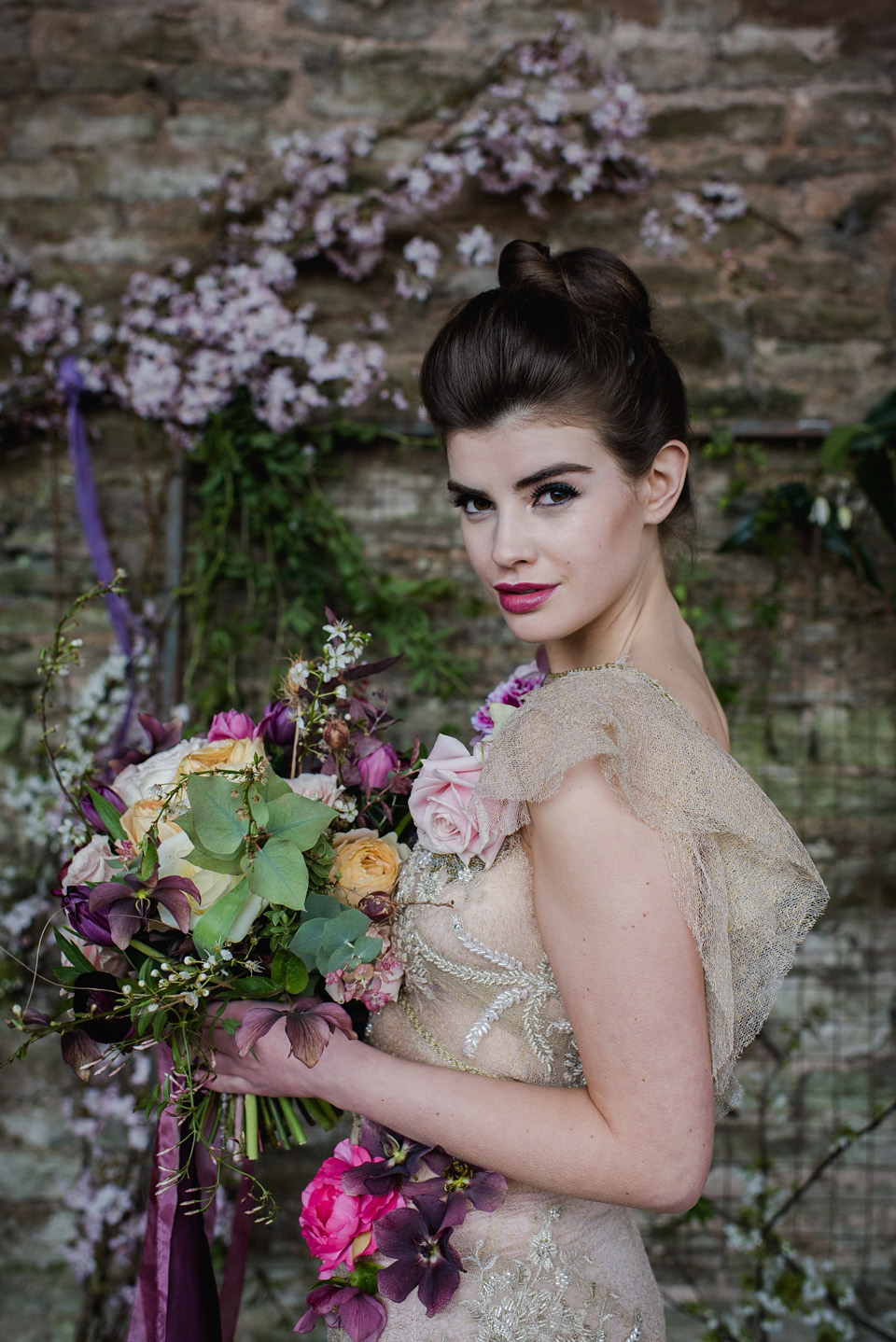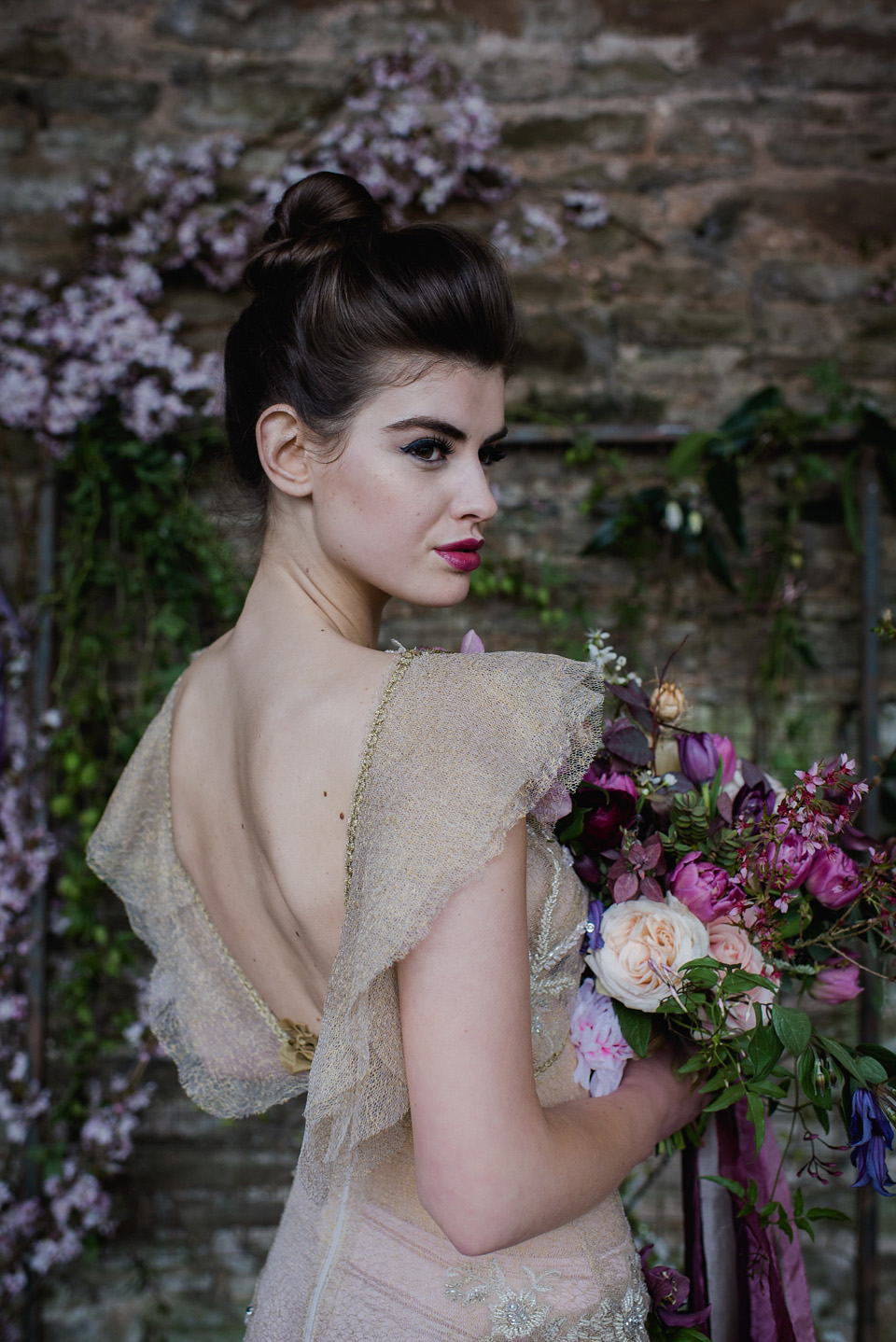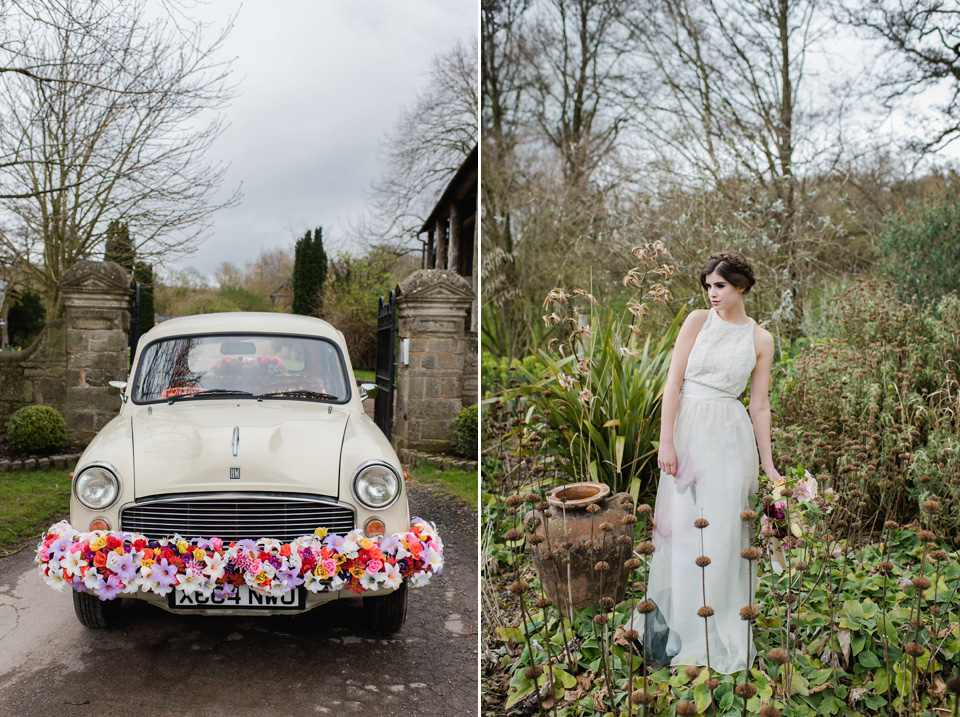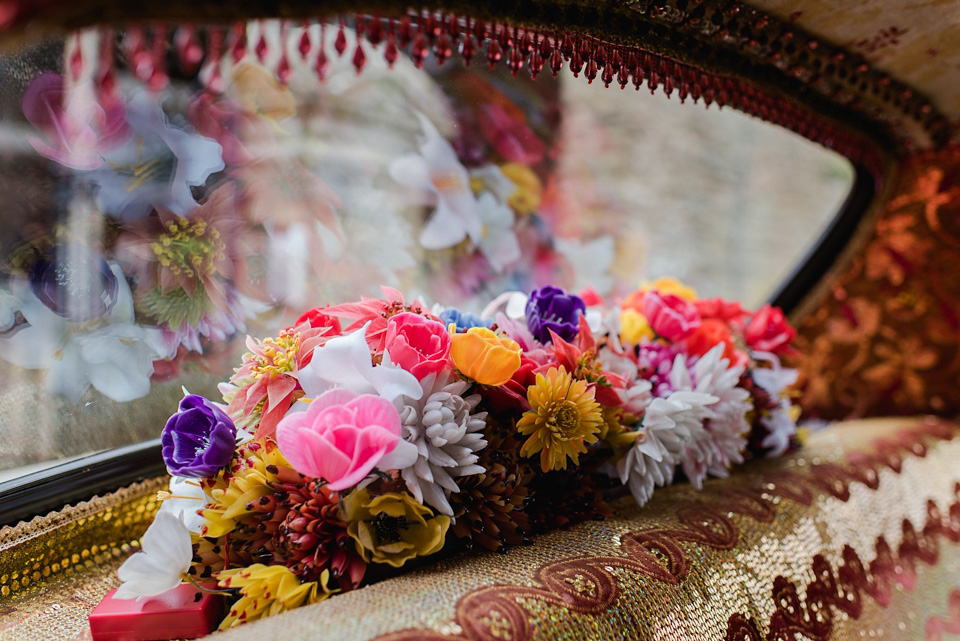 I love that this team  have really embraced their creativity and done something different, and beautiful. The suppliers listed below are each of them brilliant at what they do and I'd love to encourage you to take a moment today to visit their websites, but especially if you happen to be planning a wedding and want something unique.
Huge thanks to Erica of Mr & Mrs Unique for choose Love My Dress to showcase these beautiful images.
Have a lovely Saturday morning all,
Annabel x
Art Direction & Styling – Mr & Mrs Unique
Photography – Alexa Loy Photography + Jessica Withey Photography second shooting
Venue + Food – Dewsall Court
Gold Dress – Wilden Bride
Bridal Separates – Loriex
3D Floral Dress & Ears – Ears & Whiskers
Cake – Nevie-Pie Cakes
Flowers – Wild Bunch
Table Styling – Kate Cullen Creative Styling & Design
Stationery – Dearly Beloved Design
Gold Crown & Bow Headband – Lizzie McQuade
Car – Kushi Cars
Tattoos – The Aviary
Marshmallows – The London Marshmallow Company
PomPom Flowers – PomPom Blossom
Make Up – Naomi Emmauelle
Hair – Love Bridal Beauty
Model – Maria at Alpha Agency