Good morning readers, welcome to these lovely blog pages – I hope Tuesday is kind to you. Emma and Riccardo's sunny, outdoor humanist ceremony and Italian inspired barn reception will have you wishing you'd received an invite! Captured by Mirrorbox Photography, today's wedding is positively buzzing with life and love, not to mention a huge helping of fun (wedding conga, anyone?!). Emma, a personal shopper, married Riccardo, a DJ and entrepreneur, on the 18th of April at Dalduff Farm in Maybole, Ayrshire, Scotland.
Photography by Mirrorbox Photography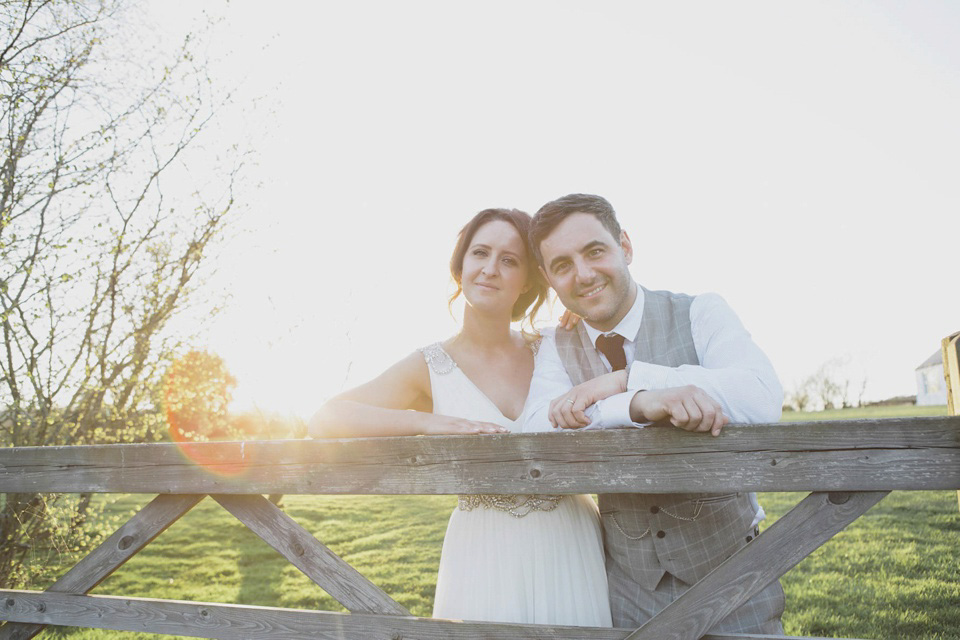 "Inspiration for our wedding came without a doubt from Love my Dress. I had followed the blog even before getting engaged (having worked briefly in a bridal store) and so was already familiar with Annabel's work. It's so inspirational to see so many creative and personalised weddings."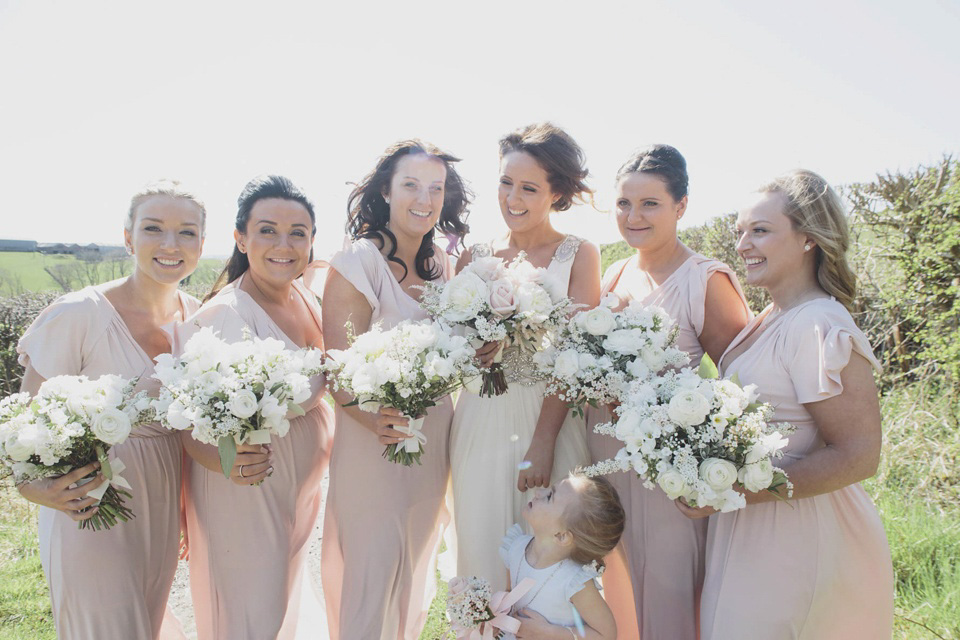 "We decorated the venue with lots of bits and bobs and DIY details including decorated jars, festoon lights, homemade paper tassels, bunting and pastel balloons as well as plenty of flowers."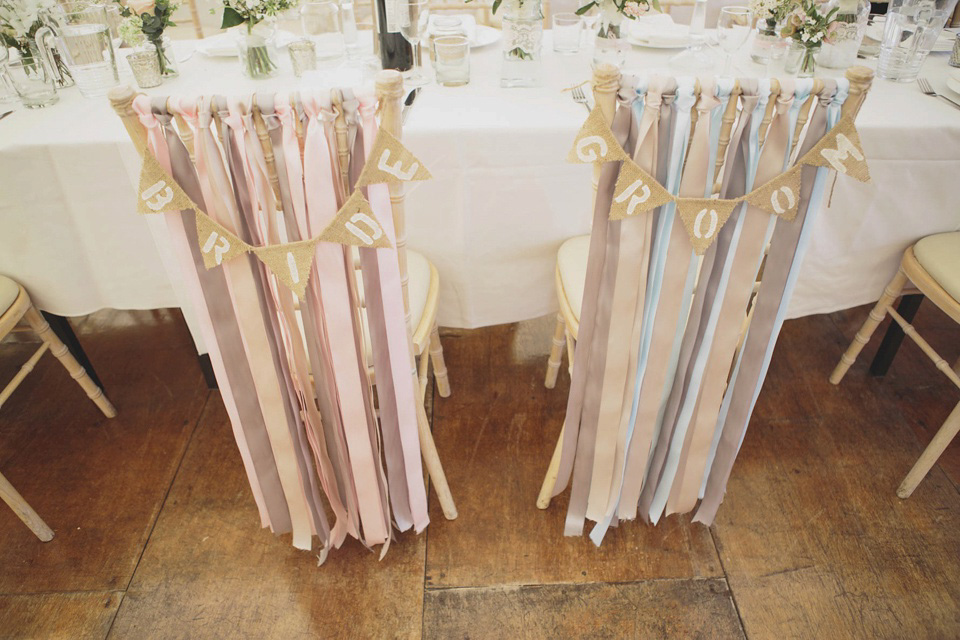 "Sometimes you have a vision but if nobody around you shares the same idea it can be quite hard to make it happen. I found Love My Dress very helpful in this respect when planning the wedding, because there are so many like- minded people and interesting ideas and I took real encouragement from this to do exactly as we wanted."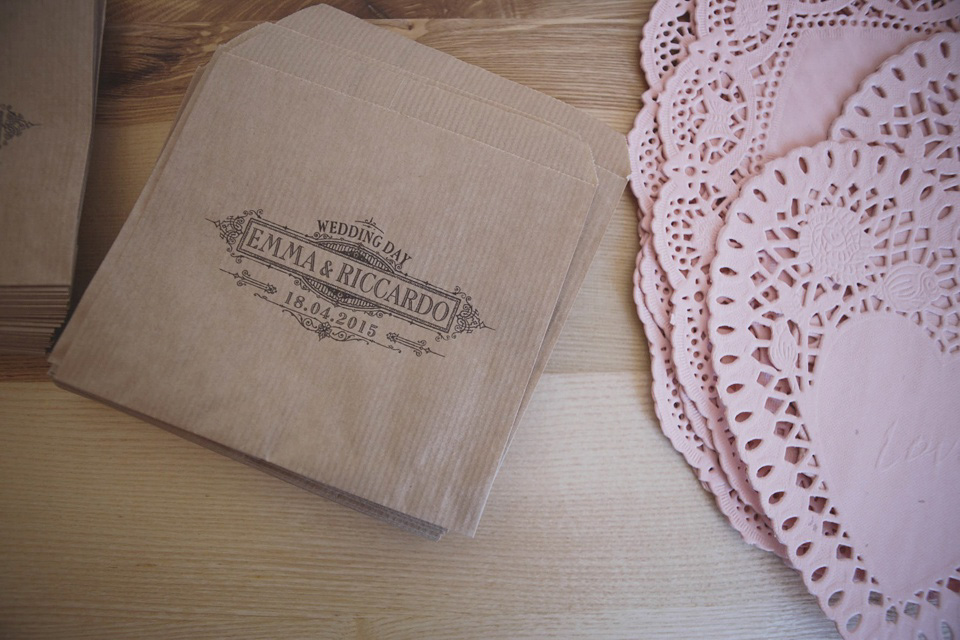 Emma purchased her beautiful, Grecian inspired, embellished Jenny Packham gown and Rachel Simpson heels from Pan Pan Bridal in Edinburgh. As Emma explains, "I always knew that I wanted to get married in Jenny Packham, I'm a sucker for embellishment."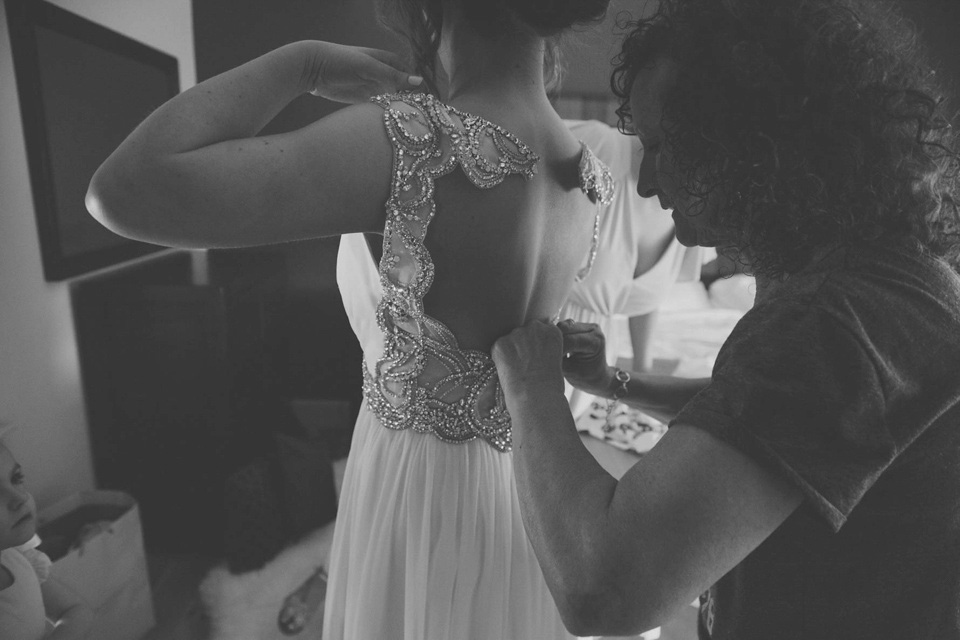 "I found Mirrorbox Photography through the supplier section on Love My Dress and I highly recommend them to all. We've had so many compliments about their alternative approach and how natural their photography is. They were absolutely brilliant on the day and completely unobtrusive. Sam and Sequoia just appeared at the back door in the morning and for the rest of the day it was almost as if they weren't there. They are an amazing duo."
Our dashing groom wore a three piece checked suit and tie from Reiss, an Armani shirt and pocket watch from eBay.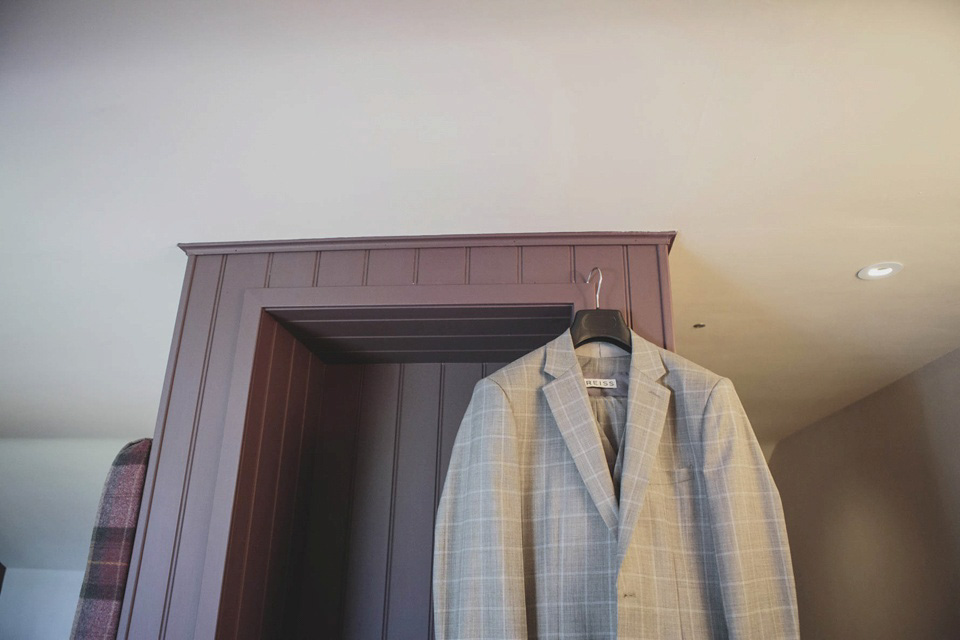 "Riccardo and I first met when I was 15 and he was 20, at his family chip shop where we both worked. We lost touch but met again when I was 23 at a mutual friend's party. Three and half years later in 2014, we got engaged in Rome where we were visiting Riccardo's dad's family.
On the last night of our trip we went on the hunt for my favourite little pastel painted bakery, Ladurée, in search of macarons. Riccardo bought one macaron (which came in a small, ring sized box) and waited outside while I finished browsing. When I came outside he offered me the box, with what I assumed was half a macaron inside. Little did I know he had scoffed the macaron and replaced it with a gorgeous little sparkling ring! Riccardo didn't get down on one knee (which I'm quite glad about as we were in the middle of the street) we just hugged, cried, cried a little more and then made our way back to our hotel. Riccardo had made reservations at Hotel de Russie and we headed out for a night of celebration. We married a year later."
Emma's five bridesmaids looked lovely in blush maxi dresses from ASOS, gold strappy heels from Dune and fresh flowers in their hair. Meanwhile, Emma's little flower girl looked very sweet in an ivory Laura Ashley dress purchased at TK Maxx and pink ballet pumps from Marks & Spencer, which tied in nicely with the colour of the bridesmaid gowns.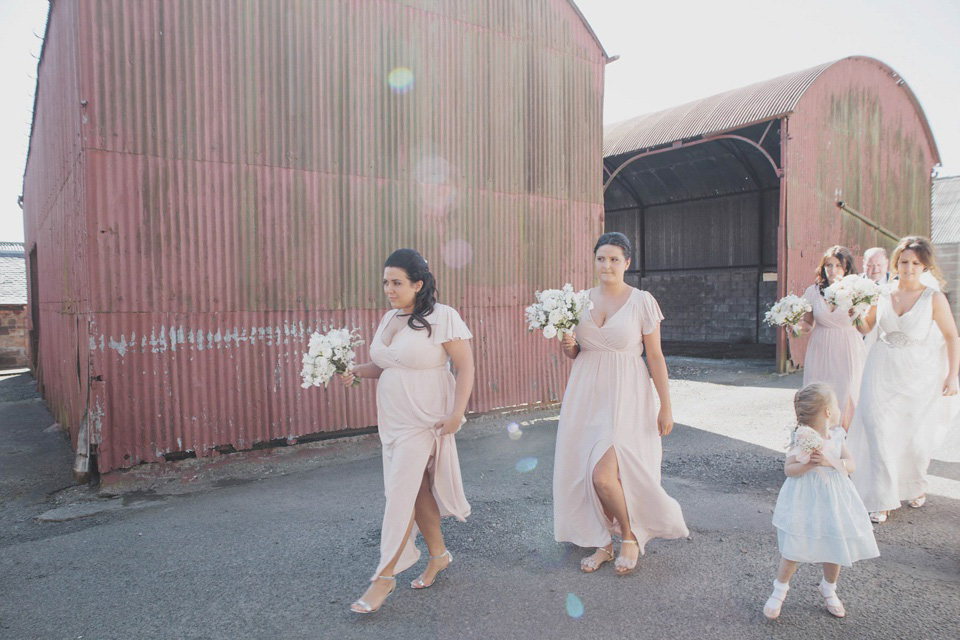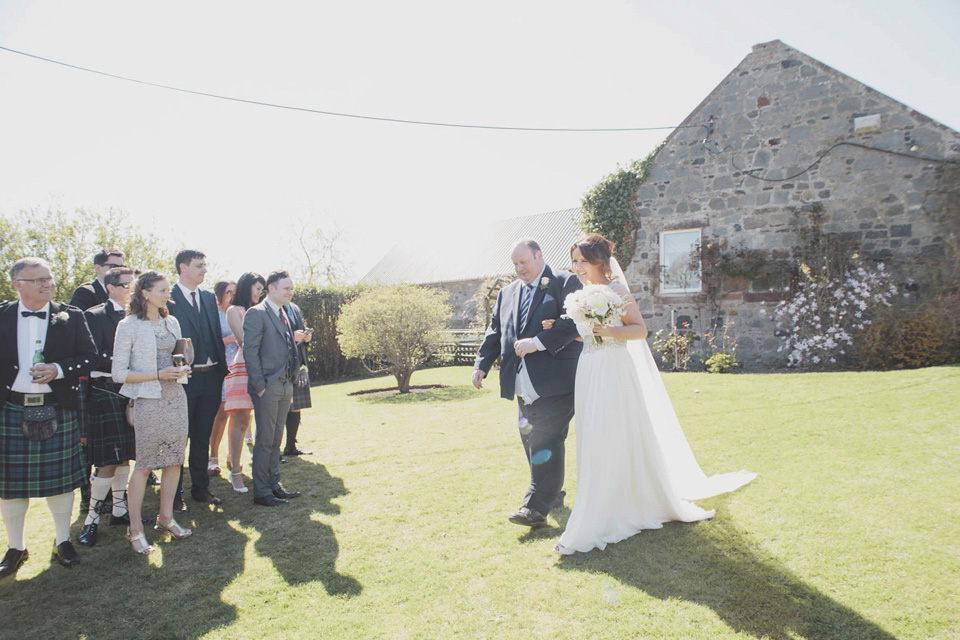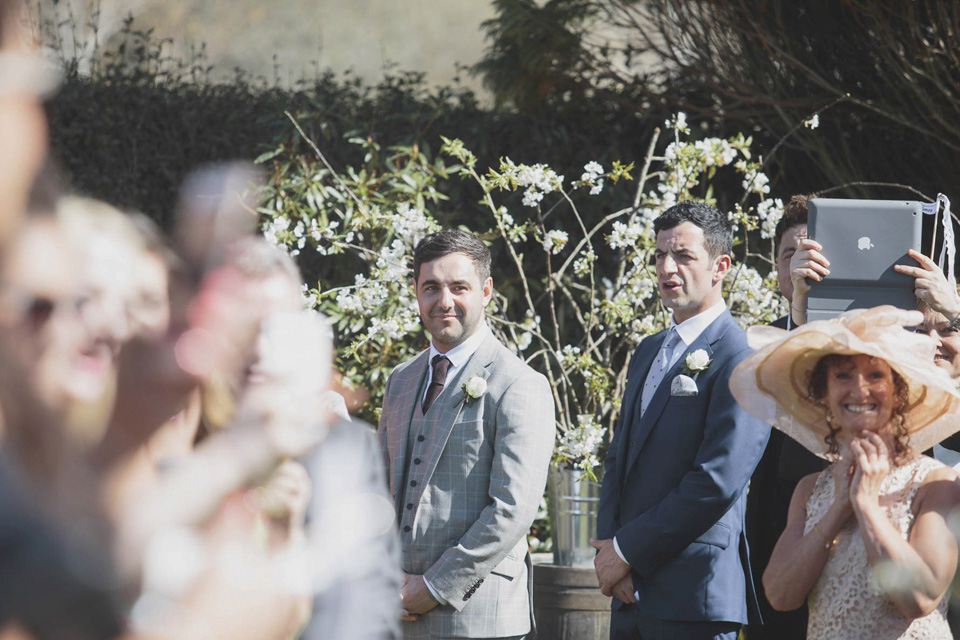 Emma and Riccardo took advantage of the greater legal freedom surrounding tying the knot in Scotland and wed outside in a Humanist ceremony (In contrast to England, humanist ceremonies are legally recognised in Scotland and can take place almost anywhere).
Emma's dad walked her down the aisle to the sounds of 'La Vita è Bella', composed by Nicola Piovani for the classic film of the same name (In English, 'Life is Beautiful').
"Riccardo used to make references to the movie all the time and I just fell in love with it when I watched it for the first time, even though it was in subtitles. Life is Beautiful is an old love story set in Italy and so appropriate for us. Riccardo is such a romantic! When I heard 'La Vita è Bella' I knew that it would be perfect for walking down the aisle."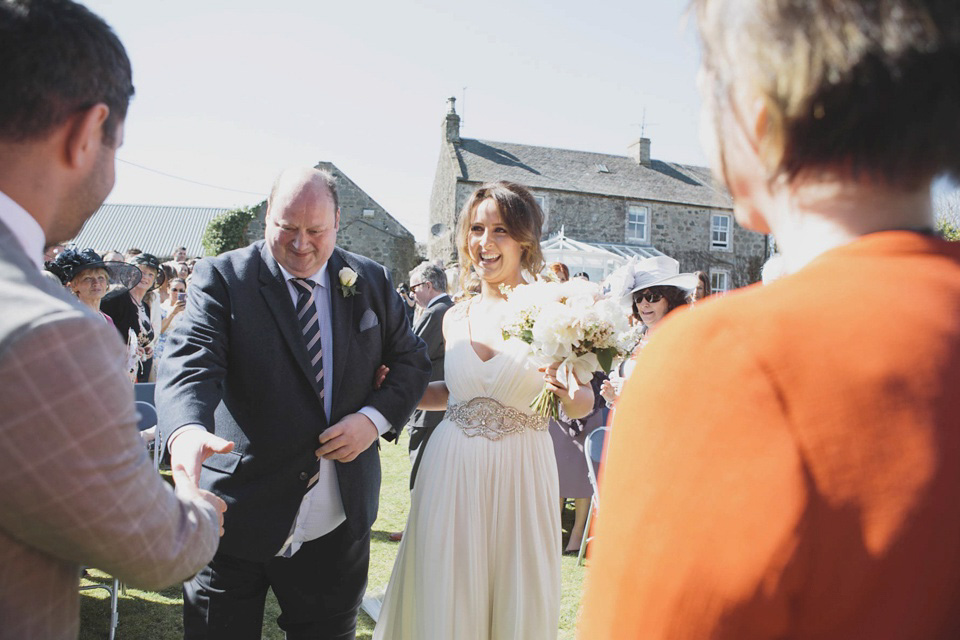 " I loved walking down the aisle and seeing my best friend waiting at the end and all our friends and family in the same place, at the same time, in the most perfect location."
"We wanted to keep the ceremony itself quite relaxed and informal. We kept our vows pretty simple because we are both criers! If it got too deep and meaningful we would have just broken down in floods together."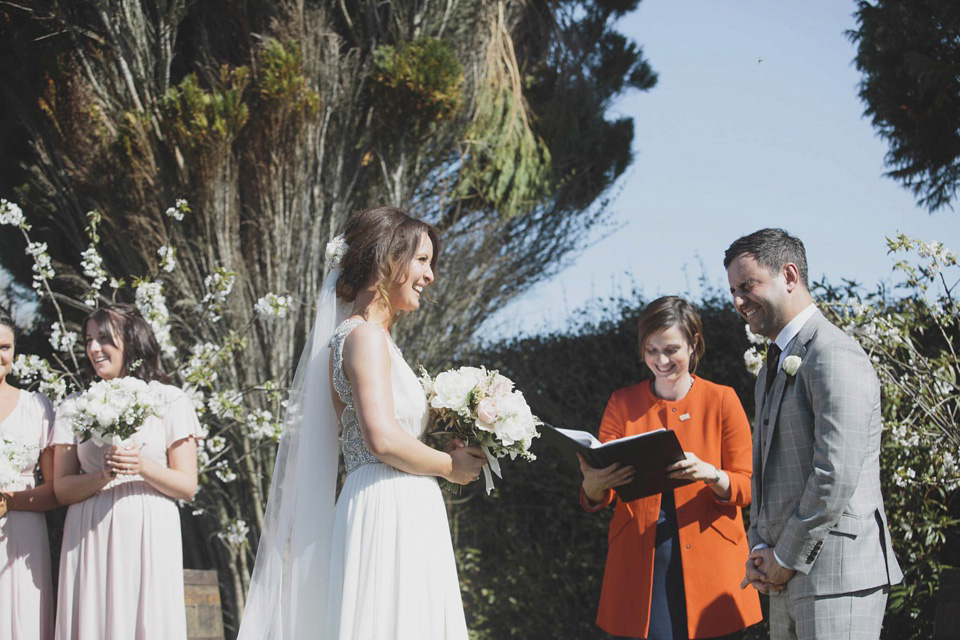 Our couple opted for just one reading, chosen and read by bridesmaid Kayleigh. Kayleigh picked a quote by American writer Richard Bach on meaning of being 'soulmates'. After the ceremony, accordion player Stewart Robertson (recommended by Dalduff Farm) entertained guests.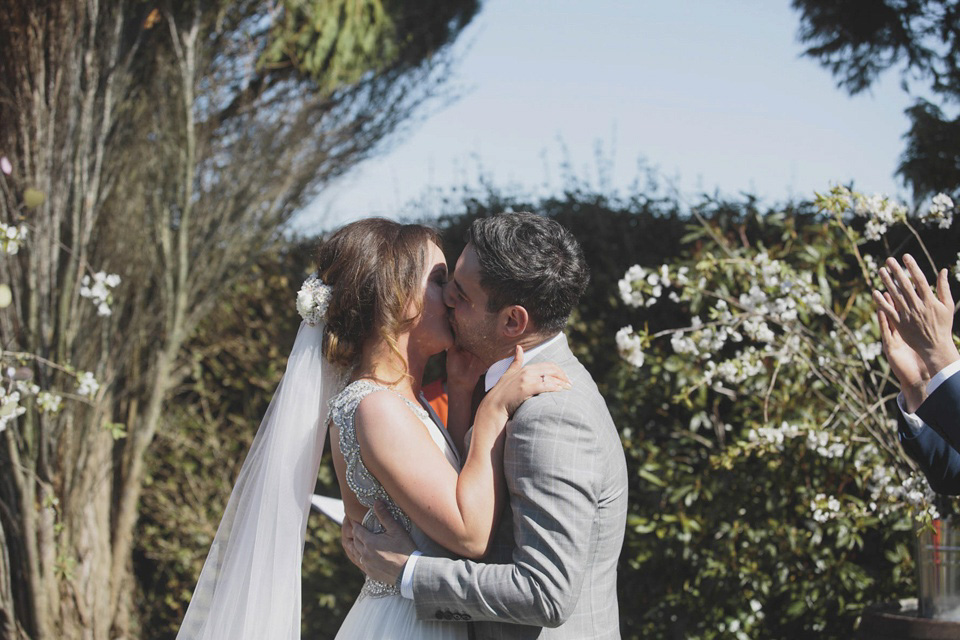 Emma wore fresh flowers in her hair and a veil she purchased online from eBay. Our bride accessorised with a pair of earrings she borrowed from one of her bridesmaids and combined a body crème and cologne from Jo Malone to create to create her perfect scent.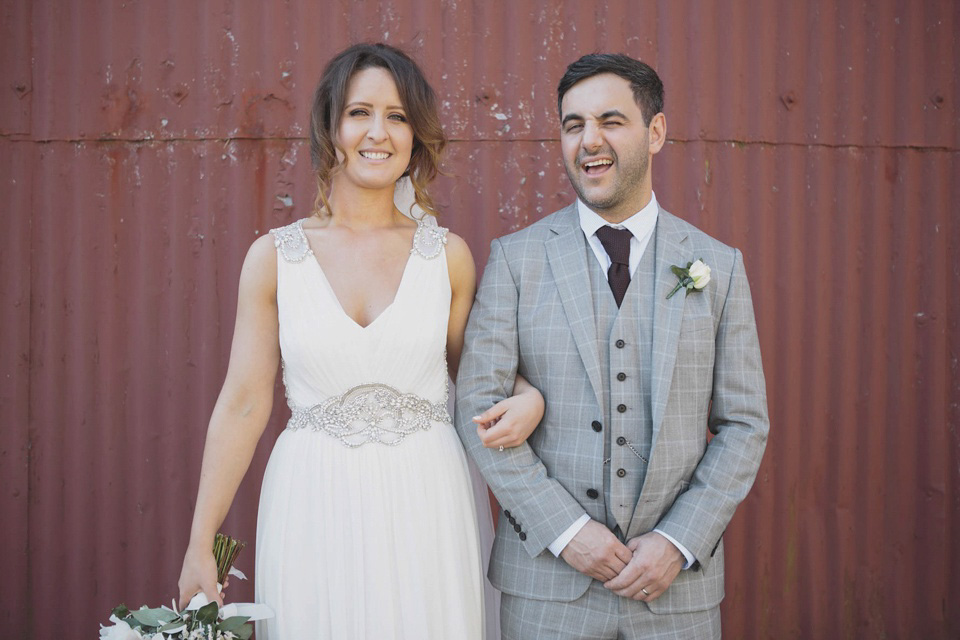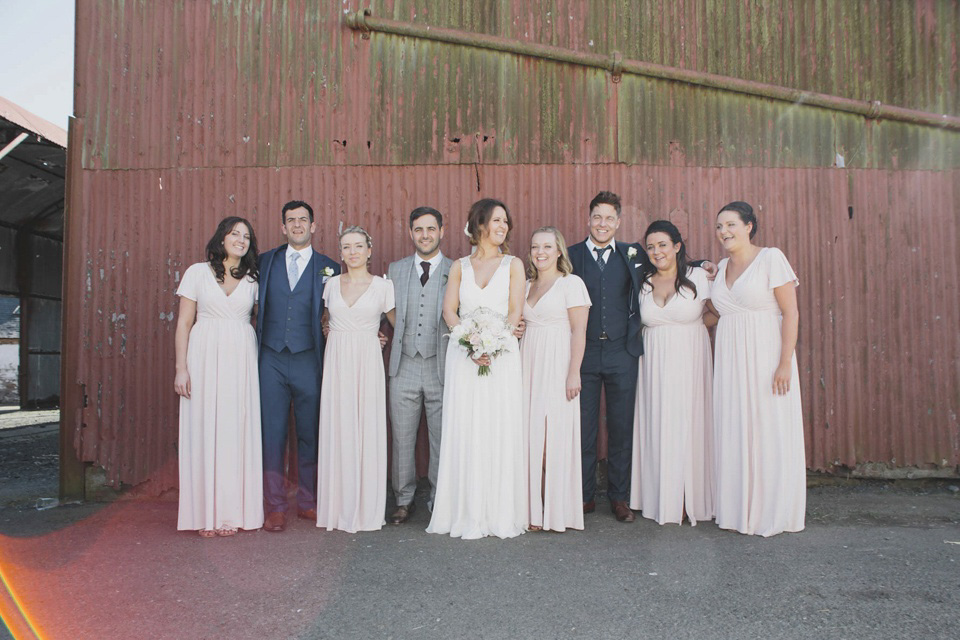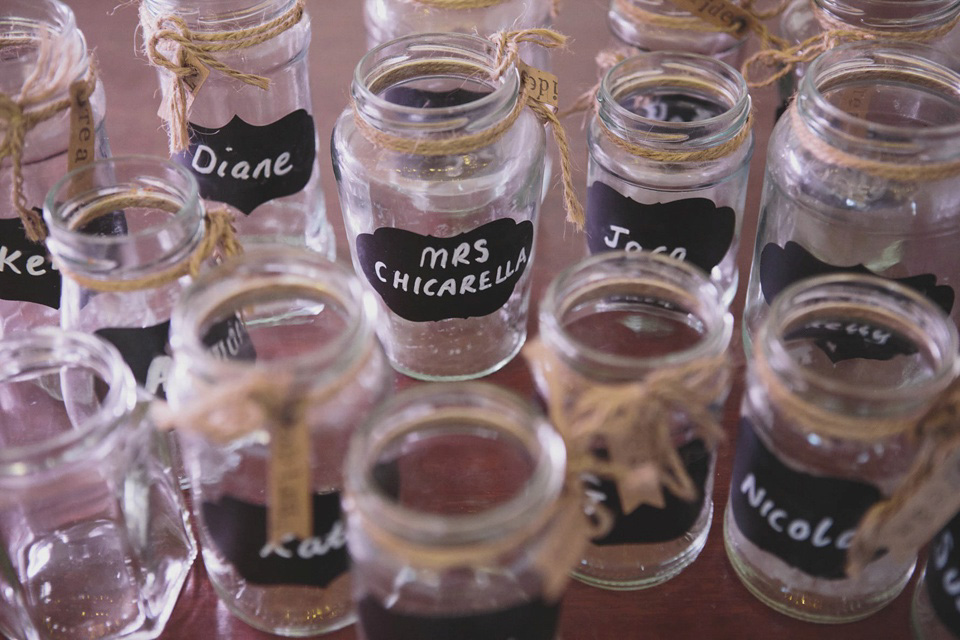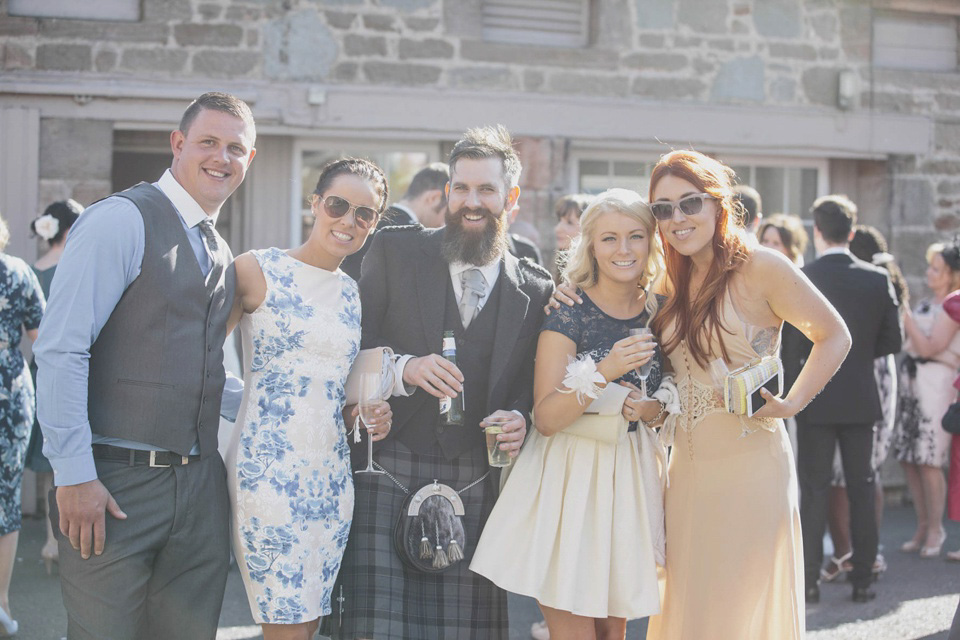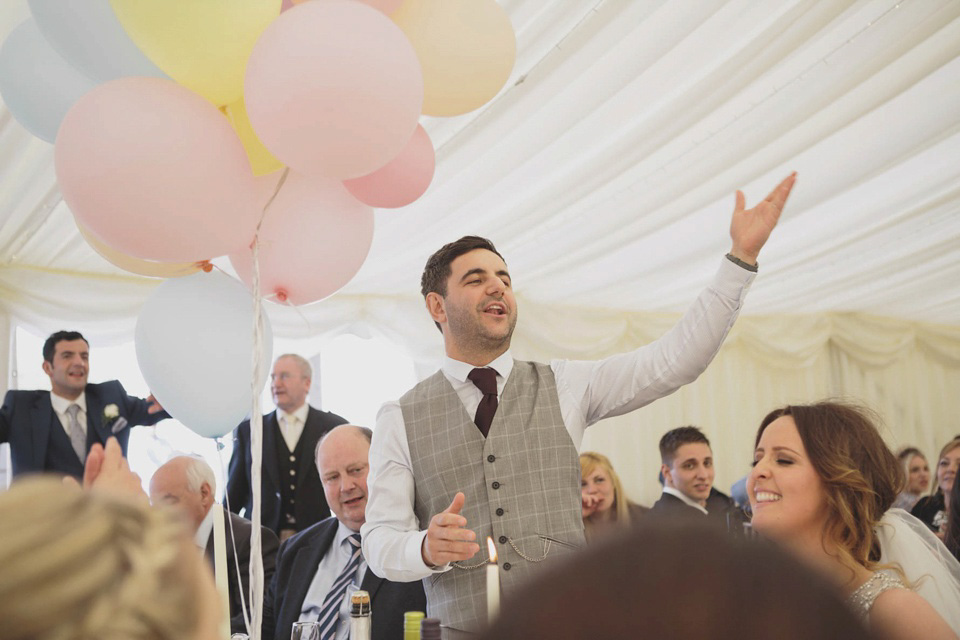 Emma and Riccardo's delicious looking wedding breakfast was catered by the venue and inspired by their love of Italian eating.
"James at Dalduff was very flexible when creating the menu which allowed us to have all the foods we wanted. With Riccardo being Italian, we wanted to incorporate this influence, so we kept the meal fairly informal as they do back in Italy."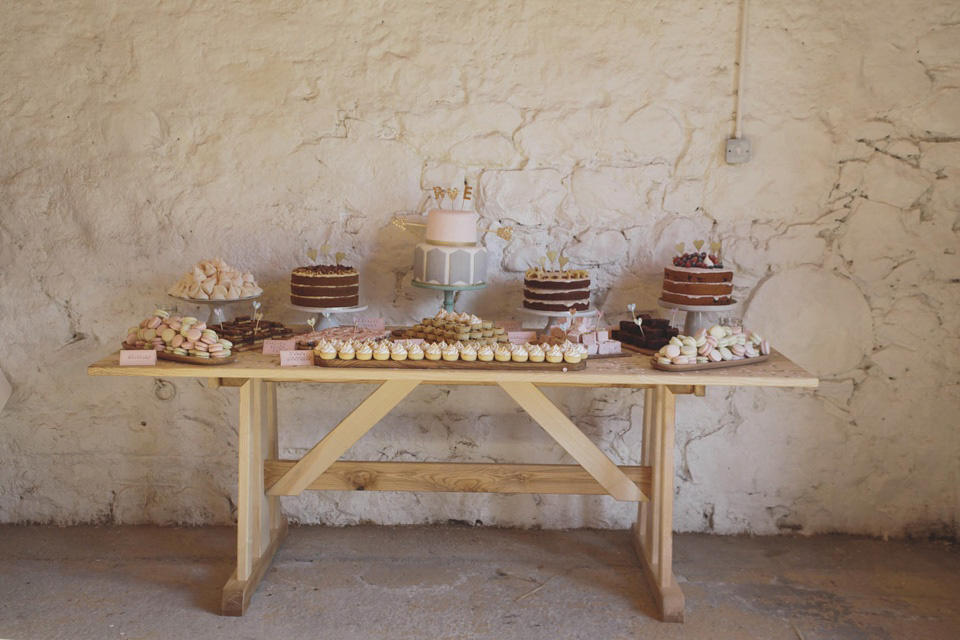 And just take a look at that cake table – WOW! For their main wedding cake, our couple opted for a two tier spiced carrot, pistachio and apple custard cake decorated with arrows and their gold glitter initials from Big Bear Bakery.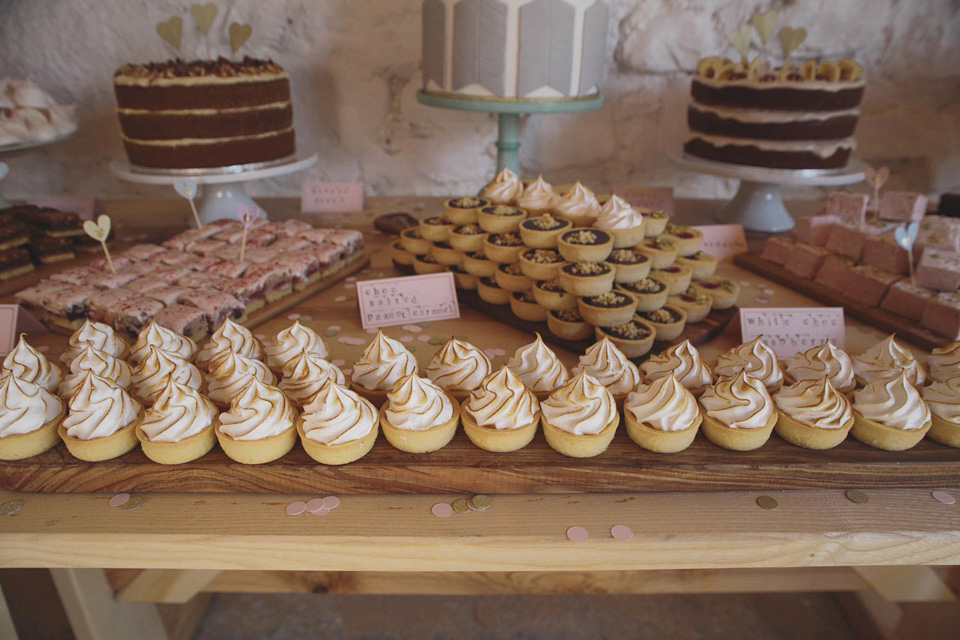 "When it came to finding trusty, creative suppliers, I found The Glasgow Wedding Collective AMAZING. They hold a unique, wee wedding fair a couple of times a year in Glasgow city centre and bring together all that is quirky and fun."
"For our dinner entertainment we chose Italian band, Angela and Paolo. I wanted our Scottish guests to really get a feel of an Italian wedding, where guests often get up and dance during the dinner. Riccardo's family quite often have this little duo at birthday parties etc, so they were the perfect choice."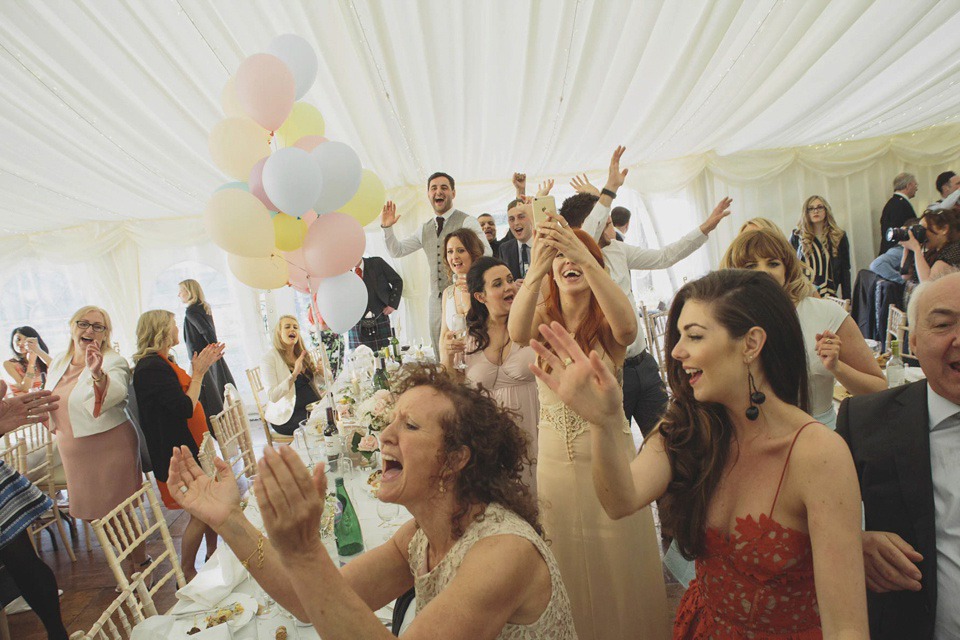 While I was preparing this feature, I came across a lovely quote from Sam and Sequoia (the dynamic duo behind Mirrorbox Photography) about their experience of shooting Emma and Riccardo's big day…
"There was so much to love about shooting this wedding… the pastels, glitter, a Jenny Packham gown, checked suits – but what is going to stick in our minds is how much love was sloshing about the place. Whether it was the large Italian contingent leading a rousing chorus of 'That's Amore' or all the little looks between Riccardo & Emma on the couple shoot, everyone was happy to show how much they were enjoying themselves. And when revellers were advised against dancing on top of the actual tables they did the next best thing and conga-d around them."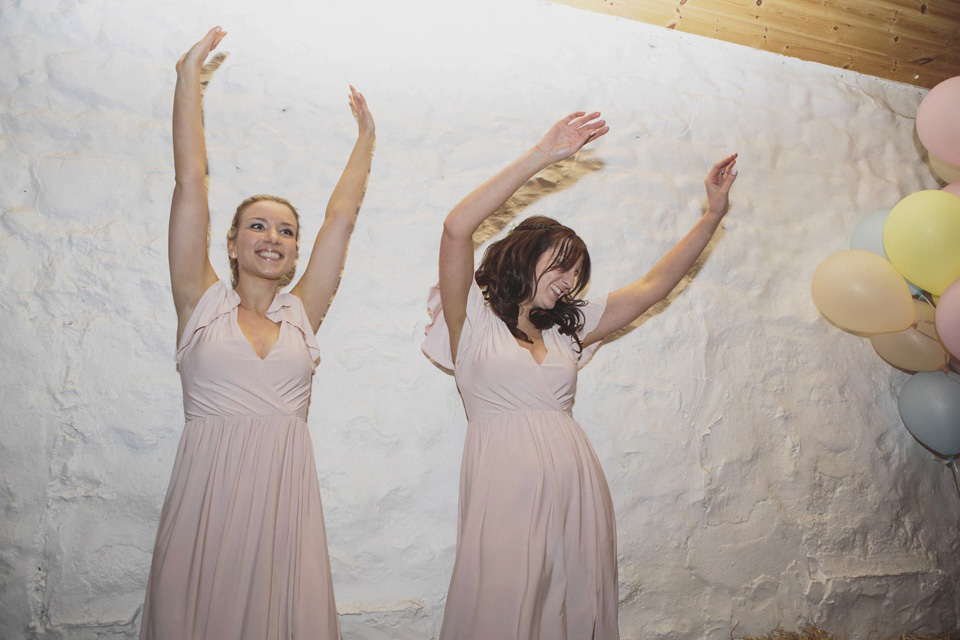 It looks like our couple and their guests embraced the party spirit and had a whole lot of fun during the reception. I love the photos of them snaking about the barn in a conga line – just brilliant!
"For our evening party we employed the skills of DJ Danny Tennant. We compiled a playlist of all our favourite songs and then left it in Danny's hands so that we didn't need to worry about controlling the music ourselves. For our first dance we had 'Adorn' by Miguel. Riccardo loves R&B and Motown and we used to play this in car all the time, belting it out word for word…the words mean a lot to us.
From when we woke up together in the blistering sunshine until we said 'goodbye' to the last standing guests, we loved every minute. It was the most perfect day full of love, laughter and sunshine."
Words of Wedded Wisdom
"Shop around for everything and don't settle for anything less than you imagined. We visited quite a few venues that didn't quite tick all the boxes and we very nearly booked one that we didn't actually love because we thought we were asking for too much.
Don't feel you have to pay hundreds of pounds for items like your veil, especially when someone is more than likely to put their heel through it (this happened to me!).
Most of all enjoy the day, don't worry about little details that may be completely forgotten about by everyone else – they don't effect what is the most memorable day full of love and happiness."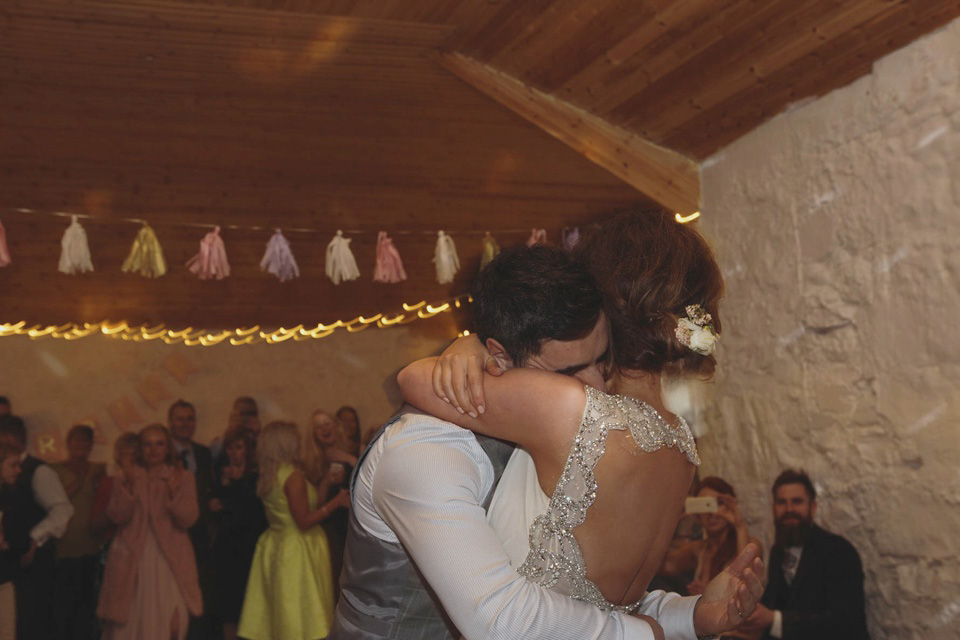 A huge thank you to Emma and Riccardo for sharing their wedding and to Mirrorbox Photography for these wonderful images. If you'd like to take a look at other Scottish weddings on the blog, please click here. For more humanist ceremonies, follow this link.
Wishing you a wonderful rest of your week!
Annora x
Photographer – Mirrorbox Photography
Planner/Stylist – Be Eventful
Venue + Catering – Dalduff Farm
Wedding Dress – Jenny Packham purchased from Pan Pan Bridal in Edinburgh
Veil – Purchased on eBay
Headpiece – Fresh flowers from Flowers by Maxwell
Shoes – 'Carmen' by Rachel Simpson
Bride's Scent – Jo Malone Pomegranate Noir Body Crème + Dark Amber & Ginger Lily Cologne
Groom – Reiss suit and tie + Armani shirt + pocket watch from eBay
Bridesmaids – ASOS dresses + Dune heels
Flowergirl – Laura Ashley dress purchased at TK Maxx + Marks & Spencer ballet pumps
Florist – Flowers by Maxwell
Cake – Big Bear Bakery
Entertainment – Accordionist Stewart Robertson + Angela & Paolo + DJ Danny Tennant
Rings – Rox Jewellers
Stationery – Florence & Bette
Hair Stylist – Kerry Milne
Makeup Artist -Jacqueline Dickson