Good morning Love My Dress-ers, and welcome to yet another morning which we are hoping to brighten up for you with a very lovely wedding. This morning's delightful images contain lots of pretty details and a fabulously flouncy 1950's style frock, as well as some traditional Scottish spring weather. Let me introduce our bride and groom and their lovely Glaswegian wedding in shades of green, all captured in perfect detail by photographer John Stirling. James, a Risk Manager, and Rachel, an Environmental Health Officer, married on a very windy Saturday in March this year, at Govan Old Church in Glasgow, followed by a reception in St Andrews in the Square.
"We chose St Andrews in the Square as it is home to our favourite restaurant Café Source and because it has the most beautiful hall! During pre-wedding discussions with Moyna, our minister, we also learned that she had preached here as a student when it was still in use as a church"
Photography by John Elphinstone-Stirling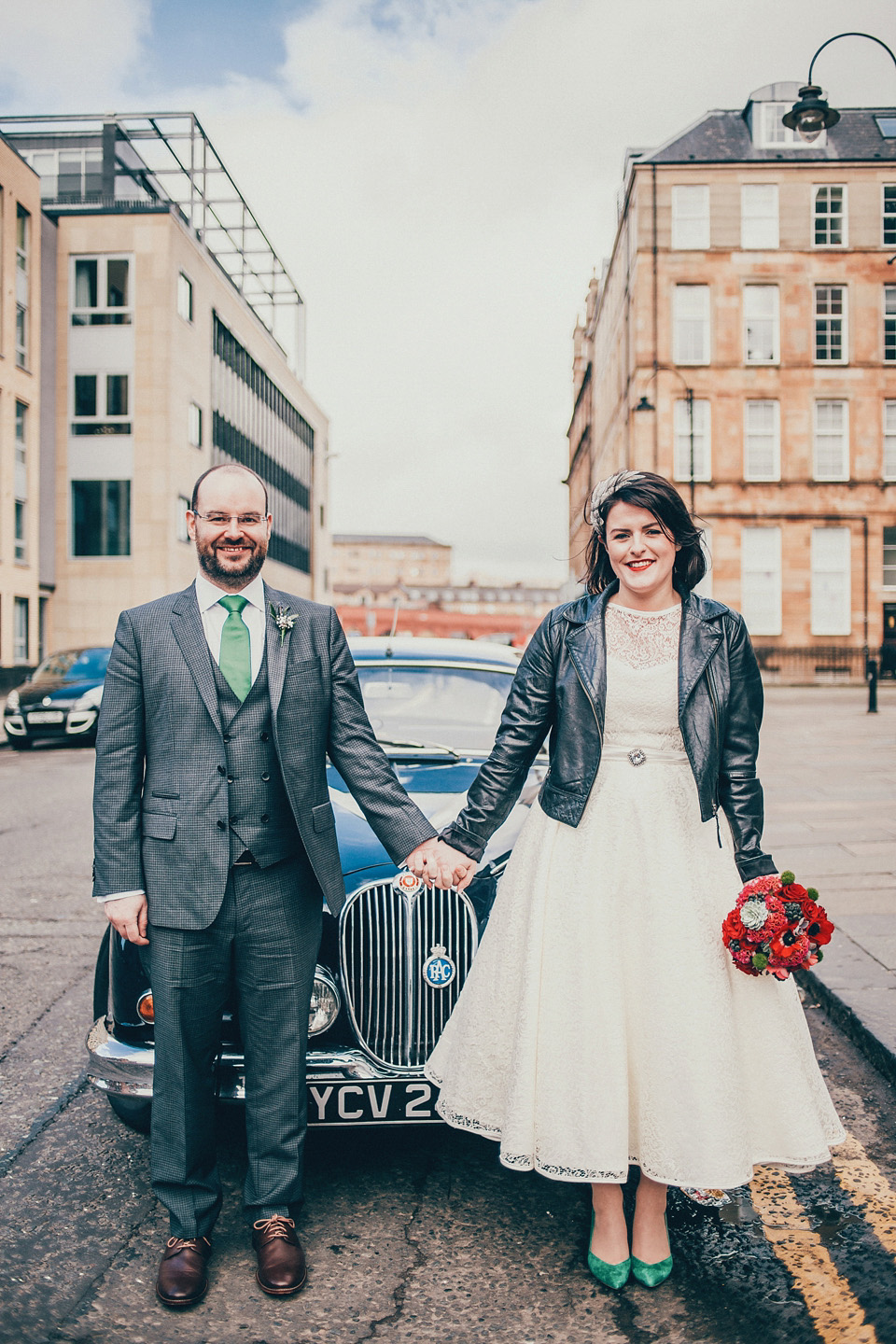 "My favourite colour has always been green, my engagement ring is an emerald and it was inevitable that the colour would feature throughout the day. I've always loved the old school glamour of the 1950's and my dress was influenced by this."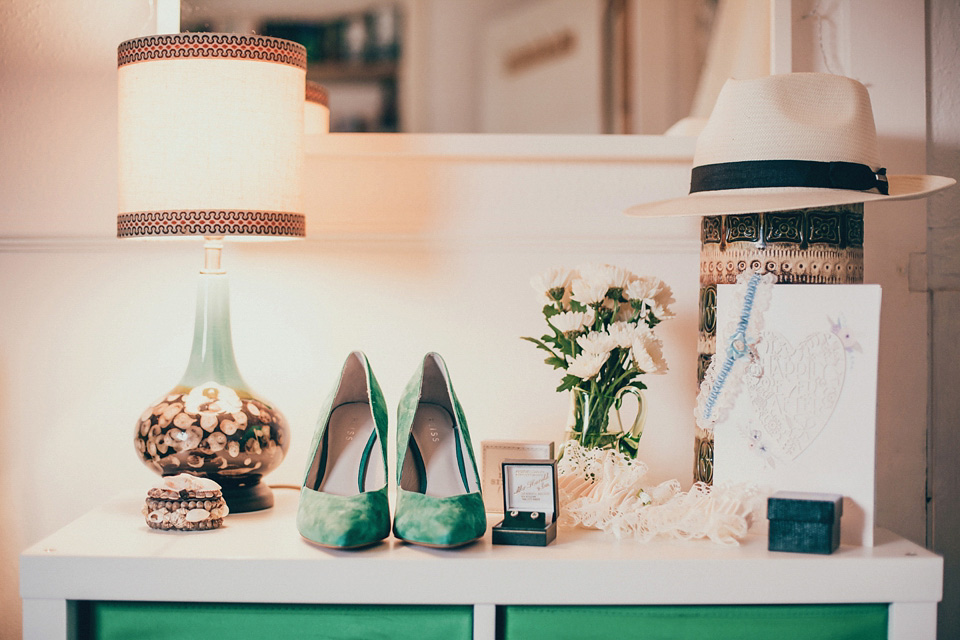 Green wedding shoes from Reiss
Rachel's wonderfully twirly 1950's inspired dress was the work of the lovely Wendy of Flossy and Dossy, who worked with Rachel to create her absolute dream frock.
"I've always loved the 50's silhouette and I wanted a dress with sleeves – it's surprisingly difficult to find dresses that have both in bridal shops! Wendy made my friend Rosalyn's dress and when it came to picking someone to make mine I didn't have to think twice."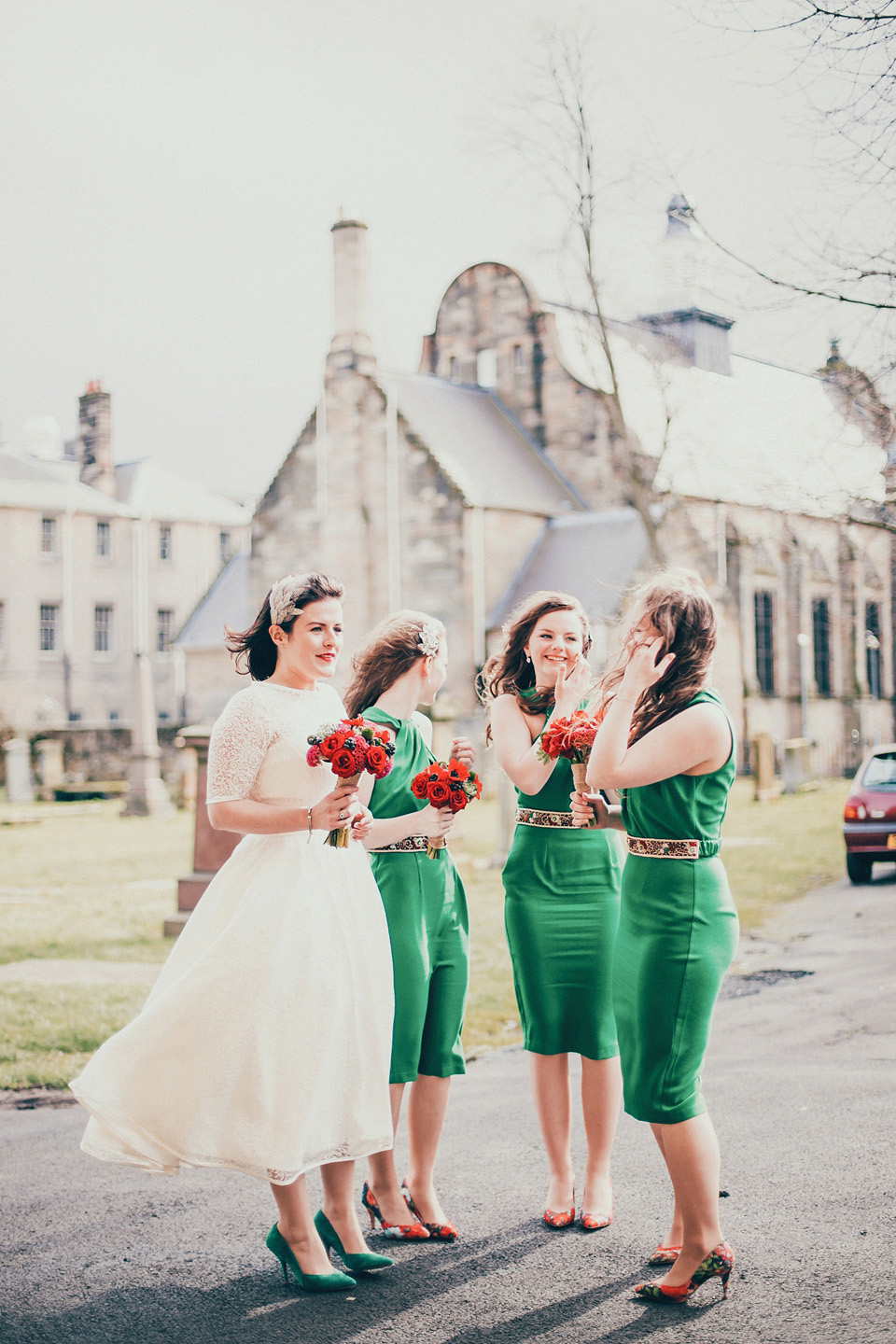 "Wendy was very patient as I can be quite indecisive and struggled to pick a lace. We eventually settled for an Ayrshire lace called Jane, which was beautiful whilst at the same time very durable for someone as clumsy as me! The dress was absolutely perfect and so unbelievably well made ."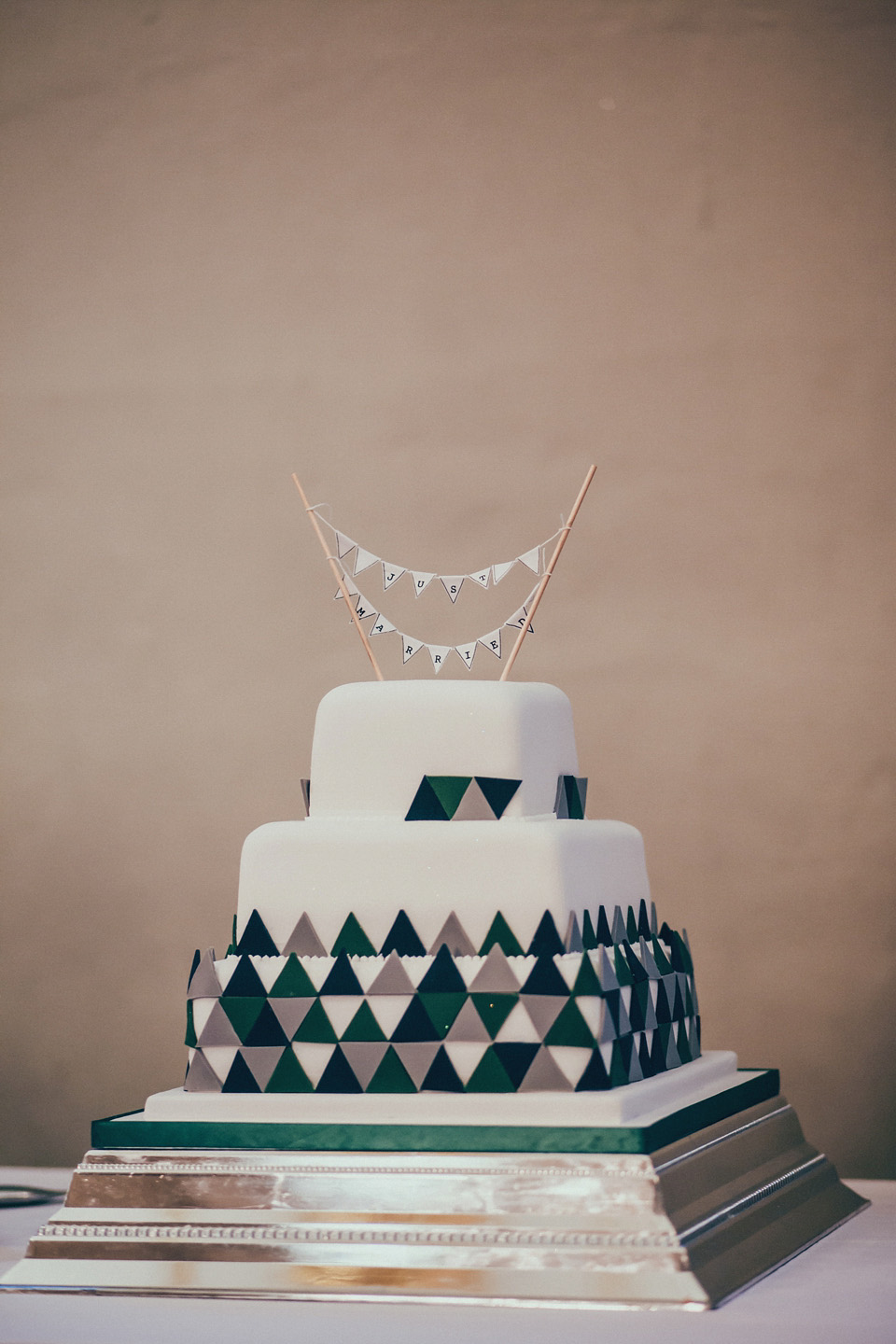 Cake by Top Tier
The couple chose Glasgow based photographer John Elphinstone-Stirling to capture their big day. I love the drama of his work."I was given a card for John when I visited a dress maker and when we looked on his website we knew it was exactly what we wanted. John was also extremely good at responding to emails – I really value customer service and would often discount suppliers because it took them so long to respond, first impressions count!
The first day we met them we knew that John and Emma were a perfect fit for us, they put as at ease and it was as if we had known them for years. James and I hate having our photographs taken and find it very difficult to be serious – we had a pre wedding shoot about a month before the wedding and this really helped get the silliness out of the way!
Rachel describes florist Allie, from Lavender Blue, as 'an absolute delight' and their flowers do look wonderful, with lots of glorious colour and interesting textures.
"Allie was the fifth florist I had met (the first for James) and it was a completely different experience to the previous four. We had a wee sit down in the shop and talked for ages about what we didn't want, what colour our bridesmaids were to be in, the colour of James' suit etc. Allie's advice was to go away and think about things and to send her pictures of dresses, shoes and any accessories that I bought for myself and my bridesmaids that she could use as inspiration.
As the wedding approached I sent Allie pictures and I was given the chance to visit her with my mum to talk in more detail about our table décor and to see a mock-up of my bouquet. The mock-up was amazing, it was completely different from what I had thought I would go for – it was so much better!"
"James and I met when we were both working in a shipyard in 2010 when we volunteered together to help raise money for the company's charity partner – Erskine. We had been to a couple of fundraising meetings together and chatted away and when I left in March 2011 I was keen to remain actively involved with the charity work and James said he would keep me in the loop.
James and I volunteered to do a bucket collection in Glasgow's Central Station which was short lived due to major rail disruption, so instead we went for pizza and a couple of drinks. The rest as they say is history."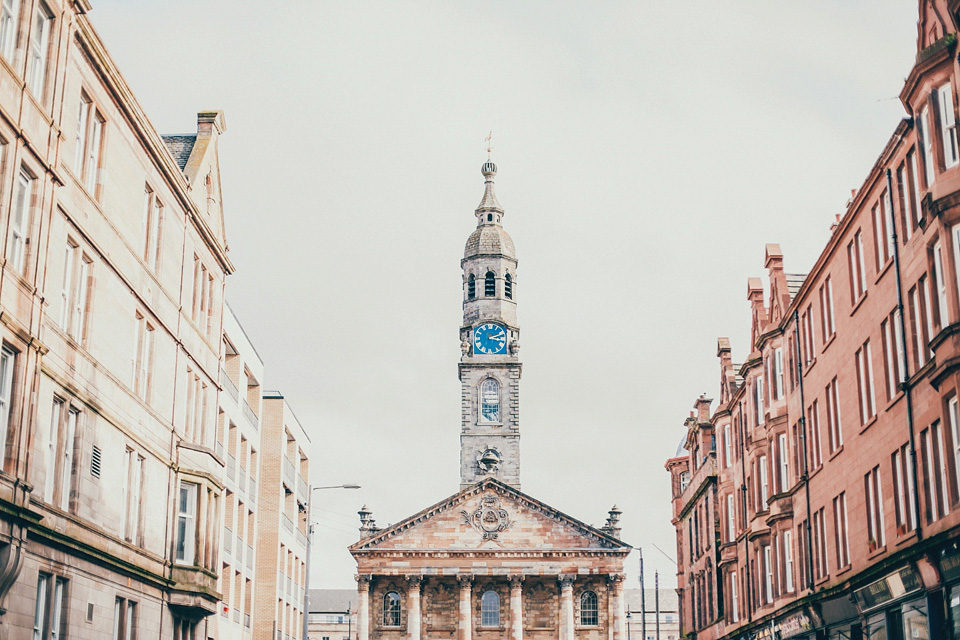 "James proposed in the living room of our flat on Christmas Eve 2013 after our cat had demolished the Christmas tree and we were in the middle of making meringues for dessert the next day. Turns out he had asked my dad for permission 11 weeks beforehand! We were engaged for 15 months before the wedding."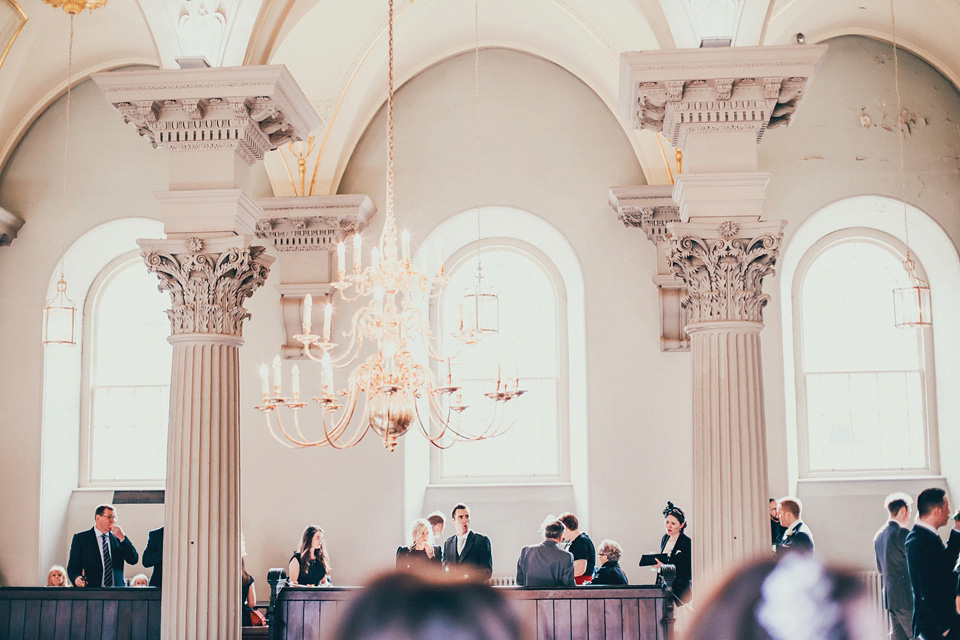 Rachel's three attendants looked fresh and springlike in green pencil dresses with a twist neck, purchased from ASOS, paired with floral shoes from Red Herring at Debenhams and accessorized with Pandora bracelets, which were a thank you gift from the bride and groom. In their hair they wore hairclips by Gil Fox, which beautifully complimented Rachel's own headpiece.
Rachel was walked down the aisle by her Dad (in full Scottish regalia) to the bridal march, to fit beautifully with the traditional style of the church.
The couple spoke the time-honoured vows, and had three readings, from Rachel's cousins Gillian and Samantha and James sister Debbie.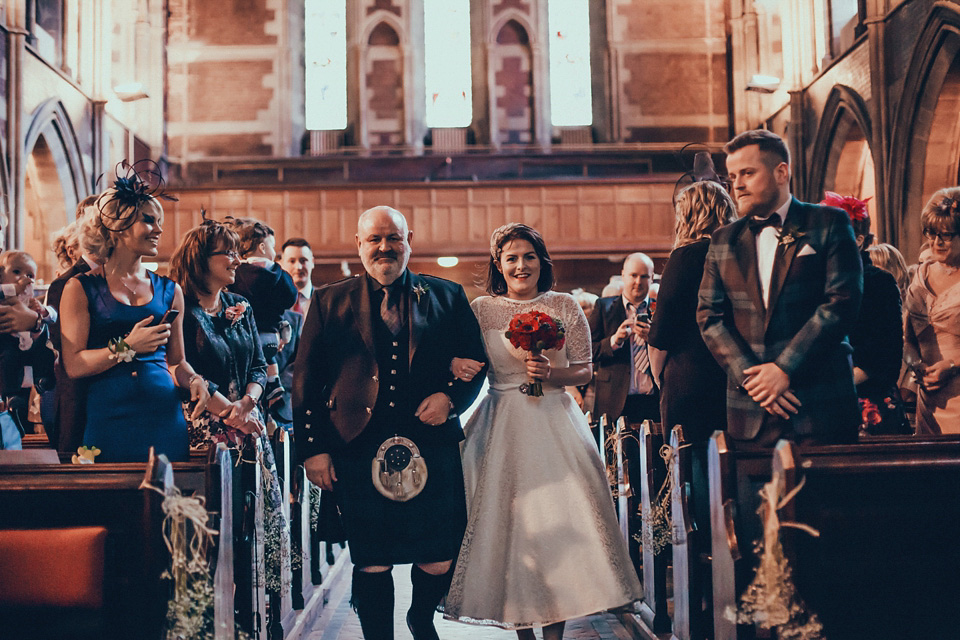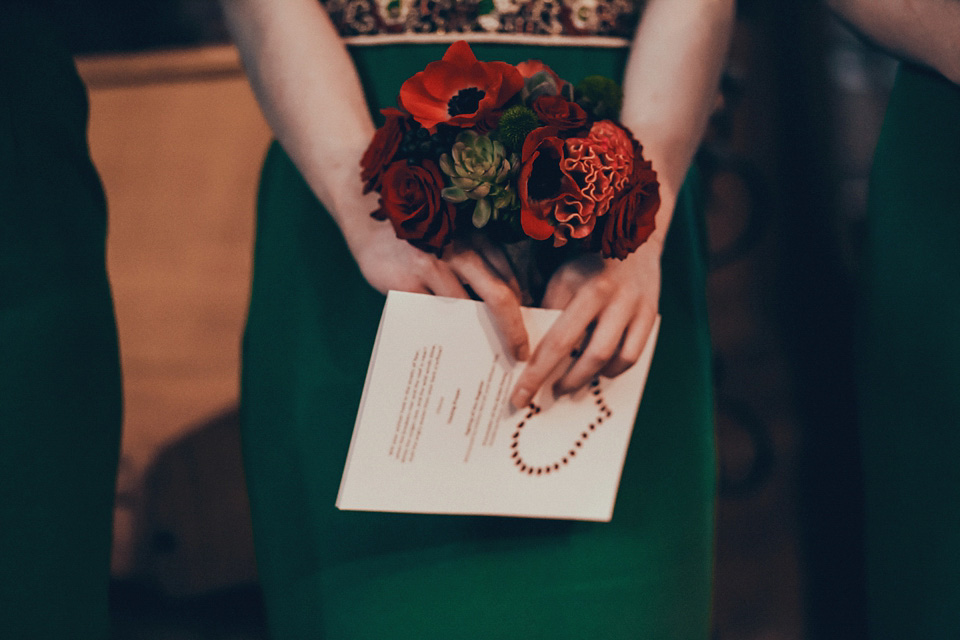 James looked very dapper in a three piece suit from Hugo Boss, an emerald green tie from Charles Tyrwhitt, Ted Baker shoes and cufflinks by Georgia Wiseman, a graduate of the Glasgow School of Art. Rachel also bought him a watch from Links of London as a wedding gift.
The groomsmen wore suits hired from Slaters, with green ties to match James'. Rachel also made each of them cufflinks from their initials in scrabble tiles as a small thank you- I love this!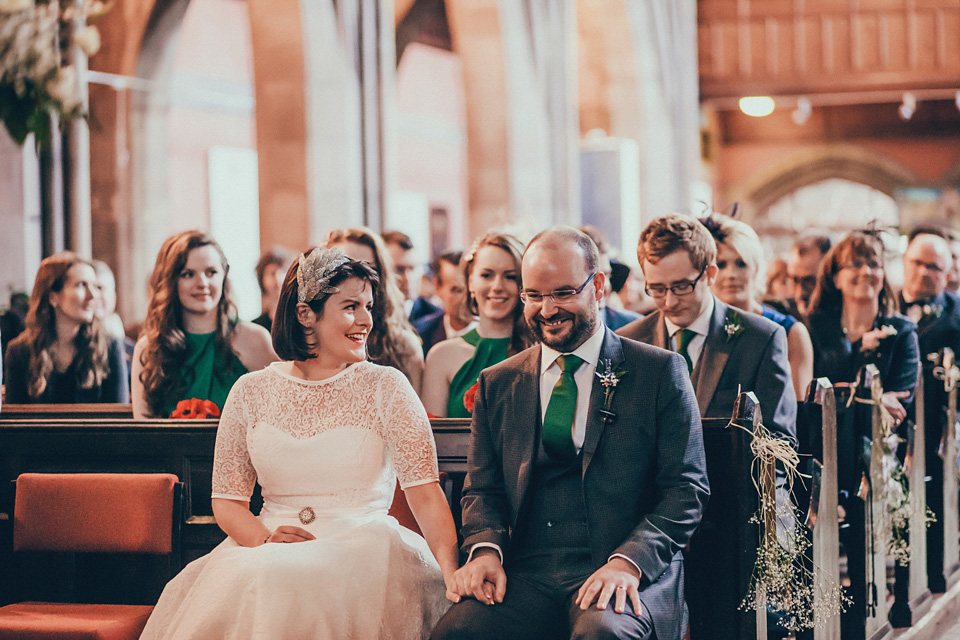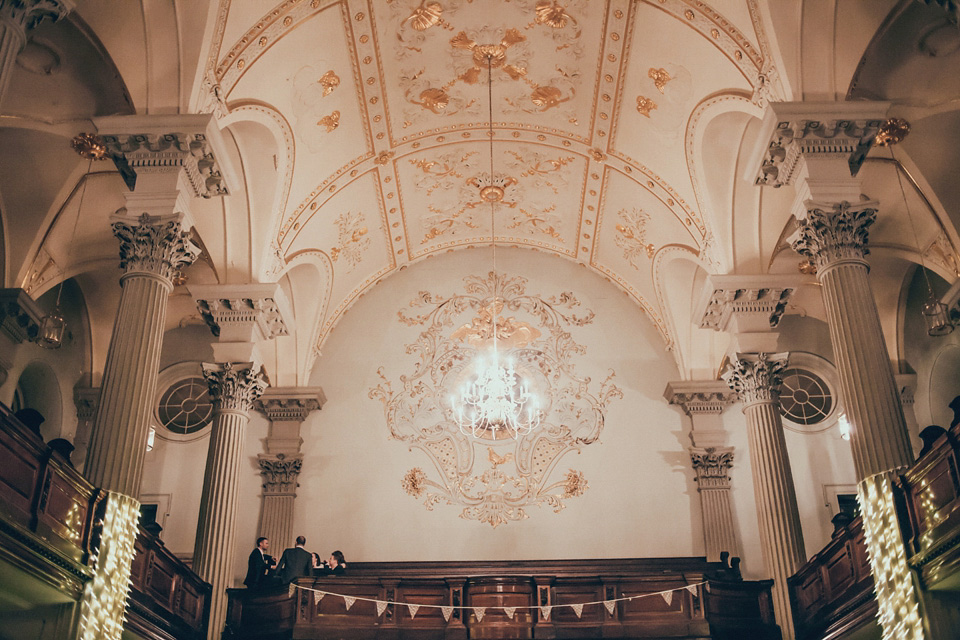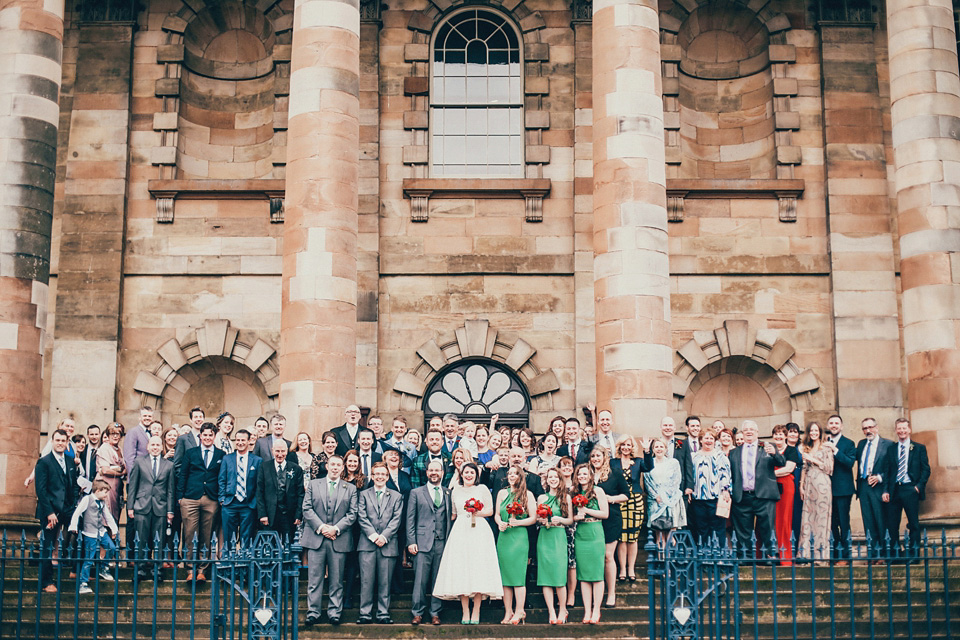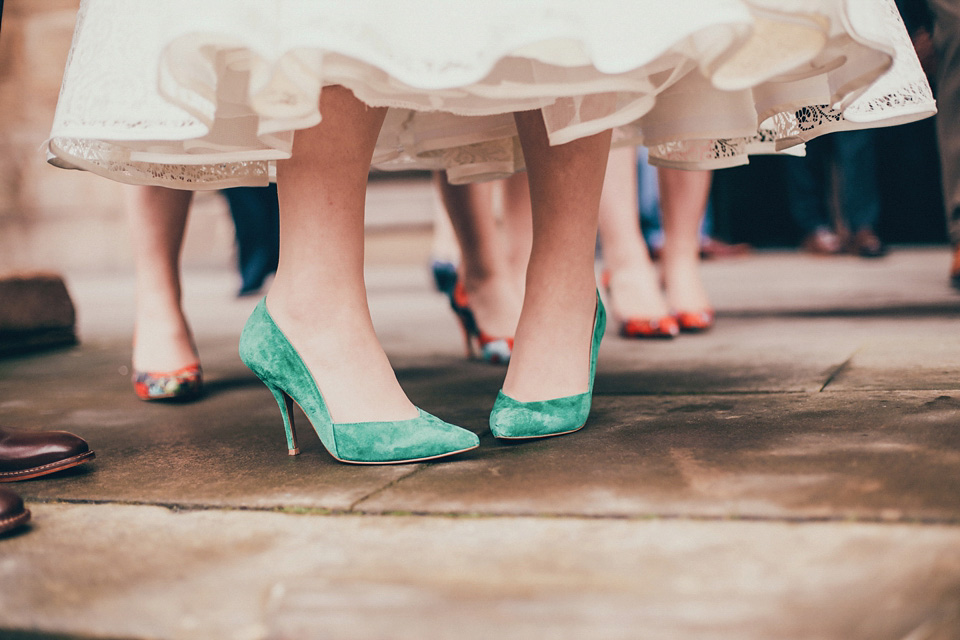 Rachel was a Love My Dress fan all the way through her planning- it's always so nice to feature someone's wedding who has been with us throughout the build up to the big day.
"I loved that you could look at wedding by colour, era and location on Love My Dress. I read Lindsey Lovette's blogs as we were both from Glasgow and were getting married on the same day – I could relate to so many of the things she wrote about. As I was having my dress made by Flossy and Dossy I would always look at blog articles that featured her dresses as well. My Mum was on Love My Dress too and would text me and tell me what weddings to look at.
It was always comforting to read about the emotions other brides to be were experiencing and to know that we weren't the only ones on the rollercoaster that the planning process can be."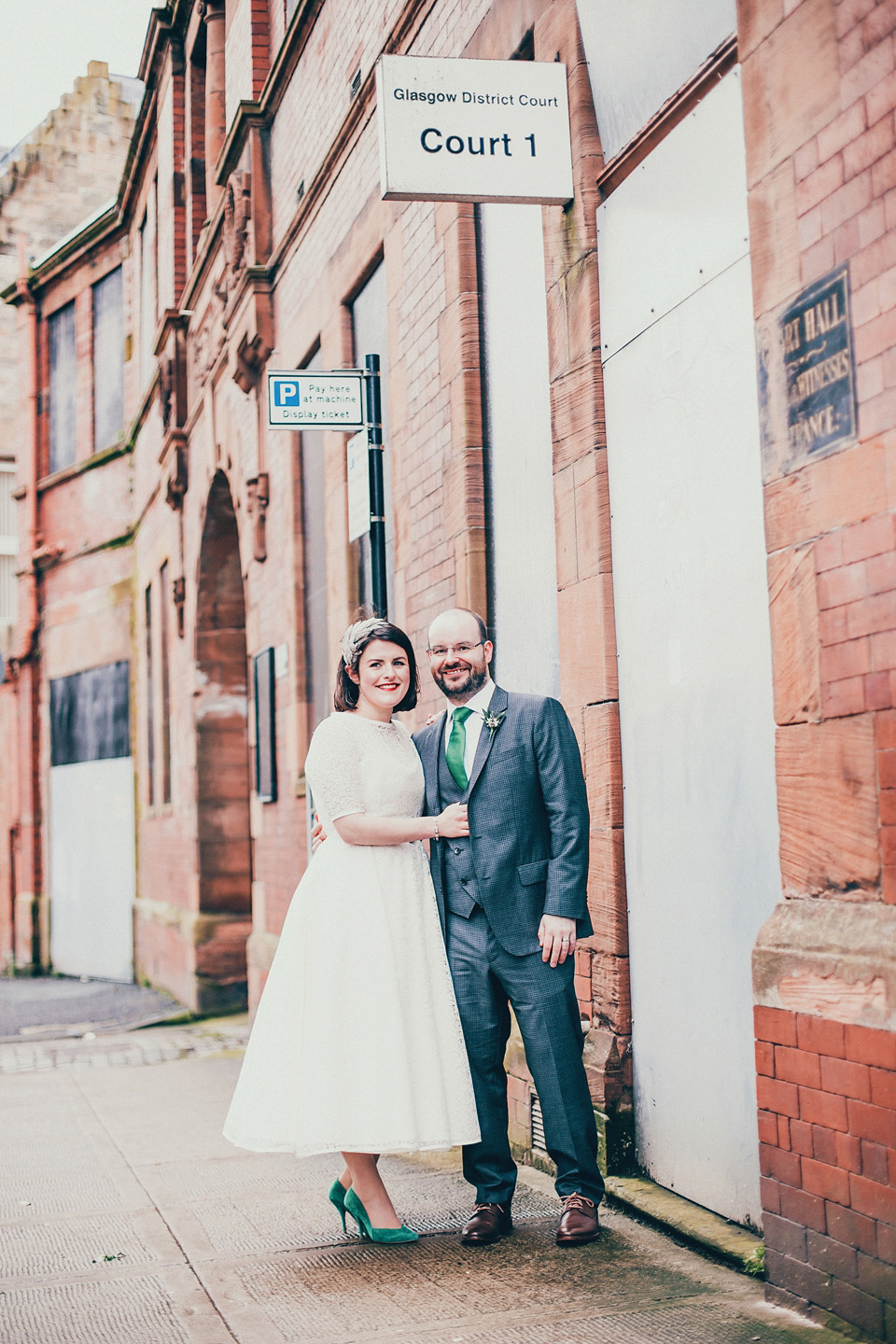 As all brides with a shorter dress know- your shoes are visible to everyone and therefore need to be fabulous. Rachel's were especially so, with her feet sporting a beautiful pair of pointed emerald court shoes from Reiss. Over her hair she wore a delicate beaded headband by Glasgow milliner William Chambers and she finished her look with emerald and diamond studs from Mr Harold & Son (a wedding morning gift from James) a silver bracelet (a 16th birthday present from her late Grandmother) and her leather jacket, as the forecast was so bad… A very cool look I think!
"My mum and I went to a local hairdresser in East Kilbride, where I grew up. The wee ladies put rollers in and sat me under the drier, I drove home with the rollers in and had to remove them 15-20 minutes before we left for the church. The bridesmaids used their regular hairdresser Louise who was up at the crack of dawn to do the three girls (they are sisters). She was a very calming influence on the day."
During the drinks reception, guests were treated to the sounds of the St Andrews in the Square fiddlers, and for the evening, a band called 'Kickback' played, who the couple booked via Music For Scotland.
"They were fantastic to deal with, responded very quickly to any emails and were happy to learn any songs we requested that weren't part of their usual sets."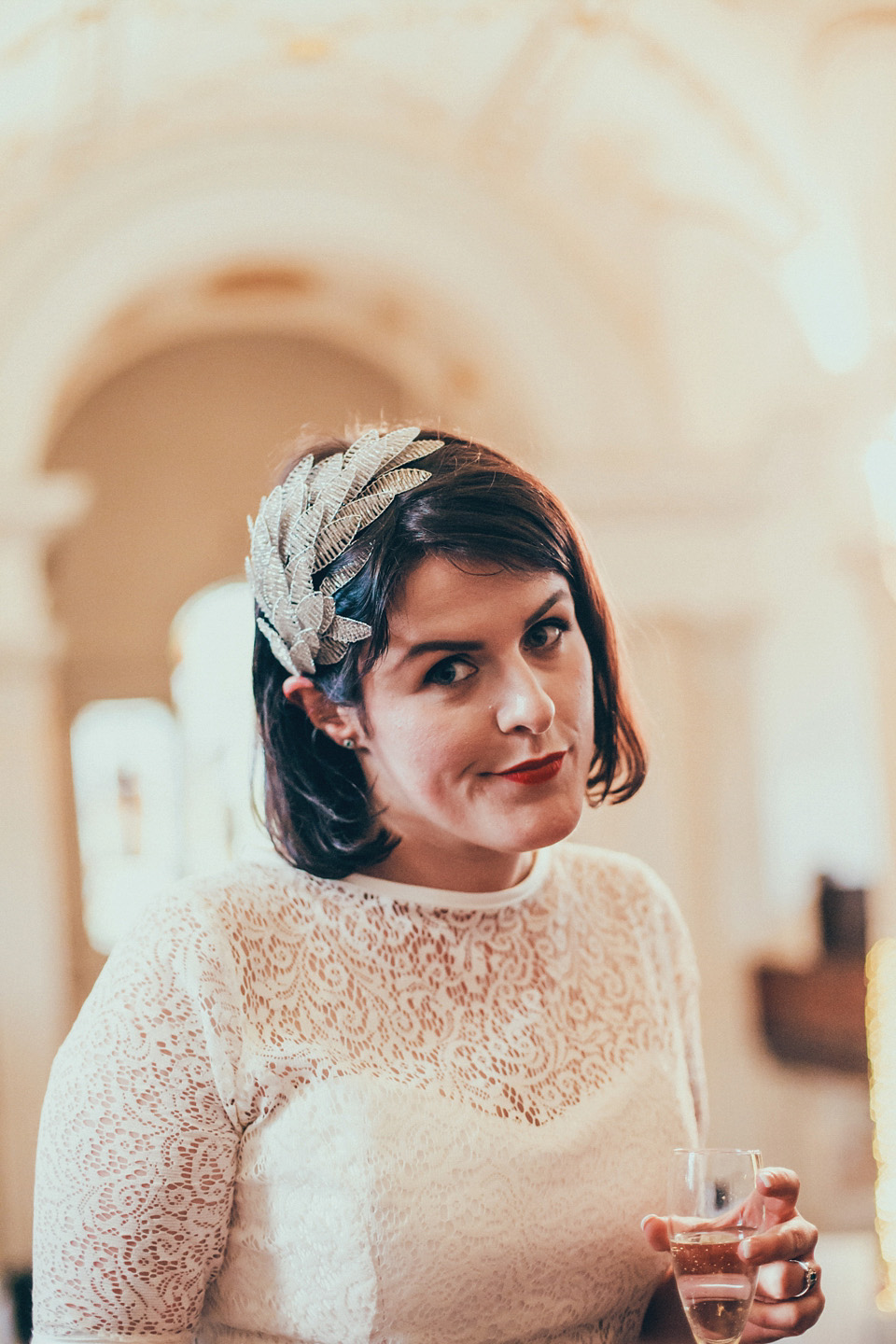 Catering was provided by Café source and the wedding cakes by Top Tier and Cottonrake.
"Cakes are James thing and when he tried the red velvet cupcakes by Top Tier, the decision was made! We had found an image on Pinterest that captured both our colour scheme and the homemade bunting that I planned to make (but ended up borrowing) and Top Tier managed to recreate it perfectly. It was three tiers with a different cake in each layer– red velvet, lemon drizzle and Victoria sponge and was delicious! We also ordered three gluten free chocolate brownie cakes from Cottonrake as we had a number of coeliac guests. James ordered the cake topper from notonthehighstreet as a surprise for me."
"We contacted a local tree surgeon who gave us waste tree trunks which my dad cut into slices for our table centre pieces. My mum and I love charity shops and we spent a few months collecting crystal and cut glass vases which would be filled with posies of flowers and small cut glass milk jugs which we used as candle holders on the tables. These were arranged along with ivy plants which our florist had potted in tins decorated with Jute ribbon"
For favours, the couple chose Glasgow Mega Death Hot Sauce for the men and lip balms by the Highland Soap Company for the ladies.
"We also made up gift bags for our younger guests with colouring in books, stick on moustaches and wee dog toys which were in support of the charity Erskine which has a very special place in our hearts- the baby bags had bibs customised with our names and the date that we had ordered from eBay so they didn't ruin their outfits!"
"Our favourite part of the day was having the opportunity to spend time with our guests during the drinks reception. Many had had travelled some distance and we didn't want to disappear for hours to have our photographs taken and miss the opportunity to see them all, especially as we were leaving for a mini-moon the following morning."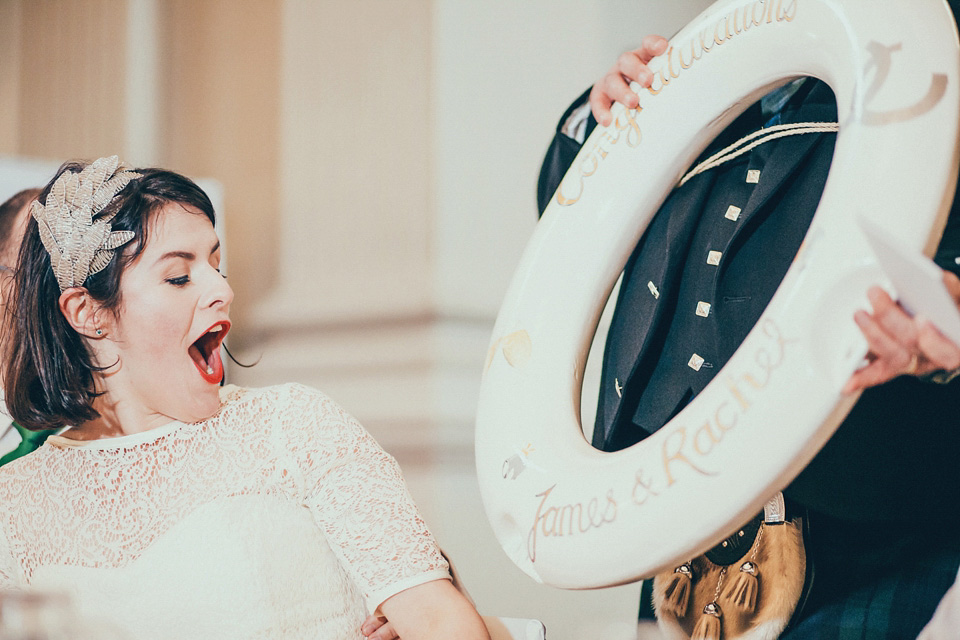 "Our first dance was to The Proclaimers – 'Spend my life with you'. The words seemed perfect and we wanted more of an upbeat song as opposed to a slow number with everyone watching! The band also played James Blunt 'Bonfire Heart' during the evening for us – I had read a blog post where the bride and groom had picked a secret song and really liked the idea, it gave us the chance to dance to a song together without having everyone's eyes on us . We also asked them play 'Dignity' by Deacon Blue as our last song; it seemed apt as we'd met whilst working in a shipyard where James still is and Rachel now works with the council!"
Don't you just love the idea of a secret song just for the two of you to know about? How very romantic.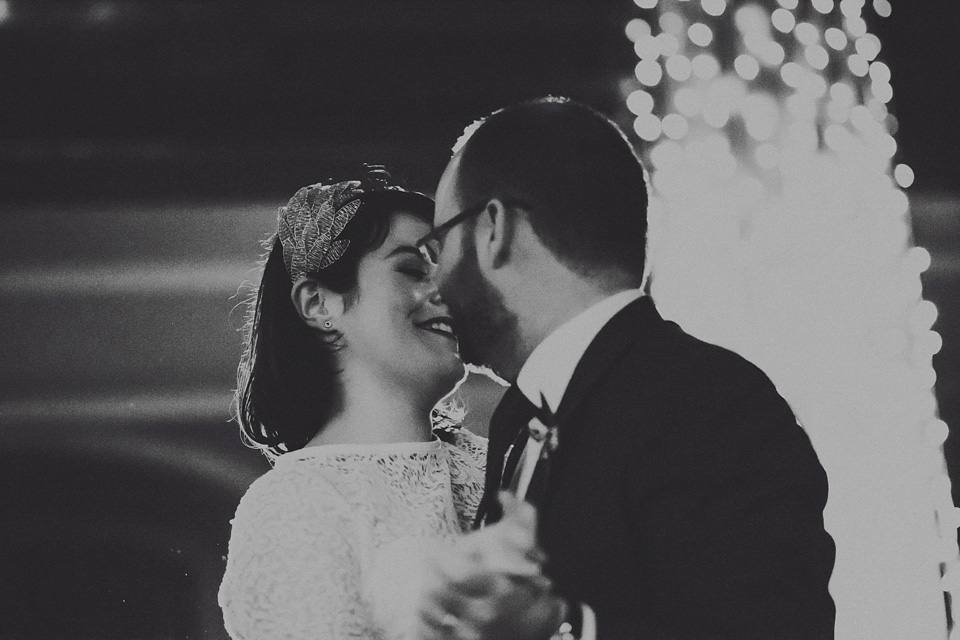 Words of Wedded Wisdom
"Don't sweat the little things. Despite what we originally thought, children actually make a wedding more enjoyable. The best decisions are made after a bottle (or two) of Prosecco. We would combine wedding activities with days out to make it more memorable – paying the balance for the florist turned into a pub crawl! Take regular breaks from the planning process to enjoy being engaged, in love and to remember why you are doing it in the first place, planning can be stressful and distracting. Nothing is worth falling out with family over, even the most distant of relatives making it onto the guest list!
James was really involved in the planning of the wedding from the outset, he came to every wedding fair, venue viewing, cake tasting, band showcase etc. It was great that he was so interested and keen to be involved in every aspect of planning the day (except the dress)and it made it all the more enjoyable and brought us even closer together.
Where possible we tried to use suppliers that were small businesses local to the Glasgow area. Weddings can be a huge expense and it was important to us that we try to support local business where possible and that we were true to ourselves at the same time. We didn't want the day to be over the top and staged, we wanted a celebration and to enjoy the day with our guests, we didn't disappear for hours to have our photographs taken instead we chose to spend time with people we love and that we don't get to see often enough – only on rare occasions do you have the chance for everyone to be together, so that time is something to treasure."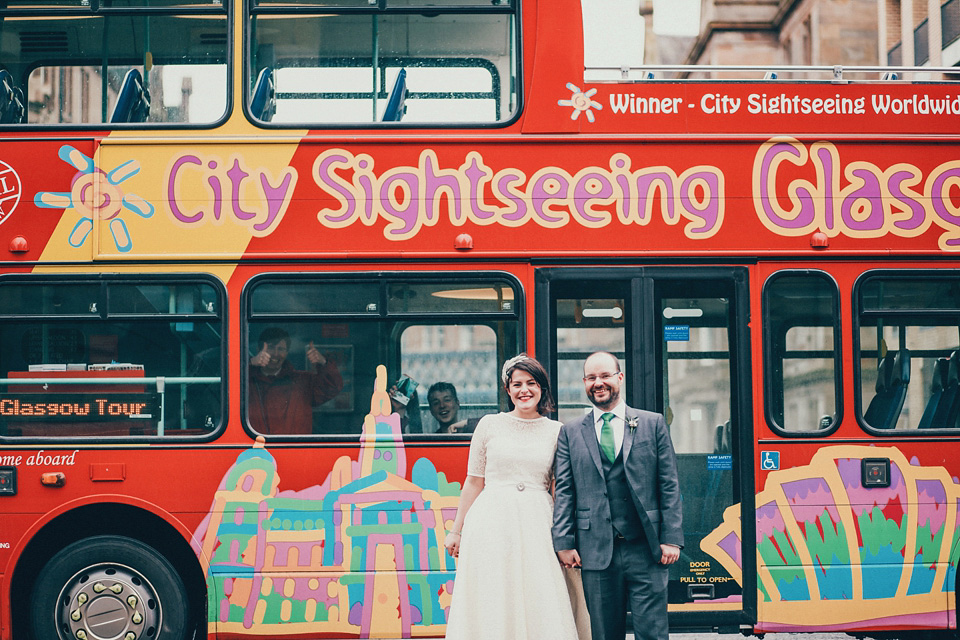 I agree wholeheartedly with Rachel about using small local suppliers where possible- it makes your day much more personal as well as supporting small businesses. I also love her assertion that your wedding day is a day to treasure- it certainly is- not just because of the vows you are making and the fabulous food and wonderful outfits, but because for one day only, the most important people in your life are all together in one space, and that's an amazing feeling. Take a moment on your day to look around and take it all in- they're all here for you and your new husband or wife…
Thank you Rachel and James for sharing your lovely day with us and of course to John Stirling for the wonderful images! Do we have any other Scottish brides getting married in the next few months? Anyone else having a fabulous 50's style dress? Let us know!
With love as always,
Shona x
Photographer – John Elphinstone-Stirling
Venue – St Andrews in the Square, Glasgow
Wedding dress – Flossy and Dossy with lace from MYB textiles
Headpiece – Beaded headband by Glasgow Milliner William Chambers
Shoes – Reiss
Accessories – Earrings from Mr Harold and Son, bracelet from a relative
Hair Stylist – Local hairdresser, no website
Makeup artist – Lucy McLean, no website
Bridesmaids dresses- ASOS
Bridesmaid shoes – Red Herring at Debenhams
Groom – Suit by Hugo Boss, Tie – Charles Tyrwhitt, Shoes – Ted Baker, Cufflinks by Georgia Wiseman
Groomsmen – Slaters
Florist – Lavender Blue
Catering – Café Source @ St Andrews in the Square
Cake – Top Tier for the main cake and Cottonrake for the gluten free cakes
Cake topper – Not on the High Street
Entertainment – Saint Andrews in the Square fiddlers and 'Kickback', booked via Music For Scotland
Rings – Blair and Sheridan
Stationery – By Rachel's cousin Andrew
Transport – Ecosse Classic Cars