Hello! I'm so looking forward to showing the images of this gorgeous garden wedding. Incorporating bright colours, Mexican food and flowers they wanted to create a May Day fête feel with lawn games and bunting, so steered towards a DIY, vintage theme complete with a wedding hashtag (#thecooks2015) and a dessert table baked entirely by the bride.
Teen sweethearts Declan, a software engineer and Beth, who splits her time between being a designer and a baker under the name Citrus Bakes held their 3rd of May wedding in the mother of the groom's beautiful garden in Old Warden, Bedfordshire. The garden holds fond and happy memories for the couple so they held a fun ceremony for their family and friends, then took care of the legalities the following Tuesday at their local Registry Office. Photographer Cat Lane was on hand to capture this lovely wedding.
"We had a good idea of what we wanted. We both enjoy the outdoors and wanted a simple, inexpensive but personal day. I had always loved the idea of getting married outside but in England it's not really something you can do legally."
Photography by Cat Lane Weddings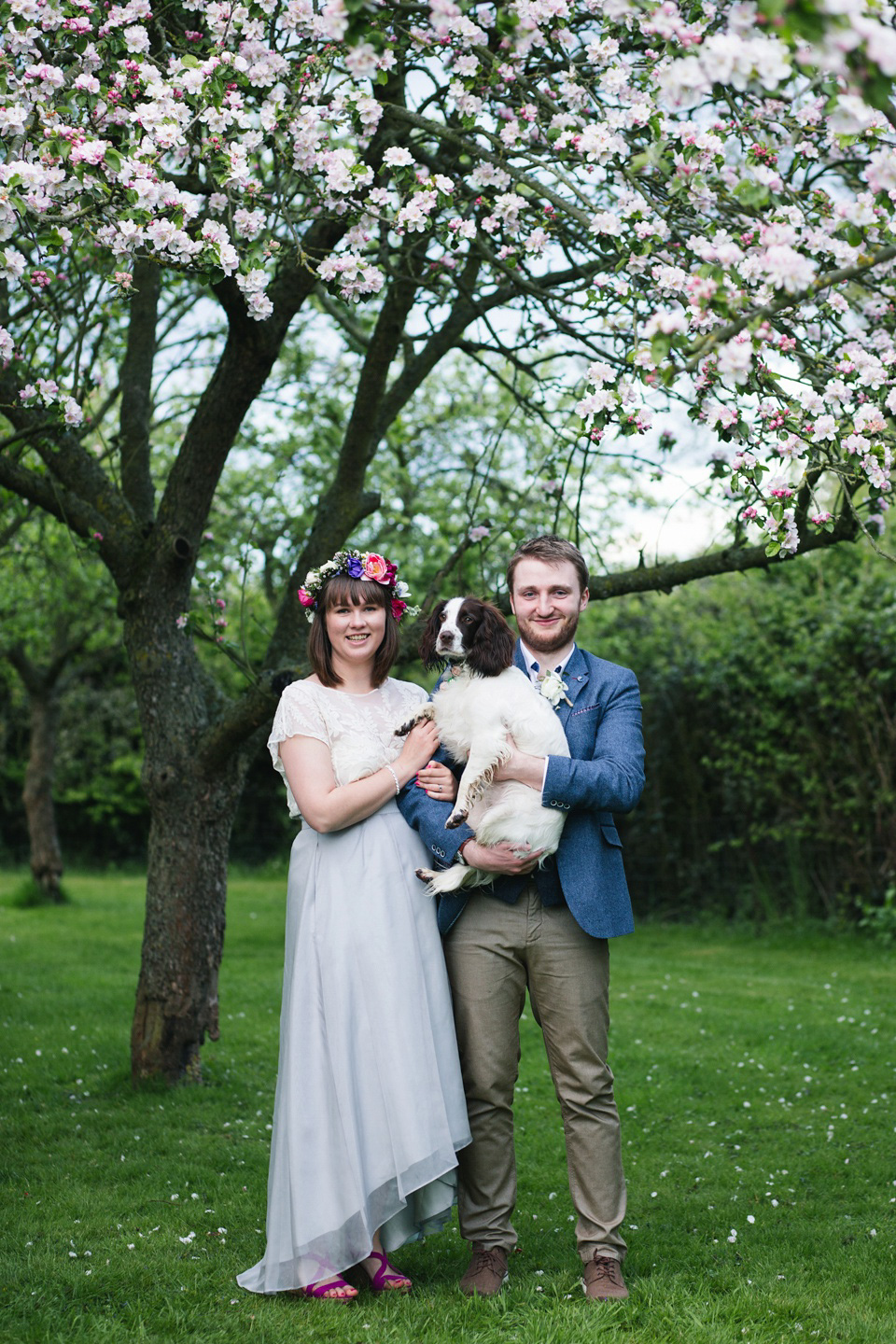 "Quite conveniently my now mother in law's garden has a beautiful orchard that would be in blossom in May, and a lawn area big enough to squeeze a marquee to fit our 30 closest friends and family. Everything else just started to fall in place."
"This led us to the decision of having a very small ceremony at the local registry office, and having a separate event which we could completely personalise and do as we wished."
The couple were working to a tight budget with a quick turnaround so looked to the high street for inspiration. Initially looking for a dress, Beth spotted her gorgeous silver dip hem skirt in the Coast sale. The stunning lace top from New Look was the result of many different trial purchases, as were those amazing deep pink wedges.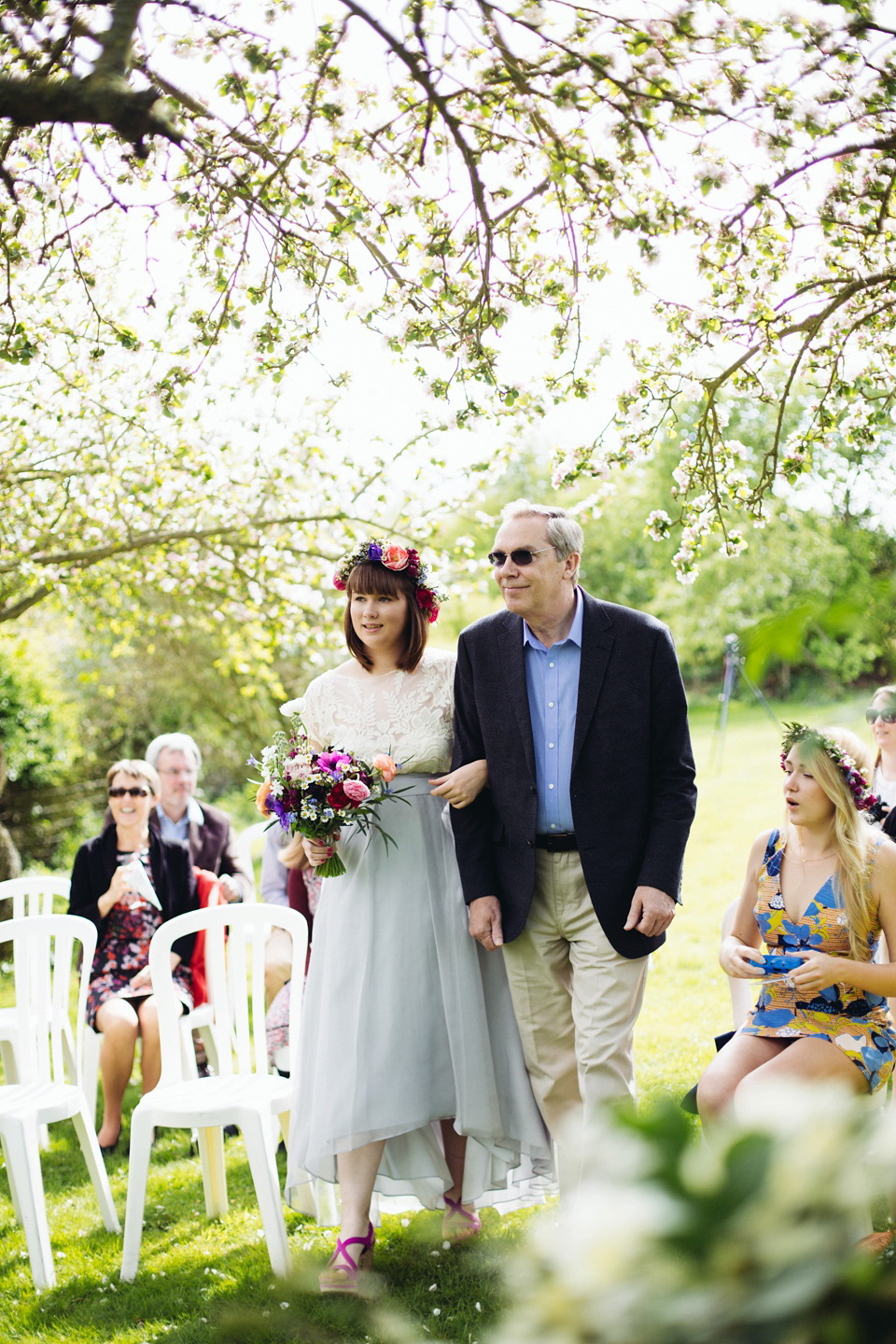 "Noeleen at The Basement Florist is definitely the coolest florist I have ever met, her designs instantly jumped out at me. All I could tell her was that I wanted lots of flowers and lots of colours and she was completely up for creating informal arrangements with minimal direction from me."
"I bought a new top every few weeks to pair with the skirt, I couldn't decide if I wanted a colour or white like a traditional bride. I ended up buying multiple pairs of shoes too! Out of the blue I came across an off white lace top with the right neckline to suit my body shape. I was excited to mix the traditional off white lace with a more modern fun skirt, I knew I would feel comfortable but special as well."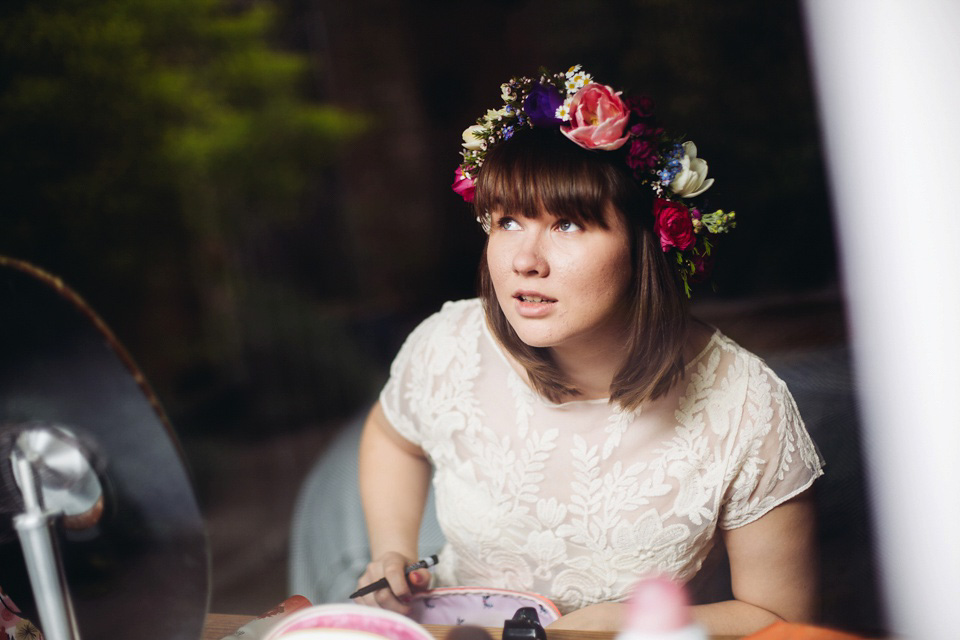 "The idea of a veil was over formal so I opted to increase the flower budget and wear a flower crown in my hair instead. Similarly we had no official bridesmaids but our sisters wore flower crowns too."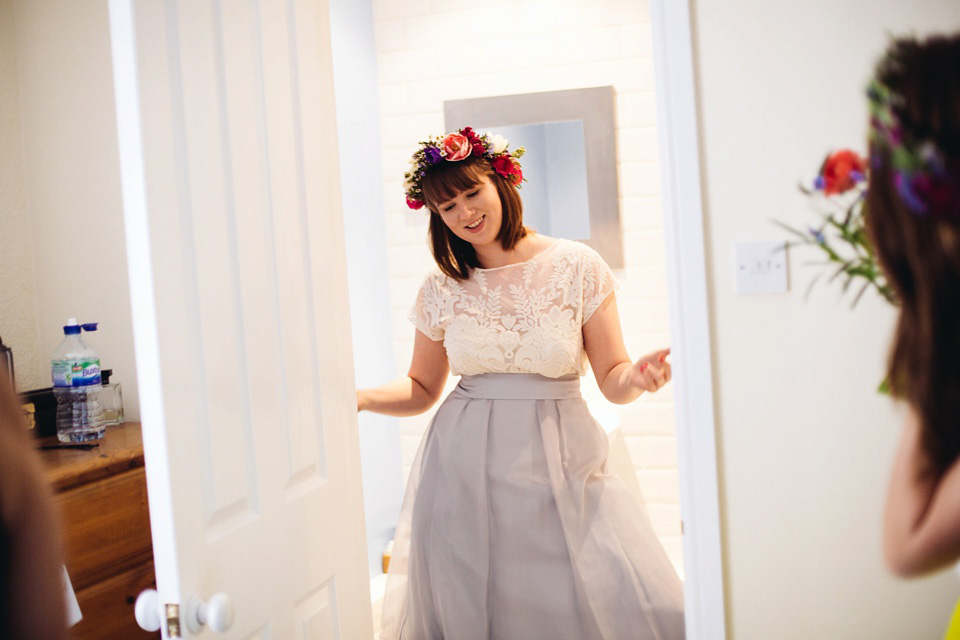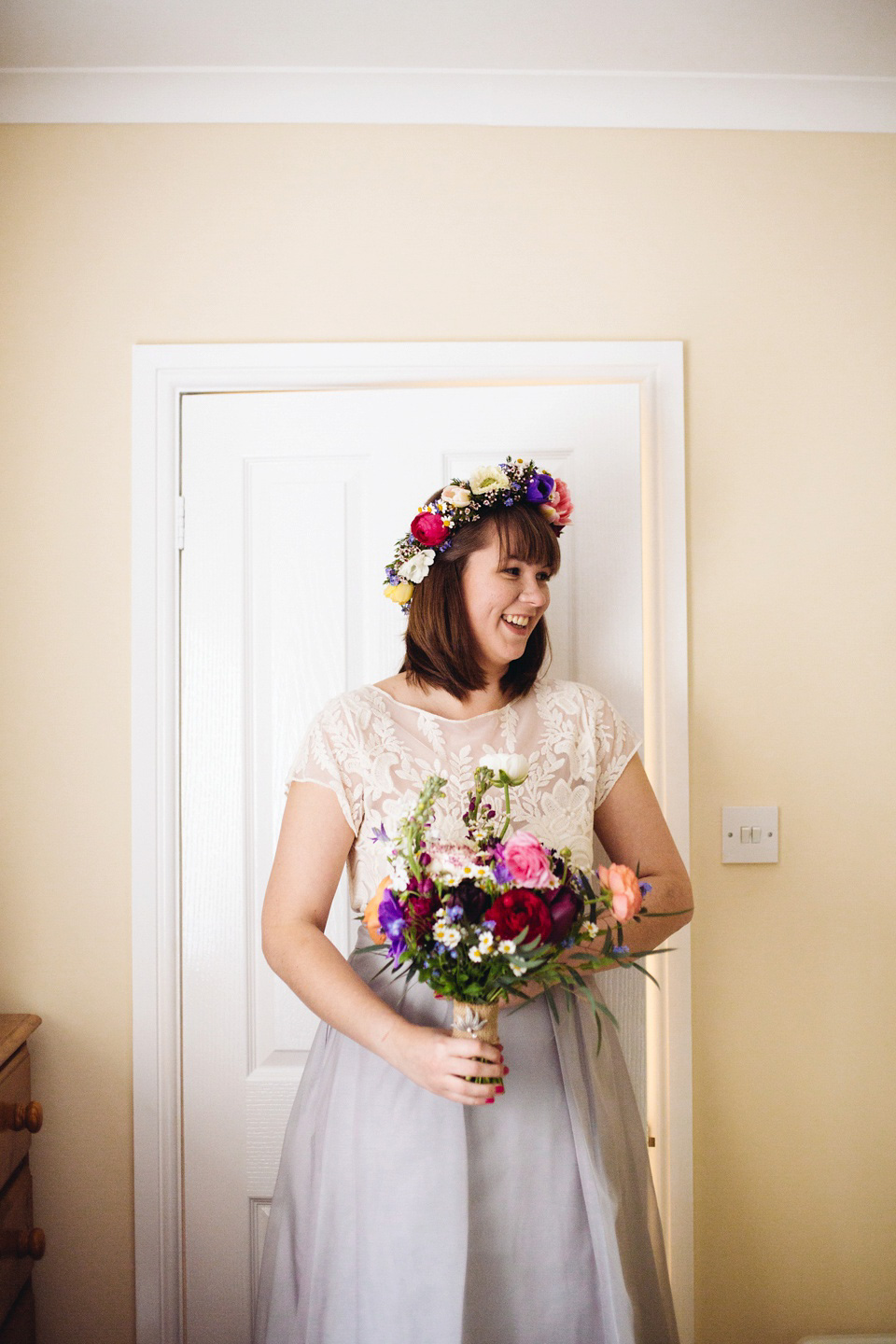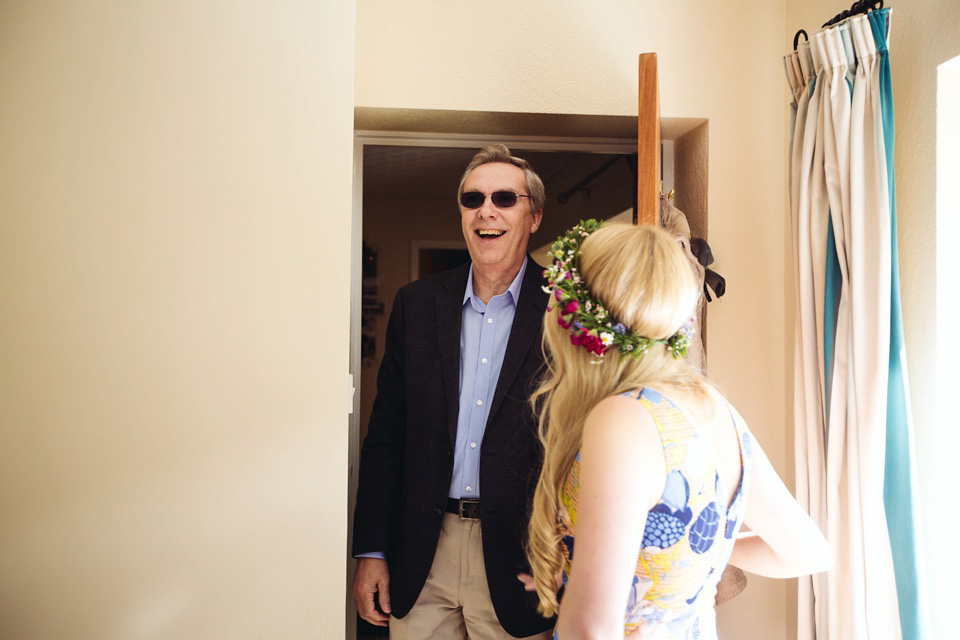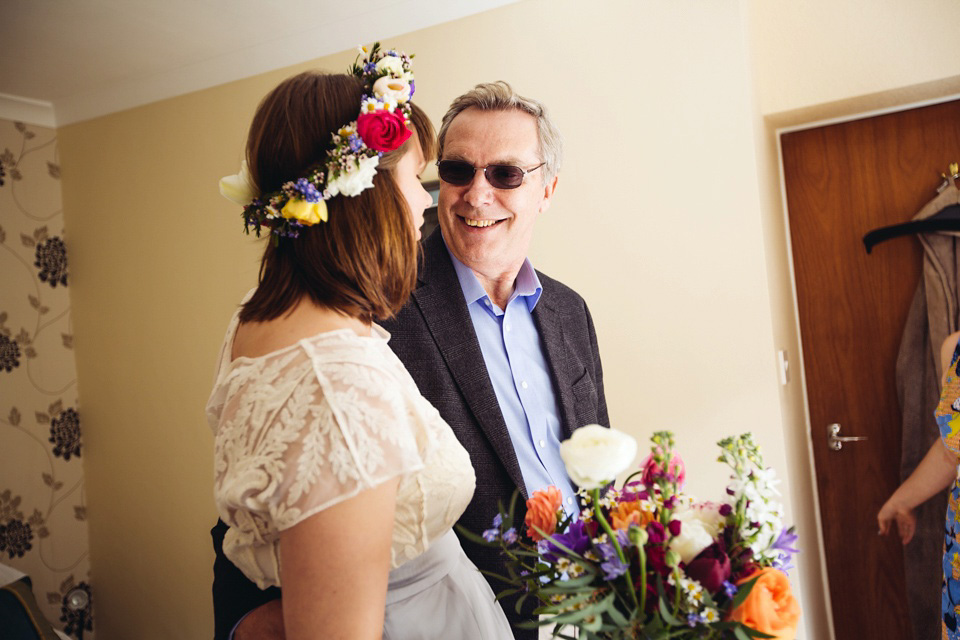 Photography Cat of Cat Lane Weddings, shooting with her husband Graham, were commissioned to produce these stunning images of Beth and Declan's wedding. I love how natural the images are, looking through the images I feel like I got a real sense of the fun and joy of the day.
"My favourite moment was walking from the house to the garden, seeing Declan dressed up for the first time and his reaction to seeing me."
Beth walked down the aisle with father to 'Sweet Dreams' by Van Morrison.
"Both atheists, we enjoyed researching readings and poetry to read aloud at the wedding. We asked Declan's Brother Ryan to be our 'ministainer' (minister-entertainer from Friends) as he is the front man in a band we knew he would be up to the job."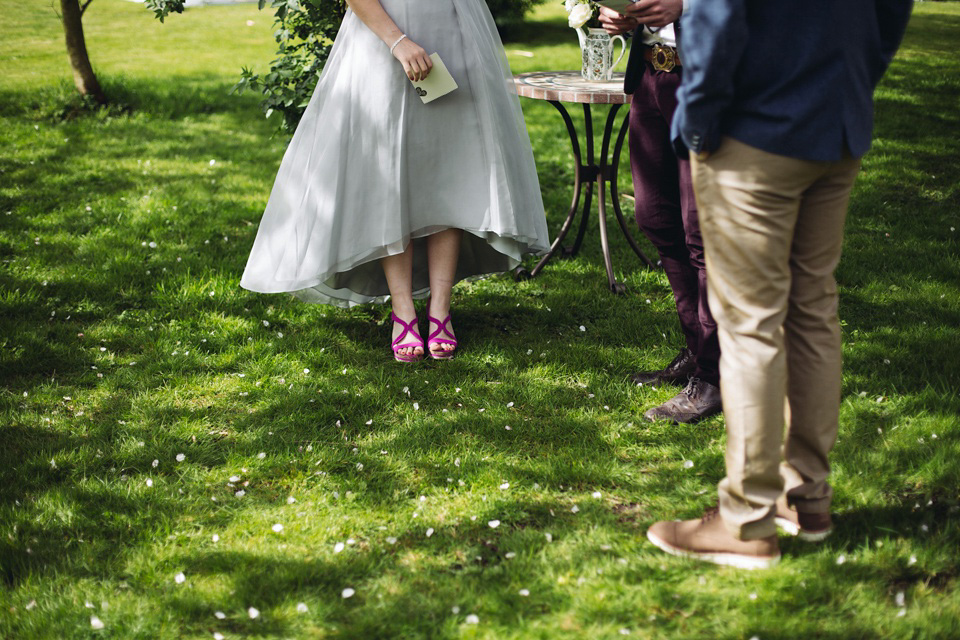 "Ryan led the ceremony, reading aloud words that Declan and I had written, which made it even more personal and special to us and our guests.
We blended a mixture of poems and reading and lyrics into our vows. The opening of the ceremony sums up what we wanted from the day."
Today, under the trees, in a place where much laughter has taken place and which holds such great memories for Beth and Declan, they wish to read aloud their vows and exchange rings amongst their friends and family.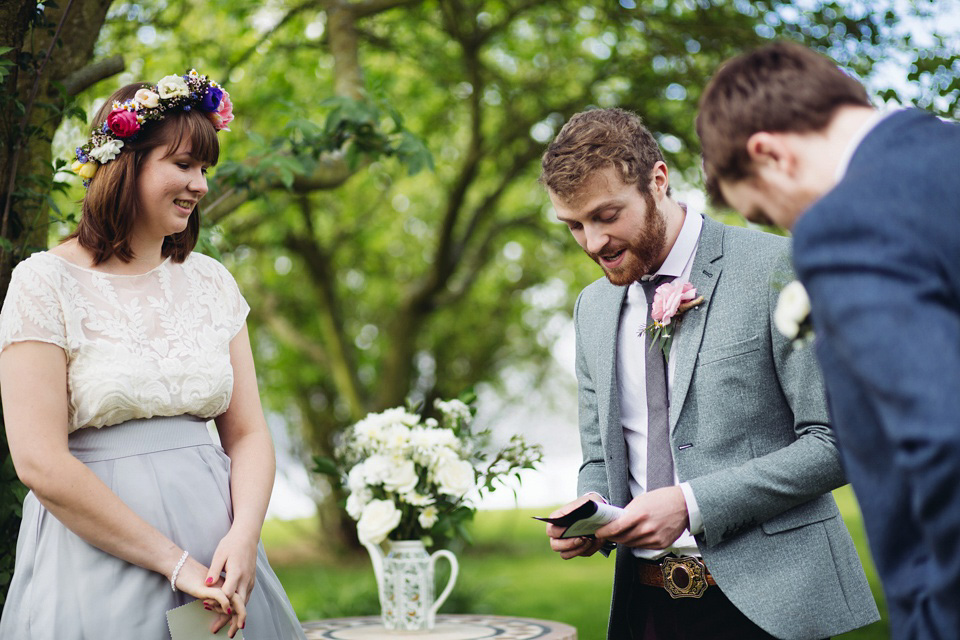 "My favourite and most moving reading was read by the groom's sister Hannah, after we exchanged our vows."
Today is a day you will always remember
The greatest in anyone's life
You'll start off the day just two people in love
And end it as husband and wife.
It's a brand new beginning, the start of a journey
With moments to cherish and treasure
And although they'll be times when you both disagree
These will surely be outweighed by pleasure
You'll have heard many words of advice in the past
When the secrets of marriage were spoken
But you know that the answers lie hidden inside
Where the bond of true love lies unbroken
So live happy forever as lovers and friends
It's the dawn of a new life for you
As you stand there together with love in your eyes
From the moment you whisper 'I do'
And with luck all your hopes and your dreams can be real
May success find its way to your hearts
Tomorrow can bring you the greatest of joys
But today is the day it all starts.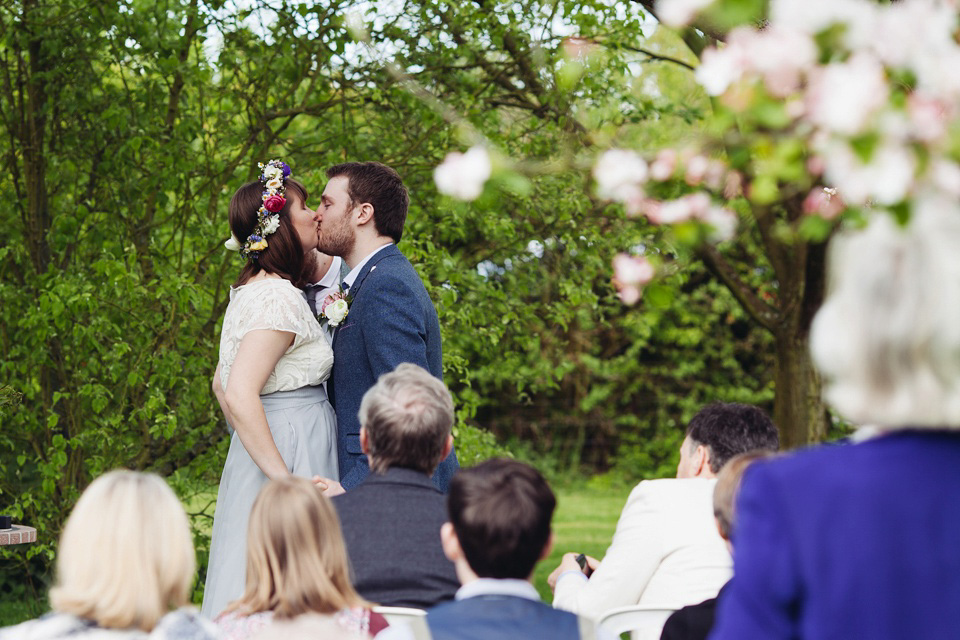 Declan liked the idea of wearing tweed so he went for a blue tweed waistcoat and jacket from Ted Baker with light coloured chinos.
"Declan and I met at school as teenagers and became a couple during our A-Levels. After finishing university, buying a puppy and then a house together we finally got the time to take a break and go on holiday, heading to Copenhagen. As soon as we arrived we went to Kastellet, a Star-shaped 17th-century fortress. Declan tried to persuade me to sit down and enjoy the view but I was too cold so wanted to keep walking. After realising I was walking off on my own, I turned around to see Declan on one knee holding up a ring box in my direction!
It was such a surprise I couldn't believe what was happening. I excitedly said yes and we continued our holiday with non-stop smiles. We set a date for only 5 months later."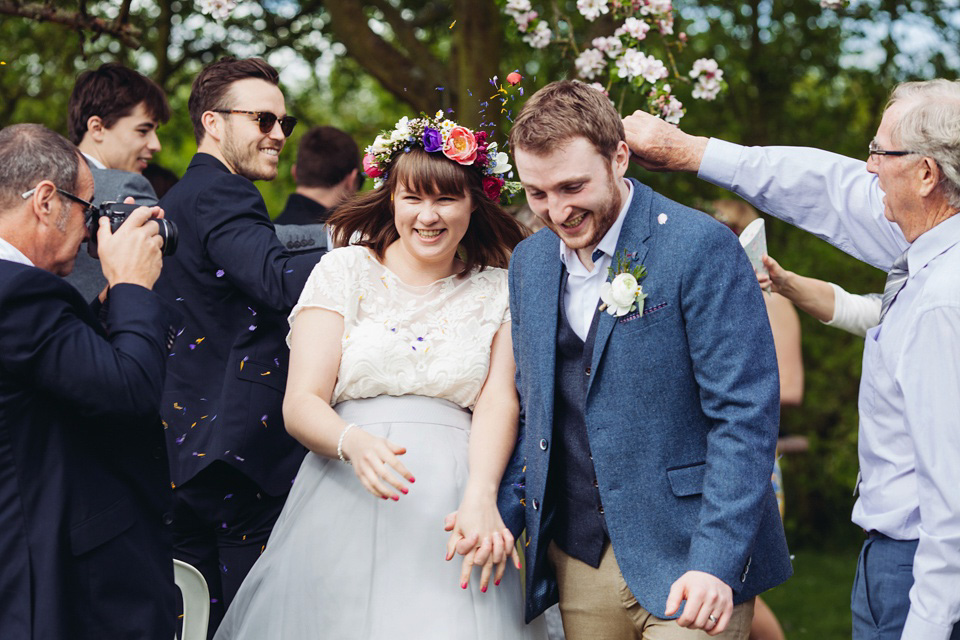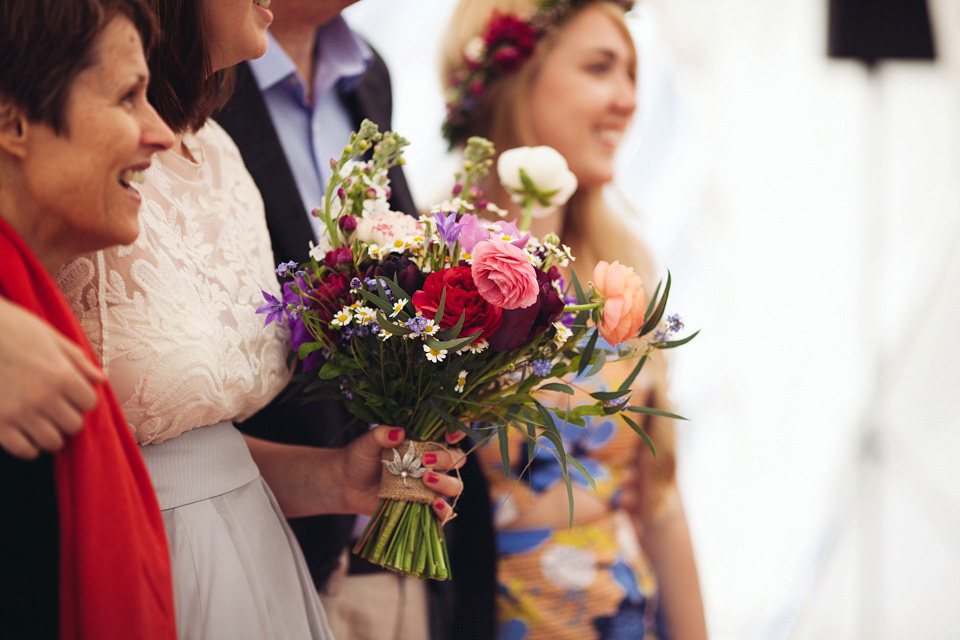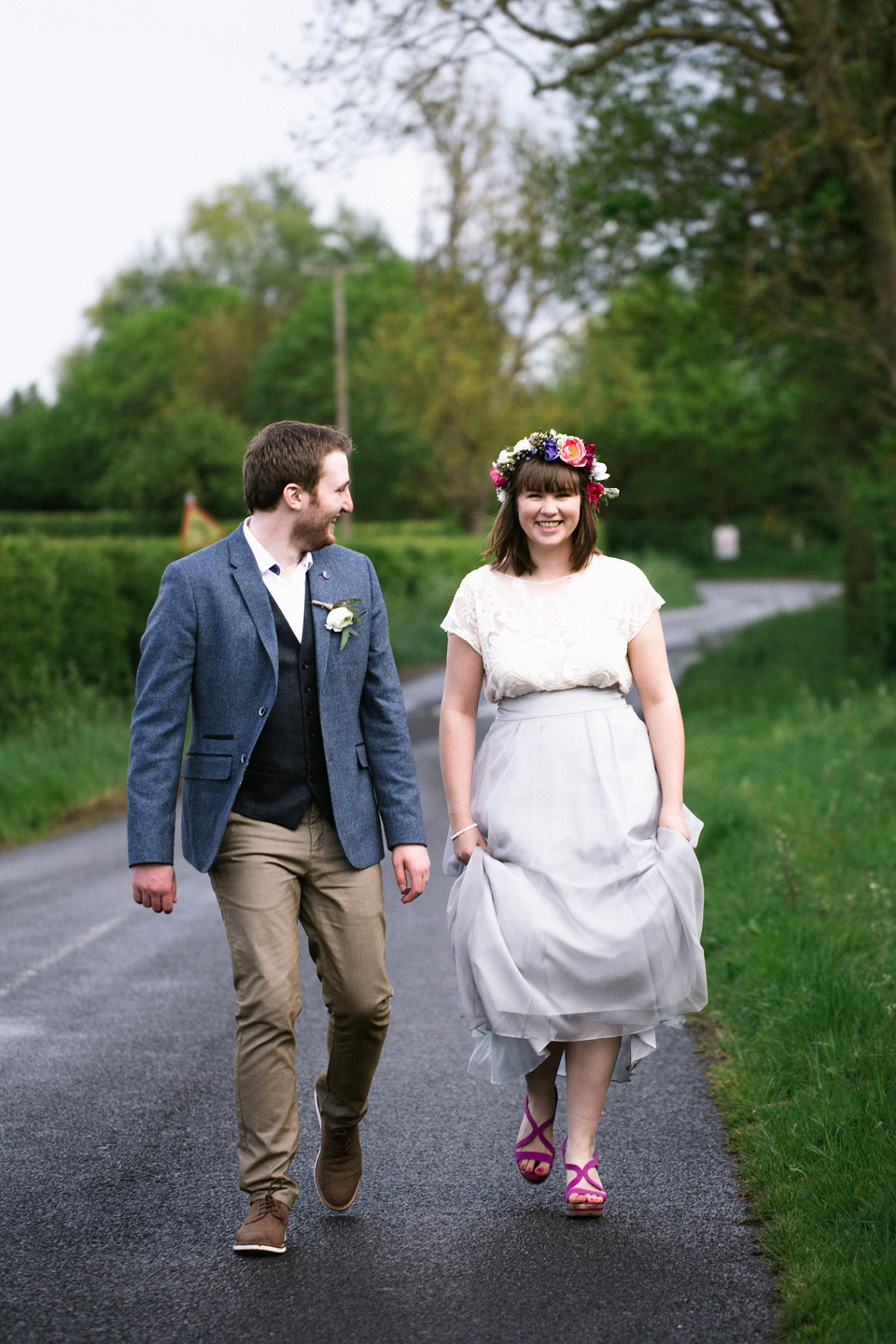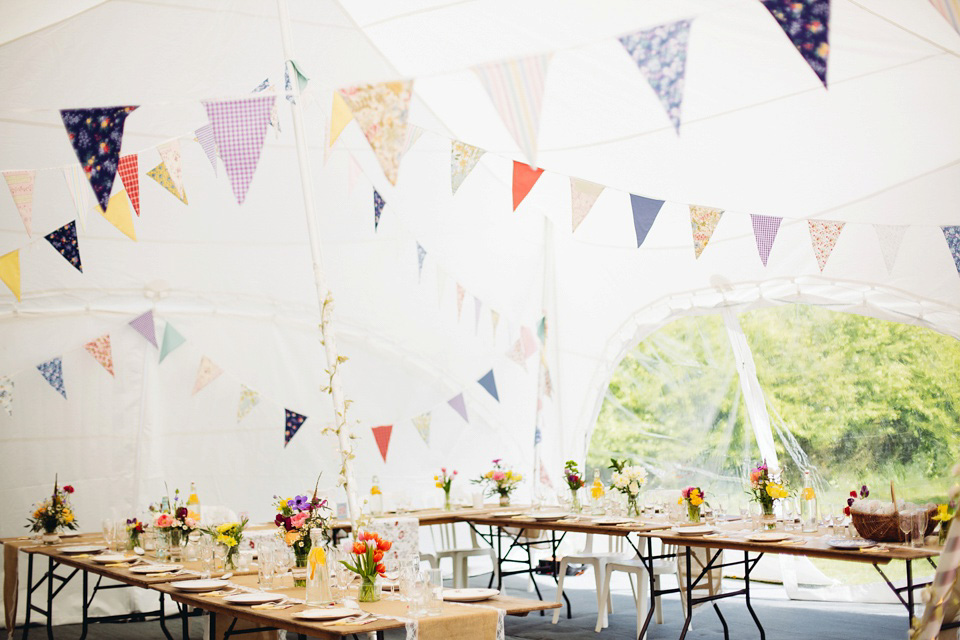 The wedding cake and dessert table were created and baked by the very talented bride.
The cake was layers of lemon sponge, lemon curd and vanilla buttercream, with a silky vanilla meringue exterior, adorned with white edible flowers. Topped off with a 'Mr & Mrs' laser cut cherry wood cake topper.
Fabric bunting and vintage crockery made the marquee feel cosy and fun. Crochet blankets covered the garden furniture and tin baths held drinks.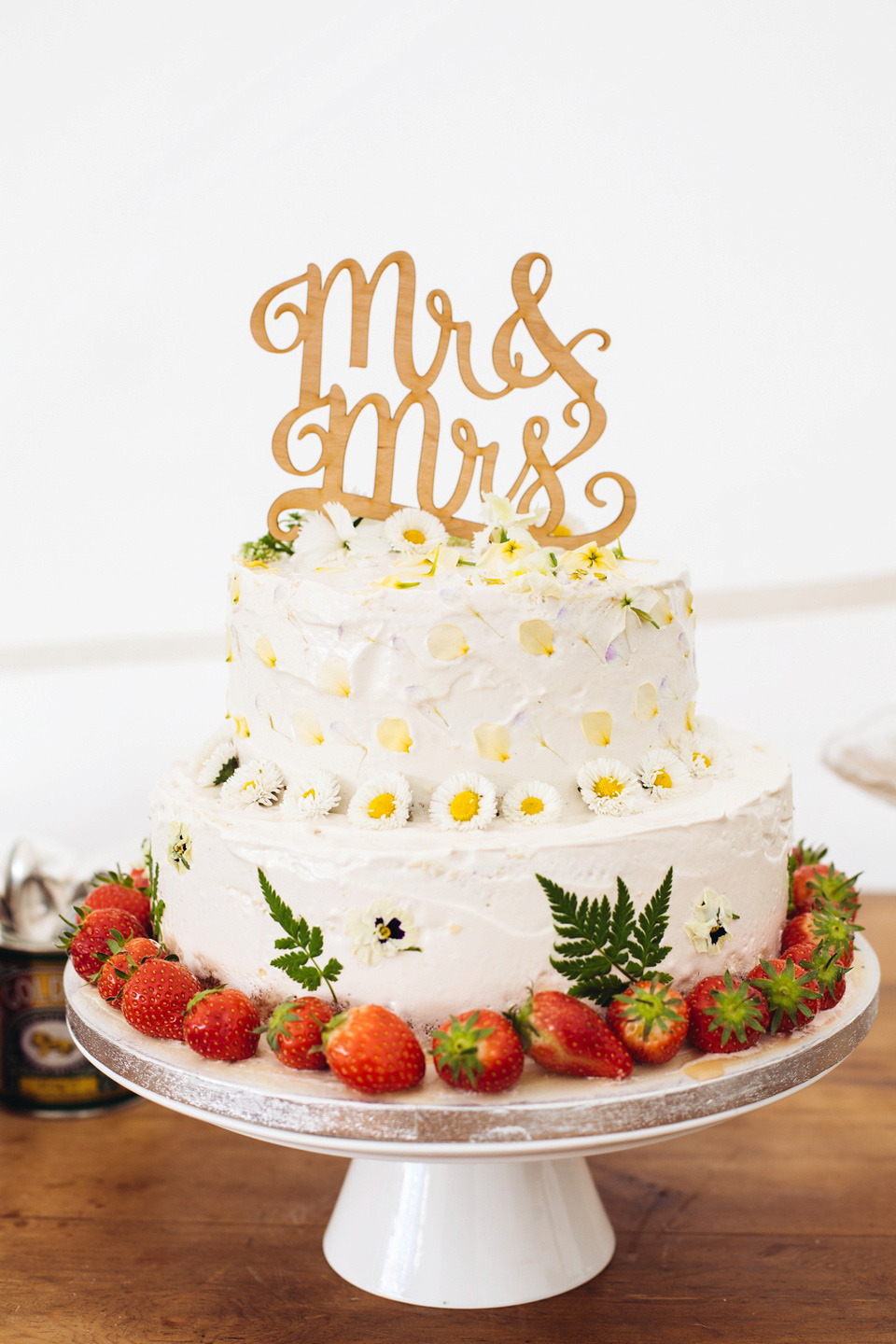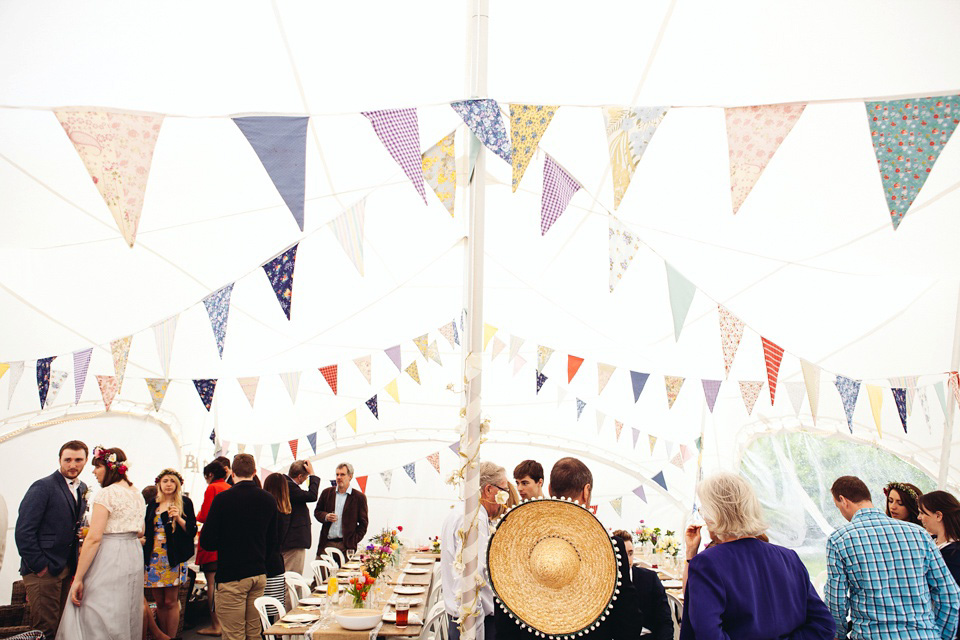 "Cantina Carnitas are family friends who introduced us to the awesome world of Mexican food. We went for a big self serve family style dinner, where all tastes and dietary requirements were met. Jeff and Matt even created a sauce each for the Bride and Groom. Hot roasted garlic and pepper for Declan and sweet lime and mango for the bride."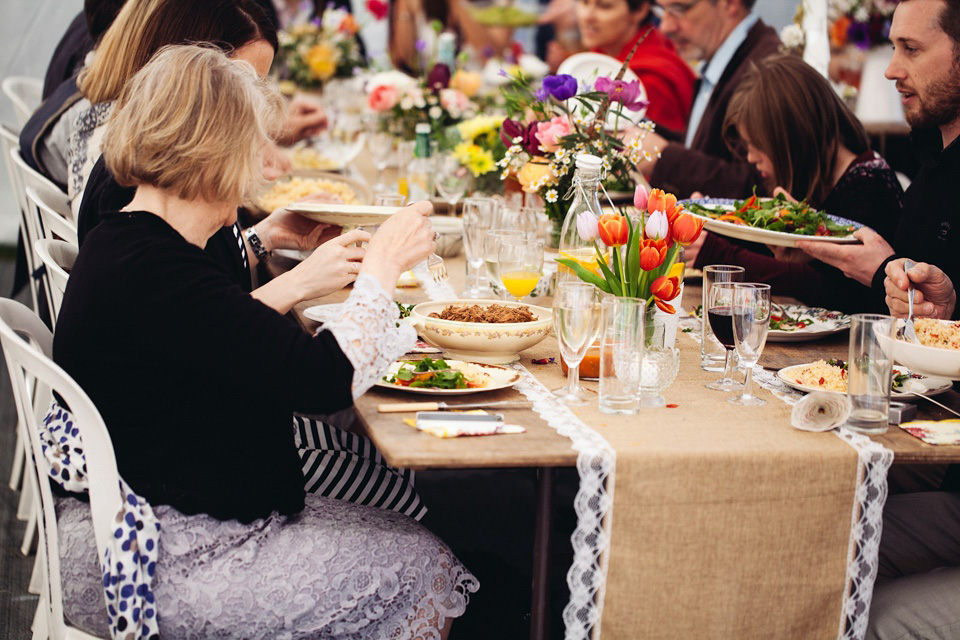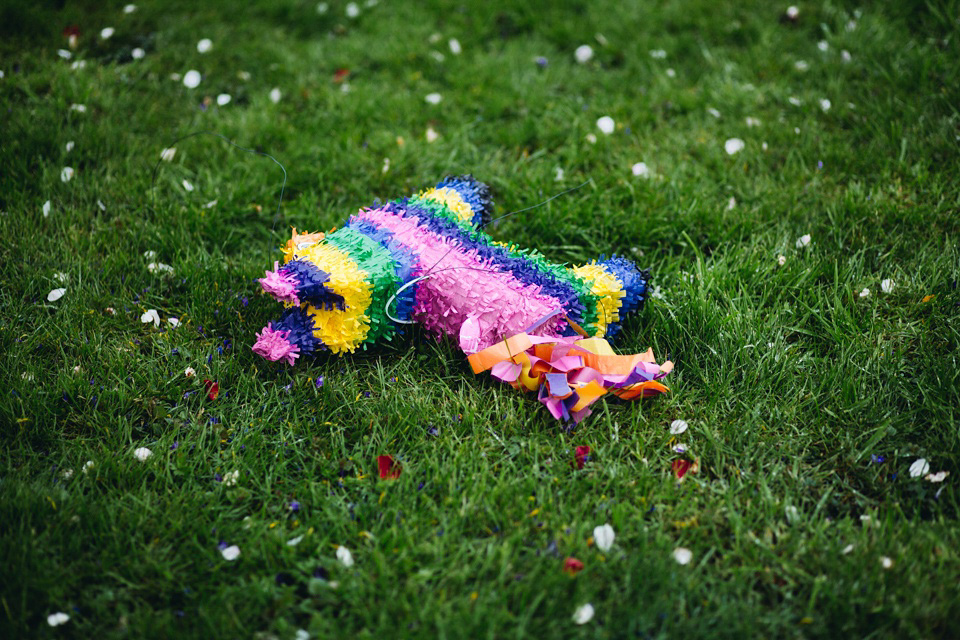 Words of Wedded Wisdom
"Do what you want to do and what makes you feel comfortable, the day is for you and your partner."
Thanks to Beth and Declan for sharing your special day with our readers. Huge thanks must go to the lovely Cat Lane who has provided us with such gorgeous images, more of her work can be seen on her blog here. Cat also worked as a second shooter for this glamping wedding that we featured last year.
Love Caoimhe xx
Photographer – Cat Lane Weddings
Venue – Marquees with Pryde in the Mother of the Groom's garden, Bedfordshire
Wedding Dress – Skirt from Coast + Top from New Look
Shoes – New Look
Groom – Ted Baker
Florist – Noeleen at The Basement Florist
Cake – Citrus Bakes + Mr & Mrs Topper from Etsy + Edible Flowers from Green's of Devon
Rings – Cool Rocks + H Samuel
Catering – Cantina Carnitas
Décor – Dolly's Vintage Hire + Etsy