Good morning lovely readers! I hope you have been enjoying the beautiful autumnal sunshine this week? In the name of both husbandly loyalty and matrimonial bliss, I am praying that the sun shines down upon Wales tomorrow when my other half is kindly taking me to see The Red Dragons roar against the mighty Fiji in my first ever live Rugby match!  Whether you are following the Rugby World Cup or trying to escape it (I'm currently hedging my bets and doing a little bit of both!) you won't want to miss today's stunning homespun Scottish castle wedding! I love all of the weddings we feature here on Love My Dress – each one is wonderfully unique and special – but every now and then one really blows me away, and today's nuptials have done just that.
Laura, a headhunter, married Jamie, a Royal Navy helicopter pilot, on the 9th of May 2015 at Balbegno Castle, a 16th century fortified mansion in Kincardineshire, Scotland, followed by a Tipi reception in the castle's grounds.
"We didn't want any set themes or colours – we just wanted everything to be natural, with as many things made by ourselves, our family and friends as possible. During the planning process I was addicted to Love My Dress! I loved hearing other bride's stories and seeing all the inspirational pictures."
Photography by Nikki Leadbetter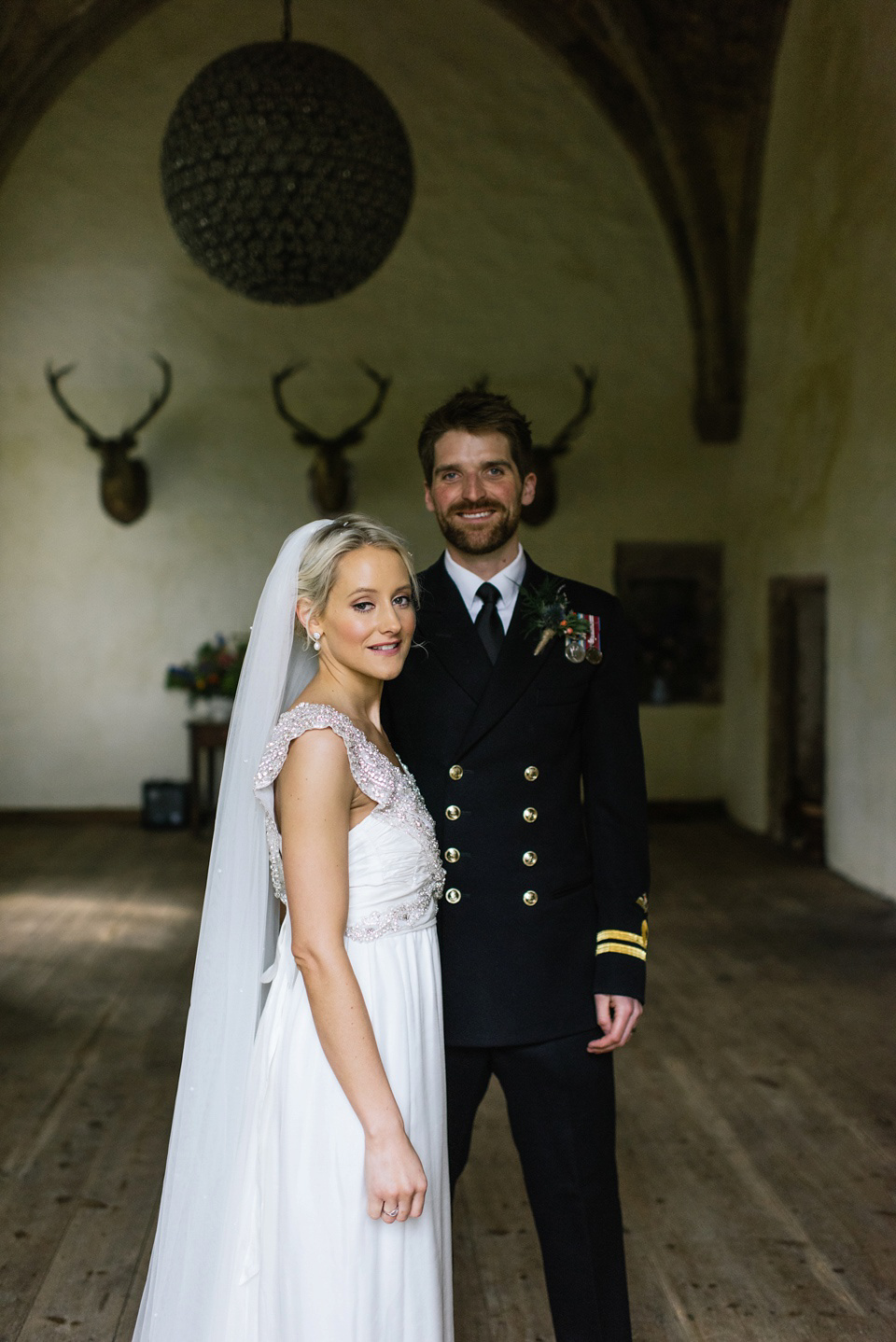 Our beautiful bride looked phenomenal in an embellished gown by Australian designer Anna Campbell, purchased from Little White Dress in Dublin.
"After spending several days trying on dresses in various shops in Edinburgh, Glasgow, London and New York (I was on holiday anyway – honest!), I couldn't put my finger on it but none of them felt right. I realised that it was because I couldn't get Anna Campbell's designs out of my head (whose dresses I had seen on Pinterest)."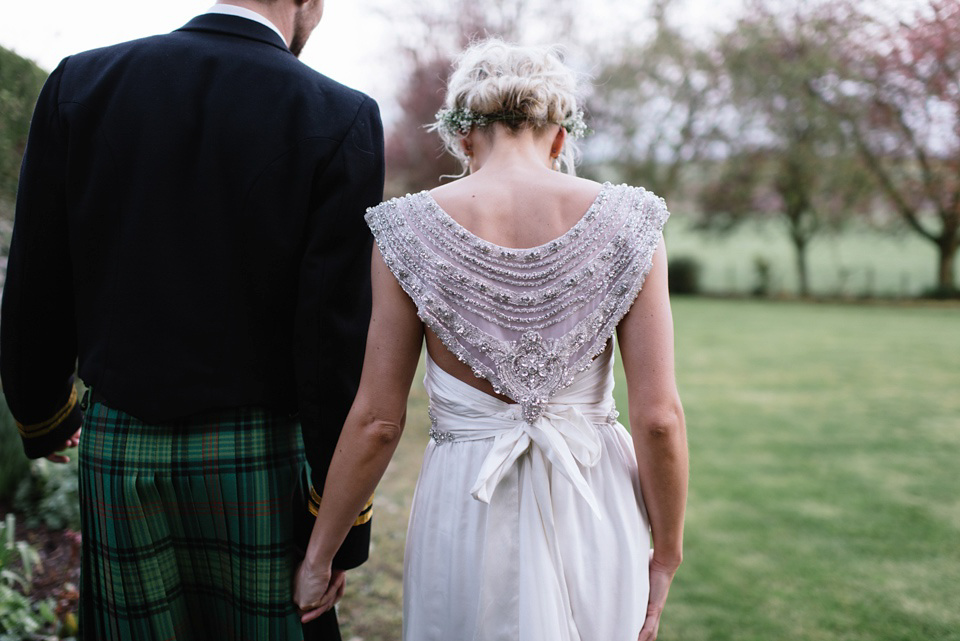 "I discovered that the closest stockist to Edinburgh was in Dublin so I told my mum and bridesmaids that I was off for the day and they very kindly joined me; we had the best day out! Janet, Sarah and Amanda at Little White Dress were brilliant at helping me. Once my dress arrived in Edinburgh, Mette from Freja Dressmaking did all the alterations – she was completely fab especially as my dress was so intricate."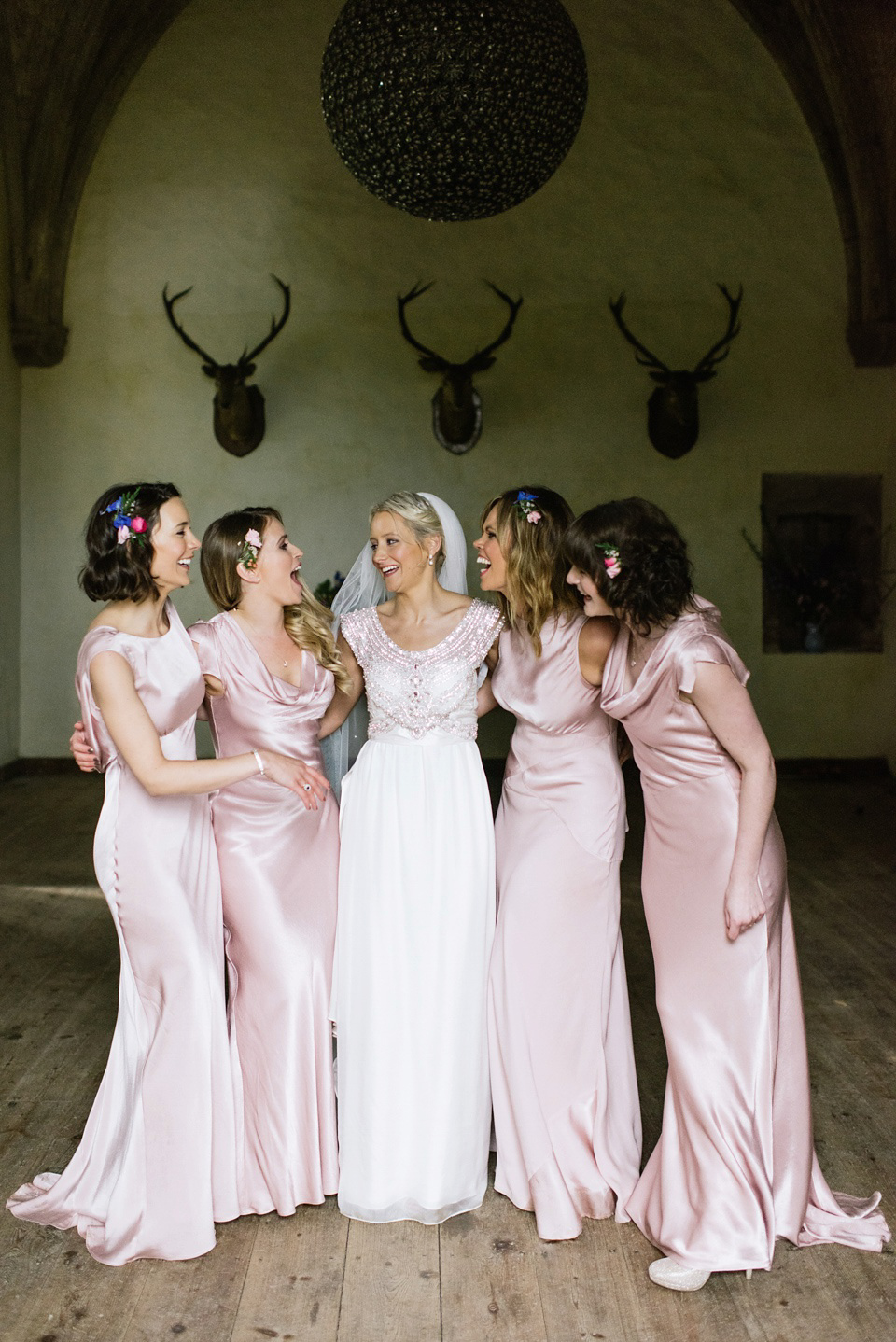 "I met our photographer, Nikki Leadbetter, whilst I was at the Glasgow Wedding Collective – it was the only wedding fair I went to and as soon as I started talking to her I knew I wanted her to do our photos. We didn't want anything staged and she totally got it. She was brilliant on the day and brought her friend along as well as a second shooter."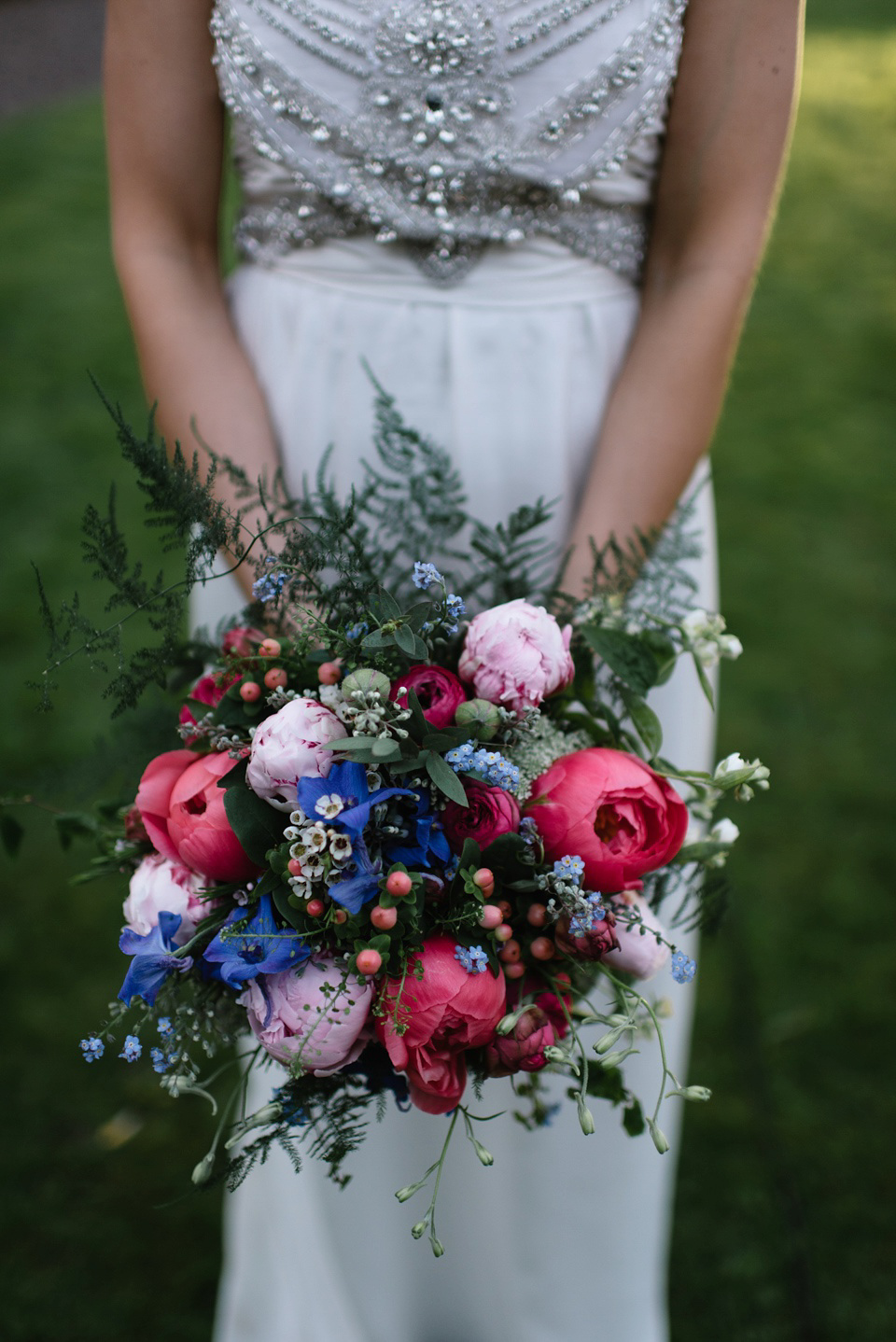 Flowers by Rogue Flowers
Laura and Jamie enlisted the help of wedding coordinator Claire Owens of Heart Weddings & Events  to ensure that their big day ran smoothly.
"Jamie and I live in Edinburgh but we both grew up close to Balbegno Castle and we really wanted to marry in the area as it means a lot to us. We asked Claire to run the logistics on the day and I can honestly say I don't know how we'd have done it without her! The venue didn't come with any staff so having Claire took the pressure off our shoulders and she managed it all superbly."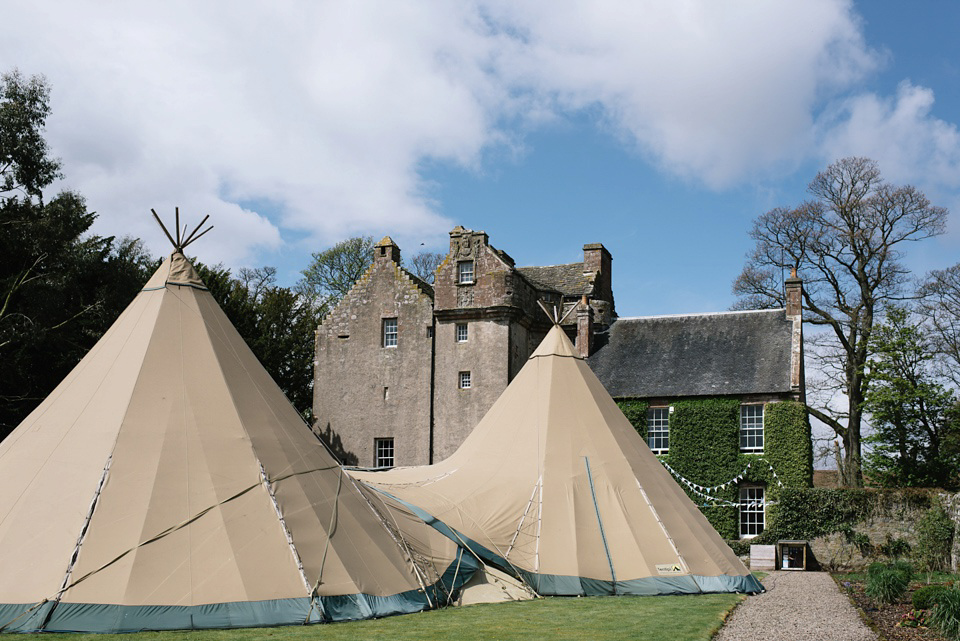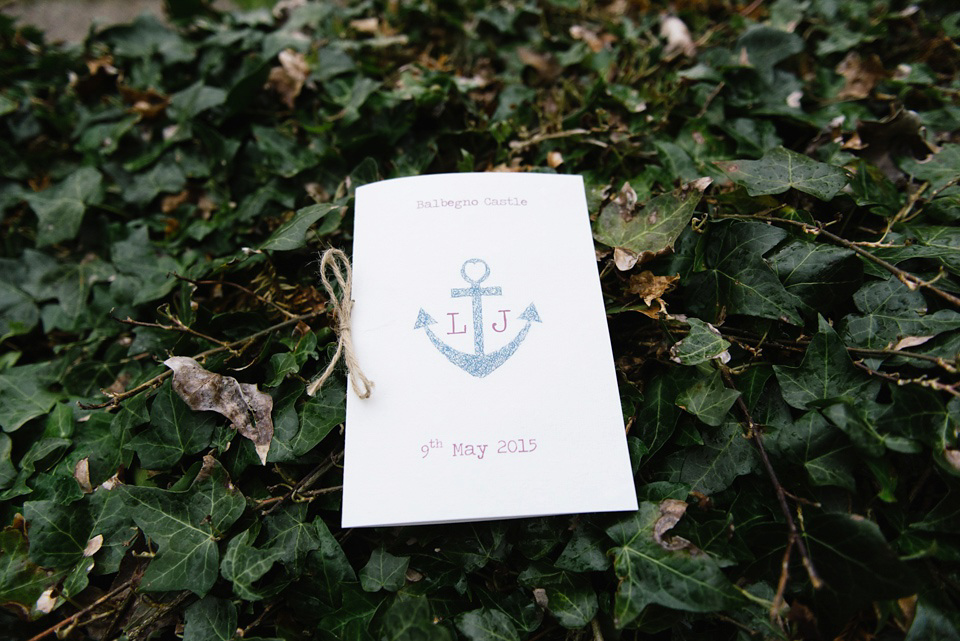 "I was so excited to have, who I regard as, the dream team in hair and makeup! My hairdresser, Natalie Murphy from Dickson Reid in Edinburgh travelled up for the wedding and her friend Lauren of Lauren Gollan Make up Academy came to do our makeup. One of the highlights of the day was being pampered by Natalie and Lauren on the morning of the wedding with my bridesmaids, mum and dog Rollo! There was lots of laughter and tears."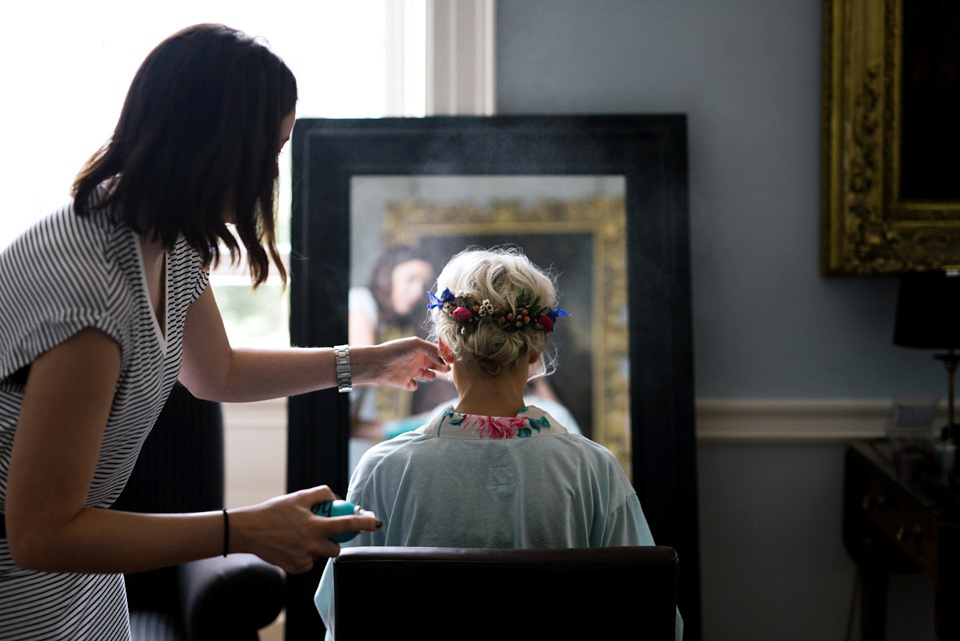 Laura's four bridesmaids looked very elegant in blush pink maxi dresses by from Ghost. I absolutely love the bridal party's bouquets (arranged by Rogue Flowers); the dreamy pink peonies, bright blue delphiniums and soft green ferns work so beautifully together.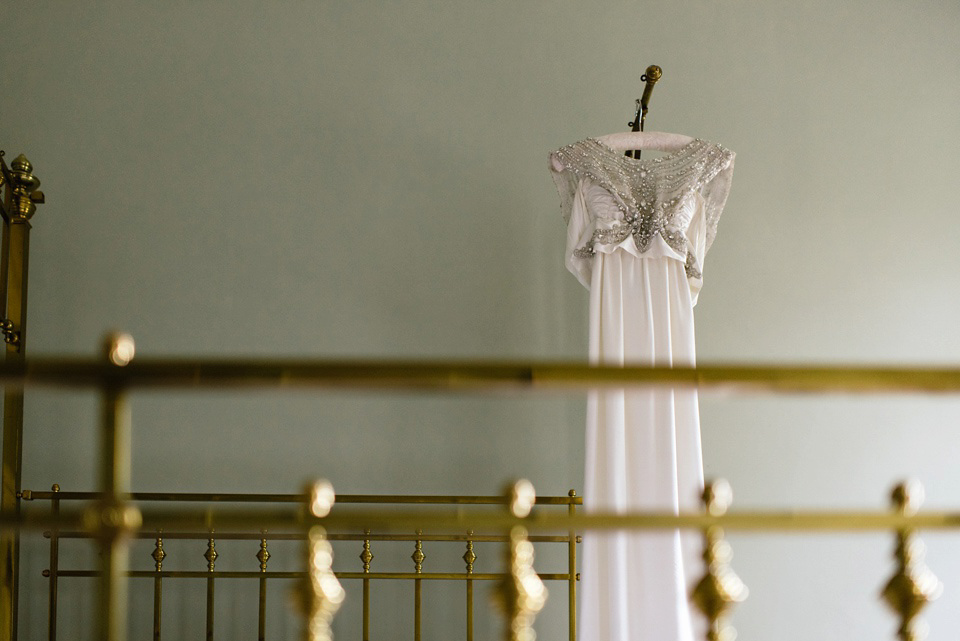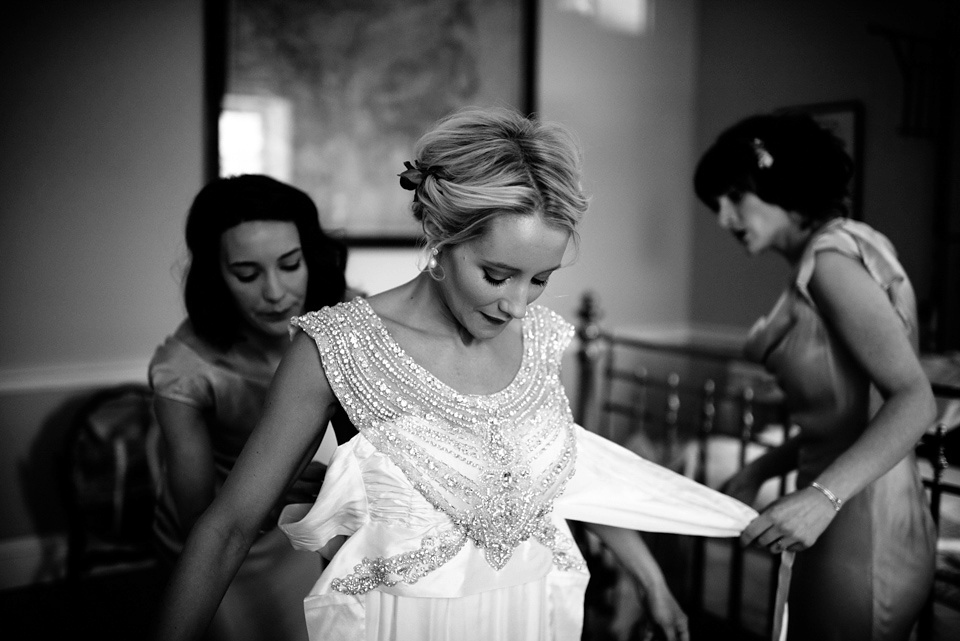 I've just realised that this may be the first time that Anna Campbell's bridal gowns have ever graced these pages but I'm certain it won't be the last. It's easy to see why Laura fell in love with Anna Campbell's gowns; I love the way Anna's designs combine vintage inspired embellishment with modern boho tailoring.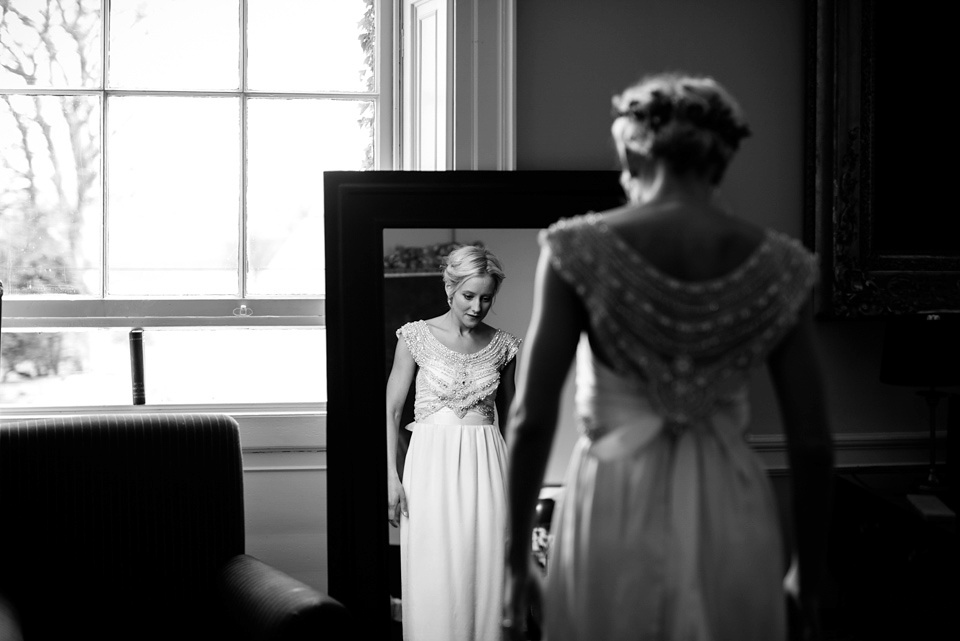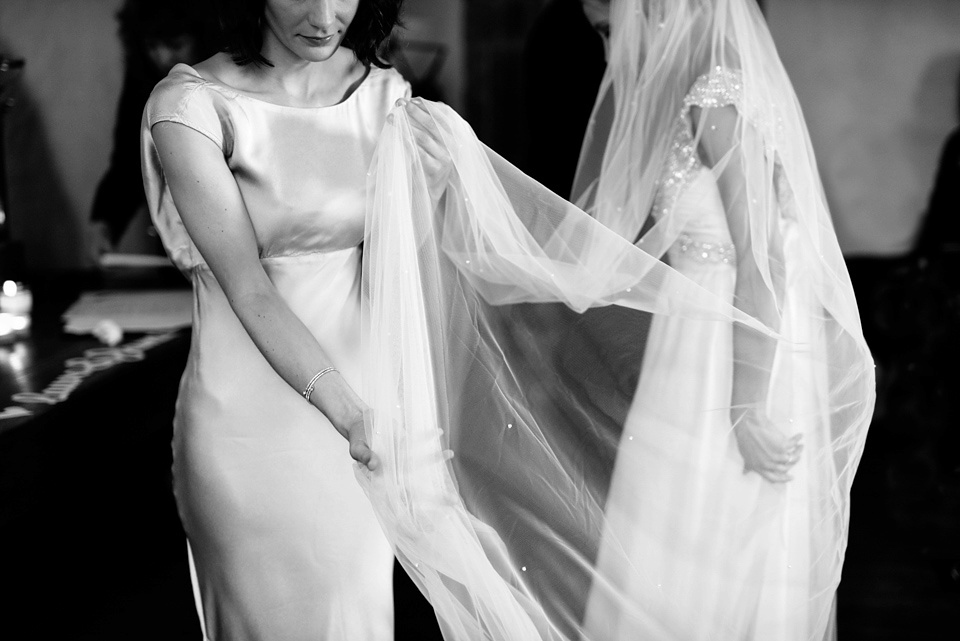 Our bride paired her gown with a simple cathedral length veil from Joyce Jackson and LK Bennett shoes. During the day, Laura added wild flowers to her hair and at night she changed into an elegant gypsophila crown, created by the couple's florist, Rogue Flowers.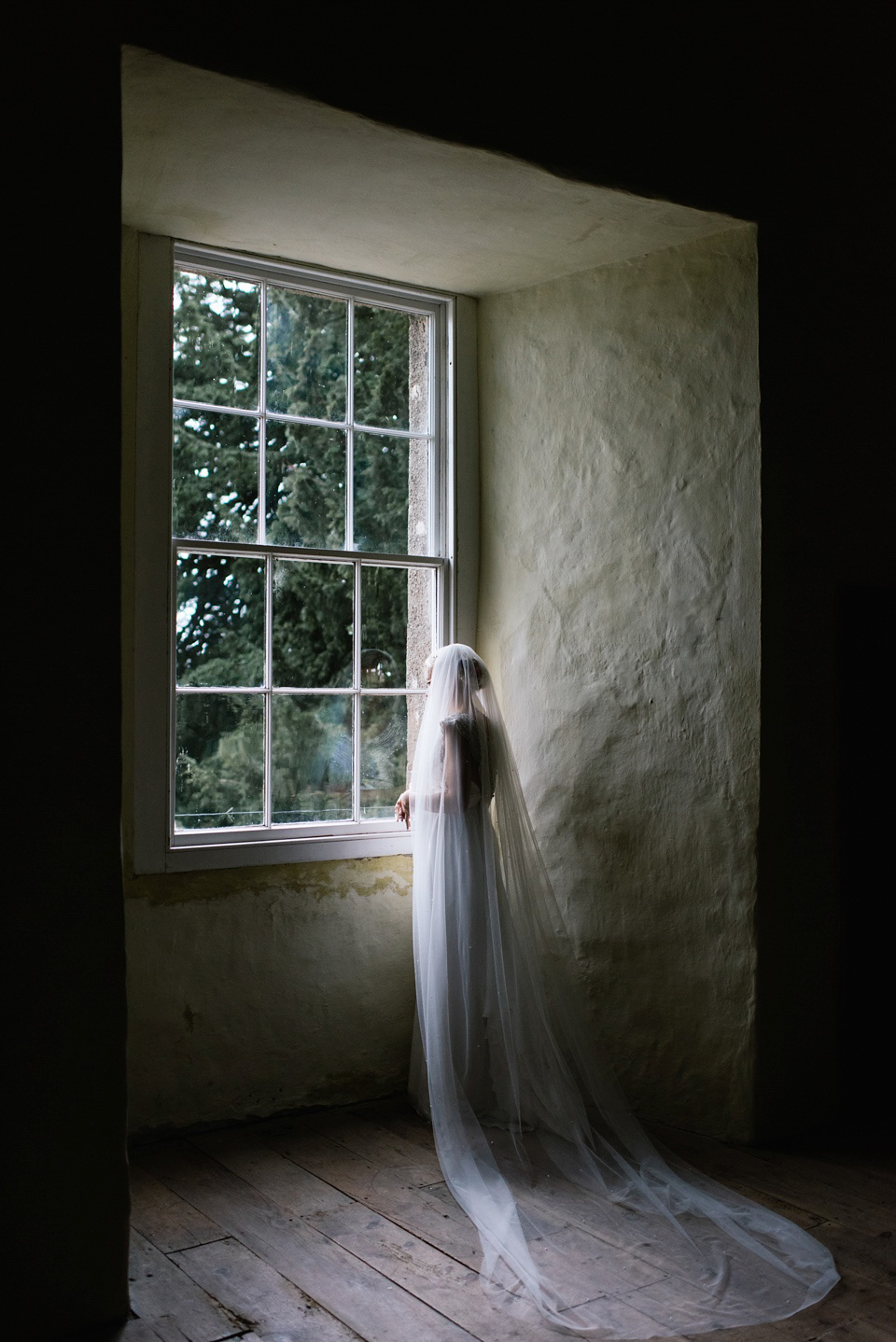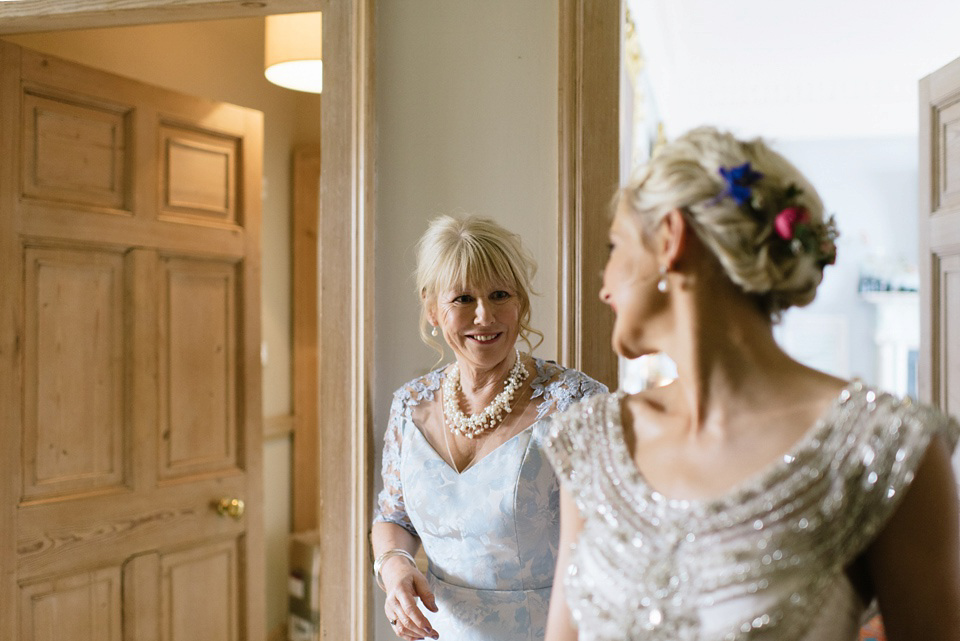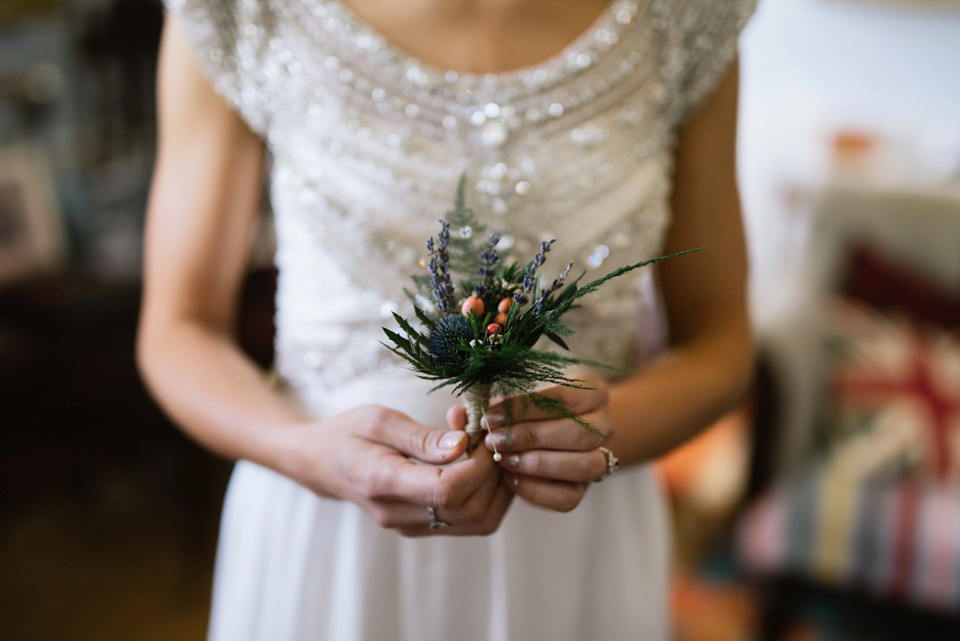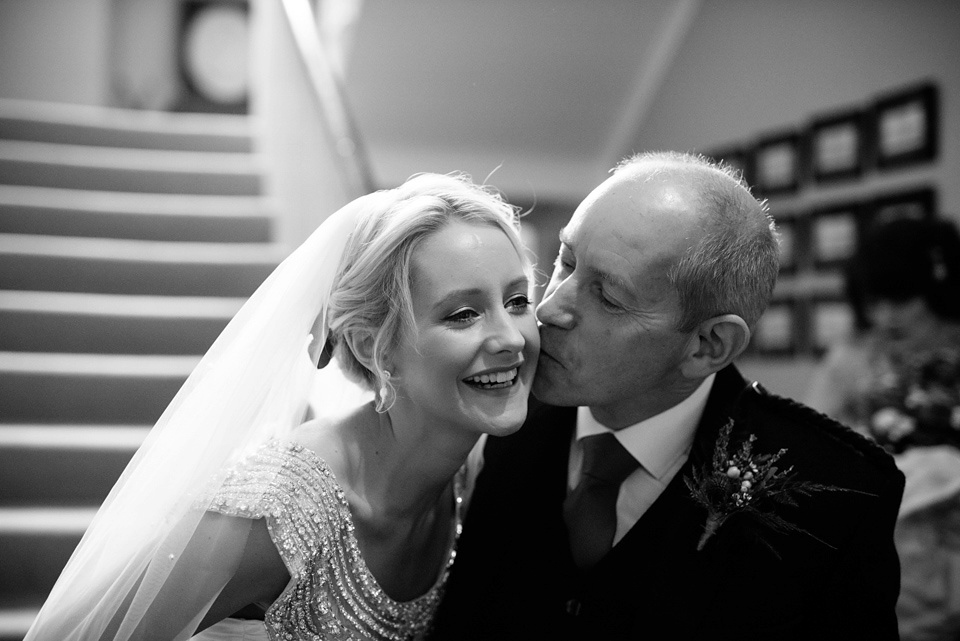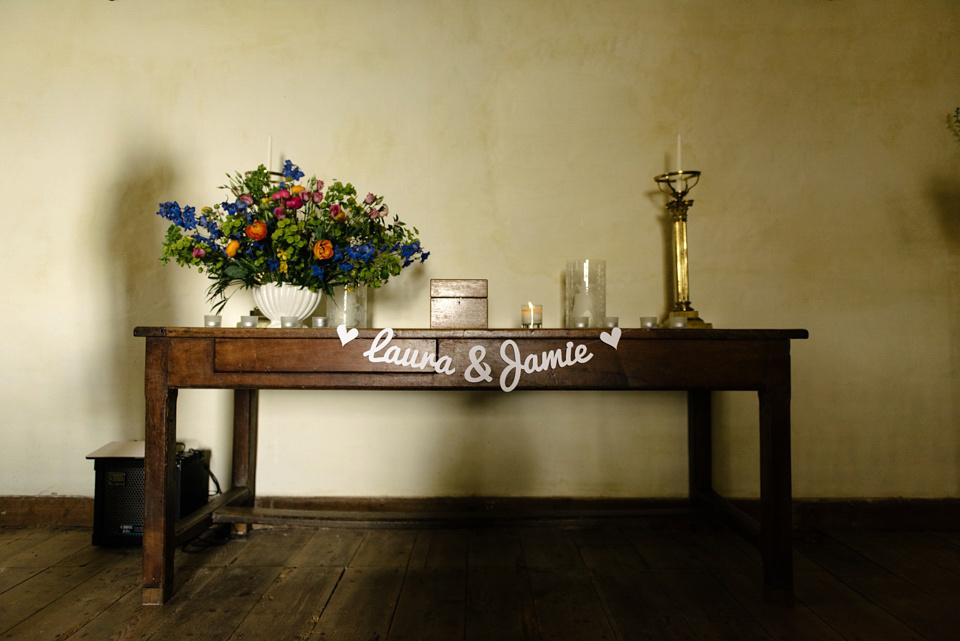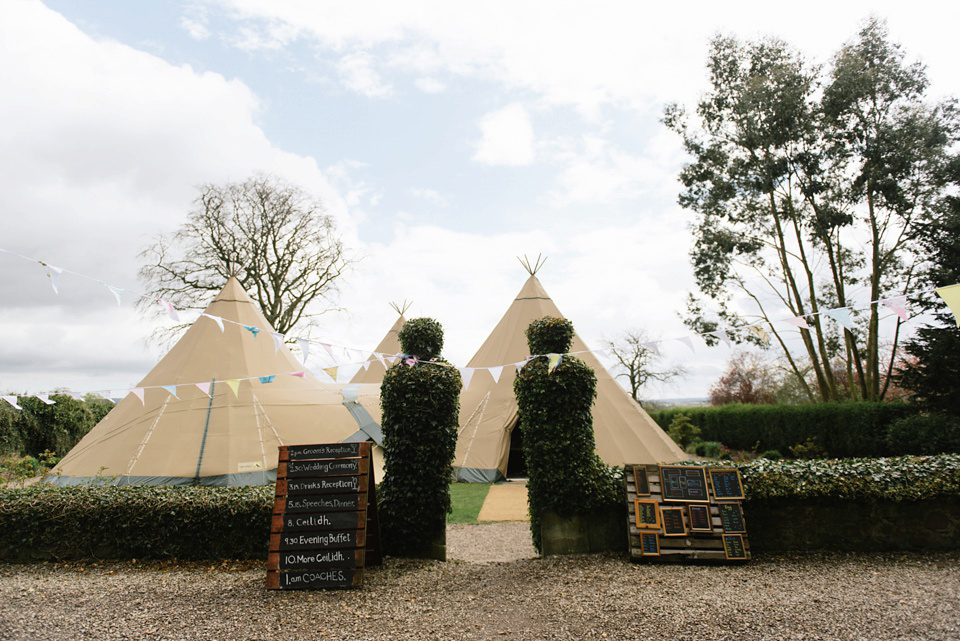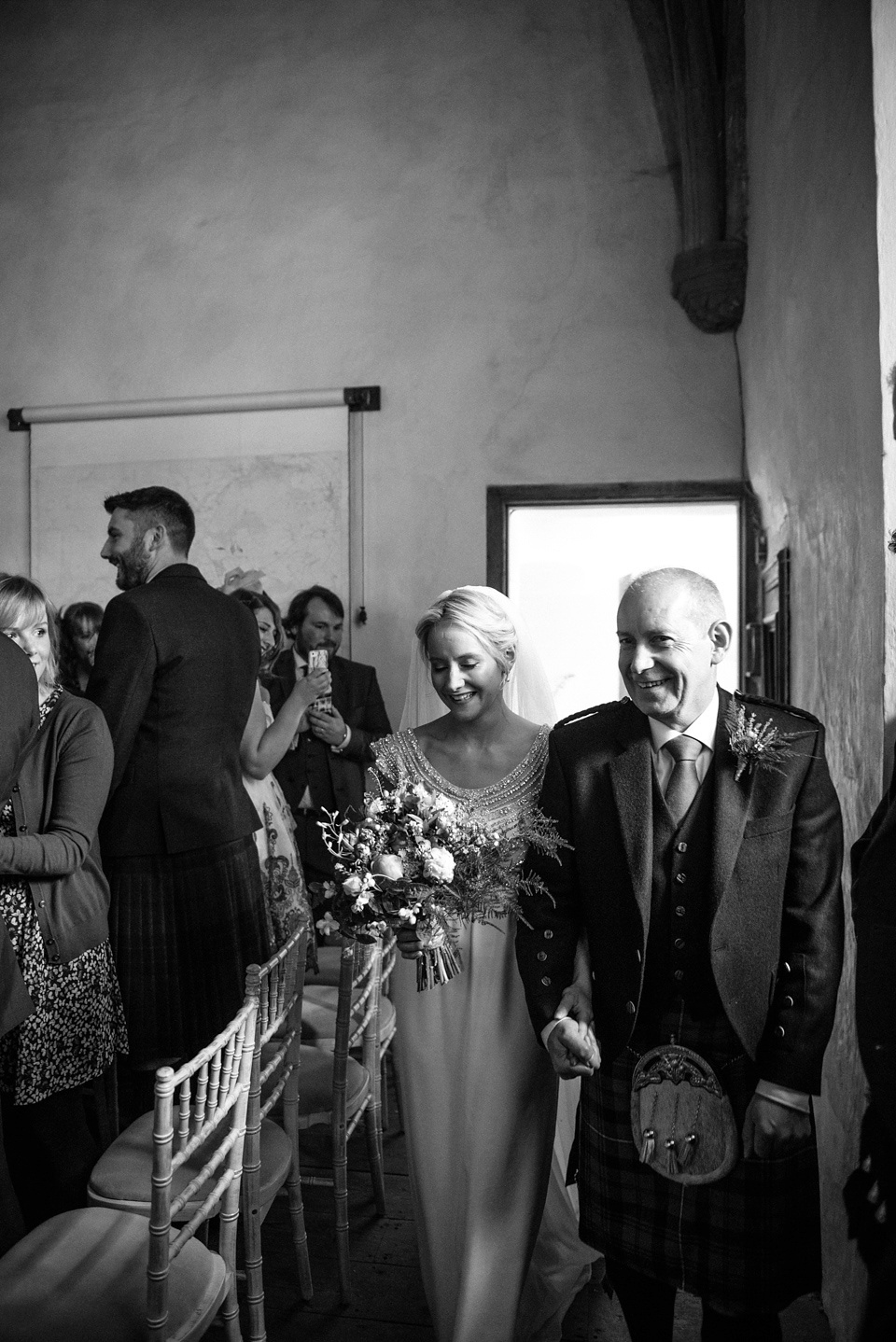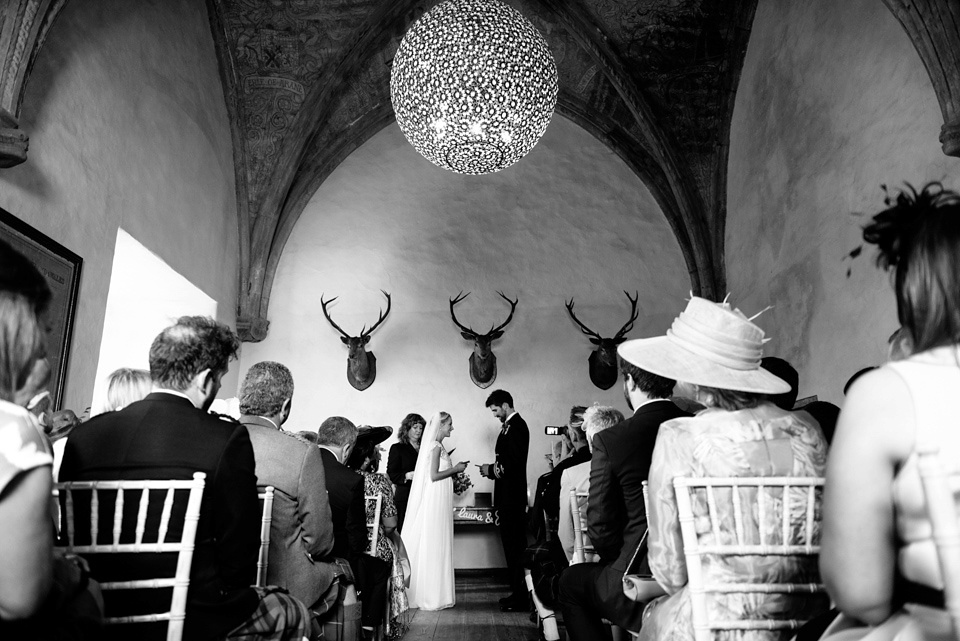 In a nod to both his Navy background and Scottish roots, Jamie rocked full naval regalia by day and a kilt by night. Awesome!
"Jamie and I met years ago as teenagers, but things weren't meant to be at the time! We met up again during the Edinburgh Festival one summer and we have been together since. We got engaged during a rare Scottish heatwave in July 2014 whilst we were wild camping in Applecross on the west coast of Scotland. Jamie had written 'marry me' in the sand and lured me on a walk under the premise of helping him to fetch driftwood for the fire. Whilst I was looking the other way he dropped down on one knee and popped the question whilst the sun was setting over the bay."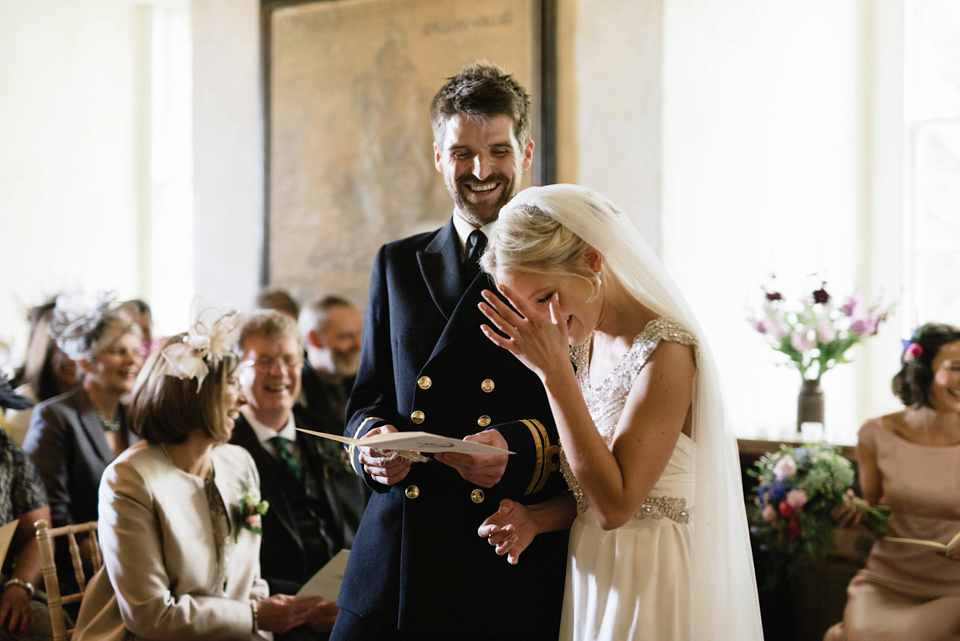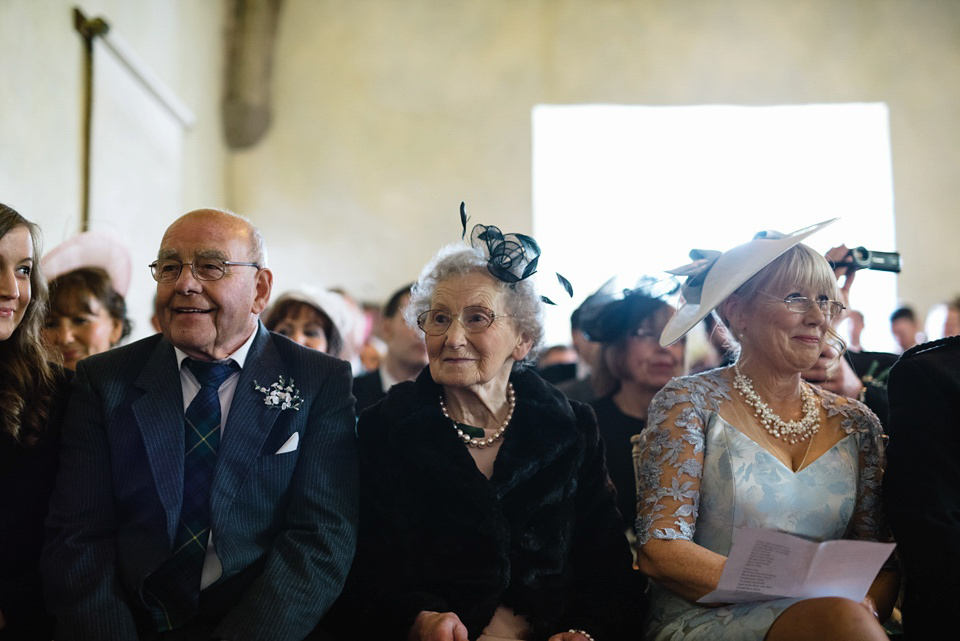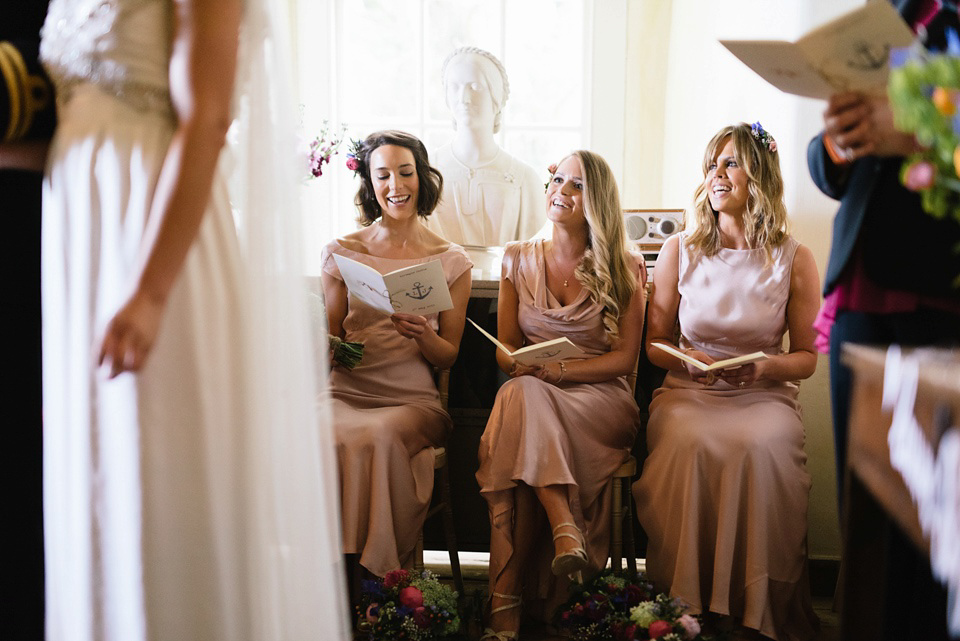 Laura and Jamie opted for a Humanist ceremony held in Balbegno's Great Hall.
"Our celebrant, Lorna Hanlon, was super – she put us at ease throughout the whole ceremony and made it so personal to us. She suggested we each write down a personal story and send it to her directly so that the other one didn't see it. She read out both of our stories during the ceremony which was very emotional."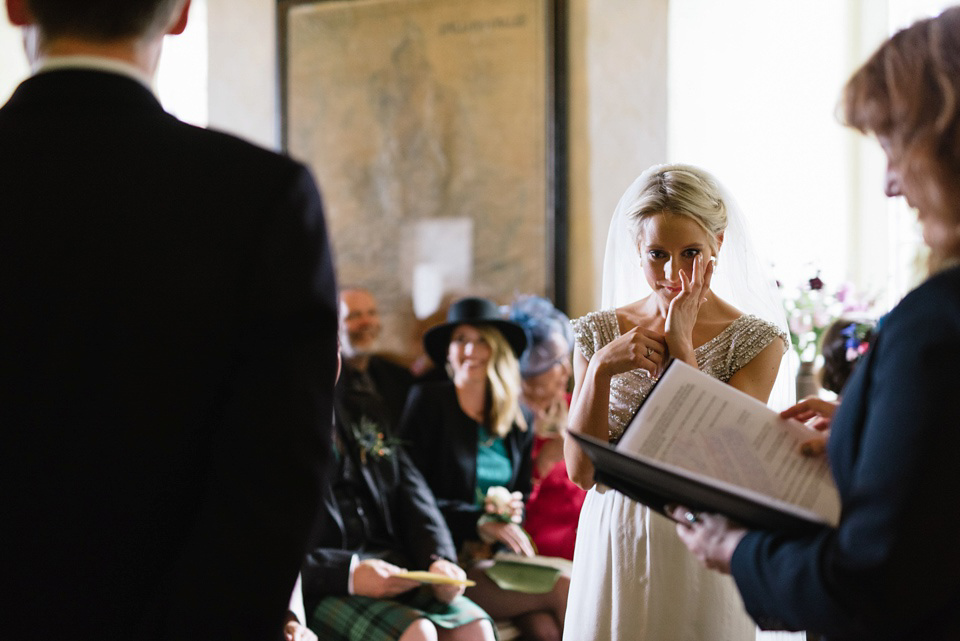 Laura's dad walked her up the aisle to Ashokan Farewell, played by her brother on his fiddle. The couple opted for two readings; 'Love' by Roy Croft, read by the bride's mother and 'There will be no end' by Scottish author Anne Macleod, read by Jamie's sister. My husband and I chose 'There will be no end' for our own wedding ceremony, and it so beautiful I have to share it with you now:
There will be no end to the joy, my love.
We will stand together as the stars
Sweep the Cuillin, rounding into morning
The bright new morning of the tender heart.
And where we sing, the song will be a fine one
And where we dance, ours steps will never fail
To tap the spring of life, of love and laughter
Timeless as stars, the wheeling, circling stars
That dance and sing, and sing and dance again:
and there will be no end to the joy.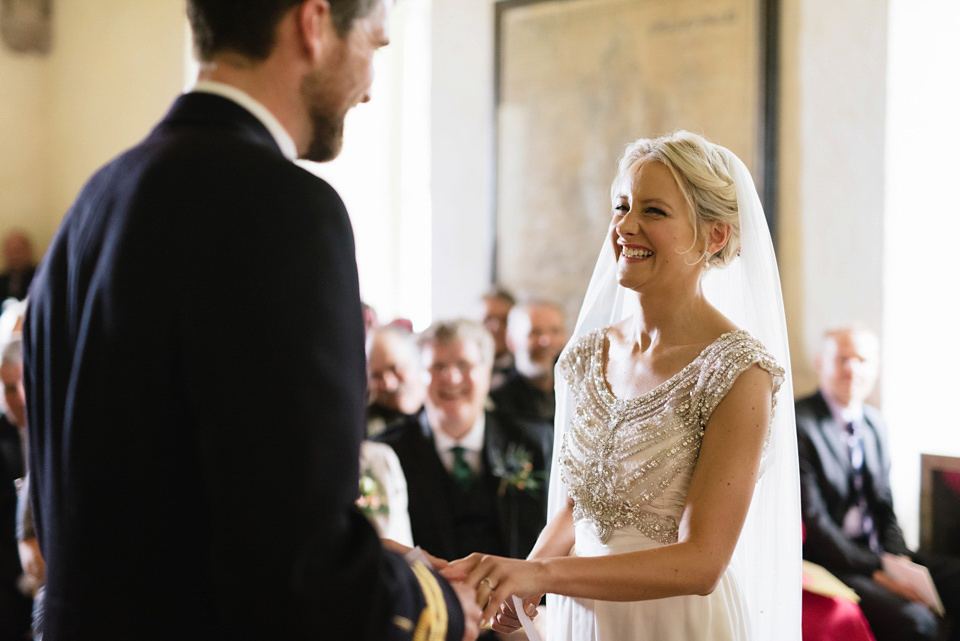 "One of my favourite moments of the day was when we all sang 'Love is all around' by Wet, Wet, Wet during the ceremony. I was pretty overcome by emotion walking down the aisle and this completely broke the ice – by the end of the song, everyone was in fits of laughter – the guys were even doing spontaneous harmonies!"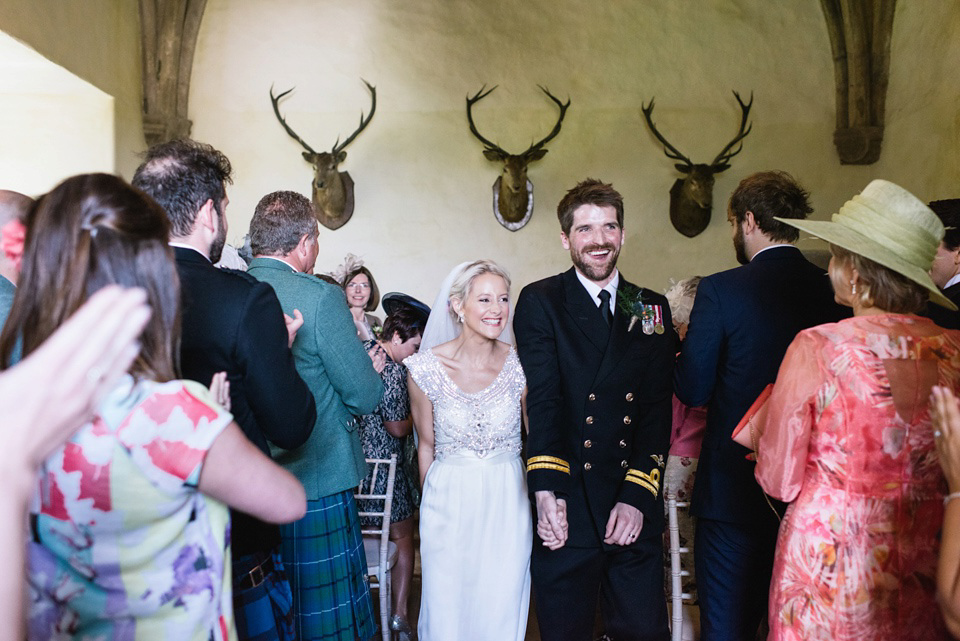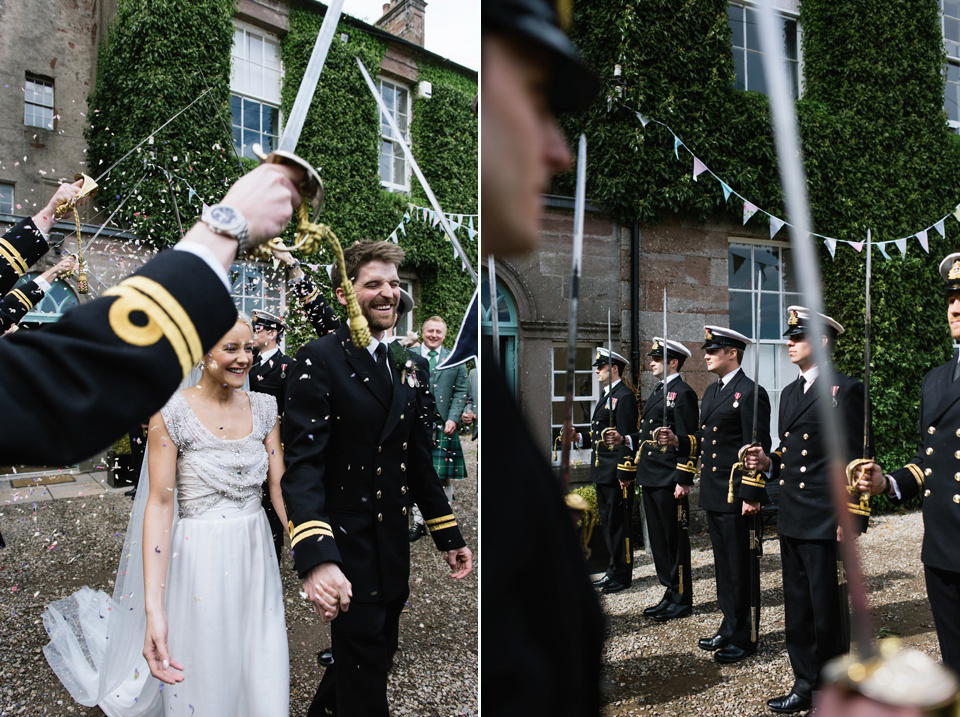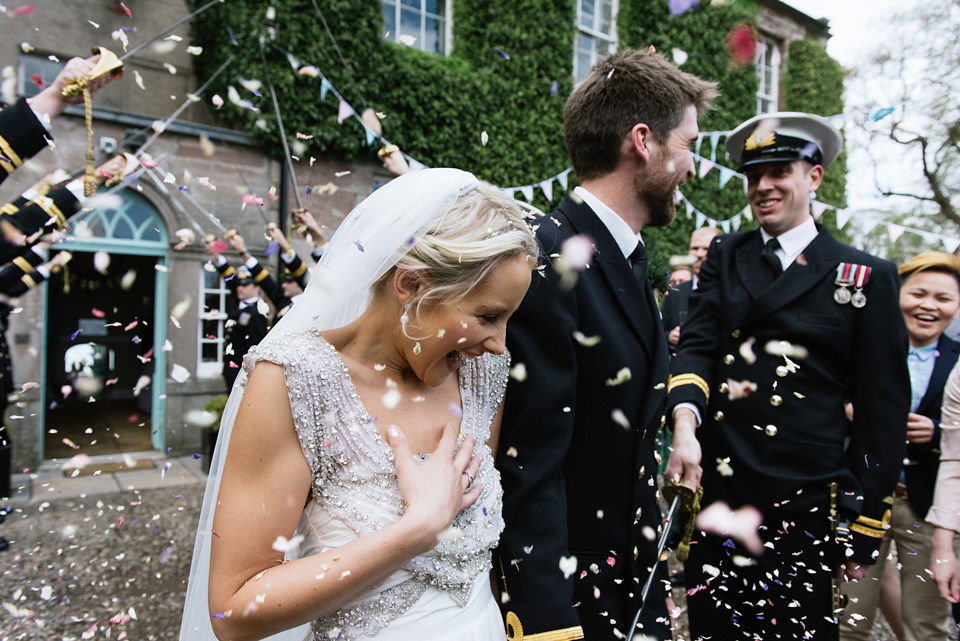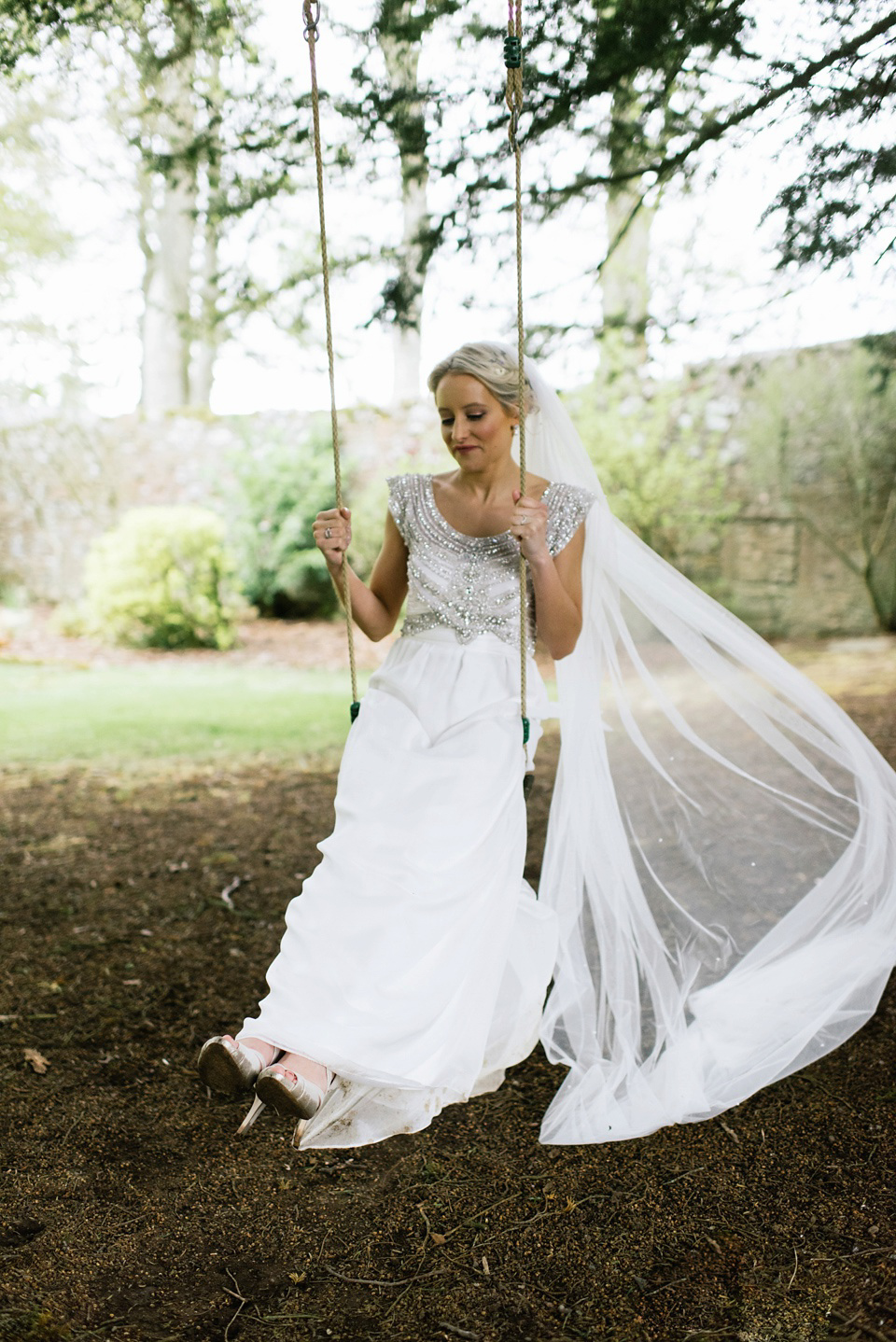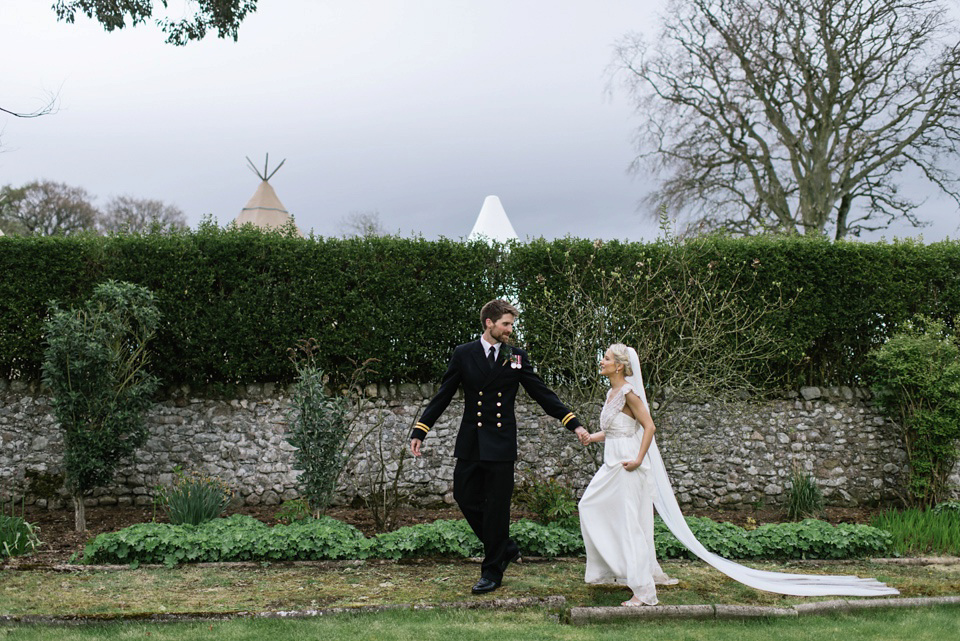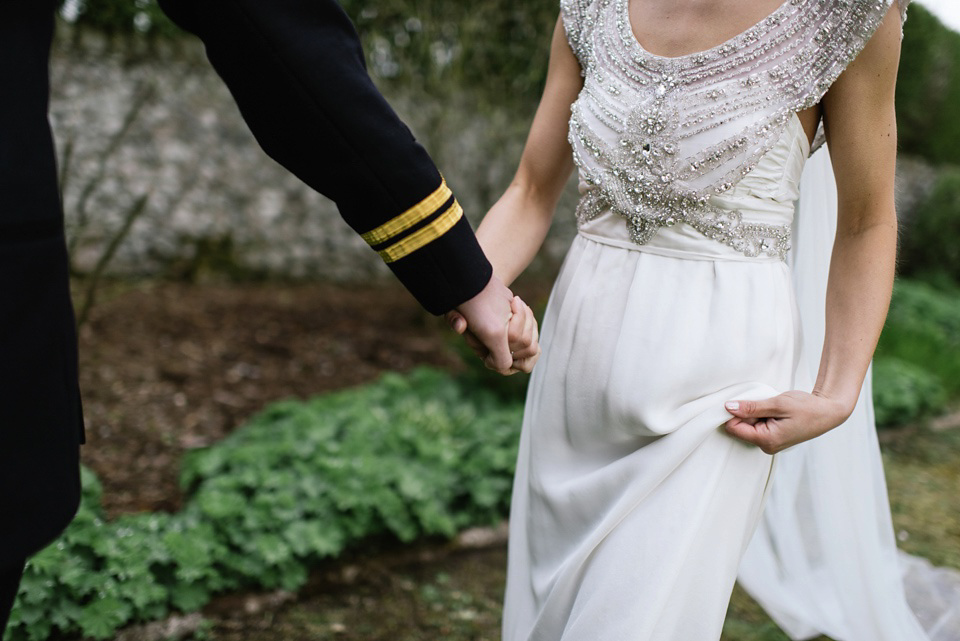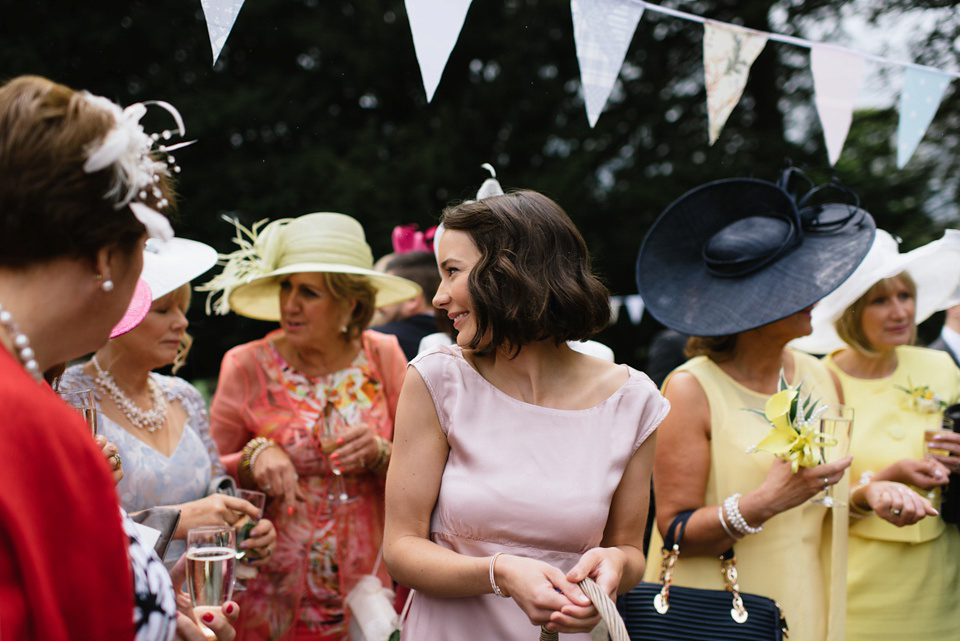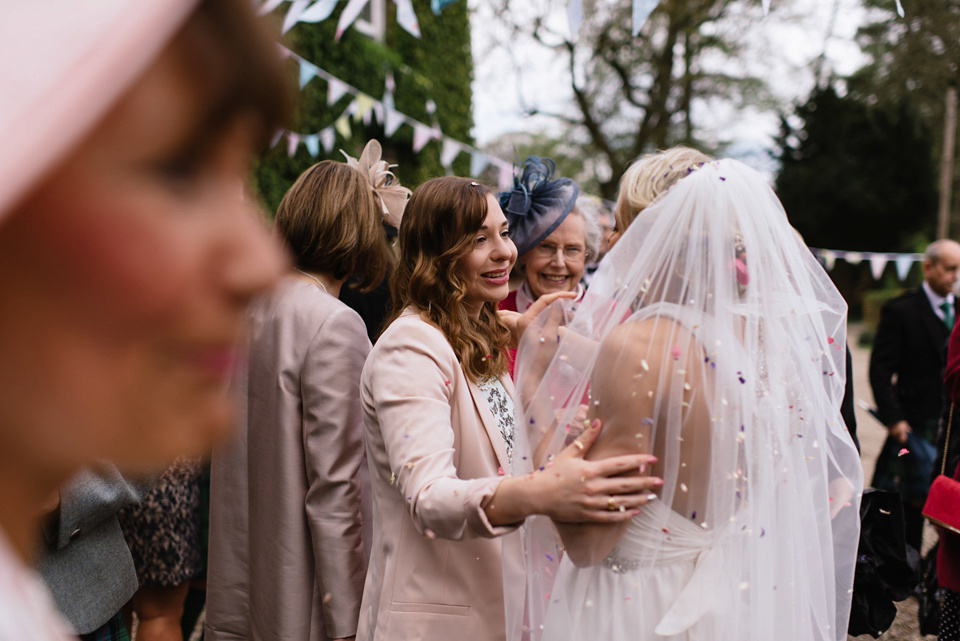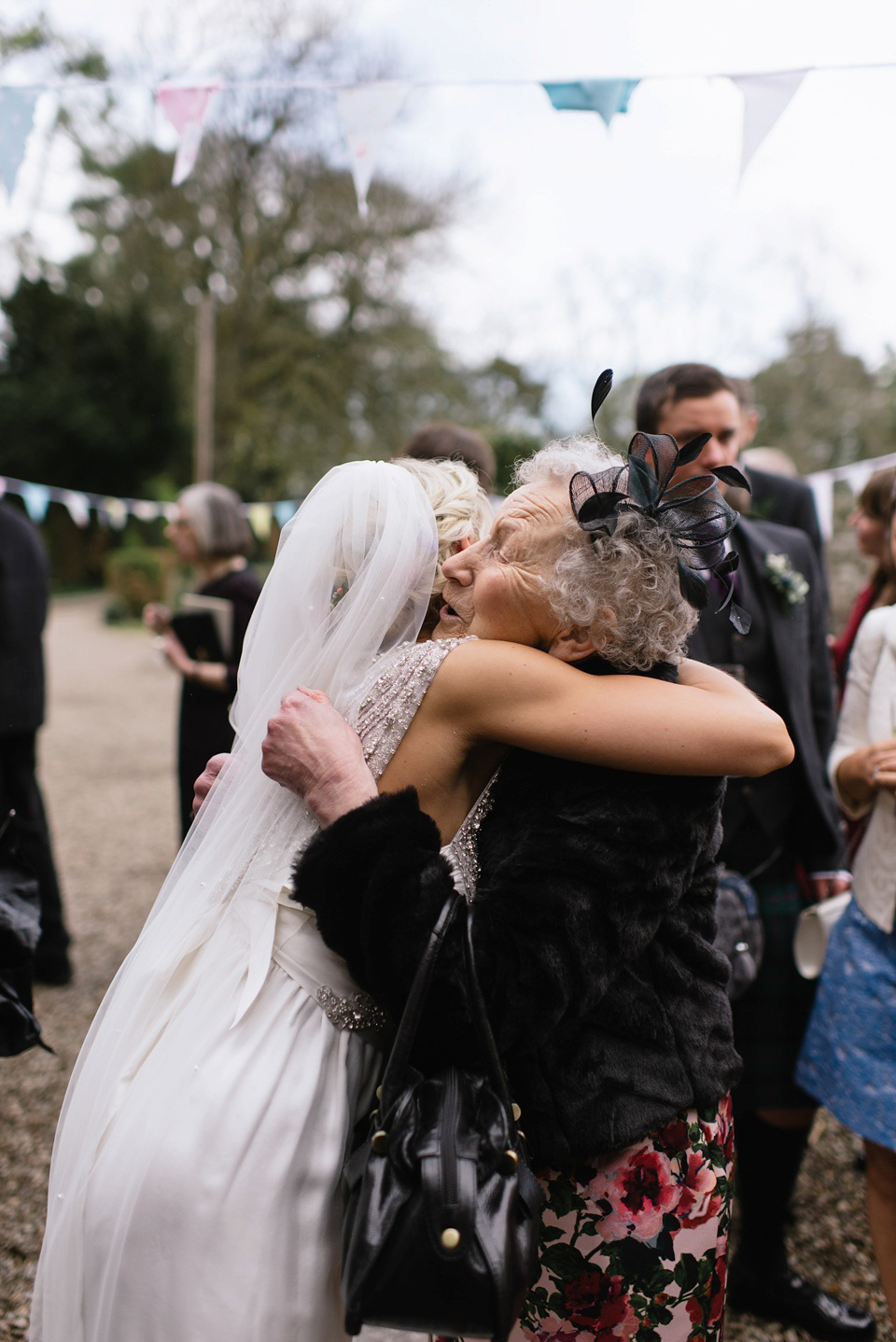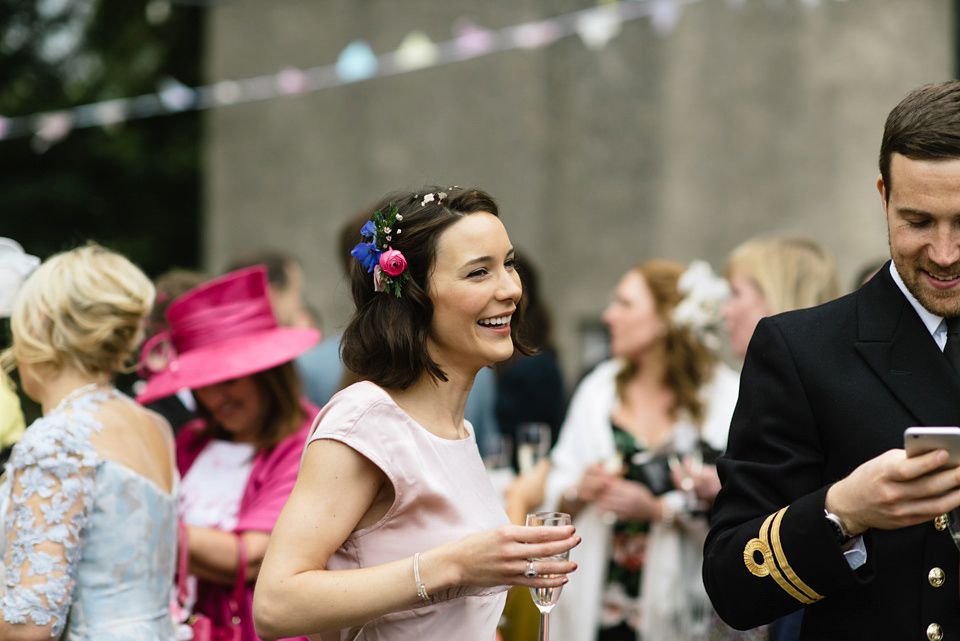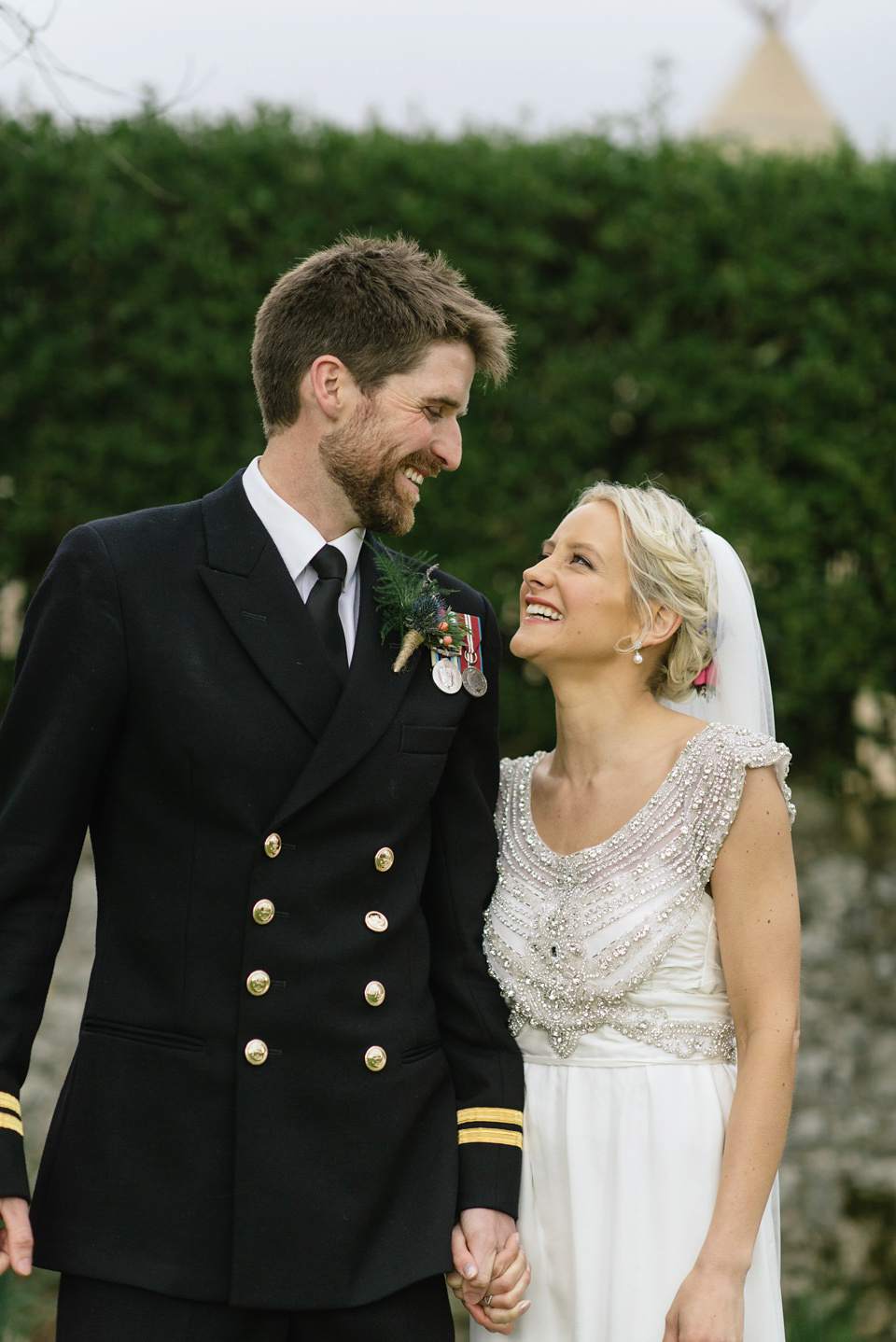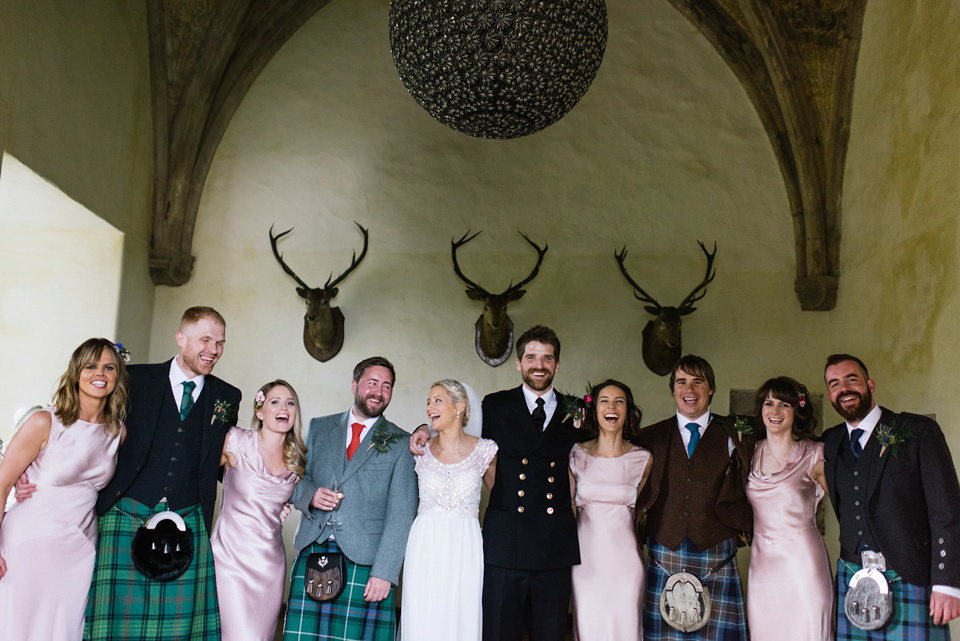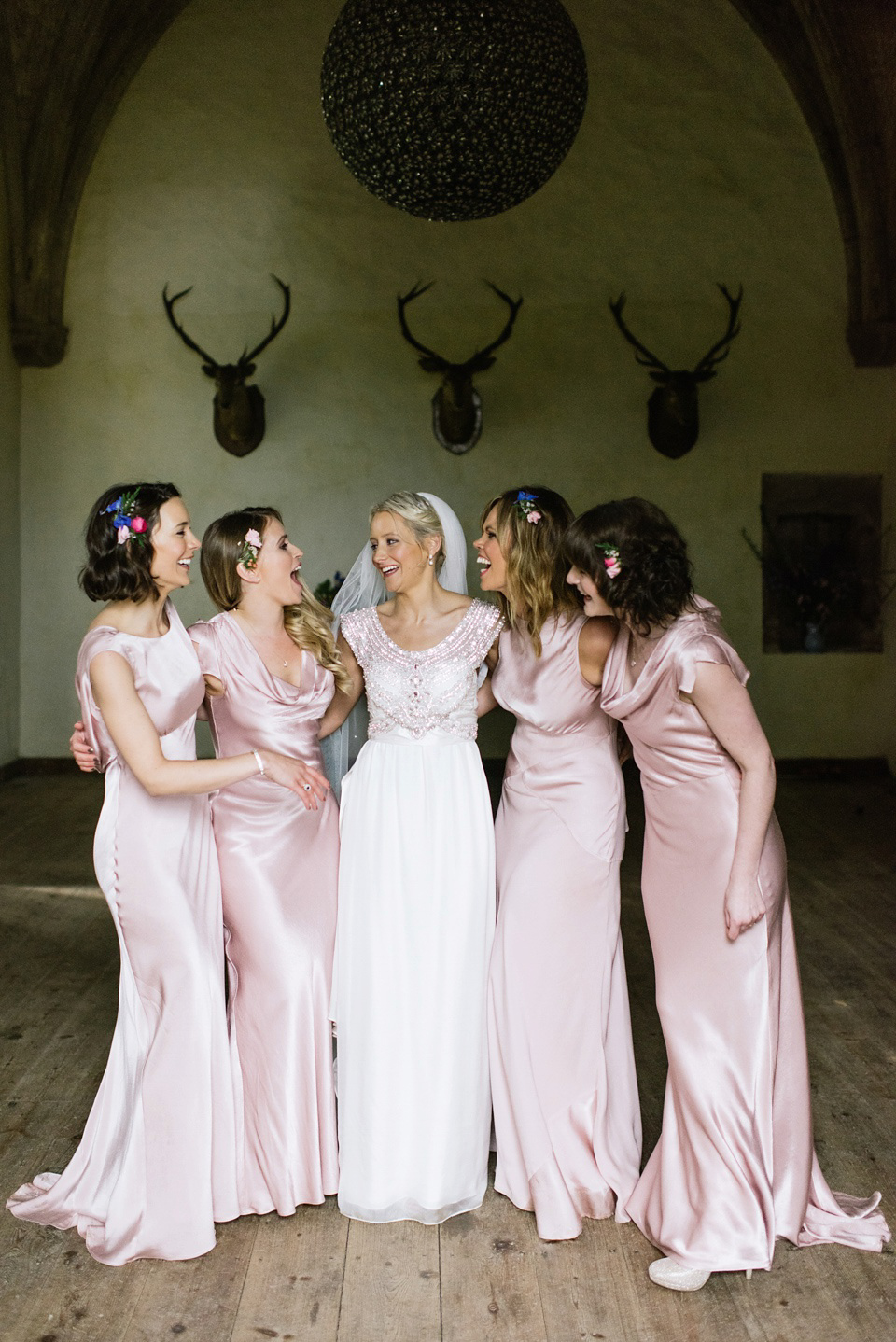 "When it came to decorations we tried to do as much DIY as possible. Jamie made signs using old wooden wine crates decorated by his dad who is an artist. We borrowed bunting from a friend which she had made for her own wedding. I also sourced a few decorations from Etsy and Not on the High street.
Jamie's mum was an absolute trooper and did all the flowers for the day (except the bouquets and hair flowers which were arranged by Rogue). She took over the basement in the castle and turned it into a florist shop for the weekend! I wanted the flowers to look they had come from a wild garden – not too formal."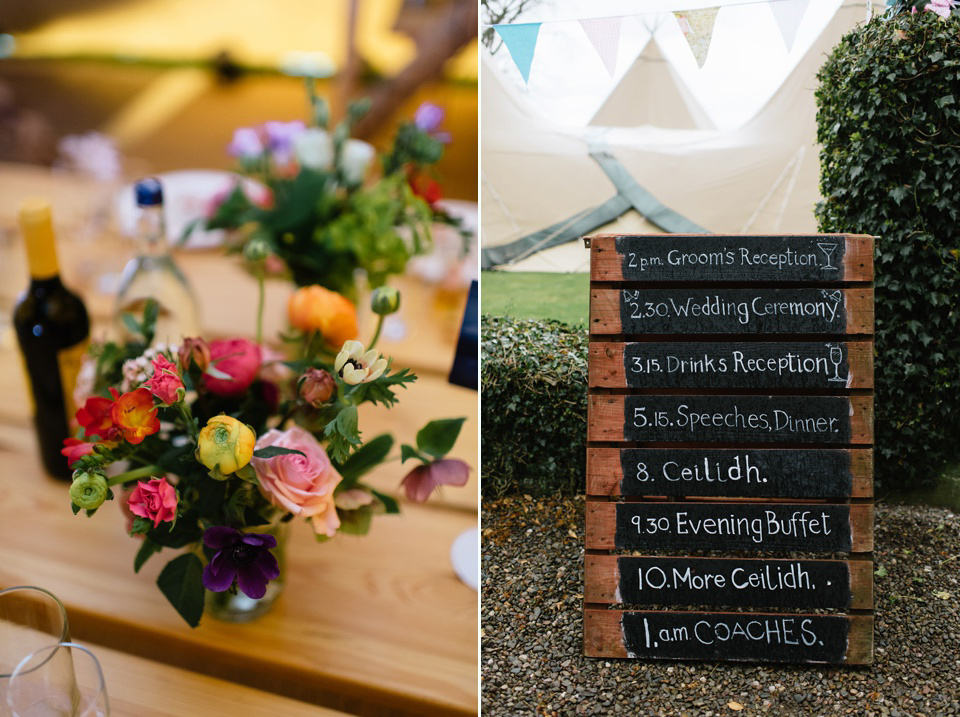 Laura and Jamie held their wedding breakfast and evening party in a Tipi erected on Balbegno's lawn.
"Food is so important to us (especially me!) and I really wanted something a bit different. As soon as I read about Carole from Lazy Sunday, I knew I wanted to have her. Carole and her team take so much pride not only in how good the food tastes but also how it is presented."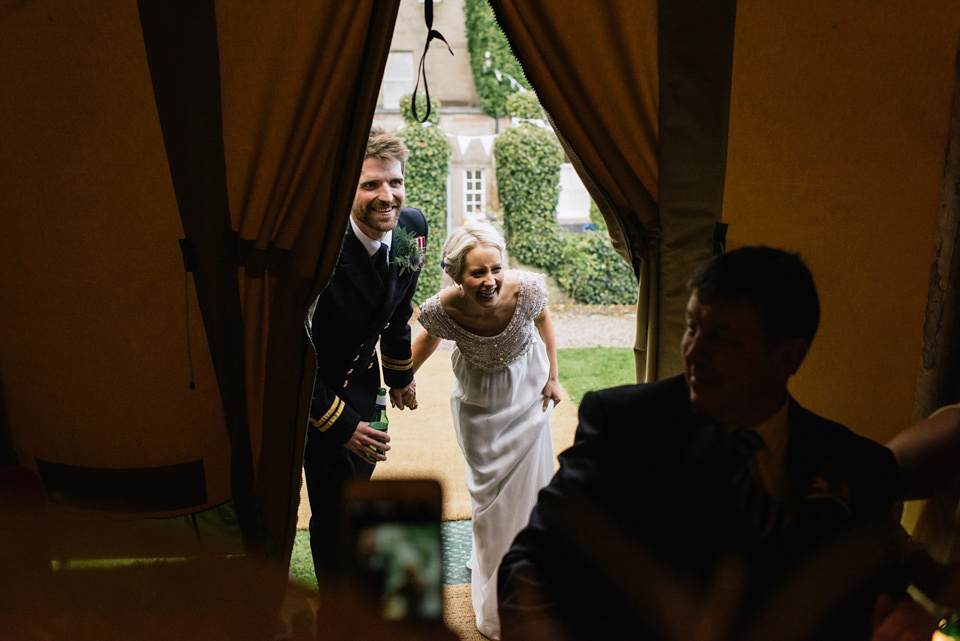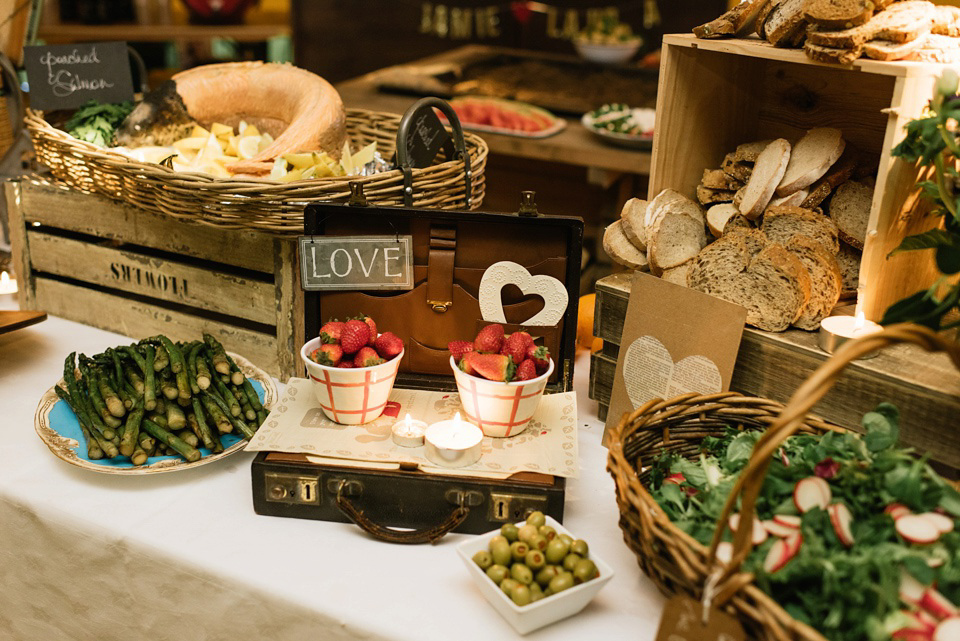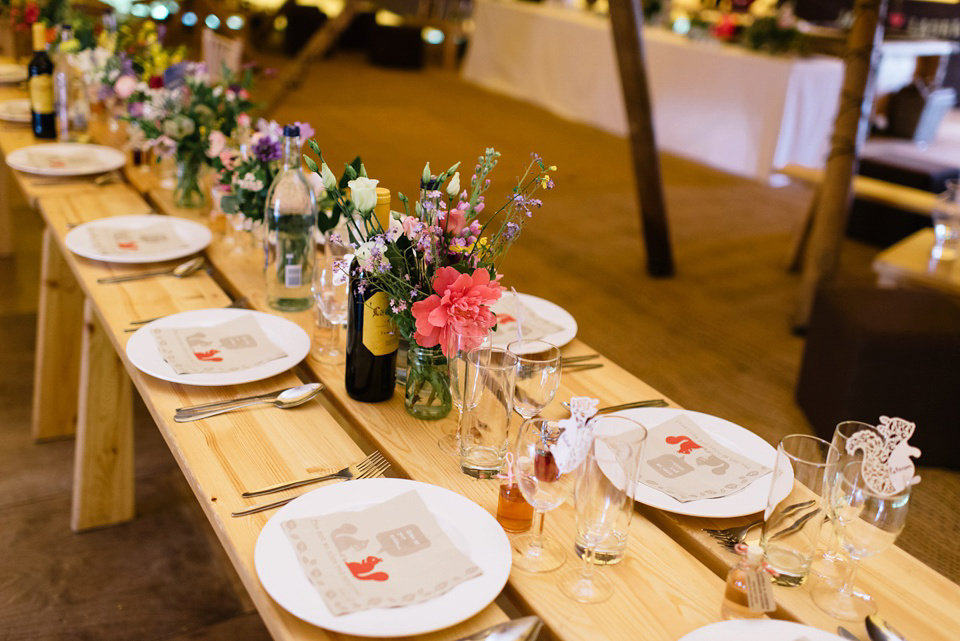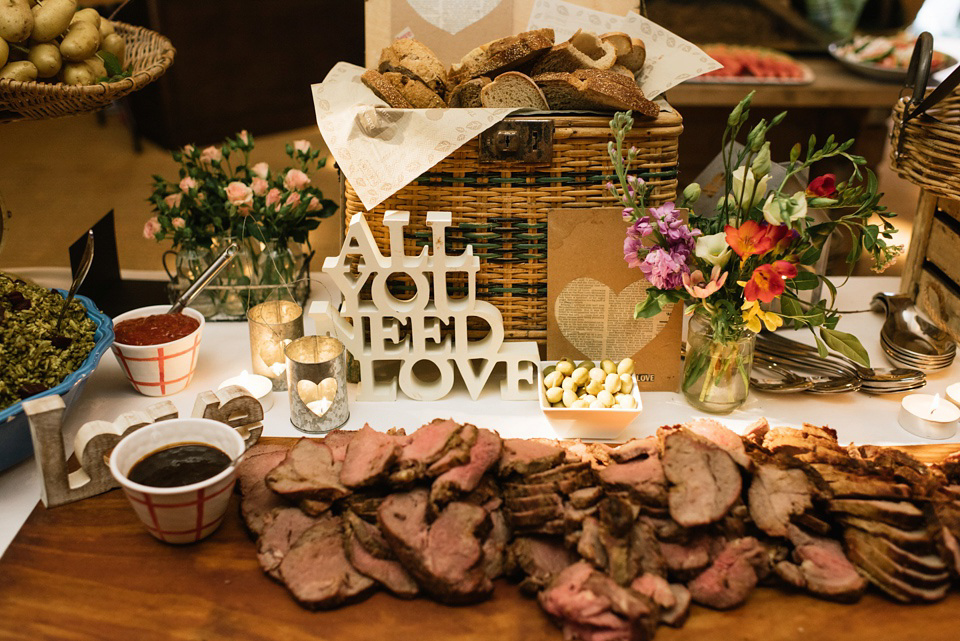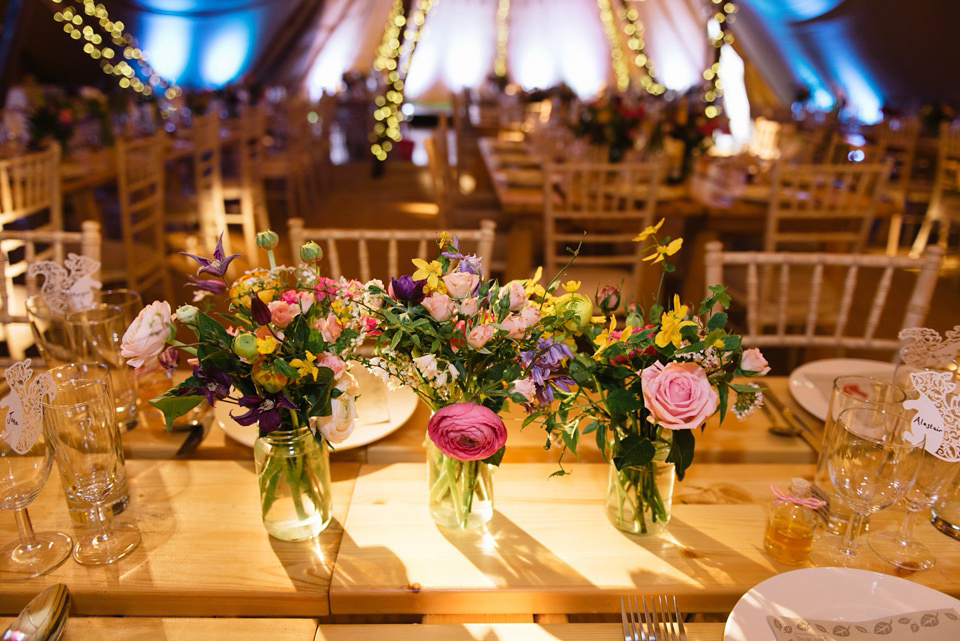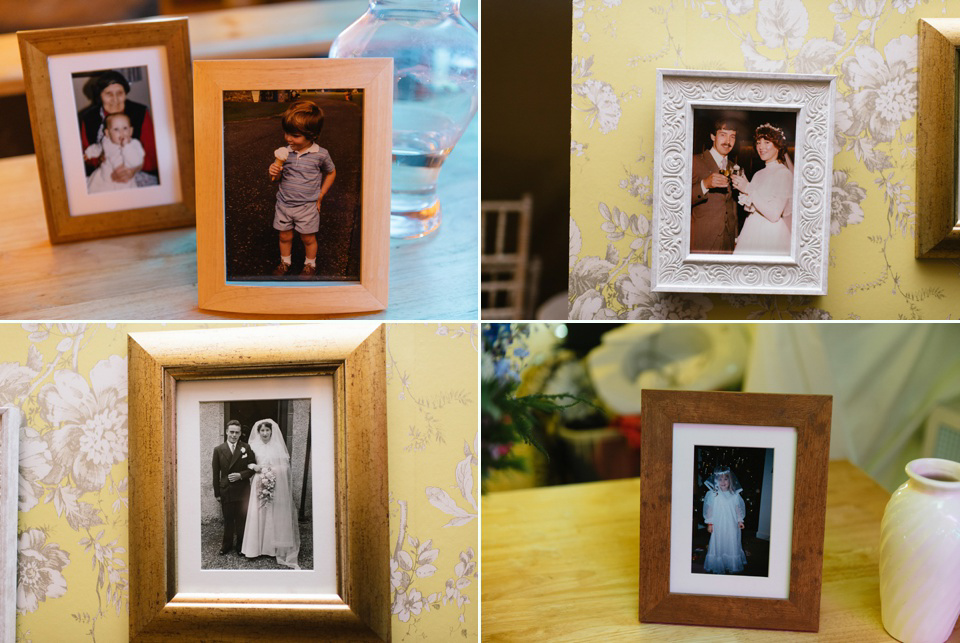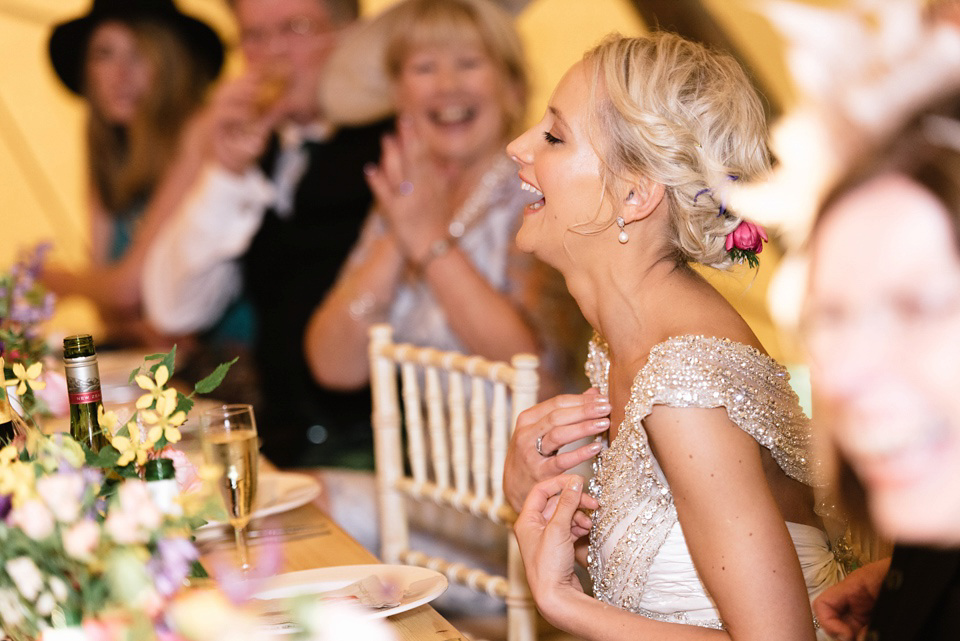 Laura's sister made a four tier Victoria sponge, complete with fresh flowers and topped with Sylvanian Families figures! For their wedding favours, Laura and Jamie got creative and made a range of delicious sounding infused spirits…
"We made rosehip vodka, bramble whisky, raspberry vodka and chestnut rum and gave everyone a little bottle."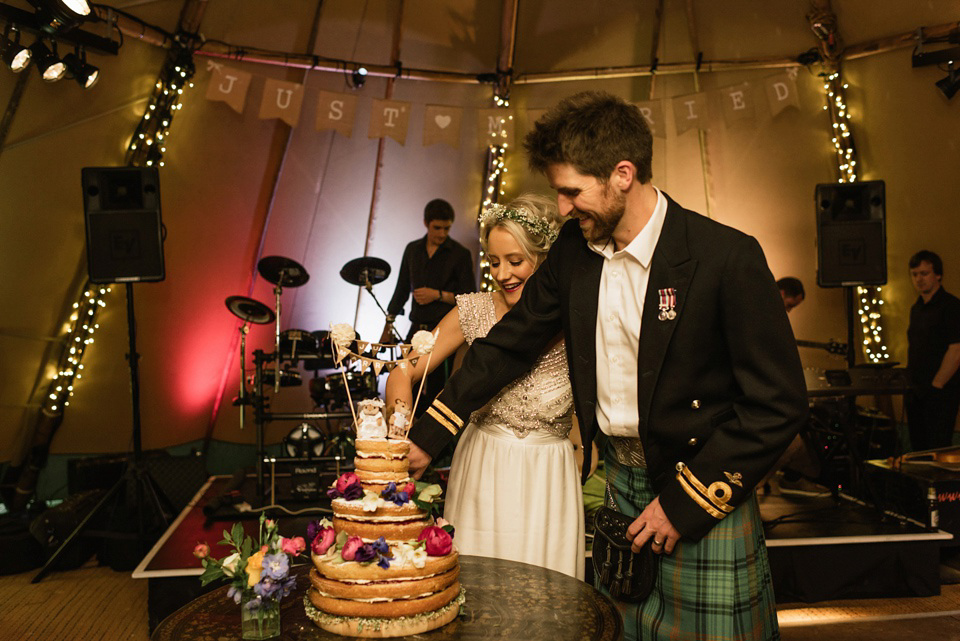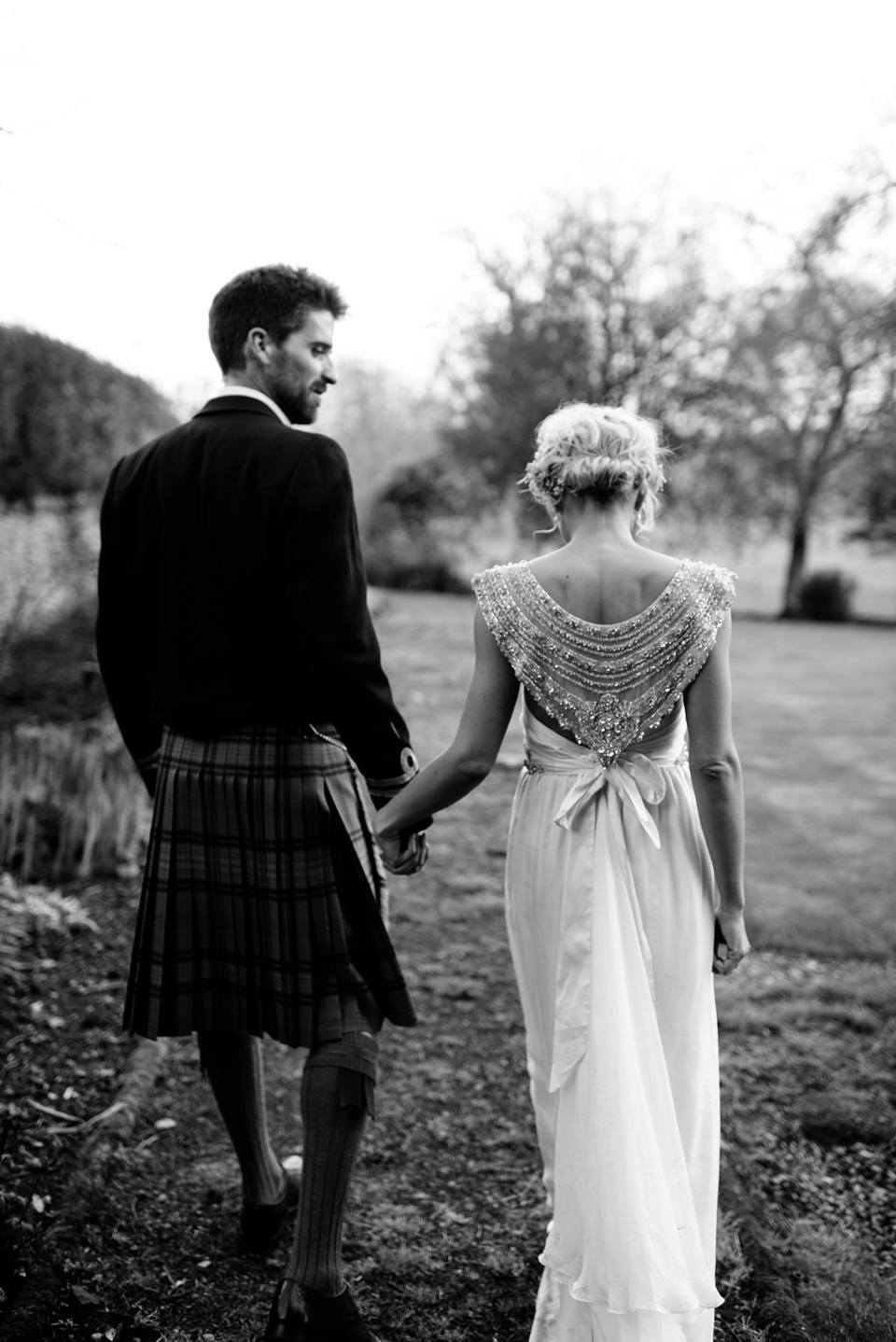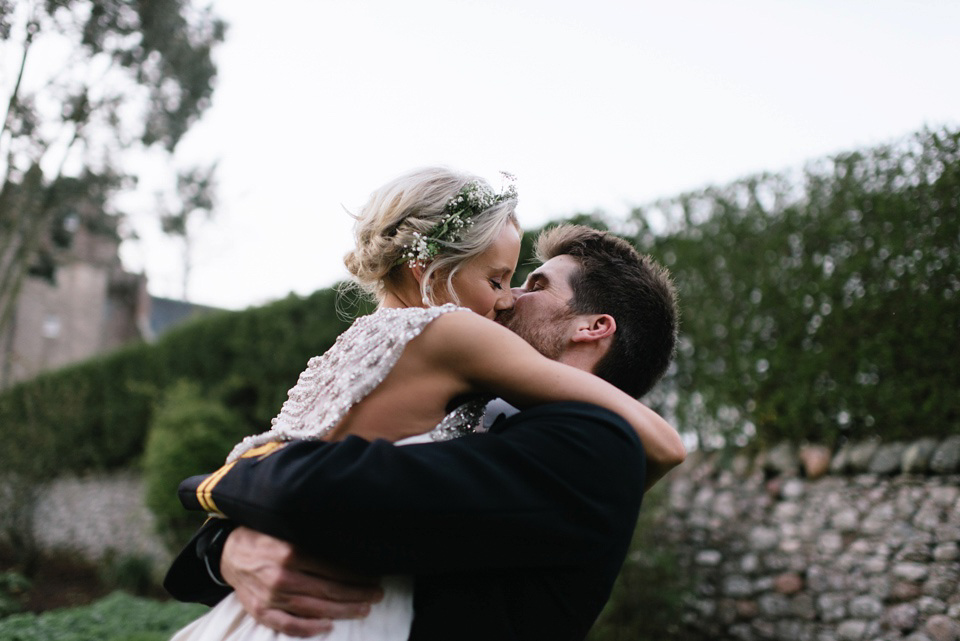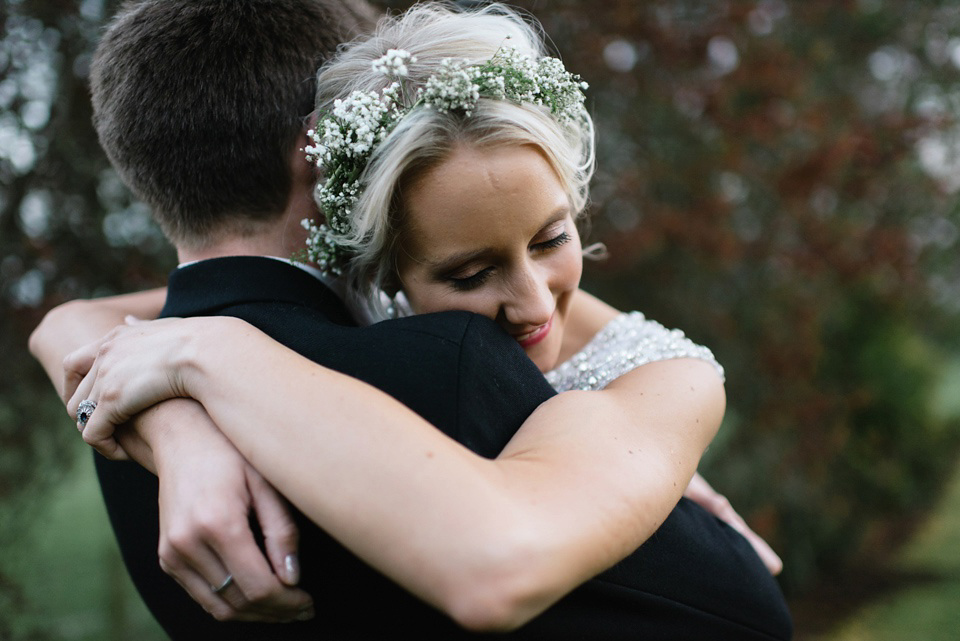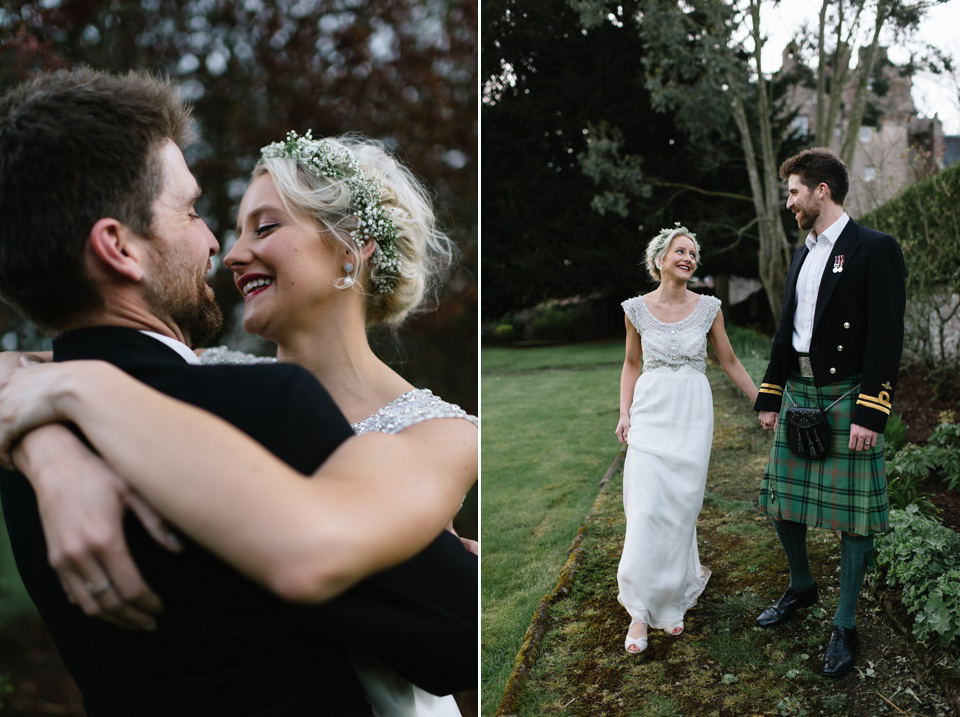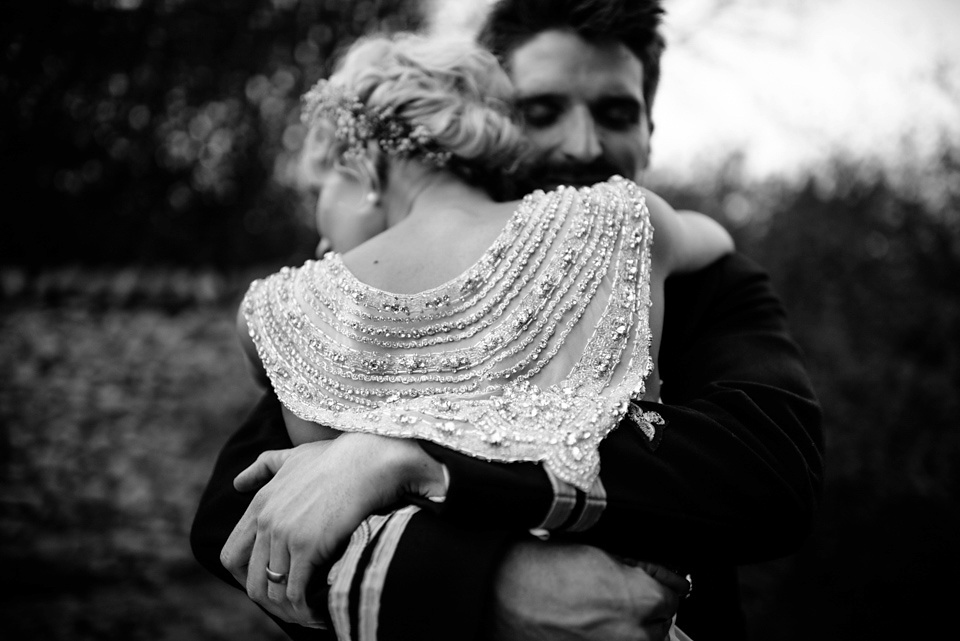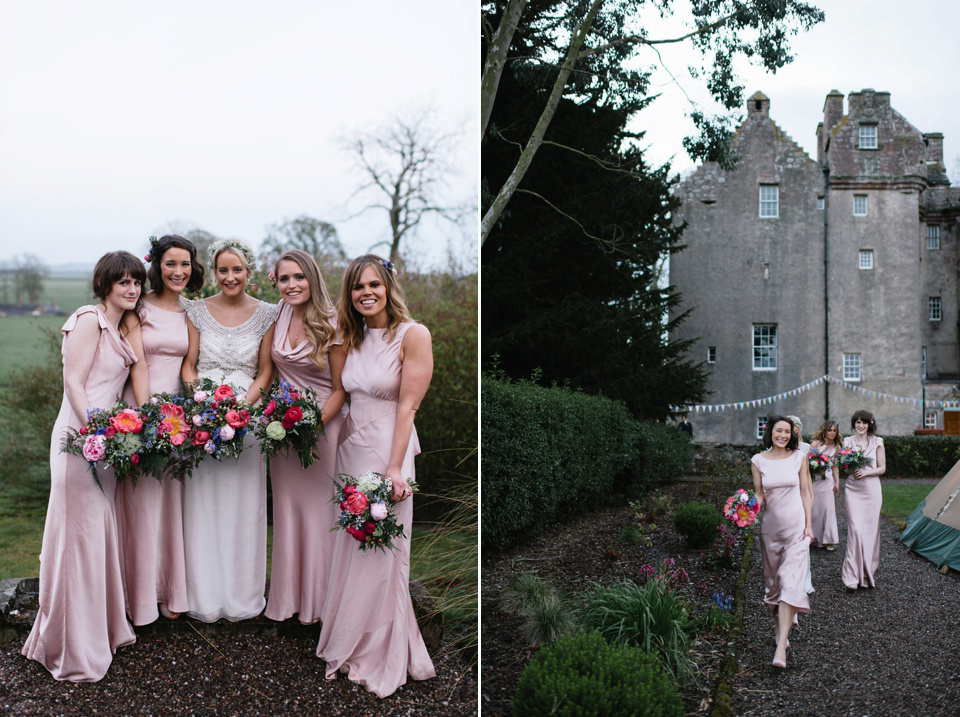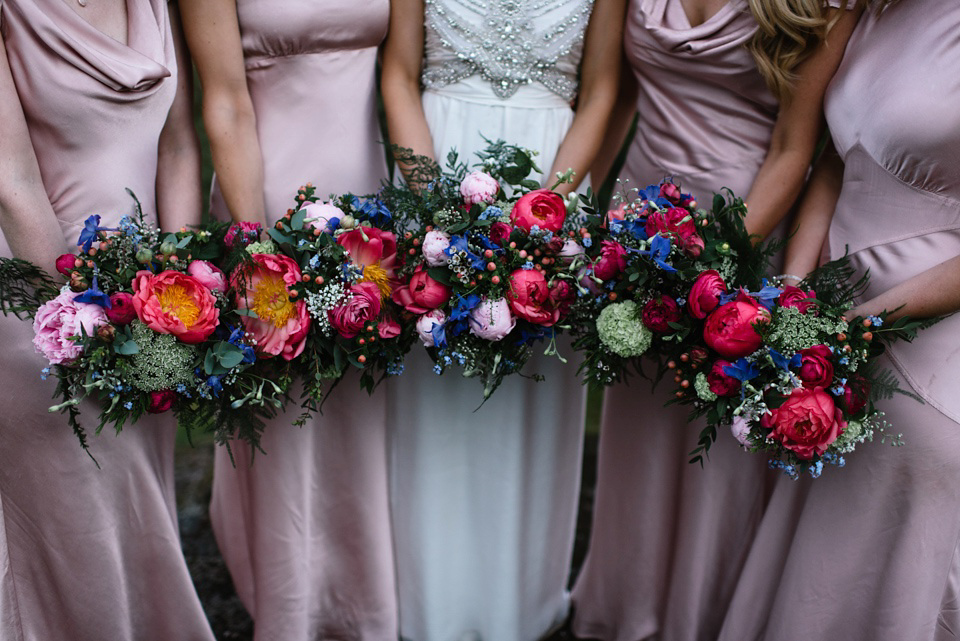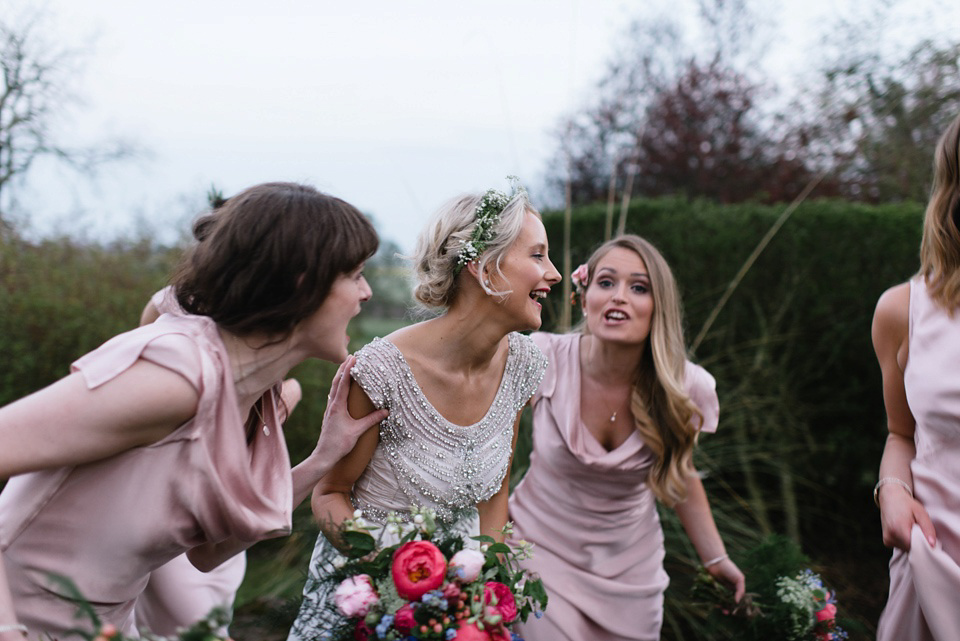 For their evening party, Laura and Jamie opted for Laverock Ceilidh band.
"Our first dance was to 'Jubel' by Klingande. The song was in the charts last summer when we got engaged and it reminds us of that happy time.  I love dancing and used to dance to a high level when I was younger so I persuaded Jamie to do a choreographed dance with lifts 'Strictly' style. "
"Jamie did a brilliant job – it made me so happy that he was willing to go along with me and do it (even though his friends slated him!) and I loved seeing everyone's reactions."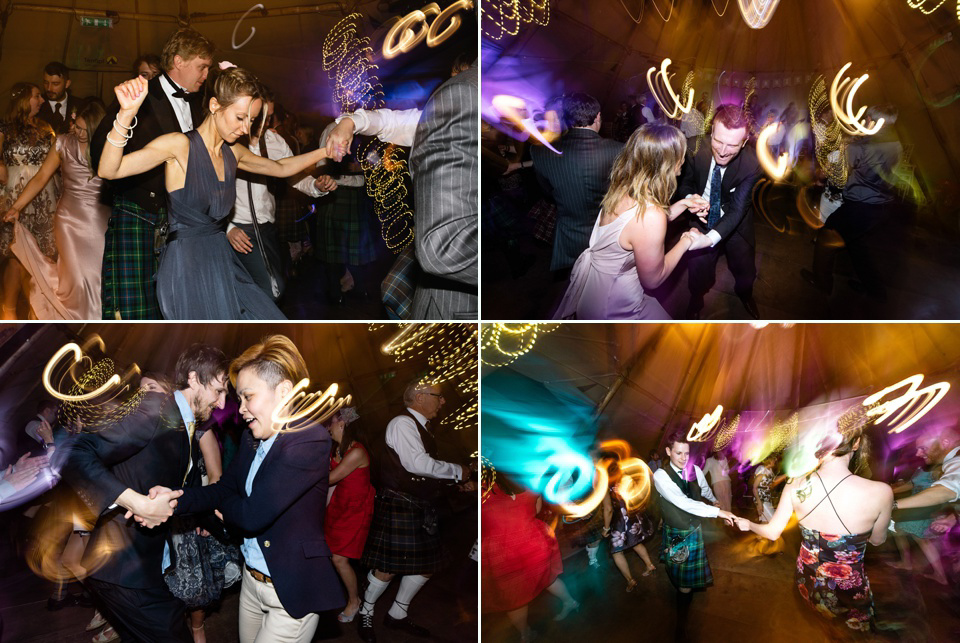 Words of Wedded Wisdom
"As clichéd as it sounds just remember that the day about marrying the person you love more than anything and that all the little details really don't matter as long as you are both together."
I can really relate to these words from Laura. In the run up to my own wedding, I stressed a lot about the details, but as soon as I set eyes upon my husband to be I felt overwhelmed with joy and nothing else mattered. It sounds incredibly cheesy I know, but it is true! In short, don't sweat the small stuff.
Huge congratulation Laura and Jamie! Thank you for sharing the details of your lovely wedding and to photographer Nikki Leadbetter for the beautiful images. If you'd like to see more Scottish weddings, please follow this link. For other lovely Humanist ceremonies click here.
Have a great rest of your week (and wish me luck at the rugby!)
Annora x
Photographer – Nikki Leadbetter
Wedding Day Coordinator – Claire Owens from Heart Weddings & Events
Venue – Balbegno Castle, Kincardineshire, Scotland
Tipi Hire – Highland Tipis
Wedding Dress – Anna Campbell purchased from Little White Dress, Dublin. Alterations by Freja Dressmaker, Edinburgh
Veil – Joyce Jackson purchased from Little White Dress, Dublin
Headpiece – Fresh flowers, including gypsophila crown arranged by Rogue Flowers, Edinburgh
Shoes – LK Bennett
Bride's Scent/perfume – Beauty by Calvin Klein
Groom – His own naval uniform and kilt
Bridesmaids – Ghost dresses + Swarovski bangles
Florist – Rogue Flowers, Edinburgh
Cake – Baked by the bride's sister
Entertainment – Laverock ceilidh band
Rings – Liam Ross Jewellery
Celebrant – Lorna Hanlon
Catering – Lazy Sunday
Décor – Etsy + Not on the High Street + lots of DIY decorations created by the bride and groom
Stationery – White Blossom Paper
Hair Stylist – Natalie Murphy from Dickson Reid
Makeup Artist – Lauren Gollan Makeup Academy