A very good morning everyone, and what an exceptionally beautiful morning it is!  Today is a day of treats and surprises, as we launch our labour of love project, Little Book For Brides at 10am. Ahead of this however, I couldn't not share a beautiful real wedding with you today.  These images were sent in by one of the coolest British photographers, and friend of mine, Nick Tucker – I totally adore how he has captured the fun and quirky essence of Gemma and Lewis's May wedding this year.
The couple tied the knot with a ceremony at Islington Union Chapel, followed by a crazy cool reception at MC Motors in Dalston. There was a white leather jacket, Tim Burton inspired balloons, a Frida Kahlo inspired headpiece and colour bursting from everywhere you looked. I so love the vibrancy of these images and hope you love reading through this wedding today.
"We just wanted it to be a fun natured day – a colourful party (our invite asked for guests to wear whatever they liked, but to be colourful and fabulous, which they all were). We wanted our day to be about celebrating life and love, rather than it feel like a formal conventional wedding."
Photography by Nick Tucker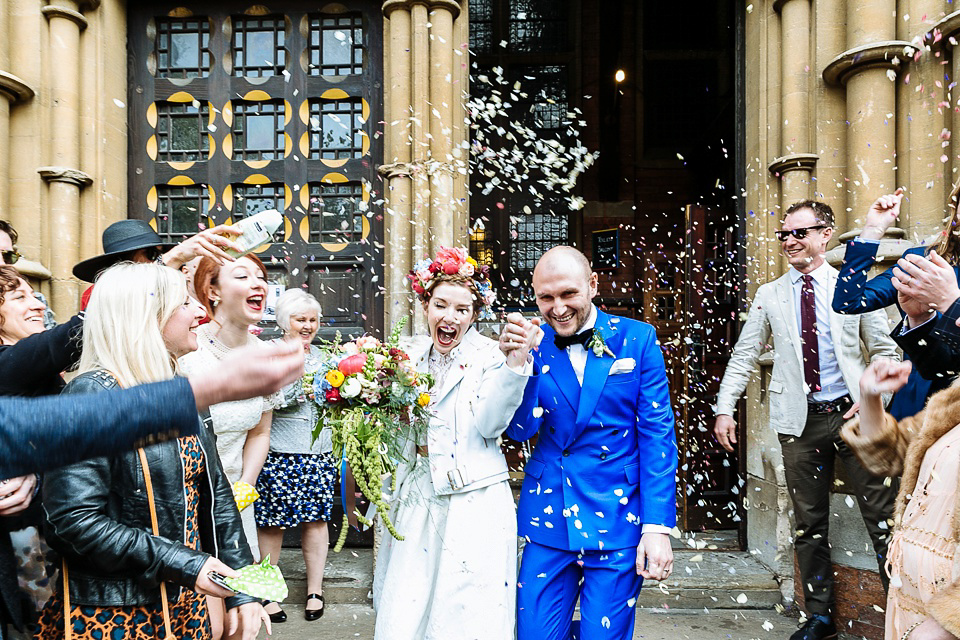 "Our venue, MC Motors in Dalston, was a dream and it's interior and style wholly reflected us as a couple. With the industrial neutral tones at MC Motors I knew I wanted to fill it with colour, and what with Bon Bon Balloons next door, that was an easy decision to make. I've always loved the images of Tim Walkers Balloon house, so I guess that was an inspiration for the balloons! The added extra of letting them go outside after dinner was a very special moment of the day."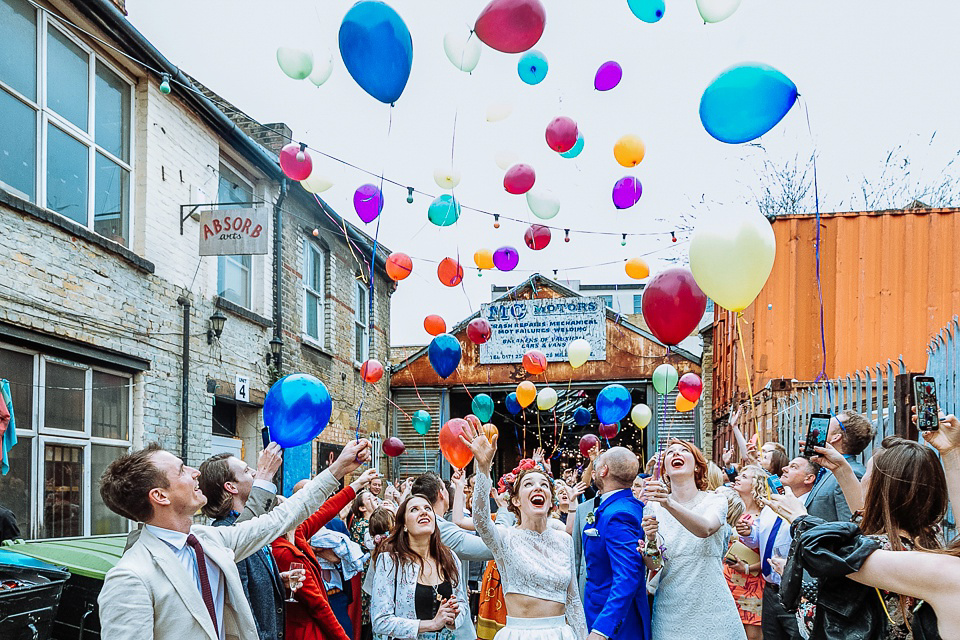 "Our photographer was the one and only incredible Nick Tucker. His documentary style captured our day perfectly. No staged shots, just us, being us, having a laugh on the best day of our lives. He totally smashed it! I can't recommend him highly enough."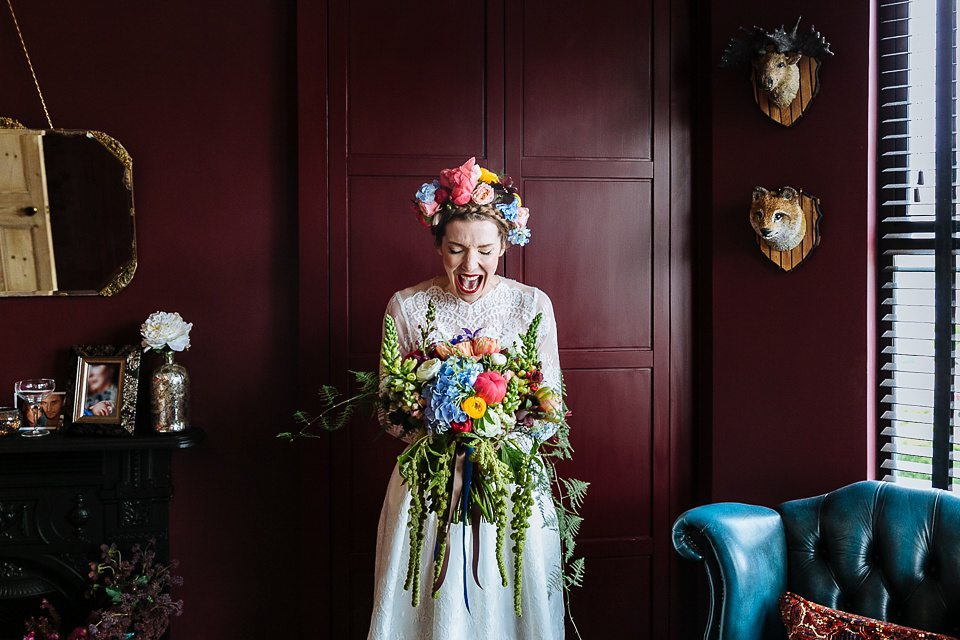 Floral crown + bouquet by Love Blooms
"I also wore a white leather jacket by Sandro, which Lewis got for me when we were in Paris the year before. I told him I wanted to wear one on our wedding day and he fell in the love with the idea and jacket as much I me. It cost more than my dress! It is lush though."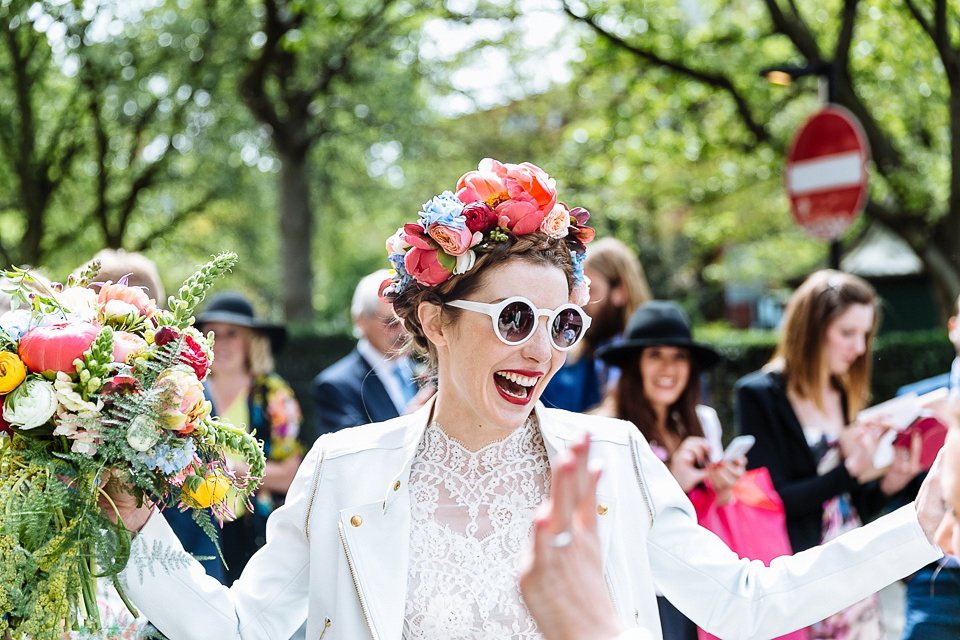 "My hair stylist and makeup artist was Elbie Van Eeden. She is fabulous. I felt like a film star. She nailed the look I wanted, just to be me, but a really polished version! She is sensational at what she does."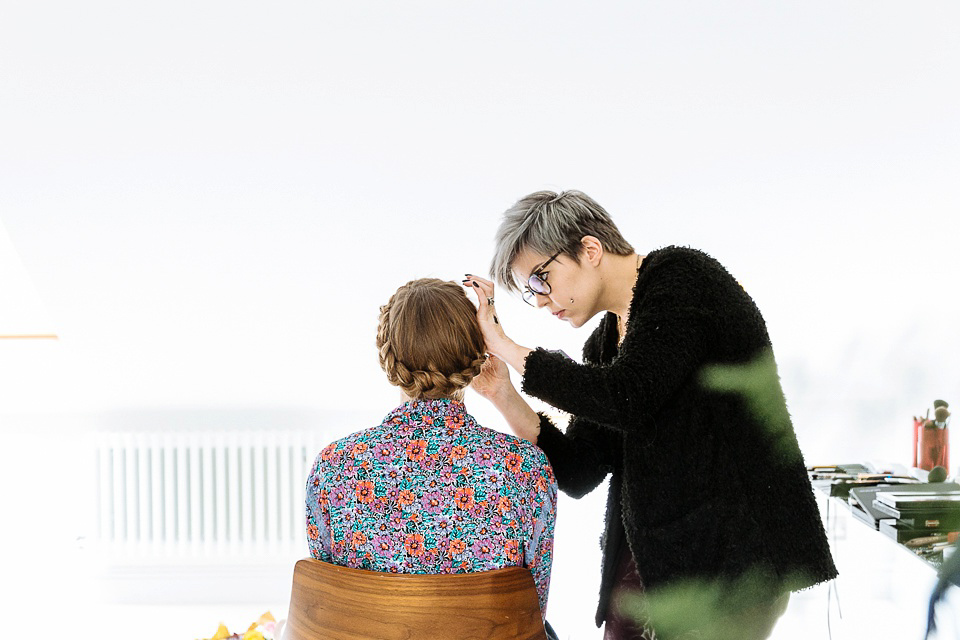 "My gown was fromKatya Katya Shehurina.  I had an appointment there but I had to cancel as shortly after our engagement, I fell pregnant and wasn't feeling great. I ended up looking on Preloved that weekend and one of the dresses I had my eye on was on there. My size, never worn, being sold by a girl in Kentish Town, for a fraction of the price. A best friend joined me and we went round that week and I bought the dress. Total result! But it wasn't completely right, I wanted to do something to it to make it more me, more stylish, less bridal like."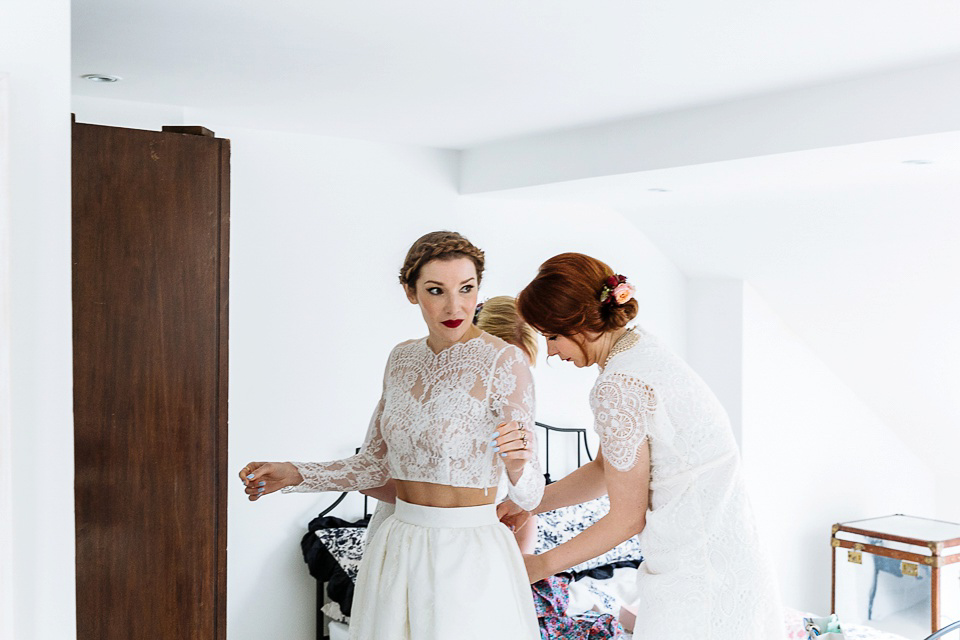 "I loved the French lace and always knew I wanted sleeves. I decided on making it into a two piece, taking quite a big risk as the lace was so delicate. But it worked, I wanted to be in a cropped top and have a full high waited skirt that I had pockets added into for my handkerchief and lipstick. I did feel amazing and I felt like me. I knew Lewis wanted me in something tight so showing off my midriff was the compromise! I was also really comfortable, able to pick up Rocco with ease, go to toilet easily and by myself (!) and dance freely.
The only downside to the dress was that too much of the length was cut off so I had no choice but to wear flats as I wanted the dress trailing on the floor and not hovering. So I found some at Russell & Bromley. They weren't my exact style but were comfy and you couldn't see them anyhow, plus they were very comfortable so it all worked out in the end!"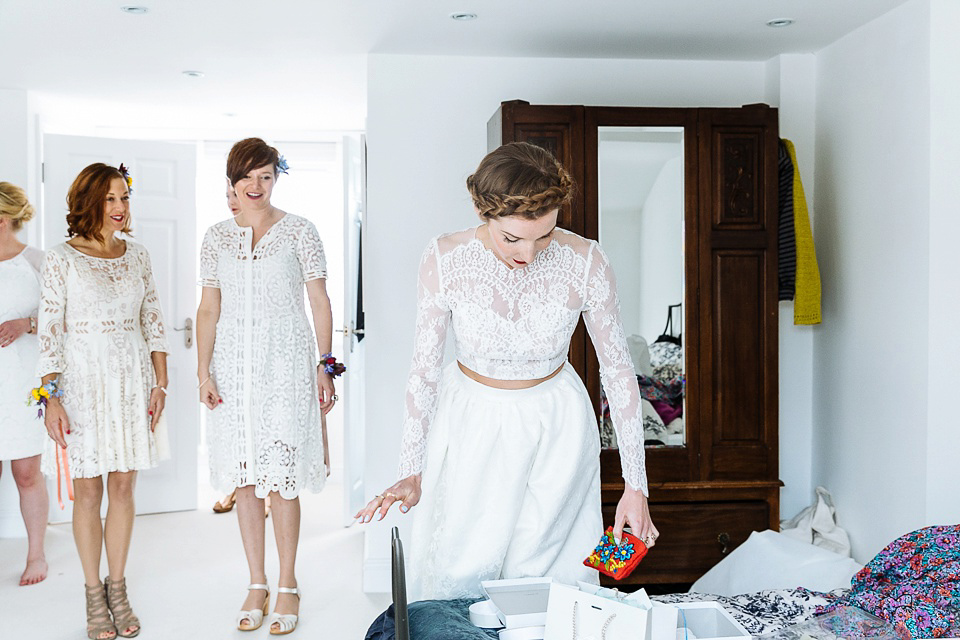 "Our florist was Clare Robinson of Love Blooms, who also made my incredible headpiece – I guess Frieda Kahlo was an inspiration there. It really was breath taking and lasted into the next day too! Clare is is so lovely. I said to my mum I wished she was my mate! We were actually meant to meet when I went on my maternity leave, but Rocco came early so I was emailing her as my waters broke! I met with a few others but my gut told me Clare was the one, and she wouldn't let me down. She didn't.
We meet a few weeks later and I booked her up! Bold, unstructured, big, eclectic, wild, colourful was the general theme."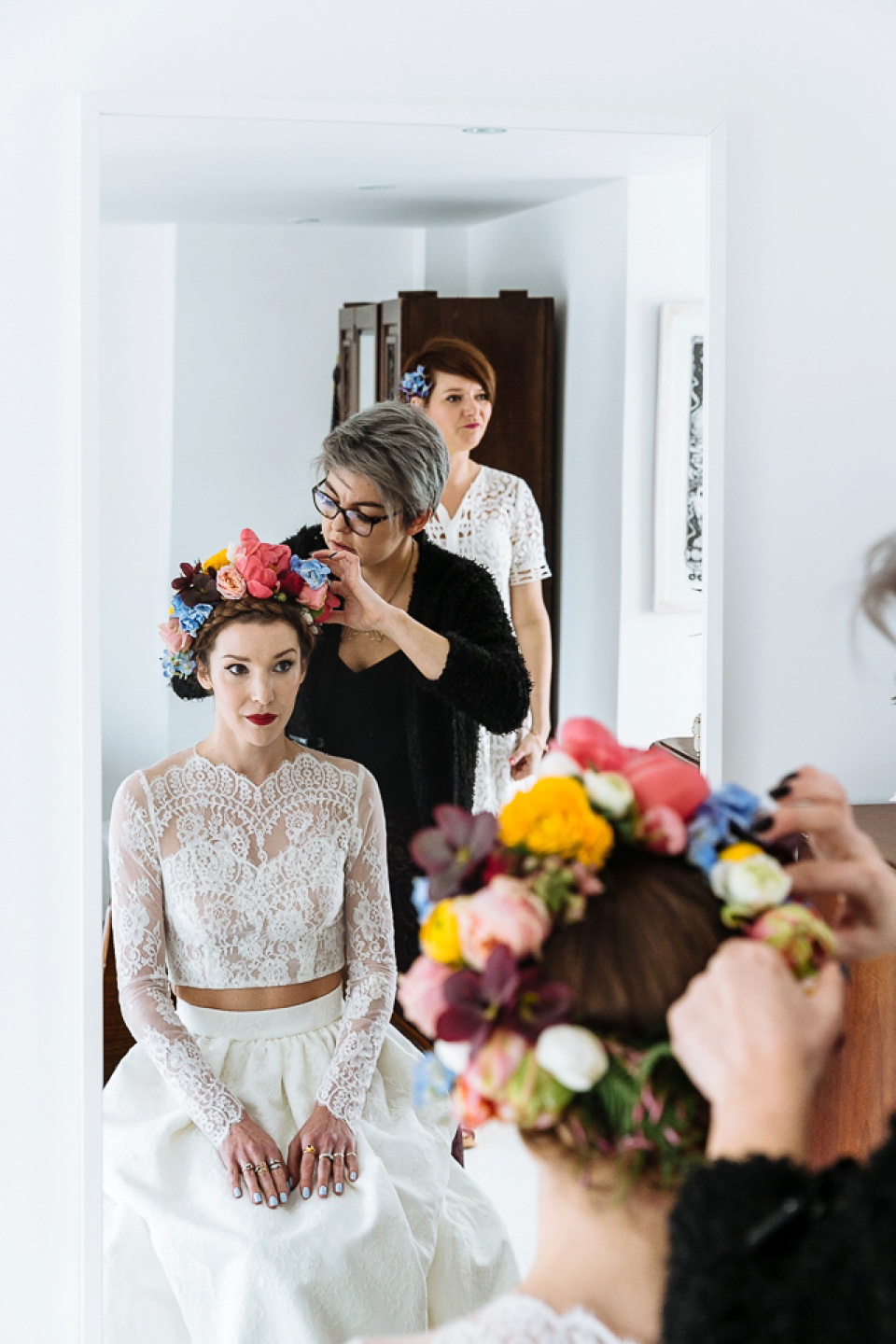 "I told her my favourite flowers, she introduced me to a few others and what I got was the best headpiece and bridal bouquet I have ever seen, and it was mine. She is so talented, I was able to give the table floral decorations to my bridesmaids and family as she tied them all and they lasted a while too, our house looked and smelt amazing for a week after. She is so reasonably priced too. Again, I can't recommend highly enough."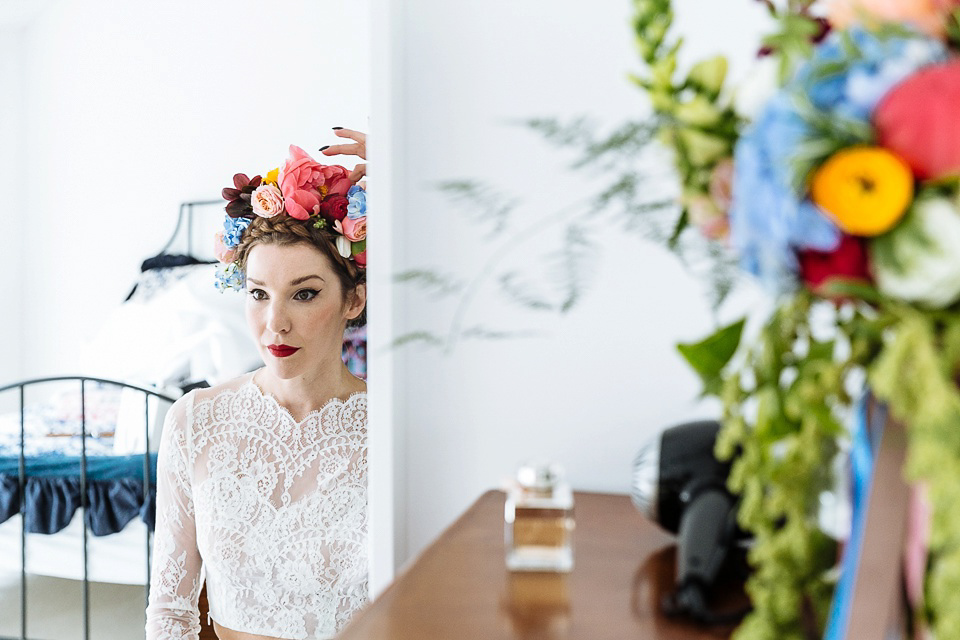 "I wanted a new scent that I'd always remember I wore on my wedding day. Chloe eau de Parfum was the perfect scent – romantic, floral, feminine and playful."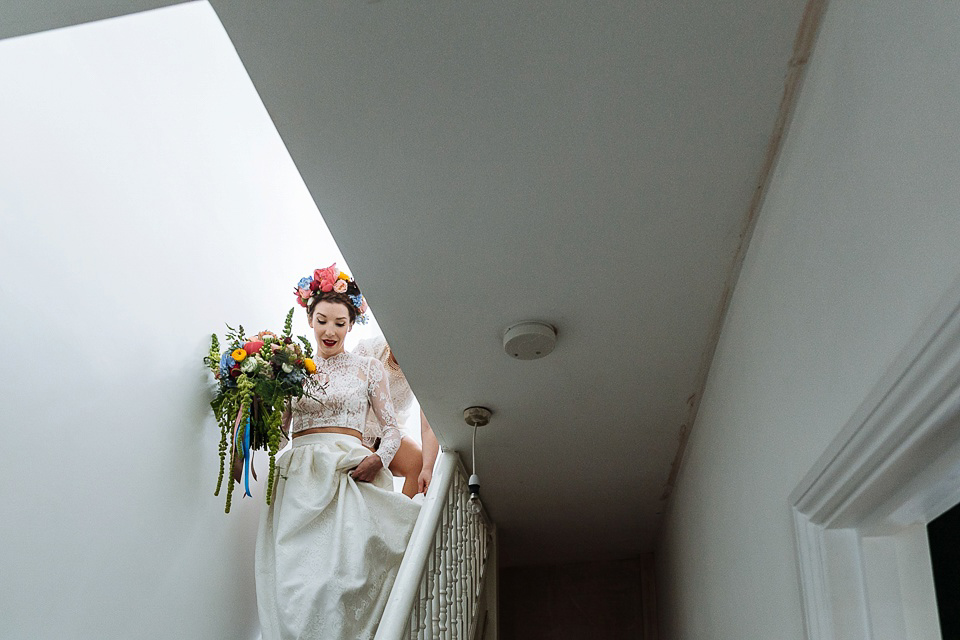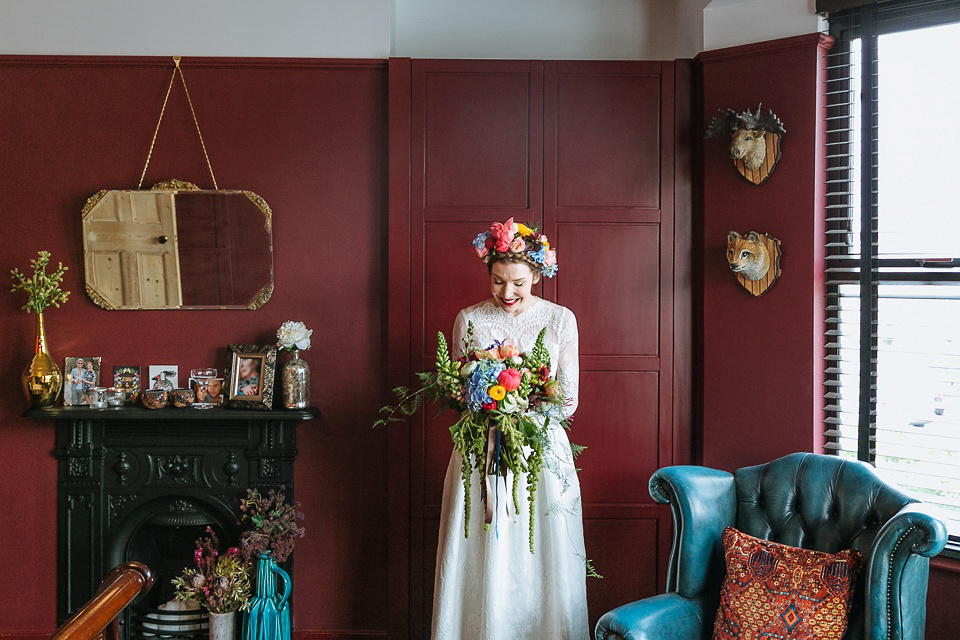 "I wanted the girls to be in creams or whites so that the flowers in their hair and in their wrist corsages really stood out. I'm not keen on matching dresses, I wanted them all to wear whatever they liked/felt comfortable in, a more eclectic look. They all went out shopping and bought whatever they liked, and I paid. It worked out perfectly. My florist Clare made individual floral hair clips and bands for each of the girls too."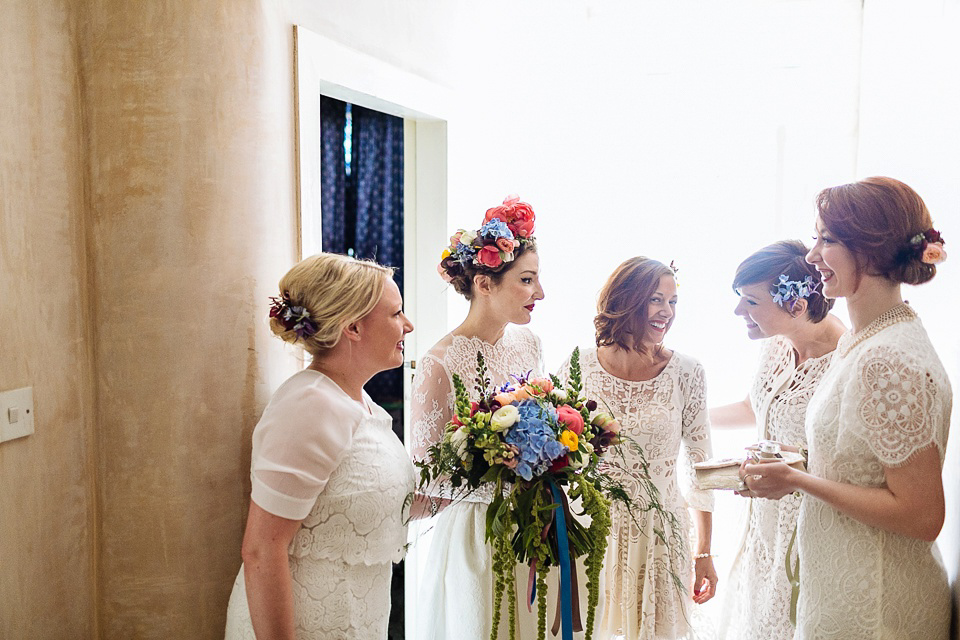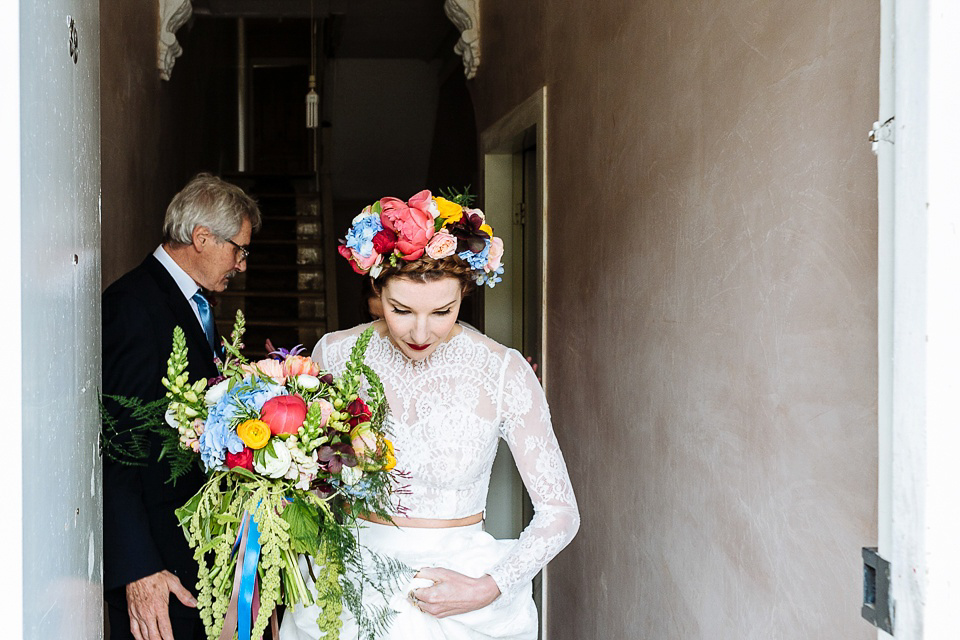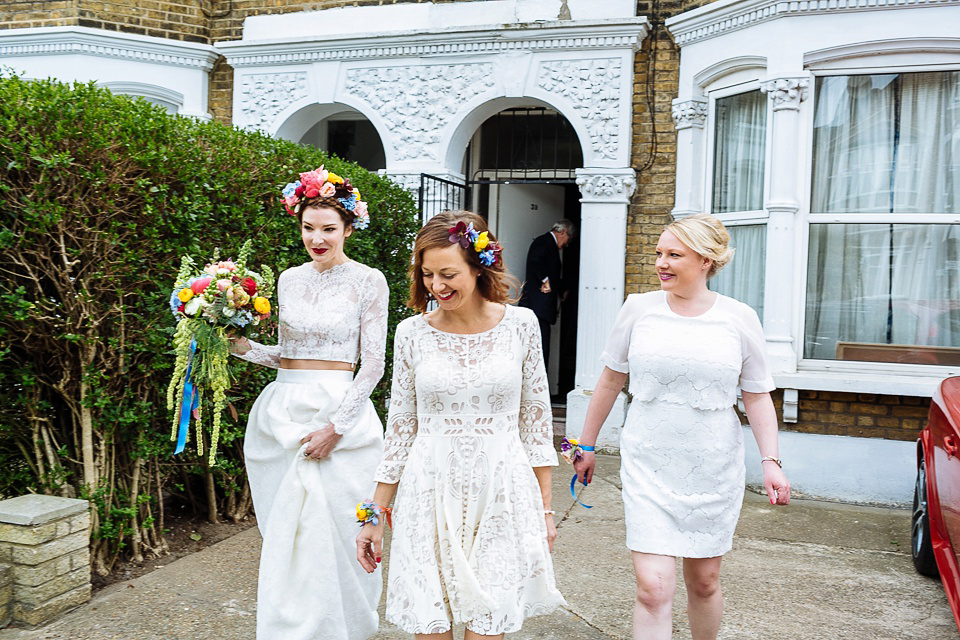 "I love rings, so the only jewellery I wore were my rings, about 15 of them! My Mum gave me her antique diamond ring as my something borrowed and my bridesmaids bought me a gorgeous Zoe and Morgan deco ring with a kyanite stone which was my something blue and new. I was also wearing my late grandmothers platinum diamond engagement ring as my something old.. Like I said, I do love rings!"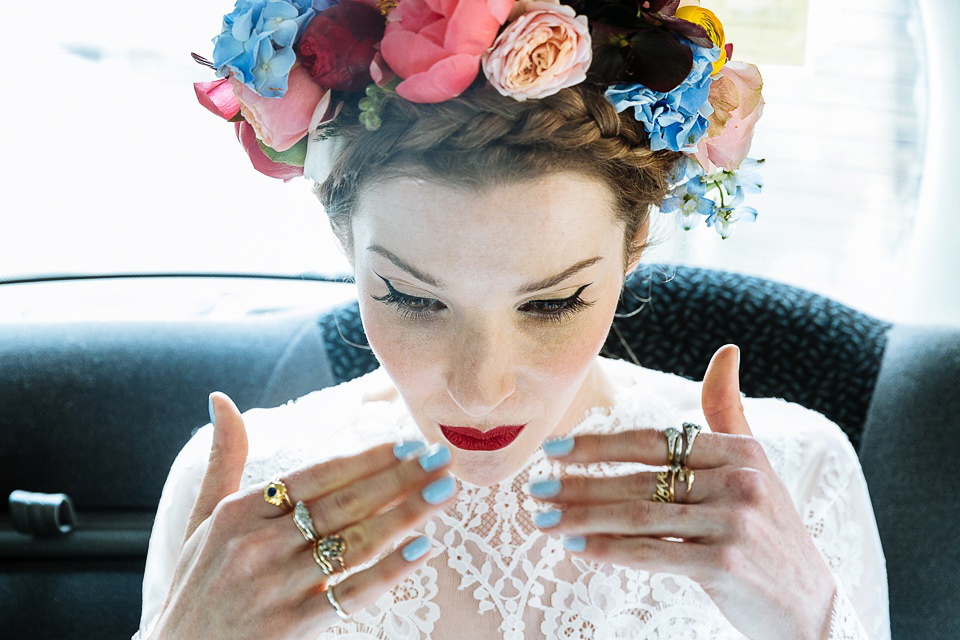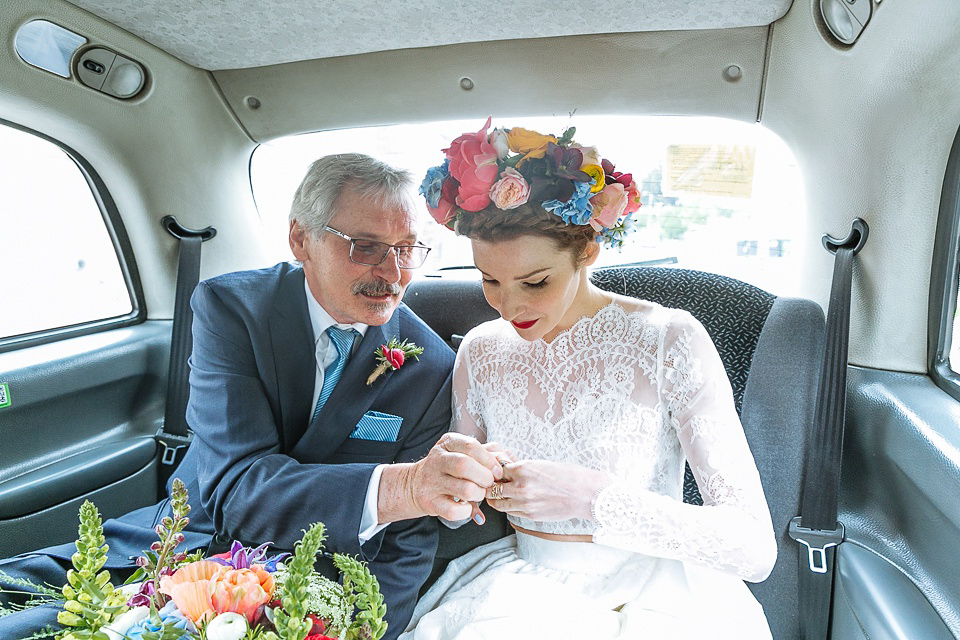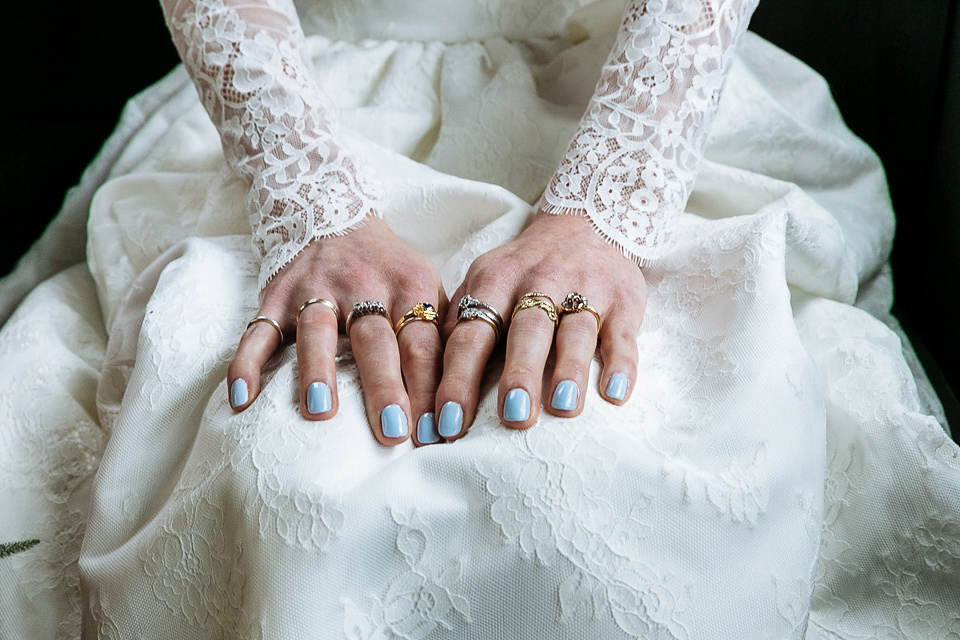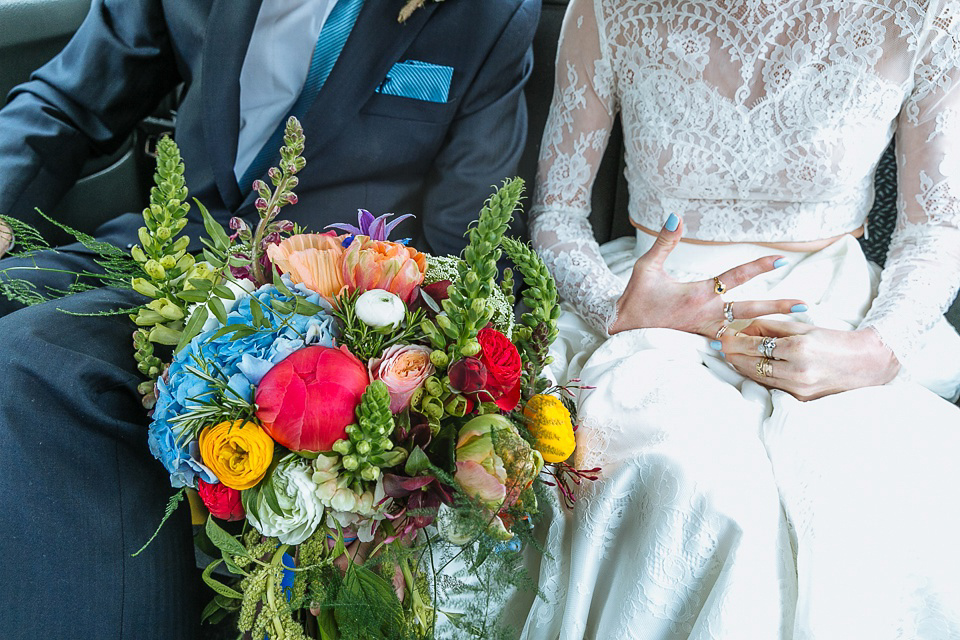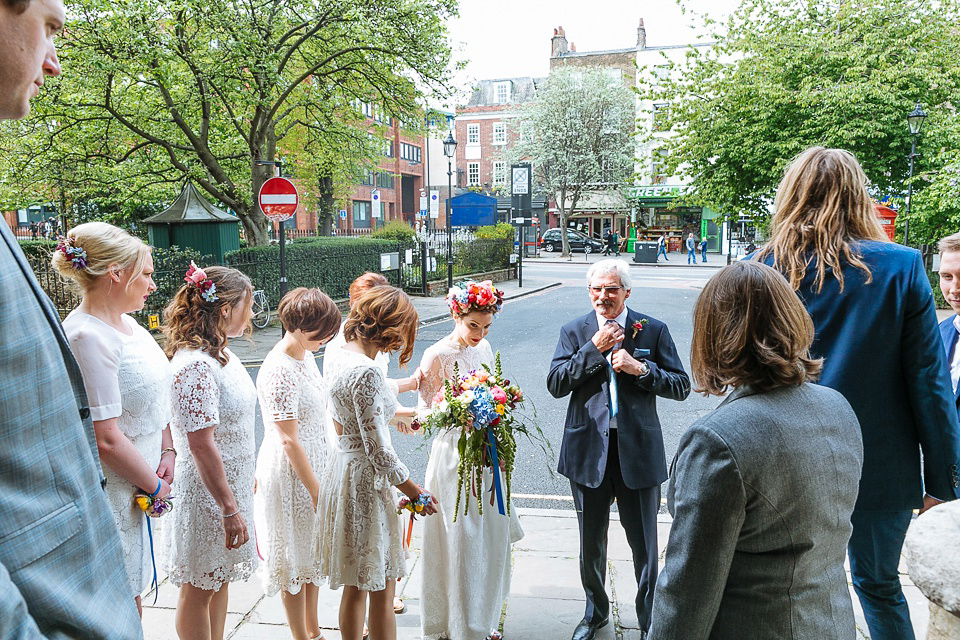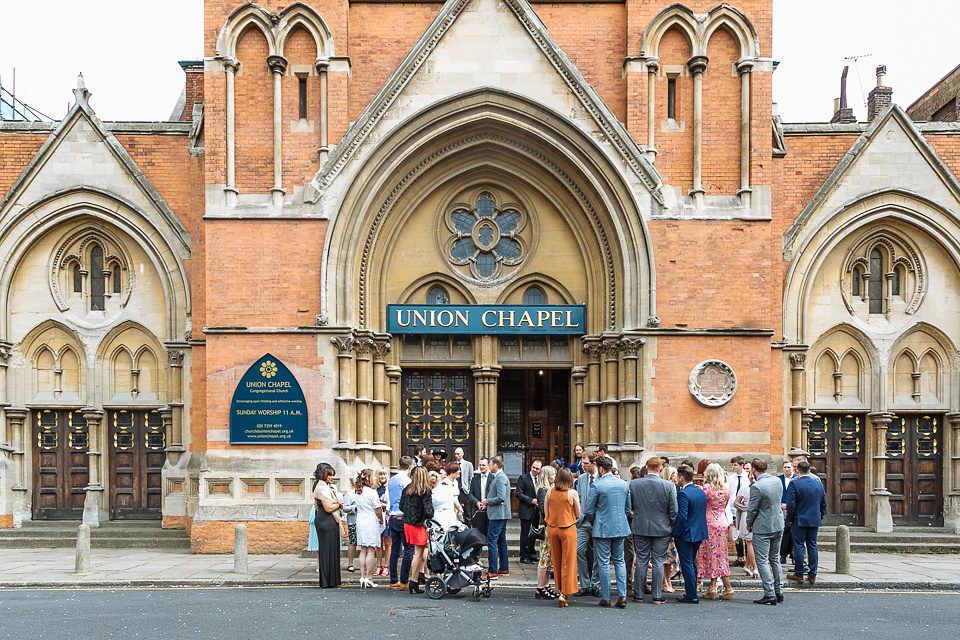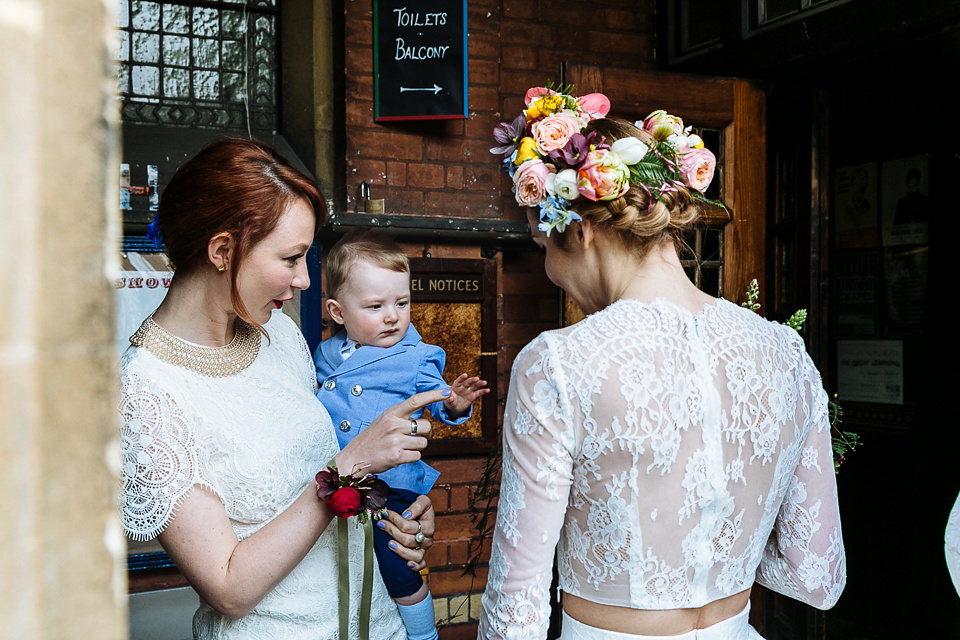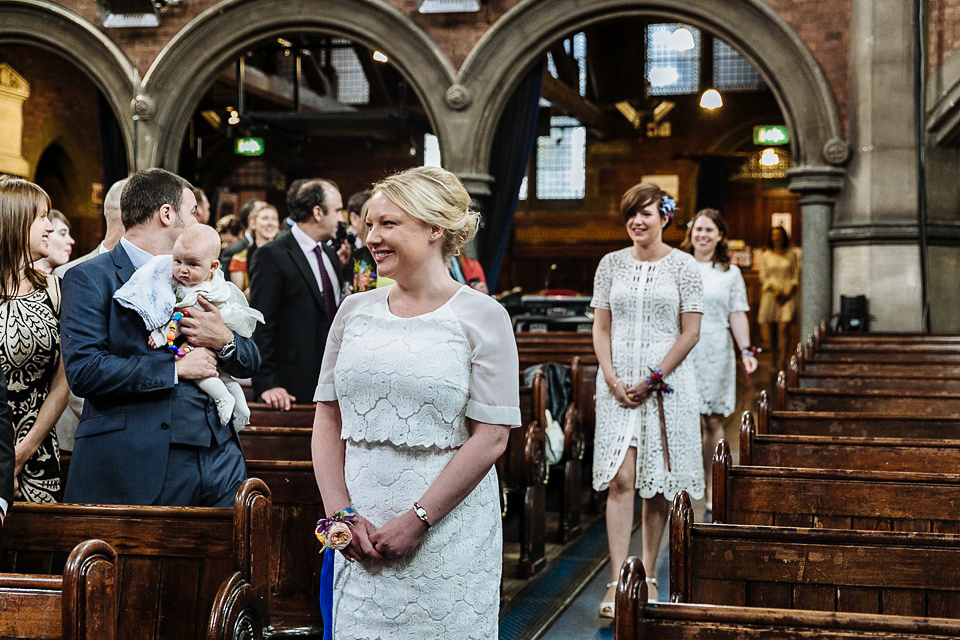 "My Dad walked me down the aisle – he's an absolute legend! Having him walk me down the aisle and give me away probably was one of the best moments of the day. Especially as I knew how proud and happy he felt too, and my Mum for that matter. They really are incredible people. I can only hope Lewis and I do as good a job as them bringing our family up as they did for me and my brother.
I love Florence and the Machine and have always loved the Bird song intro – the build up makes it a great walking down the aisle song. Our mate looped it for us to make it a bit longer. It suited the chapel and I didn't want a song with any words. Our exit song was Caribou's 'I can't do without you' – that was a good moment hearing that blast out in the chapel."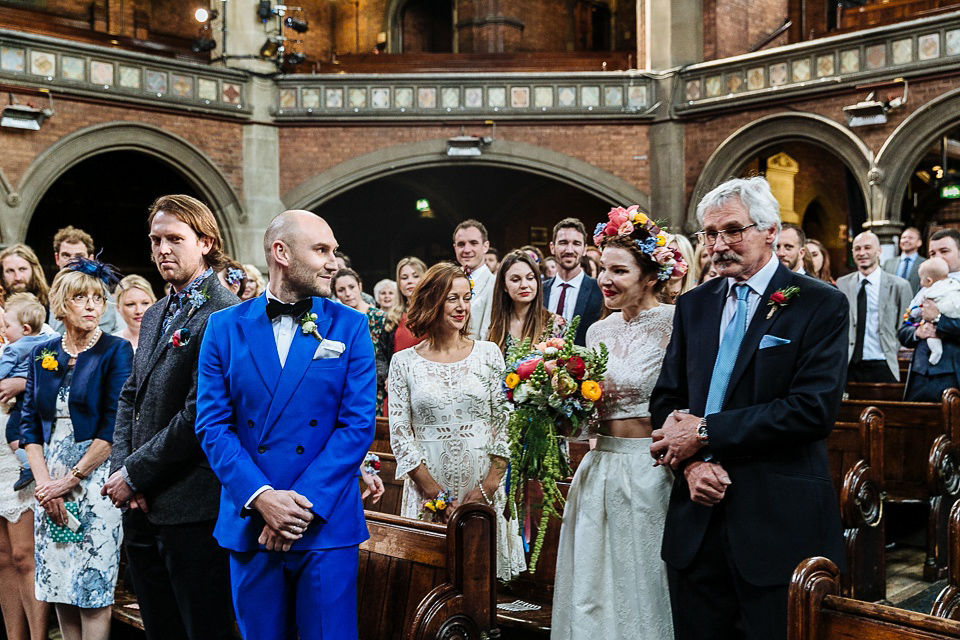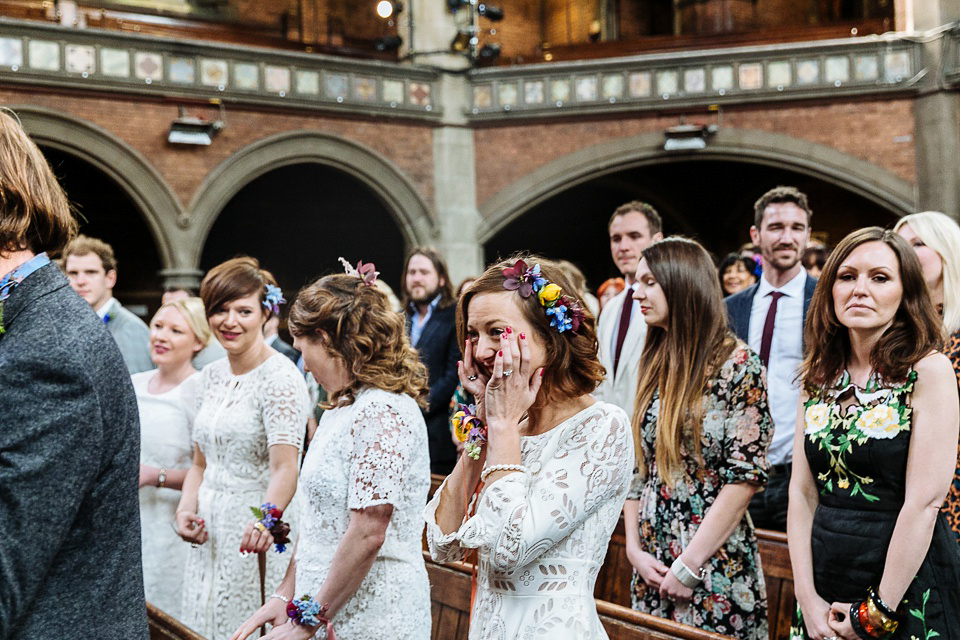 "Lewis and I met six years ago on the streets of Shoreditch on a Sunday afternoon, both hungover, not really looking to meet anyone. Lewis had only recently moved to London and I was about to embark on a trip around the world. But we spent the evening chatting away, swapped numbers at the end of the night, and met a week later at Field Day in Victoria Park and that was that. I still went travelling but Lewis came and met me in Thailand, and I cut my trip short to get home.
I moved in with him until I found a house share again. But I never did – we ended up moving into a friends house together and have lived together ever since."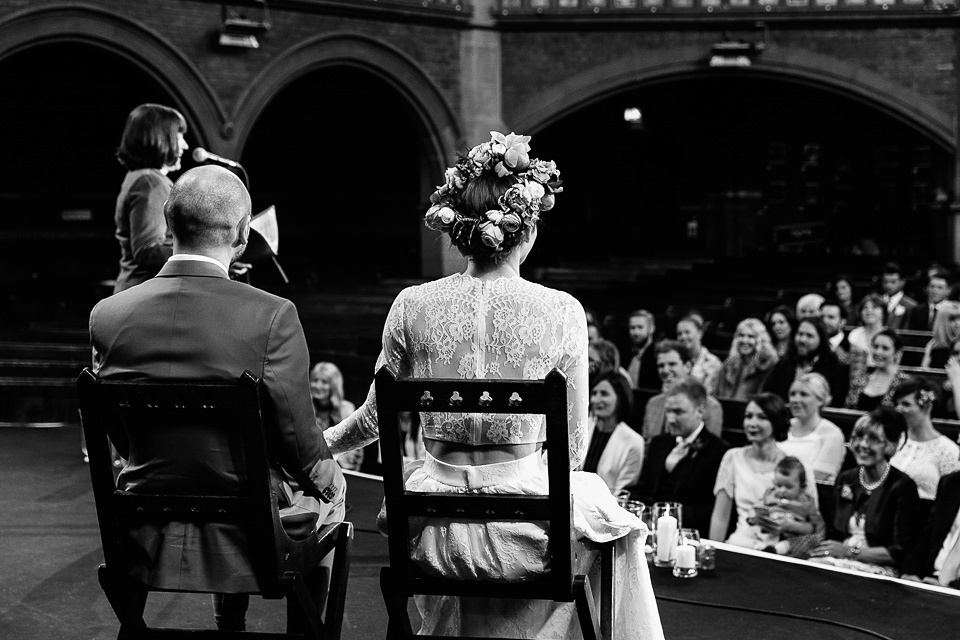 "Lewis proposed in October 2013, after about 4 years being together. It was a total surprise as we were focusing on starting a family after recently buying our first home, however this was taking much longer than anticipated. My parents are my everything and we went back to Poole in Dorset to see them for the weekend. Little did I know they were all in on it.
It was a gorgeous autumnal day and we went for a walk along sandbanks beach and then sat in the sand dunes with a hot flask of tea and some biscuits…Roughly 4 years ago to the day when I took Lewis to Sandbanks for the first time. Lewis suggested a game of hangman in the sand. You can guess the rest!"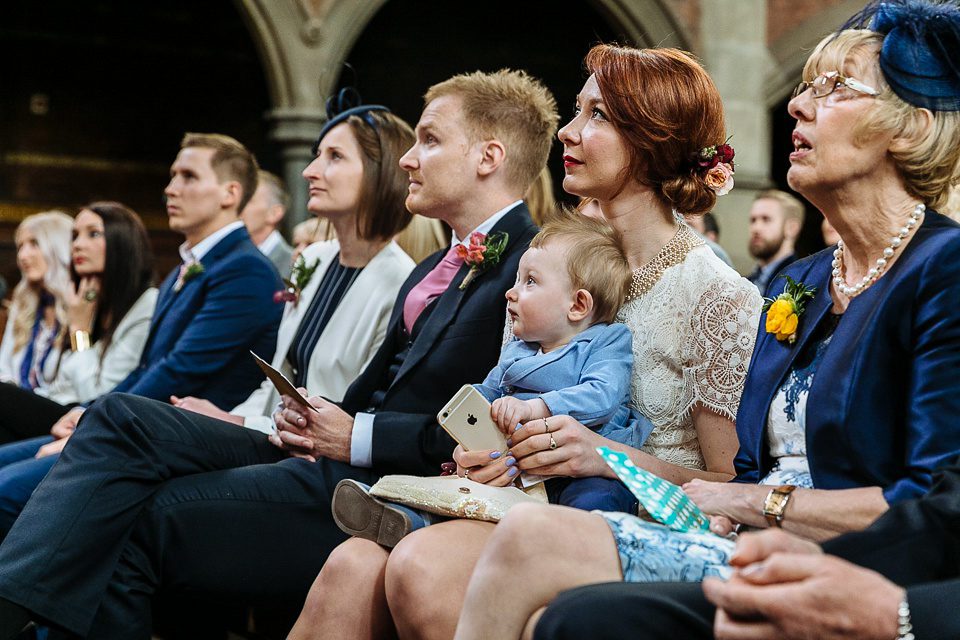 "We wrote all our own vows and declarations. It was very personal, without religious content, but they were also quite funny which made us laugh quite a bit throughout the service. We promised to make each other laugh and smile, we talked about the things we do well and what we'll continue to do for each other and for Rocco, without going on we summed it all up by saying we promised to make each others lives extraordinary."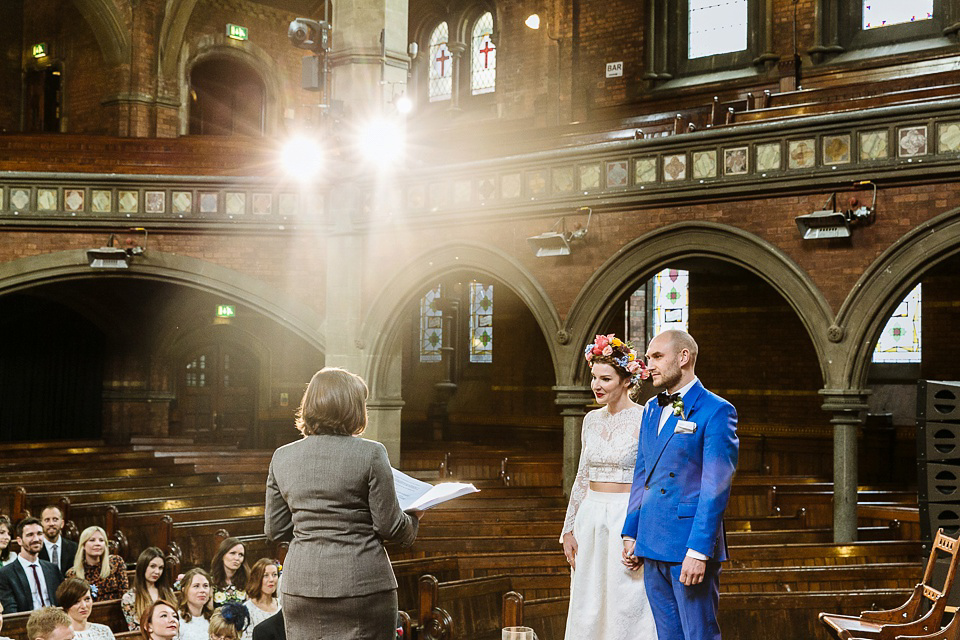 "We had three readings – all very different. They included 'The Jar of Life', read by our friend. It sums up life brilliantly don't you think?  We also had 'Let Me Put It This Way', By Simon Armitage. We loved this – so short and abrupt but completely akin with our sense of humour. Mt brother read this and he delivered it fantastically. Finally, we had 'I Wanna Be Yours', by John Cooper Clarke. Need I say anymore?."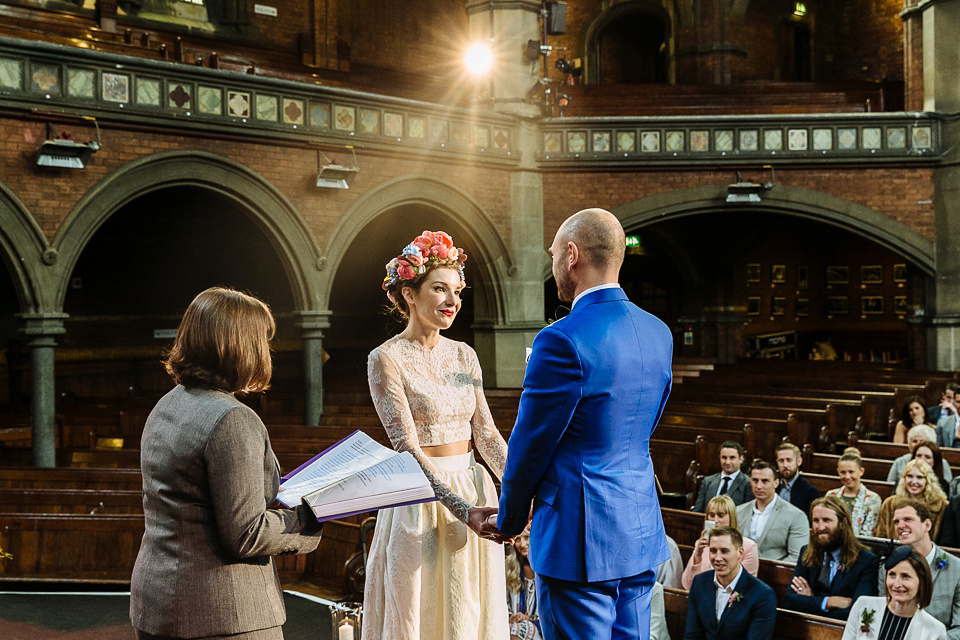 "We ran out of money by the time I came to organising the rings. So I just went to Metal Crumble in Stoke Newington and got a silver band for Lewis and they curved a rose gold band to fit around my engagement ring. We might get different bands in the future but these will do for now, maybe forever."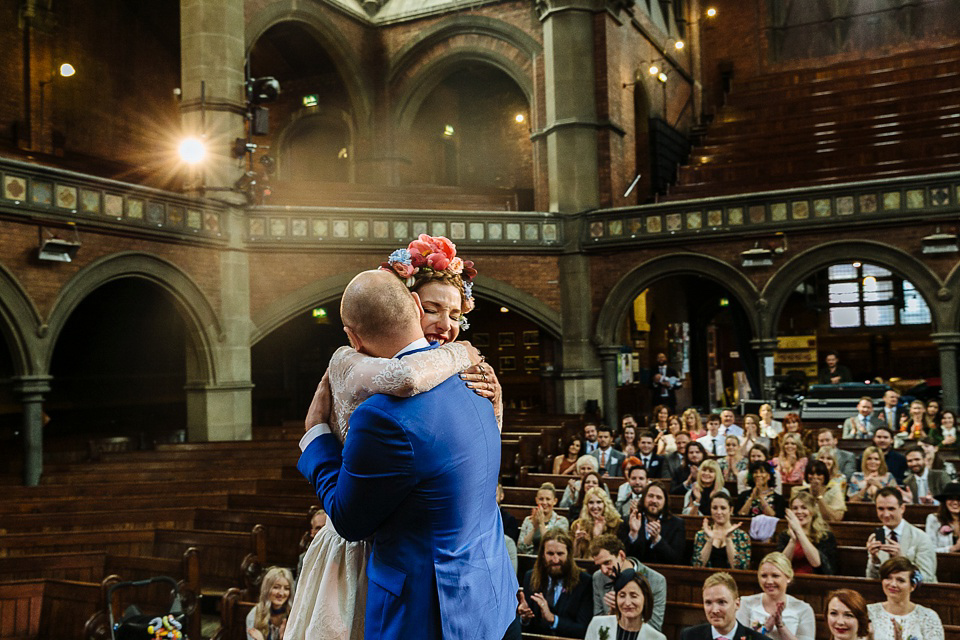 "Lewis wore a bespoke electric blue suit, made in the East End, a Lanvin Navy Velvet Bowtie and Soul Land brogues. He looked HOT! Oh and not forgetting his navy polka dot socks from Zara."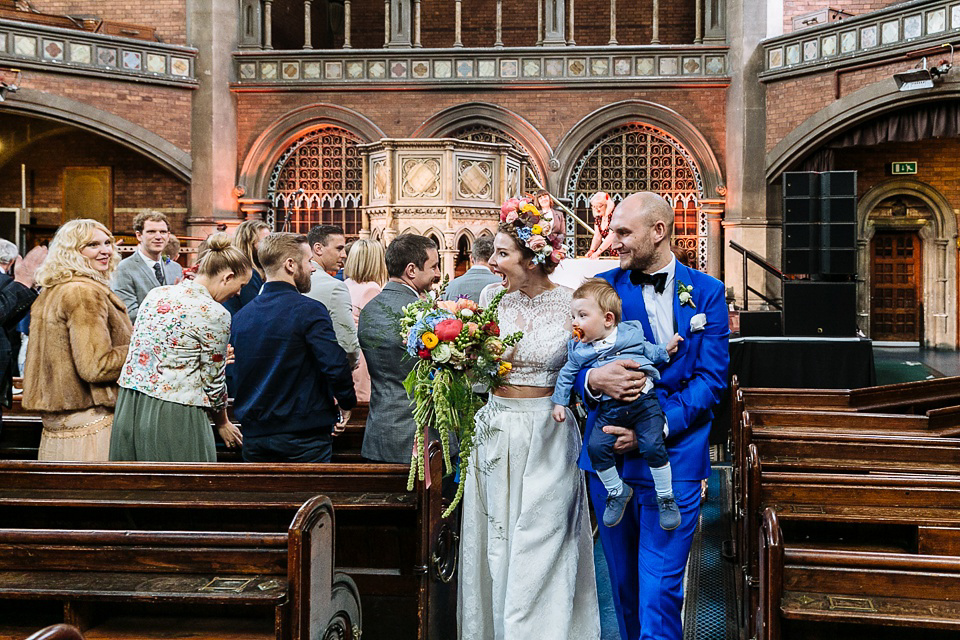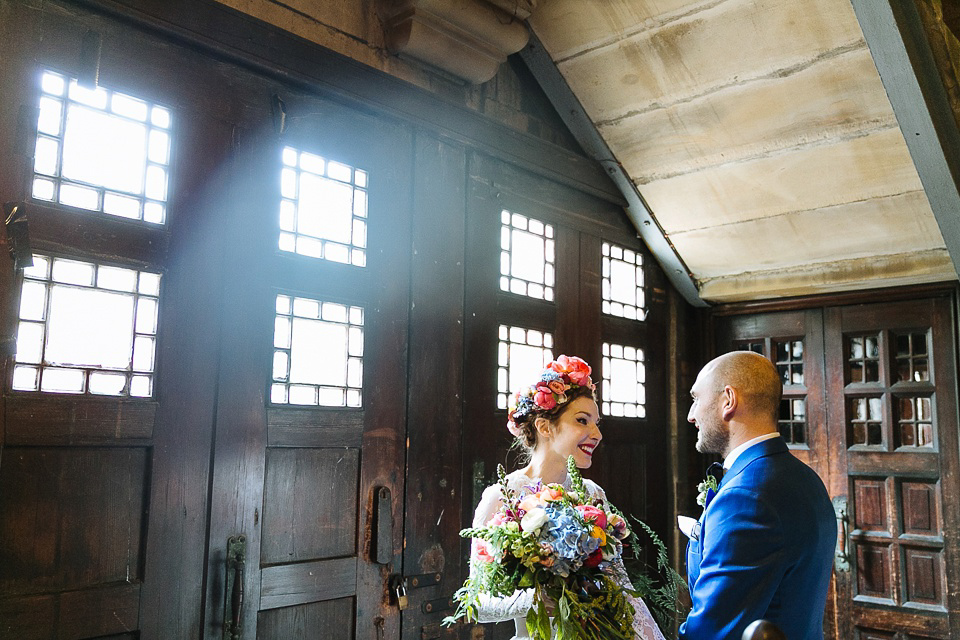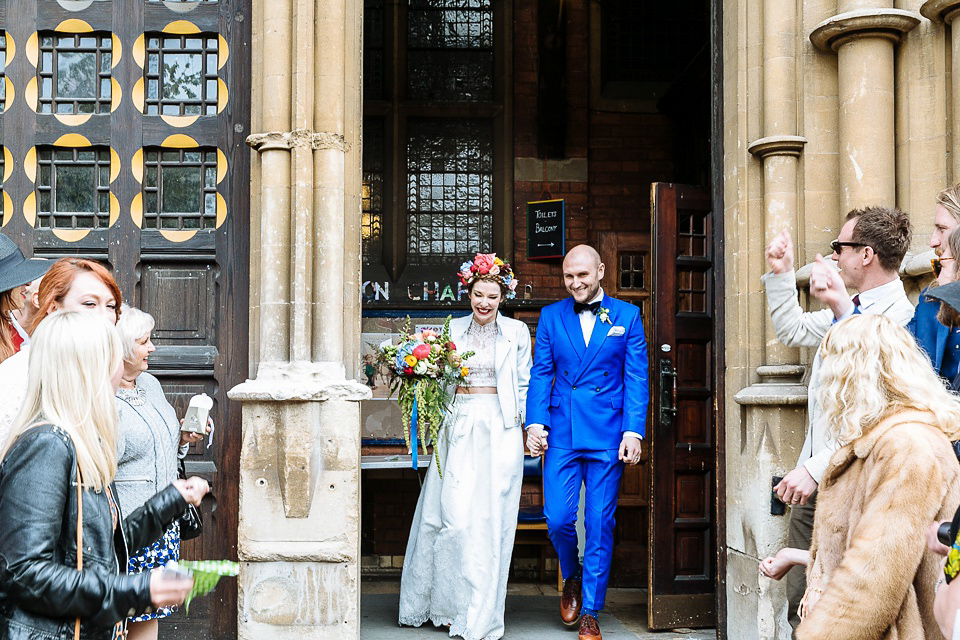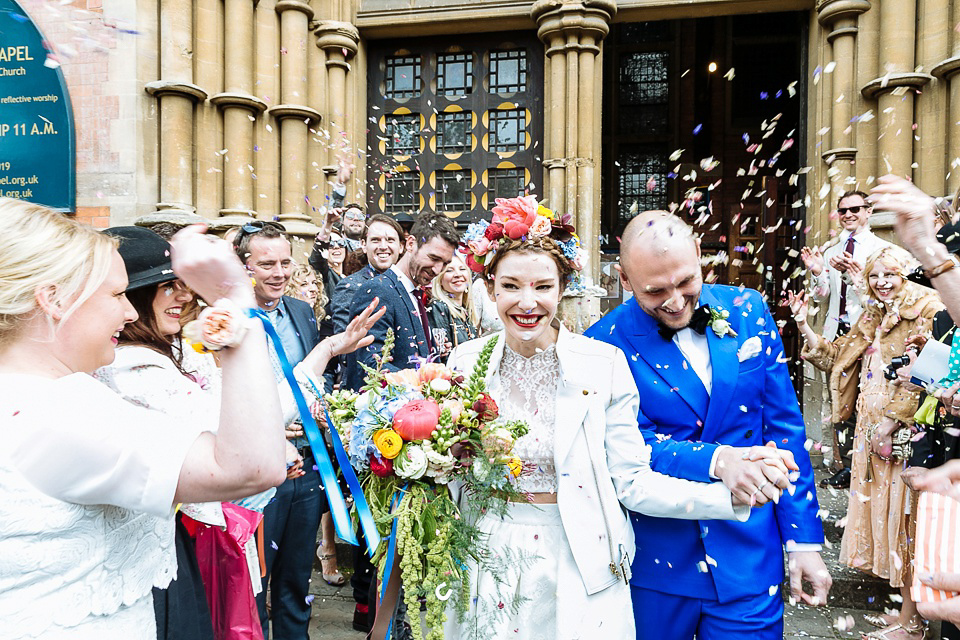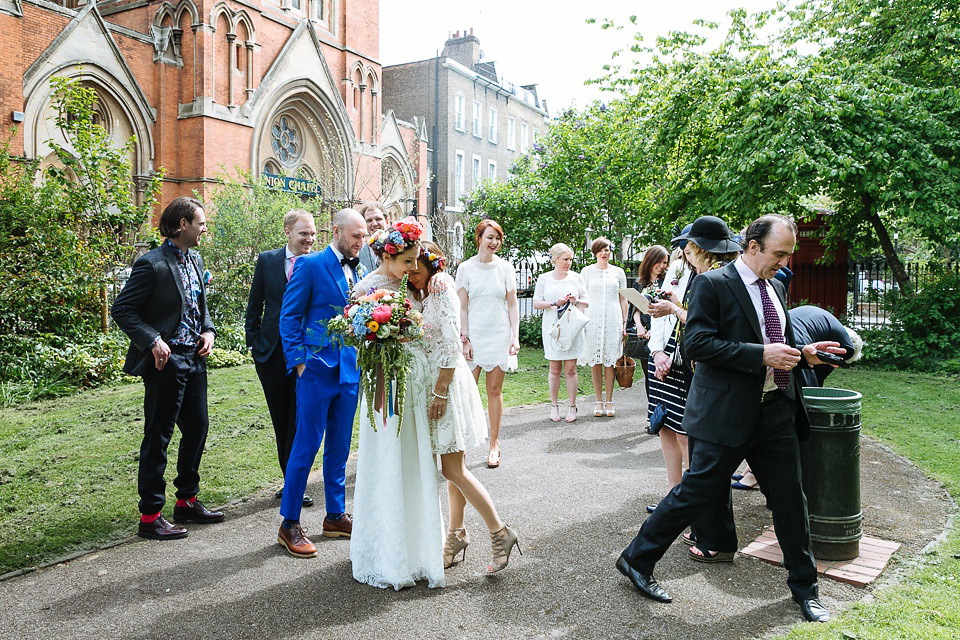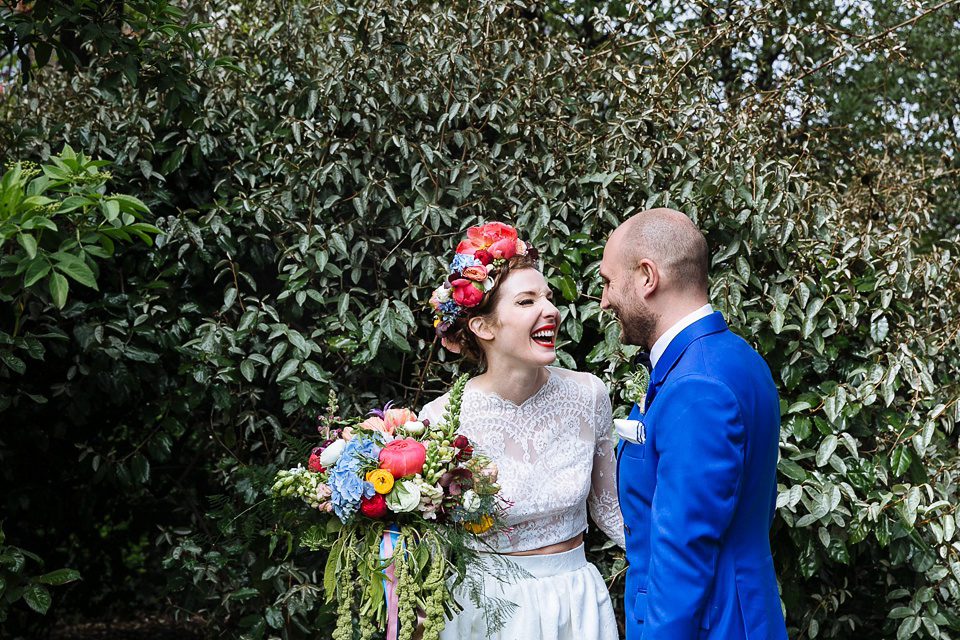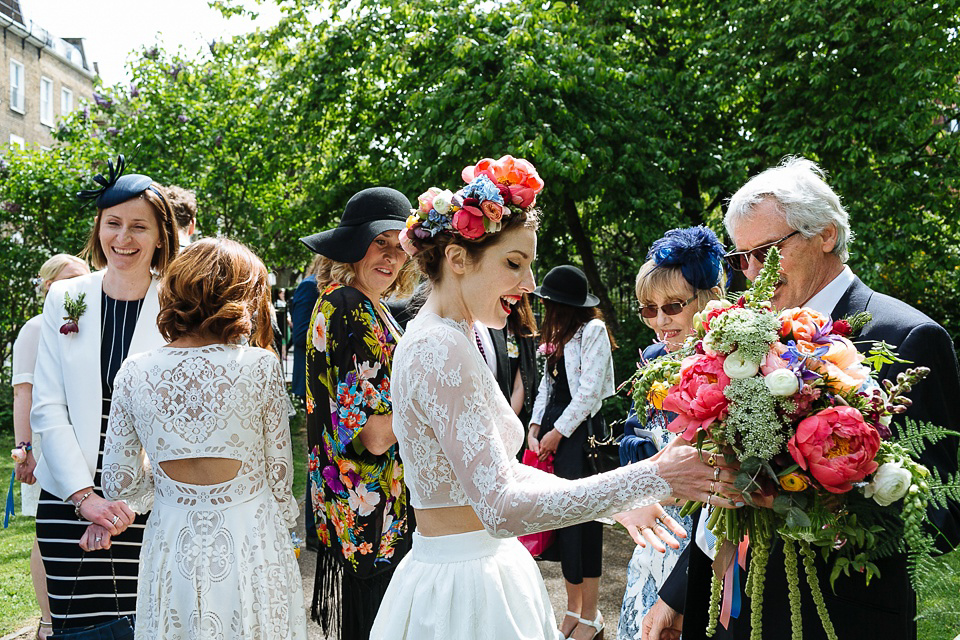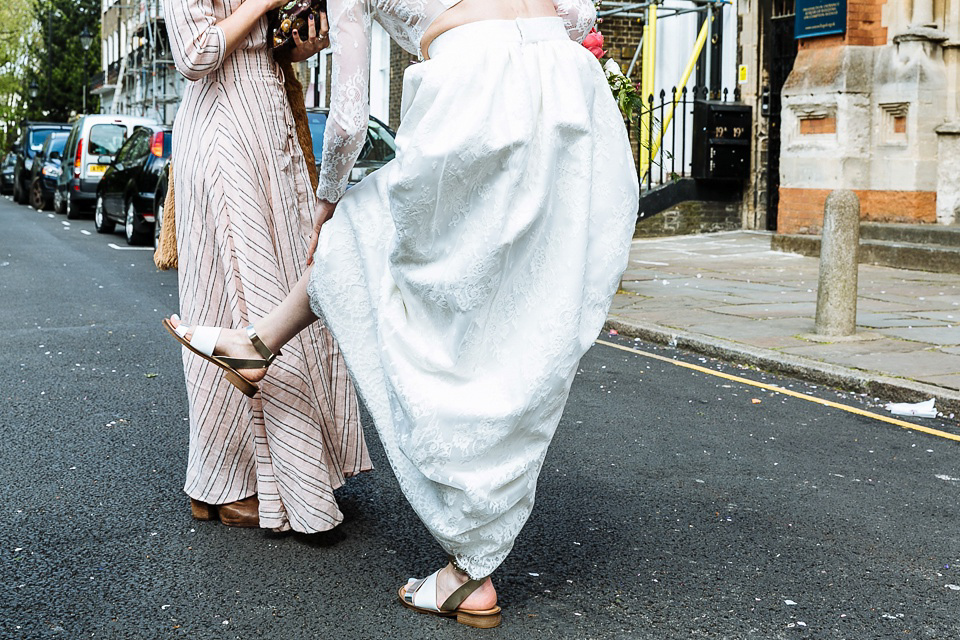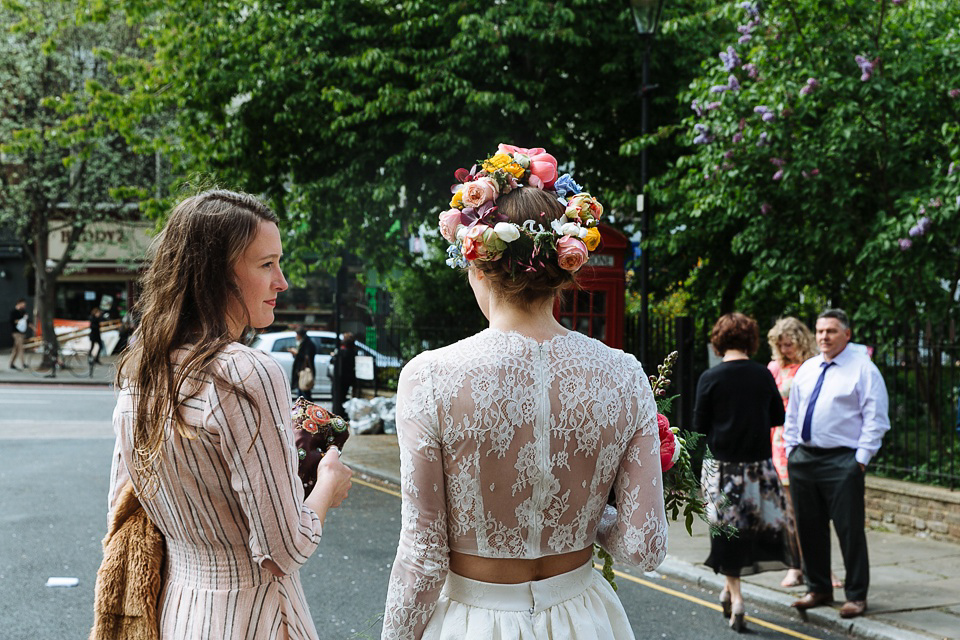 "We ordered a couple of black cabs to get myself, Dad, Nick and the bridesmaids to the Chapel and hired a Routemaster to get everyone to MC Motors."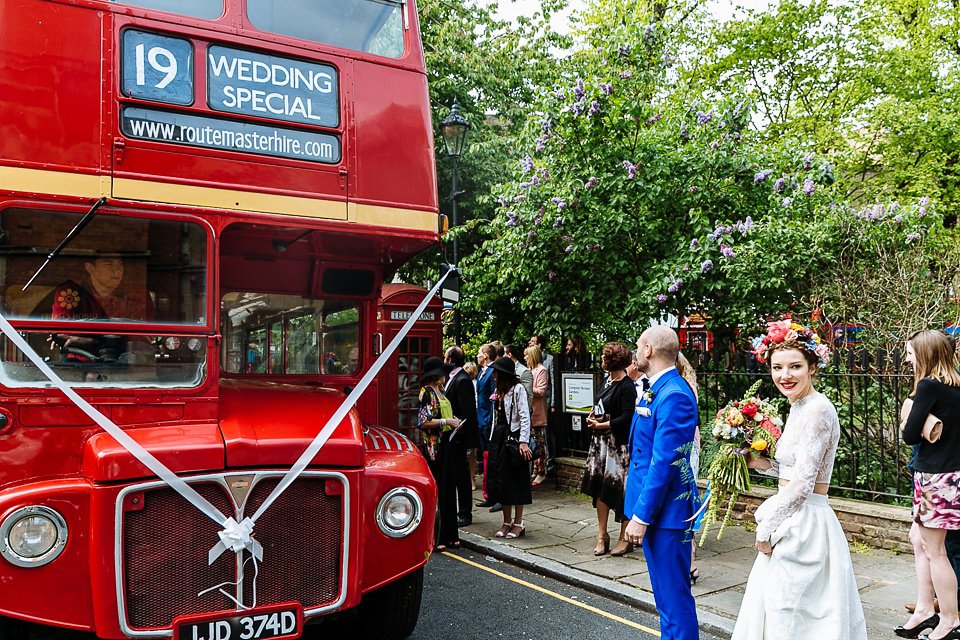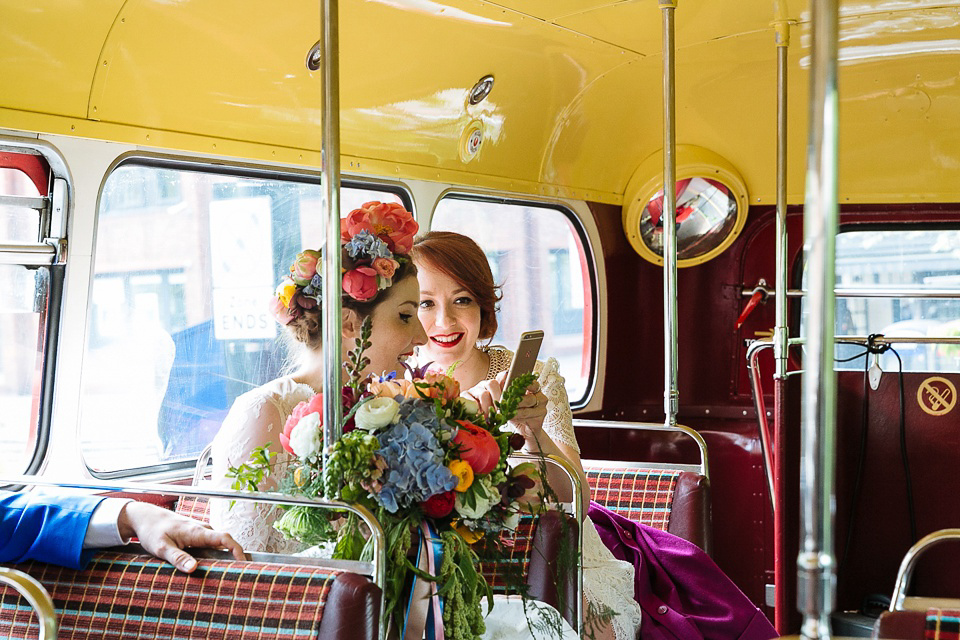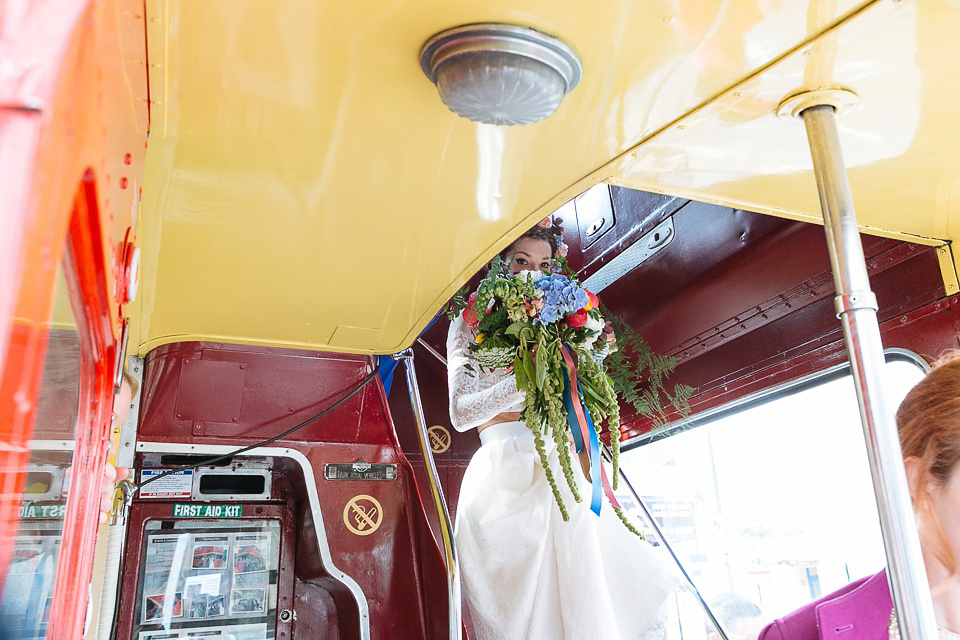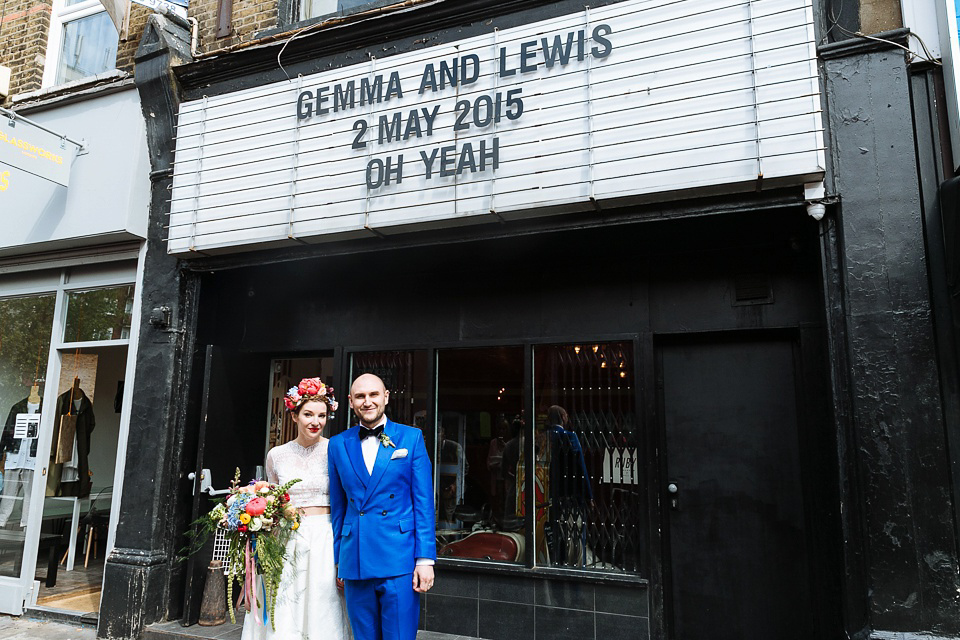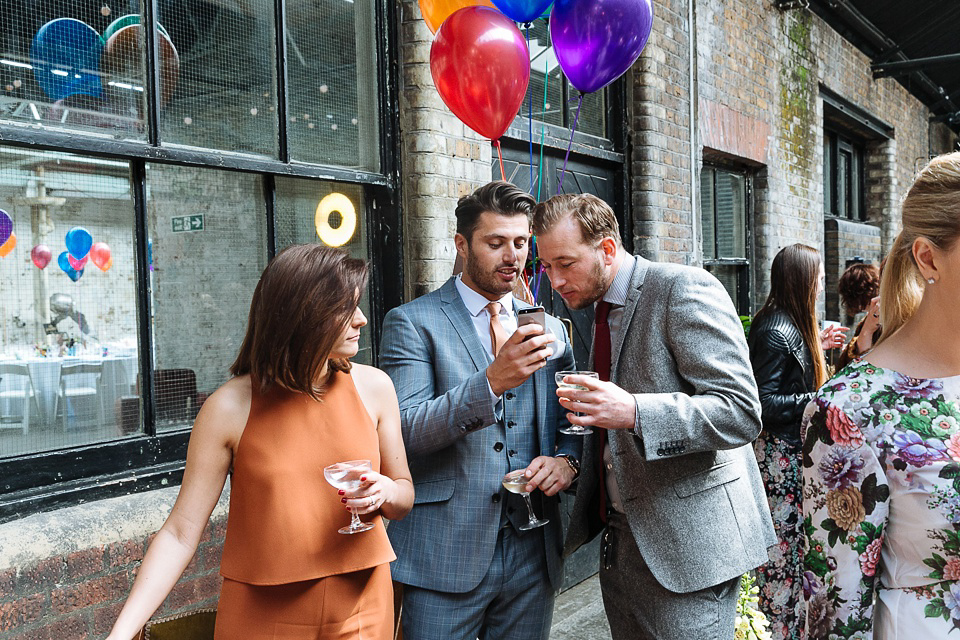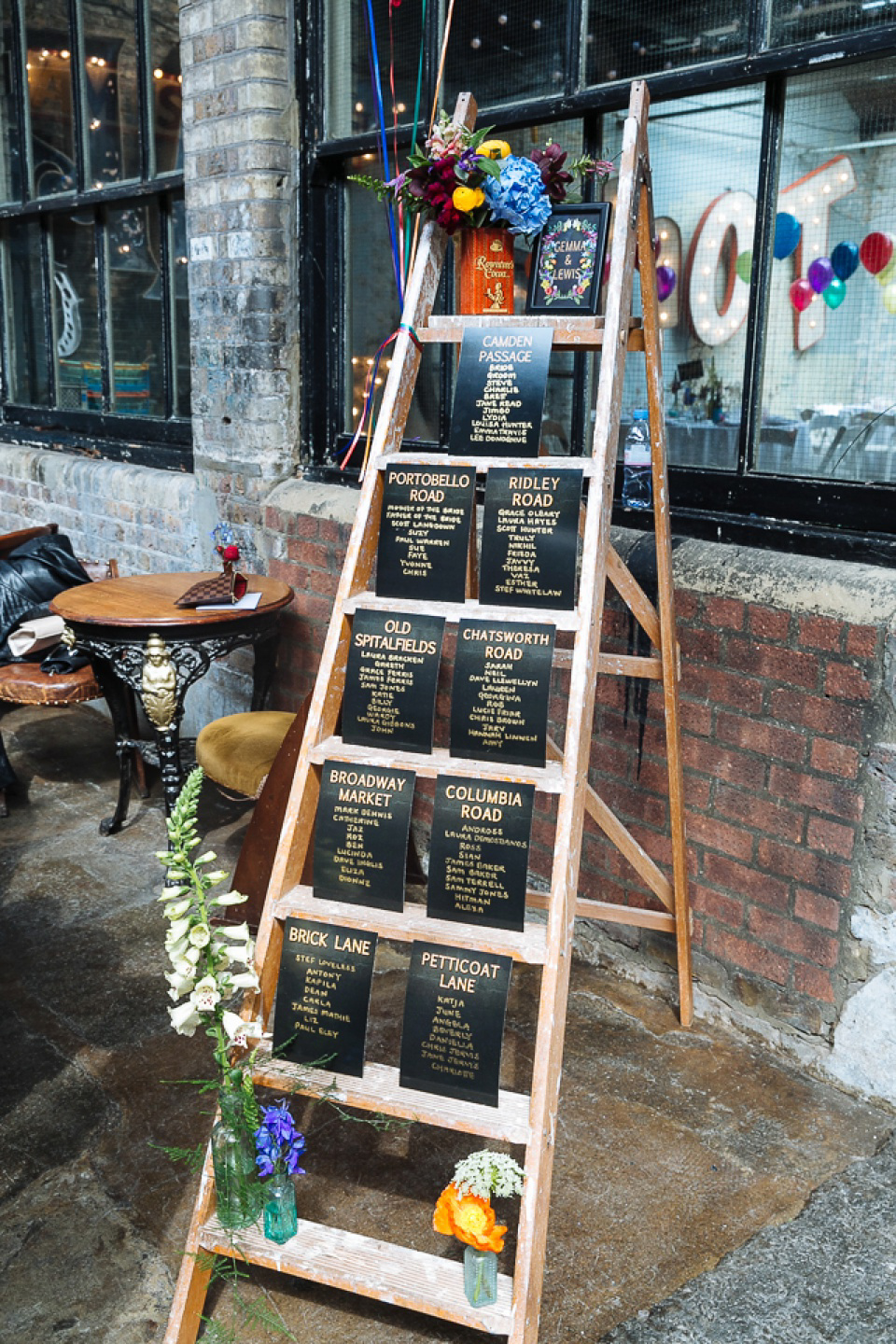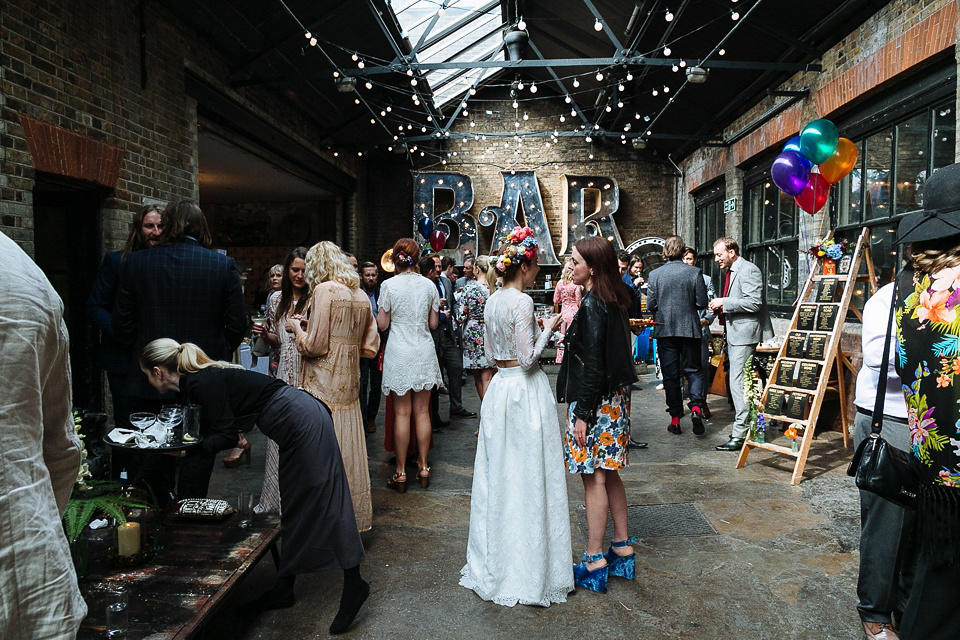 "For decor, we just used the balloons as mentioned previously. Oh and some pineapples sprayed gold for the tables. Another last minute decision.
We weren't going to do favours as they always get overlooked, unless you can eat or drink them of course. I have such a sweet tooth so decided just to fill candy bags with sweets, tied with place names hangman style, which added another pop of colour to the tables."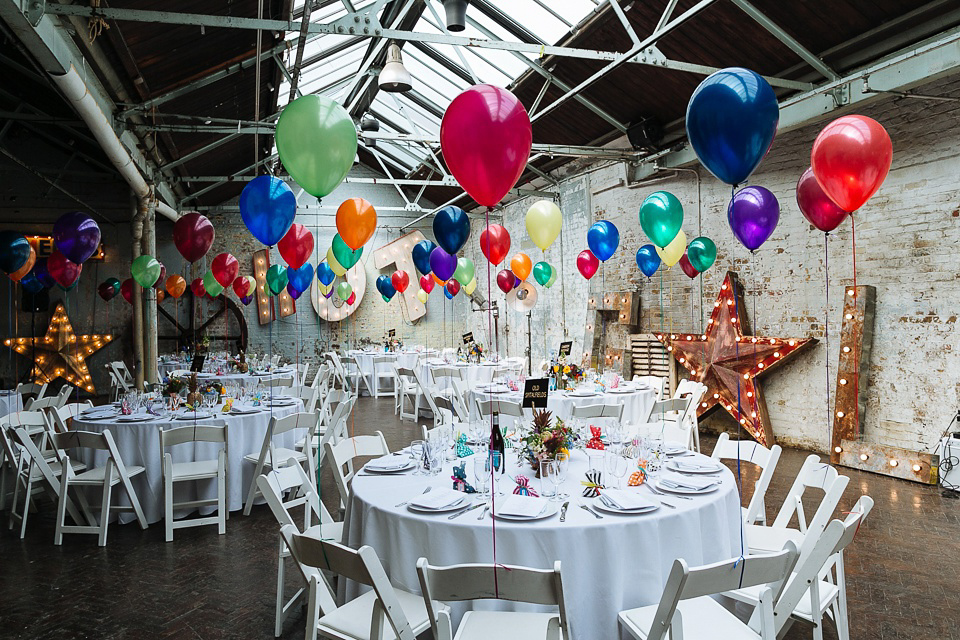 "One of our very creative best friends Grace O'Leary designed all of our stationery – our invites, table plans, guest poster and website. It all matched the day and Mc Motors perfectly. She is so imaginative, we were thrilled with what she did."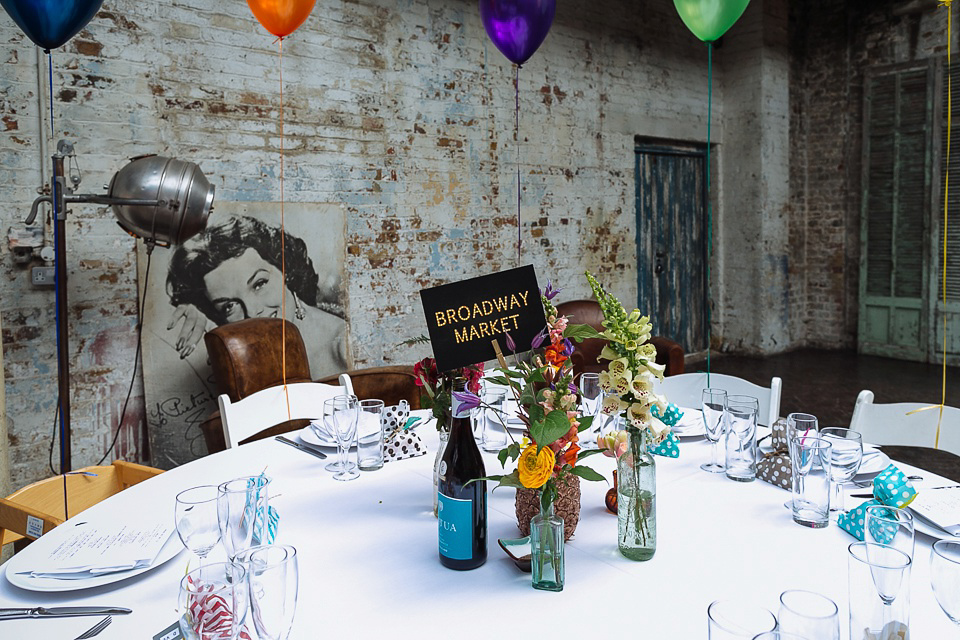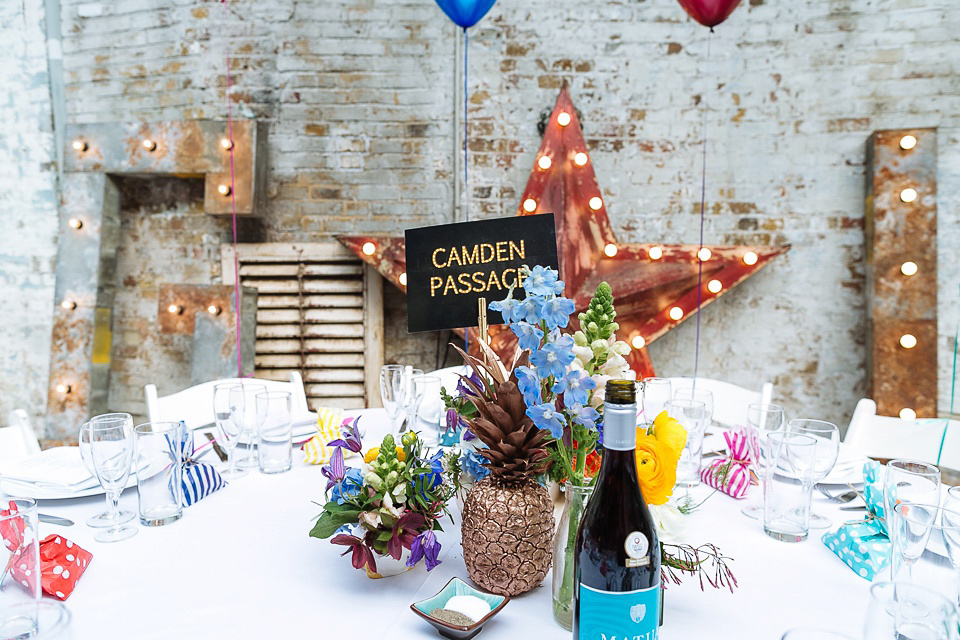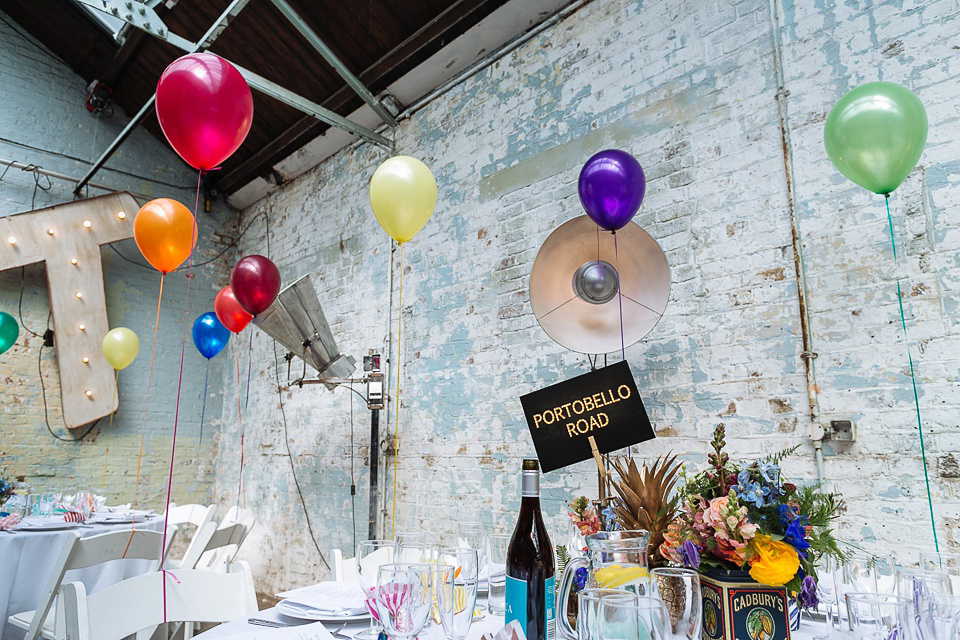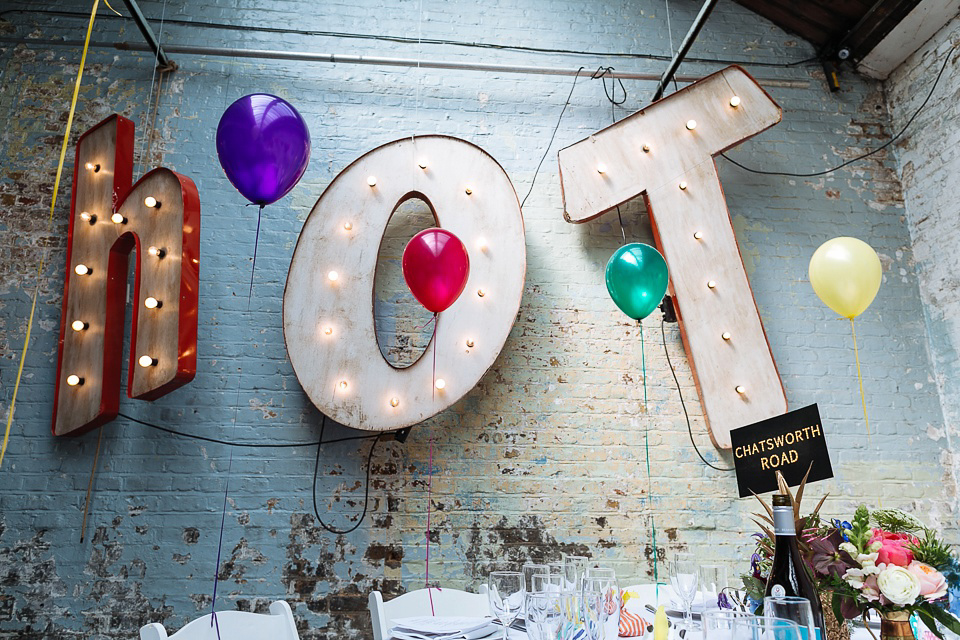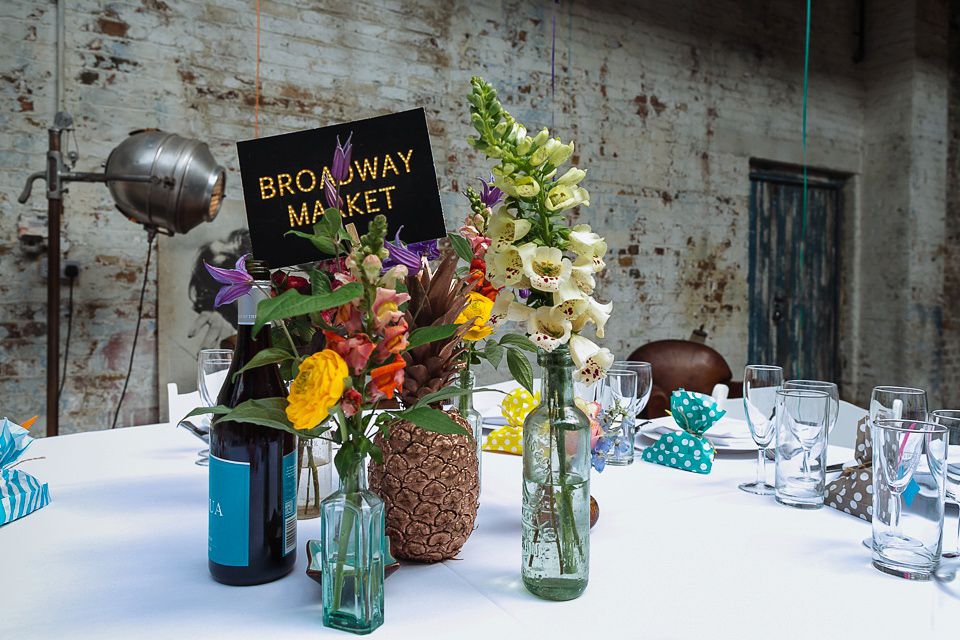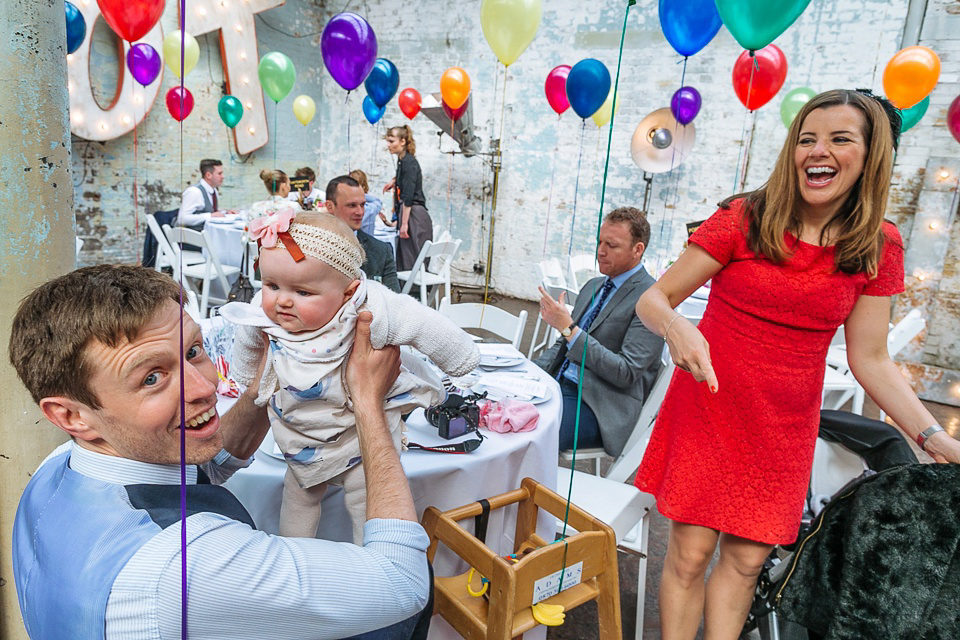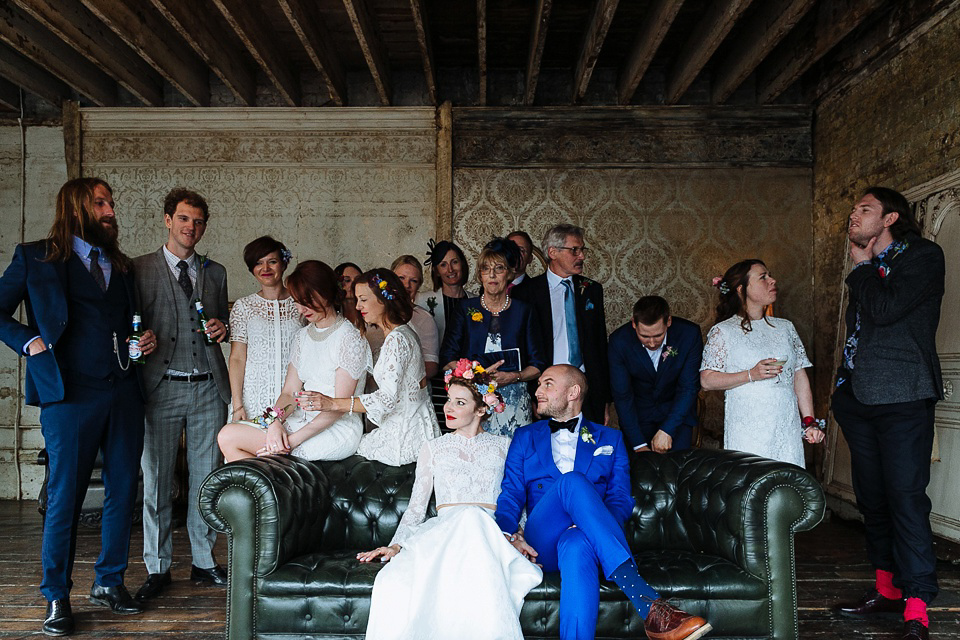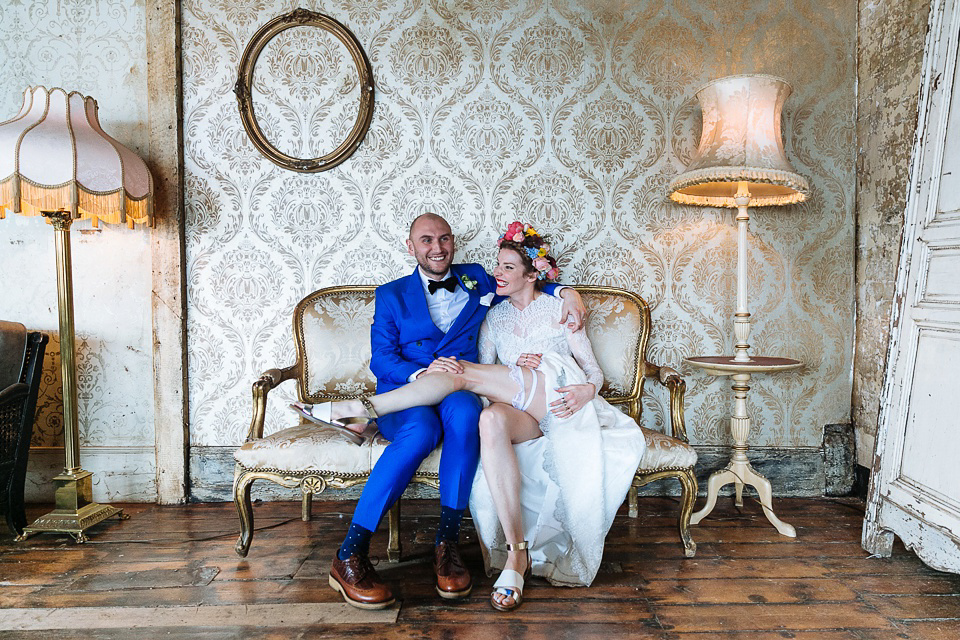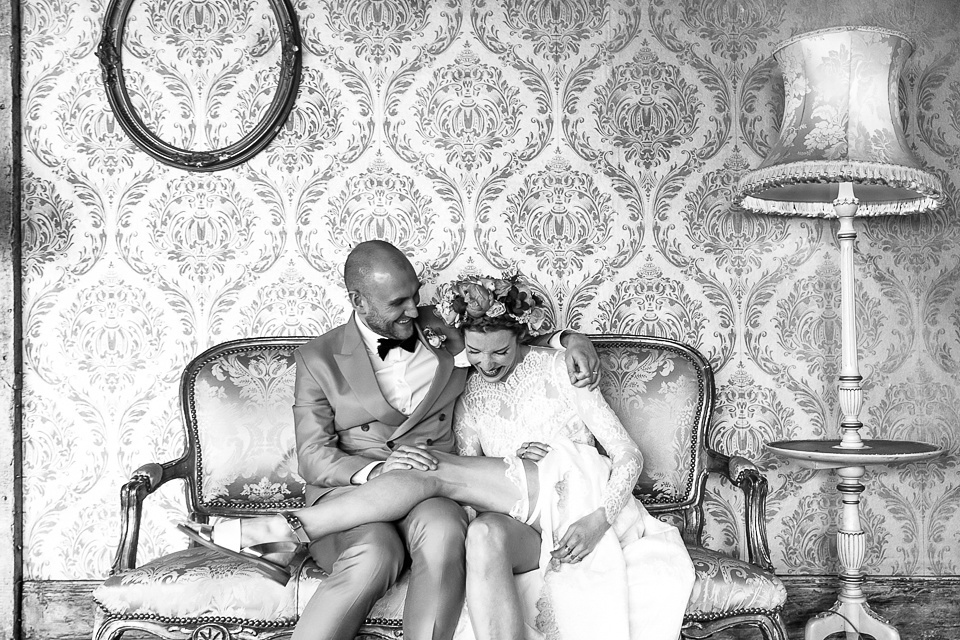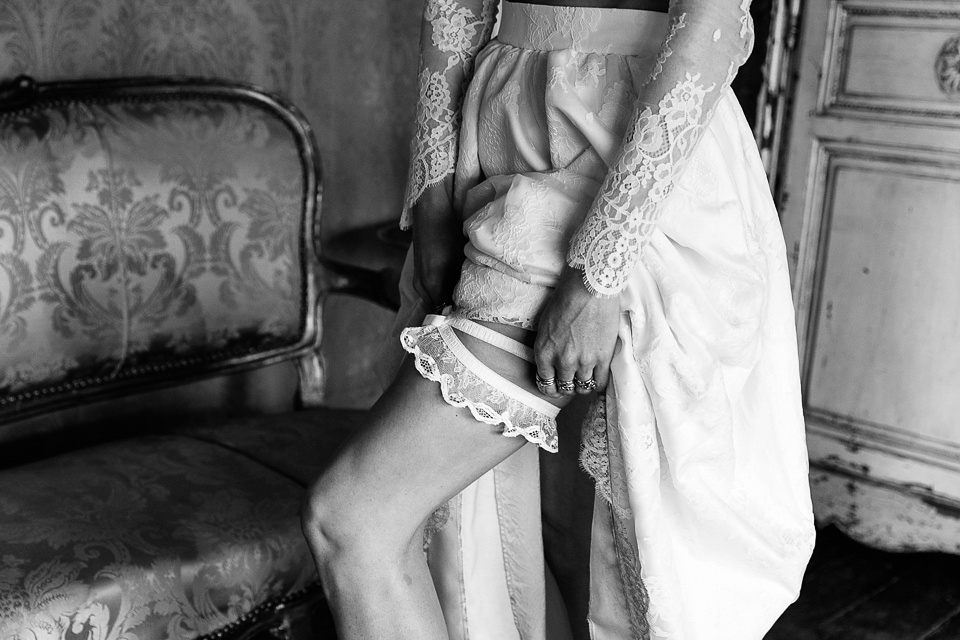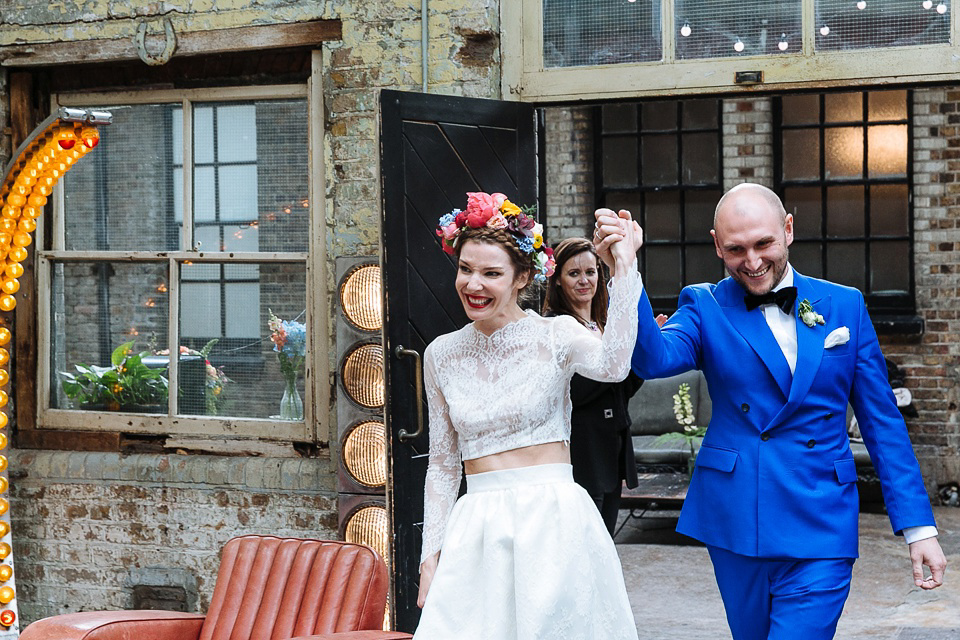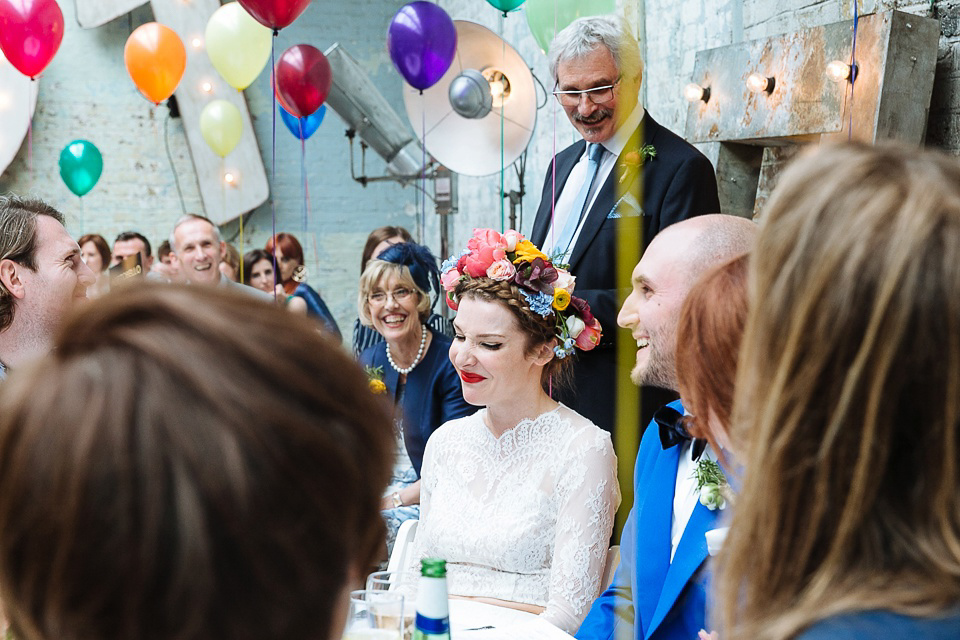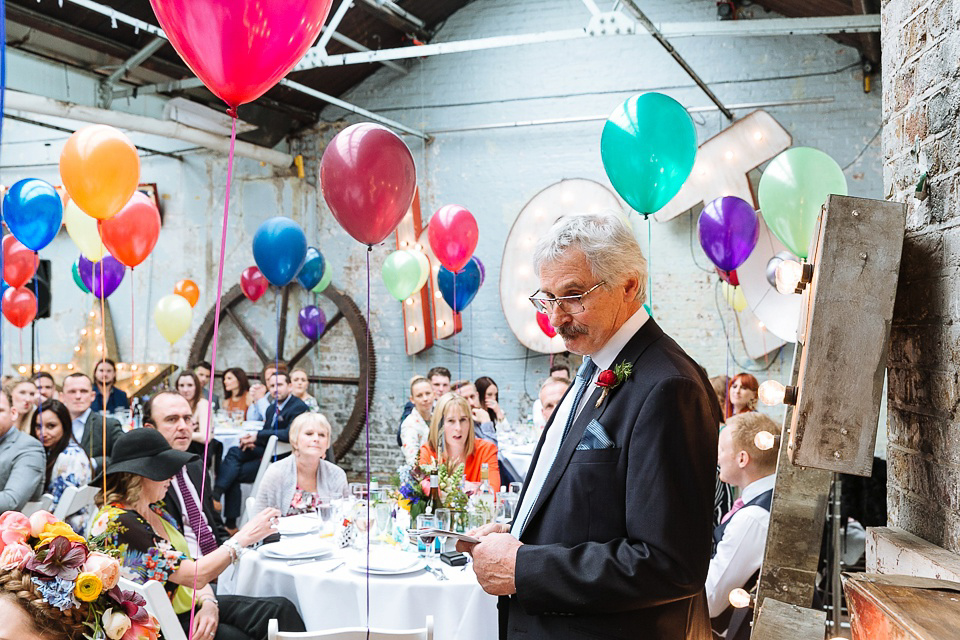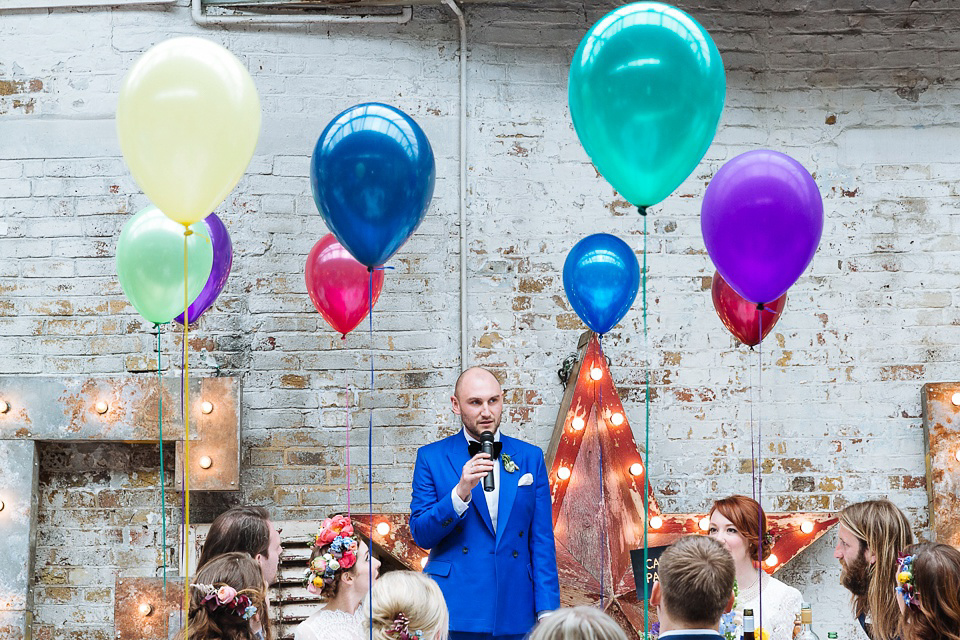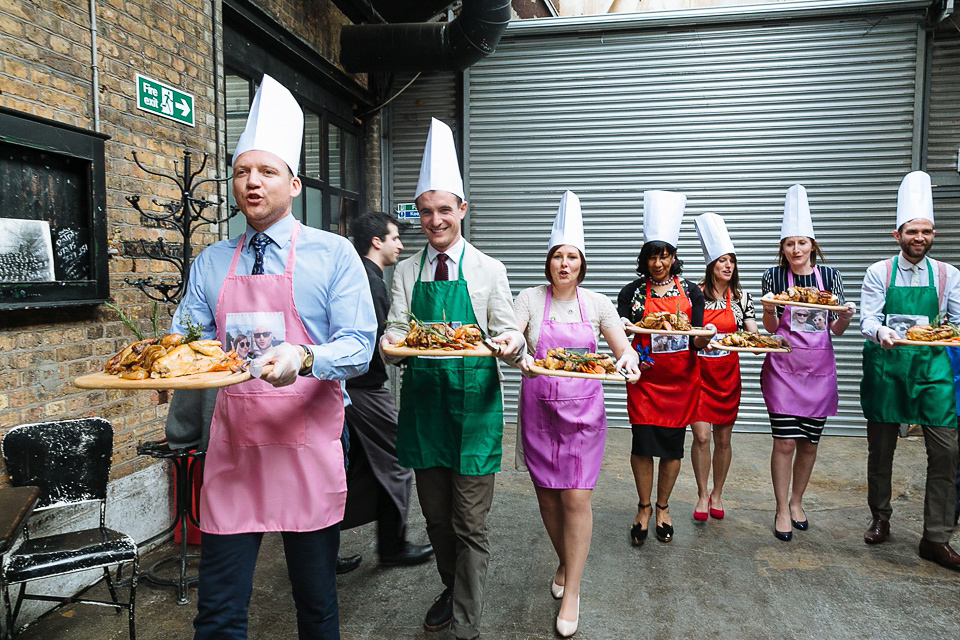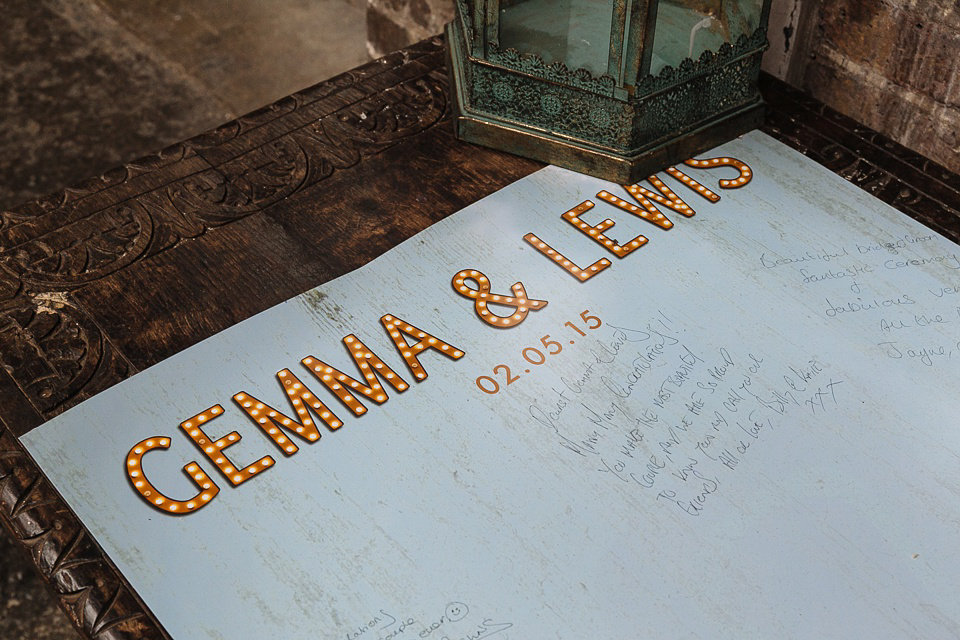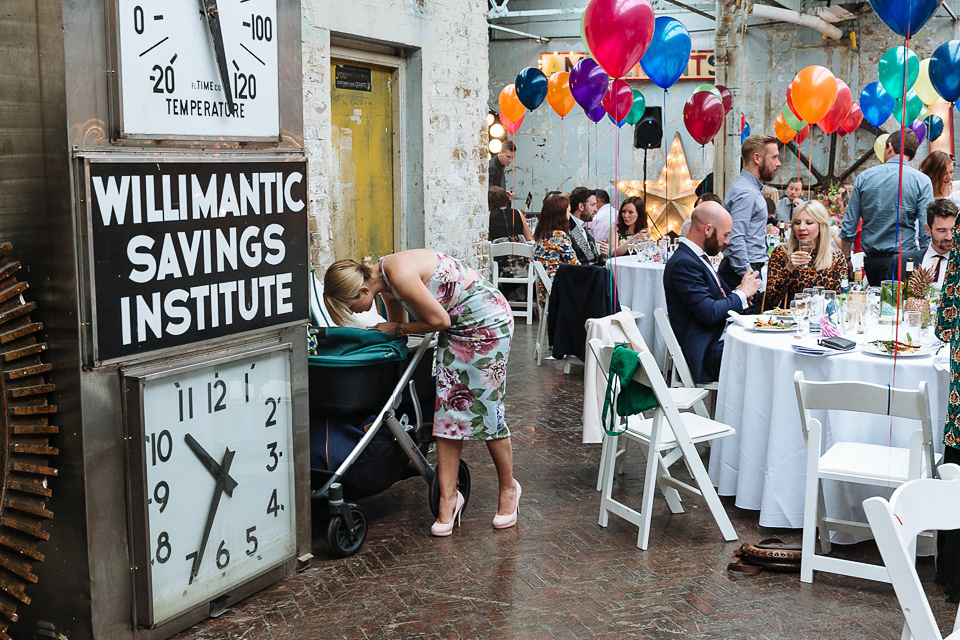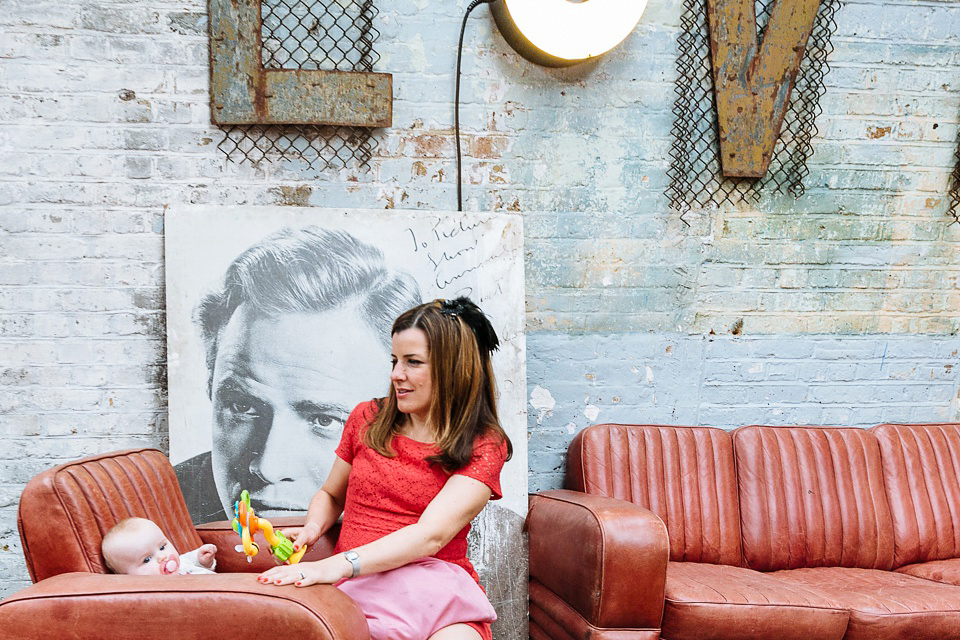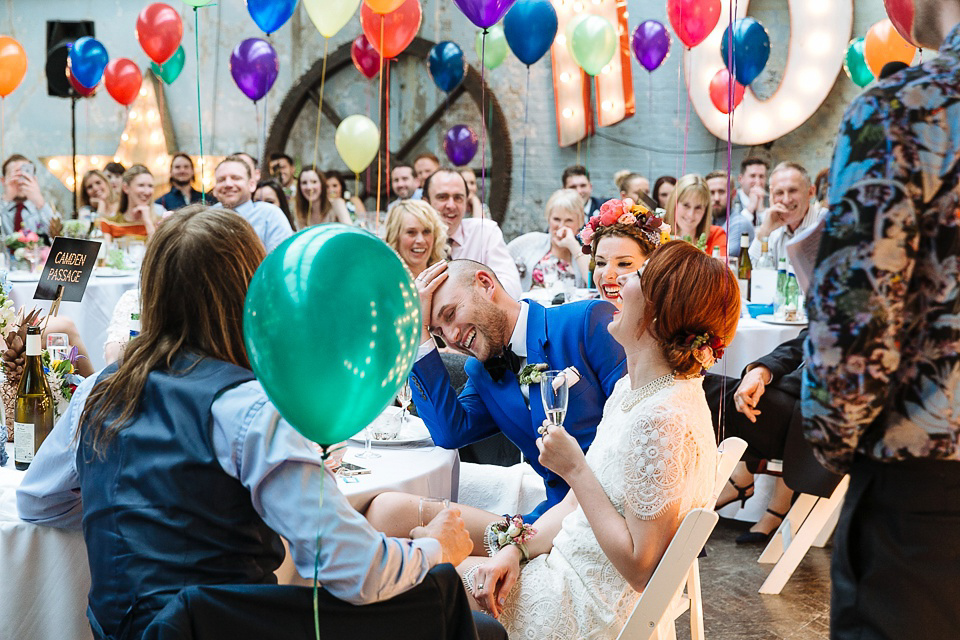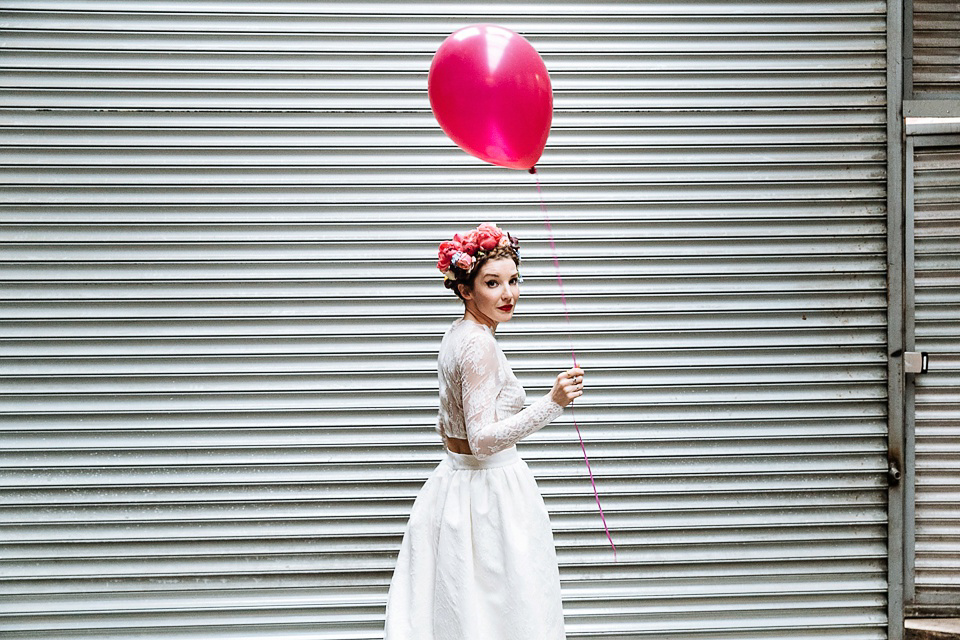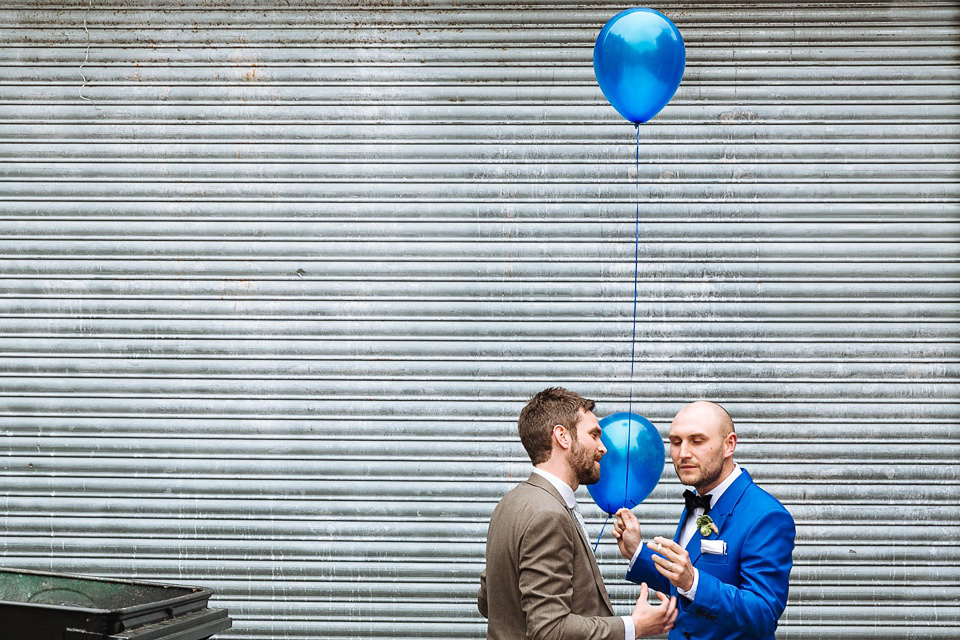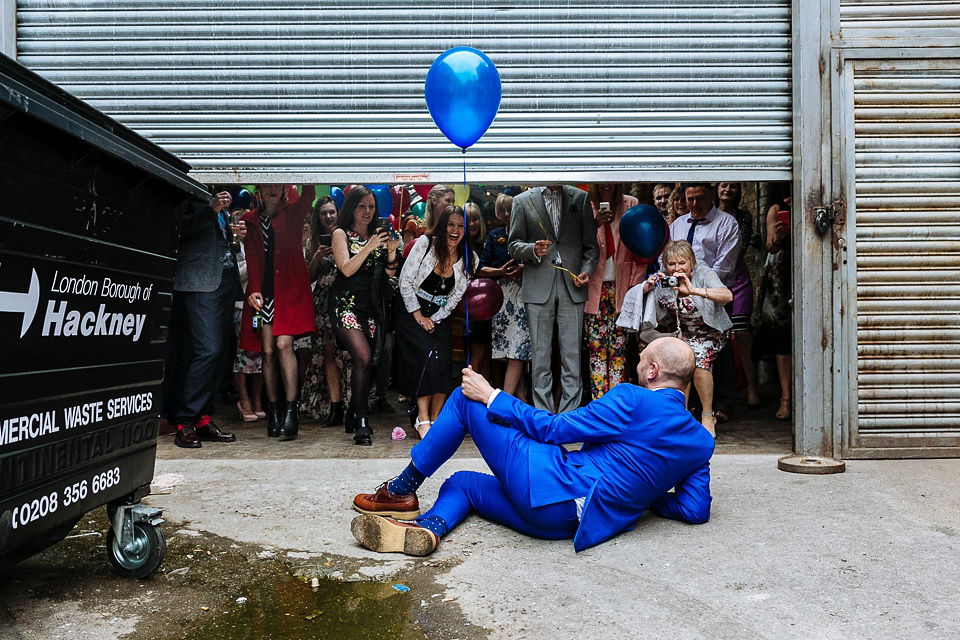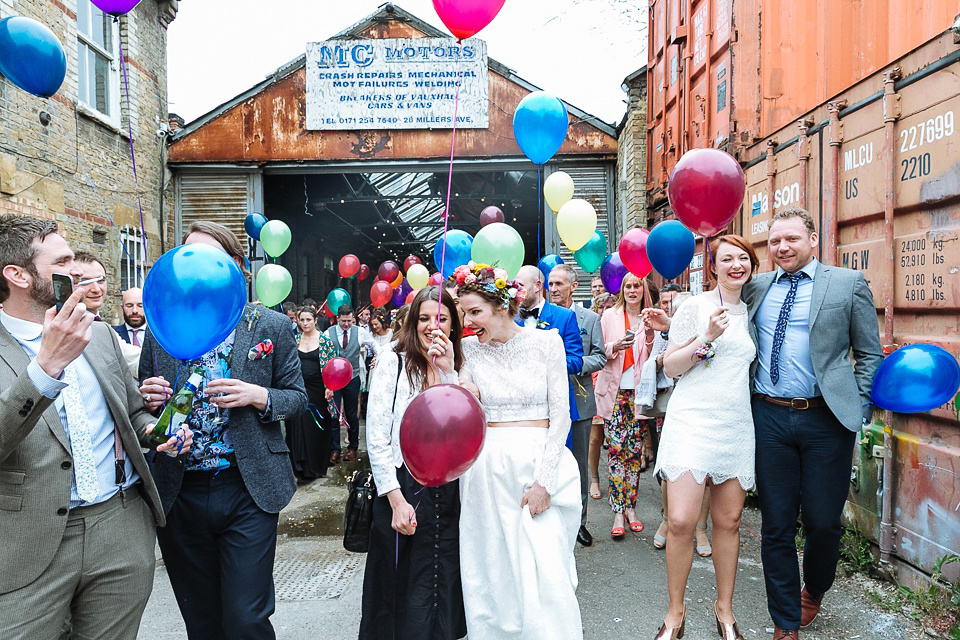 "Our caterers Easy Gourmet Catering took care of everything, Marie-Laurie is incredible, she plans everything meticulously and thanks to her, the day went without any hitches. We had Moroccan Chicken served with roasted vegetables and cous cous, carved at the table by our guests after their speed carving lesion (!!!) followed by mini various mini desserts. Then after dinner passion fruit martinis and moijtios.
We had brick lane bagels in the evening along with a popcorn machine. I sadly couldn't eat much at all, too much nervous energy but everyone said the food was delicious! I did however manage to scoff a whole scotch egg down and it was heavenly."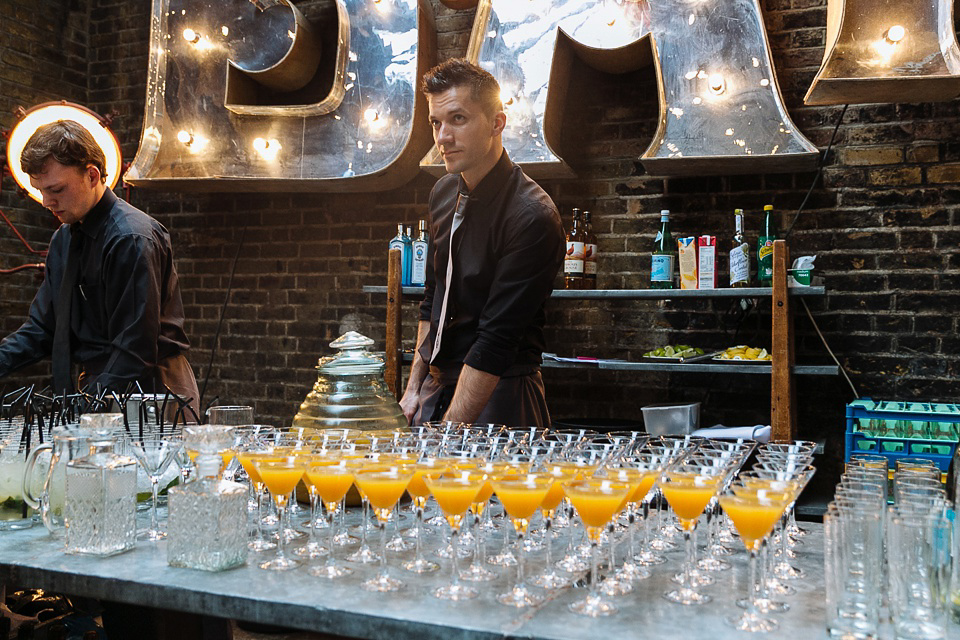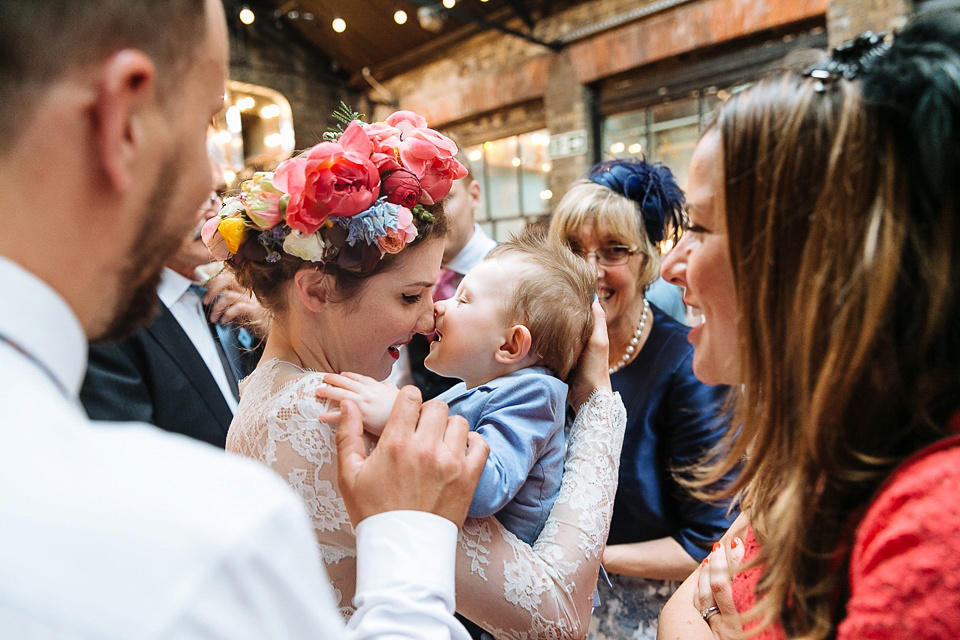 "We hired The Sound Casters, who are a band from Kent. We saw them at a friends wedding and thought they were brilliant. They did a great job, lots of covers which appealed to a wide audience. Then our mate Ian was our DJ, who blasted out loads of our favourite tunes."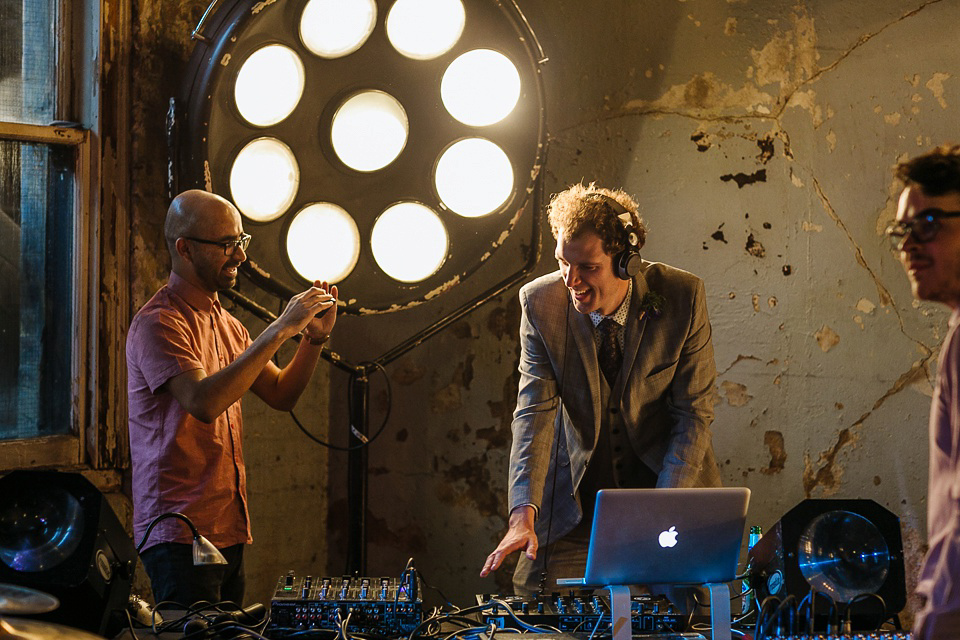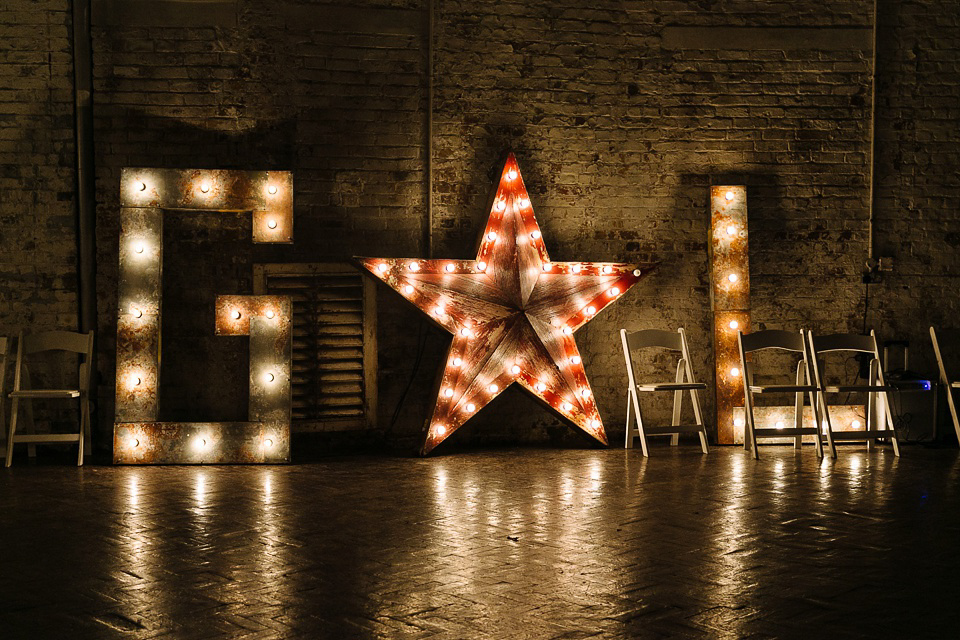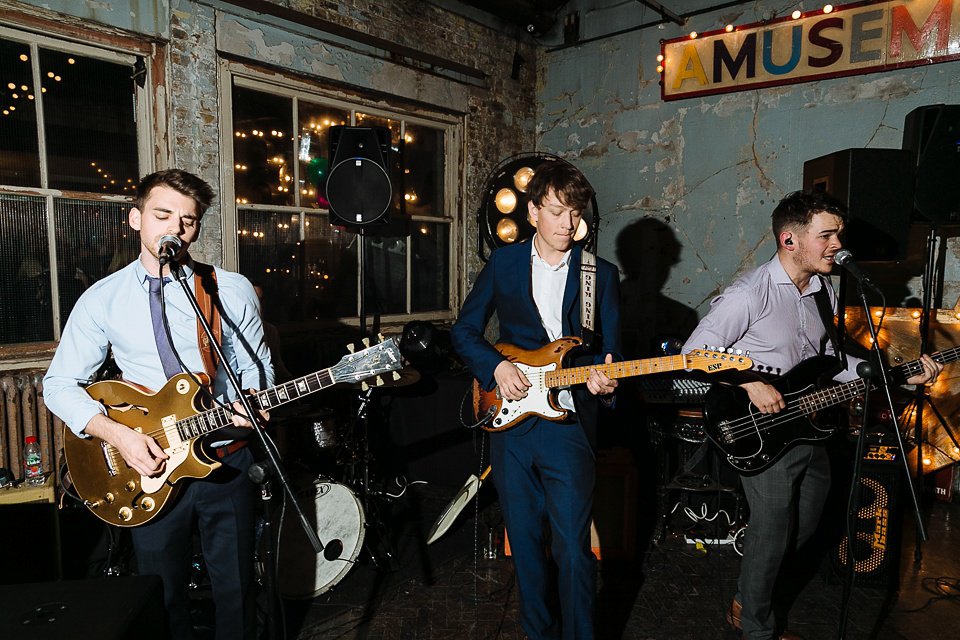 "We had a last dance, not a first. Much more fun when everyone is drunk, swirling/rolling/star jumping around the dance floor. Fleetwood Mac Everywhere , Psychemagik remix. This was an easy choice for us."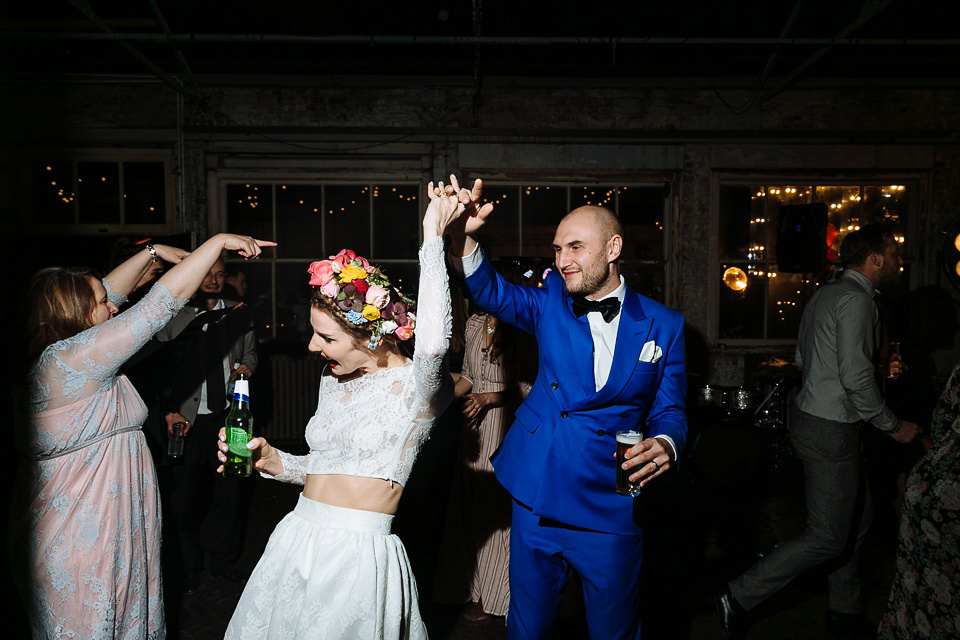 "Some of my favourite moments included walking down the aisle with my Dad. That was a super special moment, as was having our son Rocco join us up on stage in the chapel. Also, saying our personal promises to each other – Lewis getting on the mic pretending there was a disaster in the kitchen calling on guests to help out! The hilarious and heart felt speeches, letting off the balloons, our last dance, walking down stoke Newington high street to the after party being bought kinder eggs by random people wishing us a happy wedding day – there really are so many beautiful memories."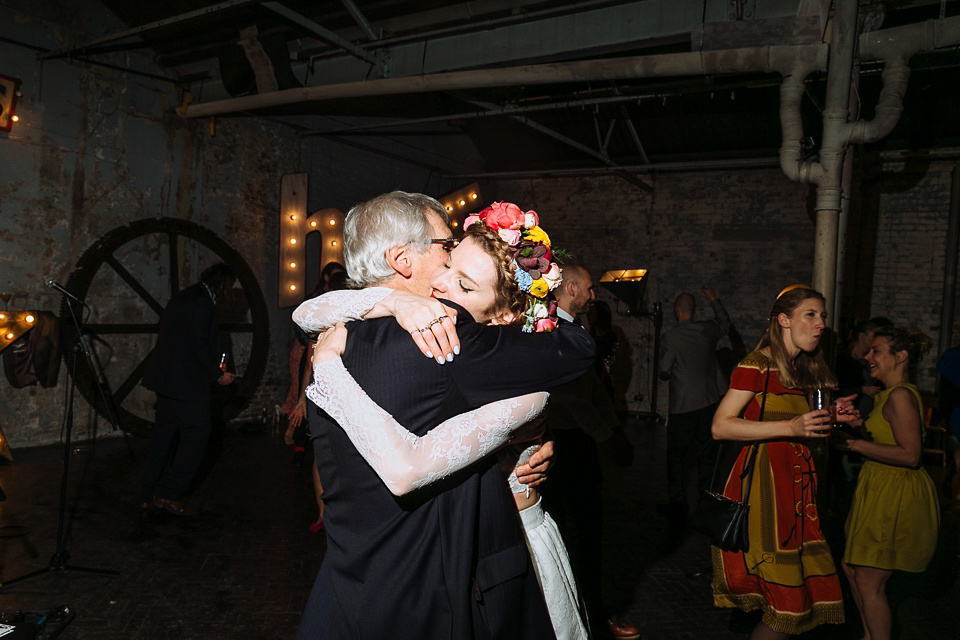 Words of Wedded Wisdom
"Don't get drunk. The day goes by so quickly and you want to remember every single second. I enjoyed a few glasses of bubbles and I did let my hair down at the after party in Dalston but the day costs so bloody much, and if I had got drunk my memory would've been patchy to say the least, I wouldn't have the clarity that I still have have now of the entire day and night. Boring advice but it's the best advice, trust me – Lewis can't remember what I can of our day!
I gave my Mum permission to remove glasses out of my hand if she thought I was tipping over the edge, but she didn't need to!! I'm sure she'll agree with that! Also, make sure you grab each other throughout the day, and just stand still for a few minutes and take it all in. A good friend told me to do this, it's an incredible feeling watching all the people you love having a blast at YOUR wedding.
One thing – I felt like a hardly saw my mum throughout the day, what with us both getting caught up with all the guests, plus mum making sure the babysitter was ok with our son Rocco., the day is a whirlwind. I would have liked more photos with her and a few more cuddles. We both said this."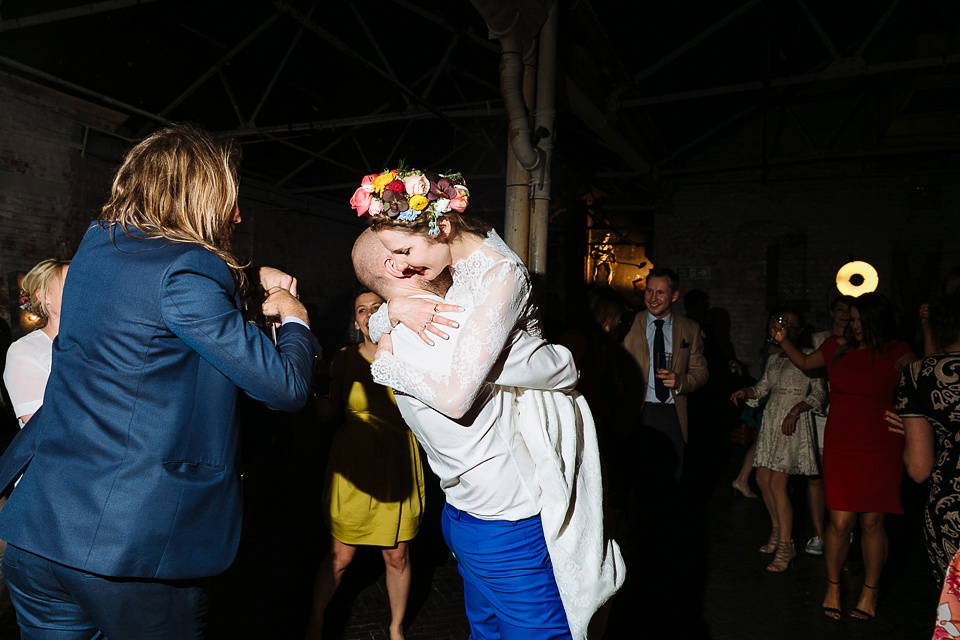 What an incredibly fun, joyful and beautiful day! My love and thanks as always to the immense talent that is Nick Tucker. You can see more of Nick's work on Love My Dress here.
Right, deep breath, time to calm the nerves and excitement ahead of 10.am. See you then at littlebookforbrides.com!
Love Annabel xx
Photographer – Nick Tucker
Venue – Union Chapel Islington + MC Motors in Dalston
Dress – Katya Katya Shehurina via Preloved
Floral headpiece + flowers – Love Blooms
Shoes – Russell & Bromley
Perfume – Chloe eau de Parfum
Grooms Suit – bespoke suit + Lanvin bow tie + Soulland brogues
Bridesmaids – own choice in white
Transport – Routemaster Hire
Entertainment – The Sound Casters
Rings – Metal Crumble
Catering Company – Easy Gourmet Catering
Stationery – Grace O'Leary
Makeup + Hair – Elbie Van Eeden