I always feel a little thrill the moment before opening a new set of wedding photographs that Annabel sends over to us feature writers – it's so exciting knowing that inside the file are the pictorial memories of a couple's big day, and that I can get to know them just a little through those images and their own words in their questionnaire. This wedding has a lovely warm family feel, with the bride and groom's three children taking a big part in the day's festivities. It also provides a beautiful example of the joy and celebration that can be found by marrying a second time after divorce.
Anna, a Paralegal, and Myles, a Graphic Designer, married at St. Marys Church in Embsay, with a reception at the village hall, on Saturday 13th June this year. Their choice of location was due to strong personal ties to the local area, as they actually got engaged on the crags visible in the distance. The style of their wedding was inspired by their love of vintage.
"We tried not to get bogged down with a particular theme; we just wanted a DIY wedding with a mix of everything we loved, from vintage to modern day items brought from the family home."
Photography by ShutterGoClick Photography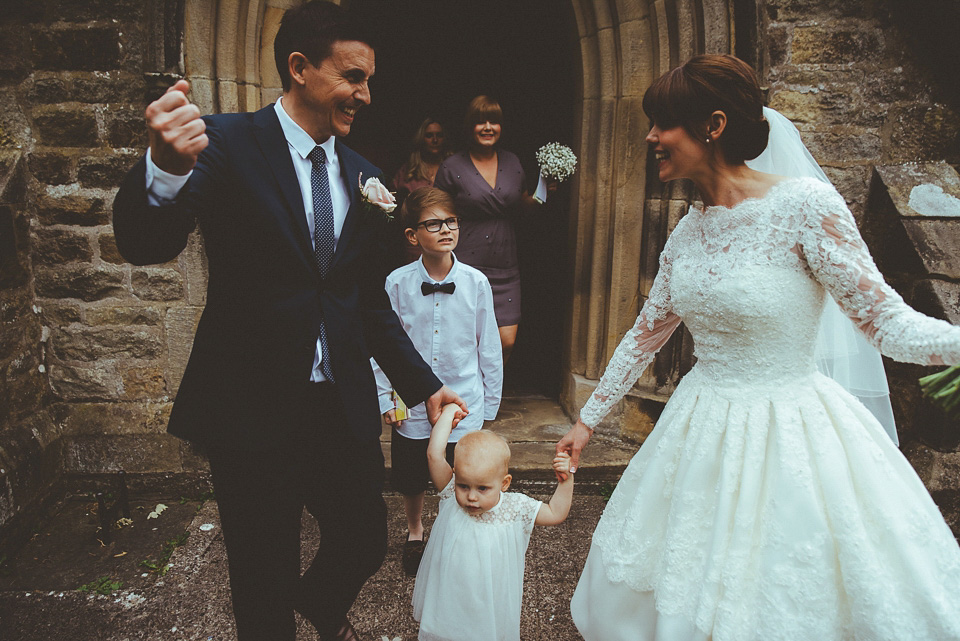 Myles tells us their relationship history- it took twenty years for them to get together, but the proposal was well worth the wait, and worthy of Emily Brontë herself.
"Anna and I first met at school. I had a dream about her whilst on a family holiday to Greece and plucked up the courage to ask her out when I got back. We dated for about 3 weeks, which was a long time back then!"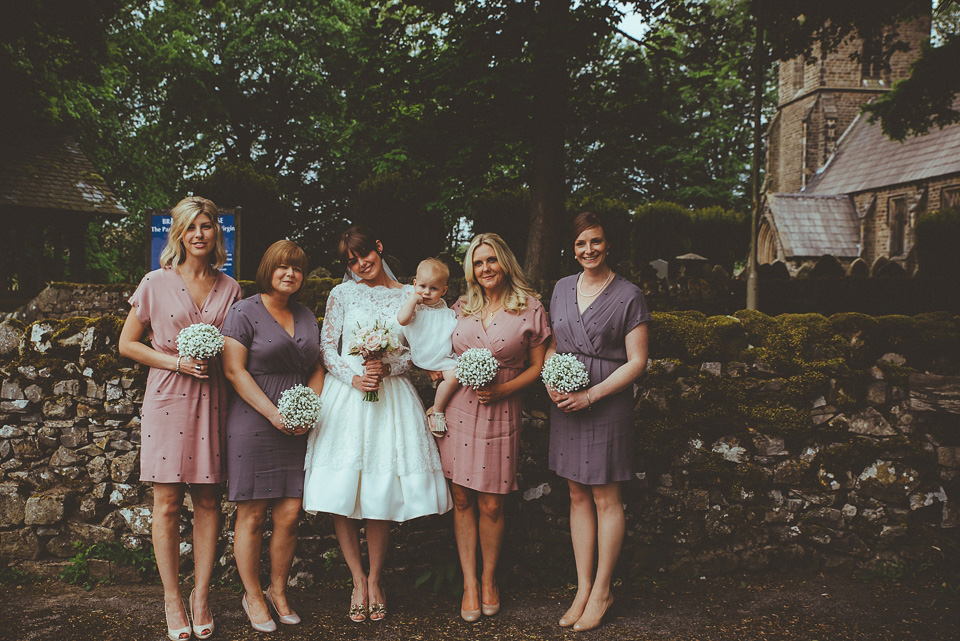 Bridesmaids dresses from Boden
"It was another 20 years before we met again. In that time Anna had moved to London, married in Vegas and had two children, Ollie and Spike. She was separated from her husband and we reconnected via Facebook. I saw an opportunity on hearing she was single again, so invited her over for tea and Battenberg, the rest they say, is history…"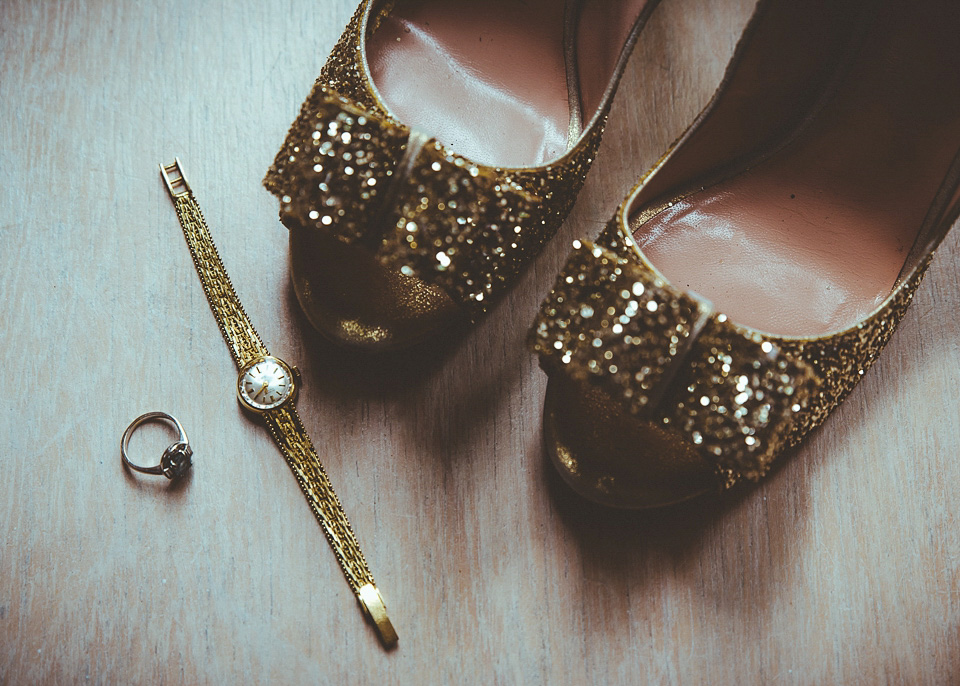 Shoes by Kate Spade
"I proposed in December 2013. I had arranged for my mum to look after Dottie to allow us to climb to the top of Embsay Crag, where I proposed on bended knee. I had a ring, a poem that I had written and drawings of the crag and our family – we were both crying."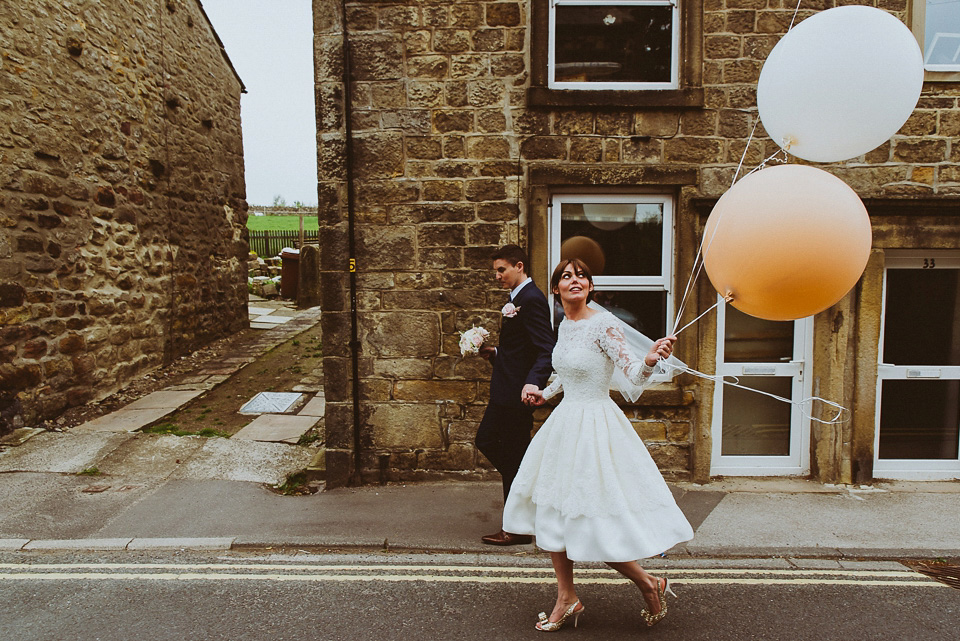 Anna wore a wonderful 50's style dress by Ellis Bridals, which she purchased from local boutique Amelia's Brides in nearby Skipton. The length and vintage style both hugely appealed to Anna, and it suits her slim frame just beautifully. I especially love the long lacy sleeves, the flouncy skirt and the beautiful cut-out back.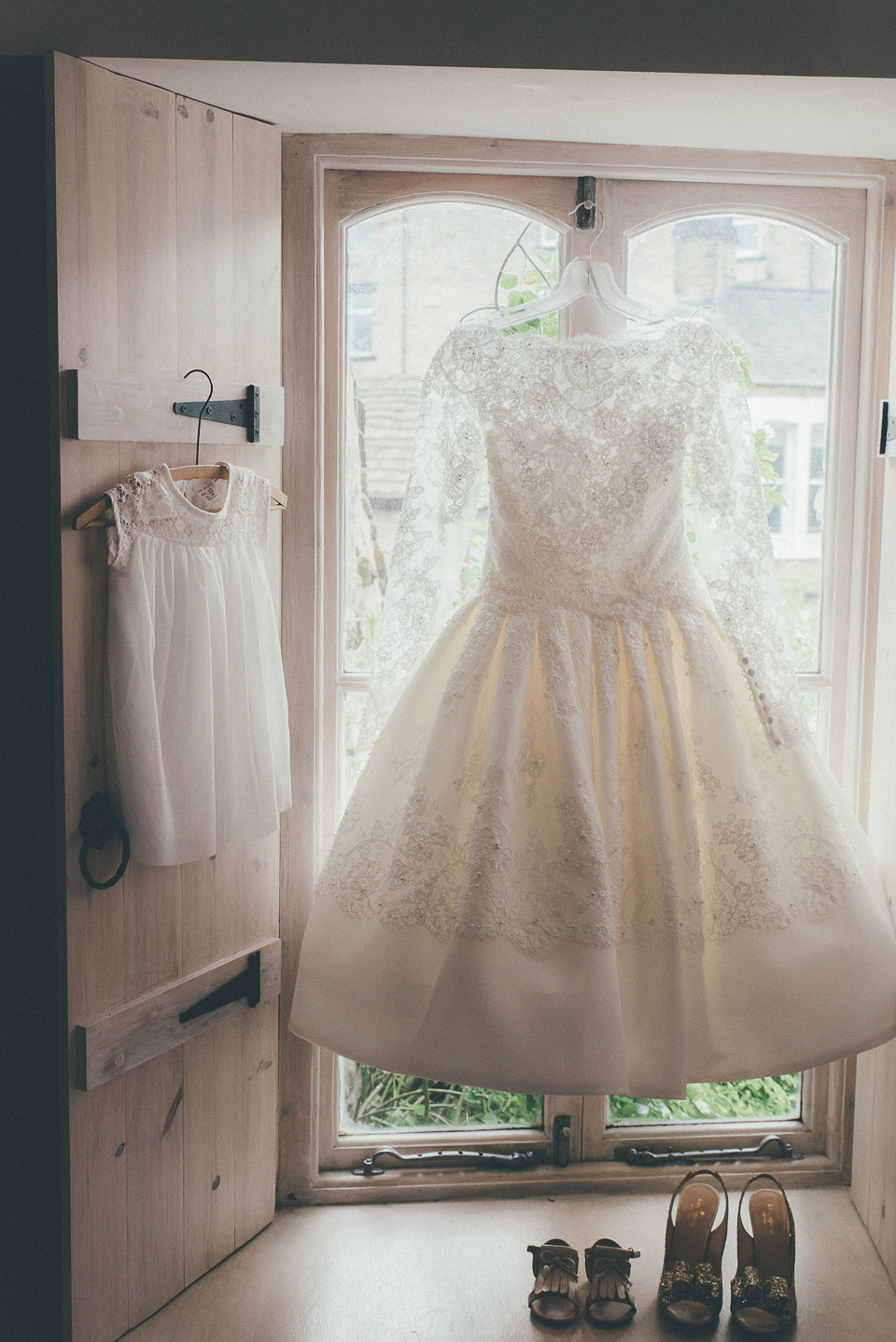 Anna teamed her fabulous frock with a Rainbow Club veil, shoes from Kate Spade and a delicate gold watch, which had belonged to her Great Grandmother. She finished the look with a spray of Tom Ford's 'Velvet Orchid', and did her own makeup and hair- the dark eyes and heavy fringe setting the vintage look off to perfection.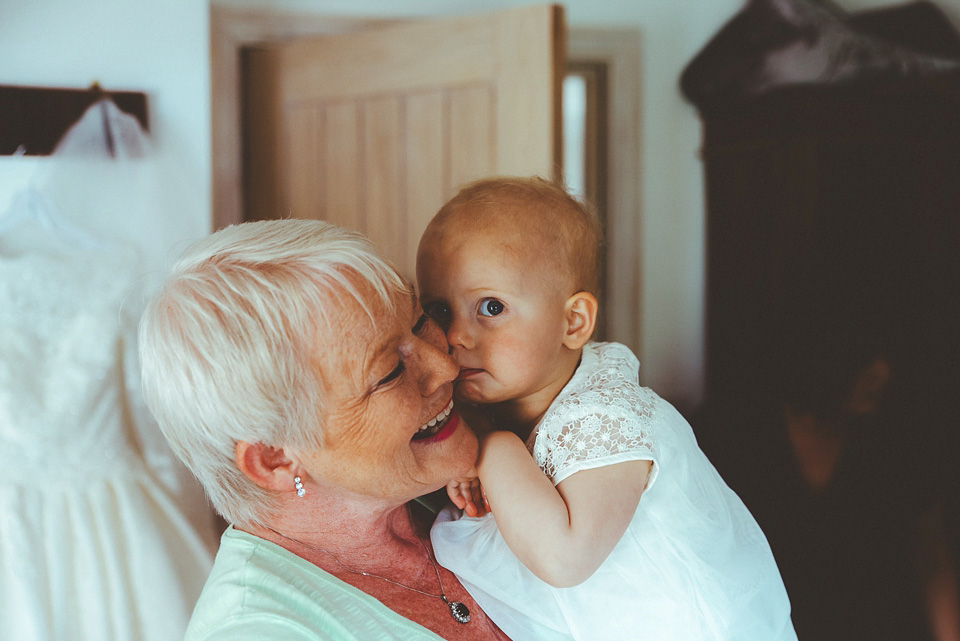 The bouquets and floral arrangements were the work of Sam Williams Flowers, an old school friend of the couple. The bouquets featured pale pink and ivory roses and oh-so-romantic gypsophila, creating the prettiest of posies.
"We didn't know what we wanted but she knew exactly, and the flowers were beautiful."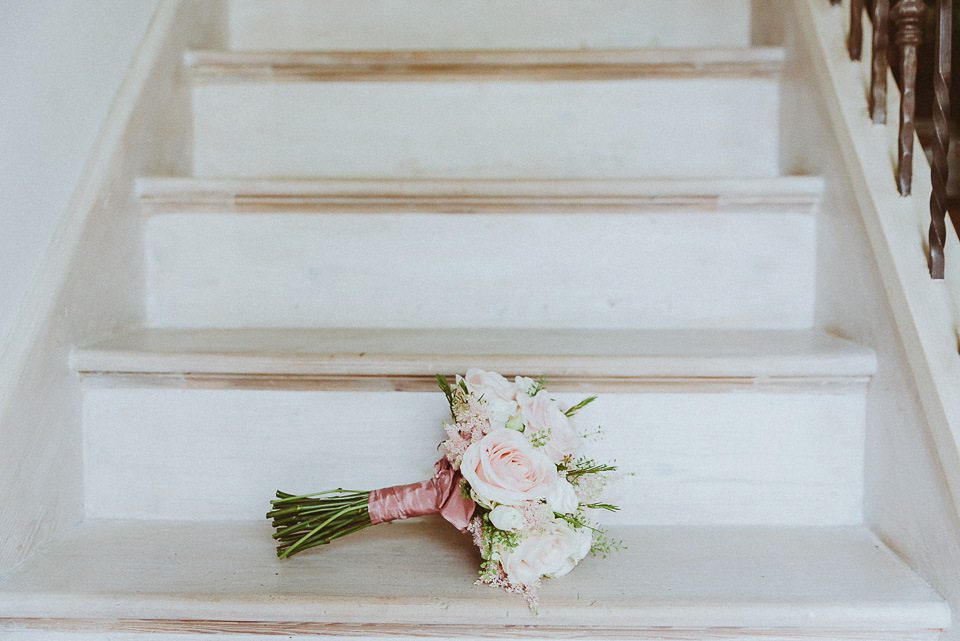 The four bridesmaids looked beautiful in dresses from Boden – two in purple and two in pale pink, which works together to form a soft, heathery colour scheme and the baby flower girl looked a picture in her Zara dress.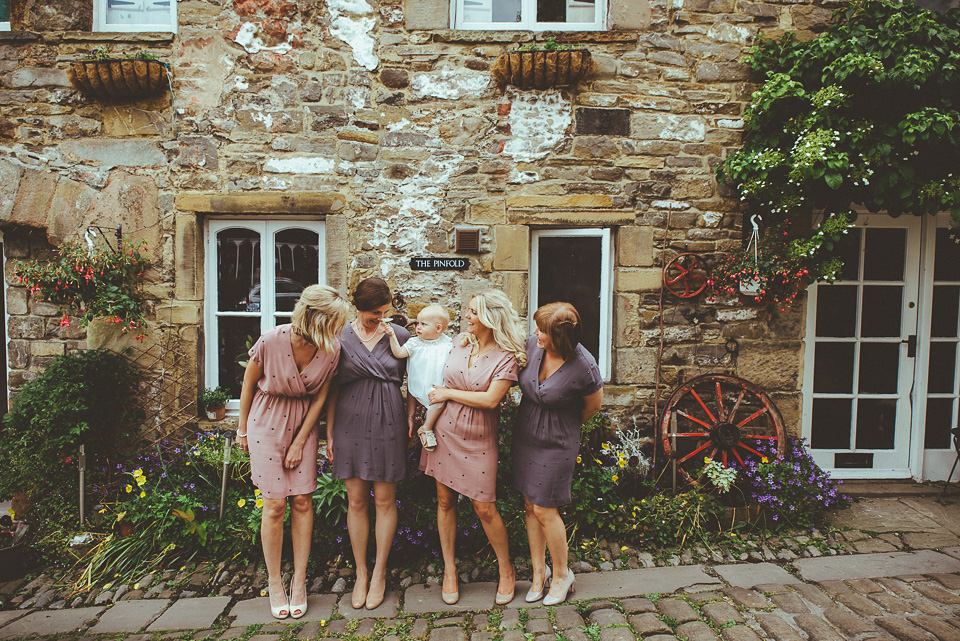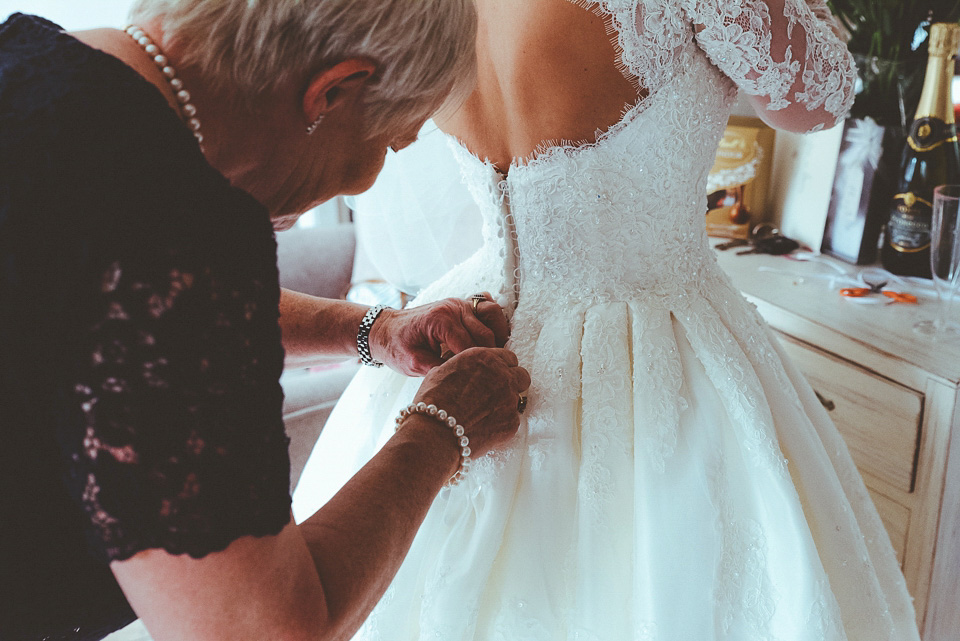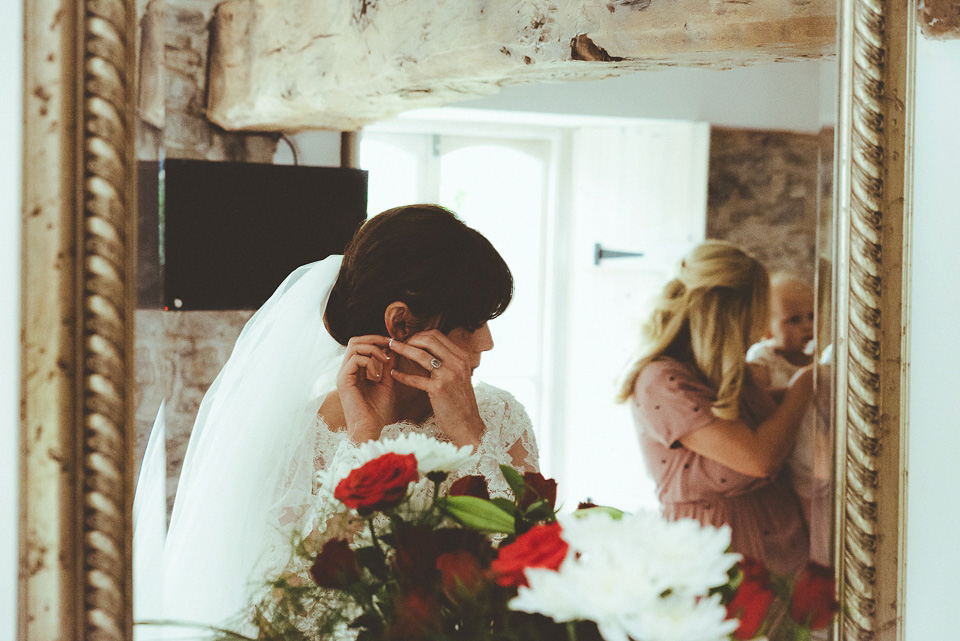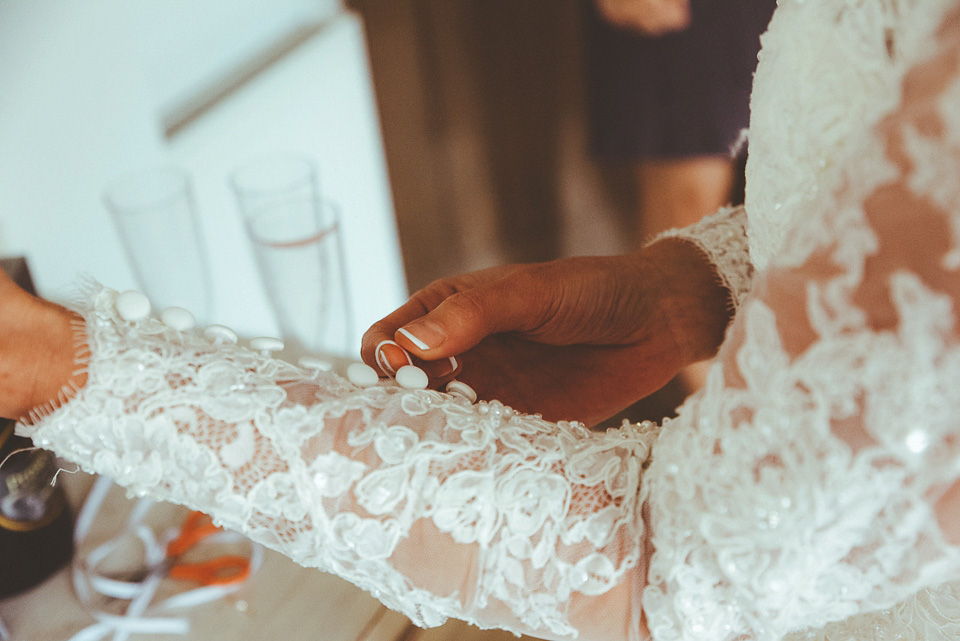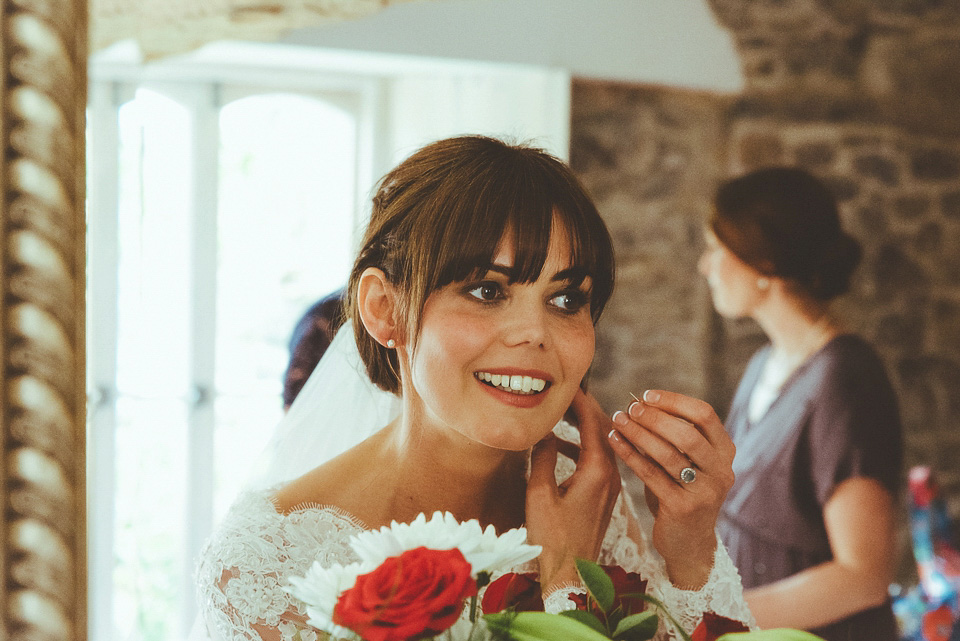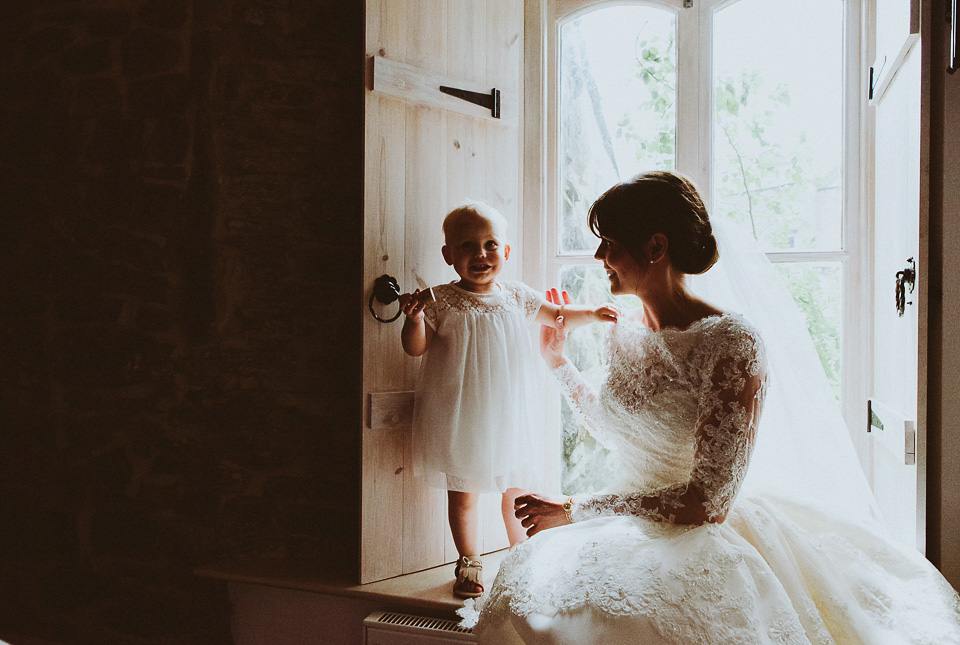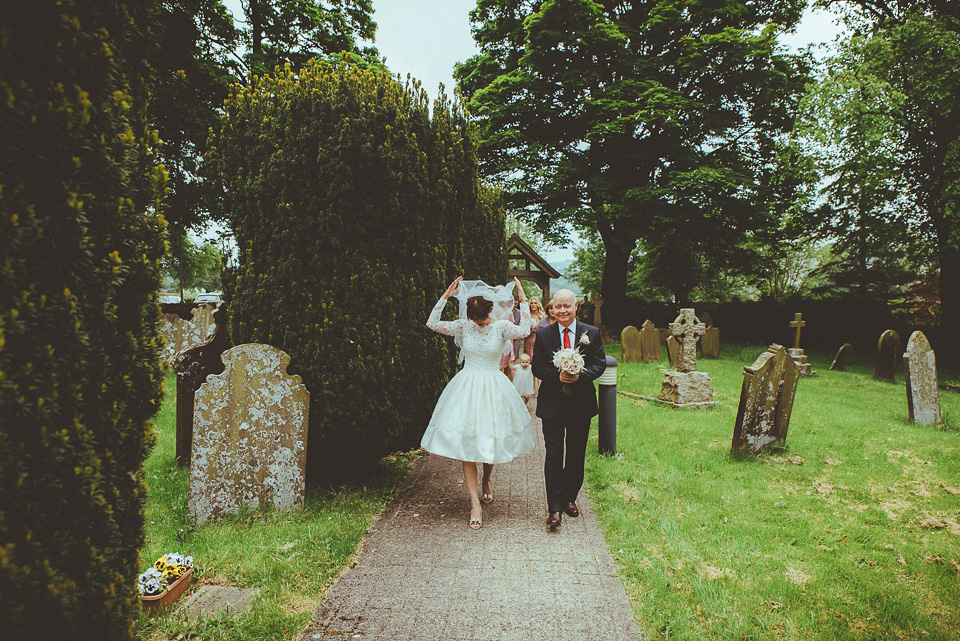 Not to be outdone, Myles sported a dark blue suit from River Island, with white shirt and blue patterned tie and pageboys Ollie and Spike looked very dapper in white shirts and black bow ties from Zara.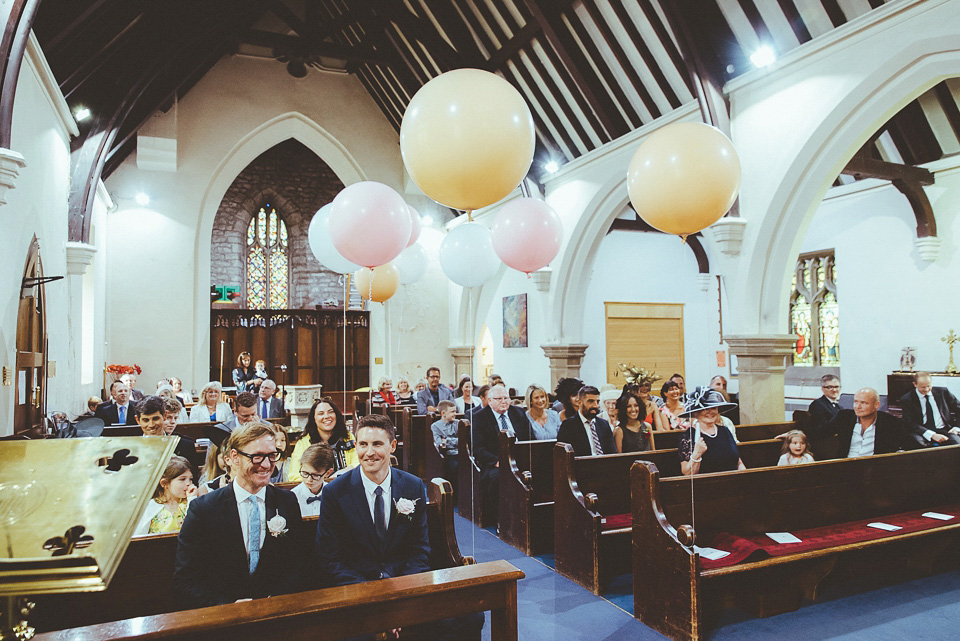 Anna was walked down the aisle through a tunnel of pastel balloons by her proud Dad to the sound of Sigur ros' 'Hoppipolla'. Readings were spoken by Myles' Mum (Corinthians), Ollie ('The Lovely Other Dinosaur') and Florence, one of their bridesmaids (and extract from 'Captain Corelli's Mandolin'). Beautiful choices all.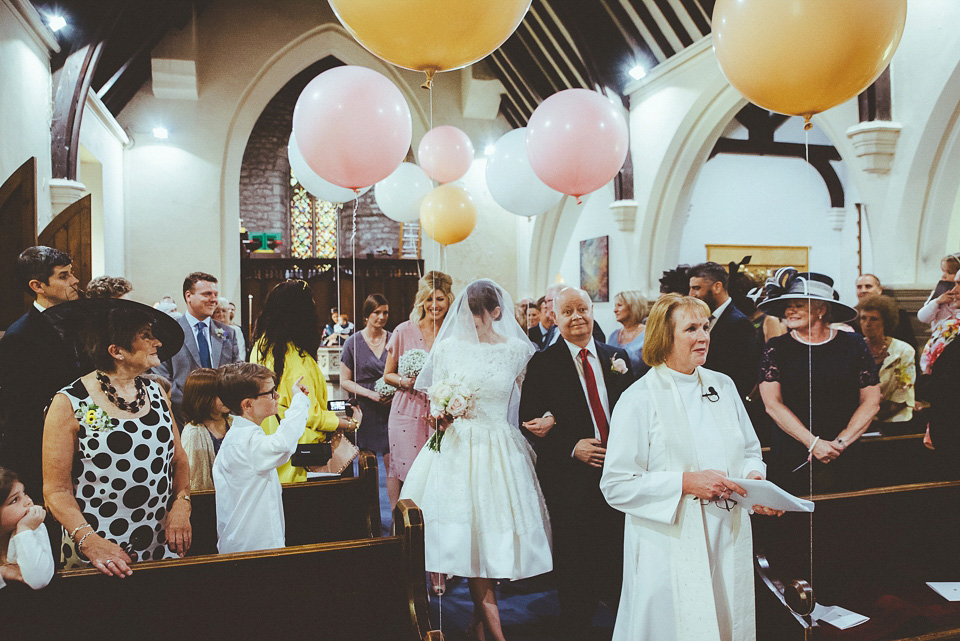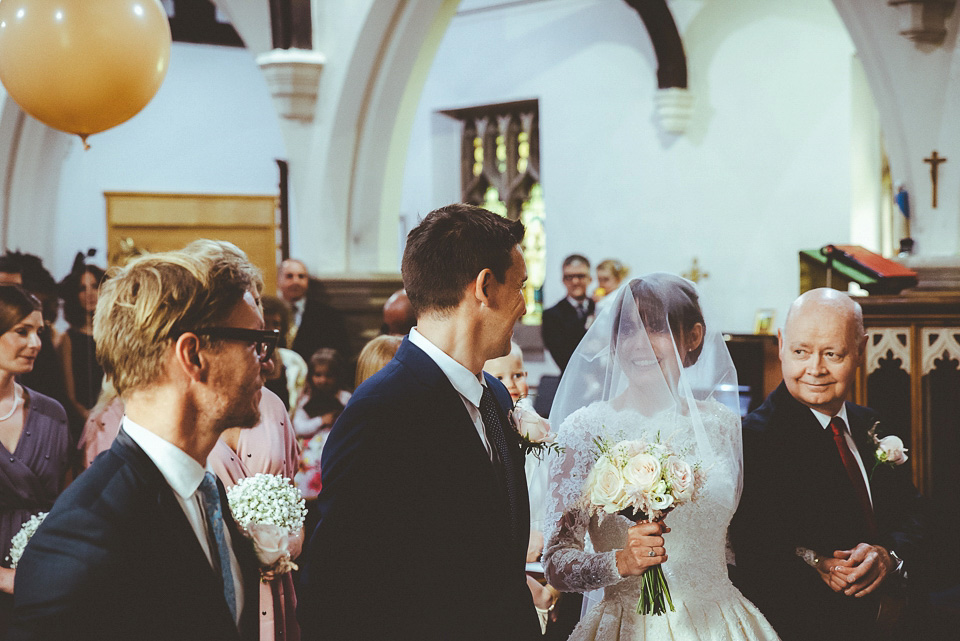 Myles donned a rose gold ring, passed down to him by his Grandmother, and Anna's ring was made to match by Leon Dewhurst Jewellers. I love this sense of family tradition and passing on the past to the future members of the family.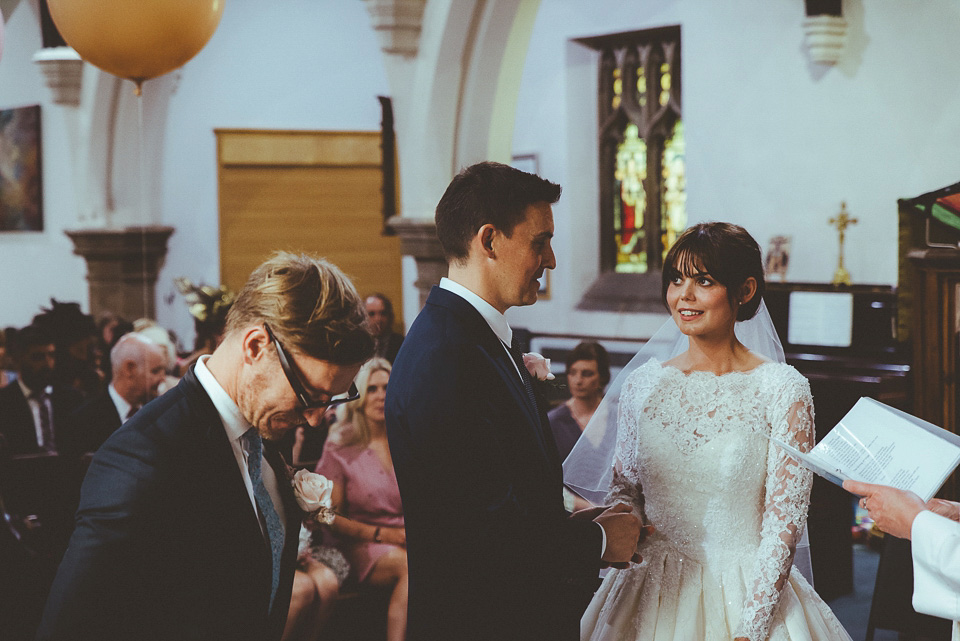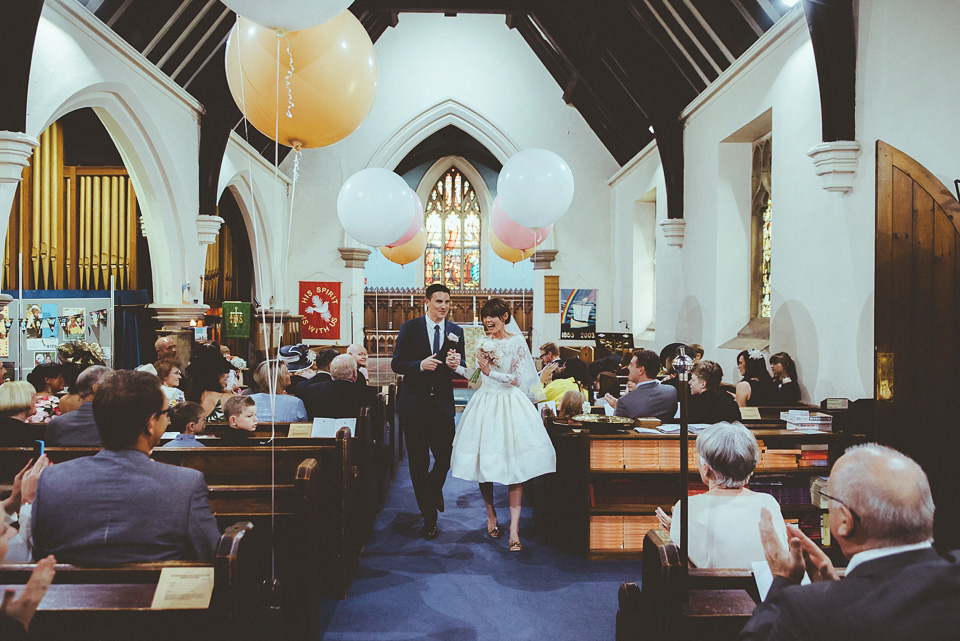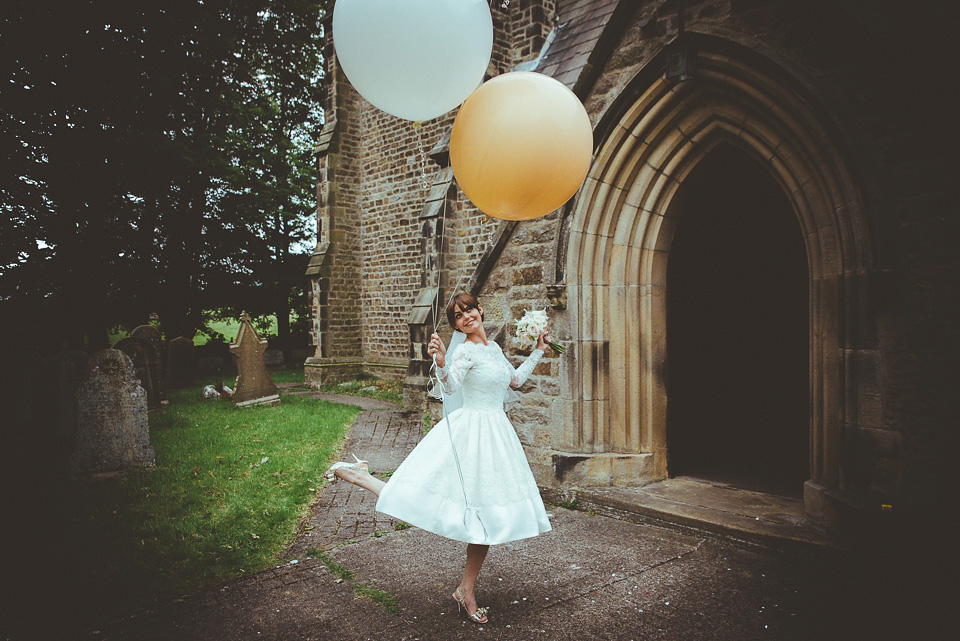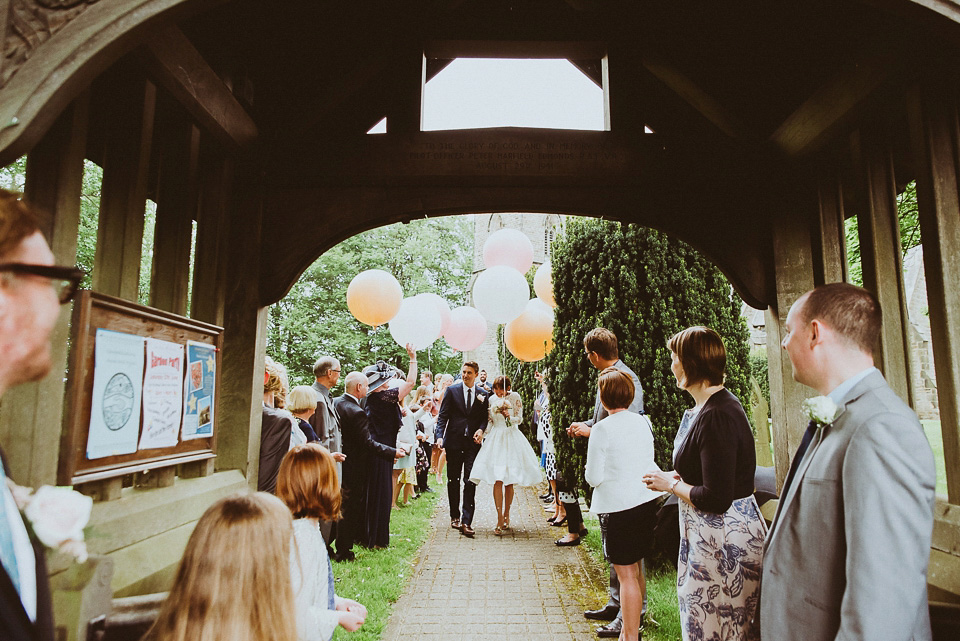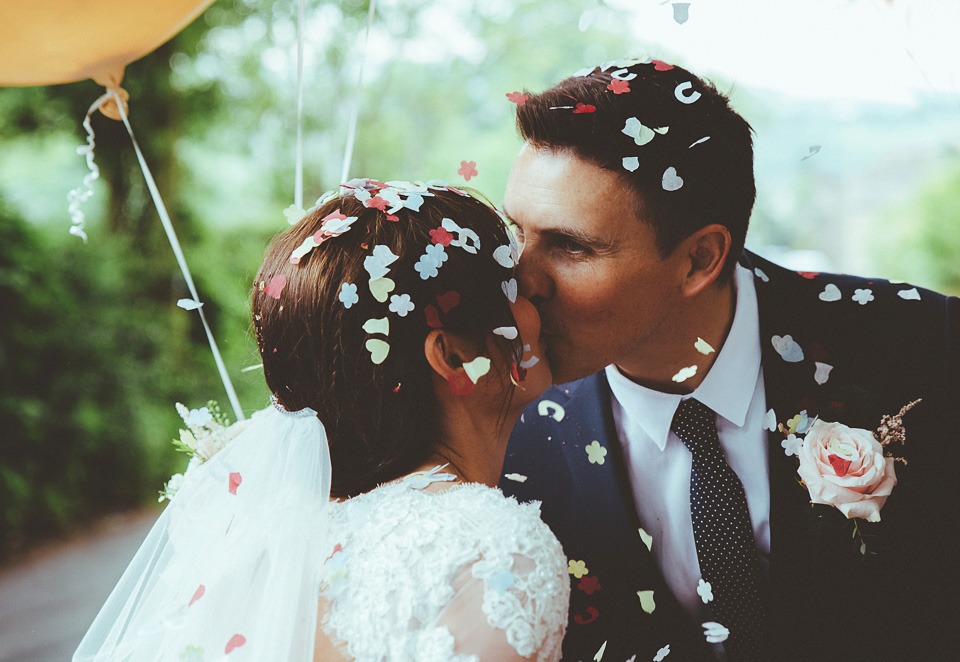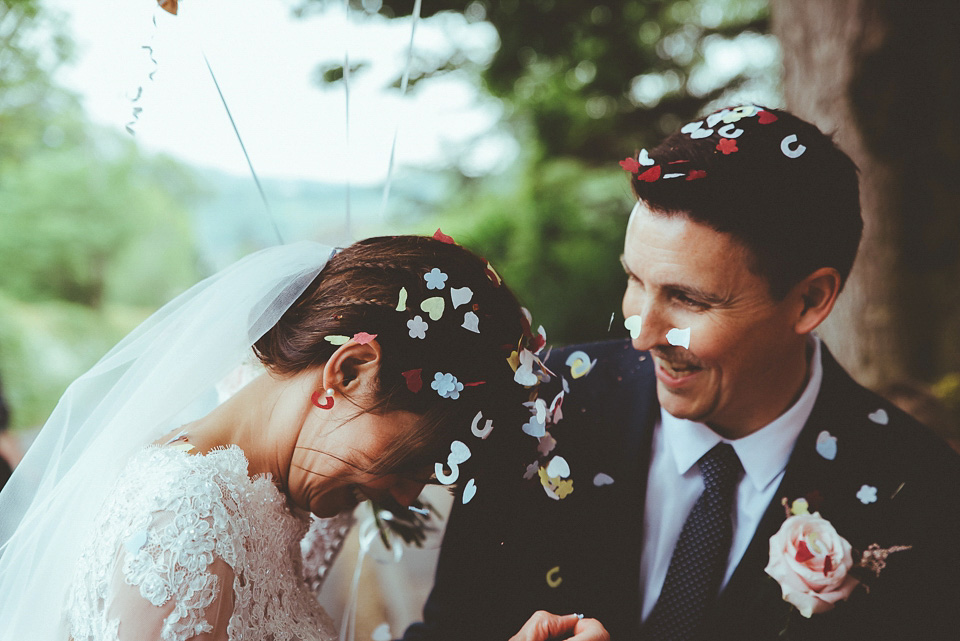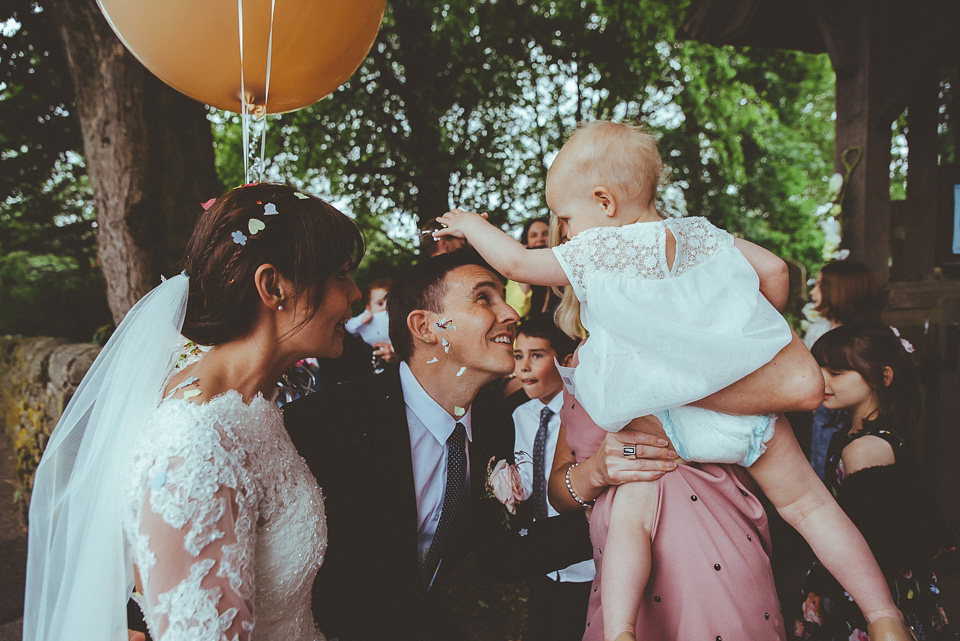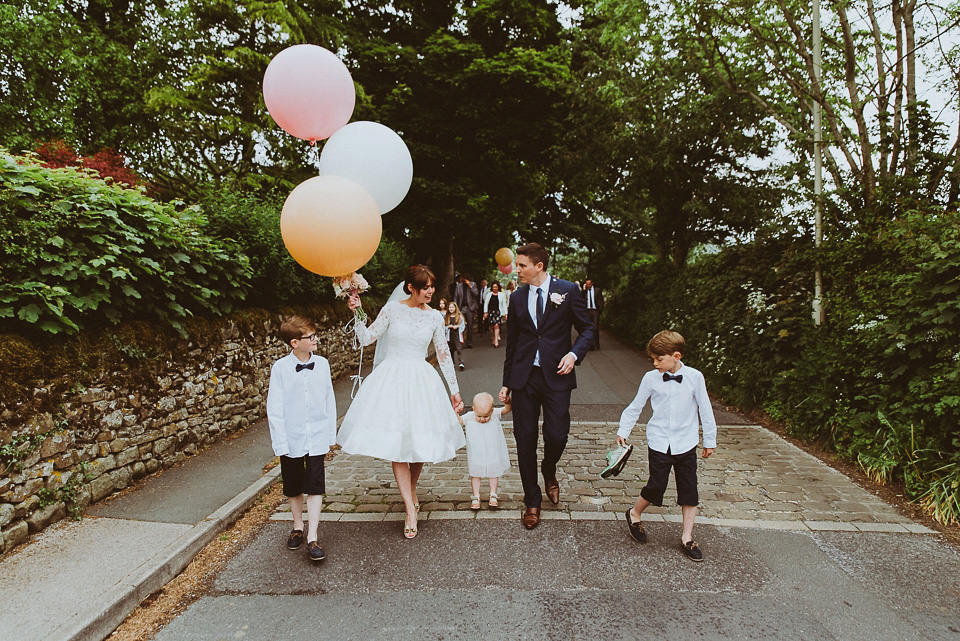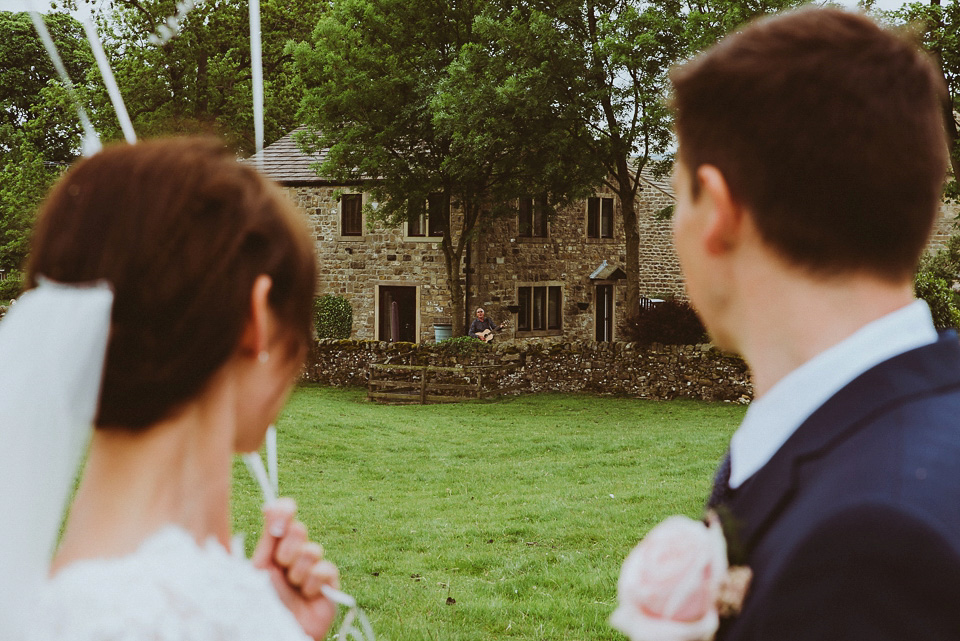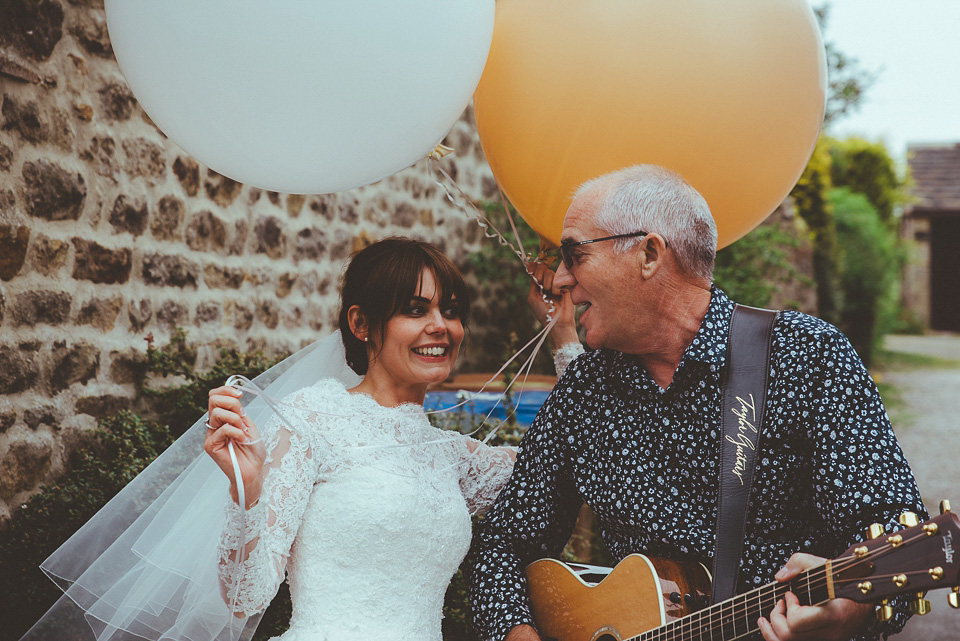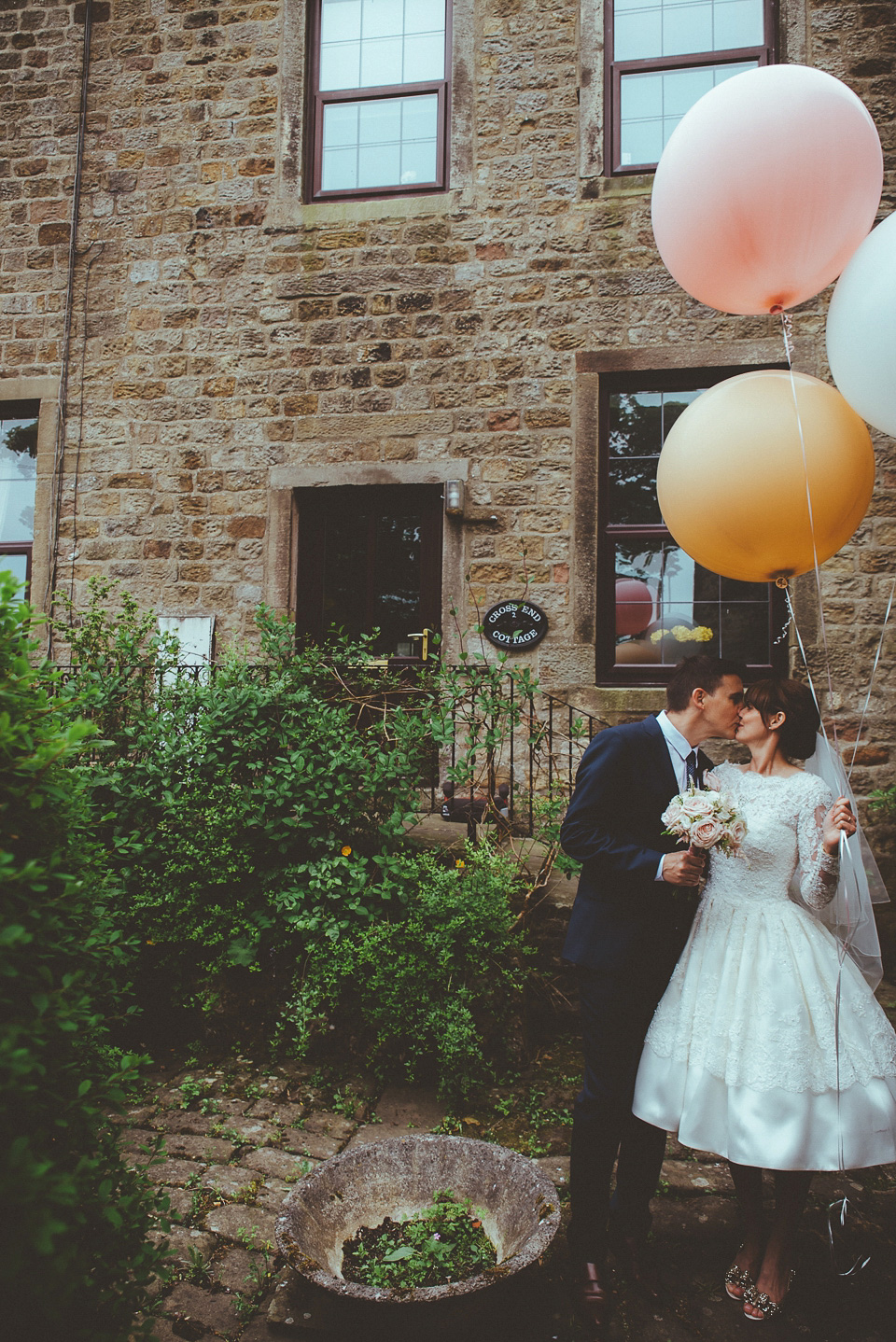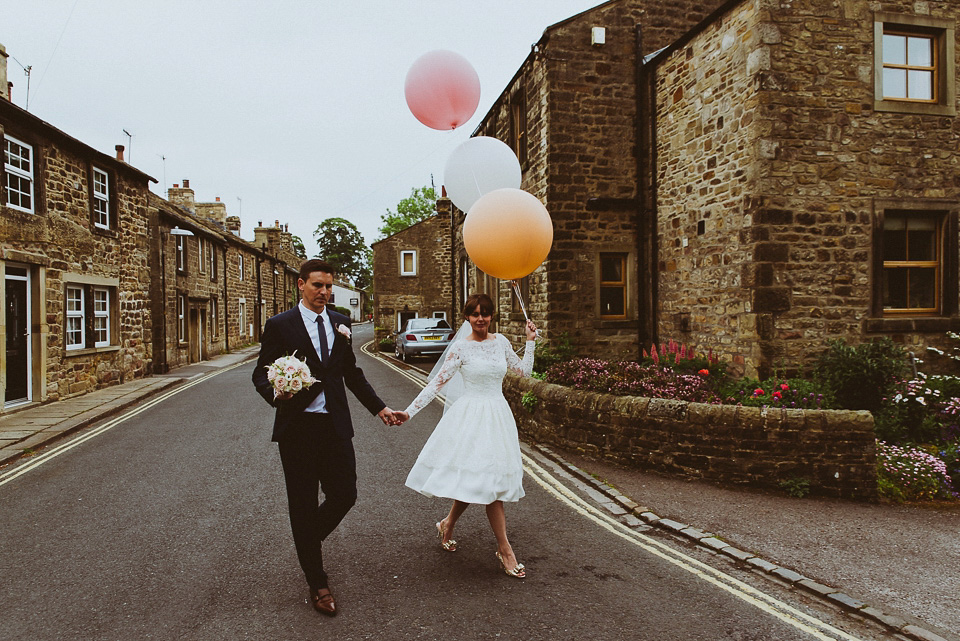 The couple chose ShutterGoClick Photography to capture their big day on film.
"Ryan is a total creative genius. He photographed our engagement and wedding shoot and we were completely blown away by his amazing talent and enthusiasm. His pictures are simply beautiful & stunning – natural and organic – he knows how to capture the day perfectly without uncomfortable awkwardly posed nightmares… (Plus all the pictures were back to us ridiculously quickly!) We really can't recommend him enough. Not only is he an amazing photographer, he's also a top bloke, we felt completely comfortable in his presence and we feel like we made a friend for life."
I love the way that Ryan has captured every element of the day- from the gorgeous family photos of the couple and the three children, to Anna doing a handstand in her dress, and (possibly my personal favourite) the very bored-looking little girl during the ceremony! The emotion visible plain as day, and the whole thing looks like such fun. Something about the way Ryan shoots his weddings also gives the images a real vintage feel, which I can't quite put my finger on- maybe the colouring, maybe the style, I can't quite tell what it is, but I love it.
To make sure the venue really created that vintage feel, the couple borrowed furniture from Glory Glory Vintage, to give the hall the right vibe. Both Anna and Myles' families pitched in to help with the decor and make it a proper family affair.
Flowers were picked from Anna's Grandmother's garden by her Mum and styled on the day, Myles' Mother sourced plain and laced tablecloths from charity shops for the tables and the couple's fathers built a bar from pallets and painted it with chalkboard paint, along with a large envelope wall for messages from guests.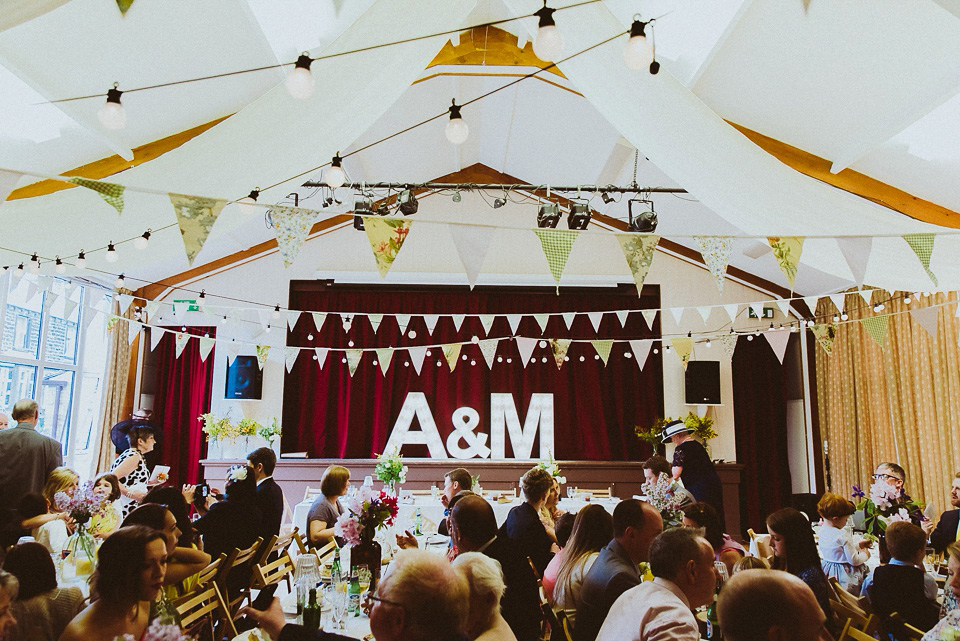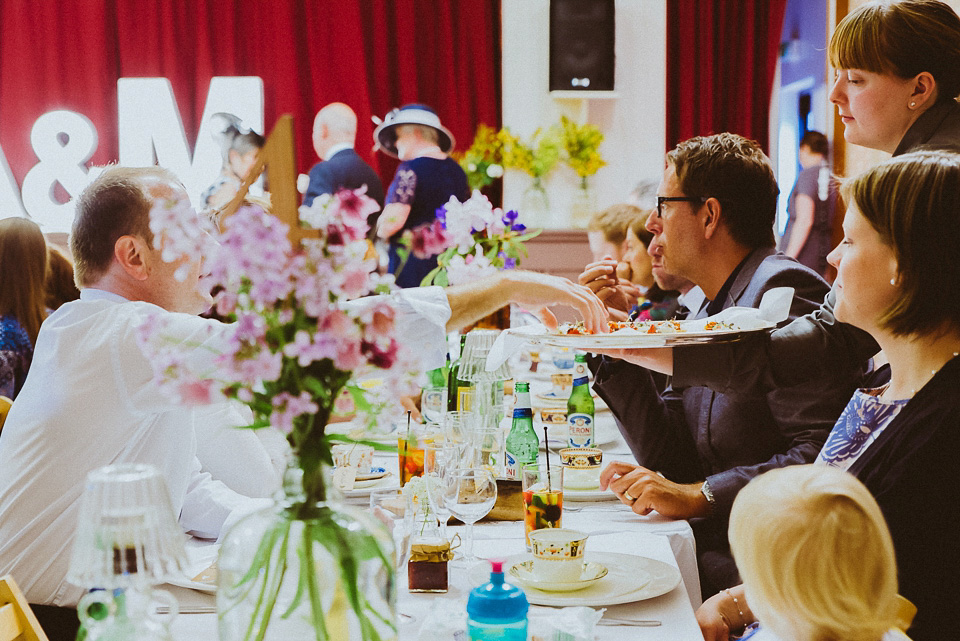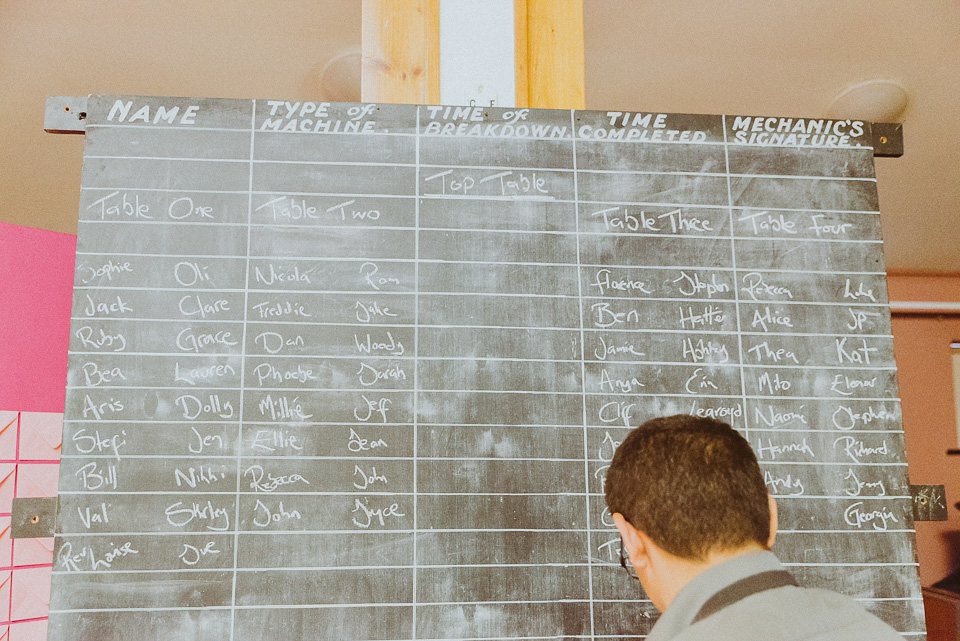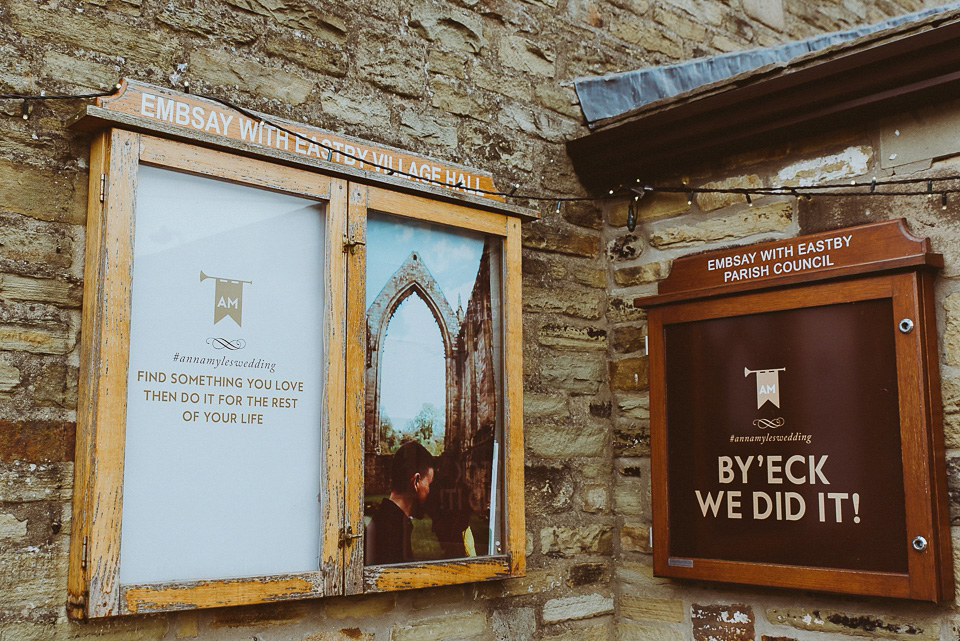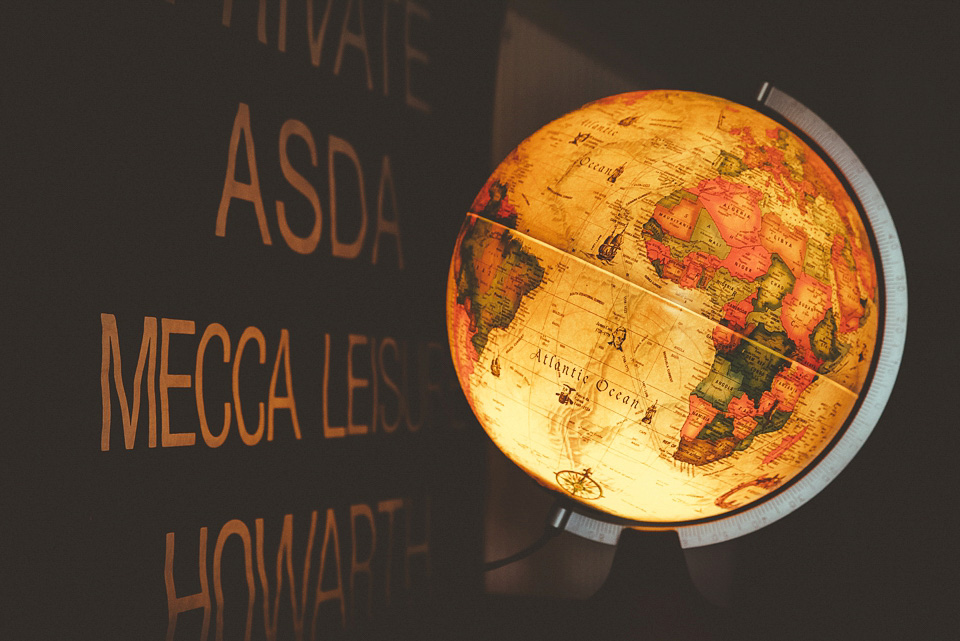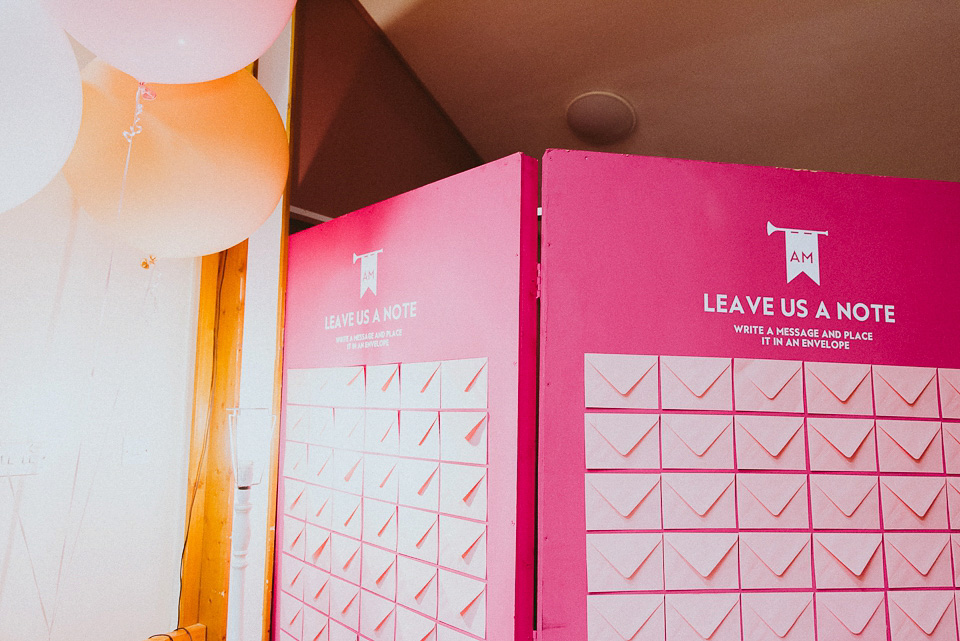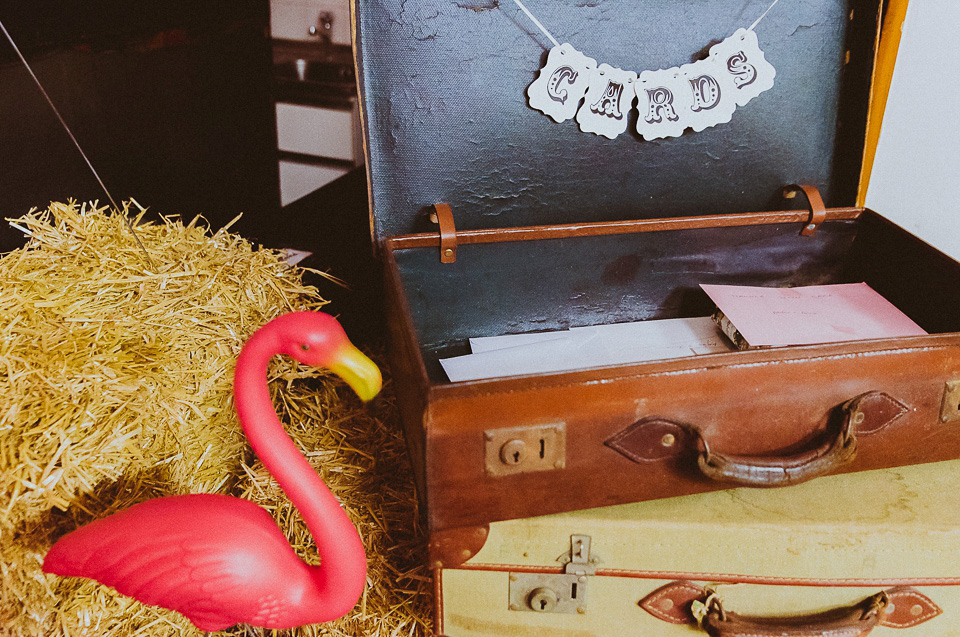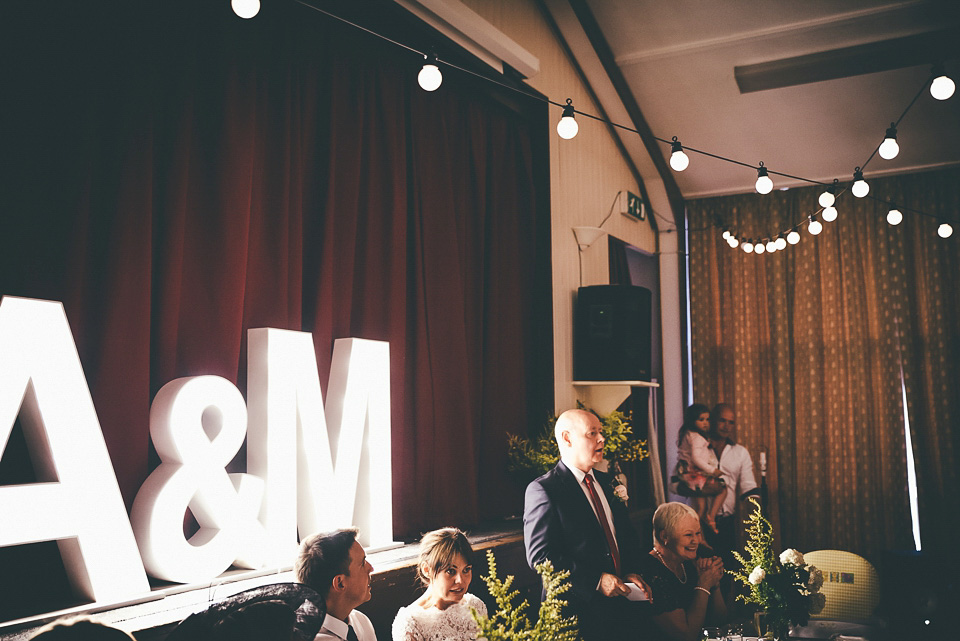 After their first dance to 'Little Dreamer' by Future Islands, a band the couple have been to see live several times, the newlyweds and their guests partied the night away to a Spotify playlist put together by the couple, and later, a DJ, who certainly looks as though he kept everyone up on the dancefloor!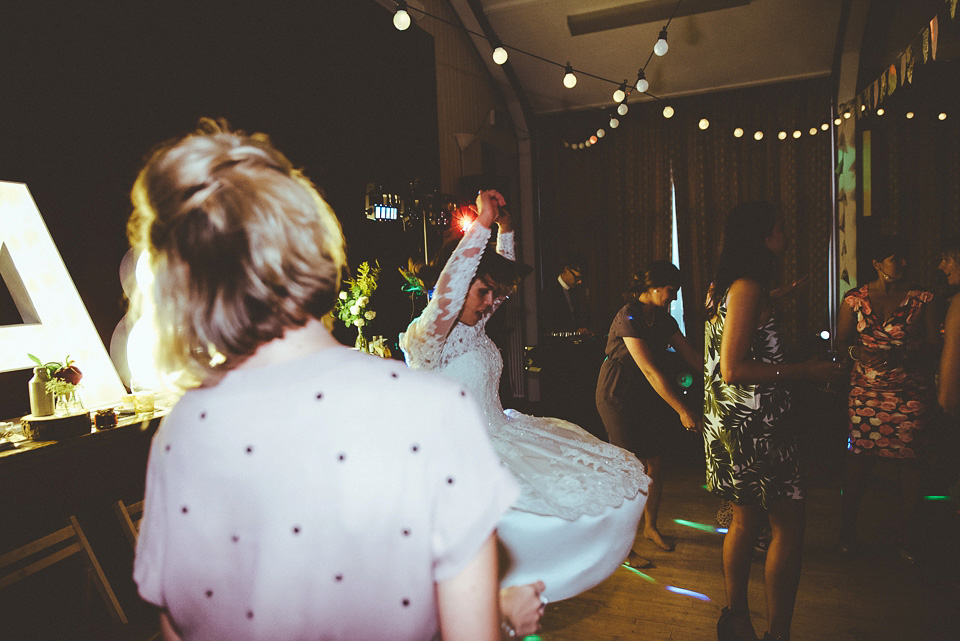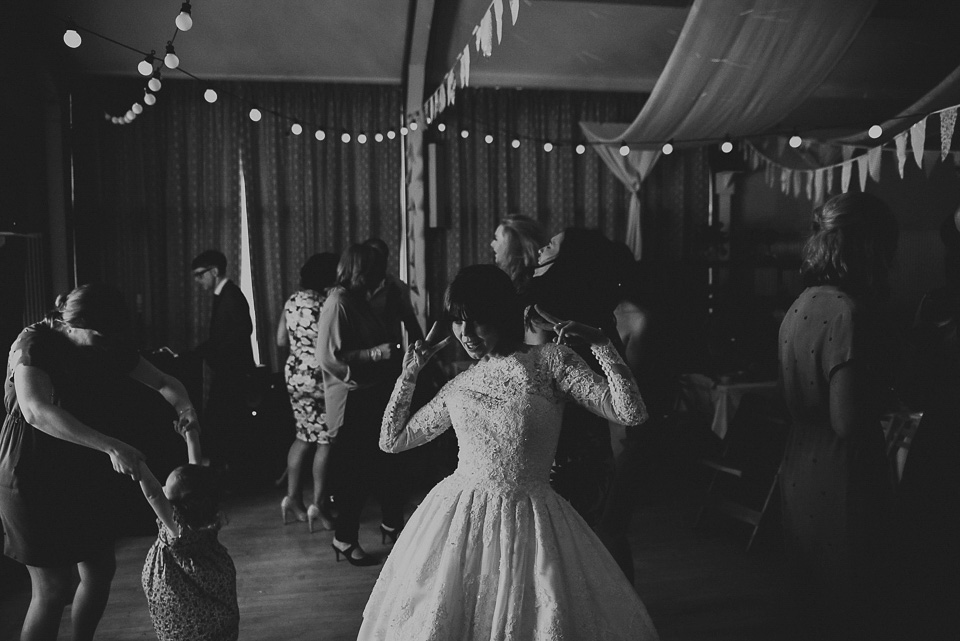 Words of Wedded Wisdom
"Make sure you take the time on the day to really capture the moment, it'll be over before you know it so take time out to fully appreciate what's going on around you- the memories you are creating will last forever."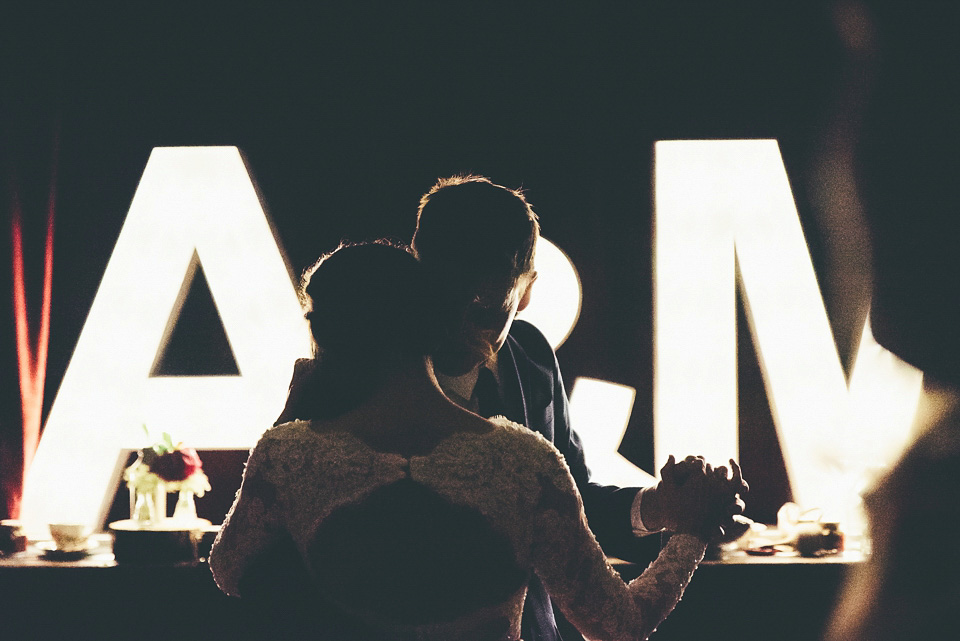 If we ever needed proof that second weddings are as wonderful as any other, this is it… Thank you Anna and Myles for sharing your big day with us, and of course to Ryan for allowing us to feature his work. For more Shutter Go Click weddings, have a peek here, and for more vintage styled brides- have a little look through some of these lovely weddings we have featured in the past…
With love,
Shona x
Photographer – ShutterGoClick Photography
Videographer – Lauren Brown (Motherbrown)
Venue – Embsay Village Hall
Wedding dress – Ellis Bridals, London, purchased from Amelia's Brides, Skipton
Veil – Rainbow Club
Shoes – Kate Spade
Accessories – Anna's Great Grannie's watch
Perfume – Tom Ford – Velvet Orchid
Bridesmaids' dresses – Boden
Flower girls' dresses – Zara
Groom – Suit- River Island, Shoes- ASOS
Pageboys – Zara
Florist – Sam Williams Flowers
Catering – Nelson + Colne College
Cake – Made by Anna herself
Rings – Leon Dewhurst Jewellers
Stationery – Made by best man Matt Brown, and Myles
Furniture – Glory Glory Vintage