Previously in our monthly Love My Dress inspiration posts we have delved into the many different types of venue on offer to those planning their wedding in the UK.  Covering everything from elegant country houses to botanical spaces, woodland tipis to gourmet restaurants as well as blank-canvas industrial spaces. This month we're turning our hand to the quintessential British rural retreat, the Farmhouse, and how could we resist exploring the latest offering from the Soho House group that's currently on everyone's lips? 
Soho Farmhouse is a 100-acre, private members' club and country house hotel in Oxfordshire. Located 90-minutes from London in the rambling countryside of Great Tew, this space is a mix of private members' club, country club and hotel.  Across the sprawling, car-free, estate is a mix of restored farmhouses, new-build wooden cabins, a clubhouse barn, cooking school, deli shop, pub, flower shop, private cinema, boathouse, swimming pools, cowshed spa and much, much more. Making this the mother of all farmhouse retreats.
Soho Farmhouse currently offers Thursday weddings on an exclusive basis f0r 140-250 guests with the use of various spaces and a plethora of activities to really get the party rocking. Such as their 24-hour roving milk trucks come portable cocktail bars. I'm sold! It's a super-luxe option for those looking to go all out with their celebrations, but our design ideas will translate well to other barn spaces too, so read on for more Farmhouse fun.
THE VENUE
Image credits: Soho Farmhouse
THE MOOD
A farmhouse or barn space is a truly informal and laidback option, perfect for the country lovers amongst us. This mood is about getting back to nature, breathing in the fresh country air, walking through wheat fields with the sun beating down, laughter amongst friends, farm-to-table feasting and dancing like nobody is watching.
We've chosen autumnal shades to harness that harvest feel, drawing from a colour palette of burnt orange, ochre, umber, sienna and Indian red with a flash of vivianite – an almost petrol blue – all chosen for their ability to evoke warmth and atmosphere.
Image credits: one / two / three / four / five / six / seven / eight / nine
THE LOOK
Our bride is drawn to a relaxed and carefree boho-style, seeking out feminine details and a free-flowing silhouette. Hair is loose and waved, almost like it's not been touched. Whilst the make-up is dewy and fresh with a flash of poppy red lipstick. Bridesmaids could wear an array of clashing patterns picking out colours from the palette, this offers a thread of uniformity whilst allowing each maid to express their own individuality.
Image credits: one / two / three / four / five / six / seven / eight 
THE DESIGN
When it comes to the styling we would include natural, organic influences for a rustic luxe approach. This is not about DIY but rather seeking out those artisans who use raw materials creatively in their craft. Elements such as soft feathers, bleached leaves, macrame string art, woven hemp, raffia, delicate straw and twigs.
How incredible would the barn space look with a cascading runner of autumn leaves suspended above the dining tables, interspersed with rattan lampshades and delicate, almost translucent paper flowers? We'd adorn the walls with woven hangings from award-winning textile artist Maryanne Moodie and a selection of feathery JuJu hats to give a boho-feel and added level of texture to the space.
Intimate lounge spaces would feature worn-leather butterfly chairs, wooden stump side tables and cosy pom-pom trimmed blankets to snuggle under as the sun goes down.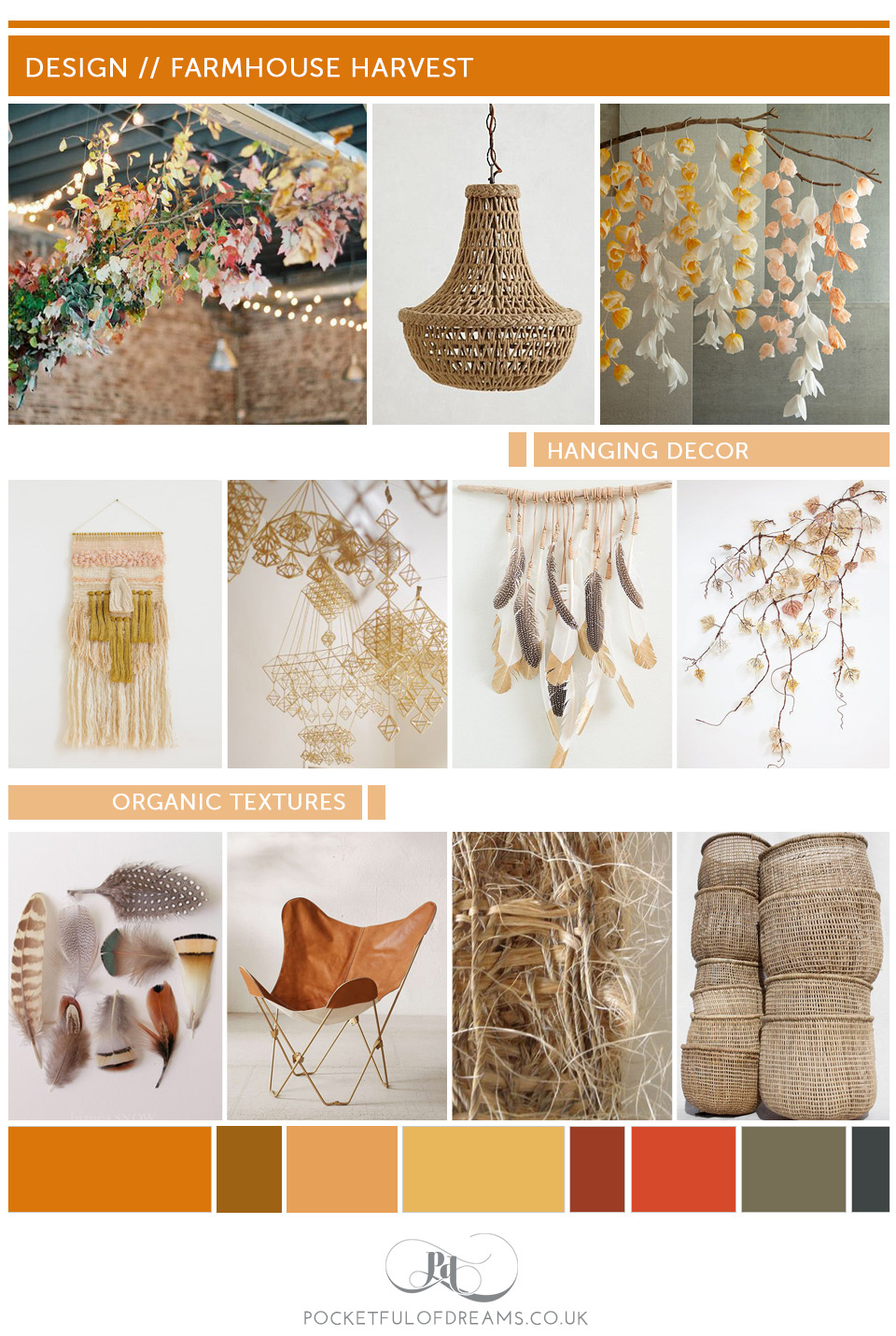 Image credits: one / two / three / four / five / six / seven / eight / nine / ten / eleven
THE TABLES
Rough-sawn wooden tables, bistro chairs and the softest raw linens would set the scene for the farm-to-table feast where local provenance takes centre stage.  Little details would include woven placemats, pom-pom string napkin rings, woodland-inspired crockery and hand-lettered tree-bark name tags. The tables would be beautifully lit with romantic candlelight.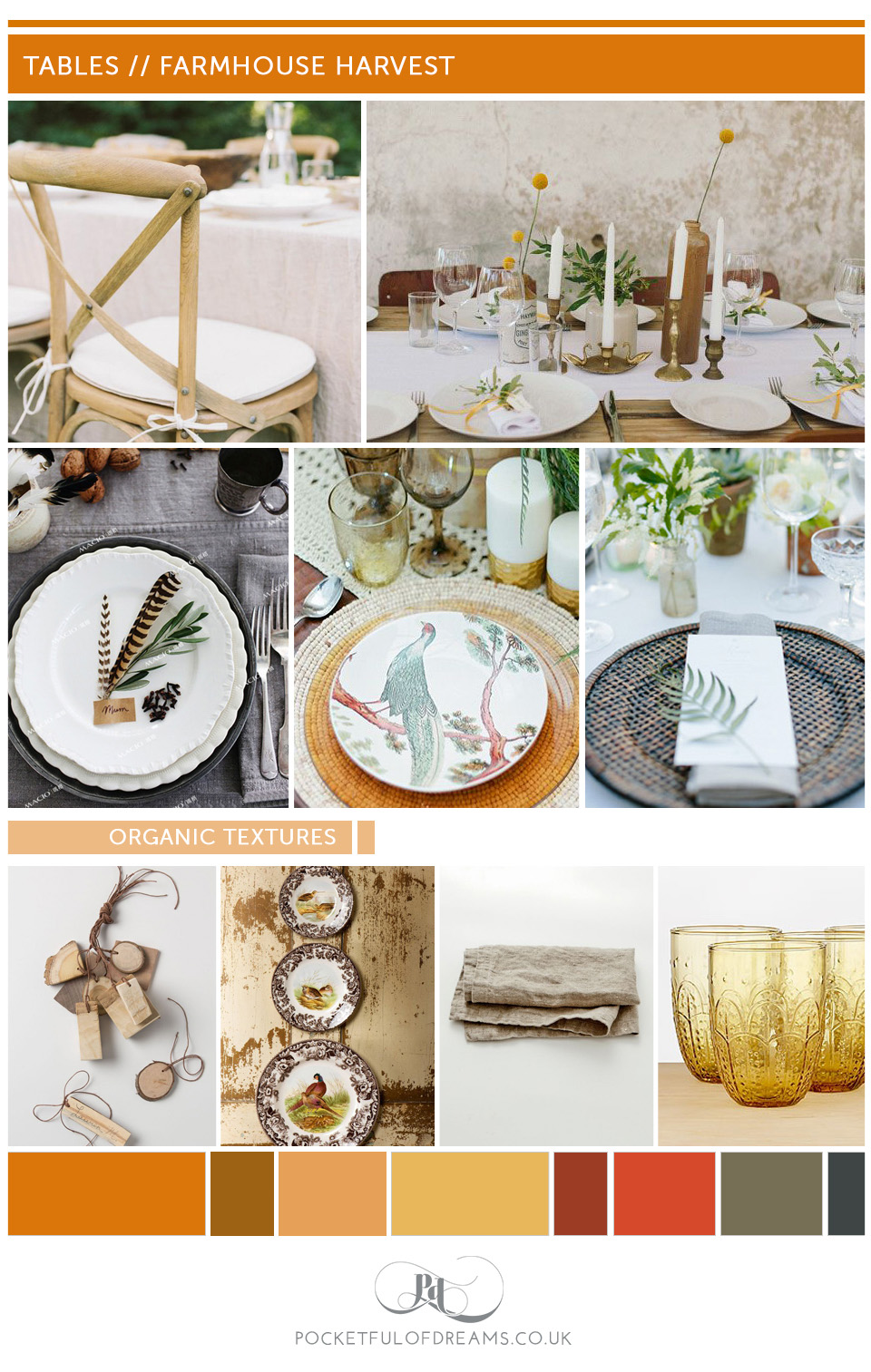 Image credits: one / two / three / four / five / six / seven / eight 
THE FLORALS
There really is only one thing for it: wild and organic, our favourite kind of florals. They would be soft, flowing and unstructured, having that raw beauty about them, mixing locally sourced or foraged elements. Grasses, vines, leaves, herbs, branches, twigs, fruits and berries would combine to create truly expressive displays, with each one different to the next. For focal point spaces such as a welcome table, an oversized, almost tree-like arrangement would draw attention and mirror the scale of the vast barn space.
Image credits: one / two / three / four / five / six / seven / eight / nine
THE FOOD AND DRINK
A fresh and flavoursome menu presented from farmer's-market style grazing stalls would kick things off, offering a selection of simple, refreshing and wholesome options for guests to pick and choose. A homemade Pie's and Tarts station would replace the traditional dessert, instead enticing guests to choose from classics such as banoffee, apple and bilberry pies or treacle and bakewell tarts.  The final flourish would be a beautiful cheeseboard presented on large wooden platters featuring local artisanal cheeses and crackers, baby crab apples and quince. Of course this all needs to be washed down with aesthetically pleasing cocktails, how about the Bloody Orange Mary?  – a combo of a bloody mary and a screwdriver, for an unexpected and intoxicating twist.
Image credits: one / two / three / four / five / six / seven / eight 
This is one party I definitely want an invite to, how about you? Are you having a barn or farmhouse wedding, do share your plans and dreams in the comments box below. Or maybe you need a little guiding hand with a particular design conundrum, we're happy to help so get in touch below.
Michelle x
____________________________
We love to share features by Michelle Kelly, Creative Director and expert wedding planner at Pocketful of Dreams – and partner/collaborator with Love My Dress.   Pocketful of Dreams create captivating and unforgettable celebrations for creative clients across the UK and Europe and provide everything from on-the-day assistance only, to full wedding planning and styling.  If you think you'd like to chat with Michelle about your own wedding, you can drop her a line on [email protected] or visit pocketfulofdreams.co.uk for more information.