When we're planning weddings for our clients at Pocketful of Dreams one of the very first things we do is to visit the venue so that we can ensure our design ideas will work within the context of the space chosen. Previously on Love My Dress we have showed you how to style every kind of venue from elegant country houses to botanical spaces, and festival tipis to gourmet restaurants.
Today we're looking at studios that offer both a blank-canvas and a slightly gritty, urban-industrial vibe.  Think whitewashed walls, exposed wooden beams and large open-plan spaces for a truly hip alternative to the traditional wedding venue. A studio space is an informal and laidback option, giving you plenty of scope to get creative with your styling, allowing you to inject plenty of fun and personality into your day.
It is definitely possible to create something effortlessly stylish in a studio or industrial building, it just takes a little more creativity and vision to transform it from an shell into an intimate and welcoming space.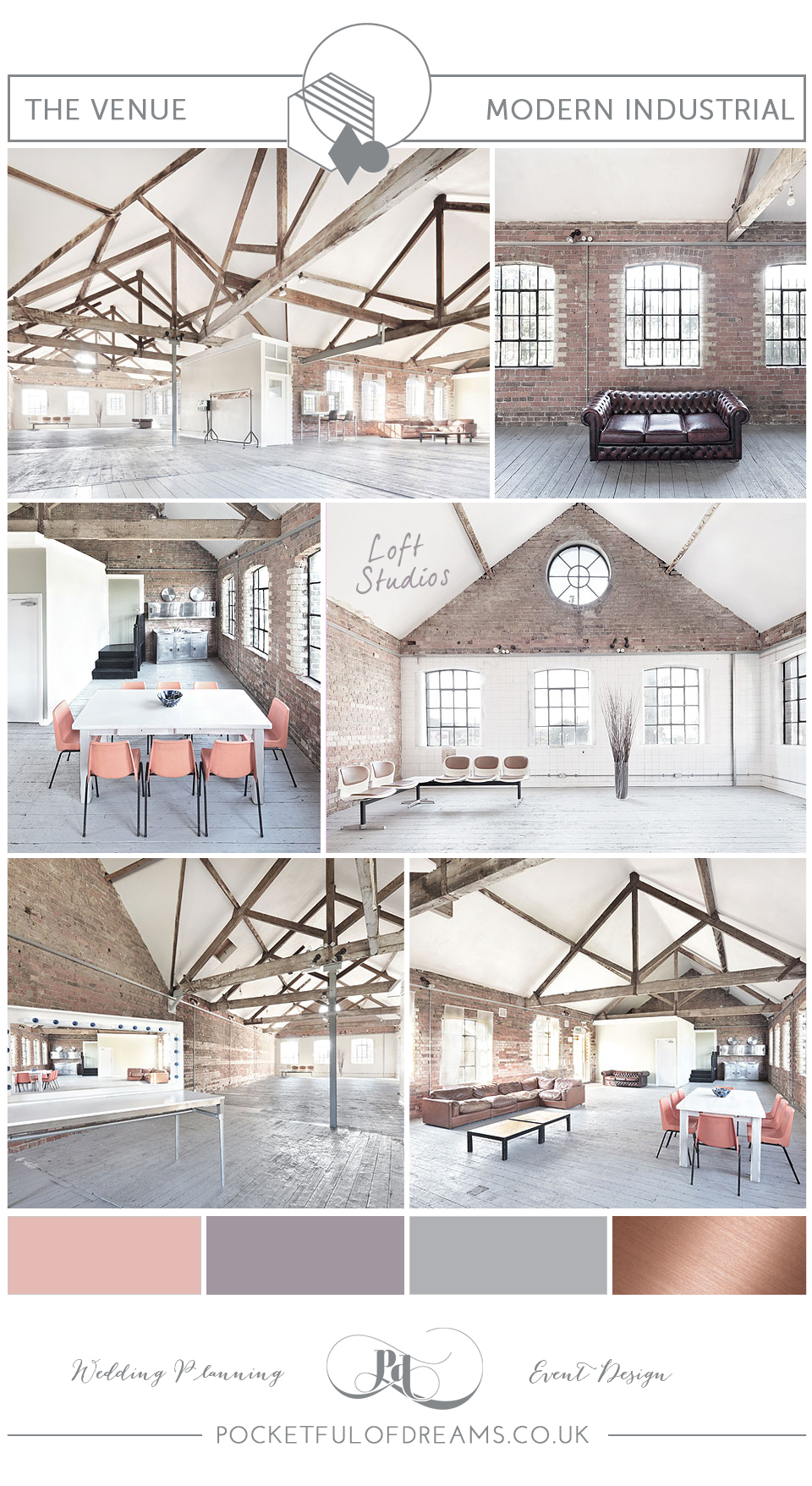 THE VENUE
Our venue du jour is the boutique studio complex Loft Studios in Kensal Green, West London, built within a Victorian Foundry and retaining many original features. With exposed brickwork, vaulted ceilings and abundant natural daylight it is the perfect space for a chic and unique day. The venue offers 5 interlinking spaces with two external courtyards for hire with an onsight pro kitchen and chef for your catering needs.
For similar spaces try Fazeley Studios in the Midlands, a restored Unitarian Chapel and Sunday School that oozes character whilst Photolink Studios in Manchester is a great bright-white space.
Print, Chair, Decor, Dresses, Leaves, Flowers, Vases
THE CONCEPT
Our concept takes this year's hot pastel colours of dusty blush, anthracite grey and iced lavender and pairs it with the metal of the moment Rose Gold. It's minimalist yet soft and textural all at the same time and just perfect for the couple who share a love of sleek and considered design.
When going for pastels choose muted shades to prevent it looking too sickly sweet and add in tougher industrial details like concrete and metal for that stylish edge.
THE LOOK
Our minimalist bride needs a look that is understated yet edgy with a focus on sculptural detailing and simple lines, like this Rosa Clara two-piece from her 2015 collections. When the time comes to party hard then why not consider a second outfit, something that's perfect for rocking out in like a jumpsuit or shorter dress.
Add a cool sophistication to your make up keeping it bare and dewy and finish off with one simple accessory like this structured arm cuff.
Marble print, Lighting, Table, Vase, Chairs, Protea
THE CEREMONY
The I-Do's take place beneath the vaulted ceilings of the studio, with a backdrop of exposed brickwork and two unique wall hangings featuring a swirly marbled pattern printed onto canvas banner, hanging ceremoniously from rose gold poles. An iconic Tom Dixon Etch Pendant hangs above, casting atmospheric light and shadows over the proceedings. The details here are all carefully considered for their iconic stature, rather than anything too fussy.
Florals are kept to a minimum with a simple display of dogwood branches inside a faceted concrete vase, sitting atop a copper table. Whilst the Tolix copper ceremony chairs add the final level of luxe detail. The bride carries a single King Protea for her super-stylish bouquet.
Chairs, Pendants, Tiles, Place setting, Vases, Napkin ring, Coasters
THE RECEPTION
A studio like this is an expansive space to fill so you need to be creative with your decor, choosing larger pieces that will have a high impact as smaller details are likely get a little lost. Here we want to strike a careful balance between delightfully minimal and seriously stark.
Our banquet would be set on long white refectory tables with an overhead lightbulb canopy of bespoke rose gold shades, classic Eames chairs add a splash of dusty pink and grey to the scheme. The tables would be dressed quite simply with a runner of handpainted concrete tiles for a really unexpected feature, to have unusual vessels in dusty pastel shades scattered atop containing branches such as quince, dogwood and blossom mixed in with hellebores for colour. The place settings follow the minimal thread with sophisticated rose-gold trimmed glassware, crisp white crockery and a rose-gold napkin ring. For a truly unique placement we'd create bespoke concrete coasters with guests names etched within – something they can take home and treasure.
THE DETAILS
As our fictional couple are all about modern styling and considered details we'd look to create a unique table plan for them, reminiscent of an art installation hanging in a gallery. Taking rose-gold hangers we would hang specially designed magazine-style prints to be representative of each table, naming each table after iconic designers – of course. Concrete letters would spell out 'take your seat'.
The wedding cake would feature several stacked layers alternating between a marble pattern and an industrial concrete-like finish.
And for something fun to end the night on a high, a temporary tattoo parlour would be created offering delicate pastel creations from Tattly, so that – for just one night – guests can get inked to their hearts content.
Michelle x
______________________
We love to share features by Michelle Kelly, Creative Director and expert wedding planner at Pocketful of Dreams – and partner/collaborator with Love My Dress.   Pocketful of Dreams create captivating and unforgettable celebrations for creative clients across the UK and Europe and provide everything from on-the-day assistance only, to full wedding planning and styling.  If you think you'd like to chat with Michelle about your own wedding, you can drop her a line on [email protected] or visit pocketfulofdreams.co.uk for more information.