Alex and Lynsey were married on the 22nd November 2014, with a wedding ceremony at the historic Islington Town Hall. Before tying the knot, the couple chose to go for a 'first look', not just with each other, but with all their family and friends too with pre-ceremony drinks in a nearby pub. (Don't you just love this idea?)
They followed the wedding with a champagne toast onboard a traditional double decker London bus that transported them past the sights of the city to The Artisan of Clerkenwell for their reception. The couple chose the very talented London wedding photographer, Miki Studios, to capture their stylish wedding day…
"We wanted reportage style photos, rather than a lot of posed shots, and Mick from Miki Studios did a great job of this. He was also great at scouting for locations for the photos and then coming to get us when he found somewhere, so it didn't feel like we were taken away from our guests. He somehow manages to get everywhere without you noticing, so many of the photos were a surprise because I honestly didn't realise he was there!"   
Lynsey's dress is just so stunning, a beautiful layered tea length chiffon and delicate lace gown with the cutest boat neckline from Candy Anthony, which she teamed with the prettiest little gold sequin bolero jacket, just divine;
"Not being the type of girl who's had my wedding planned out in my head since I was 5, I had no idea of what would suit me or what I would like. After visiting many shops, trying on many dresses and buying one on the high street (which got returned), I made an appointment at Candy Anthony. The first dress I'd found on Pinterest when I started the dress hunt was a short 60s style, and having not found many of that shape in the shops, I thought I should give it a try?"
"When I tried it on, I knew it would fit the day perfectly. It was beautifully made, and felt like such a London wedding dress – ideal for a day which started in a pub, finished in a restaurant and fitted in a bus tour of London in between. It also felt like me, which up until that point I hadn't realised was what was missing from all of the other dresses I'd tried on. One of the first dress shops I went to just after getting engaged suggested I go back again once the venue was decided.
At the time I didn't see how that would affect my choice of dress, but ultimately this played a part in helping me to make my decision."
When it came to selection a florist, Lynsey and Alex used to live near Achillea Flowers and often walked past their pretty little shop, so it was their first choice when looking for wedding flowers.
"Claire from Achillea was brilliant and somehow managed to turn my vague descriptions of shapes and colours, helped only by a few Pinterest photos, into just what I was after. As my dress was quite big, I wanted a more structured bouquet with some soft pale shades to break up all of the white. For the buttonholes we didn't want anything too floral, and so we went with succulents and herbs (which also smelt great), along with a bit of white to tie in with the bridesmaids bouquets."
"Our biggest splurge was the illuminated initials from Vowed & Amazed. They were really worth the money though and added the final touch to the room as well as being a great focal point on a fairly grey November day."
Alex wore a very smart navy, 3 piece suit from Austin Reed with a tie from Next. He accessorised it with a gorgeous gold pocket watch and travel map cufflinks, a nod to the travel theme of the day.
"Alex and I started out as housemates in North West London, so I suppose it was the house share ads on Gumtree which brought us together! We were together for four years before Alex proposed on a desert island off the coast of Burma in November 2014. We were engaged for just under a year before getting married."
"As I'm not a fan of being the centre of attention, we set about trying to make the day as relaxed as possible. We had only 50 of our closest family and friends for the ceremony and meal (doubling the numbers for the evening reception), and had a 'first look'and pre ceremony drinks with our guests at The Vineyard pub to avoid the walking down the aisle nerves!"
"My bird cage veil, was made to order by Lady Lavender on eBay, even matching the lace on the top to my dress, and an absolute bargain."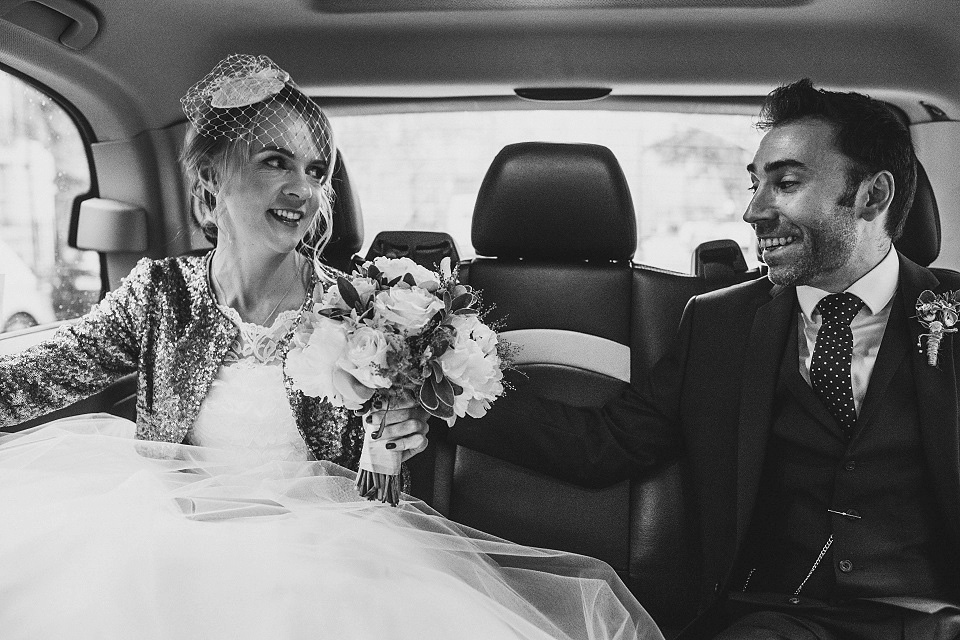 "My first thought when we got engaged was to get married abroad, (ideally on a beach but I would have settled for Vegas!), but the more we thought about it and how the day was just as much about family as us, we realised this wasn't really going to work. We're lucky enough to have travelled quite a lot, both before we knew each other and since we've been together, so we settled on incorporating our love of travel into a London wedding instead. Neither of us are originally from London, but we've been here for over 7 years and made it our home."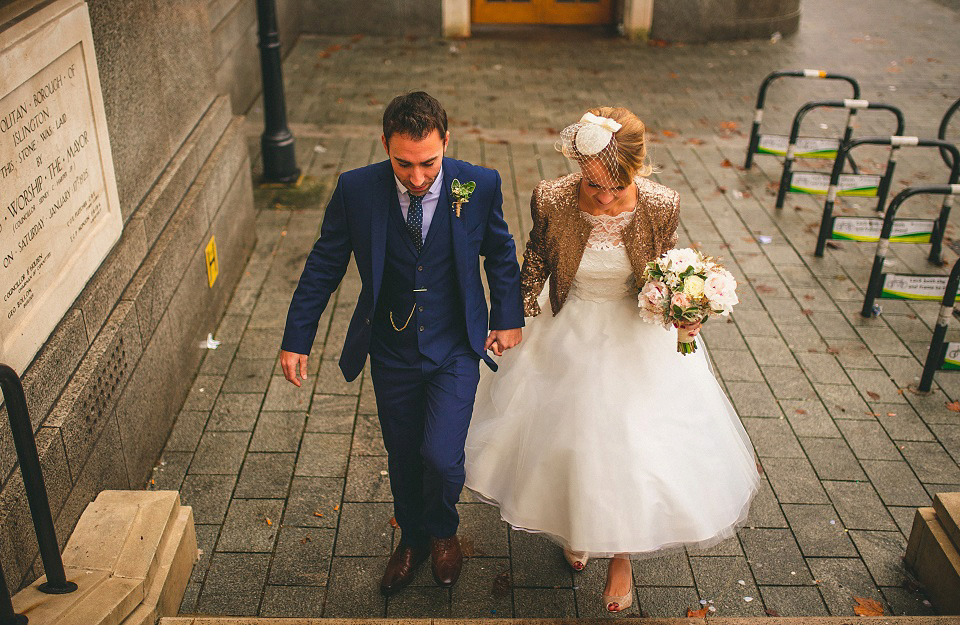 Lynsey wore Wild Bluebell by Jo Malone for the day.
"I wanted a new perfume for the wedding, something which would remind me of the day whenever I used it afterwards. Jo Malone had a great range of fragrances to try, and I liked the idea of being able to layer them, so should I get bored of my wedding perfume there's a few options to change it up"
"I didn't want a big procession down an aisle, and having already seen all of our guests in the pub before the ceremony I just walked into the room with my dad (one tradition I had to keep!) and my bridesmaids.
A string version of the Verve's Bittersweet Symphony was played as we came in, lovely, one of my favourite tracks and the sort of thing which catches people by surprise when they realise what it is!" 
"We had three readings;'Love is a Temporary Madness'from Captain Corelli's Mandolin, The Apache Blessing and 'Scaffolding' by Seamus Heaney. We're not a lovey, dovey couple and we liked how all of these readings express ideas of love and commitment, in a fairly straightforward way, without being too over the top."
Alex and Lynsey spent a few weekends wandering round London's jeweller quarter Hatton Garden, before settling on a simple gold wedding band for Alex and an engraved platinum band for Lynsey.
"Unfortunately I left it until three days before the wedding to collect my ring, and then discovered that it didn't look like the ring I'd tried on. The three week production time meant that it wasn't going to be ready in time for the wedding, so I ended up using my engagement ring instead!"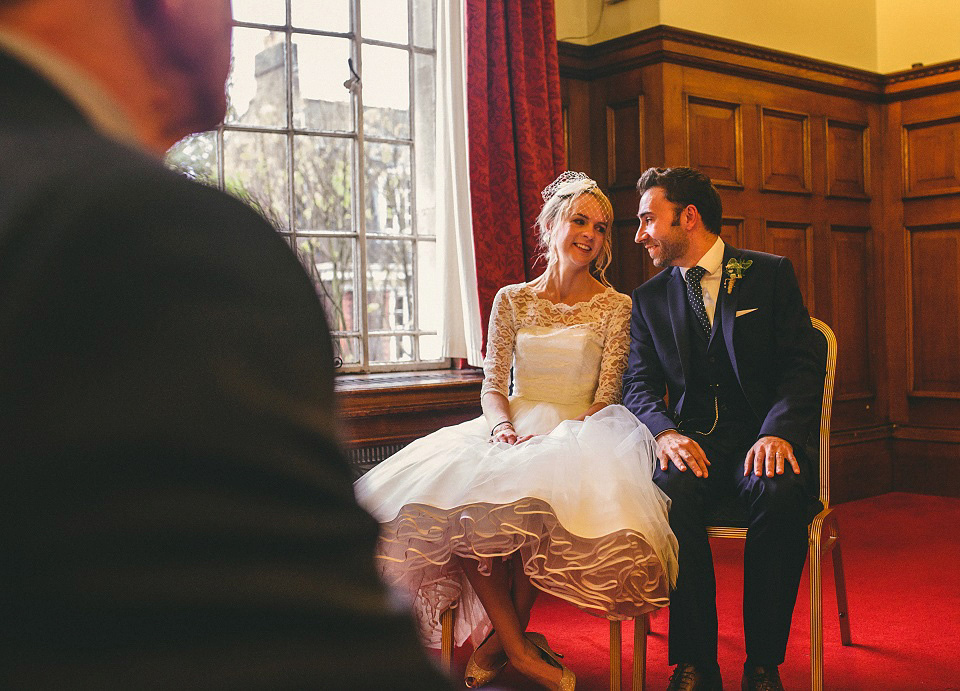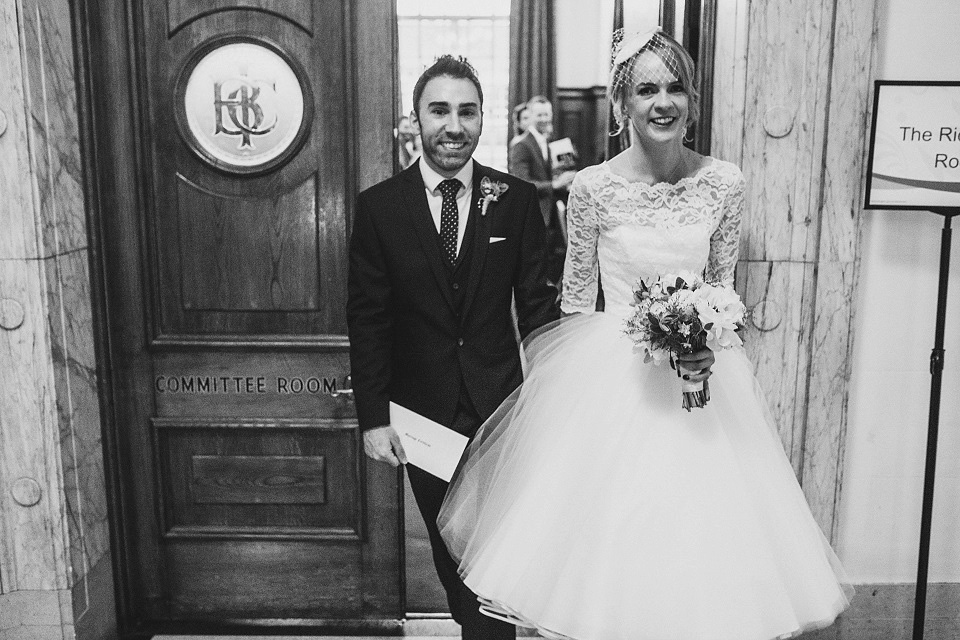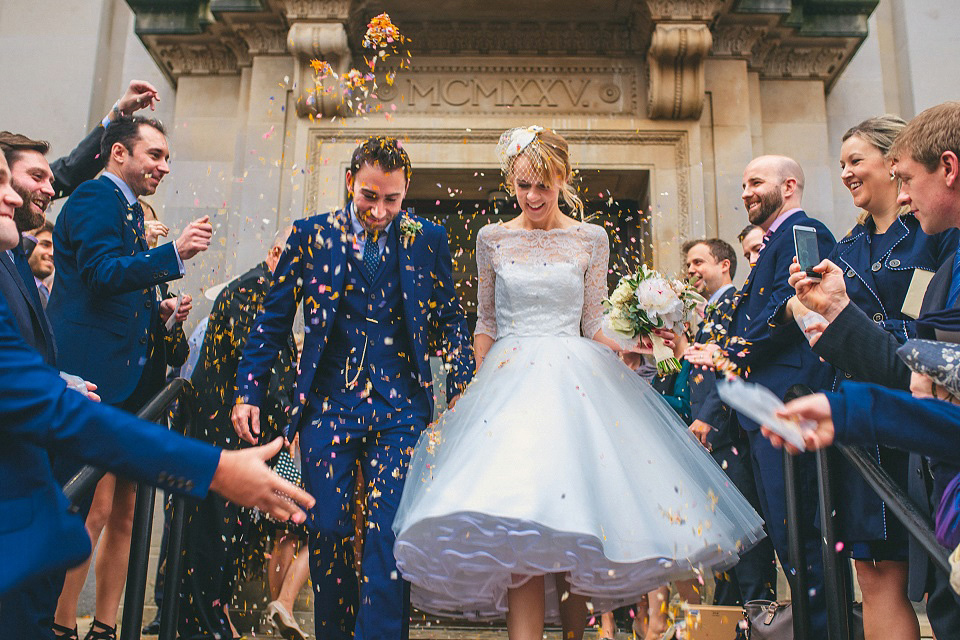 Lynsey's kept her accessories beautifully simple and elegant, with matching heart tassel bracelets for herself and the bridesmaids which she found at Bonk Ibiza on Etsy. She wore her hair in a pretty undo with gorgeous natural make up, both by Tori Harris.
"I was really lucky in having 2 brilliant bridesmaids. Their dresses were from Coast and were found by Carys on her lunch break one day."
"For transport on the day we used good old taxis to get us to the ceremony, and then a champagne filled sightseeing tour of London on a route master bus to take us to the reception."
"One of the reasons we hired the route-master bus was to show off the parts of London we love (particularly to the guests who aren't from here), so to see everyone sipping on their champagne and enjoying the sights was a definite highlight."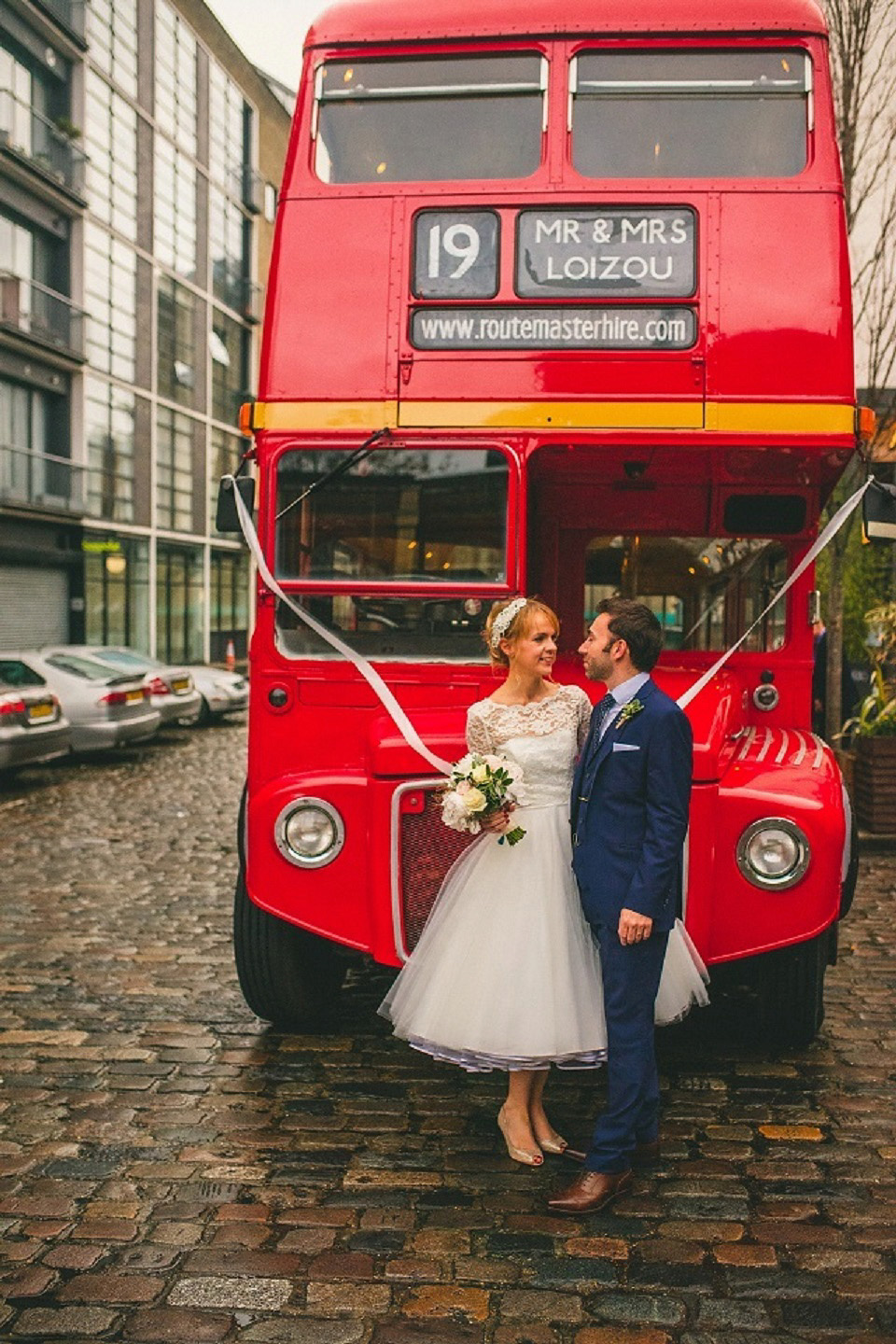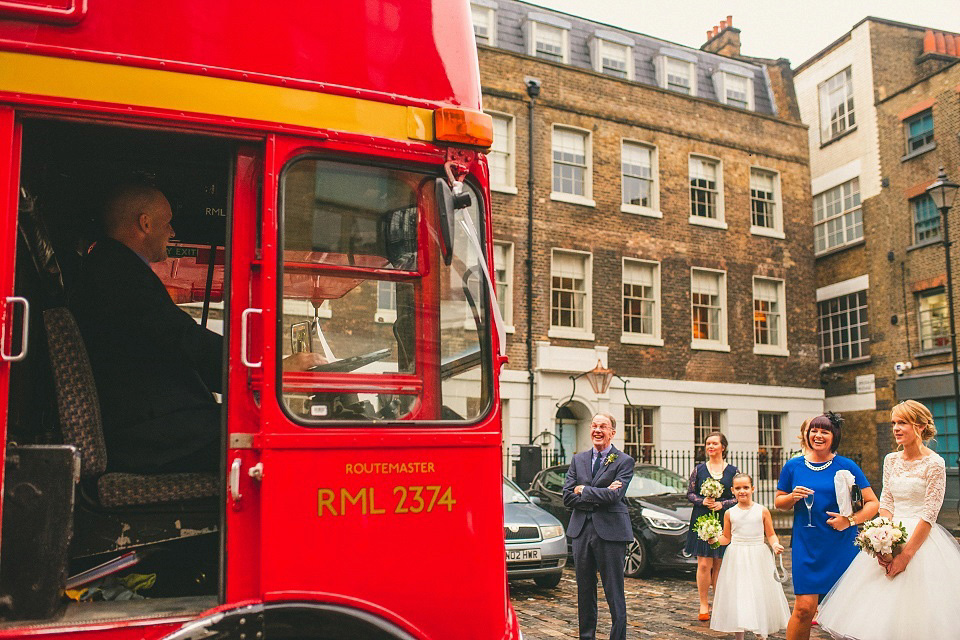 "We looked at a few venues before going to see The Artisan and realising it would be perfect. We'd been there for dinner before and knew the food was good, and the quirky, laid back atmosphere in there was just the feel we were aiming for."   
"The guys at The Artisan had it all laid out perfectly, and it really helped to create the relaxed atmosphere we were after. To hear people say afterwards that it really didn't feel like there were two 'sides'to the wedding made it all of the planning and effort worthwhile."
Lynsey and Alex's invites and table names were made by Claire Hawkes, with the table plan, place cards, menus and best man sweepstakes all home made themselves. They also ordered glassine bags from eBay, which they had printed with their names and the date of the wedding, which were filled them with confetti from Shropshire Petals.
"We bought a few old atlases from a second hand bookshop, and these were made into small paper aeroplanes which we stamped and used as place cards, and also cut into bunting which was strung up from the mezzanine. We also hung different sized white lanterns which we bought from eBay.
On the tables we added some delicate white flowers in glass bottles (all provided by Achillea Flowers) and candles in wine bottles which we'd been collecting (an element of wedmin we'd both enjoyed!). Each table was named after a country we'd been to, and had a few cheesy holiday snaps of us there which we had printed out as miniature polaroids."
"Rather than getting one big wedding cake, we decided to get 3 which would hopefully cater to everyone's tastes and could also be served later in the evening along with some canapés.  For those with a sweet tooth we had a salted caramel layer cake from Coco Maya and for the savoury we had a cheese cake from West Country Cheese and a 3 tier pork pie from Marks and Spencer.
After spending far too long agonising over favours and what would suit everyone, we then went out and bought a load of kinder eggs. Who doesn't love a bit of chocolate and a toy?!"
"We can't dance, and don't really have a song that we both love, so we skipped the first dance tradition and let the band get the party going instead!
One of the best men is in a band, and they performed two brilliant sets which really helped to get the evening reception going. For music in between the bands sets, and during dinner, we used playlists we had made on Spotify.
On a table tucked away in the corner of the room we added random fancy dress items; hats, novelty sunglasses, feather boas etc which we bought on eBay. With our own camera on a tripod it turned into a little photo booth (before the fancy dress just generally spread out on to the dance floor later in the night!)"
"It's difficult to choose just one favourite part of the day! The drinks before the ceremony were really lovely, I had been worried about being the centre of attention and so to be able to see everyone one by one, rather than making a grand entrance down an aisle really helped my nerves. Now that I realise how quickly the day goes, I'm also really grateful for the extra hour those drinks gave us to chat with our guests and spend some time with them before the day really gets going and it turns into a bit of a wedding whirlwind."
Words of Wedded Wisdom
"People may be surprised by some of the choices you make (particularly where some of the usual traditions are concerned), but if you and your partner can justify doing it and know that each decision was a considered one, then go for it. While we didn't stick to all of the traditions, it wasn't any less of a wedding than one which might have had a first dance and a big walk down the aisle. So much of the day can be about other people and the delicate balance between putting on a day that you want, which doesn't put other people out, that if there are small elements which you can make your own – then I say, seize the opportunity to do so!
And delegate! I may have mocked Alex's spreadsheet which went into minute detail about which member of the wedding party was doing what and when, but on the day it meant that there was always someone else who knew what was happening next.  It took the worry away from us and kept the day running smoothly. Even if there are hiccups,  things will work out, your guests will be none the wiser and you will still get married!"
Congratulations to Alex and Lynsey, thank you so much and huge love and best wishes from us on your future journey together. Such a gorgeous, fun and relaxed day, it's been such a pleasure to hear all about your wedding and to share the beautiful images, thanks to Miki Photography.
Are you considering 'breaking with tradition' and having a first look on your wedding day?
Love and adventures,
Rebecca x