I am so delighted to be sharing this adorable wedding with you this morning.  The bride is a colleague of mine, the very lovely Kylie McMichael – an established and very talented Make-up Artist.  Kylie tied the knot with her beau Pete, a Product Design and Engineering Manager on 20th September last year at York House in Twickenham, and their photographer was the wonderful Laura McCluskey of LM Weddings.
Everything about this wedding is so lovely – I LOVE how Kylie rocks that short cut and I'm drawn to the whole unpretentious and very down to earth nature of everything.  I think Kylie looks a beauty in her 1950's influenced dress – a fabulous find via Emma Victoria Payne Bridal Wear in Knightsbridge. And those shoes!
"In the run up to the wedding, we got asked a lot if we had a 'theme'. We didn't in truth – we're not very colour coordinated people, nor very traditional. We're both of Scottish heritage but we didn't include tartan as we're not clan specific in name. There ended up being touches of gold (my shoes, my sister's shoes, gold leaf on the cake), mixed flowers in buckets and mis-matched jars simply because it was more economical to do it that way – and they doubled as favours too!"
Photography Copyright (c) 2015, LM Weddings
"After deciding I didn't want a veil, I knew I'd need something for my hair. The initial idea was to wear a comb with a cluster of brooches that belonged to my Great Grandmother. I realised they would've been far too heavy for my less than ideal, fine hair however, so eventually I succumbed to a very simple crystal headband by Jenny Packham."
"Ahhhh, my dress – the dress of wonder! I started looking at dresses pretty much as soon as we got engaged. Any excuse! I knew I wanted sleeves because I'm very busty.  I also knew I wanted it full length – I wear dresses a lot and wanted something very different and more formal than usual.
I knew the dress would have to have pockets too – not only are my hands in pockets all the time but I wanted somewhere I could put tissues, my lipstick and phone without carrying a bag with me all day. I was also keen to have lace on it somewhere and I wanted my waist to look TINY – a proper hourglass, with a hint of punk from my old emo/punk rocker chick days. All of this with a hint of vintage glamour."
"After trying on a few gowns, I was left feeling a bit miserable that I didn't seem to love any of them and felt that they made me look fat, frumpy, or something I wasn't.  It was being the Make Up Artist at a friend's wedding and her telling me hers was from Emma Victoria Payne Bridal Wear in Knightsbridge that led to finding my actual dress.   I looked on the website and found my dream dress – Mega by La Sposa.
I daren't make an appointment as I figured the price would be through the roof. It played on my mind for weeks, the dress was everything I wanted, the sleeves and neckline could be modified, it was a ball gown and it had pockets! My Mum and I eventually said 'sod it!' and booked an appointment."
"As for our photographer, Laura McCluskey of LM Weddings,  where do we start? I'd worked with Laura previously on a wedding that was actually featured on Love My Dress.  I loved that she can give a bridal party a gentle, authoritative kick up the backside but remain totally calm and lovely!
I felt totally horrendous the morning of our wedding – my Sister was running around after me, reassuring me there was nothing to be worried about, My Mum was making our photographer Laura tea and toast and Laura was making me meditate, rubbing the palms of my hands – my 'chakras'! Aside from personally, I loved Laura's editorial background and the ability to shoot completely non stop for weddings."
"Being a professional make-up artist, I did my own make-up on the day.   I am such a control freak I could never have imagined anyone else doing it for me on such an important day. I had organised some assistance for on the day, but changed my mind at the last minute in case it all went wrong and I blamed them for it unnecessarily! It just would have given me something else to worry about!
My sister wanted plaits, away from her face and a fresh classic look. Gorgeously highlighted skin and a red lip. My Mum wasn't going to wear anything on the day but I think she must have felt left out, so we made sure her skin was as fresh as a daisy, radiant, comfortable and I curled her lashes too. A good blow dry helped her feel rocking!  When it came to me,  I knew I wanted my hair up and out of my face, so it was blow dried, curled and sprayed into a quiff.
I'm never without a smokey eye and lipstick so I enhanced the drama with some false lashes, amazing skin and bronzer. Funnily enough, one of the reasons we got married in late summer was so my skin would look it's best! My nails were a fresh nude and my toes were fuchsia with glitter. As you do."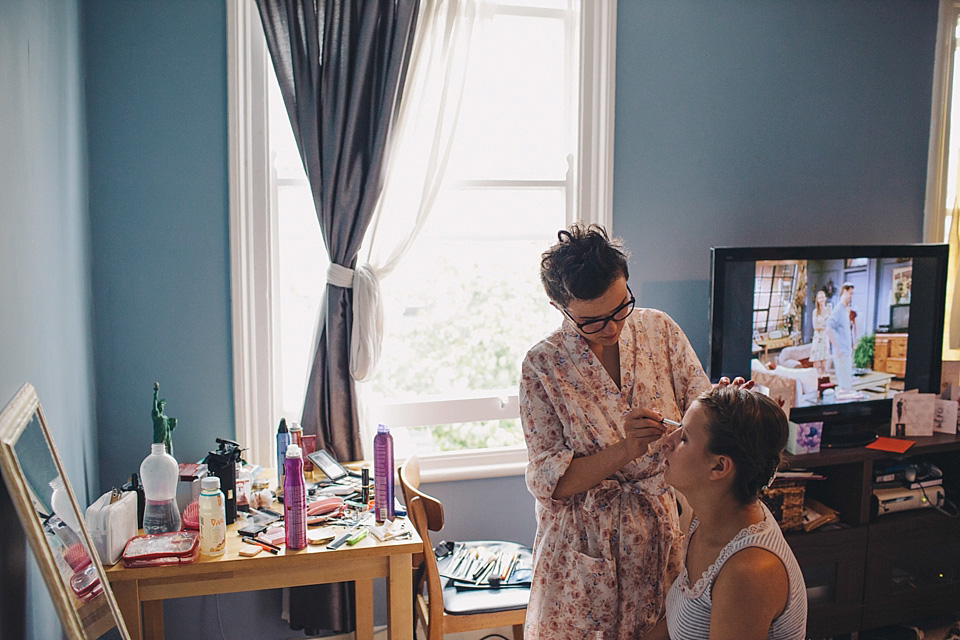 "Emma Victoria could not have been lovelier. She recommended I try on a few dresses, but as soon as I stepped into Mega,  I absolutely loved it. It just felt right. It needed lots of work, I'm 5ft2 and it felt like it had been created for a lady nearer to 6ft5! Emma made a very funny point of her having to chop it in half.  She then put a veil on me – I'd actually always imagined I'd wear a veil but when it came to it, I loved it then hated it. I changed my mind several times until about a month before the day itself when I realised it just wasn't me.
It would get on my nerves and make me hot. I then asked Emma if there a way of completely modifying the top half of the dress. I wanted it shaped in a completely different way, the sleeves chopped off so they ruched into cap sleeves, the lace over the bust to be cut off and put back together in a sweetheart neckline and to completely drop the back, not too low in case I decided to wear a bra on the day but low enough to let my skin breath. I honestly cannot thank Emma and Margareta enough. They added buttons where I didn't know I wanted them, a bustle where I didn't know I'd need one and extra bits of lace and beading to conceal my bra."
"I went back for my first fitting with my Mum and we both got so overwhelmed we were a mess! I had to tilt my head back for the rest of the fitting as I had no tissues and Margareta was still pinning things to me!"
"I absolutely love perfume and was torn as to what to wear on the day. I eventually stuck with my old faithful, Cinema by Yves Saint Laurent as it was the perfume I wore when Pete and I first met. Whenever I wear it we both get taken back to our first dates!
My earrings were my Great Grandmother's Scottish antique star studs that my Gran gave me the day before. I also tied her antique gold Celtic cross to my bouquet. My wedding ring is a vintage replica eternity band in platinum by Michael Rose in the Burlington Arcade, again, massively helpful, lovely down to earth people."
"Originally I wanted the now infamous Manolo Blahniks Carrie Bradshaw wears to marry Big. But in red. I then realised how completely ridiculous it would be to wear five inch stilettos with no straps. I have tiny flat feet. I would've lasted about an hour in them! After stalking various shoe websites looking for my new obsession- gold glitter mid height strap shoes, I came across Shoes of Prey. They're an Australian company that allow you to completely design the shoes you want. From the style of shoe, heel height, colour, type of material, you name it you can design it. Perfect for Picky Kylie! I eventually decided on a 3 inch chunk heel, completely covered in gold glitter.
The inner soles were pink with my new name and our wedding date etched in gold leaf. I also put an ostentatious metallic gold leather bow on the sides! I wore them every night on honeymoon and have worn them for every party ever since."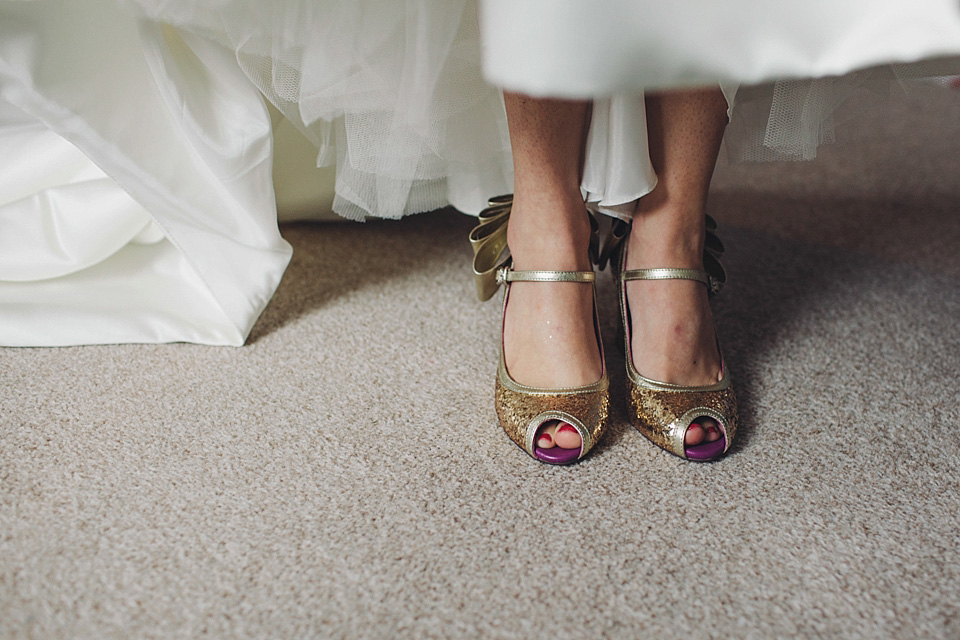 "My Dad has been a Black Cab Driver for 15 years and luckily knows quite a few folk in the industry! We hired his friend Barry for the day. Barry was amazing, turned up over an hour early, suited and booted with the cab all ribboned up. Lucky really as the mini cab we booked never turned up to pick up my Mum, Gran and Brother in Law. Myself, Laura and my family ended up jumping into the cab- only breaking the law a bit, and being chauffeured, slightly cramped to York House!"
"Pete and I went out for drinks with our photographer Laura McCluskey of LM Weddings in Soho, that then turned into dinner and more drinks. We all had so much in common, our honeymoon involved a lot of her road trip across the US earlier that year and we all had the same interests in school. She was our first choice of photographer and we're so glad we didn't have to consider other people! We also had a lovely second shooter booked, Mark Ashby who was with Pete all morning."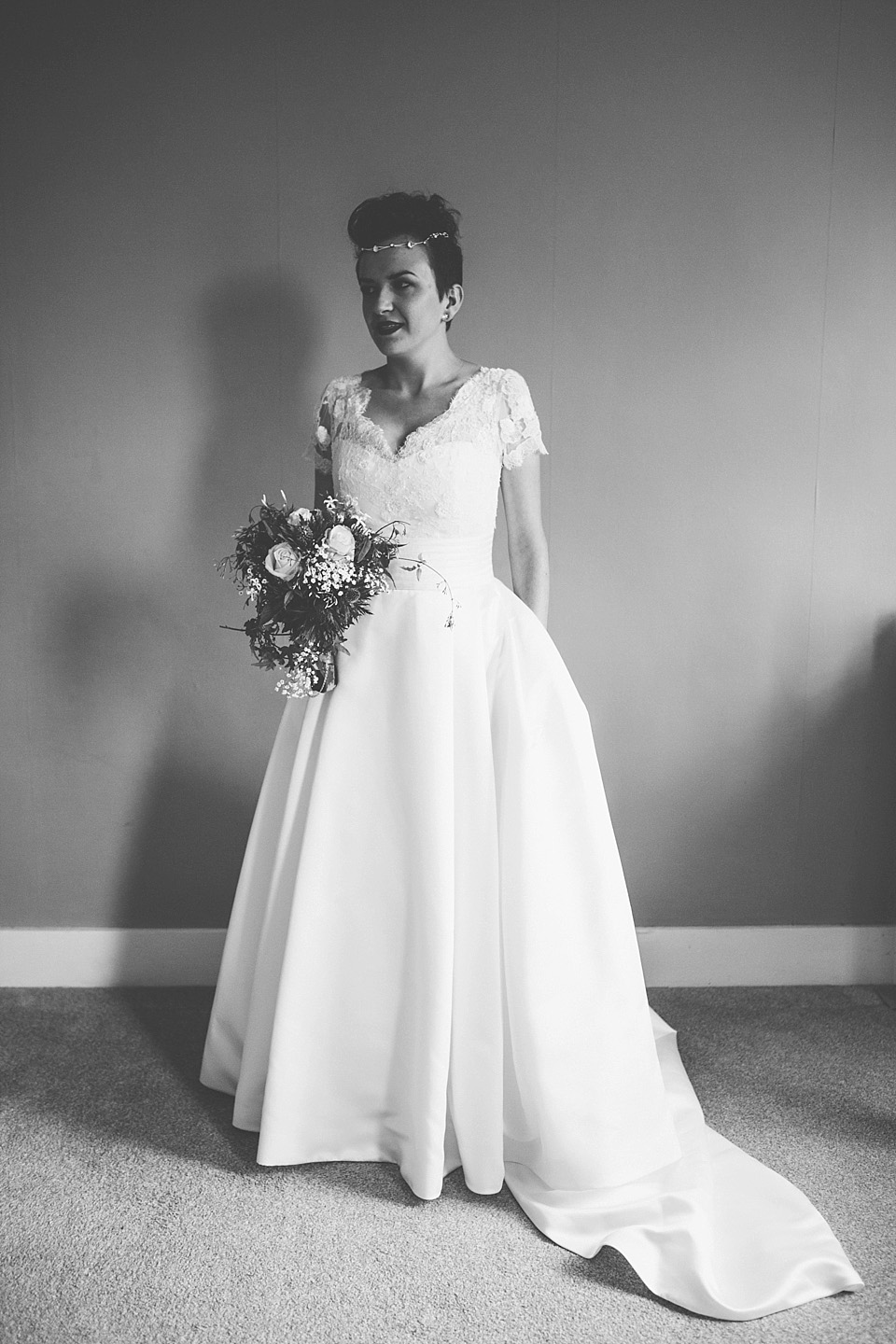 "Pete's suit was made by the incredibly talented and lovely folk at Cad & The Dandy. We tried the High Street and Designer and found that none of them looked right. We made an appointment with Jordan and Ian and they helped Pete decide was kind of fit he wanted, the material type, colour, weight and more importantly the lining. Pete had red skull jacquard lining, a memory of our emo rocker days and something to this day he absolutely loves and is very proud of! We loved the atmosphere there, very relaxed but discreet and we loved how informative, helpful and transparent the service was. We went to one tailor in London and they were so unhelpful and dismissive we walked out and never went back.
Cad and The Dandy ensured Pete was comfortable in his suit. I have never seen him look more handsome."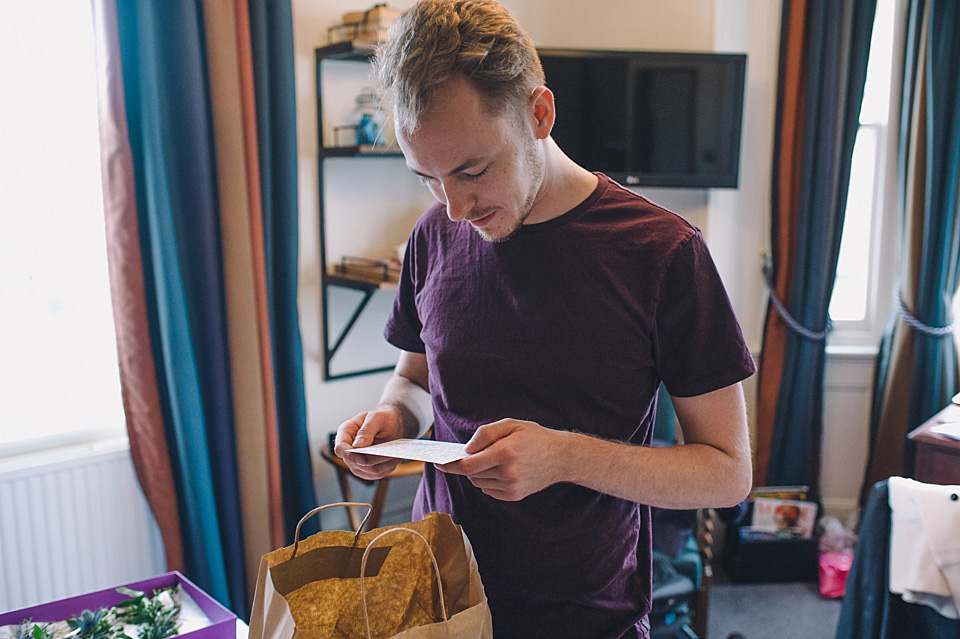 "Pete's red woven tie was from from Tietle at Etsy. He wanted something fairly vintage and distinctive, regular ties aren't really his thing! His cufflinks were Lucky Sixpences from Not On The High Street. After much looking- it took longer to find Pete's wedding ring than my own, we found a lovely and unusual vintage silver rope illusion ring from Aurum Gray's Antiques Market.
The ivory pocket square is a handkerchief cut from my dress material and his lovely textured white shirt is from TM Lewin, Jermyn Street, again, super helpful."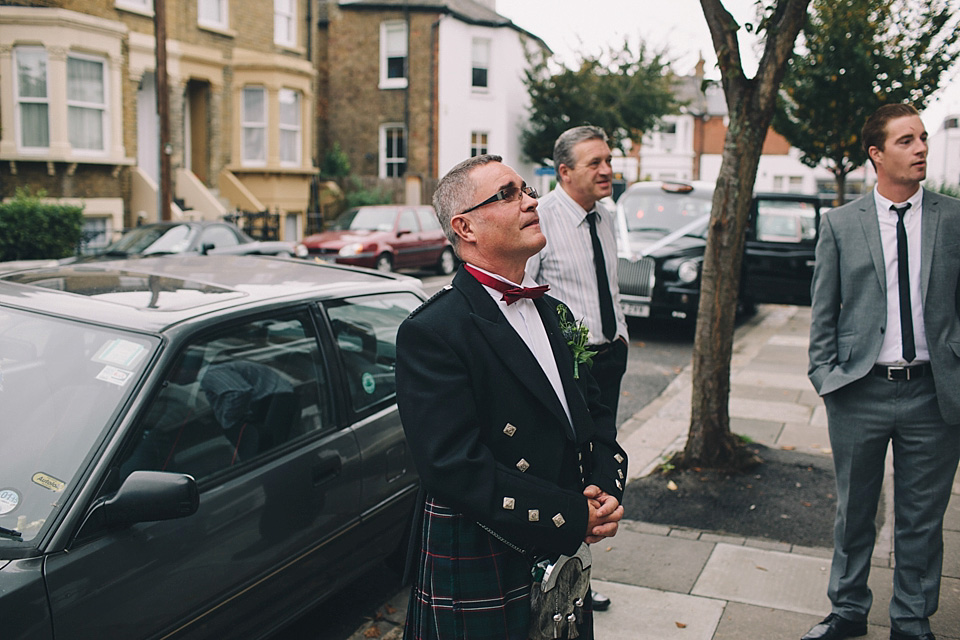 "You don't realise how obsessed with certain things you are until you get married. A couple of florists I got in touch with 9 months before our day just never got back to me which was disappointing. A few other florists I absolutely loved were just way out of our budget. Astrid at Wild at Heart creates the most stunning of arrangements. Not surprisingly I was very specific with the types of bouquets and jars I wanted. Unfortunately there were a few flowers Astrid couldn't get- Ranunculus, Anemones, Tuberose, and Garden Roses, so I had Gypsophila, which is very lovely but also smells a little odd – something to be aware of!
We also had Ivy (my Great Grandmother's name) that Astrid turned into a barbed wire type cradle (!), thistles (to reflect our Scottish heritage), Lavender (my favourite flower in the world) and Fresh garden picked trailing Jasmine for my Mum. I also had a couple of white roses put in to take away from the green, blue and lilac tones. In all honesty, I could do the day all over again, each with a different style and colour of bouquet!"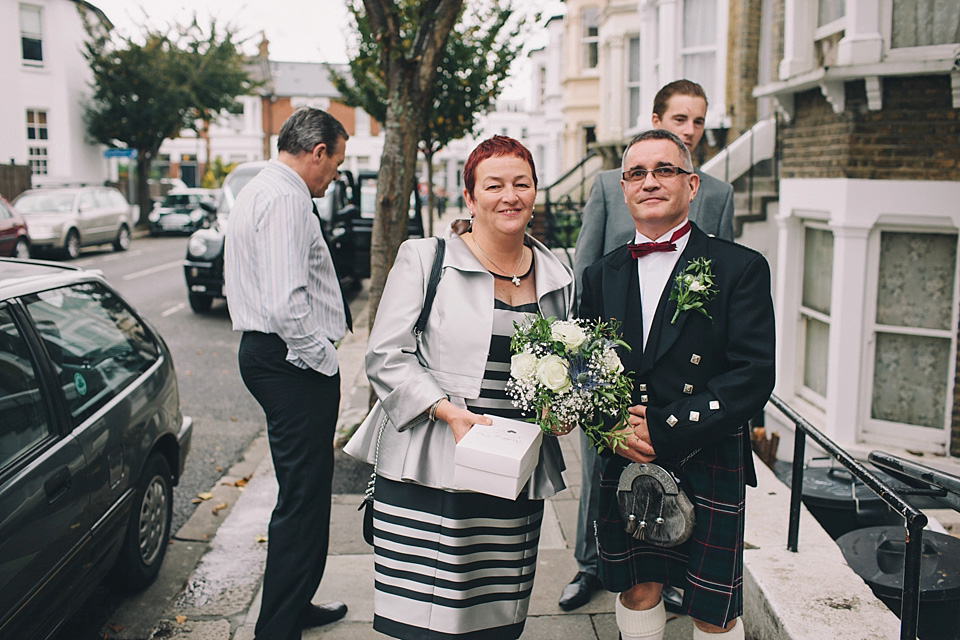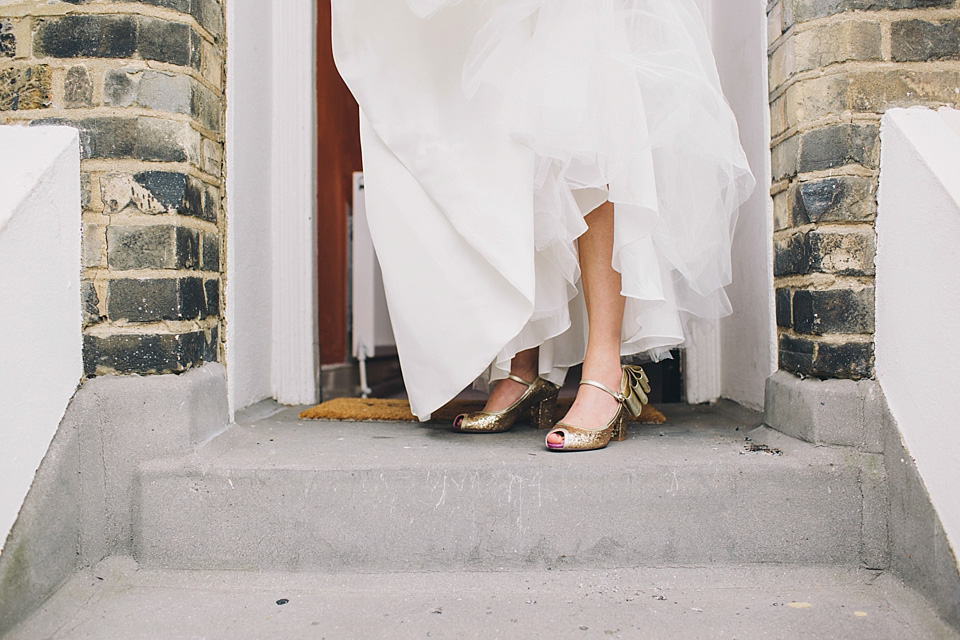 "My sister was my Maid of Honour. The only person in the Bridal Party! I figured I'd buy her a pretty dress and some shoes in exchange for keeping me calm and helping me to the bathroom! Her shoes were also designed by her fine self via Shoes of Prey. They were similar to mine- gold glitter, but she had blue soles, a kitten heel and a bow at the front."
"Our venue was York House in Twickenham. Right on the river. We decided on that venue as it holds special memories for us both, we used to get taken there as children. We have the same memories of rolling down the dipped lawn and strolling through The Secret Garden. For our budget it was also the most beautiful venue we could find. The staff were beyond helpful, I enquired about The Winter Garden ( the conservatory we got married in) when it was in the beginning stages of under going a refurbishment. It wasn't at the time a licensed room. I asked very nicely and we were allowed to be married in there! Thanks York House! Our reception was held at The Kew Gardens Hotel, we couldn't have asked for better.
The staff are beyond cool, but not in a 'cliquey too good for people' kind of way – they are informative, friendly and helpful – the whole shebang. I cannot tell you how many emails were sent to the bar manager Kyle and Functions Manager Zsofia regarding alcohol, guest list, last dance – everything! They kept my glass/bottle of champers constantly topped up and plied everyone else with their chosen drinks. The menu was also incredibly down to earth and chosen by us.
We also lucked out in both our venues – they were already stunning so we hardly had to do anything at all. Everything else was made up of things that caught our eye, that we could keep, or that was functional."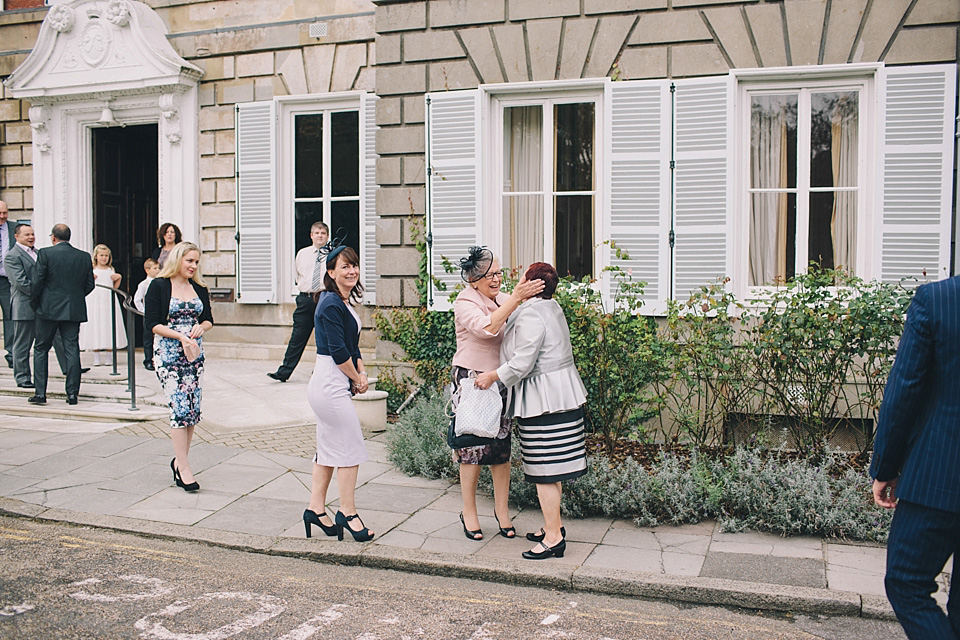 "My sister's dress was a bit of a palava. It took me longer to find hers than my own! I knew I wanted her in a nude colour, ideally the same Ivory as I was wearing, her being my sister and all. After failing to find anything in regular stores I tried Dessy. I found a stockist and headed there. For some reason- pushy Sales Associate and impatient Mum and Sister, I ordered a Navy blue fifties style gown in raw silk. It arrived and was completely hideous. Luckily in the meantime I had doubts and found another, completely perfect dress. We went to arrange a fitting and found their seamstress and the shop to be the most laid back I've ever encountered. We basically had a 3 hour window in one month, to fit it.
I prayed Emma Victoria Payne would do it, they happily obliged. During our wedding my Uncle mentioned they were the most beautiful fitting and stylish dresses he'd ever seen. Yay! Thanks Emma!"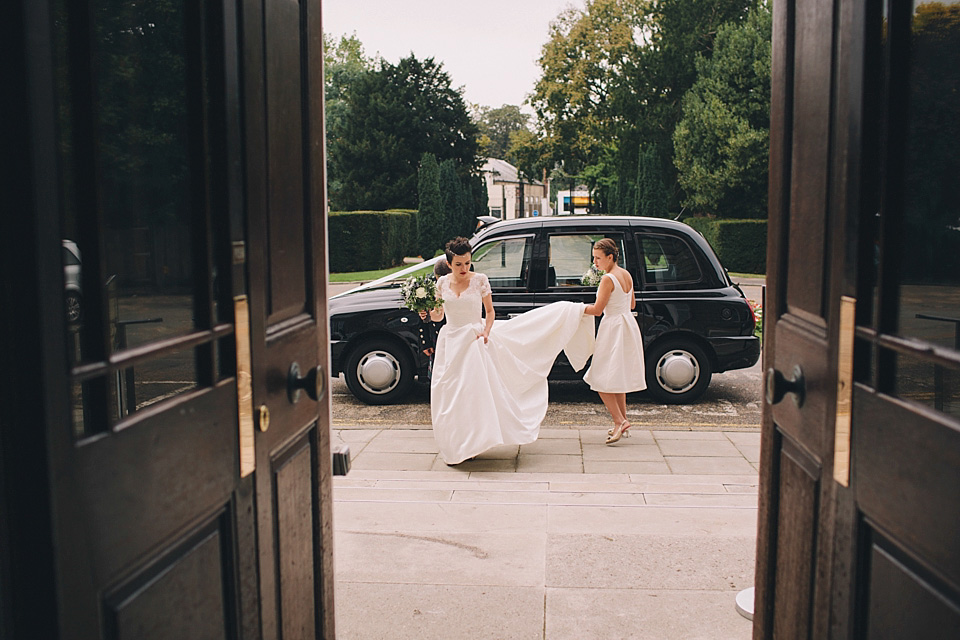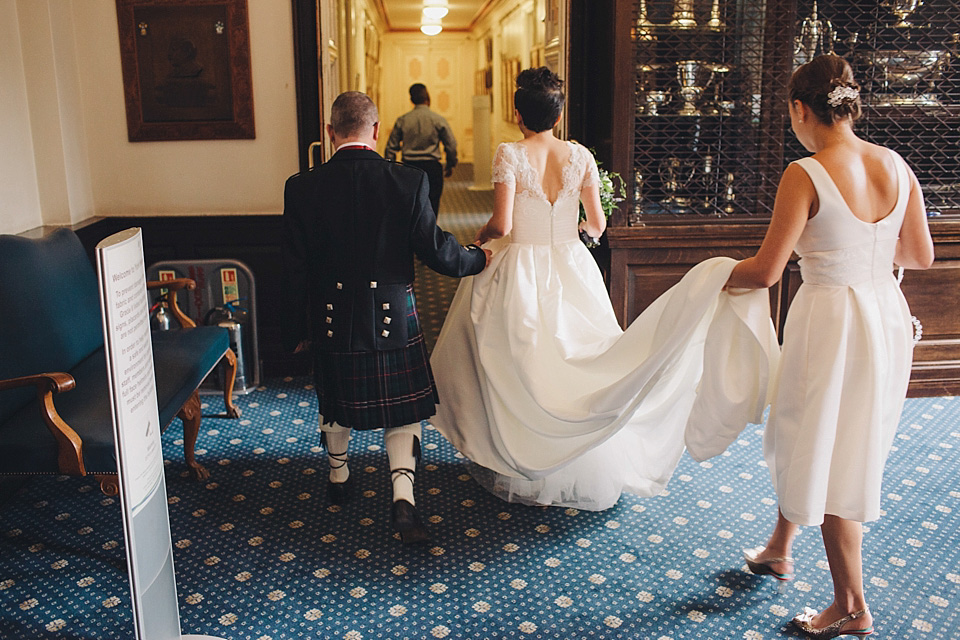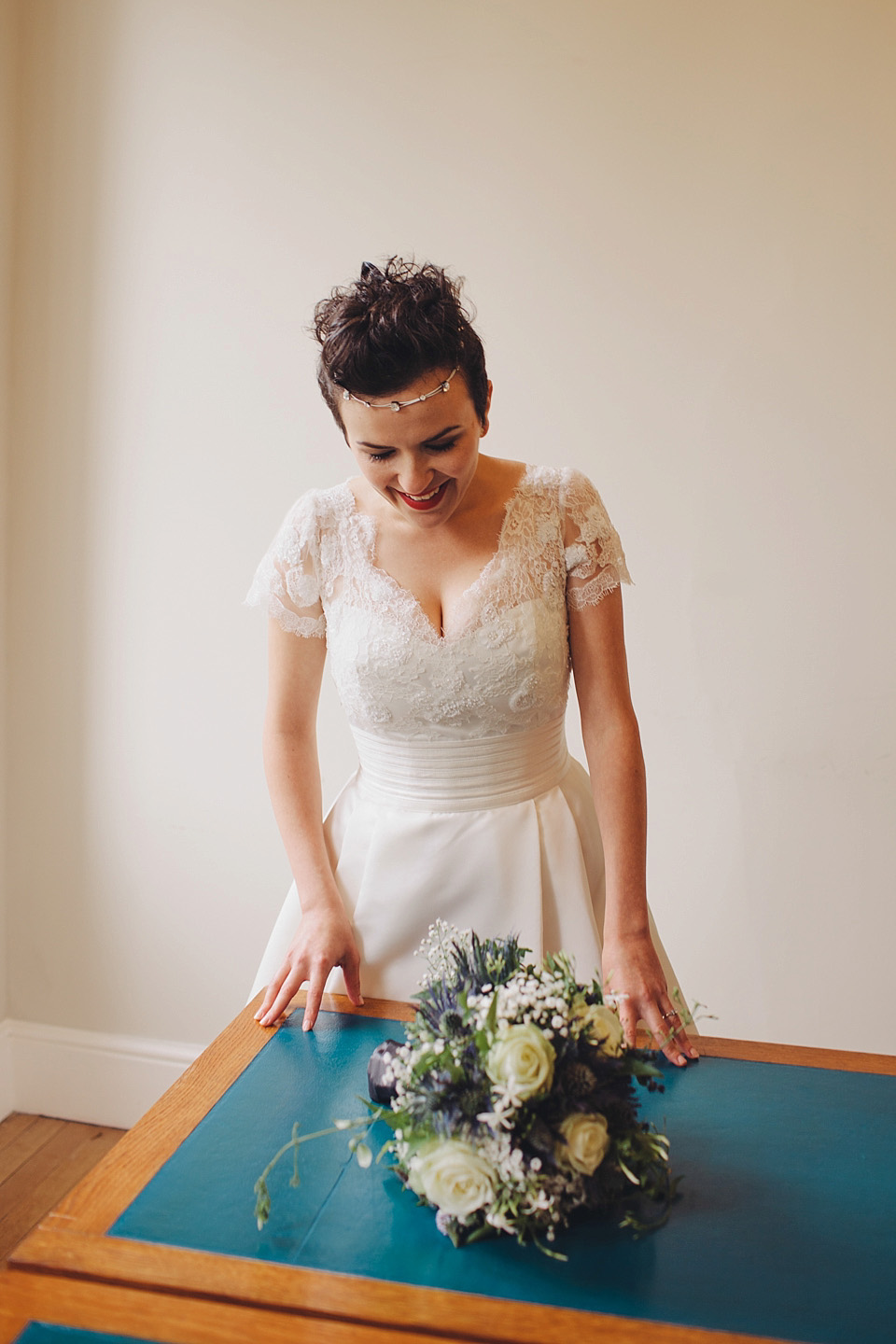 "Pete and I met at a mutual friends' AmDram performance of 'The King and I'. We chatted all about our shared love of alternative rock over pints of cider! So cool at 18 and 20! Soon enough we were inseparable. I had a job in retail at the time, he used to have to be up for lectures at 8am, I used to have to be at work for 7.30am and we'd find ourselves sending each other the newest Emo music videos at 4 in the morning! Ahhh, young love!"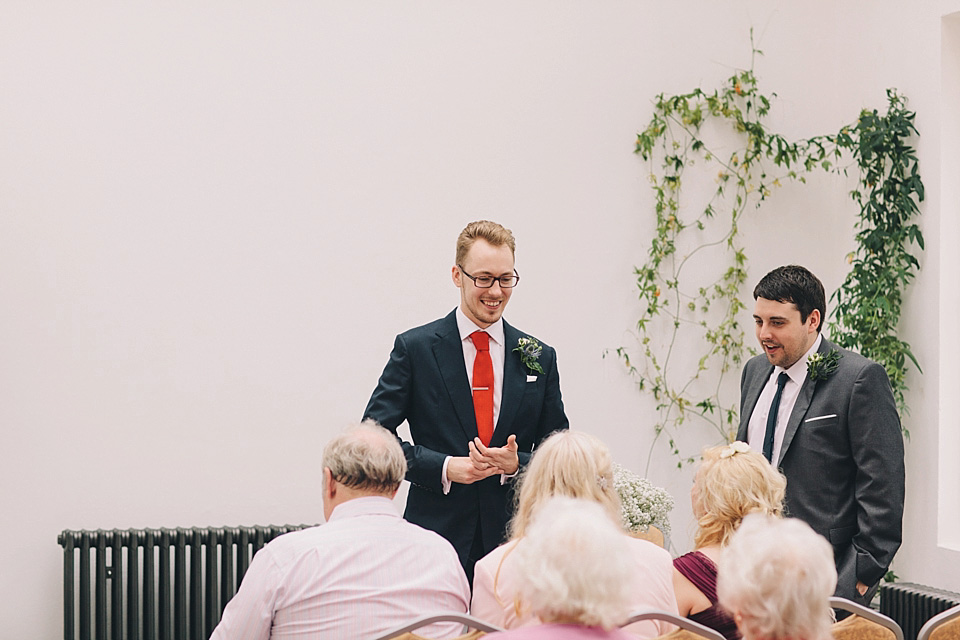 "Fast forward three and a half years and Pete moved in with me in my little studio flat in Holland Park. To be frank I was a highly irritable person by this point, I love sparkly things and couldn't help but keep looking at rings. Much to the amusement of my work colleagues. I remember taking him to Tiffany & Co and watching him fade to a sweaty white complexion whilst I tried on a £40k sparkler. Haha! I found my actual ring in a vintage market in London and totally fell in love with it.  
Whilst Christmas shopping in London, Pete had sneaked off to take a final look at it before buying it for me."
"The proposal was also a slightly sweaty affair. We moved into the coldest, creakiest flat in West London shortly after New Year's 2012. I was made a lovely two course Steak dinner ( I did think it odd, Pete can't cook and showed no interest in it) and I kept being asked when I was going to do the washing up? Cheeky sod! We exchanged cards (no presents, we were poor after having just moved) but I noticed he was sweating buckets! I thought, oh great, he's got pneumonia! He explained he had bought me a present after all, and led me, blindfolded by his hands, to the living room. Ikea tea lights surrounded my little navy box of vintage heaven.
It's funny, really, you get engaged and people ask you immediately when you're getting married. We had NO IDEA due to the aforementioned matter of being totally skint. We finally tied the knot around two and a half years after that Valentine's Night."
"I originally bought my sister a beautiful Jenny Packham bracelet to put in her hair and was going to modify it and clip it into her plaited bun, but I lost it two weeks before the day itself. I was so upset as it wasn't cheap. I ended up ordering a beautiful hair comb from Highland Angel via Not On The High Street.
"Torie wore vintage pearl earrings, and her bag is Louis Vuitton. It was the only thing that matched the dress and the shoes in a roundabout way!"
"My beloved Dad walked me down the aisle dressed in his Kilt. He looked so incredibly cool and smart. He and my sister were more nervous than I was at the prospect going ahead of me. They so badly didn't want to mess up! We spent ages at home practising the walk and the entrance timings. My sister did it so beautifully and elegantly, I was so desperate to get there I gave my Dad and little wink and he whispered,' Are we just going for it then?' I said 'Yep', so we basically marched towards Pete with quite a lot of enthusiasm!"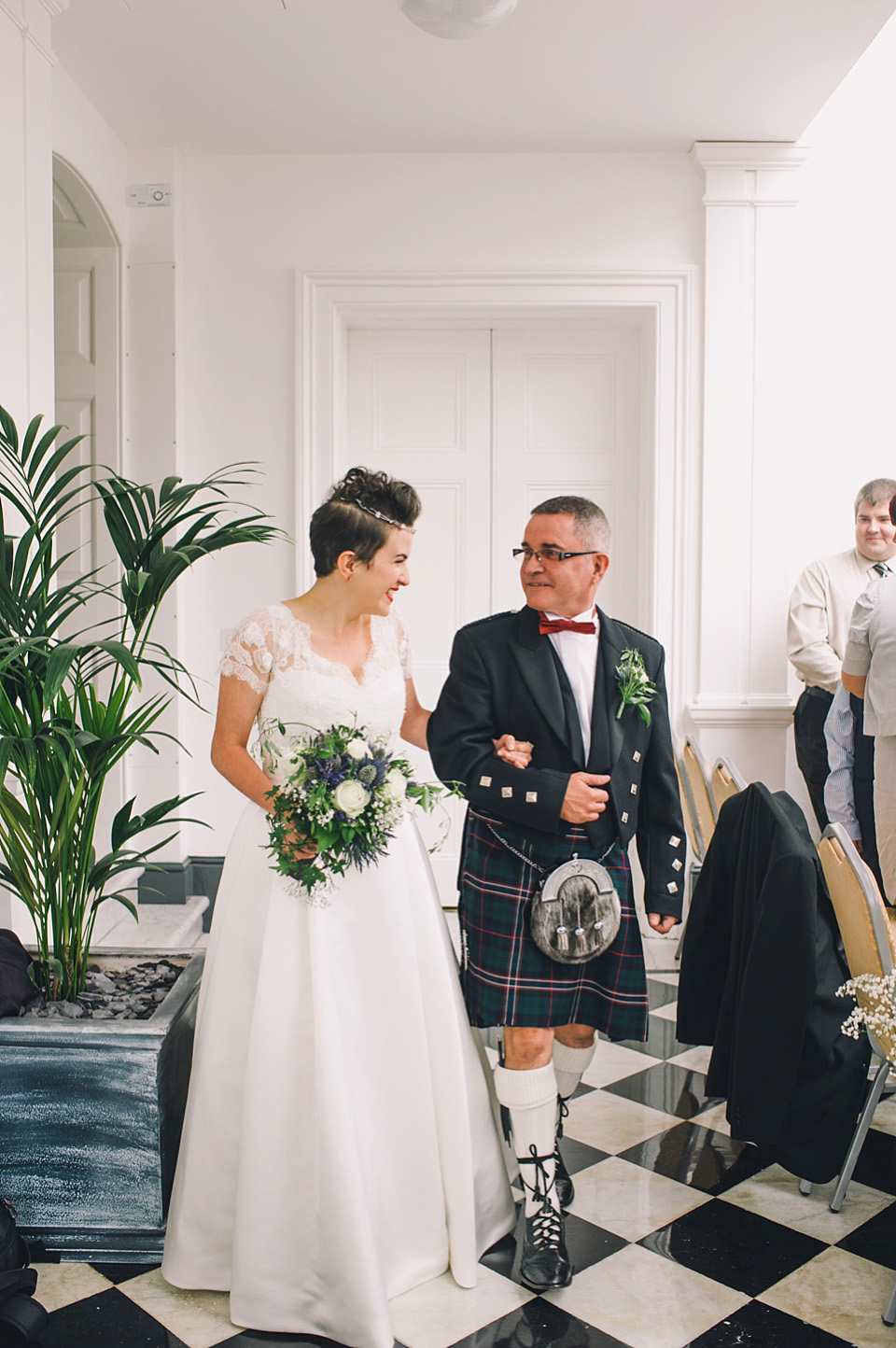 "We were very specific about what we wanted played before the ceremony, during and after. Whilst we love Classical music, we wanted something that would echo who we were and something that our friends and family could also relate to. We set up my Parent's Bose Speakers and iPod and played music from there. I actually walked down the aisle to Fix You- originally by Coldplay, the version we used was by the Vitamin String Quartet. It's a song we've always loved the lyrics to and a song my Mum and I have lovely memories of. I sent it to her when we decided on it and it made her cry. It still brings a tear!
For our 'Husband and Wife exit' recessional song, we again used the Quartet and had Sweet Disposition by The Temper Trap."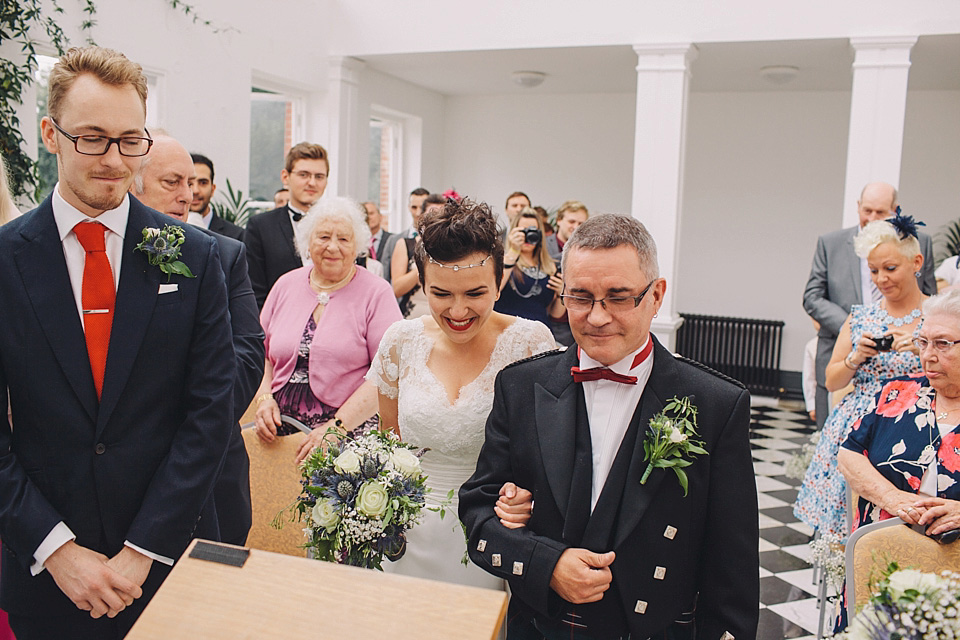 "Our ceremony, though perfect, was short and sweet. We asked loved ones if they wanted to read but we had no takers. It didn't bother us in the slightest, it just meant we had more time for photos!"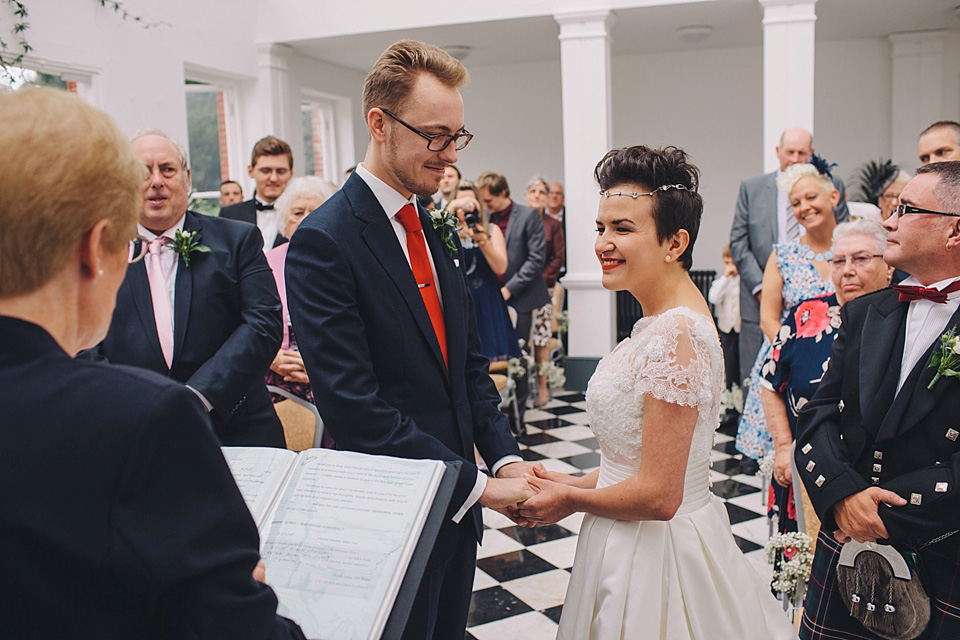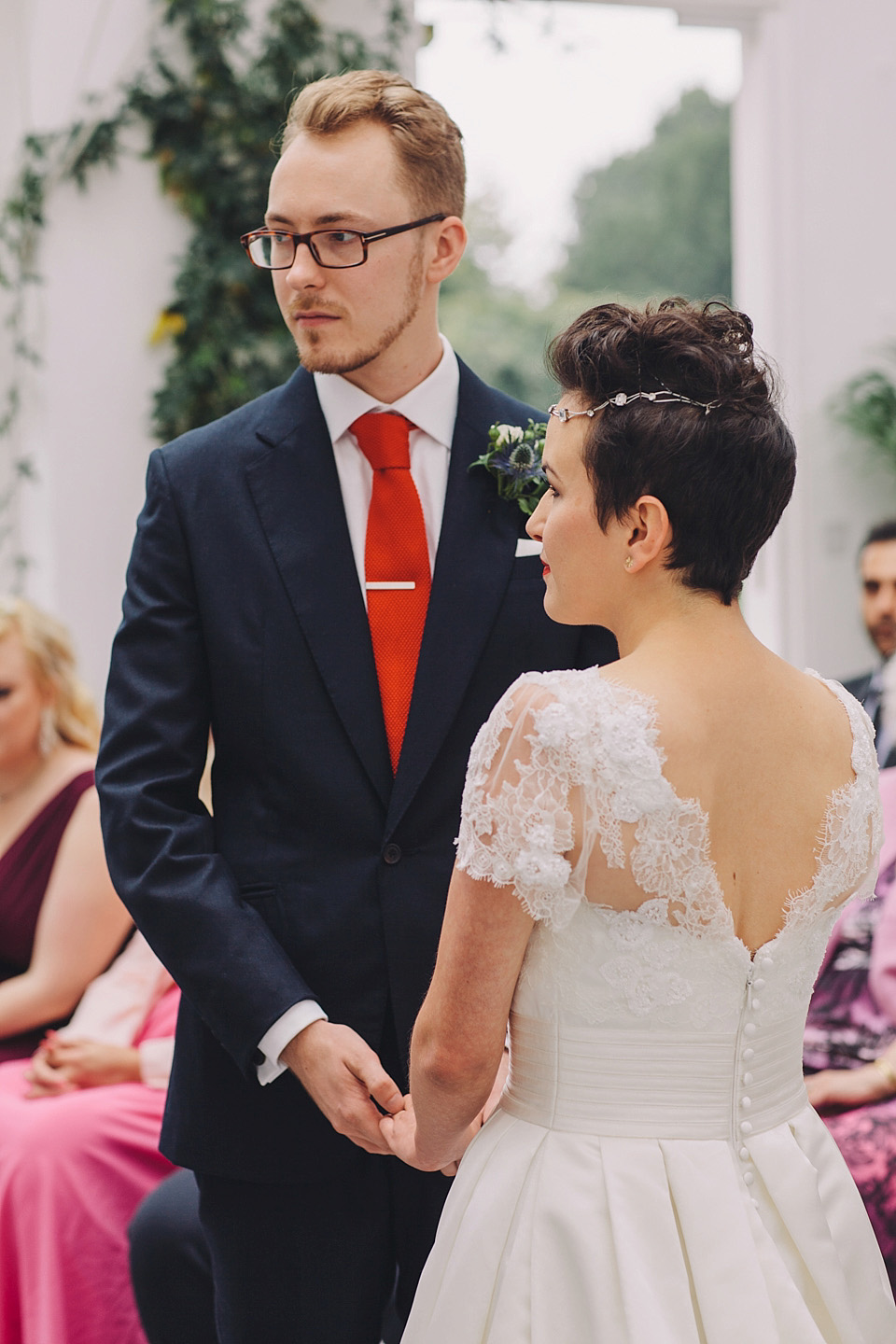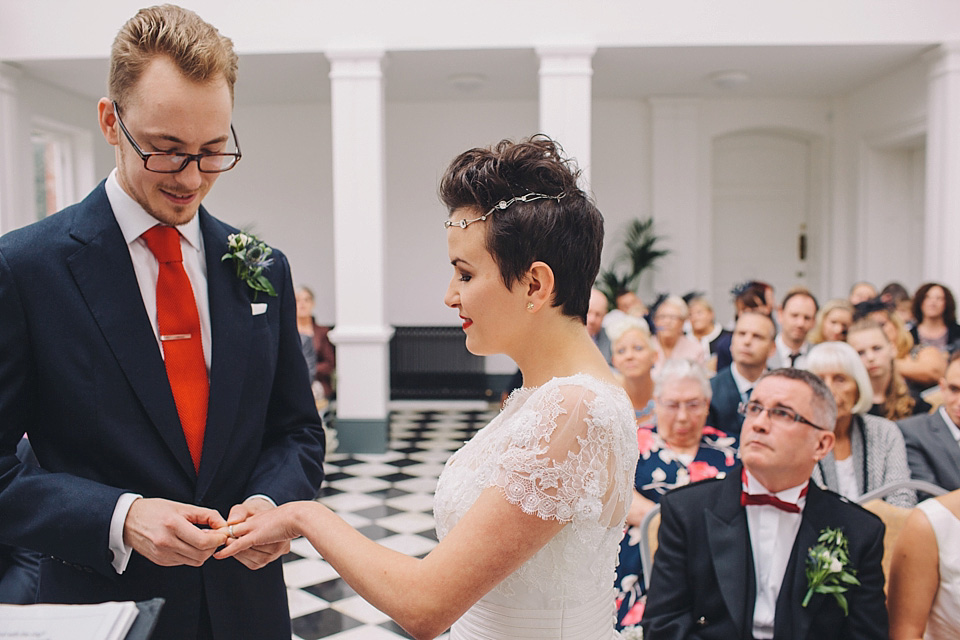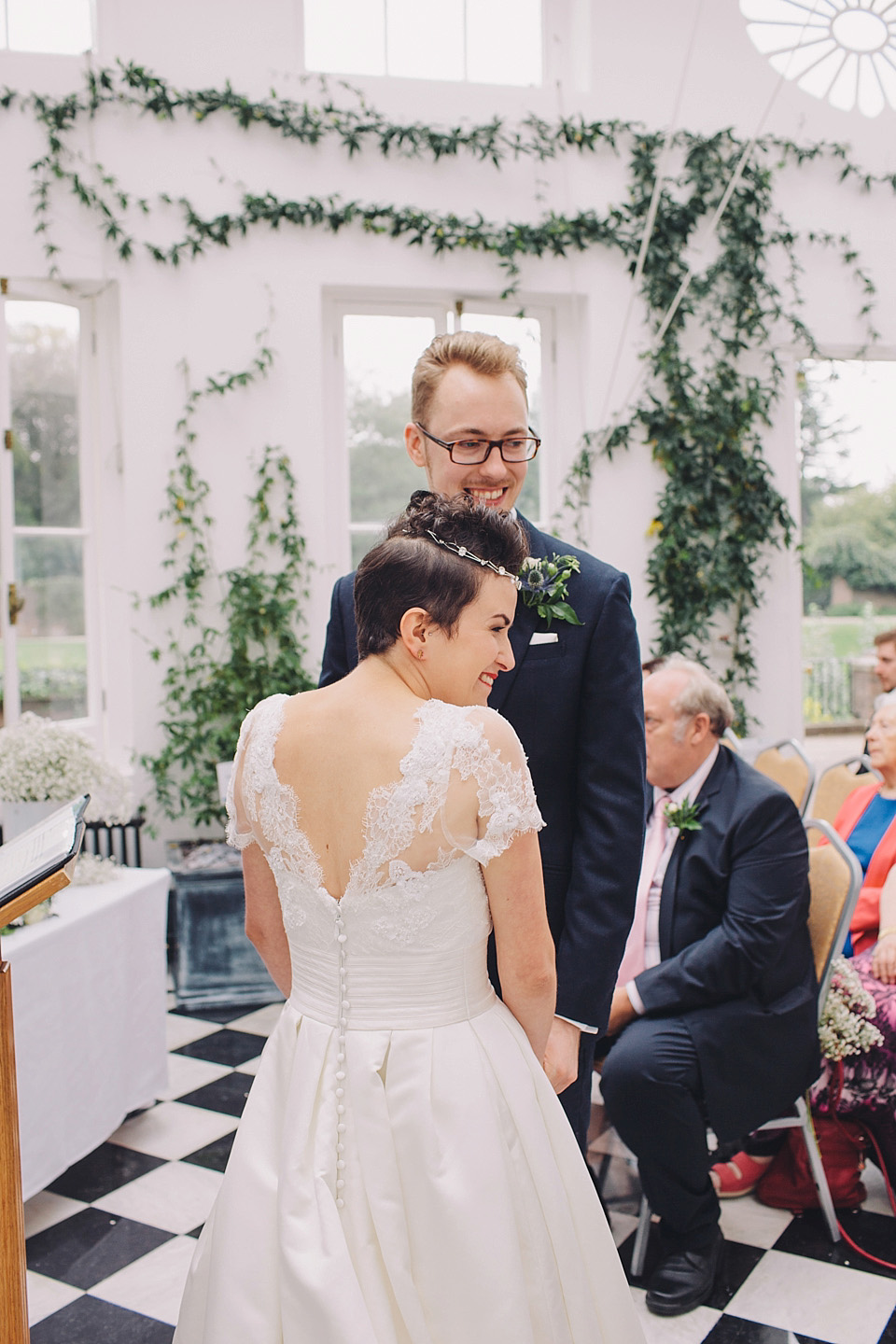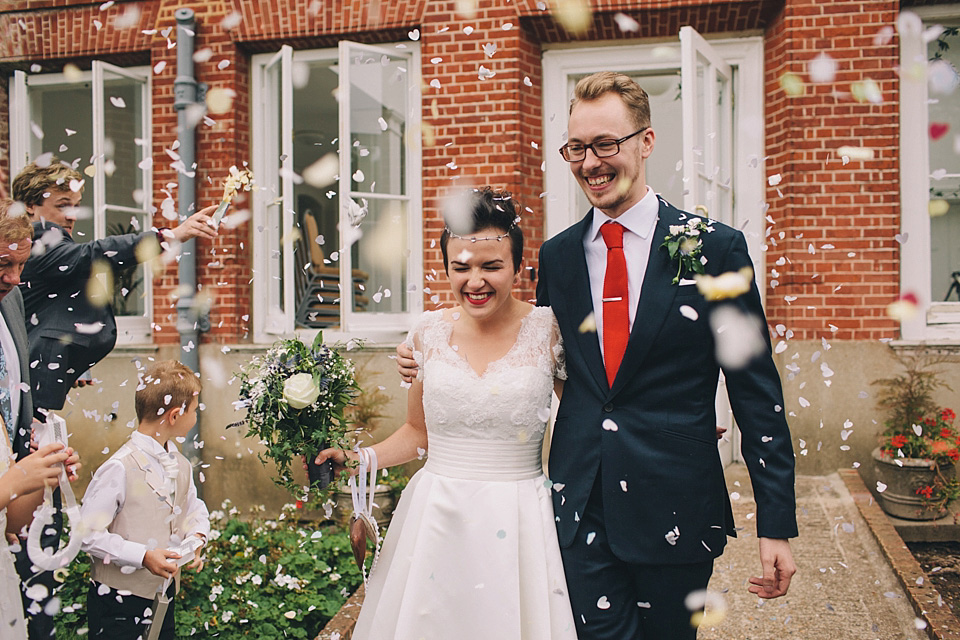 "We went to Hobbycraft and bought huge balloons to decorate the Hotel with, but then realised just how expensive and heavy helium gas is in canisters so we gave up! We did however add to Astrid's jars with table number spray painted buckets, again from Hobbycraft, that I painted at Pete's work. We went to Covent Garden Flower Market (Nowhere near Covent Garden, just so you know, it's in Vauxhall!) a couple of days before and bought two massive bouquets of Gypsophila. In hindsight (in other words, if I'd have listened to my Mum), I probably would have bought another type of flower, ie, an UNSCENTED one!"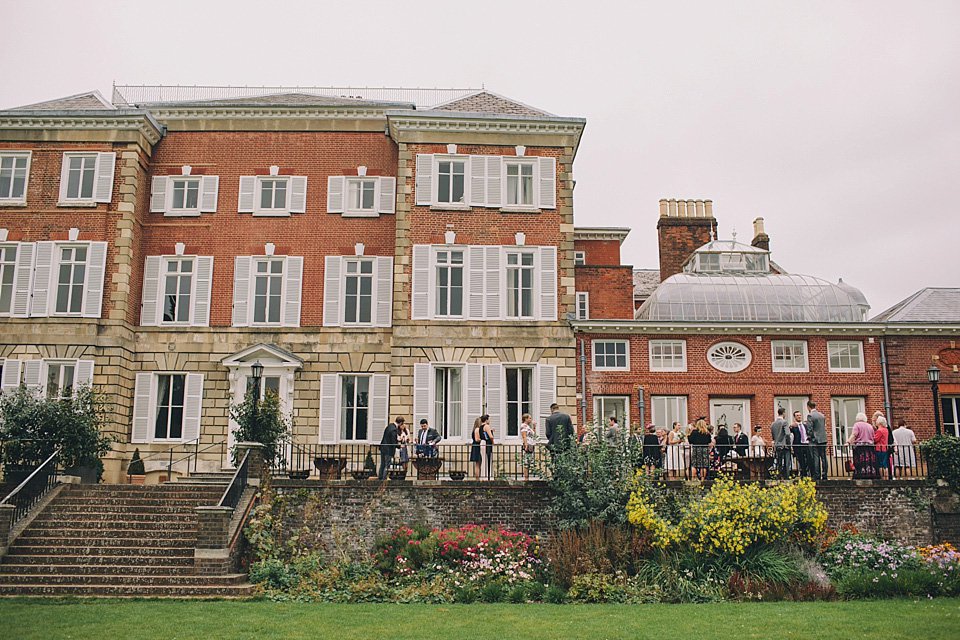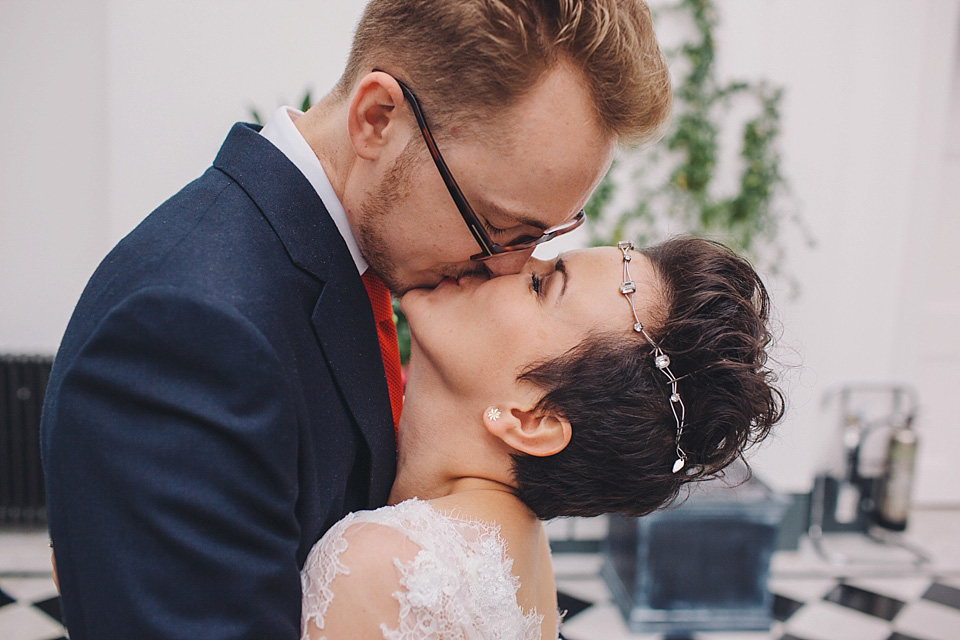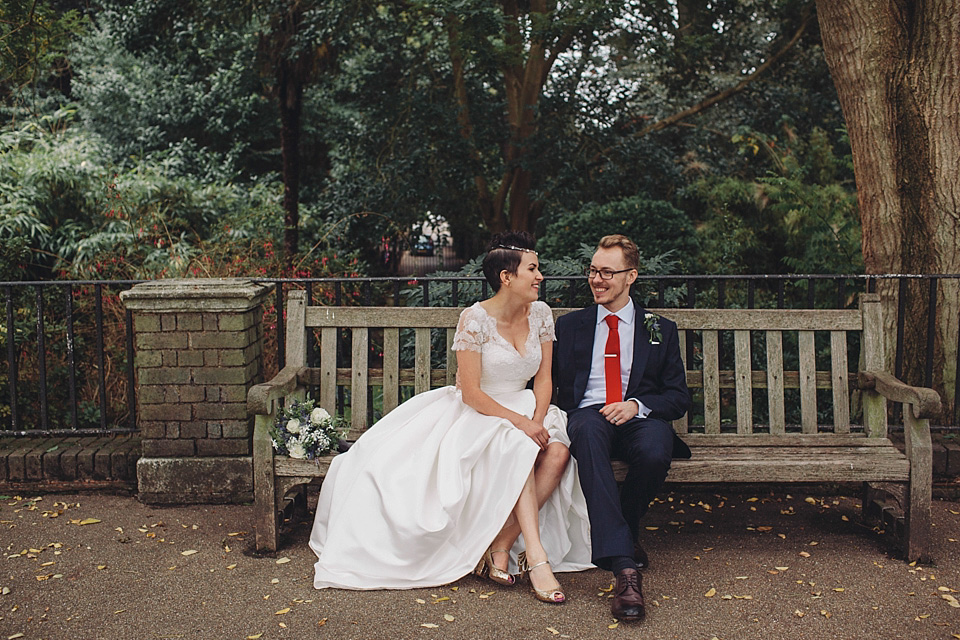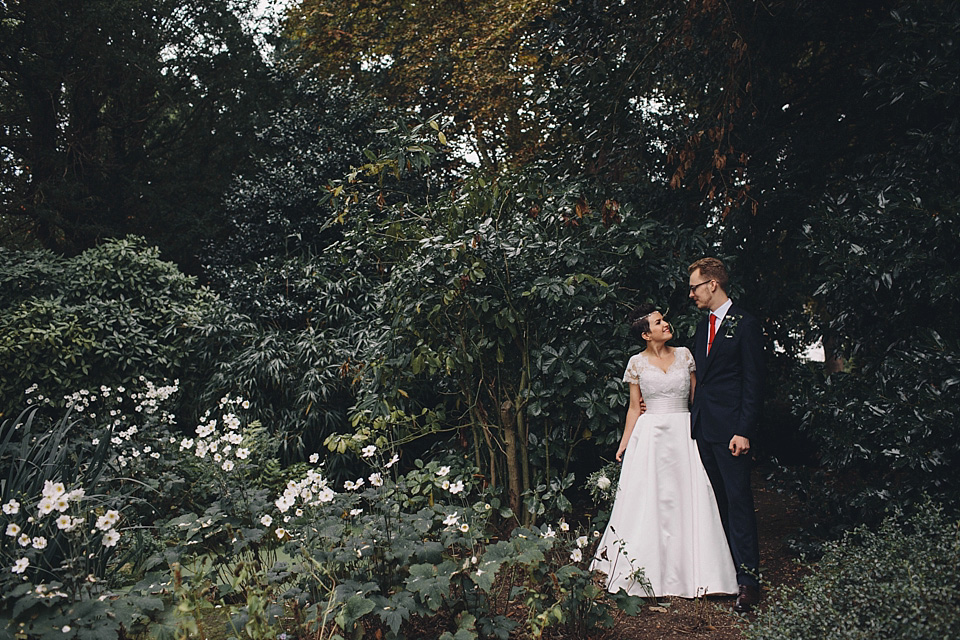 "We provided cupcakes by Sugar Rose as table settings, a favour and something for people to munch on as soon as they got to the venue."
"The cake was something that we found the hardest to book ( Apart from our venues). Our initial research took us all over London. Having a catering manager for a Mother can sometimes be a hindrance, you soon realise you can bake better cake than most bakers out there. At one cakery we asked them if they could make Pete's favourite cake, Lavender with cream cheese frosting, and they point blank refused. We eventually found Maria at Sugar Rose. I was totally blunt with her over email and explained how hard we'd found it looking for the perfect supplier. She asked me exactly what we wanted and made an appointment to see us at home.
My Mum, Brother in Law and Sister came to sample what was the most amazing cake we've ever eaten. Including mine and my Mum's! To say we were pleased was an understatement. She'd custom made recipes especially for us- Salted Caramel, Dark Chocolate Ganache, and Lavender and completely won us over. We still get compliments about the cupcakes we ordered as favours!"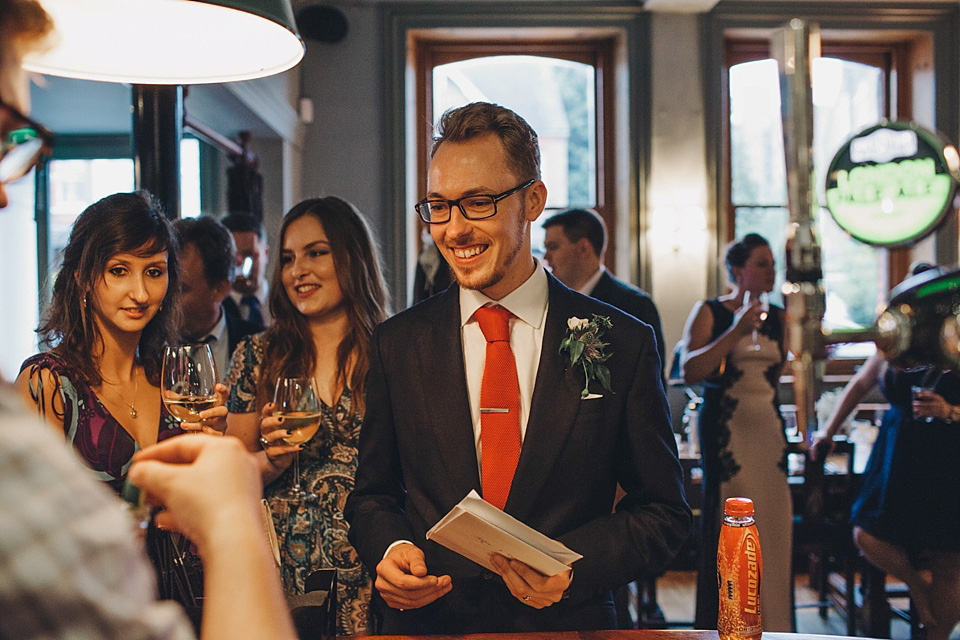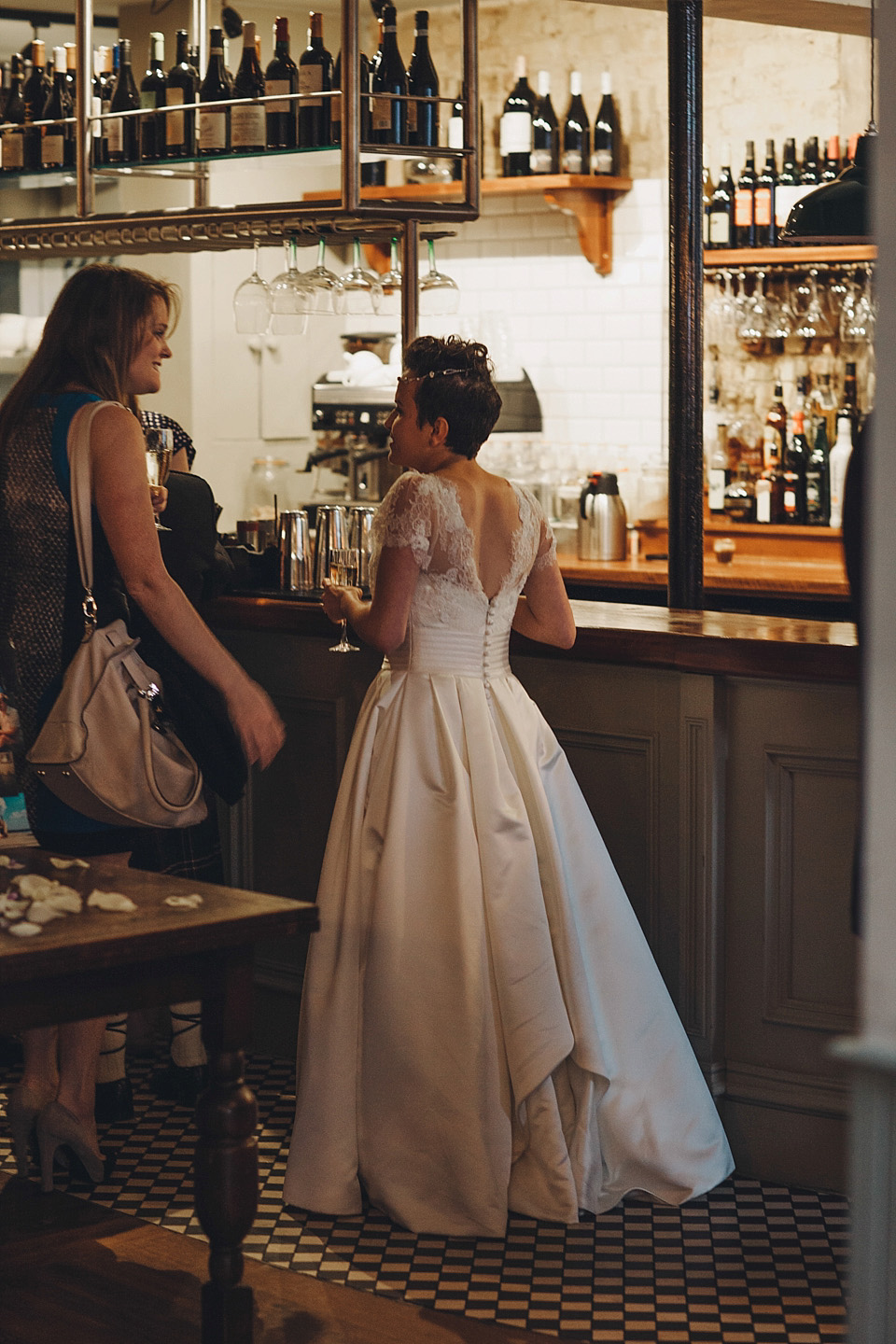 "We assumed it would be pretty hard to find a DJ but Marcus at Mighty Fine was one of our quickest supplier finds! After meeting him, we knew we had to book him. He was around the same age as us and had been to the same festivals and gigs we had. Knew our first dances and rocker tunes to name like we did and loved our playlist. Mark van den Berg was also really helpful and efficient in creating a profile for us online so we could sample and create our very own playlist.
The music, for us and our wedding party was ultimately the most important thing. We wanted the party of our lives and with them, we got it. I don't think I left the speakers all night! Everyone had such an awesome time, the bar staff are even dancing in the video!"
"We were a bit greedy and had two first dances! They were very short, but there were two songs. Our first was Starlight by Muse, we first listened to it and danced to it together in an old rock nightclub about 7 years ago. The second was You're My Best Friend by Queen, except by this point Pete had forgotten about that one and headed to the bar with his mates. I ended up dancing to that with my Aunt and Nan!"
Hehehe! Oh how I giggled when I first read this 🙂
"Unfortunately we'd completely run out of budget for a Professional Videographer. Thankfully though, my Dad is a family video enthusiast and owns a fantastic camcorder. Our wonderful Brother in Law, Joe offered to help Pete and his Best Man, Shane set it up in the room for us and just hold it at eye level all day recording anything and everything. Thanks to him we have some absolutely amazing memories of our vows, the speeches and our moshing later in the evening! It's obviously a heartfelt, natural home video and we absolutely loved being able to watch it hung over the next day!"
"I don't know if I can pin-point any part of the day that was my favourite really. I genuinely absolutely loved every single bit of it. I think my most memorable part of the day where all my cares and worries about everything had completely disappeared was when my Dad and I were standing arm in arm, my Sister had just turned into The Winter Garden and I thought this is it. No going back. Let's do this! I wanna see my Groom! My Dad just held my arm tight, smiled and said 'ready?' And we started walking."

Words of Wedded Wisdom….
"I's funny how the details pale into insignificance as you say your vows. I remember turning round to face everyone and realising there were empty seats. I wondered who hadn't been able to be there but I wanted to be in the moment and forgot about it. It wasn't until our post ceremony drinks did I realise my best friend and her partner weren't able to make it. She wasn't well. I was so upset that she wouldn't be there that I didn't care about other things that hadn't been perfect. I got the biggest surprise at our reception when they were there to greet us at the entrance. At that moment the hotel could've fallen down and I wouldn't have cared. As long as you're married to your best friend, and the people that you love and care about are there rooting for you, nothing else matters.
On reflection, the only things I would've done differently would have been to hire a wedding planner. Pete and I worked so hard in the lead up to the day, on the day coordination and some supplier support would've taken the load off and I think made me much less anxious. I may also have picked a florist that is independent of a hustling busting department store. We had no initial consultation or meetings on alternative flower or presentation choices. In hindsight I would've really appreciated it."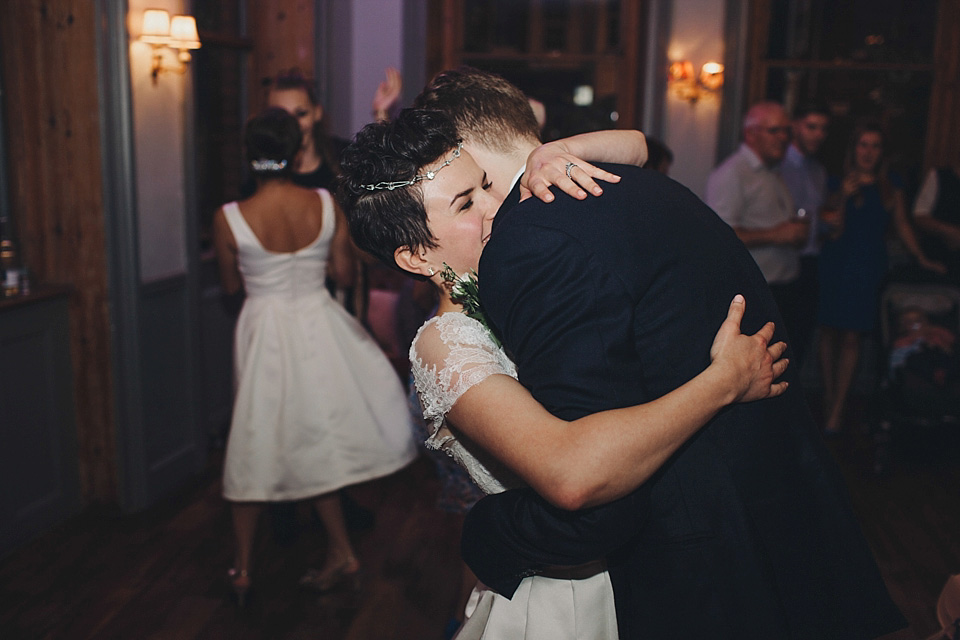 Oh Lord, how absolutely wonderful this all is!  I am so thrilled that we've been able to share this wedding with you and would like to thank both the photographer, Laura and the absolutely beautiful bride herself, Kylie.  I love the care and attention Kylie has taken in sharing so much of the detail of her beautiful day – I really hope it comes in useful as well as inspirational to many of you.
I'd really love to see some love for this wedding in the comments below – go on, make someone happy today!
See more work from Kylie McMichael on Love My Dress here on Love My Dress – you may also wish to take a look through other weddings shot by LM Weddings.
Have a very pleasant morning everyone,
Love Annabel xx
Photographer – LM Weddings
Venue – York House in Twickenham
Wedding Dress – Mega by La Sposa via Emma Victoria Payne Bridal Wear, Knightsbridge
Headpiece – Jenny Packham
Shoes – Shoes of Prey
Accessories – Heirloom + Michael Rose
Bride's Scent/perfume – Cinema by Yves Saint Laurent
Groom – Cad & The Dandy + tie via Tietle at Etsy
Bridesmaid's Dresses – Dessy + Shoes of Prey + hair accessories via Highland Angel
Florist – Wild at Heart
Cake – Sugar Rose
Transport – Black cab
Entertainment – DJ but Marcus via Mighty Fine
Rings – Michael Rose
Stationery – Lola's Paperie
Hair + Makeup – Kylie McMichael (the bride)