Morning all! Today's globetrotting couple shared their big day with friends and family from six continents. Mike, a history teacher, met Caro, who runs her own education and conservation organisation, through mutual friends during a game of beach cricket in Norfolk. Three years later, Mike asked Caro to marry him as the sun set on a deserted beach in the Galapagos Isles (where Caro works) surrounded by frigatebirds, sea lions, turtles and marine iguanas.
Mike and Caro (who now live in Hong Kong) tied the knot on the 11th of July at Voewood, a beautiful, quirky country house near Holt in Norfolk.  I love the relaxed festival feel of our couple's big day and the many thoughtful touches, inspired by their international guest list and mutual love of travel. The couple's wedding was  shot by the talented Warren Grimes of Howell Jones Photography and captured on film by Tom Brown of Studeomedia. Take a look at our couple's beautiful wedding film below…
Film by Studeomedia
"We chose an English country, vintage inspired, festival vibe, with an international twist for our big day. We have so many lovely friends from all over the world and our whole weekend was a blend of the different places that we have lived and visited."
Photography by Howell Jones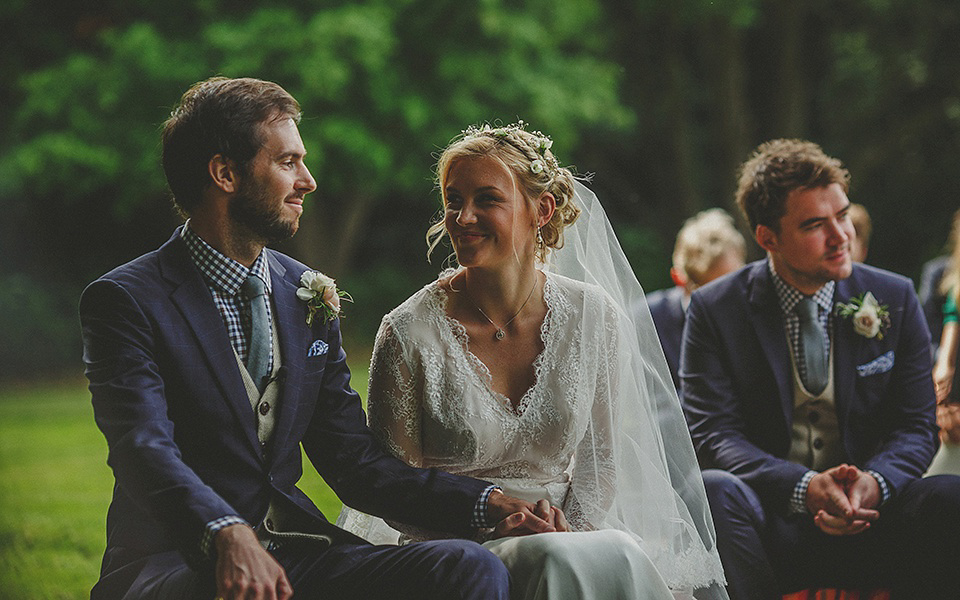 Caro and Mike decorated Voewood (and the giant Tipi where they held their wedding breakfast) with lanterns, strings of festoon lights, candles, chalkboards and birdcages filled with flowers expertly arranged by Sarah of Bramble and Berry.
"Our photographer, Warren of Howell Jones Photography, was great! We really liked that Warren included an engagement shoot and even came to Norfolk to photograph us."
"We both love his natural style and on the day he was so relaxed and nothing felt forced. Choosing the right photographer was the most important thing for us; the day passes in a flash and photos become your memories."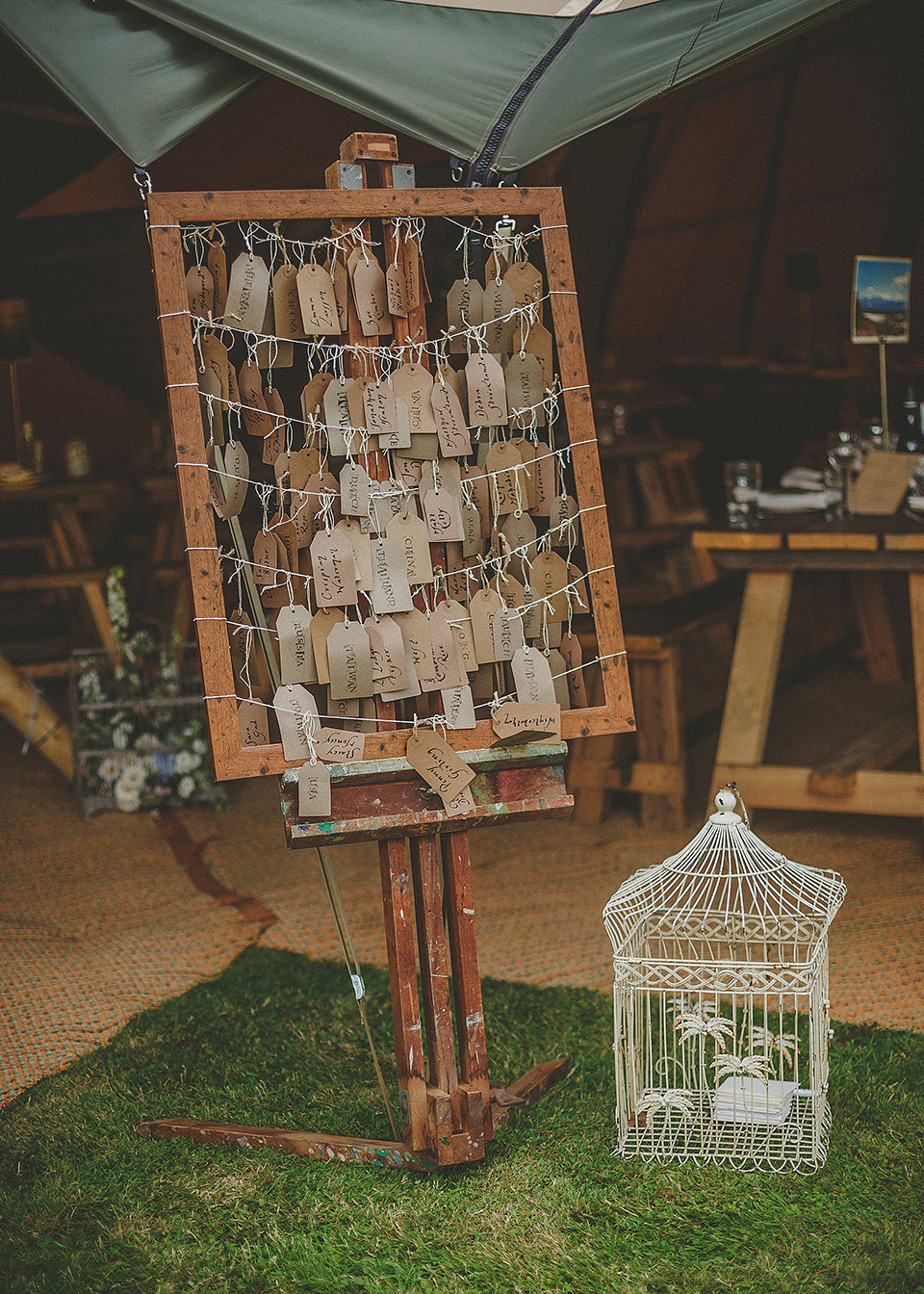 Caro's gorgeous long sleeved lace and chiffon gown and veil were custom made by independent fashion designer Kath Yeung.
"Kath made two dresses for me – one for the day and another for the evening, both inspired by photos I found on Pinterest. The most important thing for me was that I didn't feel self-conscious, so I chose to cover up. I love lace, so I opted for lace on top with a floaty chiffon skirt that showed off my figure without being too fussy. Choosing the lace was great fun and I felt so blessed to have two custom made gowns!"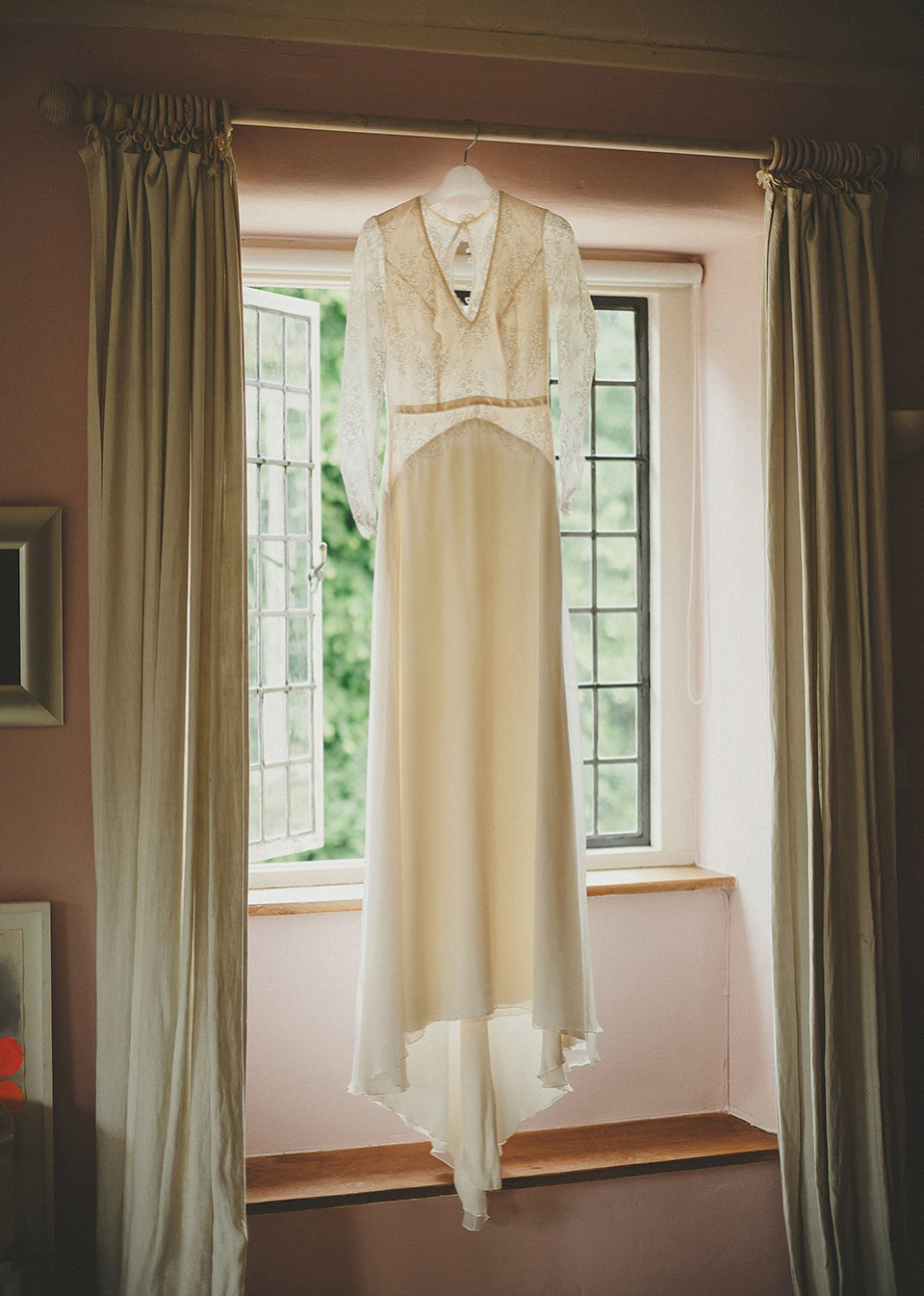 Built in 1905, Voewood is one of the finest examples of Arts and Crafts era architecture in the UK and has a very quirky interior to boot….
"We loved the eclectic vibe of Voewood; it has so much history and the décor is bonkers! In the downstairs bathroom there's a signed Andy Warhol and a thank you note from Damien Hurst, whilst upstairs there's a pair of stuffed swans!"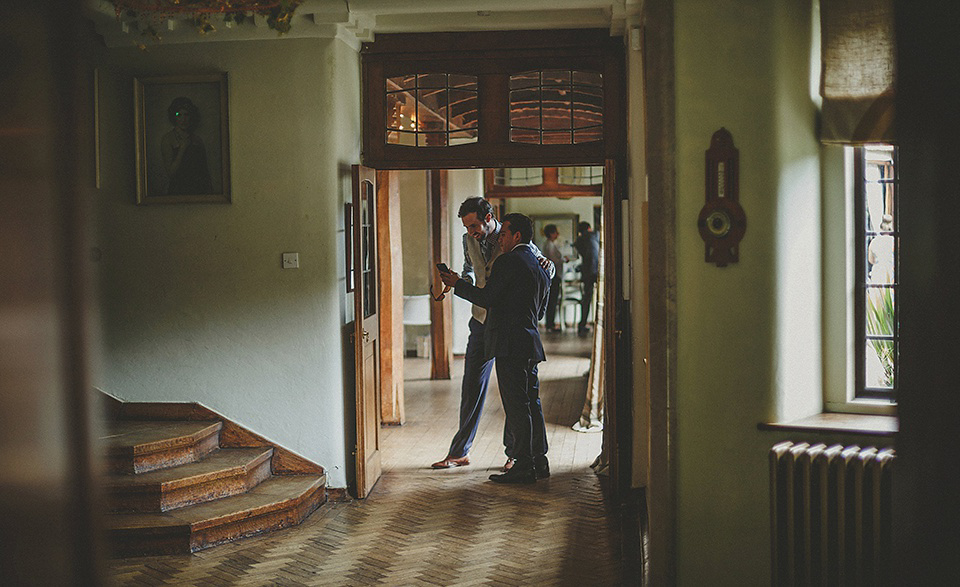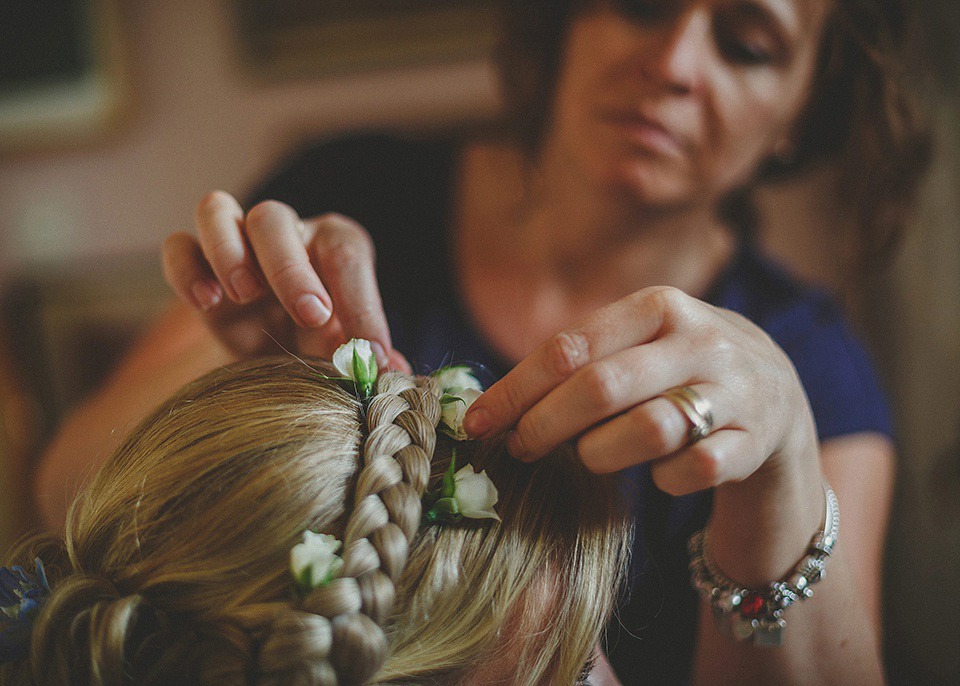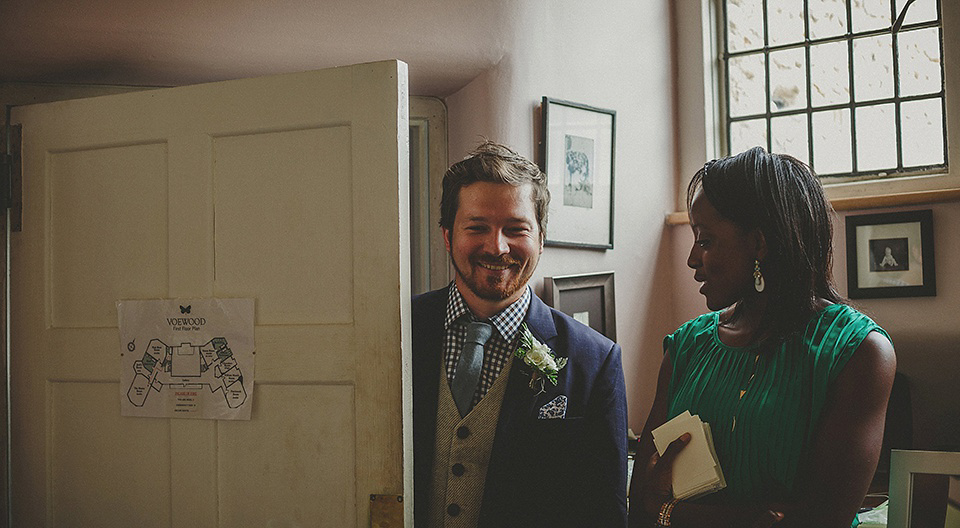 In keeping with the festival feel of the day, Caro wore her hair in a milkmaid plait, adorned with fresh flowers and a simple fingertip veil with lace trim.
"I was barefoot for the ceremony. So many other friends said the most nervous part of the day was walking down the aisle in heels and worrying about tripping up, so I decided to go without shoes for this part of the day. It fit in really well with the relaxed, festival, 'no fuss' feel."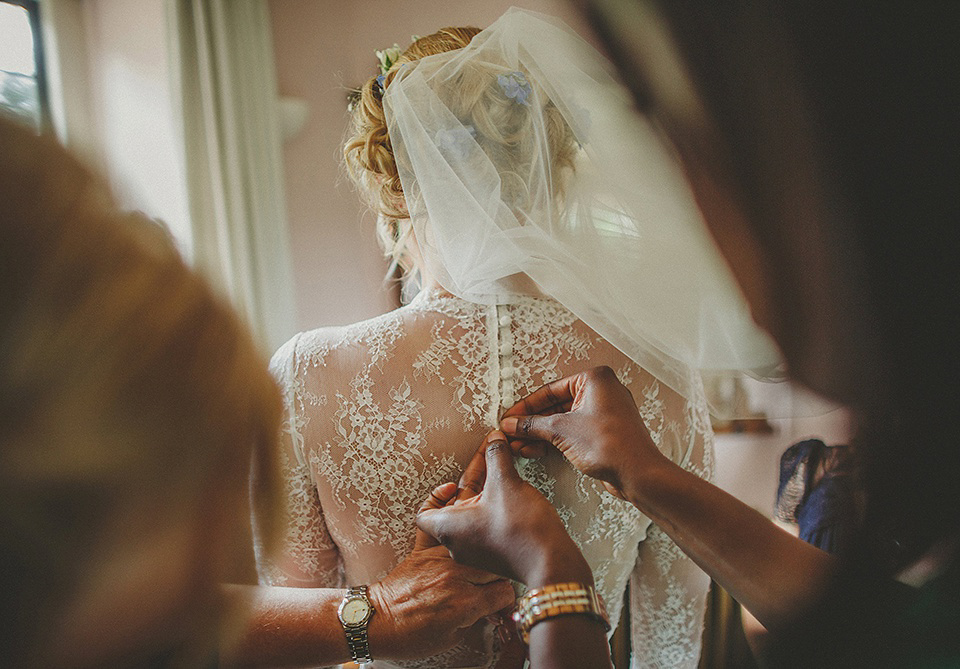 Caro's beautiful bridesmaids wore custom made, navy blue maxi dresses again created by Kath Yeung.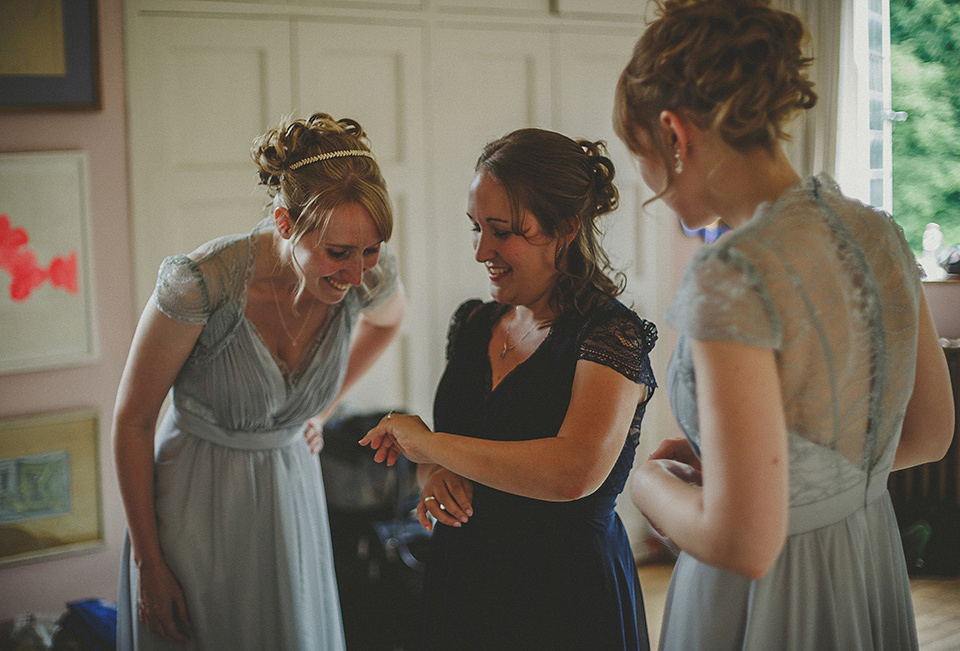 I absolutely love Caro's beautiful vintage inspired waterfall bouquet (not just because it is very similar to the one I had on my own wedding day!). It is very in keeping with the relaxed, festival theme of the day.
"Sarah of Bramble and Berry took lots of time to go through options, styles, and designs with us. She guided Mike's wild ideas into something that would work at the wedding, which was great, and she was really good at keeping costs down."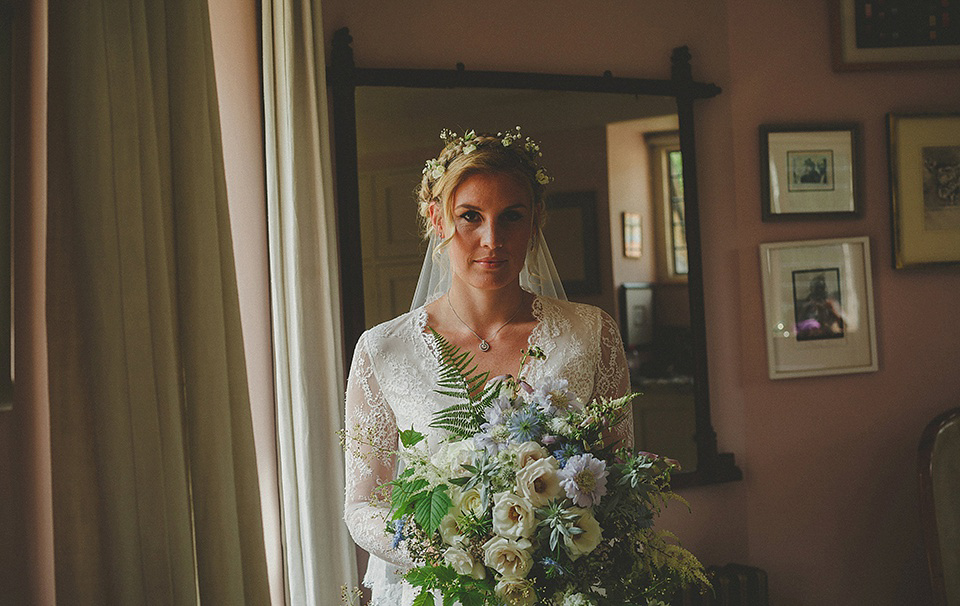 "I wore two gold bracelets which belonged to my great grandma, who died a few years ago. We were really close and when I was little she always said her most treasured items were her bracelets and I've worn them ever since she died. I doubt I'll ever take them off until I give them to my own great granddaughter."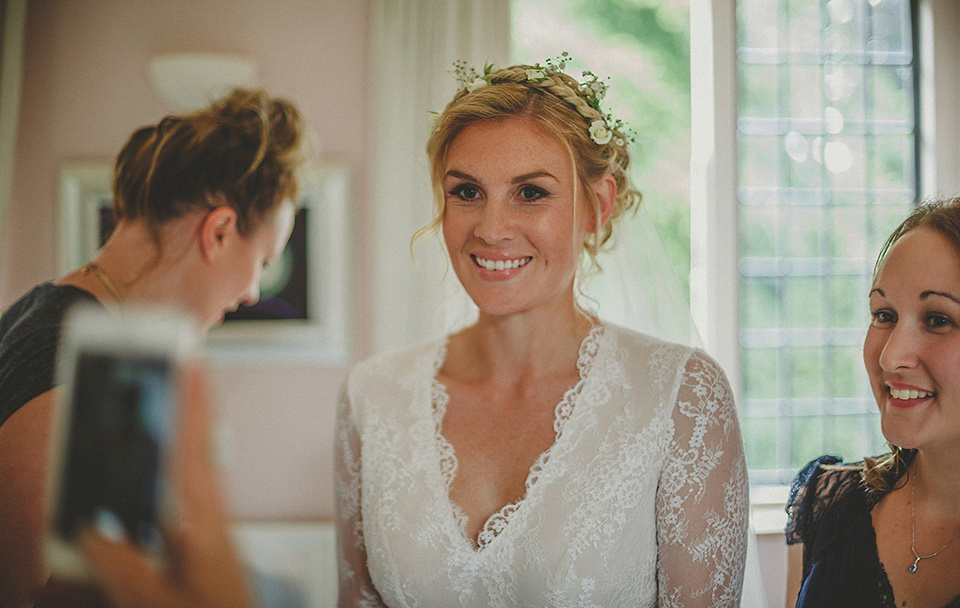 Mike and his four groomsmen looked the part in blue check suits and tweed waistcoats, custom made by the groom's local tailor in Hong Kong.
"Mike has known his best man Tom since they were four and they've been best friends ever since. I lived with Tom for a few months in London, and we visited him a lot when he lived in Russia. It was great having someone we are both close to and consider very important to us as Mike's best man."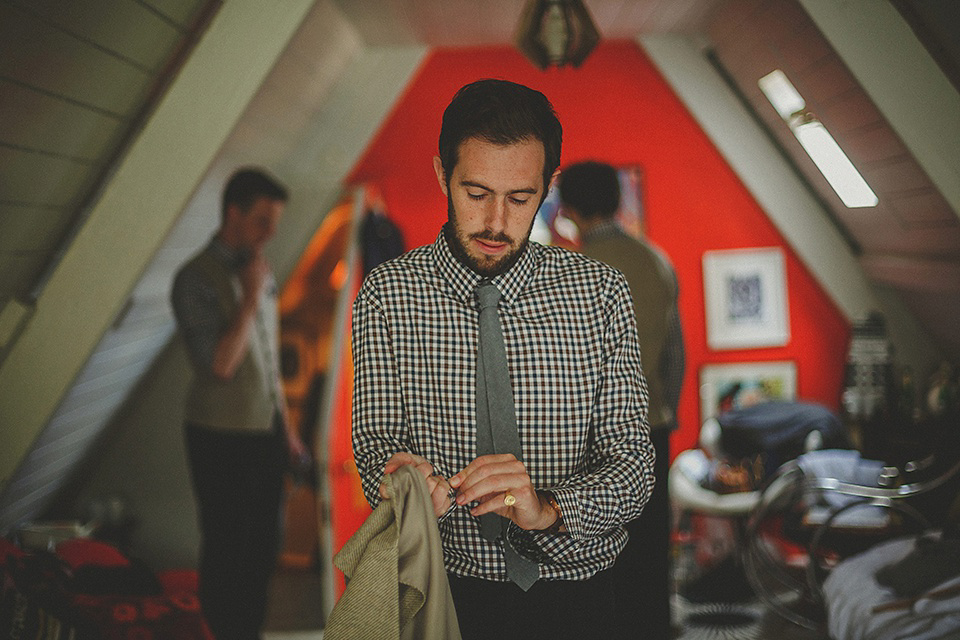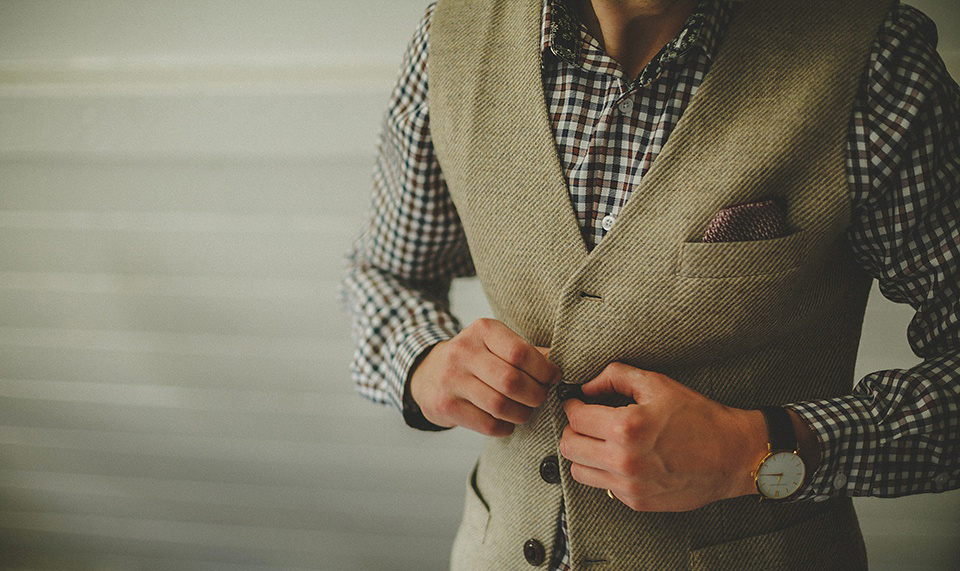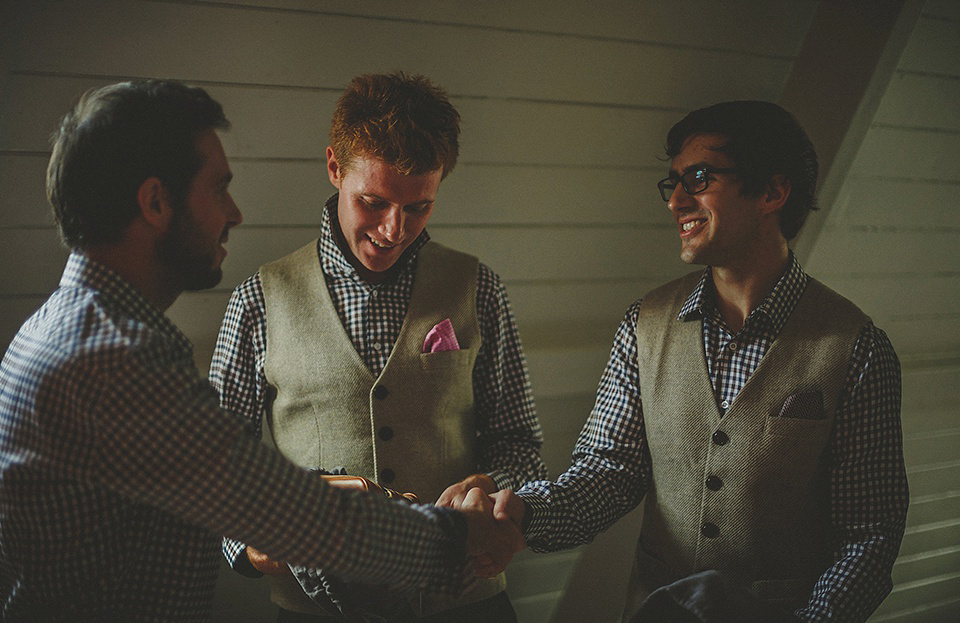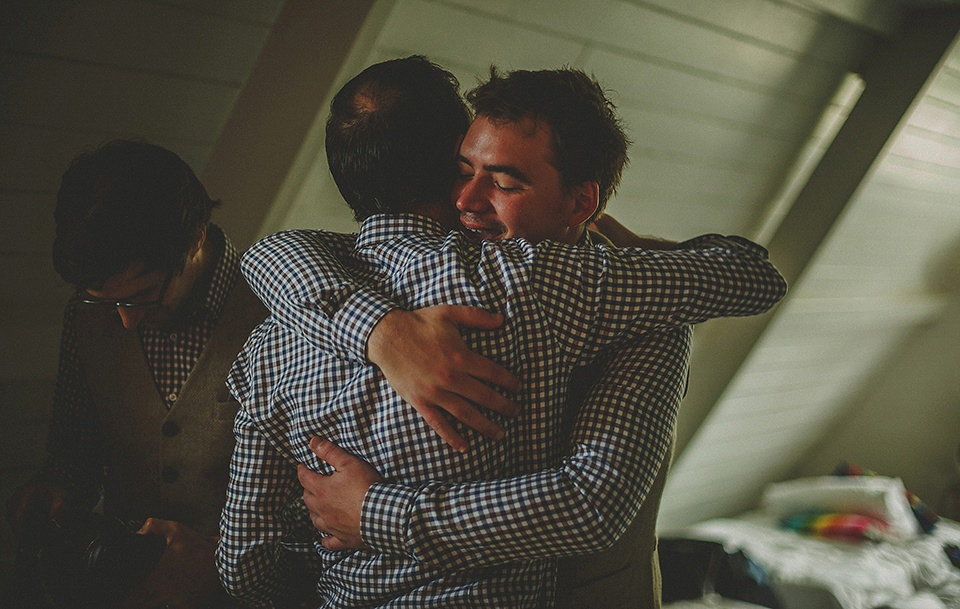 "My brother's wife is of Taiwanese aborigine descent and their five month old daughter, Florence (our flower girl), wore a traditional dress made by their local dress maker in Taiwan. Our page boys (Florence's brothers) wore custom made tweed waistcoats and woollen bow ties that were an exact copy of Mike's own outfit."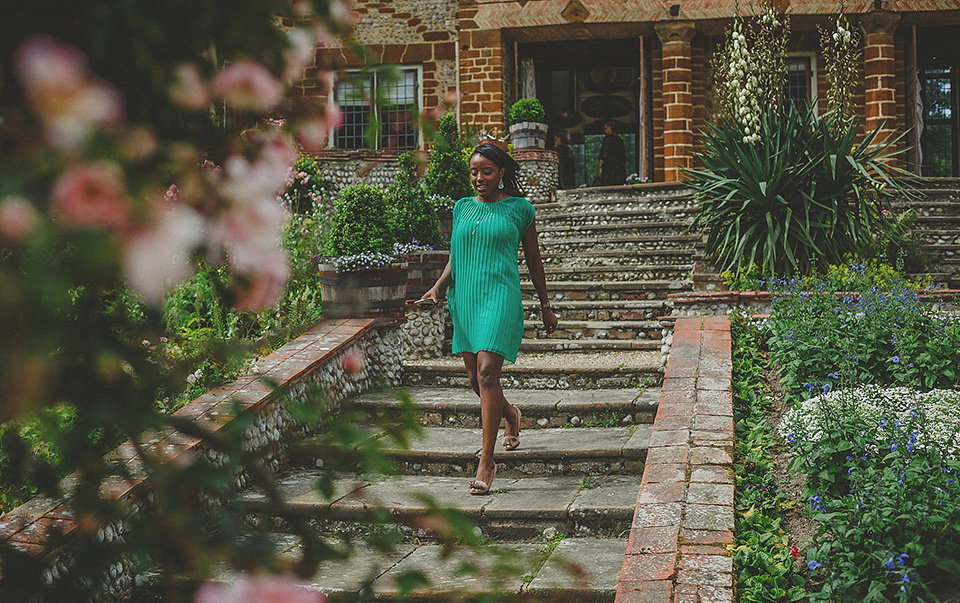 "The venue itself was very English and we had Asian canapés, American cocktails, North African food, Galapagos coffee, and a Vietnamese hog roast the day after the wedding! We didn't want everything to be matching, so all the plates and cups were a collection of vintage tea plates that my mum supplied and my flowers were wild and flowing – nothing too structured. We wanted a relaxed festival feel, rather than everything looking perfect."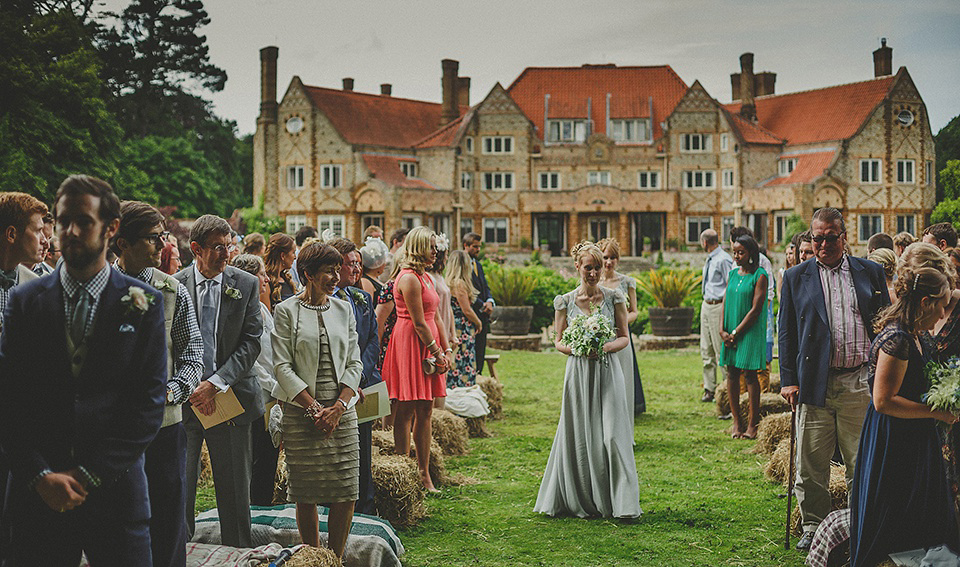 Our couple's al fresco ceremony, led by Caro's grandfather, was held at the foot of Voewood's beautiful gardens, facing the venue's eleven acres of woodland. Caro and Mike were free to tie the knot exactly as they wished, without any constraints, having legally wed in Hong Kong a month earlier.  Caro's brother walked our barefoot bride down the aisle to the sounds of 'Box of Stones' by Benjamin Francis Leftwich.
"My brother walked me down the aisle – my father died five years ago and I have always been really close to my brother. My grandfather led our ceremony and during the service mentioned our successes and what binds us together – it was so personal.  We added in our own vows."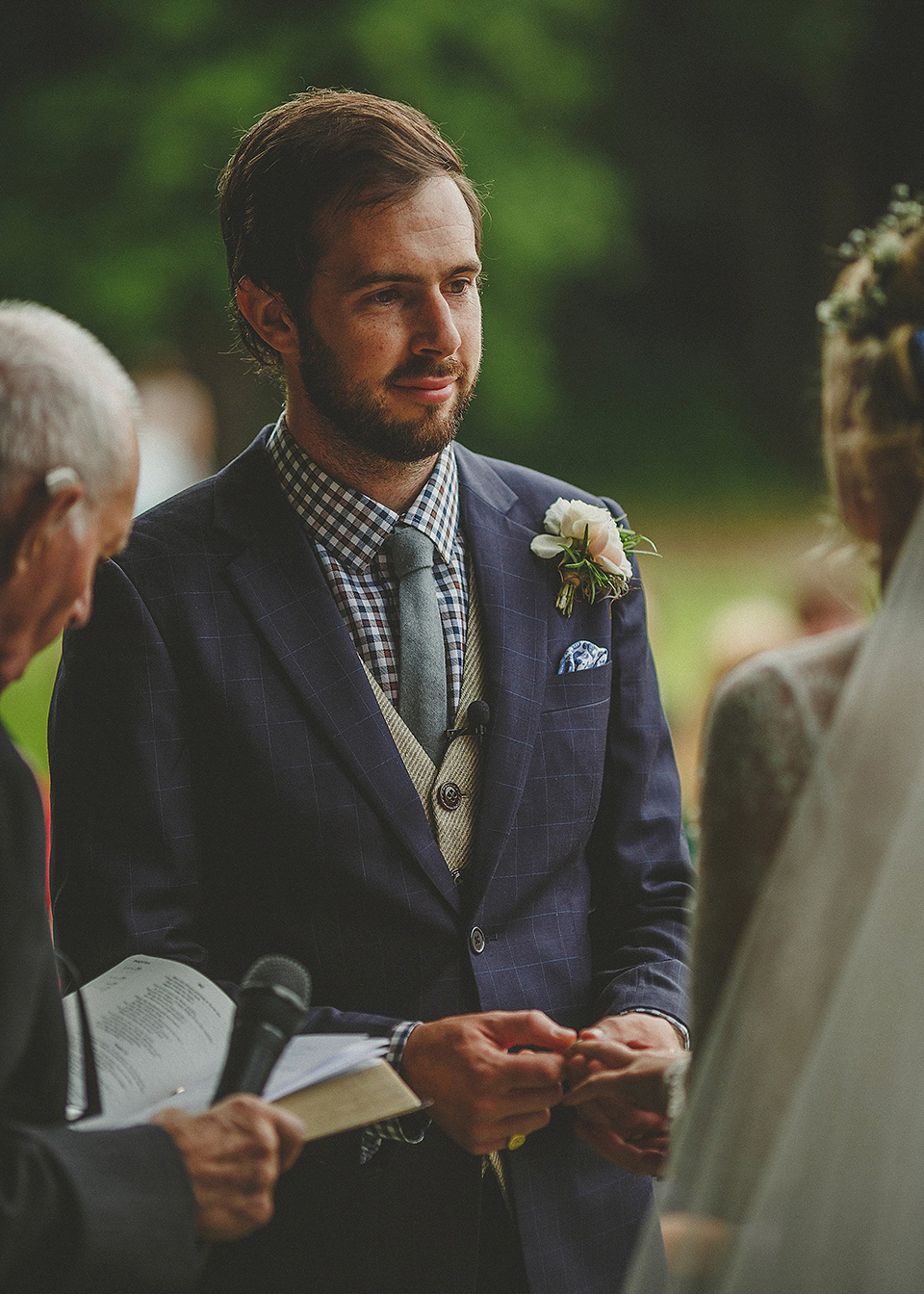 Mike and Becky chose two readings; an extract from Plato's Symposium and the Bible passage, Song of Solomon 2: 10 -13.
Our couple opted for North African and East Asian inspired food for their wedding breakfast, catered by Alex Firman of Alex Chef.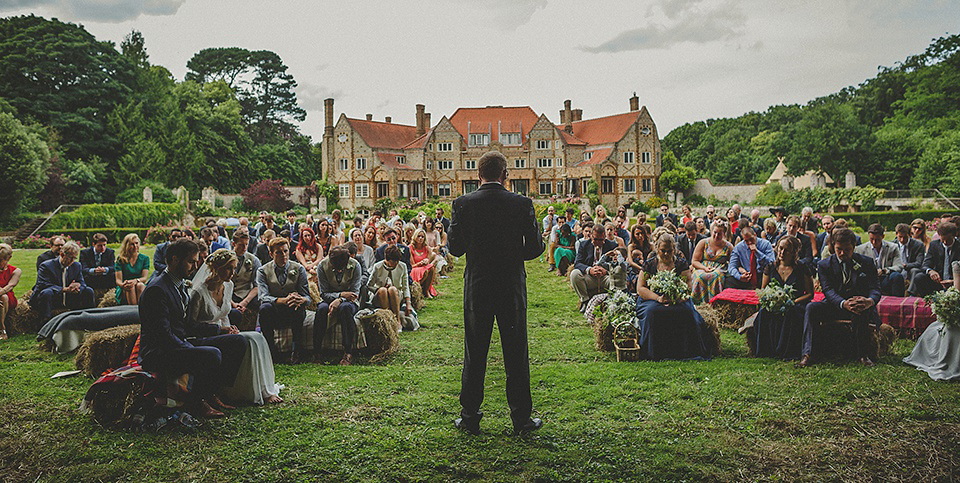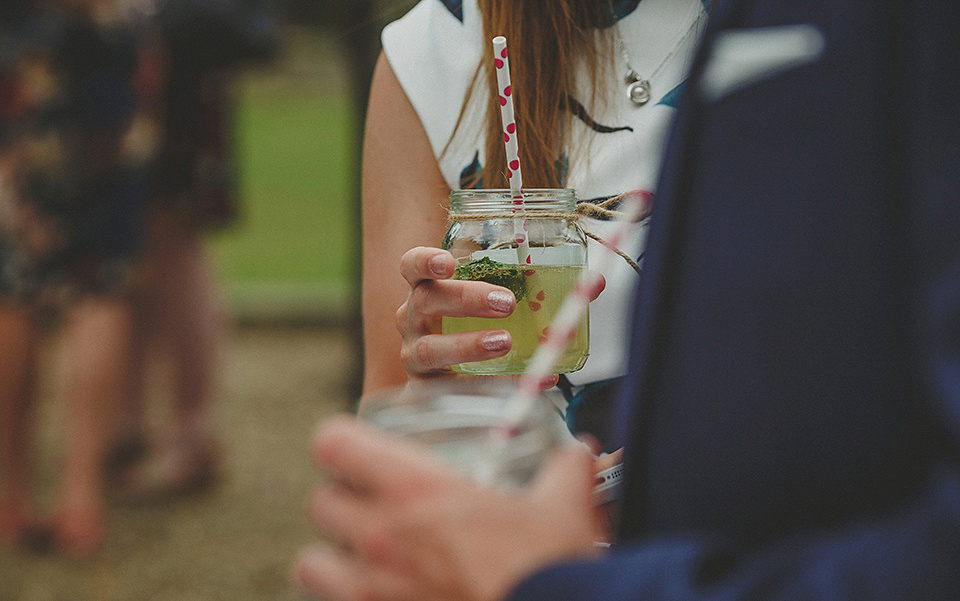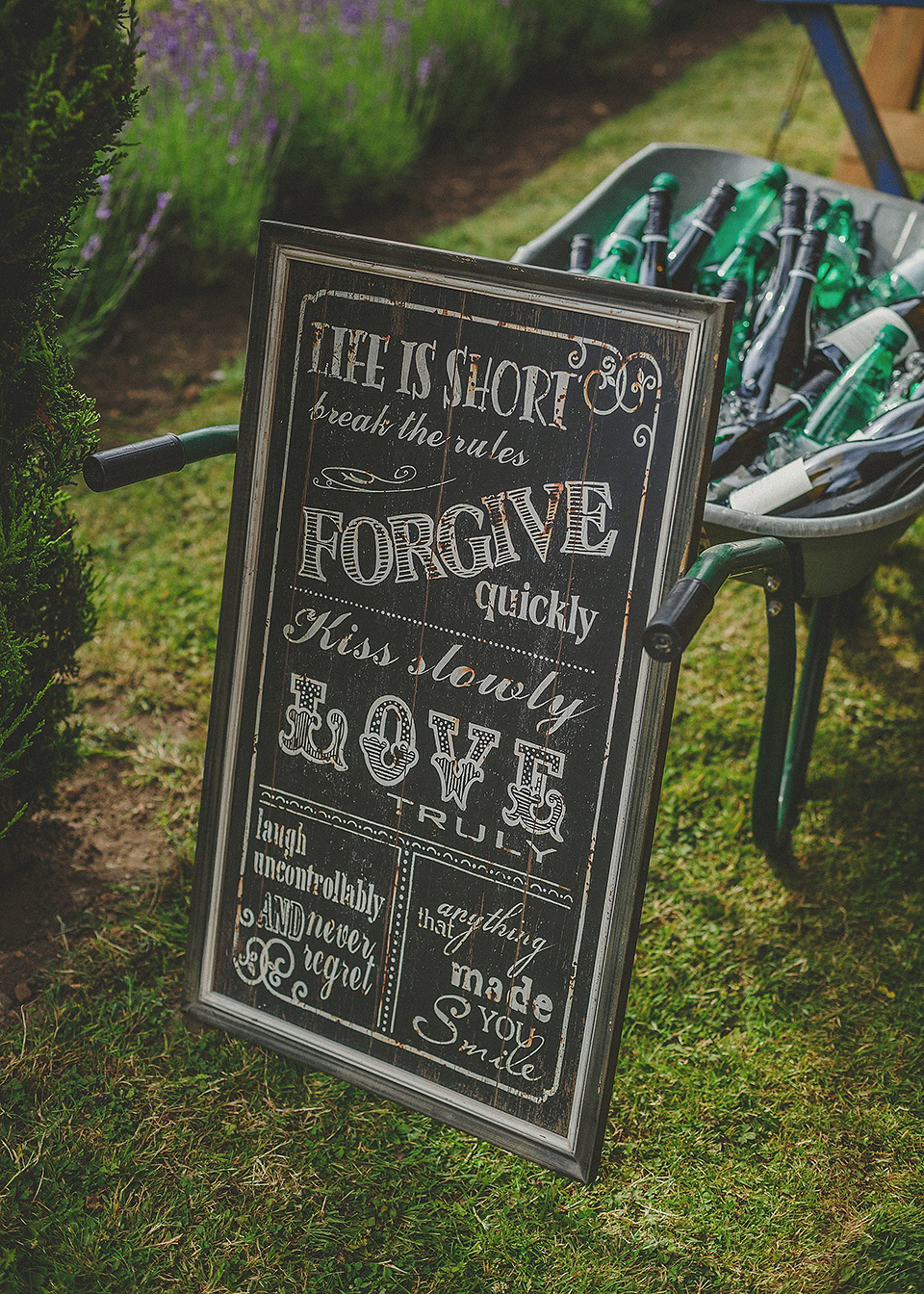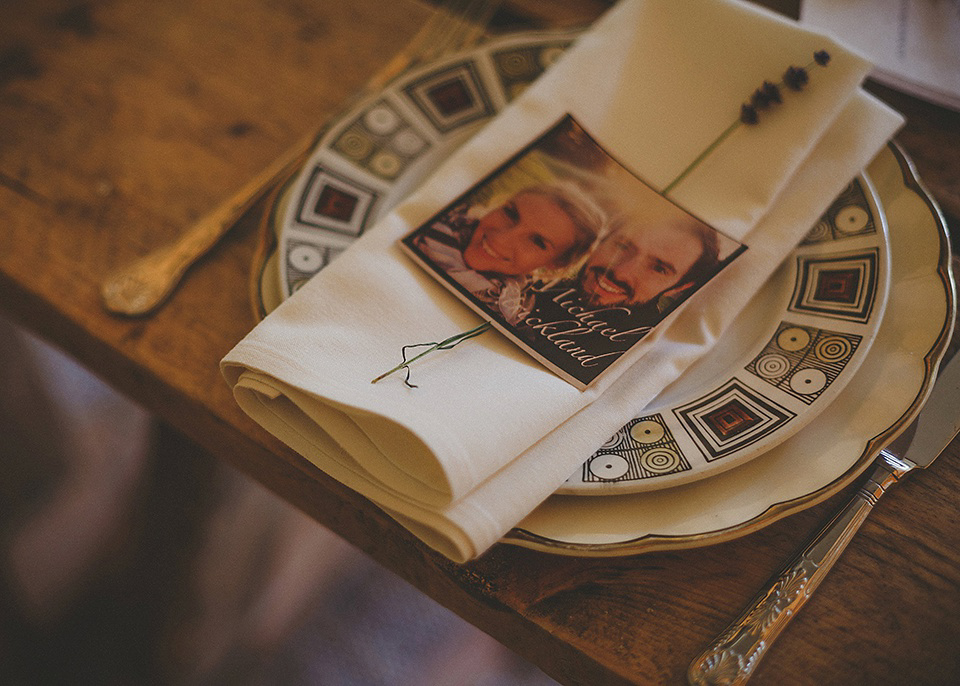 Caro and Mike decorated Voewood (and the giant Tipi where they held their wedding breakfast) with lanterns, strings of festoon lights, candles, chalkboards and birdcages filled with flowers expertly arranged by Sarah of Bramble and Berry.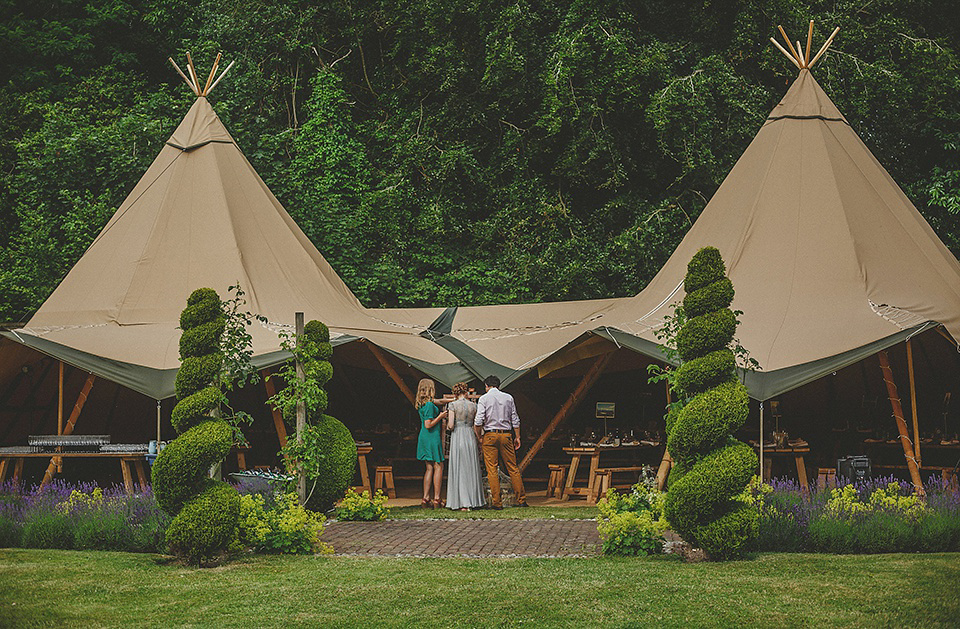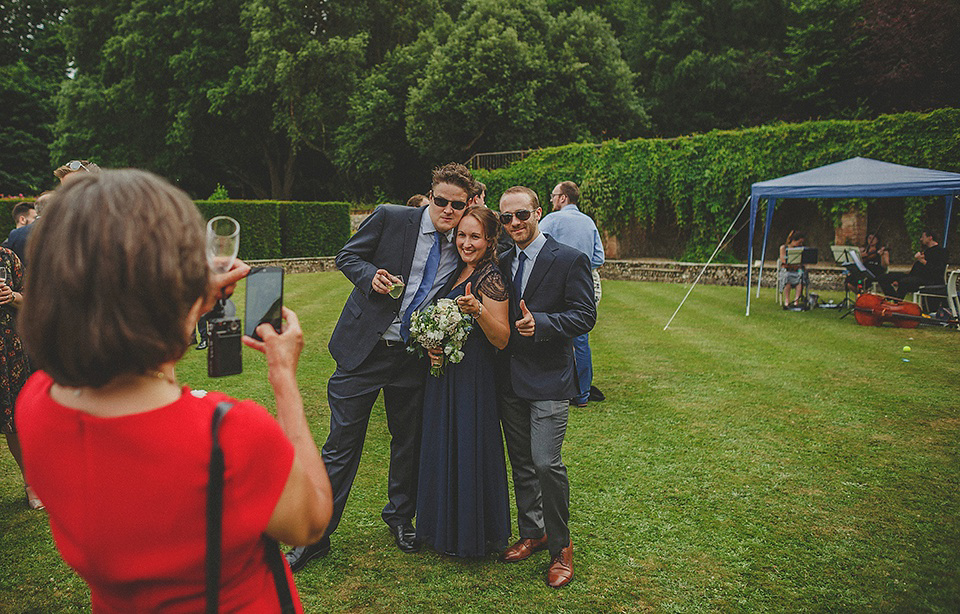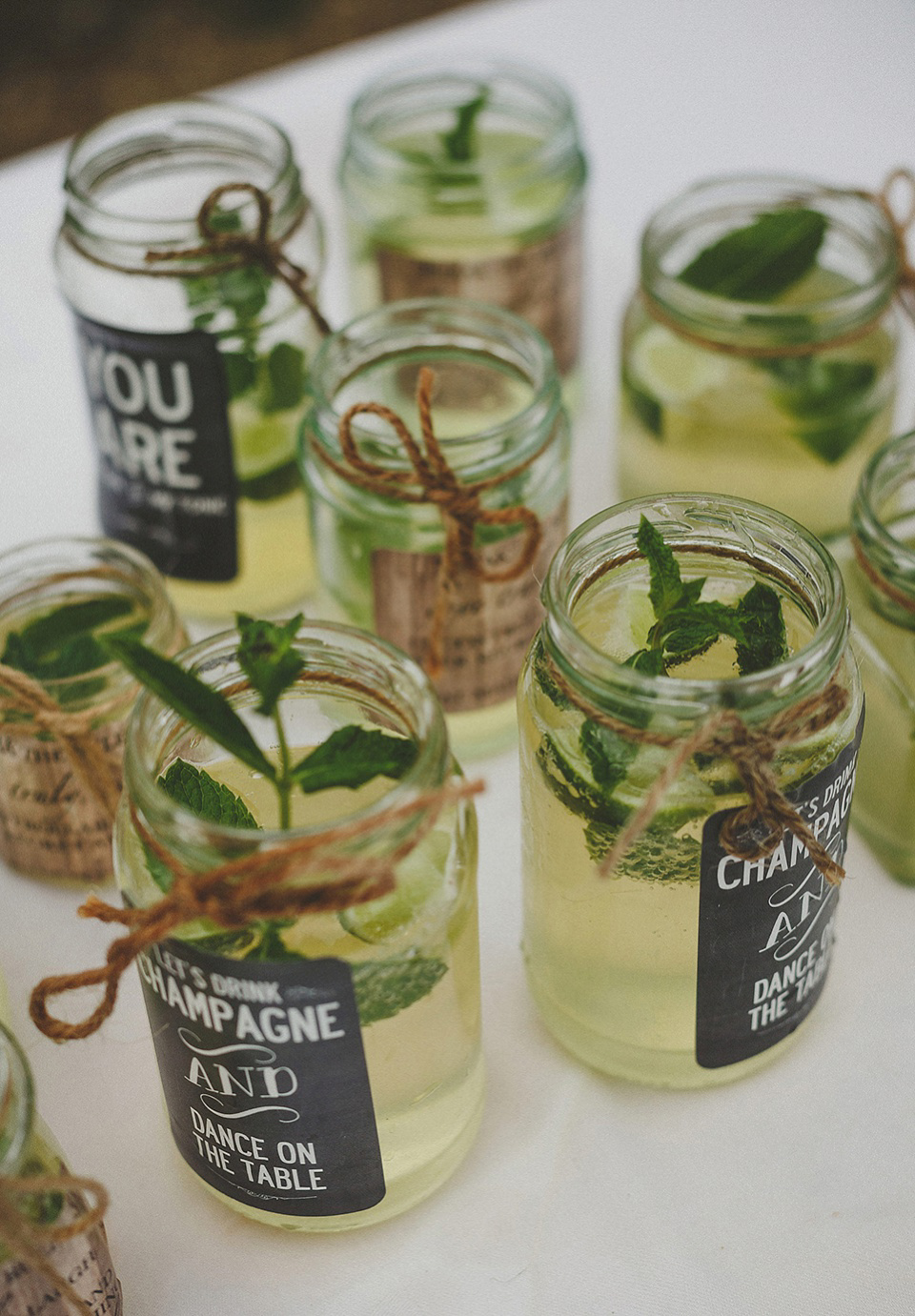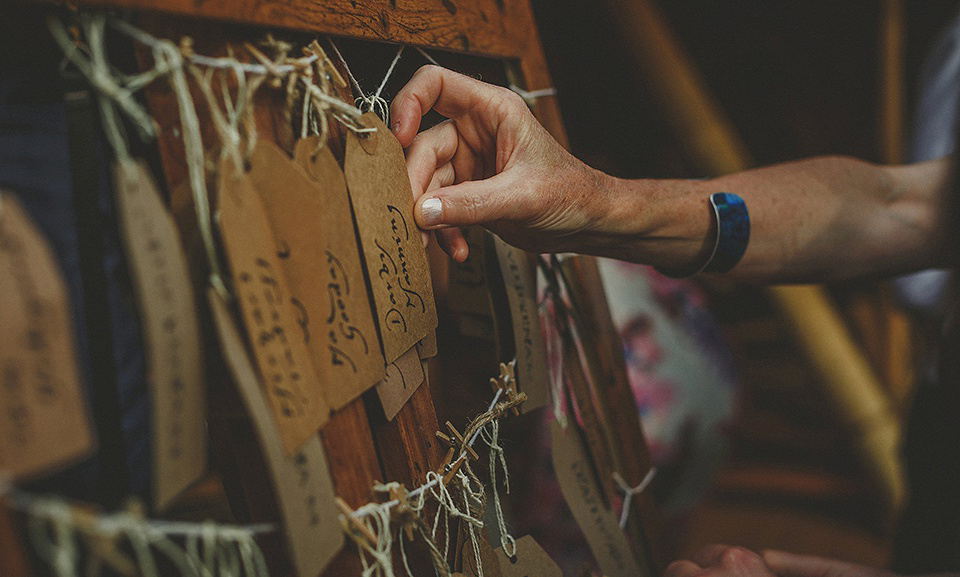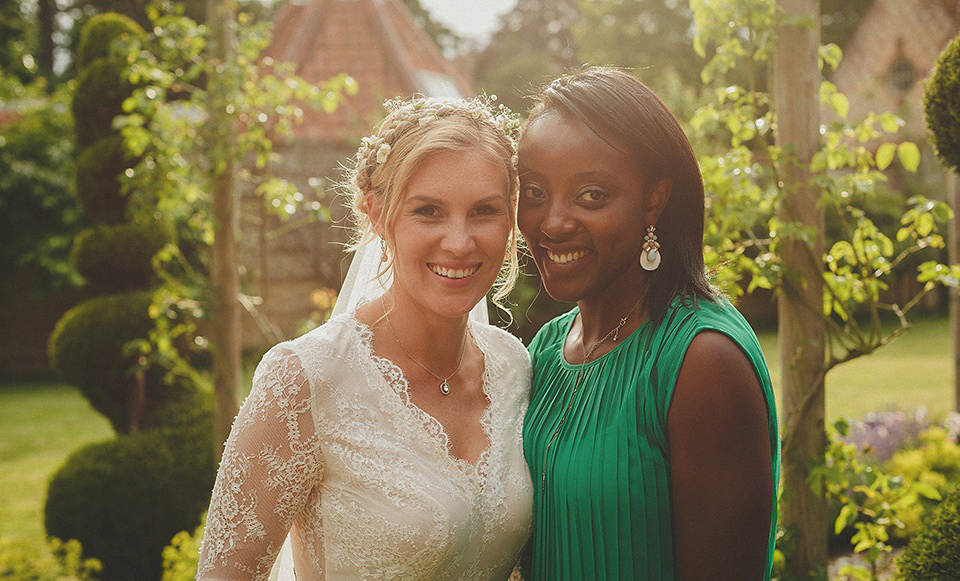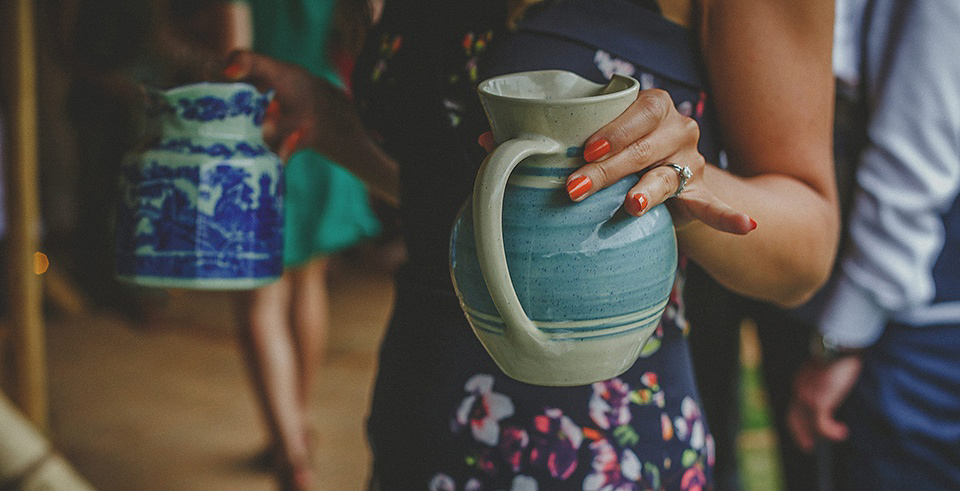 "We wanted our guests to feel like they were at a really fun dinner party with friends, so each table had big bowls of food in the centre to share. We loved sitting amongst our friends and family watching them with their Vietnamese rice hats on, drinking homemade rice wine. It was so special having so many amazing people around us, sharing such great times."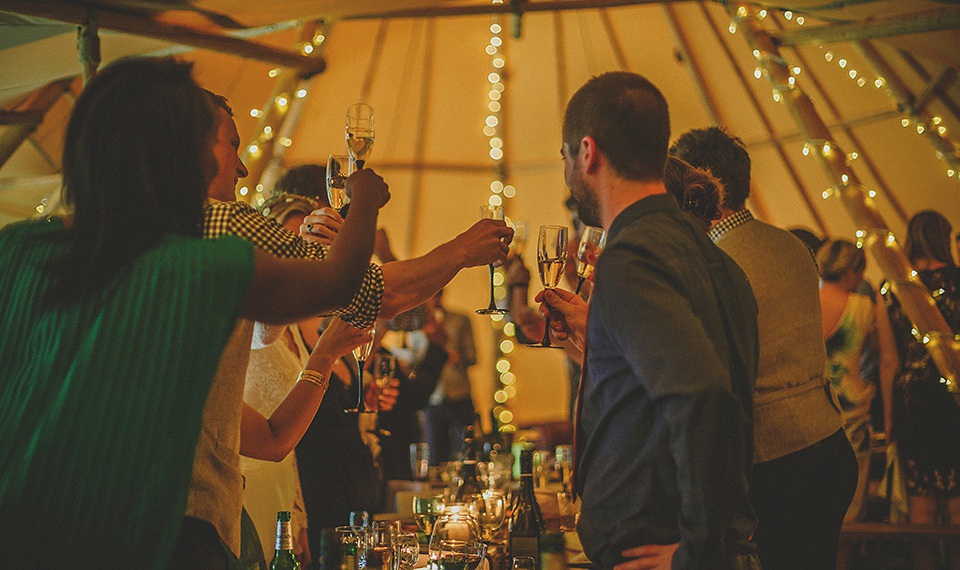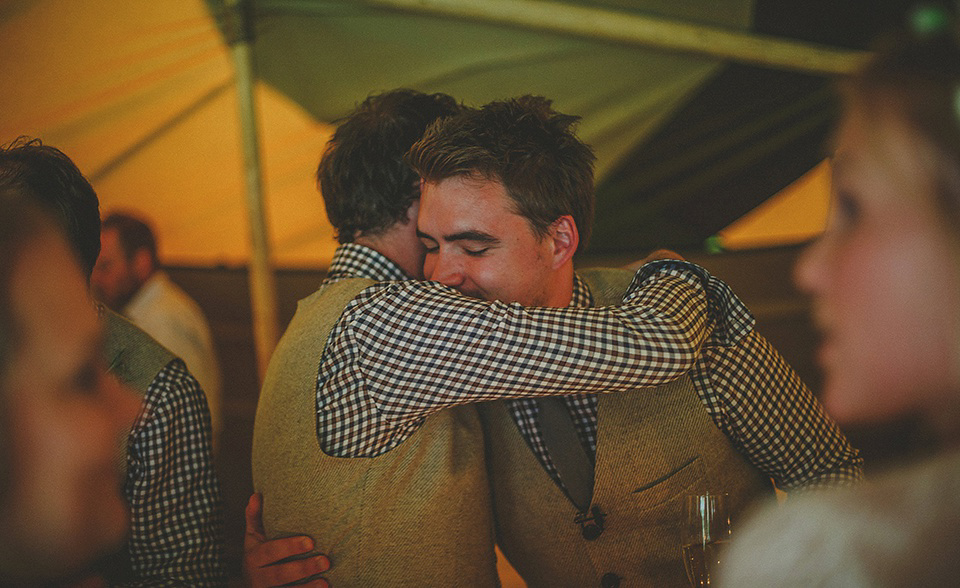 "Our wedding cake was made by Debbie from Sassa's Cakes. She is the most amazing cake designer! She made us a cake for our engagement party at Kensington Roof Gardens last year (take a peek at it here!) so we knew the wedding cake would be amazing. The flavours were wonderful; almond with amaretto icing, coconut and lime and salted caramel.
Mike's uncle, Matthew, has a sword collection (he's a History Professor!) so we cut the cake with one of the swords each. It turned into a bit of a sword fight, which was great fun!"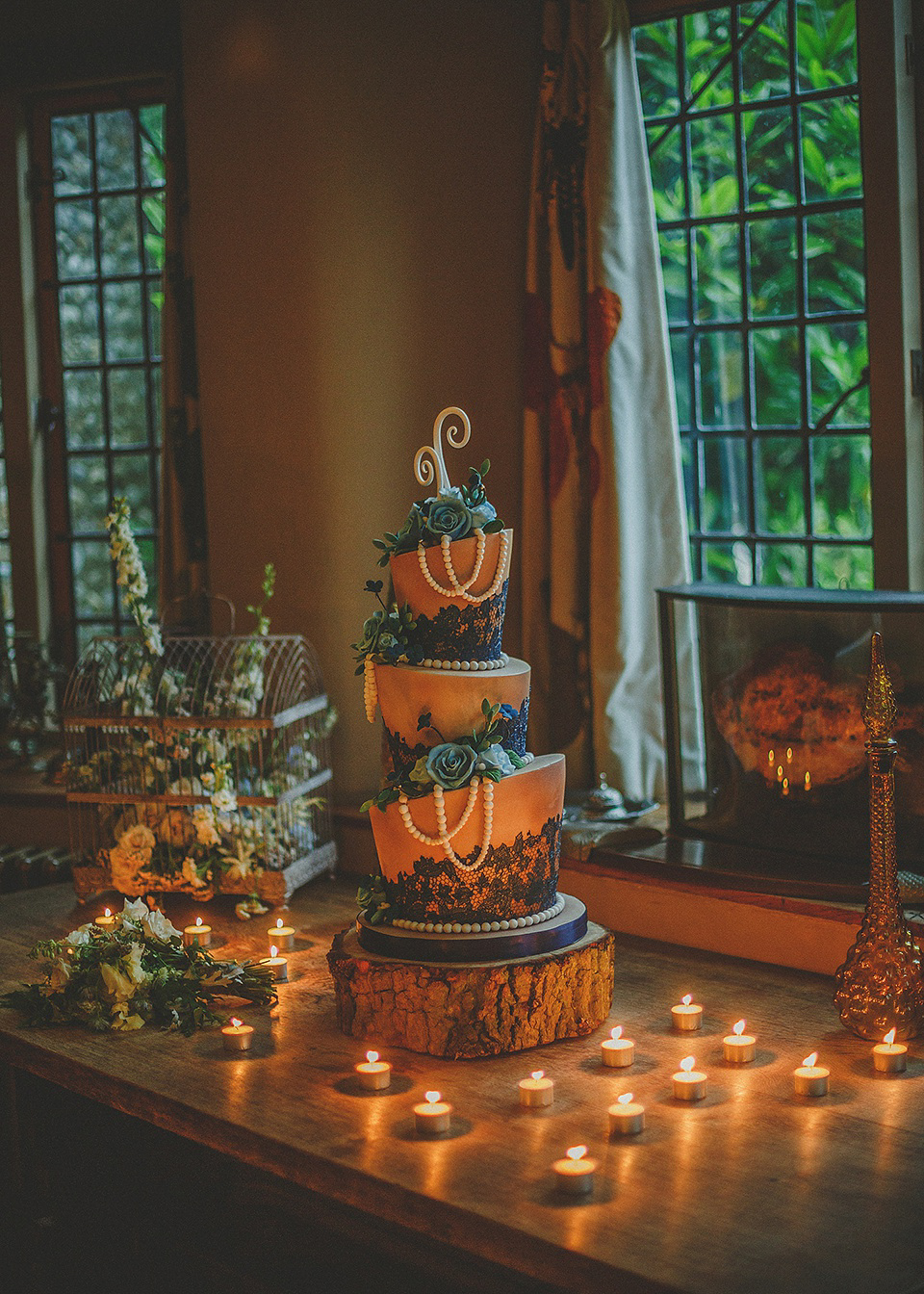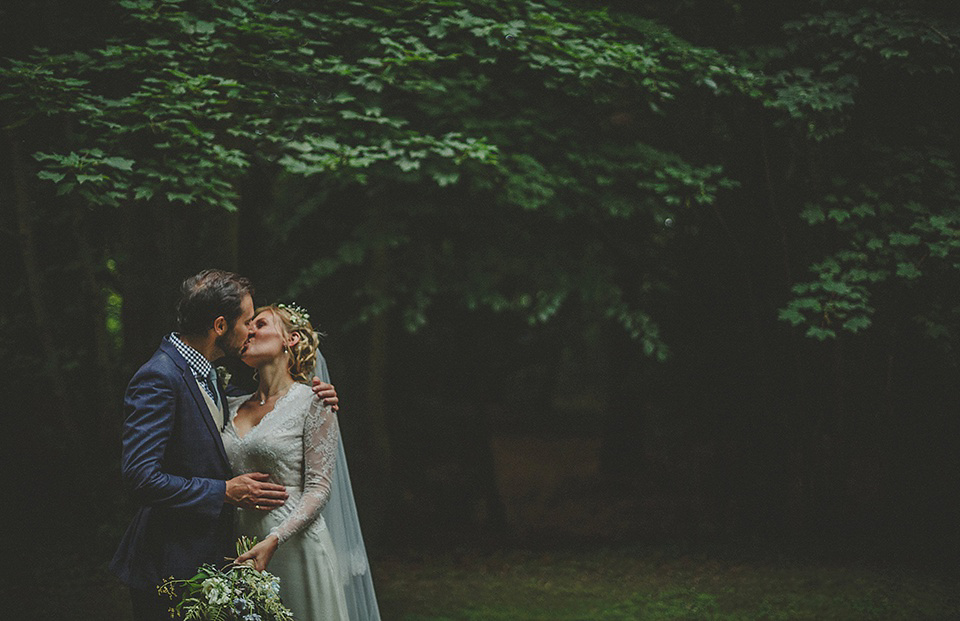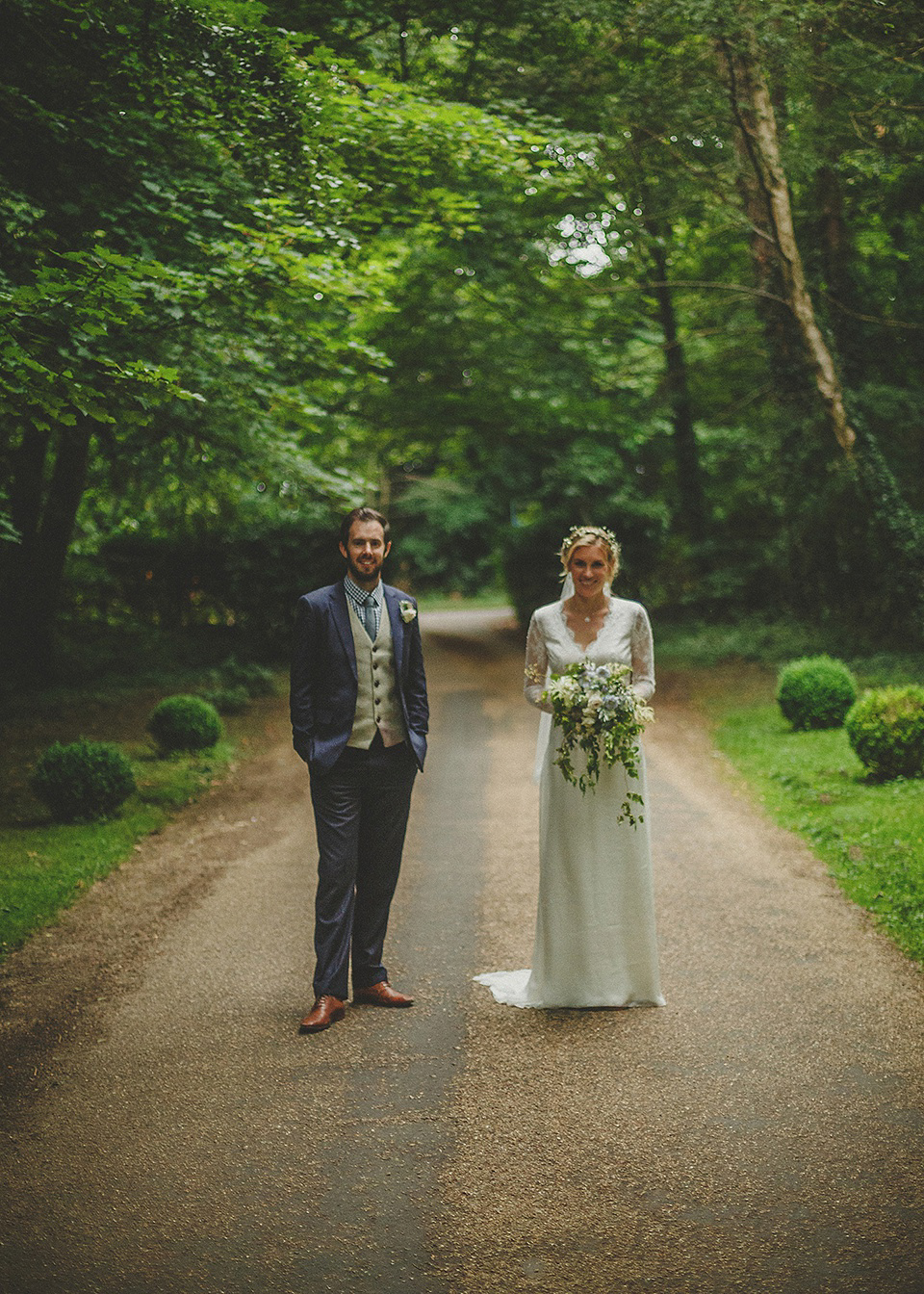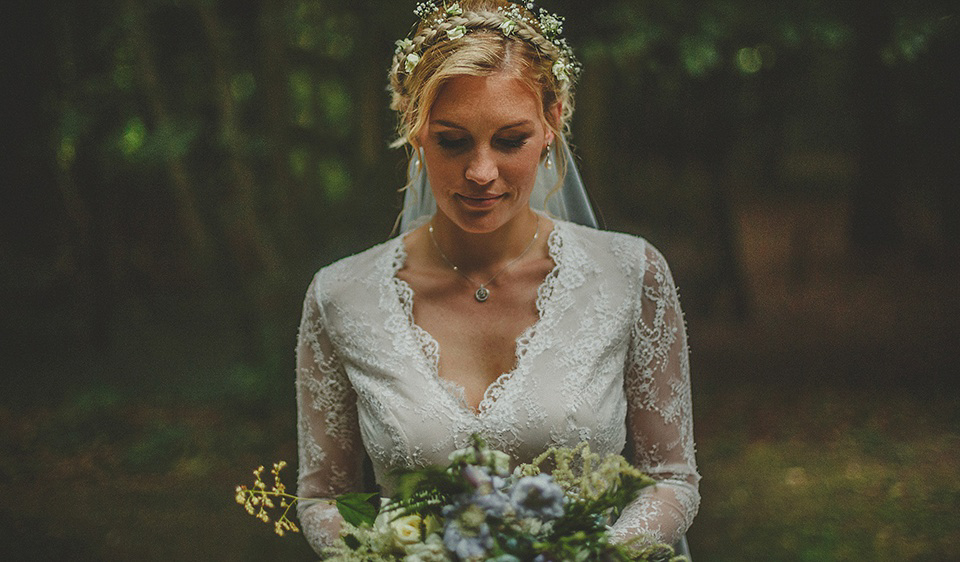 For their evening entertainment, Mike and Becky opted for ceilidh band, License to Ceilidh. It's no secret amongst my friends that I love a good ceilidh; it's such a great way of bringing young and old together and getting everyone on the dance floor! With dancing in mind Caro whipped off her veil and changed into another bespoke Kath Yeung creation, this time a shorter, more embellished party number.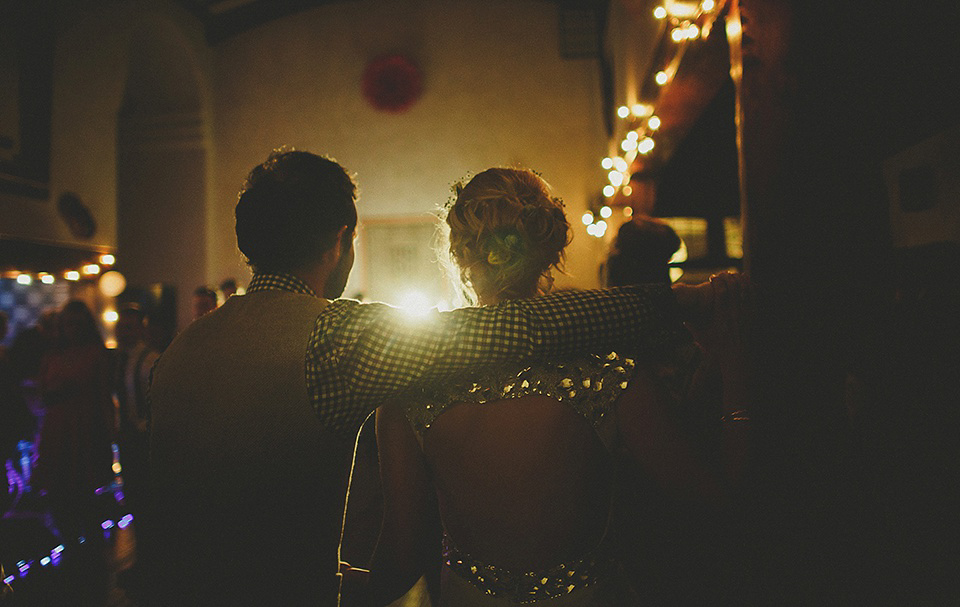 "For our first dance, we ceilidh – ed with our bridesmaids, ushers, and my mum.  We wanted the day to be in honour of those who had travelled from so far away (we had guests from six continents for the weekend!) so we didn't want to just isolate ourselves away and do everything just us two."
Words of Wedded Wisdom
"It's your day, so don't let the shops or favour companies make you think you need everything they're selling. Your day will be special regardless of the colour of napkins! We decided to save on things like favours and shoes (things that we believemost people don't notice) and instead we focussed on making sure that we had the perfect photographer and that guests were always well fed and watered.  No one noticed Mike's shoes or his £2 tie, but they did notice cocktail hour!
Spend as much time with yours guests as you can. We sat amongst our guests throughout dinner and danced all evening with them. No table just the two of and no dance just us two- it's the one day you have all your important people together, so don't waste it talking to just one person!"
Thank you so much Caro and Mike for sharing the details of your special day and to Howell Jones Photography and Studeomedia for capturing it so very well. If you'd like to see more festival inspired weddings please click here.
Have a great week lovely wedding blog readers!
Annora x
Photographer – Warren Grimes of Howell Jones Photography
Film – Tom Brown of Studeomedia
Venue – Voewood
Tent hire – Tentipi
Dress + Veil + bridesmaids gowns – Kath Yeung
Bride's Perfume – Acqua di Gioia by Giorgio Armani
Groom – Suits created by groom's local tailor in Hong Kong
Flowergirls – Handmade dress from Taiwan
Page Boys – Suits created by groom's local tailor in Hong Kong
Florist – Bramble and Berry
Cake – Sassa's Cakes
Entertainment – License to Ceilidh
Rings – Vintage rings from Berganza
Catering – Alex Firman
Hair & Makeup Artist – Emily at Lovemoi Makeup