Weddings like the one I'm writing about today just make me smile. Relaxed, happy, and brimming with gorgeous colour and craft, Jess and Ash's laid-back festival style wedding is pure, unadulterated joy. The couple used lots of local suppliers, and made the most of the generosity of friends and family to pull off a wedding that was beautiful and budget-friendly.
"I just wanted the wedding to be a complete burst of colour, fun and relaxed with the vibe of a massive party or festival more than a stuffy traditional reception. I also wanted as much as possible to be homemade, collected or recycled so we had a lovely mix of colours and styles. It was also a very family affair with the whole wedding party and extending family contributing."
Photography by Kayleigh Pope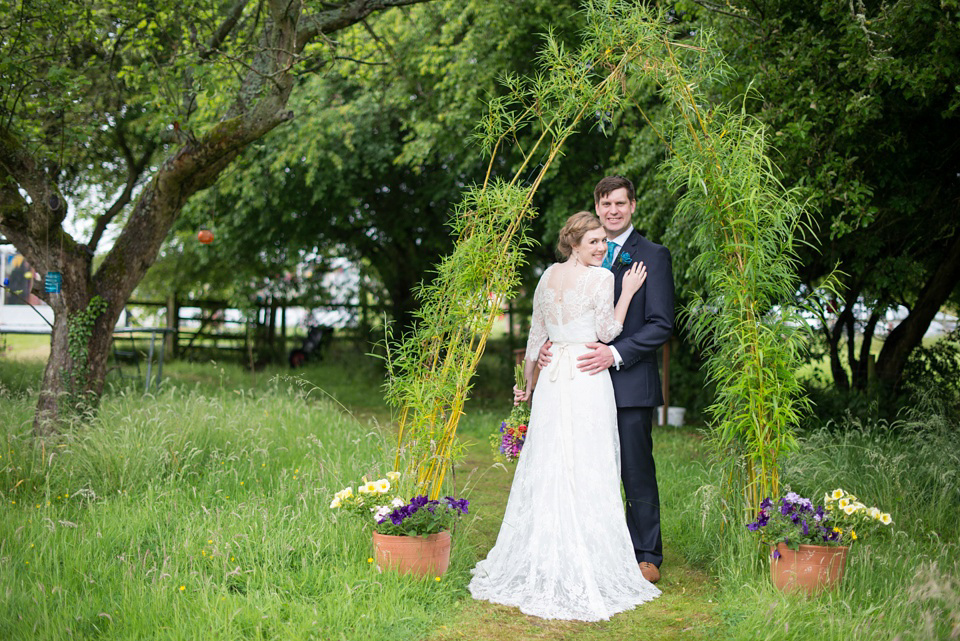 The country garden bouquets are spectacular, I'm crazy about that foxglove – so pretty!
"My Mother did all the flowers and we arranged together the day before the wedding. She has never been a florist but wanted to try and I love what she did! They were overflowing with colour in all mix matched vases and one of my favourite details of the whole day. All the bouquets were picked the morning of the wedding from our garden"
I love to see a bride wearing Katya Katya Shehurina. Katya's gowns are crafted of some of the most beautiful lace I've ever seen, and Jess was lucky enough to win hers in a competition!
"I was actually lucky enough to win my beautiful dress at a Brides show competition! I had tried it on it at the stand and loved the vintage, understated style of the dress and so entered a completion at the show to win credit at the shop."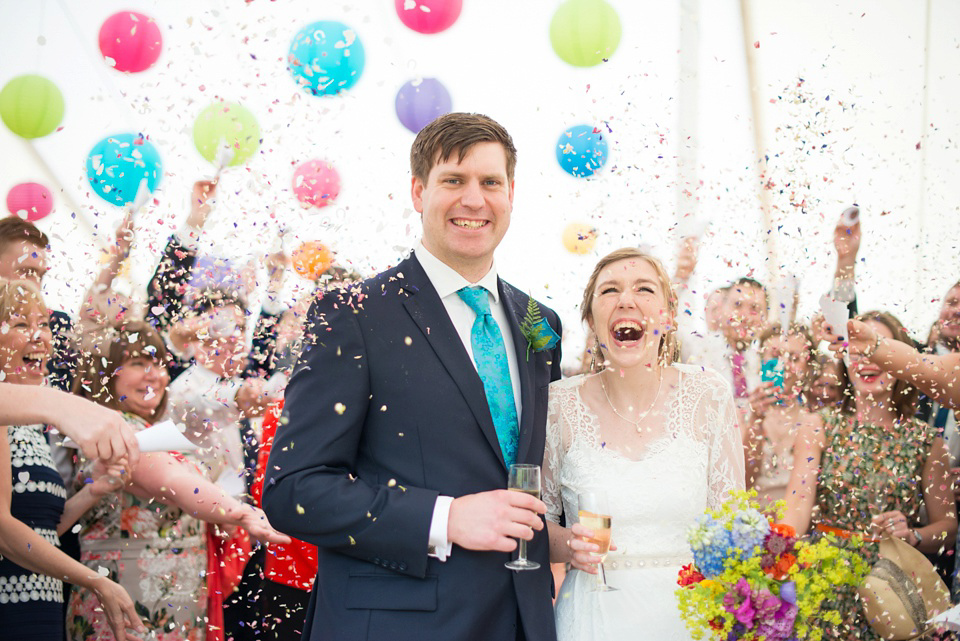 "I heard back the next day and couldn't believe my luck! The whole team at Katya Katya Shehurina were so lovely and I am so grateful to them for their generosity."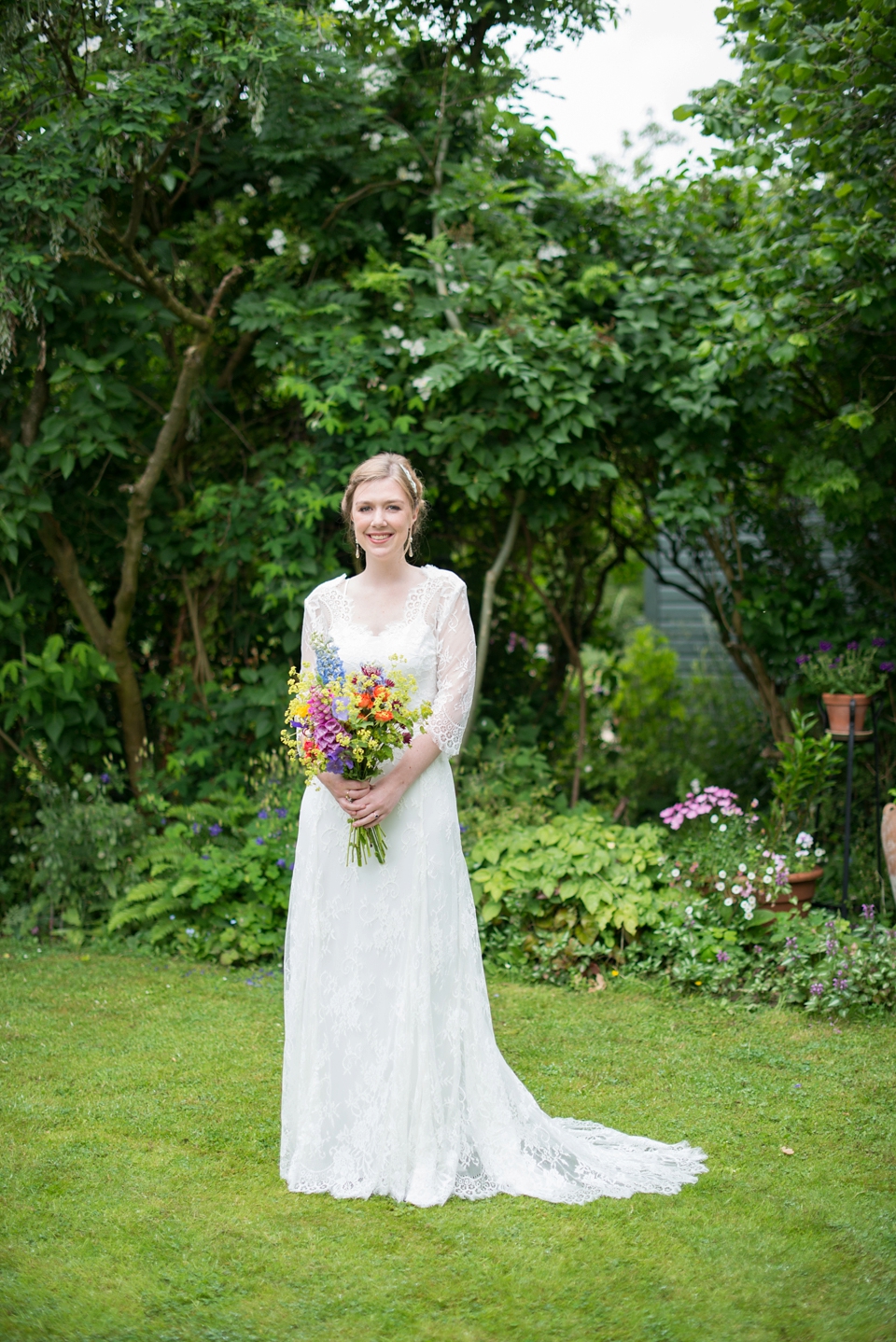 The pair were wed at St John's Church in Henley-in-Arden, with a marquee reception in Jess's parents' garden.
"My parents have a beautiful garden and I have always thought it would be a lovely place to have a wedding reception! Lots of happy memories there and it was lovely to have everyone together – even the family dog!"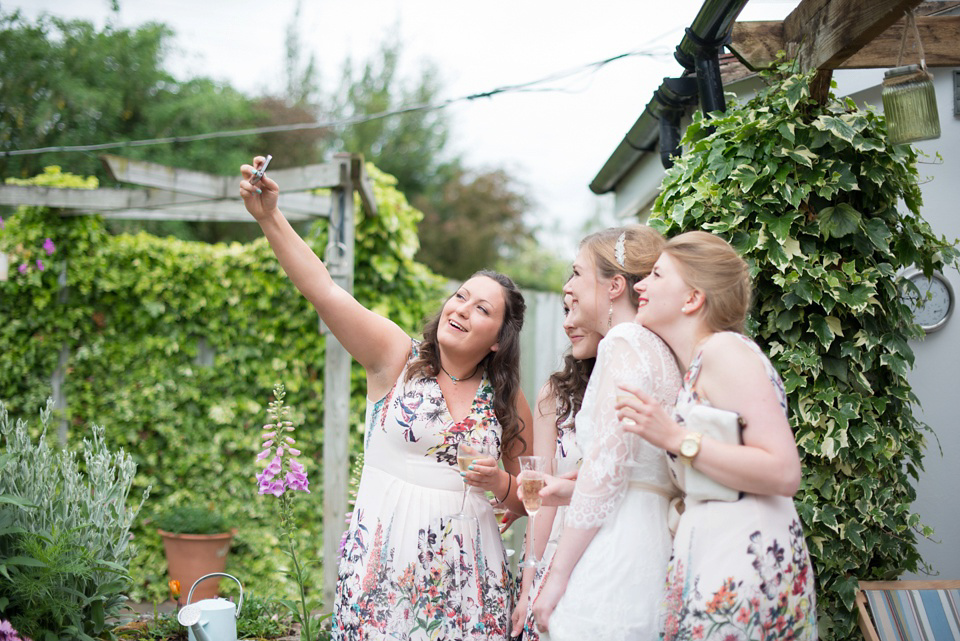 The bridesmaids' sweet floral gowns are by ESPRIT.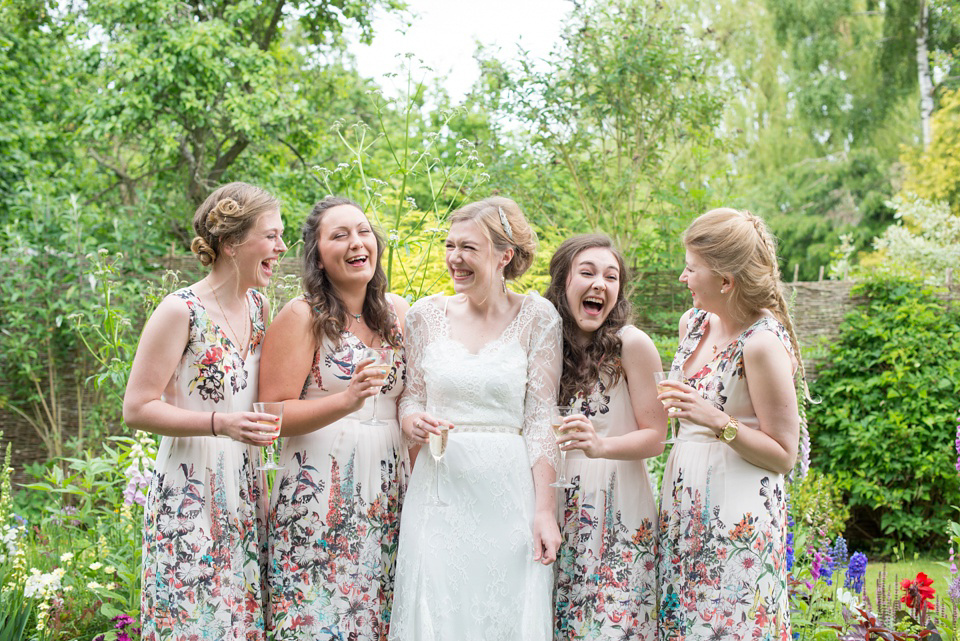 Ash and Jess met nearly six years ago, when Ash visited a mutual friend at Jess's university.
"We became engaged on a rather spur of the moment whirl of excitement. We were on a romantic weekend away and doing a bit of shopping. Without my knowledge Ash already had a ring in mind for a proposal and so when he saw a similar one in a shop window he asked what I thought. I replied saying I thought it was horrible!
As his face dropped I realised he needed some help so we want round window shopping and looking for the type of style I was interested in. As we started looking at rings we were getting more and more excited until we saw one I really loved. We asked to have a look 'just for fun' and then try it on 'just for fun'…and ended up buying it!"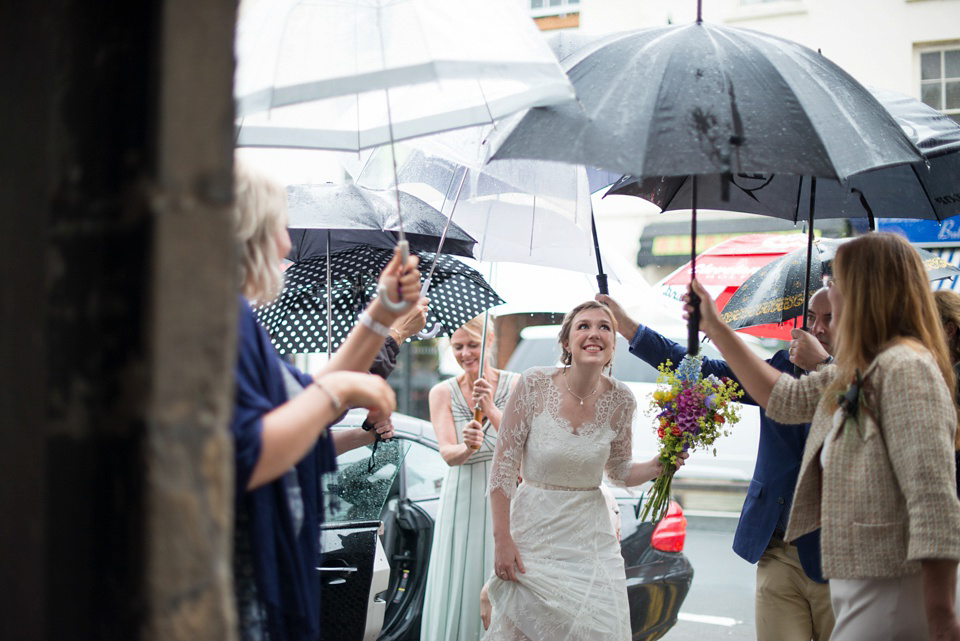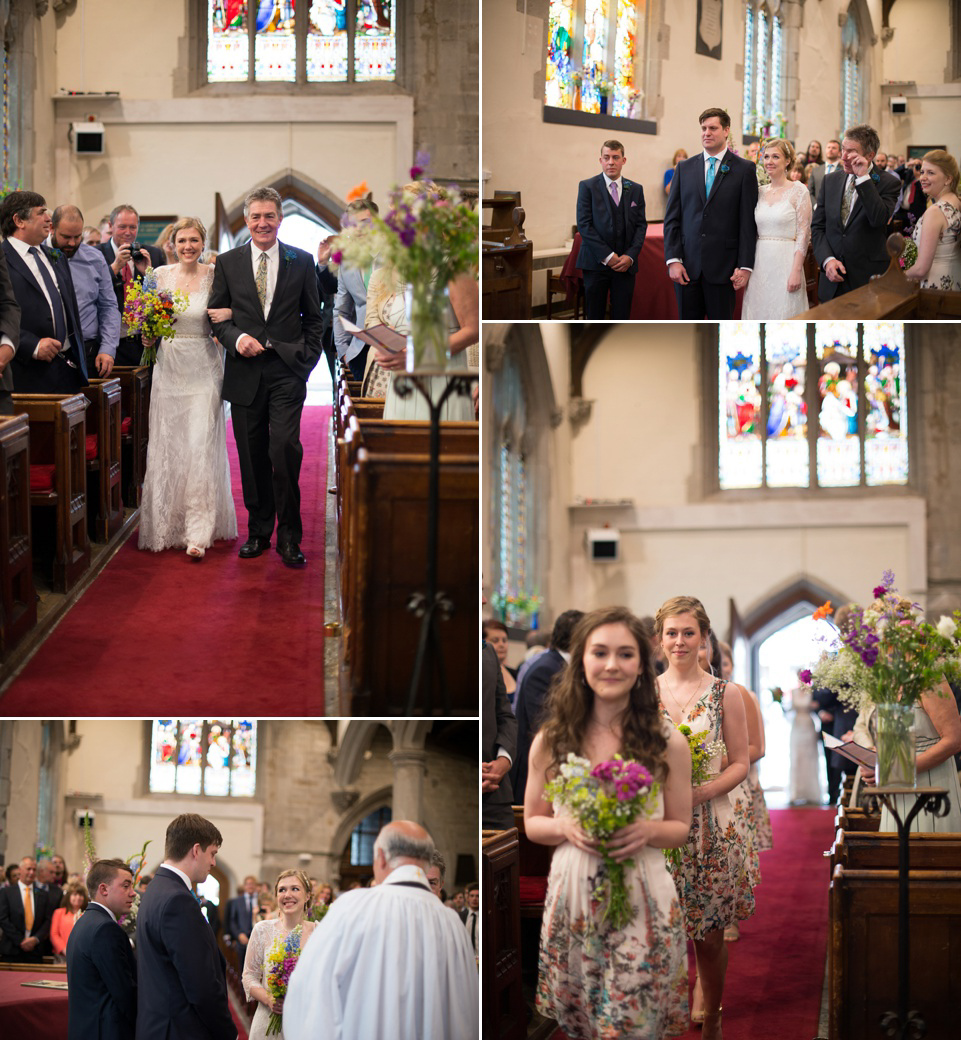 The gorgeous details and beautiful smiles were captured by photographer Kayleigh Pope.
"What I loved about Kayleigh is she really got the feel of the day straight away and captured some lovely moments."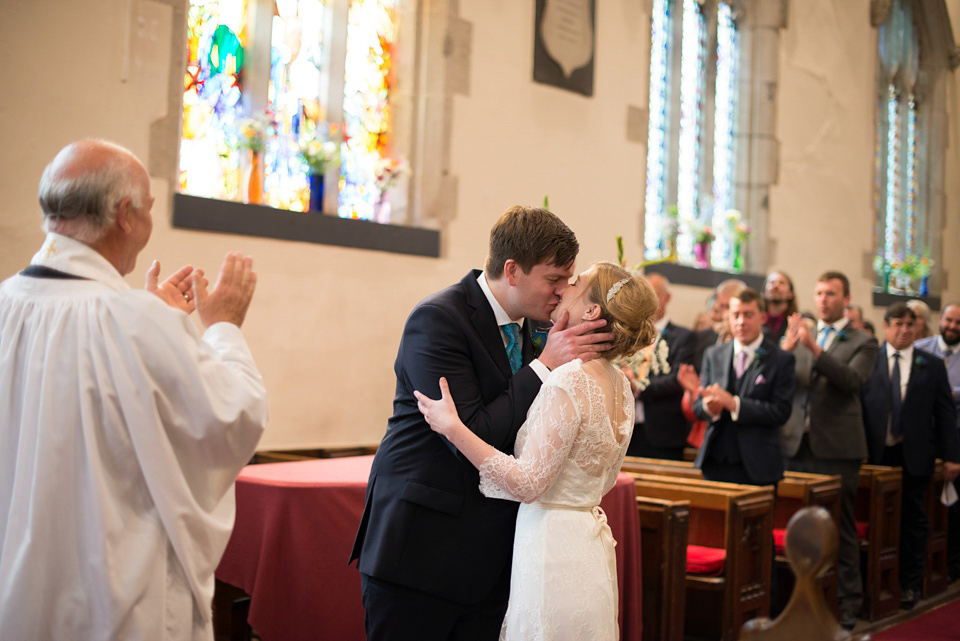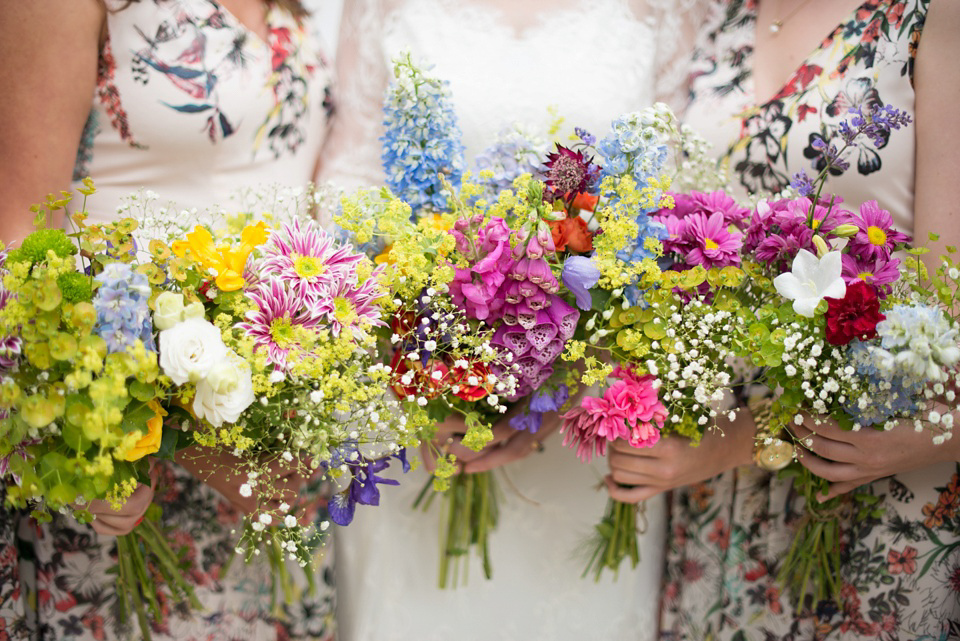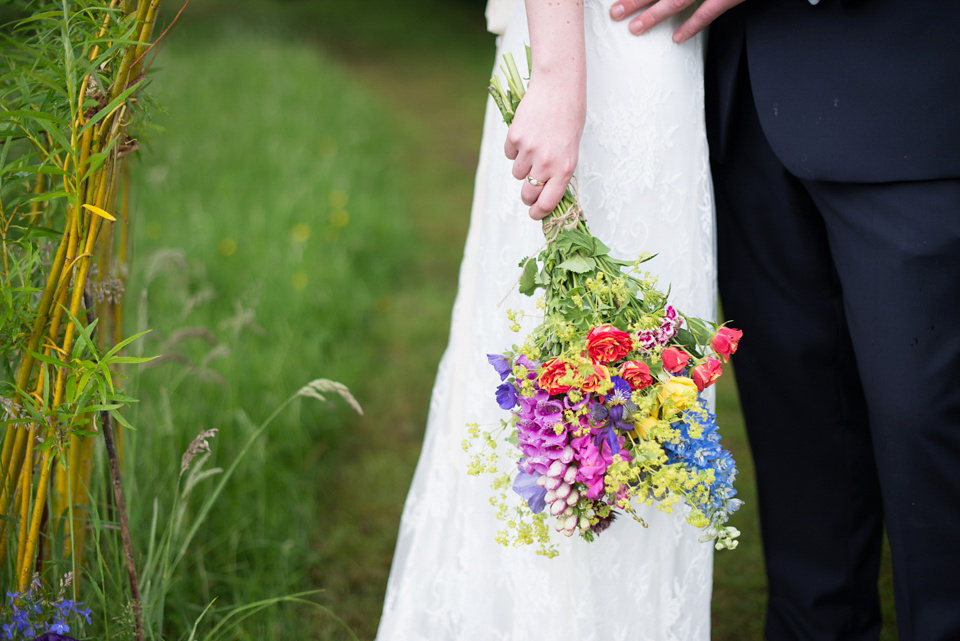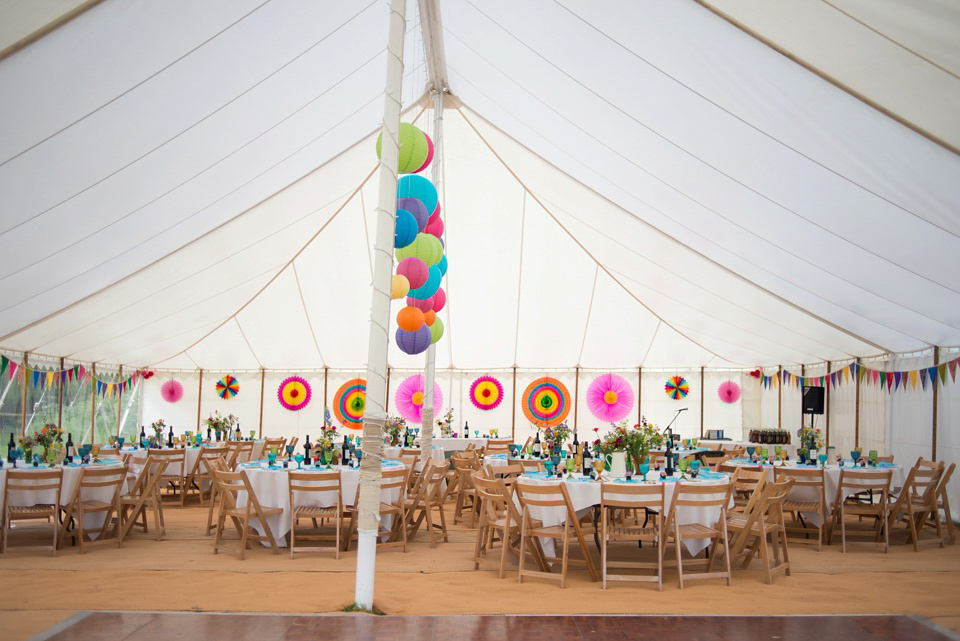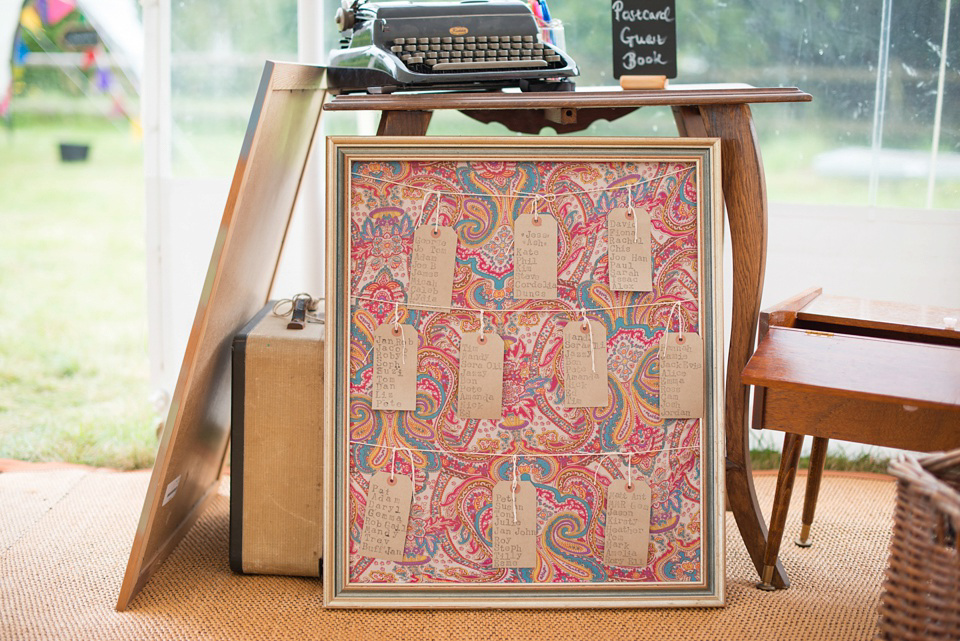 "Ash and I made little pots of onion chutney to go with the cheesecake or to take home as favours."
The guests danced the night away to the sound of The Beat Brothers, who the couple highly recommend.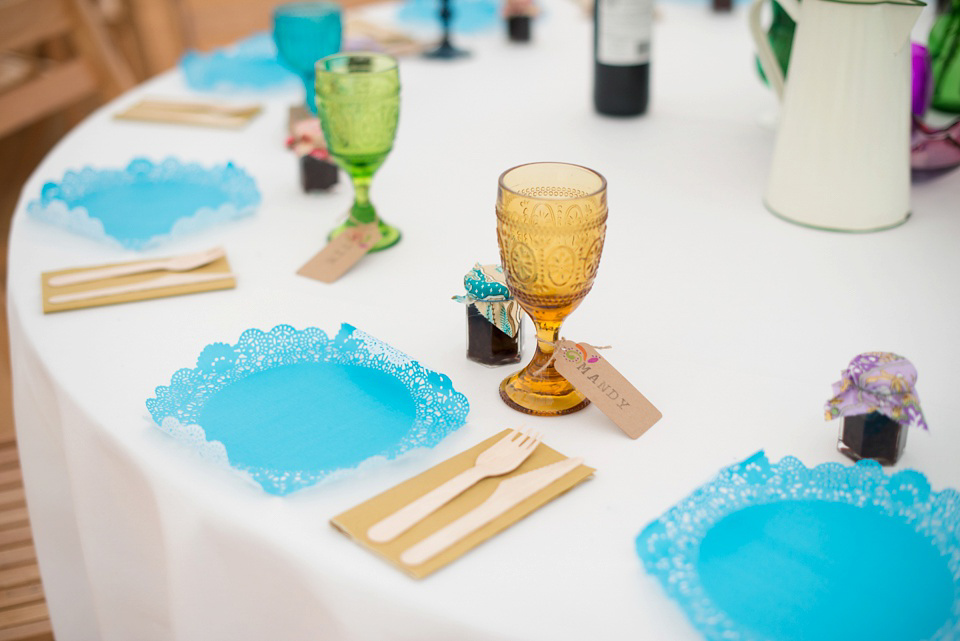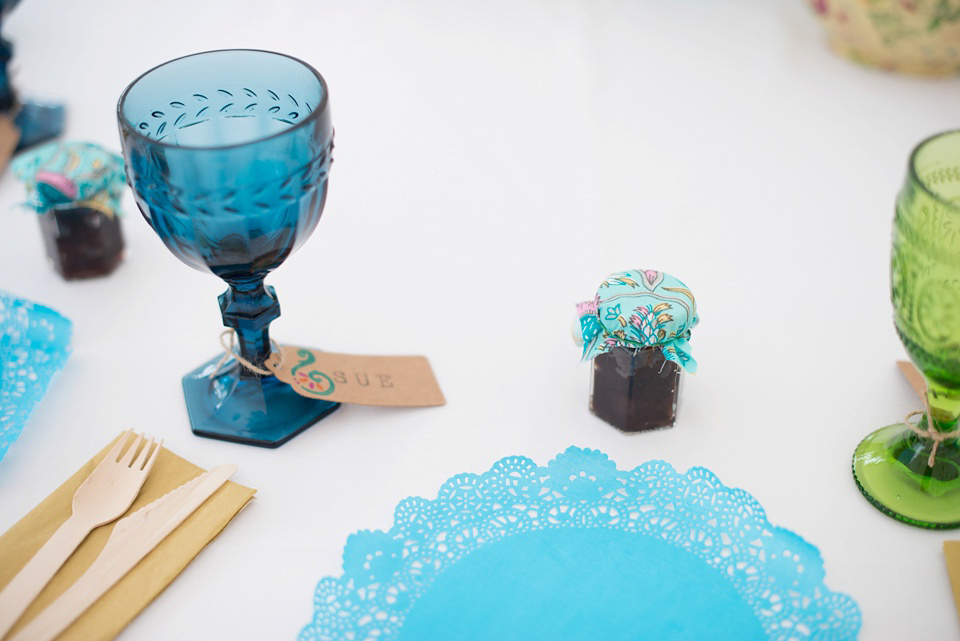 Jess is an assistant merchandiser and buyer at Graham and Green, and her good taste shines through the styling.
"Lots of the decor was sourced from charity shops and car boots – all the tea light holders and vases for example. The table plan was made from an old picture frame and dress sourced at a car boot with luggage tags, the bunting was made by my Aunty Jan. The lanterns were collected over the year from Hobbycraft and online. The name tags were small luggage tags stencilled by the bridesmaids. The paper flowers are from my work – Graham and Green. The coloured glass goblets were from the DRH Collection"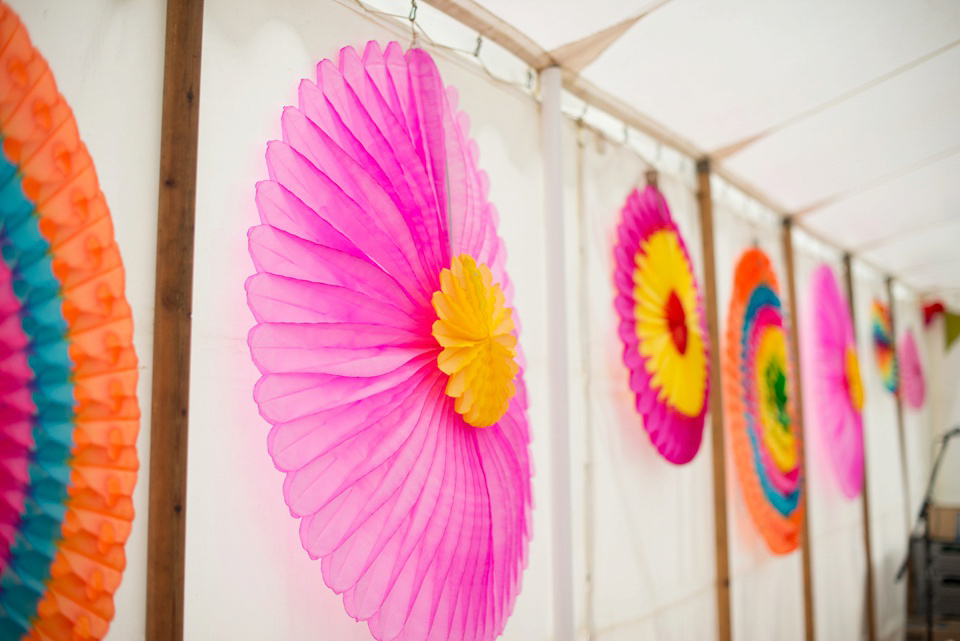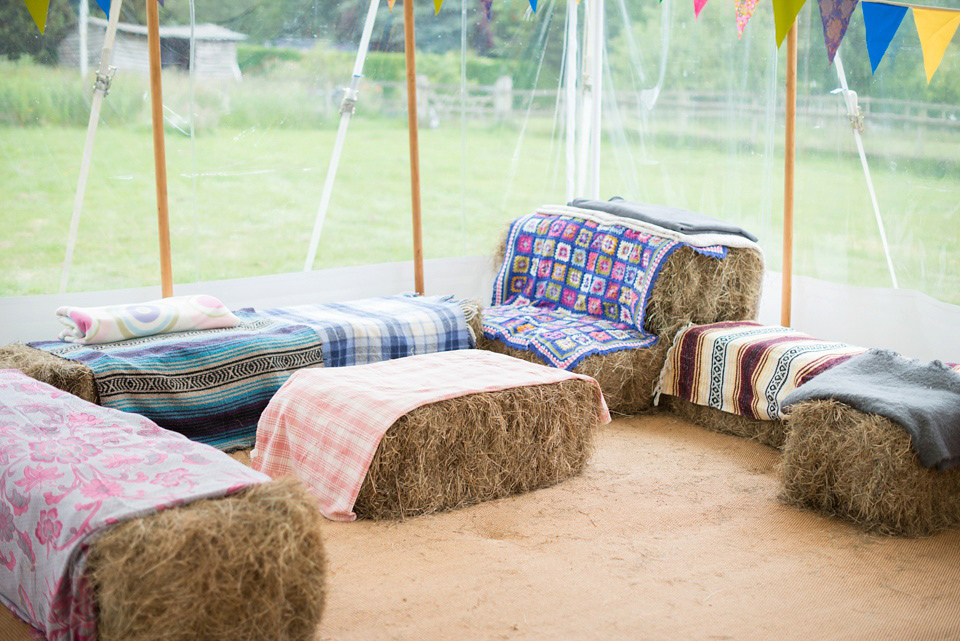 The couple chose a cheese cake from a farm owned by a family friend, Fowlers Cheesemakers.
"We had canapés to start and then a hog roast from The Lazy Pig Co. We had hog roast with lots of salads, then chocolate brownie, lemon tart and strawberries and cream followed by tea and coffee and a round of burgers later in the evening."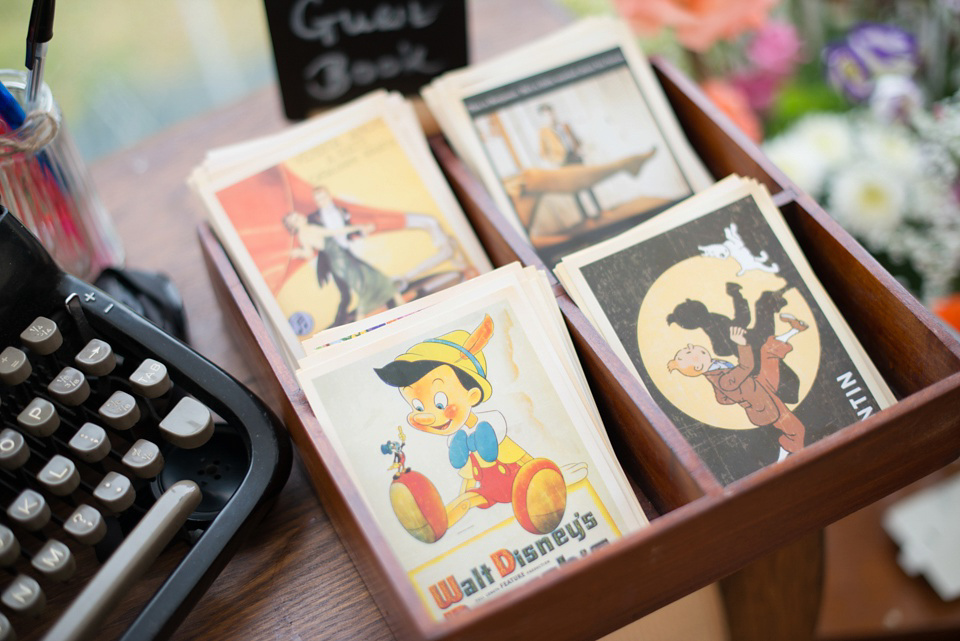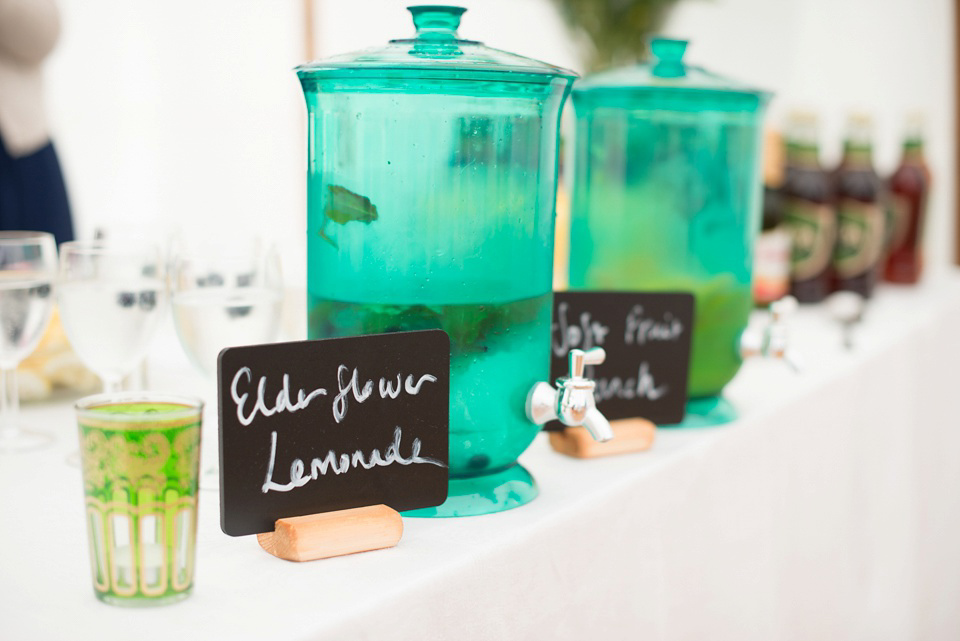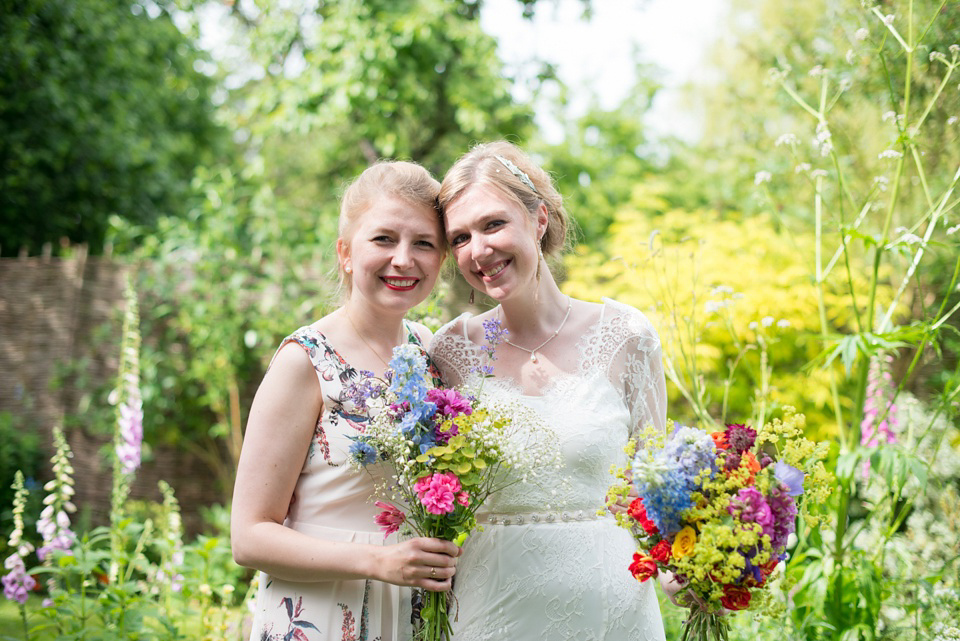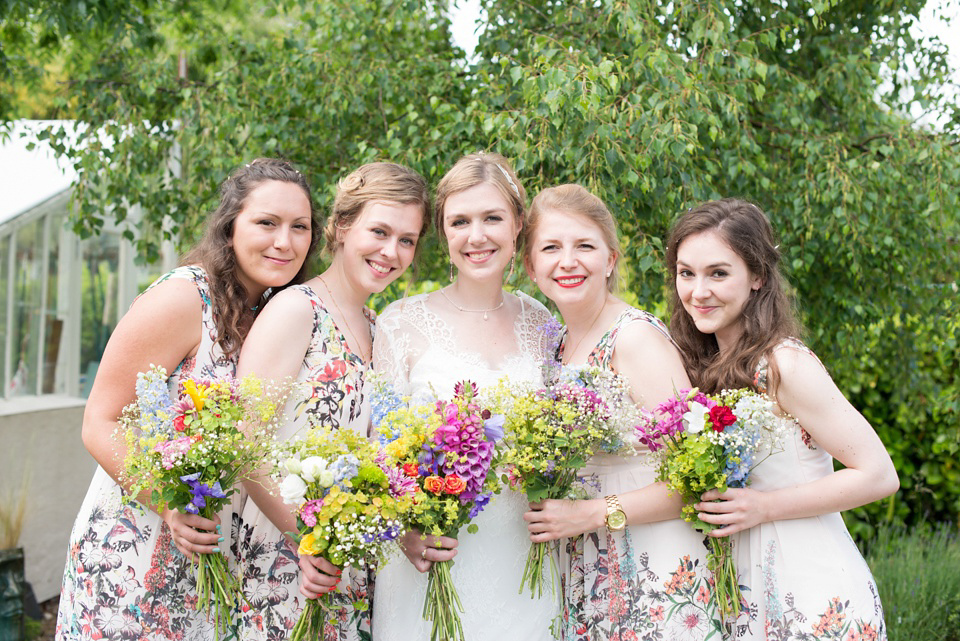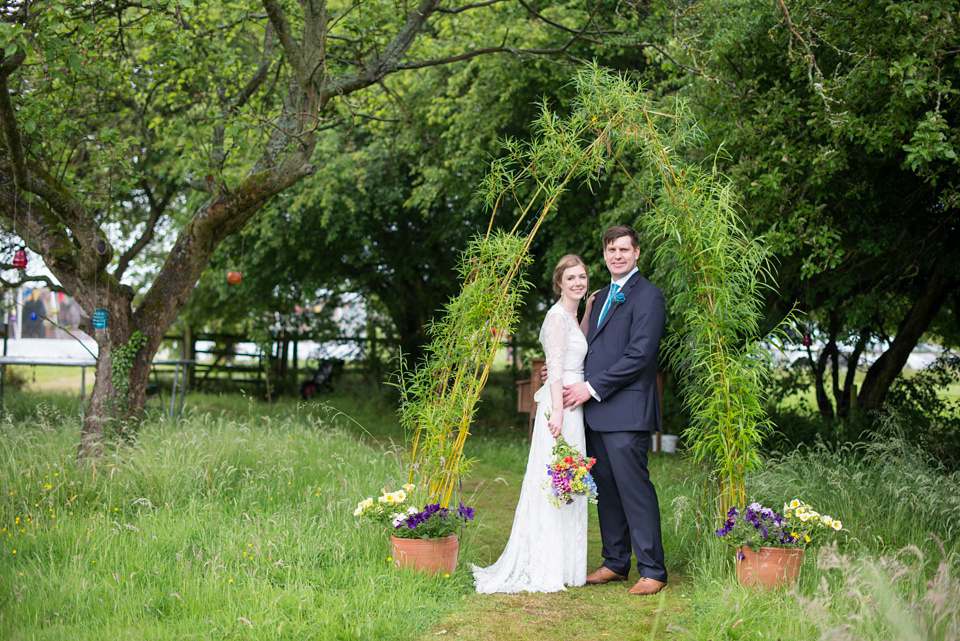 Words of Wedded Wisdom
"Embrace the fact that not everything will be perfect but it will be perfect in its own way, or a funny story at least! I spent a week before the wedding obsessing about the weather as it was predicted to be horrible and on the day it was horrible….but only for about 45 min after we came out of church when it suddenly turned to bright blue sky and a gorgeous afternoon and evening! This meant we had some dramatic rain pictures, but then a lovely afternoon outside in our garden around firepits as I had wanted. Other advice would be to think creatively about how you might be able to get want you want. I was looking at table plans for around £50 but ours ending up costing £2.50 in total with a little imagination"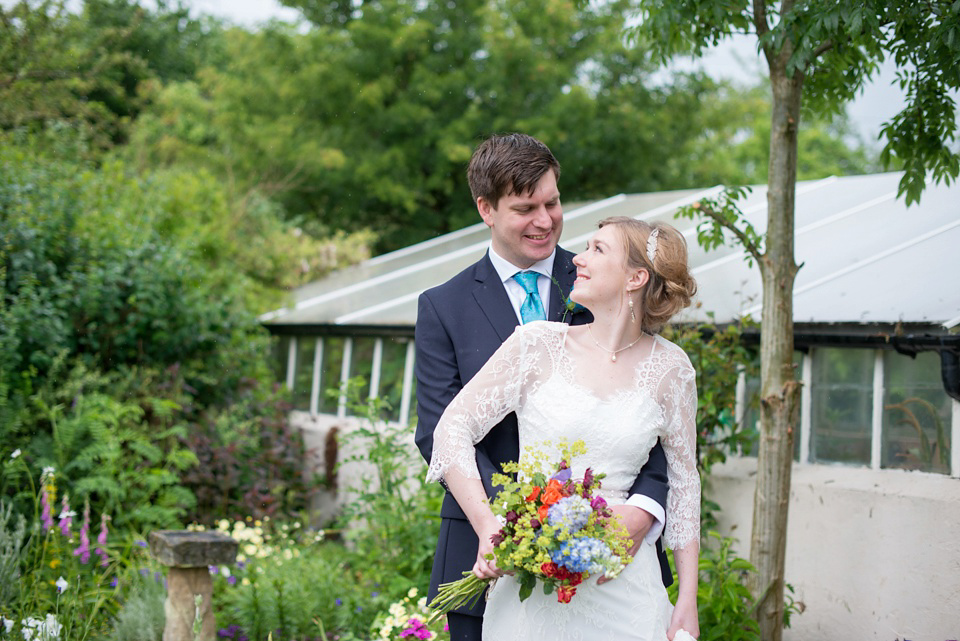 Some wonderfully practical words of wedded wisdom there, thank you Jess. Lots of brides worry about the weather – but I have to say, I really love a dramatic rain photo! Congratulations to our beautiful couple, and thank you for letting us have a peek into your stunning day. Big thanks also to photographer Kayleigh Pope for letting us share your lovely light-filled images today.
Love Louisa xx
Photographer – Kayleigh Pope
Venue – St John's Church in Henley-in-Arden and bride's parents' garden
Wedding Dress – Katya Katya Shehurina
Bride's shoes – BHS
Bride's accessories – Etsy
Bridesmaid dresses – ESPRIT
Groom's suit – Austin Reed
Groom's shoes – WalkTall
Florist – bride's mother
Cake – Fowlers Cheesemakers
Catering – The Lazy Pig Co
Entertainment – The Beat Brothers
Hair stylist – Headturners
Make up artist – Sophie Glew MUA
Rings – H Samuel
Stationery – Sophie Richardson