I hope you all know by now that I'm devoted to my job but oh goodness me, there are moments when I absolutely adore what I do and I have to admit that writing this feature has been a true labour of love. Today, I have the pleasure of writing about cake as I introduce you to the wonderful collection of wedding cakes  available from one of the high street's most well known names, Marks & Spencer.
[fve]https://www.youtube.com/watch?v=OWqcMcCx5wA[/fve]
Founded in Leeds back in 1884, Marks & Spencer is famed for, among many other things, heavenly food and their range of wedding cakes continues this tradition in fine style. From classic fruitcakes to tasty chocolate and sponge confections, cupcakes, taster cakes and brilliant savoury alternatives, there'll certainly be something in the M&S wedding cake collection to suit your taste buds and your budget.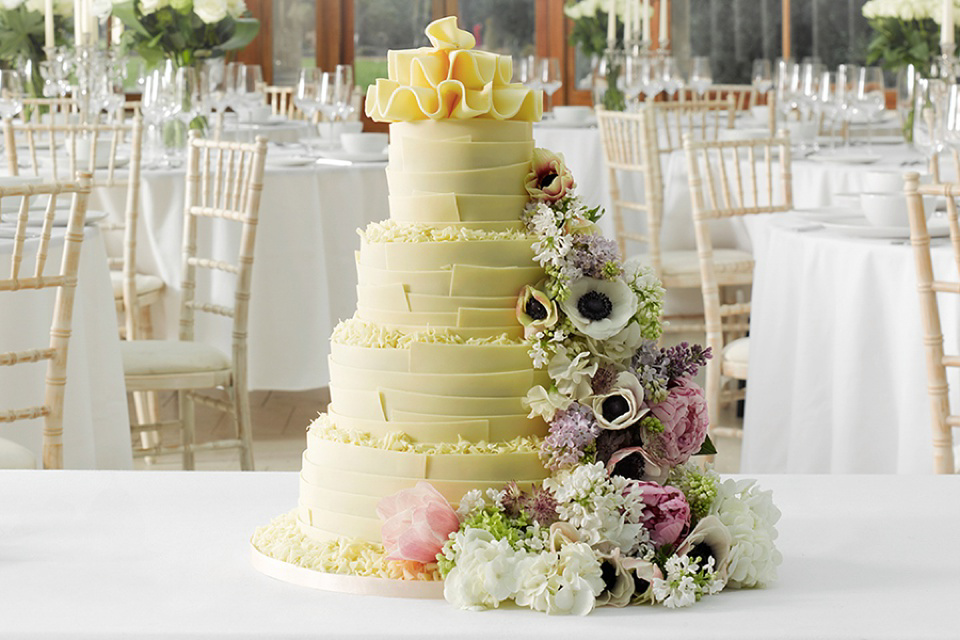 White Chocolate Ribbons Cake
£249.00 (£3.33 per 100g)
In fact, I would say the trickiest thing is going to be deciding which heavenly cake you'll serve to your lucky guests. If you're a fan of fruit cake then the 3 Tier Elegant Fruit Wedding Cake could be the one for you or, if you'll prefer a mix of flavours, you could choose the Elegant Assorted Wedding Cake with tasty fruit, spongy and zesty lemon layers.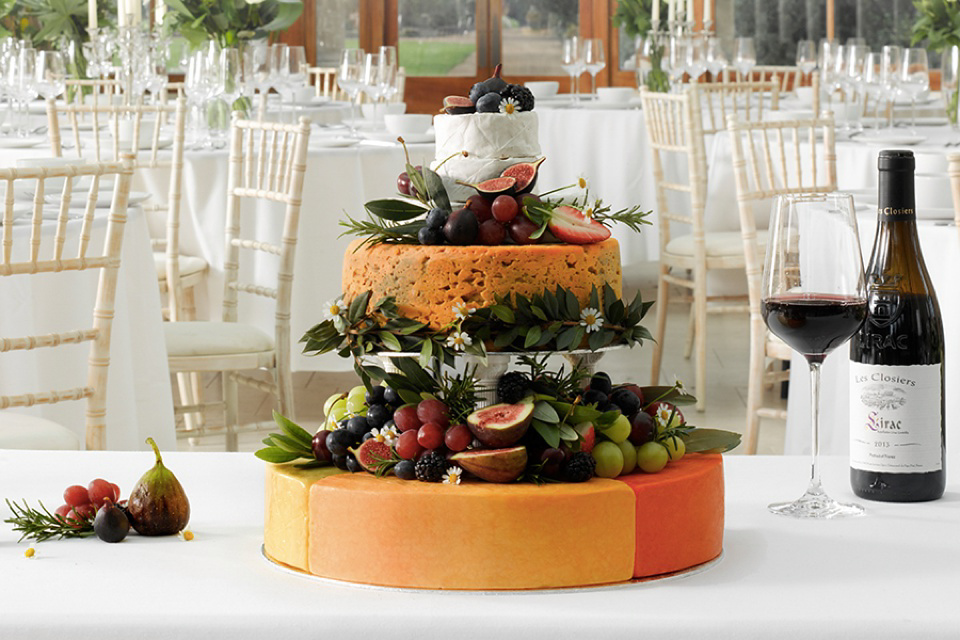 Cheese Celebration Cake
£155.00 (£1.57 per 100g)
However, if like me your chocolate addiction knows no bounds then the range of chocolate cakes must be seen to be believed. The Shimmering Hoop Chocolate Wedding Cake with golden decorations really is rather special whilst the 3 Tier White Chocolate Swirl Wedding Cake and the Chocolate Plaque Wedding Cake in Vintage Rose are suitably indulgent treats for your big day.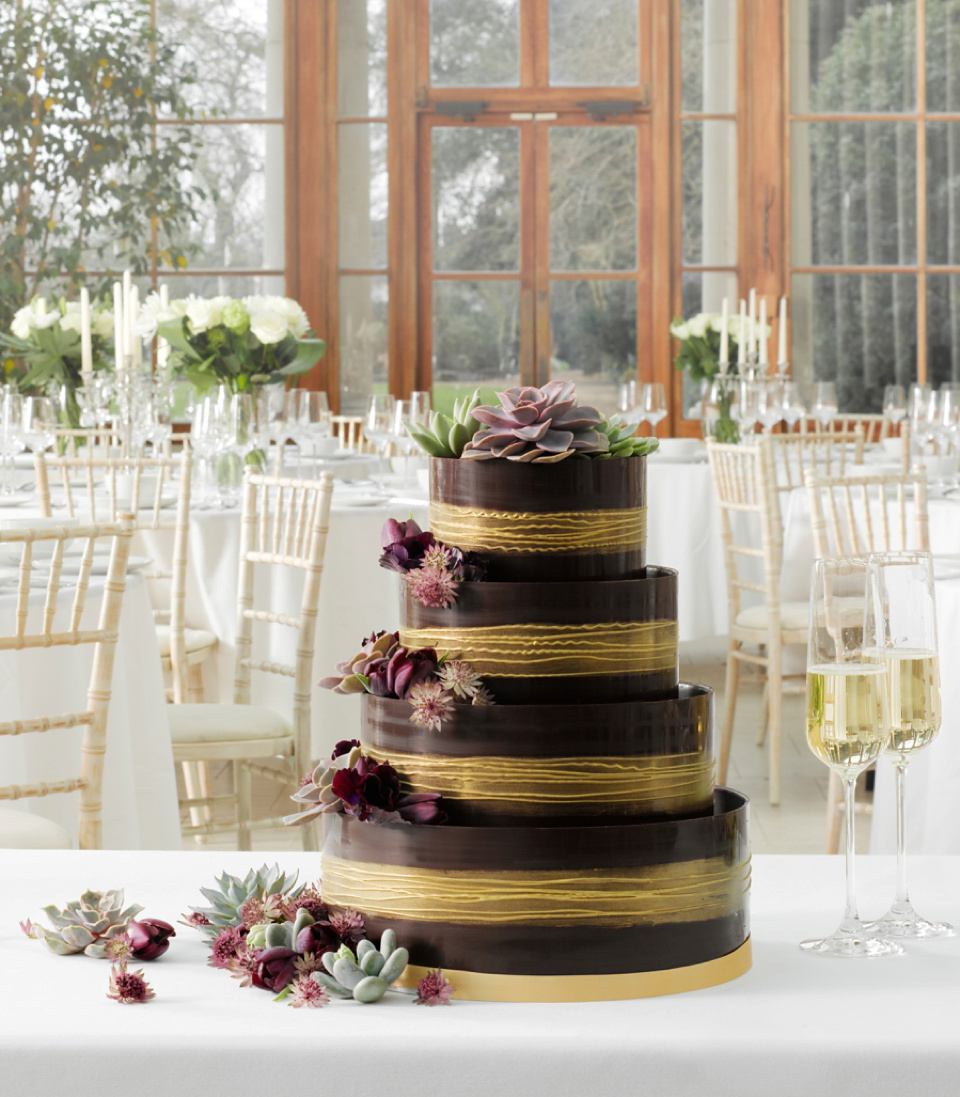 Shimmering Hoop Chocolate Wedding Cake
£249.00 (£3.36 per 100g)
Alongside the tiered wedding cakes, you're also spoiled for choice with cupcake selections and the most delicious looking Tiered Celebration Pork Pie I do believe I've ever seen – as a certain TV judge would say, "that's a great bake." Should you fancy another savoury option or a centerpiece for your evening buffet, the Cheese Celebration Cake will certainly be a super tasty and impressive addition to your feast.
Aside from these showstoppers, there's a wide range of cutting cakes and taster cakes plus some great gluten-free options too. The phrase 'let them eat cake' has never been more appropriate.
Romantic Pearl Gluten Free Wedding Cake (bottom)
I'm sure you can tell that I'm a fan of the wedding cakes but I can also tell you that I also admire the Marks & Spencer website. It's so clear and helpful – from the details on order times, dietary information and ingredients to the clear dimensions and portion information, everything is here to make choosing and ordering your perfect wedding cake as easy as can be. There are also clear guidelines on order times too so you know you won't be caught out without cake!
[fve]https://www.youtube.com/watch?v=kuP_2DAWRoY[/fve]
And, once you've ordered your cake, Marks & Spencer can give you everything you need to make your wedding cake a truly delectable talking point. Their special assembly kits including pillars and dowels will help you put your tiered creation together plus there are also great videos on line that are full of top tips for assembling and decorations your Marks & Spencer wedding cake. What more could you possibly want?
[fve]https://www.youtube.com/watch?v=wiI5jXVmJuc[/fve]
Now, if you'll excuse me, I need to go and look at more photos of gorgeous wedding cakes. All in the name of research you understand…
Wedding cakes from Marks & Spencer can be ordered online or in store and you can find your nearest store on their website. Cakes range in price but even the most expensive is currently less than £350 with cutting cakes available for under £20.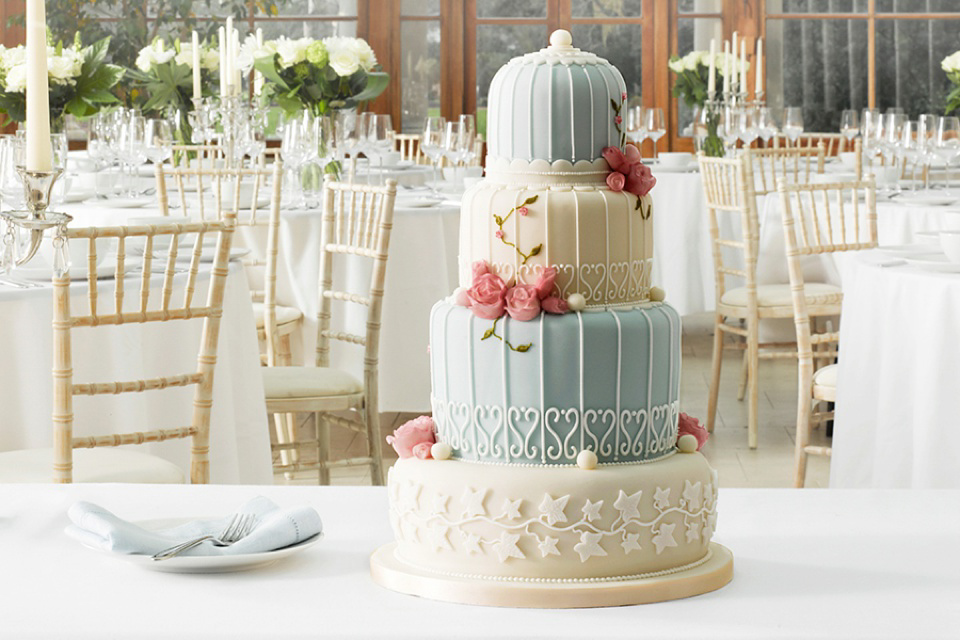 Birdcage Wedding Cake
£349.00 (£3.88 per 100g)
To find out more about the available designs, simply take a look at the wedding cake section on the Marks & Spencer website and prepare for your mouth to water!
Love Tamryn x
This is a sponsored post.