Hello all! And all kinds of WOW! Thank you so so much for your incredible reaction yesterday to the launch of our beautiful new sister site and brand new wedding supplier resource, Little Book For Brides. Our whole team has been blown away by all the love on Facebook, Instagram, Twitter and email too. Bookmark this page – we're hoping it becomes an integral part of your wedding planning journey from hereon!
Wednesday can sometimes still feel like it's a long time until the weekend, so here is an absolutely beautiful wedding to keep you smiling.  As anyone who knows me will tell you, I love being outside in the countryside so this lovely wedding in a bluebell-filled wood, with the ceremony and reception in a gorgeous yurt, made me grin with delight! Please let me introduce Emily, a psychotherapist, her husband Keith, a retired head teacher, and their cute-as-a-button son Riley.  Emily and Keith married in a beautiful woodland ceremony on the 21st of May this year at Jollydays, a picturesque glamping site in North Yorkshire.
"I never wanted to be a 'princess' and didn't feel that sparkles and tiaras were really my thing – I was more inspired by woodland fairies and Shakespeare's Midsummer Nights Dream.  I wanted a floaty dress, flowers in my hair and our surroundings to be natural and personal."
Photography by Georgina Harrison
Georgina Harrison is a member of Little Book For Brides®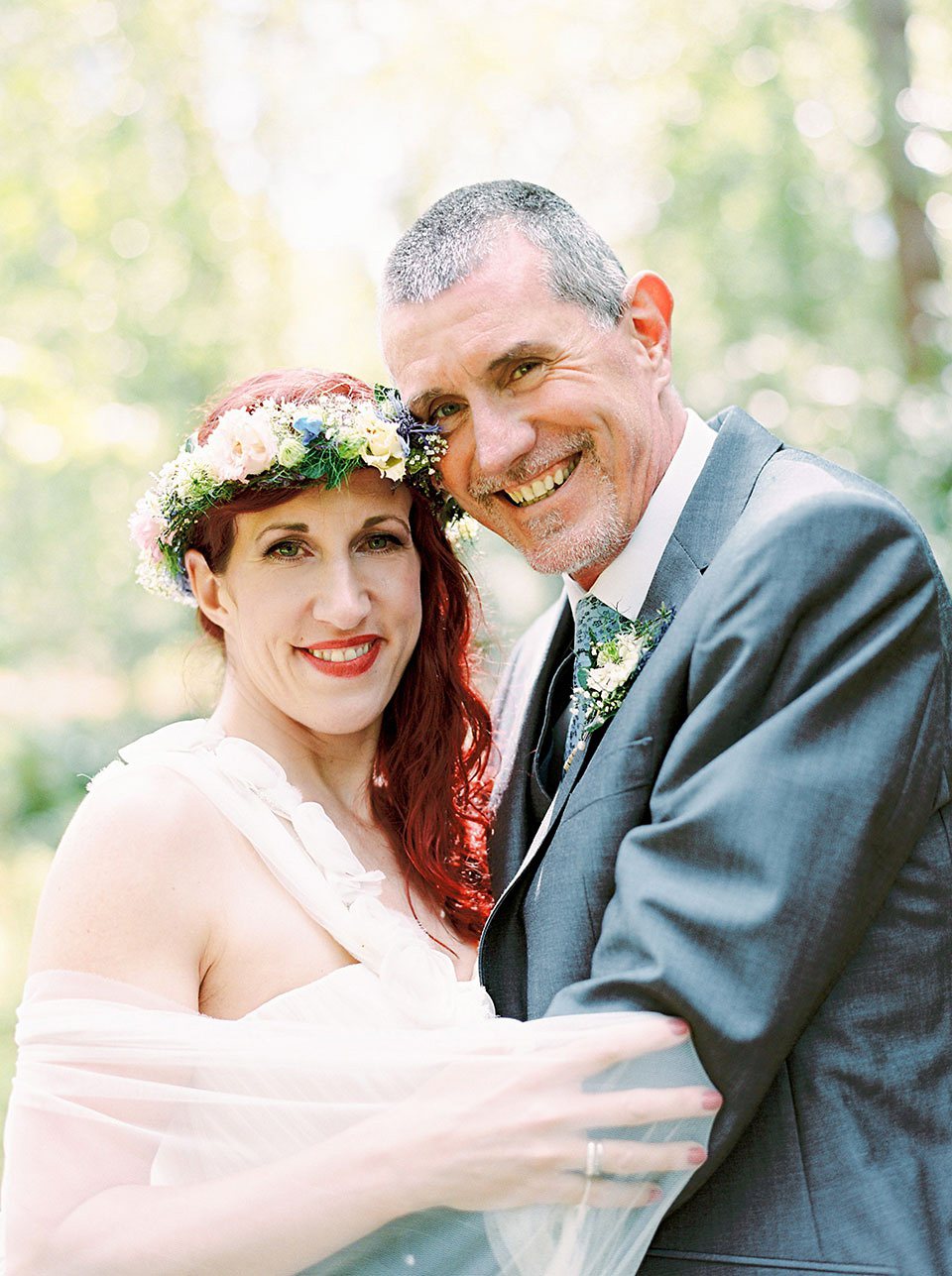 "We were inspired by the Jollydays website, which promoted the Yorkshire Yurt Company and thought yurts for our reception looked unique and different. The rest came about as went along and we bought things as we saw them and liked them. We liked the handmade touch- not so posed and polished."
"The venue was rustic, shabby chic, ethereal, and natural all at once, plus the glamping accommodation is pretty amazing. They have a separate ceremony space under cover where guests sit on logs and watch the event under draping hessian cotton and twisting ivy. Large ornate candle holders adorn the stage area and you're surrounded by trees. Magical."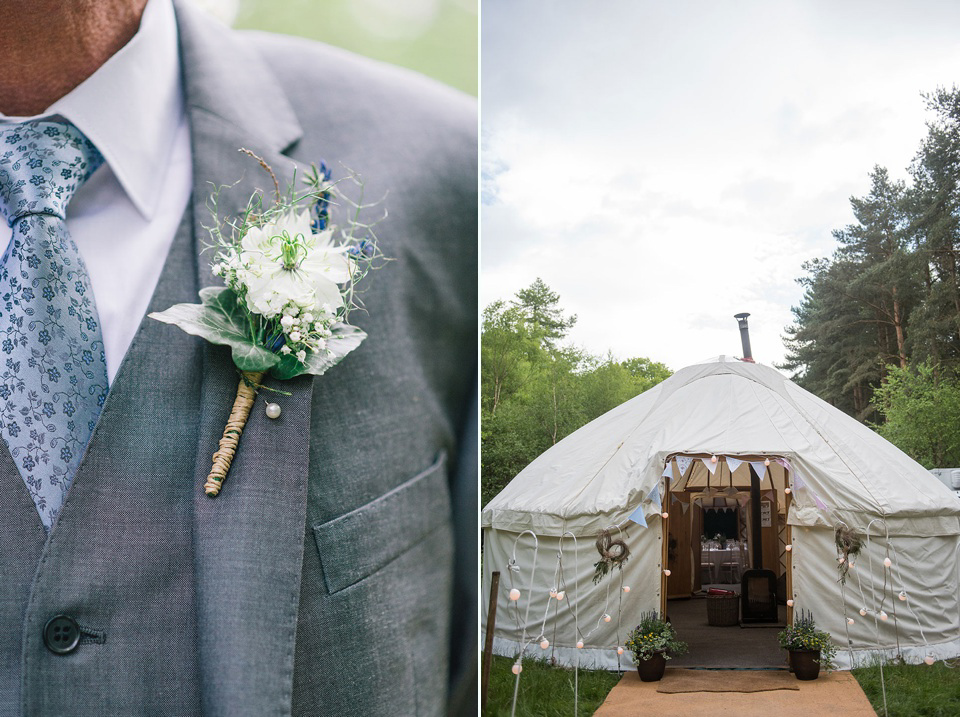 Keith and Emily chose North Yorkshire based photographer Georgina Harrison to capture their day for them, and they found her via Love My Dress!
"My sister Kate had seen Georgina's work on Love My Dress and recommended her to me.  We loved Georgina's work on her website and she showed a lot of outdoor fine art photography which was what we were looking for! When we met, she was friendly, professional and actually knew some of my family which seemed to make her easier to relate to."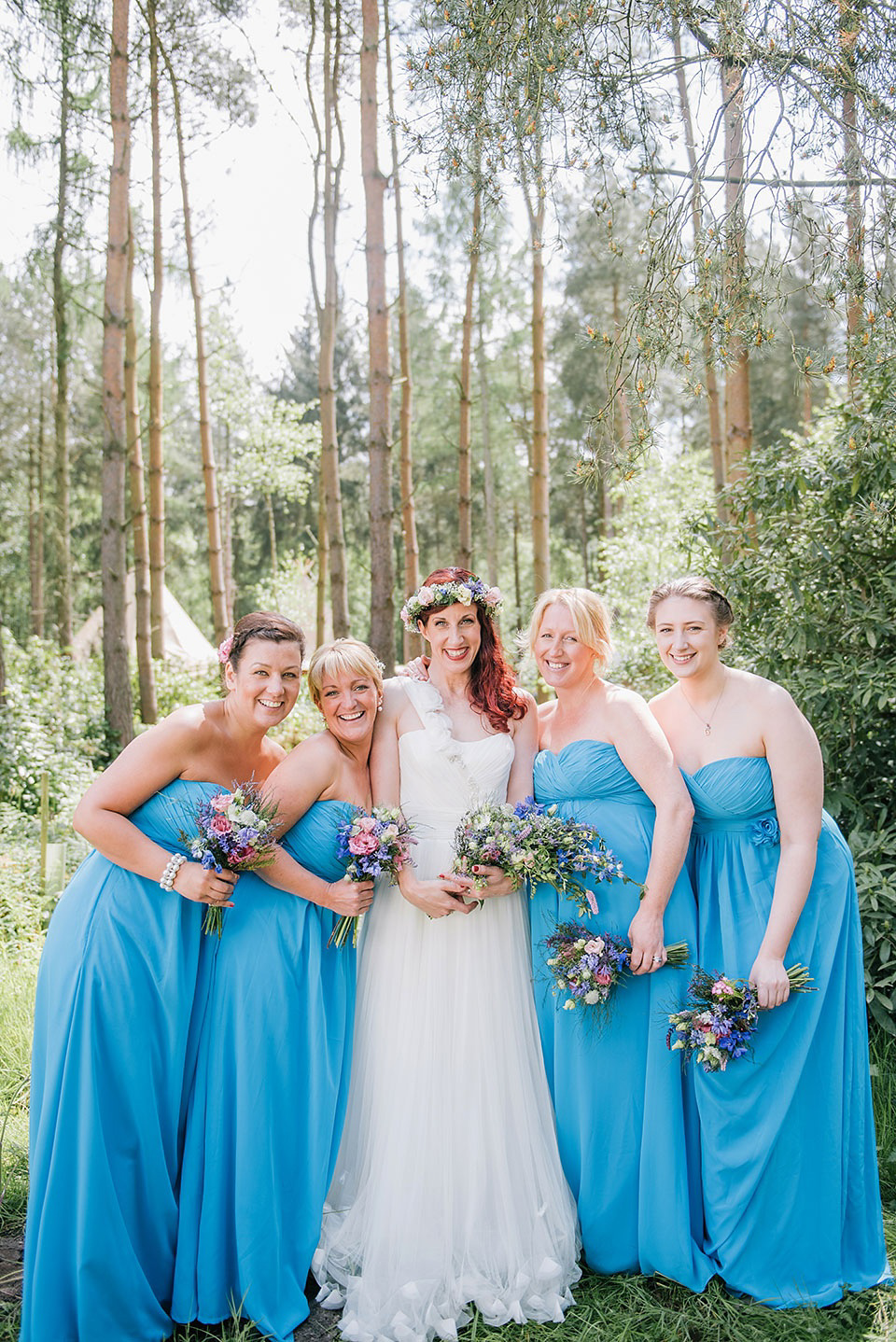 "Georgina's passion for her work shone through and she was as excited about our wedding as we were, I think! She was great to work with and not pushy, didn't show impatience and her stunning pictures brought tears to my eyes when we saw them. They show great detail whilst capturing the essence of our wedding being in the woodlands. We couldn't have asked for more."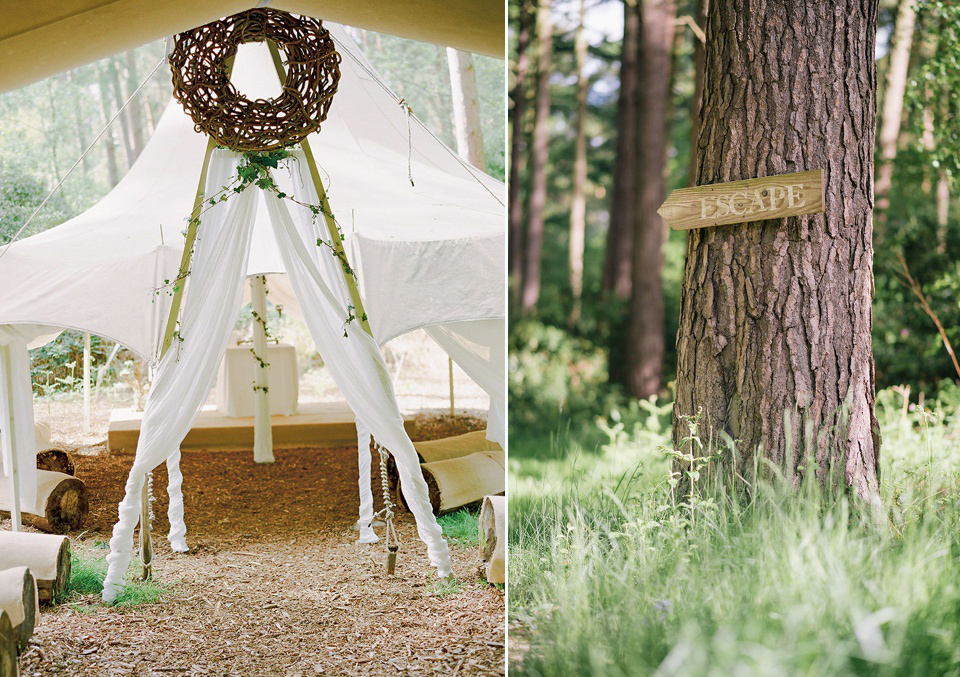 "We planned the whole thing ourselves with a lot of help from my sister Kate and our florist, Jo.  As it was in the woods we hired everything separately from different companies. We had an idea and the finishing touches came out as the planning went along. Everyone we hired we booked because they'd had experience of outdoor weddings and we loved their work."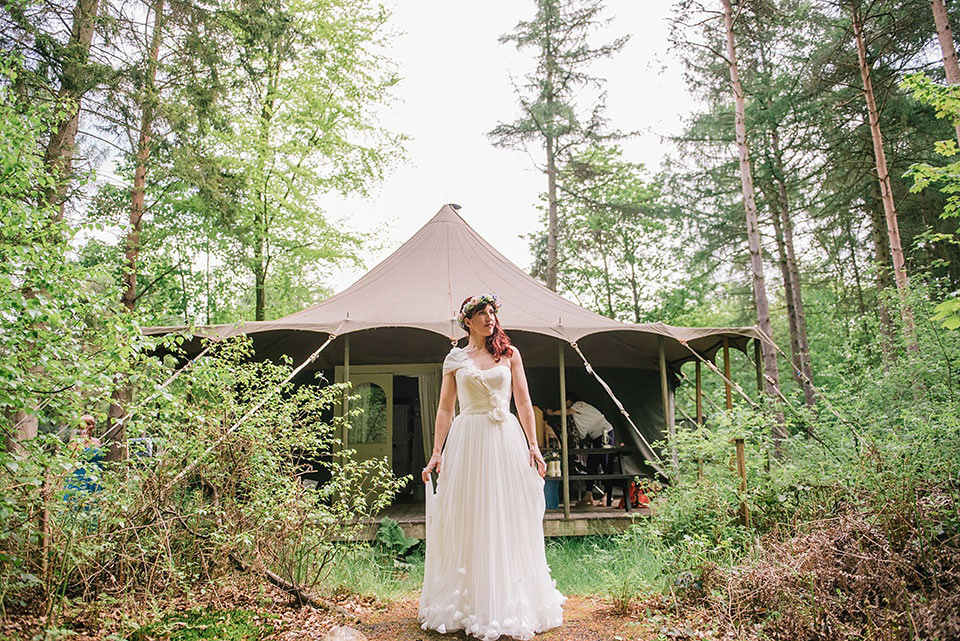 In deference to the woodland terrain Emily chose wedged shoes, embroidered with beads and flowers, and finished her look with fresh flowers in her hair and a spritz of 'Happy' by Clinique.
"It was my vision to get wed in the woods amidst the trees and surrounded by bluebells. I have always wanted to live in the woods (I still do!) after many family holidays camping in woodland in North Yorkshire.  Keith loved the idea so we literally typed in 'woodland weddings' and fell in love with Jollydays! We went to visit and knew straight away that this was the place."
The couple chose to have a humanist ceremony, led by celebrant Colin Nolan, which meant they could write much of it themselves.  Colin sent the couple a questionnaire each, to complete about one other and then devised a 'love story' from their answers to read during the ceremony, which is so wonderfully personal.
Emily walked down the aisle with her Dad to 'Kiss from a rose' by Seal, played on the violin by violinist Kate Chruscicka.  I just adore the photograph of Emily and her Dad walking down the woodland path towards the ceremony- magical.
The couple wrote their own vows, which went as follows.
I promise to love you unconditionally, to support you in your endeavours, to celebrate our life together, and to stand beside you whatever life may bring.  I will continue to value our relationship, trust in you and aspire to a life of laughter and joy together. You are my husband/wife, love and my best friend. In the presence of our family and friends I commit to you and our life together, now and every day'.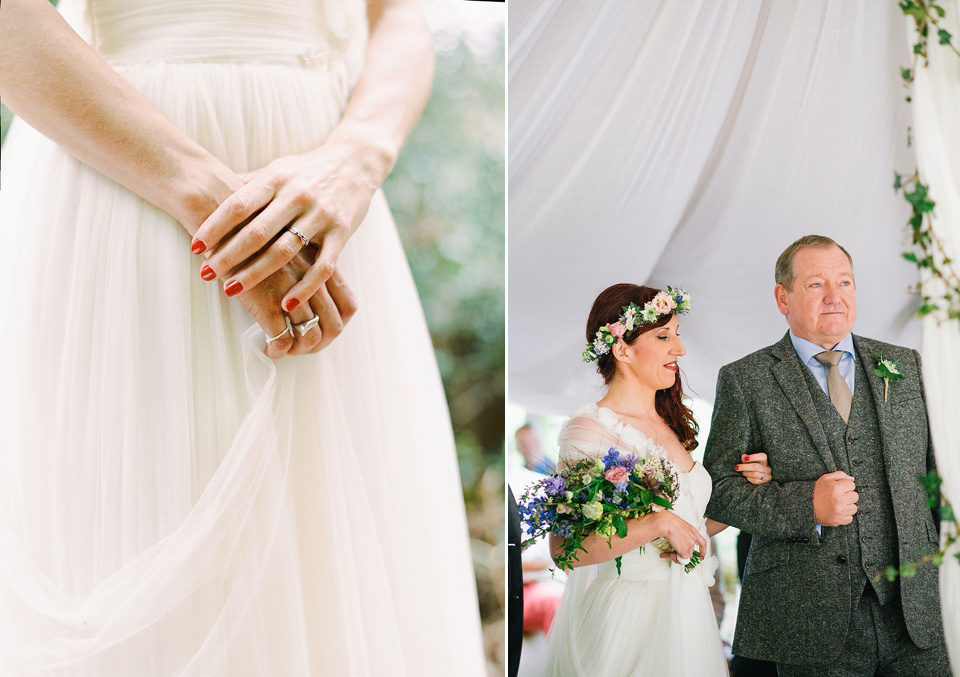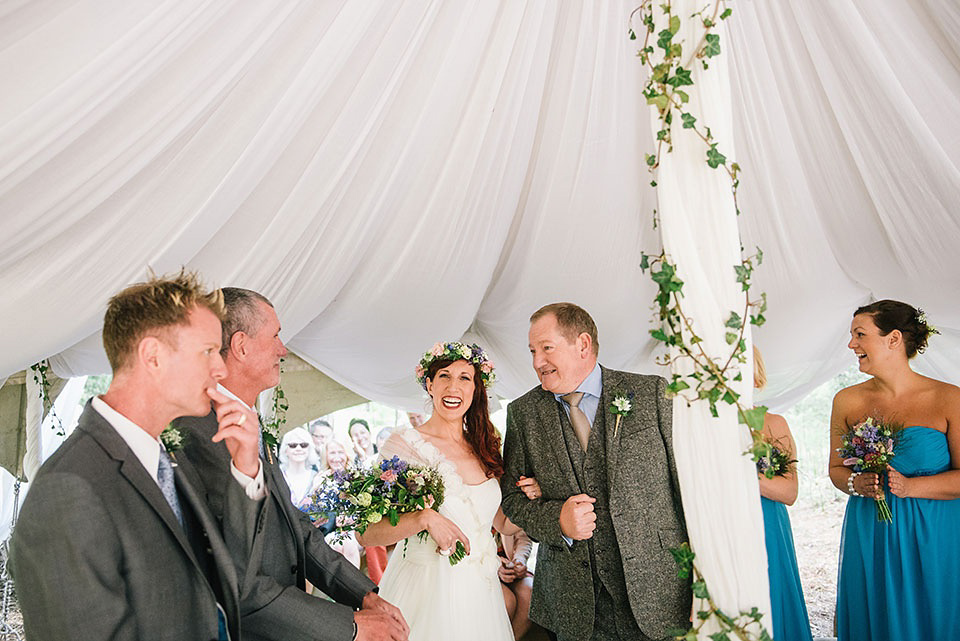 Emily did her own make up (although she confessed to us that she now knows why a bride would hire a make-up artist- as she didn't account for shaking hands on the morning of the wedding!) and her hair was by Tracey McNeil at Sarah Jane Hair in Scarborough.  As hair accessories she chose a fresh flower crown, a beautiful alternative to a modern tiara and just perfect for a woodland or outdoor wedding. .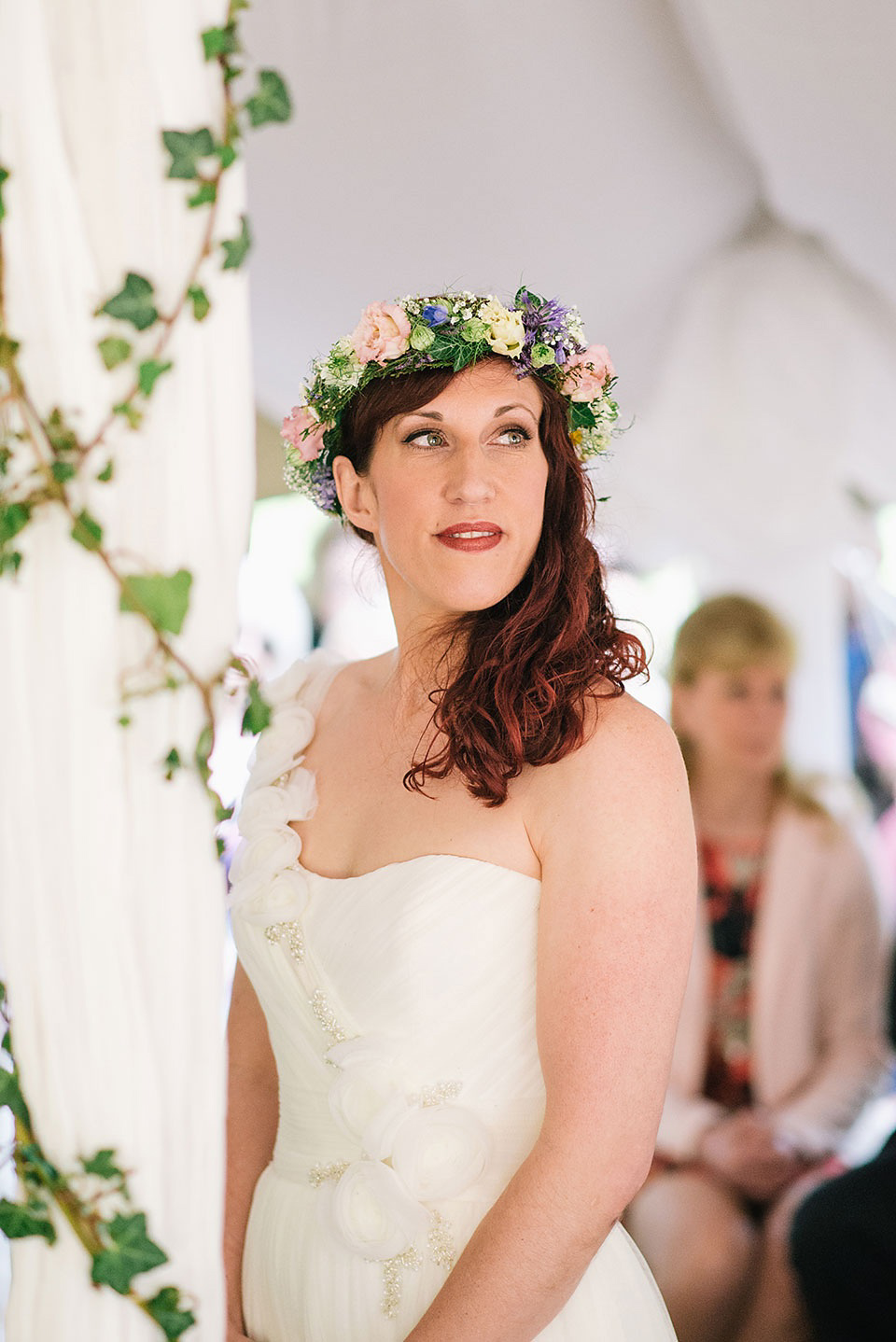 Emily purchased her dress from Blushes in Sheffield, and had it altered there as well.  I love the unusual one- shoulder style and the floatyness of that wonderful long skirt.
"I had tried on thirteen dresses before I went to Blushes. I had originally seen a very gypsy-like bohemian dress in a picture but couldn't find anything like it in the shops.  Zoe at Blushes sat us down and asked me what kind of wedding I was having, what time of year, what colour, ideas for headwear etc so she had a clue what I was looking for.  She knew exactly what would work and found my dress immediately!"
"I loved the feel of the cream silk chiffon and the way it moved when I walked. The detail round the bottom looked like leaves and the flower and beading detail under the bust at one side was simple and subtle.  Zoe created the shoulder piece that made the flowers look like they flowed round and up one side of my dress. It was perfect for me to wear my hair to one side as I'd planned and have a gorgeous real wild flower crown (that included bluebells of course!).  The train, though a little impractical for the woody terrain really gave the dress that dreamy feel and glowed in the pictures."
Keith looked very dashing in a grey suit purchased from Marks and Spencer and a blue tie with tiny flower detail.  Riley decided to be a bit different and wear an orange tie, which goes perfectly.
"Keith and best man Iain's suits were a simple and smart 3 piece, with blue ties to match. Keith liked the non-fussy approach to the suits and Riley, our son, chose his own tie!"
As a nod to her beloved bluebells, Emily found blue chiffon silk dresses online for her bridesmaids.
"I wanted vibrant blue to stand out in the woods against my cream dress. We added some blue flowers in the bouquets to match."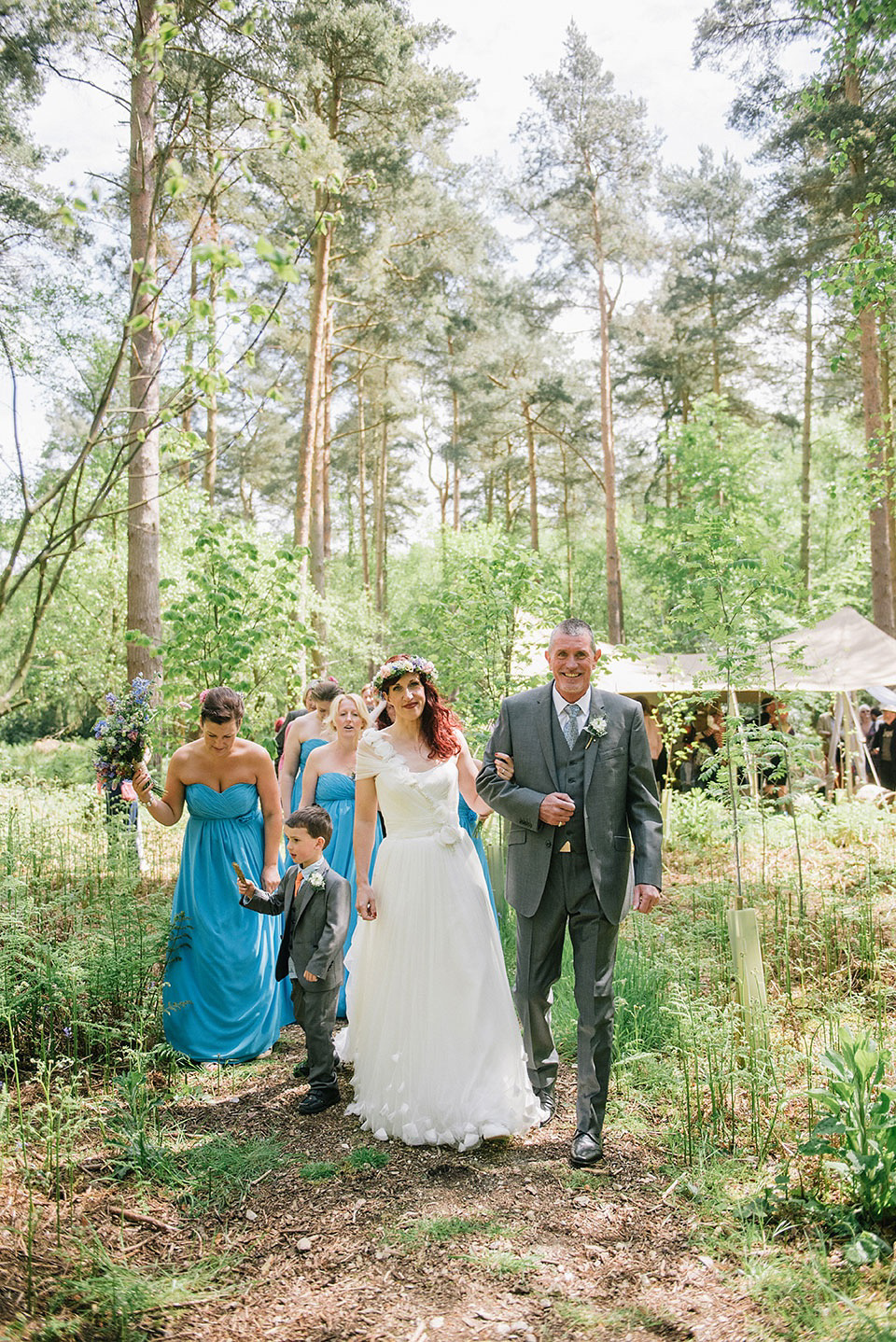 The happy couple hired solo violinist Kate Chruscicka to play for their ceremony and reception, which must have been atmospheric with the music drifting in among the trees and in and out of the yurt during dinner.  For the remainder of the evening the newlyweds and their friends and family danced the night away to a selection of tunes the couple had compiled on their iPod.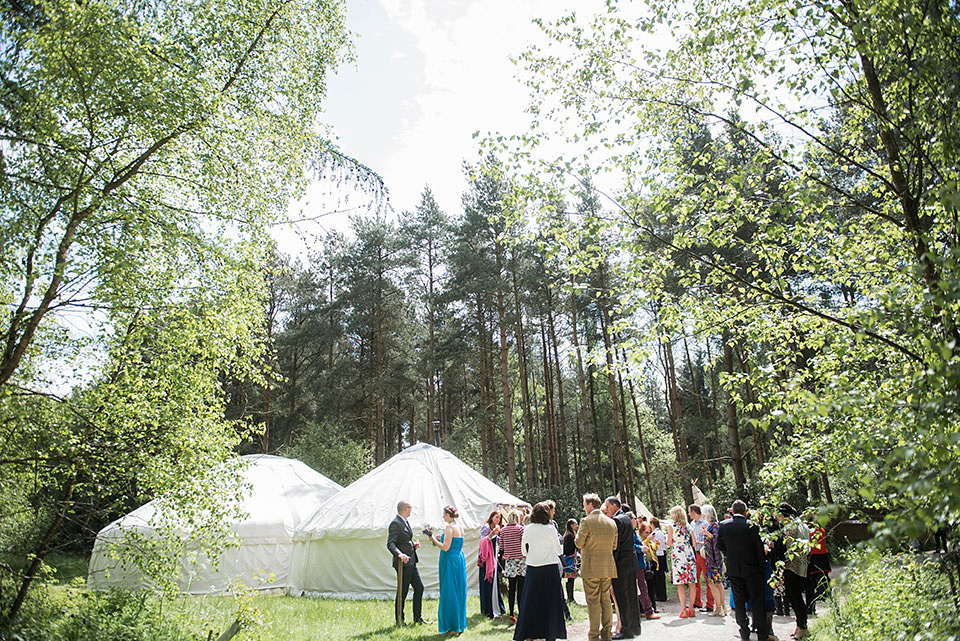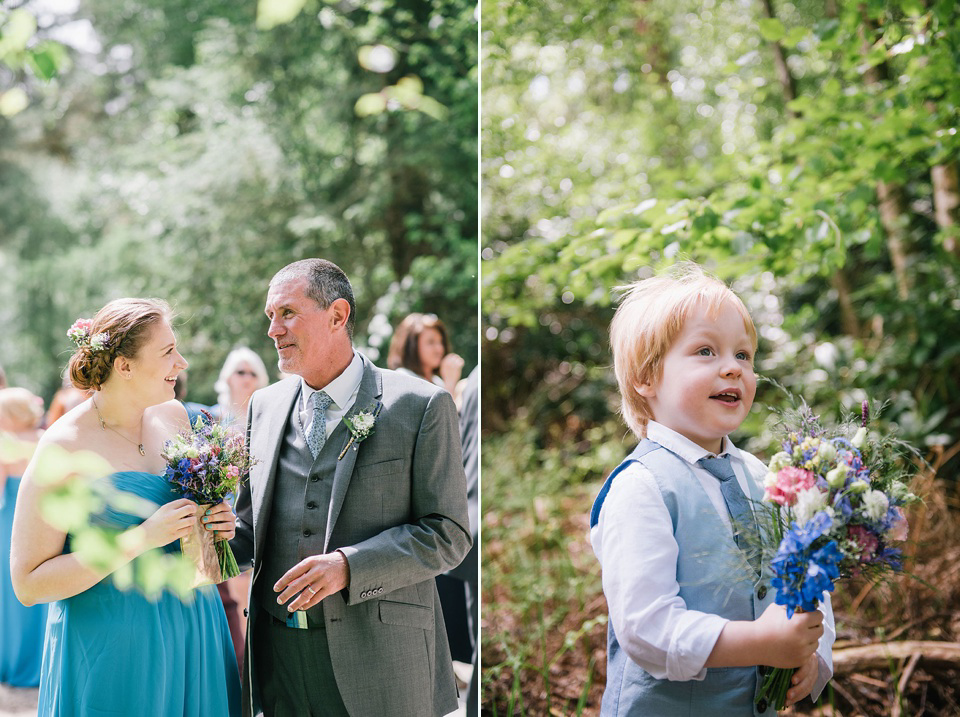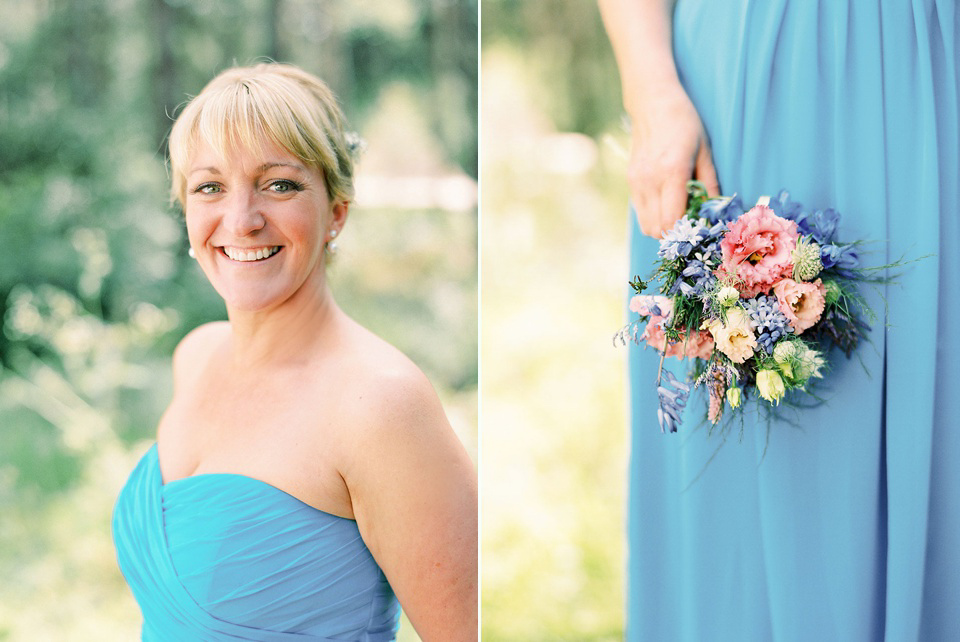 The floral arrangements, bouquets and buttonholes matched the woodland theme perfectly, with wildflowers, ferns and Emily's favourite bluebells all making an appearance.
"I chose a local friend, Jo Purdy, who owns Hearts and Flowers in Scarborough to do the floral arrangements. She created a woodland theme (of course) of locally grown and sourced flowers. I had a tumbling bouquet, which included love in a mist, cornflowers, ami, scabious and bluebells. The bridesmaids carried hand tied posies and hair pins of the same flowers.  And the button holes and my bridal crown matched too."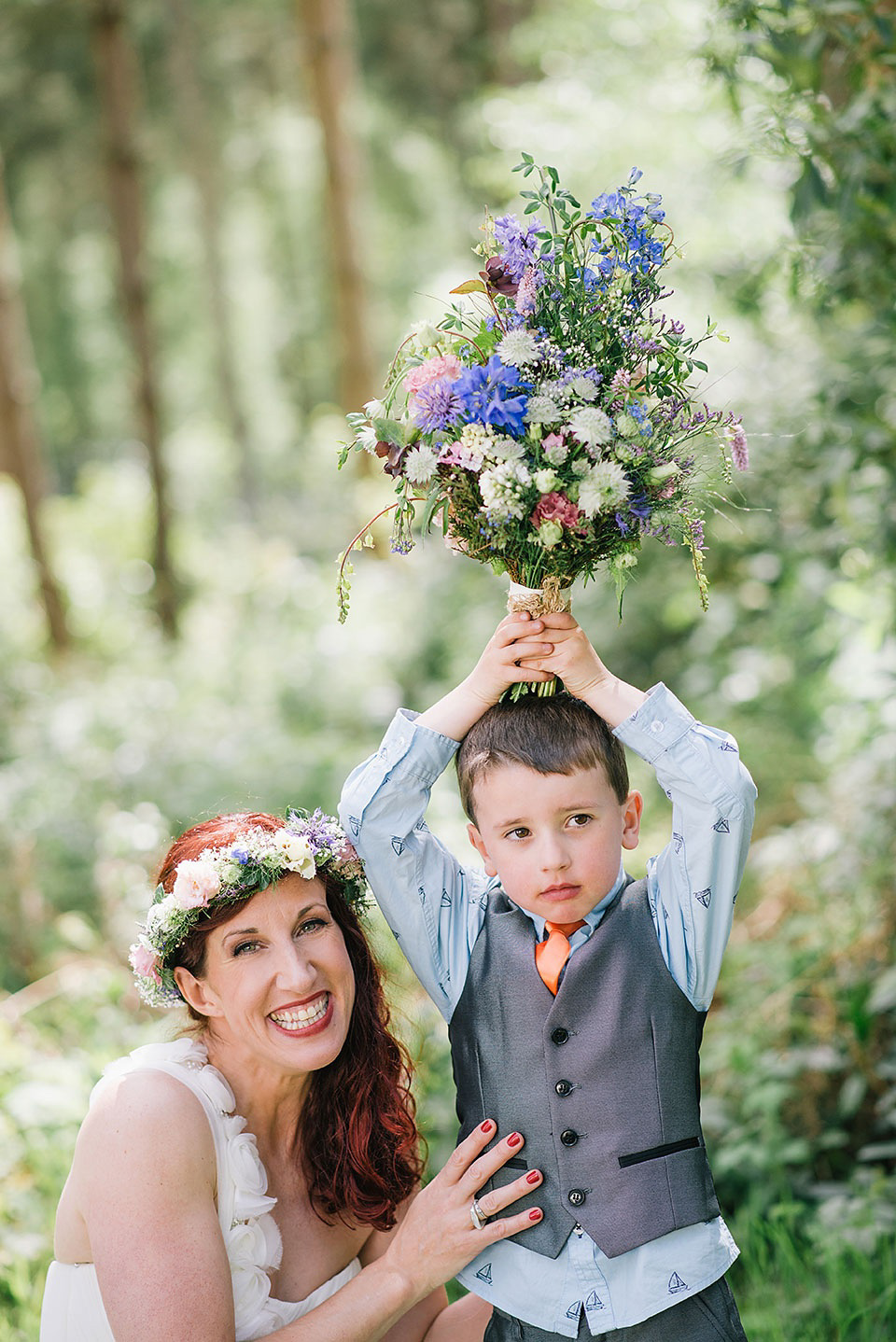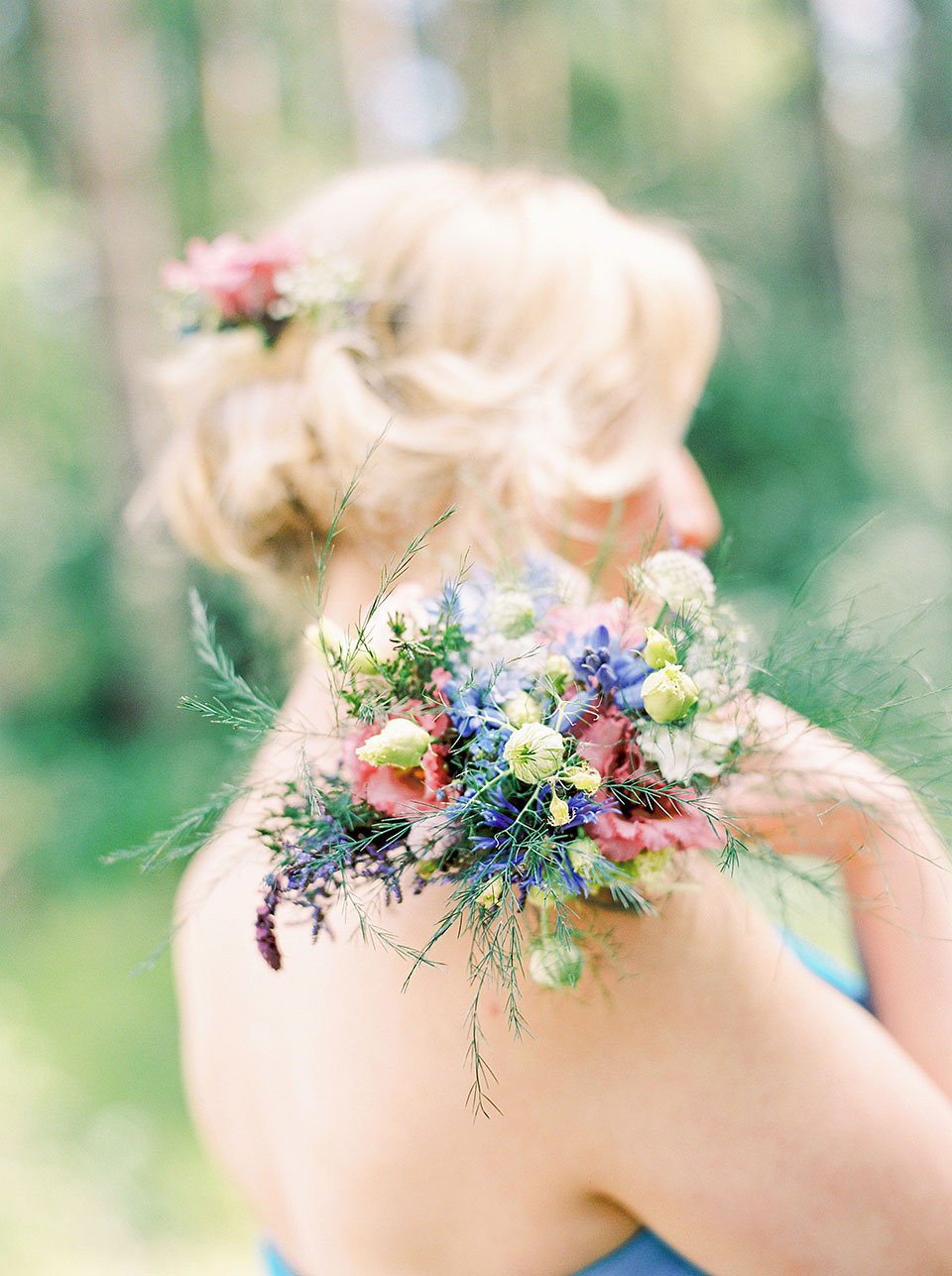 "We sourced the bunting from Amazon and the delicate Yorkshire heather hearts adorned the Yurt were designed by Jo Purdy at Hearts and Flowers. My sister Kate made the table decorations using jam jars and covered them in glitter with tea lights inside; she covered others in hessian and lace and placed flowers and ferns in them, again from Jo Purdy.  Ornate tin heather plants added more style and all set on a slither of log wood."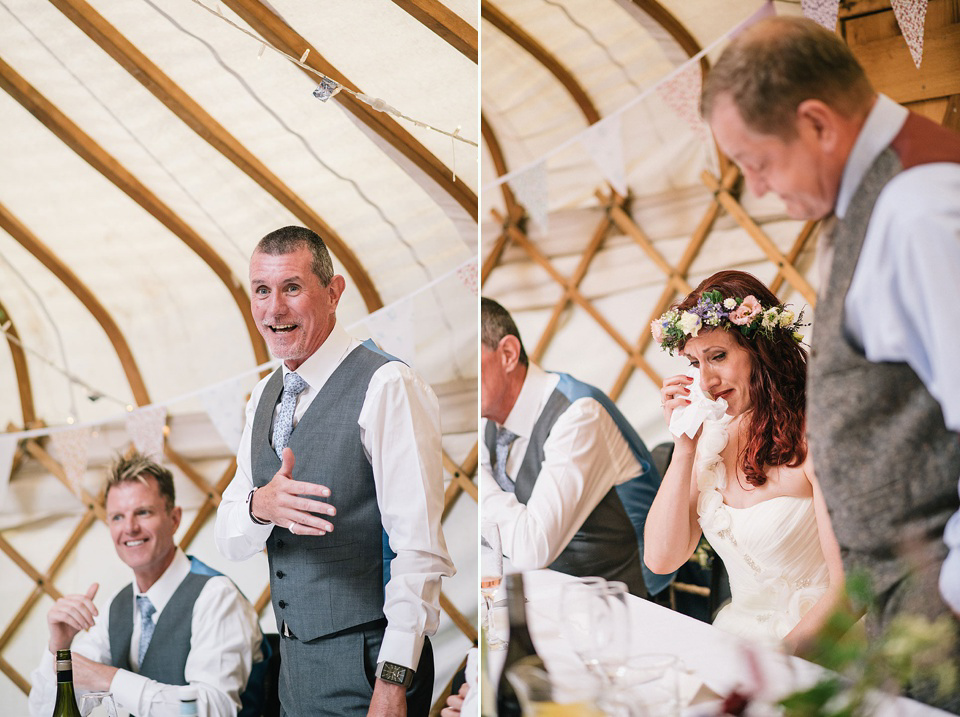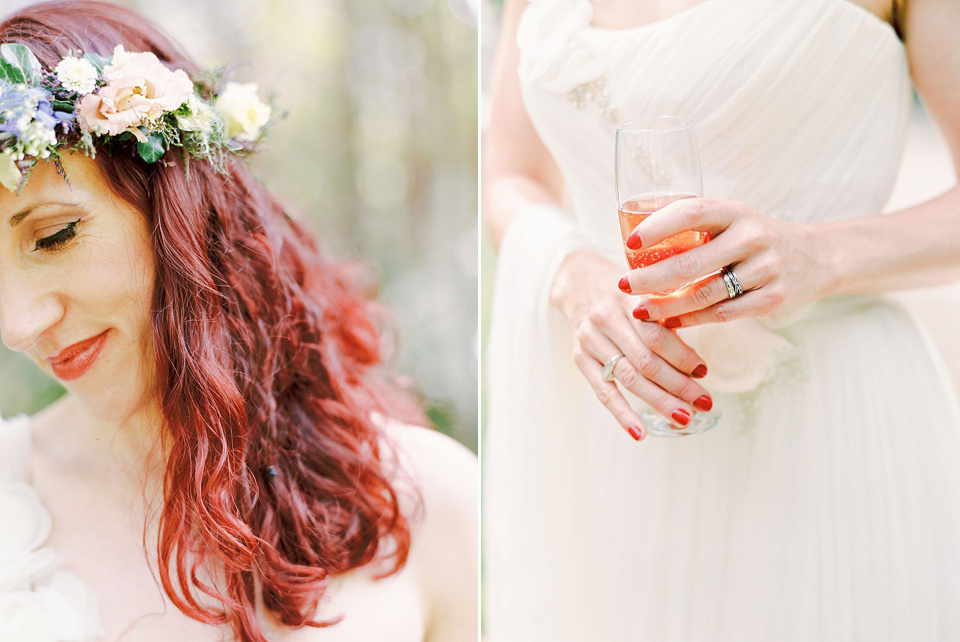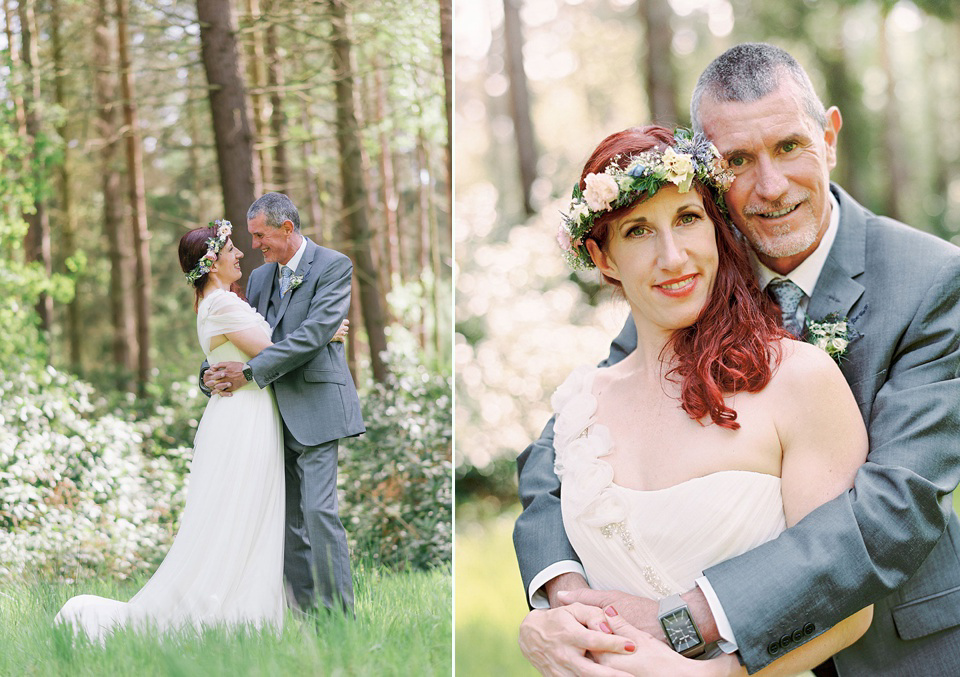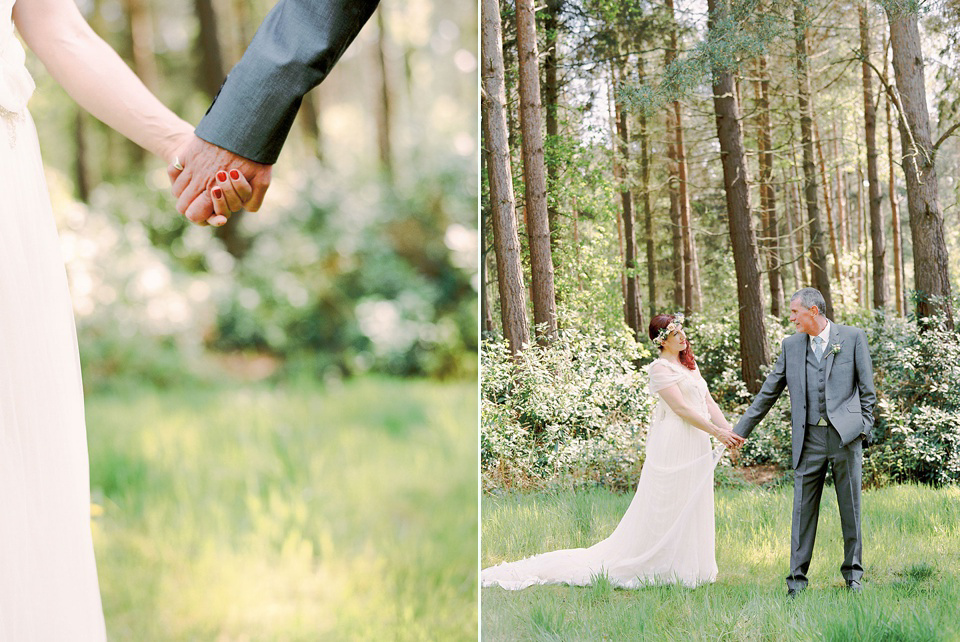 "On reflection, I would have had the train on my dress made shorter, it just got covered in twigs and leaves which tore the silk a little and the bustle didn't work with the material being so heavy and long so my friend had to find a way to tie this up so I could move about. Had we been inside the train would have been fine."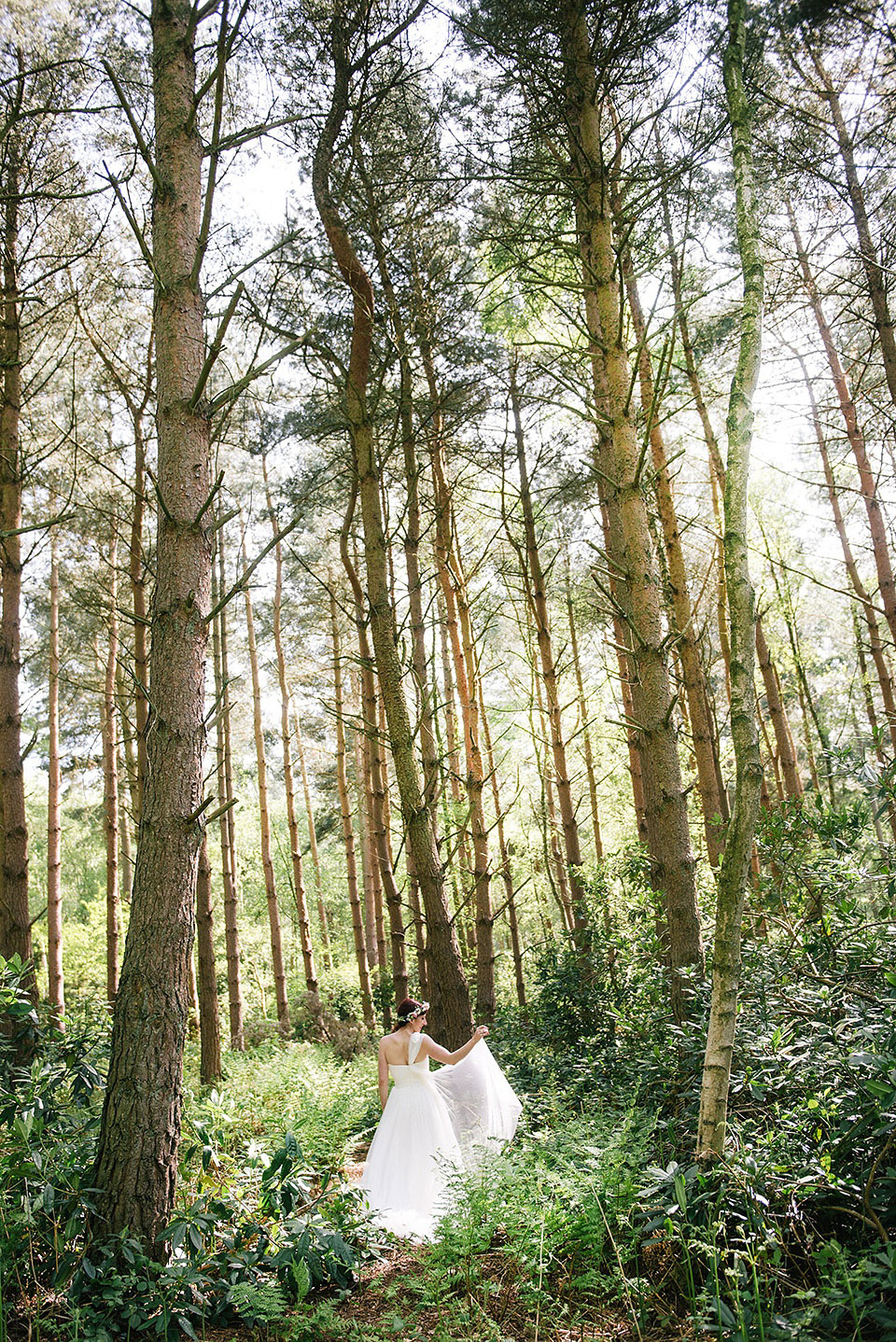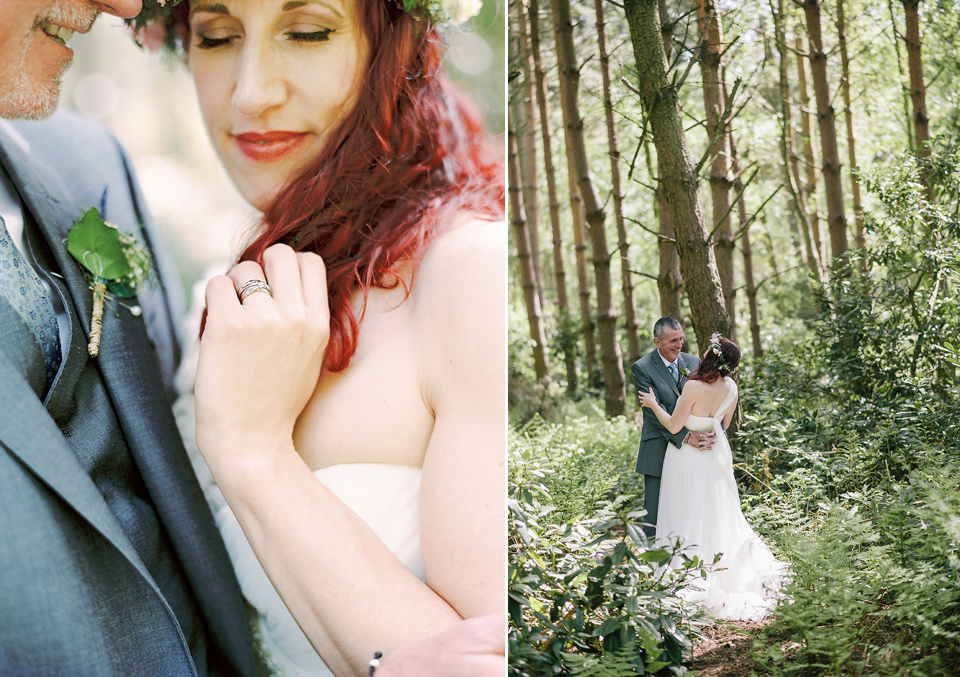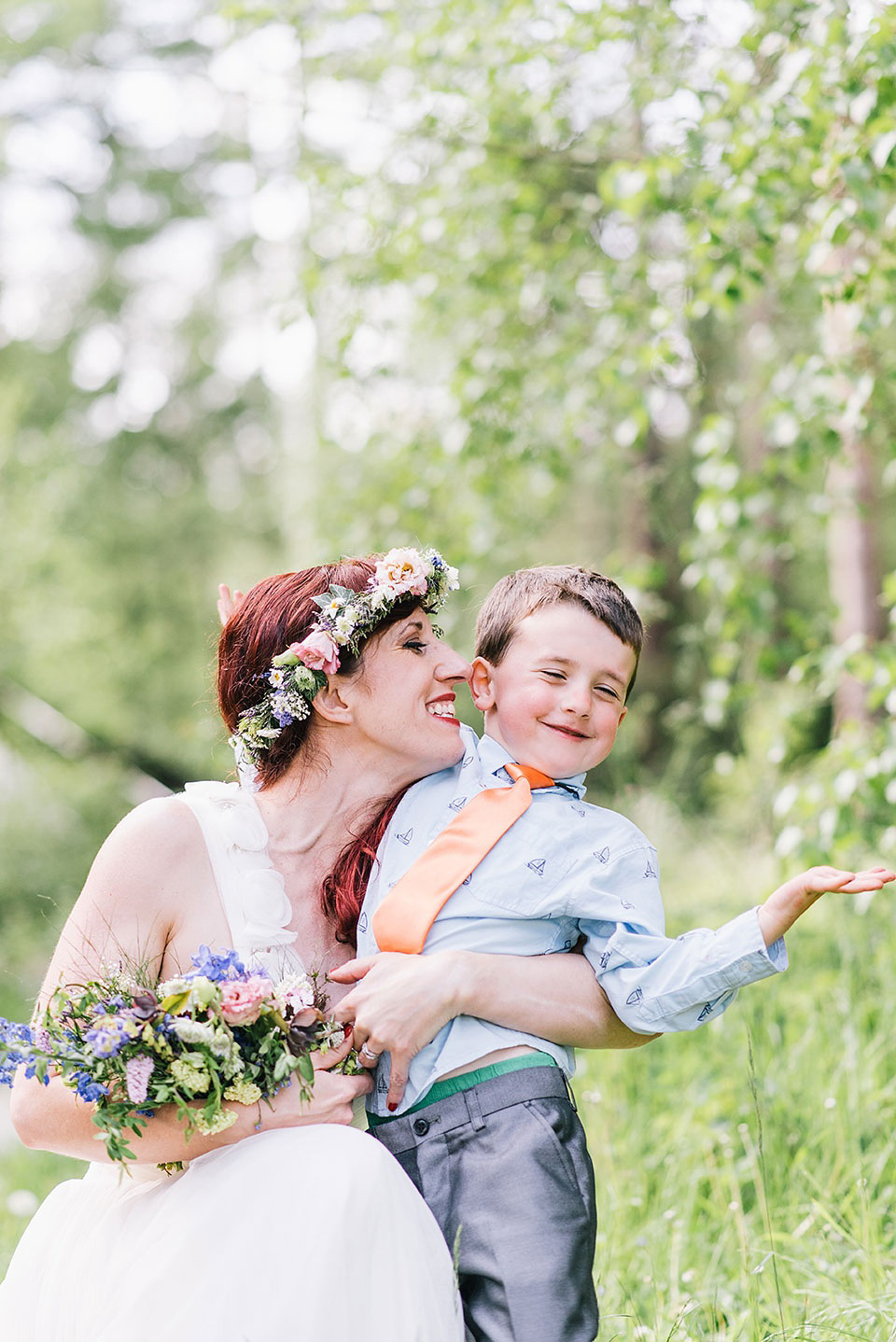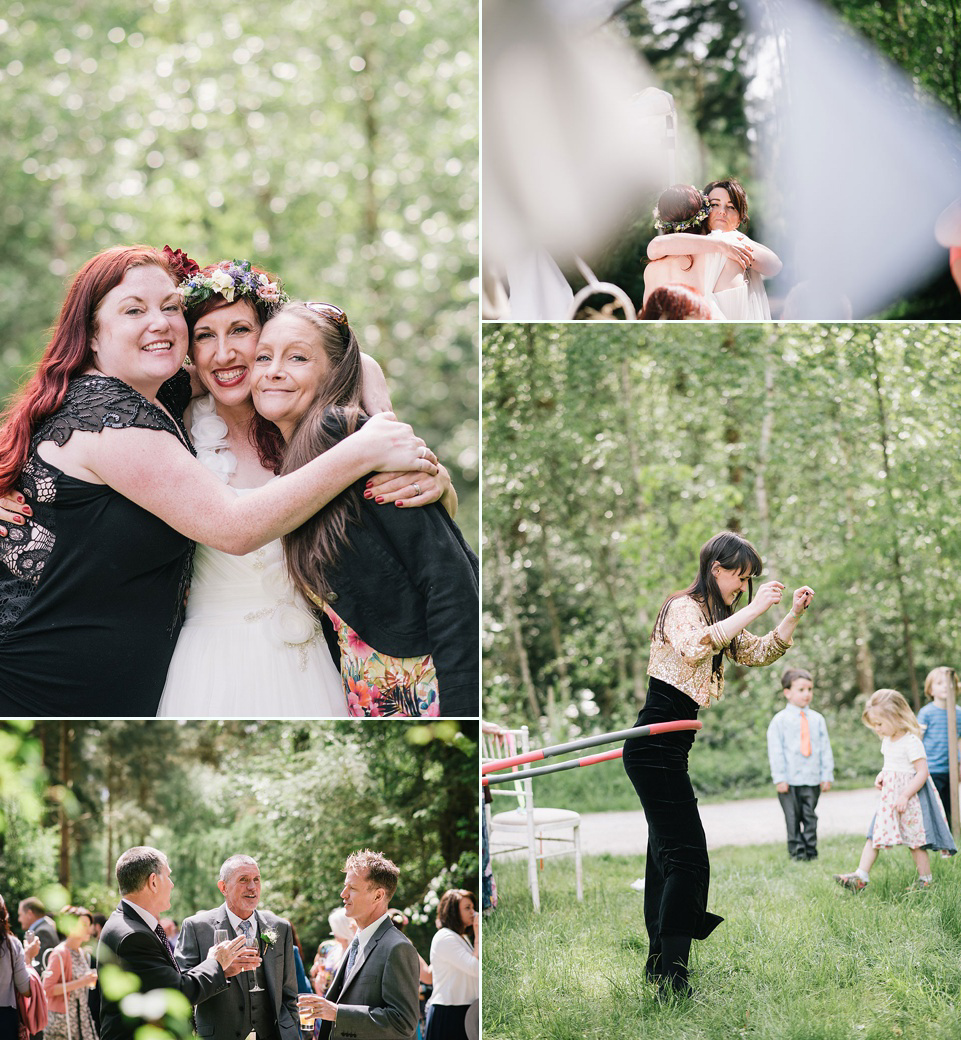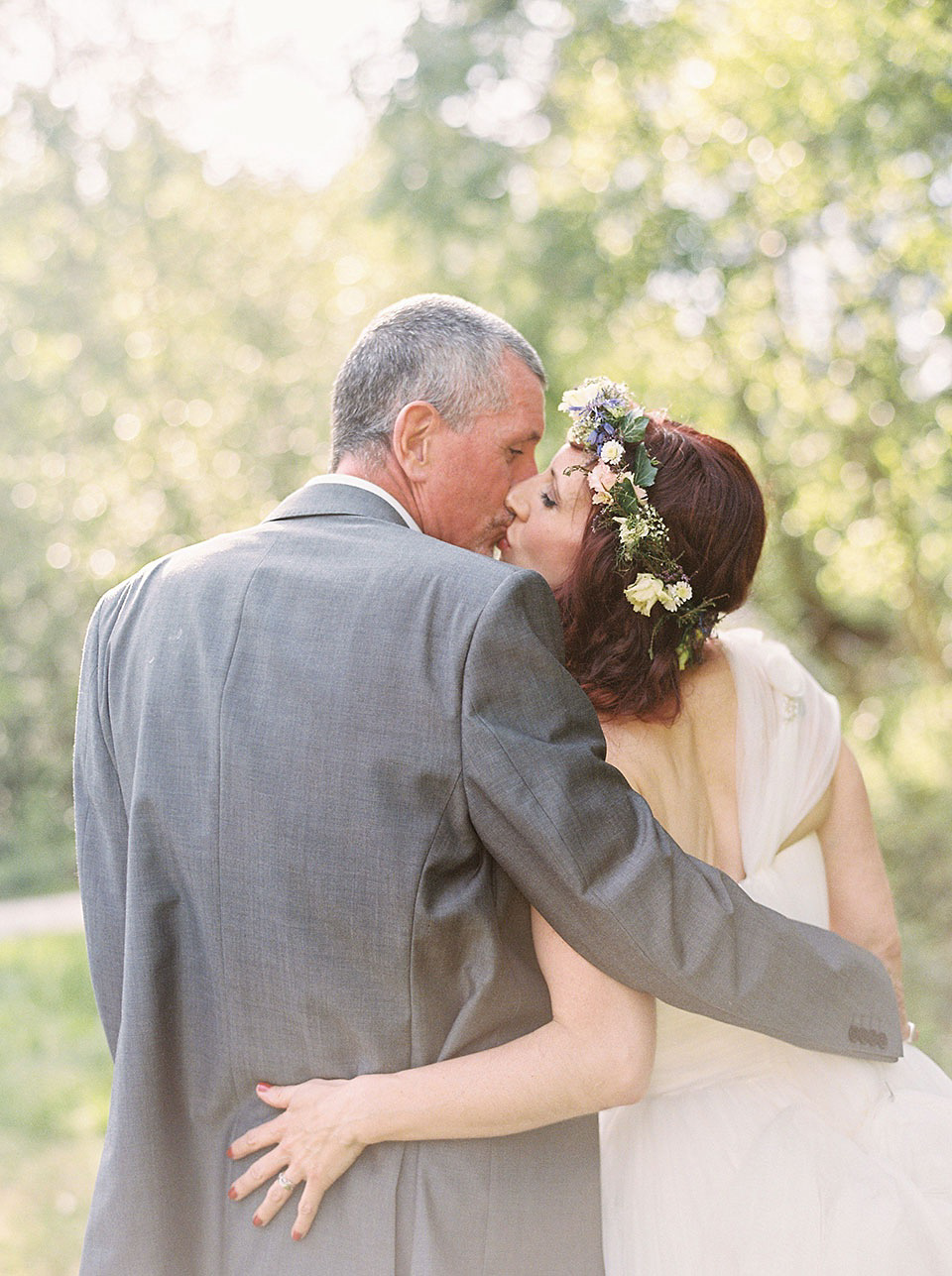 Words of Wedded Wisdom
"If you have a dream for your wedding, make this as possible as you can. The feeling I got from creating what we wanted was really empowering and special. Be creative-don't spend unnecessary money on the finer details like decorations-use Pinterest or ask a friend to help with ideas, also use people you know where possible with skills.
Use social media to ask for recommendations on the people worth spending more money on like your photographer/florist. (My friend got married and asked a friend who happened to have a smart camera to take the photos- she regretted this later especially once the 'photographer' friend had a few drinks!).
If you invite children, invite more than one so they can have fun while all the photos and speeches are going on as their attention span is minimal and give them something to do- little gifts, crafts or a dressing up box for example. This goes a long way, as weddings are often one of the few times family get to catch up with each other.  As long as the kids are safe and having fun-you can drink and chat and have grown up fun too.
Brides- If you have a buffet, make sure you eat!  I almost forgot to eat at our wedding because I was just so happy and busy talking! Everyone wants your attention and it's easy to drink, forget to eat and before you know it the day's gone and you're feeling queasy. Nominate someone beforehand to bring you food if they notice you're distracted."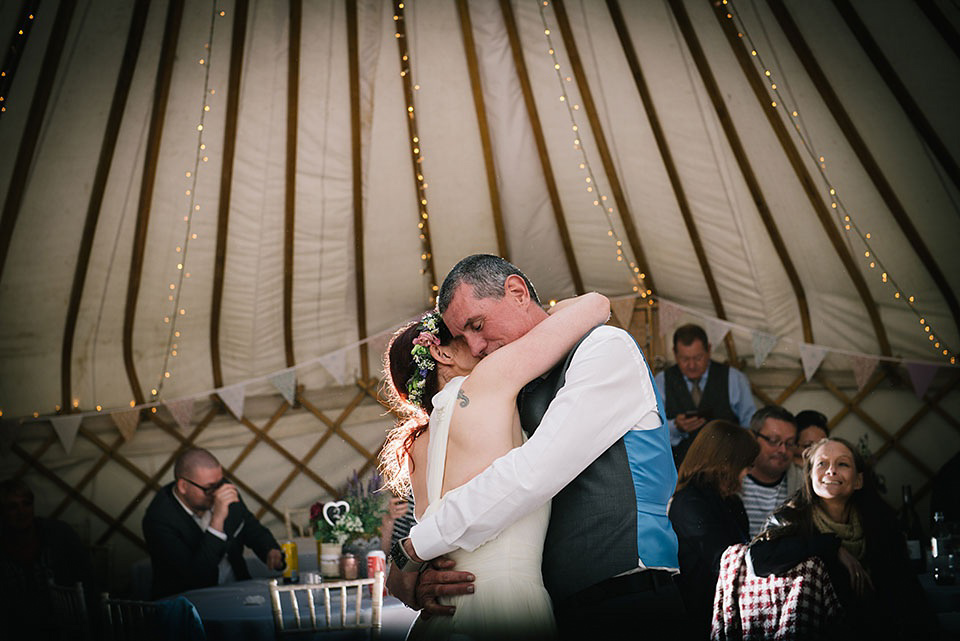 Thank you so much to Emily and Keith for sharing their magical day with us- huge congratulations on your marriage.  Thank you also of course to the talented Georgina Harrison for the gorgeous images.
For more of Georgina's work, take a peek here, and for more woodland weddings, walk this way…
Much love,
Shona x
Photographer – Georgina Harrison Photography
Venue – Jollydays, North Yorkshire
Celebrant – Colin Nolan
Wedding dress – Purchased from and altered by Blushes, Sheffield. 01142767908
Shoes – Style Shoes, eBay
Hair Accessories – Fresh flowers
Perfume – Happy by Clinique
Bridesmaids' dresses – Lightinthebox
Hair Stylist – Tracey McNeil at Sarah Jane Hair, Scarborough, 07805208299.
Groom – Suit and tie both from Marks and Spencer
Florist – Hearts and Flowers, Scarborough
Cake – Made by Emily's Aunt and Uncle
Wine and Champagne – Maison du Vin Ltd
Catering – Juste Nous, Leeds
Rings – H Samuel
Stationery – Vistaprint and Sainsbury's
Entertainment – Violinist Kate Chruscicka