Welcome to the weekend lovelies! I'm about to transport you to one of our favourite cities in the world, which played a very glamorous backdrop for this particular summer wedding. Marie and Dave  married on 5 July 2014 in New York with a splendid rooftop wedding at the Wythe Hotel. The couple wished to have a non-traditional wedding, holding their ceremony on the deck of the hotel's penthouse suite.
"We both liked the idea of a less traditional wedding ceremony – there wasn't a particular inspiration, but we did focus our attention on the venue's overall aesthetic and vibe, trying to avoid anything too formal or ceremonial. We wanted a special occasion while still being comfortable and natural for the two of us, our family and closest friends."
Photography by Forged In The North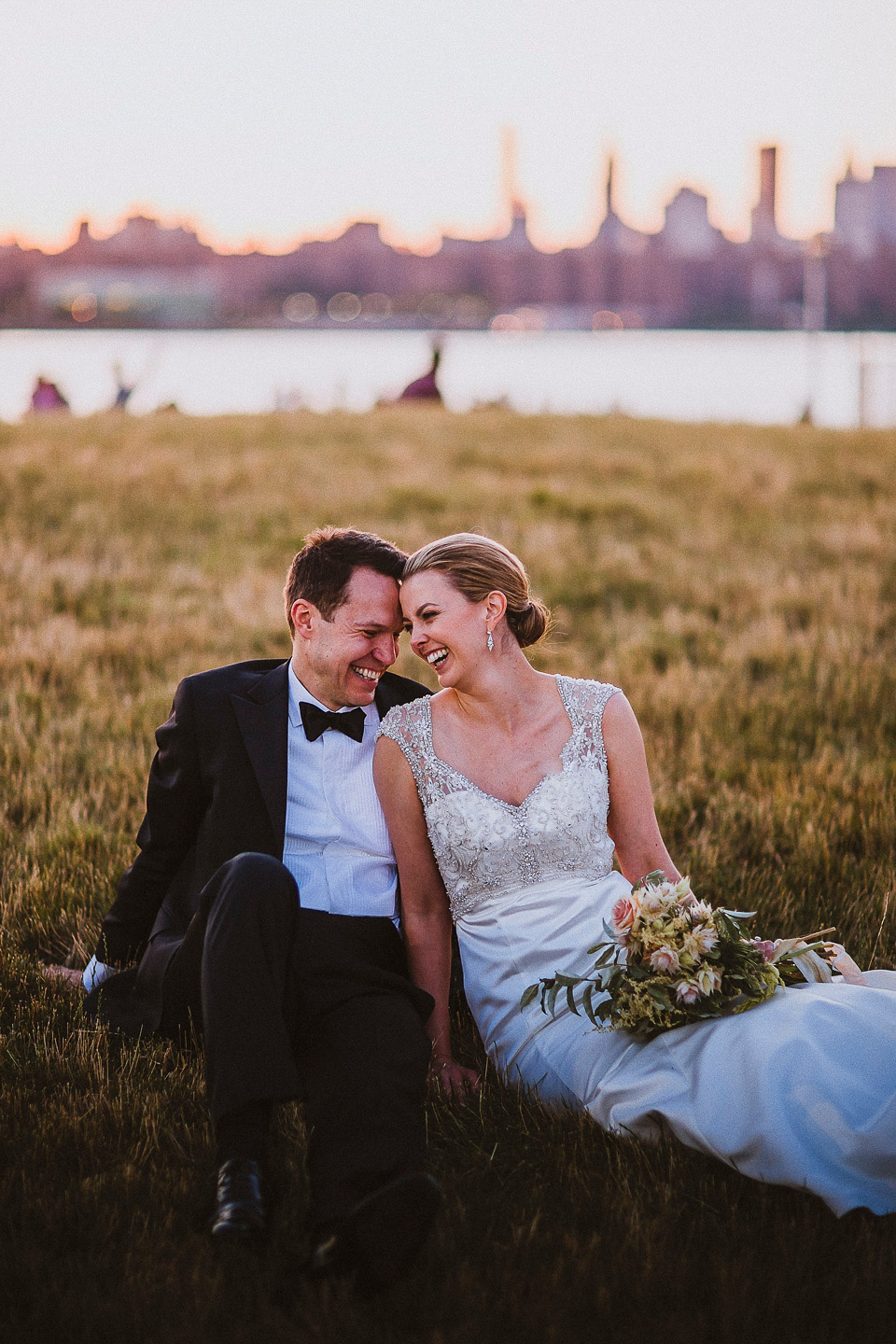 "It was by far the most amazing day of our lives. The feeling and intimacy of having the closest 50 people in your lives there for such a special moment is hard to even express in words. I knew the minute I stepped out onto the deck for the ceremony, that we'd the right choice to keep it small. I was able to look everyone in the eye and know that I would call this person on my worst day and on my best and they would come running. Our ceremony was filled with so much love and truly represented us as a couple."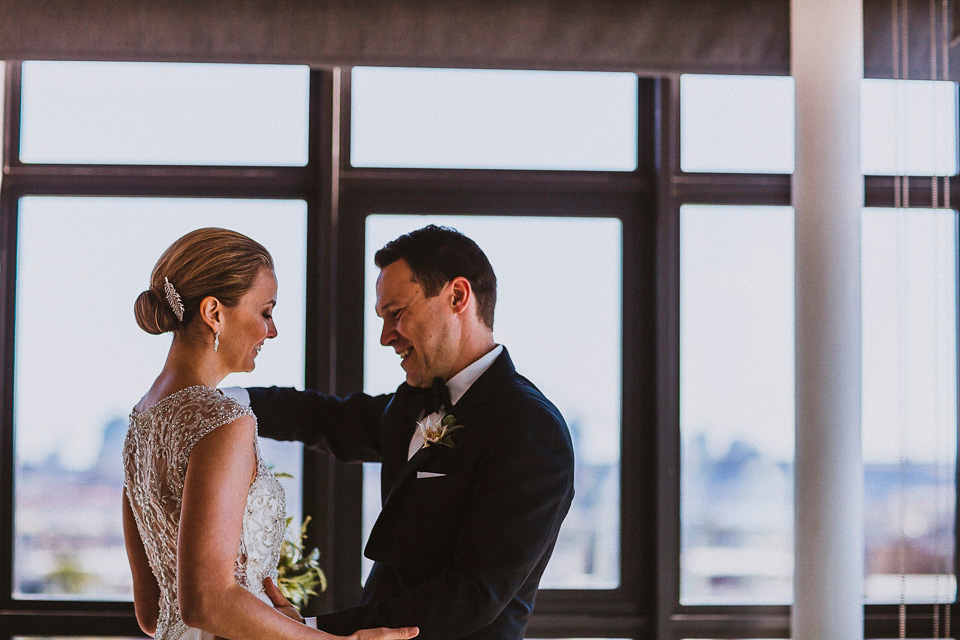 The bride chose the most elegant Mori Lee dress, with stunning beading on the bodice, sleeves and back, and all for a fantastic price.
"I loved my dress, as all brides do. I did a session of trying on dresses in New York City with one of my best friends. It was so much fun and I loved all the dresses I tried on but I was missing my mother. So I decided to fly home to Minnesota where I could try on dresses with her."
"Dave had a very specific look in mind for the photography and knew immediately Forged In The North were the ones. They're exceptionally skilled and artful, while also being kind and efficient, not to mention relaxing people to be around – a plus on your wedding day."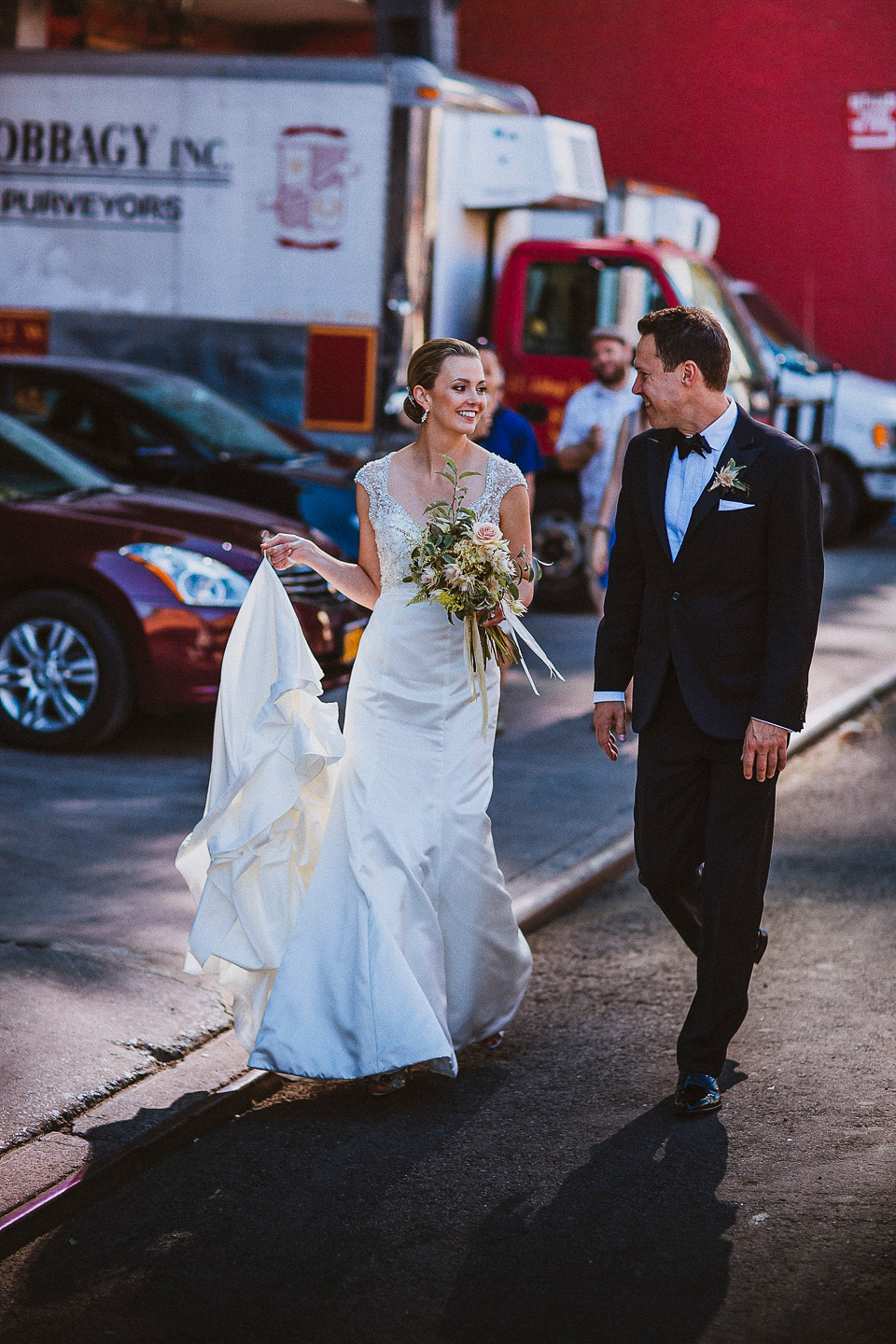 "We considered as possible venues the many hotels and restaurants we'd gotten to know and love in the New York City area, a location where we met and lived for many years, with Wythe Hotel being an ideal choice as a venue that could accommodate all our needs – ceremony, reception, great food and drink and lodging."
"Dave and I met on St. Patrick's Day of 2006 at a bar. I remember having a wonderful time with my girlfriends hopping around to different locations. We ended our night tour at the Irish bar Swift in Manhattan's East Village. Dave had noticed me earlier in the evening, but was feeling too shy to approach me. As he attempted to leave the bar he smiled at me and then proceeded to the door. But instinctively I tapped him on his shoulder and said, 'You're not leaving, are you?' I thought what a shame that this beautiful man smiles at me, the most gorgeous smile, and then walks right out of my life.
The good news is he stayed and we talked for the rest of the evening and if I remember correctly we were some of the last people to finally leave the bar. I don't think we wanted the night to end."
"We had been dating for five years when I decided I needed to attend graduate school, which happened to be located in Chicago. Dave proposed the spring before I left when he took me on a trip to Paris and Amsterdam. We did about two years of long distance before Dave moved to Chicago to be with me. We decided to wait until I completed my three-year program to marry. So after being together over eight years we returned to our original home and tied the knot. We could not have been more ready and thrilled."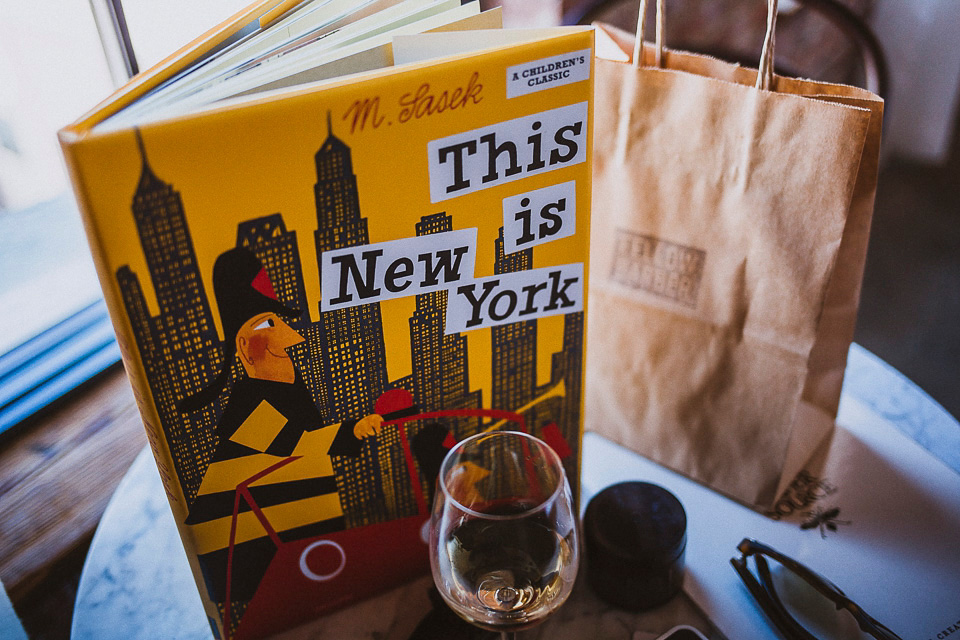 "I decided against a necklace with the dress's sleeves, bodice and back being fully beaded, as I thought a necklace would be too much. My sister gifted me my earrings. My clutch came from BHLDN – the art deco style of the clutch was a nod to the art deco influences at the hotel.
I went with the classic charm heels by Kate Spade in silver. I thought they added a bit of playfulness to my otherwise classic look."
Marie decided against wearing a veil and rented a few of her accessories, which is a brilliant way to keep costs down.
"I didn't wear a veil for two reasons. The dress's shear beaded back was the show stopping part of the dress and I didn't want to cover it up with a veil. Also our ceremony was outdoors and I didn't want to deal with a veil blowing all over the place. I do love veils, however, and in different circumstances I would have loved to wear one.
I rented a Ben-Amun hair comb and Ciner bracelet from Rent the Runway. It was a simple and affordable way to add to the look for the day. The comb retails for $245, but I rented it for only $35. I loved the bracelet and I have even considered buying it."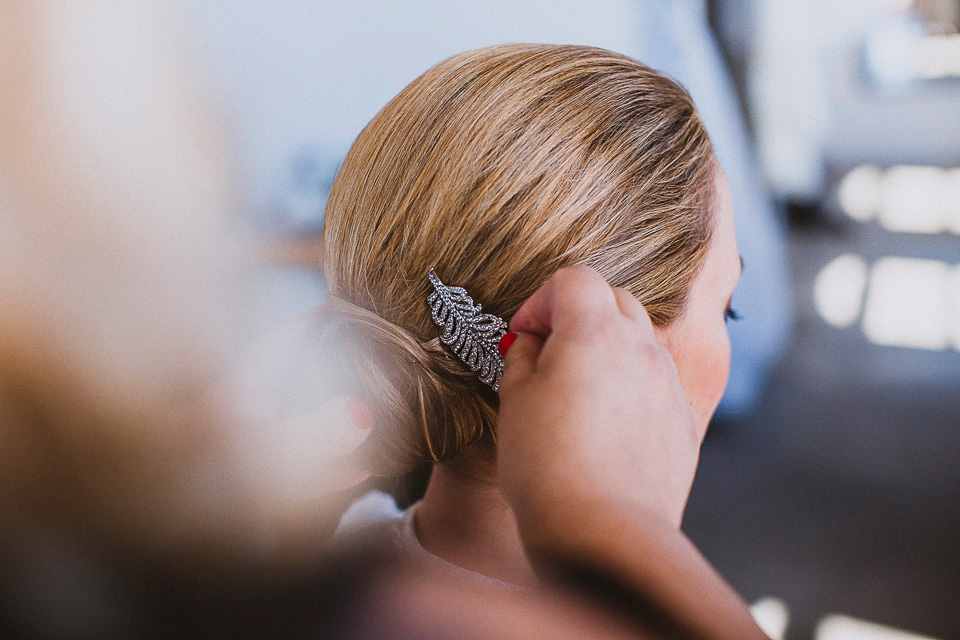 Marie was very impressed with her makeup and hair artists. Both did trials and kept the bride relaxed – a very important job in those few hours just before the ceremony.
"I highly recommend Clara Rae to anyone looking for a makeup artist. She really listened to what I wanted at my makeup trial and then did an even better job the day of the wedding. She really took her time and made sure I looked my best. She also did my mother's and sister's makeup. They both looked beautiful. Also Clara is such a sweet laid back person it felt like I was just hanging out with a friend. She really helped keep me relaxed the day of!
My hair was done by Alexandria Asaro from Ohh Nice Hair. She was also fantastic. My hair looked gorgeous and she kept me laughing. She also did my mother's and sister's hair. At the trial she was really accommodating and we tried all different styles before we settled on one. Once again, I highly recommend her."
The handsome groom donned a Ralph Lauren tuxedo, shirt, bow-tie, cumberbund and cufflinks and Salvatore Ferragamo patent leather lace-up shoes. The couple chose to have first look photos – is this something that you are thinking of doing for your upcoming wedding day? I love the intimacy in these shots by Ryan and Heidi from Forged In The North, when the bride surprised the groom with a present and his first glance of his soon-to-be-bride.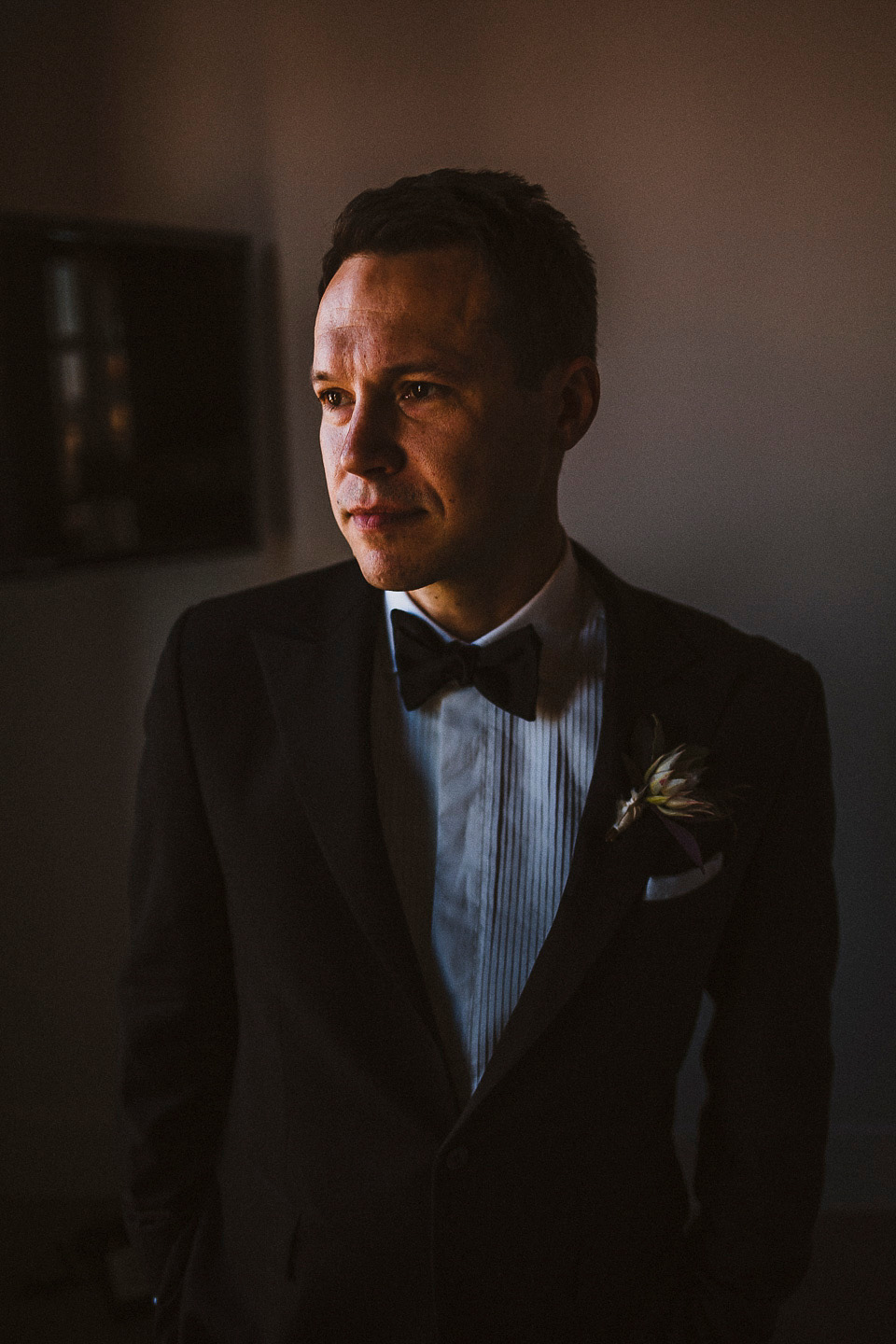 "Our florist was Taylor Patterson, owner and creative director of Fox Fodder Farm. I loved Taylor's thoughtful, unique and relaxed designs. Because Taylor was so talented, it was easy just to tell her some of the types and colours of flowers we are drawn to and then we let her do the rest. It was one last thing to worry about. We were so happy with the results."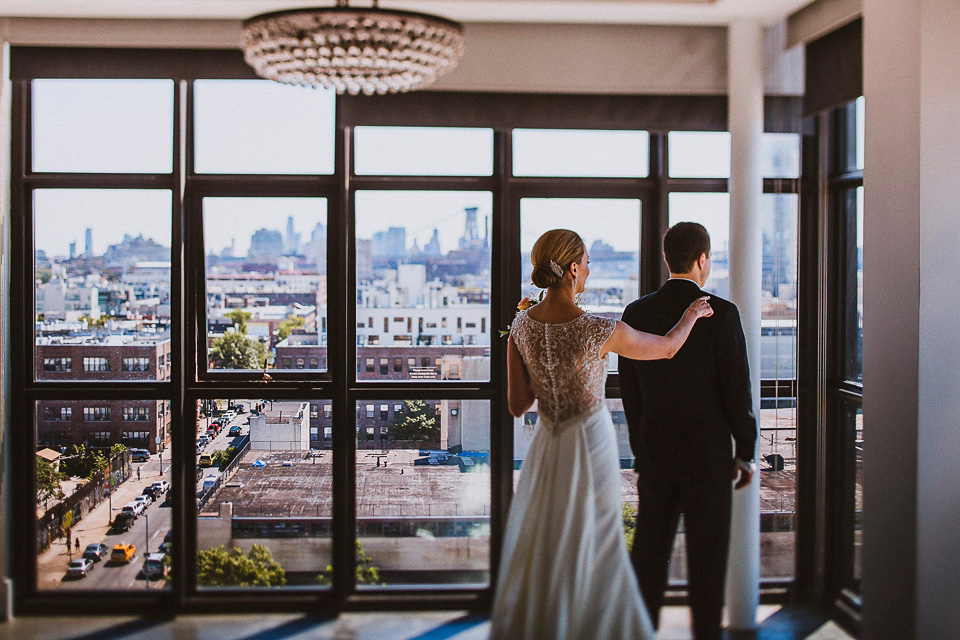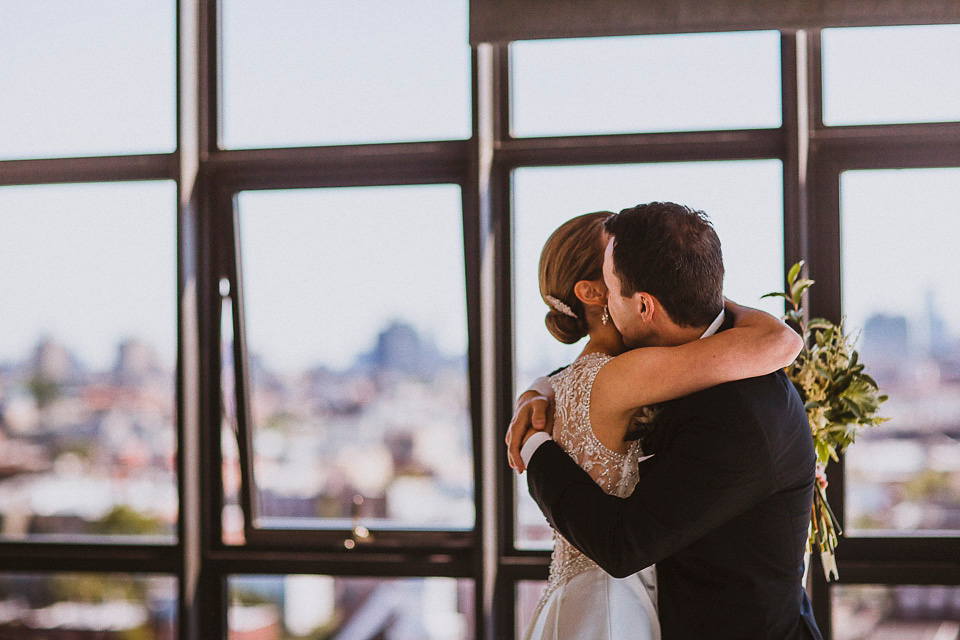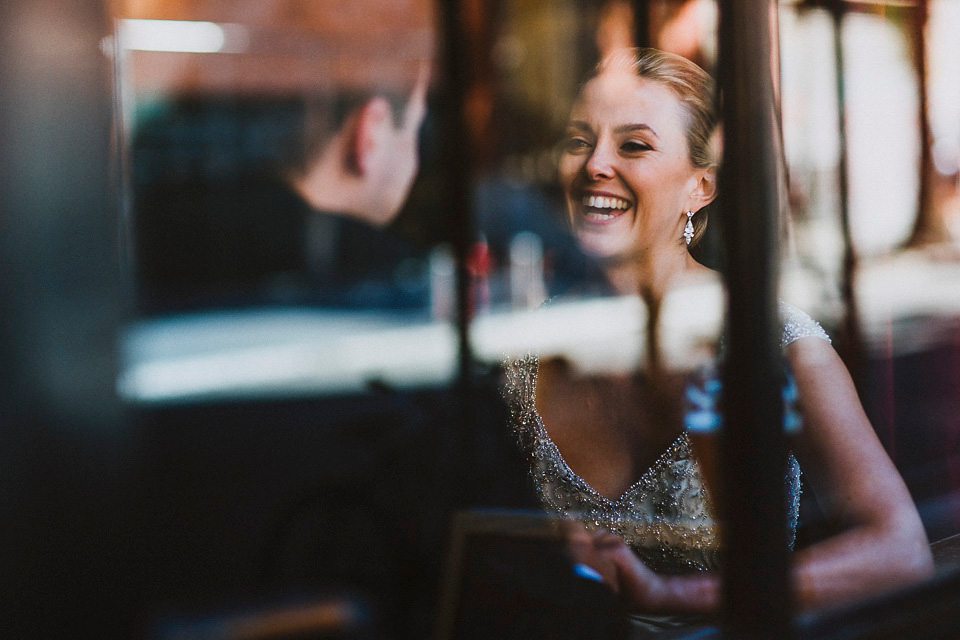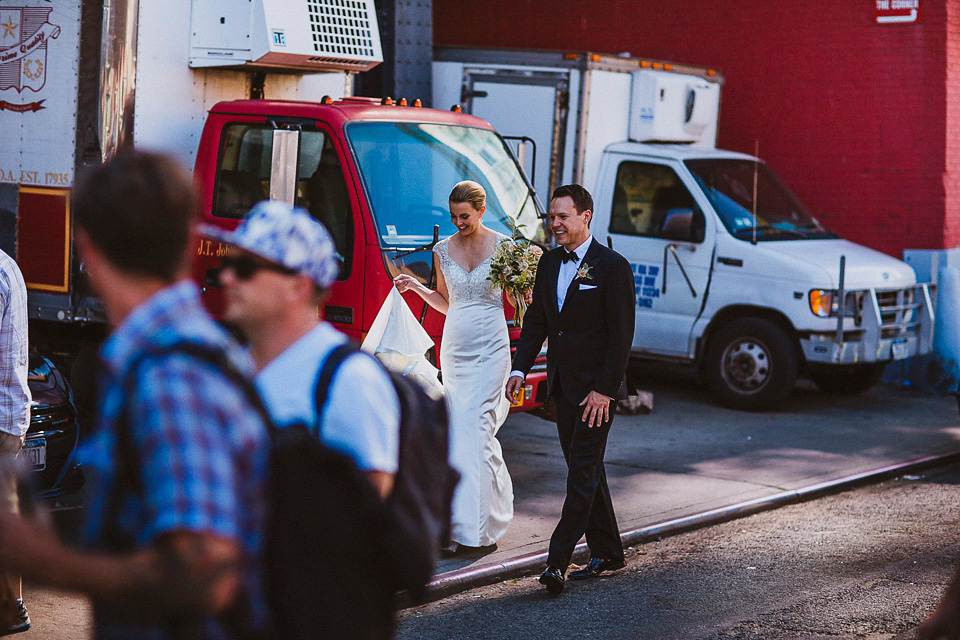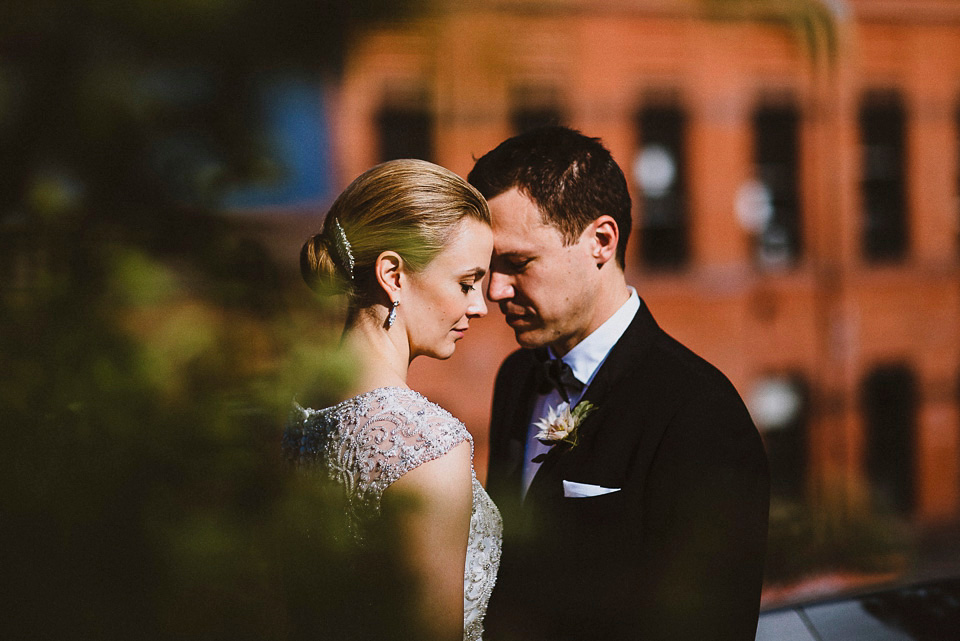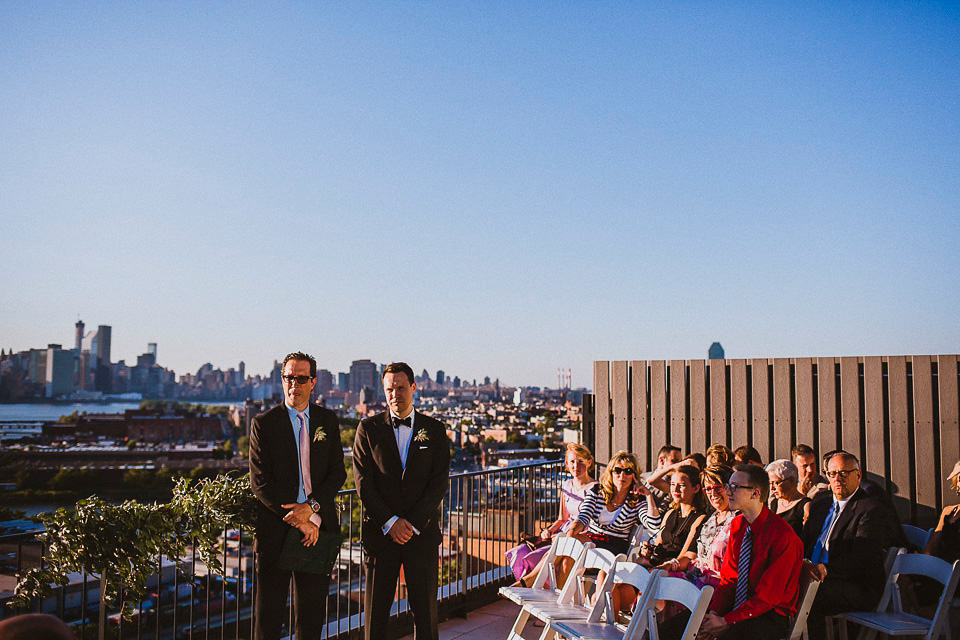 With the beautiful backdrop of the city behind them, the bride was walked down the aisle on the deck of the hotel's penthouse by her parents to 'Sea of Love' by Cat Power and, being music lovers, the couple worked their favourite songs into the informal ceremony, including a few Beatles classics performed acoustically by Marie's brother, who also married the couple.
"Both my parents walked me down the tiny aisle, but I loved what my mum said prior to our wedding day, 'Neither your father nor I are giving you away. You're a grown woman making her own choice to create a union with her partner. We are just here to support you on that. To give you away means we own you and we don't and nor will your husband.'
We asked Dave's brother, who was marrying us, to reflect that in the way he started the ceremony. I think in lieu of saying who gives this woman away he said who supports this woman in marriage. I love that my mum said that."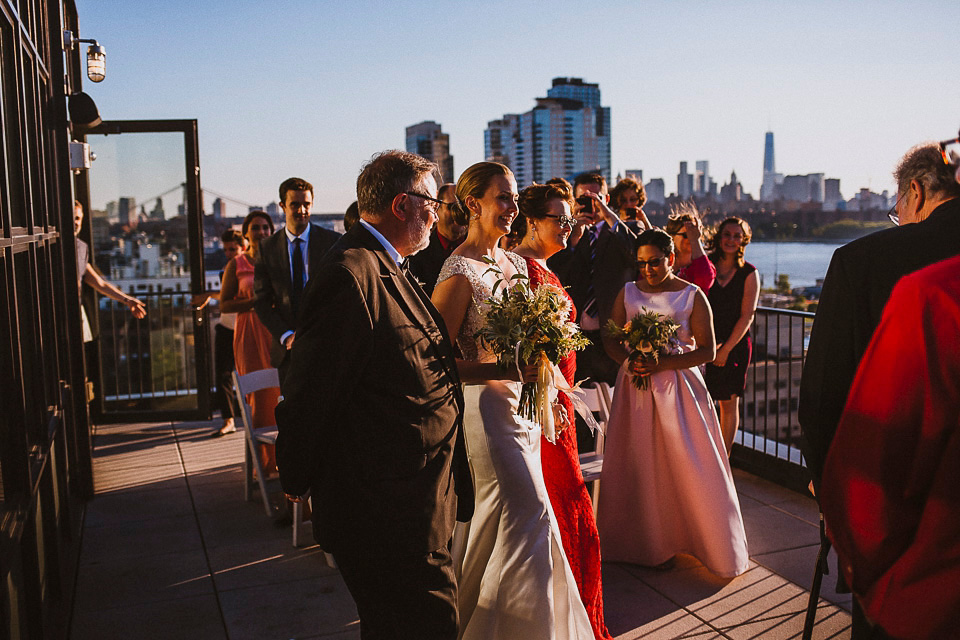 "During the ceremony our wedding bands were passed around with each person blessing them with their love. During this time, my brother played the guitar and sang a mash up of The Beatles songs 'All You Need Is Love' and 'Girl'. It was hauntingly beautiful and brought most everyone and me to tears. I wish I had had someone record him singing. But it is forever etched in my heart."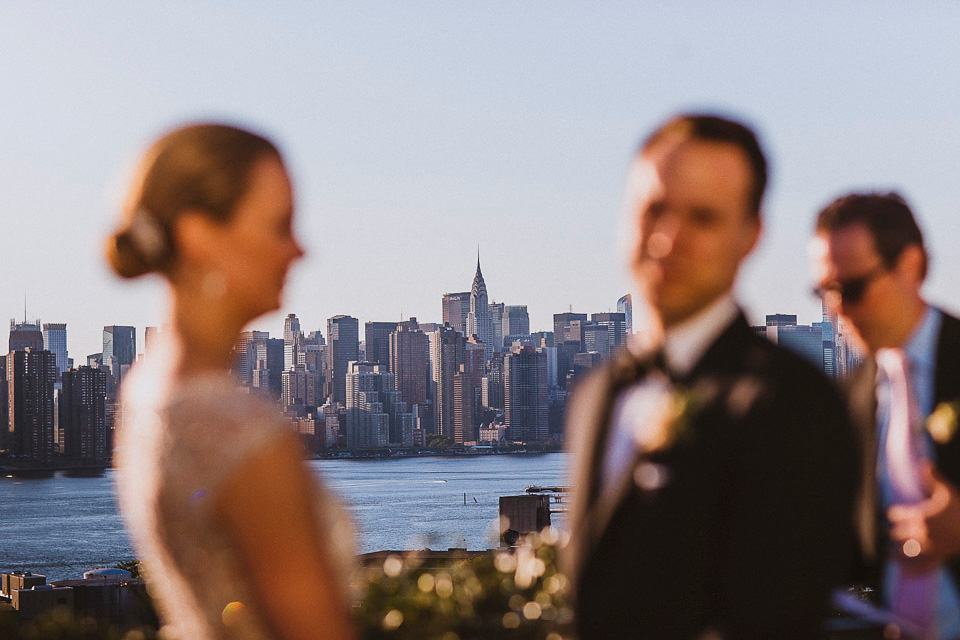 Marie's niece read an excerpt from The Velveteen Rabbit by Margery Williams as a special touch for the bride and the ceremony included readings written by their mums.
"I had a rabbit collection growing up and always had a special spot in my heart for rabbits. Not to mention it's a beautiful piece of writing about unconditional love and growing old together.
We also had each of our mothers get up and read aloud a piece they had written about us. We just asked them to write about our lives as young ones entering the world up until what brought us here today. They were amazing. They were beautifully written and absolutely hilarious at times. I thought it added a really nice personal touch. I still have copies of what they both read and it will be fun as the years go on to re-read them."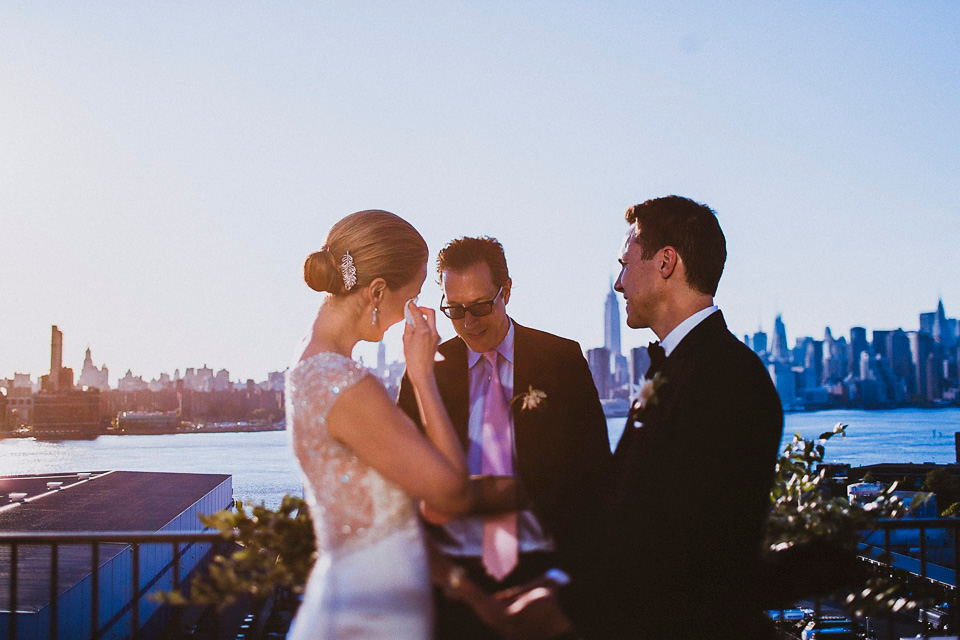 "My engagement ring and wedding band came from Marisa Perry, a local jeweler in New York City. Dave knew I was really drawn to micro-pave bands and their designs specialize in that. They were wonderful with us from beginning to the end. They still recognize us when we walk into the store and take care of any repairs no questions asked.
Dave's wedding band is a platinum band from Jelena Behrend Studio, a boutique designer located in New York City."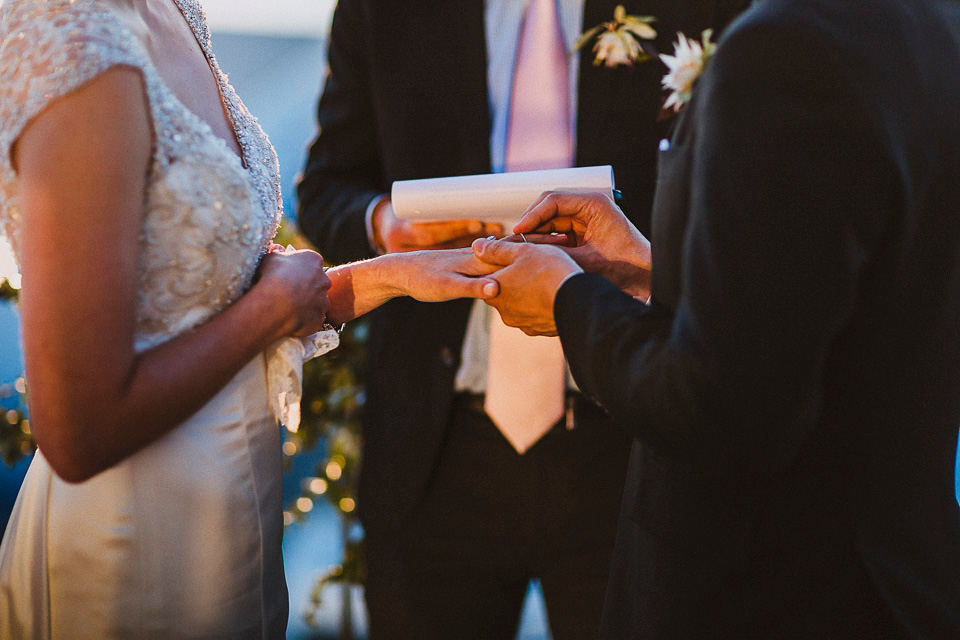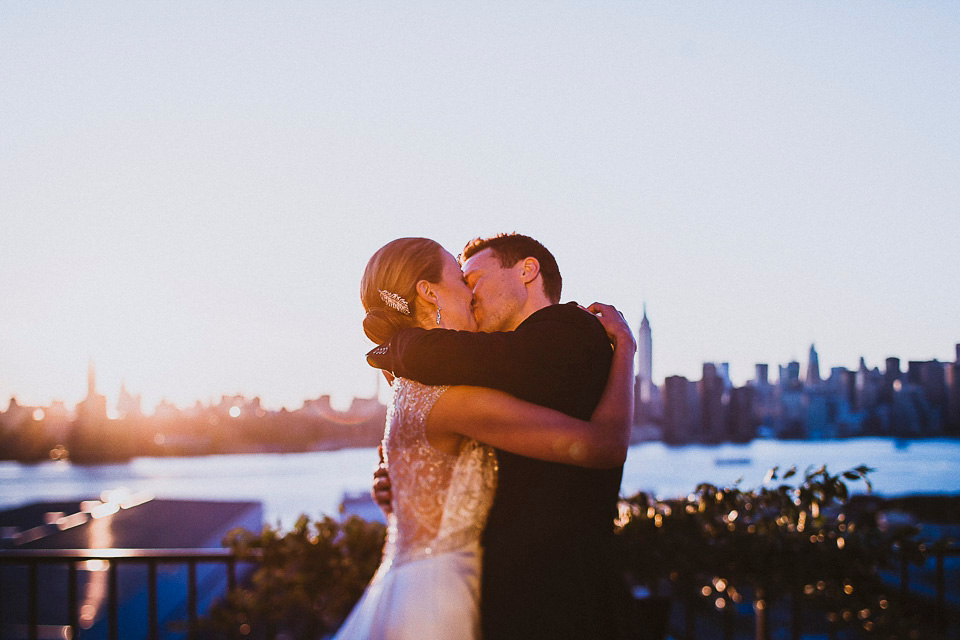 "On the day of, I would not have done anything differently. I knew this was our day and that no matter what I was going to enjoy it and not let anything get me upset. Which is harder said then done I realize. Emotions are high and a lot of thought and planning goes into this day and it is easy to get wrapped up in the small stuff. But I promise you your guests don't care about the small stuff, so why should you. Just let it go, breathe and live in this amazing moment."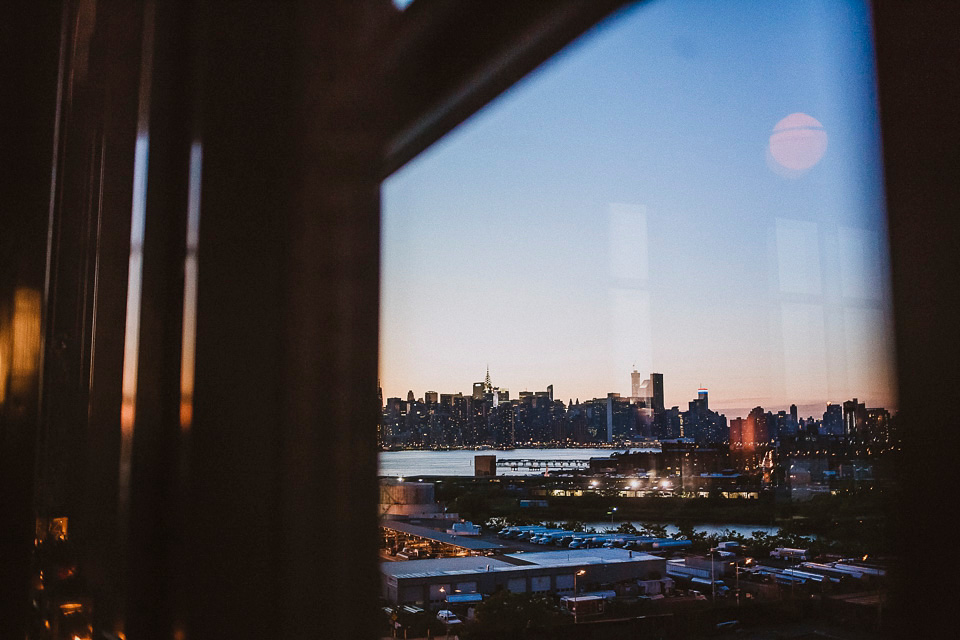 With those amazing views of the city, the couple didn't need to worry with decor for the venue. And the hotel impressed with their cocktails, canapés and arty cake.
"We just had flowers and candles for the decor. It's hard to compete with sweeping views of Manhattan, nor would you want to. We wanted the city to be the focal point and knew the beauty of the room and views needed very little decor."
Being New Yorkers and foodies we didn't want to compromise on the food. Having a top restaurant in Brooklyn like Reynard cater your wedding is one way around that. In lieu of a sit-down we did passed and stationed canapés and cocktails. It kept the energy flowing and the guests mingling.
The pastry chef, Erin Kanagy-Loux, designed and created our cake. It was one of my favorite things. It was a work of art! The bottom tier was chocolate stout cake with salted caramel butter cream and the second tier was vanilla bean black pepper cake, filled with fruit compote iced with whipped cream. As for the design I was asked to pass on some cakes designs I liked. I could not have picked two more different looking cakes."
"The first one was all white with a very detailed white piping design to look like flowers. It was really graphic and looked to be time consuming. I was worried it would be really complicated and perhaps not easy to pull off, so I also sent a picture of a "naked" (unfrosted) cake with glazed fruit as I was also drawn to those. Erin came back with the idea that the bottom layer would mimic the first all white cake while the second tier would be a naked layer. The results…flawless beauty!"
A trusted friend of the groom's manned the playlist for the night … and Marie had a little surprise for her new husband with the first dance.
"I found the most perfect song called 'All the Way to New York City' by Rosie Thomas. It's about a couple wanting to move to New York and just having moved to Chicago ourselves we were missing New York so much. The lyrics really hit home and it felt like the song was written about us. So I surprised Dave with our first dance. I'm a singer and I have some friends who play instruments and we recorded the song. He was pretty surprised because I kept telling him I didn't want to do a first dance, but I had to keep him from planning something since I had this up my sleeve."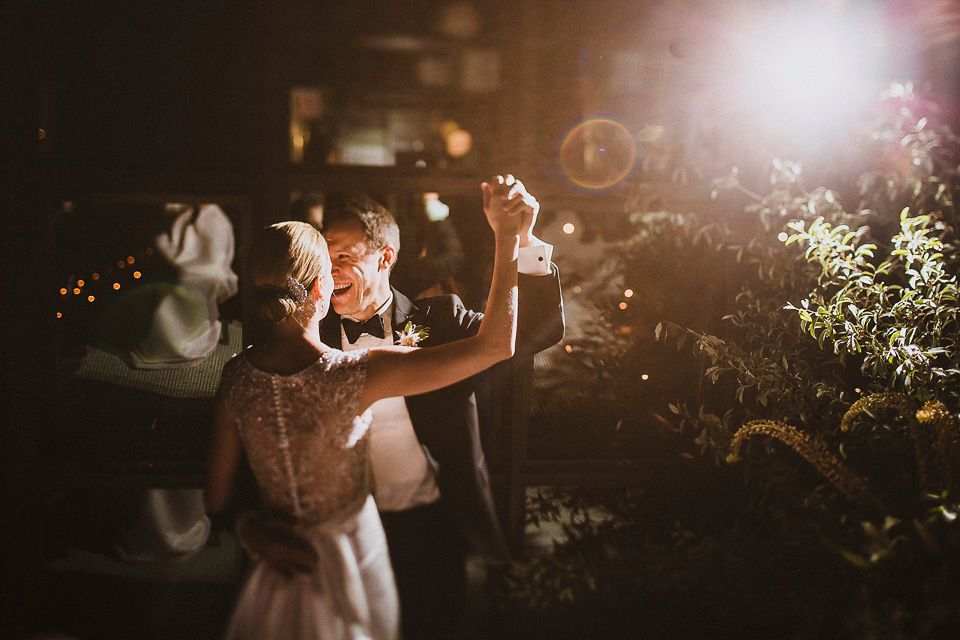 Words of Wedded Wisdom
"Pick photographers that you would like to hang out with in a social setting. Someone who you could see being friends with. Besides my husband they are the people I spent the most time with on my day. They were there for the intimate first looks, the getting ready, and the running around the city, just the four of us, visiting all the places that had special meaning to us. They were front and center at our first dance and the cake cutting and the list could go on. Funny because I hadn't thought of that and, in fact, since we were planning our wedding from Chicago, we hadn't even met our photographers, Ryan and Heidi of Forged In The North, until the day of. We just REALLY lucked out when they turned out to be the coolest, nicest, laid back couple who also happens to capture photos of your day that are works of art and beauty.
They had just been married the year before and it was really special to see them work together and see them treat each other with such kindness and respect. Several times I thought they are an amazing example of the married couple I want to be."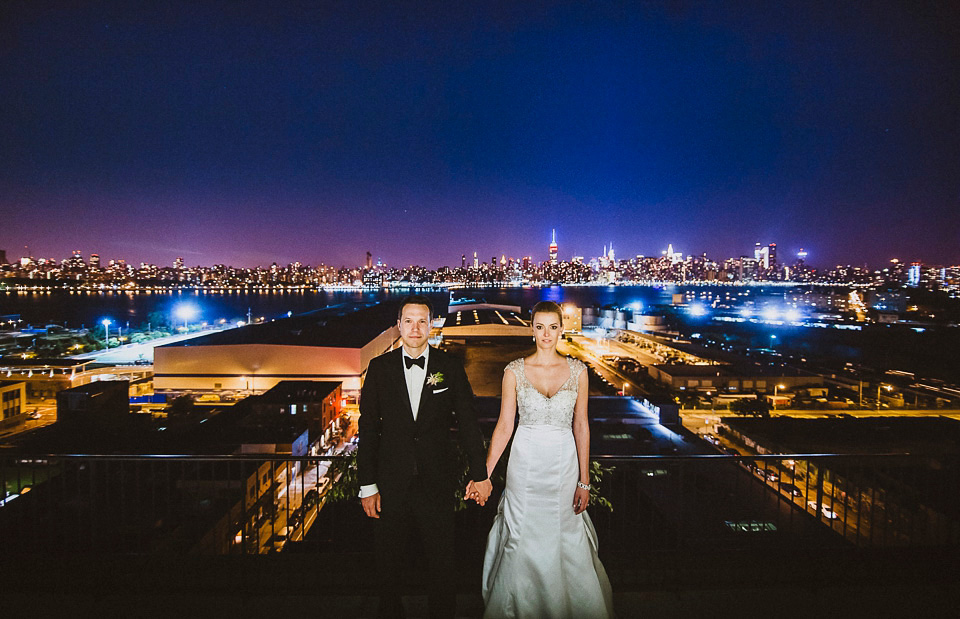 I hope you've been inspired by Marie and Dave's very romantic New York love story. A very big thank you to Ryan and Heidi for sharing these fabulous photos – you have oodles of talent and I am in love with the shots of the sun setting over that magical skyline. I wish the happy couple all the very best and keep having fun adventures together – that's what it's all about.
And be sure to see here for more New York weddings we've previously highlighted on this beautiful blog.
Wishing you a relaxing weekend everyone!
Jo x
Photographer – Forged In The North
Venue + Catering + Cake – Wythe Hotel
Dress – Mori Lee
Shoes – Kate Spade
Jewellery and Accessories – Ben-Amun hair comb and Ciner bracelet via Rent the Runway, earrings from the bride's sister, and clutch from BHLDN
Groom – Tuxedo and all accessories from Ralph Lauren and shoes from Salvatore Ferragamo
Florist – Fox Fodder Farm
Rings – Marisa Perry and Jelena Behrend Studio
Stationery – Designed by the groom
Makeup Artist – Clara Rae
Hair Artist – Alexandria Asaro from Ohh Nice Hair
Entertainment – Playlist by a friend of the groom