Hello you lovely lot, thanks so much for stopping by.  I have a special treat to get you in the mood for the weekend ahead. It's a delightfully relaxed wedding set in a locale close to the bride and groom's home – so close they even walked to the ceremony and venue – and is brimming with divine images by Miss Gen Photography. Meet Zoe and Luke, who tied the knot on a beautiful summer's day on 4 July 2015 in Camberwell, south London. Zoe works for a sustainability charity and Luke is a composer and they were very keen for their wedding day to have a very personal feel to it and be held close to home.
"I grew up in Camberwell and Luke has lived here for ten years. We both live in Camberwell now, and so wanted to get married close to home. We got married in the bandstand in Myatt's Field, and the reception was at The Grand Union. We just wanted our wedding to really feel like us. My brief to my wedding dress designer was that I didn't want to look like a bride as such. I wanted to look like me, just on a good day!
Photography by Miss Gen Photography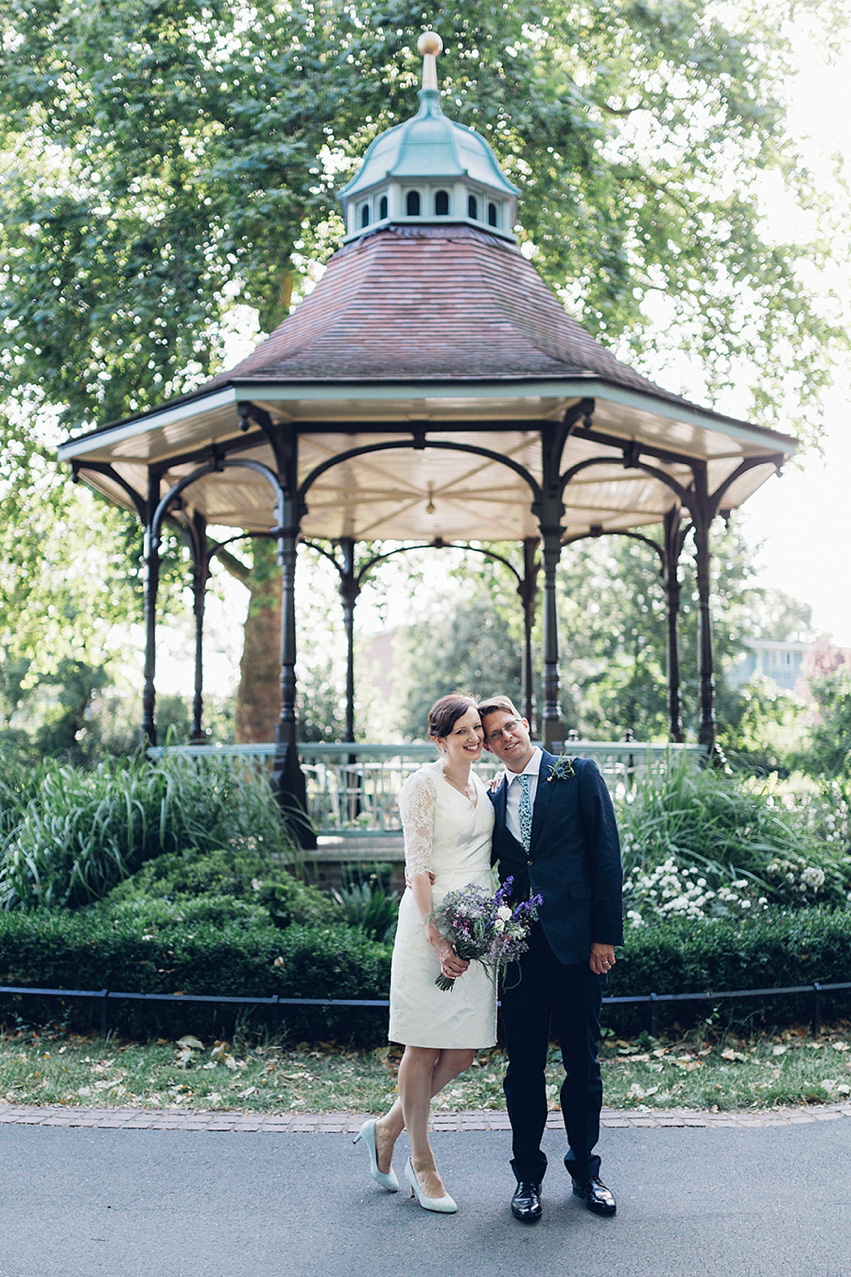 "My dress was designed and made entirely for me. Faith Caton-Barber spent time getting to know me, understanding my own personal style and how I wanted to feel on my wedding day. She skillfully translated this into a dress that was chic, smart, and fitted me like a glove."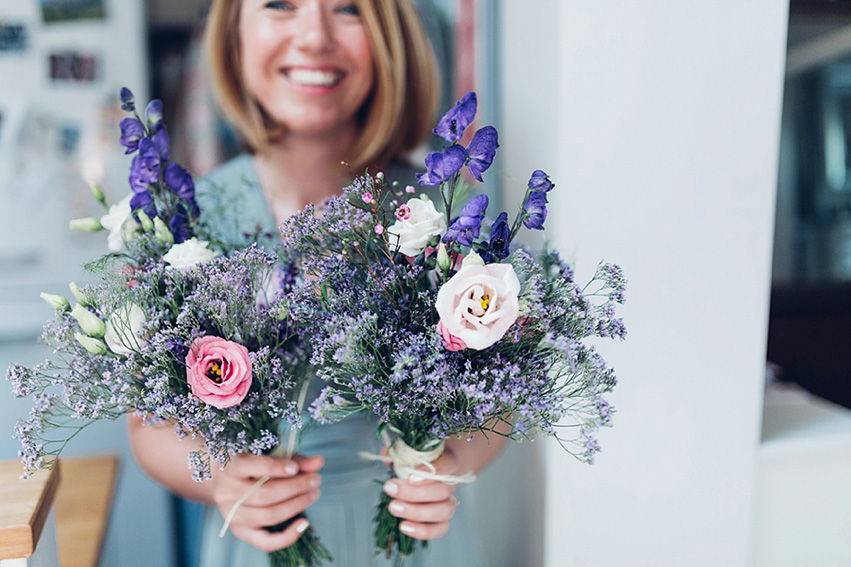 "The combination of lace and duchess satin was utterly beautiful and the silk lining meant that I felt comfortable and cool, despite the twenty-degree heat. I felt like a million dollars – and couldn't stop smiling as you'll see from the photos!"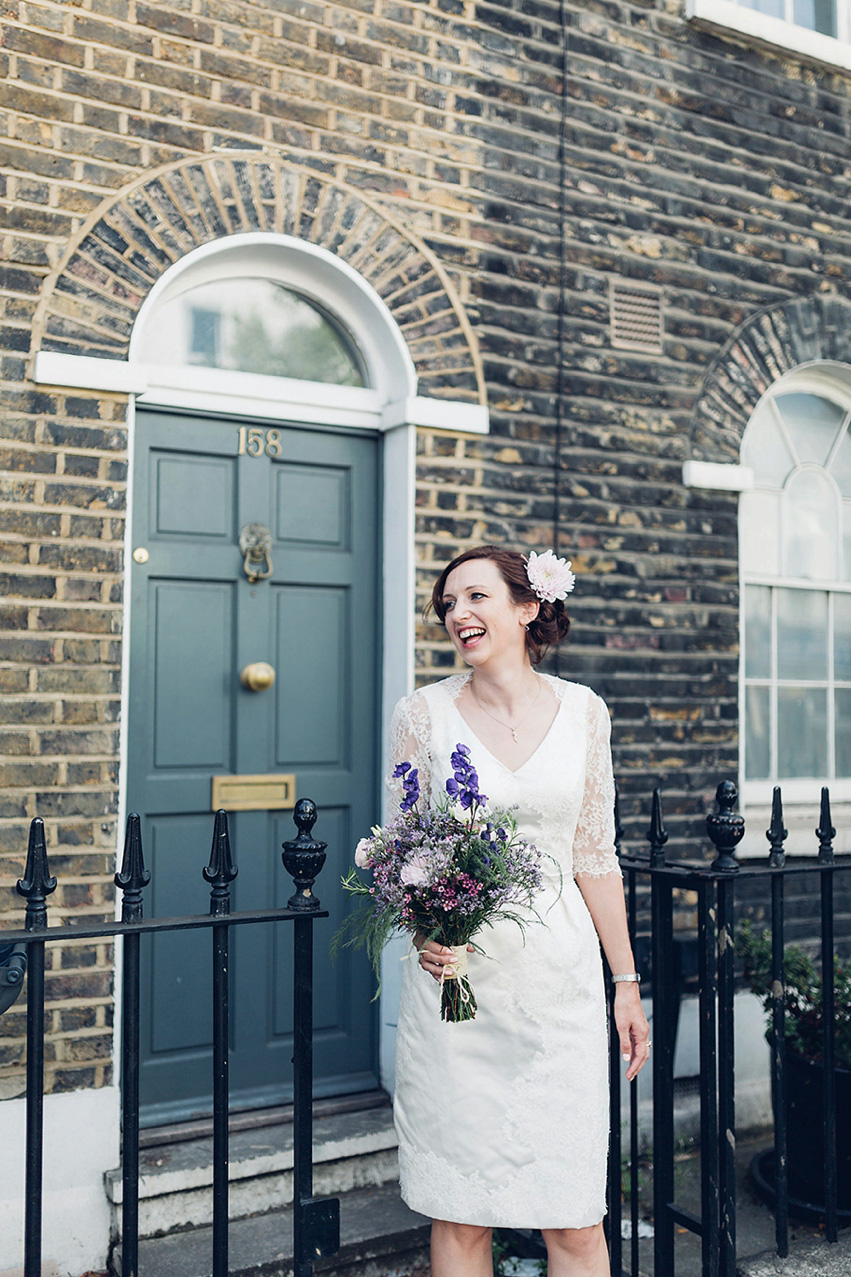 The four maids wore lovely pale green gowns from Marks and Spencer and sprigs of lavender in their hairstyles, created by Ellia White.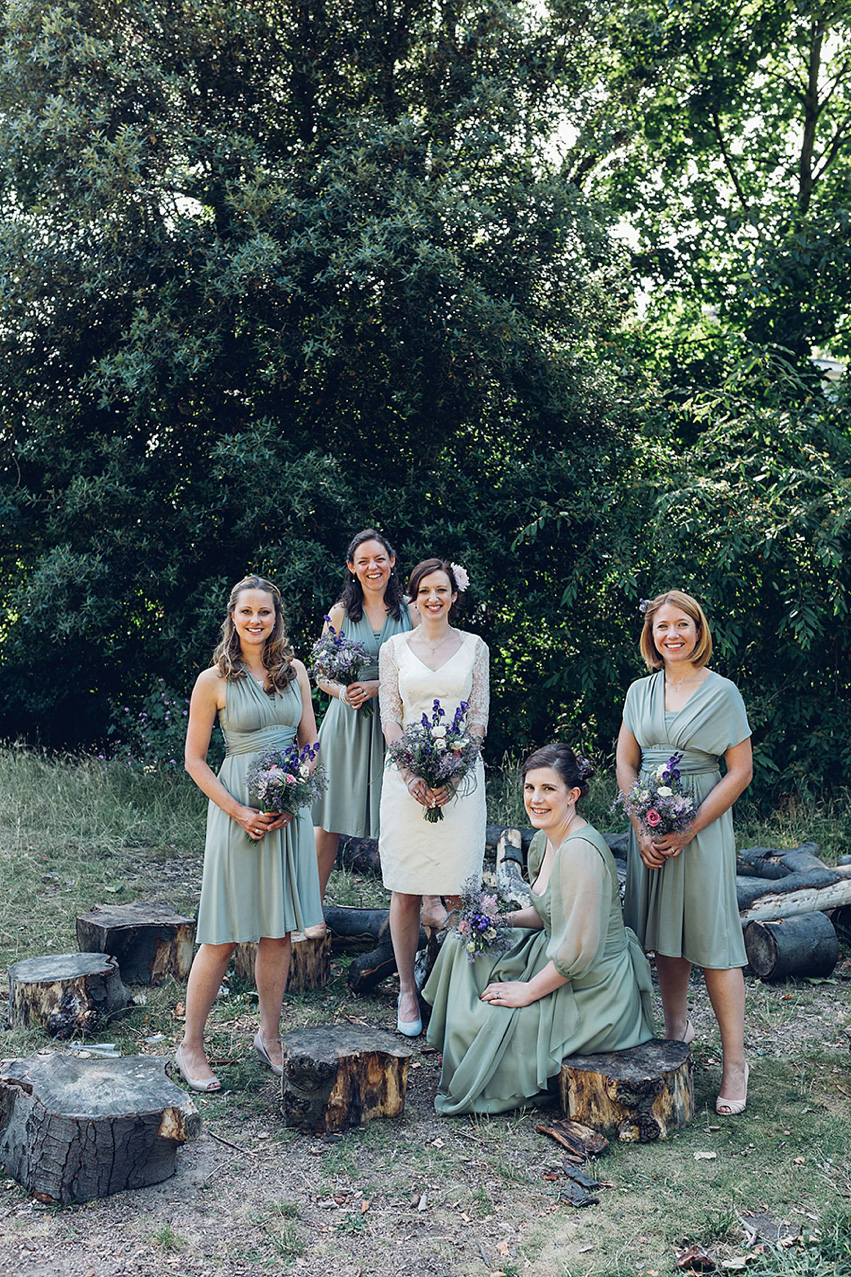 Luke asked Zoe out at University, but she declined initially…
"We lost touch, but twelve years later, I tagged a friend from work in a photo on Facebook. Luke happened to play in a band with that work friend, and saw the photograph! He asked whether it was the same girl that turned him down at university, all those years ago. Shortly after, we met up at a Christmas party and Luke asked me out again. This time, I said yes.
We got engaged in September 2014 in Rothesay in Scotland. We were drinking champagne in our 'B&B', and Luke mentioned that he had some chocolate that we could have with it. He gave me a Kinder Surprise, where, instead of a toy, I found a diamond ring."
Zoe and Luke's photographer, Genevieve from Miss Gen Photography impressed the couple with her creativity and helpful approach. Did you see this exquisite woodland elopement shoot by Genevieve that Annabel shared earlier this year, which as it happens featured an ethereal dress by Faith Caton-Barber, the designer of Zoe's gorgeous gown.
 "Genevieve was an exceptional photographer and we wouldn't hesitate in heartily recommending her. From beginning to end she was professional, creative but unobtrusive."
"She took the time to understand the kind of wedding we wanted to have – even coming down to South London to see the park and the pub and have a drink with us in advance. She was communicative and helpful in the run up to the day and on the day she blended right in.
Many people said that they didn't even know she was there, but somehow she managed to capture all the most important moments of the day. Her photos capture the mood and spirit of our wedding – and this, combined with her own creative flair, has created a set of gorgeous photos that we will treasure forever."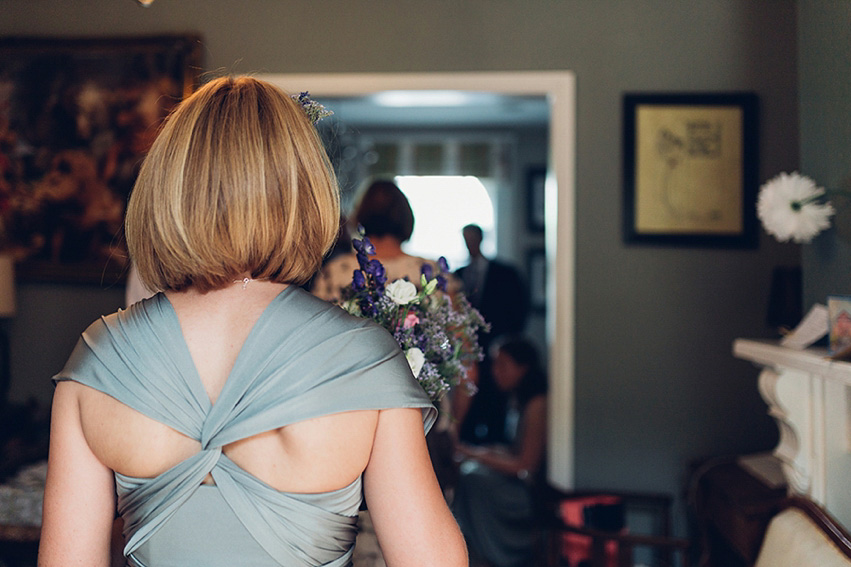 I simply adore Zoe and Luke's flowers – the colours work so well with the green of the bridesmaid dresses and add to the relaxed vibe. And the dress designer continued her creativity by helping to style the flowers.      
"We bought our flowers from Covent Garden Market and Faith Caton-Barber then put them together into bouquets."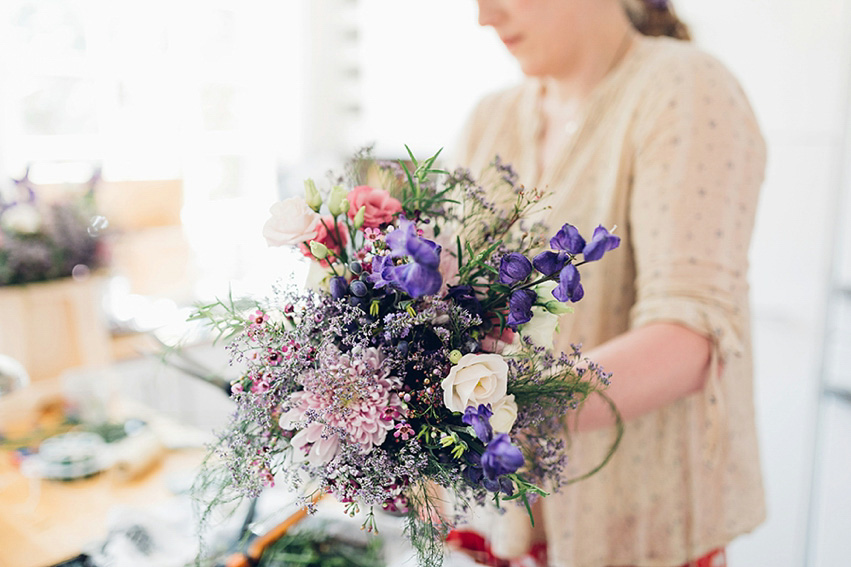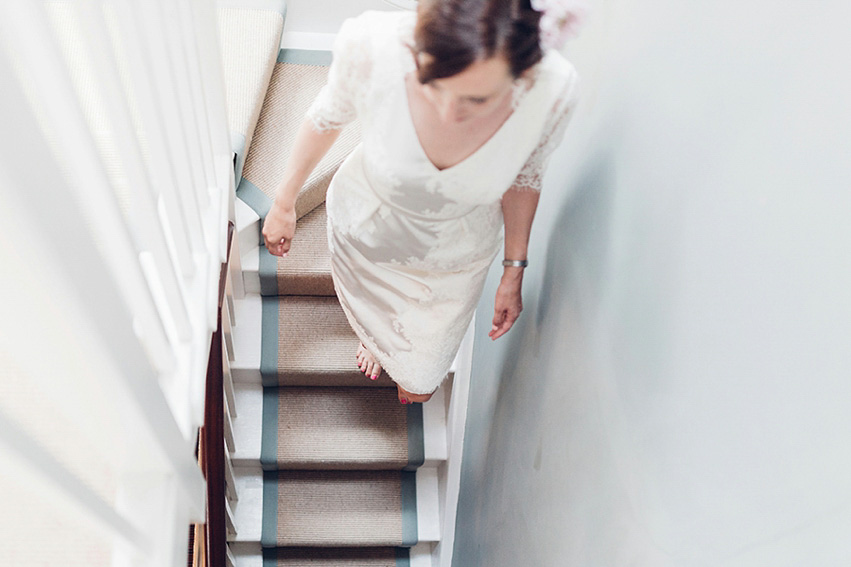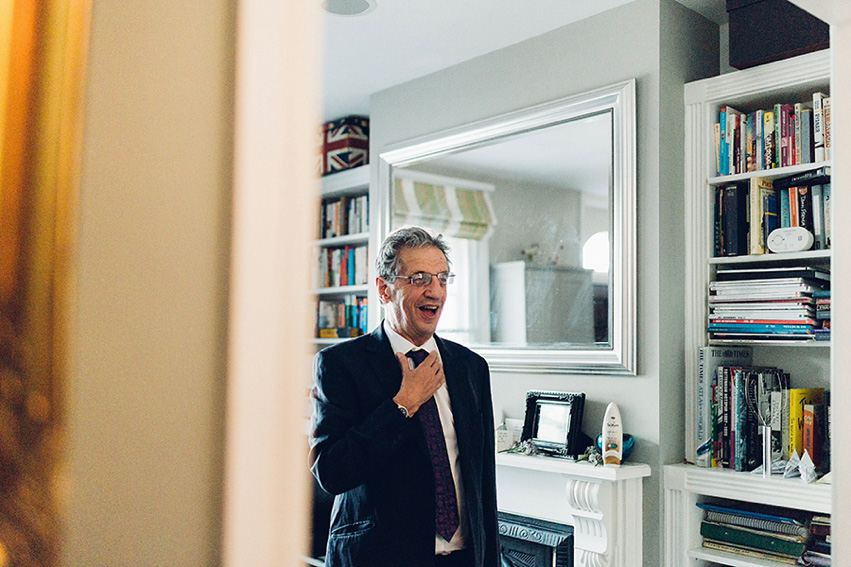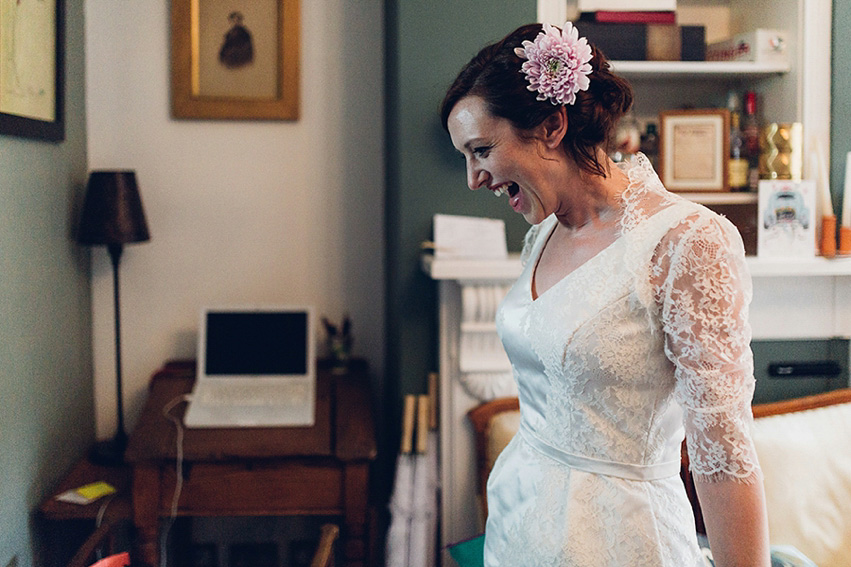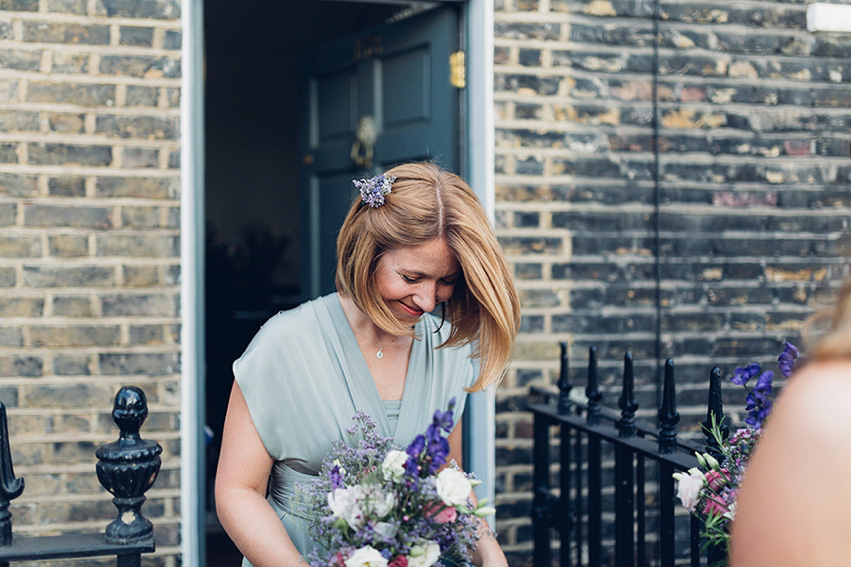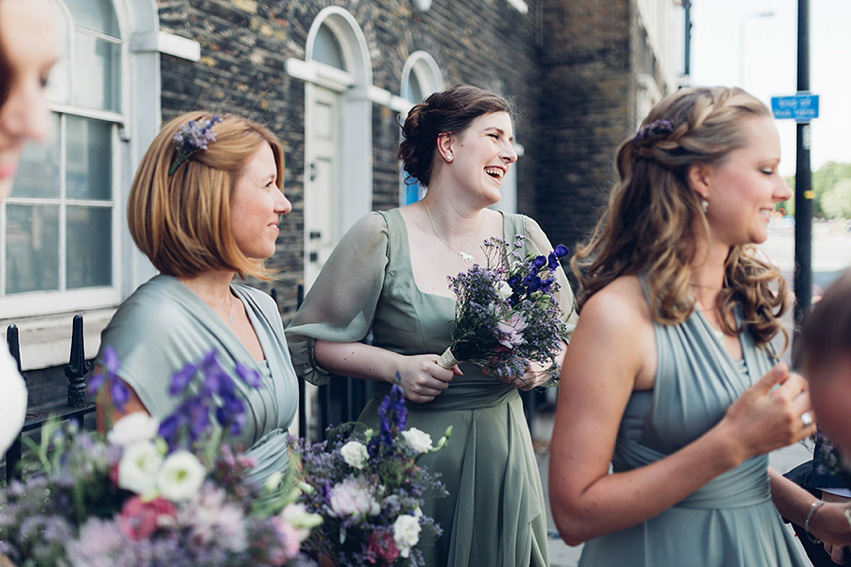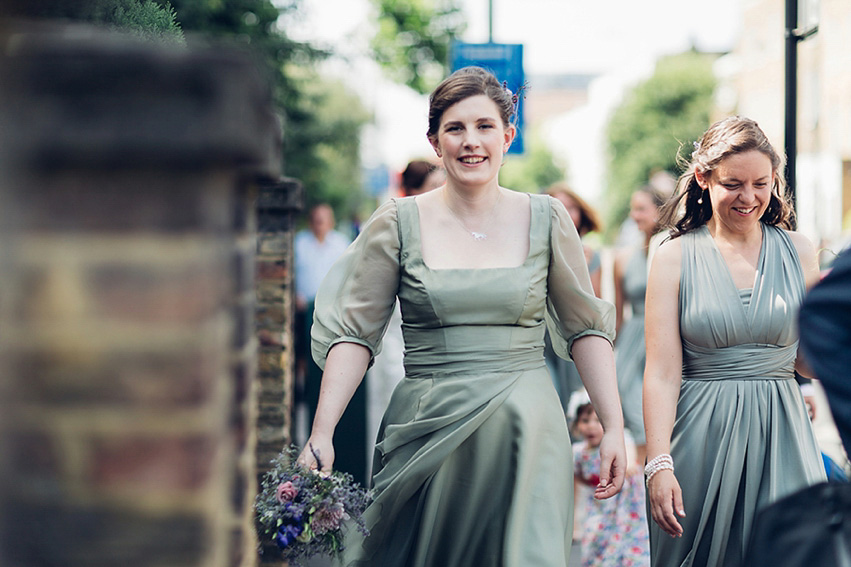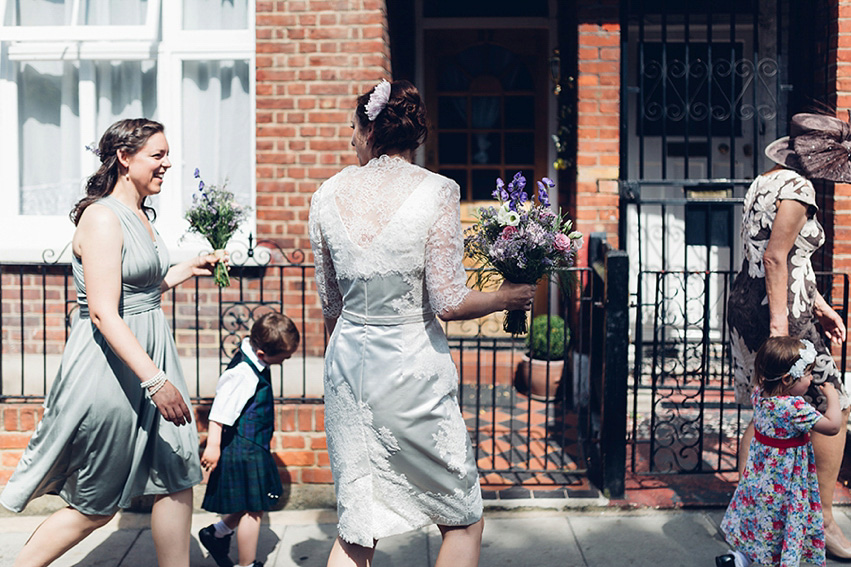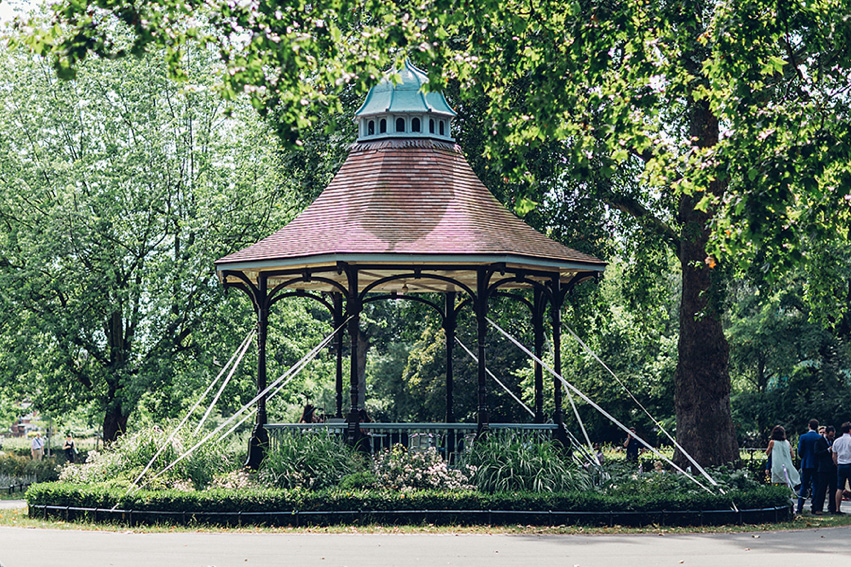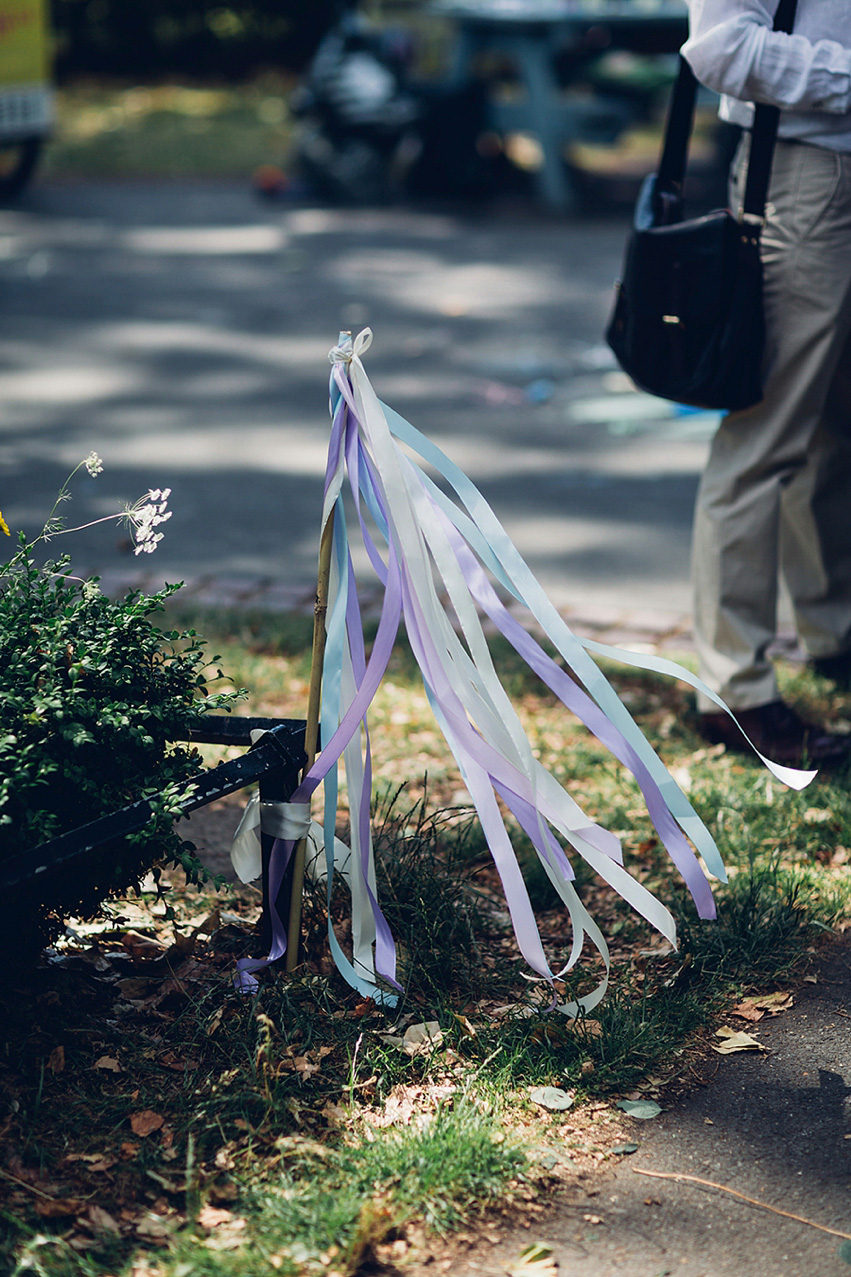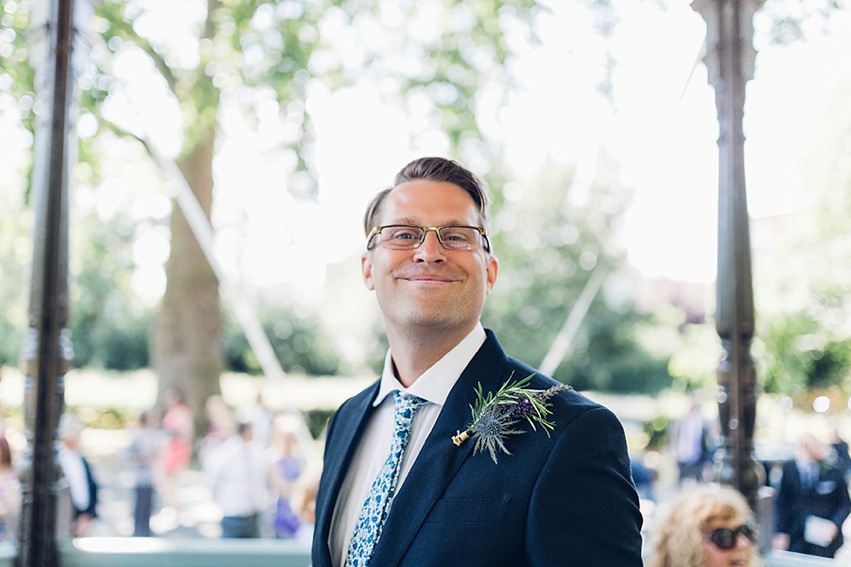 "Both my parents walked in front of me, I walked behind them and then my four bridesmaids walked behind me.
Luke's band threeandme played 'Lovely Little Garden' which is a beautiful song written by Bateman and Conley (Luke and his writing partner, Michael Conley). Luke's dad accompanied the band on the piano."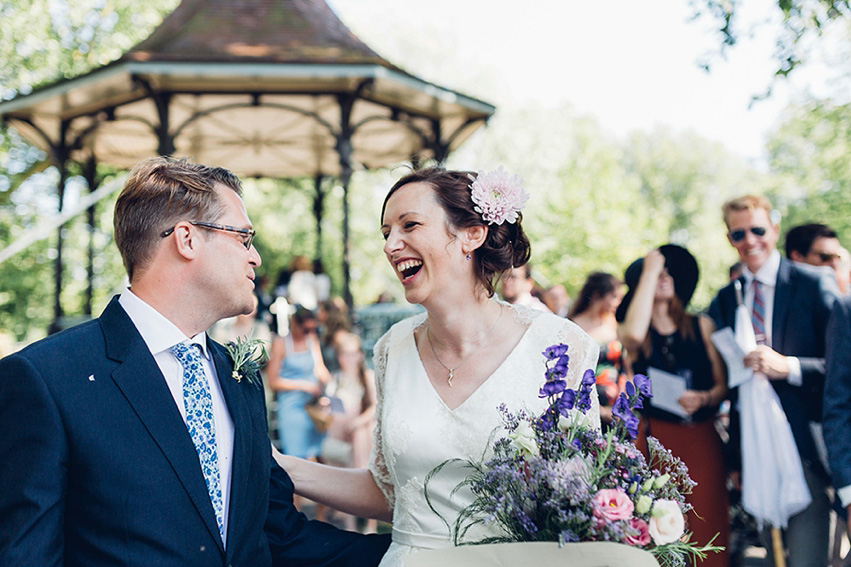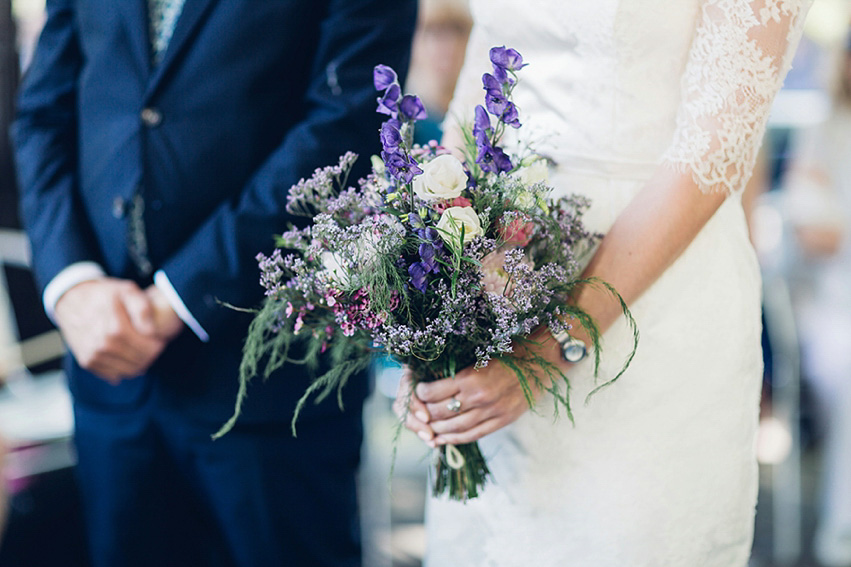 Choosing a convenient location to home to hold their special day meant the bride, maids and family could walk to the ceremony in the park. Then the bridal party headed for Luke who was waiting for his beautiful bride in the bandstand. Music for the ceremony was by Luke's band and the couple chose to include two readings – 'Love' by Roy Croft, and an extract from Plato's Symposium.
If humans understood the power of Love, they would build noble temples and altars and offer solemn sacrifices as Love is our best friend, our helper and the healer of the ills which prevent us from being happy. To understand the power of love, we must understand that our original human nature was not as it is now. Human beings each had two sets of arms, two sets of legs and two faces looking in opposite directions. The gods feared the power and might of these original humans and so Zeus divided them in half. After the division the two parts of each searched for their other half. So ancient is the desire of one another which is implanted in us, reuniting our original nature, making one of two, and healing the state of humankind. We are always looking for our other half. And when one of us meets our other half, we are lost in amazement of love and friendship and intimacy, and would not be out of the other's sight even for a moment. We pass our whole lives together, desiring to grow into one so that after our death there will be one departed soul instead of two. And the reason is that human nature was originally one and we were a whole, and the desire and the pursuit of the whole is called Love.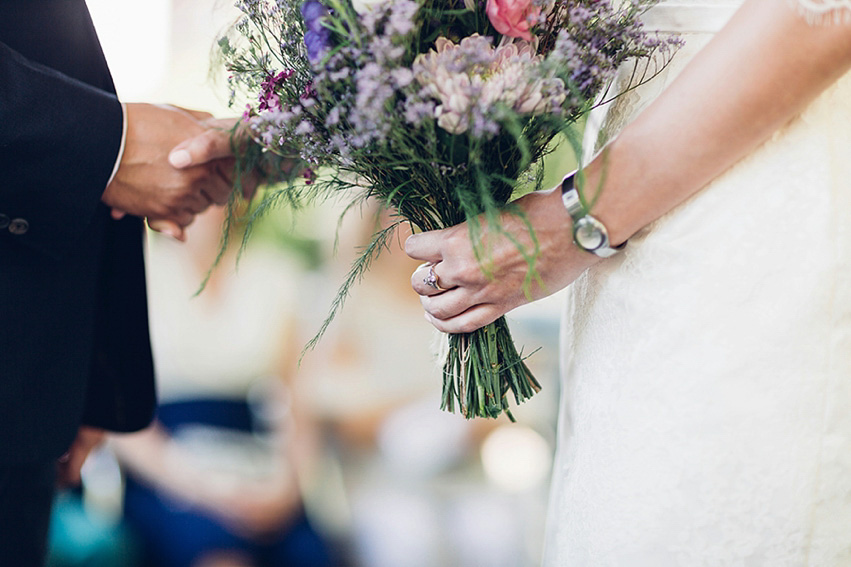 Zoe's shoes were from Debenhams and were customised with lace by her dress designer Faith to match the dress – serious shoe envy alert! The bride then accessorised with a necklace and a pretty peony in her hair.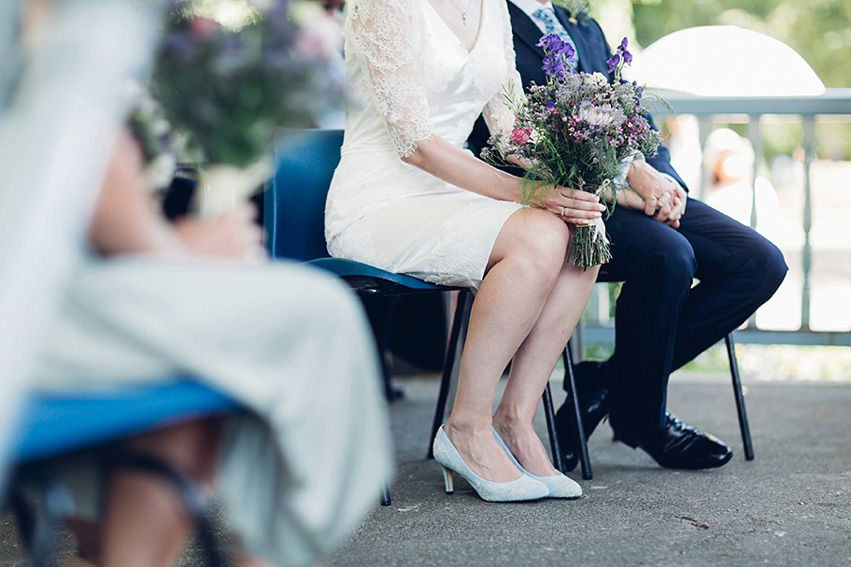 "We bought Luke's ring from Abiba Jewellers, Hatton Garden and my ring from John Titcombe Fine Jewellery in Bristol, as it was the only place we could find which supplied Fair Trade white gold."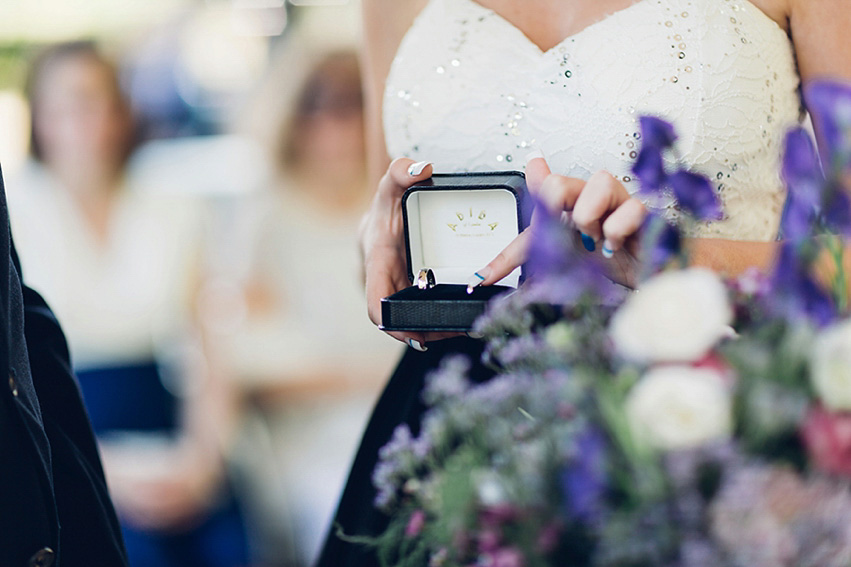 I love these sweet, funny, honest shots of the groom attempting to bestow the bride with her beautiful ring! And squeeze! 🙂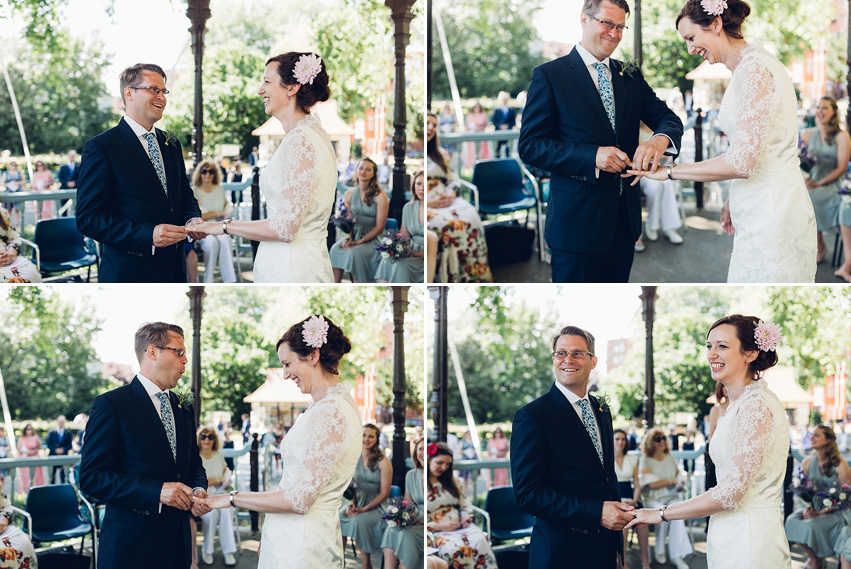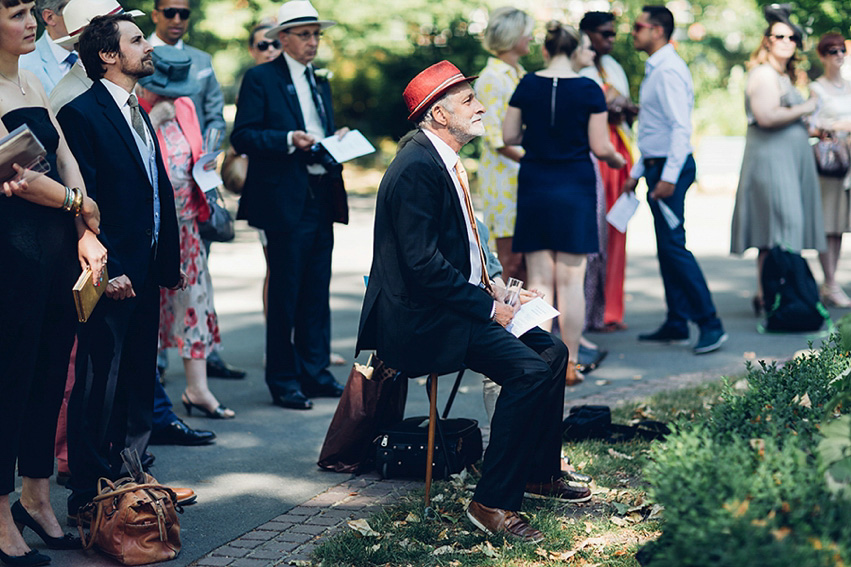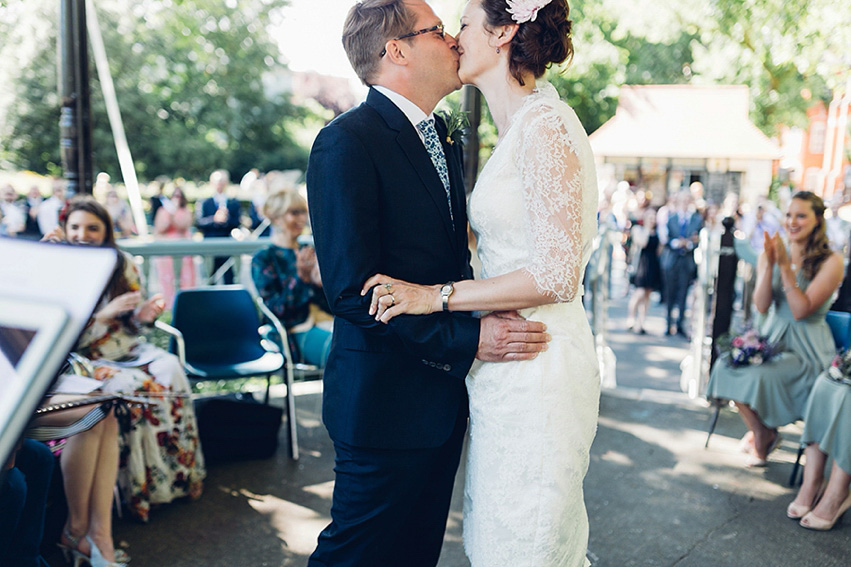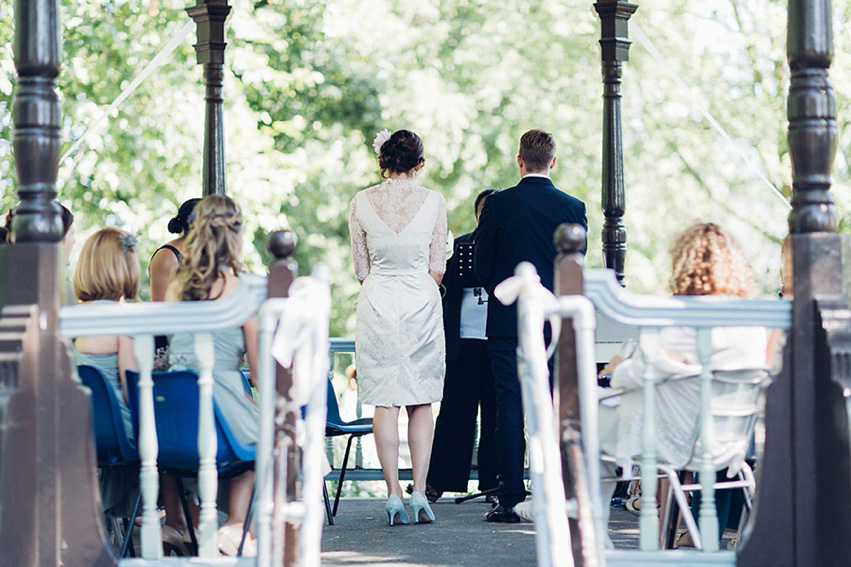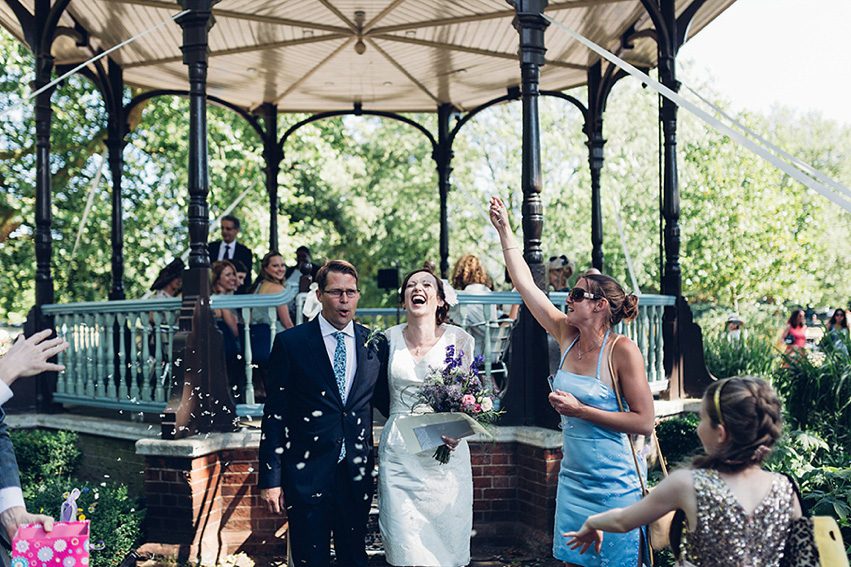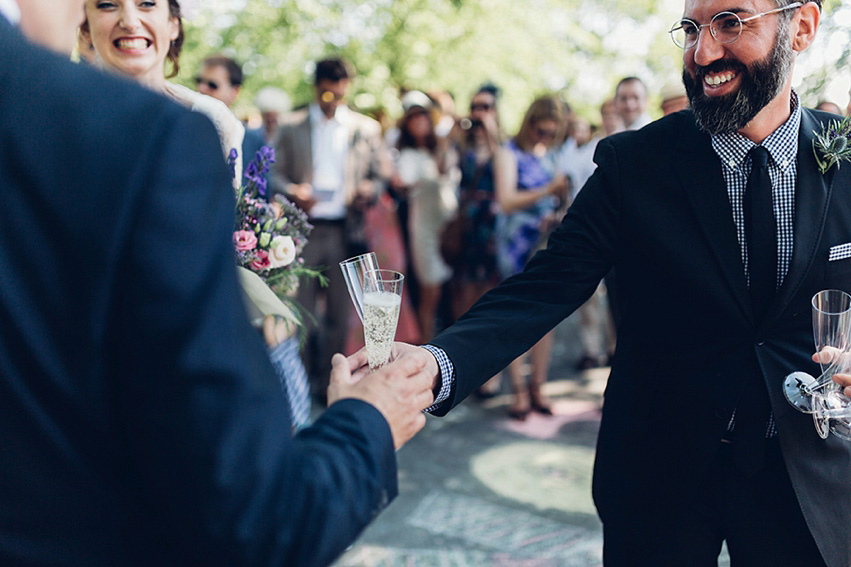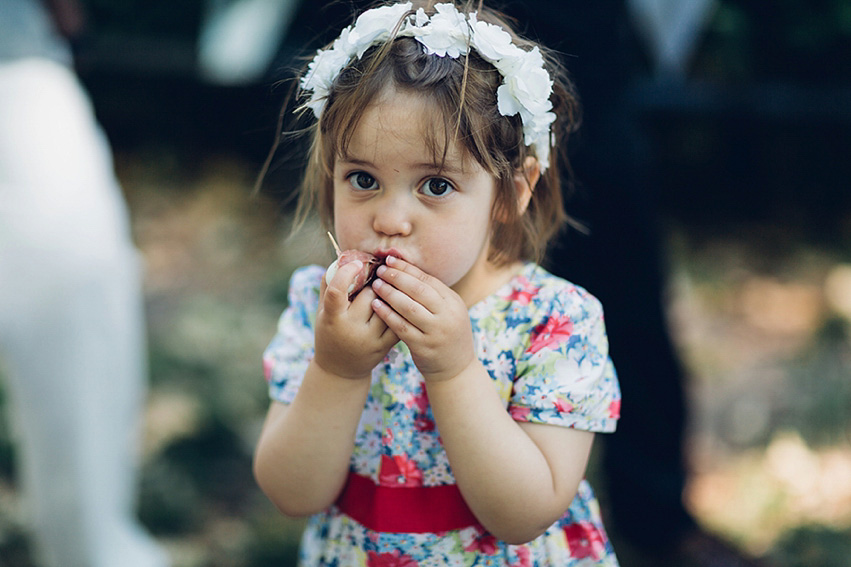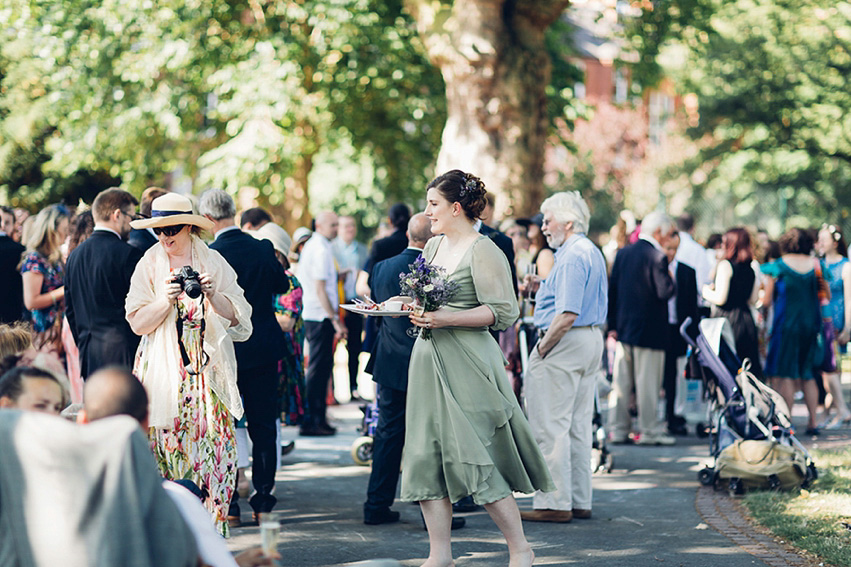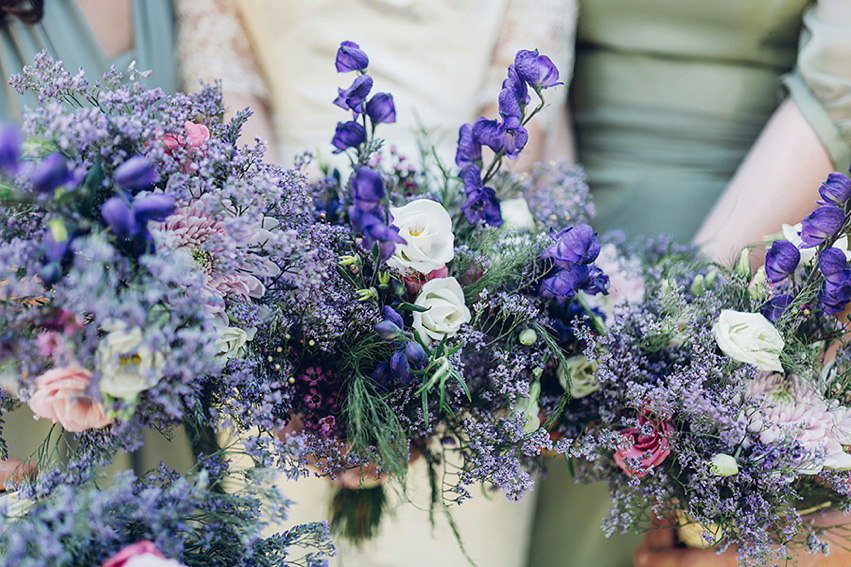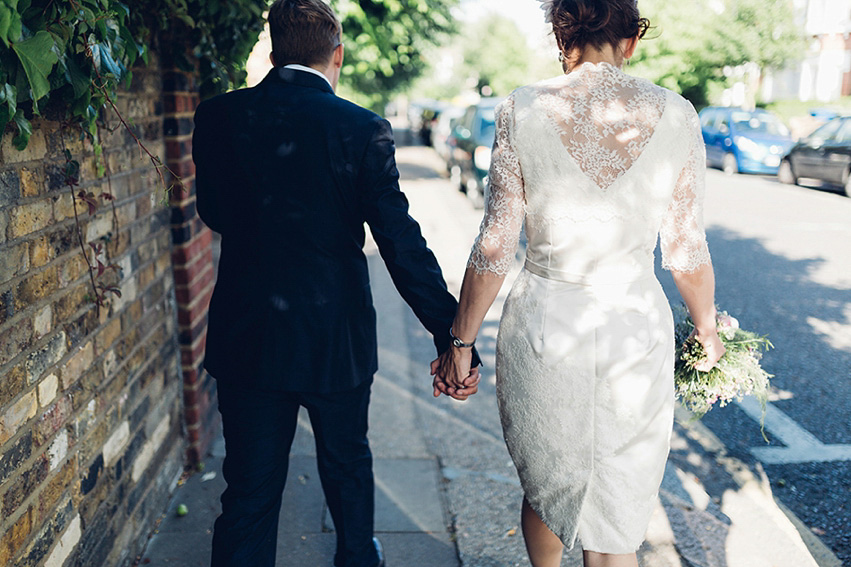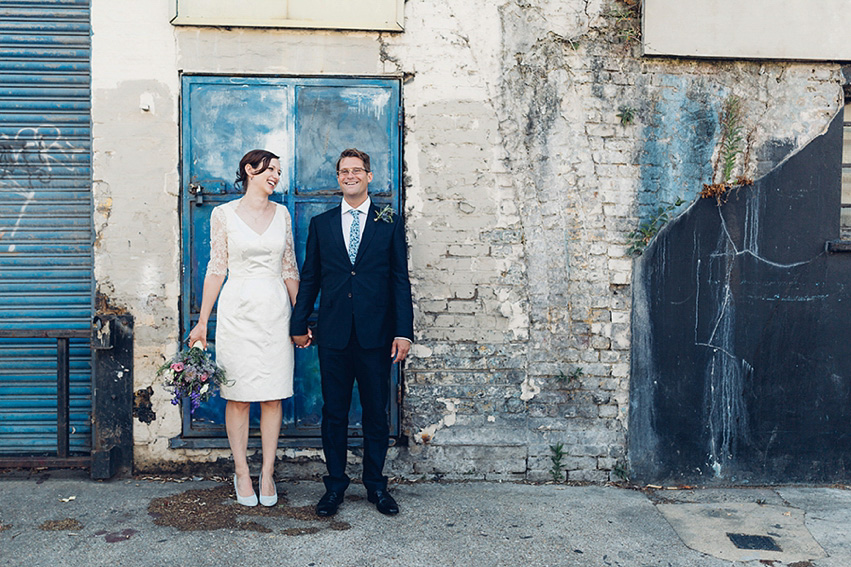 Celebrations continued onto the The Grand Union pub, who provided the delicious catering, and the Fine Cheese Company supplied the four-tier cake of cheese wheels. The interior of the pub provided an instant backdrop, hence no need for extra decor – and instead of flowers on each table, a lavender pot doubled up as favours.
"Each table had a pot of lavender on it. At the end of the evening we then gave the pots to the guests to take home."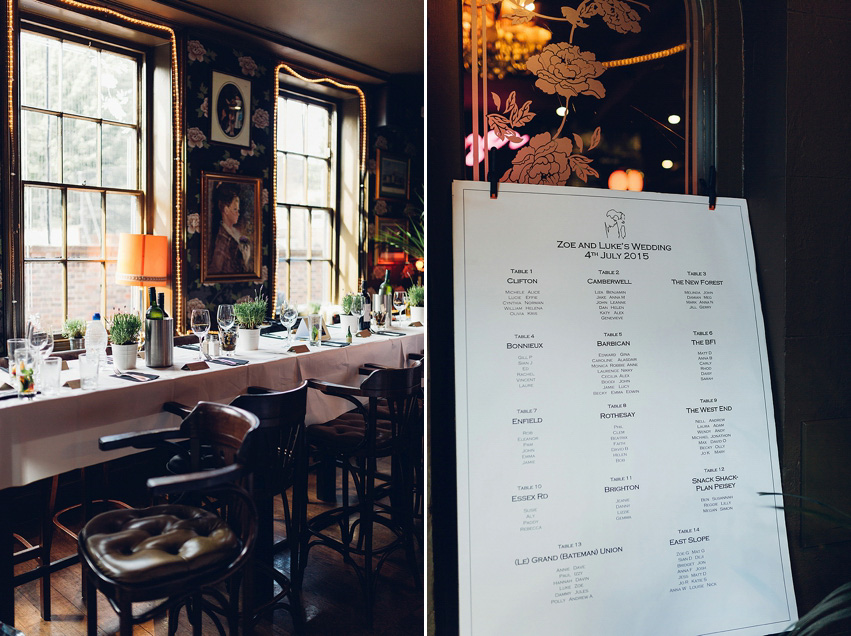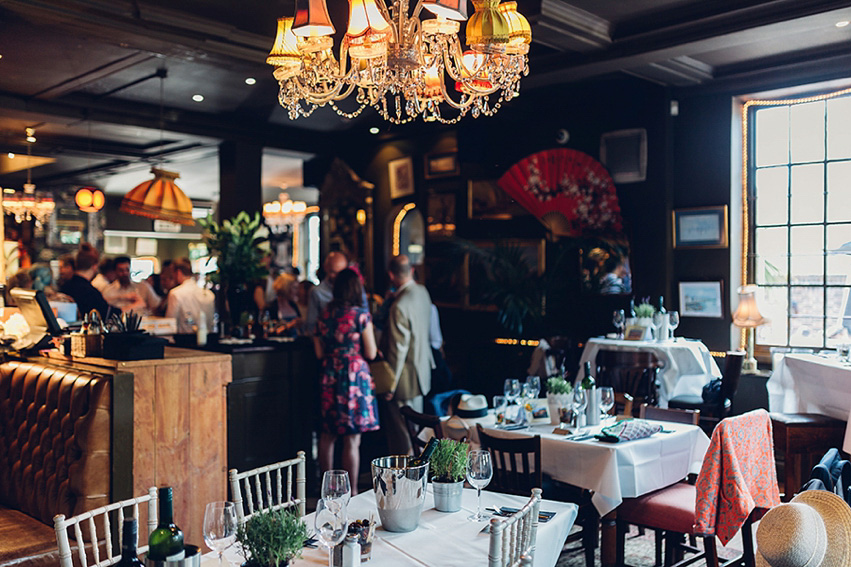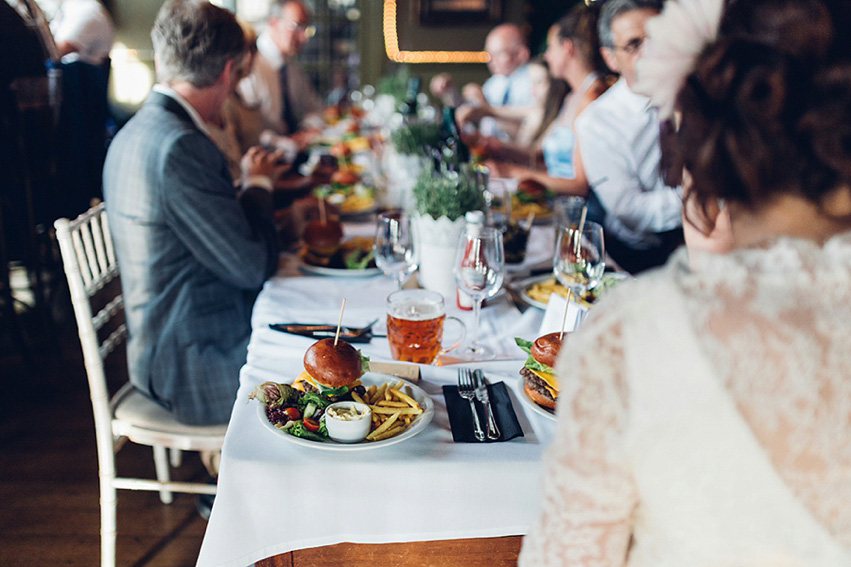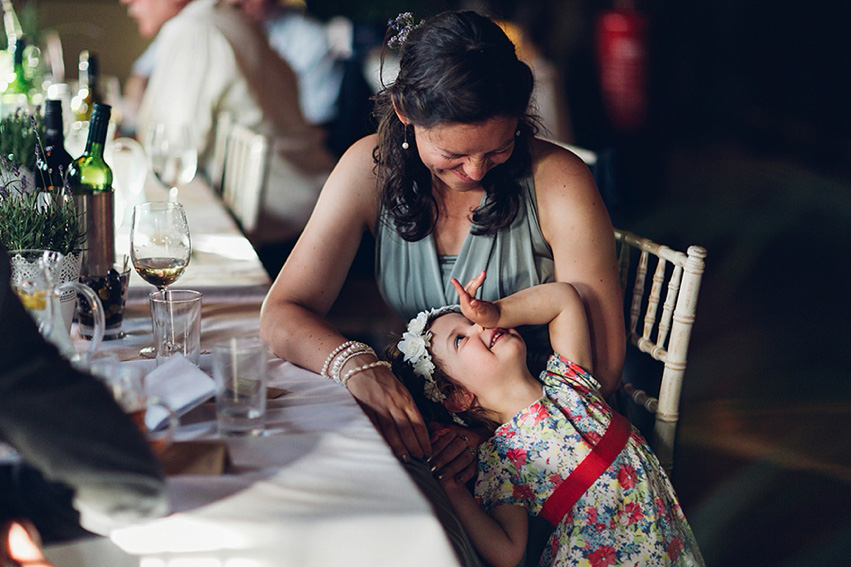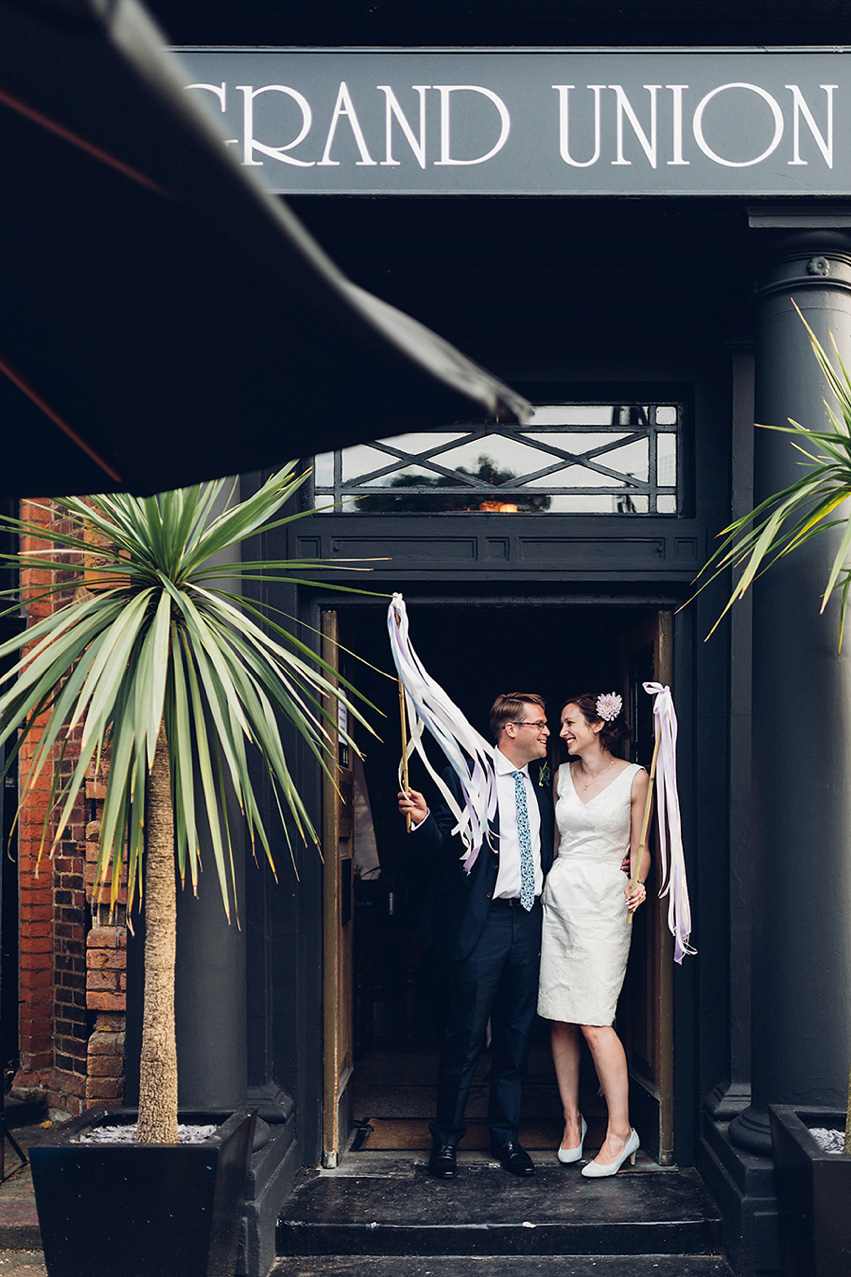 We had a discussion on Instagram recently about brides who give speeches at weddings – you can catch up with everyones thoughts and comments here.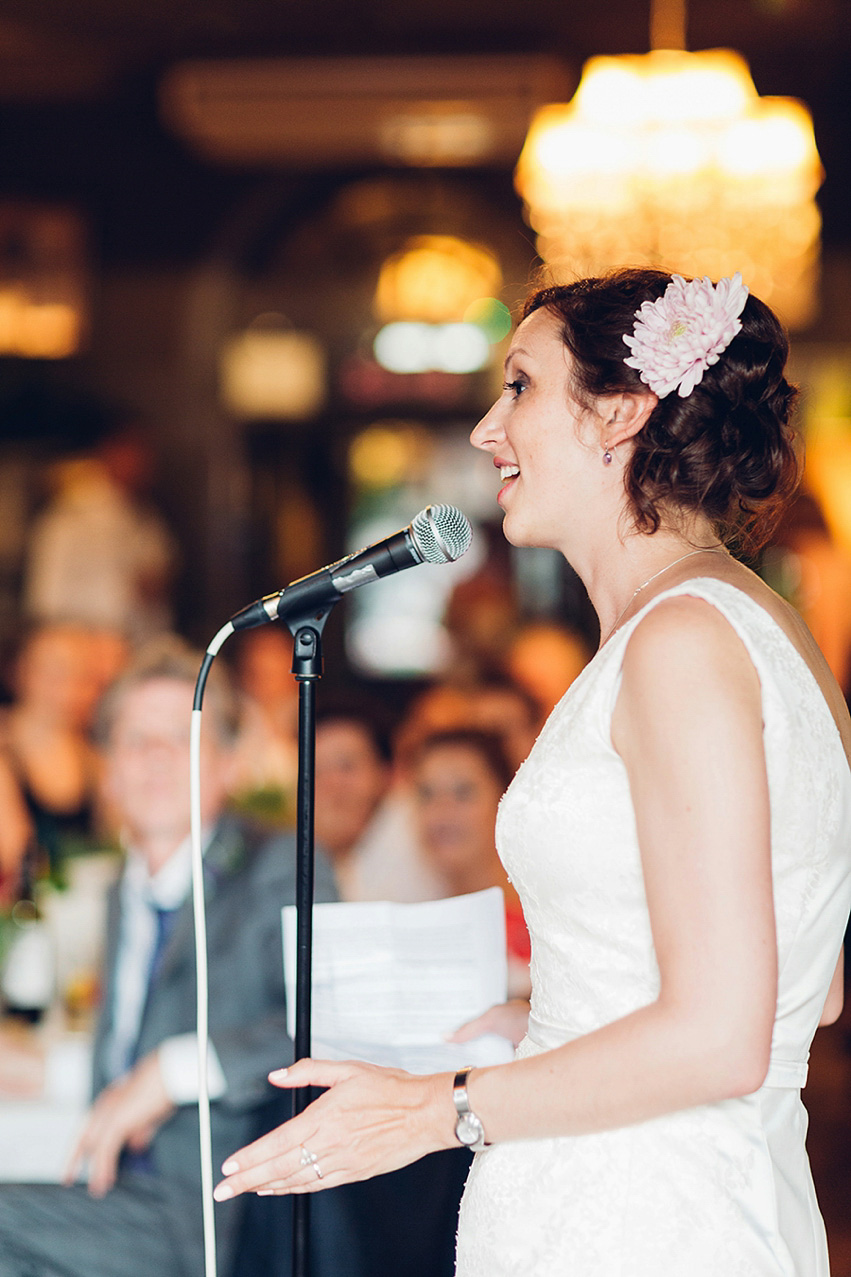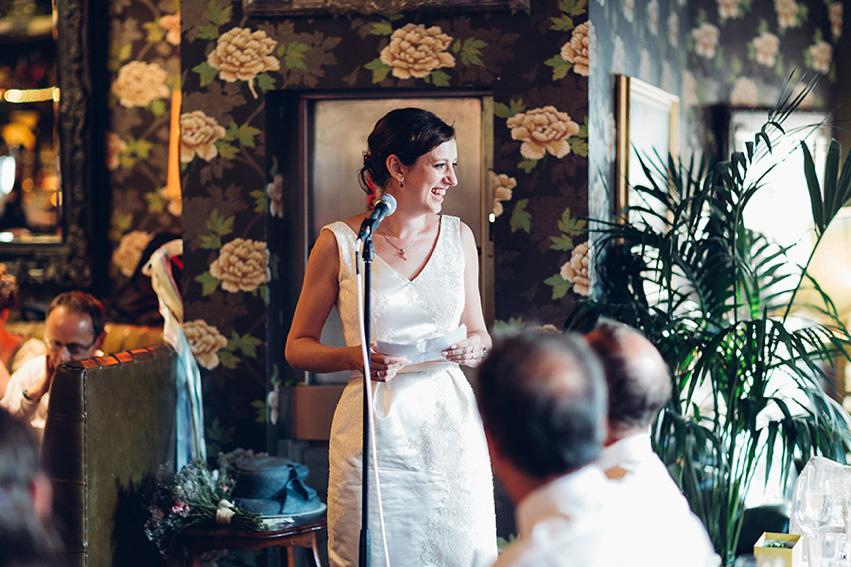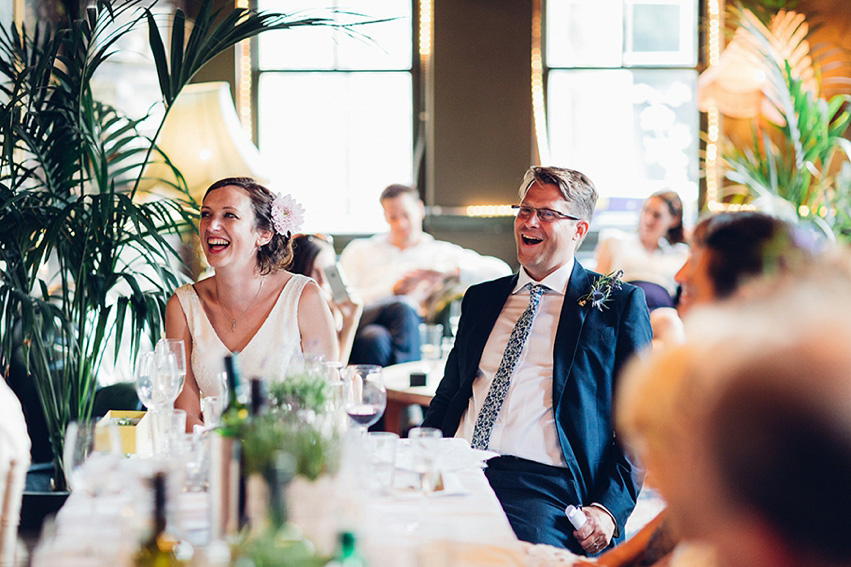 "The whole day felt like a wonderful dream. All of our favourite people were there, the sun shone, and we just had the best time. I was glad that we deliberately chose to keep it really simple. That, and the fact that it was close to home, meant that stress levels were kept to a minimum and we were able to just really enjoy the day."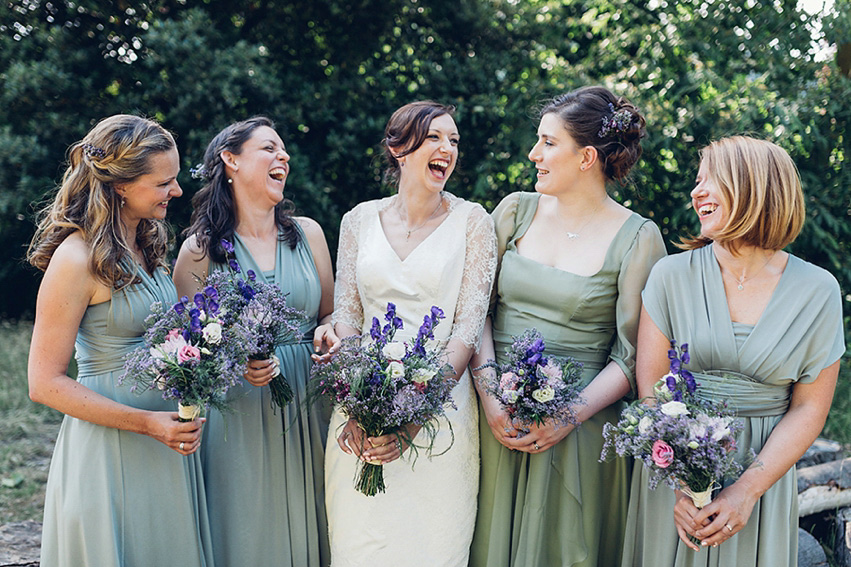 Words of Wedded Wisdom
"Keep the structure of the day as simple as possible. A simple wedding will really help to keep everyone's stress levels down – in the run up and on the day. You can always add any little creative extras the week before the wedding.
Invest in a good photographer. We are so pleased with our wedding photos, and all our friends have commented on how nice they are. The photos really help you to remember the day so it is important that your photographer captures the mood, the spirit and the little moments of the day, not just the formal shots. It may also be the only time in your life when you have professional photographs taken, so they might as well be good ones!"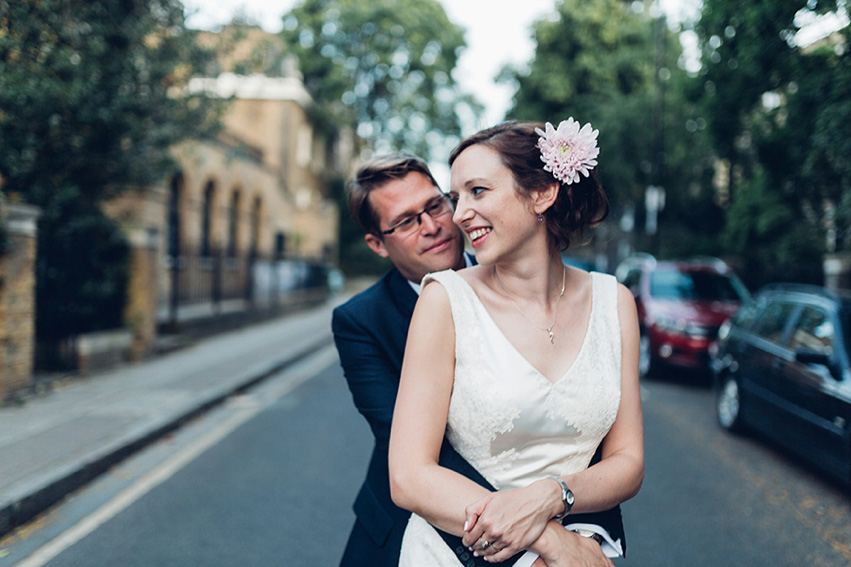 Huge congratulations to Zoe and Luke and I've thoroughly enjoyed sharing your relaxing day – what a fabulous idea it was to be able to walk to your wedding! And thank you to Genevieve for sharing these stunning images of the lovely couple's day.
Here are a few more pub weddings if you're thinking of having a relaxed venue and, let's face it, English pubs really are the best (I miss them loads!).
Have a jolly weekend lovely readers.
Love Jo x
Photographer – Miss Gen Photography
Venue + Catering – The Grand Union, Camberwell
Dress – Faith Caton-Barber  
Shoes – Debenhams, customised by Faith Caton-Barber
Bridesmaid Dresses – Marks and Spencer
Groom – Paul Smith suit
Florist – Flowers via Covent Garden Market and arranged by Faith Caton-Barber  
Rings – Luke's ring from Abiba Jewellers, Hatton Garden and Zoe's ring from John Titcombe Fine Jewellery, Bristol
Cake – Fine Cheese Company
Hair and Make-up – Ellia White
Entertainment – threeandme