Oh I do love to share a wedding captured by the wonderful Claudia Rose Carter, and this one is a beauty. Jo, who works for the government and Guney, a sports TV producer, were wed on 11 July this year at Clissold House– a gorgeous Grade II listed venue in a lovely corner of London: Clissold Park, Stoke Newington. The couple wanted a completely fuss-free day and chose to shun many wedding day tradition to focus instead on simply enjoying precious time with their guests.
"All we wanted for our wedding day was good food, lots of booze, good music and simplicity. No frills, no favours, no cake, nothing unnecessary, just a massive party."
Photography by Claudia Rose Carter
And that dress? Those *sleeves*! I adore it.
"The dress was made by Ivy and Aster and we bought it from Frou Frou in Tunbridge Wells. I actually didn't choose the dress. I spent over an hour trying on every dress in the shop when my mum noticed this extremely over sized and ugly wedding dress in the corner. I said I would "give it a go" and despite it being three sizes too big I fell in love. Thanks to a wonderful seamstress it was perfect."
The bridesmaids wore a Love My Dress bride firm favourite, Ghost and the gorgeous flower girl wore an ivory gown by John Lewis.
When the time came to tie the knot, the couple chose Claudia Rose Carter to photograph their day. You can see lots more of Claudia's images here.
"We couldn't be any more pleased with our beautiful photos, they have surpassed our every expectation. We are also so thankful that we gained a friend in Claudia."
This is a love story that began online and started a new chapter with the most romantic and cinematic proposal ever…
"Guney and I have been together for nearly seven years now and I had started to give him a really hard time that he would never be able to surprise me, in fact he never had! So when he asked me to go to Kids Club Cinema (a god awful experience in the early morning on a weekend) with our beloved niece, I couldn't think of anything worse, and didn't want to go."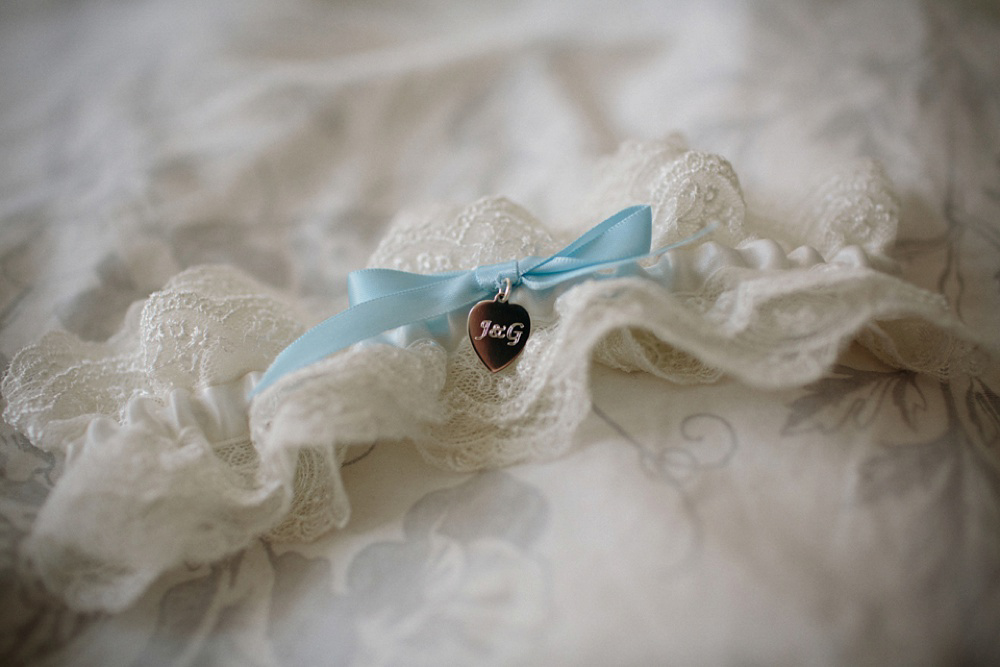 "Guney talked me in to it so we headed to our local Everyman Cinema in Islington, armed with popcorn and some caffeine. The cinema was eerily quiet and we were the only ones there. Our niece disappeared to the bathroom while we enjoyed the SpongeBob trailers before the film began."
"Only it wasn't a film. It was a beautifully edited marriage proposal, set to the music we always said we'd have as a reading in front of Clissold House. Starring parts went to our wonderful niece and pesky Yorkie. At the end of the film he proposed and I said yes!! Turns out the sneaky TV producer had also rigged the cinema with cameras so my stunned reaction was also captured. I have never been so overwhelmed or so surprised."
"I only wore a veil for the ceremony followed by a real flower crown made by our wonderful florists, One Flew Over. One Flew Over were an absolute dream and gave us the most beautiful flowers. We asked for a relaxed and informal mix of flowers, filled with peonies, daisies and freesias (my mum's favourite)."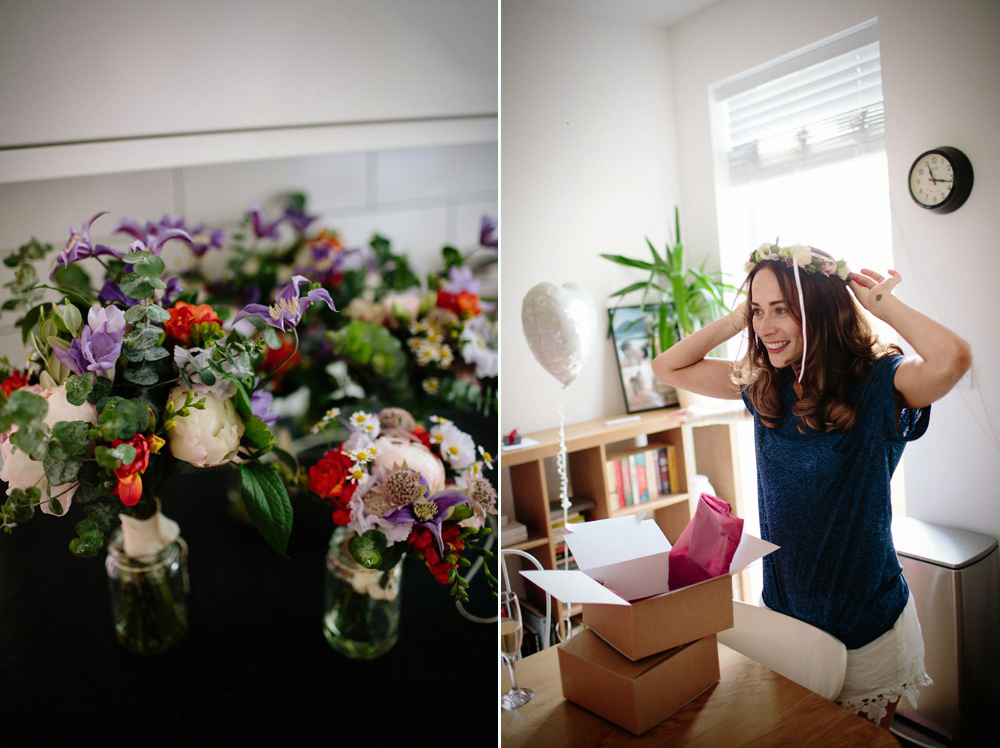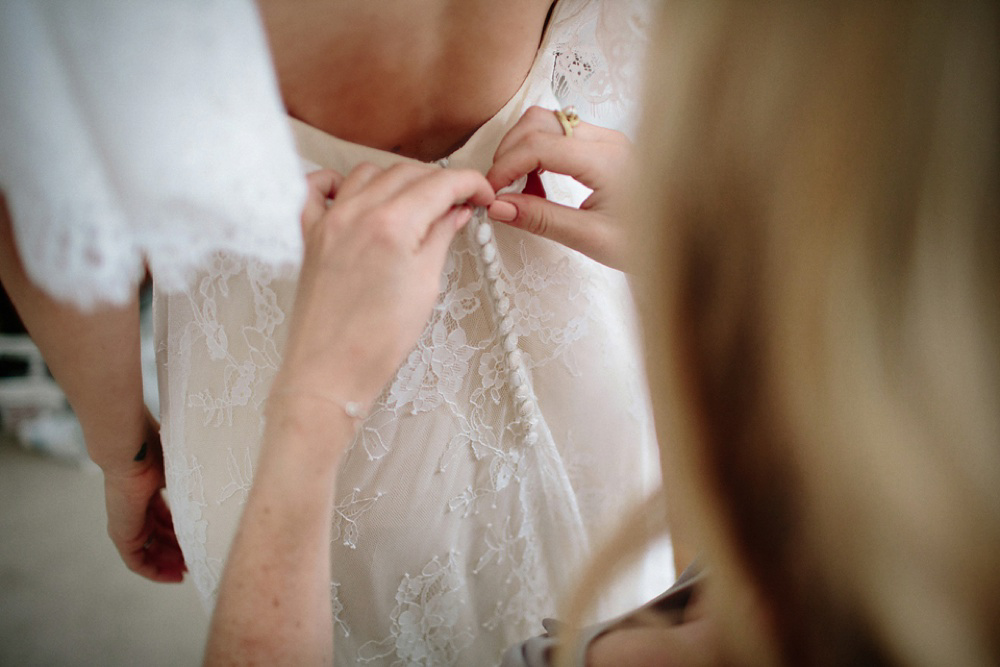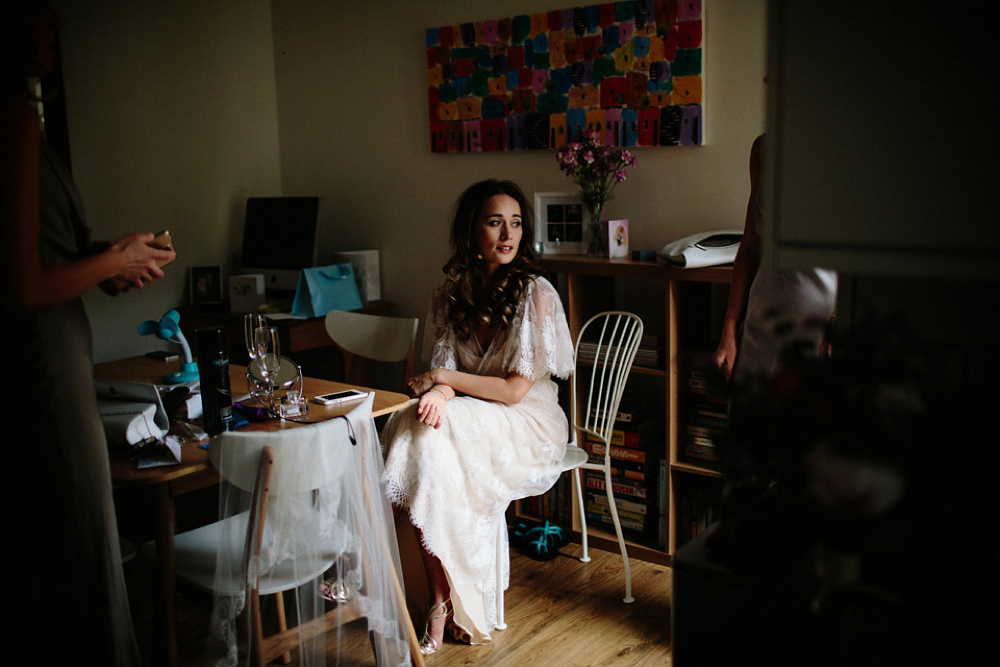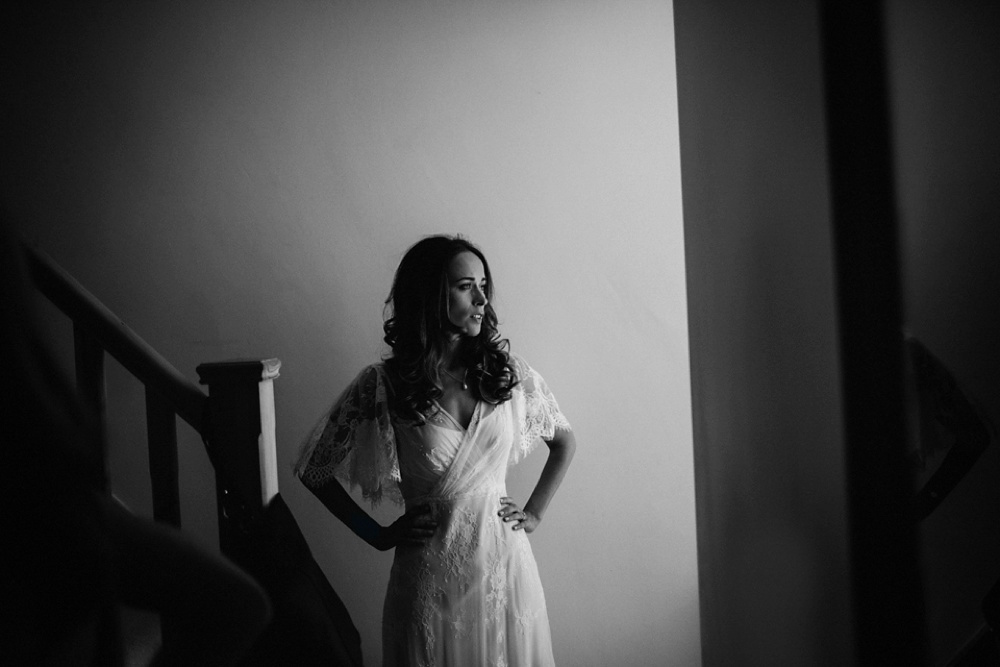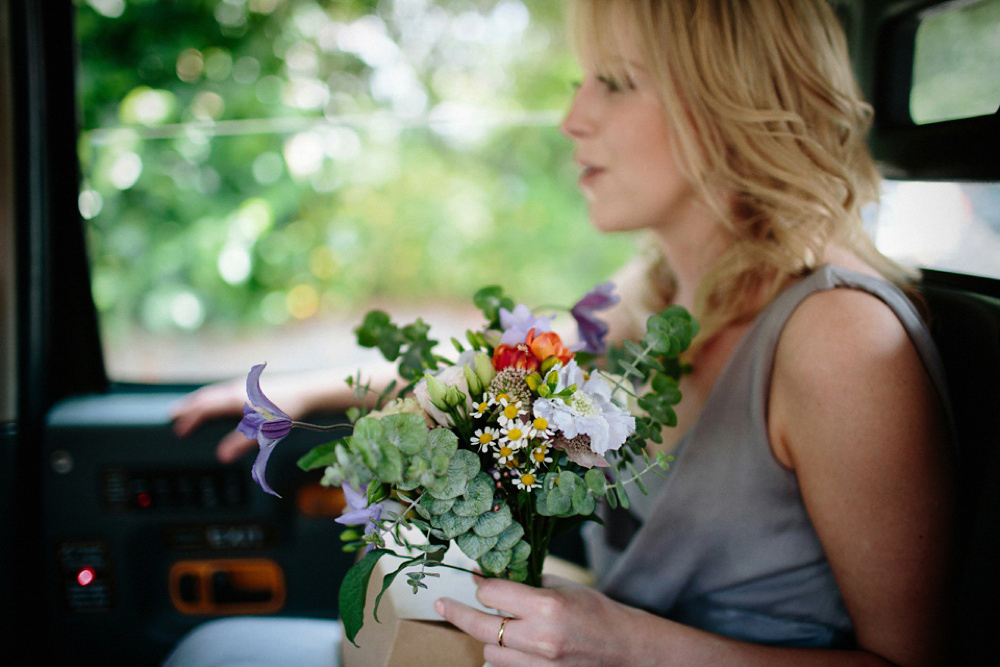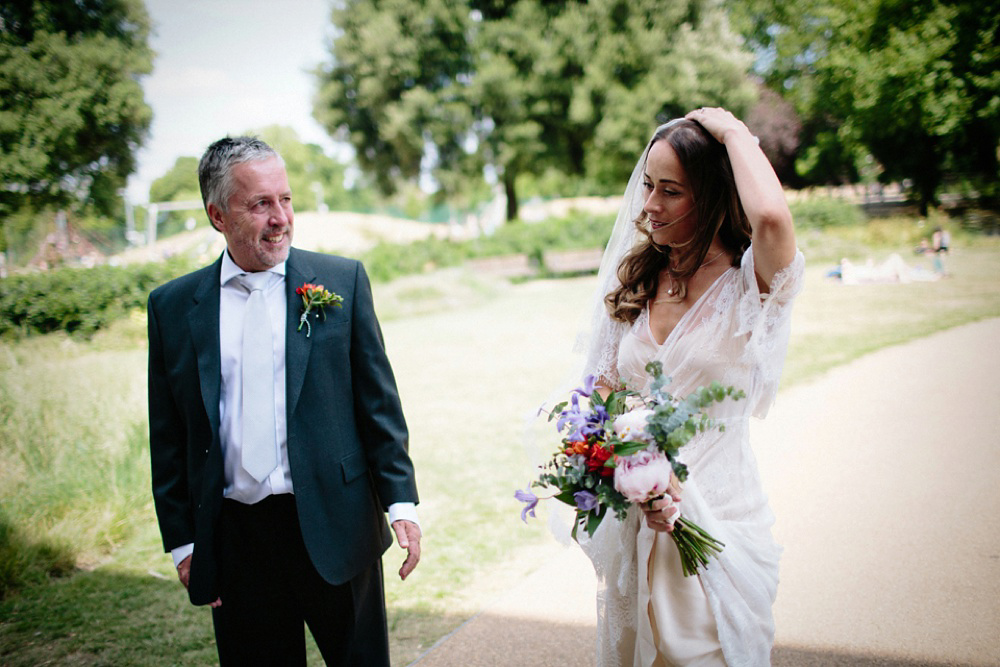 "Seven years ago both Guney and I found ourselves on an online dating website. I exchanged a few messages with two different people and ended up dating someone for a few months. That relationship didn't go anywhere and one year later I found myself on a night out in South London, speaking to a gorgeous man with a rather unusual name.
After swapping numbers and arranging our first date I soon realised that Guney was the other person I spoke to online but never actually arranged to meet up with (and completely ignored).  We drunkenly (and rather embarrassingly) realised this on our first date and the rest is history."
Jo walked down the aisle with her Dad to the sound of Yes, Sea of Love by Cat Power.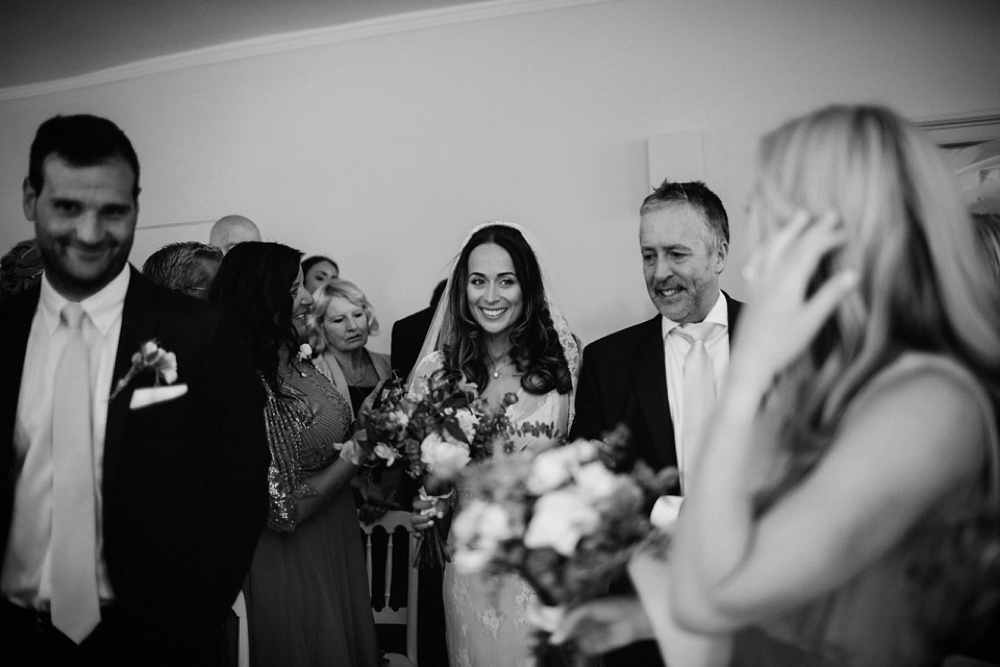 "We had two readings. The first was 'All I Want Is You' by Barry Louis Polisar. We had always said we would have this as a reading at our wedding and it was the music Guney filmed the engagement film to.
The second was the poem 'Touched By An Angel' by Maya Angelou. This is a beautiful poem about the power of love – before love's arrival, when it arrives and then how it transforms your life."
The rings were by AS Jewellers in Hatton Garden.
"We were fortunate enough to be gifted a beautiful diamond from Guney's parents. We went to Hatton Garden and AS Jewellers put it in a beautiful and classic platinum setting. We had to go back for our wedding bands."
The groom's suit was by Reiss.
"Guney wore his late Grandfather's pocket watch and wore an Omega wristwatch that his father gave him as a gift when he was younger."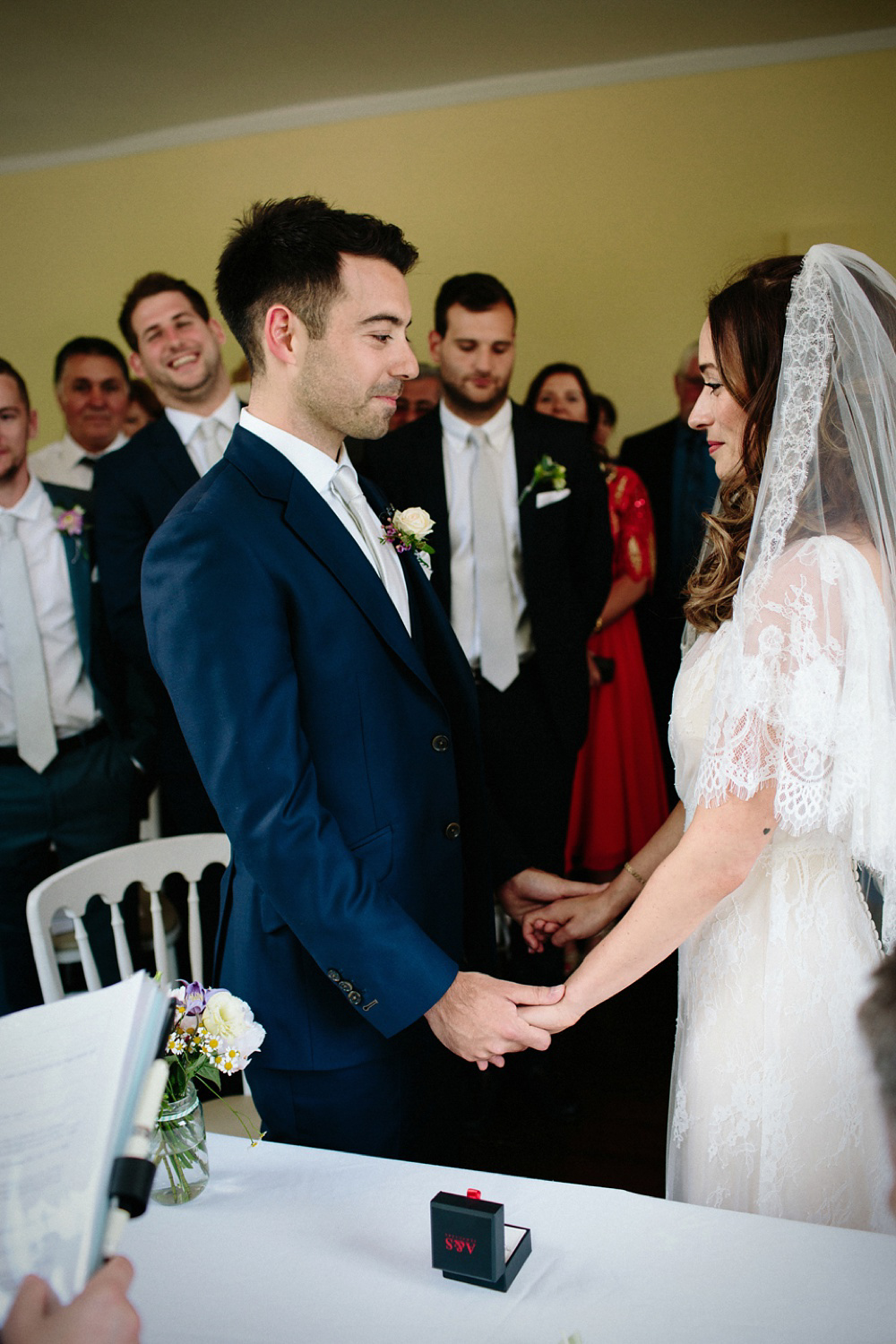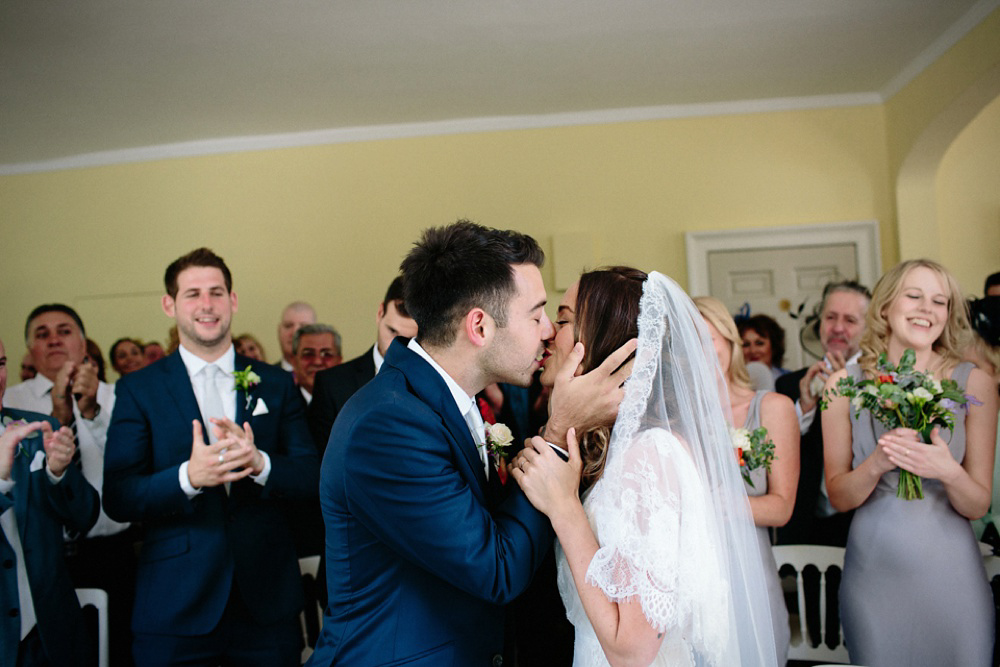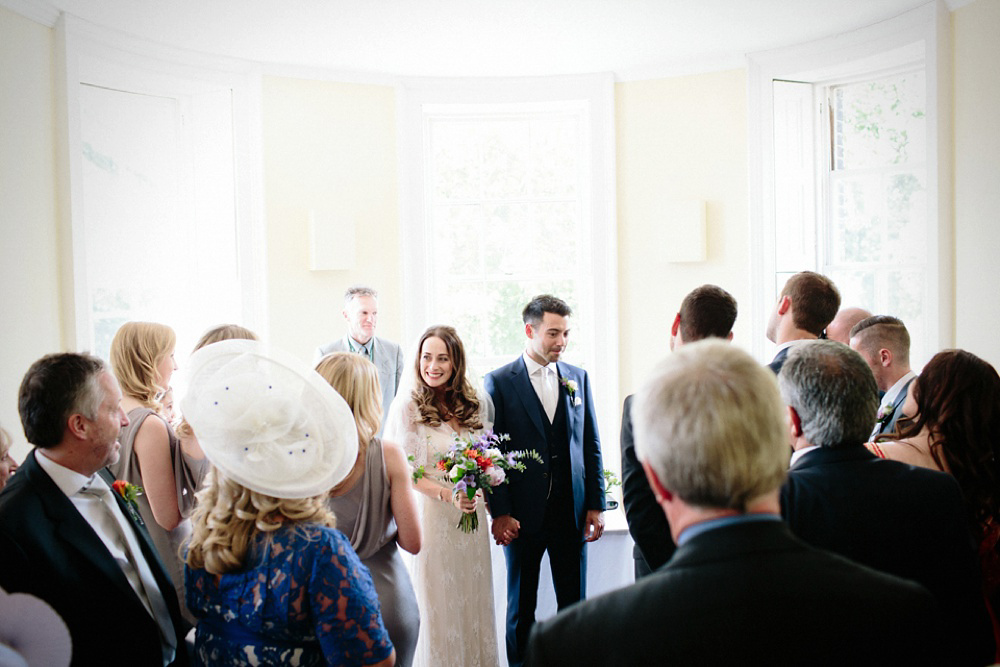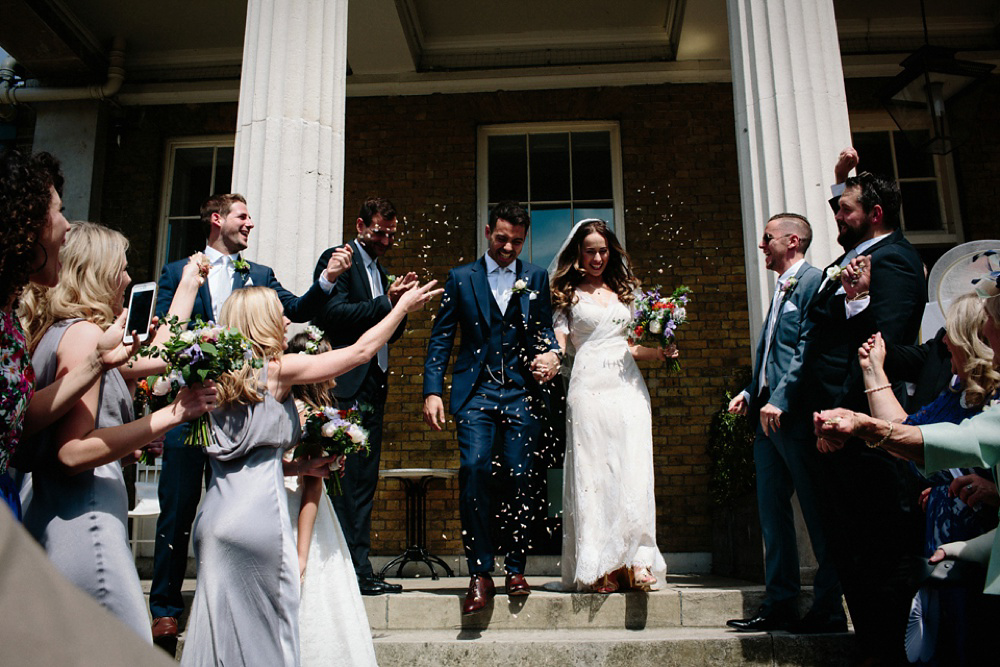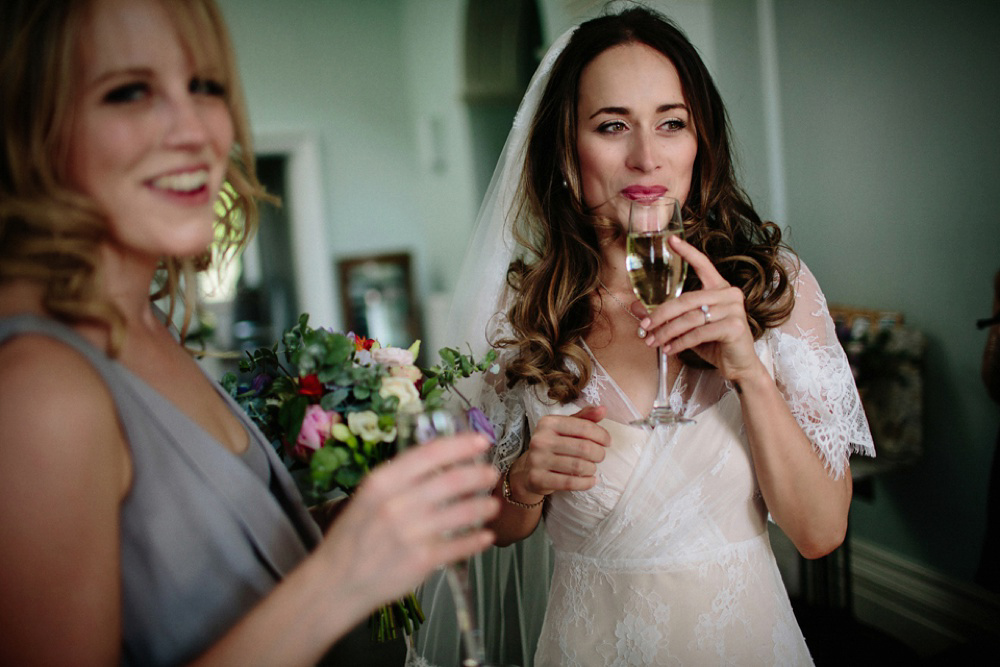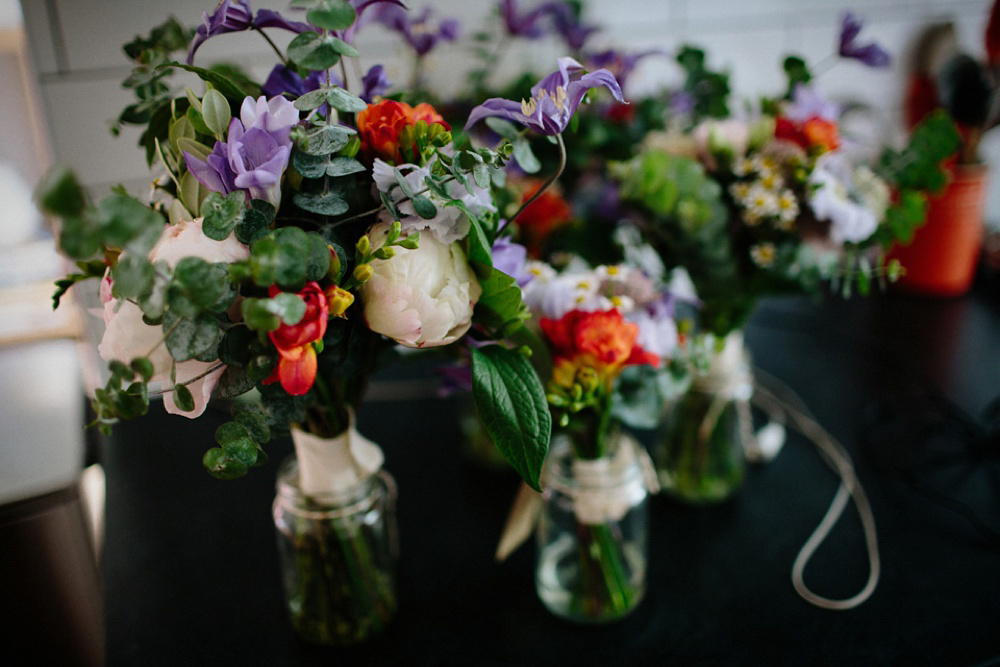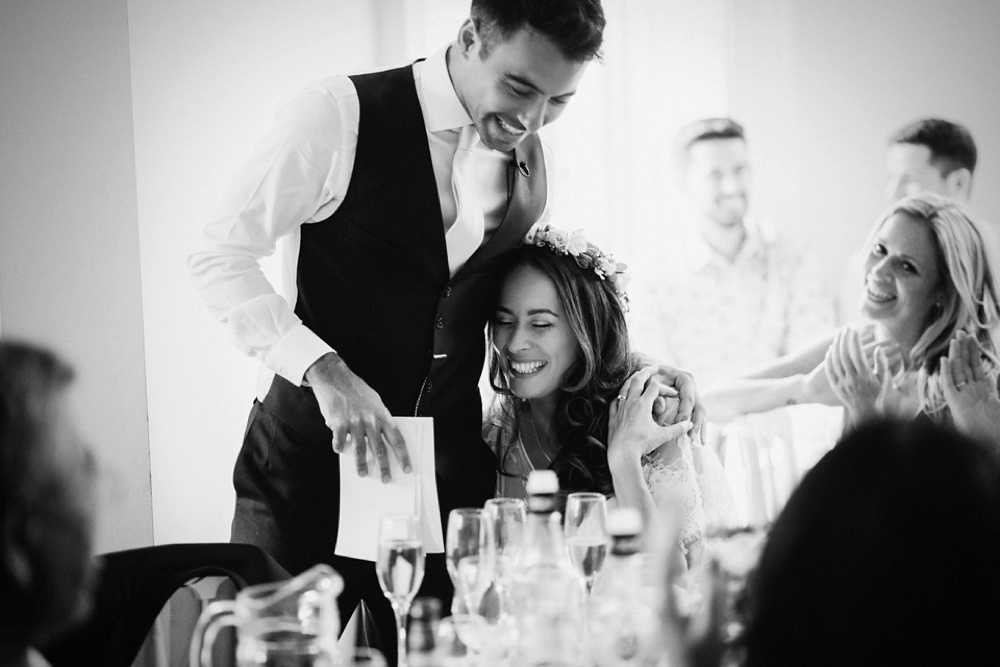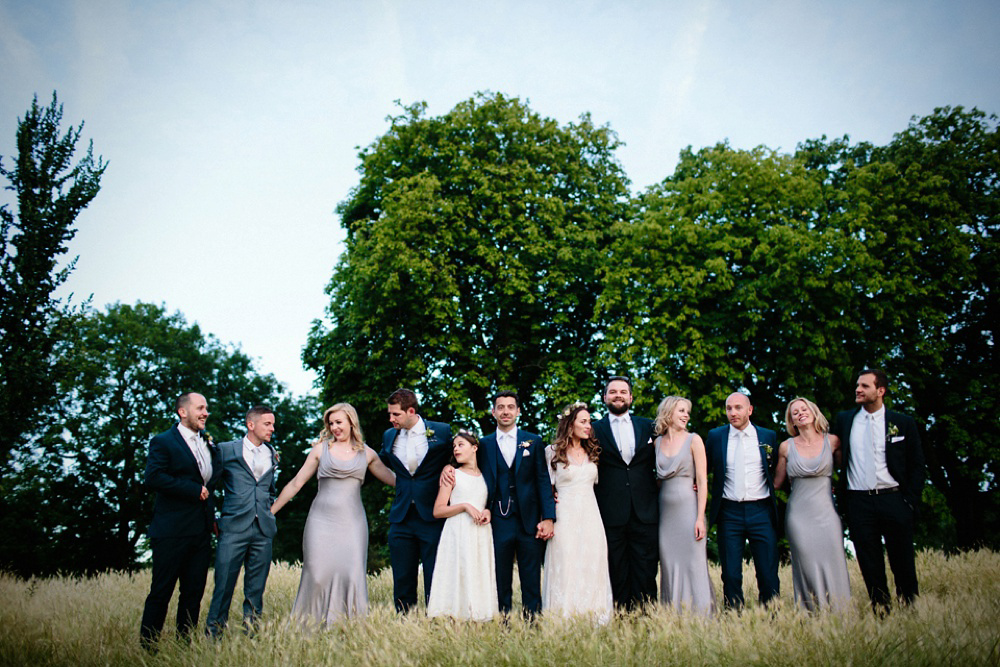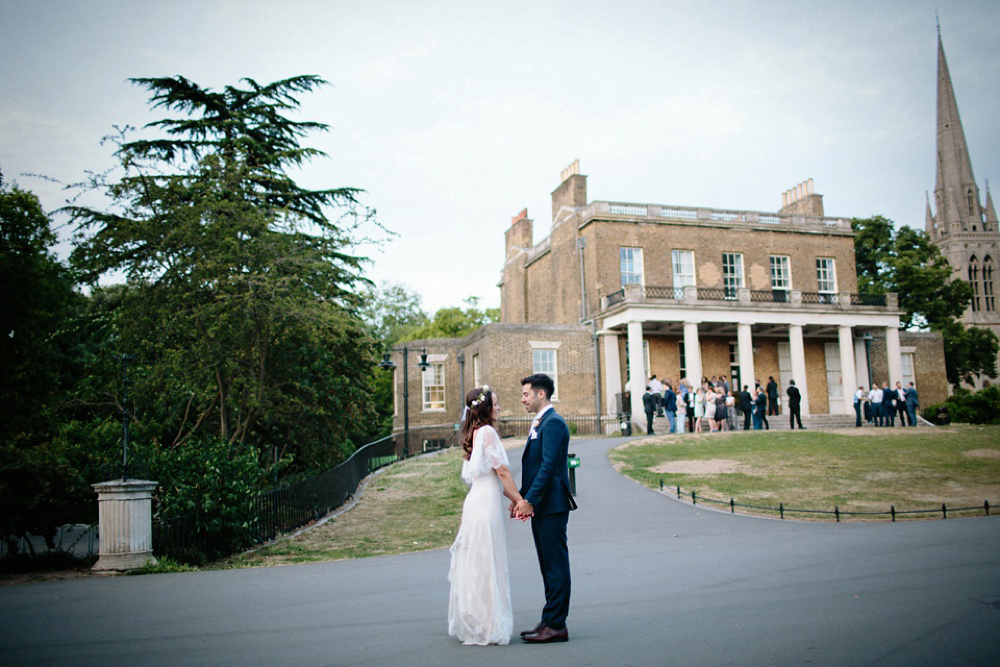 "The venue was beautiful enough so there was no need for additional touches. Guney did however arrange a projector and headphones in a special section of the venue for those wanting to watch our engagement video and my shocked reaction! It was a really lovely personal thing to share with our friends and family.
There was no cake. True to Guney's Turkish roots we replaced this with copious amounts of baklava."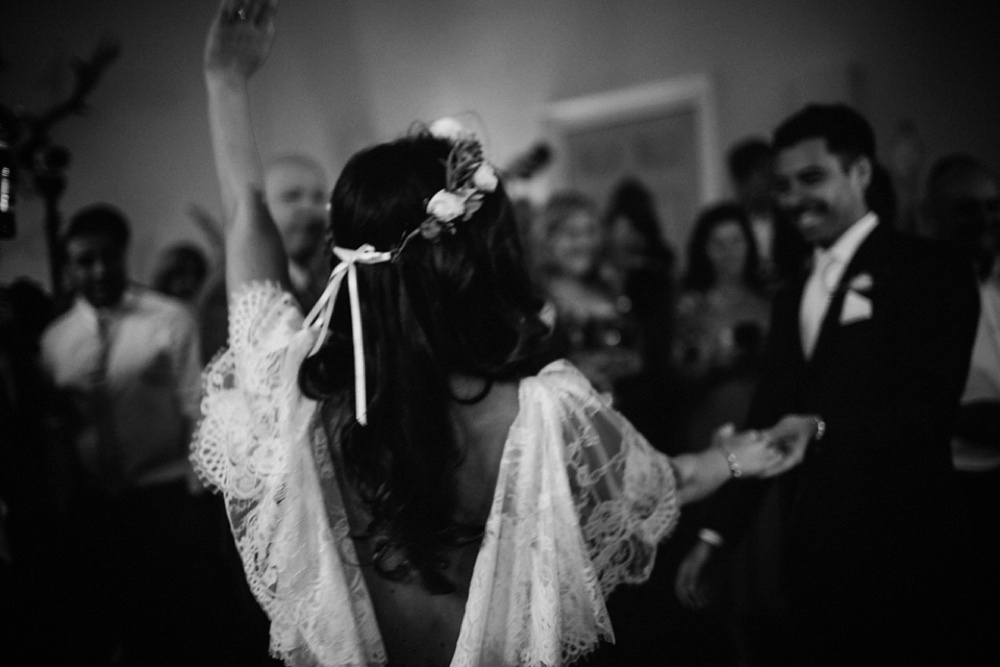 "It is impossible to pick a specific highlight from the day as the entire day was perfect and at the end of it my cheeks ached from smiling so much. If I had to then I would probably pick the ceremony as it is when I actually got to marry Guney and that was so, so special. Guney's favourite bit was most definitely the dirty dancing with his best men and ushers late into the night."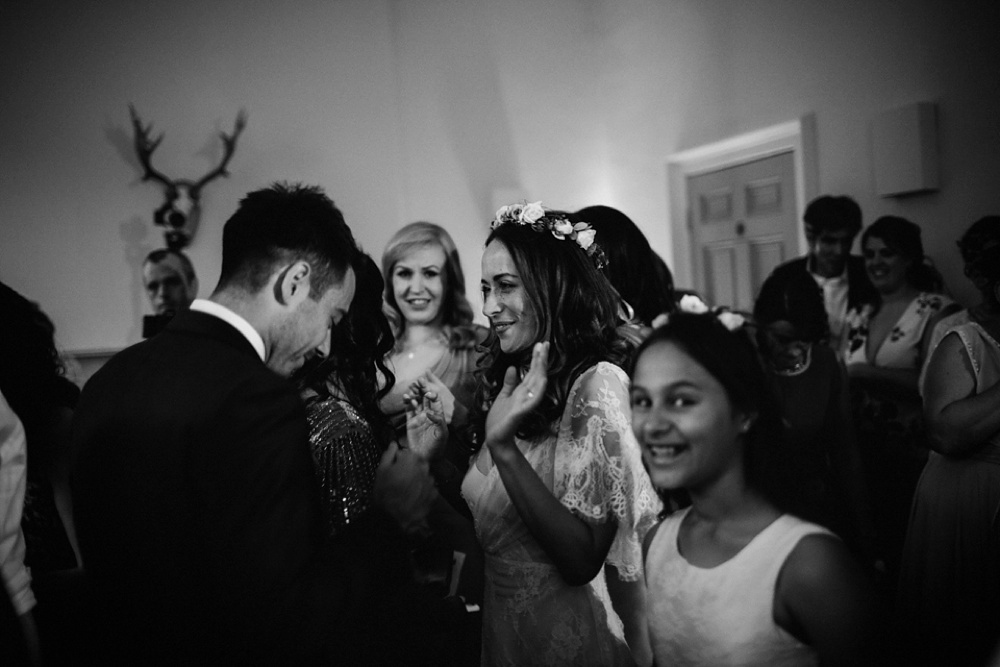 Words of Wedded Wisdom
"It is so cliché (and so impossible) but relax and enjoy every moment. Everything takes care of itself in the end so just have fun and take it all in. Also, remember stick on bras/boob tape do NOT stay in place all day."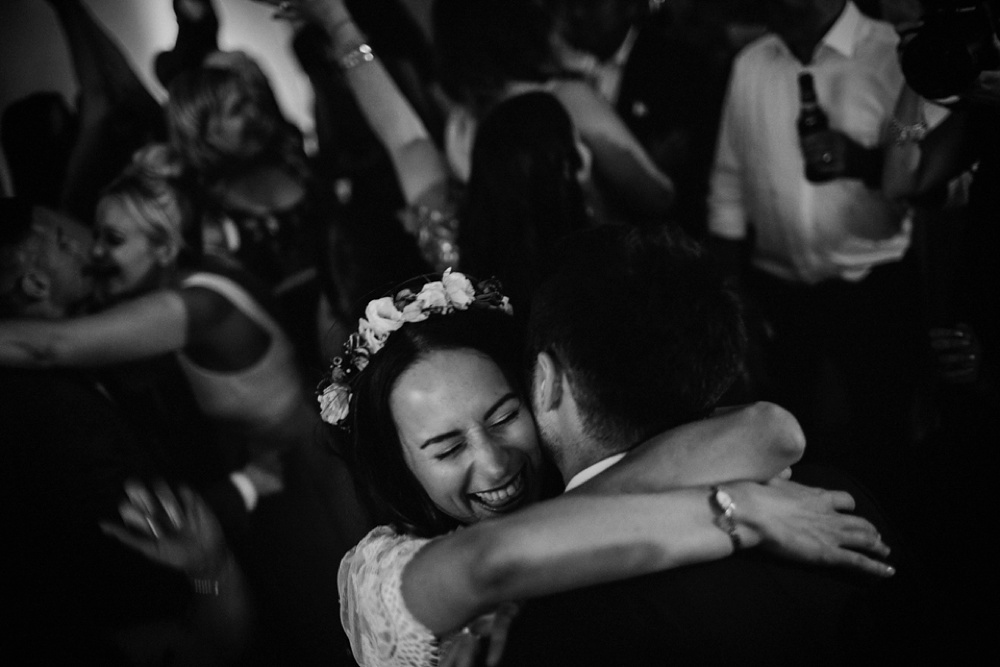 Gosh what a beautiful day! Jo's dress is most definitely one of my Love My Dress favourites – absolutely stunning. Thank you to both Jo and Guney for letting us into your wonderful wedding. My thanks also to Claudia Rose Carter for the superb photography today. Are there any other brides out there wearing Ivy and Aster on their big day? I would love to hear about it!
Love Louisa x
Photographer – Claudia Rose Carter
Venue – Clissold House
Wedding dress – Ivy and Aster via Frou Frou
Veil – Frou Frou
Bride's shoes – Rupert Sanderson
Bride's accessories – pearl necklace and earrings from Stephen Einhorn
Bridesmaid dresses – Ghost
Flowergirl dress – John Lewis
Groom's suit – Reiss
Florist – One Flew Over
Rings – AS Jewellers
Hair Stylist – House of Locks
Catering – The Gatherers
Entertainment – Wedding Smashers