Every single wedding we're share on Love My Dress leaves me feeling a sense of privilege and price that we're lucky enough to share them with you, but every once in a while, a very special wedding comes along that fills my heart with pure happiness.  Those of you who have been reading Love My Dress for a little while, will be aware that we have a series of features written by real brides planning a wedding – to whom we affectionately refer to as 'The Lovettes'. The beautiful bride you see in these photographs today is Kay, one of our original Lovettes – you can catch up on all her wedding planning posts here, including this feature about her amazing kitchen party.
I feel honoured today to be sharing these exquisite photographs captured by my faves M&J Photography, and film by Reel Weddings.  Both still and moving images document this love-filled wedding so utterly beautifully that I could cry. In fact, I have shed tears several times in preparing this feature – but let me not digress.  Kay, a Financial Crime consultant (she works in banks to combat money laundering) married Sam, a book designer within Penguin Random House, in an exceptionally beautiful wedding celebration on 3rd August at Northbrook Park, a beautiful eighteenth-century manor house in Farnham, Surrey.
Film by Reel Weddings
"Our wedding film was made by Aaron and Andre of Reel Weddings. I had my heart set on Reel Weddings long before Sam had even proposed and even made sure we set our wedding date on a day that they were available. I am such a huge fan of their work and often find myself laughing and crying at the wedding videos of complete strangers that they have made."
Images by M&J Photography
"The style of the wedding was inspired by my Maggie Sottero Boston dress and its 1920's style tiered lace skirt. We didn't go for a strict 1920s theme, but keeping the era in the back of our minds helped focus all of our ideas. We mainly used rich gold tones, brassy metals and deep burgundy."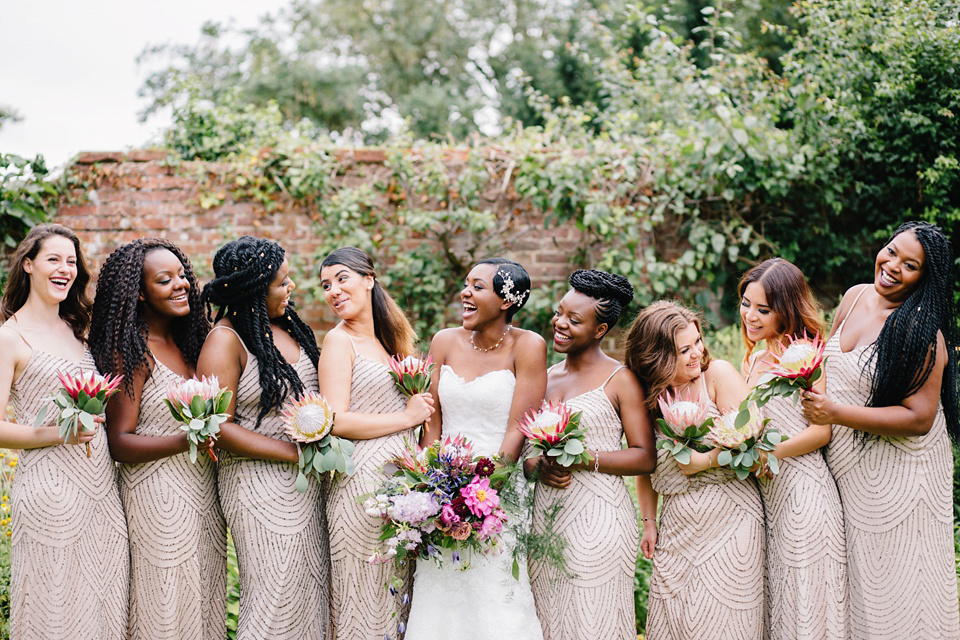 "I wore the 'Rebecca' tulle fingertip veil by Untamed Petals and the 'Brooke' hand-painted enamel flower hair vine by Klaire Van Elton – both from the online shop, 'Liberty In Love' which I came across on Love My Dress."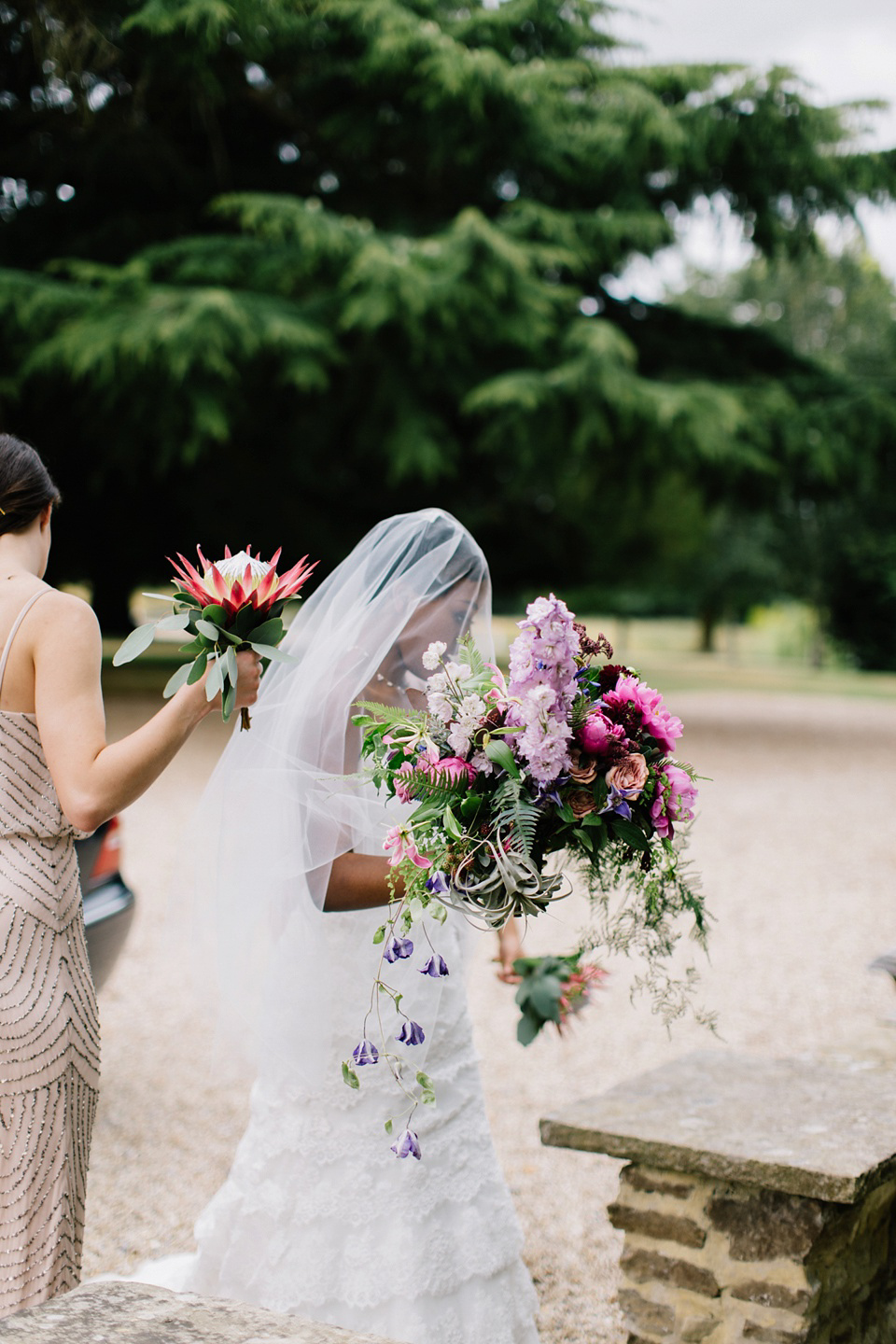 Maggie Sottero via Elizabeth James Bridal
Floral amazingness by Bloomingayles
"Sama Hemsley of Utterly Wow was our on the day co-ordinator, hiring her was one of the best decisions we made. I am such a busybody and was so worried that I would spend the wedding day faffing about, sorting and arranging things. It was such a great feeling to know that we could both completely switch off and enjoy the day, and that all the details that we had spent the last two years putting together would be lovingly and creatively laid out by Sama."
Louboutin bootees
via the Outnet.com
"Our photographers were Morgane and Jonny from M&J Photography, who are the sweetest duo you could ever imagine. I just love their style of photography so much, it's so soft, ethereal and warm. The pictures are not only beautifully taken, but they retell the story of our wedding exactly how I remember it. Every picture feels like a vivid memory."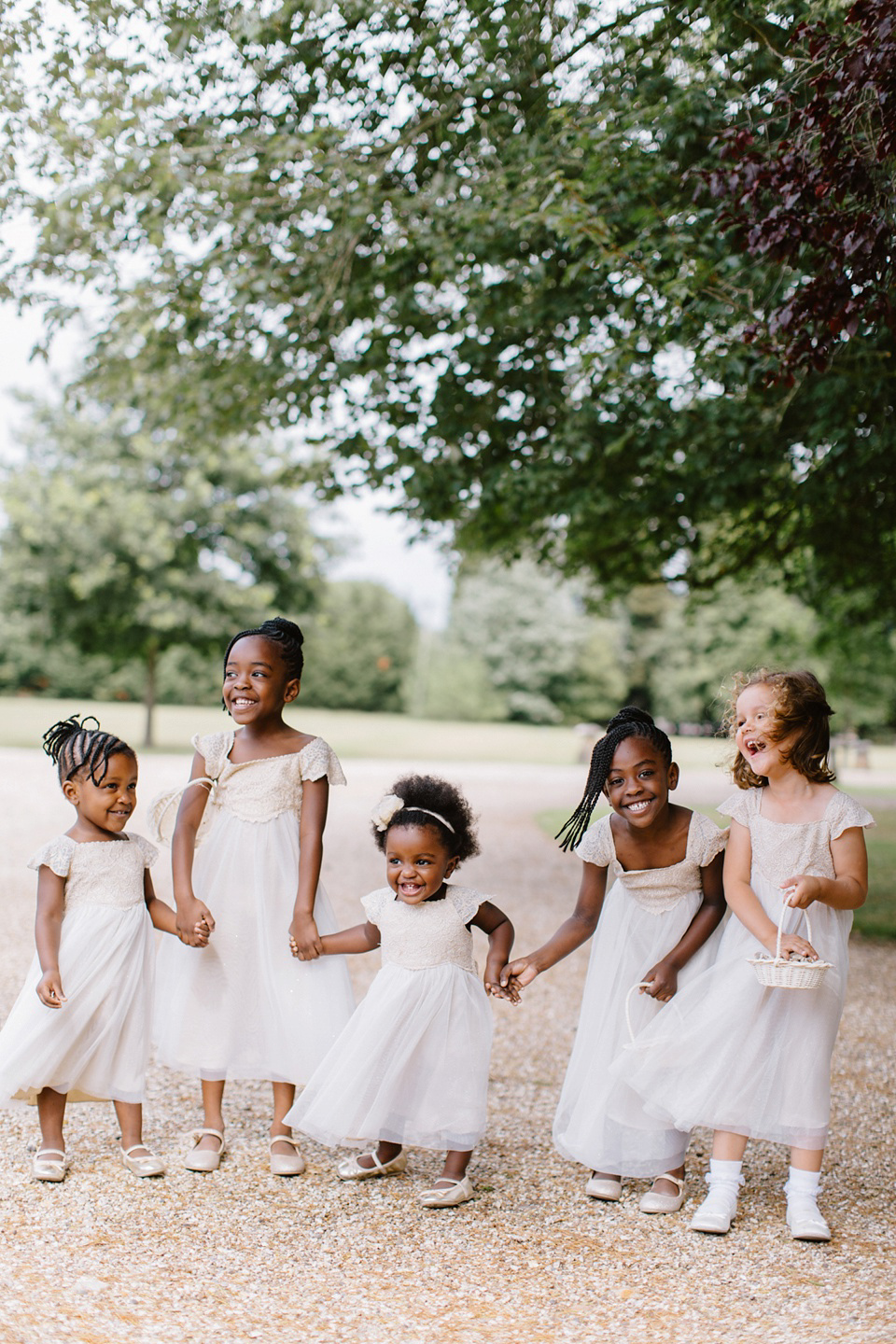 "We got married at Northbrook Park, a beautiful eighteenth-century manor house in Farnham, Surrey. After searching far and wide across the internet for a venue that could comfortably fit over 170 people, offered flexible catering options and could be easily reached from London, Northbrook Park was the only venue to make it onto our shortlist.
We visited Northbrook on a grey, rainy, December morning; but even in the rain, it was love at first site and we booked the venue a day later."
"In all honesty, shoes were right at the bottom of my list of priorities. My dress was so long that they wouldn't be seen, so I had no particular desire to get anything fancy. I knew I wanted something that felt like me, and as nearly all of my shoes are boots, I didn't see why it should be any different for the wedding. I was going through a serious gold obsession at the time, so decided that gold boots were a must, without thinking about the fact that tracking down gold boots may not be an easy task. One morning I was flicking through the Outnet.com (the place wear net-a-porter puts their sale stock) and spotted the Christian Louboutin leather metallic gold ankle boots for half price.
They were so over the top – I loved them. I ummed and ahhed about it for weeks, and then eventually cracked after Christmas, and decided it would be my own wedding present to myself which I funded out of a little stash I had saved for a treat. I knew I had made the right decision when I showed my mum a picture and she said, 'they're nice, but they look like all of your other shoes!
I wore them with white frilly socks from River Island, which made them really cosy and a bit more bridal. Despite the 4.5 inch heel they are actually very comfortable and easy to walk in, I kept them on until well into the night."
"My hairstylist was David Johnson (07932 – 533046), who is based in Croydon, and has been cutting my hair for the last 4 years. It was reassuring to have a hairstylist that I knew and trusted, as I decided I wanted more hair chopped off on the morning of the wedding! I used to be a big Downton Abbey fan (until they killed off Cousin Matthew), and loved the way that Lady Mary wore her hair in marcel waves with a floral headpiece for her wedding, so she ended up being a big influence!
My make-up was done by one of my bridesmaids, Kayla, who has been doing my make up since we first discovered eye shadow shimmer and sticky clear lip-gloss about 10 years ago."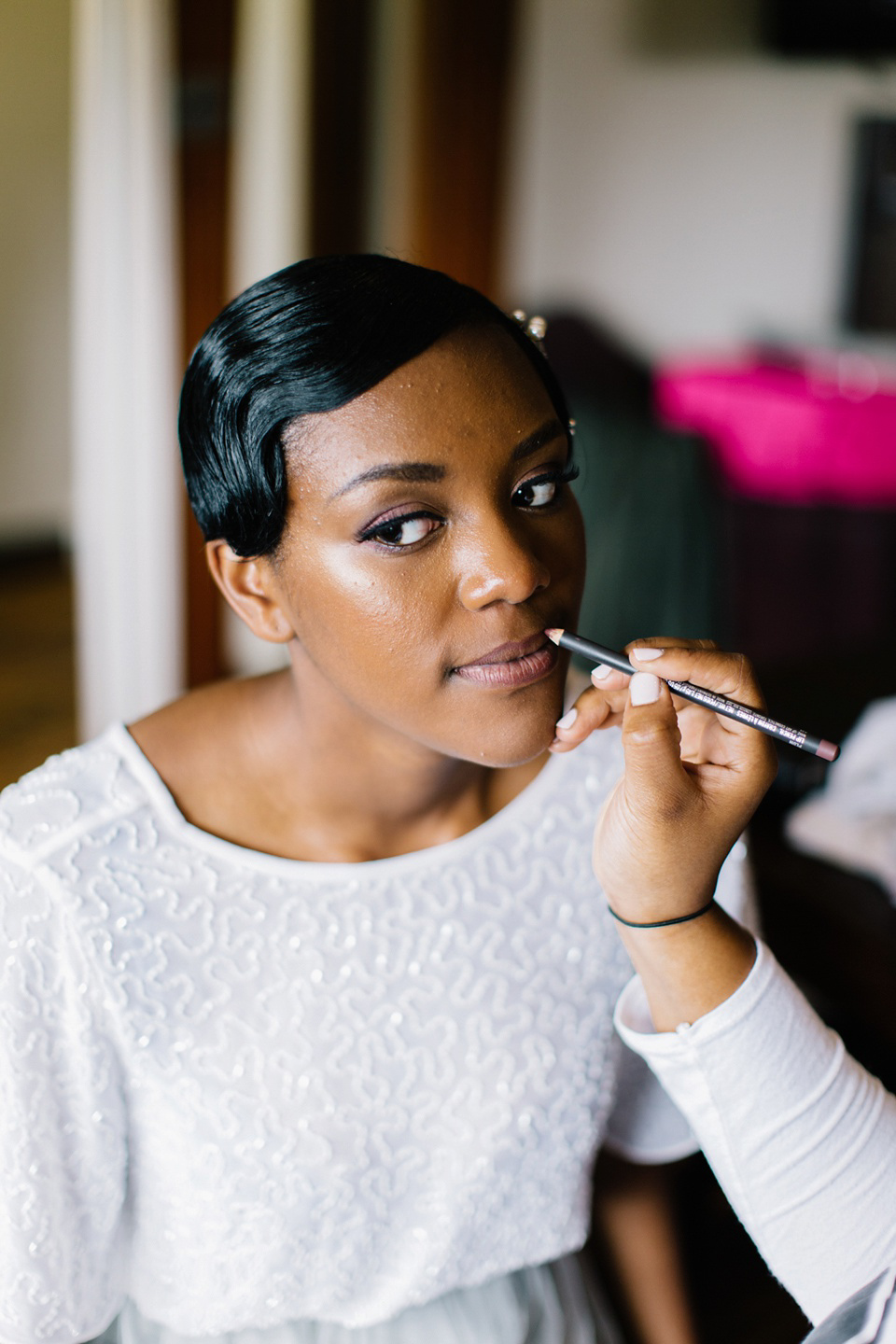 "I tried on at least 30 dresses; the Maggie Sottero Boston dress that I finally chose was around number 25. I vividly remember rummaging through the rails, stopping at the Boston dress and thinking, 'woooh…all that lace is a bit in your face'. But there was something about it that drew me in, so I picked it up as a wild card. When I put it on and saw myself in the mirror, I had a really unfamiliar feeling.
It wasn't that emotional feeling I was expecting, or a sense of relief; it was more of a curiosity and excitement. I loved that the dress was a bit different and was excited by the idea of wearing it, but dress searching had become a habit that I wasn't quite ready to let go of, so I left the shop without the dress to a continued on my search. After trying on more dresses, I came to realise that Boston was the one for me and my mind was finally made up."
"Liberty in Love specialises in bridal accessories and were amazing throughout. There are so many styles of veil; I didn't know where to start when it came to lengths and types of tulle and what would match my dress, so I sent an email to the Liberty In Love team asking for some advice. The next day I had a lovely email back from one of the Owners, Tabby, with a list of her own personal recommendations and detailed descriptions.
After that she contacted designers on my behalf about delivery times, arranged material samples and had everything sent over in beautiful packaging. I can't recommend them more highly."
"We met as timid twelve year olds in our first year of secondary school, when our form tutor, Mrs Kane, sat us together in class. We bonded over MSN instant messenger, where we would speak to each other for hours after school every day about anything and everything. We adopted the titles of boyfriend and girlfriend at the age of 13, and stayed together for eight years through the turbulent times of GCSE's, braces, several major hairstyle changes, A-levels, and going to universities 250 miles apart."
"Sam asked me to be his wife on a sunset evening by the river in London. I fidgeted awkwardly, as we sat in near silence beneath a beautiful overhanging tree and I tried not to make it obvious that I knew the moment was coming. When you spend your formative years with someone, your minds seem grow interlinked and you can't help but sense what the other is thinking. So as Sam got down on one knee, I burst into the hysterical tears that I had been holding in for the last hour and eventually said yes.
We were engaged for two years before getting married in a ceremony conducted by Mrs Kane, the teacher who had first sat us next to each other at school."
"Sam wore a navy blue three piece suit from Next, who have a great selection of suits for men who are a slim build and don't want to look like they've borrowed a baggy suit from an uncle. He wore his suit with a white tie. The groomsmen wore the same suit as Sam but with burgundy ties."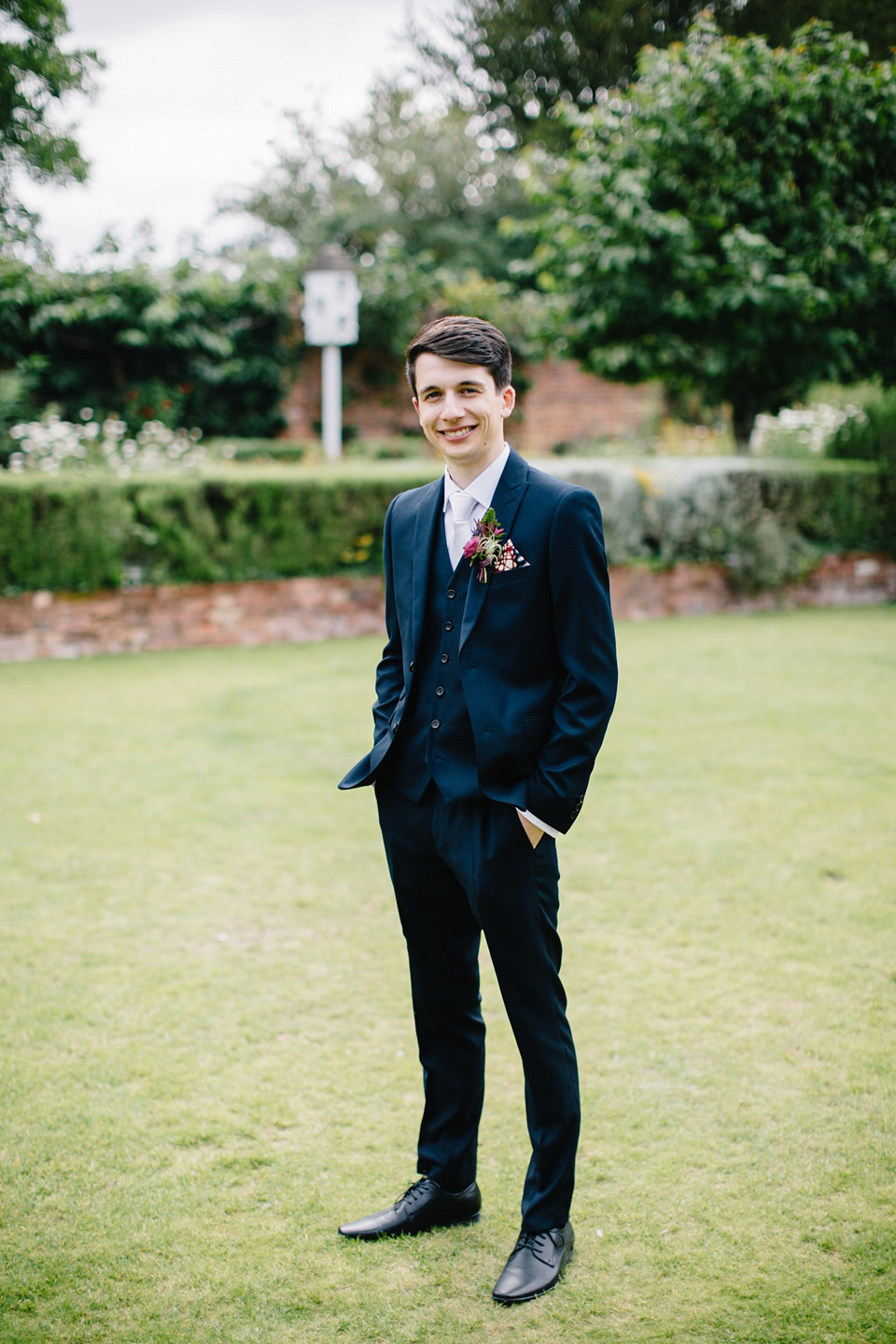 "My oldest sister sewed matching pocket squares out of African fabric for Sam and all of his groomsmen."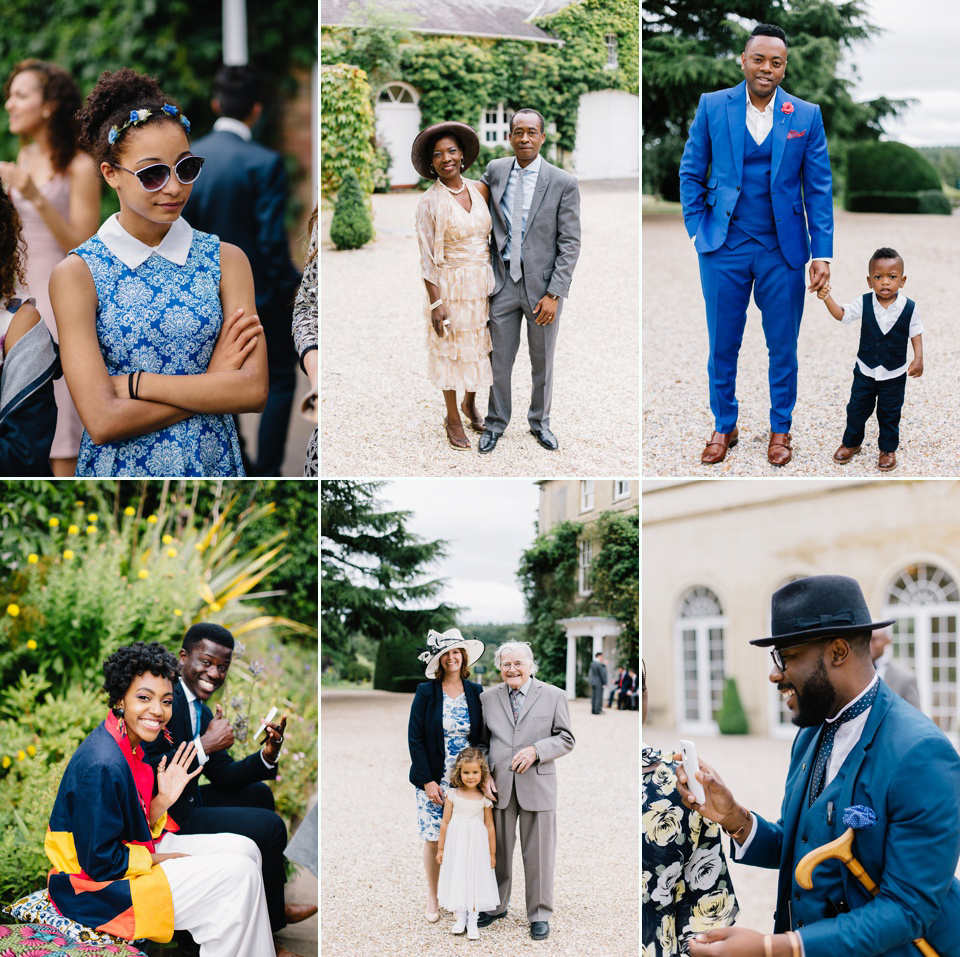 Kay and Sam's five nieces wore the Estella Sparkle dress in gold from Monsoon.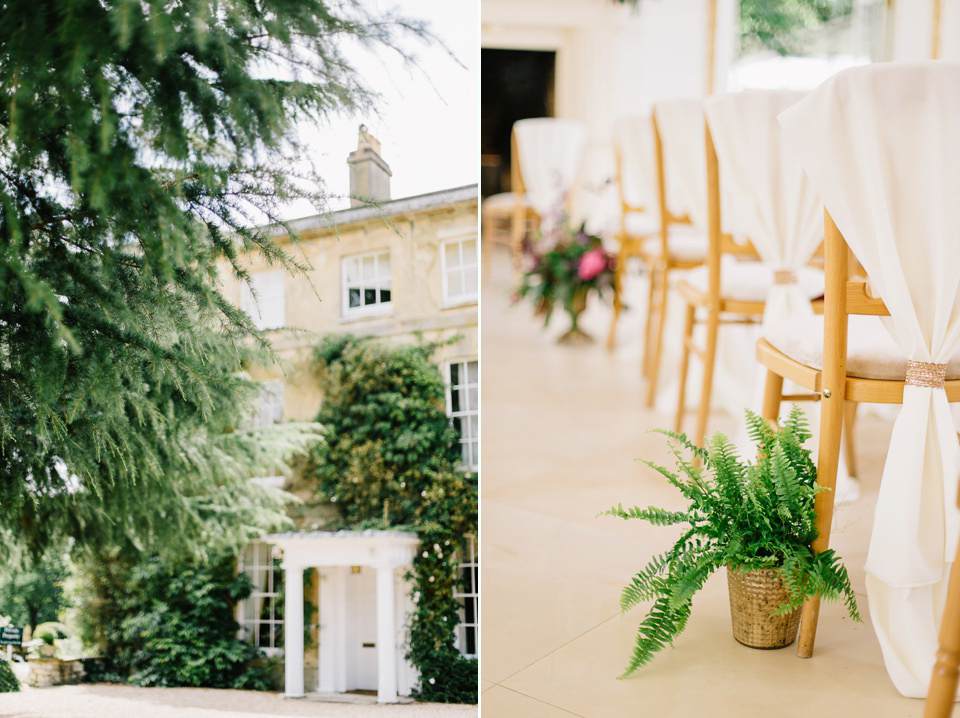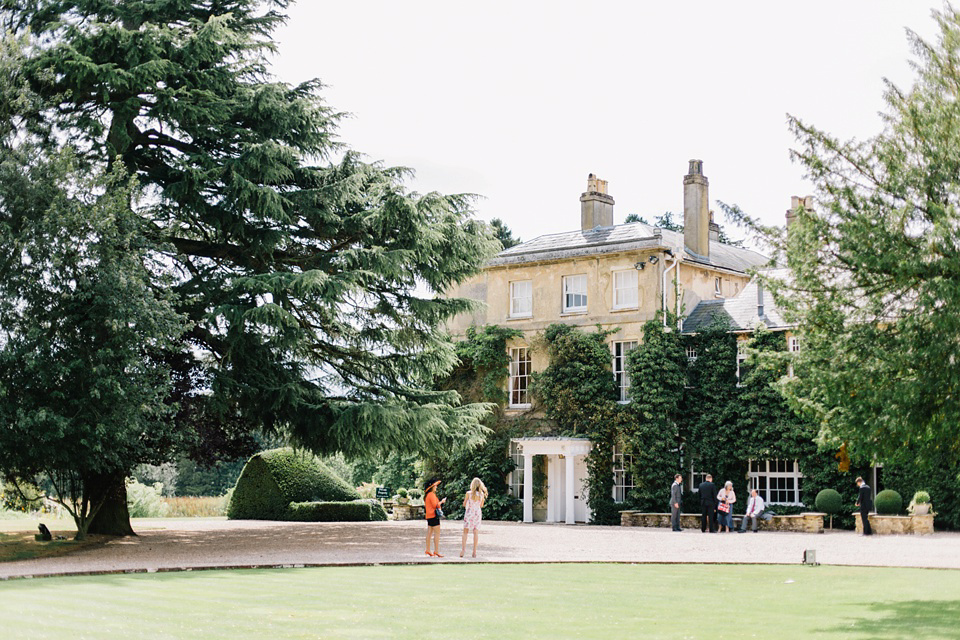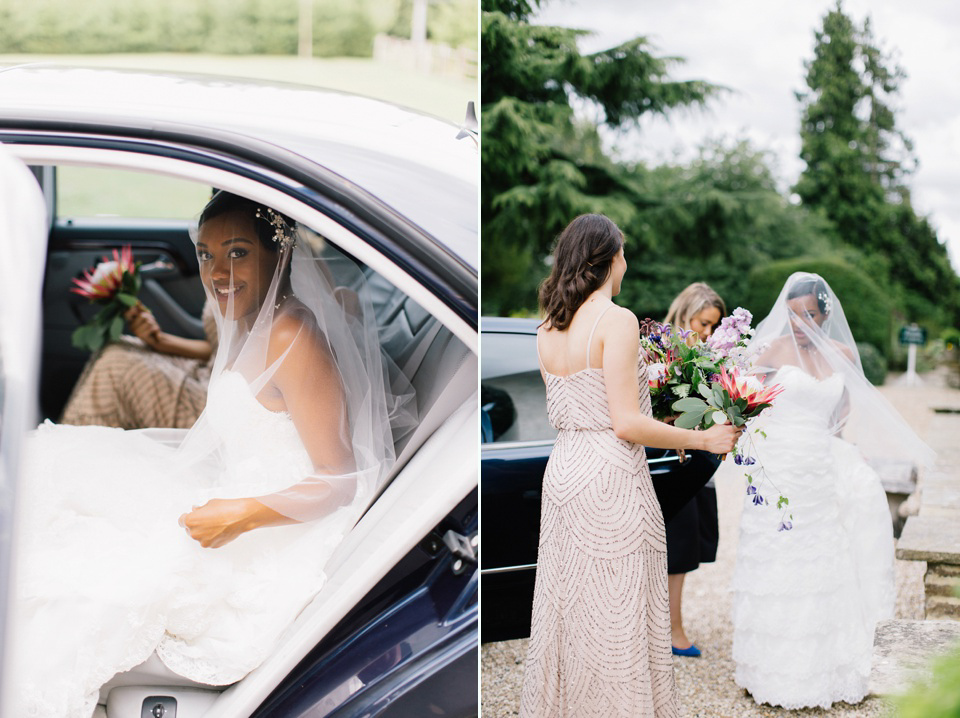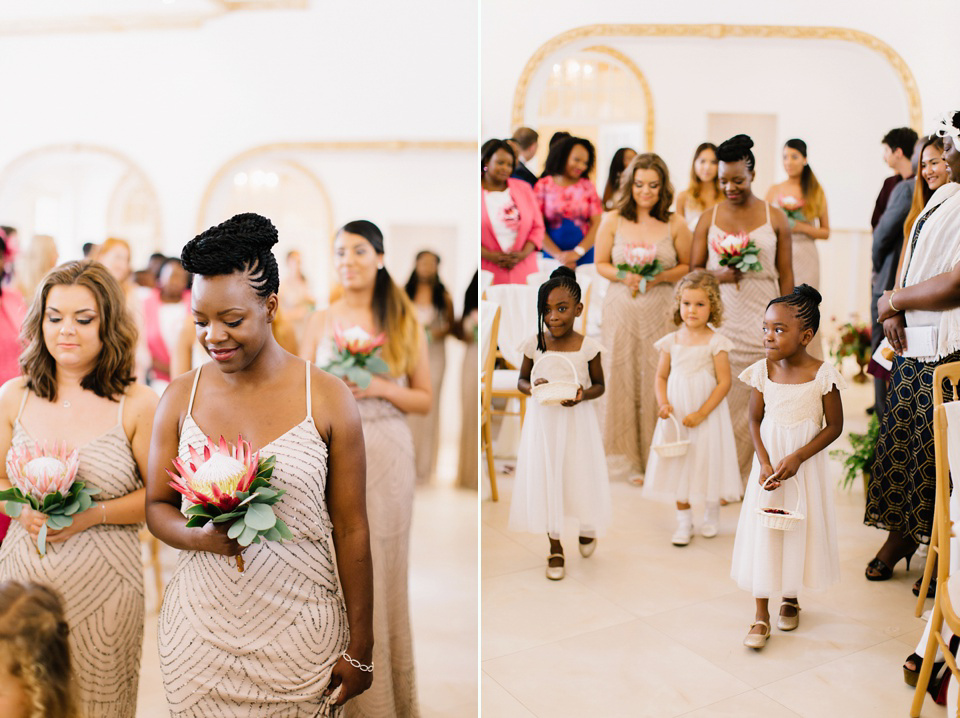 "My Dad walked me down the aisle to the sound of Johann Pachelbel's Canon in D, played by Hayley Wilde on the harp. My sister Pasha and I have been strangely attached to Canon in D for years, after watching Farther of the Bride on repeat throughout our childhood. So I was really excited to be walk down the aisle to it with my own Father of the Bride!"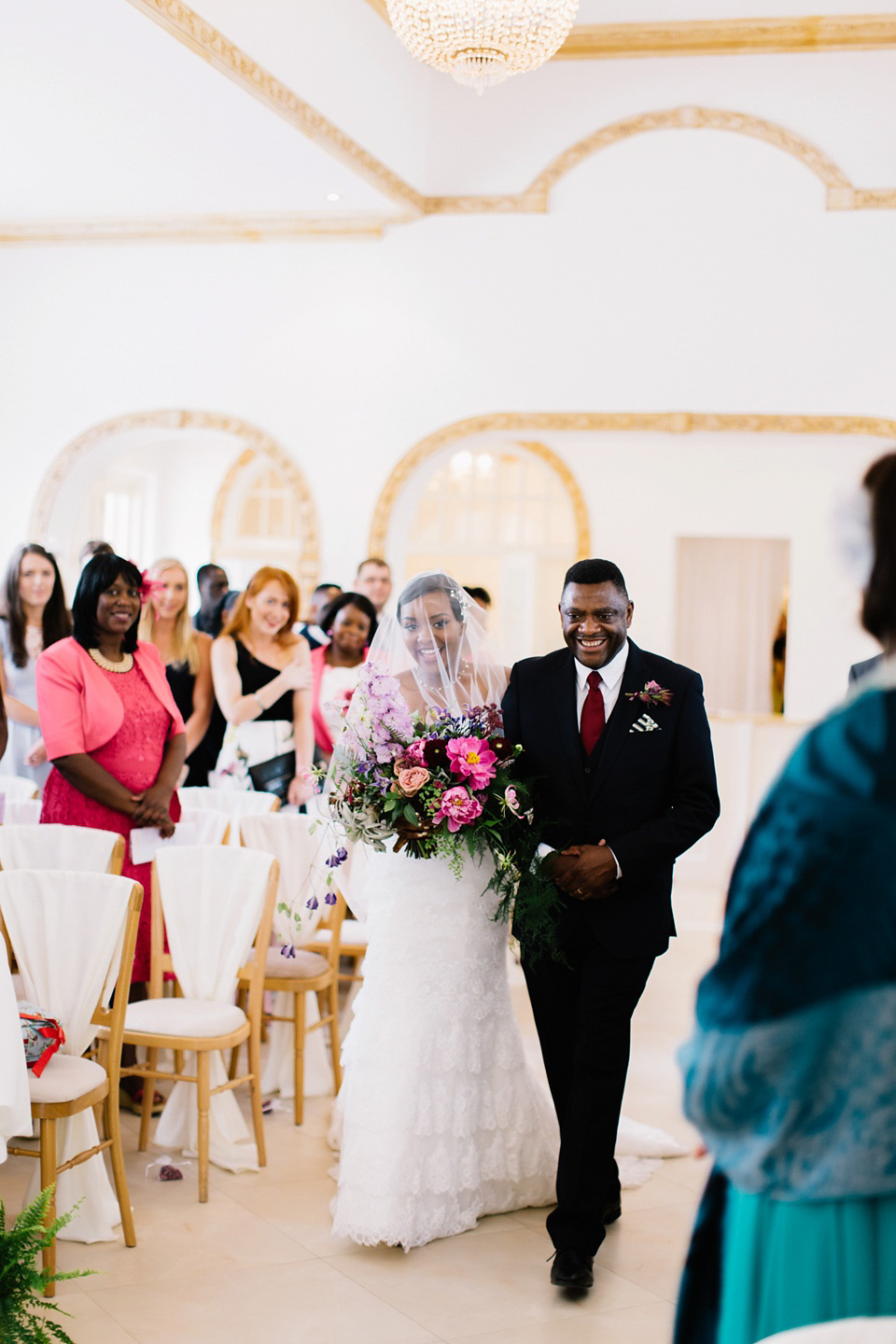 "We used the traditional vows as they are such powerful and timeless words." 
"My engagement ring was bought from Peter Groom jewellers in Caterham, Surrey, which is the jeweller that Sam's family have always used and is where Sam bought me an aquamarine necklace for my 15th Birthday. Unfortunately they closed down recently. Our wedding bands were handmade by our friend Thirsa Rothman who is an amazing jewellery maker and specialist diamond setter based in Bournemouth."
"Sam and I did the legalities such as signing the register two days before our wedding day, so that we could have our ceremony at Northbrook Park in a way that was personal and meaningful to us. As we are both Christians, we wanted a ceremony filled with modern hymns, heartfelt prayers and bible readings. We took all of our readings from The Message translation of bible, which uses contemporary language and is quite poetic in its style."
Songs of Solomon 8:7-8 (MSG)
The fire of love stops at nothing—
it sweeps everything before it.
Flood waters can't drown love,
torrents of rain can't put it out.
Love cannot be bought, love cannot be sold—
it is not to be found in the marketplace.
1 Corinthians 13:4-7 (MSG)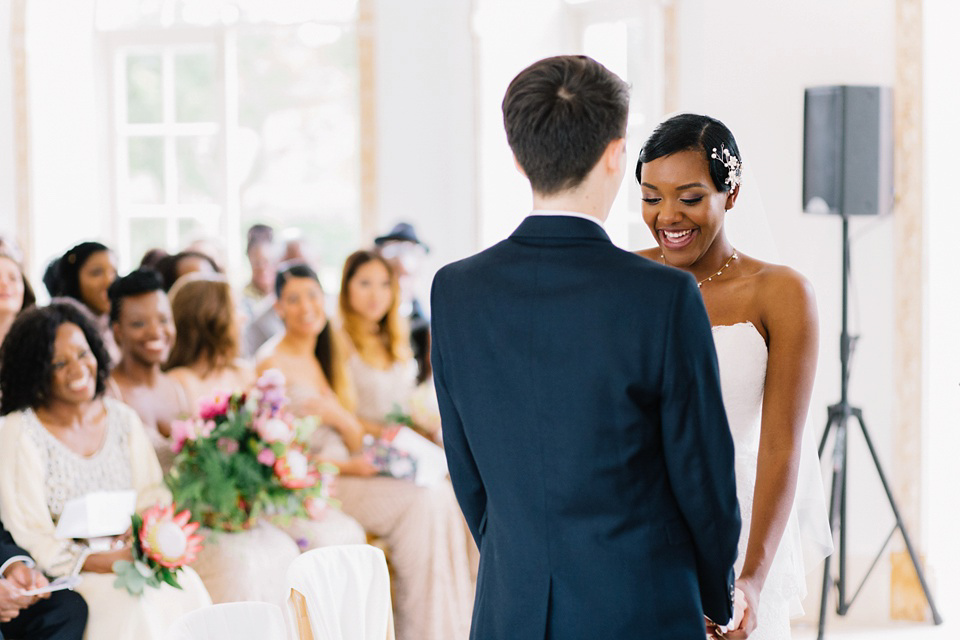 So, no matter what I say, what I believe, and what I do,
I am bankrupt without love.
Love never gives up.
Love cares more for others than for self.
Love doesn't want what it doesn't have.
Love doesn't strut,
Doesn't have a swelled head,
Doesn't force itself on others,
Isn't always "me first,"
Doesn't fly off the handle,
Doesn't keep score of the sins of others,
Doesn't revel when others grovel,
Love takes pleasure in the flowering of truth,
Puts up with anything,
Trusts God always,
Love always looks for the best,
Never looks back,
But keeps going to the end.
"My cousin Emae is a singer/songwriter and her brother, Gershom, plays as the guitarist in her accompanying band. They led the guests in the hymns, and also performed Emae's own song called 'Something Beautiful'. The hymns we chose were Forever Reign by Hillsong and One Thing Remains by Bethal Music."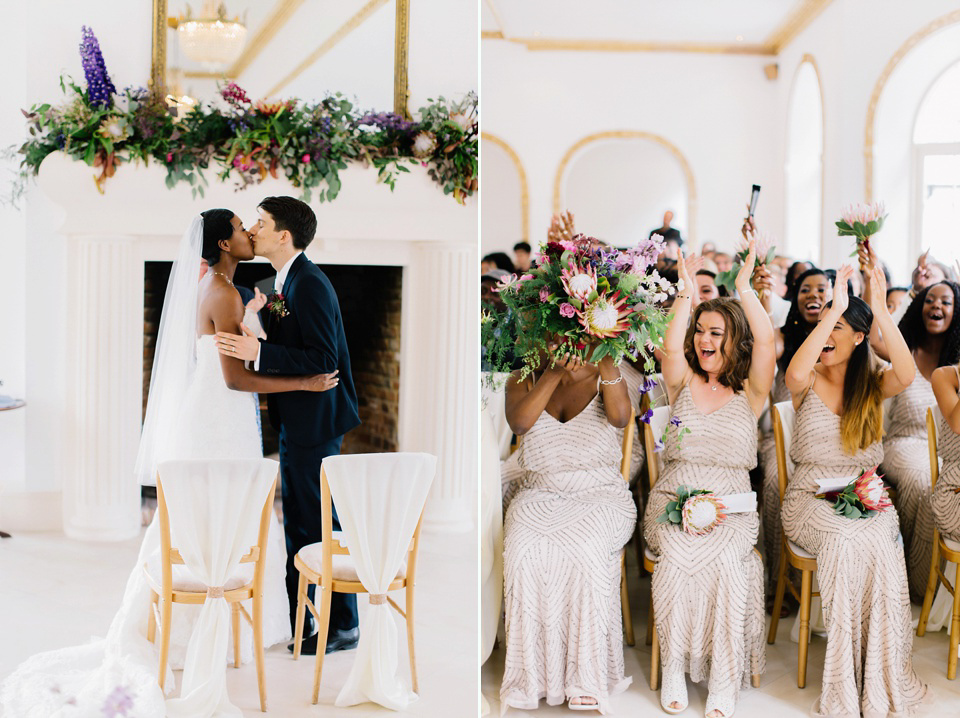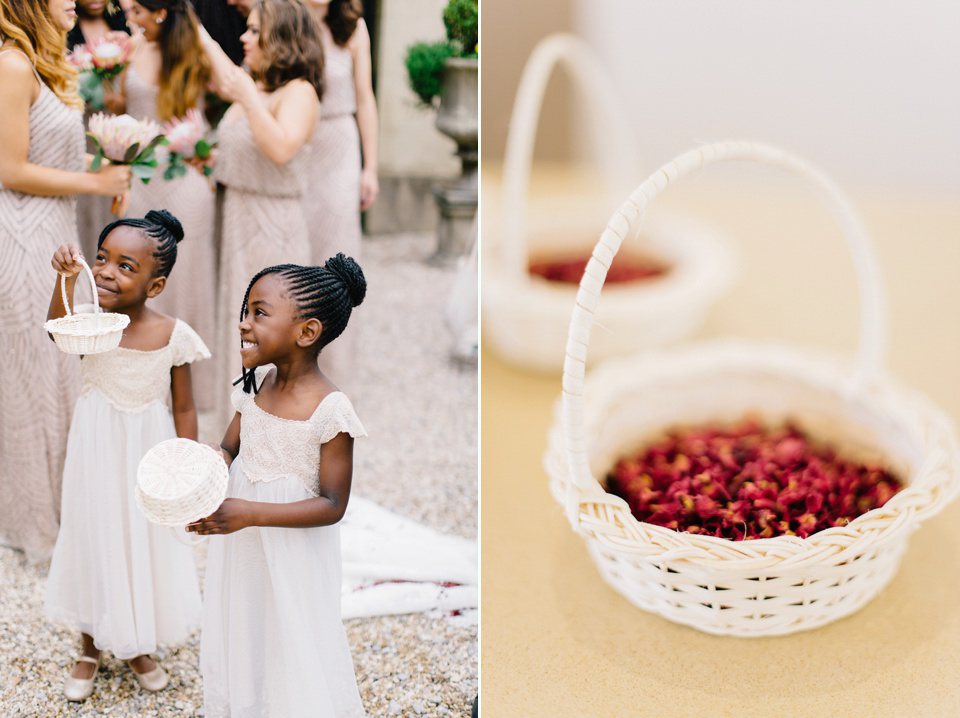 "We had Hayley Wild, A Harpist, playing jazzy and folky songs throughout the cocktail hour which really lifted the atmosphere."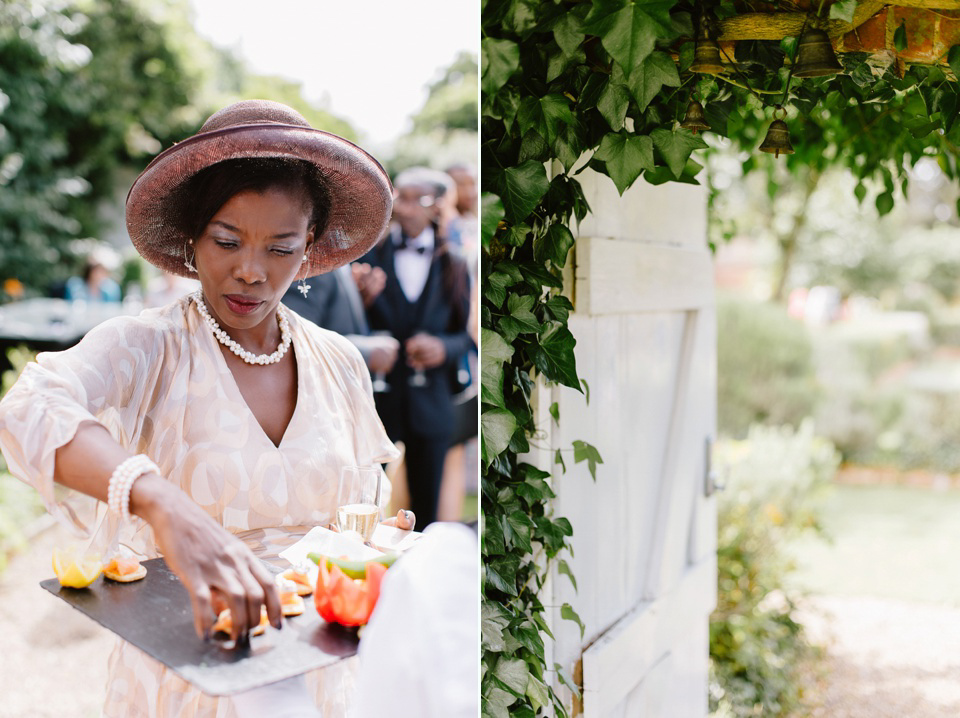 "Our florist was Gayle Evans of Bloomingayles, a.k.a the queen of epic floral masterpieces. I am ashamed to admit that I don't have a clue about flowers, despite the fact that my parents are farmers and active flower growers. The brief I gave Gayle for my bouquets was along the lines of, I want it biggish with traily bits and purpley ones and ferns. She gave us that and more.
She then filled the venue with floral displays, and brought these stunning grey candles in brass holders, and perfectly mismatched containers, which were just incredible. What a lovely feeling it is to walk into your wedding without knowing exactly what it's going to look like and being blown away by the most amazing sight.
Gayle also arranged the bridesmaids flowers which were South African Protea stems, which I love as they are so unusual and exotic."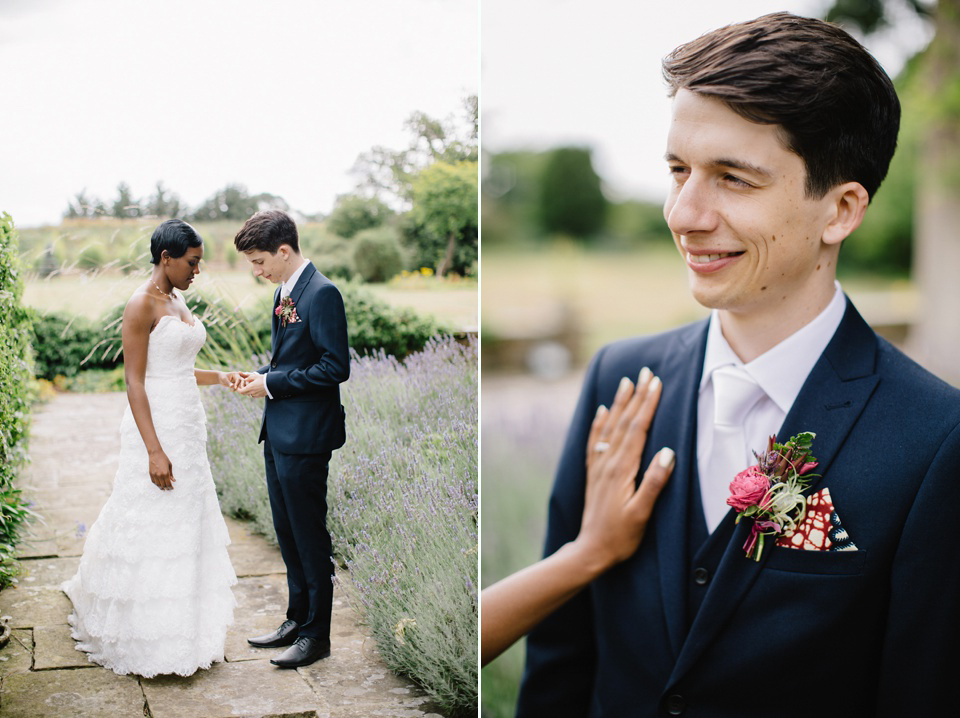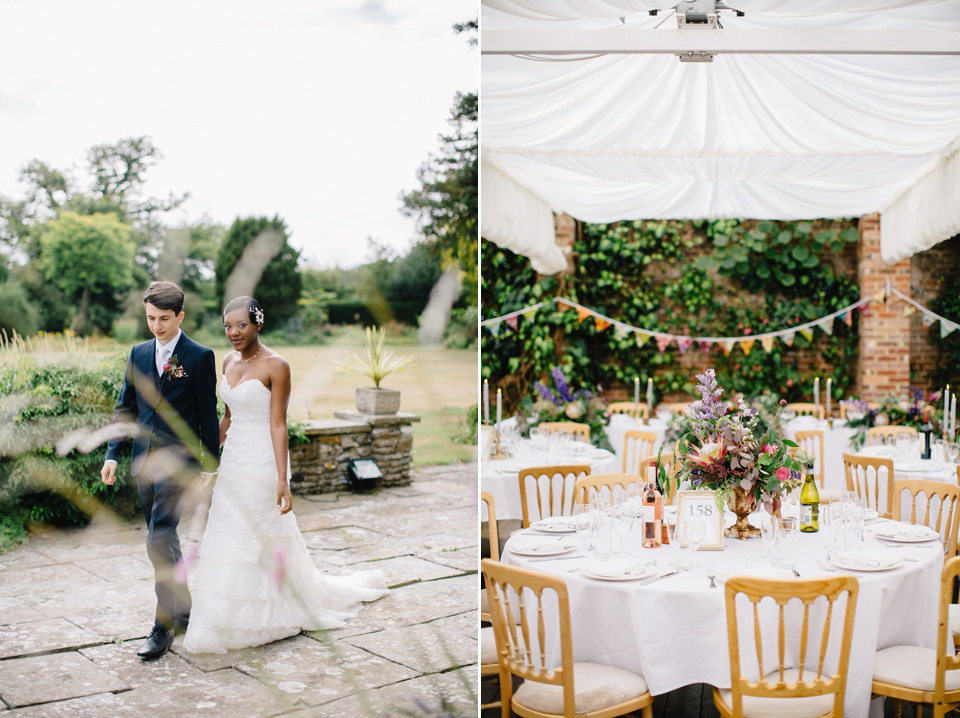 Kay's bridesmaids all wore the Adrianna Papell Art Deco beaded dress in taupe to match the 1920s style of her dress. She brought her bridesmaids dresses from House of Fraser during the Christmas sales.
"My bridesmaids were my two sisters and my six closest friends who have been in my life since childhood. I love that my bridesmaids are all so different, and represent four different continents between them. So when it came to hair styling, make-up, accessories and shoes, I asked them to do whatever they wanted."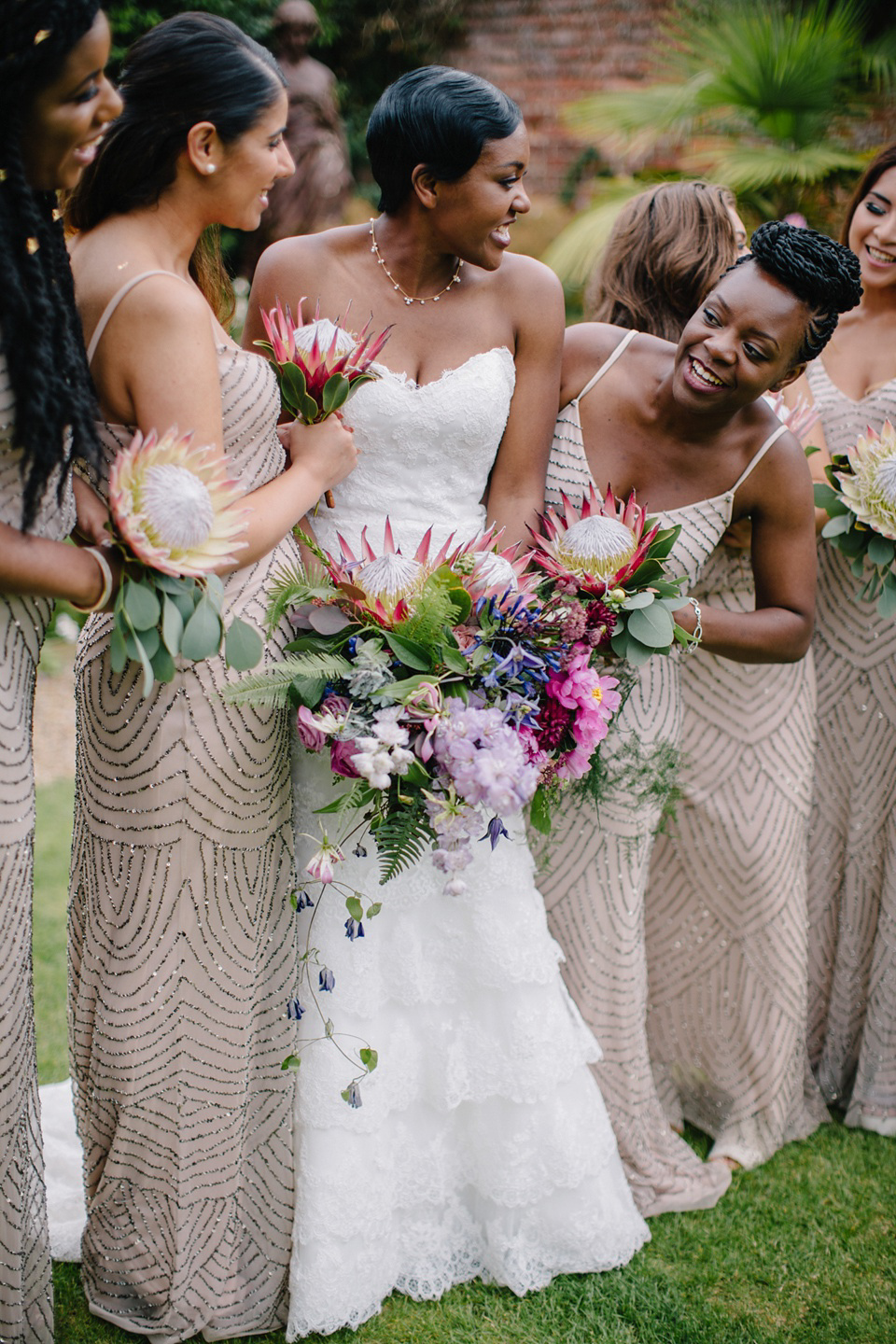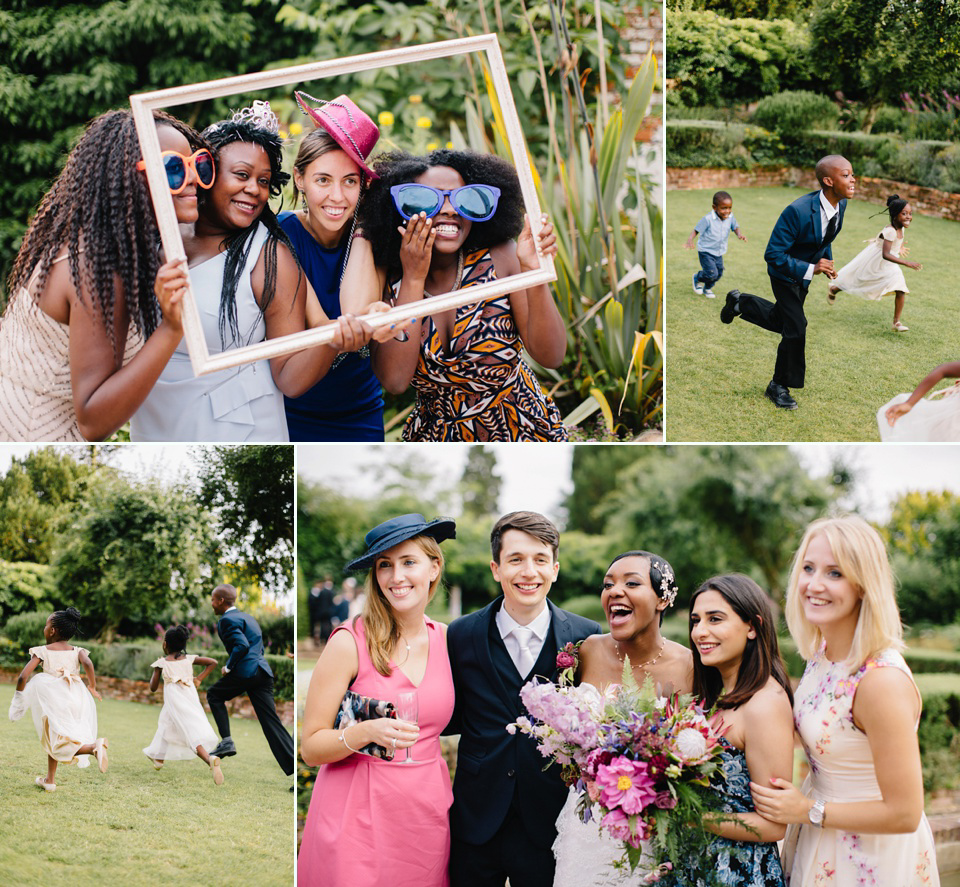 "The venue itself has a lot of beautiful ornate features, so we didn't need to do much decorating. The floral arrangements that Gayle created were the main decorative feature. We also reused the African print bunting that Sam's mum had made for my Zambian Kitchen Party, and my sister made African print covers for scatter cushions that we laid out of benches on the grounds."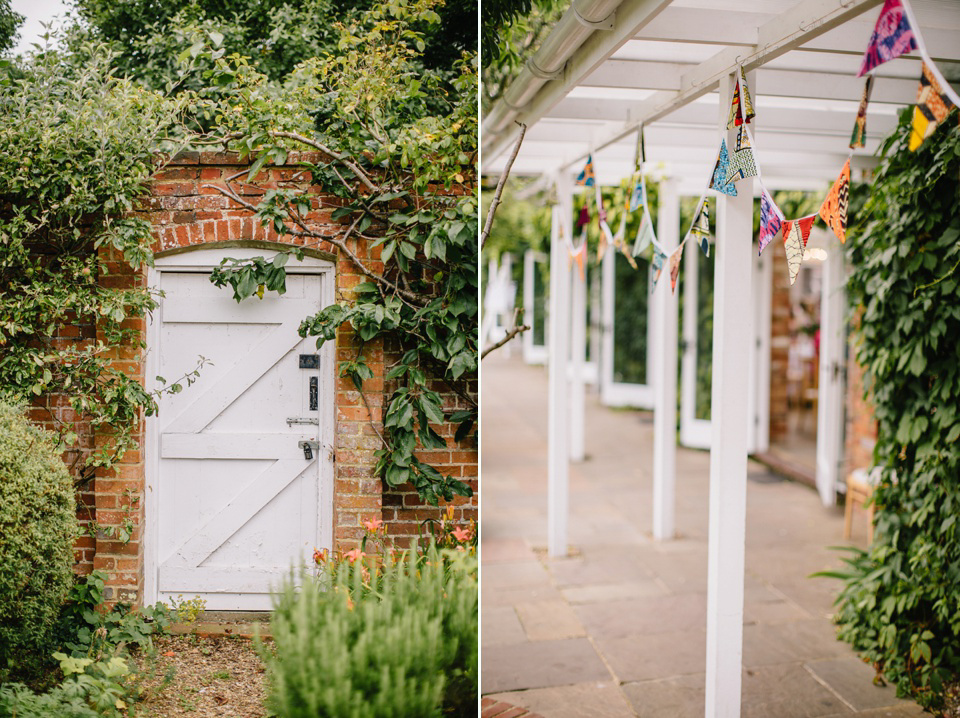 "Our caterers on the day were Favour Catering and Events, who were the happy ending to a wedding nightmare. We had originally planned to use a Fish and Chip caterer and who claimed to have catered for countless weddings and high profile events. Without going into too much detail, dealing with them was a horrific experience and meant that four weeks before the wedding we realised that we couldn't trust them with our big day and decided to cut ties. It was obviously stressful at the time but was a blessing in disguise as we booked Favour instead who were outstanding.
They served an Afro-British fusion menu in a 'family style' buffet', where beautifully presented bowls were brought to the guests' tables. The guests were then free to fill their plates with as much or as little as they wanted. Favour kept the bowls topped up and everyone was stuffed by the end of it."
"We hired a polaroid camera from Sama and stocked up on dressing up props from poundland, which we used for a makeshift photobooth. This was really popular during the cocktail hour and we now have a guest book full of hilarious photos to keep."
"The numbers we used for table settings were based on numbers that were significant to us, for example – 466 was the bus number I used to take to visit Sam."
"Our cake was from Marks and Spencer. It was a four-tiered chocolate cake with white chocolate ganache, which was not only absolutely delicious but great value for money too. We also bought around 150 Krispy Kremes to serve as dessert, Sama set this us beautifully as a donut bar with gold cake stands, wooden boxes and slate plates. We definitely should have bought a few more as they were devoured within minutes."
Readers – did you see this piece on Marks & Spencer wedding cakes that we published this weekend?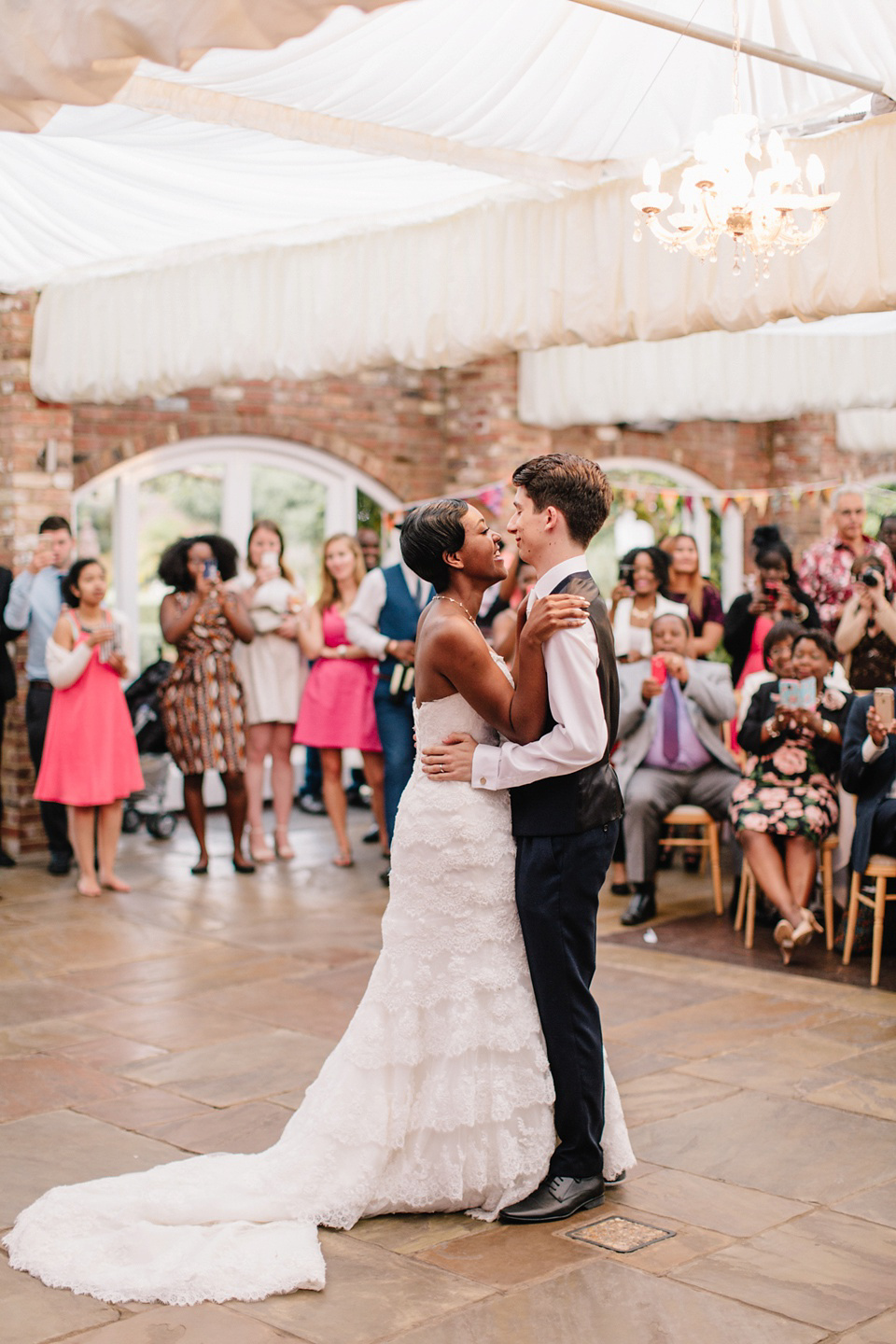 "Our DJ was Dan Browne from The Wedding Smashers, we knew we wanted to use the Wedding Smashers as all of their DJs are professionals who typically play for well known clubs and big events, so offered a more modern alternative to the usual wedding DJ style that can be a bit cheesy!"
"Dan did a amazing job of mixing in all the different styles of music we wanted from Afro beats to Disco, and went to the effort of adding to his music collection to include some of our more unusual request before the wedding. The dance floor was going strong all night."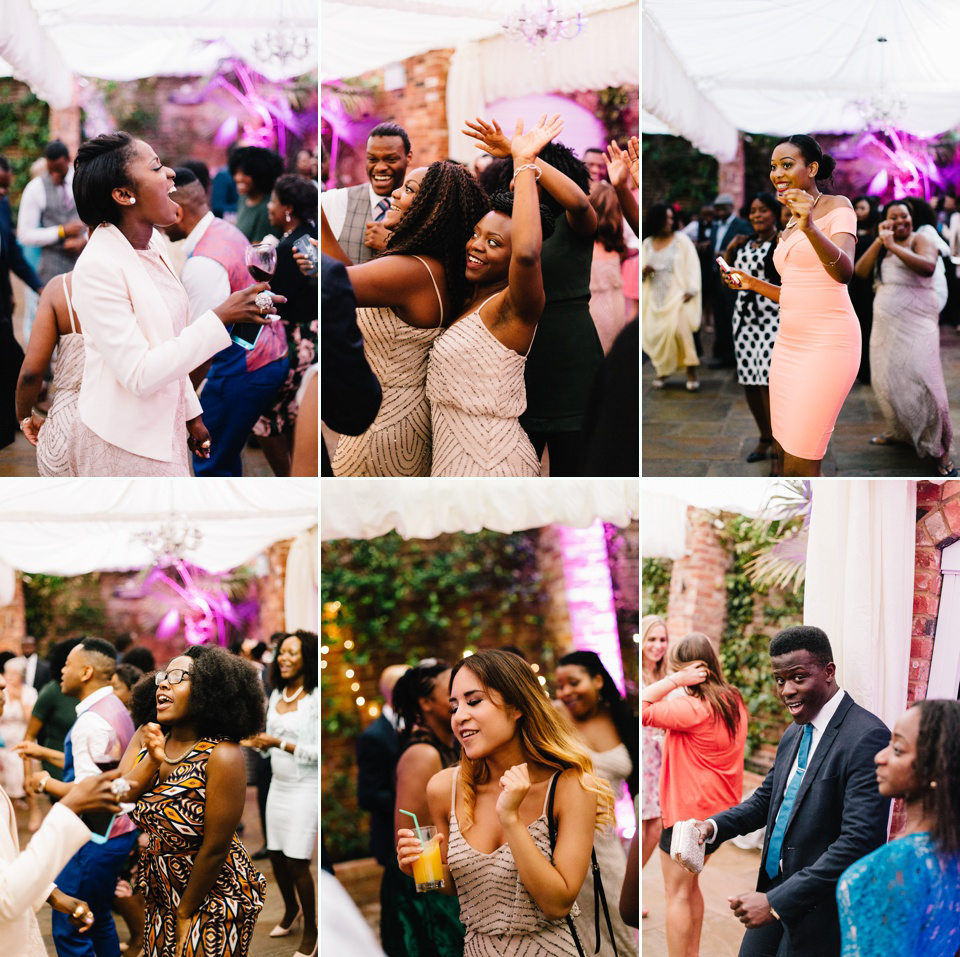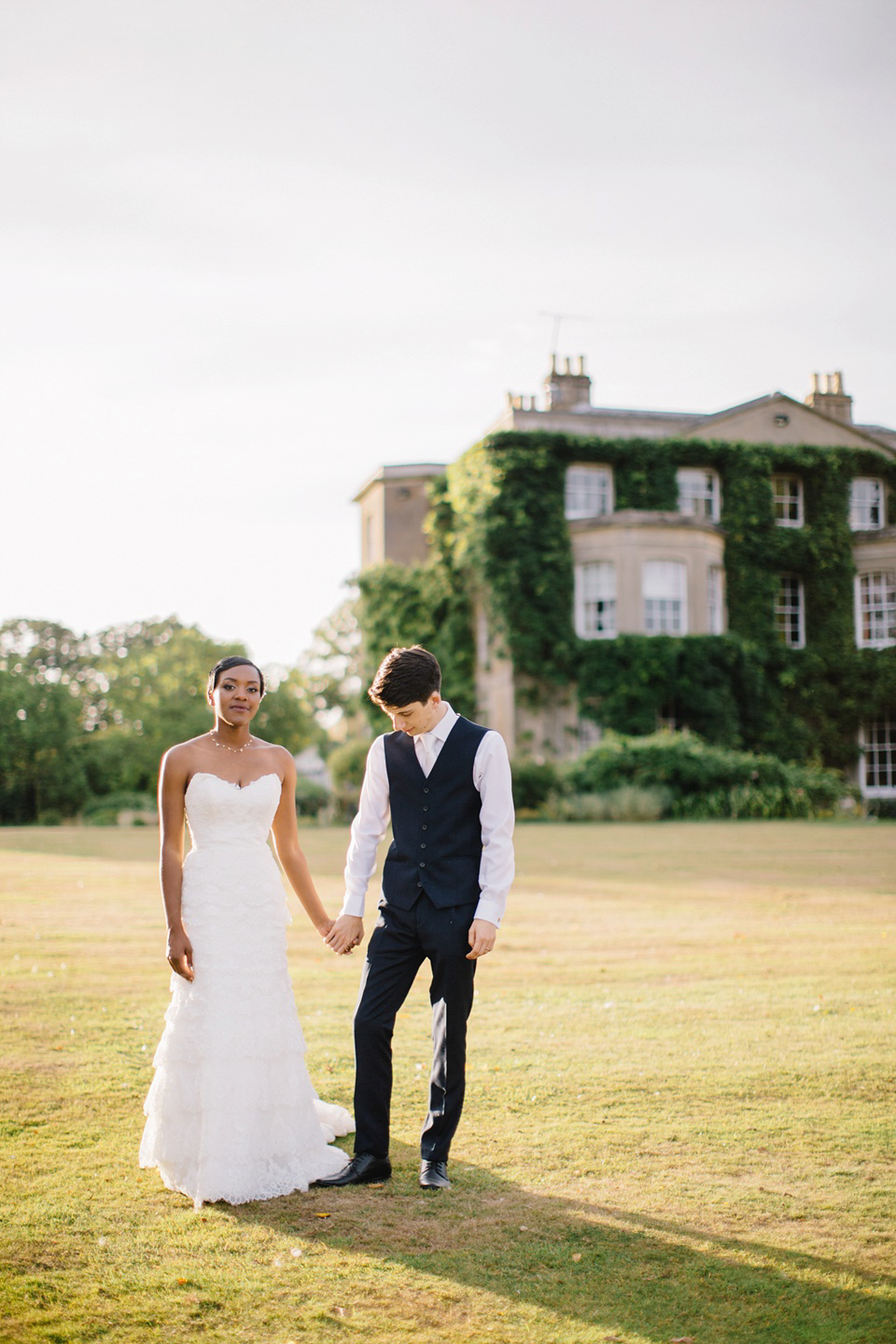 "It's so hard to pick a favourite part of the day. I loved the wedding morning as I was finished with my hair and make up really early so spent the rest of the morning making cocktails and covering my bridesmaids in temporary metallic tattoos. The ceremony was another particularly special part, we laughed a lot and smiled a lot and were both just so happy to be there."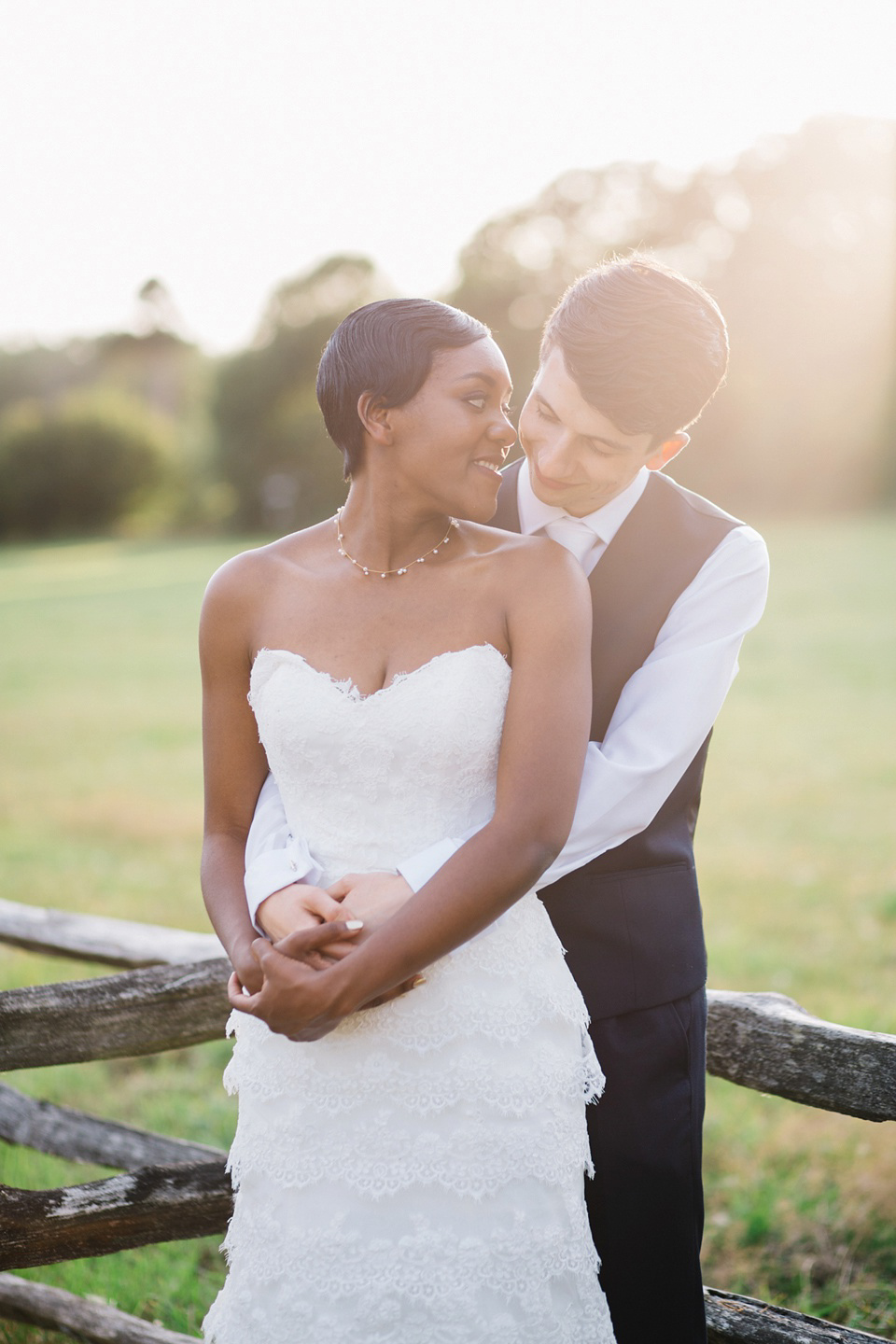 Words of Wedded Wisdom
"We chose to get married on a Monday, which not only saved us thousands of pounds but also meant that we never had any issues with supplier availability. By setting a date during the school summer holidays and giving our guests 18 months notice, the fact it was on a weekday wasn't a problem for most guests. Anyone who is planning a wedding should definitely think about whether a weekday could be a good option.
If I could go back in time, I would have banned myself from checking the weather. About a week before the wedding, I started obsessively tracking weather forecasts and would check about 5 different websites at regular intervals throughout the day. Looking back, I now know that weather forecasts are quite pointless until the day itself. I still have screenshots on my phone of forecast saying it would be a heat wave and others that said it would be torrential rain. In the end we had a lovely rain free day, but constant weather watching did nothing for me other than make me unnecessarily anxious.
Be very careful about the caterers you choose, and try to use one of the venues preferred suppliers if you can. Our original caterer wasn't on the preferred supplier list, and we soon realised that having somebody that knew the venue and had proved they were capable of working there would have prevented a massive headache. Fortunately the caterer we used in the end was preferred, and it was clear why."
What an incredible day – I truly hope you've enjoyed and felt inspired by this celebration of love, family, happiness and joy and all the things that make weddings wonderful.
You can see more beautifully documented weddings by M&J Photography here on Love My Dress. Have a lovely Monday and great start to the week all.
Love Annabel x