Happy lunch time lovely ones.  Here's another very lovely wedding film for you to enjoy over your sandwiches in the sunshine (are the skies as blue where you are, as they are here in Whitby in North Yorkshire today?). This lovely little movie, sent in by our Little Book For Brides® members 'Silver Sixpence Films', captures the wedding of Hannah and Pete, who tied the knot at The Green in Liskeard, Cornwall this Summer.  There are so many beautiful moments that have been sensitively documented, and that Suzanne Neville gown is sublime. Enjoy ladies and gents.
"Cornwall has always been a very special place for me, a home away from home with many summer family holidays spent there growing up. We had started looking for wedding venues in the North West as we live in Manchester but nothing really stood out for us. A google search for Cornish wedding venues returned 'The Green' as a top result and I knew as soon as I clicked on the link that it was the venue for us."
Silver Sixpence Films are a member of Little Book For Brides®
"We wanted a venue that you could hire for more than just 24 hours, to feel private, personal and without worrying about having to check out with a hangover the next morning! We also wanted a laid back, summer garden party style wedding with vintage afternoon tea, lots of lawn games, laughing, dancing and good music!
We decided to add bit of an 'Alice in Wonderland' theme – the guests all received mini bottles of Hendricks gin with little 'drink me' tags. And it would have been rude not to serve Cornish cream teas with clotted cream, Cornish ice cream and of course fish and chips in the evening!"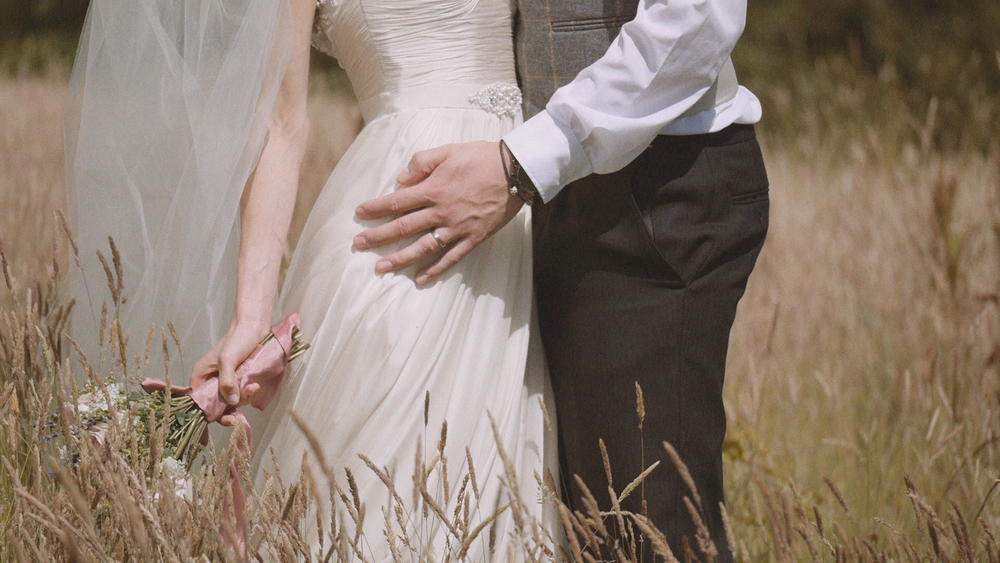 "The Green was everything we wanted and more – I cannot recommend the venue and team enough. We stayed there from Thursday to the Monday with our guests and we all felt like we had a great holiday!"
Huge thanks to filmmakers Silver Sixpence Films for sharing this lovely little movie with us. You can find more from Silver Sixpence Films here on Love My Dress.
Love Annabel xx
Videography – Silver Sixpence Films
Photography – Tim Simpson Photography
Venue – The Green, Cornwall
Brides Dress, veil + headband – Cherish by Suzanne Neville
Shoes – Rachel Simpson
Grooms party suits hired from Groom, Wilmslow, Manchester
Bridesmaid dresses from Debenhams Debut range
Bridesmaid floral halos – Noon on the Moon
Pug collars – LAdogstore
Flowers – Flowers by Fleurie
Pork pie wedding cake – Marks and Spencer
Make up – Suzi Winter
Venue – The Green, Cornwall