Hello lovelies! I have the sweetest wedding to share with you today that completely resonates with my love of nature and cherry blossom trees. It's full to the brim with personal touches, vintage glamour courtesy of dress designer Vicky Rowe and stunning images by Barbara Crepaldi Photography. So sit back, relax and prepare to be inspired by a bygone era. Meet Sinéad, a primary school teacher and Hu, who works as a photographer. They tied the knot on 31st May 2015 at Ballymagarvey Village, in Co. Meath, Ireland, and it was their mutual love of the outdoors that led them to choose this completely lovely setting.
"We were inspired by the venue; a converted flax mill in the historic countryside of Co. Meath. Ballymagarvey is immersed in so much nature and as a couple we really love the outdoors, living right beside Phoenix Park. The old country house had the perfect relaxed and intimate atmosphere that we were looking for and the magical banqueting hall was simply breathtaking. They have managed to create the beauty of the outside world on the inside, with stunning cherry blossom trees and trees covered with fairy lights climbing and growing from the walls."
Photography by Barbara Crepaldi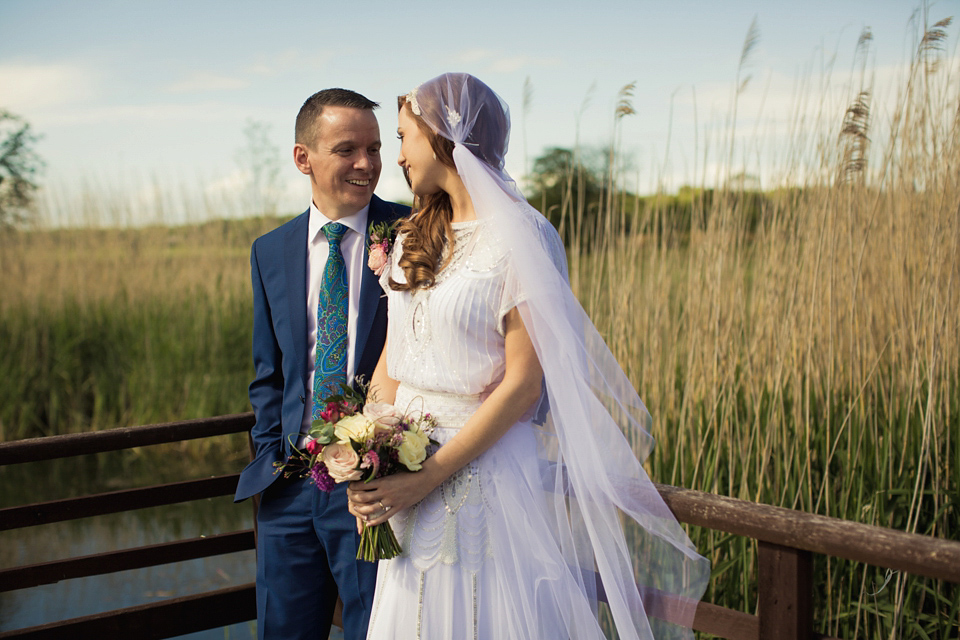 Dress by Vicky Rowe
The beautiful bride had the very fortunate experience of meeting her dress designer, the very lovely Vicky Rowe. Did you see this feature from earlier this year where we gave you a chance to win your wedding dress? Vicky designs the most gorgeous gowns that pay homage to a bygone era and I'm in total and utter love! Sinéad purchased her particular design from Little White Dress.
"When I tried on the 'Cleo' dress I fell in love. My Mam came to all my dress appointments with me but her reaction to Vicky's beautiful creation said it all. Wearing 'Cleo' was like stepping back into the 1920's; an era which I love as it's full of fun and glamour. The intricate hand sewn beadwork is simply stunning. It was like no dress I had seen before. I also loved the art deco inspiration in the design of the dress. It was important for me not to feel restricted in what I was wearing and the dress more than fulfilled that brief. 'Cleo' is an exquisite dress and I feel very lucky to have found it."
With the groom's occupation as a photographer, the couple had a little bit of inside knowledge when it came to choosing their own wedding photographer. They decided upon Barbara Crepaldi Photography, who produced a set of breathtaking, emotion-filled shots, and they also had a video shot by David Grant Wedding Video.
"As Hu is a photographer, we knew many talented photographers, but Bárbara had taken photographs of us before and we both felt comfortable and relaxed with her. She has a candid and artistic style that was perfect for how we wanted our day to be conveyed. From the moment she arrived at my house she was relaxed and full of energy and made everyone feel extremely comfortable. She captured every single emotion in the photos and did an amazing job! We were absolutely thrilled with our photographs from the day and couldn't thank her enough for giving us such beautiful lasting memories to cherish."
To compliment her glamorous look, Sinéad added glitzy Pamela Scott heels, a hairpiece and bracelet from Jules Bridal Jewellery, earrings from Knightsbridge Boutique and finished with a spray of Jo Malone's 'English Pear and Freesia.'
"My Mam booked a bridal consultation for us both at Jo Malone in Brown Thomas on Grafton Street. I liked the idea of wearing a perfume that I could only associate with the day I got married. I decided on 'English Pear and Freesia', as it was a light and floral scent. My parents gave it to me as a gift on the morning of the wedding."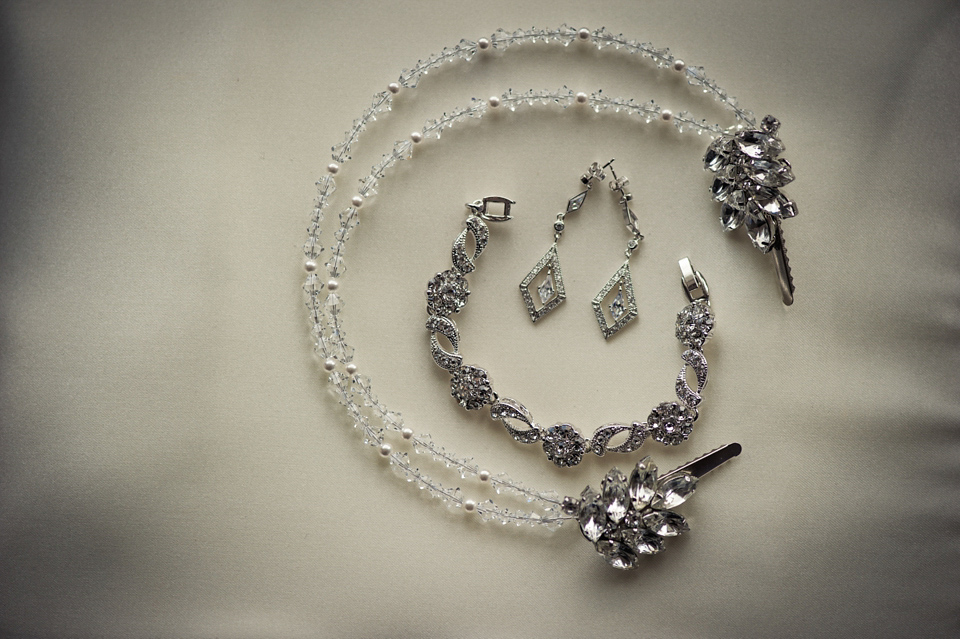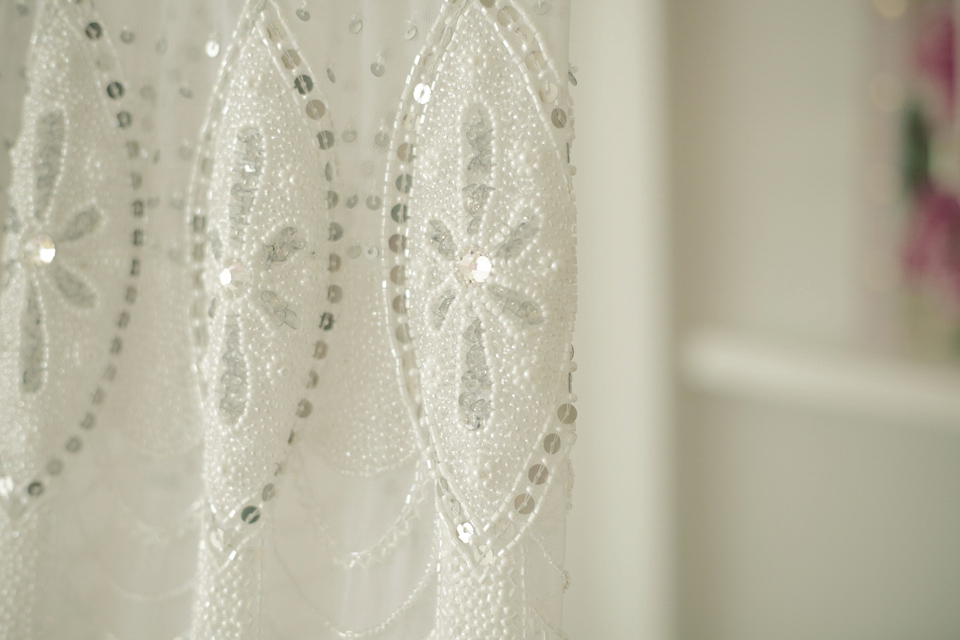 "I was lucky enough to meet my dress designer Vicky at a trunk show in Dublin, which made buying the dress even more special. She was so warm and personable. She styled the dress with a Juliet cap veil by Joyce Jackson (the 'Rosehill' design), which I adored. It completed the look I was hoping to achieve."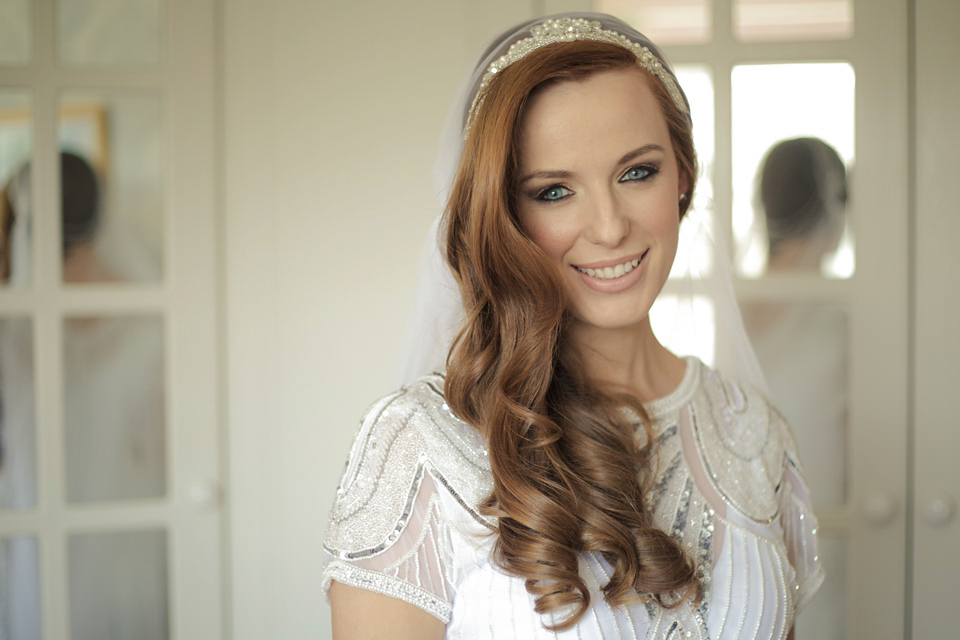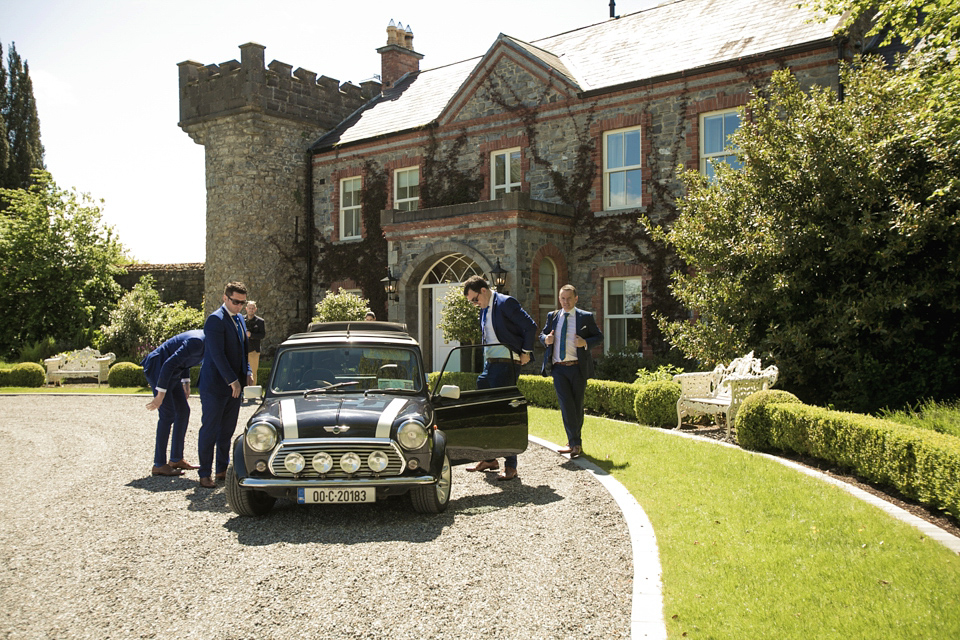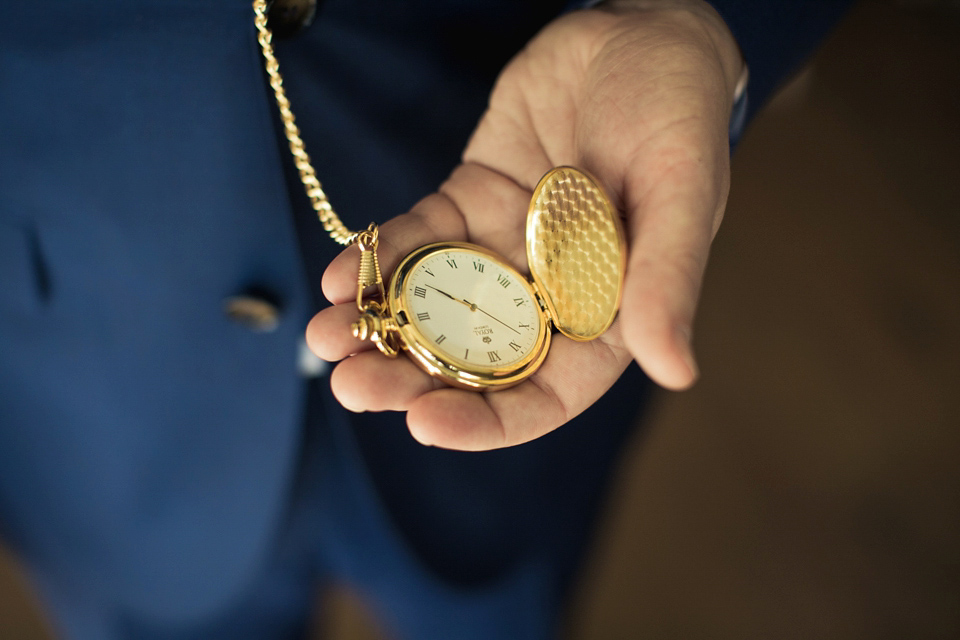 Hu cut a fine figure in a Baumler suit, Kennedy McSharry tie and shoes and belt from Ted Baker. The groomsmen's suits, shoes and belts were from Zara and they added a Bertoni tie to top off their stylish look. And for the groom's wedding ring, the designer included a very personal touch.
"My parents gifted me with a beautiful vintage 1930's Beauford car via Dixon's Wedding Cars to transport us from the family home to the venue. We hired a vintage Volkswagen camper van for our bridal party, which was a surprise for them on the morning."
"We first met on a night out in Dublin, through Hu's sister (who's also called Sinéad!), and then again at a house-warming party ten months later, where the flame of love sparked by an open fire in Co. Cavan, and chats about the solar system led us on a journey which has been out of this world! Hu surprised me by bending on one knee on the summit of the Sugar Loaf Mountain in picturesque Co. Wicklow on a sunny April afternoon.
We were engaged for just over a year before our wedding day."
"My Dad walked me down the aisle to 'First Day of My Life' by Bright Eyes. It was a very emotional experience for both of us, but he knew I was going to be in safe hands. We both felt the sentiment of the song was extremely fitting and it sounded beautiful played on the acoustic guitar."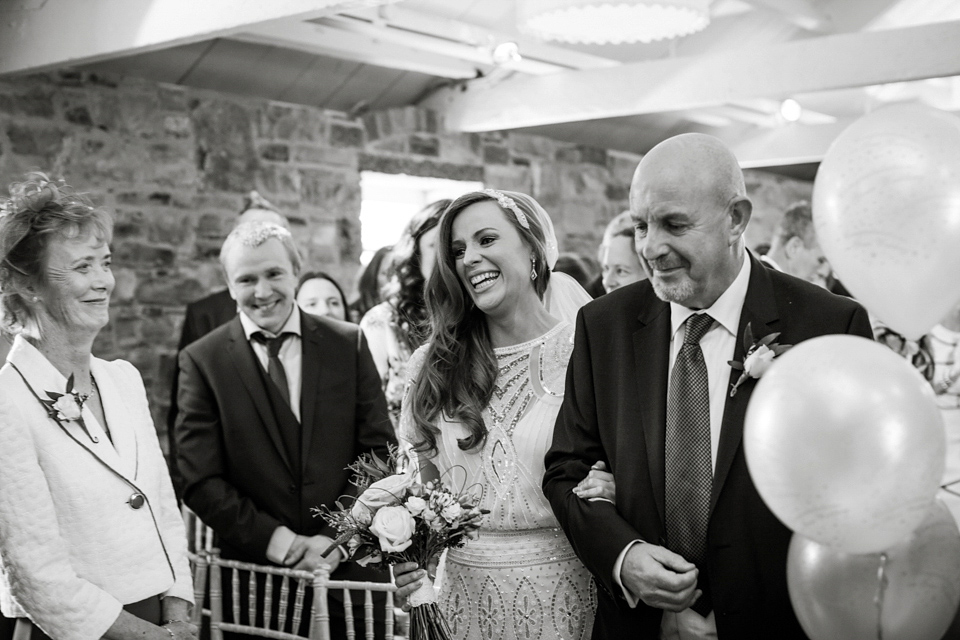 "As we didn't have our ceremony in a church, the ceremony room was important to us. We found it difficult to find a venue that had a separate ceremony and banqueting room. This was another tick on our list for Ballymagarvey. We had a humanist ceremony in the annex with a gorgeous view of the waterfall."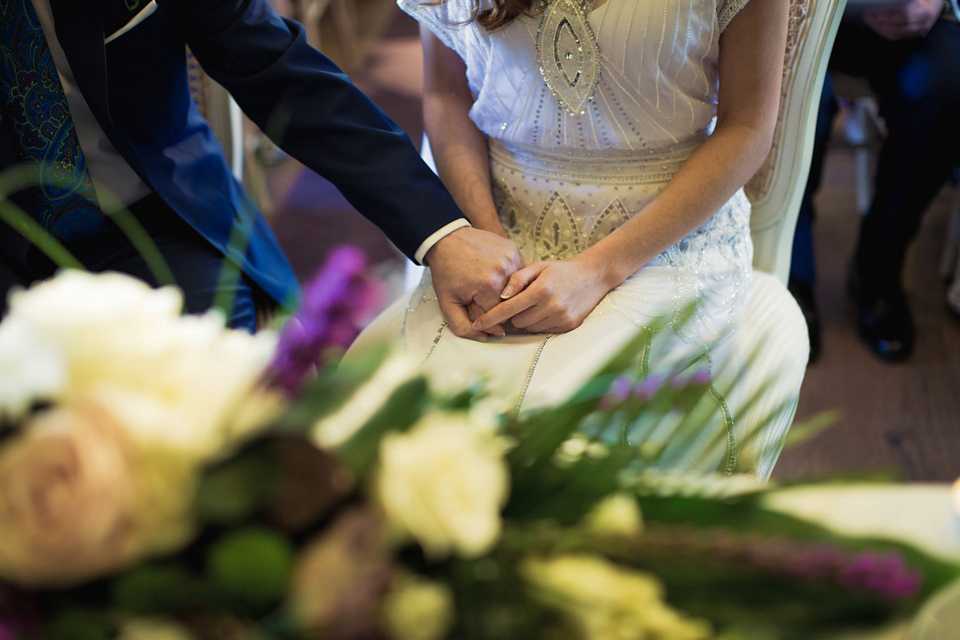 "We wrote our own vows that were decided upon during a walk in the Phoenix Park in the weeks before the wedding. We included two readings; the first was read by Hu's sister Áine, an Apache Wedding Blessing, and we chose it because it signifies two people joining their lives to each other and it has a positive message for the future ahead."
 "Our friend Tony Quinn made my engagement ring, and also made our wedding bands. Hu's wedding band was particularly special as it was crafted from his late dad's wedding ring. We both chose a plain gold band style."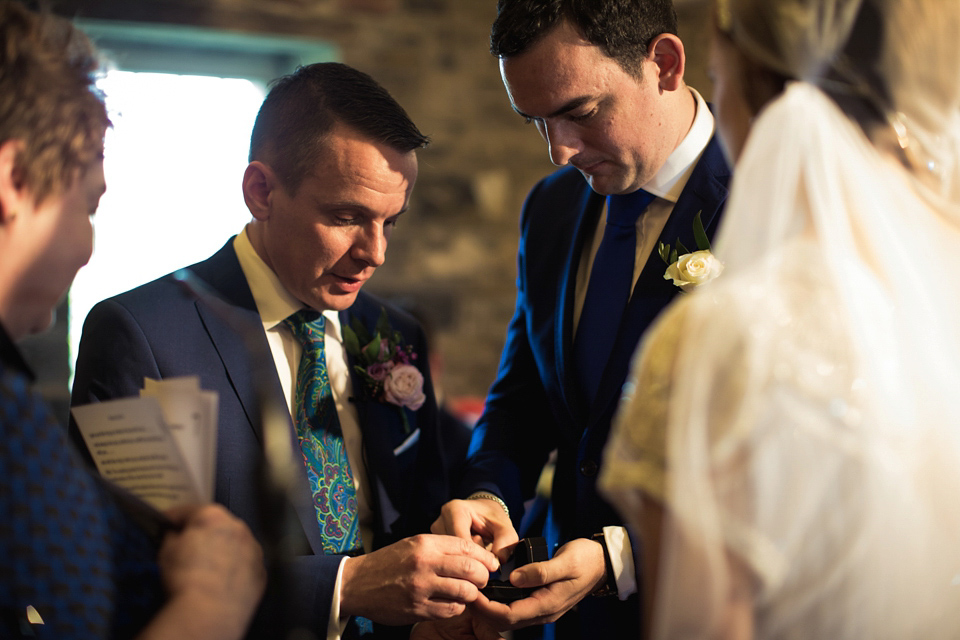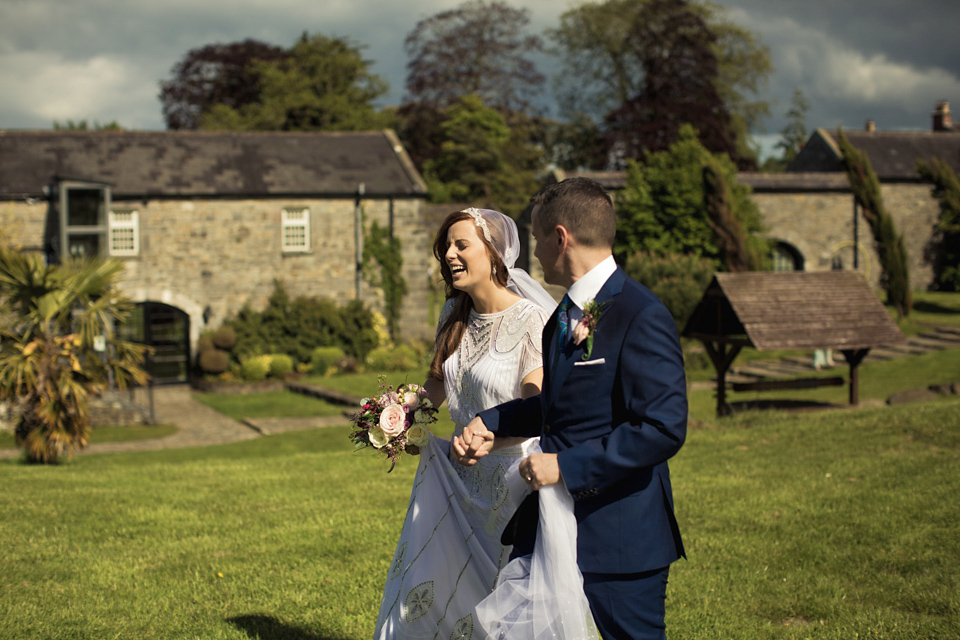 The bridesmaids wore pretty No. 1 Jenny Packam for Debenhams gowns and Jules Bridal Jewellery accessories, with hair and makeup by Amy Connoly. Sinéad also chose to include one of her friends as 'bridesman.'
"I loved the idea of pastel tones, so the three bridesmaids wore a soft pastel green colour. I also had a bridesman; my friend Jonathan. His suit was from Penthouse and cufflinks were via Ted Baker."
"As a wedding photographer, Ballymagarvey was Hu's favourite venue. During the planning and on the day itself, the staff was exceptional and made us feel so welcome. Nothing was ever a problem for them. The venue is such a massive part of your day that we think it's important to have a good rapport with the event co-coordinators and staff. The venue had everything we were looking for and on the day it was more than we could have expected.
We named our tables after beaches we had visited, as we enjoy the outdoors and love going to the beach. Each table had a photograph that we took of the beach on it, which was another personal touch."
"Hu's aunt Rosetta made the cake. It was a three-tier cake of fruit, lemon drizzle and chocolate biscuit layers, with royal icing. We had seen similar cakes online and Rosetta used her super talent to replicate it."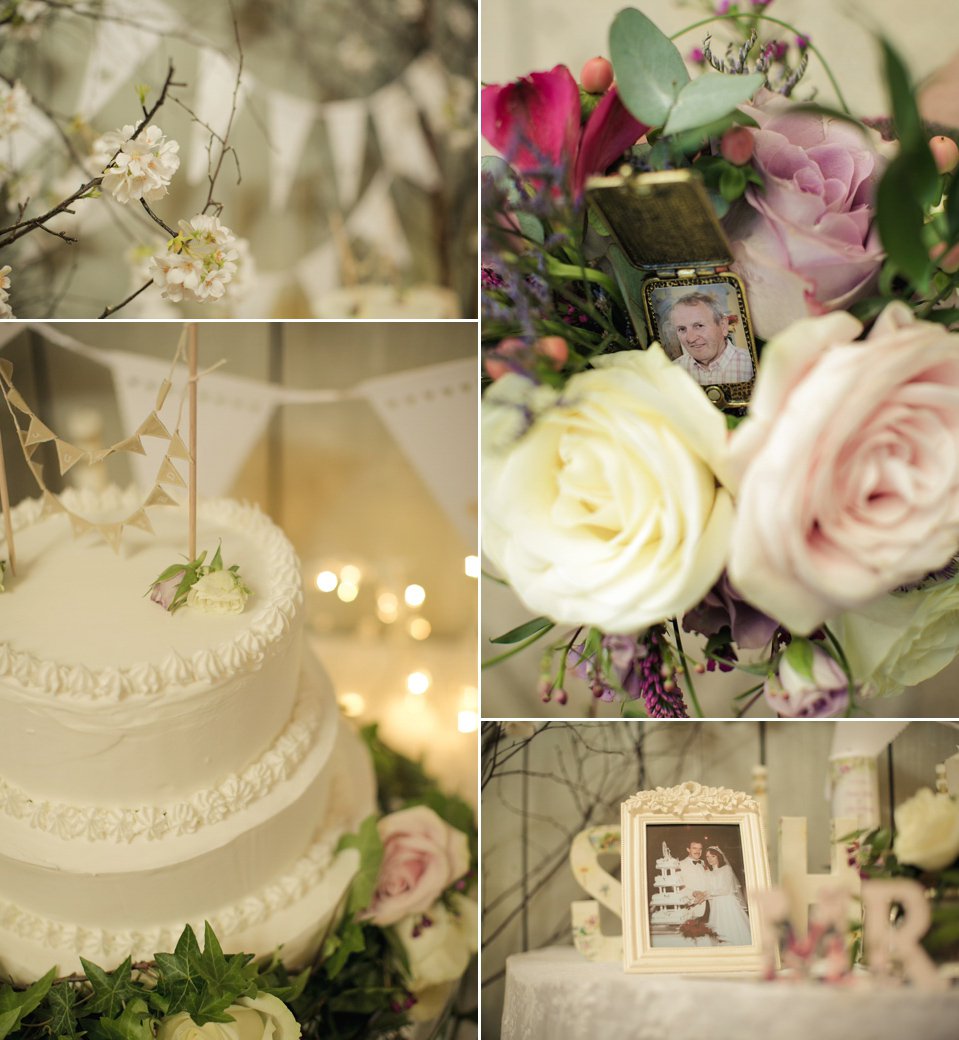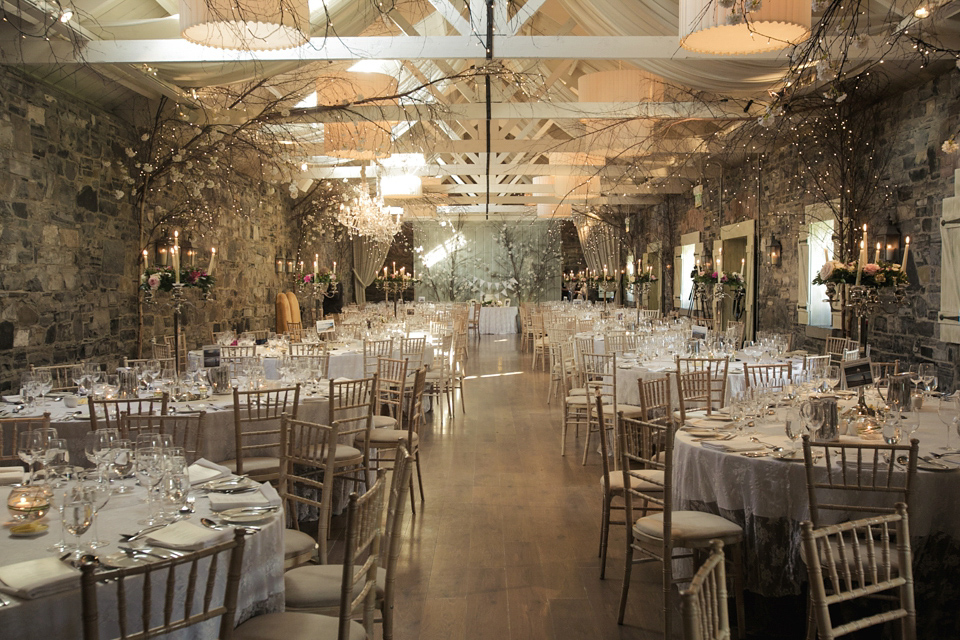 "Our main objective was for our guests to enjoy themselves and have fun. Hu made a giant Jenga for our guests to leave a message on and to play. We had blow-up instruments for dancing and Hu's sister Sinéad and her boyfriend Noel made a life-size bride and groom for people to take photographs."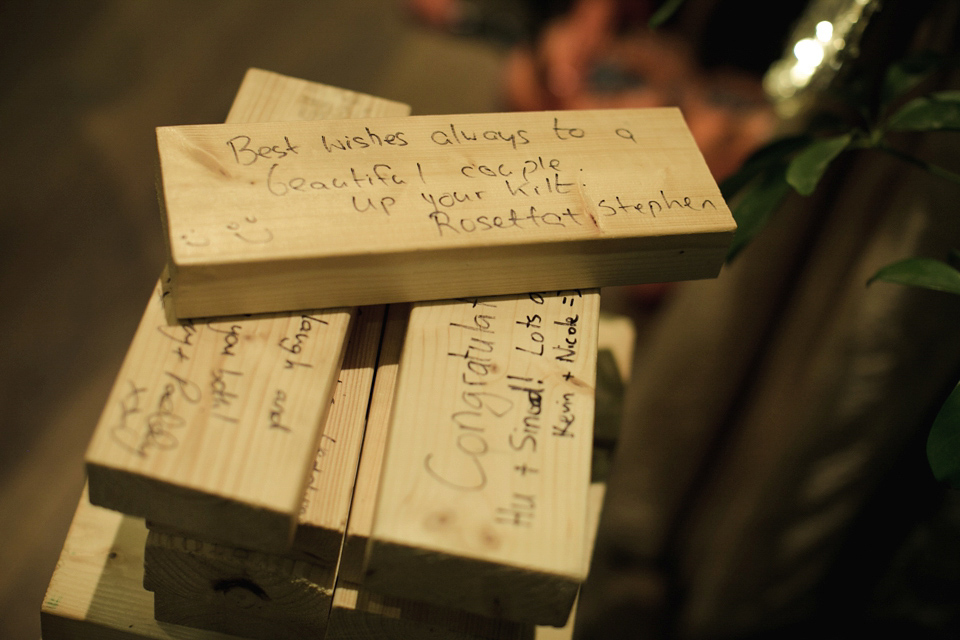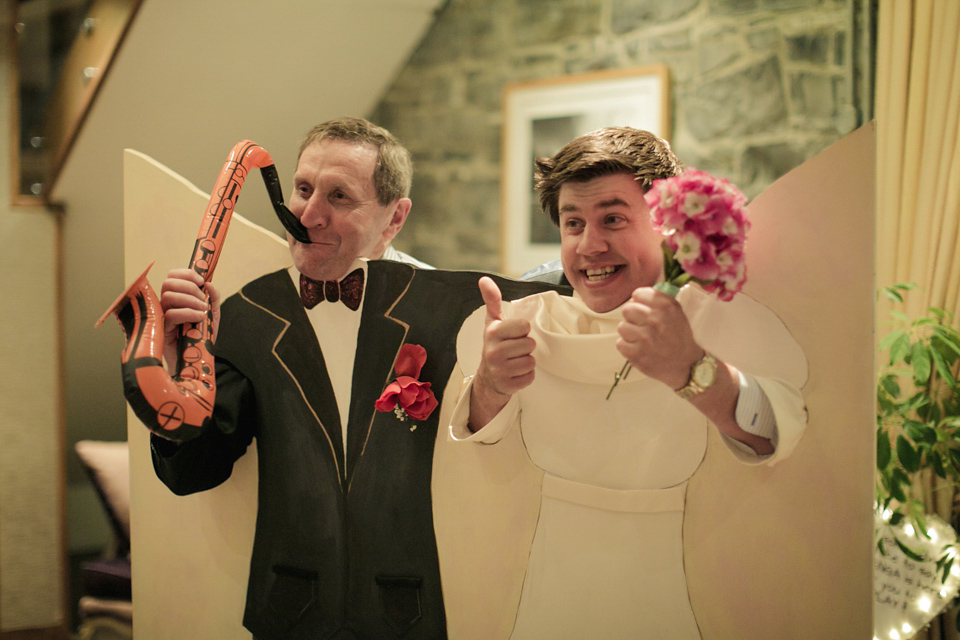 The lovely bride found this beautiful blog to be a great source of inspiration. Thank you Sinead for these very kind words!
"I loved reading the details of the weddings that were featured on Love My Dress. I felt that each wedding was unique and different. I took a lot of inspiration from the weddings that I read about. It's a very inviting and visually appealing blog."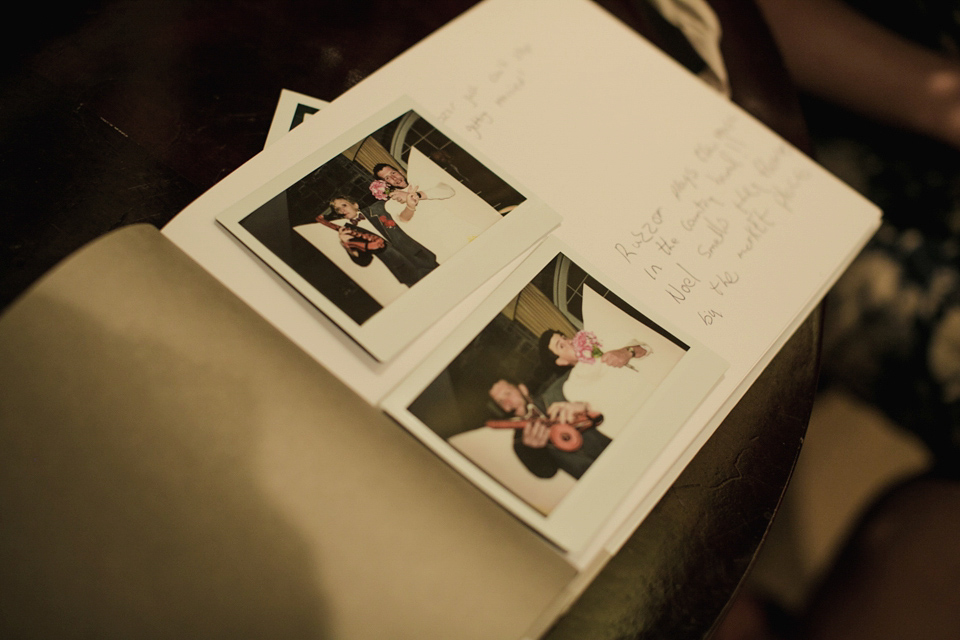 The Panoramics band entertained the guests in the evening and had everyone up dancing. The couple chose 'Let's Stay Together' by Al Green as their first dance song.
 "Our love of music was something we had in common from the start, and we found out that we both loved the music of Al Green. It seemed like the perfect song to start out married life to."
Words of Wedded Wisdom
"Don't be afraid to go with your instinct and feelings about what your ideal wedding would be. I found sharing the planning with Hu really beneficial as it halved the organising and made the whole process much more enjoyable. It's such a special time to share together and we have so many lovely memories to look back on – my favourite being the dance lessons.
In the run up the wedding I had a mindful saying I would use when things were getting slightly overwhelming: "Stay grateful for the big and little things. Don't get stressed, let go of the things you can't control." This helped me to keep things in perspective. The day itself is like a whirlwind. Enjoy all of the moments; the small, intimate ones and the moments where you're surrounded by all of your family and friends. It's a truly magical day. Relish every second."
Brilliant advice! Sharing the planning with my husband-to-be was one of my favourite elements of my own big day and I will never forget our Saturday sessions. And relishing every second is the way to go, as the day does indeed fly by. Thank you Sinéad and Hu for sharing your beautiful day with us and I wish you the most wonderful year ahead as newlyweds. And I'd like to give a huge thank you to Barbara Crepaldi Photography for sharing these pictures and capturing such heartfelt emotion.
If you're seeking further bygone era inspo, be sure to click here for more Vicky Rowe glamour we have previously highlighted.
Here's to a wonderful rest of week everyone!
Love Jo -x-
Photographer – Barbara Crepaldi Photography
Videographer – David Grant Wedding Video
Venue + Catering – Ballymagarvey Village, Ireland
Dress + Veil – Vicky Rowe 'Cleo' dress and Joyce Jackson 'Rosehill' veil via Little White Dress
Hair accessory – Jules Bridal Jewellery
Shoes – Pamela Scott
Jewellery – Bracelet from Jules Bridal Jewellery and earrings from Knightsbridge Boutique
Perfume – English Pear and Freesia by Jo Malone
Groom – Baumler suit, Kennedy McSharry tie and shoes and belt from Ted Baker
Groomsmen ­– Suit, shoes and belt from Zara and Bertoni tie
Bridesmaid's Dresses – No. 1 Jenny Packam for Debenhams
Bridesman Outfit – Penthouse suit and Ted Baker cufflinks
Flowergirl – Monsoon
Pageboy – Marks and Spencer and Zara tie
Florist – Elite Blooms
Transport – Beauford via Dixon's Wedding Cars and vintage Volkswagen camper van (supplier unknown)
Entertainment – The Panoramics
Rings – Tony Quinn
Cake – Rosetta Gillan, groom's aunt
Stationery – Taylor's Paperie via Etsy
Makeup + Hair – Amy Connoly