Hello there readers! This morning's fun filled nuptials will have you wishing you had received an invite! Today's wedding is positively bursting with inspiring handmade details, not to mention an ethereal flame haired bride wearing a stunning Maggie Sottero gown. Childhood sweethearts Andrew (a primary school teacher) and Katie (the principal of her own dance and drama school) tied the knot on the 25th of July 2015, at St Mary's Church in Etton, East Yorkshire, followed by a reception at the bride's family farm, complete with a tipi, hired from Boutipi.
"We  just picked things that we liked and made a lot of the décor ourselves. We knew we wanted our big day to be different, personal, and fun so we kept that in mind throughout. I'm a dance teacher so it was important us to have have elements of this part of our life within the wedding; the flower girls wore tutus, I choreographed our first dance and pupils from my dance school greeted us as we left the church and showered us in confetti."
Photography by Gabrielle Bower Photography
Katie's five bridesmaids wore lilac dresses from ASOS paired with mint green shoes and accessories. In a nod to our bride's dance background, her lovely little flower girls wore lilac tutus and ivory ballet shoes.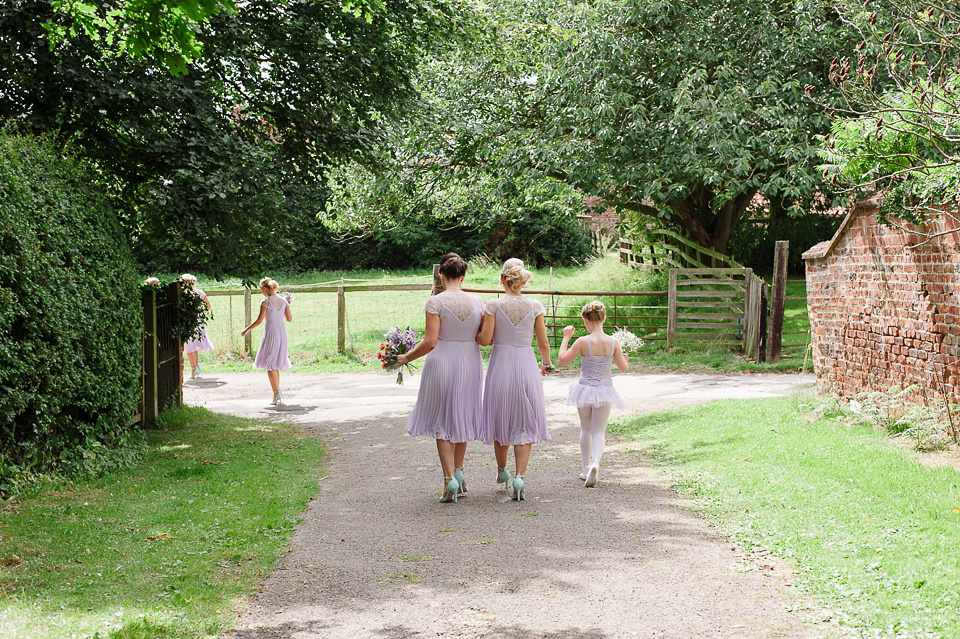 "Our photography was done by Gabrielle Bower Photography, and what an incredible job she did. Gabs and her husband, Matt, are the best people to have around on your wedding day; calm, fun, professional, incredibly hardworking and passionate. They captured our wedding day perfectly and we cannot thank them both enough for their hard work. They have become friends for life and I would class them as a must at anyone's wedding."
"When Andrew and I started thinking about where we wanted to get married, we knew straight away that we wanted to hold the ceremony in the church in the village where I had grown up, but when it came to a reception venue we couldn't find anywhere special enough. One day we joked about hosting the reception at my family home (just down the road from the church) and to our amazement, my parents agreed!
They too had their wedding reception at the farm and Andrew and I have happy memories from our first summer together, aged 17."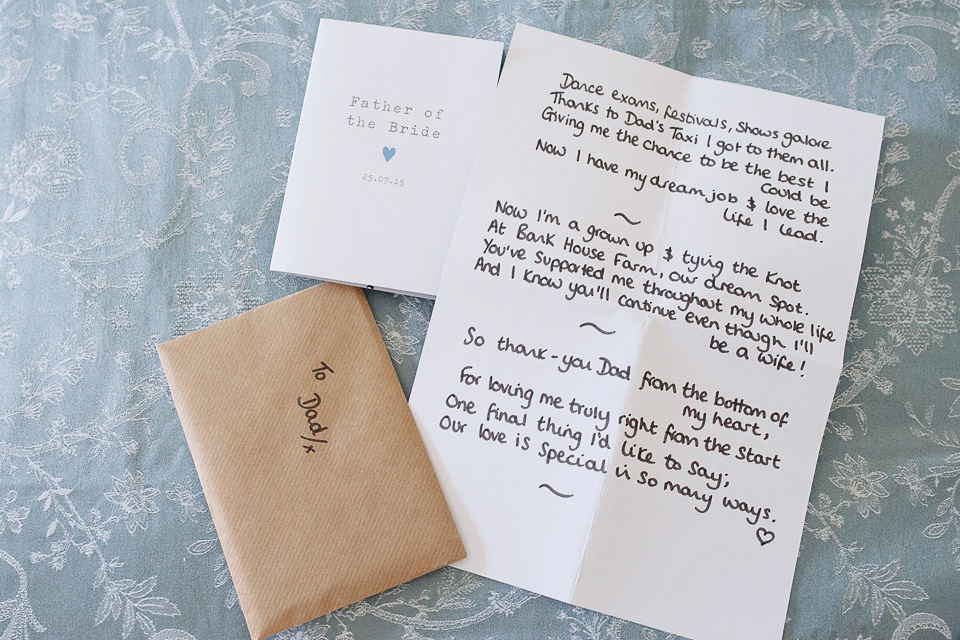 "Andrew and I met at secondary school, we'd been friends for years and he was the cool kid so I have to admit I did fancy him! It wasn't until we'd left school and I was in London training at dance college that Andrew asked if we could meet up next time I was up north and the rest is history!
We'd been together eight years before Andrew proposed in Thailand and it was the most perfect surprise. We arrived in Bangkok and checked into our beautiful hotel where Andrew got down on one knee and asked me to marry him. It was the first time in my life I've ever been speechless! He had asked my dad for permission and found the most beautiful antique engagement ring which fitted exactly – he'd planned the whole thing to perfection. We got married a year later, to the day."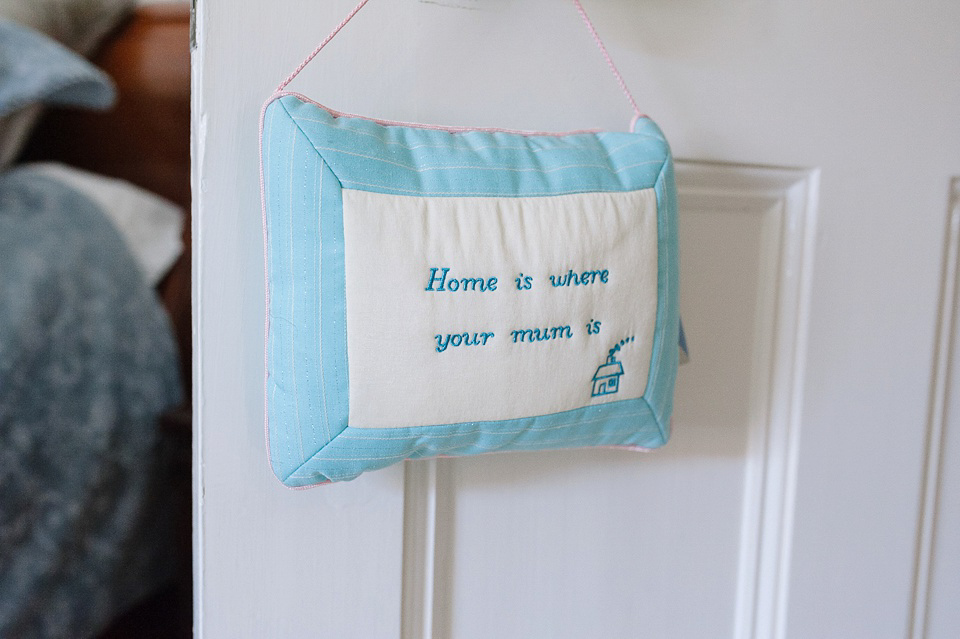 Katie's beautiful red tresses were expertly swept up into a crown plait by hair and makeup artist Victoria Farr.
"Vicki is extremely talented and I couldn't have been more pleased with how she made me look and feel. My makeup was still flawless even after six hours of solid dancing!"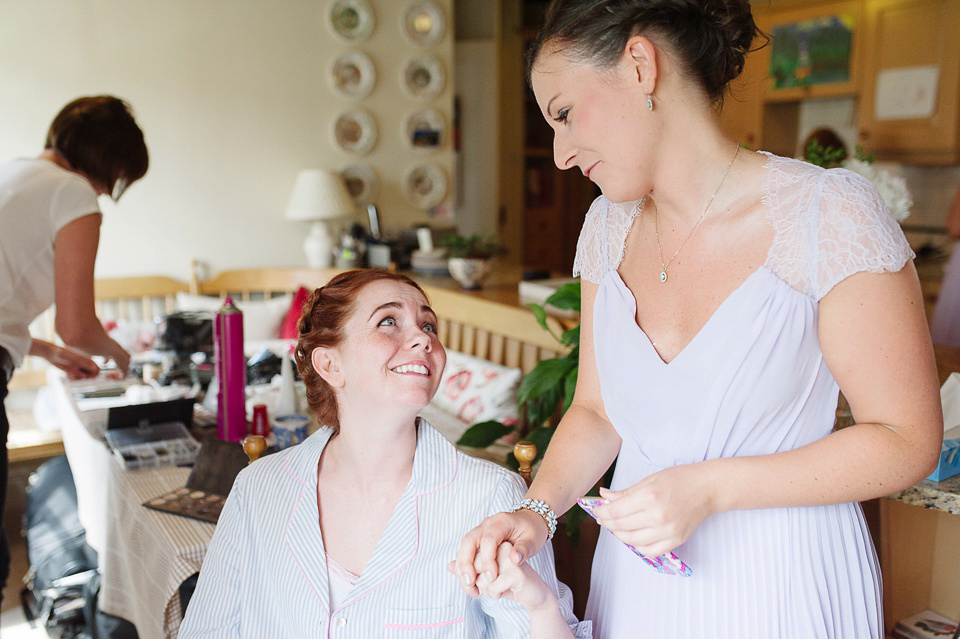 Katie purchased her beautiful Maggie Sottero gown from Deborah Moore Bridal in Hessle.
"I LOVED trying on wedding dresses – the whole process was so much fun! However, I did get to a point where I wondered how I would know if I found the 'The One' – I loved all of them! I knew my mum would give me her honest opinion so she accompanied me on my search and it was really special it being just the two of us. My dress looked amazing on the hanger, but I thought it wouldn't suit me."
"I tried it on anyway and as soon as I put it on, I knew it was 'The One'. I fell in love with the delicate detail and subtle sparkle – I didn't want to take it off and my mum loved it too."
"As I am a dance teacher and dance is a huge part of my life it was a given that the flower girls would be in tutus. Both flower girls are our nieces and both attend my dance classes so it was wonderful seeing them in tutus along with satin ballet shoes."
On her toes, Katie wore an elegant pair of ivory courts, the very pair her mum wore on her own wedding day!
"I wore my mums wedding shoes, which was very special. We have the same sized tiny feet (size 3) and her shoes were my something old. They were classic and comfortable (a must for dancing) and I felt proud to walk them down the aisle for a second time."
In a lovely touch, the couple sent each other a box filled with goodies the night before the wedding. One of the items in Katie's box was her wedding day scent, Chance by Chanel.
Meanwhile, Andrew looked very smart in a three piece navy suit from Next, a Marks & Spencer tie and a pair of burgundy shoes from Loake. Our stylish groom accessorised with a World War 1 pocket watch and a 1950s Omega Constellation wrist watch.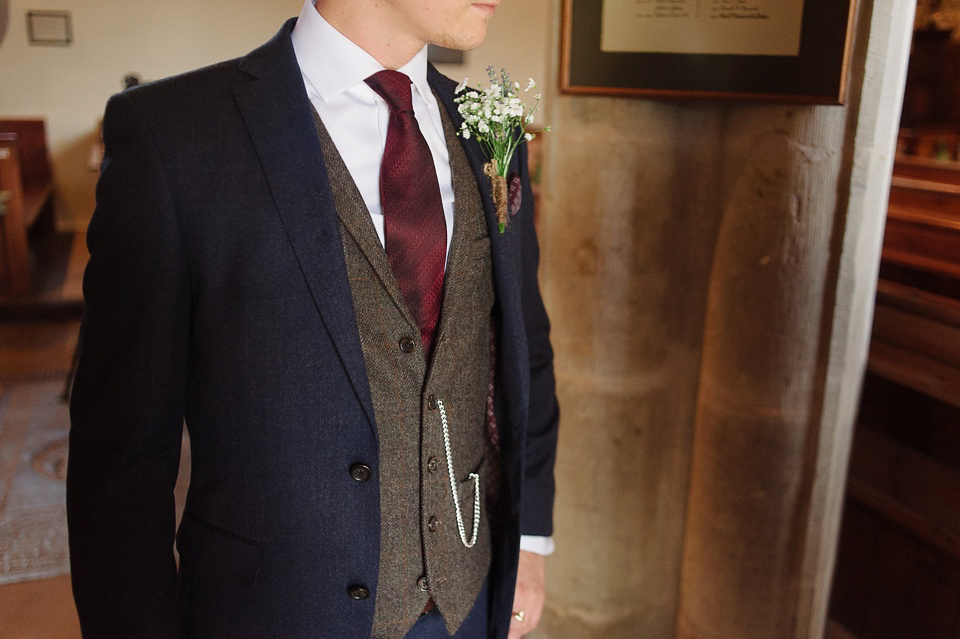 "Andrew looked so dapper! Even though it wasn't, his suit looked as if it had been made to measure. As part of his 'Groom's Box' I gave Andrew a pair of jazzy socks from Thomas Pink and a bottle of Creed Aventus to wear on the day."
Our bride paired her gown with a cathedral length veil adorned with tiny crystals and a sparkly art deco inspired headpiece both from Deborah Moore Bridal.
"I laughed when my mum suggested I try on a veil; I was adamant I wasn't going to wear one. I tried one on anyway and as soon as I put it on I felt like a bride – I'm really glad my mum made me try it on!"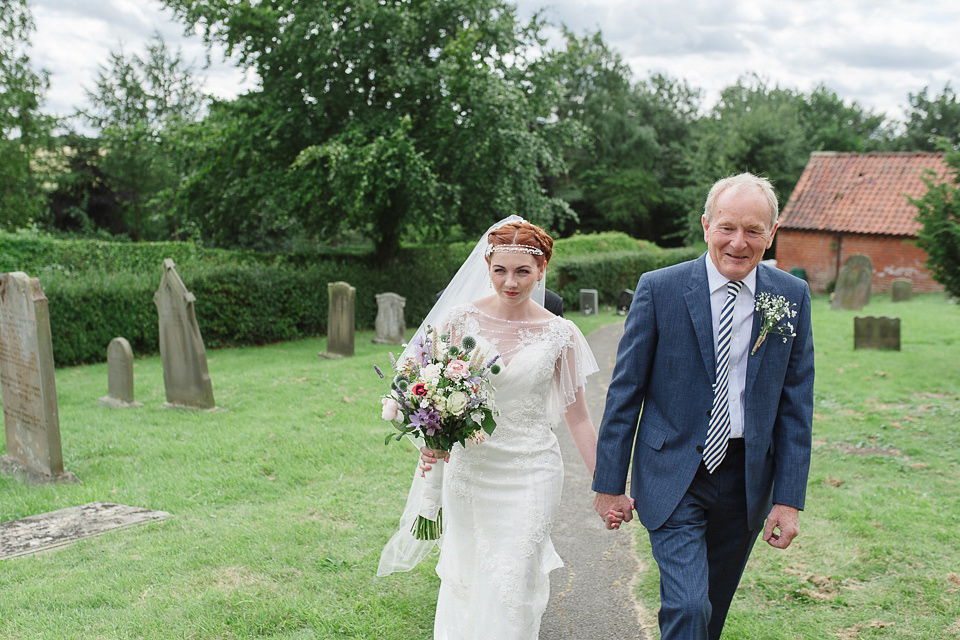 Katie's dad walked her down the aisle to 'All things bright and beautiful' and the couple opted for traditional vows.
"It was so comforting having my dad beside me as I walked down the aisle. It was a precious moment that I will cherish forever and a real out of body experience. The church was full of song and the service was jolly and uplifting."
"Exchanging vows was one of my favourite parts of the day -even though the church was full it felt intimate, like it was just the two of us."
Our couple chose two readings; 1 Corinthians 13, and a poem written by Andrew called 'The Meaning.'
"Our wonderful flowers were organised by a local gardener and were all locally sourced from her garden or gardens from local villages. We asked for natural, unstructured 'English country garden' arrangements and wow did our supplier deliver! My bouquet was filled with roses, honeysuckle, wheat, lavender and gyp. It was breath taking! I shed a tear when it was presented to me; it made such a statement whilst still being so natural. The bridesmaids' bouquets looked like they had been swept up from a meadow and had gorgeous shades of lilac to match their dresses. "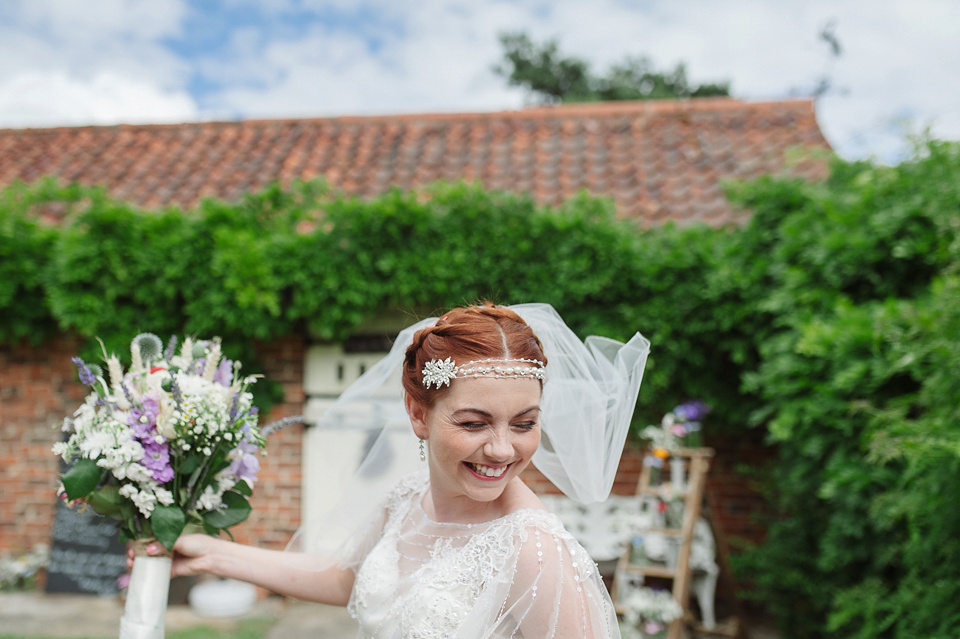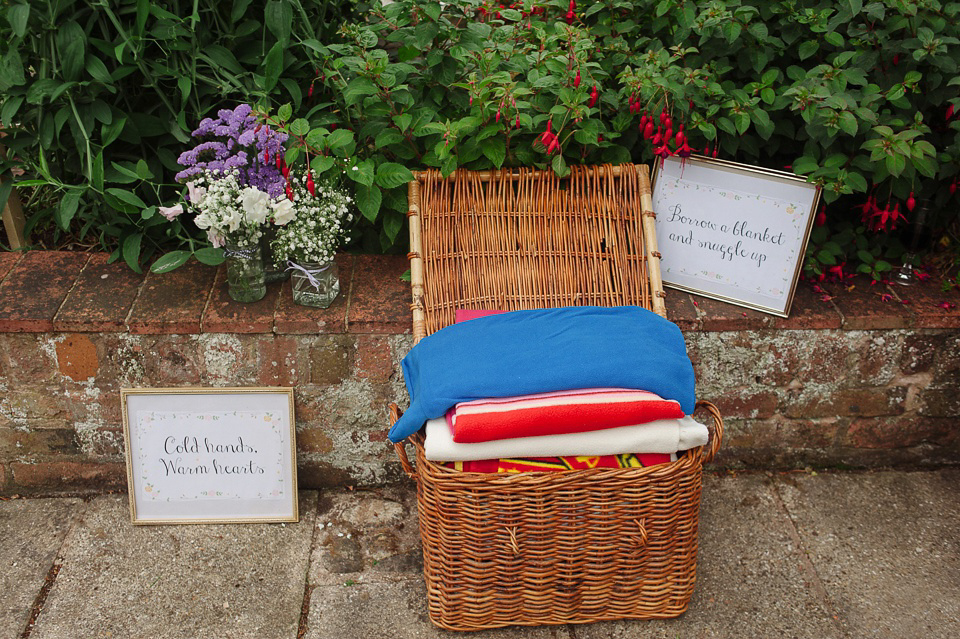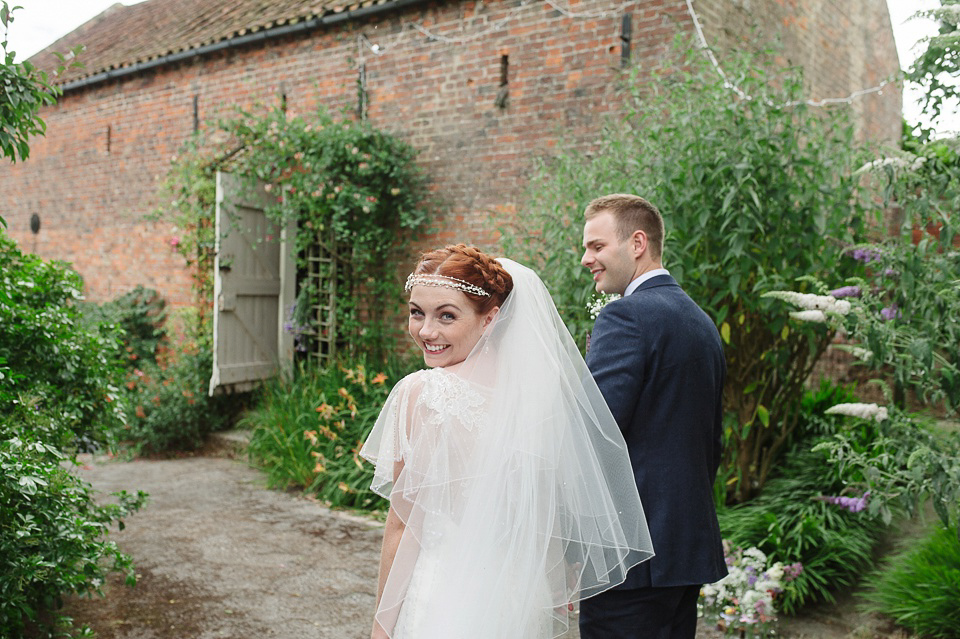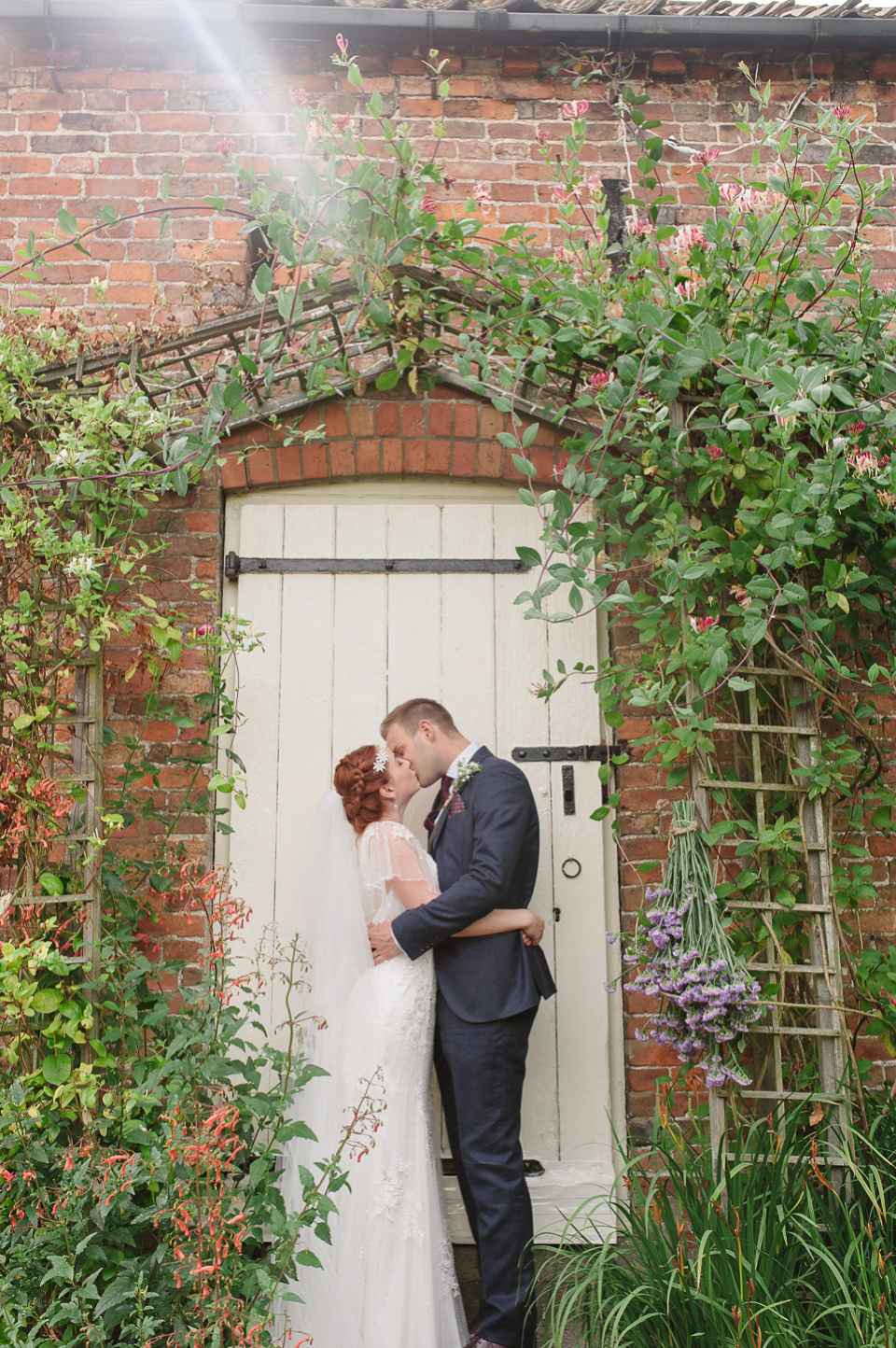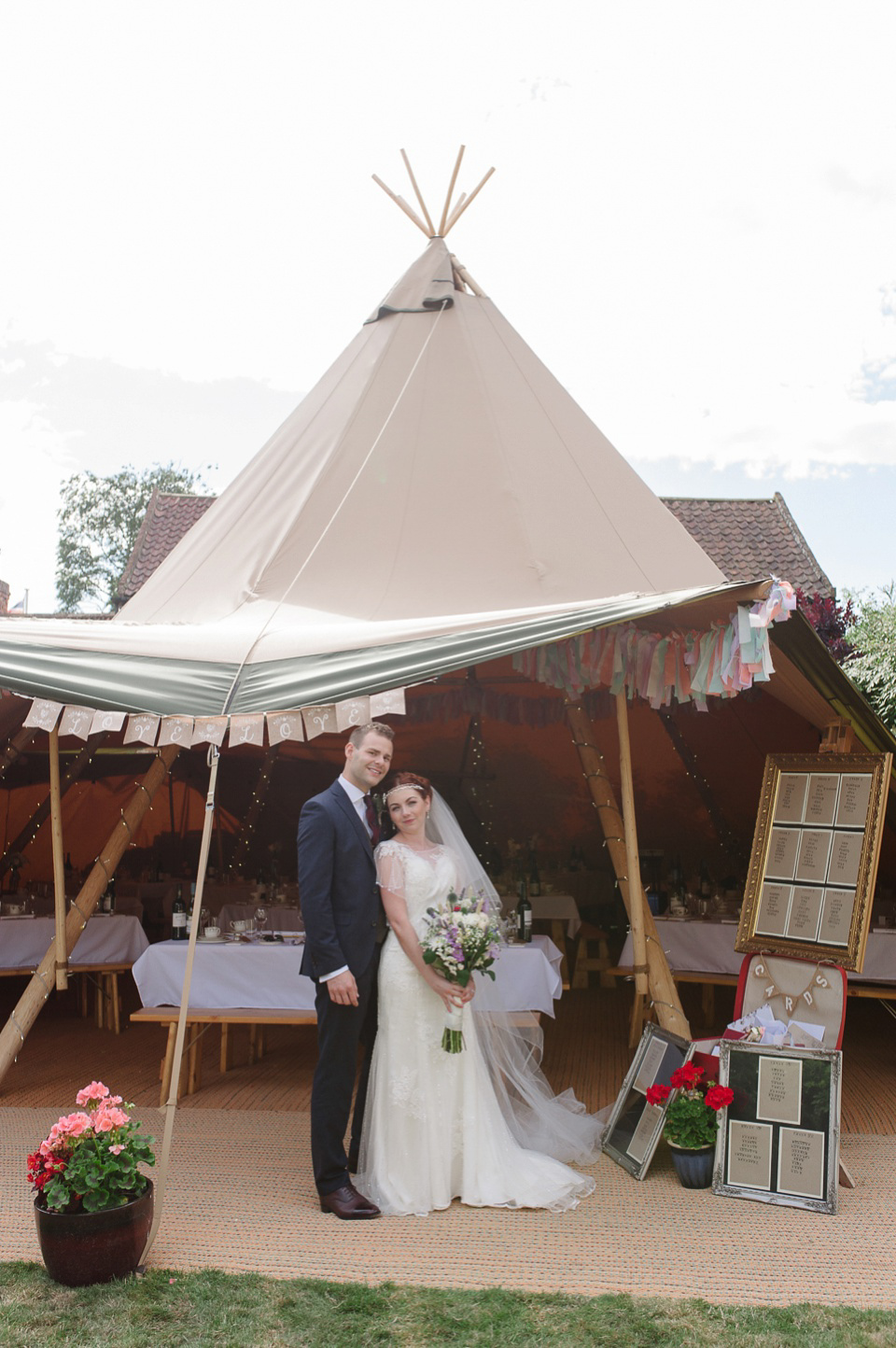 "My family home, where he held the reception, is an old working farm built in the 1700s. We took advantage of all the original, character filled, outbuildings (also known as my dad's sheds!) and turned them into a pub, a kids corner and – my personal favourite – a pom pom filled, fairy lit, dancefloor!"
"I made rag bunting to dress the tipi and gardens, cutting hundreds of pieces of mint, cream, lilac and coral fabric to tie onto ribbon. It took a year to make but I was so happy and proud of the finished product.
We decorated the tables in the tipi with milk bottles full of flowers placed on old books. Our wedding favours (which were lovingly hand made by Andrew and I) doubled up as name settings. We collected mini jam jars, filled them with Love Heart sweets and attached luggage labels hand stamped with each guests name."
For their wedding breakfast, the couple opted for an afternoon tea catered by Cooking with Passion, followed by an evening hog roast supplied by Happy Hogs.
"Our table plan was all hand stamped and presented in huge photo frames and we made chalk board signs out of old pieces of wood painted with chalk paint.
We created a DIY photobooth, using a polaroid camera and a suitcase full of props, in one of the old stables. It was a lot of fun and we have really enjoyed looking at all the photos!"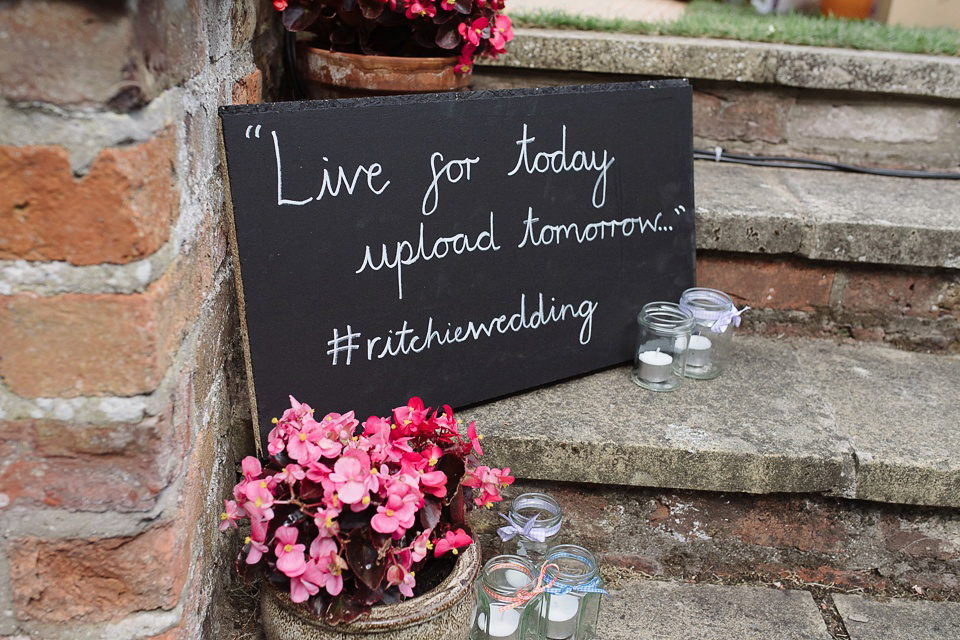 "The whole day really was perfect and the best day of our lives. My favourite part was marrying my best friend and feeling so overwhelmingly happy. I also loved looking around and seeing everyone smiling, laughing, dancing and being happy and celebrating with us. I wouldn't change a thing!"
Words of Wedded Wisdom:
"Stick to your vision. I think at times, not everyone 'got' our vision and perhaps thought we were little crazy for having afternoon tea in a tipi, collecting used jars and having a dancefloor in a dusty old barn! But Andrew and I stayed on the same page throughout and knew what we wanted. Remember it's YOUR day and don't let people put doubt in your mind, just GO FOR IT! It will end up being the wedding people remember if you dare to be different.
Also, Love My Dress was a great source of inspiration during the planning process. I checked the blog almost every day and I loved reading about other couples' experiences and seeing how everything came together. Reading the advice also really helped me to keep crafting and being creative to keep everything personal and different."
Sound advice from our bride! A huge thank you to the happy couple for sharing their beautiful, fun filled wedding. A special thank you goes out to Gabrielle Bower for capturing their big day so beautifully. If you'd like to see more, stunning, tipi weddings please follow this link. If, like Katie and Andrew, you'd like to a little crafting of your own for your big day, why not take a look at our DIY projects section?
Wishing you a great rest of your week!
Annora x
Photographer – Gabrielle Bower Photography
Venue – The bride's family farm + a tipi hired from Boutipi
Wedding Dress – 'Savannah' by Maggie Sottero purchased at Deborah Moore Bridal in Hessle
Veil + Headpiece – Purchased at Deborah Moore Bridal in Hessle
Shoes – Borrowed from the bride's mother
Accessories – Pandora bracelet + earrings borrowed from the bride's mother
Bride's Scent – Chance by Chanel
Groom – Next suit + Marks & Spencer tie + Loake shoes + Thomas Pink socks + 1950s Omega Constellation watch
Bridesmaids – ASOS dresses + hair combs from Not On The Highstreet + necklace and earrings from Accessorize + bracelets from Next
Cake – Cooking with Passion
Transport – A 1969 Daimler 250 VG
Entertainment – Nikki Airey + Soul Selecta
Rings – Guest & Phillips
Catering – Afternoon tea catered by Cooking with Passion + hog roast by Happy Hogs
Stationery – Love My Wedding Invites
Hair and Makeup Artist – Victoria Farr