Happy Wednesday! It's almost the end of October already – can you believe it? I'm quite excited, as my husband and I's second wedding anniversary is coming up very soon, but I can't tell you how fast the time has flown. With that in mind, take a bit of time out for yourself this morning and have a look through today's beautiful wedding, which combines English, Japanese and Chinese culture in the loveliest London venue, with wonderful light-filled photography from Irene Yap, one of my very favourite photographers.
Jane, an Art Director, and Jin, a Visual Merchandising Manager for Muji married on the 25th of July this year at the lovely Lauderdale House in Highgate, London.
"I'm half Japanese and half English and Jin's parents are originally from Hong Kong so we wanted to keep the decorations personal and reference both our backgrounds. Tea crosses all three cultures so it was a little bit of a theme for us – we used oriental teapots filled with flowers as centrepieces and made favours up of little teapot-shaped strainers with a small package of our favourite tea – Genmai Cha."
Photographer Irene Yap is a member of Little Book For Brides®
"Something that we'll never forget is the overwhelming amount of love that we felt from family and friends in the room during the ceremony. It's like getting off a plane in a hot country – the feeling of warmth really hits you."
The couple chose photographer Irene Yap to capture their big day. I'm such a fan of Irene's work- her portrait shots are especially wonderful.
 "We found our brilliant photographer Irene at a wedding fair at the Excel Centre in London. She offered to do an engagement shoot with us, which was really inspiring. We chose places that we love around London and the whole experience was fantastic. We knew that she would be brilliant on the big day and a great addition to the wedding party."
"I'm originally from Lancashire and had just moved to London (after living in Japan for 3 years) when we started dating. Jin is a Londoner and he showed me around the city. I fell in love with London and everything fell into place after that. We had been together for 6 years before getting married."
"Alicia and Emilia from Phlox Florists are such artists, they worked magic with the flowers, taking great care to incorporate the oriental feel but considering the style of the venue too. The flowers in teapots and mismatched vases on the tables were just beautiful. The ladies really bowled us over with their style and drive to get the perfect flowers for our day. A lovely memory of the wedding was seeing the guests leaving with the gorgeous flowers in their hands."
Jane's wedding makeup was the work of Michelle Abels and I love the photos of Jane having the finishing touches added- those last moments before the ceremony are just so exciting!
"Michelle is a makeup artist that I work with and she is so attentive, she made me feel both natural and really special with the look that she created."
"Francesca Jordan was our hair stylist; she styled my hair in a way that I didn't think was possible. I went for a relaxed but slightly retro feel. I had grown my hair for a year before that and it was worth it, to have a style like that for a day."
Jane wore a bespoke dress from Christina at Sesay Bridalwear, London, which shows off her slim frame beautifully and was made exactly to her specifications- a brilliant option if you have a good idea of what you want and like the idea of making your dress completely personal.
"I had lots of ideas for my dress after spending time looking at Pinterest. I talked through the ideas with Christina and she put it all together in a fantastic sketch. It was better than I hoped and I was able to choose all of the fabrics and the lace. 
Christina is super talented and the experience was one of the most enjoyable parts of the wedding planning. The little top that fastens at the back can also be reversed, so I can wear it in a different way afterwards, which I love."
Jane complimented her dress with a pair of gorgeous Rachel Simpson shoes in mint green, a diamond necklace given to her by Jin's mother and a pearl bracelet from her own Mum.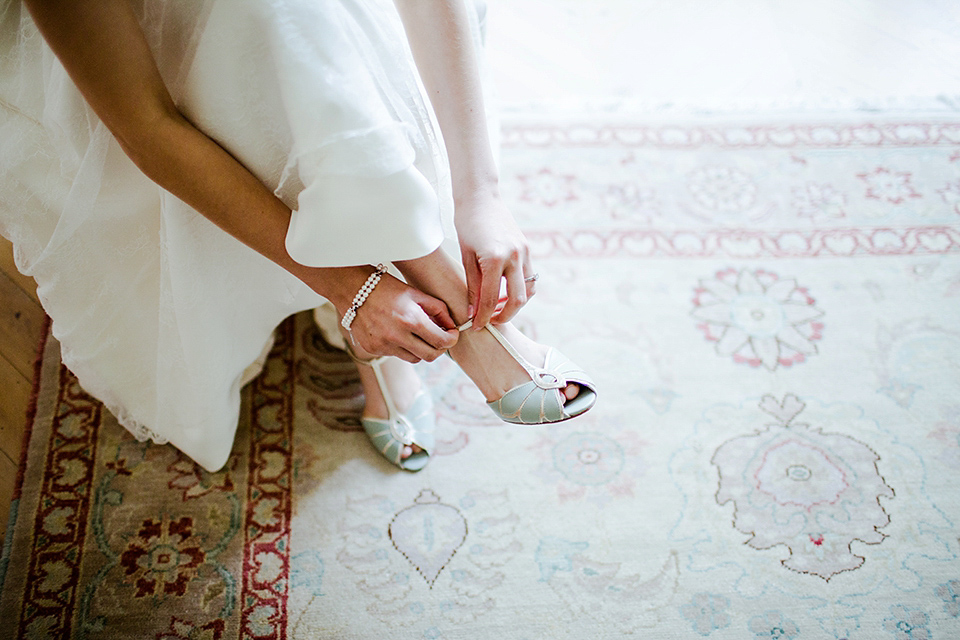 The bridesmaids looked gorgeous in pale blue dresses from Phase Eight. I really like the colour of these- it almost makes me think of willow patterned china and suits all three ladies very well indeed.
Jane and Jin wanted to keep their ceremony short and sweet, but you can definitely see the emotion and happiness in the room in Irene's images, it's very lovely.
"My Dad walked me down the aisle and gave a really lovely speech after the meal. I'm an only child so it was quite emotional, he's a big softy."
Maid of Honour Jenn read a sweet and simple poem by Edward Monkton;
That Still and Settled Place

In that still and settled place
There's nobody but you
You're where I breath my oxygen
You're where I see my view
And when the world feels full of noise
My heart knows what to do
It finds that still and settled place
And dances there with you.
Jin looked super smart in a three-piece suit from Reiss, with a pocket square made with Liberty fabric to add colour and interest and a pale tie.
"Lauderdale is close to where we live and we just love the feeling of the house, it's charming, warm and non-pretentious."
With their creative backgrounds Jane and Jin were keen to make their wedding visually appealing, and I absolutely love their decor choices- beautiful and unusual.
"We collected Chinese, Japanese and English style fabrics which my amazing mum made into bunting for us. She also made us a beautiful wall hanging of our initials which she kept as a surprise up until the day and the paper cranes for the place cards."
The couple decided to go with a tower of cheese instead of a traditional cake- excellent choice!
"My maid of honour Jenn found the cheese cake company online, The Courtyard Dairy. Our bridesmaids made chutneys to go with the cheese which went down a storm."
The couple and their friends and family danced the night away to their band of choice- The Low Riders.
"We found the Low Riders online. We chose them because they genuinely seem to love playing music. They were so brilliant- everyone was asking where we found them."
Words of Wedded Wisdom
"If you don't have much time to de-rig the venue after the wedding, choose decorations like balloons. The kids had great fun playing with them and we were able to let them all go with everyone afterwards!
Also, make up the wedding favours weeks in advance."
Many congratulations to Jane and Jin- I love the happiness and fun that radiates from these photographs, and wish them every continued happiness. Many thanks also to Irene Yap for sharing her work with us. For more weddings with a Japanese or Chinese flavour, have a look here and here.
Much love,
Shona x
Photographer – Irene Yap
Venue – Lauderdale House, London.
Wedding dress – by Christina at Sesay Bridalwear, London
Shoes – Rachel Simpson
Accessories – Diamond necklace, a gift from Jin's Mother and a pearl bracelet from Jane's Mum
Bridesmaids' dresses – Phase Eight
Groom – Suit from Reiss, pocket square made with Liberty fabric
Florist – Phlox Florists
Cake – The Courtyard Dairy
Catering – Green D'Vine
Rings – Tomfoolery
Makeup artist – Michelle Abels
Hair stylist – Francesca Jordan
Entertainment – The Low Riders
Balloons- Bubblegum Balloons