Hello lovelies and I hope you're having a wonderful week wherever you are in the world. Today's beautiful bride found her exquisite dress at Halfpenny London, whose most beautiful new collection for 2016 we recently featured. These lovely and relaxed images from photographer Emma of Gypsy Westwood Photography helped transport me immediately to the couple's idyllic island wedding location across the seas on a beautifully sunshiney late Spring day this year.
Grace works in account management for a fragrance company and David is a graphic designer. They tied the knot on 31 May 2015 on the island of Ibiza; their favourite place and where the couple met for the first time.
"We just wanted all of our friends and family to experience how magical and beautiful the island is. We chose to get married in Ibiza as it is our favourite place in the world and where we met!"
Photography by Gypsy Westwood Photography
 The bride chose the stunning 'Iris Honey' design by Halfpenny London. She looks gorgeous and the dress suits her tall frame to a tee.
"Unlike most people I did not have a clue what dress I wanted. As I am nearly six foot tall, the only thing I knew was that it would be slim-fitting and not a meringue, as I would look huge! I visited Brides The Show and this is where I met designer Kate Halfpenny. At this point I hadn't tried on any dresses and wasn't planning on trying on my first dress at a busy bridal fair as I wanted the whole bridal shop experience. Well, that was until I saw Kate's dresses. I was literally desperate to try one on there and then!"
"I'm glad there wasn't a fitting room because I got to experience it all properly at Kate's beautiful boutique. I went with my Mum and my sister. I tried on around five different styles and my dress was the last one I tried on. It was one of Kate's new designs and I knew straight away when we were all crying it was the one. The honey-comb lace, the train, the front, the back; I just love everything about it."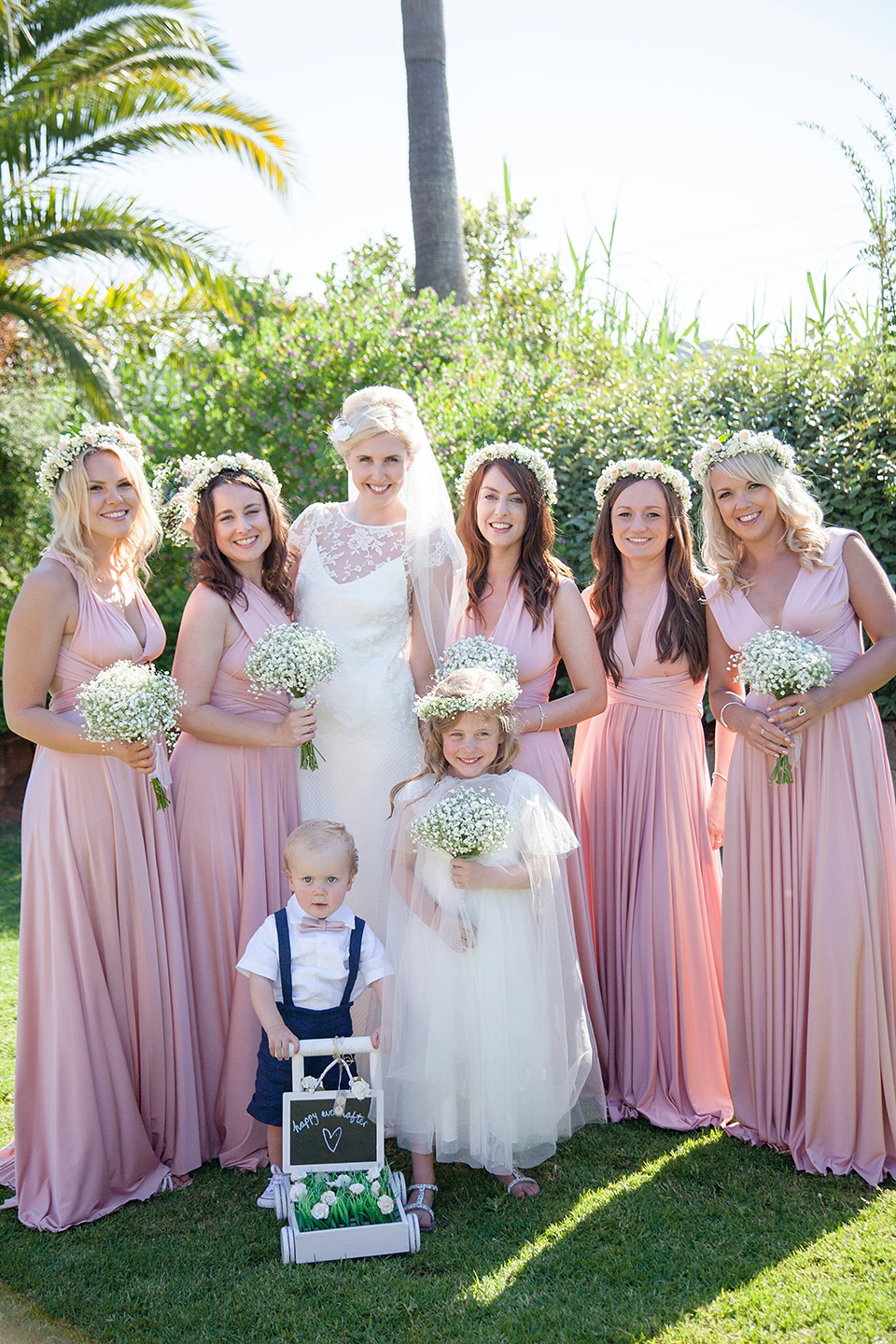 Grace is a big fan of this beautiful blog and found it very inspiring in the lead up to the wedding – and will continue reading so as to hear about the adventures of all of The Lovettes. Thank you Grace for your lovely comments.
"The only blog I read was Love My Dress. On the train to work every day religiously. There are so many beautiful weddings and incredible advice I really didn't need to read any others. I love the variety of the weddings covered – all the different tastes, styles they are wonderful. All the advice on so many different topics and hurdles you can meet along the way. I am also obsessed with The Lovettes and will be following all their stories now my wedding is over."
Grace and her Dad were driven in style to the church ceremony in the 'Silver Cloud' Rolls Royce from Rolls Royce Ibiza.
"Frankie Smith, who owns this beautiful car, was the perfect chauffeur. He was so much fun and made me and my Dad feel at ease during a nervous forty-minute journey to the church."
Grace's five pretty maids donned twobirds Bridesmaid gowns in 'Blush'. It's such a lovely colour and I'm a little bit in love with the ability to wrap a dress in over fifteen different ways, giving versatility and choice to the bridesmaids on style, plus you have a dress you can wear again after the wedding day. Genius! Hair and makeup was by Grace's friend Vicky Smith. The bridesmaids topped off their stylish look with fresh floral crowns, ASOS shoes and a pretty jewellery piece from the bride.
By the way, we were recently chosen as the blog to launch the exquisite new 'tulle' collection by twobirds, you can see all the beautiful photographs here.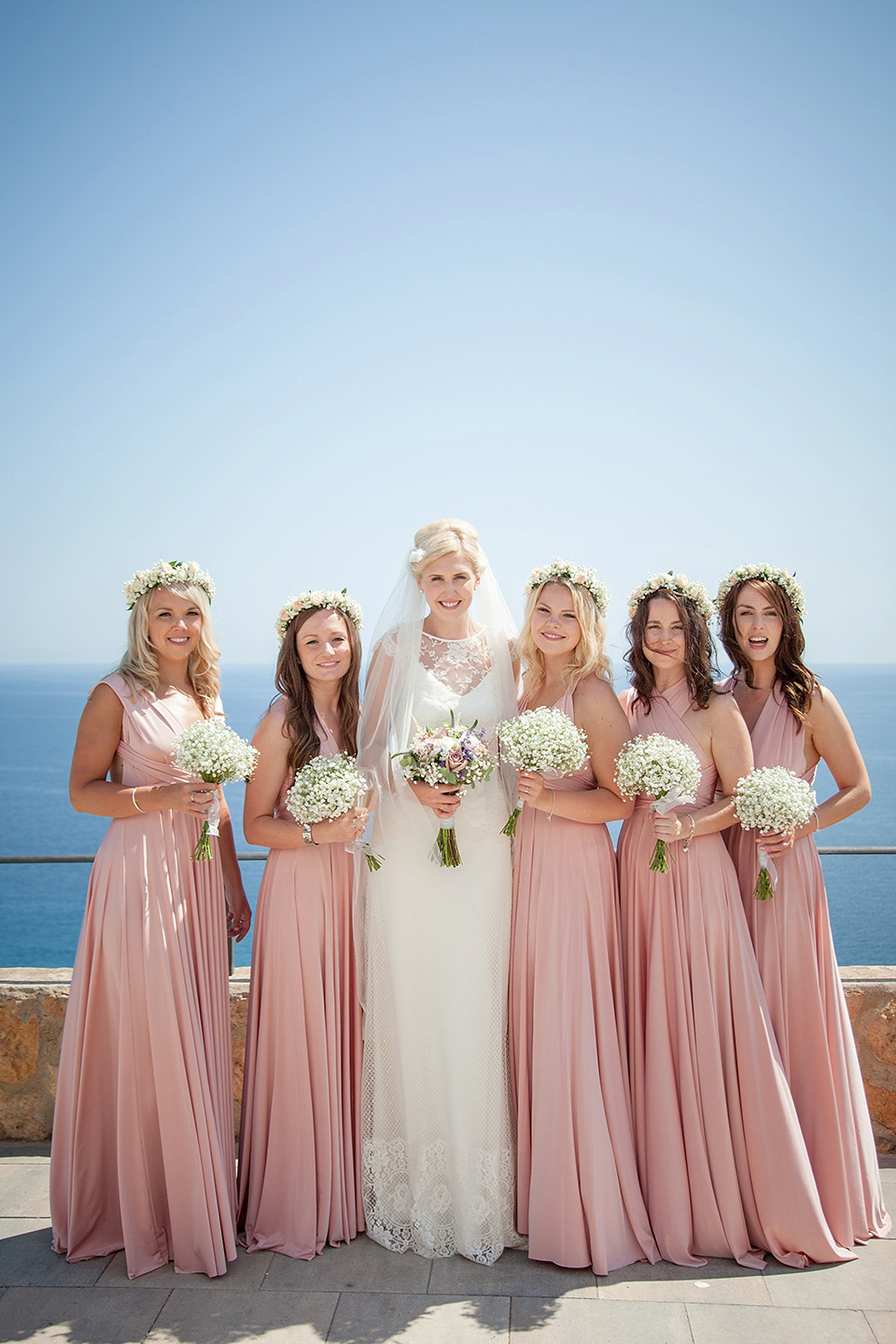 "We had a Catholic ceremony in small picturesque church in Es Cubells on the south of the island. Getting married in a church was the only must. David is not religious but I am Catholic and could not have imagined my wedding anywhere other than in church. Our reception was held at Can Gall, a two-hundred-year-old Spanish country house (Finca)."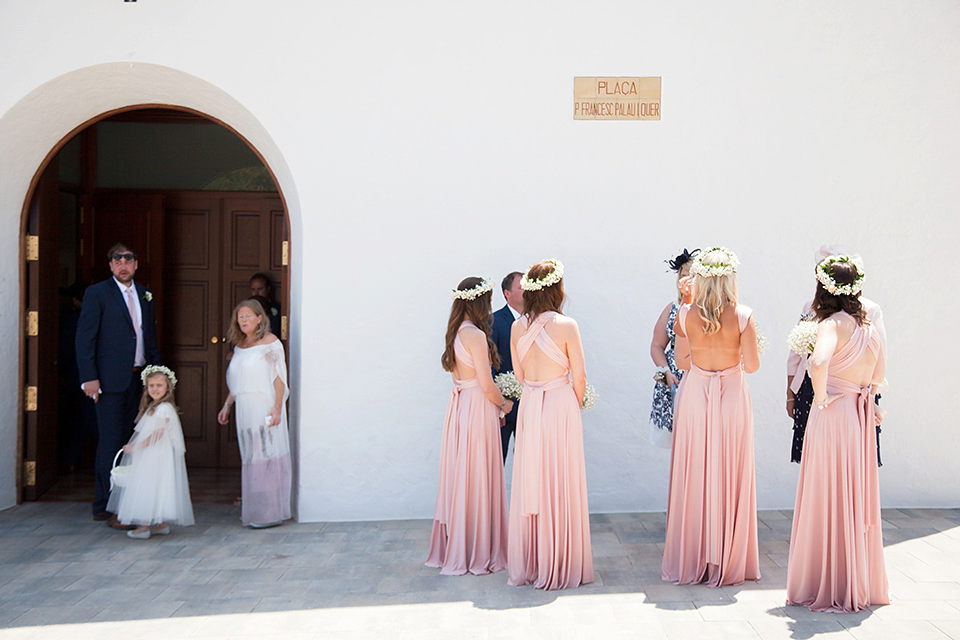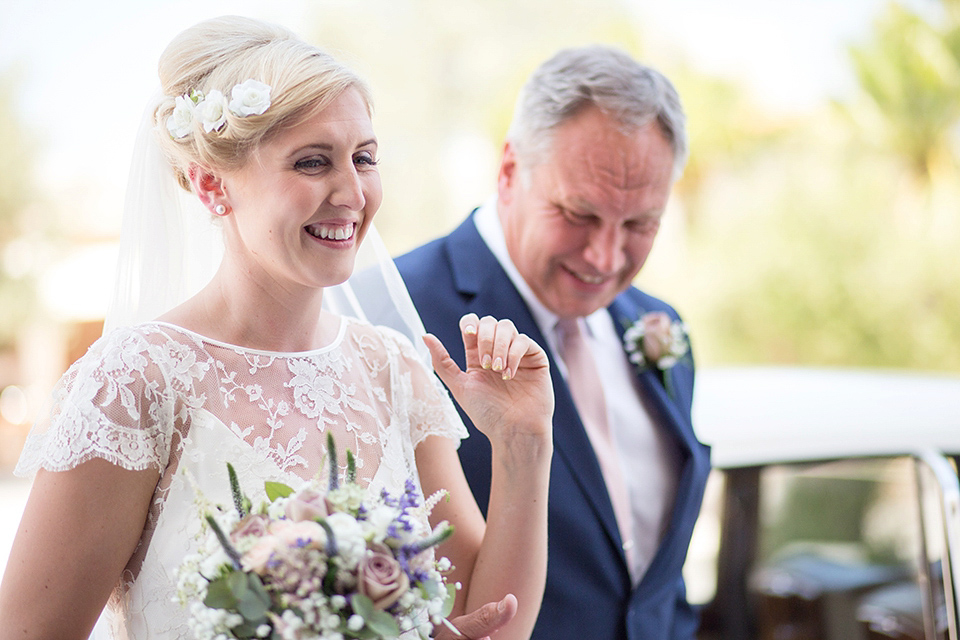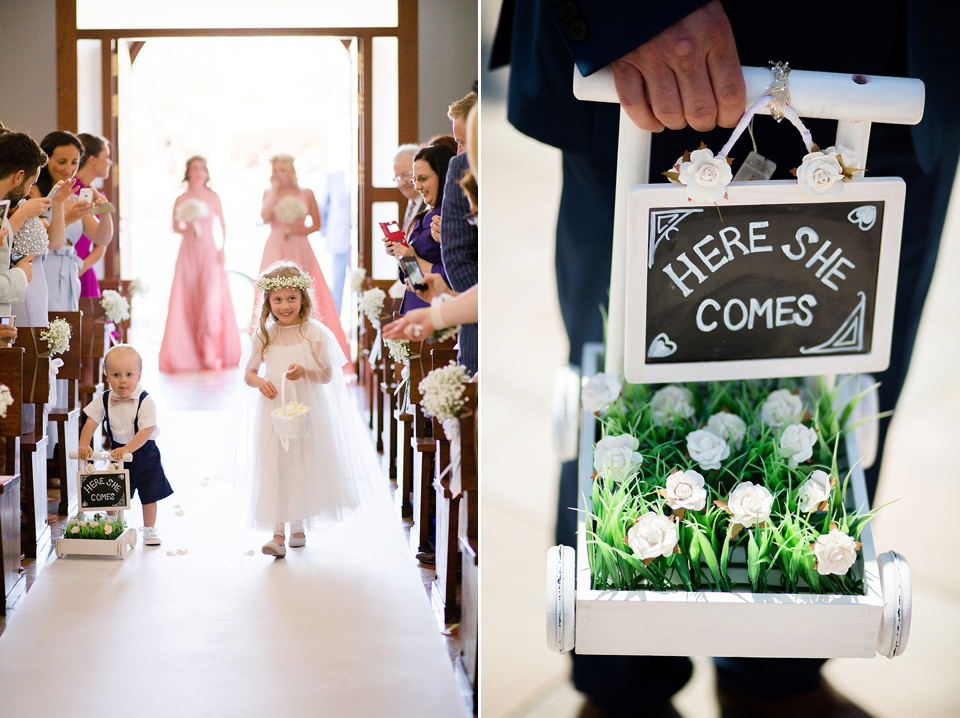 Sporting the cutest ensemble, found via Etsy, the sweet little pageboy pushed a trolley filled with white roses as he performed his aisle walk. And the flower girl looks pretty as a picture in her Monsoon dress and cape. 
Monsoon are a member of our Little Book For Brides®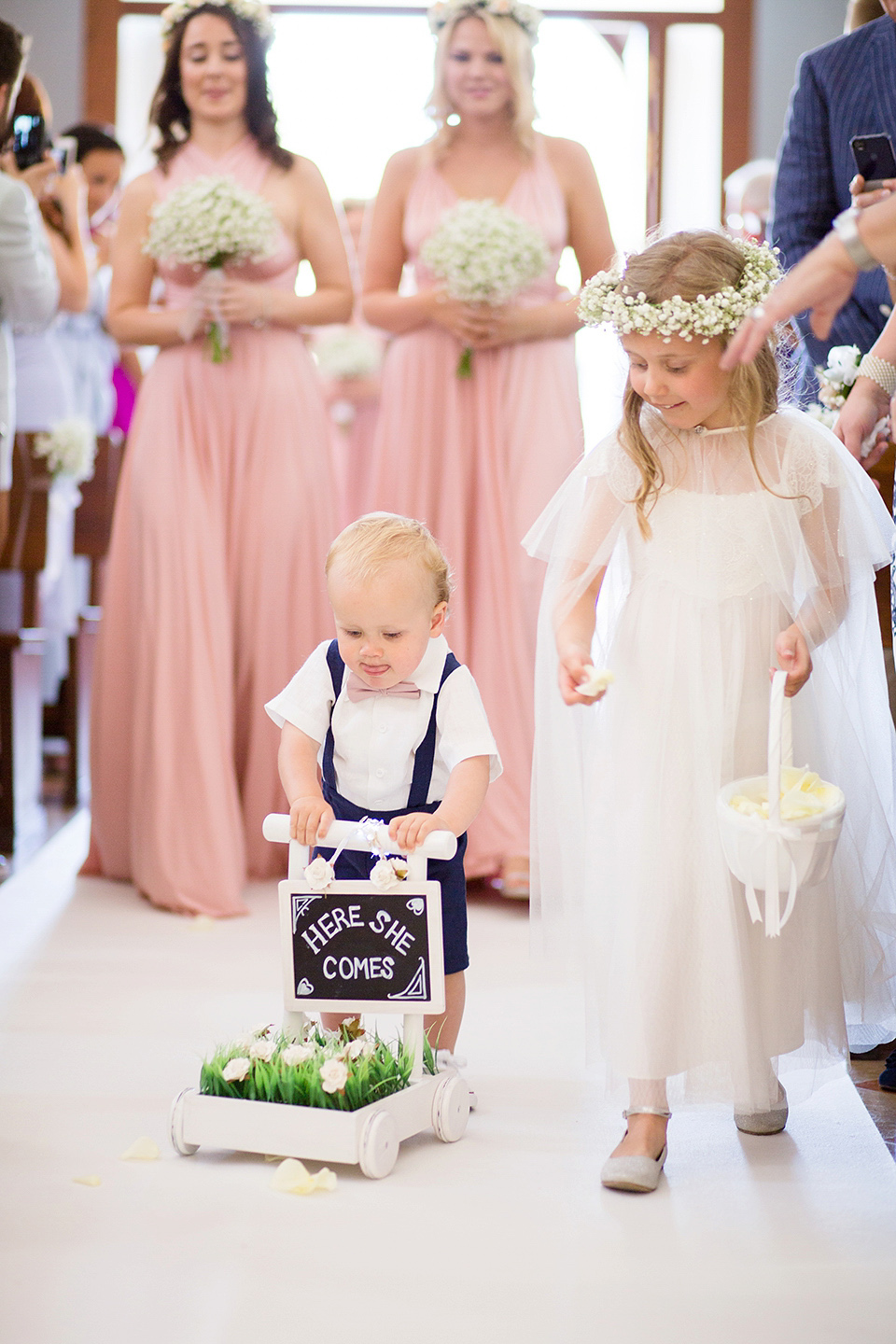 Grace was walked down the aisle by her dad to 'Can't Help Falling in Love with You' by UB40. The couple went with traditional Catholic wedding vows and two very special moments were included in the ceremony.
"My cousin Rosie studied Spanish at university and lived in Madrid. She loves Spanish poetry and we asked her to pick a poem and keep it as a surprise until the day. She read it in Spanish and then in English. It was beautiful and we couldn't have picked better. We also asked my sister and our 5 year old niece Marybella to read our bidding prayers. Word perfect Marybella literally stole the show – our little angel."
Sonnet Xvii by Pablo Neruda
I love you without knowing how, or when, or from where.
I love you straightforwardly, without complexities or pride;
so I love you because I know no other way 
than this: where I does not exist, nor you,
so close that your hand on my chest is my hand,
so close that your eyes close as I fall asleep.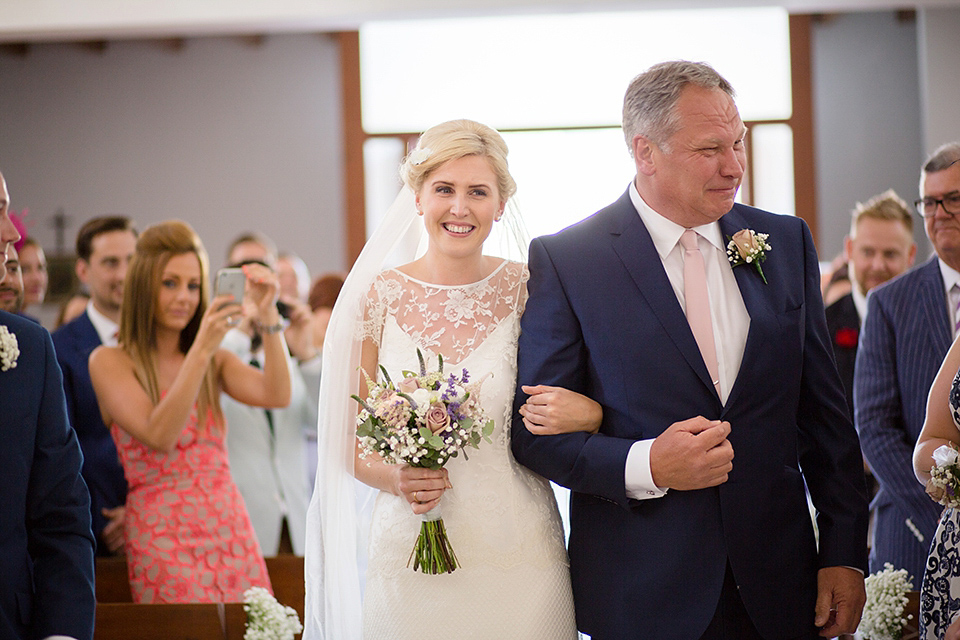 The groom, best man and groomsmen all look dapper in their suits from Marks & Spencer and a twobirds Bridesmaid bow-tie to match the bridesmaids' blush dresses. David's best man Greg came all the way from Sydney with his partner Jodie to be at the wedding; what a lovely gesture.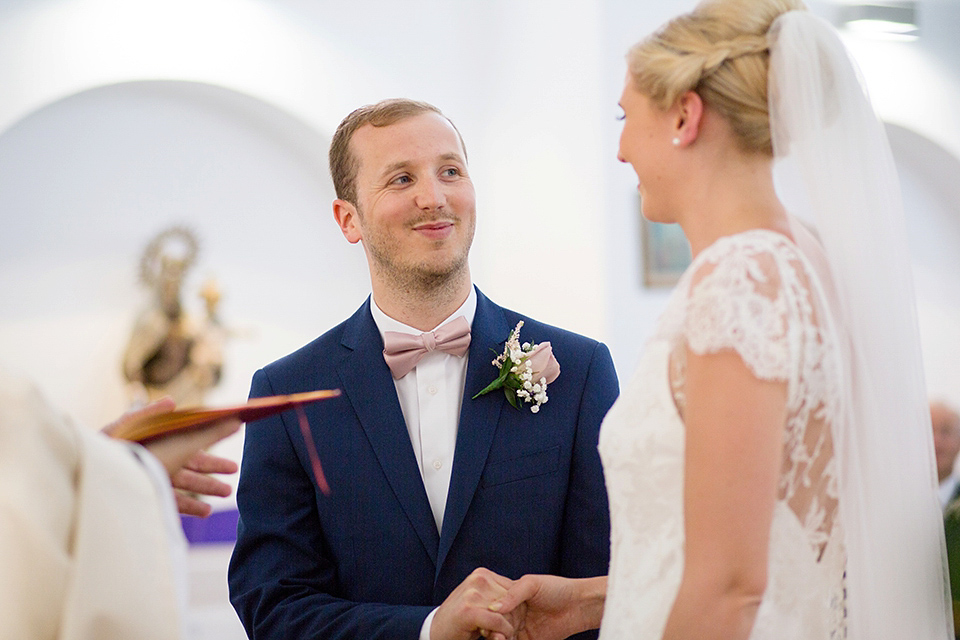 "We met in Ibiza on holiday nine years ago. David is a Londoner born and bred and I am from Bradford in West Yorkshire. Normally this would have just been a holiday romance but it was the summer before I moved to university in Brighton and we got together. We were together for around twelve months. Young and foolish we parted ways, but it was obviously meant to be because we got back together six years ago.
We got engaged in Central Park in New York on our fifth anniversary. We were engaged for just over twelve months before we got married."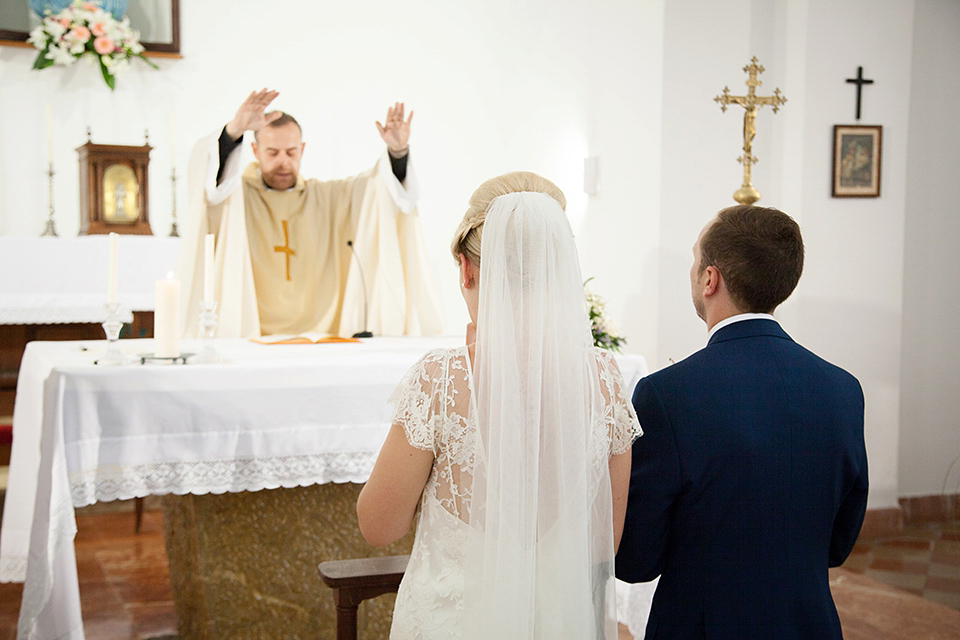 "Our wedding rings are by the amazing New York based jewellery designer Anna Sheffield. David asked Anna to design my engagement ring and collected it in New York the day before he proposed. I met a friend who lives in Brooklyn whist he went "music record shopping" when really he was collecting my ring. Her designs are so unique and beautiful and she is such a lovely lady!"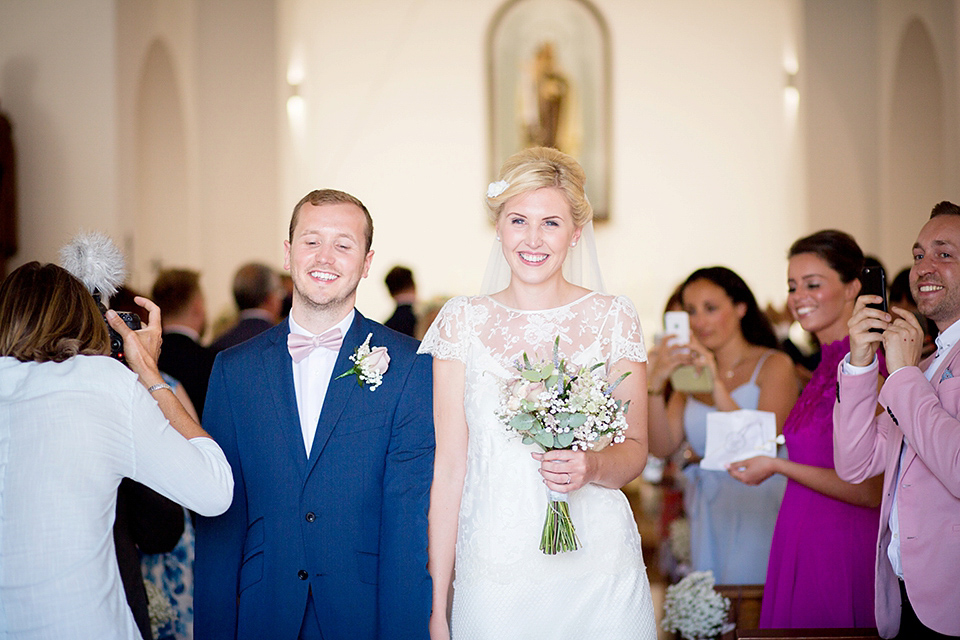 "We used Gary and Holly of Floral Dreams who are a lovely married couple who made the whole experience so easy. I sent lots of images from Pinterest and the flowers were better than I could have imagined, especially the bridesmaids' floral crowns and my bouquet. I wanted them to be simple and stunning and they were just that."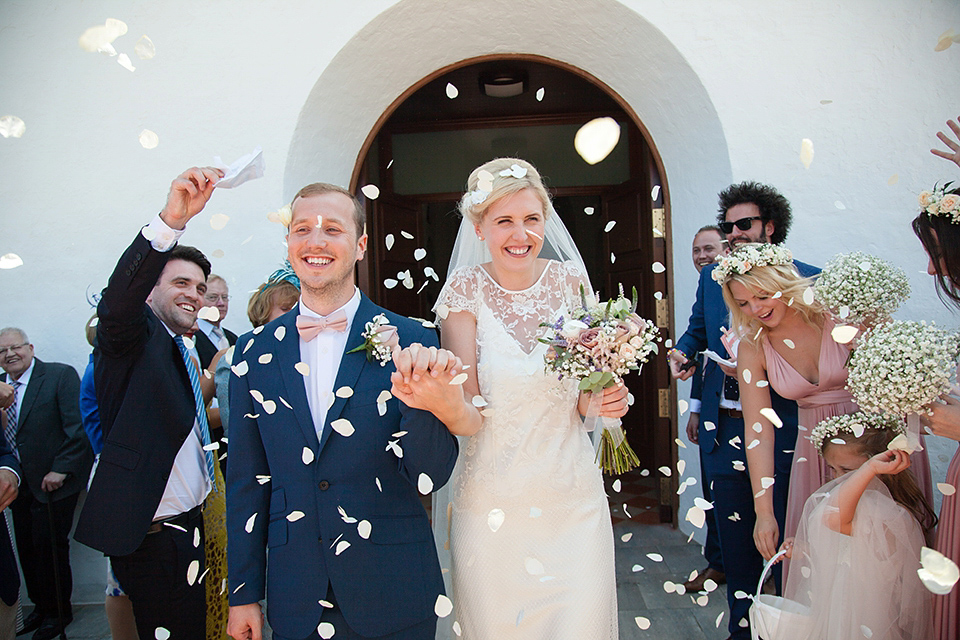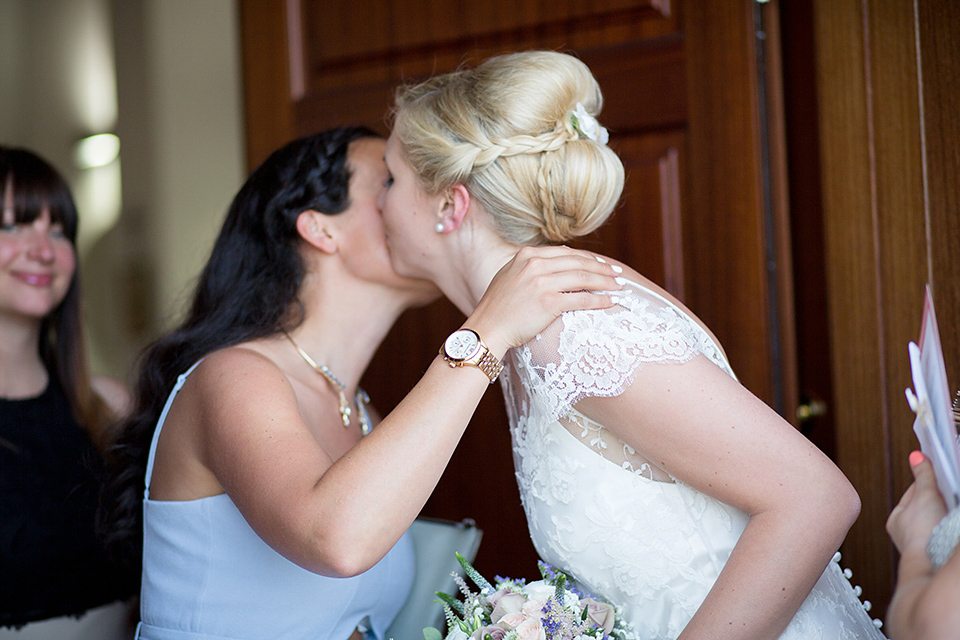 Gypsy Westwood Photography captured memories for years to come so perfectly – I love the relaxed vibe of everyone at the outdoor reception and the resulting light-filled images.
"Having an amazing photographer and videographer were very important to us and we loved Emma and Gyspy's style of photography. Emma and Jake were both amazing on the day. We did not get to meet before the day but we instantly felt at ease once we met them. We adore our pictures and think they really capture the happiness of the whole day."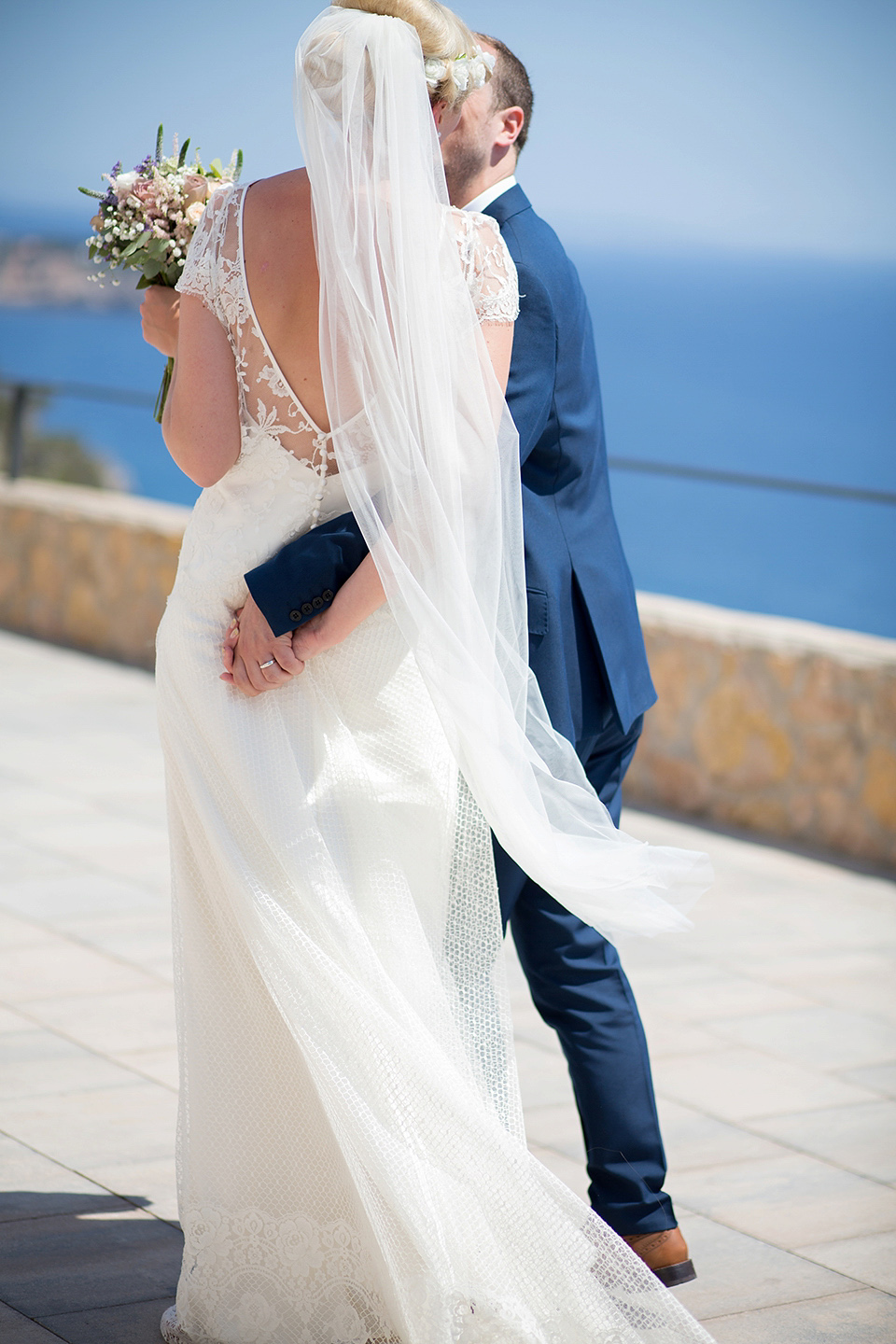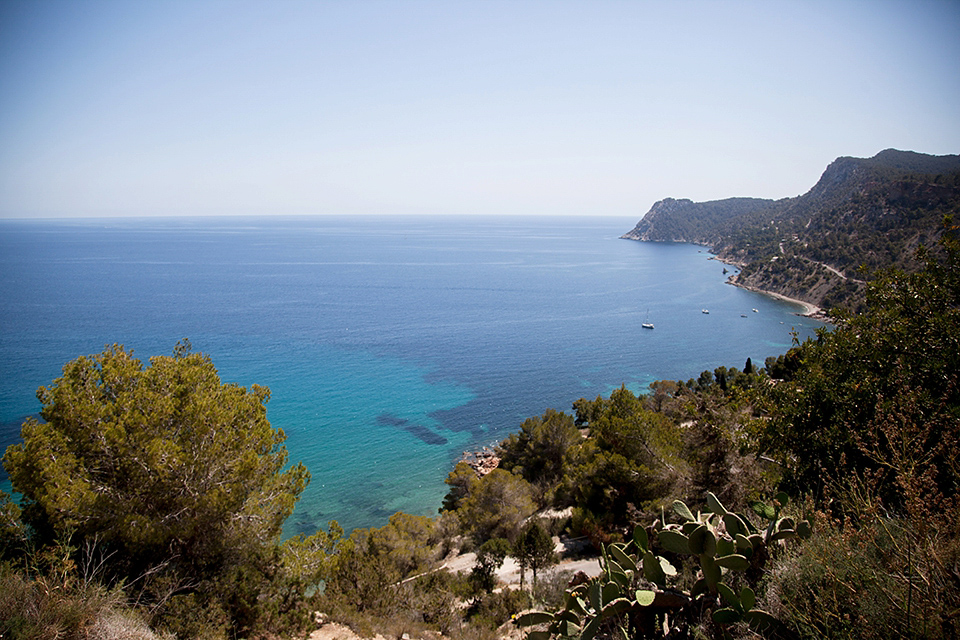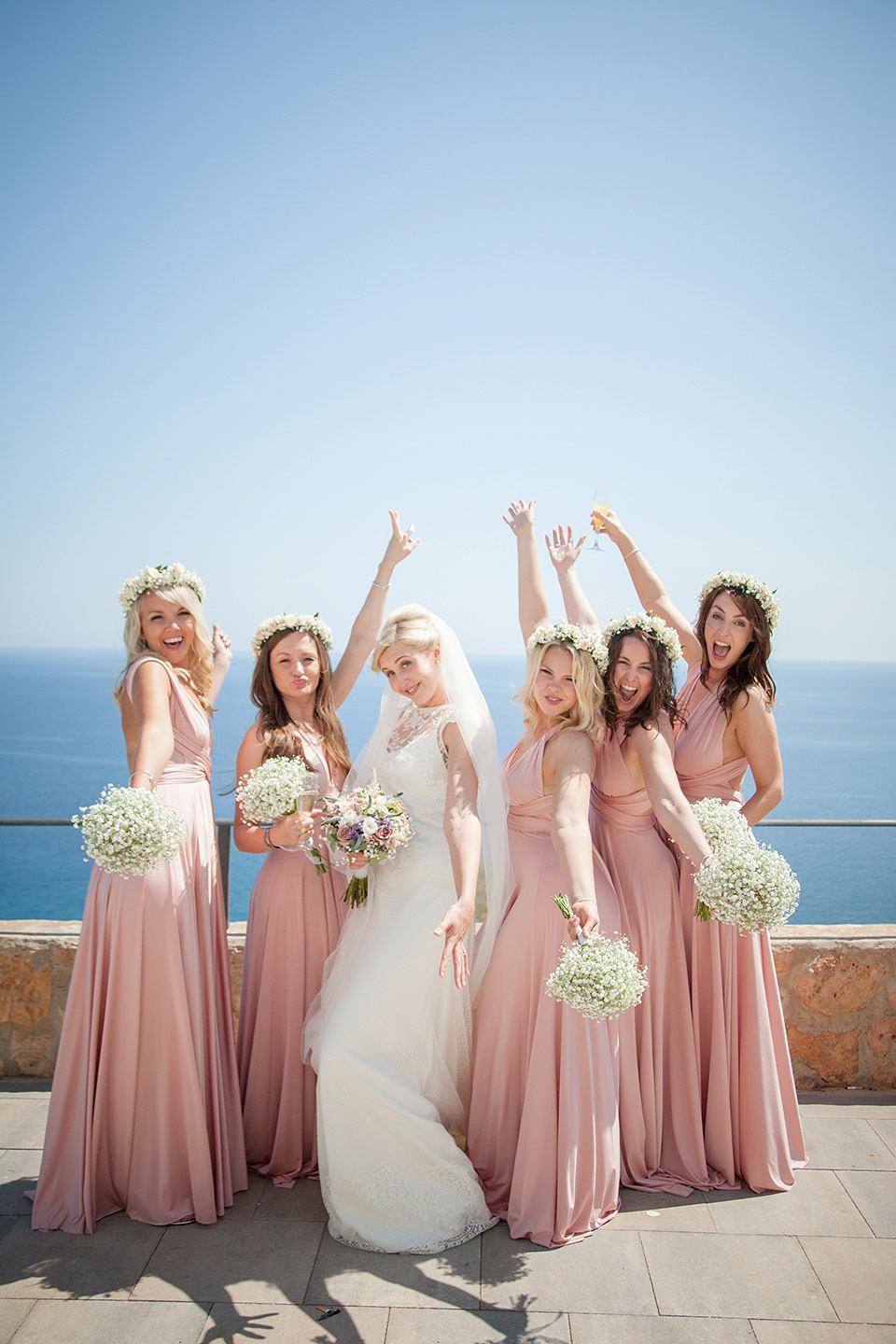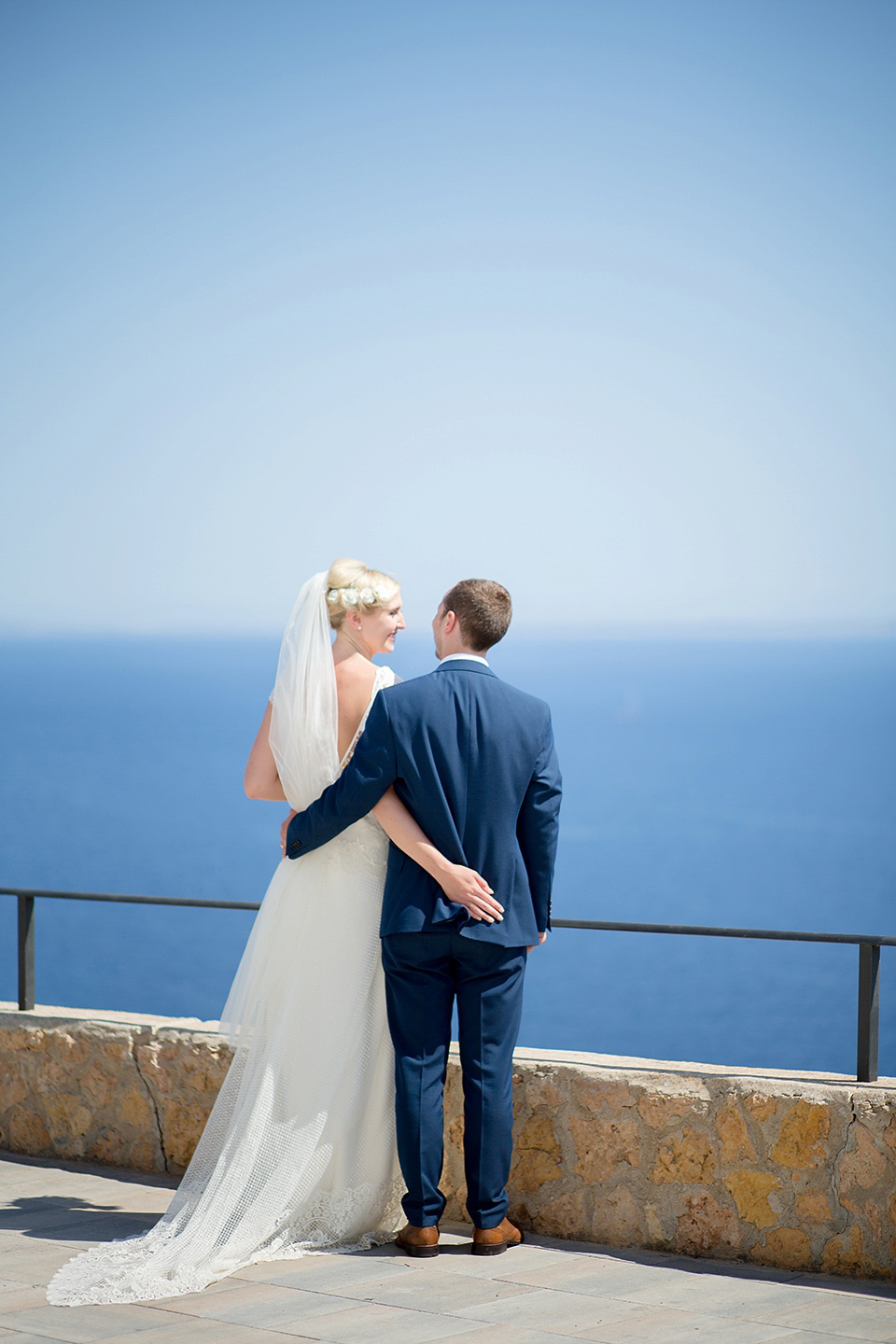 Grace wore a gorgeous veil, also from Halfpenny London, heels from Debenhams, white roses in her hair, and her line of work helped greatly with the choice of fragrance to wear on the day.
"As I work for a large fragrance company I had hundreds to choose from. In the end I picked Bottega Veneta Eau De Parfum, as it is a classic favourite. For my jewellery, I wore Mum's Tiffany pearl earrings as my something borrowed and my Nan's wedding ring – she never took it off her whole fourty-four years of married life."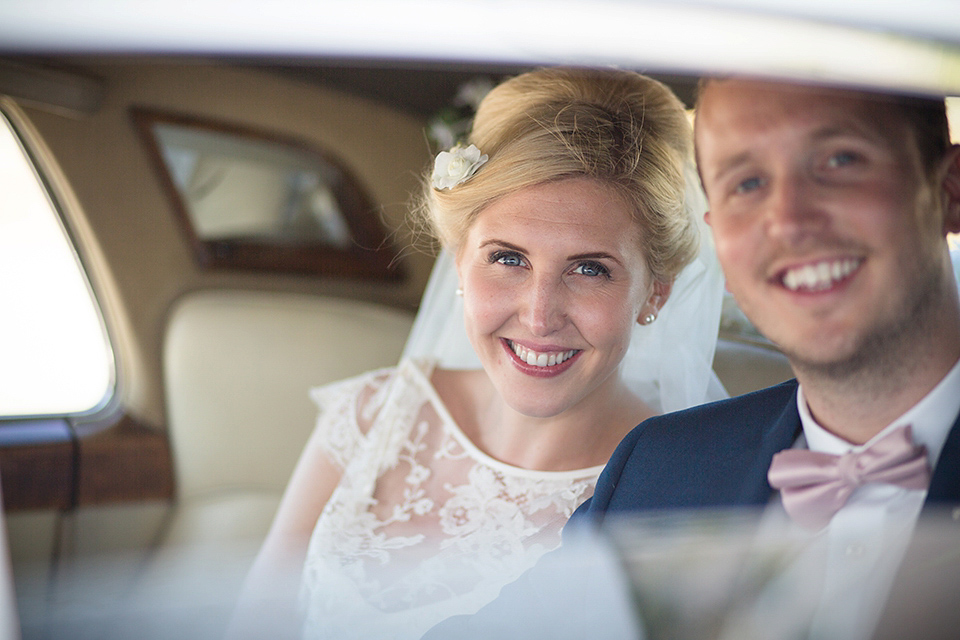 "I went to the island with my mum in March to meet suppliers and we still hadn't decided our favours. We visited Can Gall again and couldn't help but notice the hundreds of lemon trees. We made a joke about taking the lemons home and making lemon curd. Well that's what we did! I am quite sure Santi, the venue's owner, thought we'd gone mad when we came back the next day with an empty case that we filled with twenty-three kilograms of lemons and took back to Yorkshire. My Mum made the lemon curd for all the female guests. David made a stamp for the labels that read 'Can Gall Lemon Curd'.
Lovingly made with Ibizan lemons in Yorkshire". For the male guests, David and I visited the famous Hippie Market the week before the wedding and bought Gecko bottle openers."
"We had live music during the ceremony and a band at the reception. Sam and Johnny from Wedding Ceremonies Ibiza are an English married couple who have lived on the island for over fifteen years. They are both extremely talented musicians. Not only does Sam have the voice of an angel but also organises the booking of the church and the legalities for you including the complicated paperwork and liaising with the priest. Included in the organising fee is the music during your ceremony with Sam singing and Johnny playing the instruments.
They also have a band called Nitebirds who played an incredible Motown/soul session for us at the reception."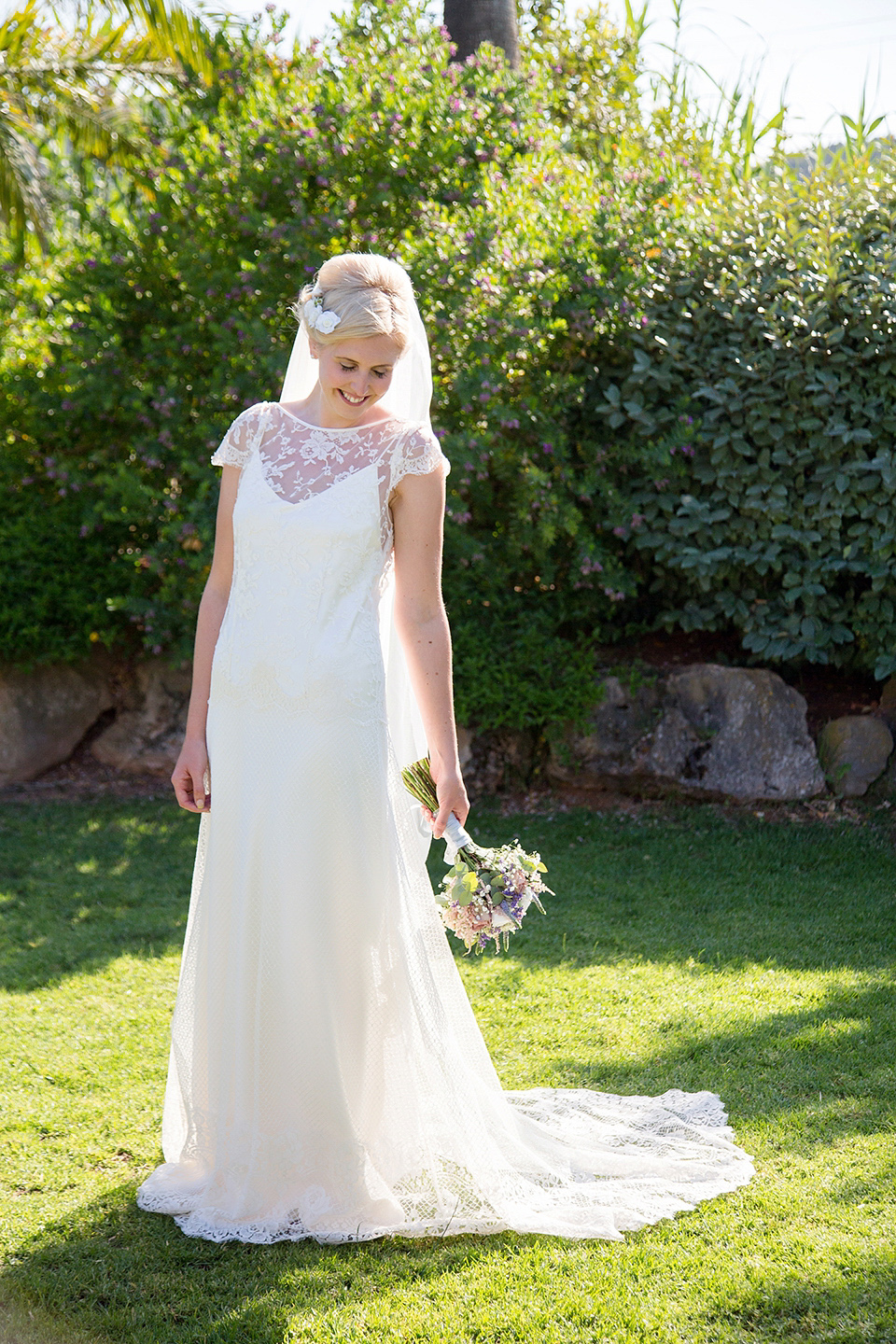 Cardamom Events provided the delicious catering for the guests. And get set for a funny story regarding the couple's wedding cake.
"A cake really wasn't important to us. We decided to buy a simple three-tiered ivory cake from Marks & Spencer, which my brother carried on the flight over with him (queue lots of moaning and a small dent). I'm so glad we did as we completely forgot about the cake on the wedding day! We had a BBQ Pool Party at Can Gall for all of our guests the day after the wedding so we cut the cake then in our swimsuits. Everyone thought it was hilarious!"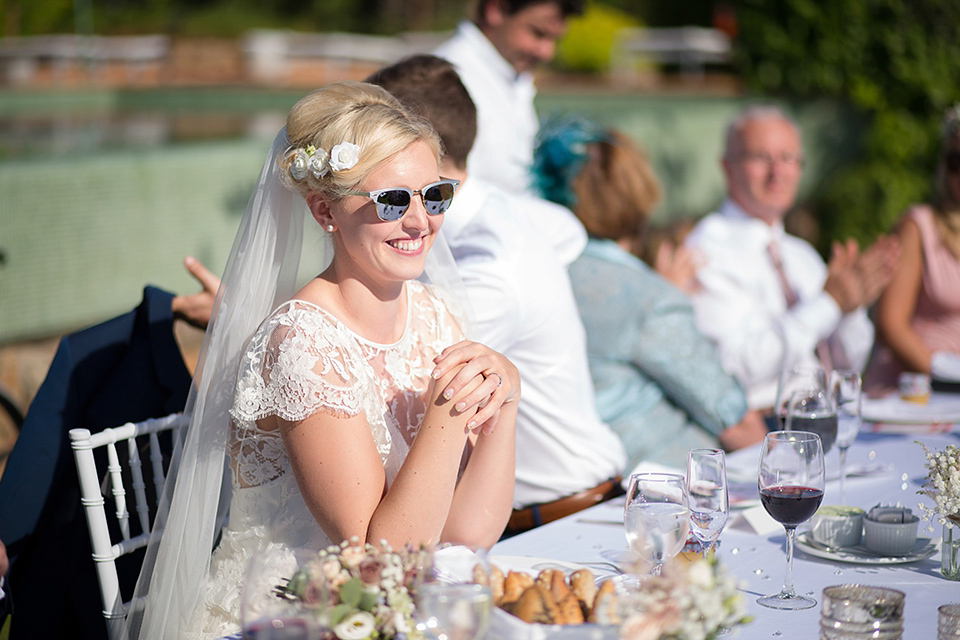 "We also had personalised canvas bags made for all our guests that we left in their hotel room on arrival as a 'Welcome' treat. They included silly things like a beach ball, a fan, glowsticks (only in Ibiza) and a door hanger David made that read "Ssshh, we've been up all night dancing with Mr & Mrs Bevan". Our guests loved them. We wanted to do something extra as everyone had travelled so far to be with us." 
The creative groom designed all of their stationery, from the save the dates and invitations, to the order of service. The tables were named after both set of grandparents and parents – what a lovely, heartfelt tribute to the couple's families.
 "Our grandparents are unfortunately no longer with us and we both wanted to make them and their incredible marriages a part of our special day. We had facts and funny stories about each couple on the tables. Both of our parents are our inspirations with a combined marriage length of seventy-nine years! We hope we can be as happy as they are."
 "It's so hard to pick a favourite part when you loved every second. We got so swept up in the organising of the reception and all the little details we didn't really think about the actual ceremony and the vows but I would say that was my favourite. It was beautiful from the readings, to the hymns, to standing in front of everyone you love and declaring your love and commitment to each other.
Being in church made me feel close to my Nan who sadly passed away 18 months ago. She was my favourite person and was such a big part of our lives. She would have been so proud. Listening to everyone sing her favourite hymn, it was like she was there with us."
"We couldn't decide for ages if we would do a first dance or not. We both love Artic Monkeys and have been to see them play together too many times to remember. We couldn't pick between two songs so we had a medley of the two together. They were 'Wanna Be Yours' and their cover of 'Hold On We're Going Home.' We loved it!"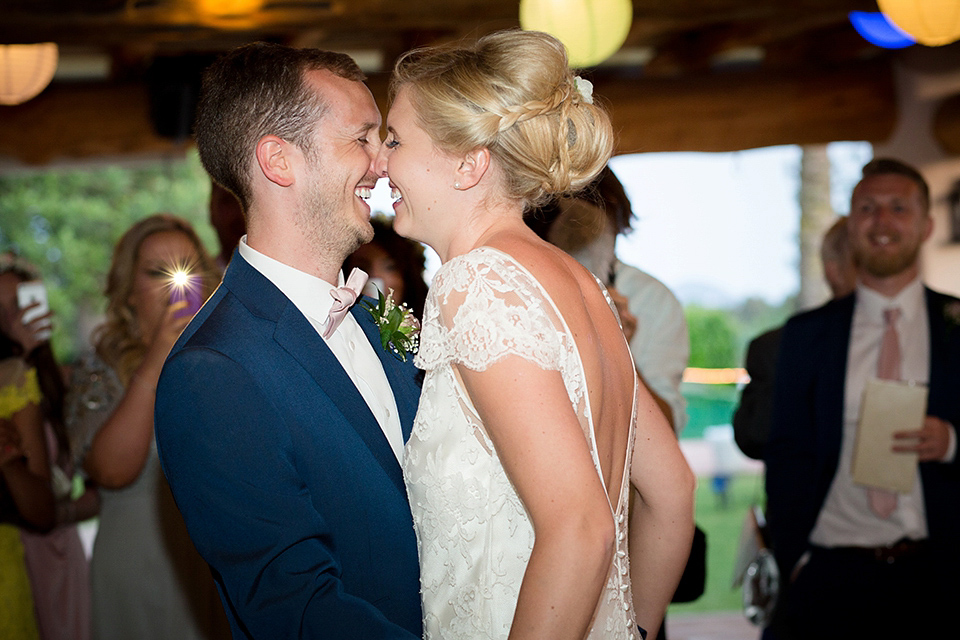 Words of Wedded Wisdom
"Don't stress about the small things. We had a rather large thing to stress about on the day but even that didn't ruin it, just put things into perspective.
We had our stag and hen do's two days before the wedding in Ibiza. We both hired boats. The hen do went swimmingly (no pun intended) but the stag do was a disaster. The very choppy sea caused David's Dad to slip and fall over on the boat and he badly broke his ankle… two days before the wedding! Luckily he was allowed out of the hospital for the day and he was there in his wheelchair having a great time.
I know everyone always says this one but it goes so quickly make sure you treasure every second!"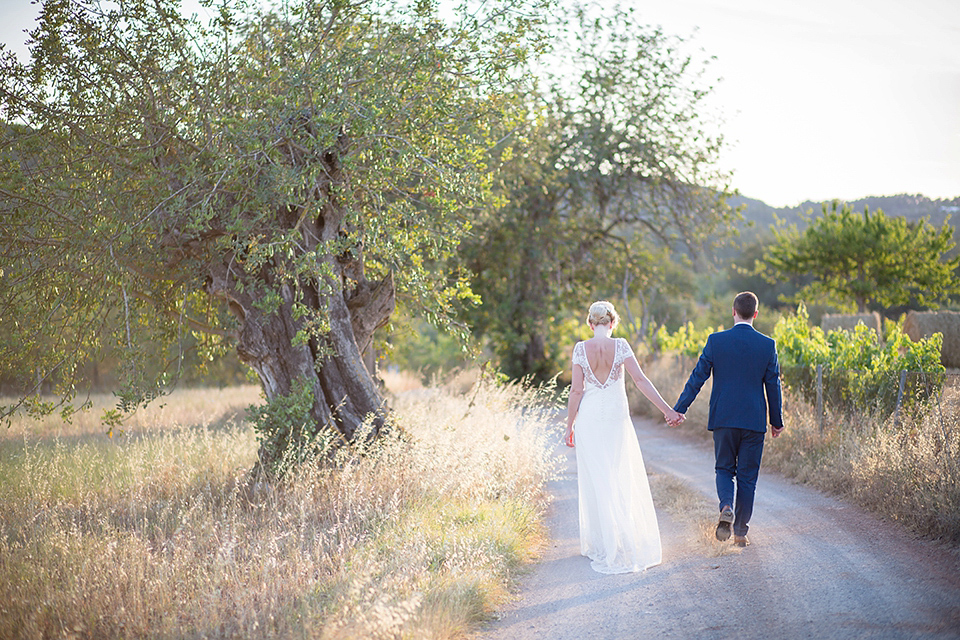 I don't know about you, lovely readers, but I'm feeling so relaxed after viewing these pictures of the island – so I'm off to book a holiday to Ibiza pronto. A very big thank you to Emma from Gypsy Westwood Photography for sharing these lovely shots from Grace and David's big day. I'd like to wish the happy couple a wonderful future and make sure you return to the island to reminisce on a regular basis – I'll see you there!
For more stunning Halfpenny London designs we've previously highlighted see here. And if you're inspired for an island location for your wedding, check out this beautiful Ibiza island summer wedding we featured earlier in the year.
Here's to a productive rest of week everyone.
Love Jo -xxx
Photographer – Gypsy Westwood Photography
Videographer – Jake Westwood
Venue – Can Gall, Ibiza
Ceremony – Wedding Ceremonies Ibiza
Dress + Veil – Halfpenny London
Shoes – Debenhams
Jewellery – Tiffany pearl earrings (borrowed from bride's mum) and Nan's wedding ring
Scent/Perfume – Bottega Veneta Eau De Parfum
Bridesmaid's Dresses – twobirds Bridesmaid
Bridesmaid's Shoes – ASOS
Bridesmaid's Accessories – Fresh floral crowns and bracelet from the bride
Groom and Groomsmen – Marks & Spencer suits and bow-ties from twobirds Bridesmaid
Flower girl – Dress + cape from Monsoon
Pageboy – via­ Etsy
Florist – Floral Dreams
Rings – Anna Sheffield
Catering – Cardamom Events
Cake – Marks & Spencer
Favours – Handmade lemon curd, gecko bottle openers and welcome party bags
Stationery – Designed by David
Makeup and Hair Artist – Vicky Smith, friend of Grace
Entertainment – Wedding Ceremonies Ibiza
Transport – Rolls Royce Ibiza