You're lucky, you know.  Being a visitor to our much loved wedding blog, you're in the rather advantageous position of being able to see some of best in British bridal fashion collections, before anyone else does.  And when they're by effortlessly cool, brilliantly talented and all-round jolly lovely human beings like designer Kate Halfpenny of Halfpenny London, well, you're somewhat privileged.  But that's OK, because we take so much pleasure in treating you to beautiful things like these exclusive, not seen before images from the Halfpenny London 2016 collection.
"Making women feel incredible on there special day and making the dresses work for the brides not the brides working for the dresses – is one of the things I take most pride an enjoyment in.  I really believe I have the dream job." 
[fve]https://www.youtube.com/watch?v=nShB7lvCcxw[/fve]
I adore Halfpenny London and have so much respect and admiration for this outstanding British brand. Despite being relatively new, Kate and her team have taken the bridal world by storm this past 12 months, winning awards, securing top end new stockists and gaining much deserved recognition.
Photography by Cat Vinton
This new collection exudes that Halfpenny London design signature that I so love – era inspired elegance with modern day flair.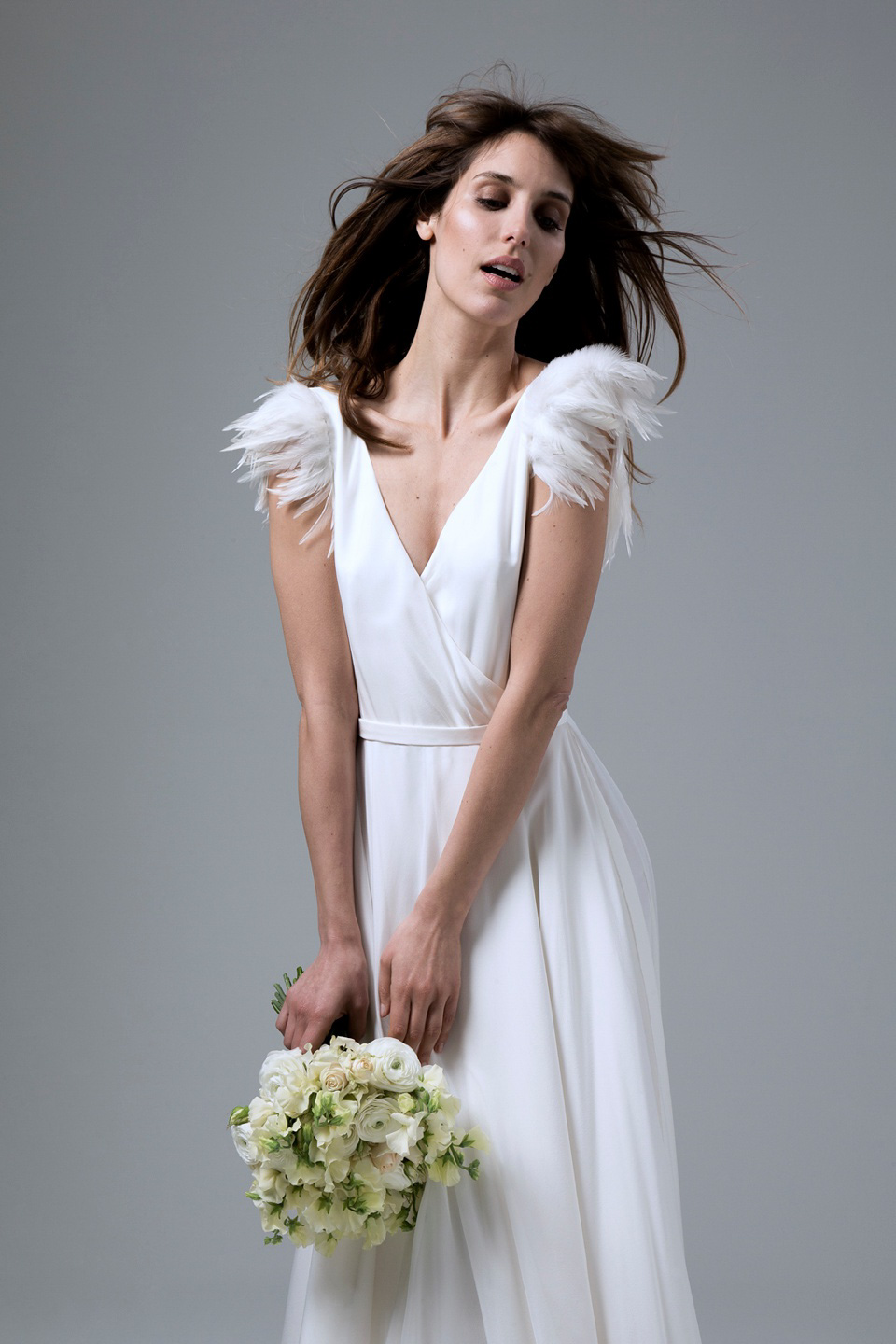 This is a brand for the fashion loving bride who wants to feel confident, sexy, glamorous and elegant all at once. It simply couldn't more more Love My Dress.
"For my new collection, I was inspired by looking at the beautiful paintings of John William Waterhouse – his artwork inspired the collection to be all about 'romance and femininity'. I then sourced fabrics that I felt worked to the brief."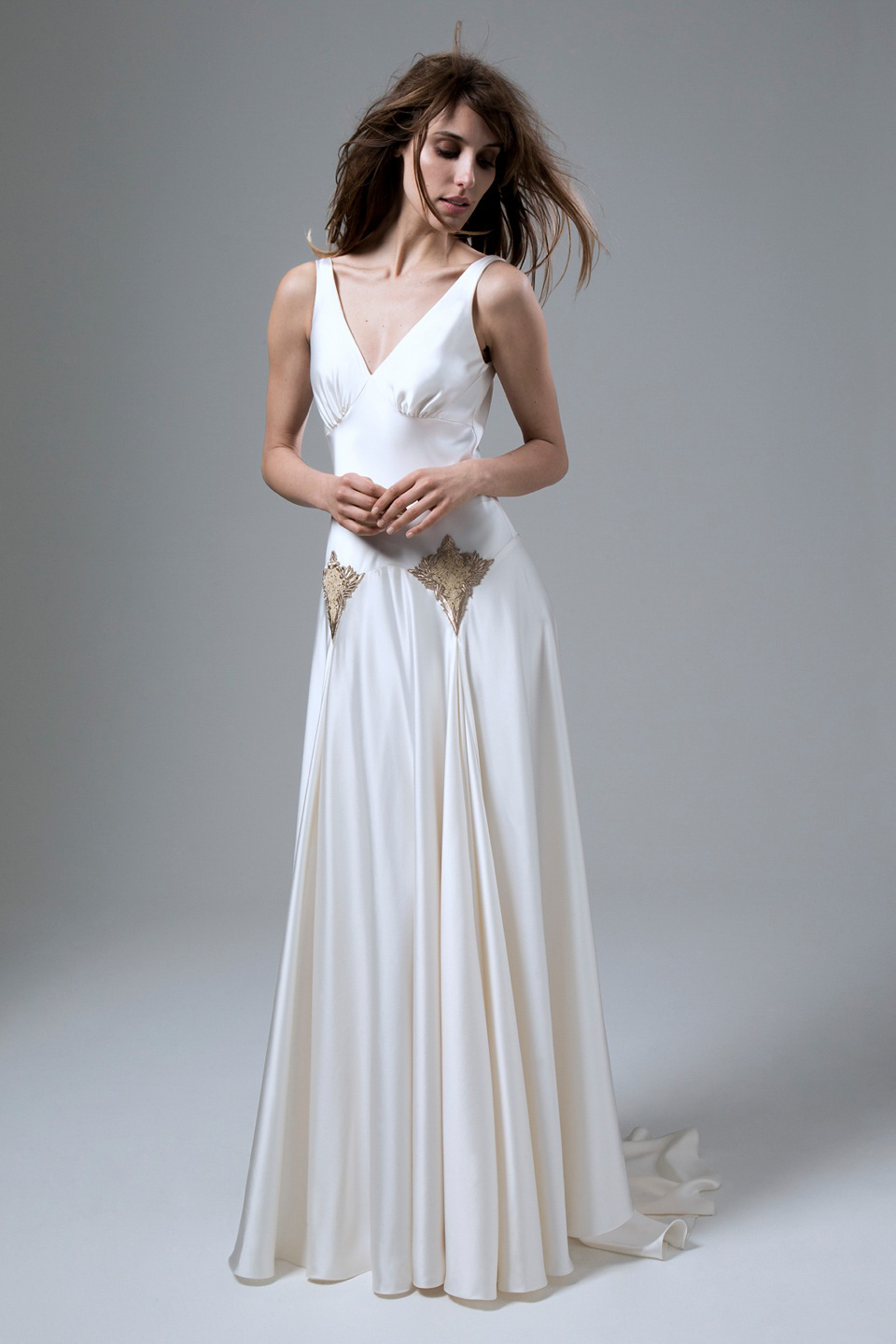 "Fine French laces and delicate chiffons, tulle and organza's silk crepes and satins in ivory's and blushes.  In fact I'm obsessed with French laces and use them in abundance in my collection."
For those not in the know, Kate Halfpenny graduated with a BA Honors in Fashion Design in 1998 and went on to study for an MA in Textiles from London's prestigious Central St. Martins University – the experience provided the perfect opportunity to feed her obsession with fabrics, lace and beading. This knowledge and experience, combined with Kate's natural skills as a stylist, gives her an unparalleled ability to design and create breathtaking wedding gowns.
[fve]https://www.youtube.com/watch?v=YS5B9rQ8dWQ[/fve]
A huge part of the appeal of the Halfpenny London brand is it's quintessential Britishness – Kate's Bloomsbury boutique (a two minute stroll from Kings Cross station, in case you fancy it) is small but absolutely full of quirky, London city charm. Original floor boards and dark walls (some evocative F&B shade, I'm pretty sure) provide the perfect, almost theatrical setting – allowing added punch and wow factor when you first enter and see the gowns all lined up in their glory.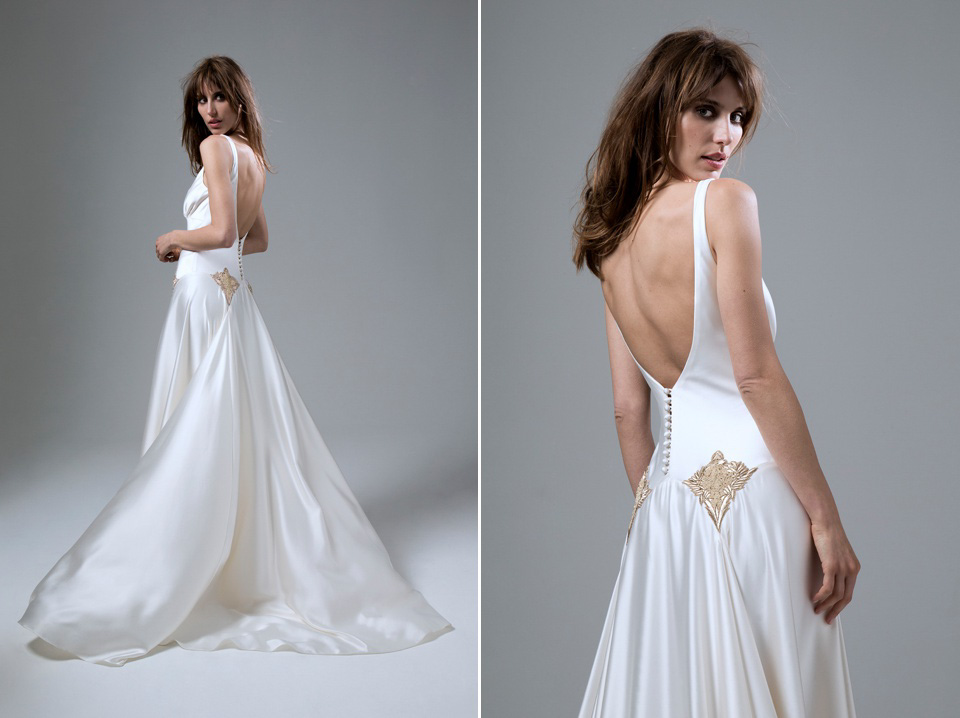 The boutique itself is full of charisma and charm – which reflect the character of the designer herself. I challenge anyone to spend a little time in Kate's company and not have spent at least 2 minutes laughing really hard, the other being drawn in to her fascinating knowledge of the fashion, arts and all things that are generally just cool.
As a successful stylist (her client list reads like a who's who of the fashion glitterati and she is a trusted stylist and friend to British icons Kate Moss, Erin O'Connor and Emilia Fox amongst others), Kate has an innate understanding of shape and form. She just get's it and could make any woman look and feel amazing.
[fve]https://www.youtube.com/watch?v=EaOjyZoYY2w[/fve]
And that's the thing about Kate – she loves and designs bridalwear for real women. Every piece understands womens' bodies – their individual beauty and their lifestyles.
The collection works for everyone – we can adapt and accommodate the separates or add jackets and trims to make the dresses work for every woman. We have looks that work for the fuller figure and drop waist dresses that are perfect for tall willowy straight up straight down brides. There really is no end to how the collection can make everyone feel wonderful. 
Kate brings an authentic level of creativity, intelligence and versatility to her collections and her latest 2016 offering is no exception. She knows that carefully crafted and interchangeable elements will work for every woman, no matter what their size or shape.
[fve]https://www.youtube.com/watch?v=2sr_Nq6jZaY[/fve]
Kate told me recently that her goal is to ensure that all brides under her expertise feel confident, beautiful, spoiled and loved, and her unwavering commitment to this goal is winning her adoring new fans, followers and lucky brides every day.
As always my collection has a modern vintage feel that is easy-to-wear and effortlessly cool. Think a style conscious bride who's looking for that dress with a difference. The collection can easily be customised to be unique to each bride and the chic diverse collection has something to suit every body shape.
Kate's beautiful and diverse new collection blends modern with vintage, whilst staying in keeping with Kate's signature 'Brit Cool' style. Delicate fabrics and sophisticated shapes work on a soft palette of dreamy hues, with a strong emphasis on the silks. 
Interchangeable separates (Kate was one of the first designer out there to introduce bridal separates) and dresses hand made from the finest Italian silk crepes, french laces and micro satins, designed by Kate, make up what is sure to become a highly covetable collection.
My favourite dress for this season is the Iris rose. She's quintessentially English and just delicious – a belted gown with a low, plunging back and long lace train. Equally for a more fashion conscious bride the Thea beaded Cami and Andrea lace skirt is stunning. Perfect for a city wedding. You also can't be the Vera for some simple elegant glamour.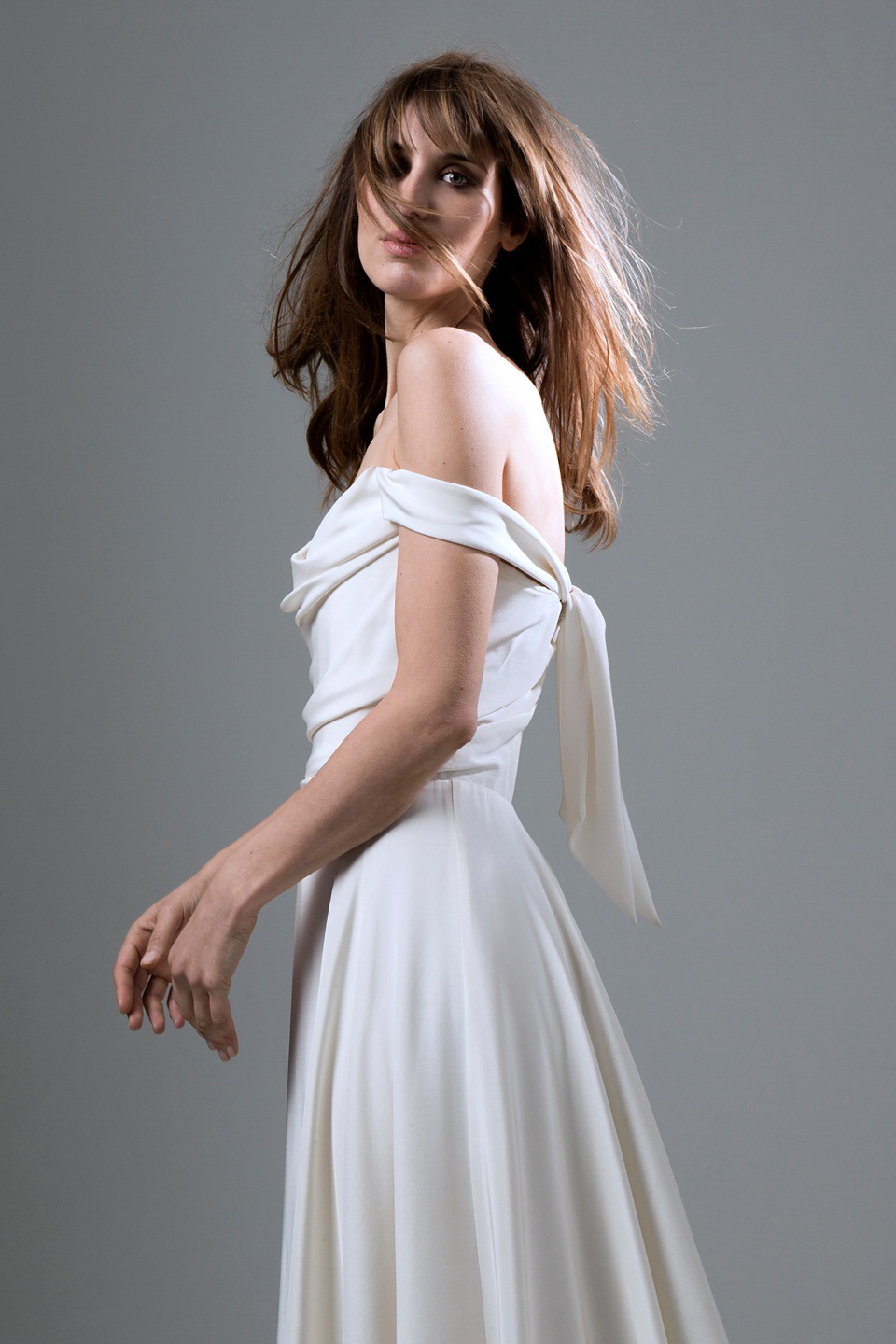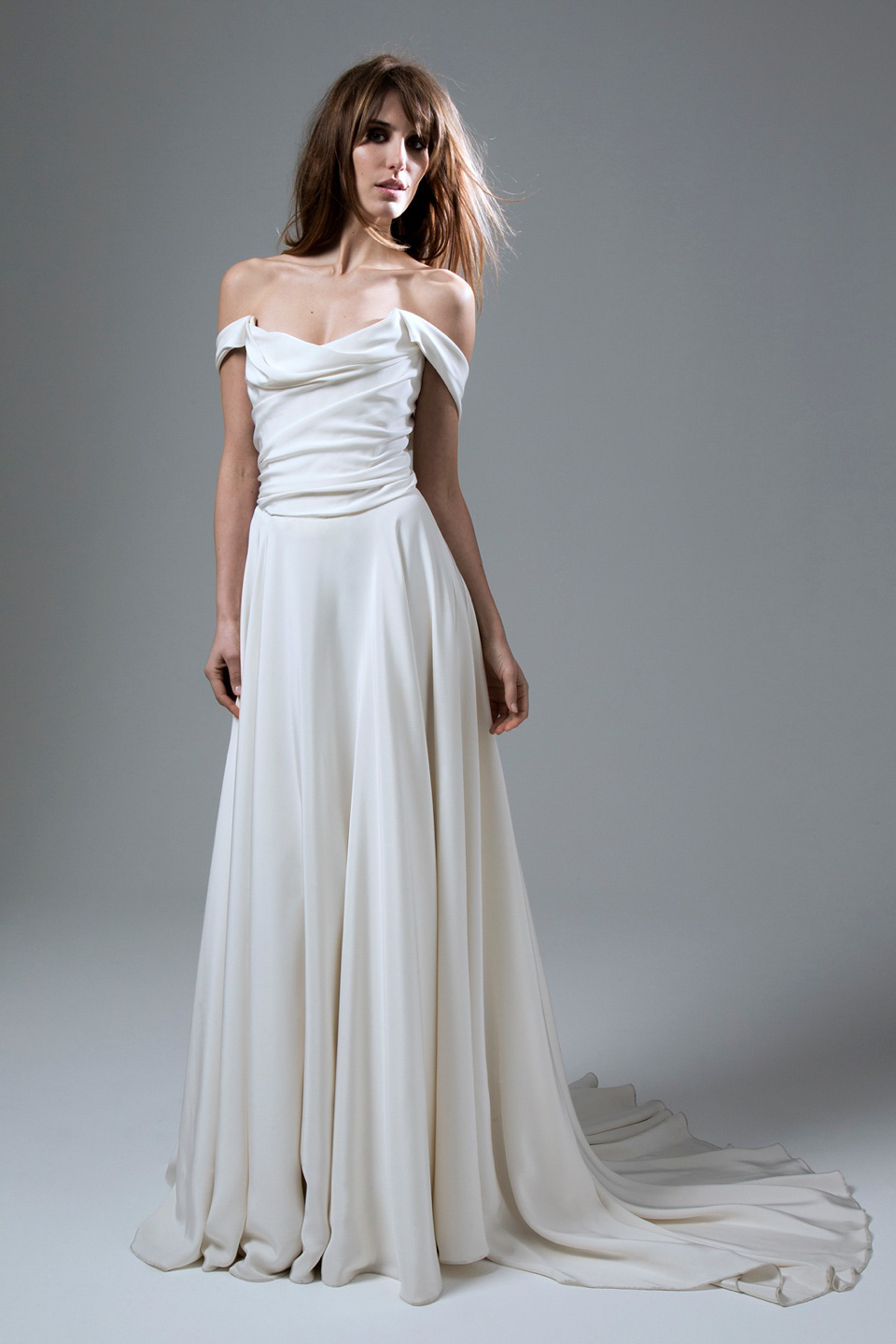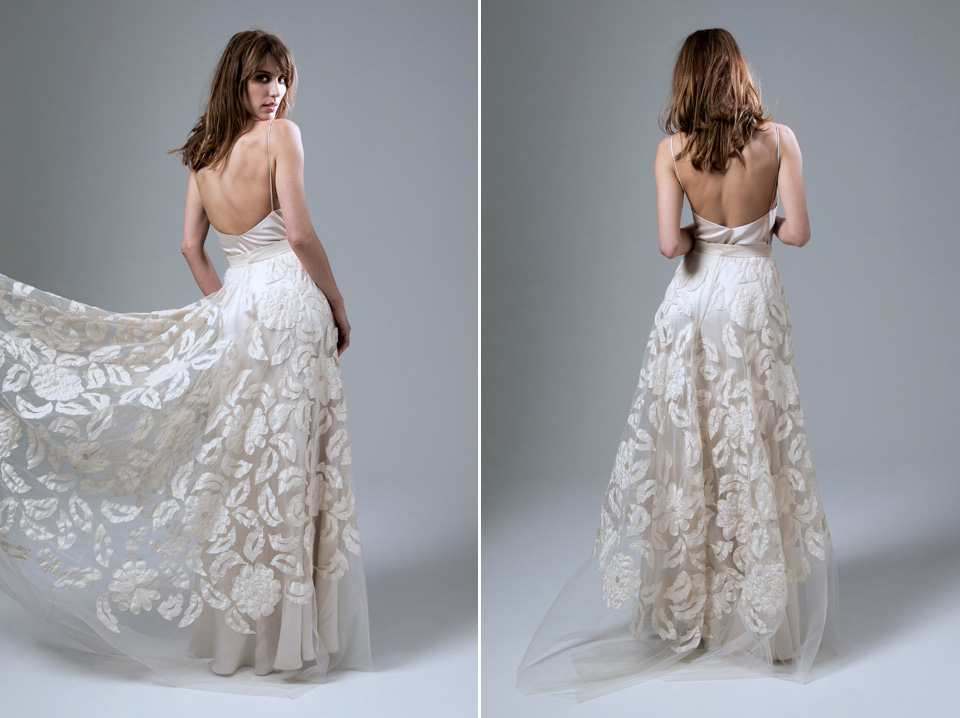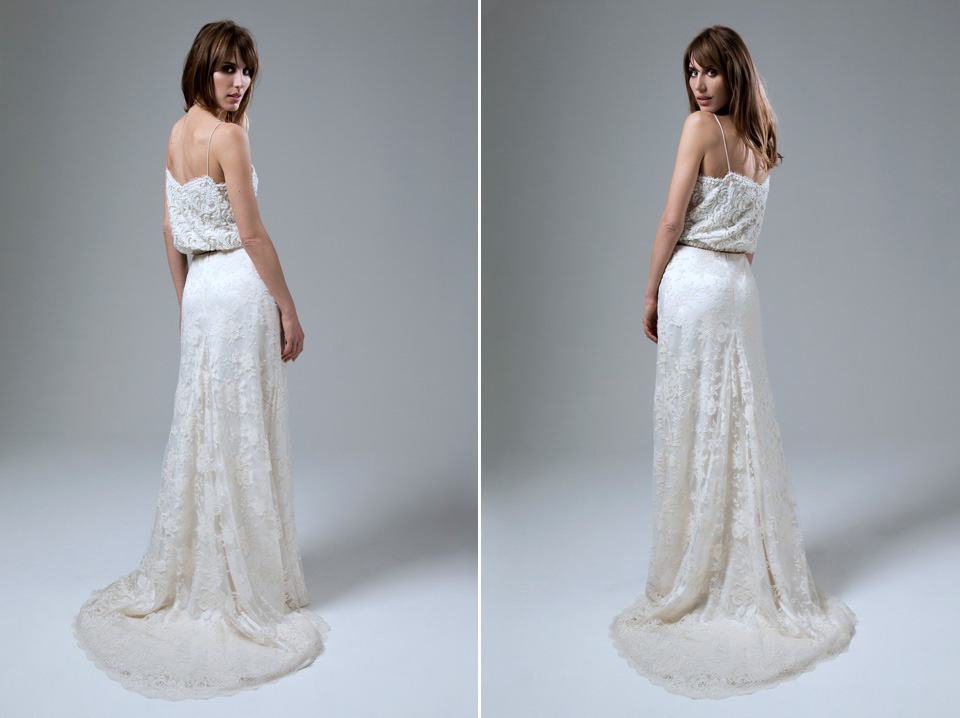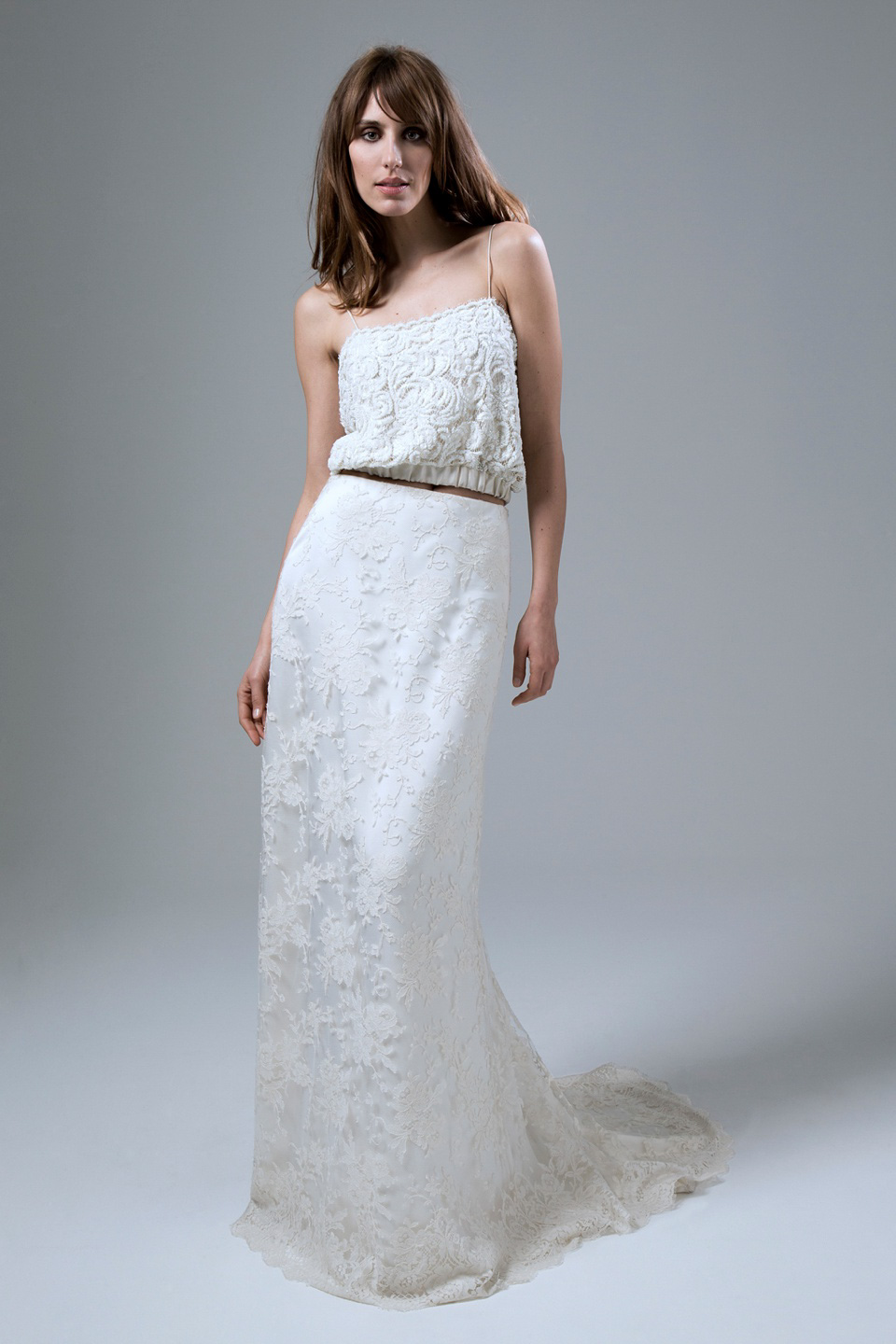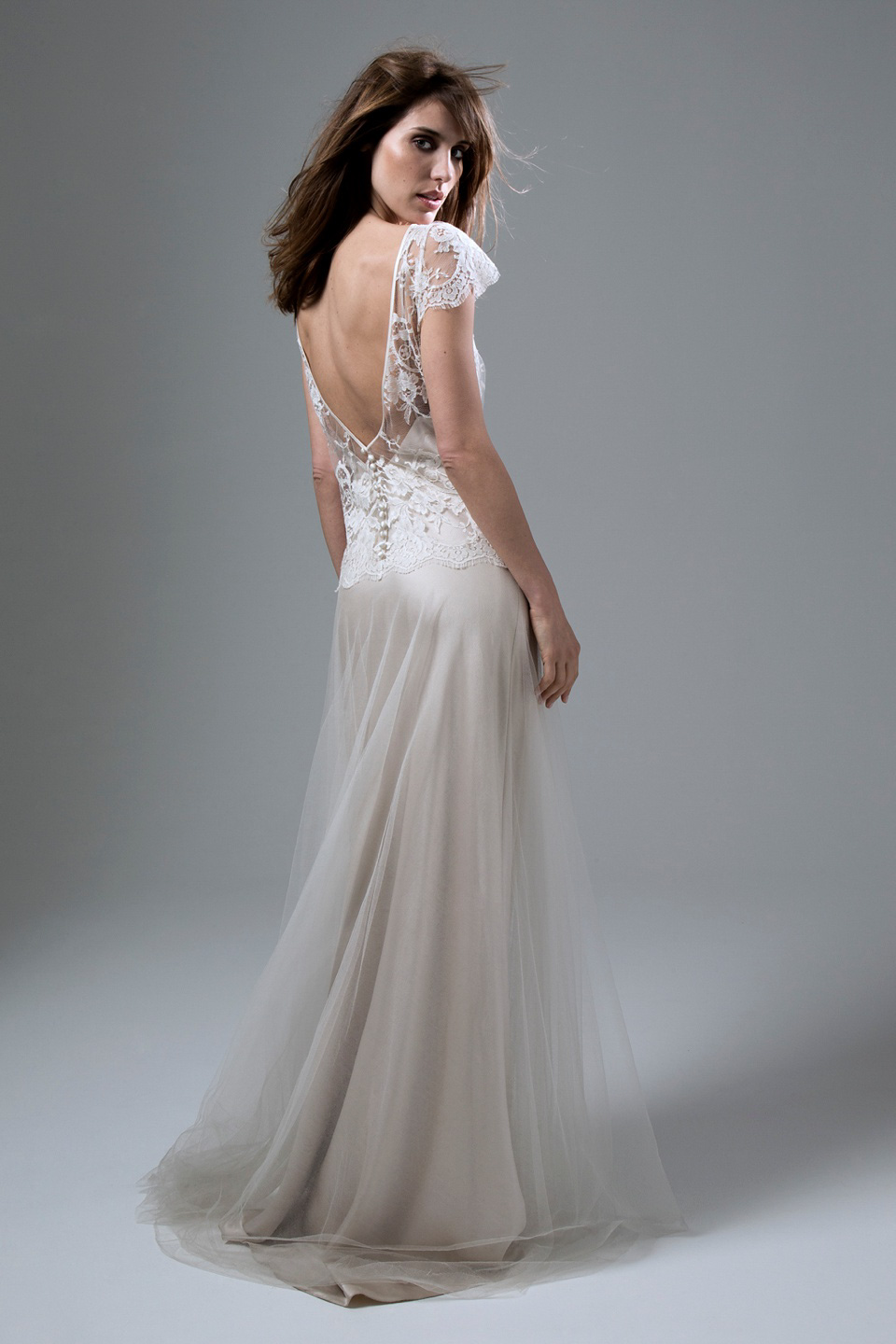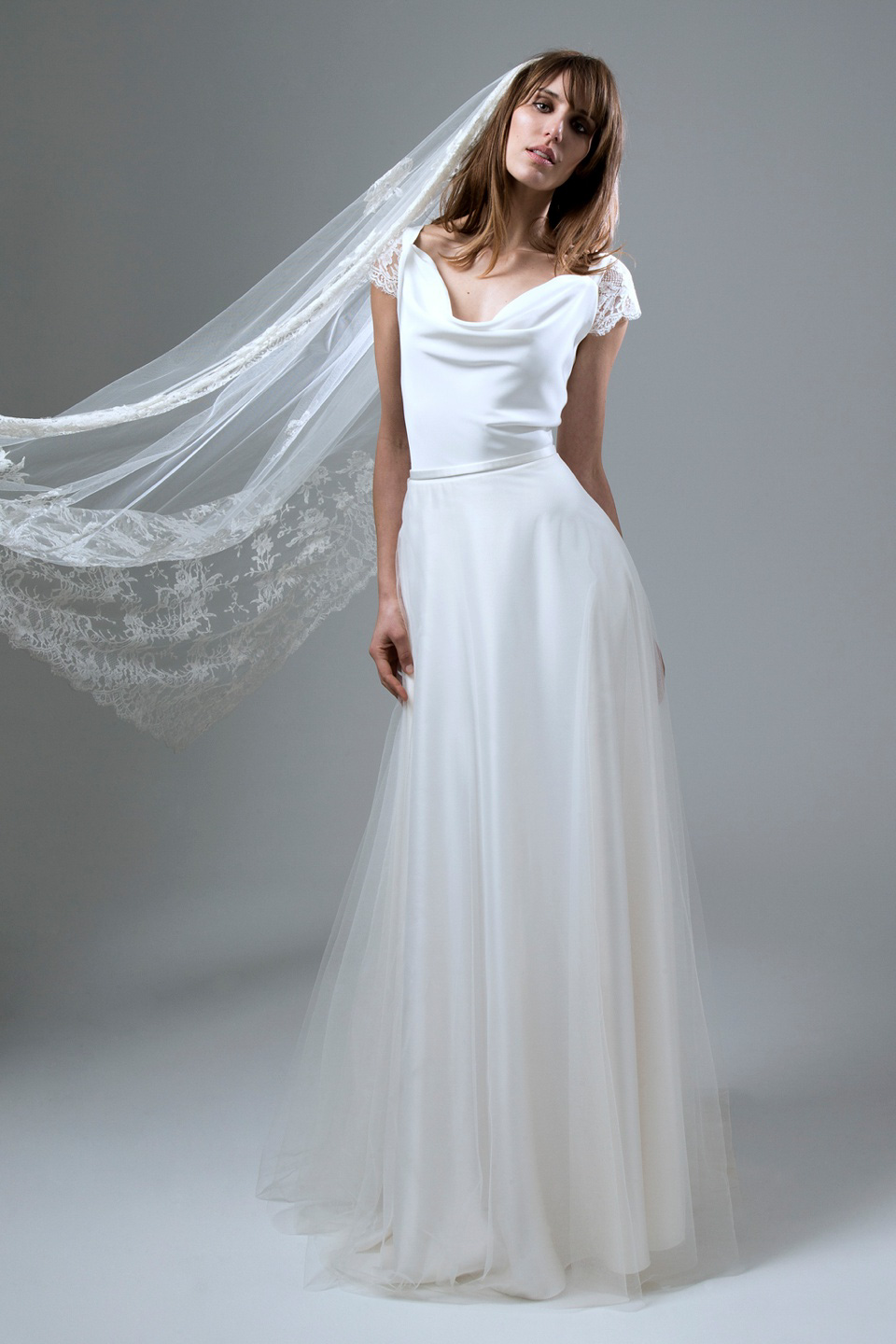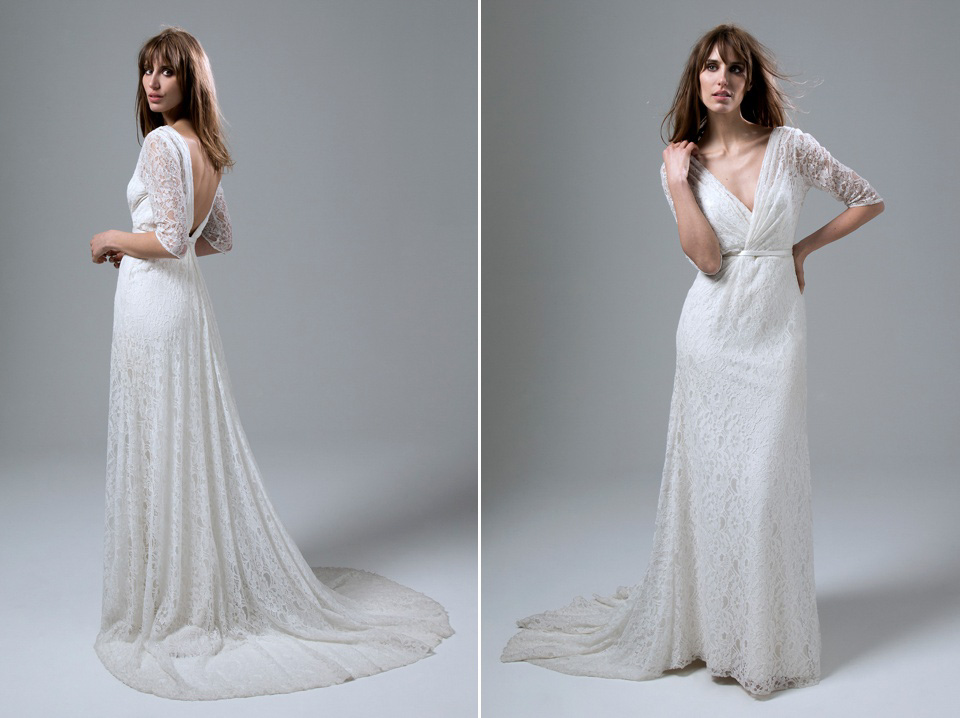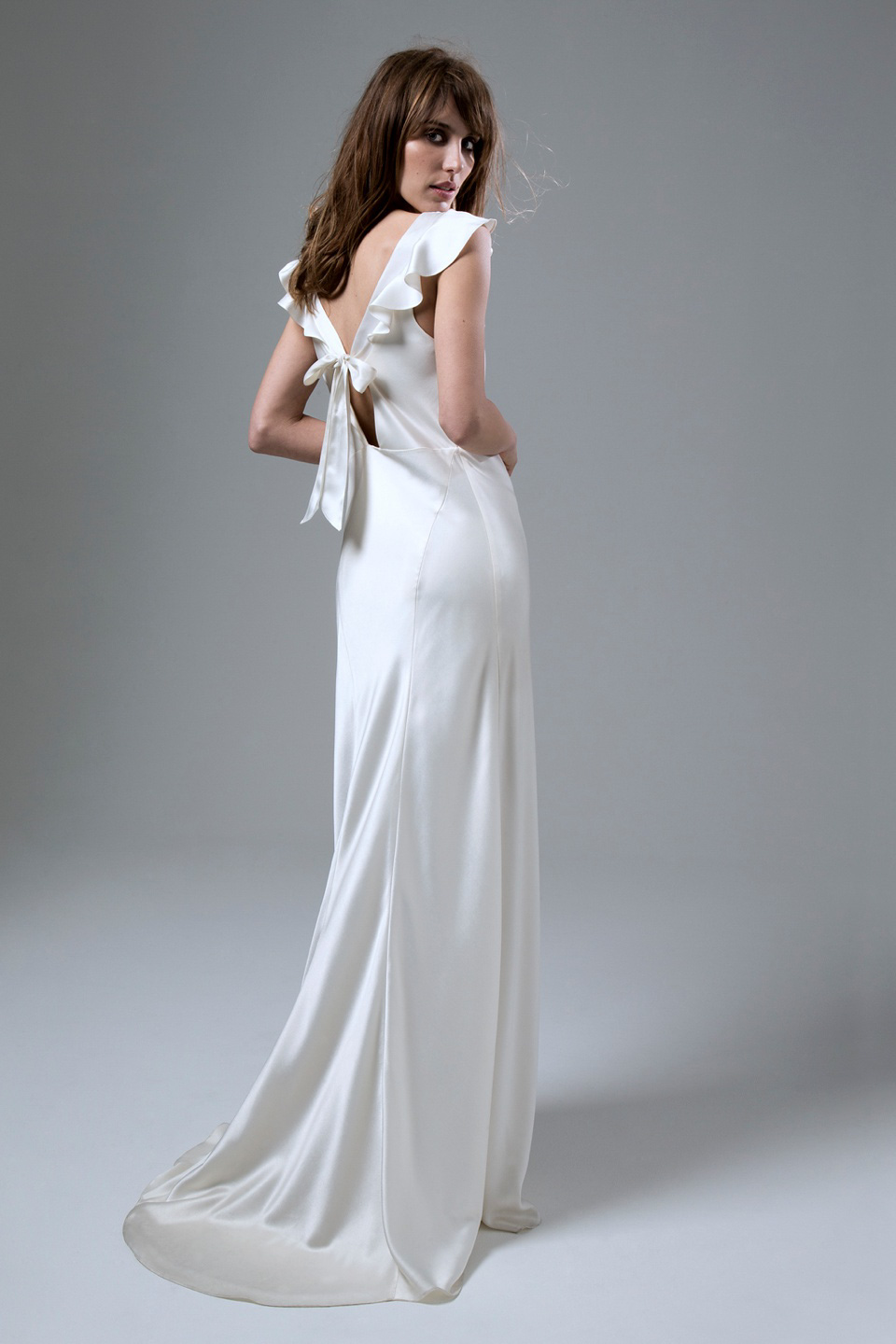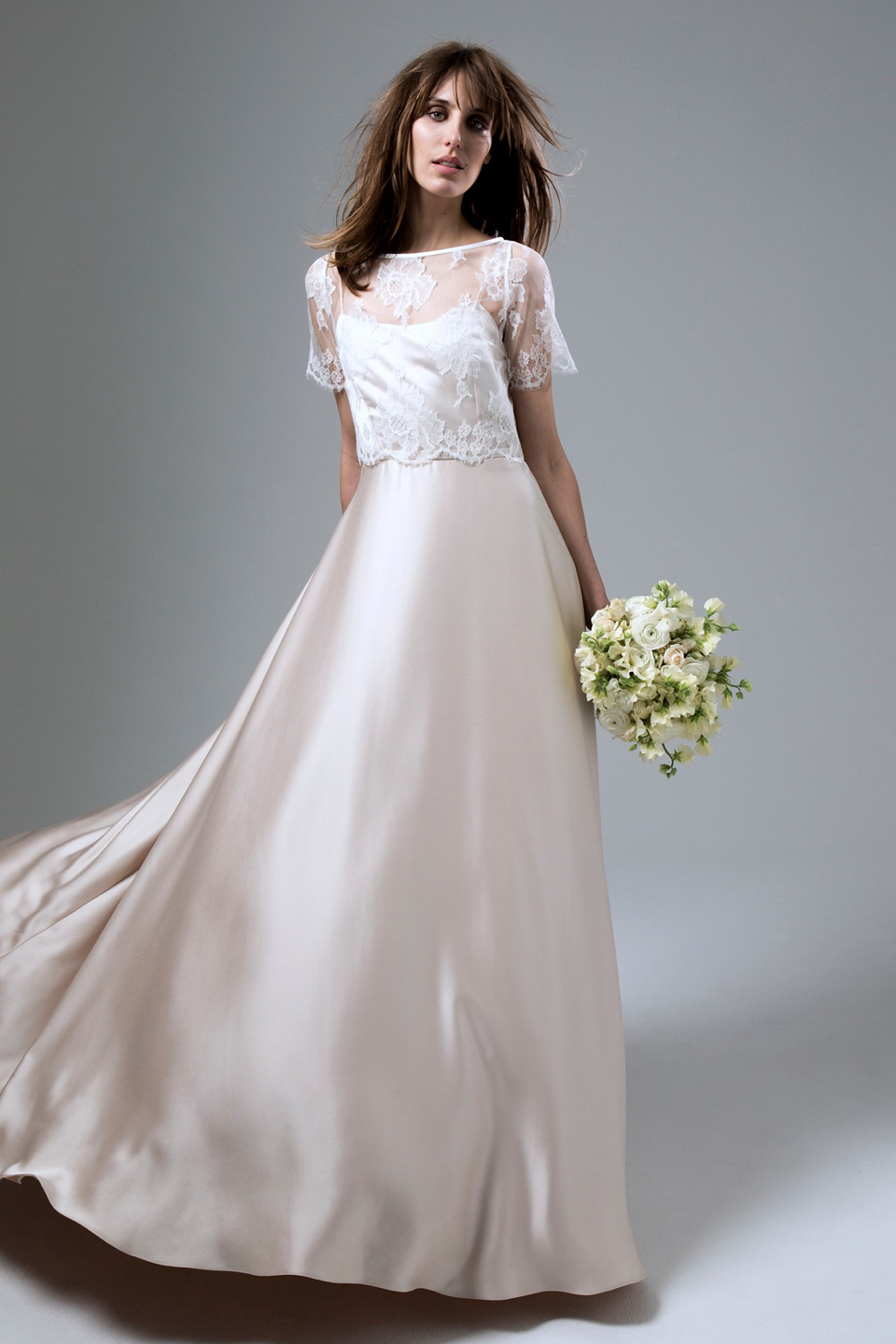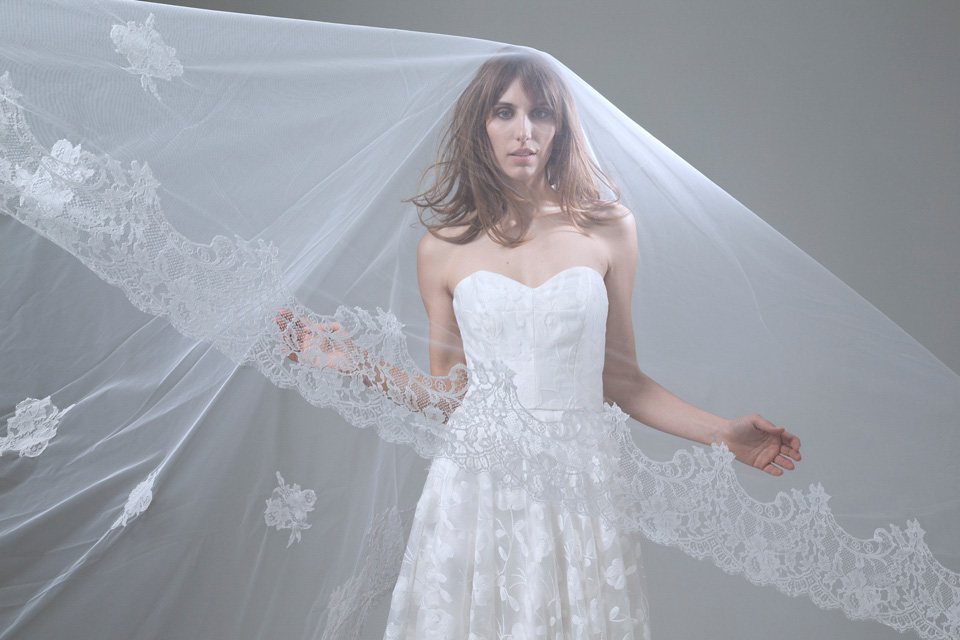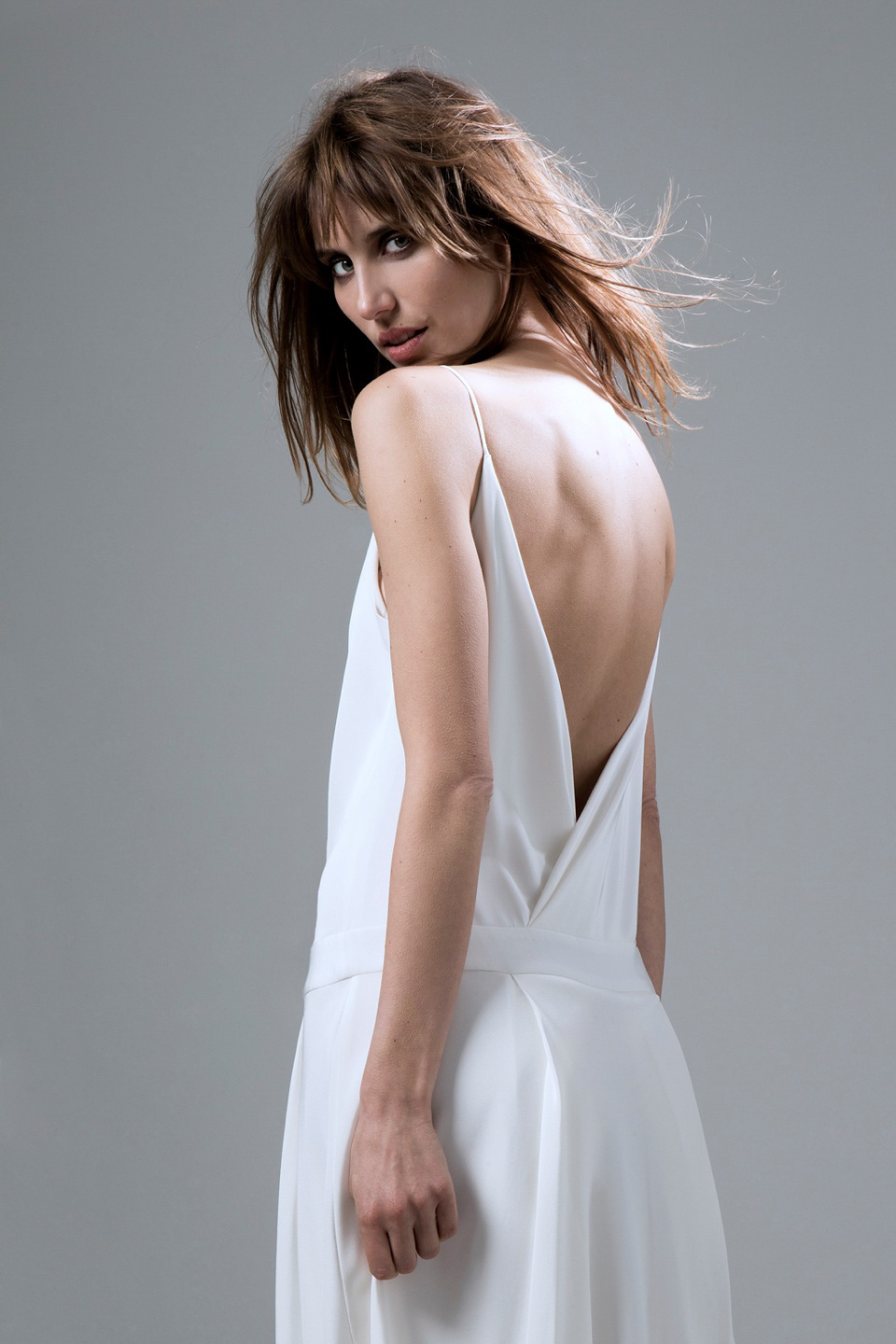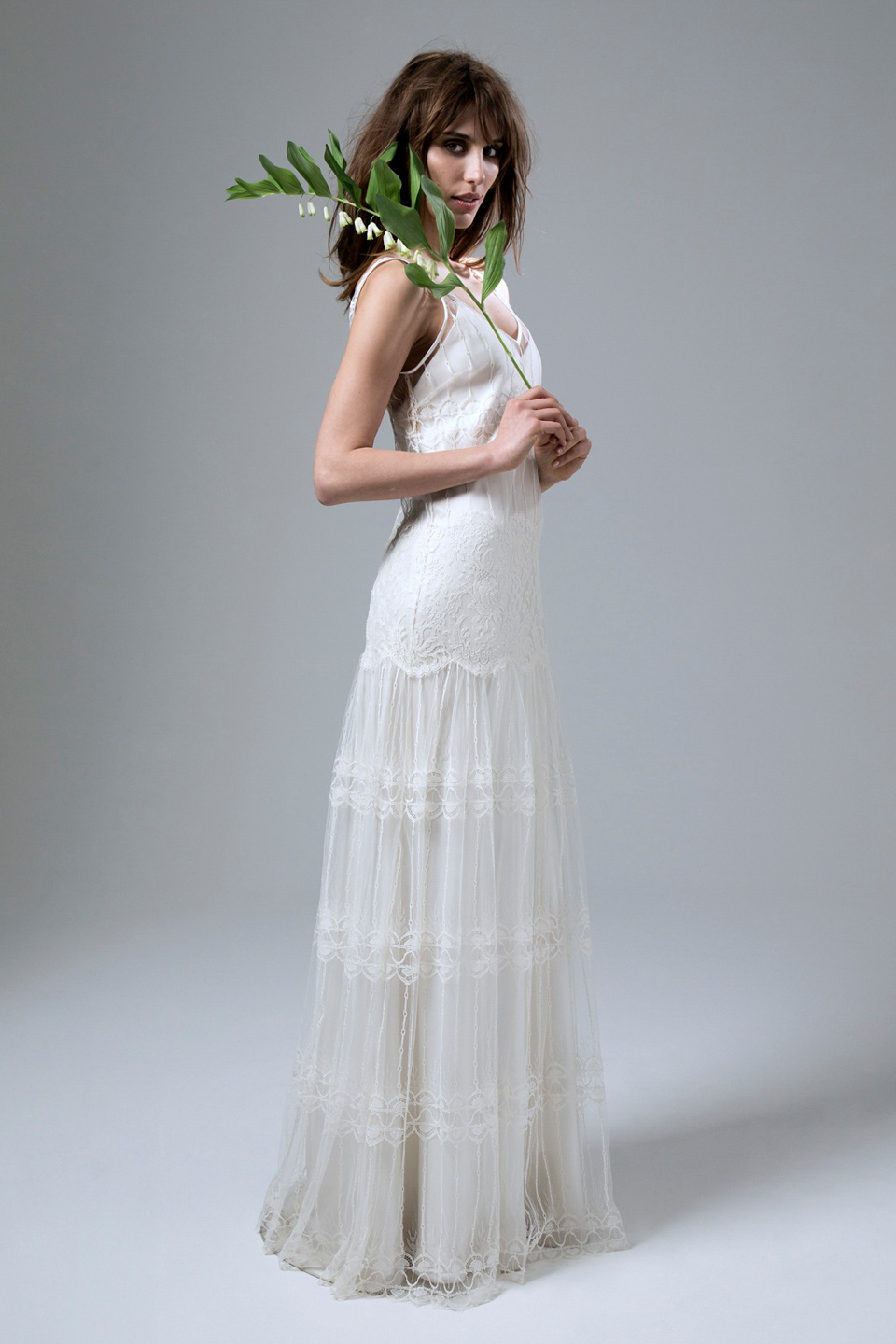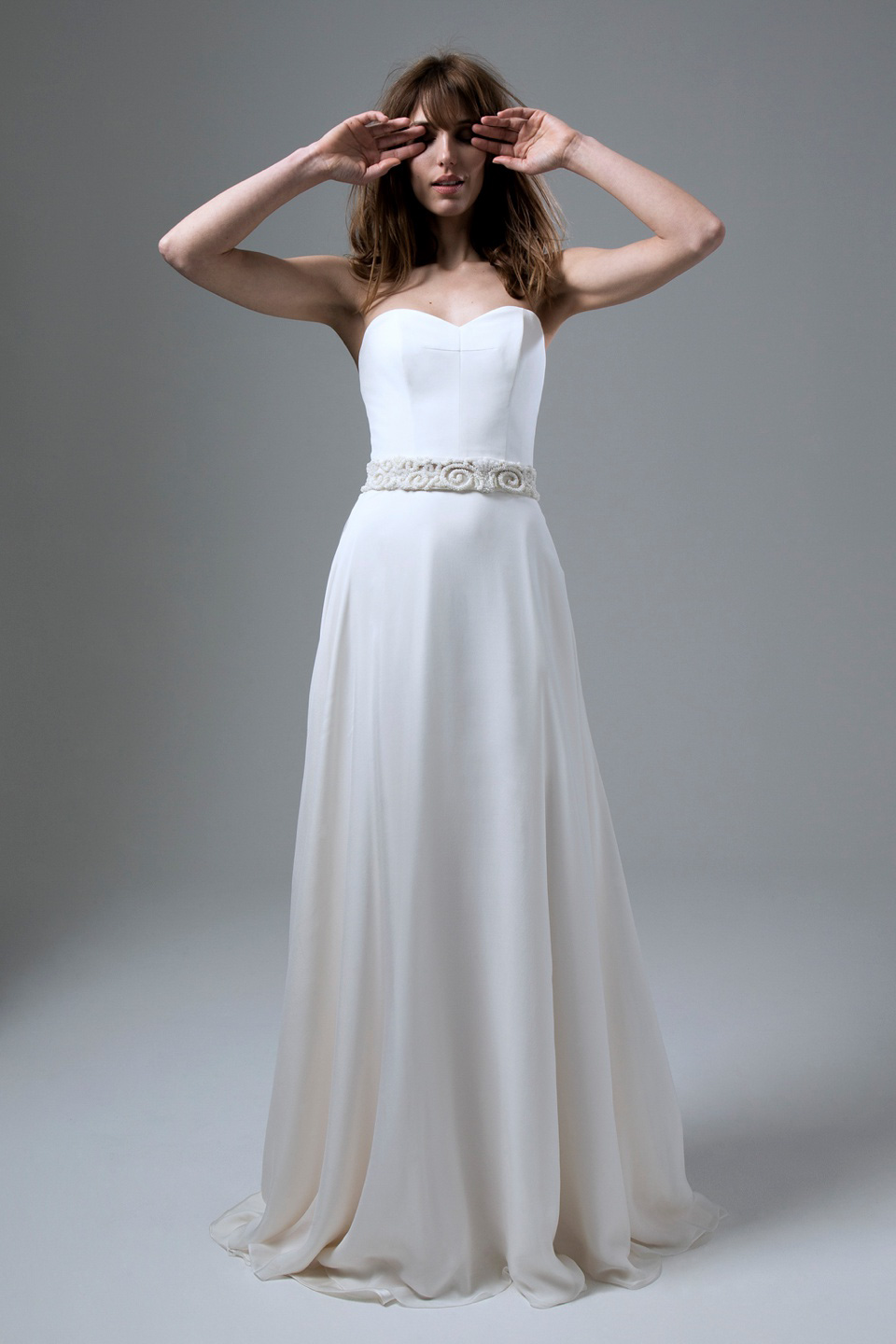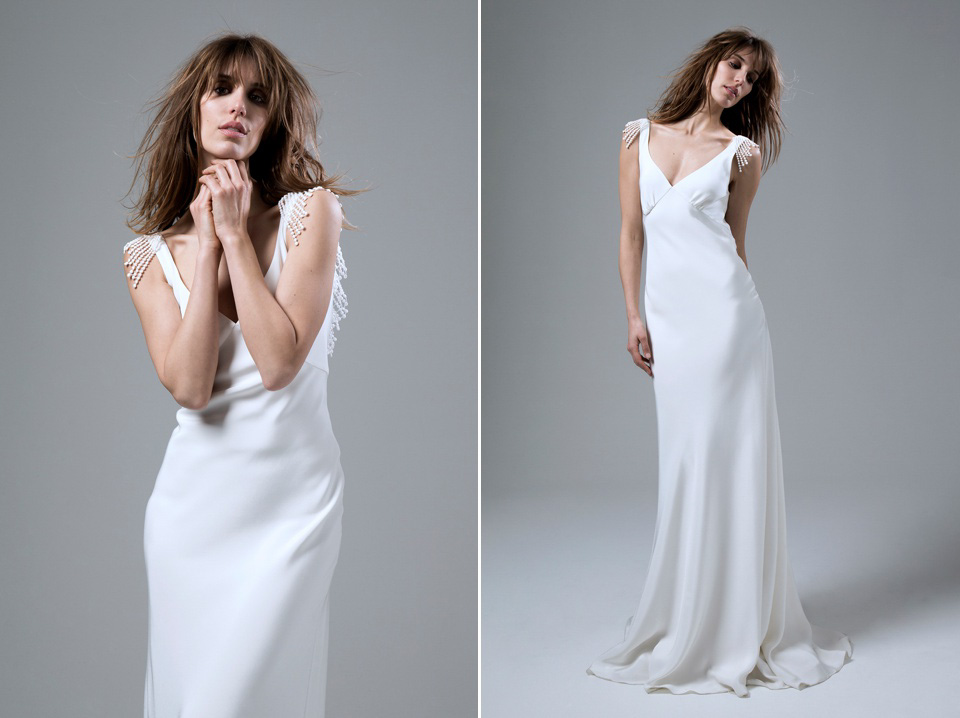 I had to include all these images, I hope you can see why! It's difficult not to linger over these images a little too long, but the gowns are so beautiful.
Some might say she's the designer du jour. I'd agree that now is most certainly Kate's moment, but I'm pretty sure she'll be staying in that top spot she's secured and well earned for a long, long time to come.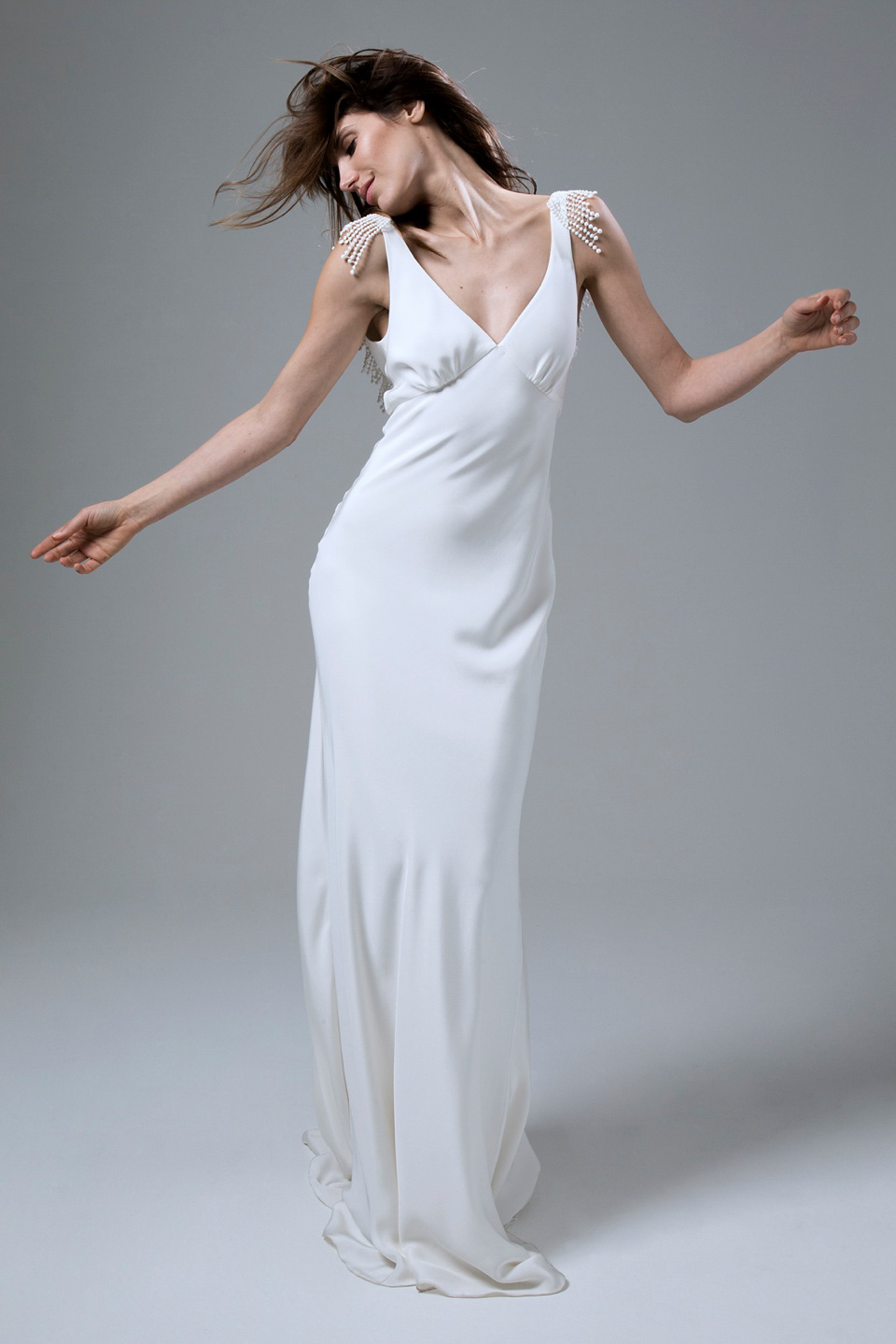 A complete bridal look by Halfpenny London starts from £2,000 (Kate also sells beautiful veils, from short and subtle to super long and lacy).  The Halfpenny London boutique is located at No. 10 Woburn Walk, Bloomsbury, London, WC1H 0JL (click here for a map) and you can find a list of stockists can be found here.  You can also find Halfpenny London on Facebook and Twitter and you can connect with Kate on Instagram via @HalfpennyLondon. 
Visits to Kate's boutique are by appointment only, but please do call +44 (0)20-3441-8894, or email [email protected] to book an appointment, alternatively, you can complete this online form. Kate and her team love working with Love My Dress brides.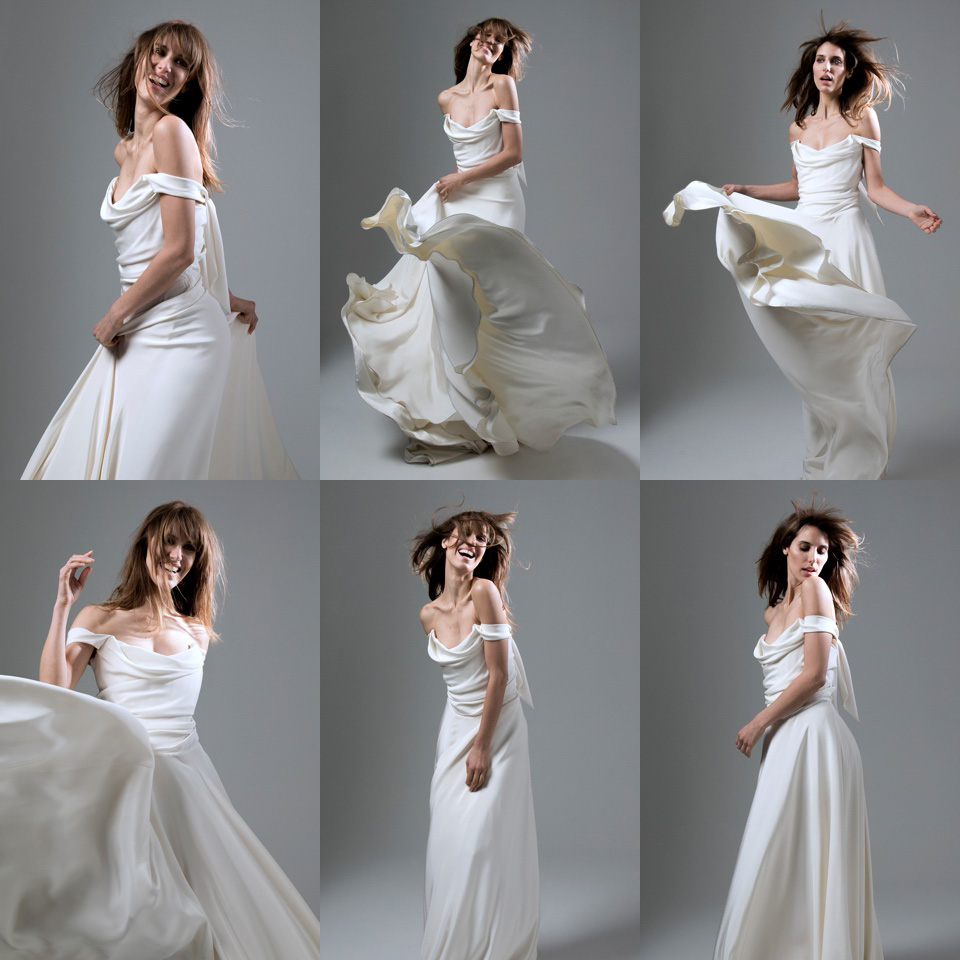 Halfpenny will also be exhibiting this beautiful collection at Brides The Show in October and watch out for details on Love My Dress of a special event taking place at Claridges in the new year.
Take a look through our other Halfpenny London features too, including this recent exquisite real wedding, Kate's own wedding and our visit to Kate's boutique.
I'd love to hear from any of you thinking about visiting Kate to try on one of these utterley beautiful dresses.
Love Annabel x
Photographer – Cat Vinton
Hair & Makeup – Enzo Volpe at Mandy Voakley
Styling – Kate and the Halfpenny London team
Flowers – Victoria Flowers
Art direction – Kimmy & Co