Well hello dear readers and welcome to autumn! Can you believe that we're here already? If you're feeling a little down at the super speedy passing of 2015 then fret not because today I've got the prettiest treat for you. I have to say that I've been looking forward to this feature so much as I'm a massive fan of the wonderful wedding professional I have the enormous pleasure to introduce you to today. Without further ado, let's say hello to the talented Kate Fletcher and her fantastic company, Vintage Style Hire.
Vintage Style Hire is a member of Little Book For Brides®
Based in the pretty North Essex countryside, Vintage Style Hire is a truly fabulous prop hire, design and styling company. Kate has the most amazing store cupboard of items and ideas and loves to use furniture and props where you (and your guests!) would least expect them for maximum impact. Think of stunning lounge areas in woods or by lakes, drinks served from ammunition tins and cakes out of a chest of drawers. Oh yes, this is creative, eye-catching styling as its most glorious.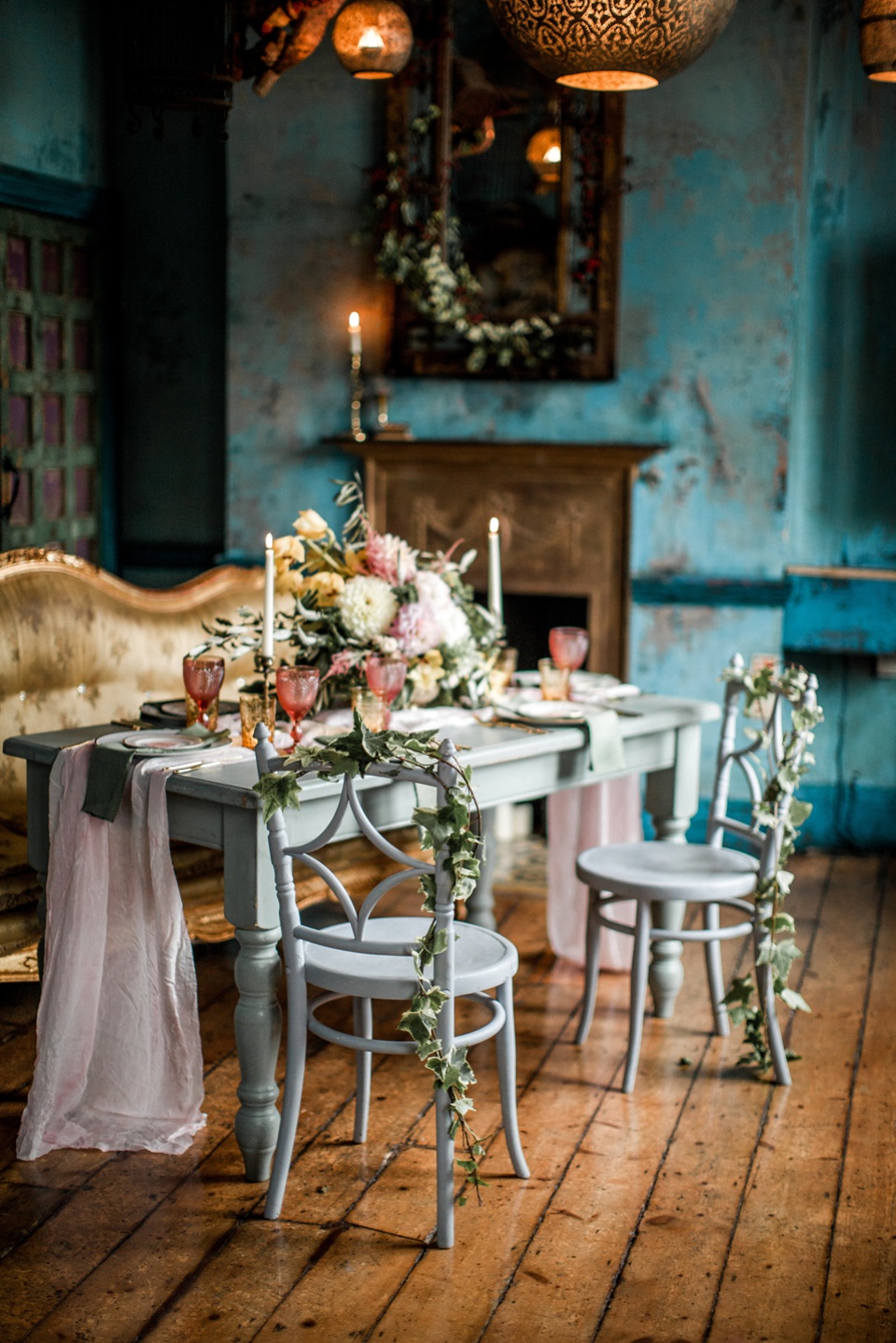 Above two images by Naomi Kenton
Bottom image flowers + styling by Westwood Design
Kate came to styling after helping to set up a wedding venue in the derelict stables of a stately home and running her own wedding planning and events business (she organised the wedding of TV's Jimmy Doherty). The idea for Vintage Style Hire came to her over night and was the ideal opportunity to combine her interest in interiors with weddings and styling.
"I constantly found myself styling parts of the weddings I organised with furniture and props from my home," says Kate. "Whilst searching for inspiration, I realised there was a gap in the market for vintage hire, design and styling in the UK. There were very few companies in the UK doing it back then! I've found what I truly love and I hope I can be part of your plans."
From Annabel's Style Me Vintage book launch
Photography by Ashton Jean-Pierre
So, what should you expect from Kate and Vintage Style Hire? Well, she takes a lot of inspiration from current trends in interior design – the Pantone colour of the year for example, often features in clients' Pinterest inspiration boards so Kate goes out of her way to source furniture in these colours to make sure that's she's got plenty to offer you if you've got and eye for colour. In fact, whatever you're looking for, Kate's catalogue of props and creative brain will come together to create something special for your big day.
"My personal style is more industrial vintage but for weddings, we add a feminine twist with furniture painted in pretty colours such as pink, yellow and duck egg blue. We've also got buttoned back sofas and armchairs in bright colours."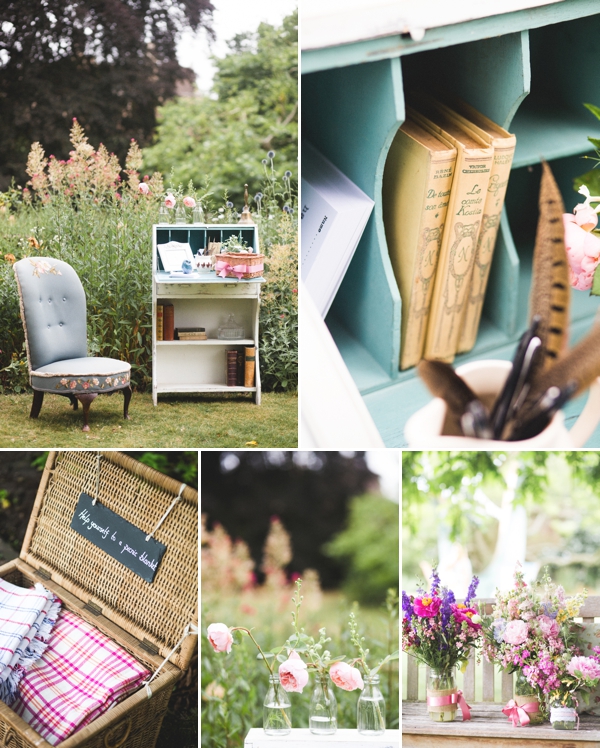 Images by M&J Photography
The use of furniture in wedding design is still a huge trend and it's a brilliant way of bringing a big dose of personality to your wedding. Desks, trunks, tables, cupboards and all kinds of delightful details make it into weddings and also into Kate's styling portfolio that includes work for magazines and clients such as BAFTA, ITV and Mulberry to name but a few. Kate sources props for Vintage Style Hire from charity shops, reclamation yards and auctions and just adores creating unique pieces for clients to fit any theme.
"We love sourcing and customising furniture for weddings so if you've got an idea in mind, we'd be delighted to discuss it with you. We've painted dressing tables orange and green to co-ordinate with flowers and sourced a crow in a cage to dress a bar!"
Whatever you want for your wedding and however you want it to look, you're guaranteed brilliance from Vintage Style Hire.
From this wedding on Love My Dress
Photography by Nick Rose
Vintage Style Hire provides prop hire and wedding styling service across London and the South and Kate and the team are happy to travel further afield so just get in touch to find out more. Minimum charges do apply and Kate can provide details of these when you enquire.
Kate has just opened a Pop Up Shop in Thaxted to sell off some smaller props and furniture amongst a collection of new homeware.  If you have the opportunity of visiting, she would like to offer all Love My Dress readers a 10% discount.  Thaxted is a beautiful place to visit with Saffron Walden and Cambridge a short distance away, so make a day of it! You'll find the pop-up shop at 1 Newbiggen Street, Thaxted, Essex  CM6 2QS, and it is open from Wednesday – Saturday between 10am and 4pm.
https://vimeo.com/78572291
For more information on Vintage Style Hire, simply take a look at the website. Here you'll find details on the props and styling services available, the full inventory of pieces available plus a totally swoonworthy gallery (prepare to pin!).
If you've got any questions, do get in touch with Kate via [email protected] or complete the online form. You can also follow Vintage Style Hire on Instagram, Twitter, Facebook and Pinterest for all the wedding inspiration you could ever want.
Love Tamryn x