It's as if we had been waiting for Pantone to announce 'Marsala' as their colour of the year (2015) before we shared this wedding.  This feature also provides an absolute bucket load of inspiration for anyone planning a marquee wedding or who needs a few ideas of how a blank canvass wedding venue can be completely transformed with a little creativity and imagination.   Lawyer Bryony and Teacher Simon tied the knot on 27 September this year, with a ceremony at the Little Banqueting House at Hampton Court Palace.  This was followed by boat journey up river to the couple's back garden. where a sublimely styled reception was held.  Byrony and Simon turned to the outstanding talents of Michelle and Vicki (our regular contributors) of Pocketful of Dreams to style their reception.
"The styling concept for our day was Enchanted Elegance – Pocketful of Dreams took our vision for an elegant, rustic wedding that was appropriate for the end of Autumn time and came up with something that was beyond our wildest dreams.  Their overarching design was a refined yet rustic look that focused on bringing the outdoors in, and that incorporated our academic backgrounds and passion for antiques.  The marquee, for example, had a 19th century collector's feel to it, with a collection of family treasures, heirlooms and interesting antiquities.  The overall feel was one of 'discovery' for the guests – that is, everywhere they looked, there was something different to discover."
Photography by Nick Rose, Wedding Design & Styling by Pocketful of Dreams
"We had the wedding ceremony at the Little Banqueting House at Hampton Court Palace. I have always lived close to Hampton Court and the river Thames so it felt personal to incorporate these elements. I also love anything history related so you can't get much better than Hampton Court. As neither of us wanted to get married in a church this was a good alternative to a registry office.
We then took a 2 hour boat journey upriver to my parents house in Surrey where we had a marquee in the back garden, provided by Academy Marquees."
"The invitations were printed by Tout Chic, and in the style of a telegram.  Pocketful of Dreams then designed all the on-the-day stationery for us which featured a luxurious mottled burgundy backdrop and calligraphy style writing, presented in antique gold frames. For the table names they came up with the brilliant idea of using textures relating to the scientific elements eg a close-up of coal for the carbon table, verdigree copper for the copper table and so on."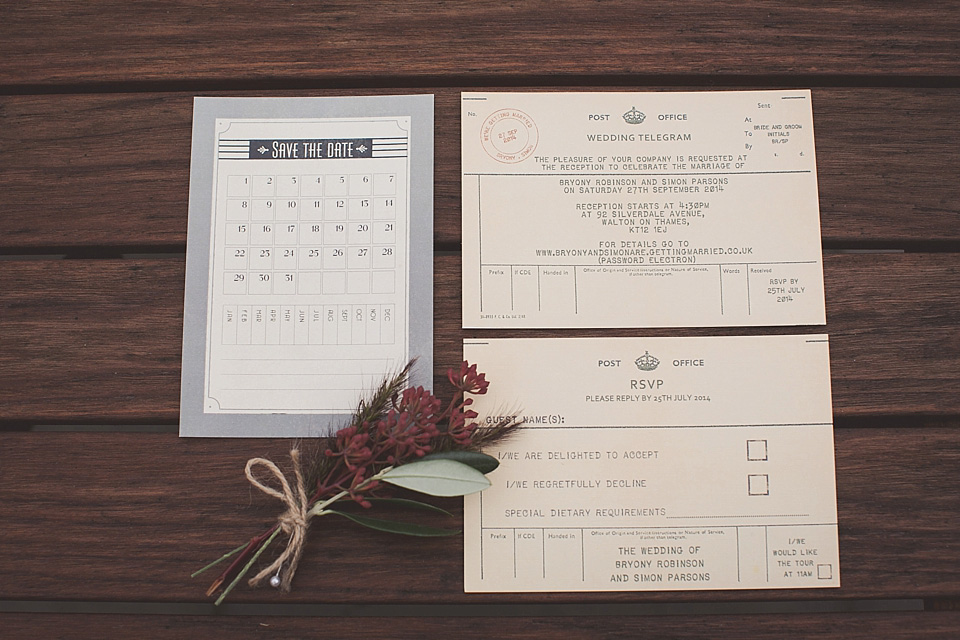 "When it came to styling the reception, the aim was also to provide an air of elegance and feasting whilst making the marquee feel homely but at the same time quite grand. Atmosphere was really important to us too – so Pocketful of Dreams suggested lots of candles and foliage to give the space a warm and inviting feel.  It was also really important to me to have a bold colour palette. This feeling of richness was complemented by the use of berry tones, an idea that even carried into the desserts!
On the tables we had different décor elements to represent the scientific elements each table was named after, lots of lovely flowers in brass vases and also gold cutlery and brass candlesticks supplied from Helene Millot. Michelle at Pocketful of Dreams suggested a warm natural coloured linen instead of the standard white for the tables as well as luxurious gold and a rich burgundy napkins (one style per table) which made the tables look so spectacular – it was the little details like this, that we'd never even considered, that really brought everything together."
"My dress was designed by Blue Bridalwear, a Welsh company, and I purchased the dress from Grace of Westcott, in Surrey.  I loved the classic A line of the dress and the slightly off-white colour (it was called ivory but was very flattering with my skin tone). I specifically asked for long sleeves, again to fit in with my love of olde-worlde style. It was also remarkably comfortable and I had no problem staying in it from 10am to midnight. I had never believed the theory that you find just 1 dress that you love, but after trying this one nothing else compared. It simply made me smile.
I had always thought I would not wear a veil (I don't like the concept of the bride being 'presented' or unwrapped, like a piece of cheese). However, after trying the veil on I felt that it completed the outfit. After a bit of googling into the tradition of wearing a veil I decided I couldn't resist."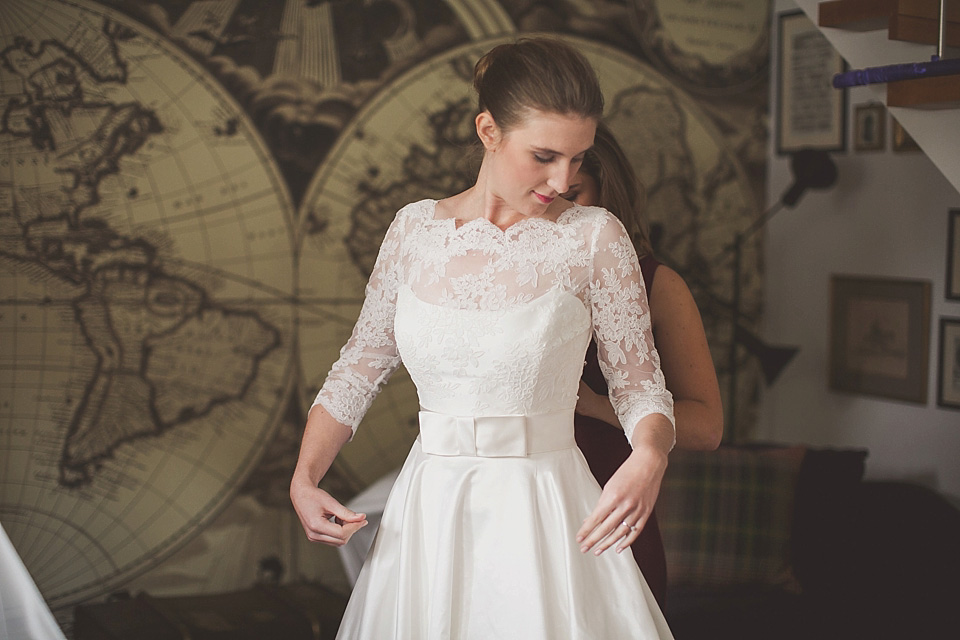 "The florist was Euphoric Flowers. I hadn't come across them before – Pocketful of Dreams recommended and briefed them, and they totally nailed the brief of unstructured but opulent flowers. The garland behind the top table was simply spectacular. For something entirely unique Euphoric are definitely the people for the job.
For our ceremony at Hampton Court, we used the florist Buds & Blooms."
"The bridesmaids' dresses were from Biba in House of Fraser. They were great as they fit in with the berry tone and the classic cut suited all of the bridesmaids."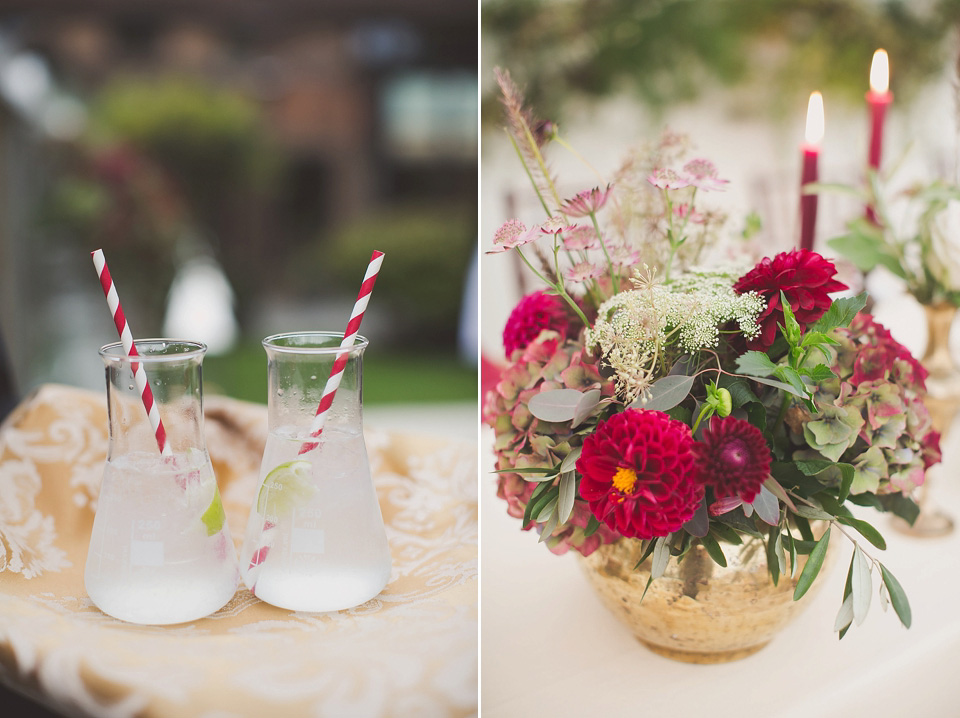 "We used wedding planners Pocketful of Dreams to design, style and deliver our wedding.  Michelle and Vicki made the day so enjoyable and helped us both to get the most out of it.  It made me realise ideas that I simply don't think we could have done on our own. The styling of the day and the organisation in the run up, during and afterwards were really excellent. These were things that we couldn't have done ourselves and where their expertise and experience were invaluable.
My mum told me afterwards that they got an immense amount of praise from guests on the day and that she thinks EVERY wedding party should comprise bride, groom, bridesmaids, best man and a Pocketful of Dreams (and not necessarily in that order!)"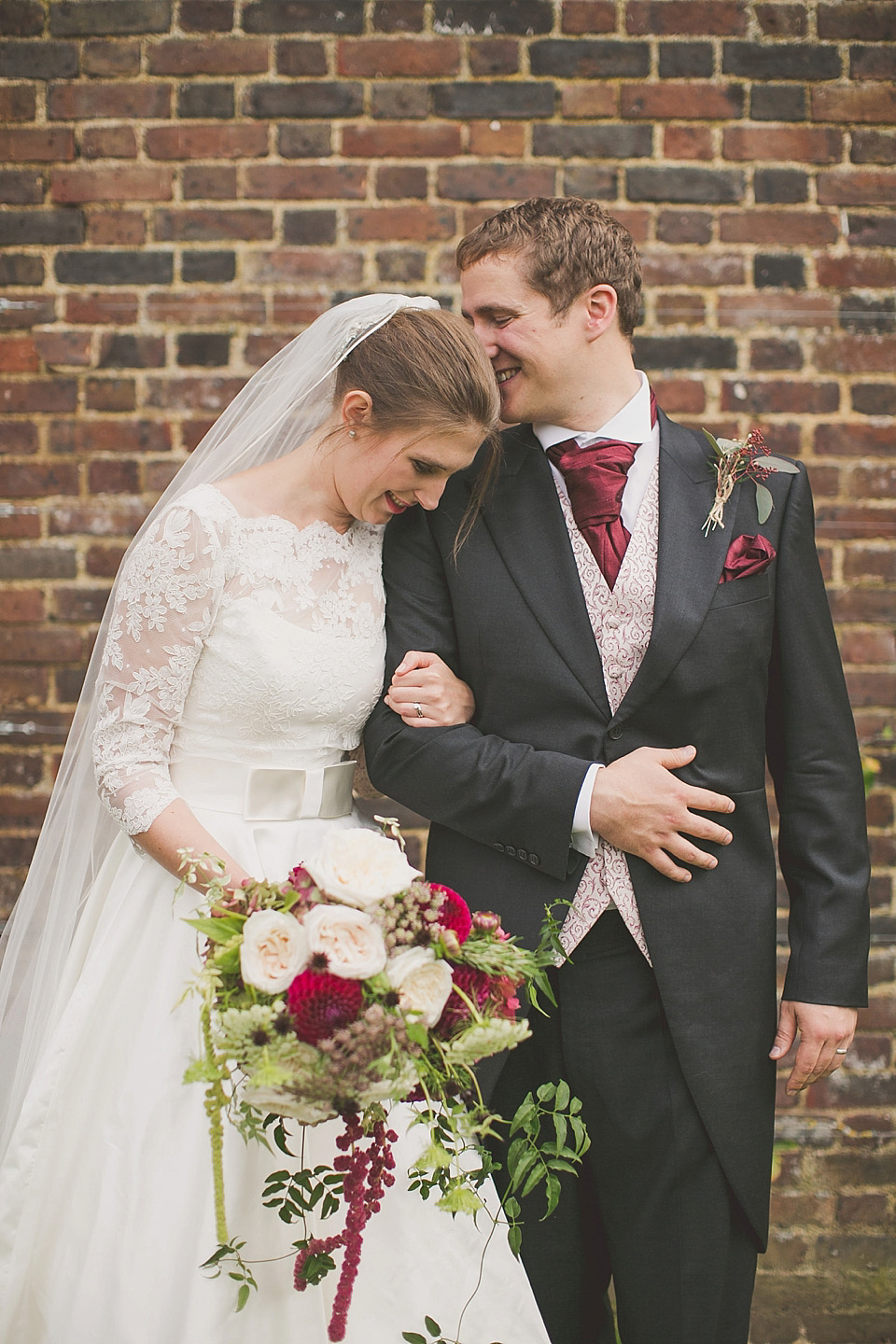 "We originally met on a scuba diving trip in Cornwall whilst at university in 2008.  Simon had planned the engagement for a while. He took me away to the first place we had gone away together and after a meal in the local pub he presented me with a gift, a photobook. The book detailed our relationship to date with witty commentary from Simon and a few grammatical errors that were kindly pointed out by me. At the end it described how Simon got down on one knee and asked me to marry him. When I looked up he was on one knee with a ring. Once he had convinced me he wasn't joking, I said yes!
We got engaged in mid April 2014. We started planning an engagement party for June and thought we would have the wedding in October 2015. However in May as we started planning the engagement party we realised that it might be just as easy to start planning the wedding. We therefore planned the wedding in about 4 months. Having never really thought about getting married before the hardest part for me was deciding what I actually wanted in a wedding."
The bride, bride's mother and bridesmaids' hair were done by Stephen Beaver.
"Stephen Beaver. was great as he tries to avoid very elaborate 'wedding hair' – his theory is that you should still look like you, only better.
My hair accessory was purchased from Grace of Westcott and was an original art deco hair piece updated by Cherished Vintage."
Bryony's stylish gold shoes were from Unisa…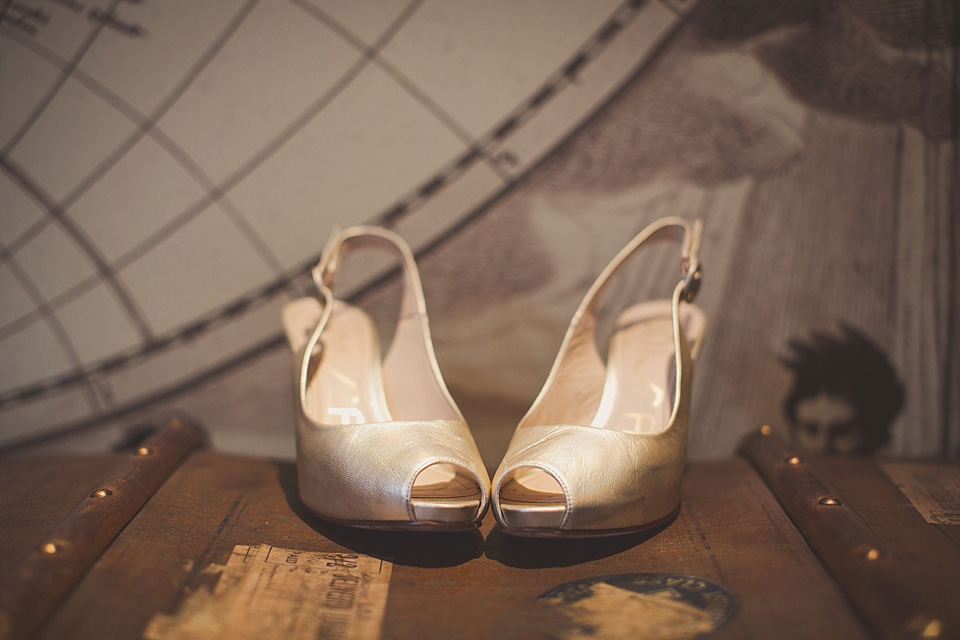 "As my something old I wore a medieval ring bought as a graduation gift."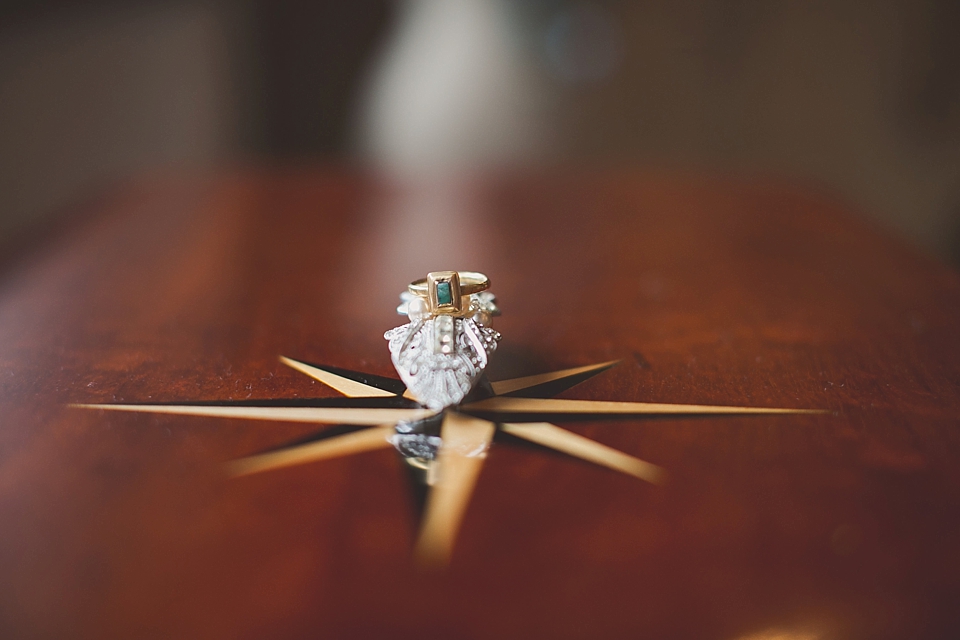 "My makeup was done by Emily Rumble. Emily was simply a pleasure to have around on the day of the wedding. She was so calm and collected and made sure that everything ran like clockwork. She was also really enthusiastic and a stickler for perfection. I particularly loved the bold colour lipstick she used."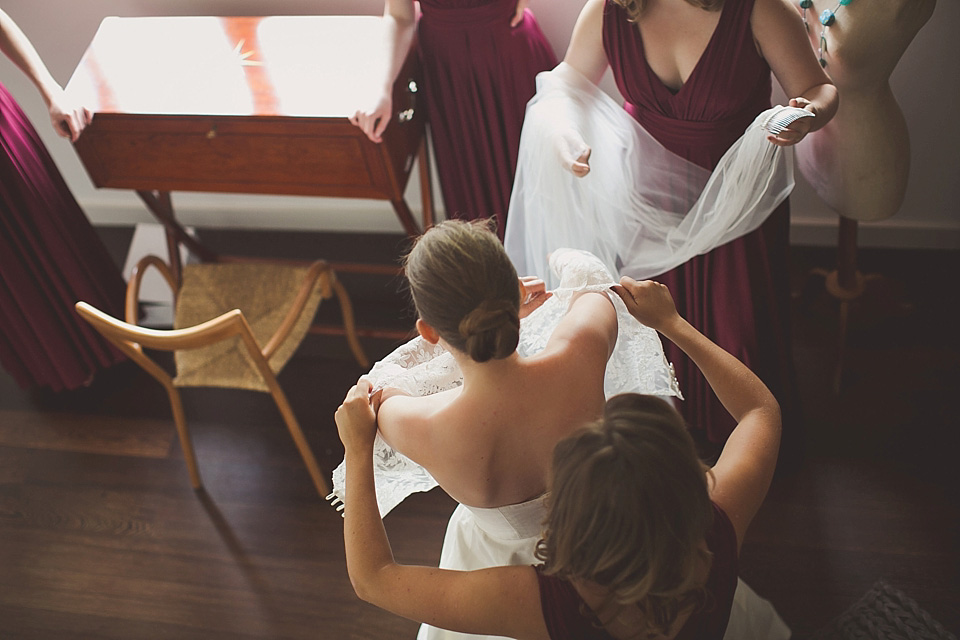 "My mum as a treat took me to Floris in London the day before the wedding to make my own perfume. I particularly wanted to include orange blossom in the fragrance, as the traditional wedding flower. It was lovely to be able to relax the day before the wedding and just enjoy the run up – this was only possibly because of the hard work of the Pocketful of Dreams team who were busy beavering away in the marquee making it look spectacular."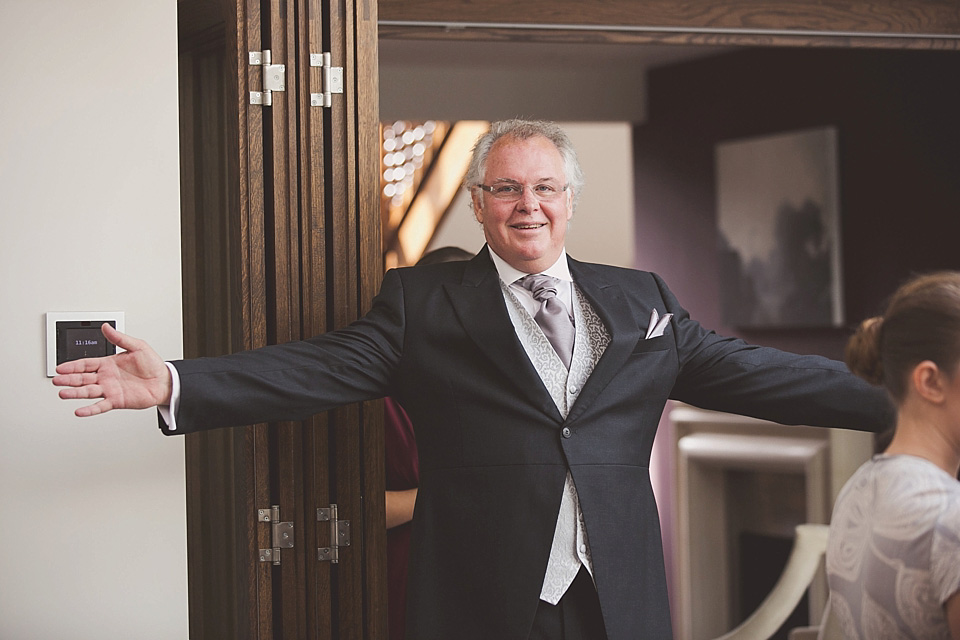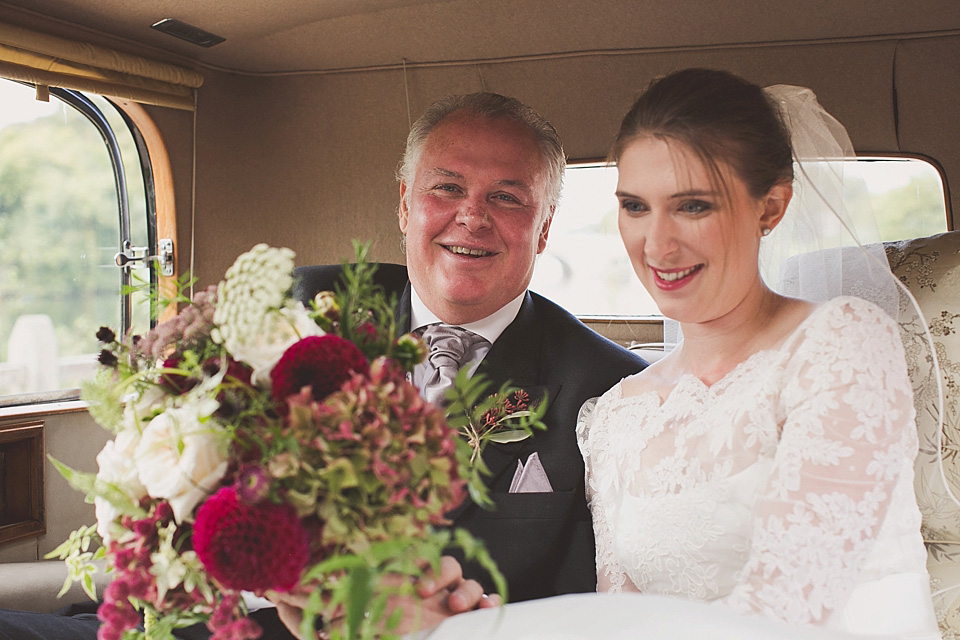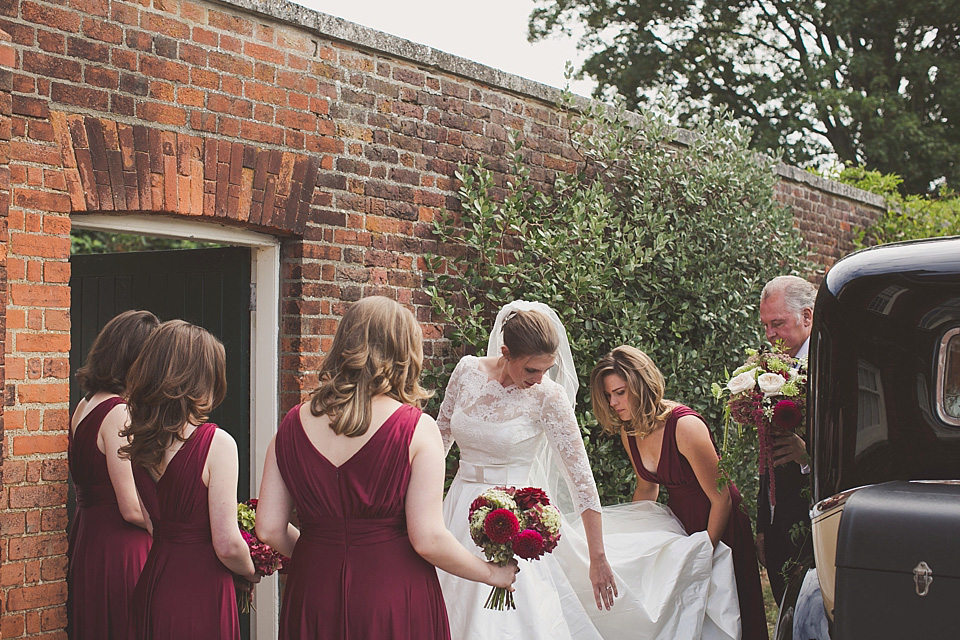 "My dad walked me down the aisle – it was lovely to have time together before the ceremony started.  We used the traditional Pachelbel's Canon as the entrance music, but had Ella Fitzgerald's version of Cheek to Cheek to leave to. When choosing an exit song I think it is important to have one that gets to the point quickly – 'Heaven, I'm in heaven' seemed appropriate."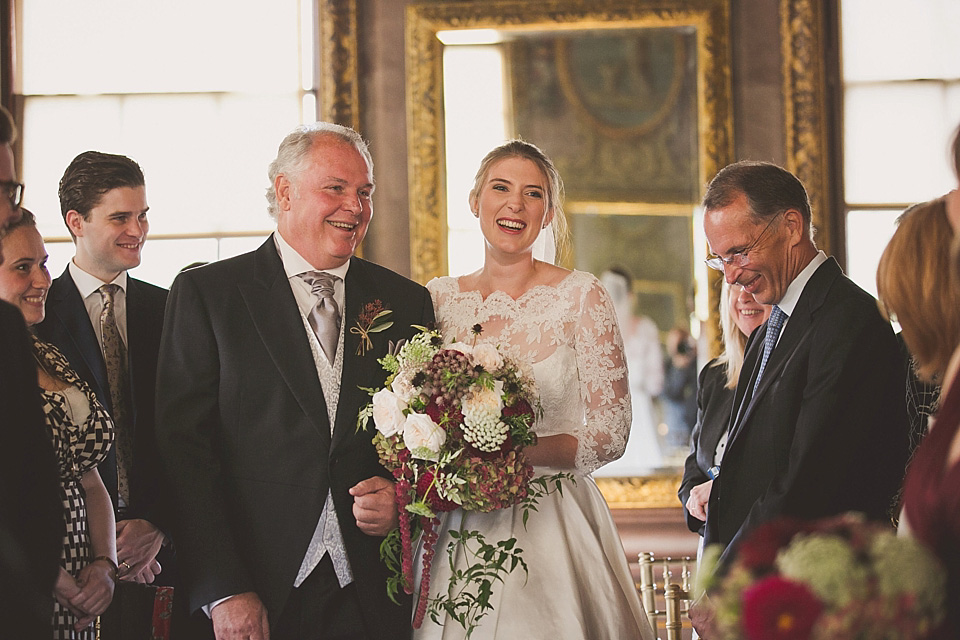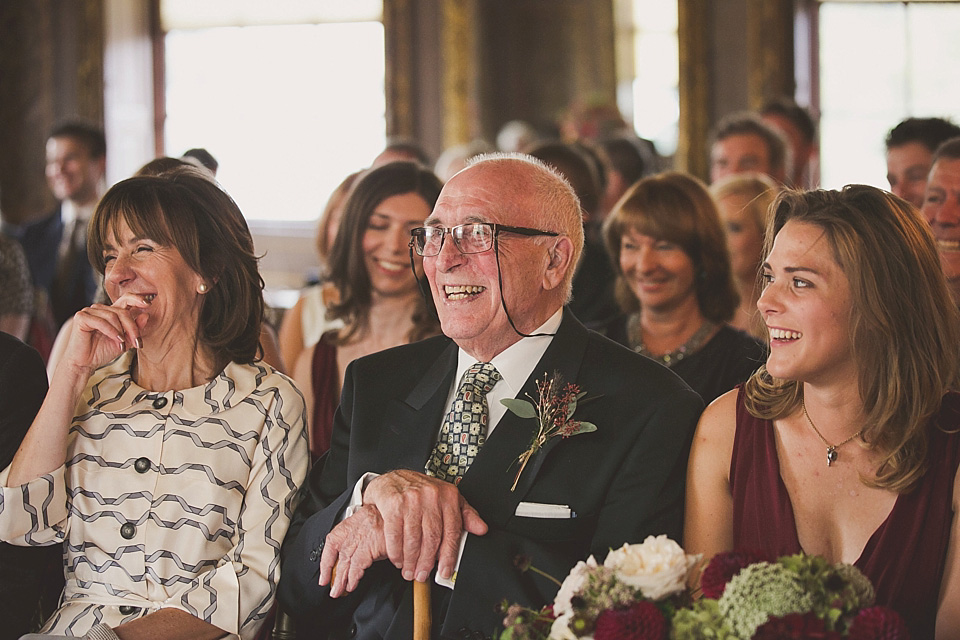 "We used the standard format vows – there was already enough to do without adding more work!  We also had some readings which included Sonnet 116 (maybe not the most original reading but I like a mix of traditional and modern), and 'A Vow' by Wendy Cope. This is a lovely reading about entering into marriage with your eyes open, and consequently not too sickening (we were both keen to avoid this). The final reading was 'A Lovely Love Story', which was is great fun and an upbeat reading to leave to."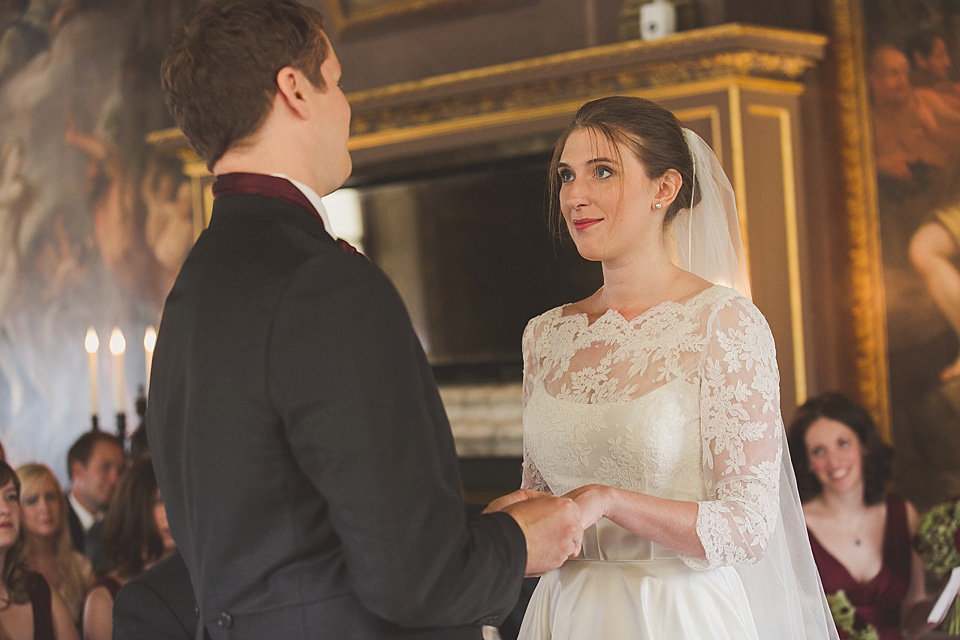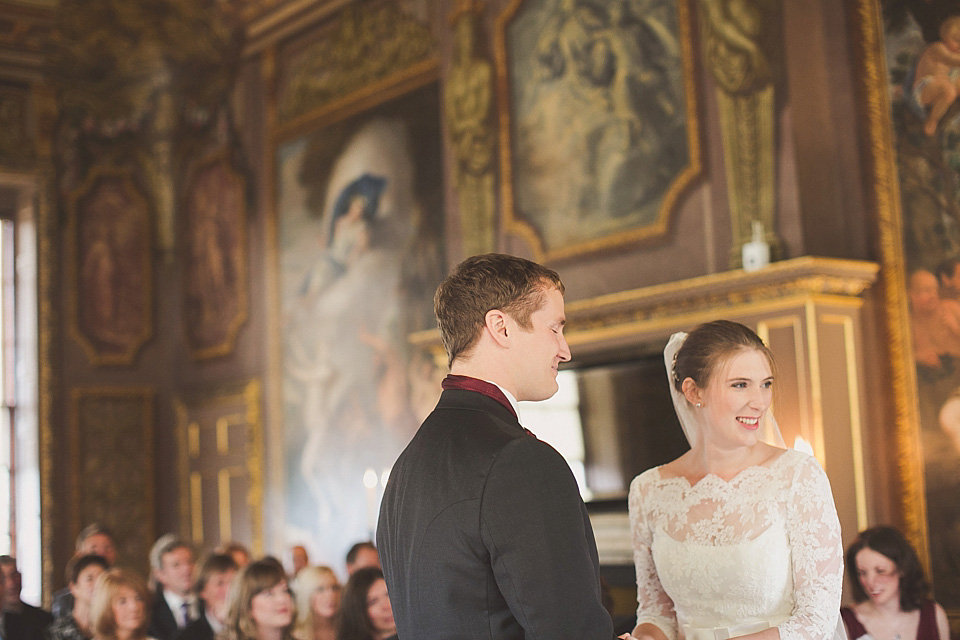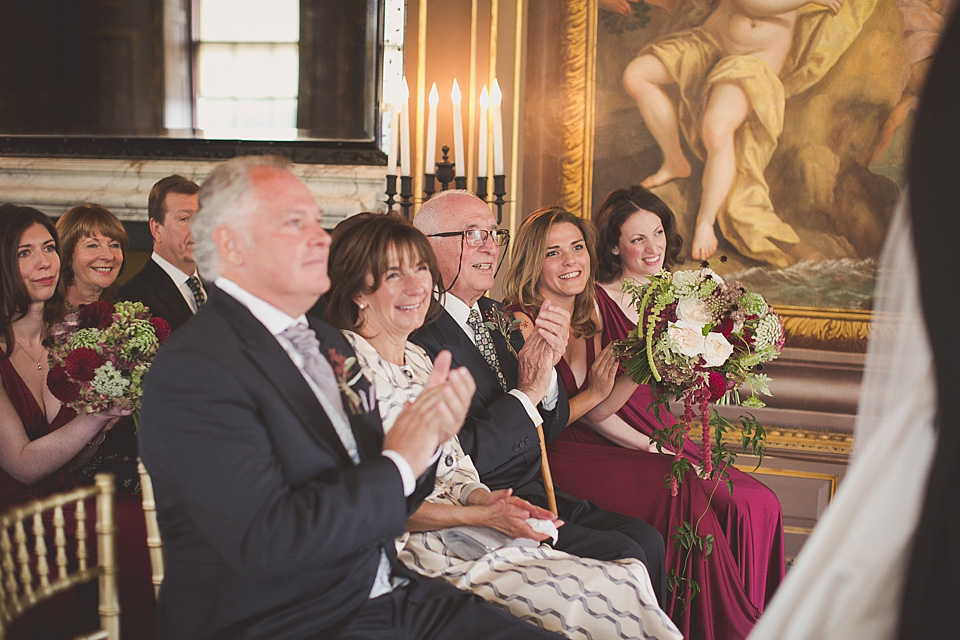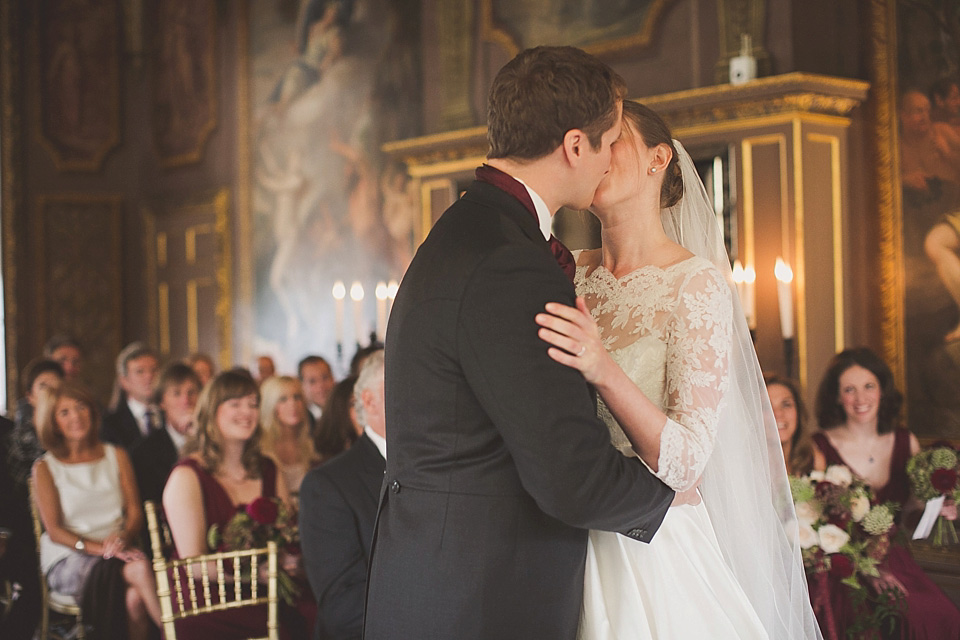 "Our photographer was Nick Rose. Nick was absolutely brilliant with photos on the day. Both families are very self-conscious in photographs and neither of us are photogenic (Me notoriously so). Nick was very unobtrusive and happy both to give and take suggestions. He was also very quick taking the couple photographs so we could get back to the party. I think we were most impressed though by his speed at taking the traditional group photographs.
Neither I or Simon are keen on this type of photograph (we prefer more natural photos) but they are important for some family members. Owing to the journey back to the house taking longer than anticipated, Nick managed to take all the necessary group shots in 10 minutes flat, putting us back on schedule."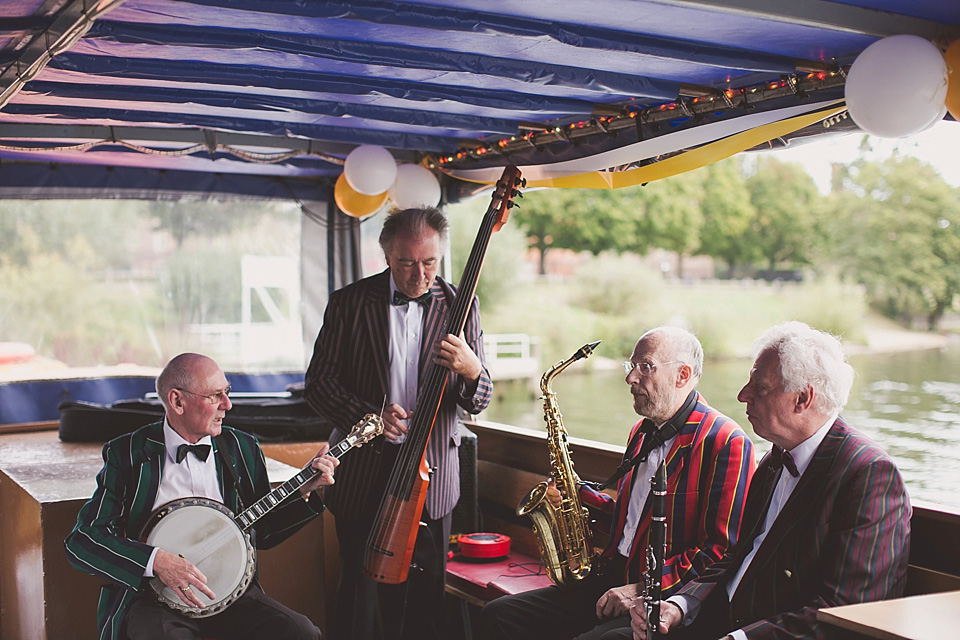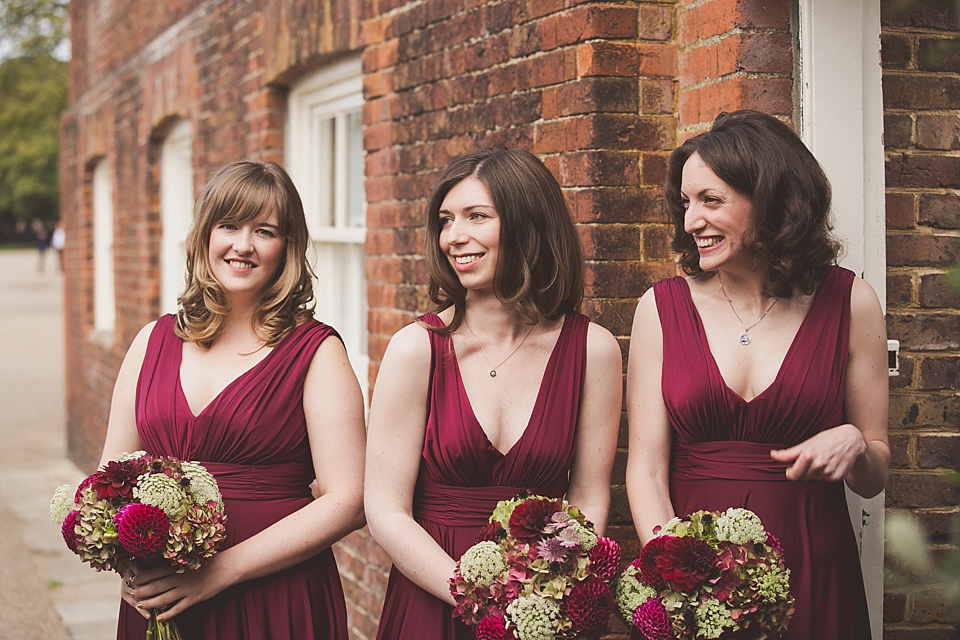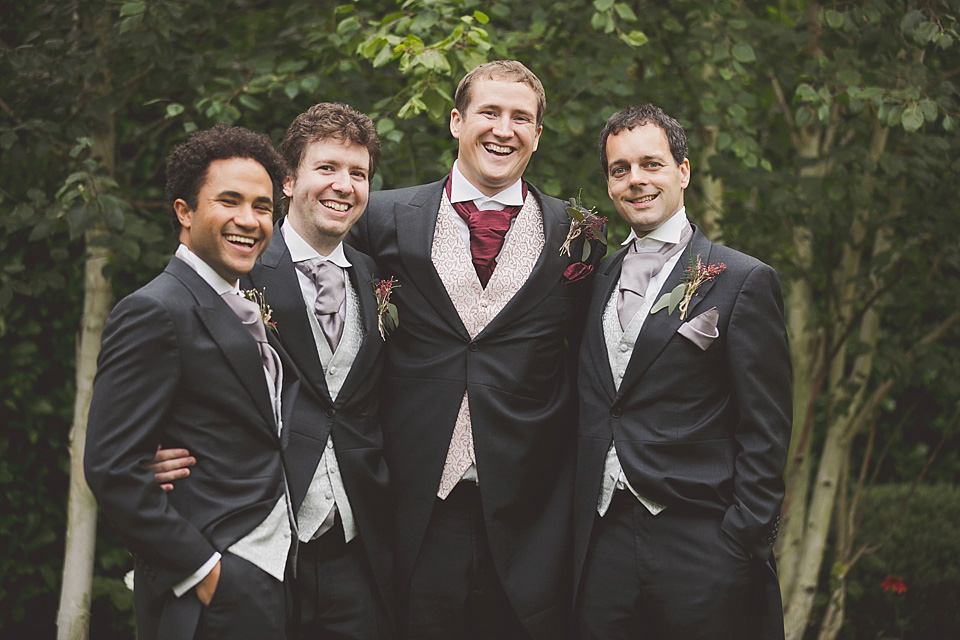 "Pocketful of Dreams suggested the use of foliage chandeliers (provided by Euphoric) as well as real chandeliers (provided by Oakland Events) to decorate and add warmth to the marquee ceiling. A waterfall foliage installation around the top table also created a real sense of rustic abundance making it feel lovely and romantic.  Vintage furniture was provided by Vintage Style Hire and was used to created relaxed seating areas around the dance floor."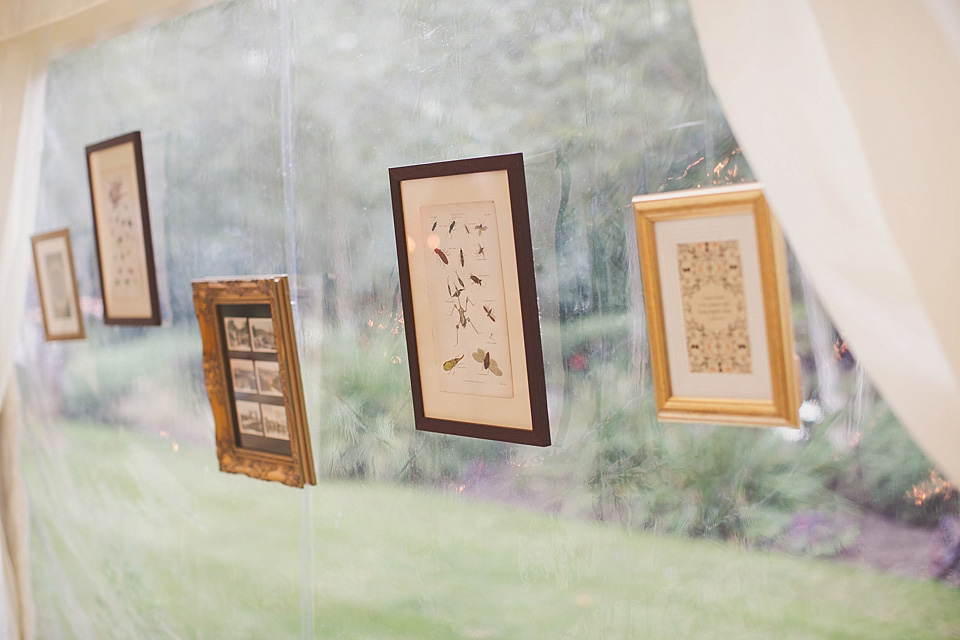 "We used lots of dark wood to add that rustic look but styled it in an elegant fashion, using dark wood chiavari chairs for dining and hiring in a stunning vintage apothecary bar which Pocketful of Dreams found from one of their suppliers. They dressed it with florals as well as Simon's collection of scientific vessels and beakers and it looked incredible."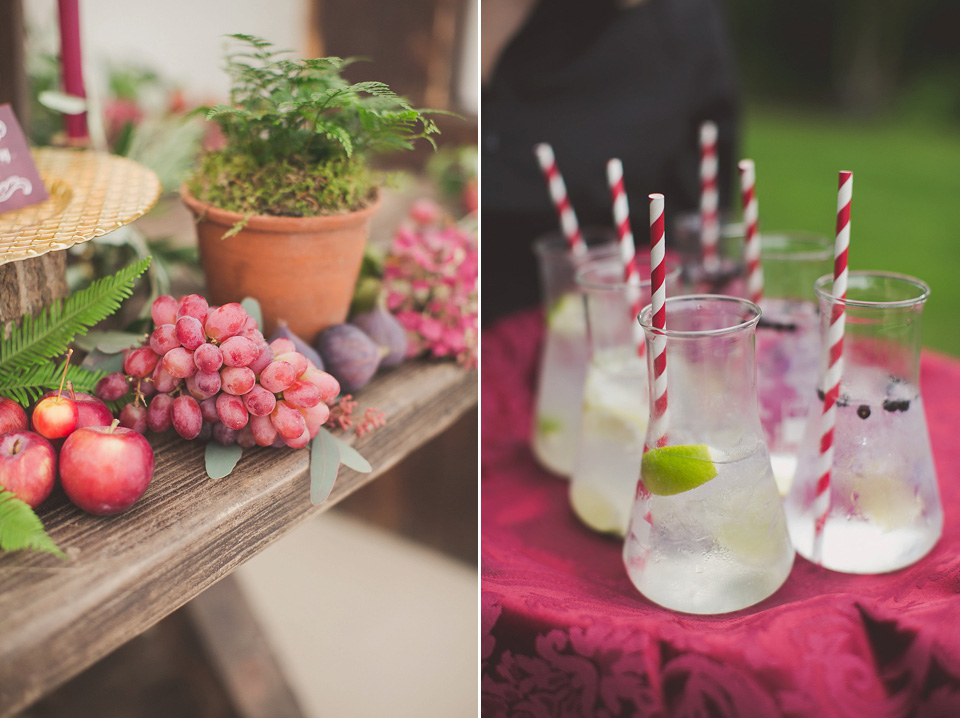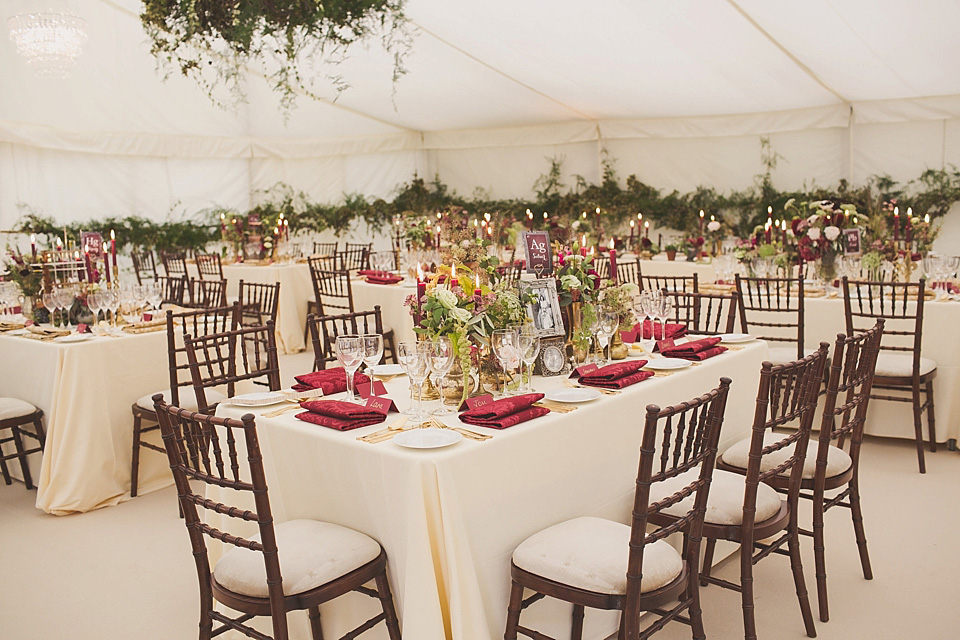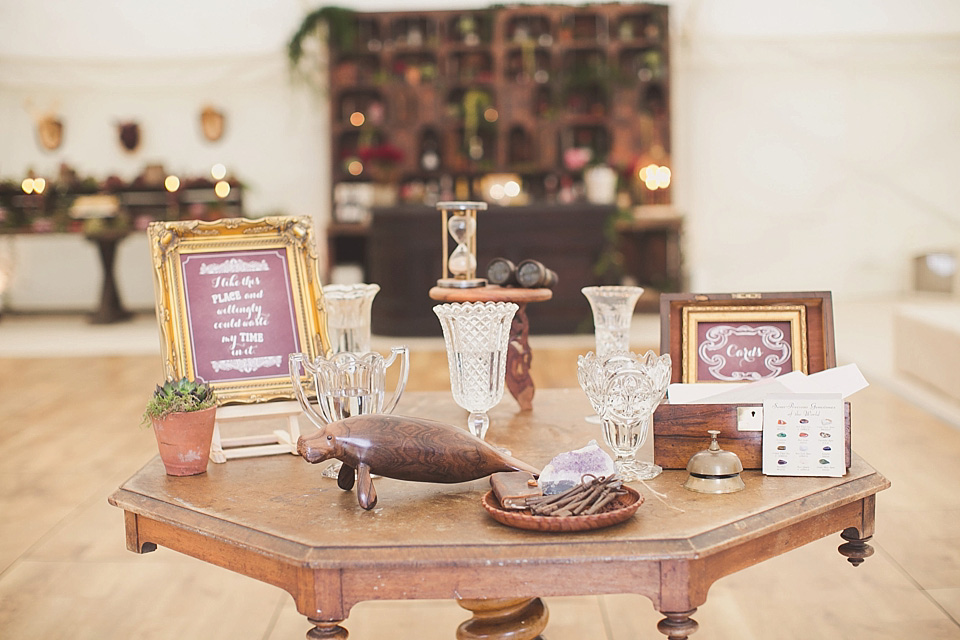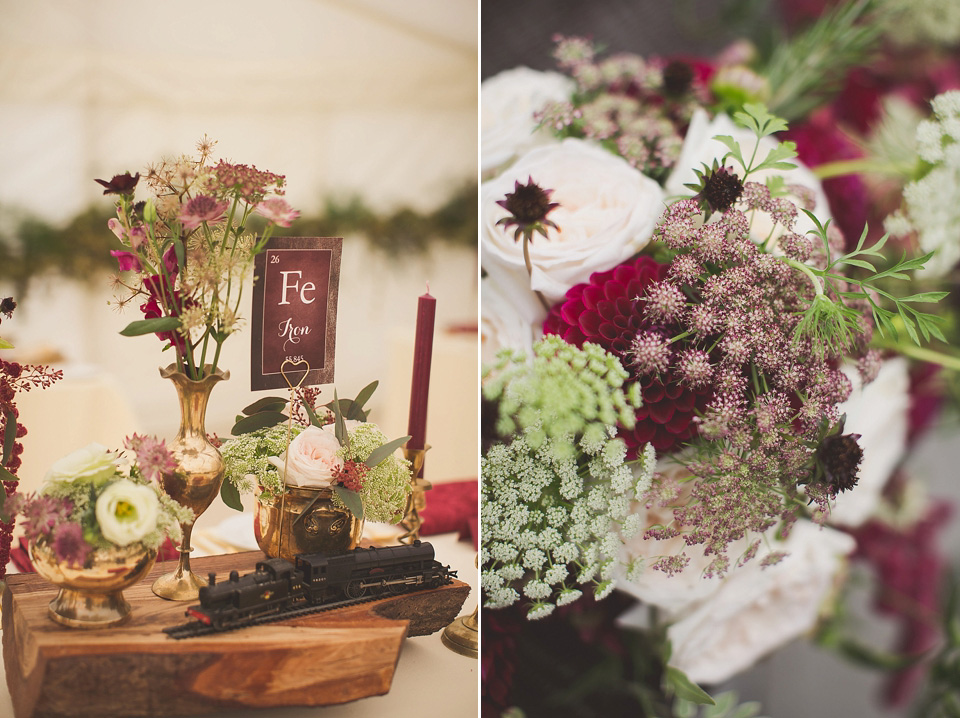 "Another genius idea from the Pocketful of Dreams team were a series of wooden animal head sculptures hanging over the table, these were custom-made and painted in Farrow and Ball colours to match our palette – they made for such a unique design feature and really got guests talking. I have a particular love of pigs and had asked the Pocketful of Dreams team to somehow include pigs into the day so of course one of the animals was a pigs head."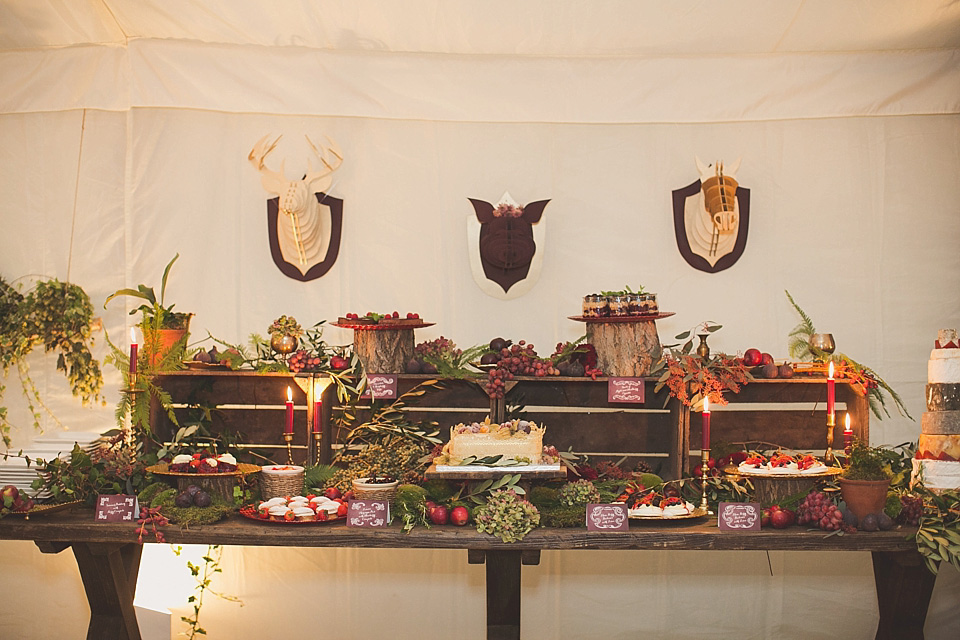 "We incorporated lots of scientific objects (and named the tables after different scientific elements, with each table styled with décor to represent these elements i.e. crystal glasses on the lead table, antique thermometers on the mercury table). Simon and I used lots of items that we had collected over the years (fossils, bits of furniture, compasses etc) but we also went to antique fairs to see if we could pick up any more items to include ( we bought a wooden box for cards, things to decorate the tables etc) which made it feel really personal to us. We wanted an eclectic, slightly mismatched look.
I studied History at university and Simon studied chemistry. We are both a bit geeky about these subjects so wanted to incorporate them into the day (again to make it really personal)."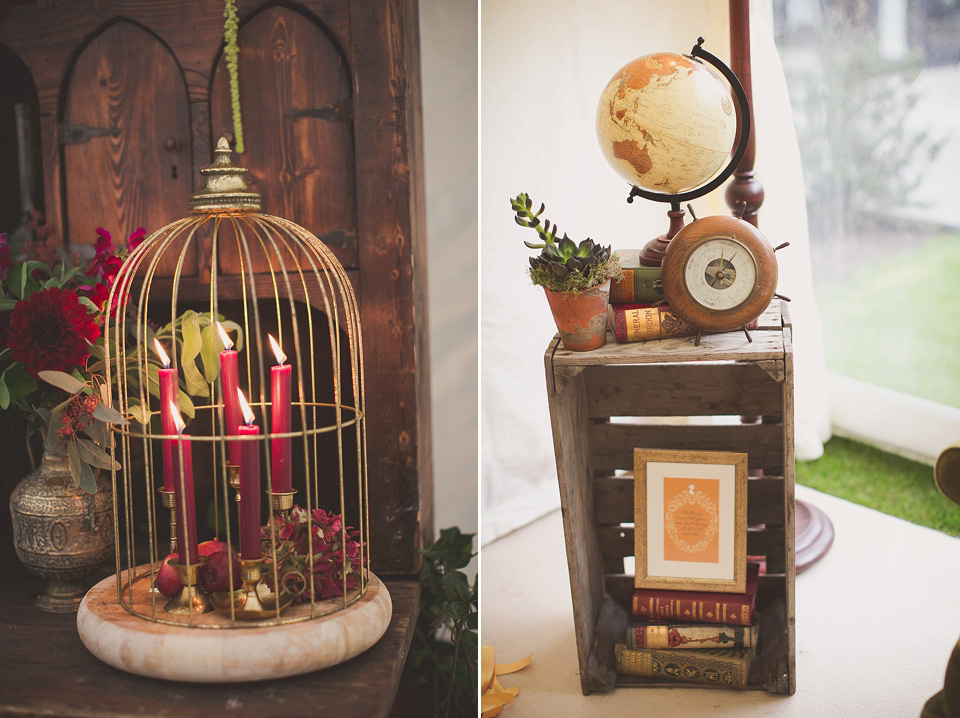 "The table plan was a set of vintage keys nestled into a moss background with a tag attached to each one telling our guests which table to head to."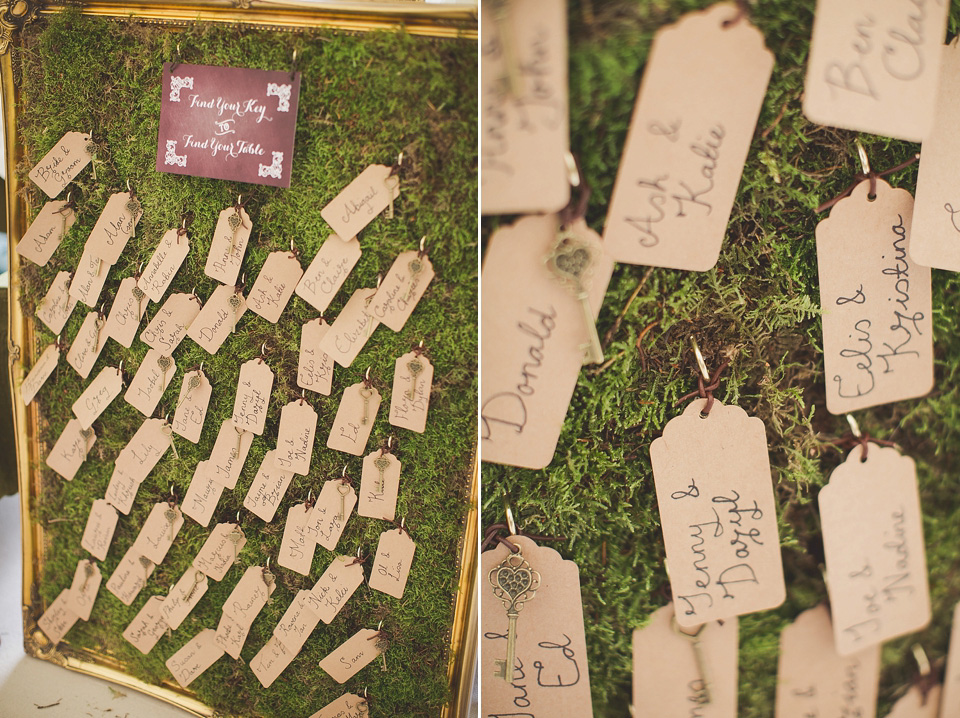 "The catering company was Payne and Gunter. I can't recommend them highly enough. There was nothing that was too much trouble for Lucy and her team. From putting together the dessert buffet concept (based upon the berry theme) that Pocketful of Dreams designed to coming up with a custom main course, working with us to source custom-linens in just the right shades to providing garden games, they were simply faultless.
On the evening the staff were friendly and polite and no one had anything but praise for the standard of the catering."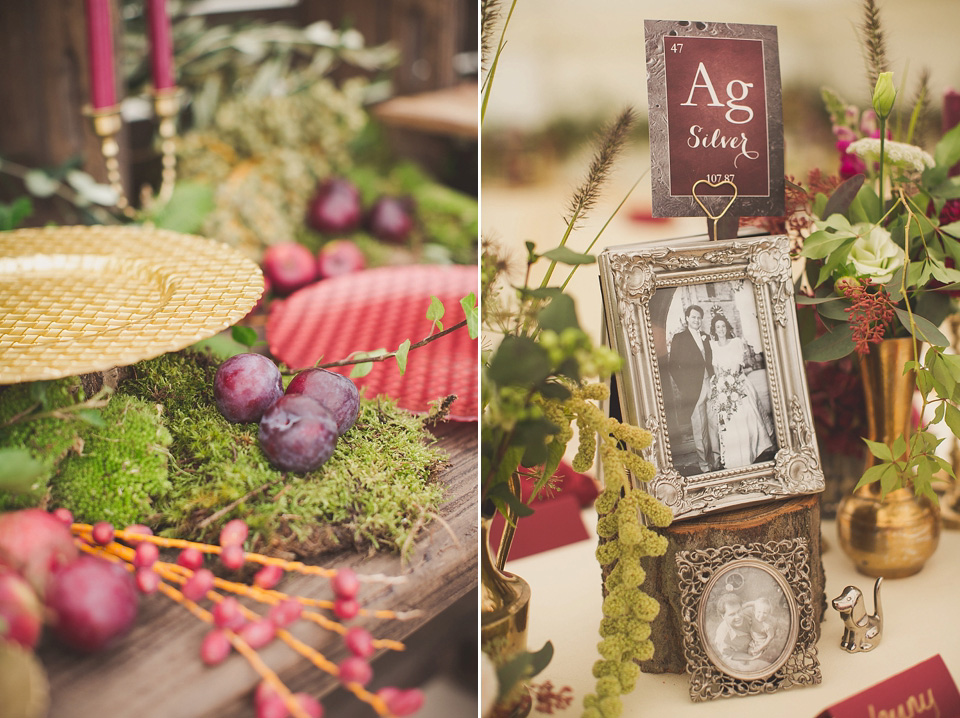 "We had a luscious dessert station presented on an antique 10ft long banquet table, it was a real feast for the senses overflowing with flowers and fruits, plus our gorgeous desserts and cheese tower, very Henry 8th!"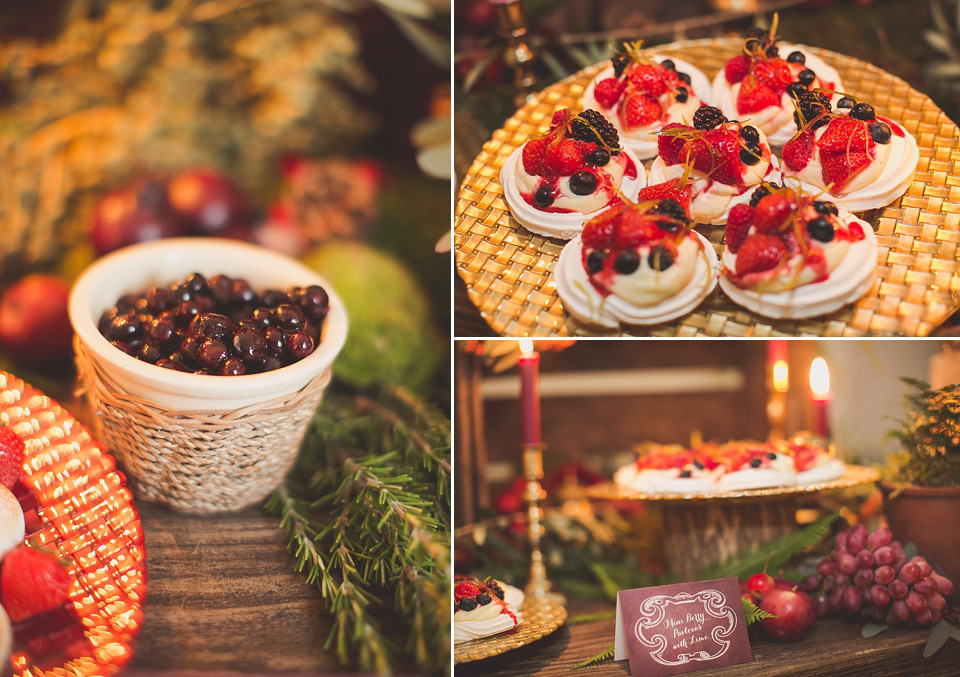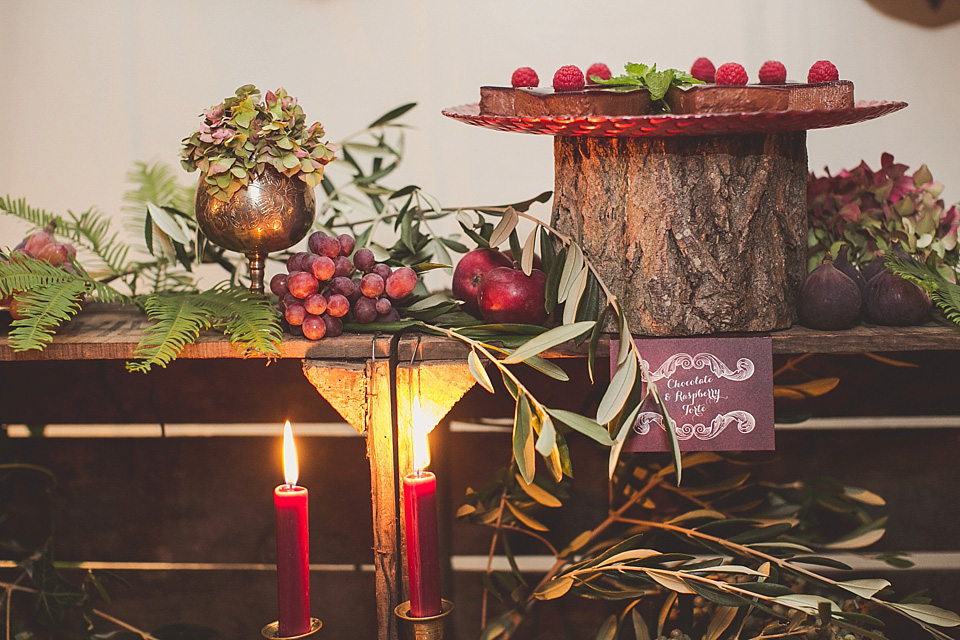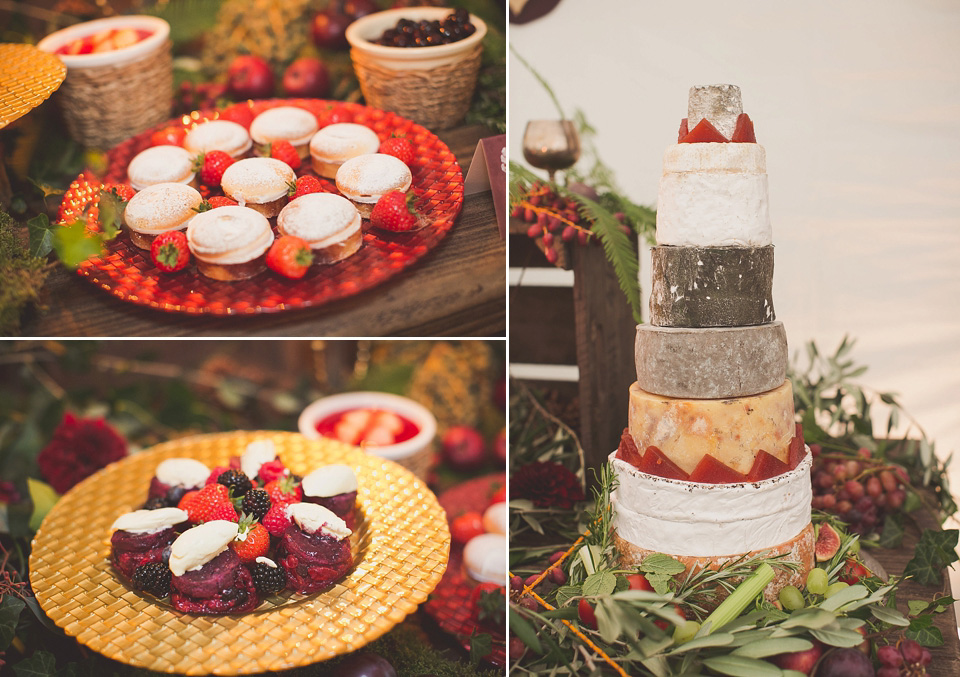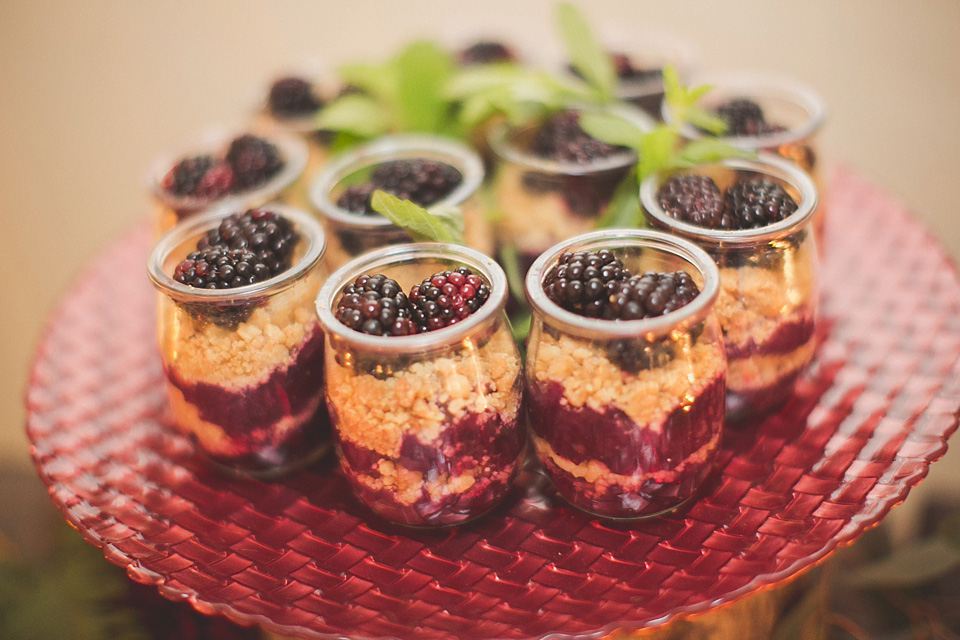 "We used Licence to Ceilidh as the evening entertainment. This was great fun and everyone got involved in the dancing (although with mixed success!).
Our first dance track was chosen by Simon. It was Ed Sheeran's and Christina Perri's 'Be My Forever'. Again this was upbeat and something we could actually dance to. A friend of my mum's choreographed a quirky dance routine to go with the track. I would recommend taking a couple of dance lessons before the day (neither of us are good dancers) for two reasons.
1)Having a routine made us less nervous about the first dance and as the routine didn't take it too seriously we could just go for it. It was amazing how enthusiastic everyone else was about the first dance.
2) It was nice having time together before the day. It's all about enjoying the build up and making sure you remember the reasons why you are marrying each other."
"Perhaps obvious, my favourite part of the day was the ceremony. Having it in a small room with close family and friends there made it feel so special. I loved all our readings and even the little hitches. I don't think I will ever forget it.
Simon loved the dancing. I think this was because by this time the stress was all over and he could just relax into it. Ceilidhing was a great way to celebrate."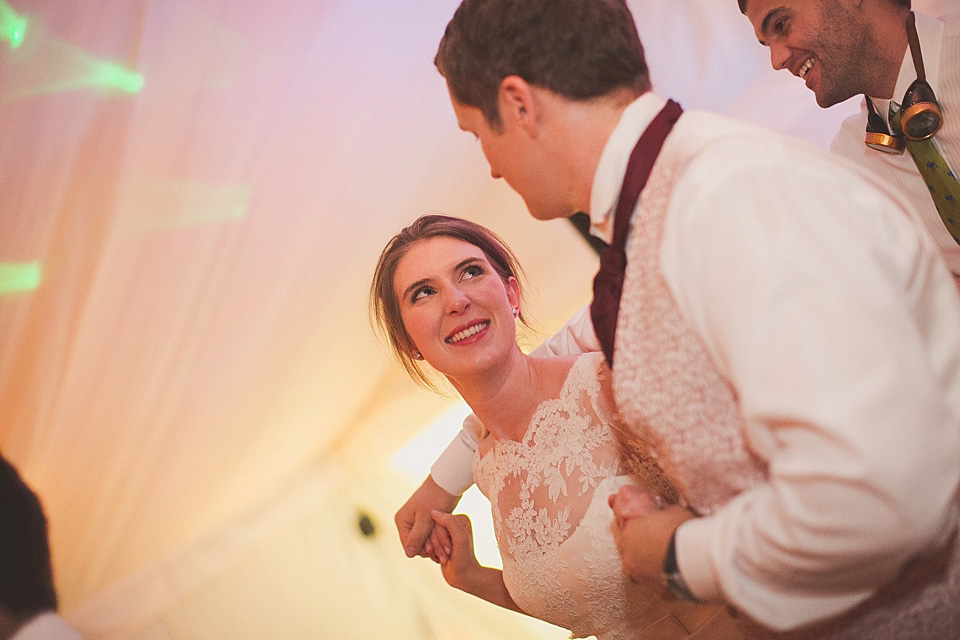 Words of Wedded Wisdom…
"I think we have 3 pieces of advice to people looking to plan a wedding:
Know what you want. I think it's easy to be distracted by other people's ideas of what your day should be. It can be worth taking a step back and thinking what's important to you. For us the food and entertainment was really important. By knowing what you want and thinking what you like as a couple it's possible to come up with something really personal and you won't end up regretting anything.
Make decisions together. The best decisions that we made were ones where we both were involved and had discussed it (even if one of us ultimately took the decision). It's a special day for both of you and it's not fair to pile the pressure on to one party. Also you will find that one of you has hangups that the other never knew about (Simon really objected to the use of mustard colours – I had no idea about this before).
Finally, enjoy it! The day goes very quickly (I know everyone says this but it is so true). The more you can enjoy the process before the day, the longer the feeling gets to last. Don't allow stress to get in the way! I would add to this that getting someone to manage the days in the run up to the wedding (or weeks if possible) is a fantastic idea. Some of the best money we spent was on hiring Pocketful of Dreams – they understood what we wanted and delivered it perfectly. By the time of the wedding we were happy to just leave everything to them, which is exactly how it should be.
Honestly though – I don't think there is anything I would have done differently. The only thing I can think of is that it would have been nice to video the ceremony and the speeches."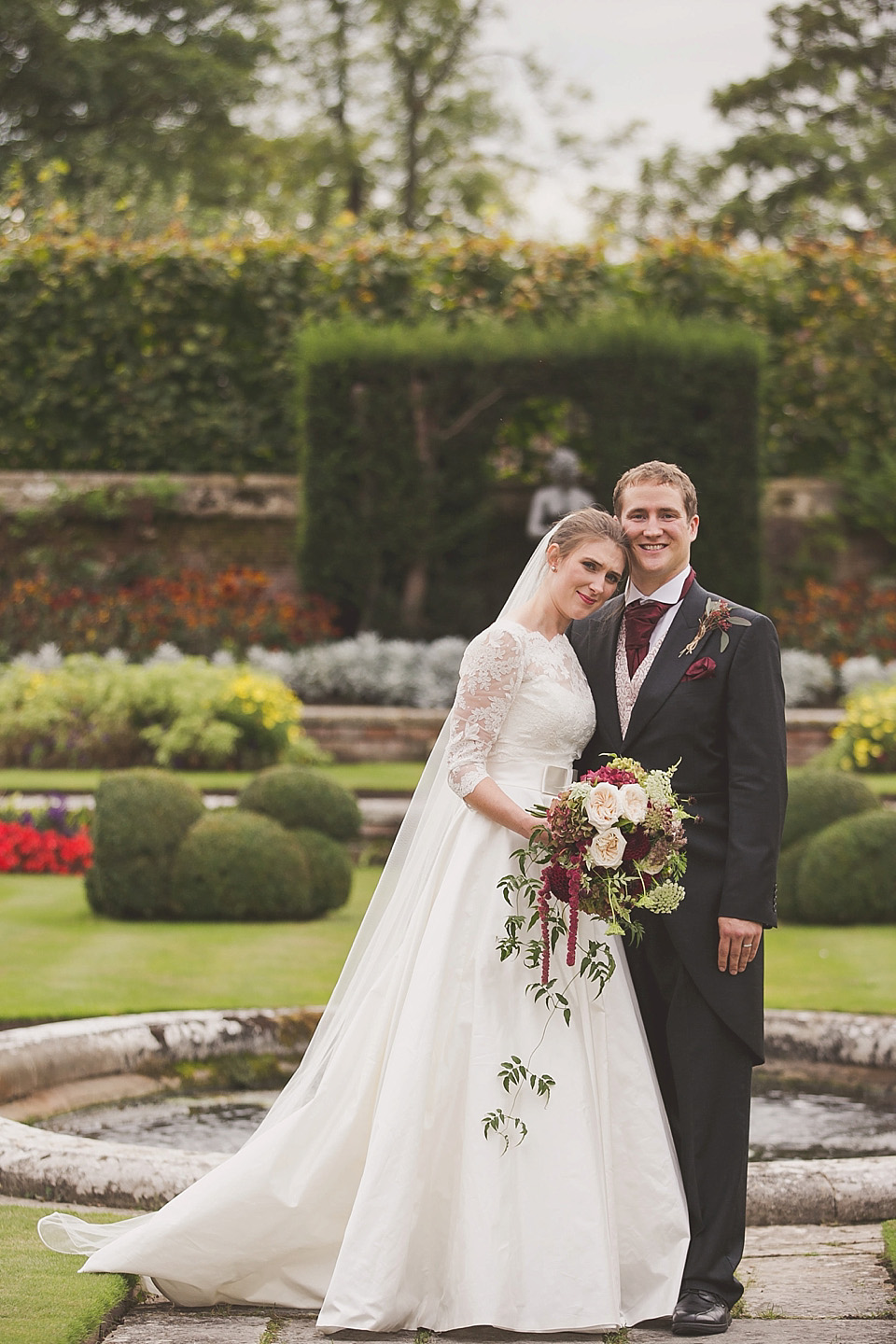 What an incredibly styled day! Though I'd expect nothing less of the amazing Pocketful of Dreams team – such super work Michelle and Vicki – very well done indeed.
And huge congratulations to you too Bryony and Simon, I feel it's such an honour to share your beautiful wedding with our readers and especially so as you have shared so much heartfelt and inspiring information about how you planned and pulled the day together. I hope you have the most wonderful first Christmas together as a 'Mr and Mrs' 🙂
Ladies, use the tag links at the end of this feature to explore more similar weddings, otherwise, I'd love to hear your thoughts on this beautiful day in the comments box below.
Love and thanks everyone,
Annabel x x
Photographer – Nick Rose
Wedding Planner/Stylist – Pocketful of Dreams
Venue – Little Banqueting House at Hampton Court Palace + the couple's garden using Academy Marquees
Wedding Dress – Blue Bridalwear via Grace of Westcott, in Surrey
Headpiece – Cherished Vintage via Grace of Westcott
Veil – Grace of Westcott, in Surrey
Bride's Shoes – Unisa
Perfume/Scent – from Floris in London
Grooms Suit – Hired from Moss Bros + cufflinks via Louy Magroos
Bridesmaids – Biba in House of Fraser
Flowers – Buds & Blooms (ceremony) + Euphoric Flowers (reception)
Cake – Payne and Gunter
Transport – Clover Care Wedding Cars
Entertainment – Licence to Ceilidh
Rings – made by a family friend
Catering – Payne and Gunter
Hair Stylist – Stephen Beaver
Makeup Artist – Emily Rumble
Chandeliers – Oakland Events
Vintage furniture hire – Vintage Style Hire