Well hello to you all and I hope you're having a wonderful weekend. I have to admit that I'm getting rather excited for the Wedding Magazine & Blog Awards that take place in London on Thursday. I'm lucky enough to be representing Love My Dress at the ceremony and will be tweeting from the event so do follow me for the latest from the wedding world!
But let's get back to today because this is a truly delicious feature – a perfect Sunday treat if ever there was one! Continuing our Little Book for Brides expert advice series, today we're talking to the super talented cake makers you'll find in our curated collection of splendid wedding suppliers as they explain how to make sure your wedding cake is nothing short of a showstopper.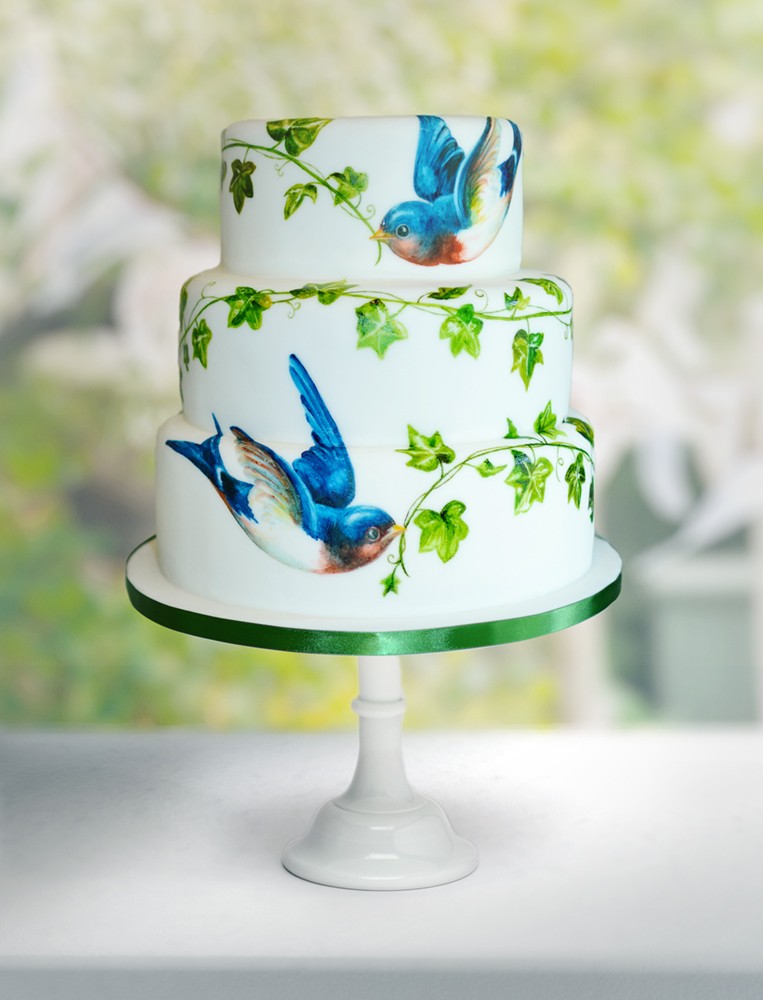 There's not shortage of inspiration around for wedding cakes – simply search here on Love My Dress or on Pinterest and your mouth will be watering in no time and happily, it's certainly worth indulging and spending some time searching for ideas:
"Wedding magazines and blogs are bursting with beautiful and inspiring ideas," says Ellie at Milk Street Kitchen. "I'd always recommend spending some time seeking out inspiration and collecting the images you like on a DIY moodboard or on Pinterest. This will be really helpful so that you can share you likes, and even dislikes, with cake designers you meet."
Once you've got your ideas and images together, research cake makers whose style looks like it might match your own and then get in touch to arrange a consultation.
"Each cake designer will have their own style," continues Ellie. "It's important to find someone you gel with and who understands your vision. Have a look online for like-minded suppliers and visit their website and social media feeds to get a feel for their style – Instagram is great for this. Personal recommendations are a fantastic way to find someone you trust so talk to friends, you venue and other suppliers."
"When you first get in touch, let the cake maker know the date of the wedding, the location and approximately how many guests you're expecting," advises Jen from Jen's Cakery. "This gives us enough information to confirm that we're available on that date, that we can deliver and make a guess at how big the cake will need to be. From there, the consultation is a great opportunity to eat some cake and have a good chat about cake designs and your wedding theme."
Leanne Rogers from Baking Chick agrees about the importance of consultations:
"A cake consultation provides the perfect opportunity to discuss cake flavours, look at any fabrics or photos you might like to bring along and of course, sample the cakes themselves! We're here to help and guide you so don't be afraid to ask questions – we love talking about anything cake related!"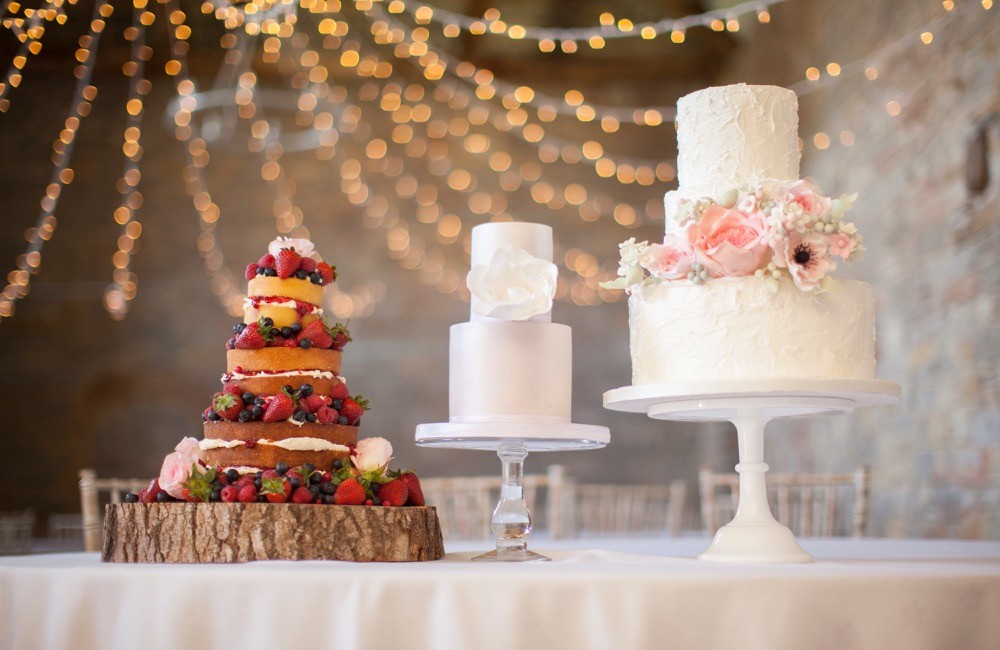 "Don't be afraid to take pictures to the consultation," says Jen from Jen's Cakery. "Cake makers are rarely offended about being shown someone else's cake but most of us don't want to copy someone else's work. So, if you've seen one cake that you absolutely have to have, see if you can find the original cake maker and commission them. Otherwise, think about what it is you like about the cake. I can't tell you how many times people have started off asking me to 'copy' someone else's cake and when we've talked about it, it turns out they really only like the particular colour! From there, we can design something that's tailor made and is loved much more than the original picture."
The consultation is the moment that the design process really starts and whilst you're talking about tiers, flavours, sizes and styles, your cake maker will be making notes and building up a picture of the cake that's going to be star at your wedding:
"At Little Bear Cakery, I offer a menu of fifteen different flavours for my couples to choose from and I'm always happy to cater for any bespoke requests and dietary requirements," says owner Clare. "I invite my couples to try a selection of flavours, not only to help select their favourites but also to ensure that I have the perfect balance of sponge, filling and flavour. Let's face it, everyone likes their cake differently!"
"I often find that couples can't decide between flavours," says Laura Marten from Yolk. "In this case, there's the option to have different tiers in different flavours. I love this option because guests might not like carrot cake, or lemon and lavender, so it's good to have a choice."
With the ideas and information from the meeting fresh in their head, your cake maker will start mixing their ideas to design the perfect cake.
"If you're not creative, don't worry and don't let yourselves be intimidated by the design process," says Jen from Jen's Cakery. "We do understand that you've never commissioned an enormous cake before! A good cake maker will give you lots of options and we'll usually provide you with sketches to help you visualise the finished creation."

"It's a good idea to decide on your cake design once all of your other decoration is decided," says Natalie from MurrayMe. "Your cake designer can then use your colours, flowers and décor ideas in the cake design to tie everything together nicely. Then, let your personalities shine through in the design. Don't feel you have to have white because that's what's expected of you. Instead, have a bit of fun with it! Choose to have a cake that shouts 'this is us!'"
To make sure that your cake maker has all the information they need, do make sure you've been clear on your budget and decided whether or not you'll be serving your cake as dessert:
"It's important to consider when and how you'll serve the cake and how it fits in with the rest of your wedding day menu," says Milk Street Kitchen's Ellie. "If you decide to serve the cake as pudding for instance, you'll need a lot more!"
Serving your cake as dessert can be a great idea – not only will your guests spend time sampling and enjoying the creation you've thought so much about but it can also be a sensible choice from a budget perspective too:
"If you're on a tight budget, tell you cake designer," says Jen from Jen's Cakery. "There's no point letting us go off on with an elaborate plan – it's way easier to suggest something that will work with your budget. Many people serve the cake as their dessert, which is a good way to cut down on catering costs a little. Just double check with your caterer of venue as they may charge a little per head if you do this and also ask when you'll need to cut the cake so they have time to plate it up, ready to serve."
Another clever idea is to opt for a cutting cake, as Laura from Yolk explains:
"For brides with a small budget, there is always the option of having a cutting cake. You have a smaller, but still beautifully tiered cake, to show and then a cutting cake, usually just a very simply decorated layered sheet cake, that goes straight to the kitchen to be cut. You'll still have enough cake to feed all your guests but at a lower cost."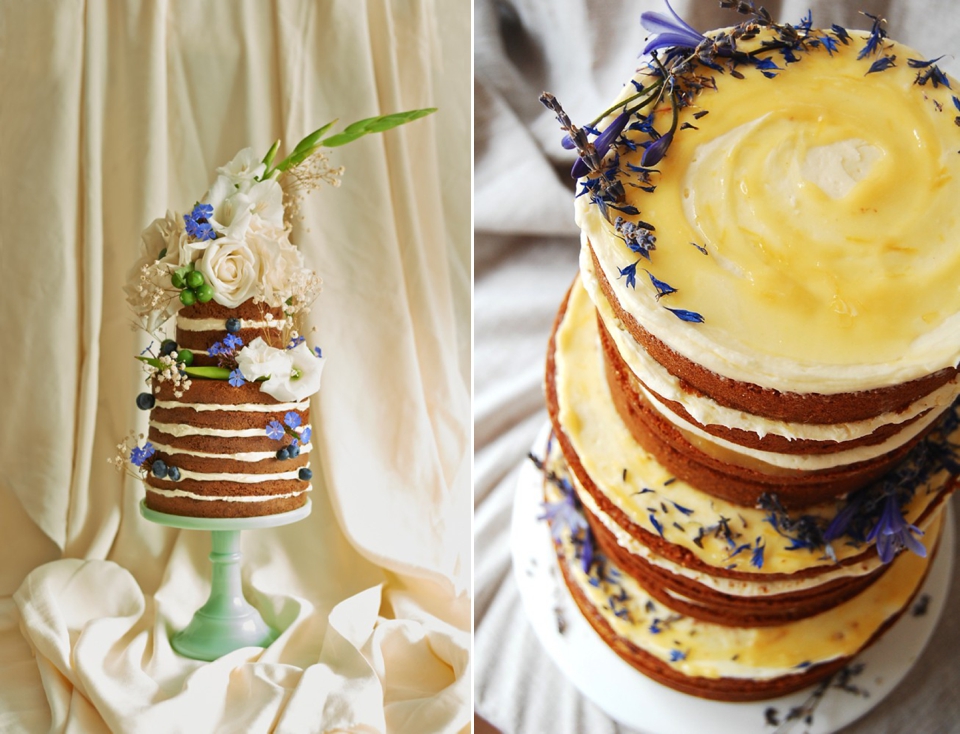 Your consultation is also the time to talk about any dietary requirements you might have or might need to be taken into consideration by your cake maker:
"If you have an allergy or intolerance, just ask your cake maker what they can do for you," says Jen from Jen's Cakery. "I can make almost any combination of 'free-from' cake and I often make the smallest tier one that the allergy-sufferers can eat. If your allergy is severe, there are specialist cake makers who'll be happy to help you."
There's no doubting the fact that when it comes to flavours and styles, the world is now your wedding cake oyster and oh my goodness, what choice awaits you…
"The days when a traditional fruit cake was the only choice for a wedding cake are long gone," says Ellie from Milk Street Kitchen. "You can choose from an unlimited array of sumptuous sponges, fruity fillings, creamy buttercreams and rich chocolate ganache."
"Naked cakes are ace! Decorate them with fresh flowers and/or fresh fruit and they look spectacular," enthuses Jen. "They work in with any rustic theme and they cost a lot less than cakes covered with icing as they're less work."
"If a couple isn't after a large tiered cake, there's always the option to have maybe one or two smaller cakes," says Laura from Yolk. "Or how about individual mini cakes or a mix of a tiered cake and smaller ones."
"Have fun with your flavours," says Leanne from Baking Chick. "I recently had a request for a vanilla sponge with peanut butter and white chocolate frosting covered in a white chocolate ganache – the smell was divine! The second tier was rich chocolate truffle cake with a salted caramel filling covered in a dark chocolate ganache."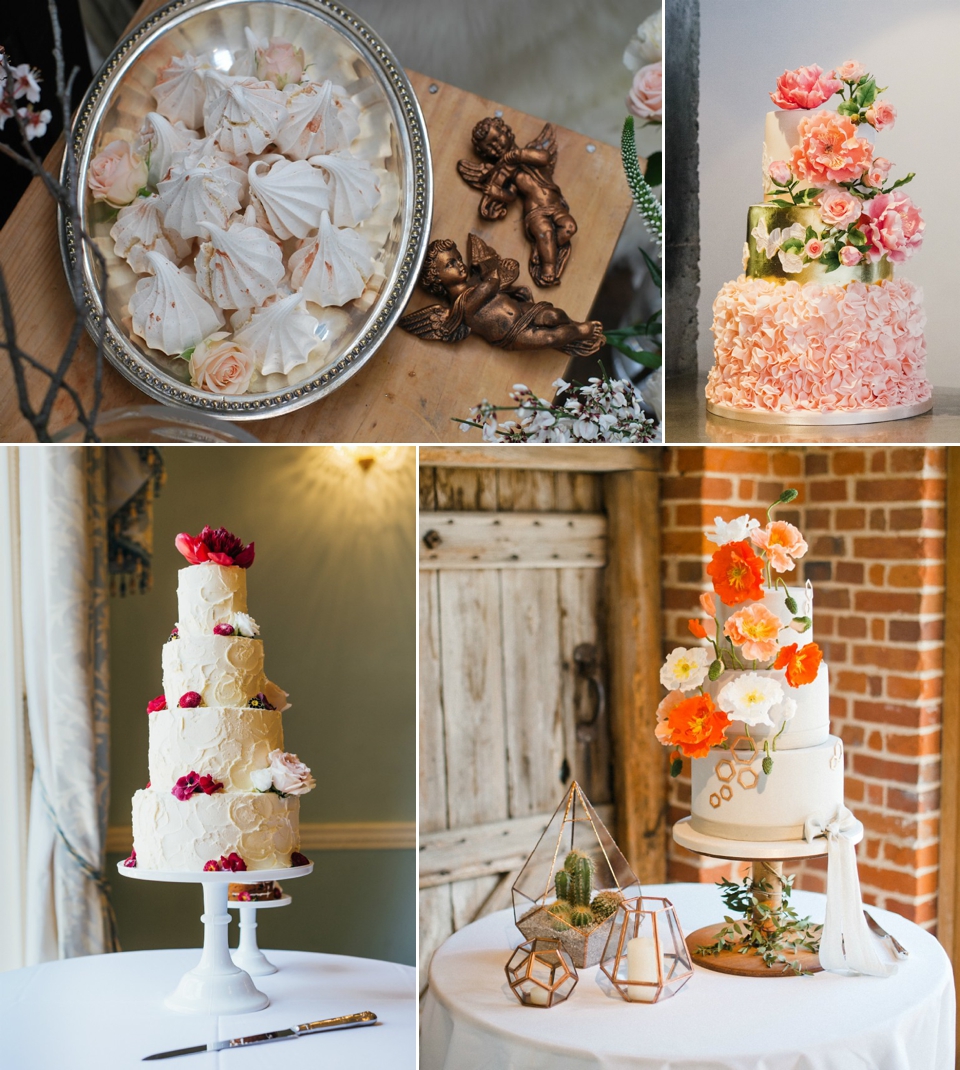 The idea of dessert tables, loved by American brides in particular for many years, are now becoming more and more popular over here and with good reason – they're absolutely ideal if you love your cakes and bakes and want a suitable sweet centerpiece as Claire from Little Bear Cakery explains:
"Accompaniments to the main wedding cake are becoming more and more popular, either to be given as favours or as part of a dessert table. My most popular extras are macarons, marshmallows and meringues and I love being given the opportunity to create beautifully styled dessert tables filled with decadent layer cakes, mini bundt cakes, brownies, luxurious tarts and anything you can think of really. Style it up with interesting stands and platters and finish with fabulous florals and you'll have a truly delicious talking point for your guests."
"How about mini versions of your favourite sweet treats?" suggests Leanne from Baking Chick. "Mini chocolate tarts, small portions of brownies, millionaire's shortbread, custard tarts, pavlova nests and, my personal favourite, meringue kisses."
"I've had a couple who bypassed the ideas of a wedding cake entirely," says Laura from Yolk. "Instead, they opted for a dessert table laden with roasted white chocolate profiteroles, mini meringues, salted caramel brownies and blueberry mini cakes."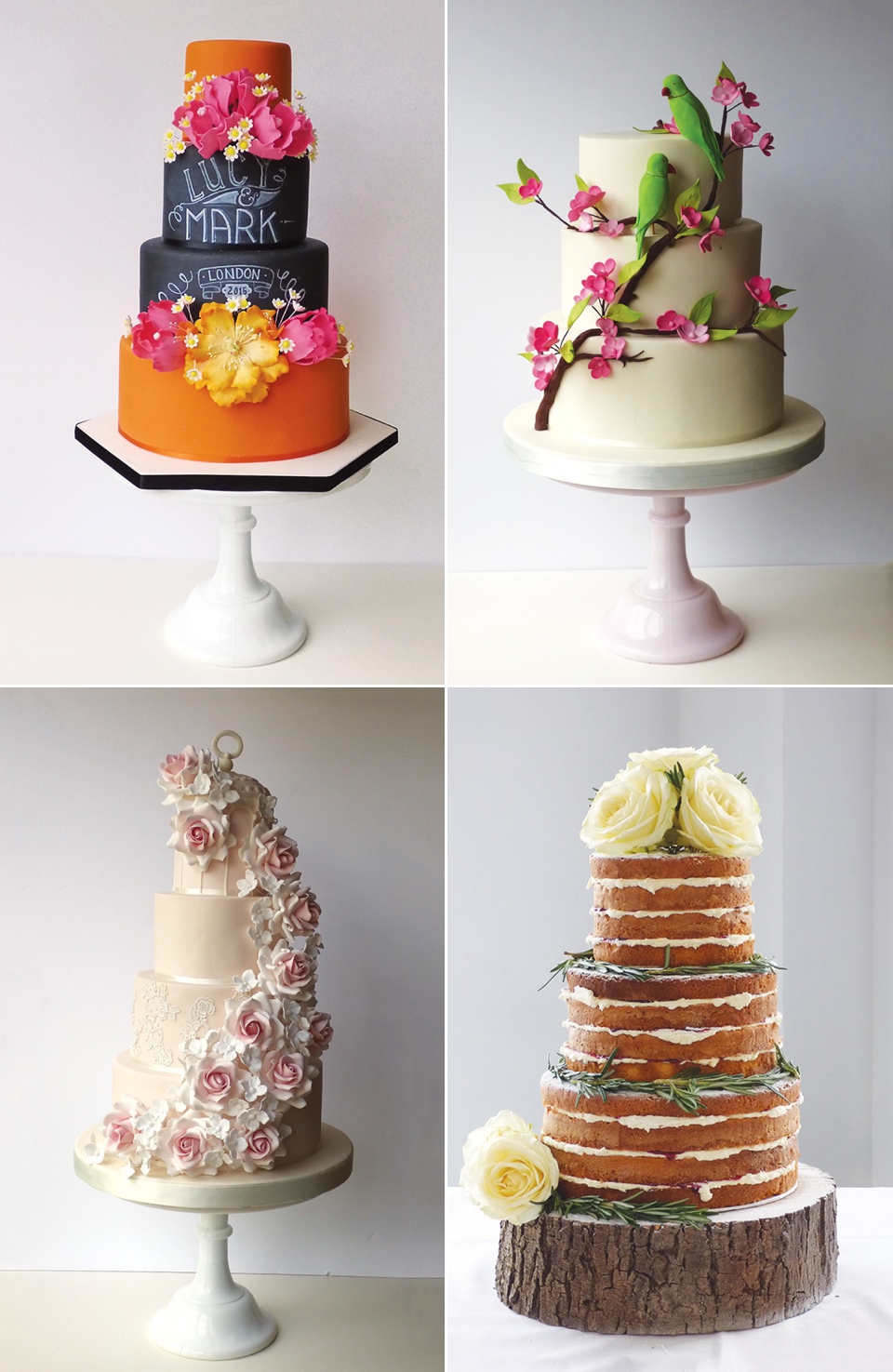 As a final thought, don't forget to do the very best to showcase your cake on your wedding day.
"Show off your cake!" says Ellie at Milk Street Kitchen. "Think about where and how to best present your creation at you wedding venue. I'm always happy to help couples plan a cake table that compliments the style of their wedding. Also, goodie bags or pretty little boxes also give guests the chance to take a piece of cake home with them at the end of the night."
Wise words indeed because leftover wedding cake would be an awfully sad and quite terrible thing!
Thank you so much to the brilliant cake makers who contributed to this feature – you've all made my stomach rumble!
Love Tamryn x