Happy Monday folks! Today is my second wedding anniversary. The last two years have absolutely flown by, yet so much has happened in that time as well and in some ways it feels a long time ago since we stood in front of our families and friends to say our vows. So today, I want to urge those of you who are planning your weddings to enjoy every minute of the preparation and to make sure you take a bit of time on the day itself to stand back and take it all in.
I think you will absolutely adore today's wedding – the photography is fabulous, the dresses swishy, the scenery stunning and every face is smiling away- I couldn't stop grinning while preparing this one. Let me introduce today's bride, Charlie, and groom, George, who married on the 5th of September this year at Craigmar, near Skipton, followed by a reception at Burnsall Village Hall.
Photography by Shutter Go Click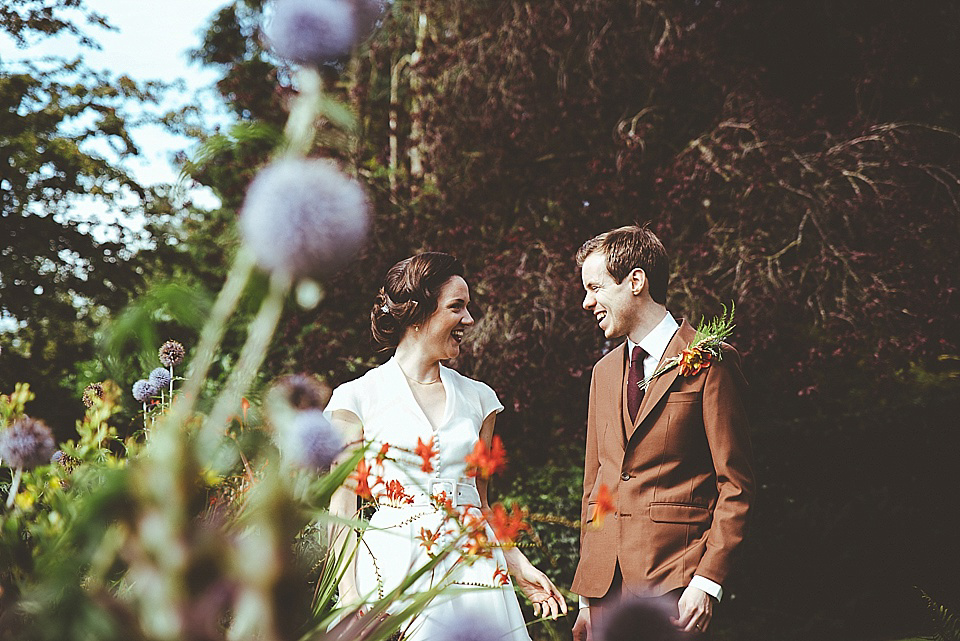 "We really just wanted a day full of bold colours and tried our best to avoid being governed by particular colour schemes."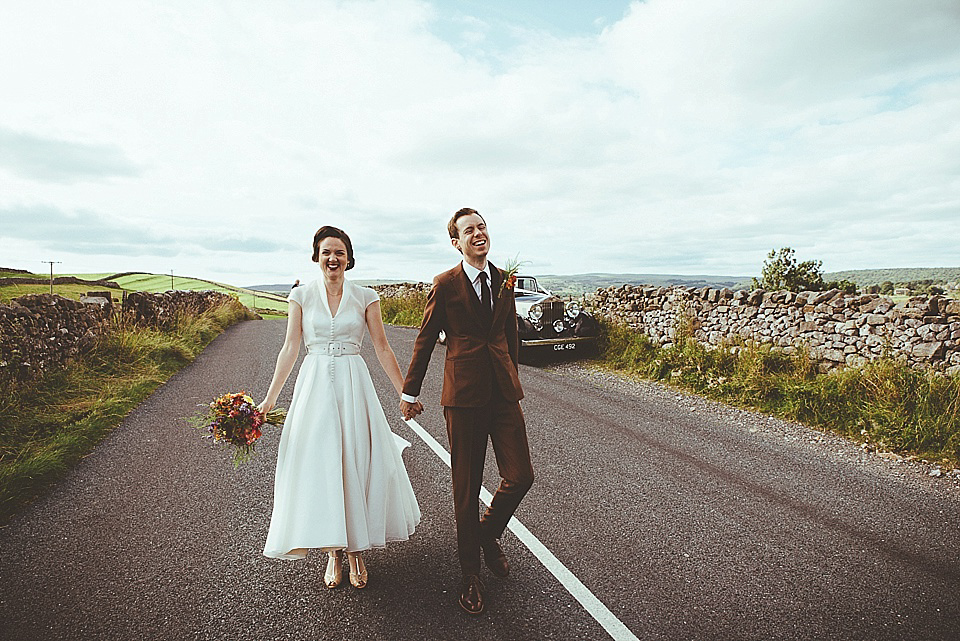 "We left it completely up to our florist to provide the most colourful array of flowers that she could and we looked out for bright colours to decorate the village hall with, ordering Mexican floral oilcloth for the tables– a floral fiesta!"
"We chose Craigmar for our ceremony because it provides a great view, nestled in the heart of the Yorkshire Dales. Built in the 1920's, the house is light and airy, with beautiful walled gardens. It's a lovely venue for a more intimate wedding as it offers total privacy."
"We met whilst studying at university, around five years' ago. George whisked me off to Vienna as a surprise, and on the last day took me out for a tasty meal at the Palmhaus in the grounds of the Hoffburg Palace. At the end of the meal we went for a walk in the grounds, and there he popped the question! We had been engaged for just under a year and half before the big day."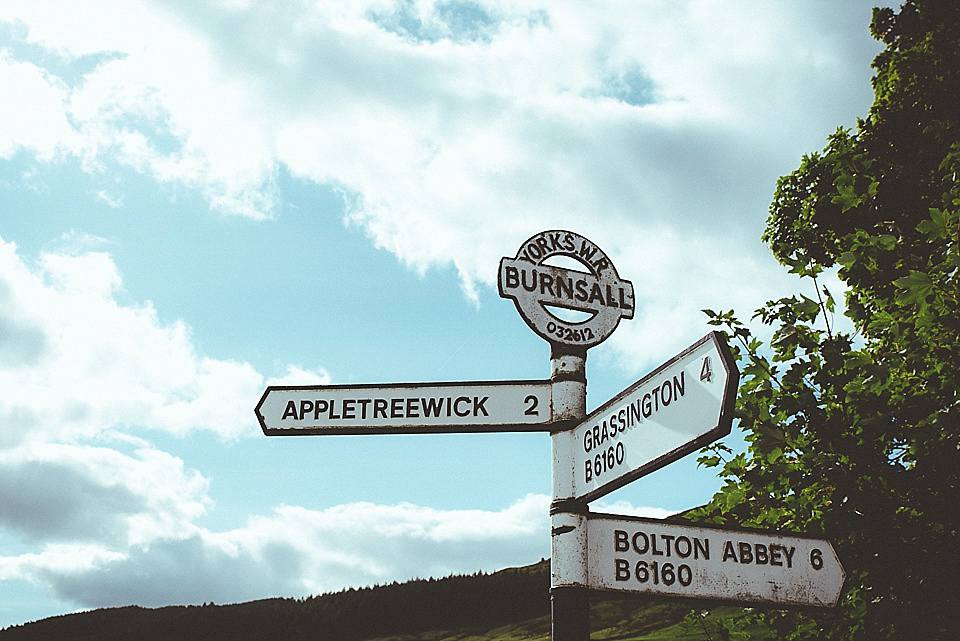 Oh I do love vintage vehicles! Charlie and George hired a Bristol 1930's coach from Yesteryear Vintage Car Hire to transport the guests from pickup points in Grassington and Burnsall to the wedding venue and back to the village hall. What a fabulous experience.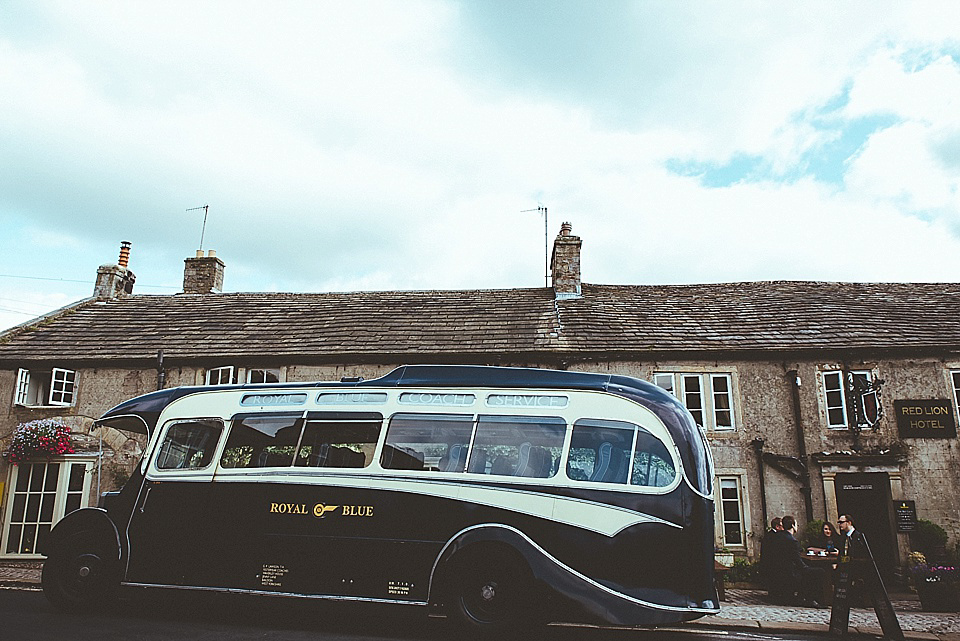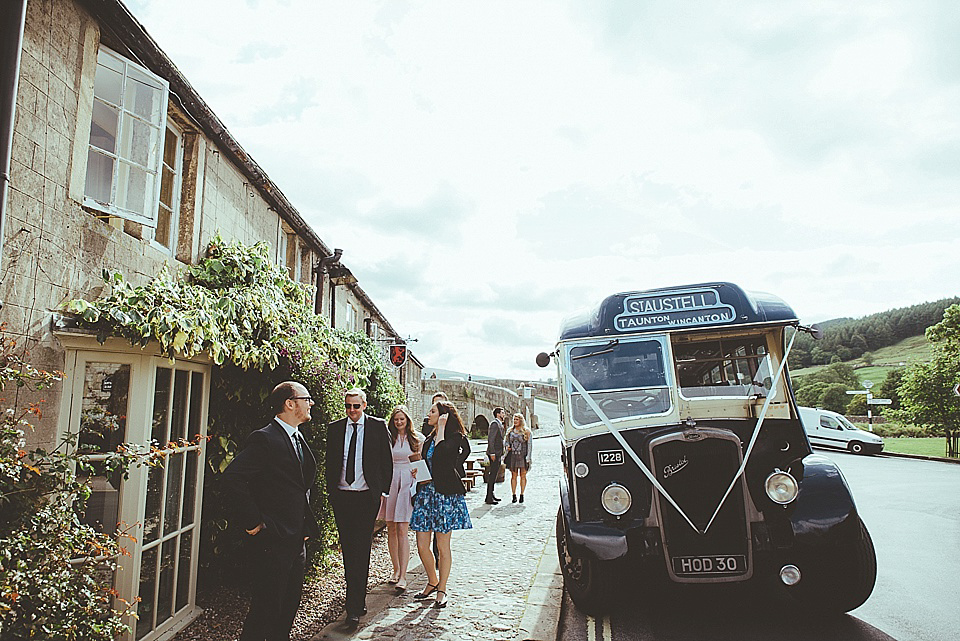 George had a suit tailor made for the occasion, purchasing the material from Batemen and Ogdon in Bradford, which was then made up by Leeds-based tailors Mc and J Brightbart.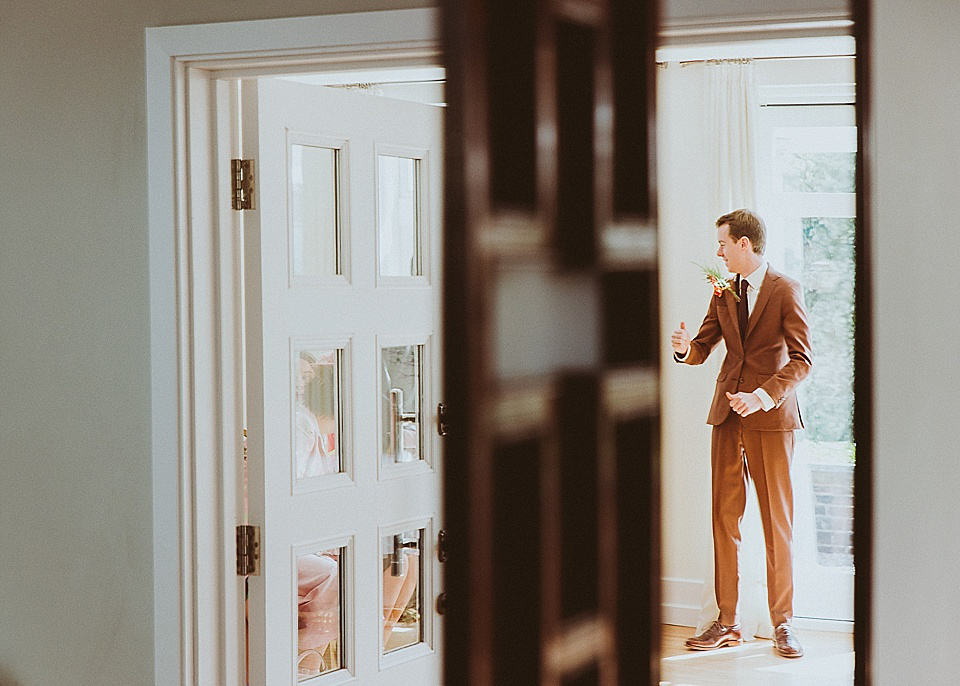 Charlie was walked down the aisle by her Dad to an instrumental version of 'Easier' by Grizzly Bear – she and George's favourite band. They chose the simplest vows they could, but put a huge amount of thought into the meaning behind the words they were saying,a dn that of their carefully chosen readings.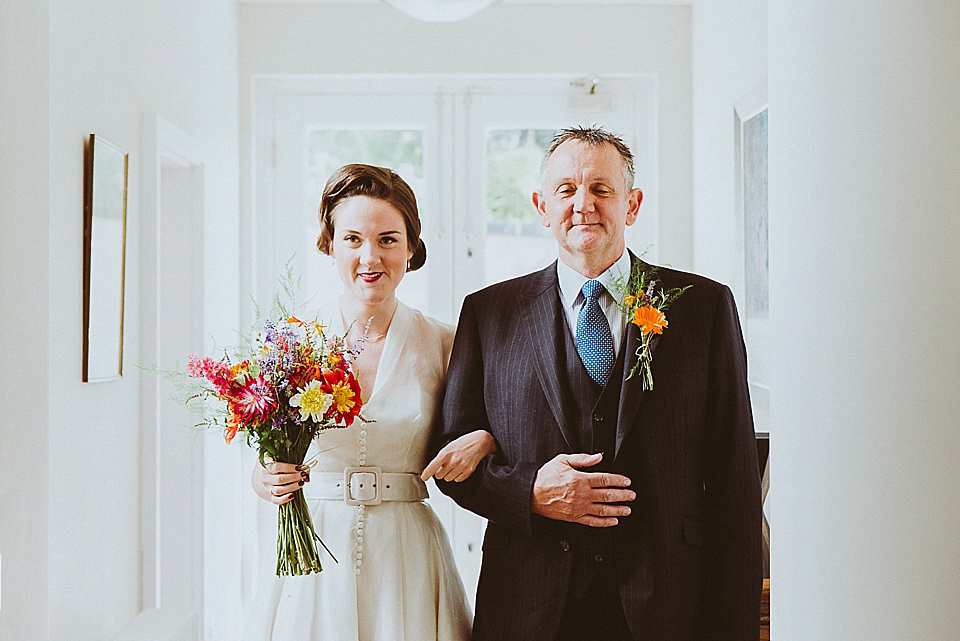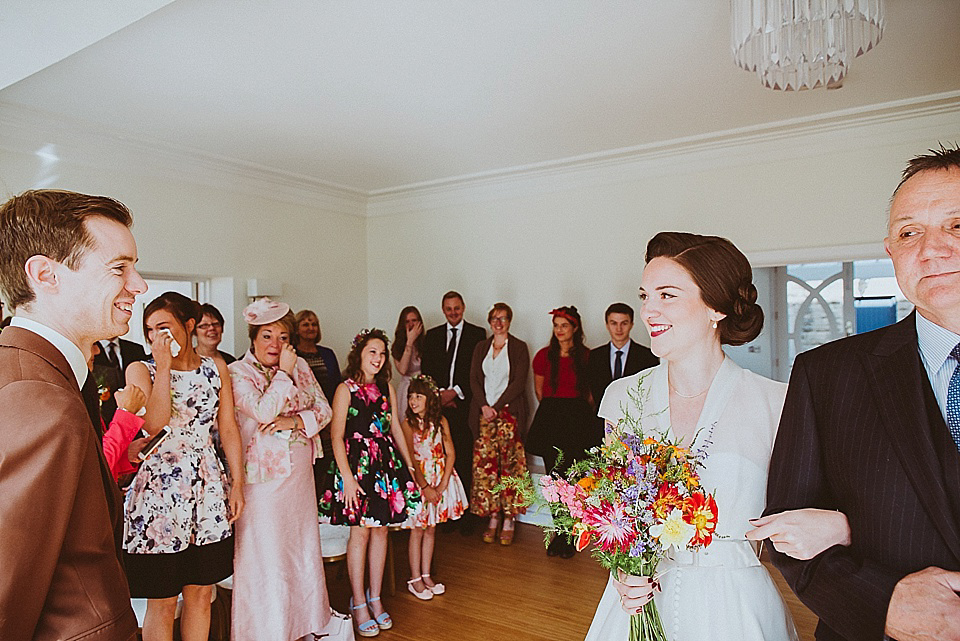 "The first reading to open the ceremony was Alice Oswald's 'Wedding'. We chose this poem because it is short, but packed full of beautiful imagery of fragility and tenderness. The second reading to close the ceremony was Paul Verlaine's 'It Shall be Then, Upon a Summer's Day'. We chose this song because it offered an optimistic send off to complete the ceremony."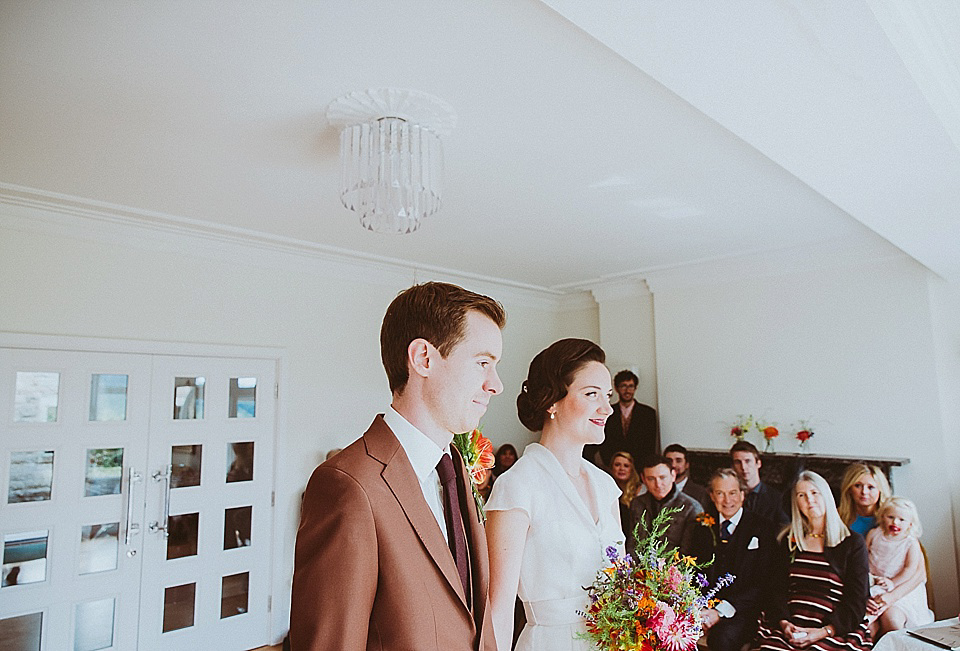 Charlie wore the most fabulous 50's style dress, with waist cinching belt and full skirt, from Loulou Bride, ordered from Boutique Bride in Leeds. I love its simple by ever-so-flattering shape, and the buttons on the front, as well as the swishy skirt.
"I loved the simplicity of my dress, with the sheer silk jacket and belt. It's a great length too, as it meant that I could dance all night!"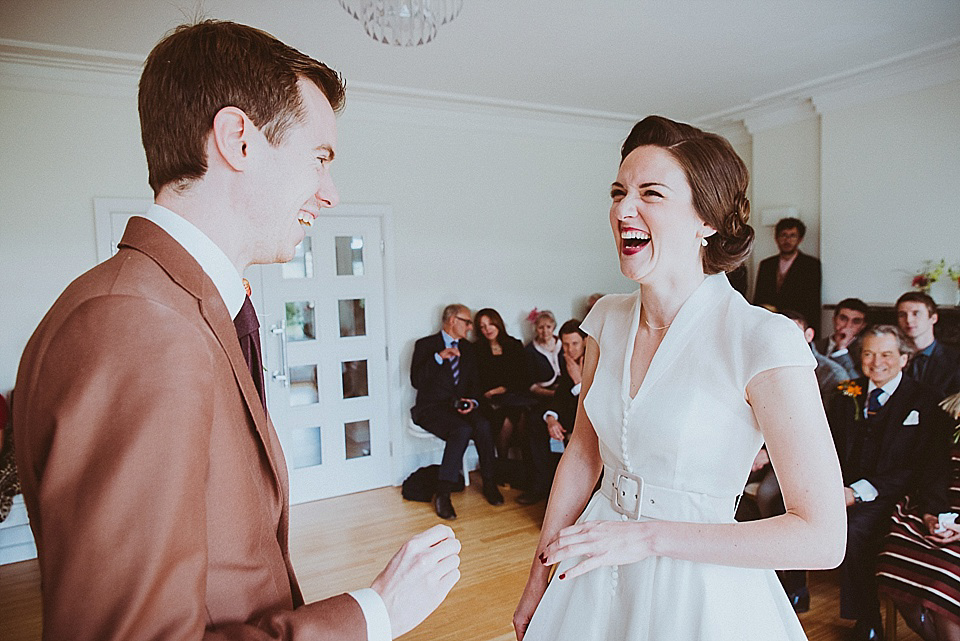 George's ring belonged to his Grandfather, which I think is such a lovely way of keeping jewellery in the family and passing on a little piece of family history to the next generation of marriage. Charlie's came from Yorkshire Jewelers in Leeds, who provided an outstanding service.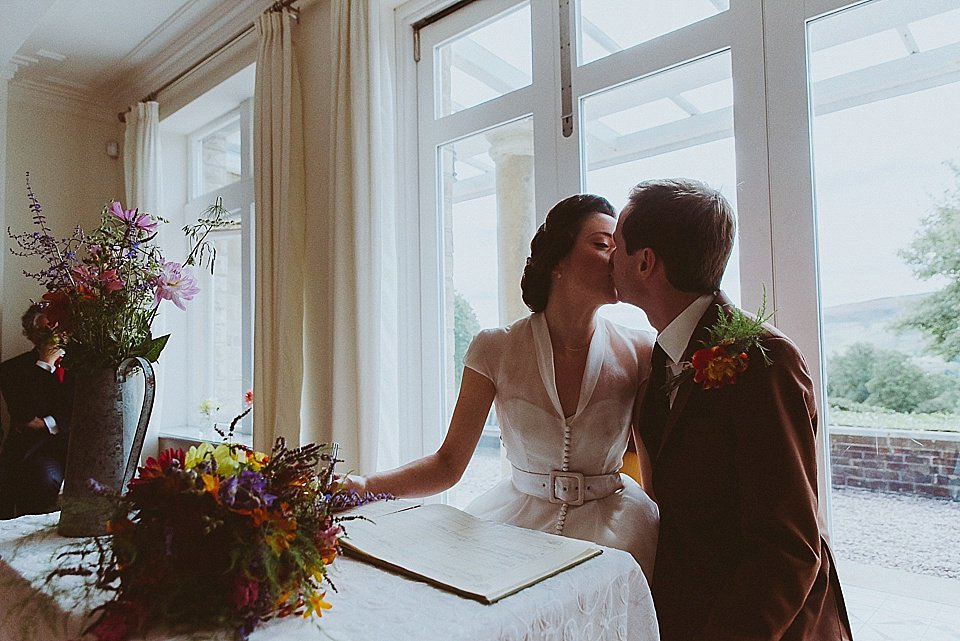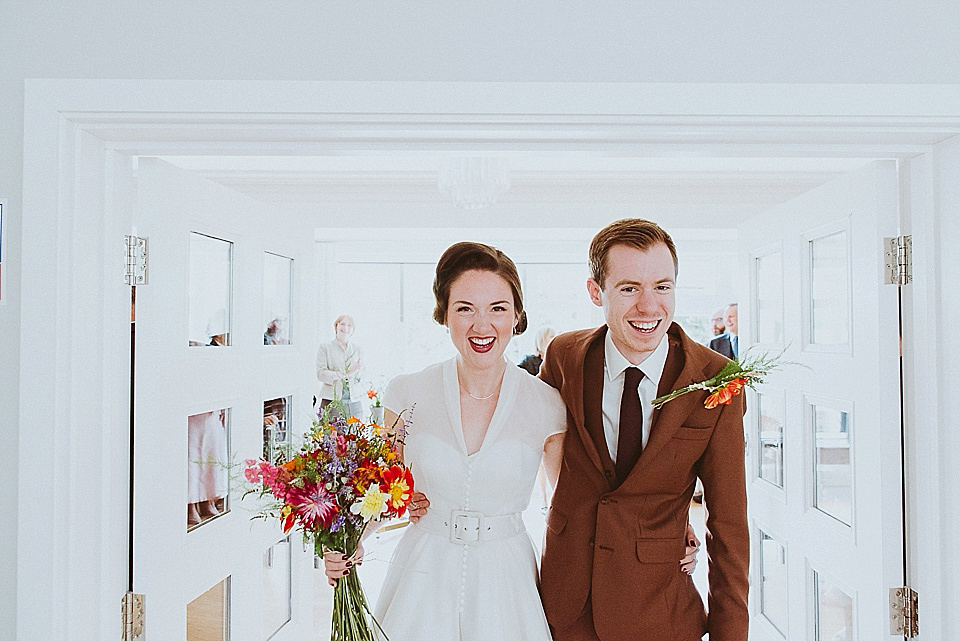 The couple chose Ryan of Shutter Go Click to capture their big day, and were thrilled with his work.   I just love the vintage moodiness of these photos- some look almost like stills from a film and beautifully depict the colours of North Yorkshire in Autumn.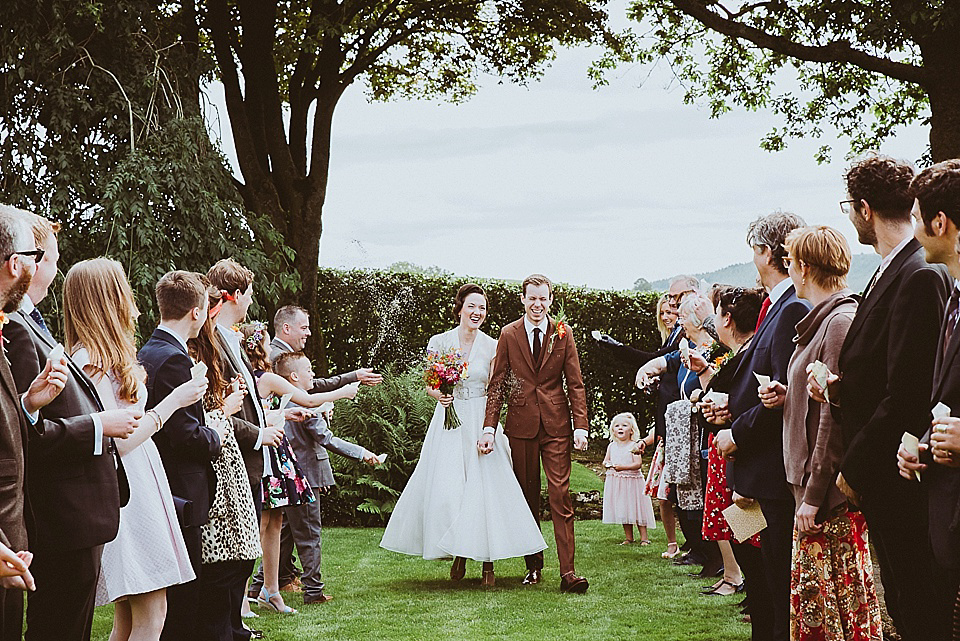 "Ryan is just fantastic. He was so friendly, he made all of guests laugh, and we really felt so comfortable around him. We realised on the day just how important it is for a bride and groom to feel completely at ease around their photographer, as you spend so much time with them on the day. Thankfully, having Ryan around was just like having a very welcome guest, who really understood us. We'd absolutely recommend him to anyone.
We couldn't be happier with our photos, they capture the day for what is was and we'll cherish them forever."
For their reception, the couple chose the pretty hall in the village of Burnsall- a gorgeous traditional Yorkshire village and perfect for a vintage style reception with a twist!
"As favours, our wonderfully talented friends Louis and Corrie of OMNI Café in Monkseaton provided homebrewed sloe gin to our adult guests and sweets for the children."
After the ceremony, guests were treated to cake, quiche and coffee from a travelling van, courtesy of Cobble Kitchen, and once at the reception venue, the lucky guests were served curry by Asian food specialist MyLahore. Delicious!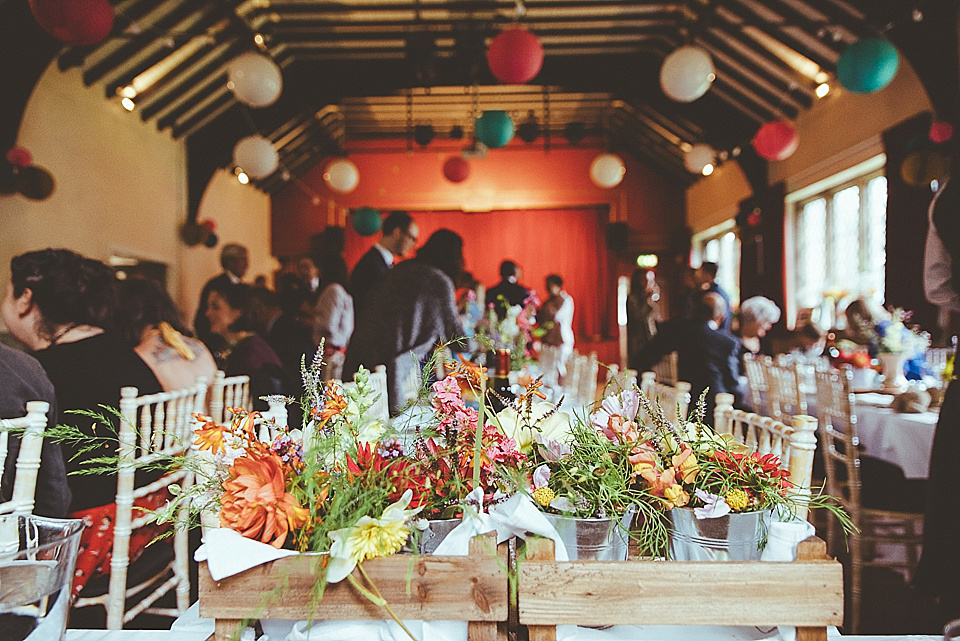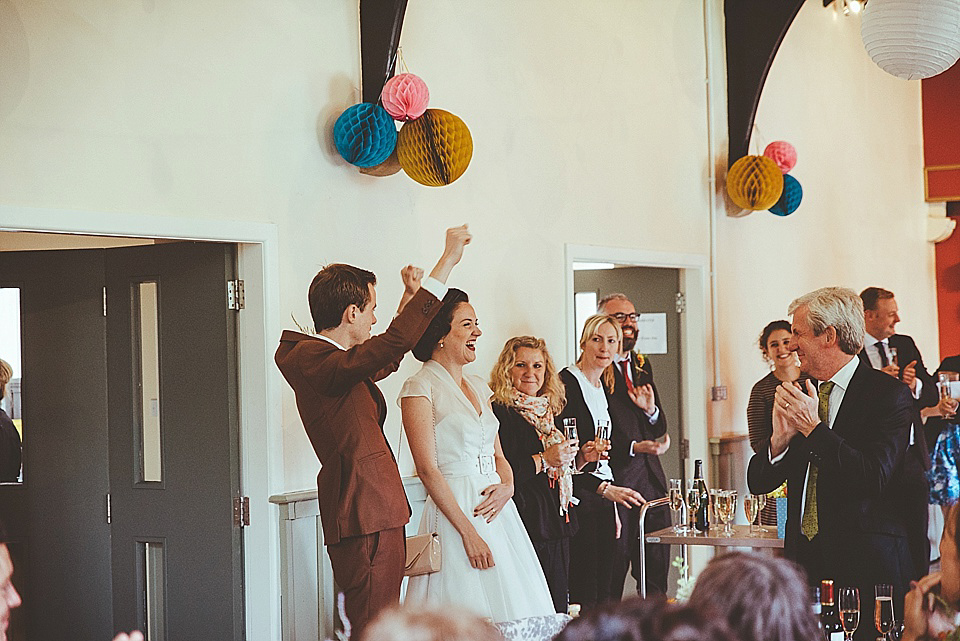 The flowers for the day were the work of Blooming Yorkshire, whose flowers come from their very own walled flower garden in North Yorkshire.
"Jane is just a fantastic lady! Her flowers are beautiful, seasonal and inspiring. We met up with Jane for a cuppa long before the wedding, and understood what we were looking for straight away. She's so enthusiastic and positive, a fantastic person to have around when planning a wedding."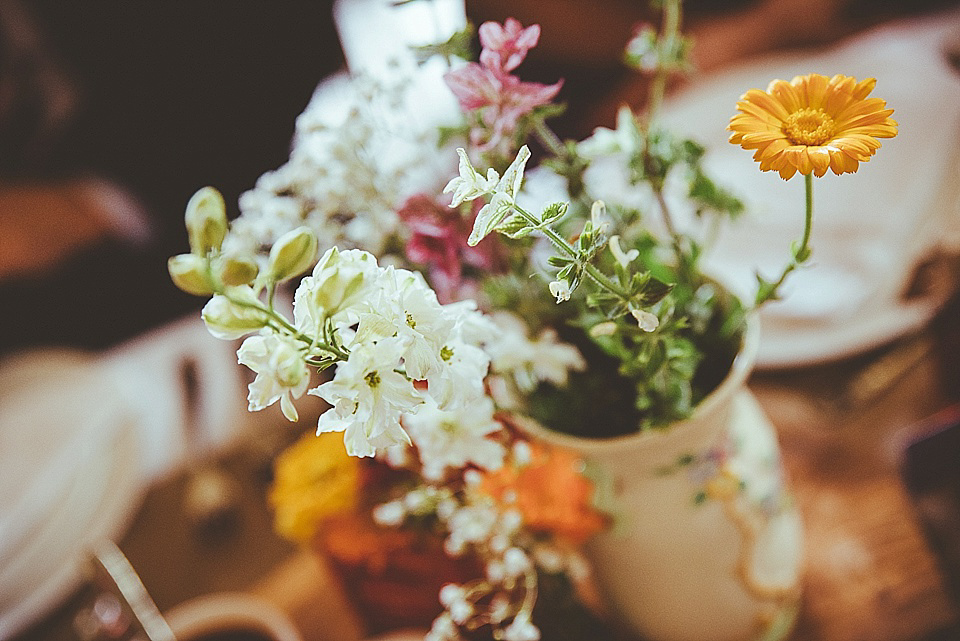 "My Dad was really helpful with the decorations. He made the hessian table runners, oak centre pieces, and cherry tree place settings. We hired lots of brightly coloured table decorations, including bright floral ceramic vases."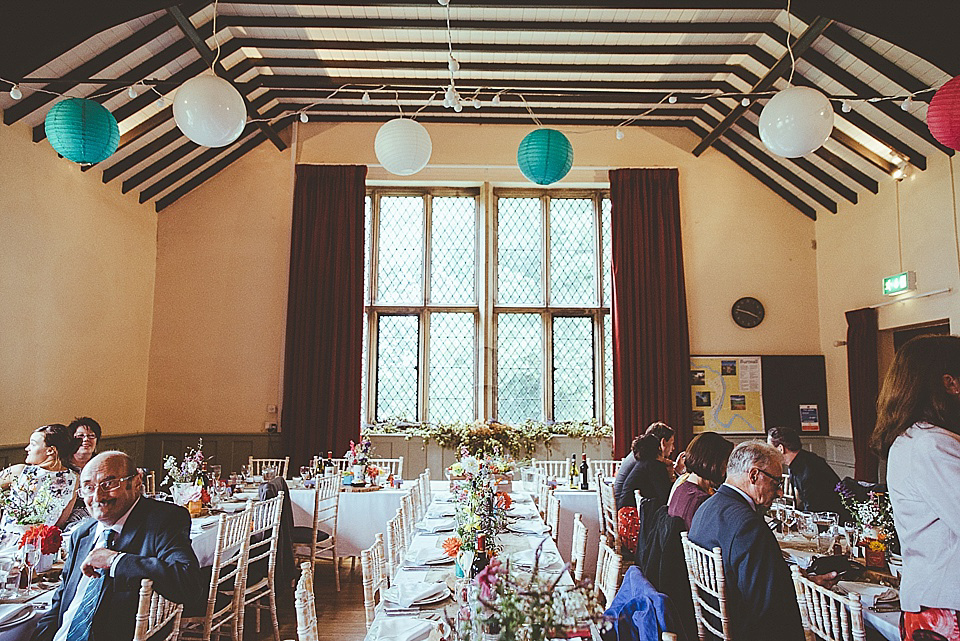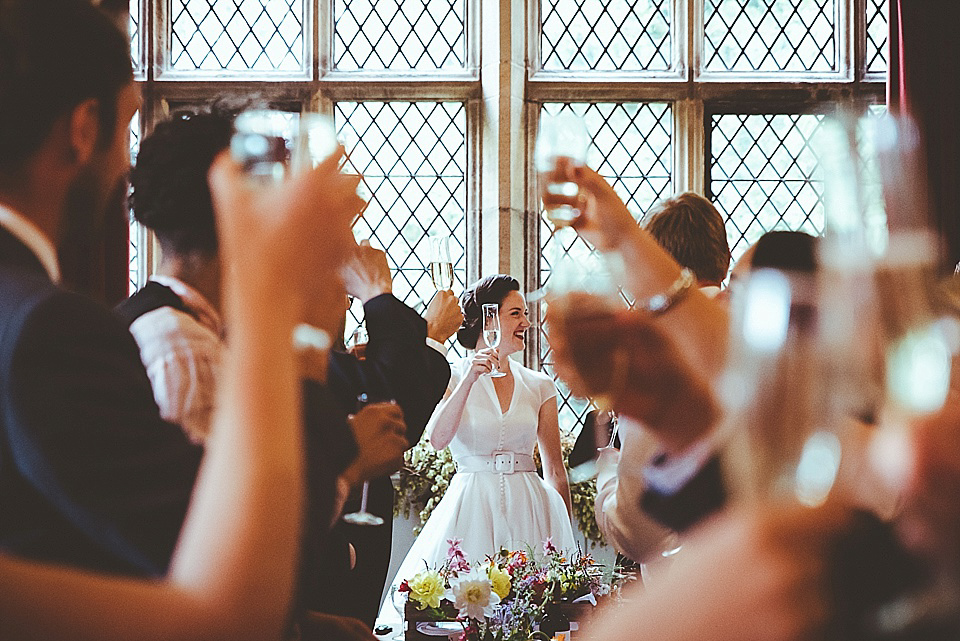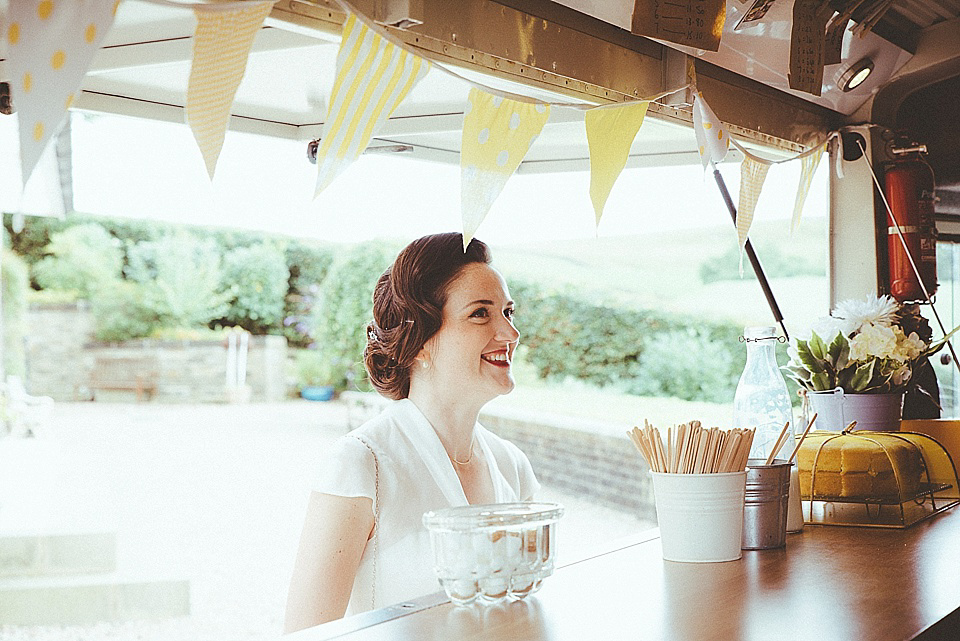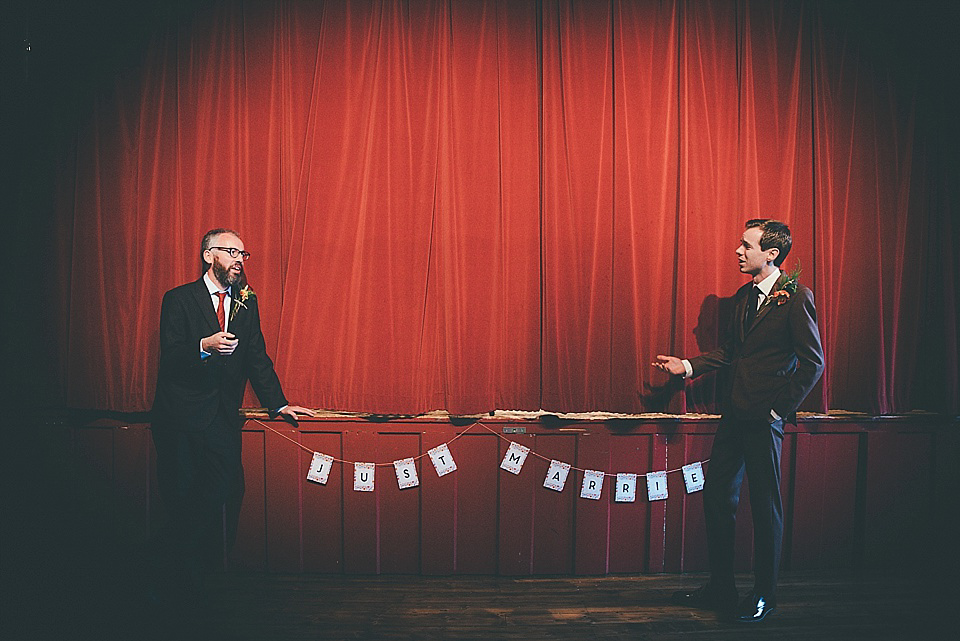 "Me and My Friends, a Bristol-based band, played a fantastic set of their original music for two hours in the evening and a rendition of Billie Holliday's 'I'll Never Fail You' for our first dance. We then danced the rest of the night away to hip-hop, funk, soul, reggae with DJ Ziggy from Hi – Life Entertainment.
We chose our first dance song because it is short but carries so much meaning; the lyrics are like wedding vows. We enjoy listening to jazz music so felt quite fitting to include some in our day."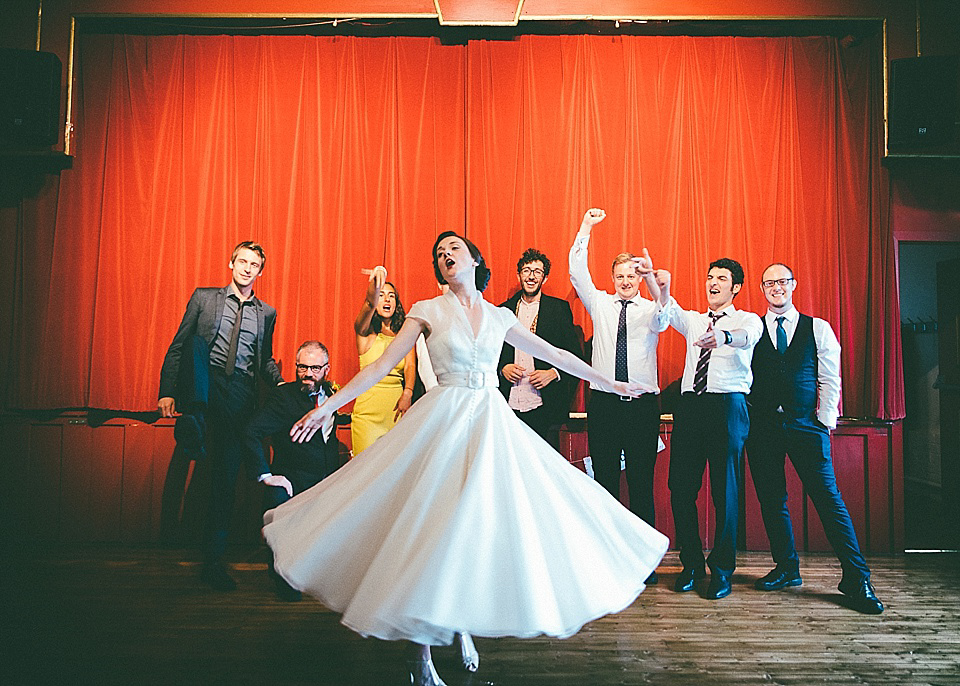 Words of Wedded Wisdom
"Make sure you get on well with your photographer, as it really makes such a difference!
Try not to get too bogged down in themes, don't restrict yourself, and just do precisely what you like. Don't spend a fortune buying decorations, hire as much as you can – it's so much more affordable.
Enjoy the happiest day of your life and dance until you drop!"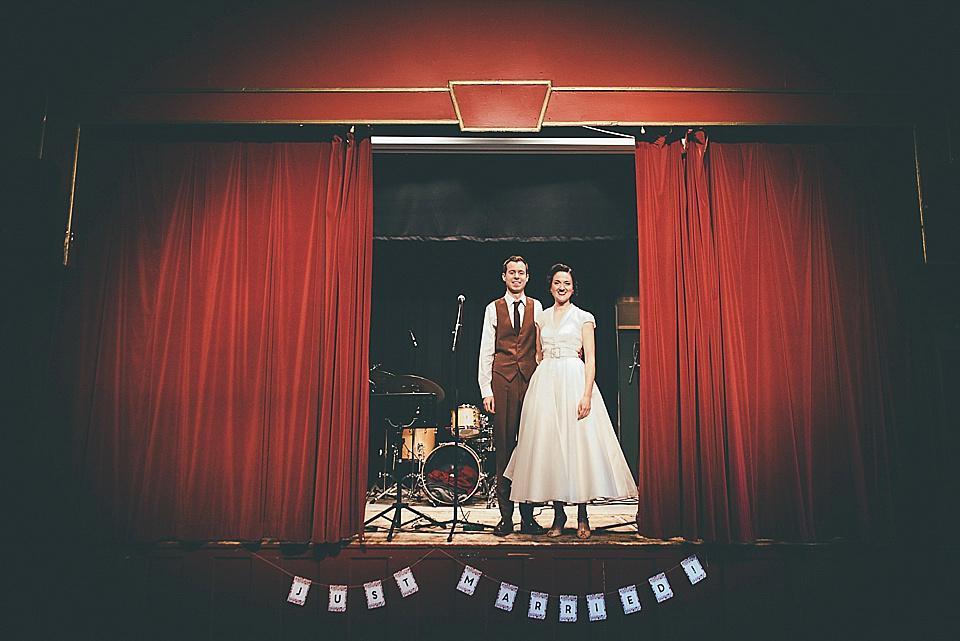 Thank you so much to Charlie and George for sharing their day with us- I hope they are having a wonderful first few weeks of their married lives. Thanks also of course to Ryan of Shutter Go Click for his beautiful images. For more of Ryan's work, have a little look here, and for more 40's and 50's inspired weddings, spend some time looking through some of our past weddings here and here. I'm off to admire Charlie's dress again.
All love,
Shona x
Photographer – Shutter Go Click
Venue – Craigmar, Skipton
Wedding dress – Loulou Bride, ordered through Boutique Bride, Leeds
Shoes – Rachel Simpson
Accessories – Accessorize
Flowergirl dresses – Ted Baker
Pageboys outfits – Next
Groom – Suit material from Batemen and Ogdon, Bradford, Tailoring by Mc and J Brightbart, Leeds
Florist – Blooming Yorkshire
Catering – Cobble Kitchen + MyLahore
Rings – Yorkshire Jewelers, Leeds
Hair stylist – Le Keux Vintage Hair Salon, Leeds
Entertainment – Me and My Friends + Hi – Life Entertainment
Vehicle hire – Yesteryear Vintage Car Hire
Stationery – "Brightflowers" by Lucy Says I Do
Mexican Oilcloth for tables – Viva La Frida
Wooden crates for tables – Wedding of My Dreams
Hire of wooden crates and ceramic jugs – Add Vintage
Hire of festoon lights and lanterns – Fabulously Finished