Hello lovely readers, we have yet another beautiful wedding for you today, filled with breath taking blooms, a handsome groom wearing black tie attire and his glamorous bride rocking an elegant Intuzuri gown. Tom, an estate agent, married Clare, a beauty therapist, on the 11th of July 2015 at St James the Great Church in Cranham, Gloucestershire, followed by a reception at nearby Elmore Court, an English country house dating back to Elizabethan times.
Take a peek at their gorgeous wedding film below, created by the talented Benjamin Bruton – Cox of The Wedding Cut.
[fve]https://vimeo.com/134416213[/fve]
"We didn't have a theme as such, but I would describe our wedding as 'modern boho'. We wanted a relaxed wedding with a touch of glamour and Elmore Court provided the perfect backdrop. Our main inspiration was our love of flowers, which featured in everything from the stationery design to the cake, and played a big role in decorating the venue."
Photographer Gemma Williams is a member of Little Book For Brides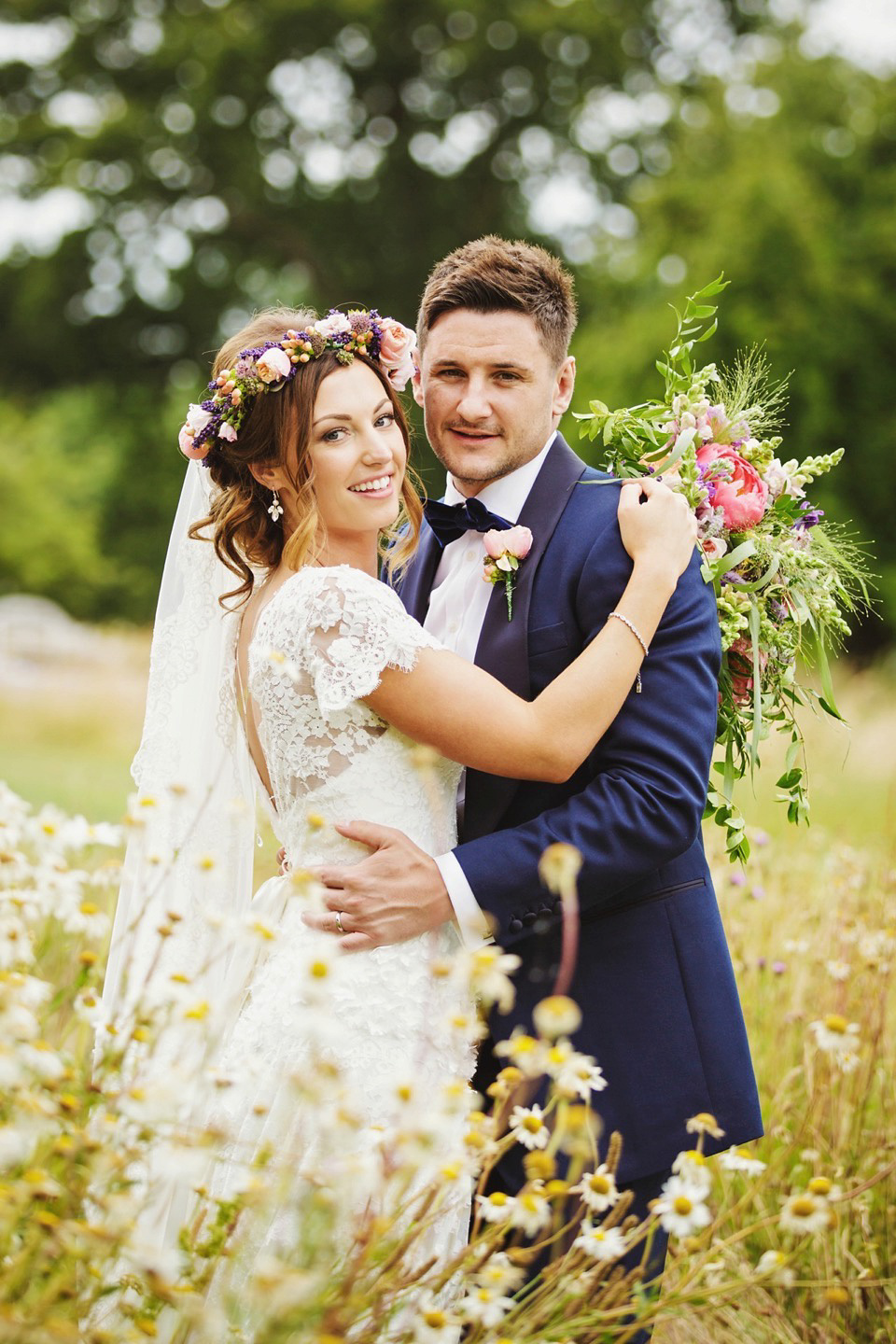 "I was obsessed with Love My Dress during the planning process and I honestly don't know how I would have planned our wedding without it – it was so useful for sourcing and finding suppliers. I found myself reading every post in the run up to the wedding and still do months afterwards – even though I know longer need inspiration, I love reading the brides' stories! I think it helps me to keep hold of all the excitement I had during the planning process."
Flowers by Sorori Design
Clare looked stunning in a customised Intuzuri gown, which she purchased from Allison Jayne Bridal in Cardiff. In the evening, our bride changed into a short ivory dress by Chi Chi London, which she found online at ASOS.
Tom and Clare's wedding was expertly captured by the inimitable Gemma Williams…
"We saw Gemma's portfolio when viewing another venue prior to Elmore and we immediately loved her contemporary, creative, relaxed and natural style, plus her exceptional attention to detail. It was easy to see why she is an award winning wedding photographer! The quality of her work is incredible and after meeting Gemma we knew she was 'The One'. She blended in so naturally on the day, which is exactly what we wanted."
I can confirm that Gemma is as lovely as she is talented! During my own wedding planning, Gemma very kindly helped me track down a hair and makeup artist who had previously worked on the same wedding as her. Even though Gemma wasn't our photographer, and we had never met before, she was super helpful and took the time to contact the bride to find out the supplier's details, for which I was very grateful. Thanks again Gemma!
"When I started looking for 'The One' I had no idea how overwhelming it would be – I knew exactly what I didn't want in a dress, but I found it extremely hard to find what I did like! I think that there is a lot of pressure on brides and with so many styles available it can be a very difficult, and often disheartening, process.
After hours of googling, I came across Intuzuri and booked an appointment at my nearest stockist. On first glimpse of the dress, I loved the style (particularly the gorgeous low back) but I really didn't like all of the embellishment or the full sleeves, so I requested for it to be made without the Swarovski crystals and with shorter sleeves. A week before the wedding my dress was finally complete, and luckily I loved it! At this late stage I also decided I would change dresses after my first dance and found a beautiful short dress on ASOS which was a bargain and great to dance in!"
Clare paired her gown with a chapel length, scalloped lace veil by Emmerling and a swoon worthy fresh flower crown created by the couple's florist, Maria Willcox of Sorori Design.
She accessorised with a range of art deco inspired jewellery, including a pair of pearl and diamante earring from Liberty in Love and a back drop which she sourced from Etsy. Continuing the 1920s theme, our bride opted for a gorgeous pair of ivory T-bar dance shoes by Love Art Wear Art.
"I cannot recommend 'The Scarlett' by Love Art Wear Art enough, they are the comfiest pair of shoes I have ever worn and I did not take them off 'till it was time to go to bed – even after dancing for four hours non-stop!"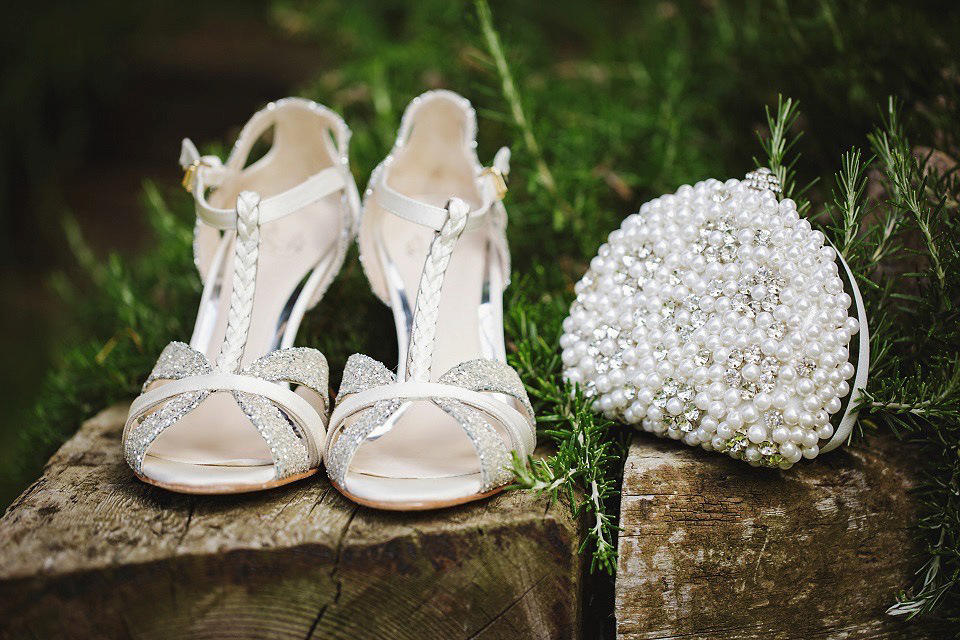 "We both love and feel inspired by flowers, so they played an important role in our day. We met our florist, Maria of Sorori Design, at a wedding fair held at Elmore and we were immediately drawn to her creative style.
I researched current flower trends and found I loved the natural, informal garden style flowers which are very popular at the moment. One thing I was certain about was that I would wear a flower crown – when else would I get such an opportunity! I loved the natural, boho style of the bouquets and we were so impressed by all of the flowers on the day"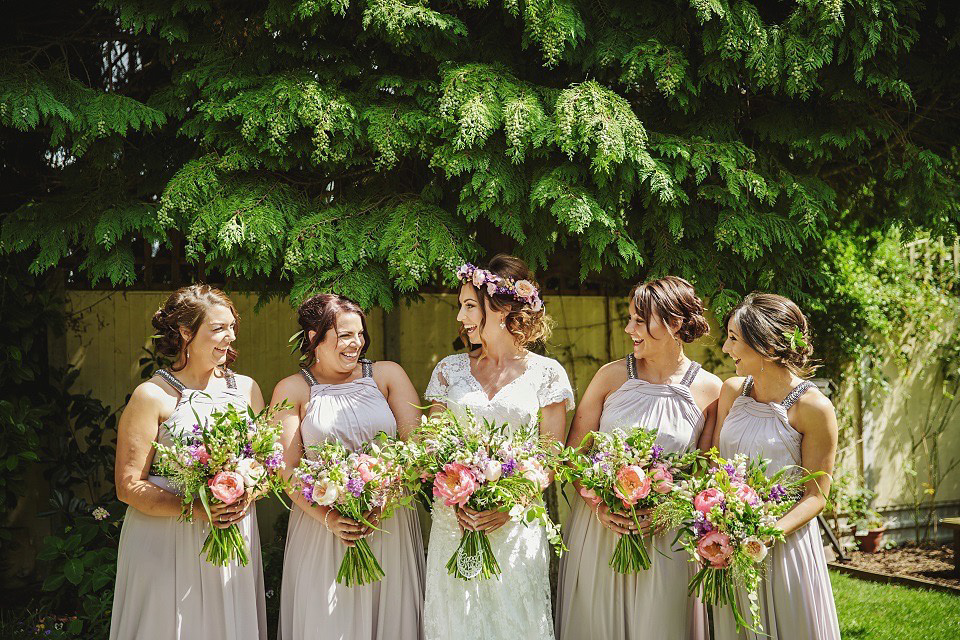 Our groom looked very dapper in a bespoke, midnight blue, tuxedo from Pakeman Catto & Carter, a blue velvet bow tie from Mrs Bowtie and a pair of brown Russell & Bromley shoes.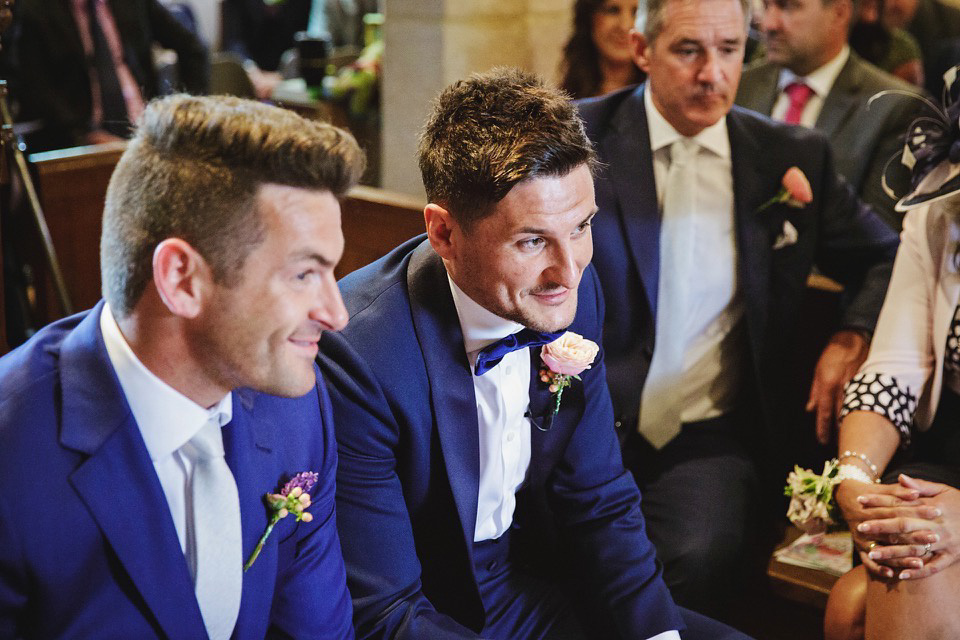 "Tom and I met in January 2009 at our local nightclub in Gloucester and we kept bumping into each other on various nights out. One evening I parked my car in town and when I returned, there was a note under the windscreen wiper with his number on it!
We had been living together for about a year when we went on a family holiday with my parents and brother to Tom's parent's holiday home in beautiful Barbados. About a week into the holiday, we went out for dinner at a very special hotel, called Sandy Lane, which Tom had booked unbeknownst to me."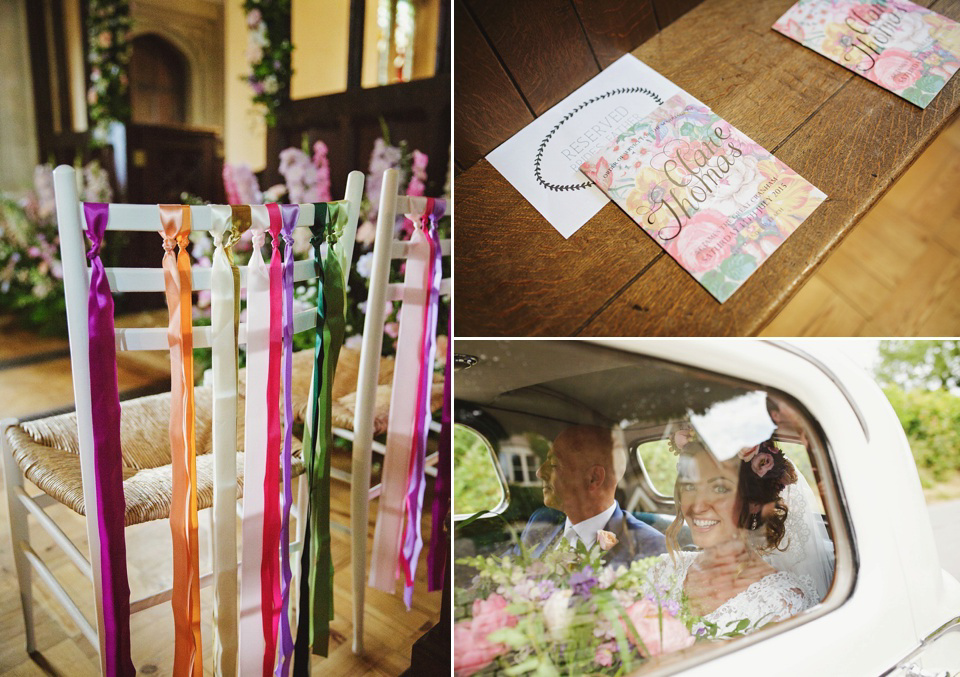 "When we arrived at the hotel, my brother ushered Tom and I out of the car and we headed through the hotel, down to the beach where a single table was laid out under the stars on the beautiful white sand and Tom popped the question! I couldn't take my eyes off the beautiful tear drop shape diamond ring that he had had made for me.
We had dinner on the beach (which we were both too excited to eat) and then spent the night in a room in the hotel which had been beautifully decorated with scattered rose petals. For 24 hours we were in a complete bubble and it was the most magical feeling in the world. We tied the knot eighteen months later. "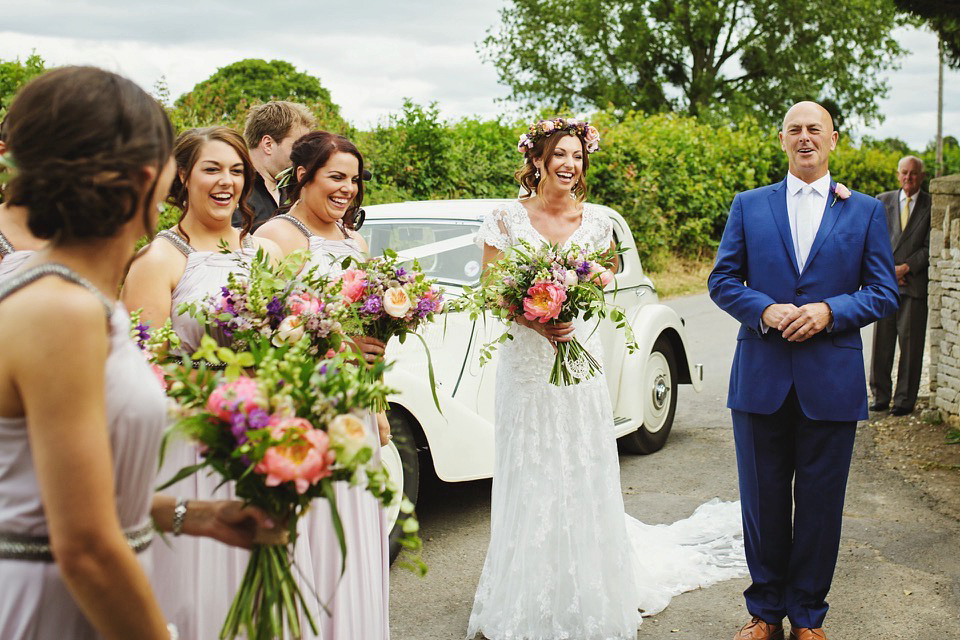 Clare's 'maids looked very elegant indeed in blush pink maxi dresses from Coast, with olive branches delicately woven into their hair.
Our couple tied the knot in the village where Clare grew up. Clare and her father arrived at their local church in style in an ivory 1938 Triumph Vitesse (one of only four in the world!) hired from Vintage Triumph Cars. Twilight fan Clare walked up the aisle, with her father, to a song from the films.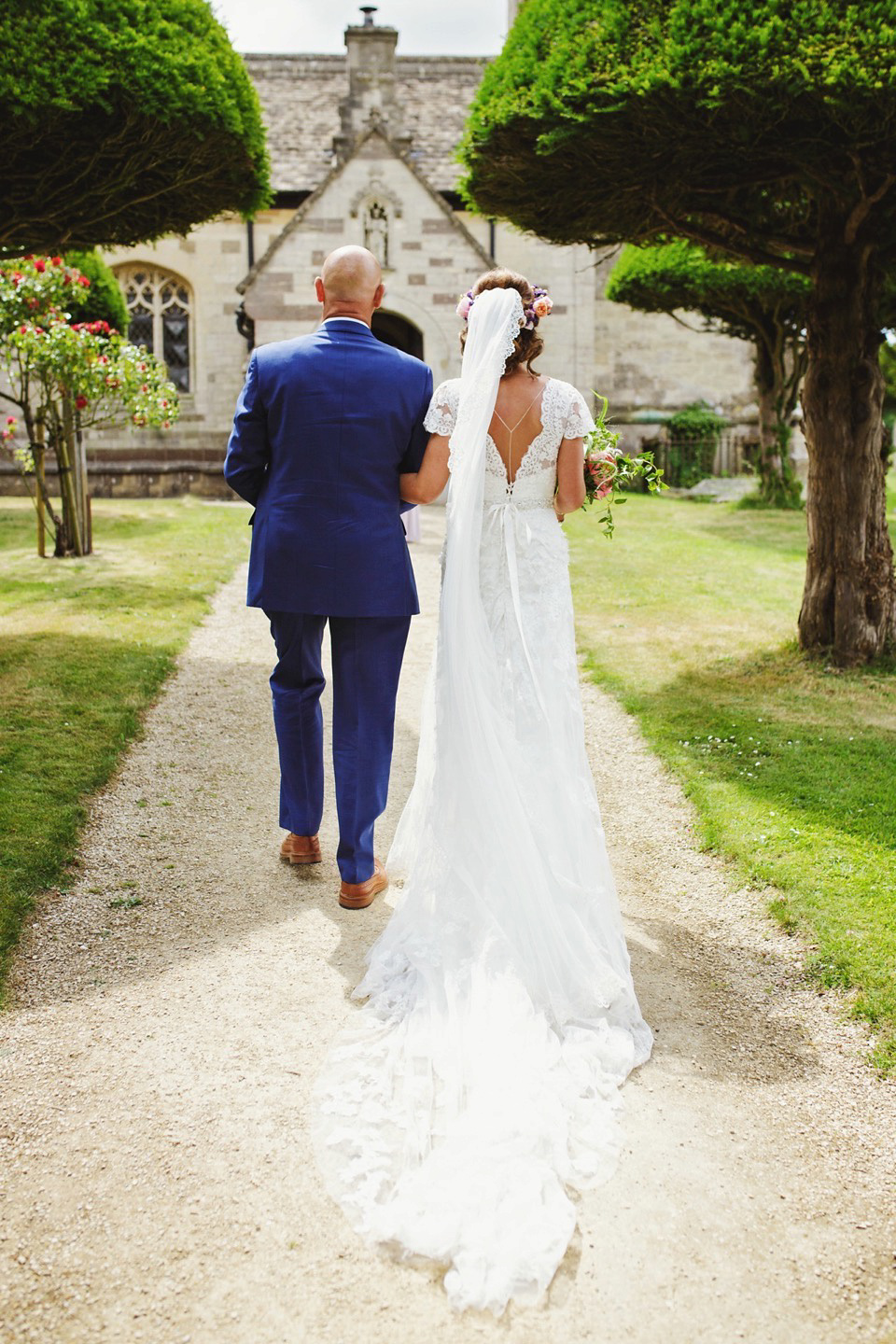 "We chose traditional vows (as we felt we might be too nervous to read our own) and we had two readings; 1 Corinthian 13 and 'The Promise' by Eileen Rafter. The words in 'The Promise' made us chuckle but are also very meaningful and we felt we could really relate them to our relationship (and I am sure most couples would agree!)."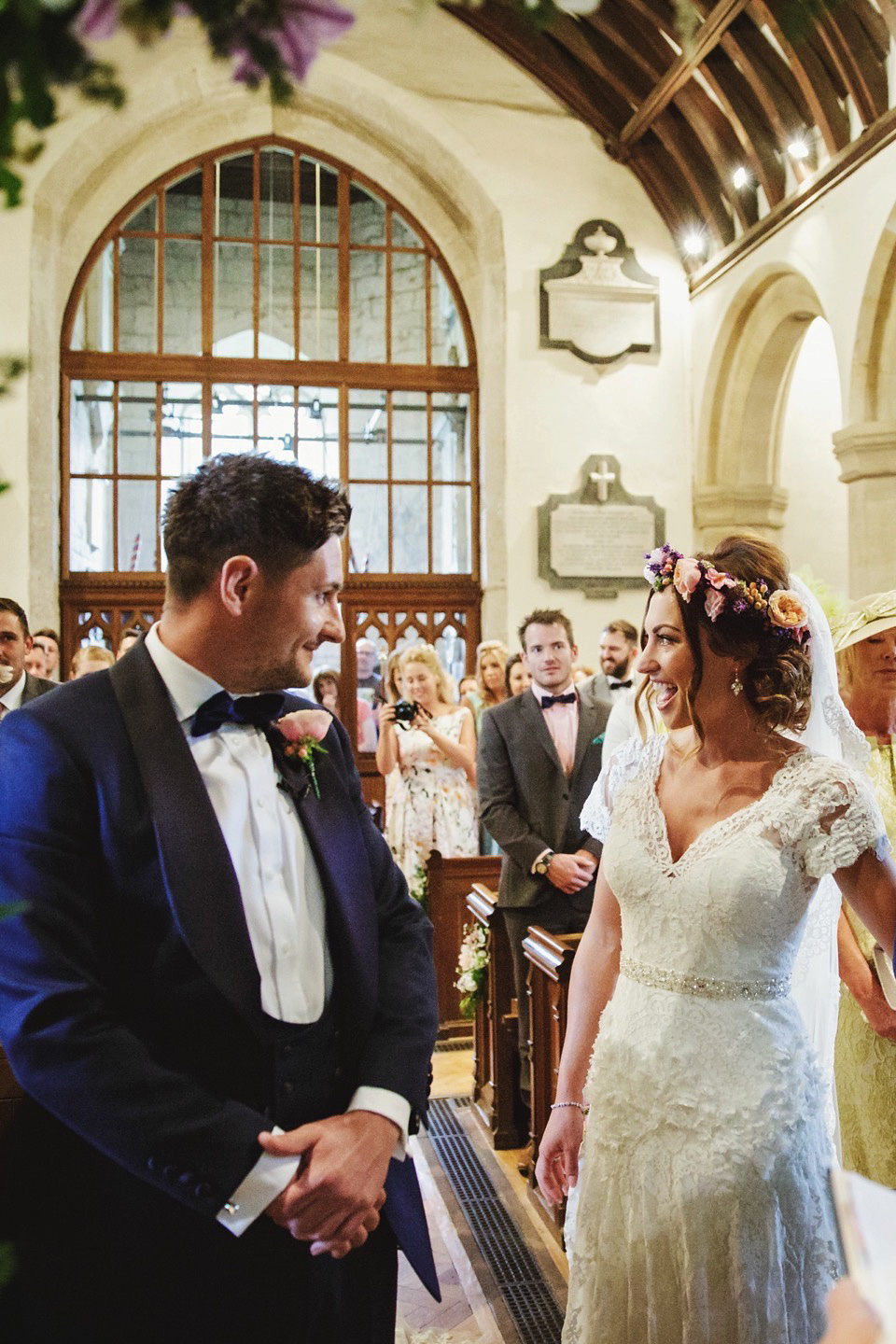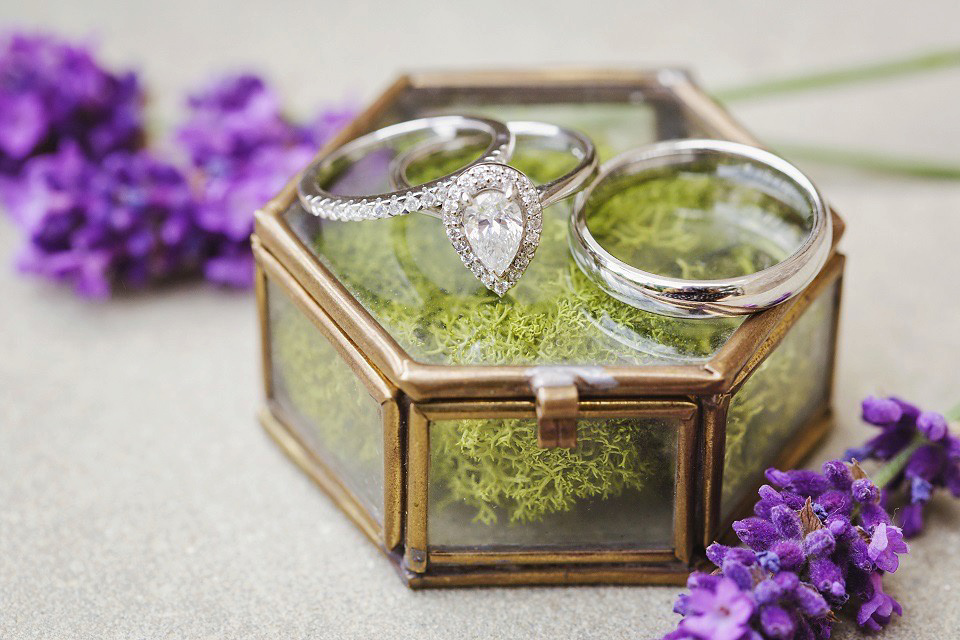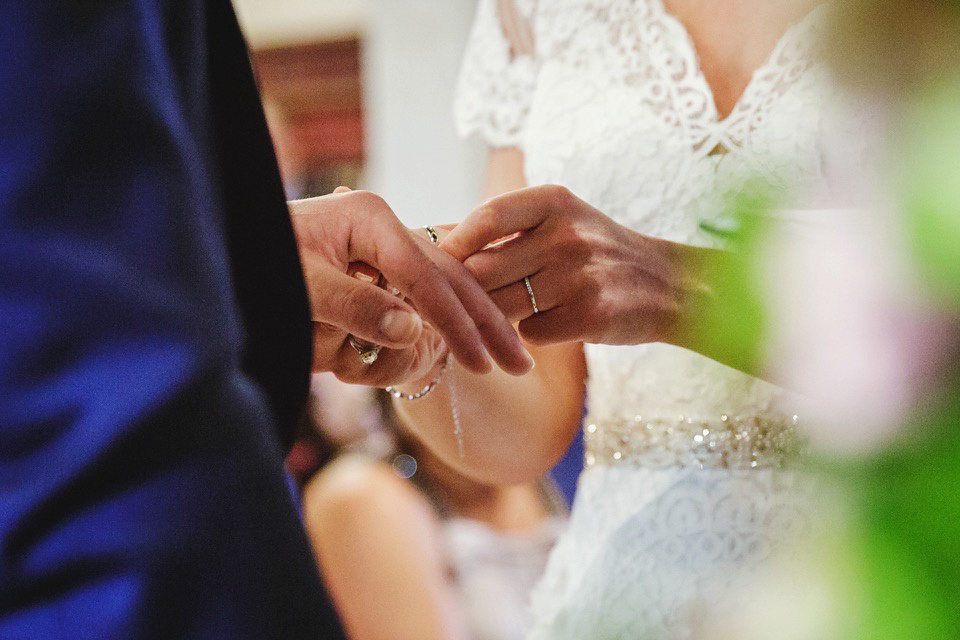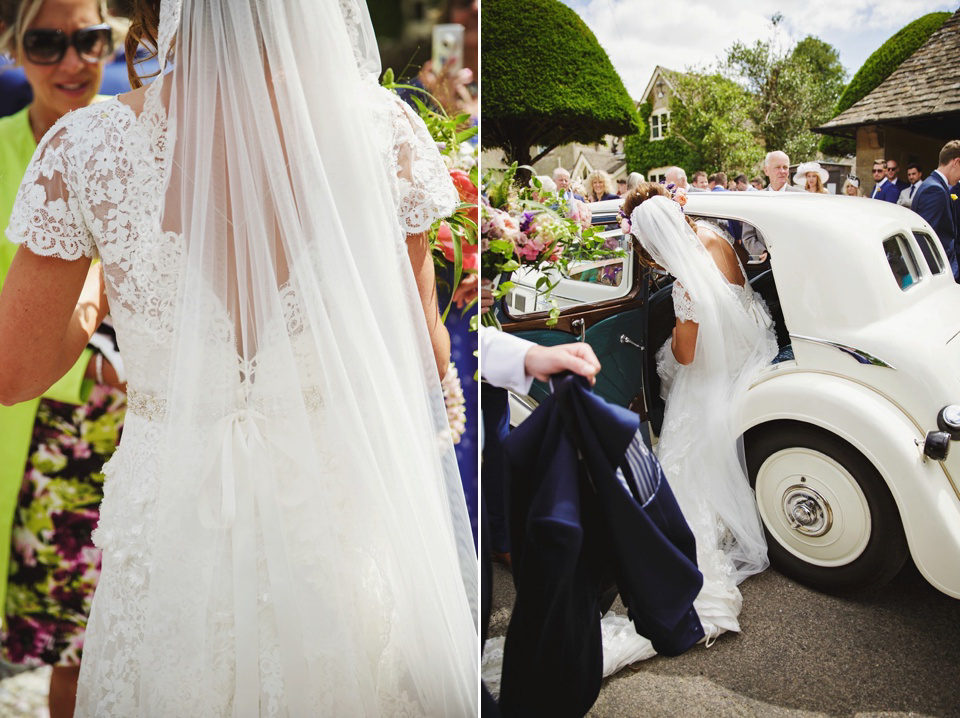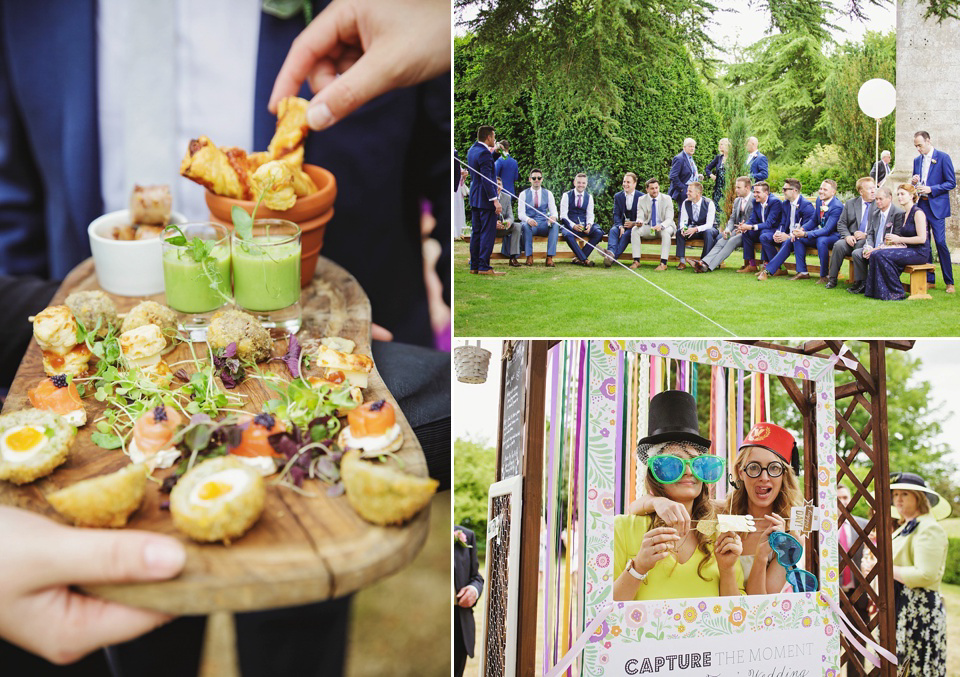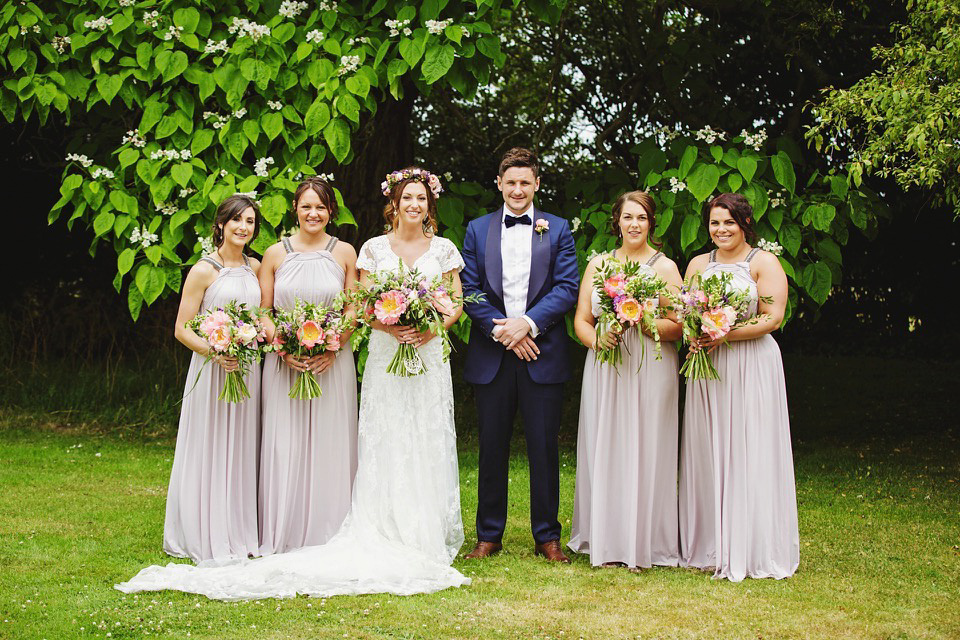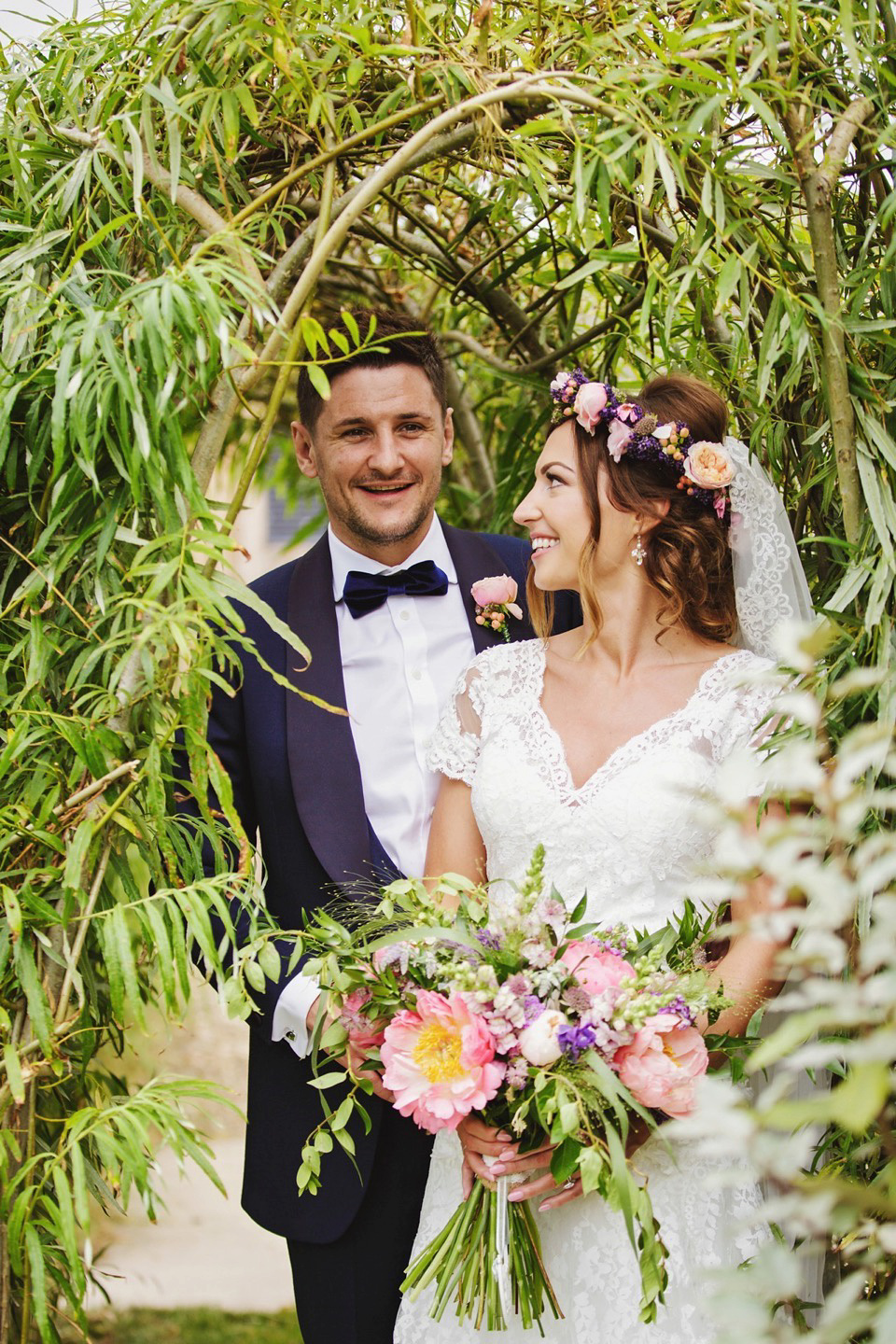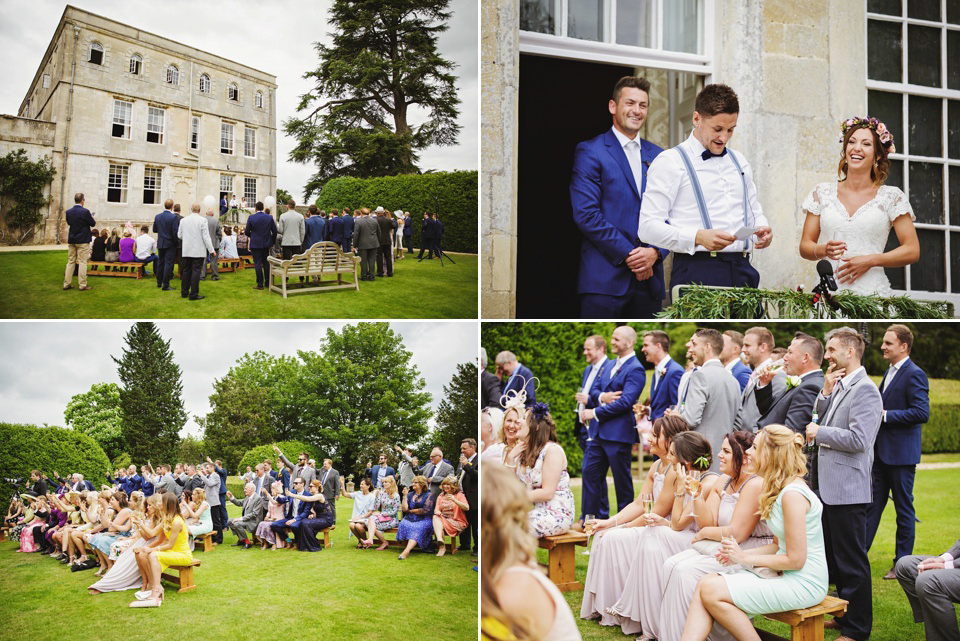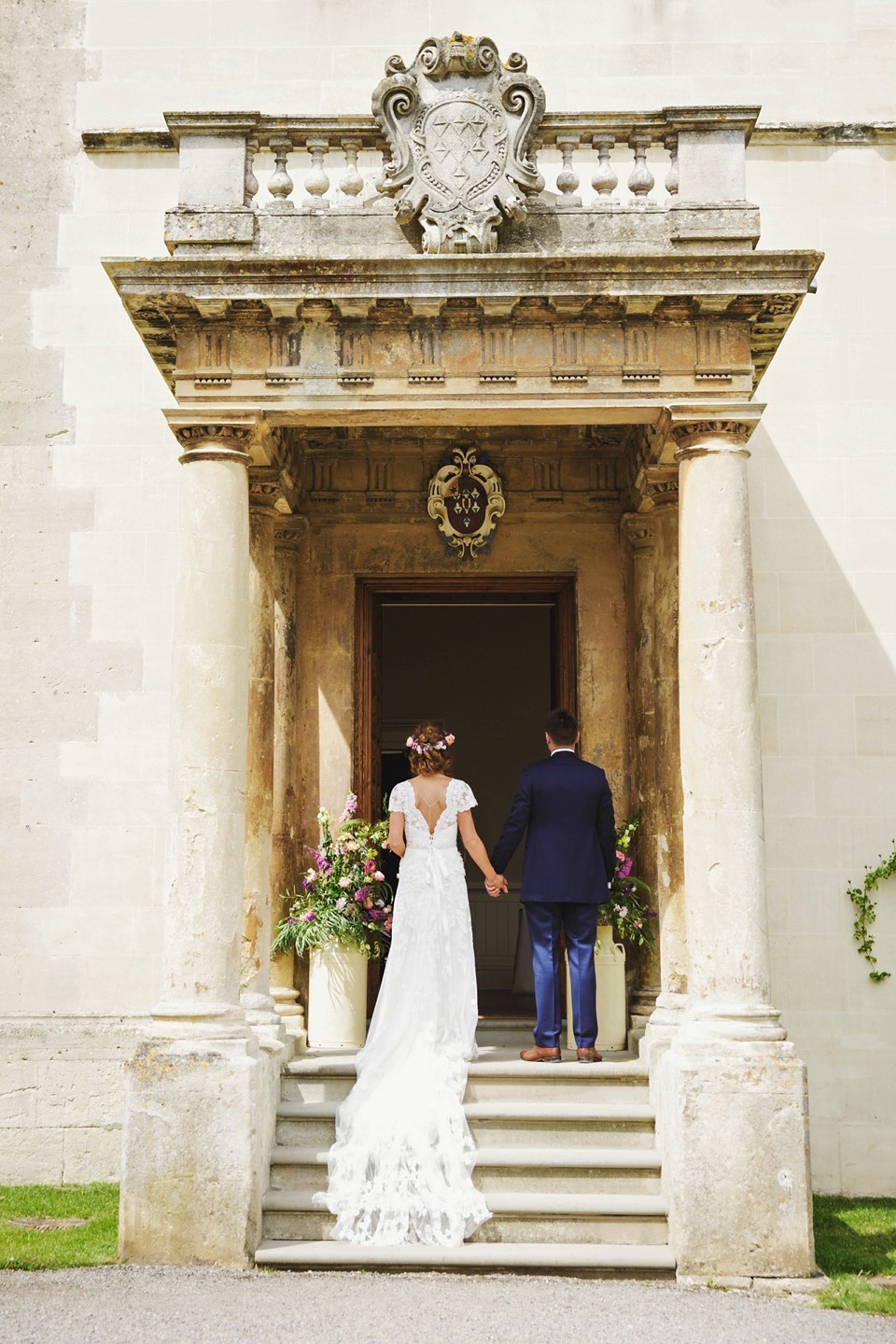 "Elmore Court dates back to 1580 and the Guise family have lived on the same spot since 1274. It is still very much a family home and Anselm Guise, the current owner, spent several years turing Elmore Court into a very special venue for weddings, events and other functions.
The biggest alteration is the addition of a sound proofed and sustainably constructed alternative to a marquee, called The Gillyflower; a beautiful building designed for dinner and dancing."
"The Gillyflower is a spectacular room and didn't need much decoration. Instead we opted for a few statement pieces – for example we bought some enormous balloons from The Giant Balloon Company and hired big light up letters from Aisle Hire which were revealed from behind a pair of curtains just before our first dance."
"For our centrepieces we had tall vases filled with flowers which we decorated with moss and candles. We also used moss in our table plan and decorated the cake table and the steps where we had speeches with garlands of soft ruscus."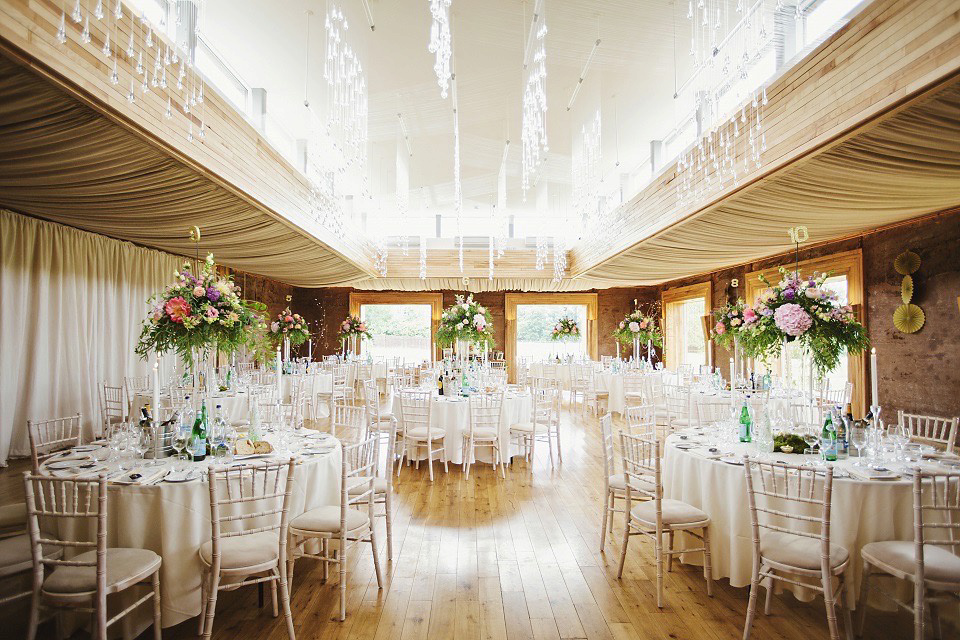 "I designed all of the stationery, including the invites, order of service, menu cards and favour as a matching set with a huge amount of help from my brother. We used photos from our engagement shoot on some of the stationery which added a lovely personal touch. Meanwhile, I hand wrote all the name places with a calligraphy pen, designed the table plan and created a photo booth.
I became a regular visitor on Pinterest and also sourced many items from Etsy."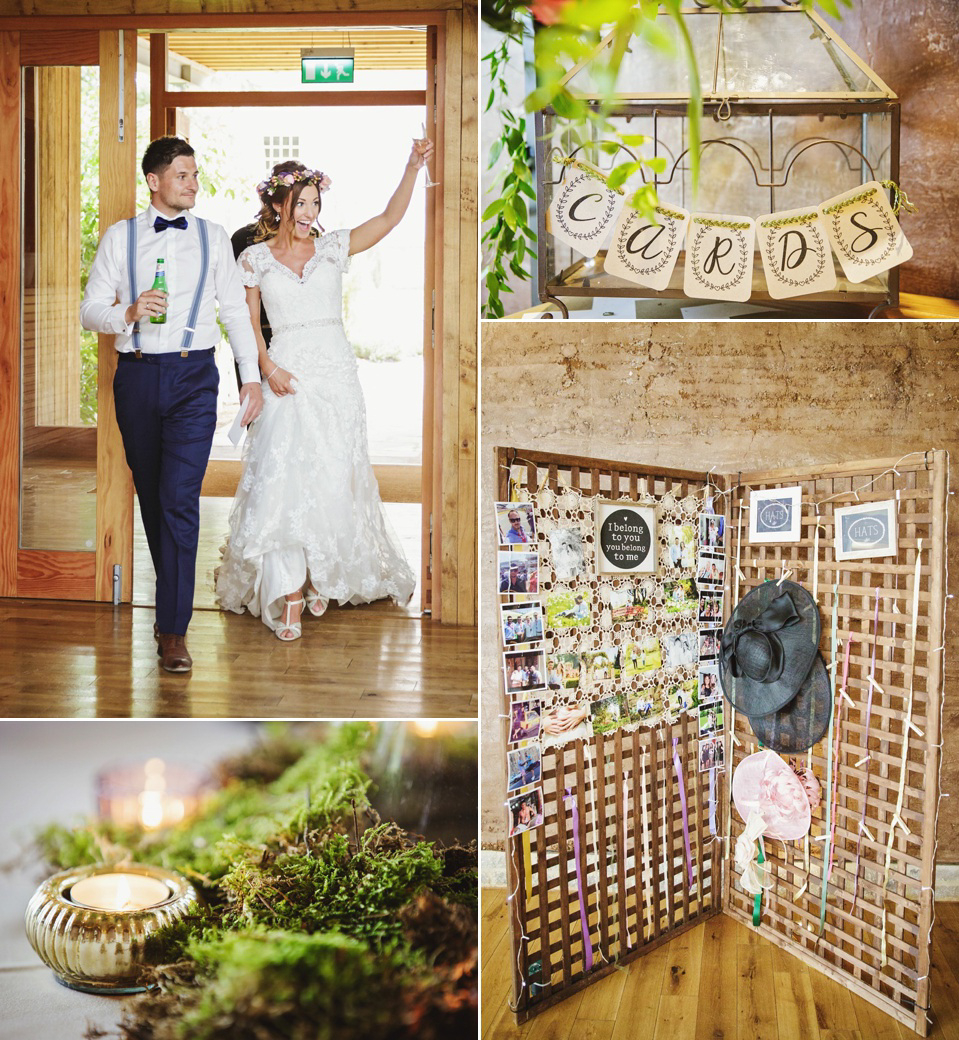 "We worked with the brilliant Jennie Brooks from Curtis & Co Cakes to create our cake. Jennie helped us design a hand painted cake covered in romantic blooms in greens and an edible gold leaf tier. Our florist Maria attached a statement flower to the cake to add a dramatic touch of colour."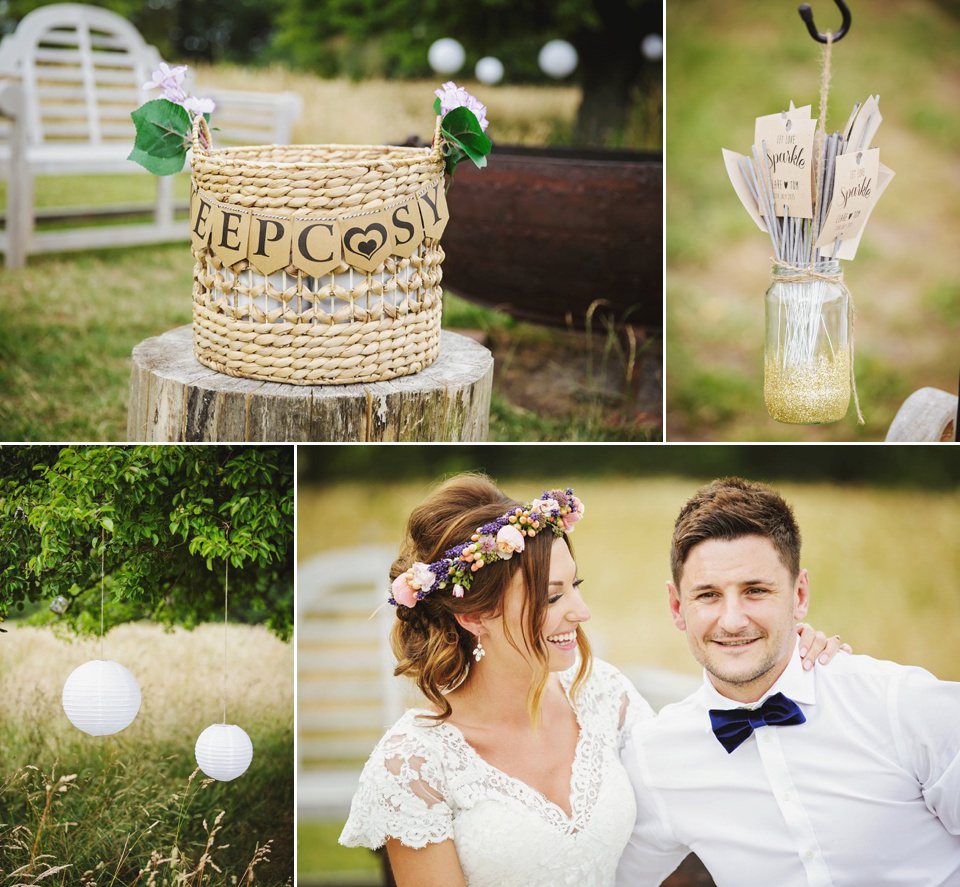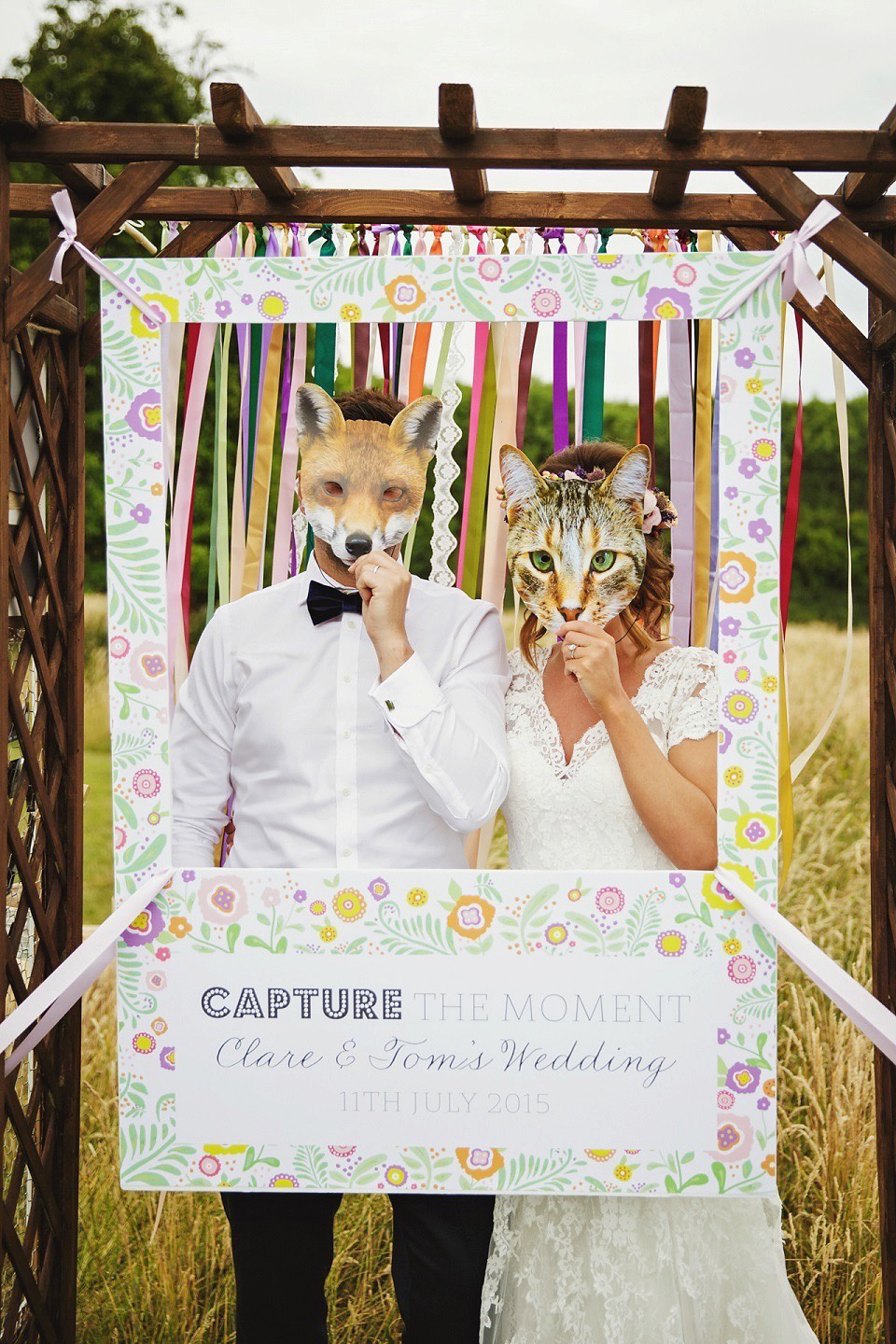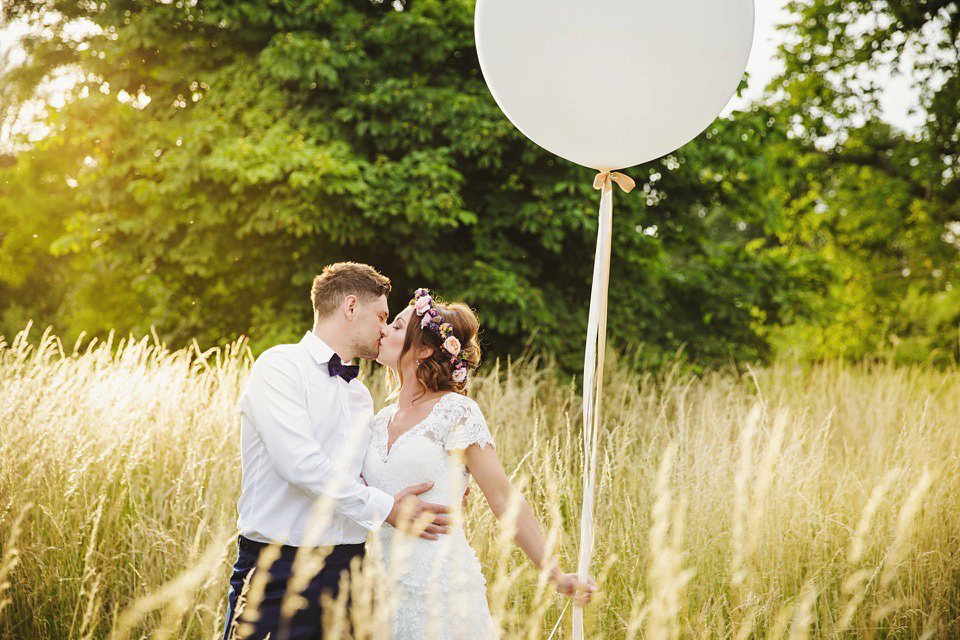 "In the evening we had a DJ from Eight Ray Music, and Vince Freeman from the Voice performed with a guitarist. Vince's performance was great and he also sung our first dance exactly how we'd imagined!
Outside The Gillyflower, our guests could sit round the fire pit with blankets, or in the chill out den we had constructed under a tree. I wanted to make sure guests were kept entertained so we put out glow sticks, sparklers and flip flops for the evening."
"We absolutely loved every second of our day, and our guests were talking about it for weeks afterwards (which was such a compliment). In retrospect, I wish I had worried a little less in the run up. Thankfully I felt the total opposite on the day – extremely calm! We are so thankful to the team at Elmore, especially Leesa who took on the task of setting up the entire venue with all our decorations, which she did perfectly."
Words of Wedded Wisdom
"Surround yourself with loved ones and enjoy the lead up with as little stress as possible. Delegate to family and friends – you will be surprised how many people love being involved in the planning process!
Don't be afraid to let your personalities and style create your dream day. It really is your day and there is no right or wrong when it comes to both planning and the format of the day istelf. Don't stress about the small stuff because you will be in such a bubble on the day that those tiny details will be forgotten about!
A great piece of advice we were given was to take a minute to step aside together and absorb everything going on around you – all that hard work that you have put in, and most importantly, the atmosphere which will be filled with love and laughter from your family and friends, this is priceless!"
Thank you to our glamorous couple for sharing the details of their big day and to Gemma William's too, for allowing us to share these beautiful images.
Wishing you a great rest of your week!
Annora x
Photographer – Gemma Williams
Film – Benjamin Bruton-Cox from The Wedding Cut
Venue – St James the Great Church +  Elmore Court
Wedding Dress – 'Berkheya' gown by Intuzuri via Allison Jayne Bridal
Evening Dress – Chi Chi London via ASOS
Veil – Emmerling via Simply Bridal
Headpiece – Fresh flower crown from Sorori Design
Shoes – Love Art Wear Art
Accessories – Liberty in Love earrings + Jenny Packham Debenhams bracelet + back necklace via Etsy
Bride's Scent/perfume – Peony & Blush Suede by Jo Malone
Groom – Tux + Shirt via Pakeman Catto & Carter + Mrs Bowtie + Russell & Bromley shoes
Bridesmaids – 'Maxina' dresses from Coast
Florist – Maria Willcox from Sorori Design with church flowers arranged by a family friend
Cake – Curtis & Co Cakes
Transport – Vintage Triumph Cars
Entertainment – Soul Front via Bands for Hire + DJ via Eight Ray Music + Vince Freeman
Rings – Beard Jewellers of Cheltenham
Catering – Elmore Court
Décor – Light up letters hired from Aisle Hire + balloons from The Giant Balloon Company
Stationery – Designed by the bride and her brother.
Hair Stylist – Tom Vining
Makeup Artist – Rebecca Frances