Good afternoon folks! We are truly delighted to be sharing this particular with you today. These images are from the seriously cool nuptials of one our wonderful 'Lovettes'. Saffron is a member of our team of blogging brides who, over the past few months, have kindly taken the time to share their wedding planning journey. Saffron's funny, heartfelt posts explore everything from styling her bridal party (including her two pugs!) to negotiating the arrival of daughter Dallas, three months before the big day itself. You can take a peek at her posts here.
Saffron married Simon on the 5th of September, in an intimate, al fresco, humanist ceremony. The couple held their big day at Camel Quarry House near Wadebridge, a luxury holiday home on the wild and romantic Cornish coast.
"Our main wish was to have a small, intimate, relaxed wedding, with just thirty of our closest family and friends, plus children (and pugs!). When it came to my wedding dress and Simon's suit we were both inspired by the 1930s. I have always imagined wearing a 1930s style slinky satin number (something that you would wear if being picked up by King Kong, or when solving a murder on the Orient Express!)."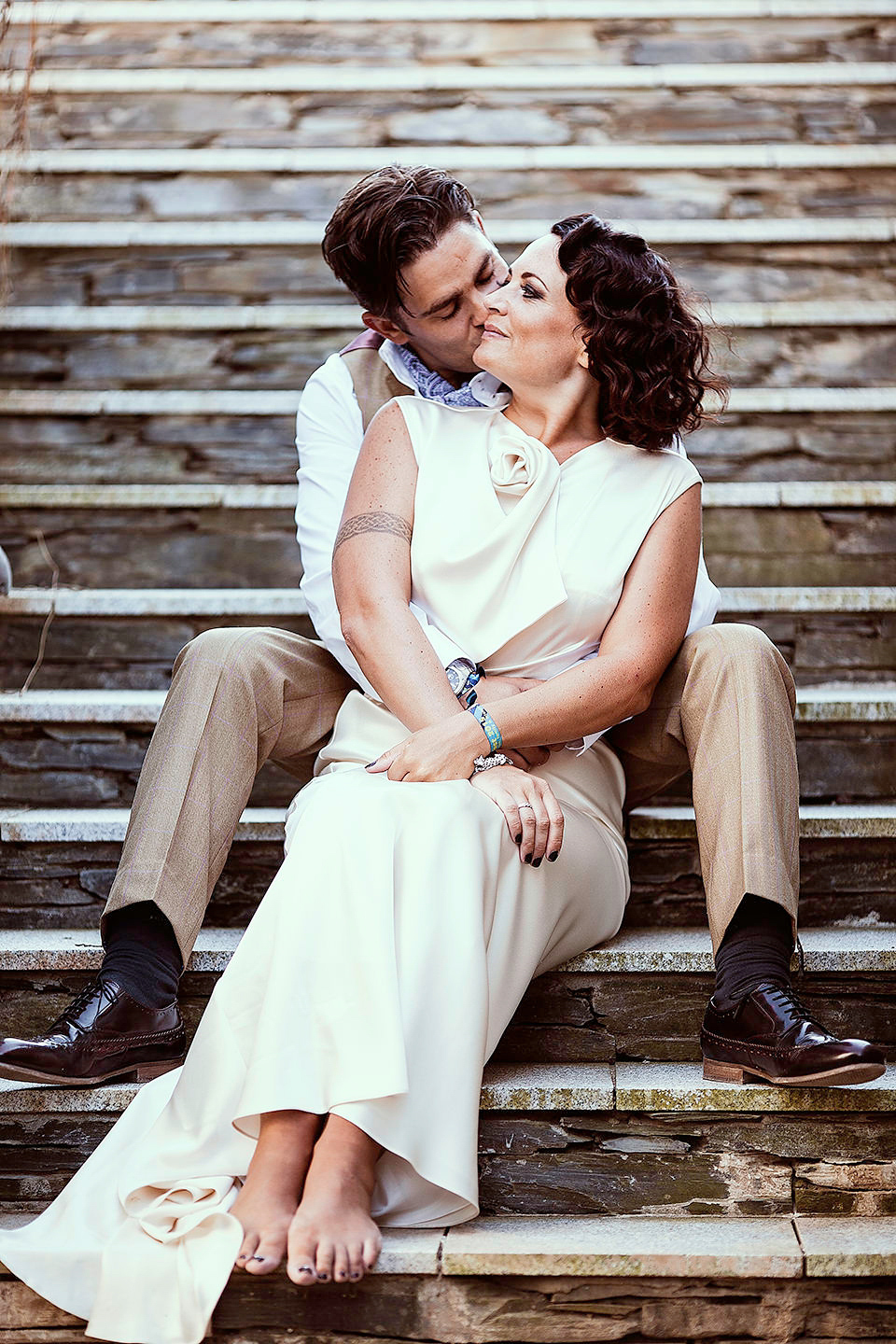 The couple's beloved pugs looked very stylish, with LouLou rocking a Hawaiian lei style collar purchased from Aloha Elegance (with proceeds going to help dog shelters in Hawaii) and a linen collar and bow tie from Cool Duds for Hot Dogs for their other pup, Banjo (both via Etsy).
Saffron wore a beautiful, 1930s inspired, David Fielden column dress which she purchased from Carina Baverstock Couture in Bradford upon Avon. When selecting her accessories, our bride took inspiration from Wallis Simpson, the 1930s American socialite her gown was named after. 
Saffron paired her elegant gown with a sparkly, art deco style headband from Debbie Carlisle (which she spotted on none other than Love My Dress!) and a pair of Kurt Geiger heels purchased on eBay.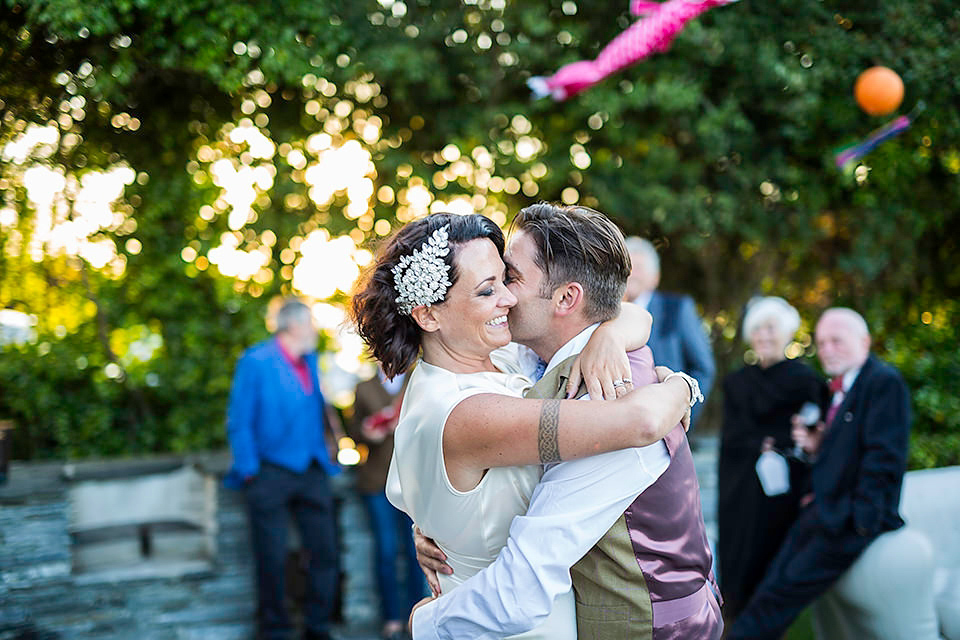 Headpiece by Debbie Carlisle
"We came across Camel Quarry House when looking for a holiday rental. The wedding provided an occasion for us to book it and having a humanist ceremony meant we weren't restricted to looking at properties with civil licenses – we could have our ceremony in the gardens."
"We decorated the venue with large helium balloons, to which we added tassels and feathers that I hand sprayed with fluro pink and gold. Outside, in the garden, we strung up paper lanterns and Japanese koinobori kites. Each of these had an LED light inside to ensure they continued to add impact after sunset."
Our talented (and thrifty) bride arranged all of the flowers herself, which she purchased online from Triangle Nursery for a total cost of £140!
"We opted for a bright white colour scheme with accents of vivid pink, green, blue and orange and decorated the venue with helium balloons, paper lanterns and Japanese koinobori kites in these colours. For our table decorations, I wanted something that would work with the amazing light and the dream like views across the corn fields and out to the estuary. I opted for quite stark arrangements using single roses in glass baubles attached to white manzanita branches.
Taking inspiration from Japanese Marimo bowl, I filled fishbowls with white sand and rose or hydrangea heads. To each decoration I added a waterproof LED light so as the sun started to fall, the centrepieces lit up and took on a new dimension. I downloaded pictures of each guest that I felt best reflected our relationship and their character for the place cards and had them printed them as 'polaroids' using the Clixxie app. These went down really, really well and provided great talking points and a few laughs."
"We met through mutual friends on one of those random, unassuming nights out. Without wanting to sound over dramatic, it was most definitely love, lust and lightning at first sight for me – Simon didn't stand a chance! I call Simon my 'weird science guy', because it feels as though he has been created from all the mental scrapbook images and desires I'd always had for a partner.
We've been inseparable since that first night and although neither of us had ever wanted children, it was on our agenda within 2 weeks of that first encounter – the only explanation I can offer for this is that 'he smells right!'."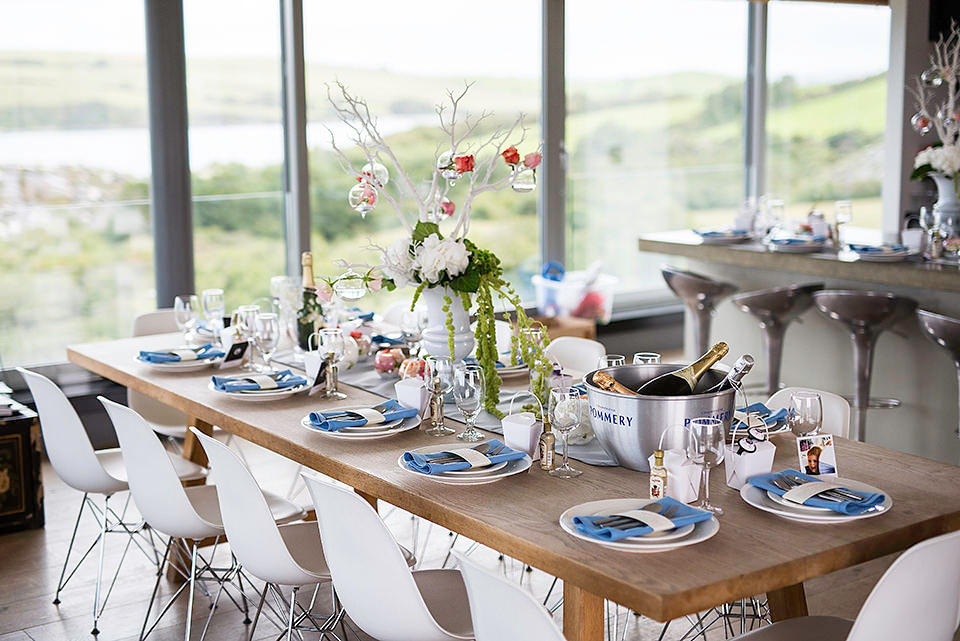 "My amazing friend, hair stylist Matthew Curtis, created my beautiful 1930s finger waves. At one point he was also outside helping hang lanterns and pinning my dad's boutonniere. Matthew managed all of this in spite of being hit by my bridesmaid barrelling through the bedroom door every five minutes to check on progress and, at one point, letting the dog in who then got tangled up in his straightener cables!"
"Our son, Ferry, came along 18 months after we first met and in early 2014 we were trying for a second child. Sadly we lost our second pregnancy very early on and it was this low that was the catalyst to our engagement. No fanfare, no fireworks, an engagement that was for the three of us rather than a performance for other people, Simon drove us to the Jewellery Quarter in Birmingham, we picked a ring and he proposed in the car, in a multi-storey carpark, while our son sat in the back, utterly confused as to why mummy was crying. Not exactly a Hollywood setting but so, so perfect and memorable for us.
We married 18 months, and another child, later (our daughter, Dallas, was three months old on our wedding day)."
"Ferry wore an H&M jacket, Converse Blaze High Tops and a bear print vest, from Lola & Stella via Etsy. Our baby daughter, flower girl Dallas, wore leggings in the same bear pattern and a bright pink dress from CC Clothing also purchased through Etsy. I made her a headband using hand sprayed feathers."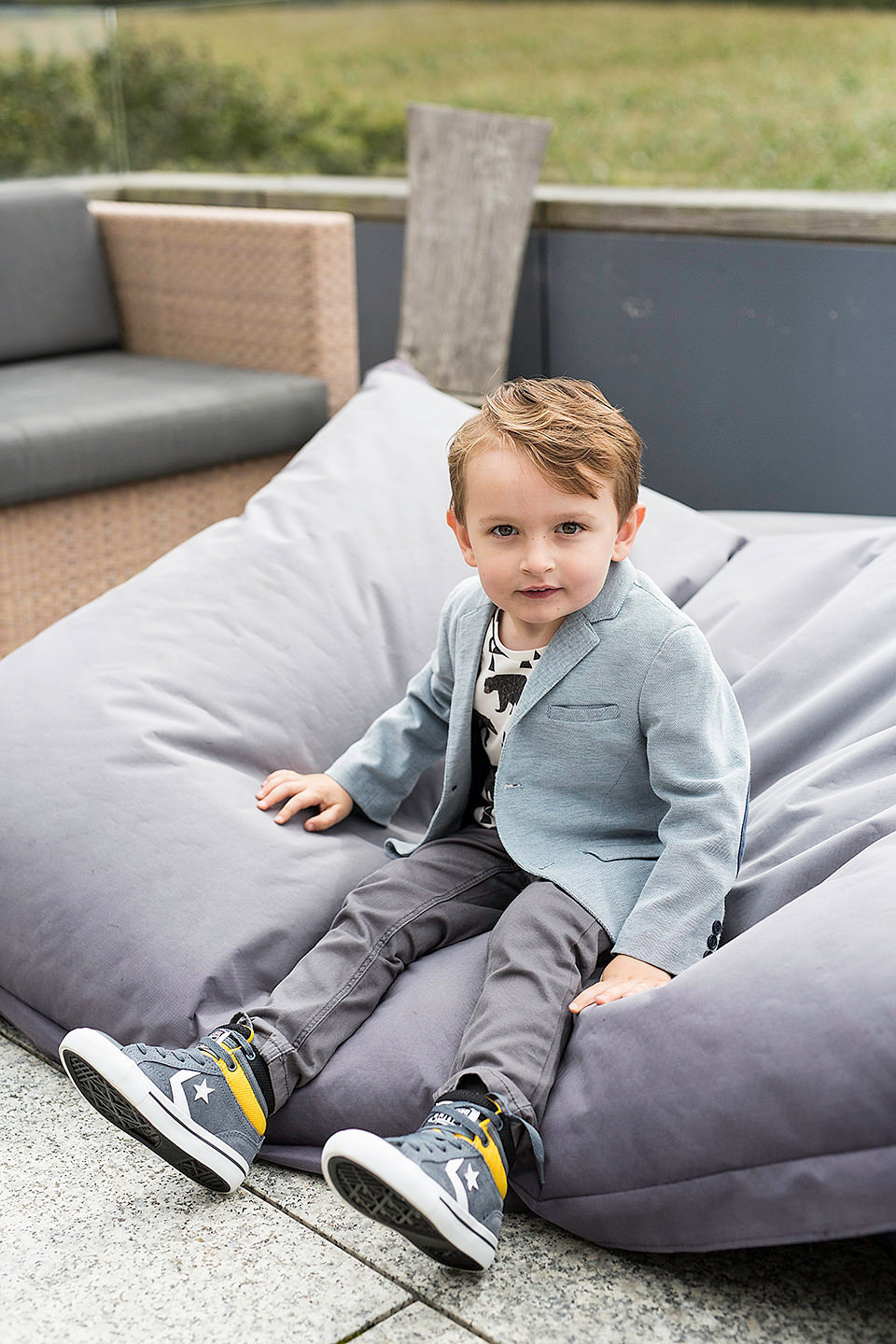 The stylish groom wore a made to measure tweed suit from Saville Row tailor Cad & The Dandy, a classic 'Krall' shirt from Vivienne Westwood and a pair of Oxblood brogues from H by Hudson. Simon finished his look with a lavender coloured cravat and pocket square from Dobell.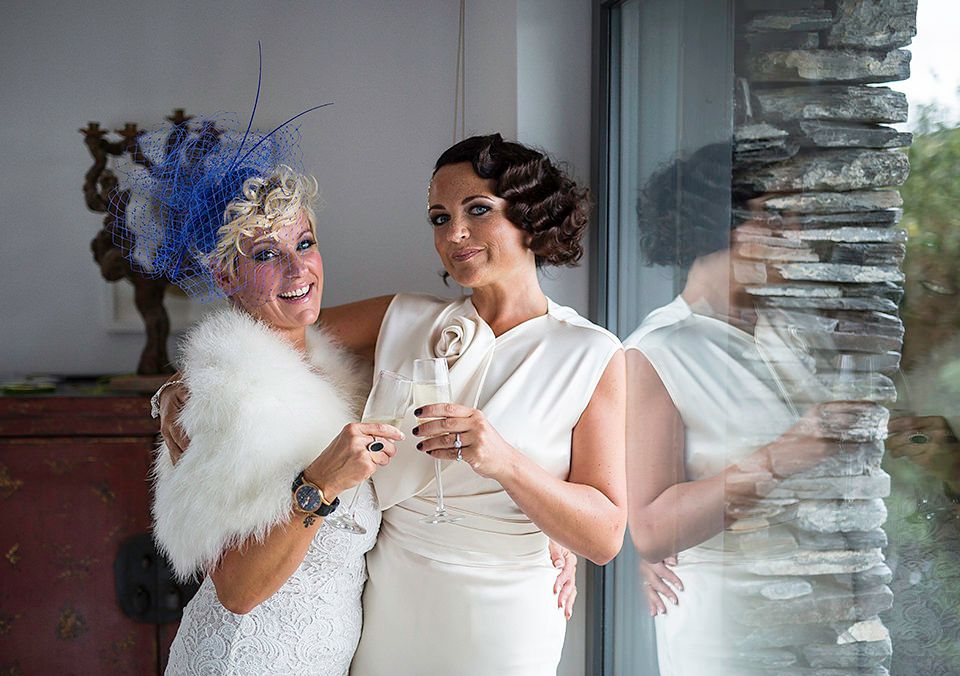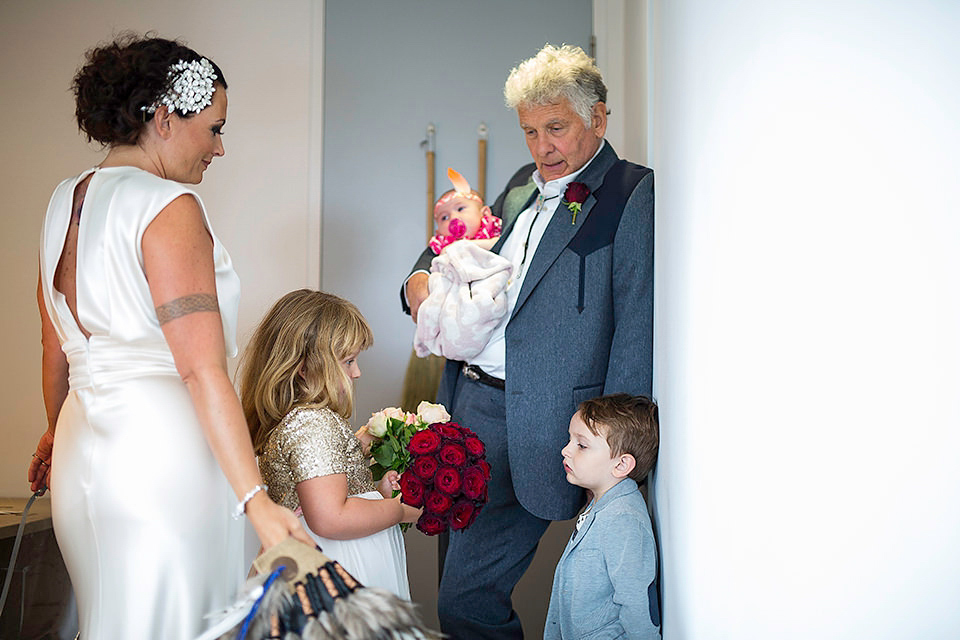 "My dad walked me down the 'aisle' to 'Feel the love' by Rudimental. We entered Camel Quarry's walled garden through a wooden door at the far end of the lawn and walked up some stepping stones, to where Si was waiting. We were led by Scarlet and the pug, and our son Ferry eventually came out of hiding and joined us halfway through the ceremony.
My bridesmaid, Scarlet, wore a dress we found at a pop up store in Primrose Hill and a Native American inspired feather headdress from Paradise Gypsies via Etsy. Our son and page boy, Ferry, was due to wear the headdress but refused at the last minute, so Scarlet kindly stepped up."
"Our Humanist ceremony was led by our amazing celebrant, Zena Birch, and focussed on relationships, love and laughter rather than religion. We met with Zena, a number of times before the ceremony so she could get to know us both as individuals and as a couple. She asked us each to write 'our story' ahead of the wedding and then combined the two to create a ceremony which was personal, meaningful but also fun and emotional."
Saffron and Simon nominated three friends to perform readings at the ceremony and left them to choose the material themselves.
"My oldest friend Nicola chose 'A Salute to Lovers', by Maya Angelou, and our friend Eleanor read 'A Love Poem' between blubs! Finally, our friend Mike wrote his own reading about Simon and our relationship. This covered everything from Simon's fear of the inevitable zombie apocalypse and that on the night we all met for the first time his dance skills had proved him…on fire!"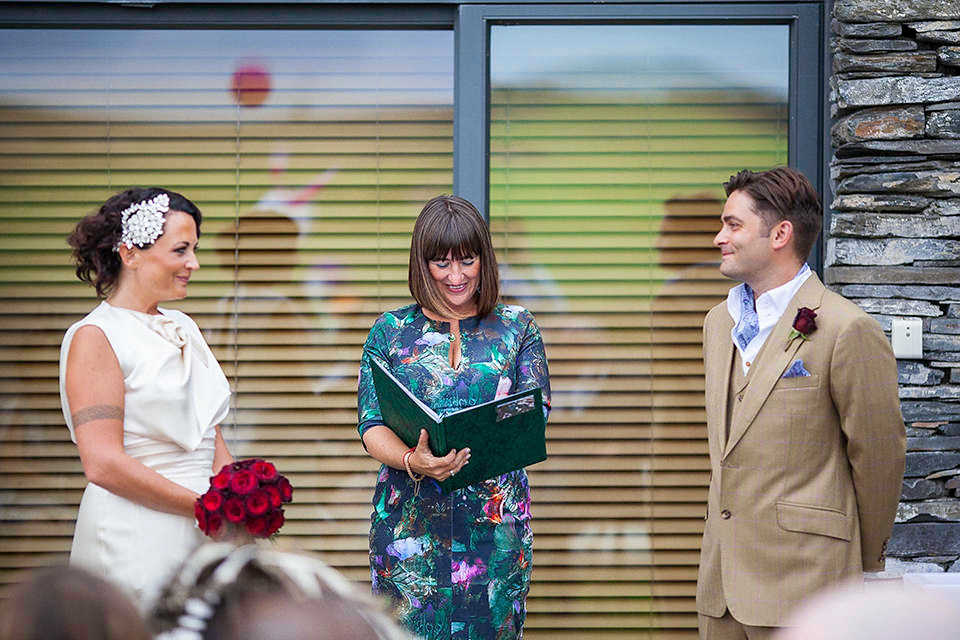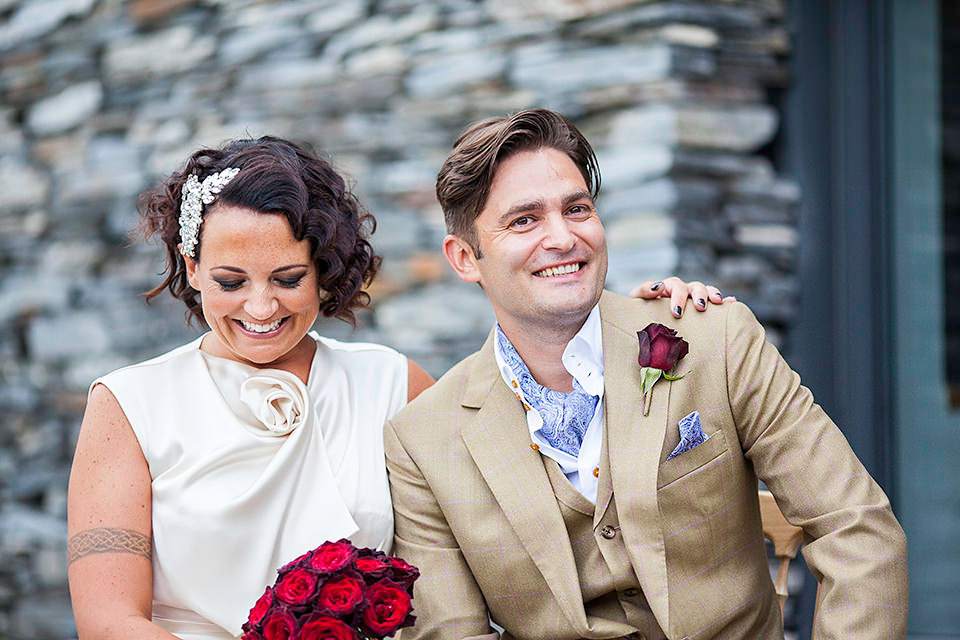 "After I bought my dress I spent some time looking through old photos of Wallis Simpson. It seems she had black pugs so that was one accessory sorted! I also wore a Leopard bangle from Bill Skinner in homage to Simpson's amazing collection of leopard and panther jewellery. I remember looking at photos of her bracelets from an auction at Sotheby's – it must have stuck with me."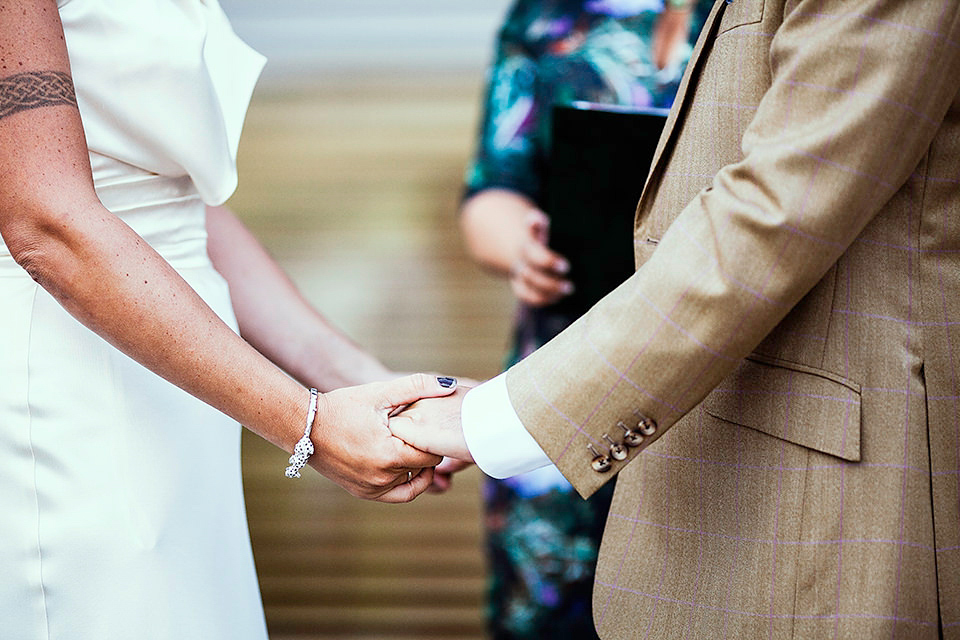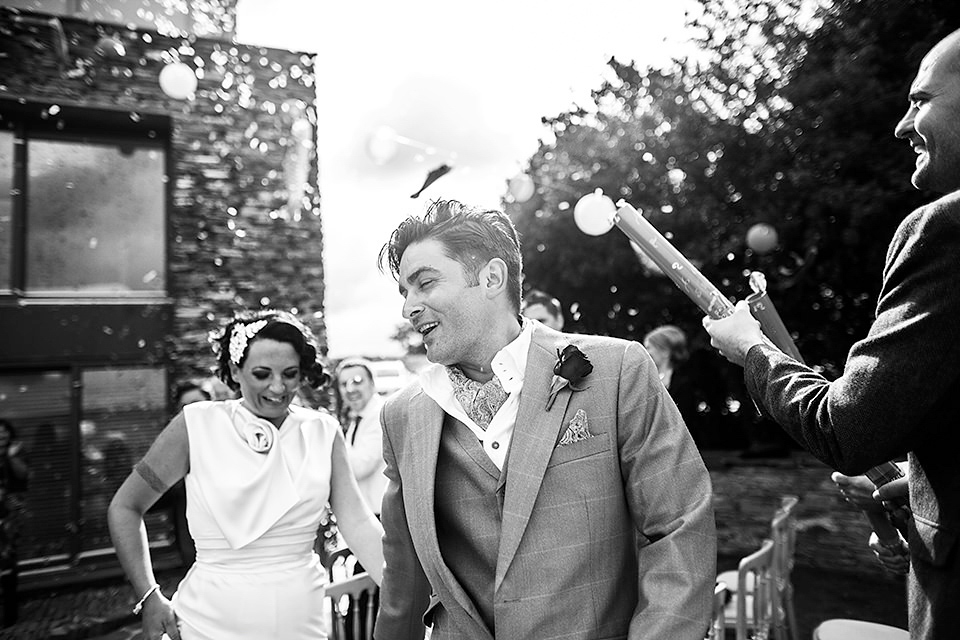 Saffron and Simon knew that Matt Gillespie was the photographer for them after he photographed a friend's wedding…
I love Matt's reportage style and he does beautiful shots with a hand held flash which illuminate the bride and groom against the night sky. When my little dog LouLou doggedly followed us on one of the later shoots, Matt even managed to get one of these signature shots of her against the setting sun! Matt's such a great guy and it felt as though we'd known him for years – he was a fantastic guest as well as photographer. The result was that our guests really let their guard down, which allowed for some really natural shots."
Saffron and Simon gave each guest a box of goodies including old school fortune telling fish, festival style wristbands, miniature bottles of Mezcal and (very thoughtfully!) Alka Seltzer for the morning. Meanwhile, mini guests received whoopee cushions, 'Mum' and 'Dad' temporary tattoos and rocket balloons. Brilliant!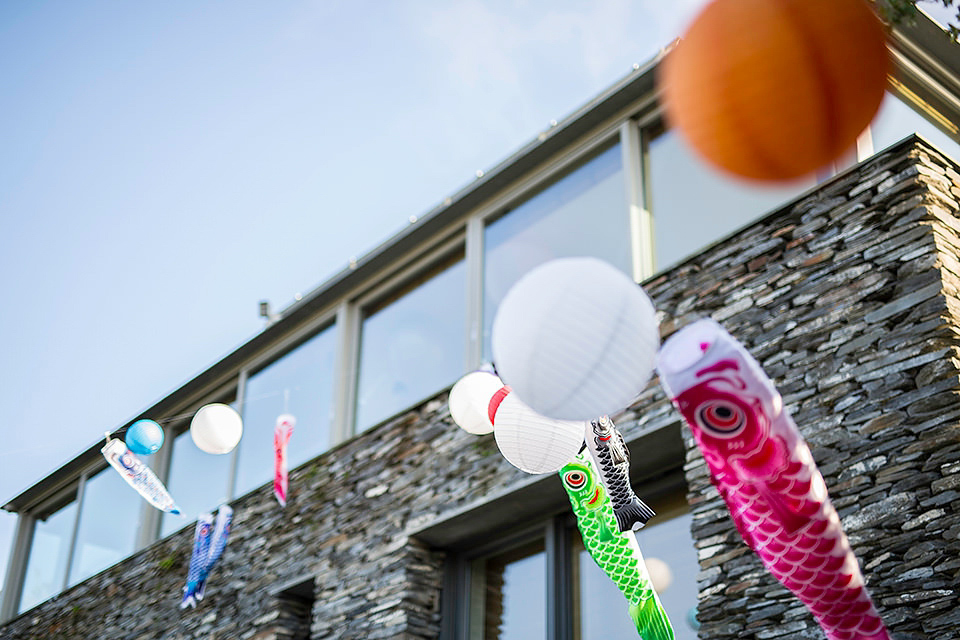 "Lafafa Catering put on the most amazing Middle Eastern, mezze style, banquet for our wedding breakfast. Most of my family (including myself) are vegetarian so we wanted excellent veggie options instead of the usual goats cheese tart, butternut squash etc. and Lafafa certainly delivered."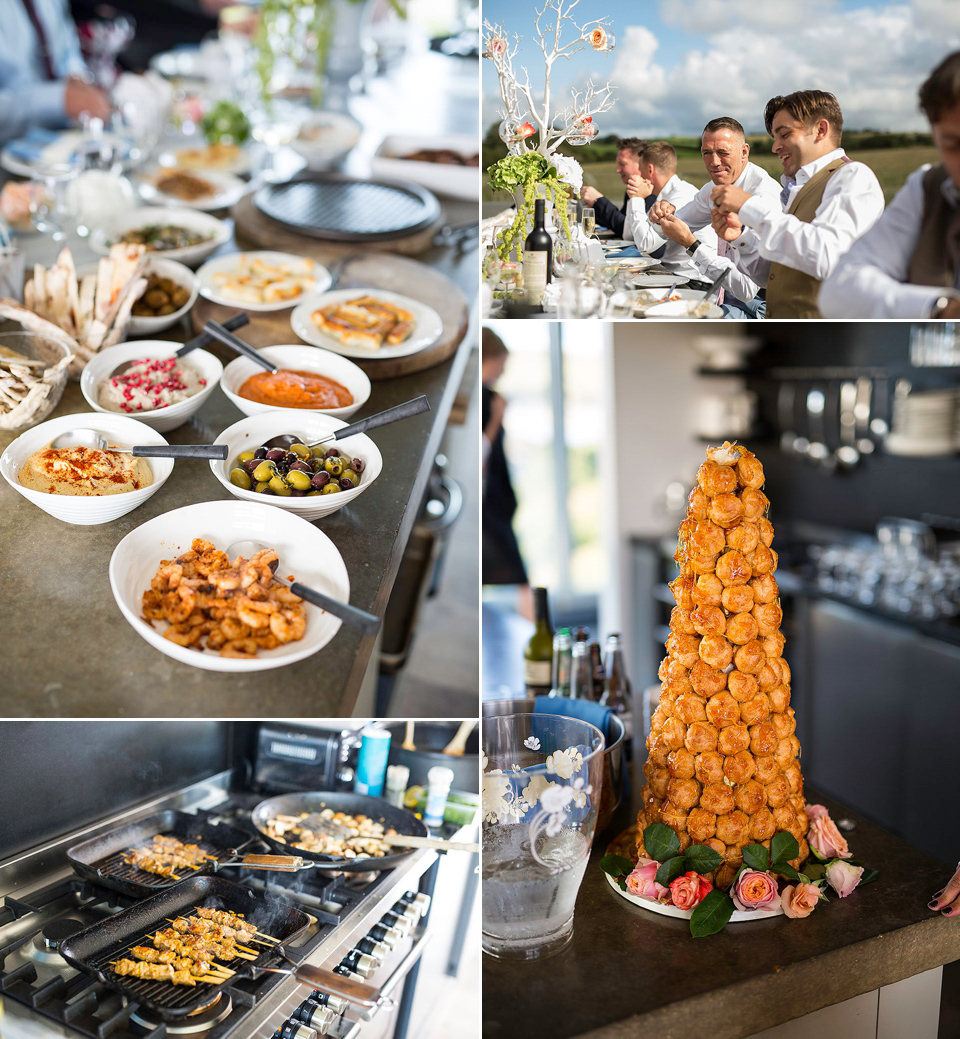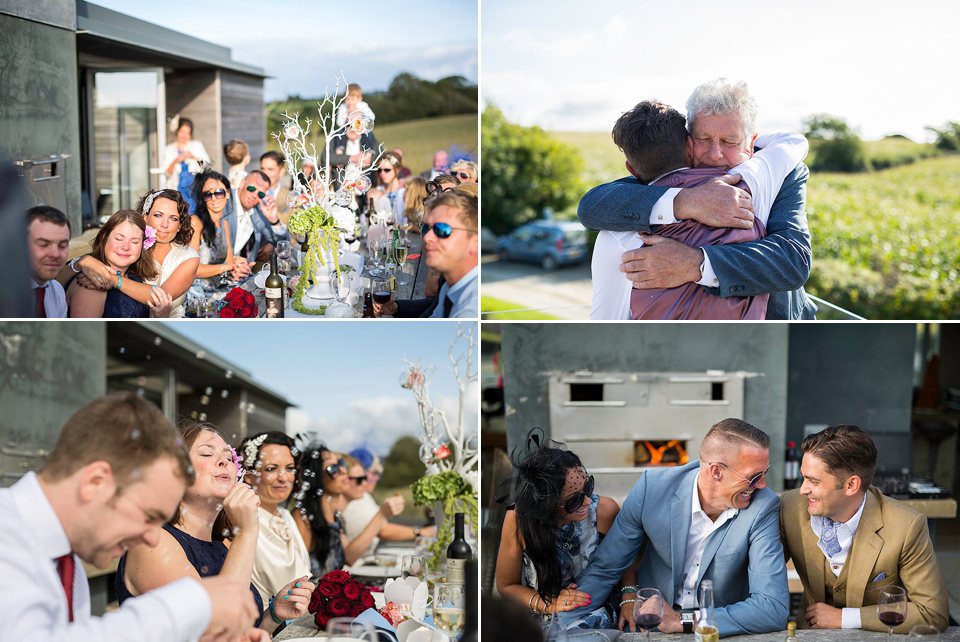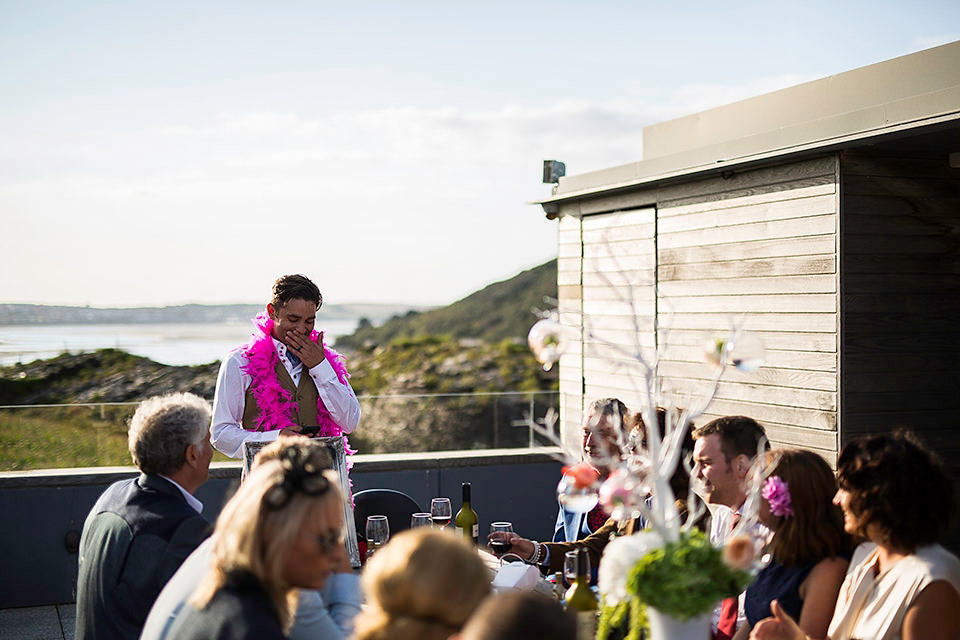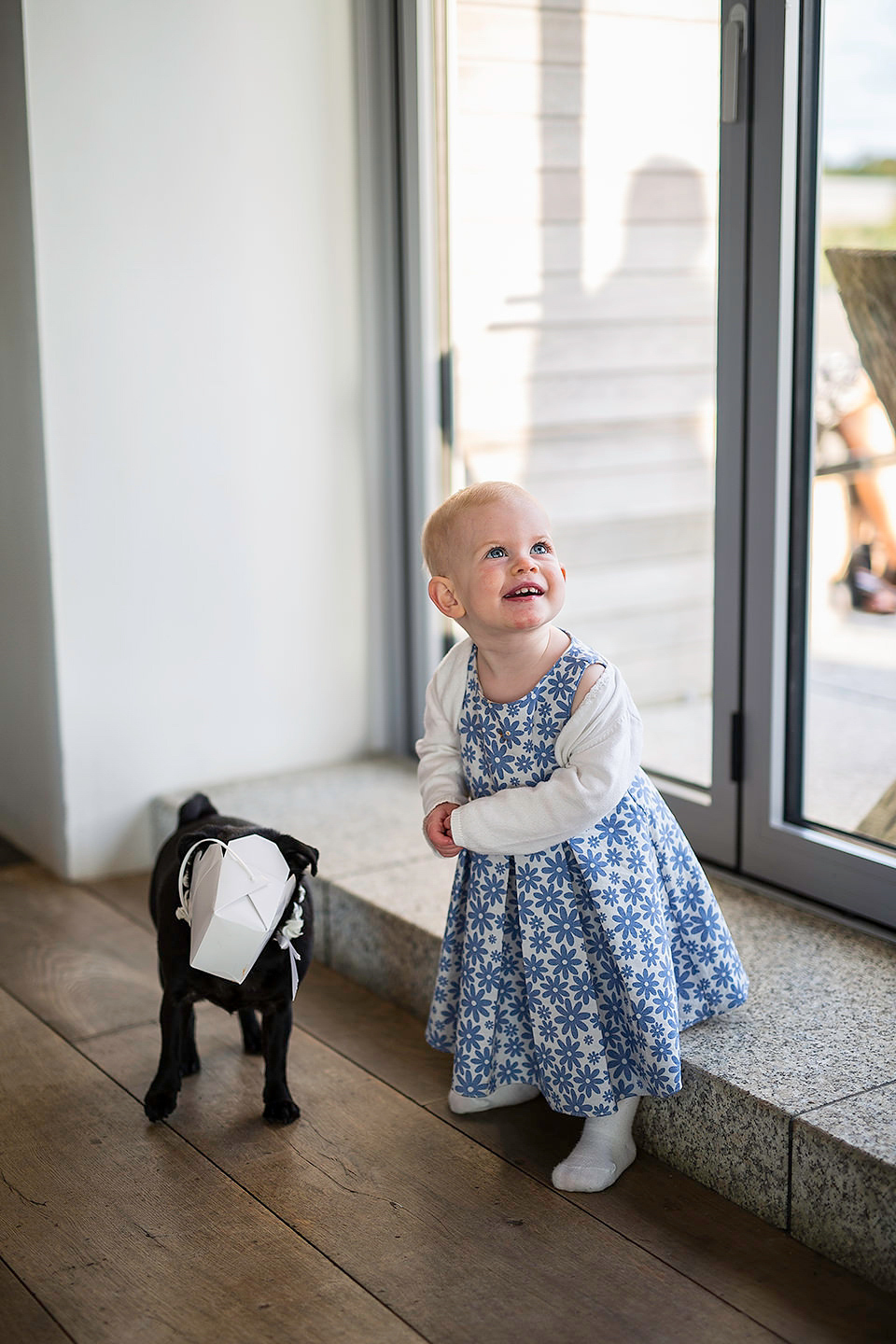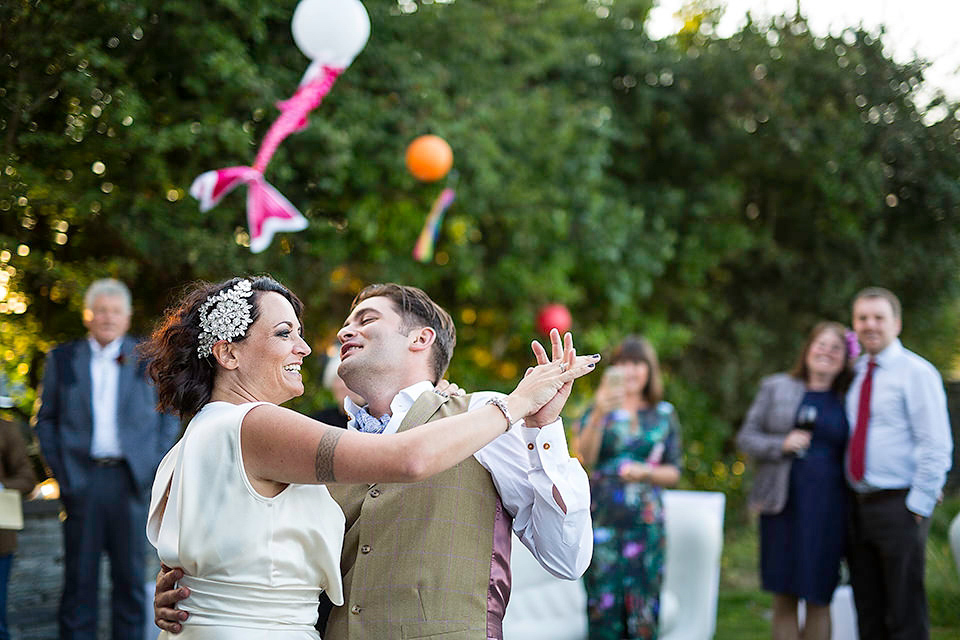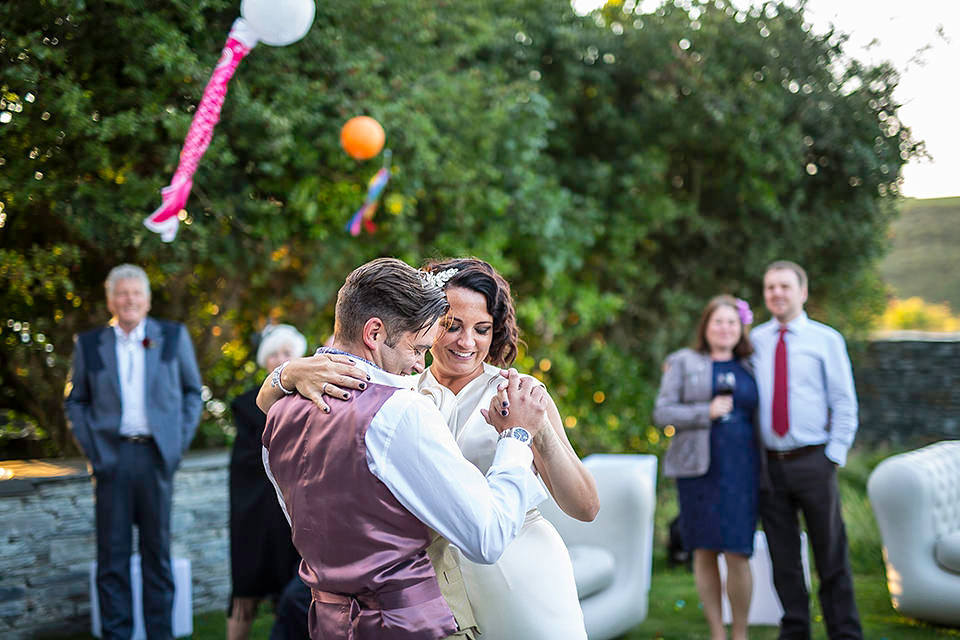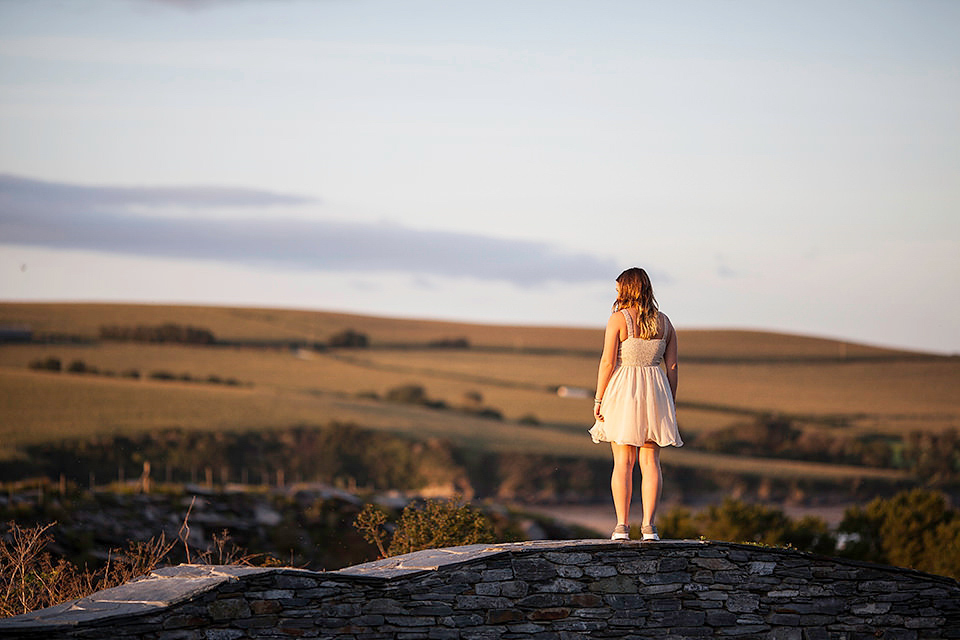 "The day compartmentalised itself neatly into equally memorable and enjoyable sections. The morning was all about preparations and decorations. I loved getting up early to do the flowers. I laughed at four men taking nearly as many hours to string up our lanterns, whilst our friend Lisa laid thirty perfect place settings on her own. It was a true co-operative effort which made it really special. The ceremony and the speeches were so emotional; there literally was not a dry eye in the house. The humanist ceremony, the inclusion of readings and speeches from so many people brought the focus of the day back onto the marriage itself, the vows we were taking, the support of our friends and family, as it should be. "
Words of Wedded Wisdom:
"It's your day, don't design it or live it for other people. Invite the people who care, who will be wishing you well, who know and understand your relationship – the emotion and the honesty of the day will then follow and make it utterly memorable and even life changing.
Make it unique, make it reflect you both – you are probably spending more money on this day than any other so think outside the box, don't be another wedding that you walk into knowing how everything will run before it's even begun.
Get a photographer you can trust and then get everyone to put their phones away. Get people involved – they will be honoured to help and add their own creativity, be that readings, decorations or cooking a big breakfast to keep everyone going and it will create valuable memories.
Most of all have fun, don't sweat the small stuff, live in the moment and soak it up."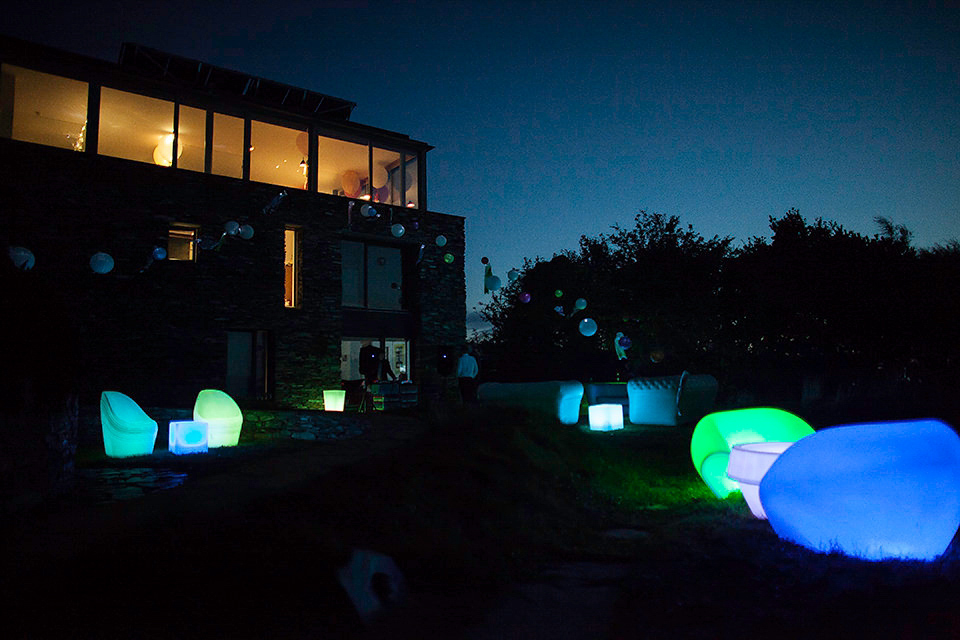 A huge thank you to our lovely Lovette and her handsome beau for sharing the details of both the run up to their wedding and the big day itself, with a big shout out going to our couple's wonderful photographer Matt Gillespie too! If you are planning your wedding, I highly recommend taking a peek at Saffron and our other Lovette's helpful posts here.
Have a great rest of your week!
Annora x
Photographer – Matt Gillespie Photography
Venue – Camel Quarry House near Wadebridge, Cornwall
Wedding Dress – 'Wallis Simpson' gown by David Fielden purchased at Carina Baverstock Couture, Bradford upon Avon
Headpiece – 'Hattie' headband by Debbie Carlisle
Shoes – Kurt Geiger via eBay
Accessories – Snow Leopard bracelet from Bill Skinner
Bride's Perfume – Angel Le Lys by Thierry Mugler
Groom – Made to measure suit from Cad & The Dandy, Saville Row + shirt from Vivienne Westwood + cravat and pocket square from Dobell + Oxblood brogues from H by Hudson
Bridesmaid – Headdress from Paradise Gypsies via Etsy
Flowergirl – Bright pink dress from CC Clothing + leggings from Lola & Stella, both via Etsy.
Page Boy – H&M jacket + Converse Hi Tops + vest from Lola & Stella via Etsy
Pugs – Linen collar and bow tie from Cool Duds for Hot Dogs + Hawaiian Lei style collar from Aloha Elegance
Florist – Flowers arranged by the bride and purchased from Triangle Nursery
Cake – Couture Cakes
Rings – Gift Flavors via Etsy
Catering – Lafafa Catering
Celebrant – Zena Birch
Hair Stylist – Matthew Curtis
Makeup Artist – Sally Orchard