When these images arrived in my inbox, I knew they'd be perfect to share on Love My Dress. They capture represent that perfect mix of old school glamour meets modern day bride and directional fashion designer.  The images were shot by Levi Tijerina, whose exquisite wedding photography I have very much enjoyed sharing on Love My Dress already. Levi hooked up with a team of talented professionals to create these images, the inspiration for which was a romantic elopement within the  an old Spanish country house and its incredibly pretty surrounding poppy fields.
Indeed I love the gowns and beautiful flowers, the sunshine, scenery and table settings, but I adore the portrait shots in this shoot. The models are so at ease with one another and the photographer has great skill in capturing them looking relaxed and comfortable with one another. I couldn't help but think how these these images might be really quite inspiring for those couples who need some inspiration on how to pose in their wedding photographs! Let's face it, having to be in front of the camera isn't something that many of us feel comfortable with.
Photography by Levi Tijerina
Design, planning and concept – Bodas Entre Tules
The very lovely and charming Maria of Spanish wedding planners and stylists Bodas Entre Tules, told me more about these images…
"When Levi Tijerina approached us to style the shoot we put ideas together and found that we were on the same page about featuring a Mediterranean landscape, lots of florals and a chic vintage aesthetic. Levi pictures truly captured the tenderness shared between this couple, and the atmosphere of the Catalan countryside."
I love that this shoot embraced the directional spirit of Spanish designer Otaduy – a brand I've had my eye on for a good while now. Their gowns are sublime (UK brides, you can find your nearest stockist or purchase online here.
"When planning this shooting one thing was crystal-clear – Otaduy's dresses. Hand-made in Barcelona, with a unique personality that fitted perfectly with the picture I had in mind. We choose three dresses to make some kind of transition from a romantic look, to a stunning and sexy embroidery back, ending with a more glamorous and sophisticated bride."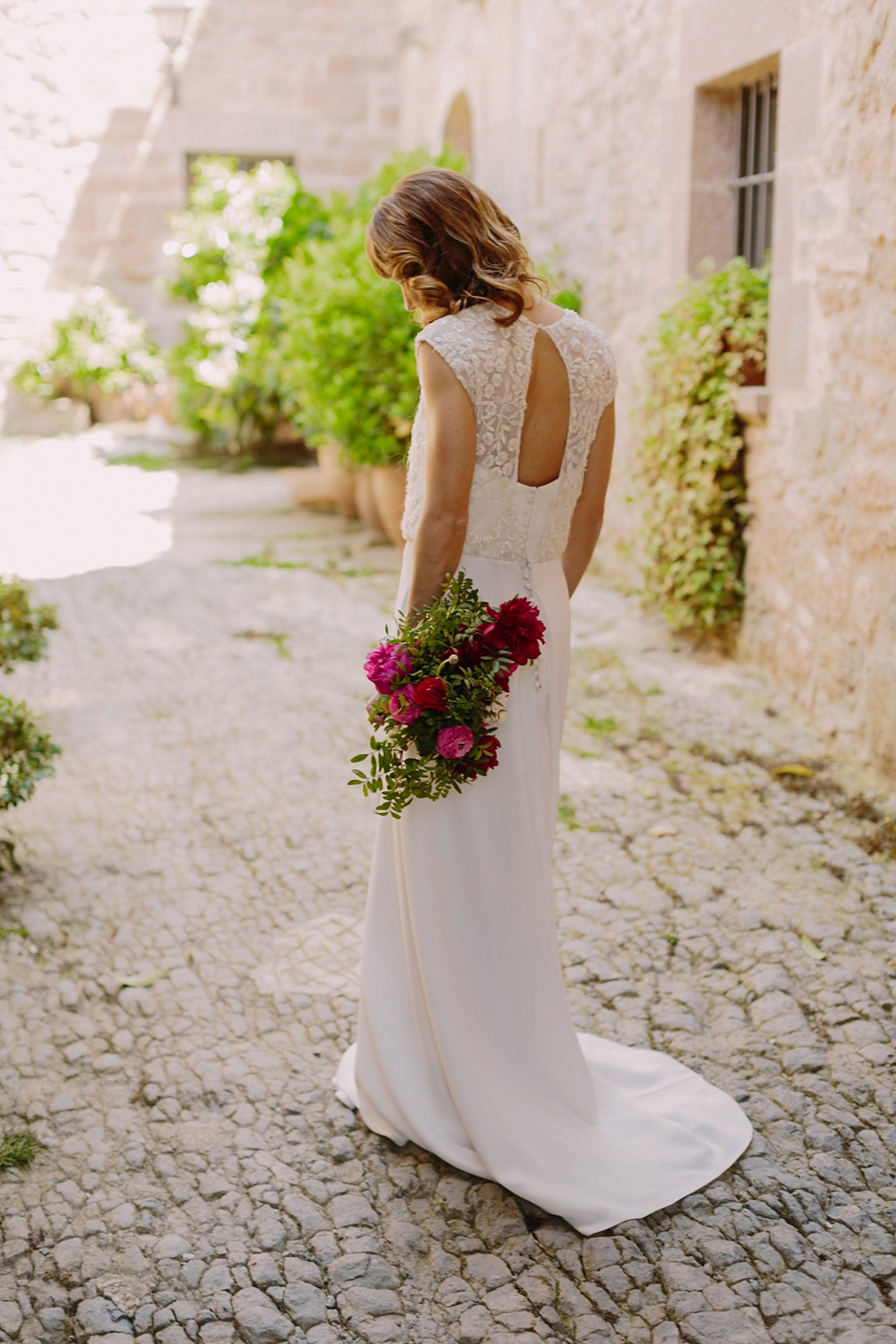 "The headpieces, all came from Lito y Lola's atelier in Barcelona, where each piece is designed to fulfil a bride's dream; handmade with lots of love and attention to the smallest detail."
"La Garriga de Castelladral was the ideal venue, a beautiful XV century villa surrounded by forest, vineyards and wheat fields. This idyllic state has been scarcely altered since it was built and now is a retreat for those who wants to enjoy nature and country life in its purest form."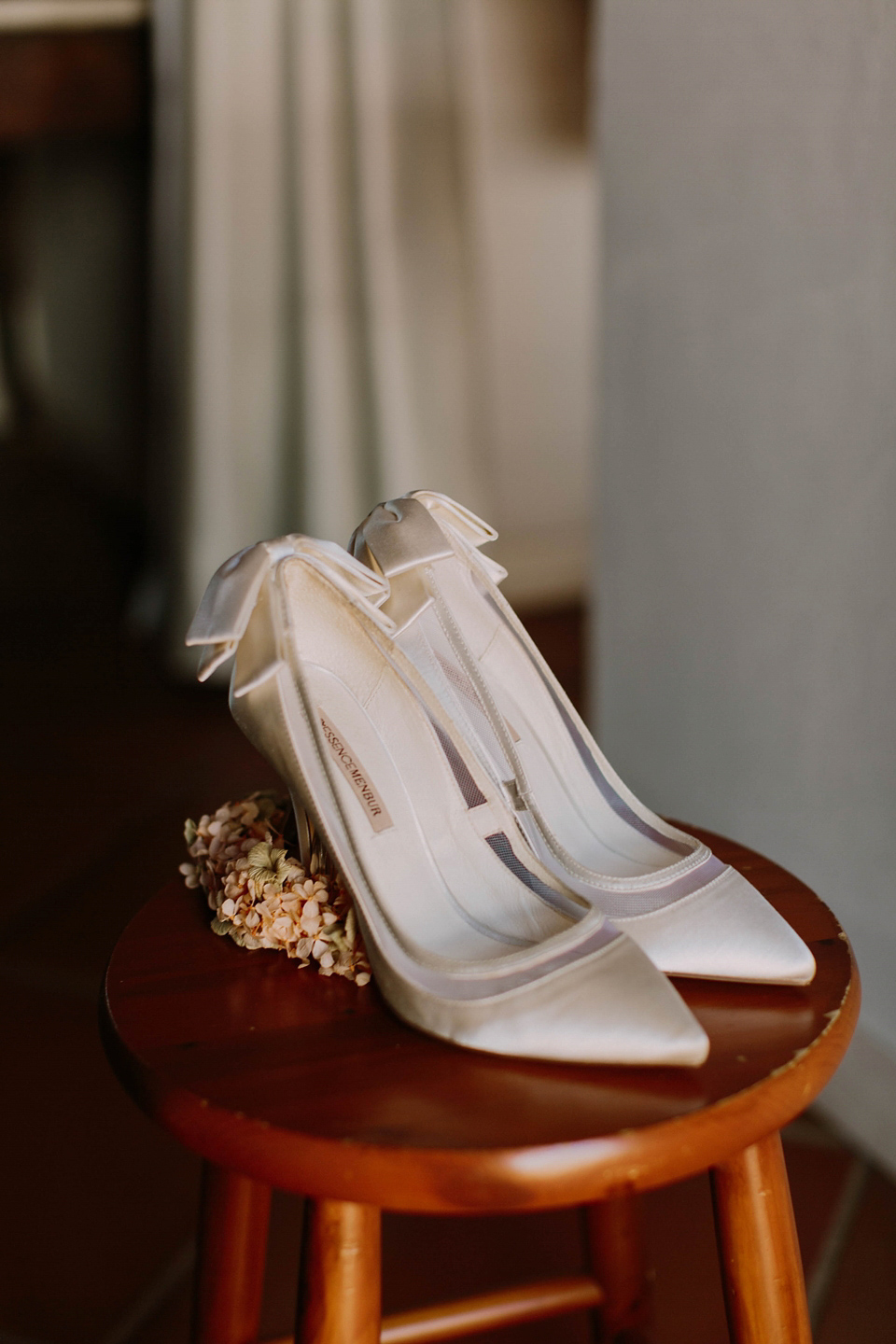 "Mireia of Al son de un pincel is a makeup artist specialising in bridal makeup and styling. She created two perfect looks for our bride Bibi, – a romantic and sweet natural look and a sexy, vintage one, with subtle smoky eyes and winter berry lips."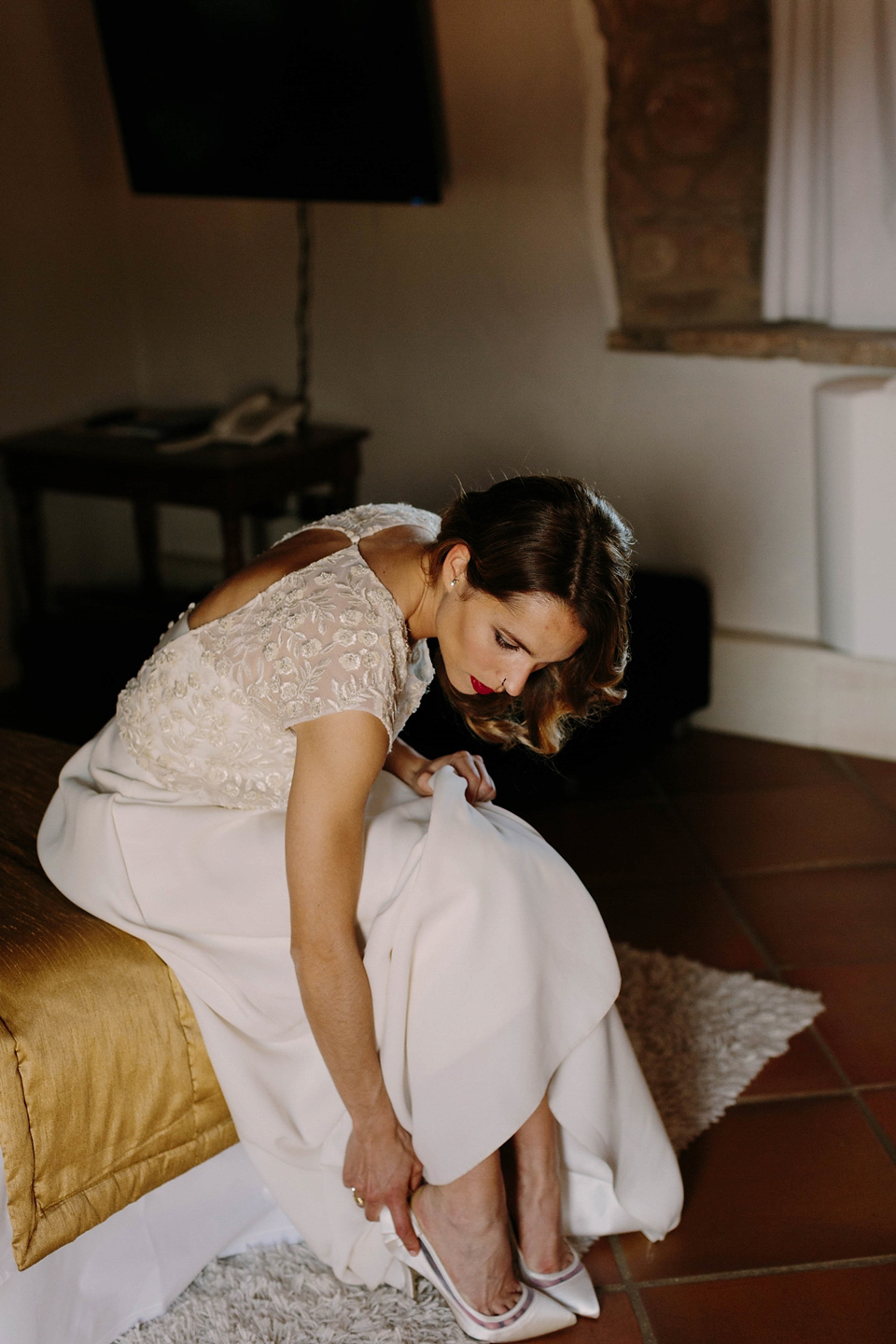 "The wedding table was like a window to the past. Set in the patio for an al fresco dinner, I used a vintage set of table and chairs (belonging originally to the cellar of the house), old silverware (family heirloom) and plates, with an over-sized wreath and chandeliers to complete the set."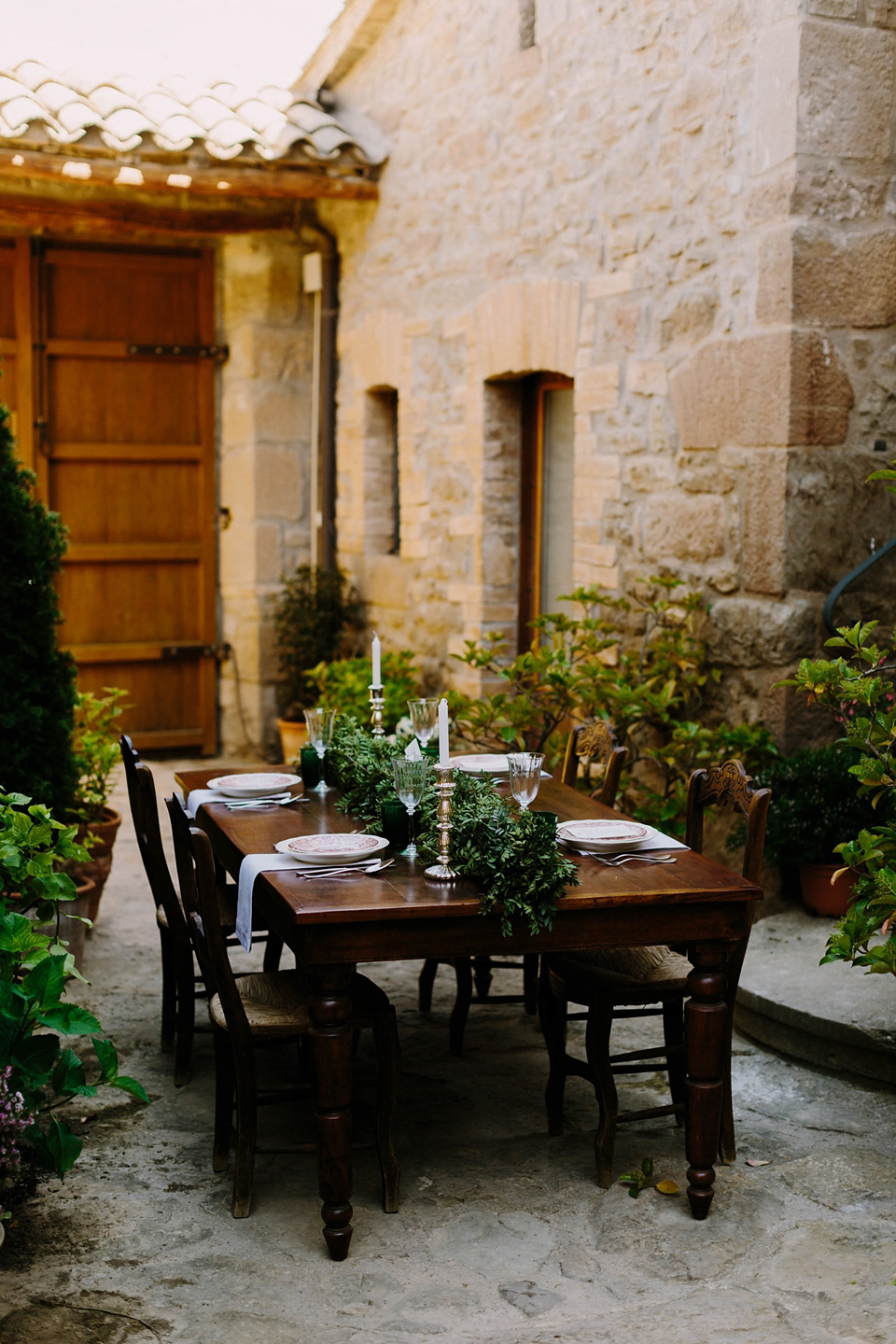 "We wanted the shoot to look full of intense colours to celebrate tradition with a modern point of view, so we combined an old state and antiques with modern looks that retained certain reminiscences of the past, for a boho Spanish styled shoot. Our palette focused on dark crimson, deep green and the poppy's bright red.
The bouquet, made by Oh Fleurs!, featured deep red peonies, creamy wild roses and ranunculus, a wild bouquet fit for a romantic and free spirited bride."
Huge thanks to the full creative team below for sharing these inspiring images today, but especially to Maria of Bodas Entre Tules – I would recommend you visit Maria's site lovely readers if you are planning a wedding in Spain and are looking for some professional help.
Love Annabel x
Photographer – Levi Tijerina
Wedding planner & designer – Bodas Entre Tules
Wedding dresses – Otaduy
Headpieces – Lito y Lola
Florist – Oh Fleurs!
Hair and makeup artist – Al son de un pincel
Venue – La Garriga de Castelladral
Bride and groom – Bibi Rius and Xevi.
Stationery – Save the date projects
Bridal shoes – Menbur
Jewels – Aina Joies