I'm not sure what the weather's been like with you this week but here in Berkshire, it's been foggy, wet and altogether grey. However, the mere thought of writing this Sunday feature, another in our Little Book for Brides advice series, has been a seriously sparkling silver lining to my week.  I adore exquisitely designed wedding gowns so the prospect of sharing advice and inspiration from the outstanding and brilliant designers that you'll find in Little Book for Brides with you is a real honour. So, for advice on buying the right gown for you, a look at popular and new styles and practical tips aplenty not to mention breathtakingly beautiful images, read on…
Searching for your wedding gown is a shopping trip like no other and whether you've decided to commission a bespoke gown or opt for a designer dress from your bridal boutique, the more you know before you start, the more you'll enjoy yourself. But, before you start trying on gowns, you need to get to know yourself a little better…
Don't compromise. Don't settle for second best and don't be pushed into signing for your dress on the day if you're not 100% sure. You're investment is huge. It's financially the biggest spend you will make on a dress, it's also an emotional one. Be a polished version of your beautiful self. Your husband to be would expect nothing else, there is no one that knows you better than him and he wants to see you waking down the aisle radiating your inner beauty as well as wearing a dress that is totally you! (Kate Halfpenny, Halfpenny London)
"A lot of brides are confused about the style of dress that will suit them when they come to us," says Katya of Katya Katya Shehurina. "You don't wear a wedding dress everyday so why would you know?! We always recommend to simply be true to yourself and your personality. What do you normally wear and what do you think suits you best? Take your normal everyday preferred sleeve length, neckline, waistline and skirt shape and you'll have a starting point!"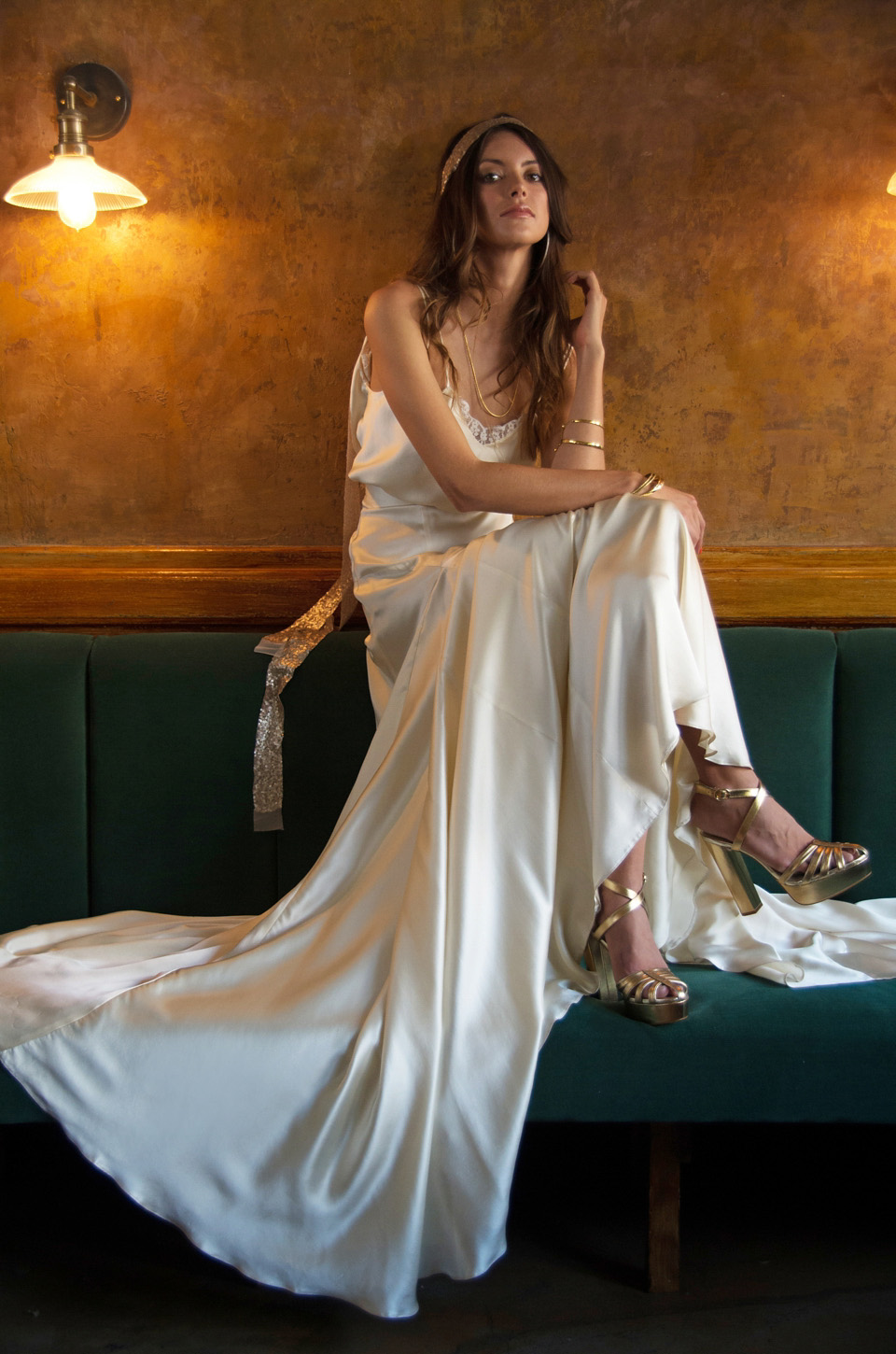 "To find the dress that's a perfect fit, it's essential to understand what body shape you are," says Sanyukta Shrestha. "Choosing the cut which suits your body shape and flatters your figure will give you more confidence. Hourglass figures can wear anything but if you're wider on the top of your body with hips narrower than your shoulders, it's can be a good idea to go for a design with soft, draping fabrics to emphasise the hip, creating balance to the shoulders."
"A soft corseted A-line dress with a dropped waist can be great for apple shapes as the structure of the gown holds your bust in the right place, skims your tummy and tones down your hips giving you a leaner look," continues Sanyukta. "Generally, Princess style dresses or gowns with wider, open necklines or cap sleeves disguise the fuller hips of pear-shaped figures. Petite brides look taller in empire line gowns whereas taller brides should avoid that style and opt instead for waisted gowns or horizontal layered dresses to break the eyeline."
"Have an idea of what you are looking for in a dress before you go shopping," says Caroline Castigliano."You don't need to know the shape but try to envision how you would like to feel and how you'd like people to see you (classic, cute, boho, traditional etc.). Once you've picked your venue try to envisage yourself in that place and think about how your day will happen, who will be there and how you'd like them to see you. Finding the best shape for you is easy with one of our experts as long as they know what feel you'd like."
When you've got an idea of the style of gown you like and you've researched your designers and boutiques (the image library here on Love My Dress is overflowing with gorgeous gowns and every feature will include details of the designer and boutique), it's time to go shopping. We'll be featuring advice from our bridal boutiques in a forthcoming feature but all of our designers agree that it's incredibly important to take the right people with you when you visit designers or boutiques:
"I always advise brides to bring a trusted friend with them when they come to try on dresses rather than a large party who often get carried away by everything," says Sarah of Sarah Willard Couture. "The trusted friend could be your Mum or your sister but it needs to be someone who really knows your sense of style and has your best interests at heart. You need them to be a real help in choosing what is, perhaps, the most important dress of your life."
"Bring no more than two friends or family members shopping with you, at least until you've narrowed down your options," advises Claire Pettibone. "If you're ready to choose your life partner, you should be able to choose a dress without a committee! It can sometimes get stressful with everyone offering unsolicited opinion so stay true to yourselves and try to enjoy this time. Oh, and wear flesh coloured underwear when you're shopping for gowns!"
Then comes the moment that many brides will admit, to themselves if not to everyone else, that they've been looking forward to for years – trying on dresses for their wedding. This is definitely not a moment to rush for many reasons, from the personal to the super practical.
"I would definitely always encourage brides-to-be to try on lots of different dresses," says Kate Beaumont. "Even if you've got something very specific in mind, it's still worth trying on other shapes and styles, if only to reinforce your original thoughts. After all, not many of use wear floor-length ivory dresses very often (and some of us never opt for that anyway!) so it's best to try on a few and see. Some women who come to me know exactly what they want and stick to it whilst others start with one idea and end up with something else entirely!"
"My biggest piece of advice would be to keep an open when you start looking for wedding dresses," says Naomi Neoh. "Try on lots of different shapes and styles and find what works for you. Taking images of your perfect dress with you is always helpful when you go to try on dresses but don't be disappointed if your perfect dress isn't so perfect once you try it on. It all helps to guide you towards finding the perfect silhouette and then you can work from there on the details of your dress."
Sabina from Sabina Motasem agrees wholeheartedly:
"Be open to different shapes and styles. You might have an idea of what shapes suit you best and to make sure it's the right one, it's a great idea to try on different dresses, even if it's just to reconfirm your initial feeling."
"Trying dresses on has led to that elusive 'yes, this is the one' moment a few times but mostly, it's the second visit that confirms your choice," explains Dana Bolton. "Once the excitement of visiting independent designers, like me, and boutiques has settled, quite often 'the' dress will just stay in your heart and mind and sometimes, yes, it might have been the first one you tried on but there's no need to rush."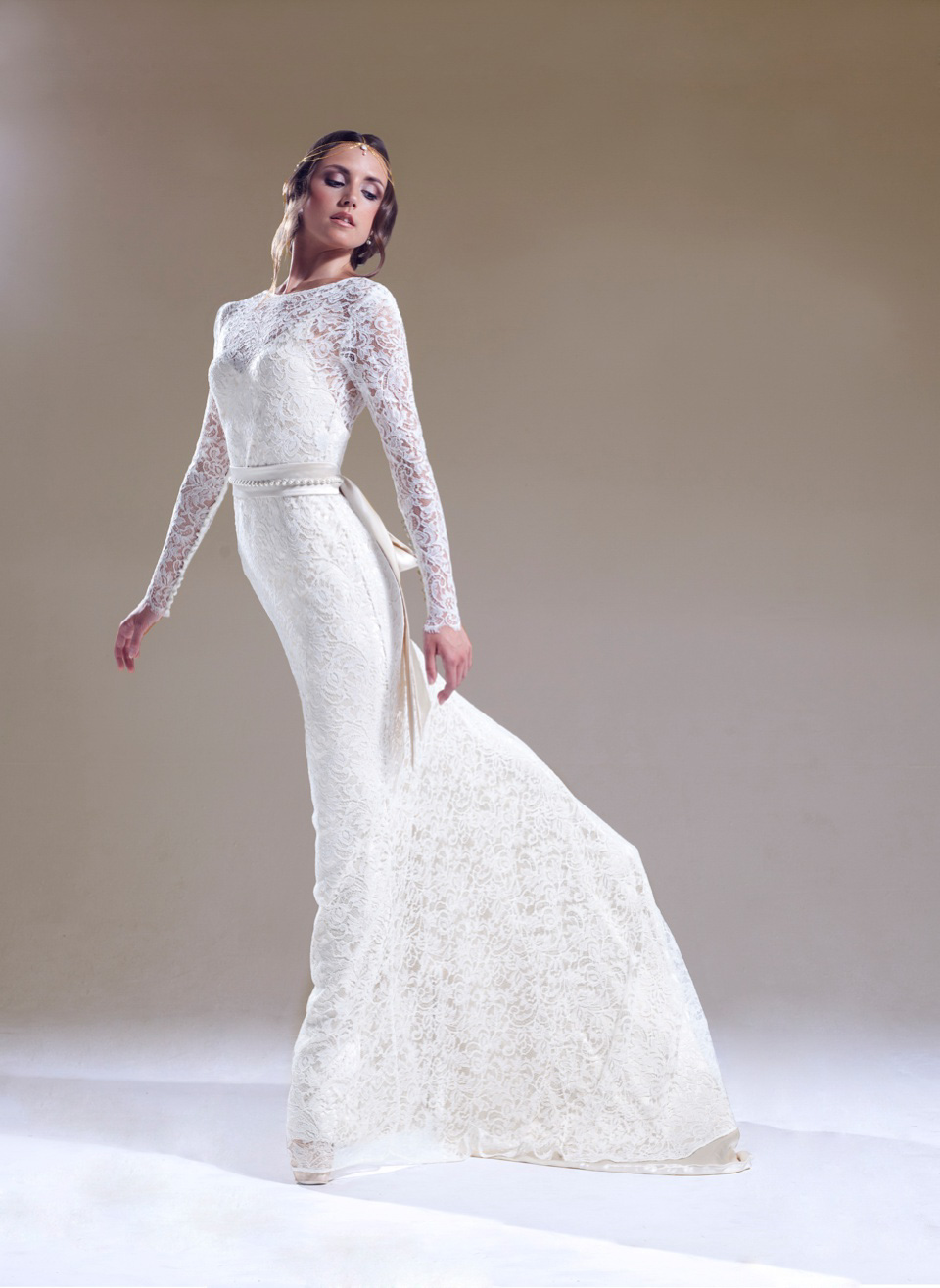 Whatever style of gown you choose, there are a few things that are incredibly important to remember. The importance of the fit, the fabrics and the finish cannot be overstated because together, these elements will elevate your wedding dress to brilliant perfection:
"The most flattering thing any bride can do is wear a dress that fits just right," says Chantelle of Chantelle Sophia. "Always sit down during a fitting, try some stairs and even have a little dance because if you're not comfortable in your dress, it will show on your wedding day. Don't forget that you're wearing your wedding dress all day and partying all night! Do you really want to be conscious of your gown on the big day?"
"I have to express the importance of materials," says Alison from New York based design house Dahl. "We use quite a range of fabrics with stretch, such as silks and laces, which move and adapt gracefully to the female form rather than constricting it. We find that brides of many different body types love the stretch fabrics because they allow you to have a fitted look without being too tight or uncomfortable."
"My top tip has to be 'be creative, be unique' and of course I would extol the virtues of choosing a bespoke wedding dress but not only do I think it's a brilliant opportunity for brides to be a part of the creative process it also seems to be gaining in popularity," explains Jessica Charleston. "In the current climate where we are all flooded with gorgeous, beautiful and inspiring weddings which is making the wedding world a highly aspirational place and brides are more style savvy than ever."
Working with a designer to create a personal, bespoke wedding dress is a path that, as Jessica mentioned, an ever-increasing numbers of brides are taking. There can be many reasons why this can be a great option."
Finding a wedding dress can be the most exciting part of wedding planning for some but for others, it can be worrying and stressful," says Kate of Kate Collins Design. "A large number of my clients find that the process of having a bespoke dress designed which will fit them perfectly has been invaluable in keeping them calm and relaxed about how they will look and feel on their wedding day. Because I work with my brides from the initial design consultation right through to the fitting and finishing stage, we're often good friends by the time the wedding day arrives!"
"Sometimes brides want to wear important family heirlooms such as antique lace veils or headpieces such as tiaras," explains Sanyukta Shrestha. "Creating a bespoke gown gives the bride the flexibility to wear the heirlooms without making them look old or out of place, but rather making them part of the whole ensemble."
"One of the advantages of having a bespoke dress is that you can get involved with the design process," explains Anna Ackred of This Modern Love. "Ultimately, you know whether you prefer a higher neckline or a little cap sleeve and you can shape the design to suit you. My designs are very relaxed and simple but I'm a stickler for colour and texture – it's all about soft, neutral matt tones here! Getting the right colour to suit your skin tone can make such a difference."
Renowned designer, Stewart Parvin, highlights the fact that a bespoke dress can often save you stress and time.
"There are so many benefits to having a bespoke dress and all fit issues are dealt with at the calico stage, the result of which is that your dress is perfectly proportioned for you. Whilst the initial cost may be slightly higher, it's a great investment as the time and stress of having a standard size adjusted to fit you correctly can end up being expensive, time consuming and stressful – which is the last think you need in the final weeks before your wedding!"
"Very few people are a standard size," continues Stewart. "You could have a large bust or be particularly tall or short, having a dress made to measure for you will ensure you look perfect on your big day."
"Our brides say that the bespoke process is an amazing journey and it's something you'll remember forever," says Andrea Hawkes. "It's a special, personal service –we get to know our brides and find out exactly what they're all about. You can have exactly what you want for your special day. We keep it simple – there's a selection of samples which can be adapted to suit and brides can be as creative as possible with our guidance or we can design something specifically for you. Opting for bespoke allows you to feel relaxed knowing that all is in hand."
So, how do you find the right bespoke designer for you?
"Look for someone who has examples of work you can see and who makes you feel that they are excited and on your wavelength too," says Sarah of Sarah Willard Couture. "Expect them to take some time clarifying and refining your ideas because not everything works and it would be a shame to end up with a dress that looks as if every idea was thrown into the mix."
"I've always felt that 'true beauty is authenticity', and I've made that a real mantra for my creative work and the direction of The State of Grace. I wanted to provide a place where instead of brides-to-be feeling that they had to become something that the media, fashion and convention dictated they should be on their wedding day, that instead they could explore and express their very unique femininity. A woman is no more beautiful than when she is feeling comfortable. This is, of course, also when her husband-to-be loves her most. So, having a bespoke dress and accessories designed and made especially for you is all about being the most gorgeous version of your 'real' self possible. The freedom to choose the exact fabric, the precise colour and all the exquisite detailing that make your heart sing and knowing that no else will ever wear this dress, apart from maybe your own daughter to whom you may pass on this precious heirloom."
The State of Grace
Images by Susie Mackie Photography
"Having a bespoke dress made is an amazing experience but it definitely isn't for everyone," cautions Kate Beaumont. "I think you need to have a lot of confidence in your own judgement and know fairly well what works on your own body. The ability to see the potential in what's being mocked-up for you is also essential as you don't see the dress in the finished fabric until you're almost done. Your designer will be able to advise and guide you throughout the process but self-understanding and confidence is a must."
Before we move on from bespoke gowns, Kate Beaumont has one very important point to make:
"Finally, it's totally acceptable for brides to be inspired by other things they've seen elsewhere but, if you're looking for a replica of another wedding dress, you should definitely just buy the original!"
Just as bespoke gowns are becoming increasingly popular, more and more brides are also sourcing their gowns online. Web-based retailers Kitty & Dulcie have some fantastic tips for online bridal gown shopping:
"If you're buying from the internet, it's essential that you have measured yourself correctly. Don't assume that you're a standard size and it's imperative that you follow the instructions on how to measure and then compare with the size charts on the site. Make sure you can email or phone the company you're purchasing from so that you're able to ask as many questions as possible – we encourage brides to discuss everything with us from the cut and flow of the gown to the types of shoes and hair accessories that will match."
"Don't forget to allow time for delivery. At Kitty & Dulcie, we aim to dispatch items in stock within five working days but it can take up to twelve weeks for new stock to arrive and much longer on many other sites. Finally, make sure that you're able to return the gown for a full refund if it isn't suitable."
Kitty & Dulcie 'Love Me Do' gown
Was £395 now £150
The time has come to turn our attention to bridal trends and ask our experts for their thoughts on the styles that we're going to be seeing more and more of over the coming year. However, bridal fashion is certainly not the fast-moving, instant trend world of the high street:
"Bridal fashion is a slow burning style change," says Dana Bolton. "Themes will remain for years and overlap each other. So many brides marry outdoors or at least have their receptions outside and this, I believe, has contributed to the relaxing of formality so many brides come to me looking for something soft, unstructured, a bit whimsical and often floaty."
Dana Bolton
Photography by Kirsten Mavric 
Aimee from Karen Willis Holmes says that 2016 might see a move away from this soft style:
"I'm seeing a move from lace towards luxurious yet simpler fabrics and these are incorporated into beautiful structured, flattering and dramatic silhouettes. For 2016, think clean, tailored lines in fitted, dramatic shapes."
Kate Collins believes that our love of the Bohemian will remain popular for the coming year but we'll see a few new styling cues too:
"The 70s influence in mainstream fashion has trickled into bridal and we'll see soft colour and subtly patterned fabrics in my new designs for 2016 but they'll always be mixed with a little vintage glamour!"
Alison from Dahl thinks fringing (whether used subtly or more daringly) will be seen in more bridal designs as well as prints, colours and long sleeves. She also loves bridal separates as do London-based Belle & Bunty:
"Whether you want the slinky Hollywood Glamour look, a pretty lace style, clean and modern lines or the floaty, boho feel, separates give you flexibility to choose," explains Hannah from Belle & Bunty. "Bridal separates mean that two brides can create really differing looks with the same skirts but different tops then ensure that you get your dream wedding day look and feel completely like 'you' but on a good day. We've had brides pick one top for their ceremony and add a lace cover-up or change tops for their party. We also love the idea of separates when you can wear one piece of your wedding day look, dressed down, for your anniversary dinner for example. We find that separates give girls a great and economical way of dressing on the big day which seems so perfectly modern. If you're unsure about separates, we say give them a go!"
Belle & Bunty
See this full collection here
 Another very different bridal look is the jumpsuit and House of Ollichon are pioneers in this area:
"As well as us girls, weddings have also evolved. With wedding celebrations spanning across long weekends and including cocktails, brunches, ceremonies and the big bash itself, do you really want to wear a dress all the time? Release your inner Amal Clooney and don some cool trousers! Jumpsuits are the perfect solution to many body woes so if you've got big boobs, if you're lacking curves or need to hide a tum or create inches or curves, there's a design that will suit you."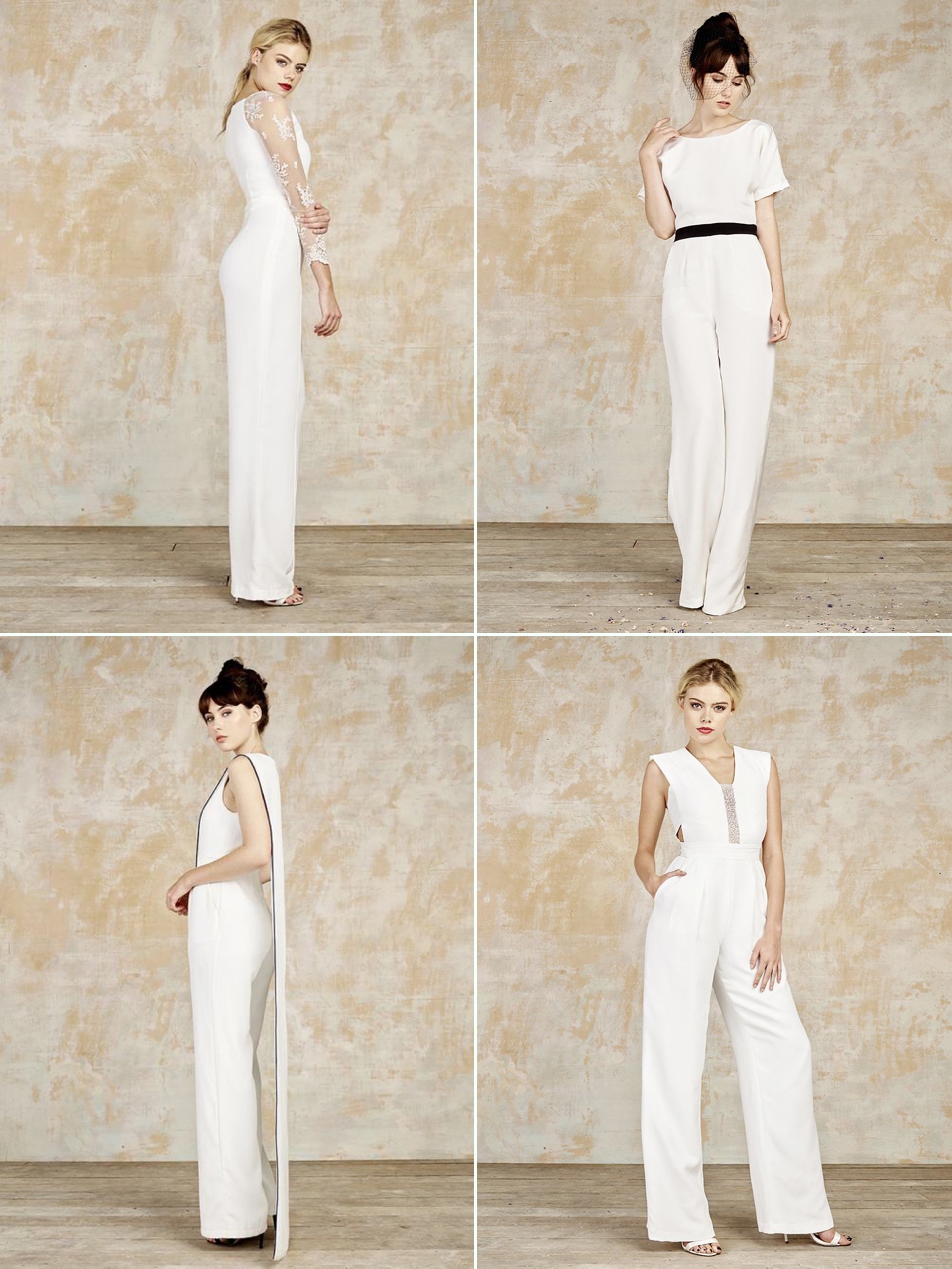 However, when it comes to trends, or indeed to all things design, Sally Lacock has some incredibly wise words:
"Work with a designer whose look suits your innate sense of style. Don't be a slave to current trends or you could be in danger of looking the same as everyone else. Focus on style over fashion and keep a strong sense of individuality."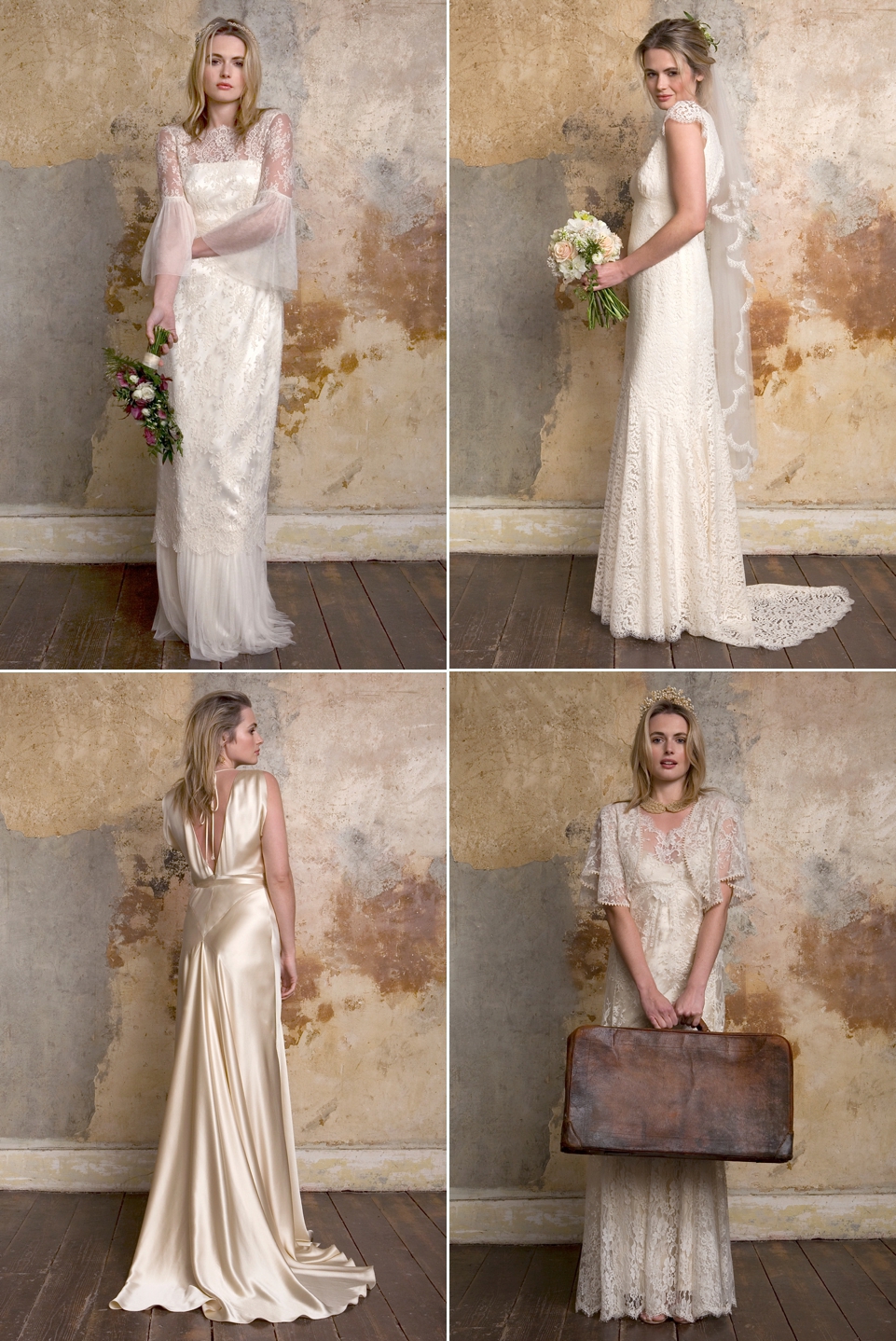 Individuality is the absolute key when it comes to selecting your wedding dress – simply being happy and comfortable with yourself is what will make your wedding day look incomparably special…
"There is a difference between wanting to look your very best and feeling nervous and unworthy because of the way you look now," says Rosie of Rosie Red Corsetry & Couture. "Your partner loves you how you are now. Heck, they want to announce it to the world that they want to be with you forever. The most beautiful version of you that they can imagine is a happy you."
"Yes, the dress is important but the most important thing is that you feel happy and confident. If you're on a diet now to try and shift a few extra pounds for the big day then good luck, I'm totally in favour of a healthier, happier you. But just remember that you, you as you are, are good enough. You're getting married and that's the most exciting thing of all."
"As a celebrity stylist and bridal wear designer I have dressed some of the worlds most Iconic women. However there is nothing that gives me more pleasure and satisfaction than helping a bride find her dream dress. We encourage all the wonderful ladies that come to halfpenny London to try lots of different looks as our collection is diverse and has many different styles. If however you can't find exactly what you're looking for then we can make you a semi bespoke or an entirely made to measure gown."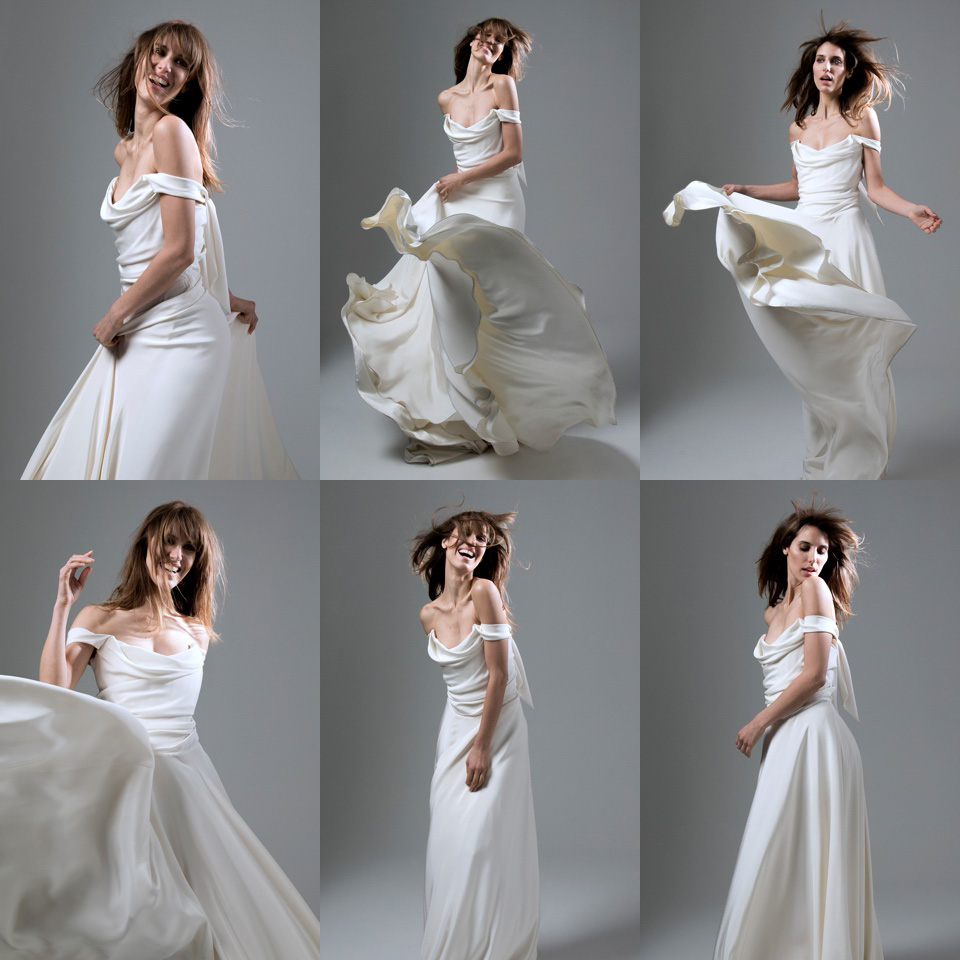 It certainly is isn't it?
Thank you so much to the amazing designers from Little Book for Brides who have contributed to this feature. You'll find them all, and many more hard-working and splendid wedding suppliers, in our carefully curated bridal resource so do take a look soon.
Love Tamryn x