Good morning and happy bonfire night! I hope you'll be off somewhere this evening to eat toffee apples and wave a sparkler around? We have a gorgeous beachside wedding for you to devour today, with every moment captured forever by photographer Heather Shuker of Election Photography. Our happy couple, Amanda and Chris, married by the beach on a rainy Thursday in May this year, and loved every moment!
"We both love vintage and I think that's why we headed in a shabby chic direction for our wedding day style. We knew we had to have purple and daffodils and I kept a scrap book that was full to the brim with pictures of birdcages, tins, suitcases, lanterns and so much more. Chris always jokes that from that scrapbook he could have planned the wedding all by himself!"
Images by Eclection Photography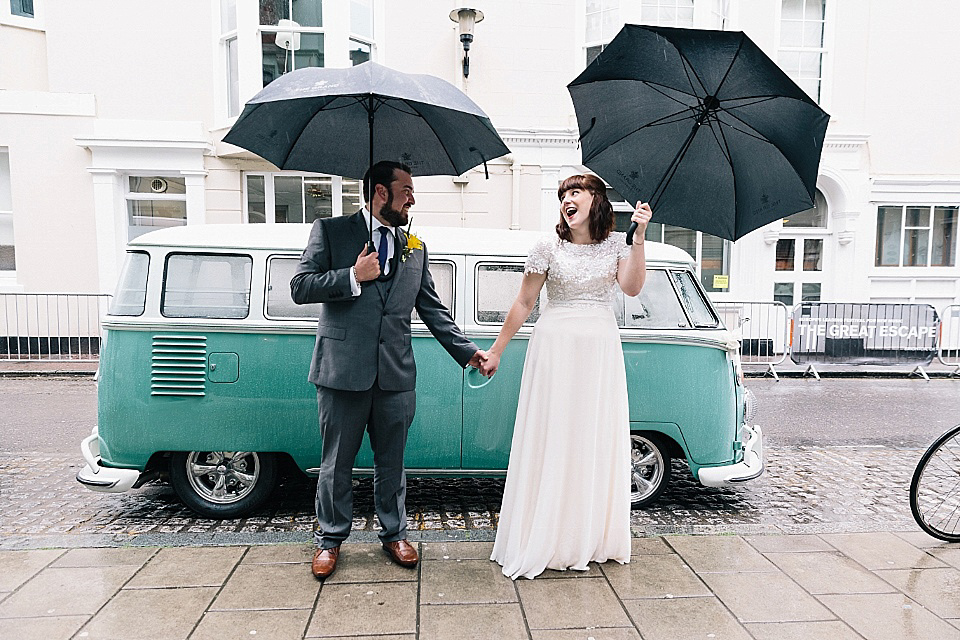 Amanda's dress was a fabulous online find from Elliot Claire London, and isn't it lovely? I especially love the sequinned neckline.
 "I originally fell in love with a Jenny Packham dress but I soon realised that this was beyond my budget. At the time I was looking for my dress there was a lot of discussion about buying from the high street so I Googled 'high street wedding dresses' and to my surprise up popped Not on the High Street."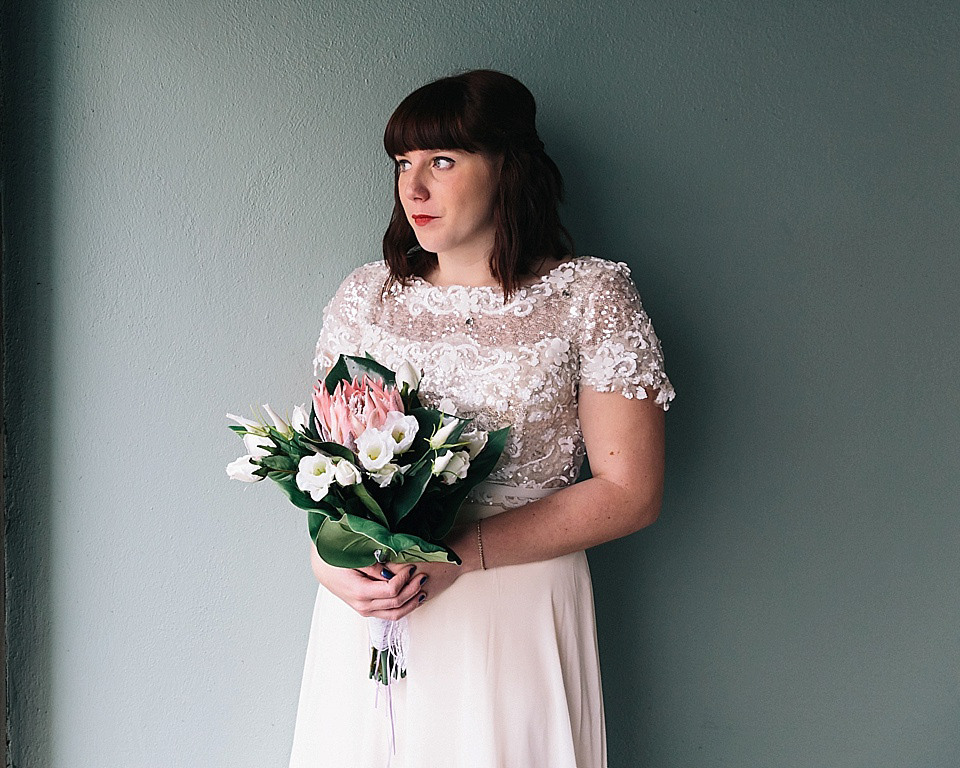 "I found two dresses I loved and once they arrived I fell instantly in love with my dress. I had the 'moment' and tried it on straight away – I never wanted to take it off. I felt so glamorous and comfortable. It skimmed in all the right places and just felt different to all the other dresses I'd seen."
Amanda teamed her dress with vintage lace shoes, a glamorous headband, which was a gift from her aunt, and a pair of blue earrings from Pandora which were a gift from two of her bridesmaids. 
"My something old was a bracelet given to me by my Nanna which I knew meant a great deal to her and was such it was such a privilege to wear on the day."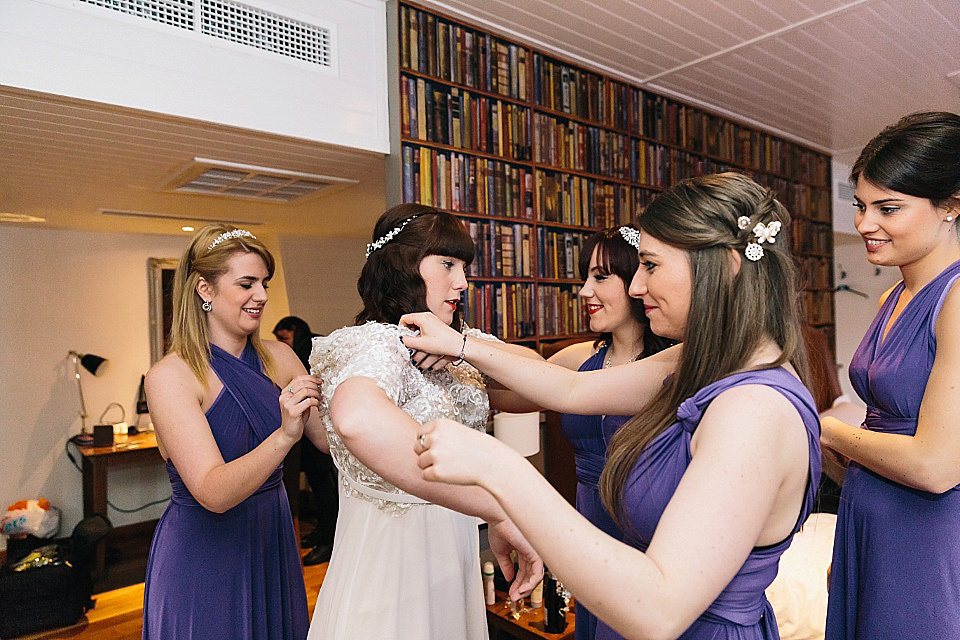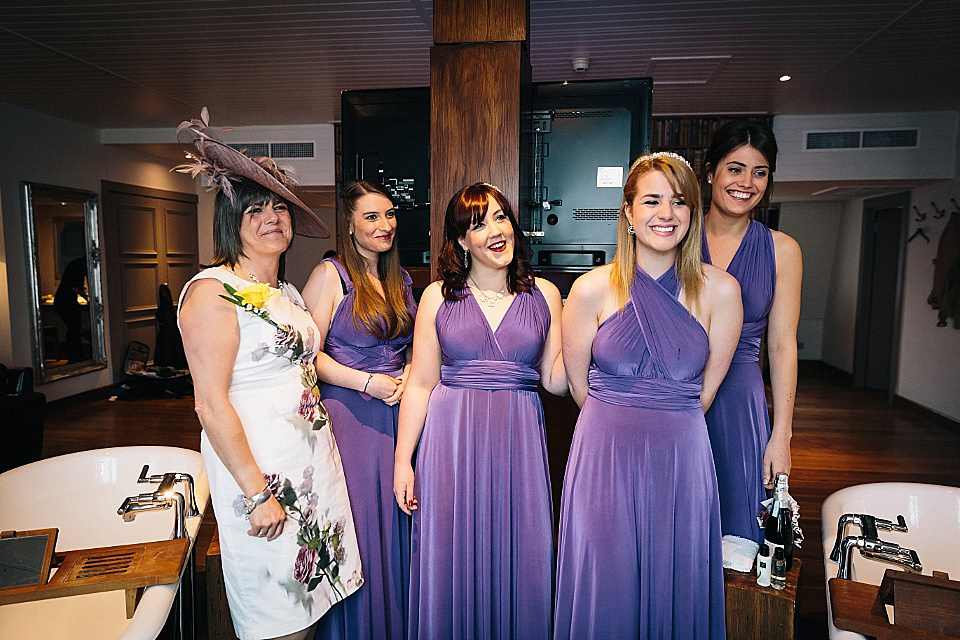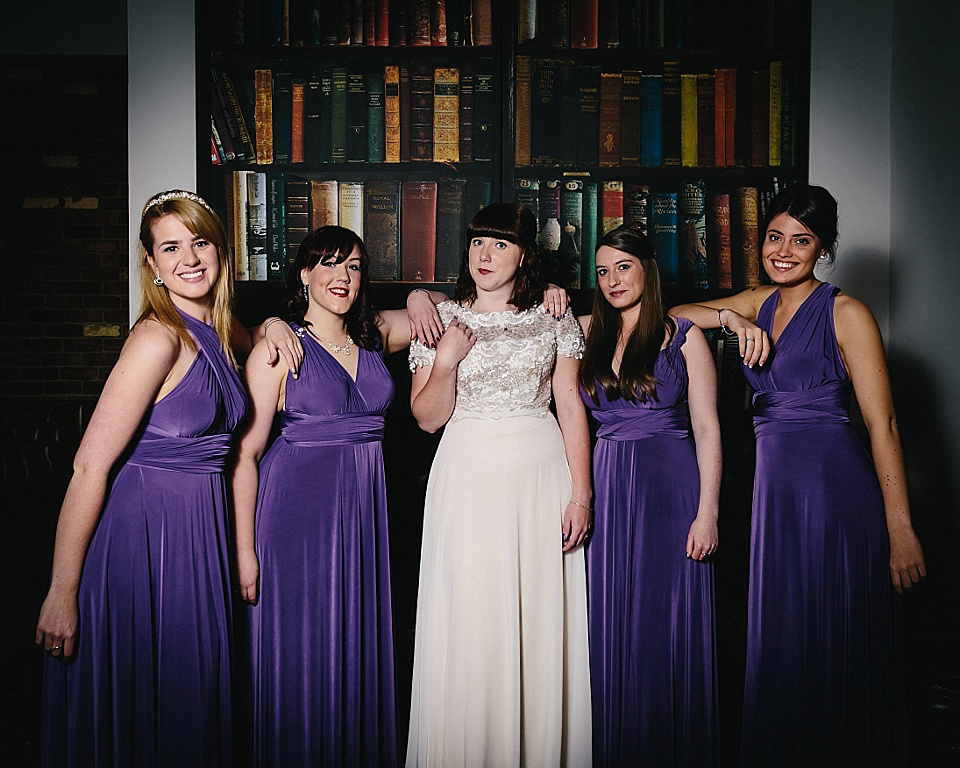 "My Dad seeing me for the first time on the day was one of the most emotional parts of the day. I've never really seen him cry and he just couldn't stop. Neither could I once he started!"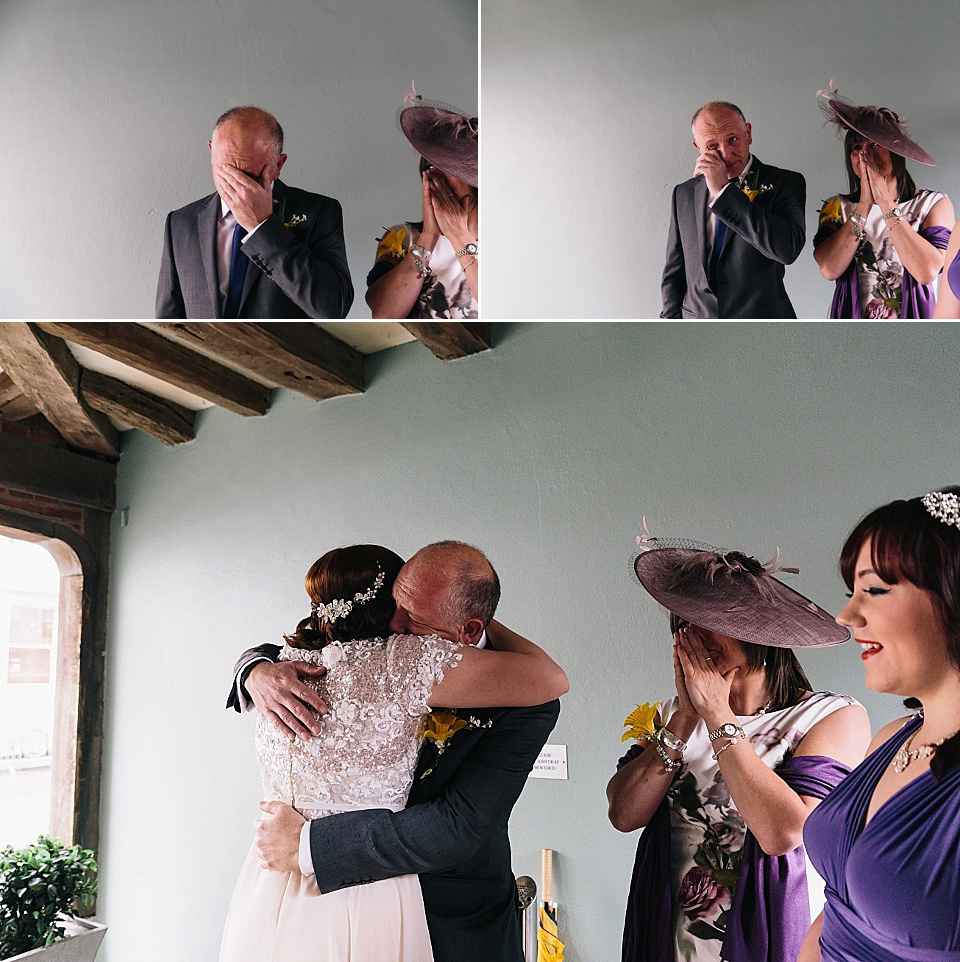 "My amazing mother in law purchased the bridesmaid dresses from Gelique, who are based in South Africa. These convertible dresses were just amazing for my bridesmaids. I had worn one myself and one of my most loved memories is helping my girls choose how they wanted to look on the day. They were all unique and all looked stunning."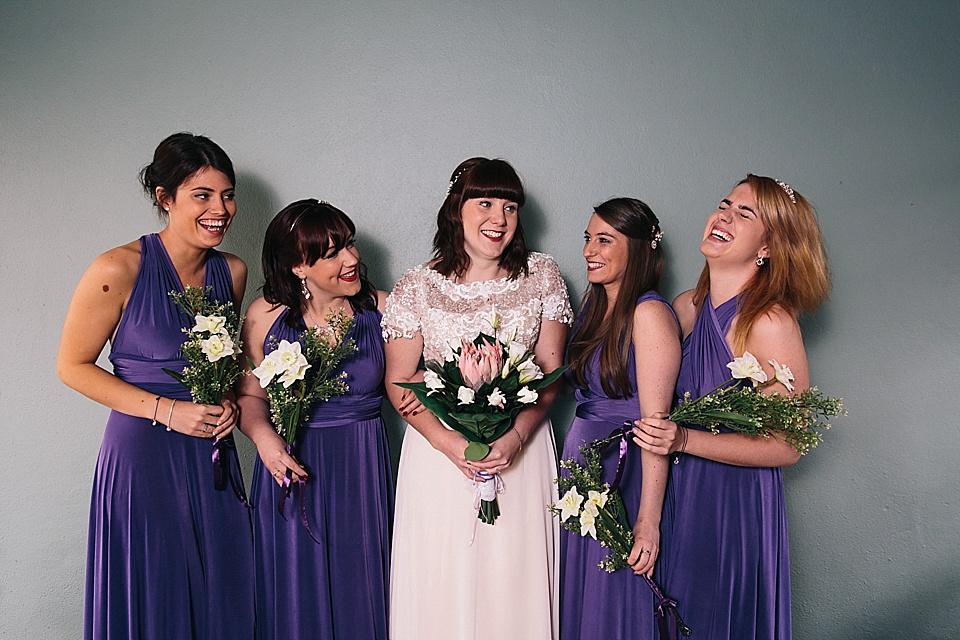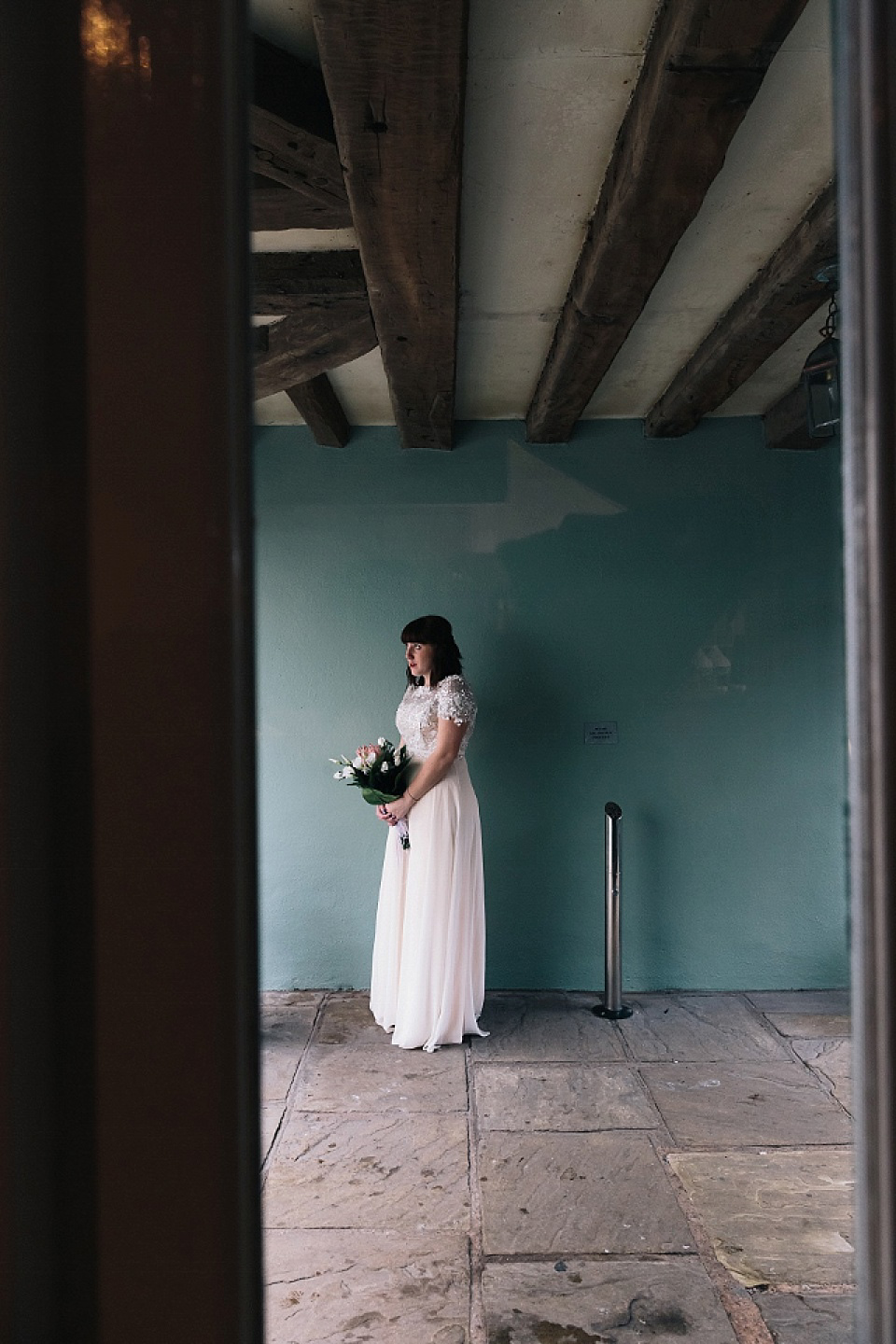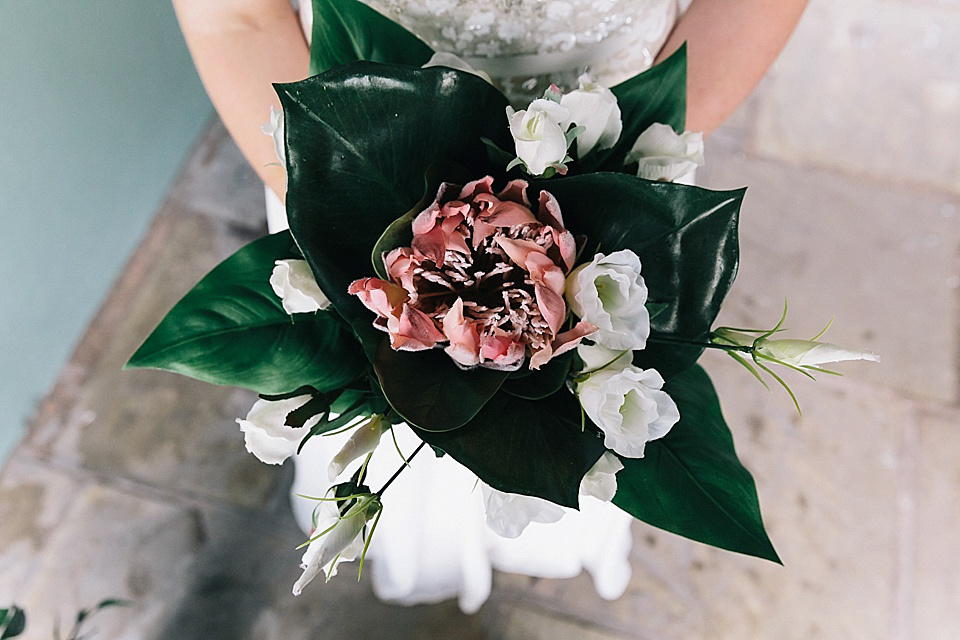 "My hair was styled by Jenny from Cove Hair in Brighton- an absolute pro at wedding hair and helping choosing the perfect style for the day. Jenny made sure the wind and rain wouldn't ruin my hair one little bit! My make up was done by my best friend and Maid of Honour Rebekah. I can't thank her enough for the continued make up 'top ups' throughout the day."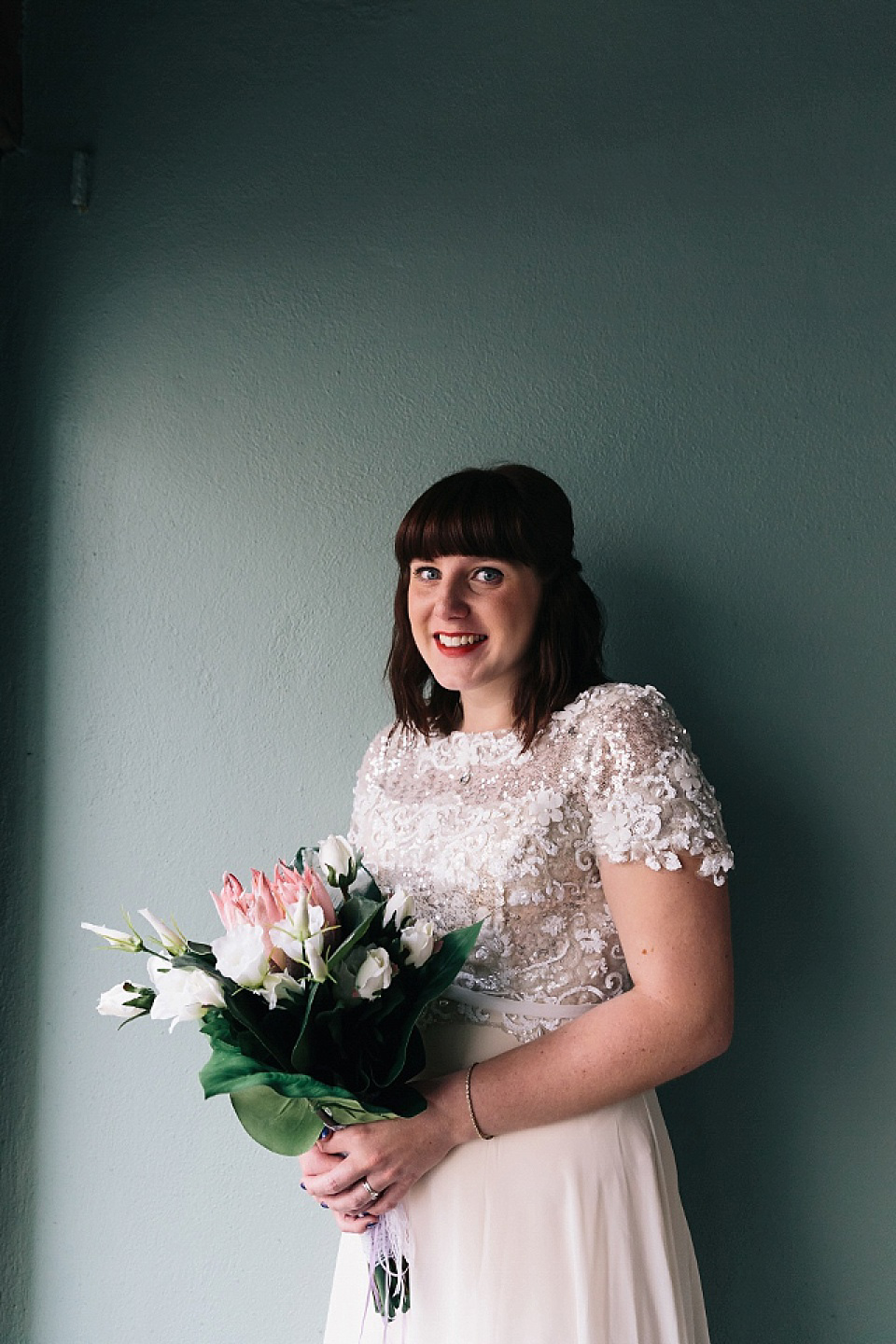 "Chris and I met at Shap Wells Hotel in the Lake District. I grew up in the tiny village of Shap not far from the hotel, while Chris was originally born in Greece and brought up in South Africa. I'm still not sure to this day how he stumbled upon this hotel in the middle of nowhere but it was obviously meant to be."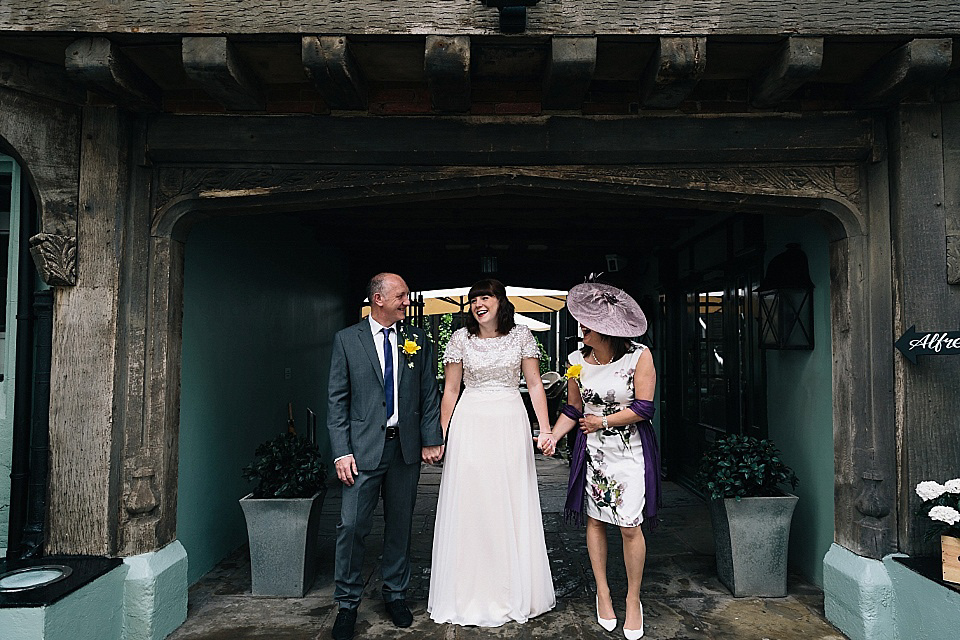 "We got together at the Christmas Party that year and as they say the rest is history. We moved to Brighton a year later and Chris proposed on the 4th February 2012. We were engaged for three years before we got married."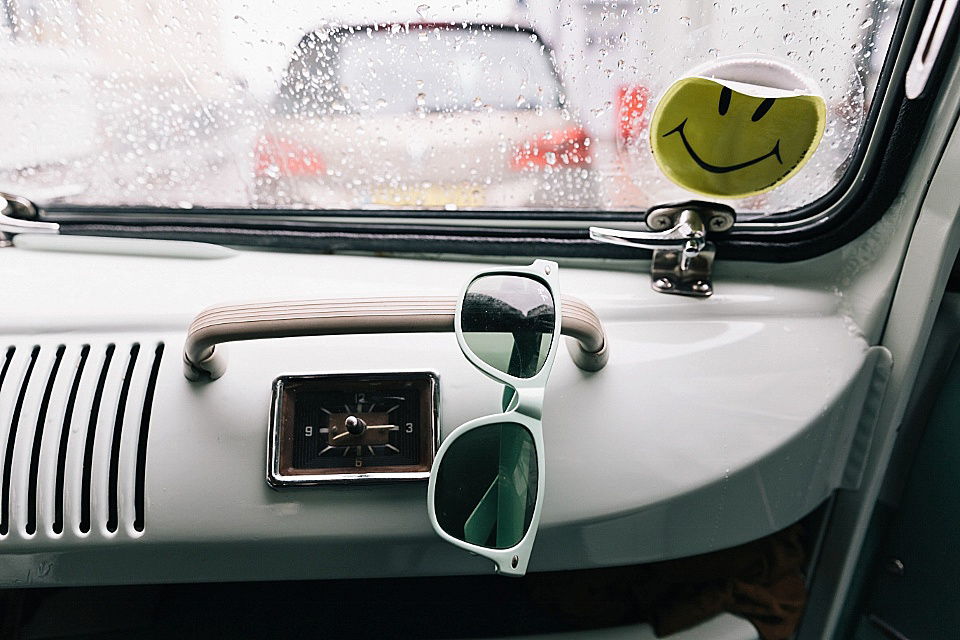 To match the bridesmaids, Chris chose a purple skinny tie and Amanda bought him a pair of cufflinks in a moon and star design. Chris' best man and ushers wore the same suit and Amanda's Dad even chose yellow socks to match the buttonholes.
"Chris always wanted a grey suit and wasn't a fan of traditional wedding suits. We have a Moss Bros store in Hove and every time we would walk past, Chris had to stop and look. He had his own 'moment' and had a great time trying on suits with my Dad."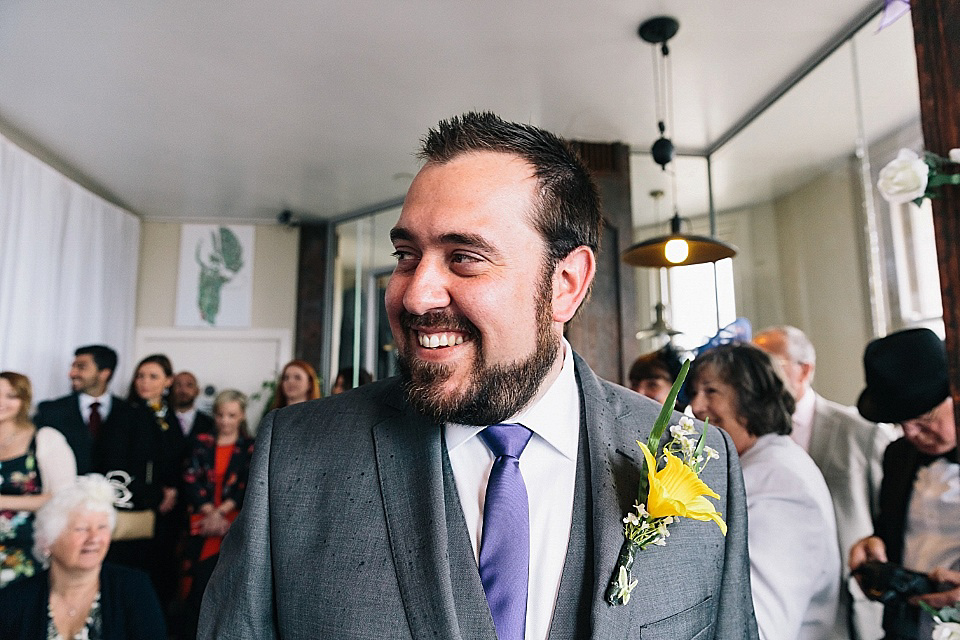 Amanda was walked down the aisle by her incredibly proud Dad, to Clair De Lune by Claude Debussy, one of Amanda's favourite pieces of music.  Amanda and Chris then said the traditional vows to one another, as these time-honoured words meant a lot to them.
 "My brother, who was also Chris' Best Man, read 'On Your wedding Day'. We wanted him to be part of the ceremony in some way but we never anticipated how emotional he would be- he made it through and it just made it feel extra special."
"A treasured memory which will always stand out will be when my brother Ryan presented us with the rings at the ceremony. He first presented us with Haribo rings which made the whole room laugh (with the picture to capture it) and I was so hungry that I ate one and Ryan had the other before Chris could get a chance."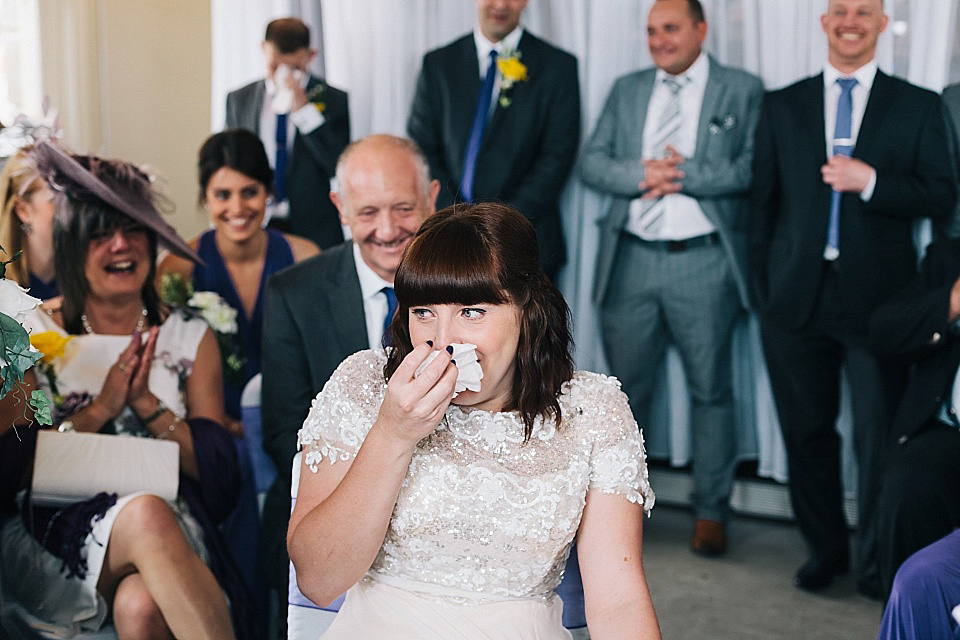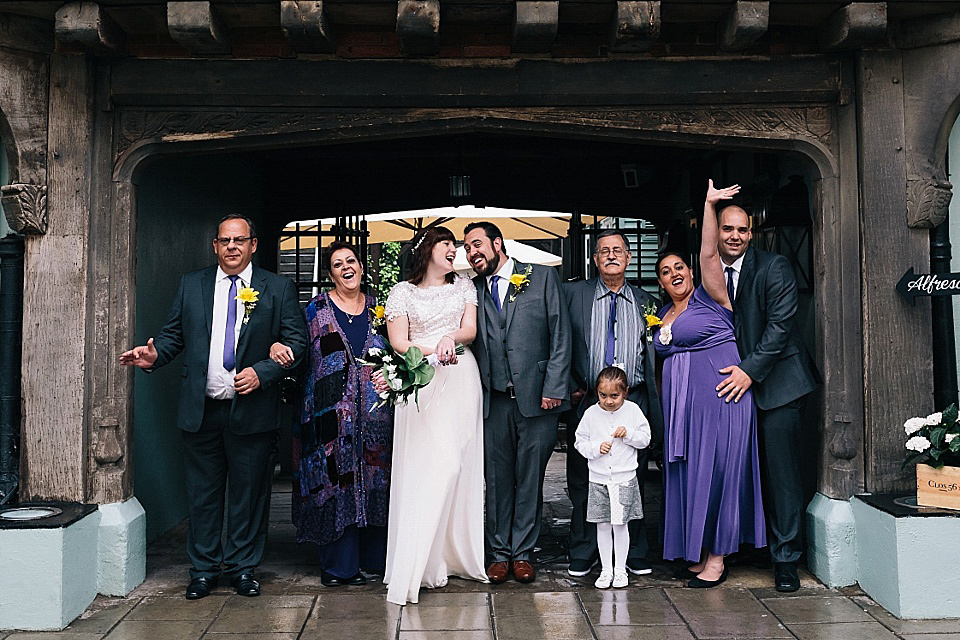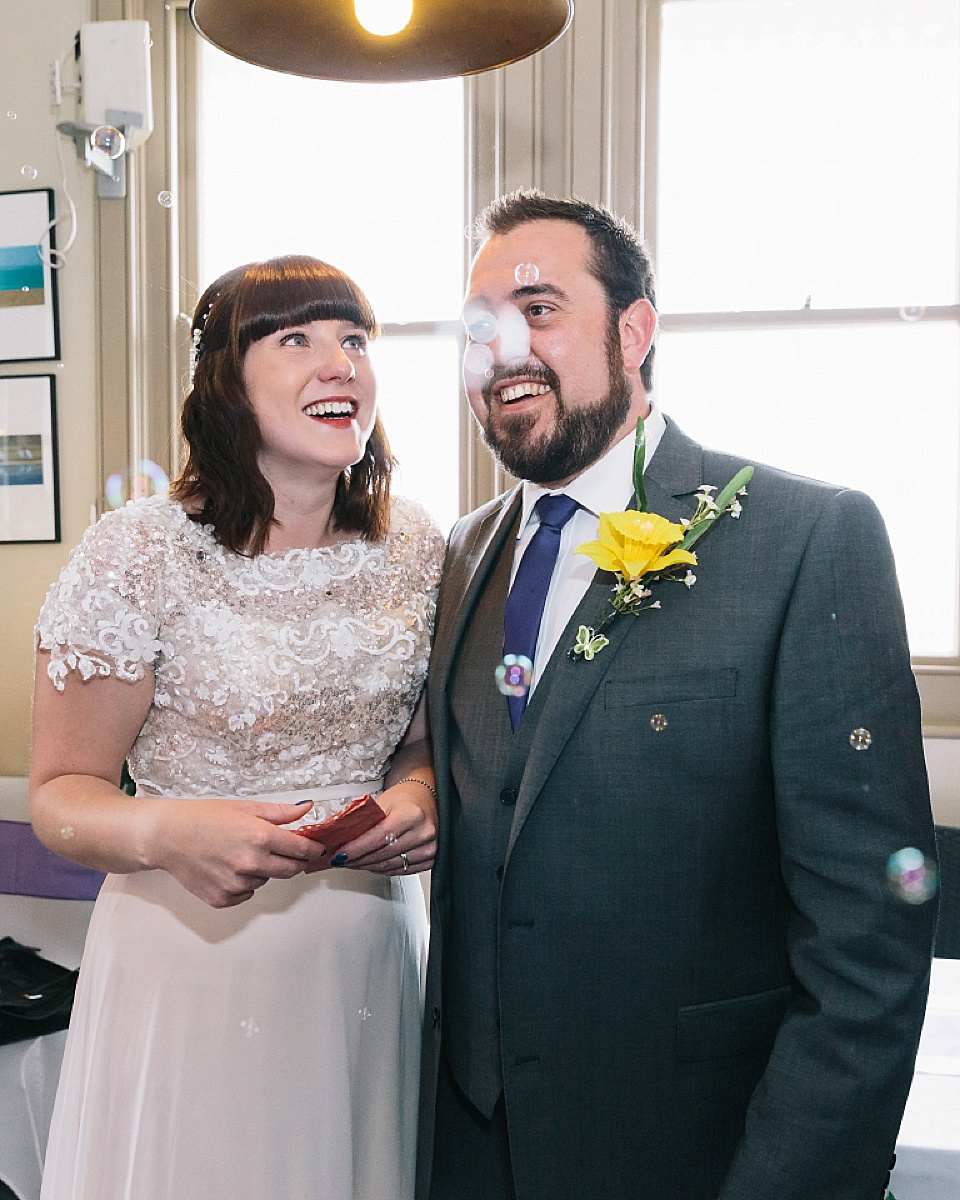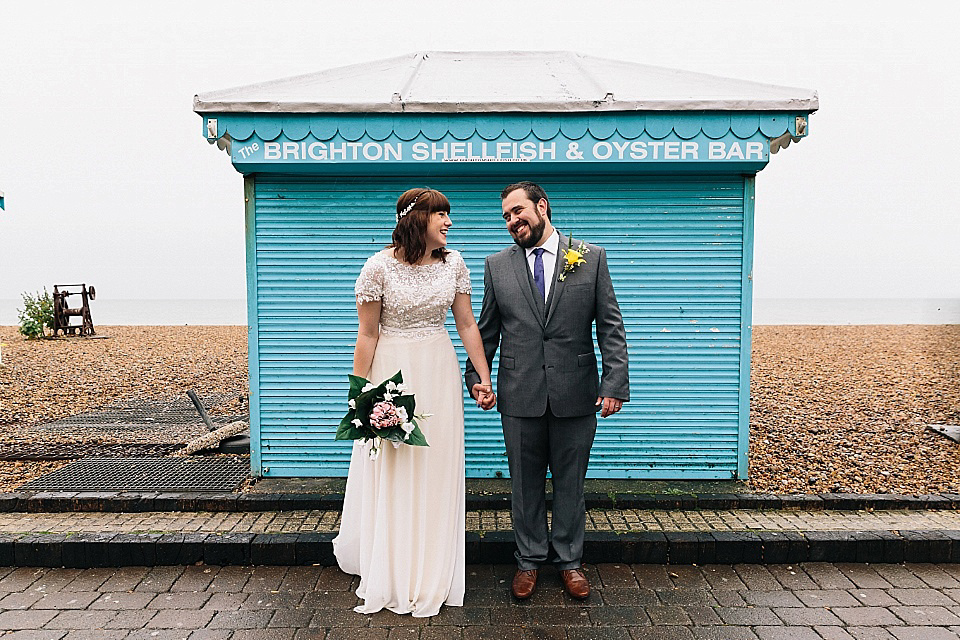 Heather Shuker of Eclection Photography was the photographic maestro for the day, and what a wonderful job she did. Heather's work has featured on Love my Dress many times in the past and she is soon to be a member of our fabulous new Little Book For Brides®, so do go and have a look at her work if you're looking for a photographer at the moment.
"Heather was just amazing and I recommend everyone to have her capture your perfect day! The photographer was one of our main priorities for our wedding and we knew we had made the perfect choice in Heather. We loved her and our friends and family did too- she was so supportive and kept everyone in check when getting the photos we requested. She also rolled around on the pebbles in the rain to get the perfect shot!"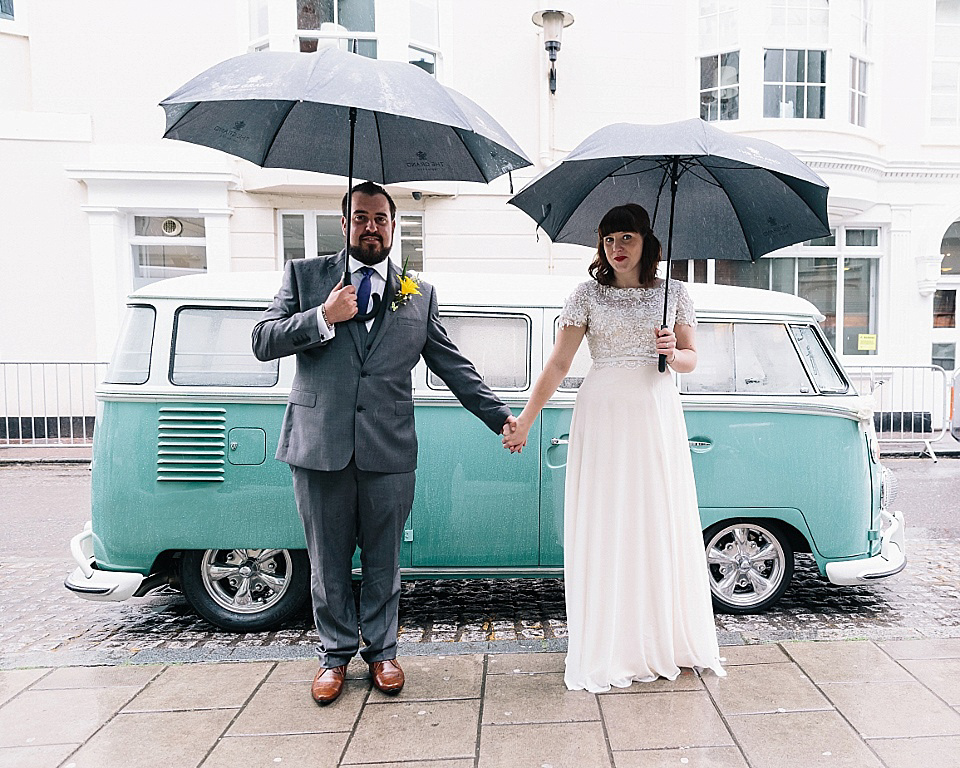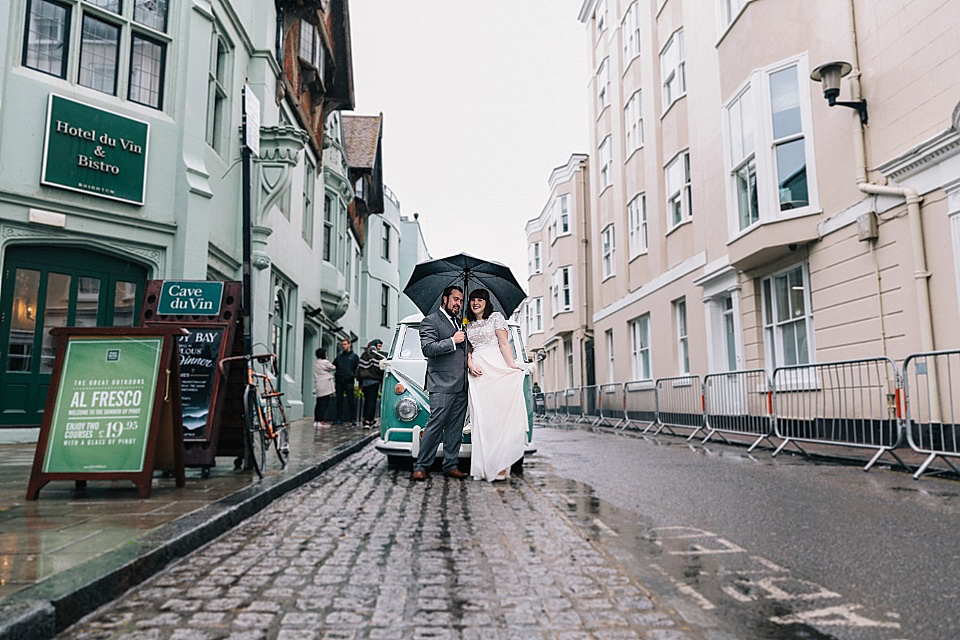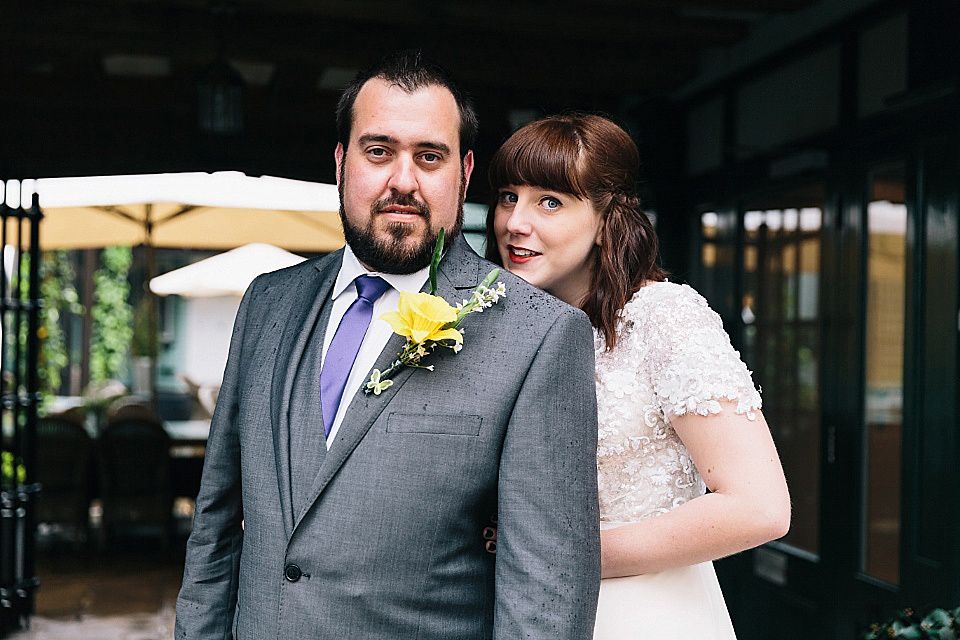 "Our ceremony was held at the beautiful Brighton Bandstand, our favourite place in the whole of Brighton. We fell in love with the bandstand the moment we made Brighton our home and once Chris asked me to marry him, we always knew it would be the place we said 'I do'."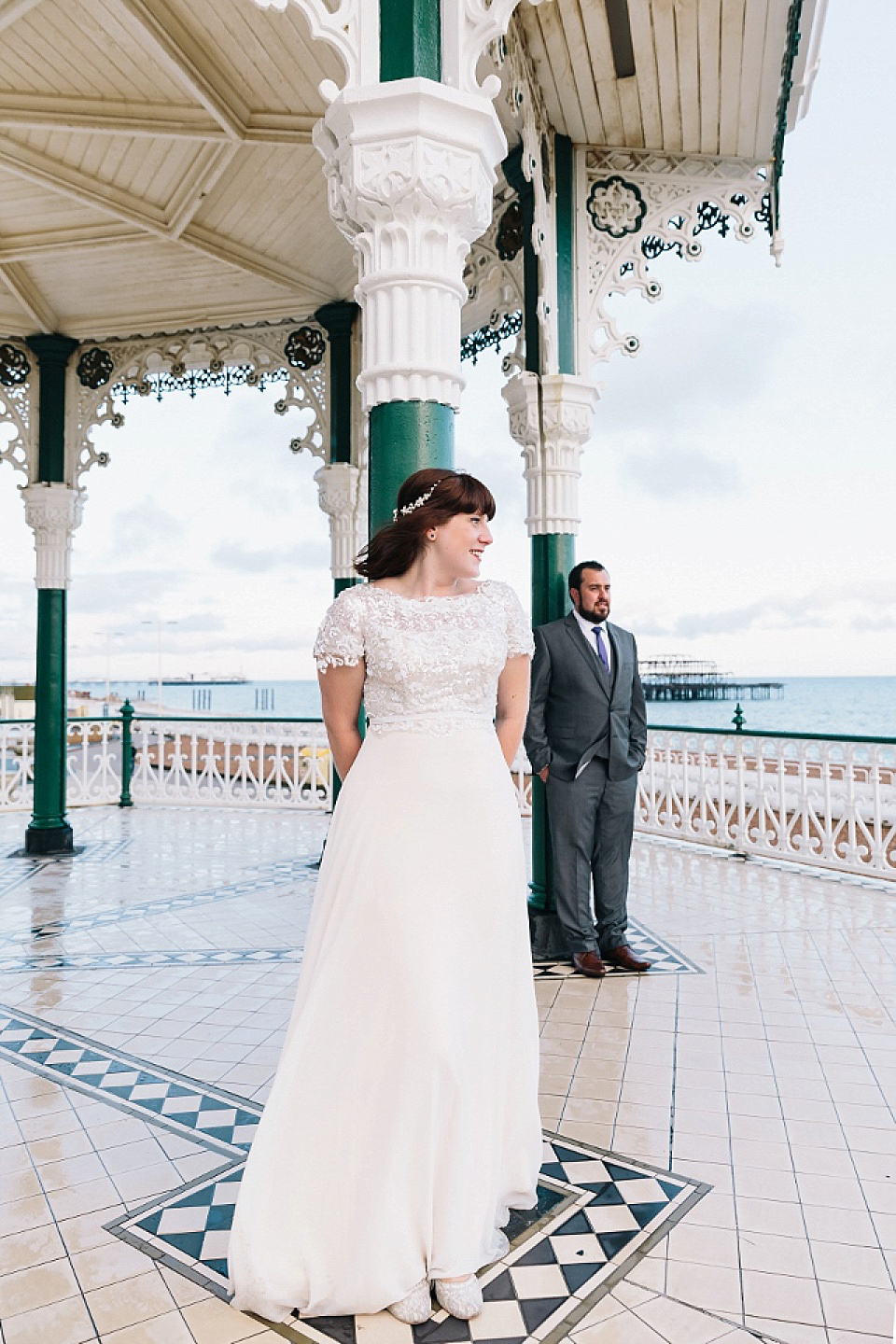 "We wouldn't change a single thing about our day. We didn't let the weather or the fact I was ill with the flu spoil our day for one second. We fully embraced every opportunity and even though we had our heart set on marrying on the top of the bandstand, having the ceremony in the café underneath made the ceremony feel much more intimate and we knew we had all our loved ones squeezed into one room."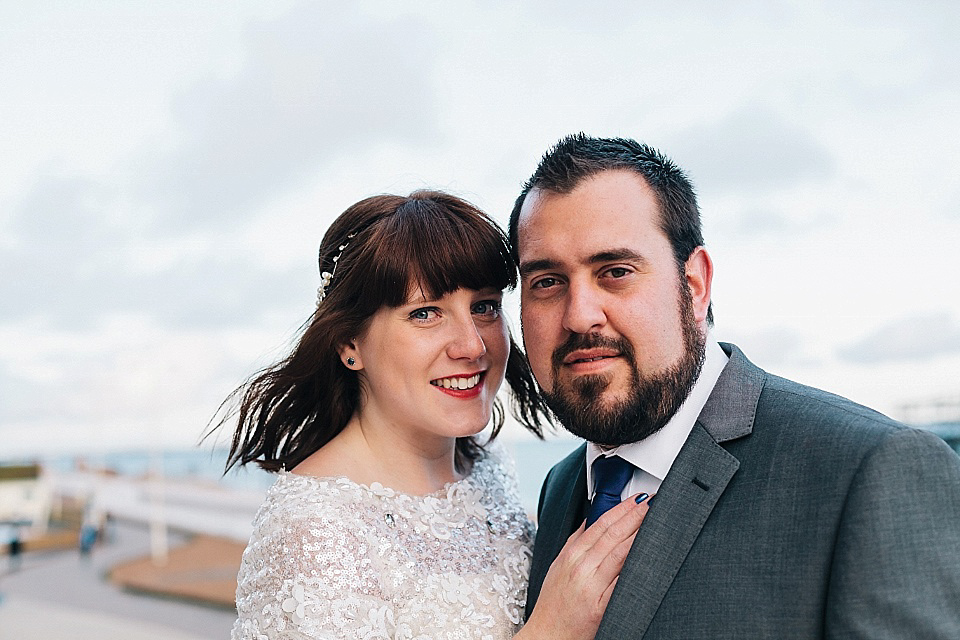 "Lisa Fox, who regularly decorates the bandstand did such an amazing job, you would never have guessed that it was a café. There was so much love and happiness throughout the day that the weather was just forgotten about.
The rain added to the fun of our day and without it we would have missed having the beach all to ourselves; along with all our fantastic photos."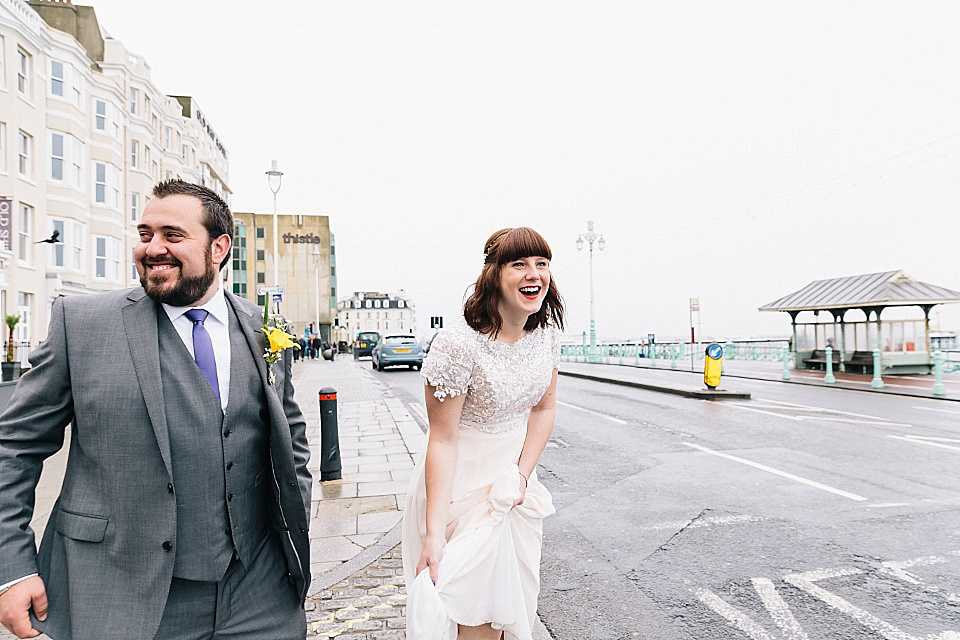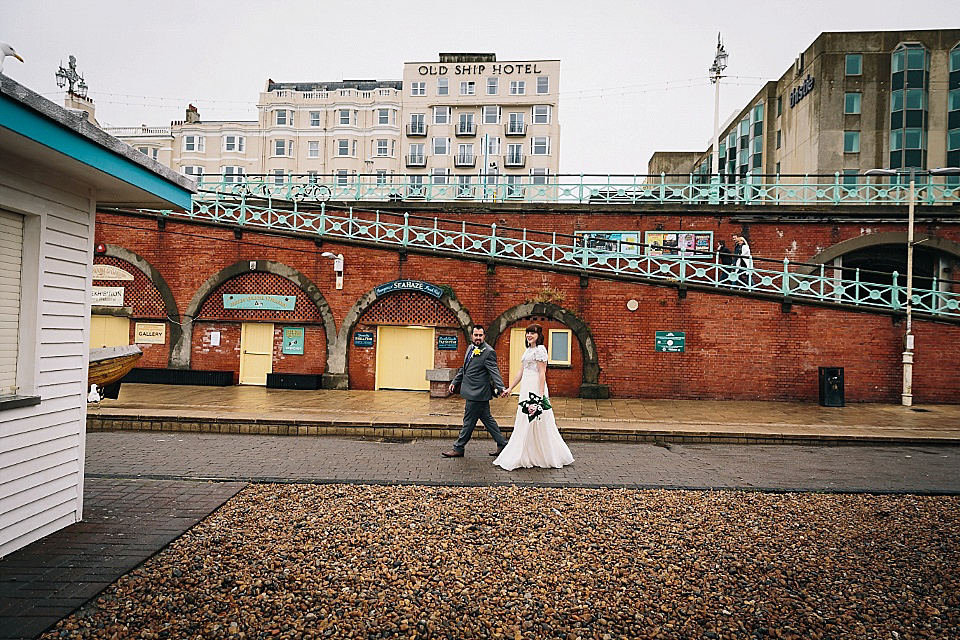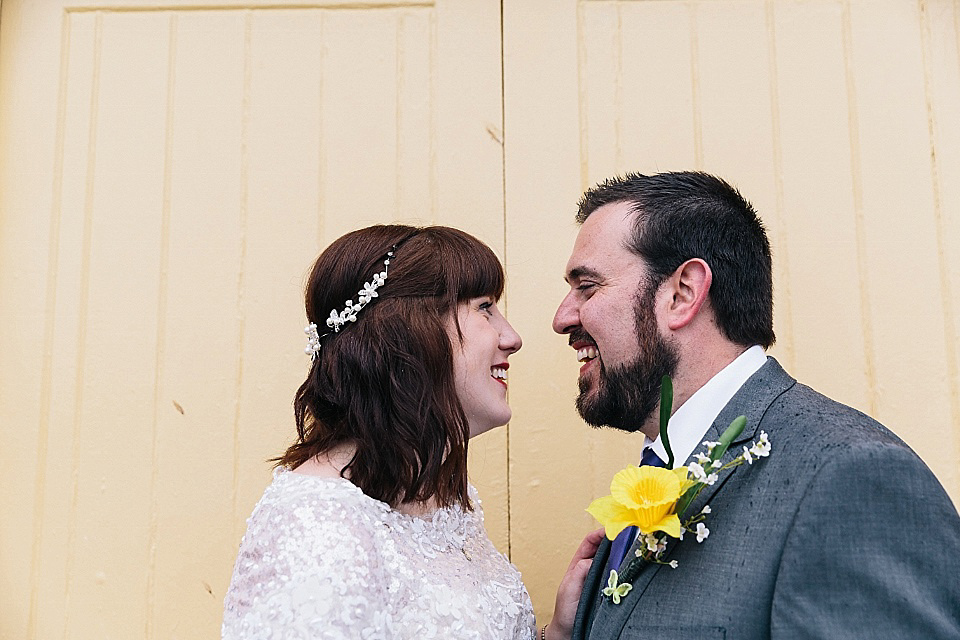 Amanda and Chris chose local venue Hotel du Vin for their reception celebrations.
"Finding a venue for the reception was one of the most difficult choices for us and we really weren't sure what we wanted. Our original choice was my place of work, The Grand Brighton Hotel. However, although it's one of the most beautiful places in the city, it just didn't feel right getting married where I work.
We did a bit of research and picked a few to have a look around, Hotel du Vin being the first and what a good first choice for us. We fell in love instantly- it just fit; like we were always meant to be there.  The Dome room was the perfecting setting for our reception."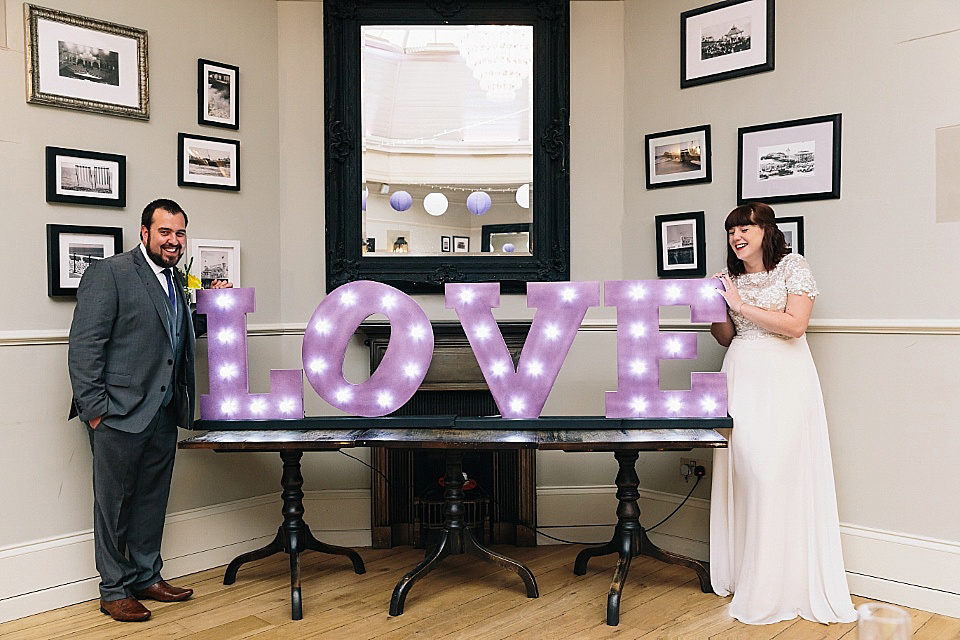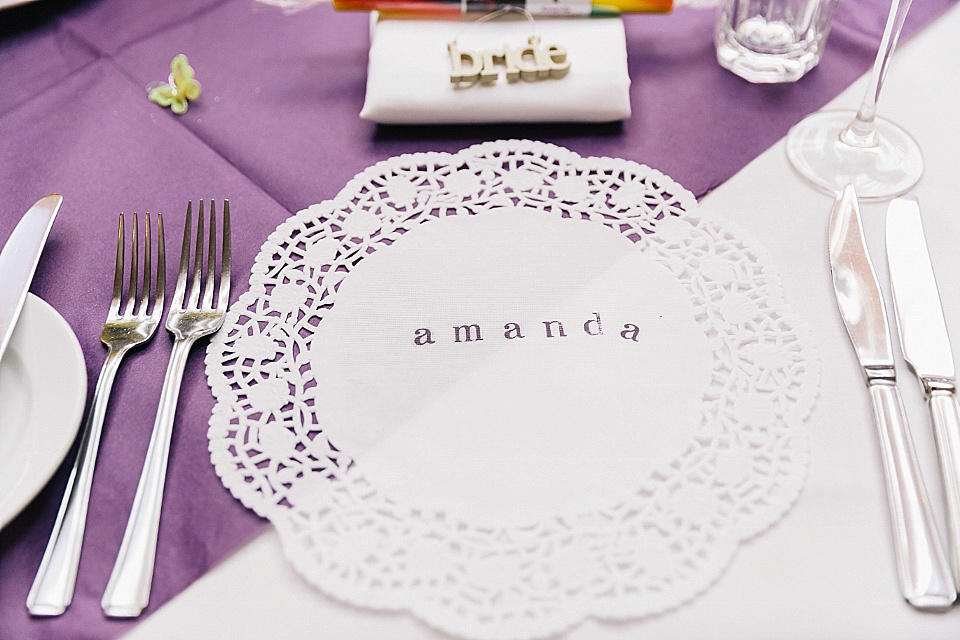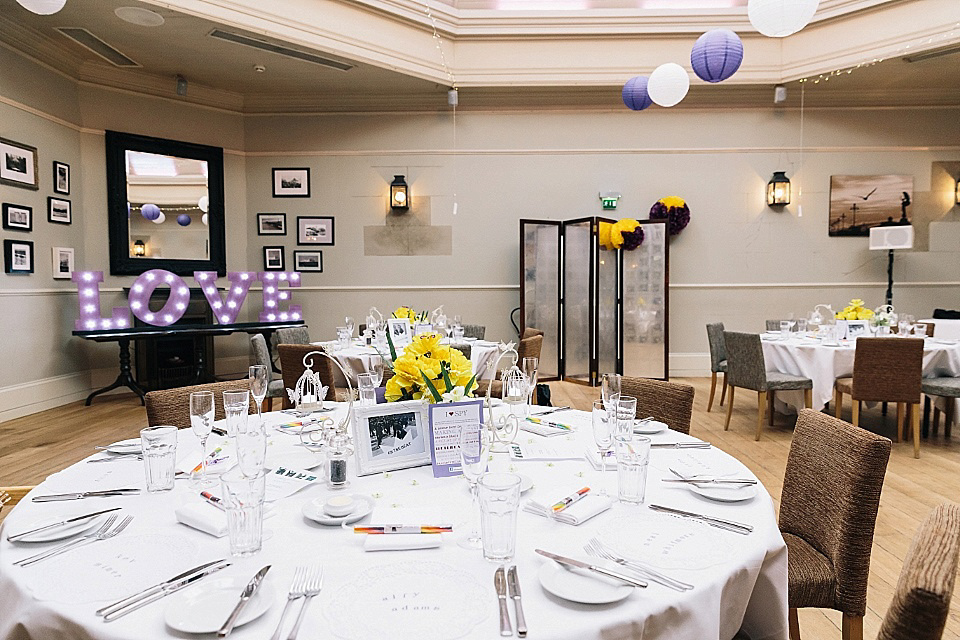 For their accent flower for the day, the couple chose simple yet beautiful daffodils.
"Daffodils are very special to me and I was so happy to have them surround our wedding day. My brother and I grew up with next door neighbours Ada and Raymond. They looked after us since we little and they became a third set of grandparents to us. Unfortunately they are both no longer with us and the daffodils were the perfect way to remember them on our day. We also had a picture of them both next to the poem 'Daffodils' by William Wordsworth. 
As it was May, daffodils weren't in season so we chose to go artificial with flowers from Country Baskets and you wouldn't have known the difference.   My mum did an amazing job organising my bouquet. Again, this was artificial but just looked perfect and was my little nod to South Africa with a Protea as the main flower. I now have the most amazing memento from the day."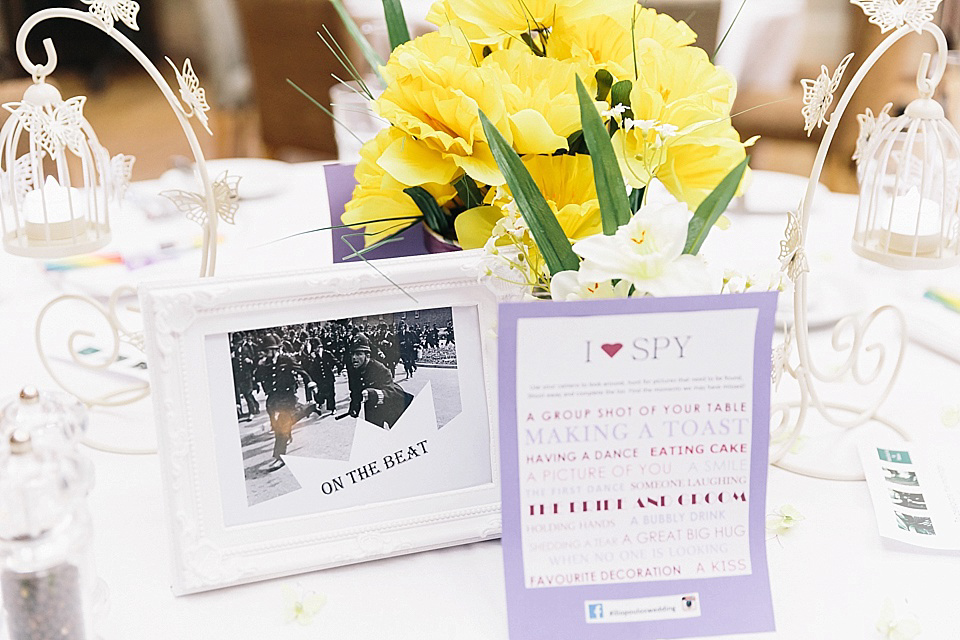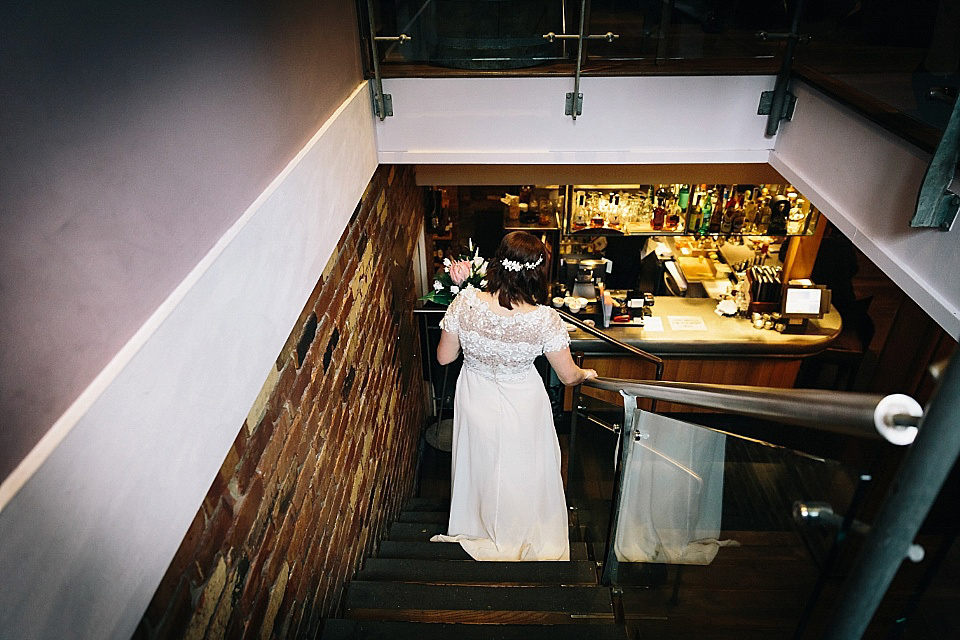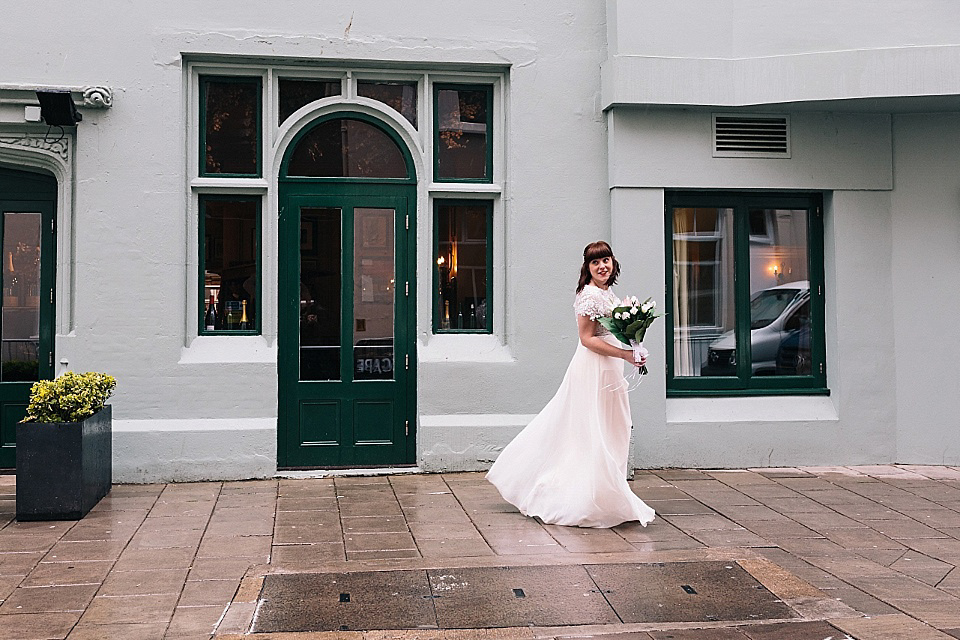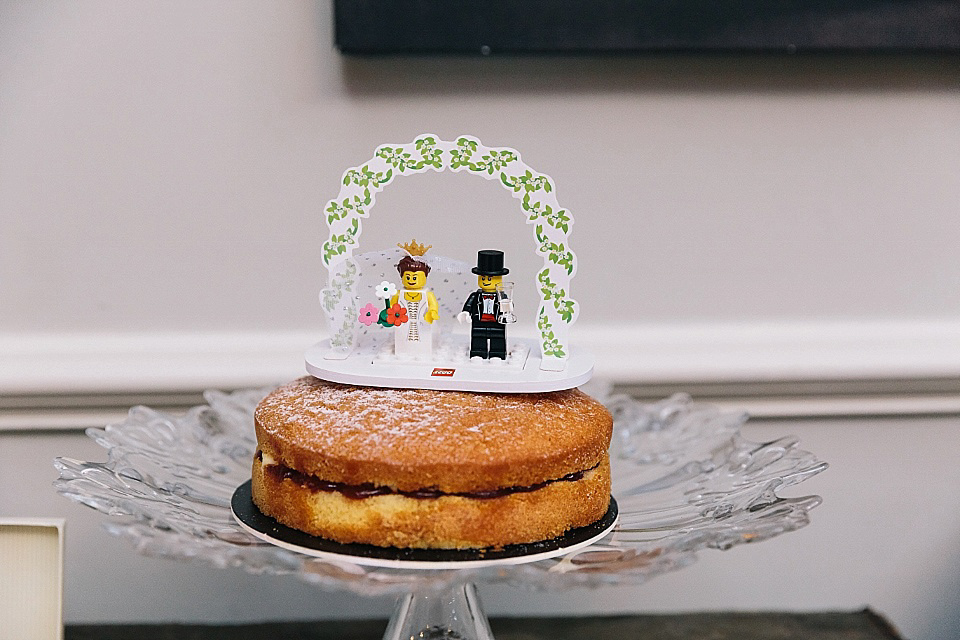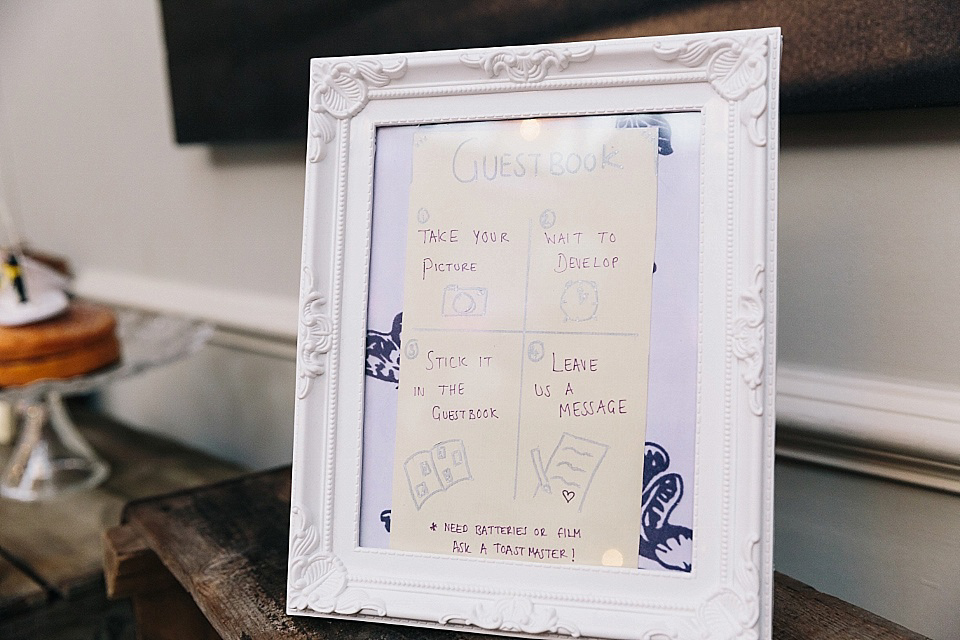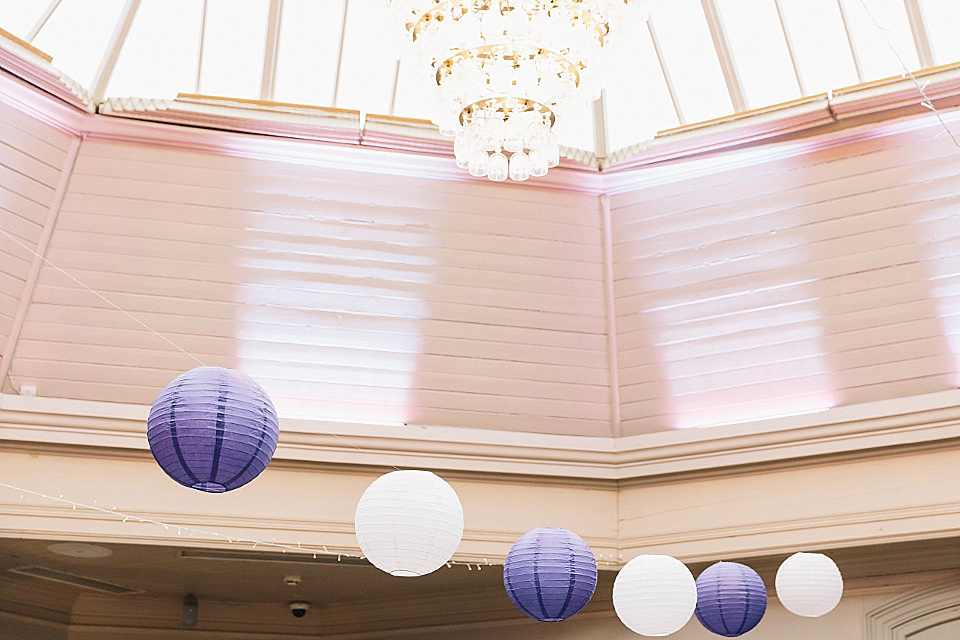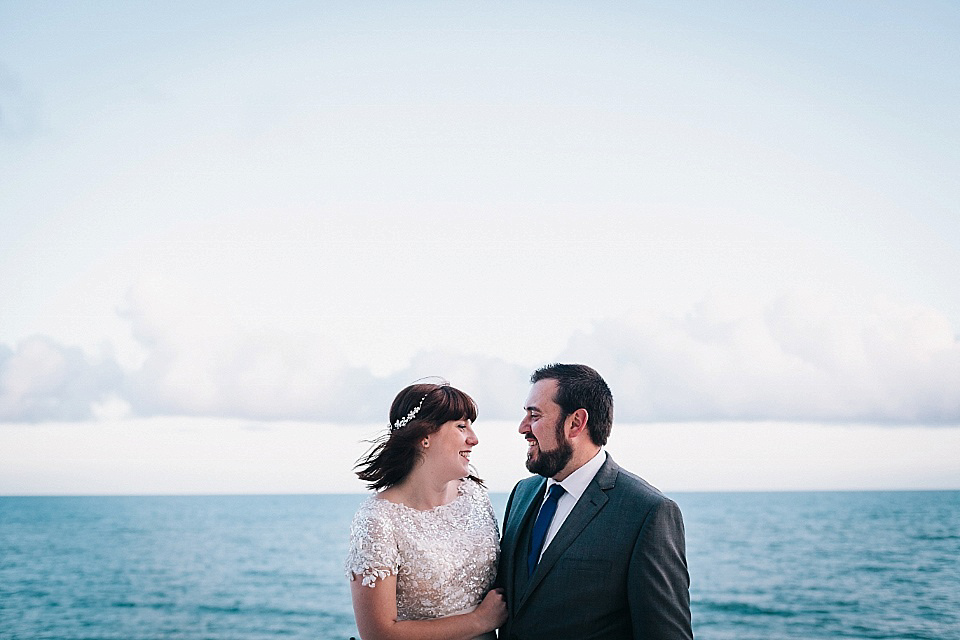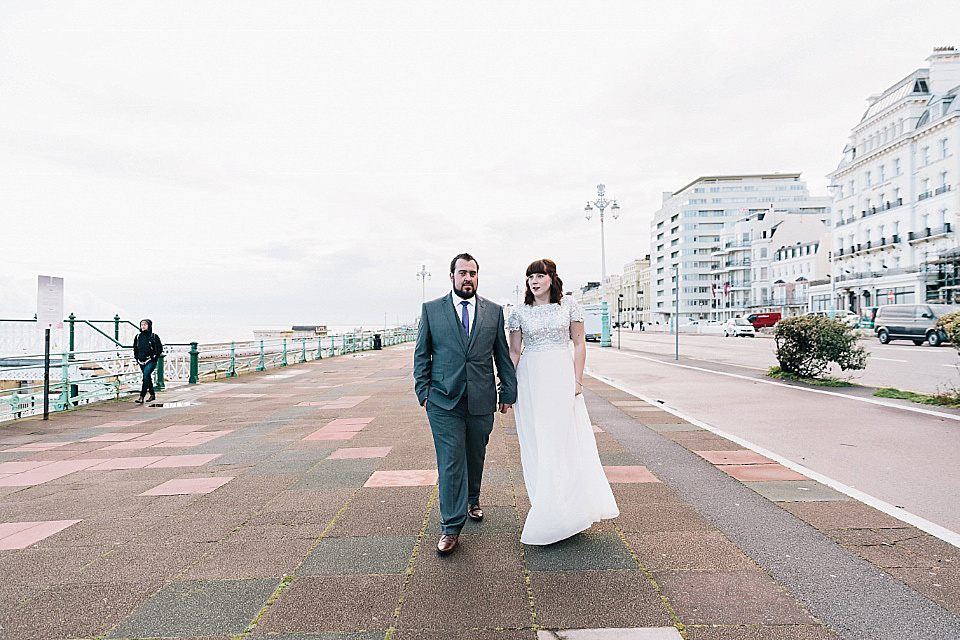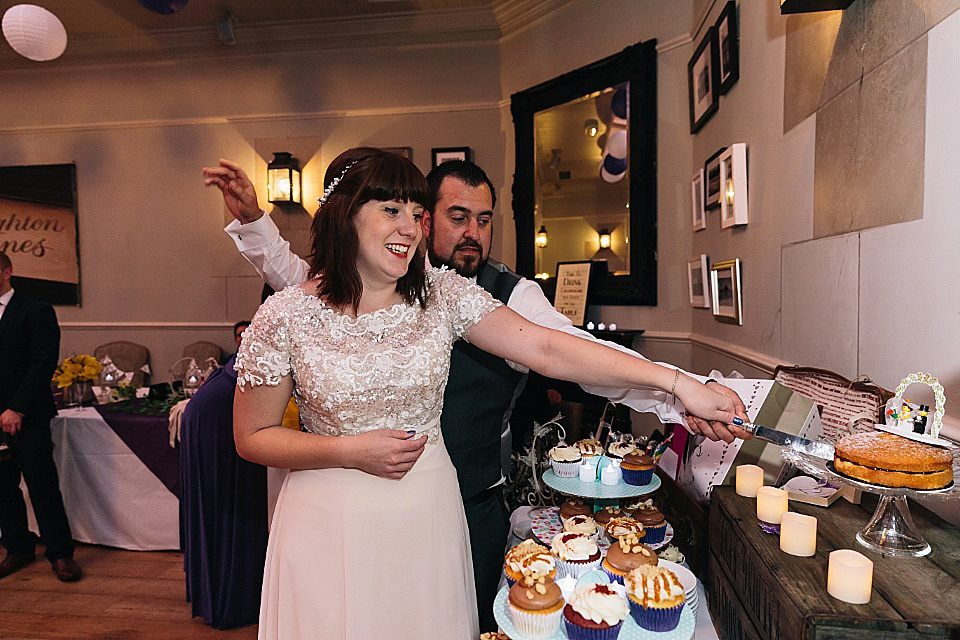 Words of Wedded Wisdom
"In the end not everything will go to plan, the most important thing is that you're both happy and the day goes how you both want it to. Take time after the ceremony to have time on your own- take a walk and capture all those perfect pictures in your new wedded buzz.
All that matters is celebrating with the one you love."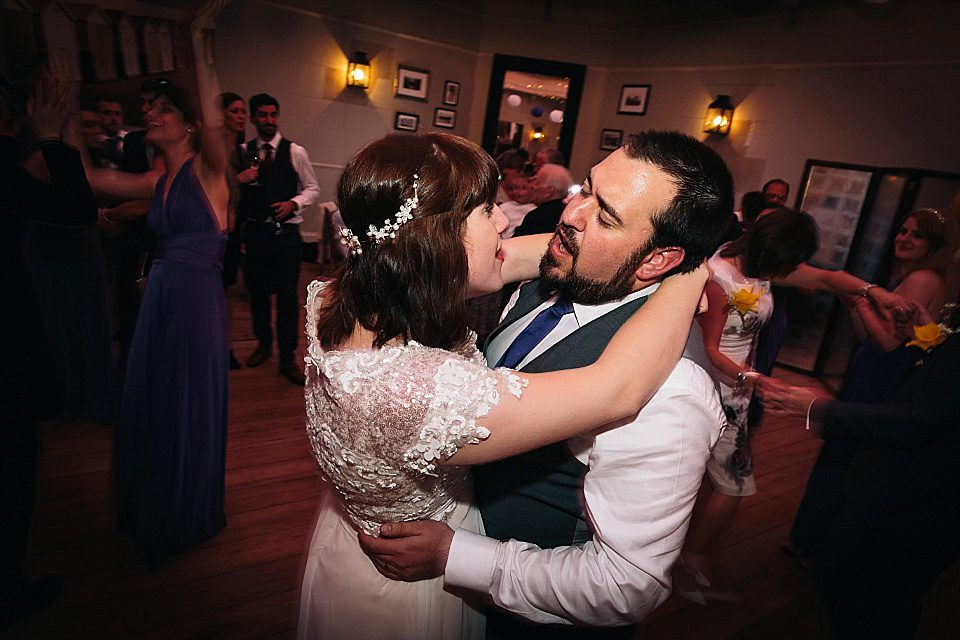 I couldn't agree more with Amanda's words.  Thank you so much to Chris and Amanda for sharing their big day, and to Heather Shuker for her gorgeous photography. For more seaside wedding inspiration, why not take a browse through some of our previous features?
Much love,
Shona x
Photographer – Heather Shuker of Eclection Photography
Venue – Brighton bandstand + Brighton Hotel du Vin
Wedding dress – Elliot Claire London
Shoes – Beretun Designs
Accessories – Headband bought by Amanda's aunt, Pandora earrings + a bracelet from her Nanna
Perfume – Armani Diamonds
Groom – Moss Bros
Florist – Country Baskets
Cake- Cloud 9 for cupcakes + Marks and Spencer for a cutting cake
Rings – Concarneau market, Brittany
Hair stylist – Cove Hair, Brighton
Entertainment – Kool Hertz, DJ and friend of Chris
Vehicle hire – VW Wedding Wheels
Stationery – Made by the couple